Discover 12 gorgeous spring destinations in the US – the most charming and colorful vacation spots in the country.
I don't know about you, but this spring, I'm gearing up to see some beautiful blooms and bright colors.
Luckily, if you're based in the United States, you don't have to travel far to enjoy the best that this season has to offer.
In this post, we've outlined 12 of the best destinations to celebrate springtime in the United States – from the Northeast to the Southwest, there's so much to see and do!
Brilliant US Spring Destinations
Holland, Michigan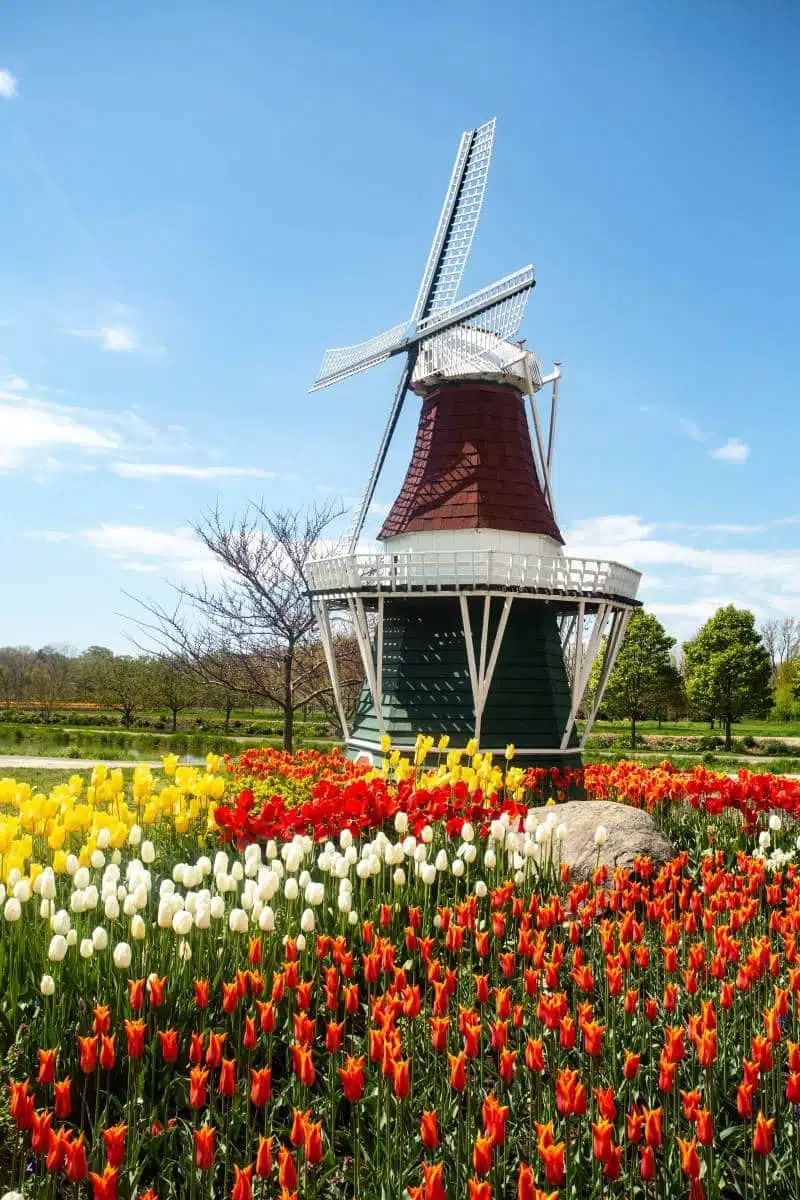 If you're looking to replicate the famous tulip experience in the Netherlands, look no further than Holland, Michigan.
Judging by the name, it's no surprise that the area was founded by Dutch immigrants. If you visit during the annual Tulip Festival each May, you can see these gorgeous flowers at their peak amidst a 250-year-old Dutch windmill.
The festival has been a tradition in the town since 1930, when over 250,000 tulips were planted in the nearby fields. Aside from the colorful spring blooms, Holland is also famous for its iconic red lighthouse, which sits on Holland Harbor.
Getting there: The closest airport to Holland, Michigan is Grand Rapids (GRR). From there, it's about a 30-minute drive to the town.
Hill Country, Texas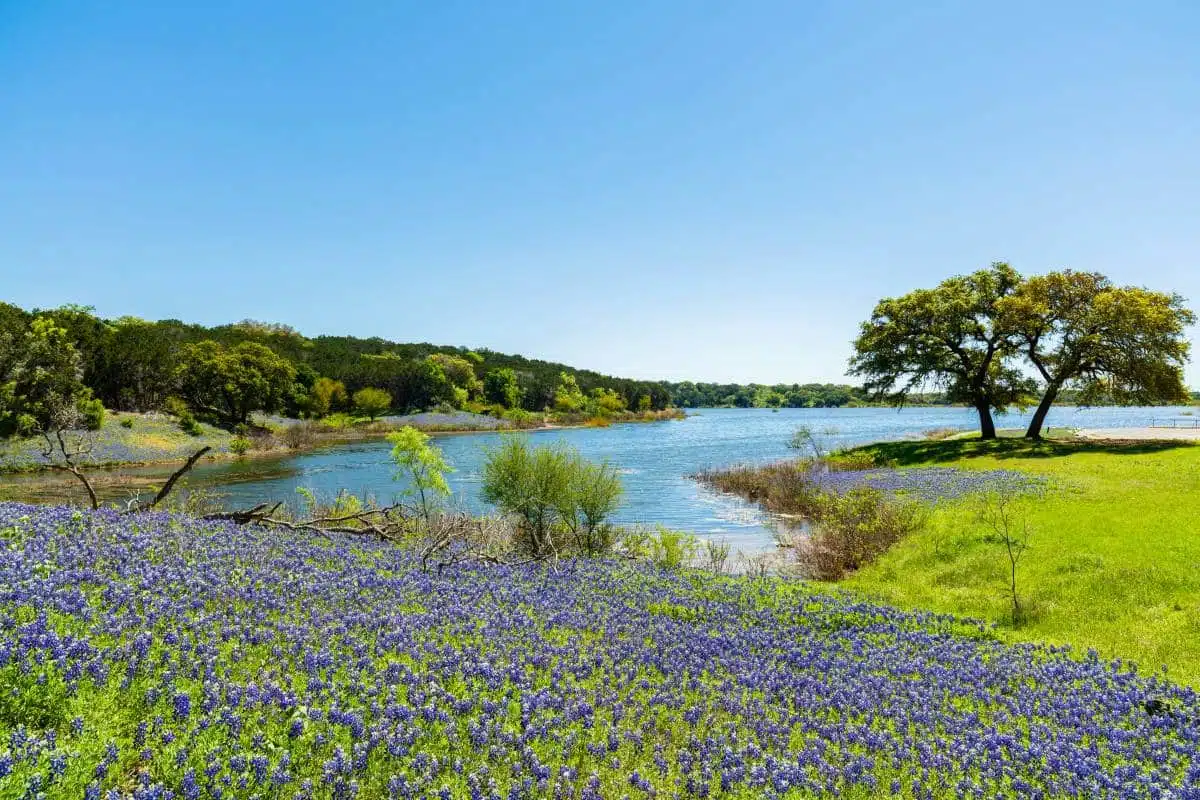 Springtime is a special time in Texas, when blue bonnets, Texas' state flower, bloom along the side of the highways and in many of the state's parks.
The best time of the year to see these pretty purple flowers is during March and April. Although you can find blue bonnets in many areas of Texas, one of the most charming places to see them is in Texas' Hill Country, which is located in between Houston and San Antonio.
Getting there: You can find blue bonnets all over the state of Texas. To access the Hill Country, the closest airports are Austin (AUS) or San Antonio (SAT).
Salvation Mountain, California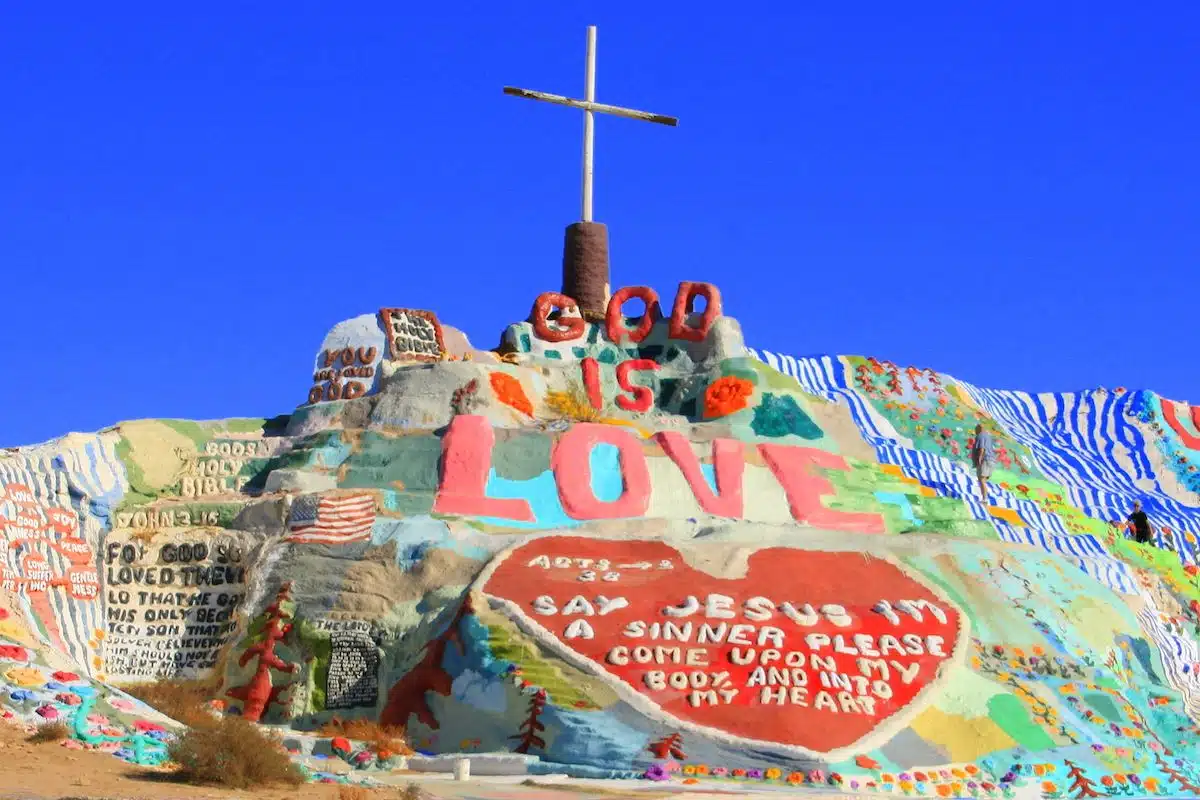 Built in the 1980s by a local area resident, Salvation Mountain is a folk art site full of colorful, psychedelic installations. The artist, Leonard Knight, created it in conjunction with local Navajo groups to build the adobe-style structures.
If you enjoy the street art in LA, just wait until you see this psychedelic display at Salvation Mountain.
Characterized by bright murals, bible verses, and strange constructions that conform to the area's topography, Salvation Mountain is an interesting place to visit if you're looking for a super colorful, very Instagram-worthy spring destination.
Take a road trip out to the area for a day, or pair it with a trip to Coachella Valley.
Getting there: Fly into either Los Angeles (LAX) or San Diego (SAN), then drive ~3 hours. It is located near Coachella Valley (#6 on our list).
Great Smoky Mountains National Park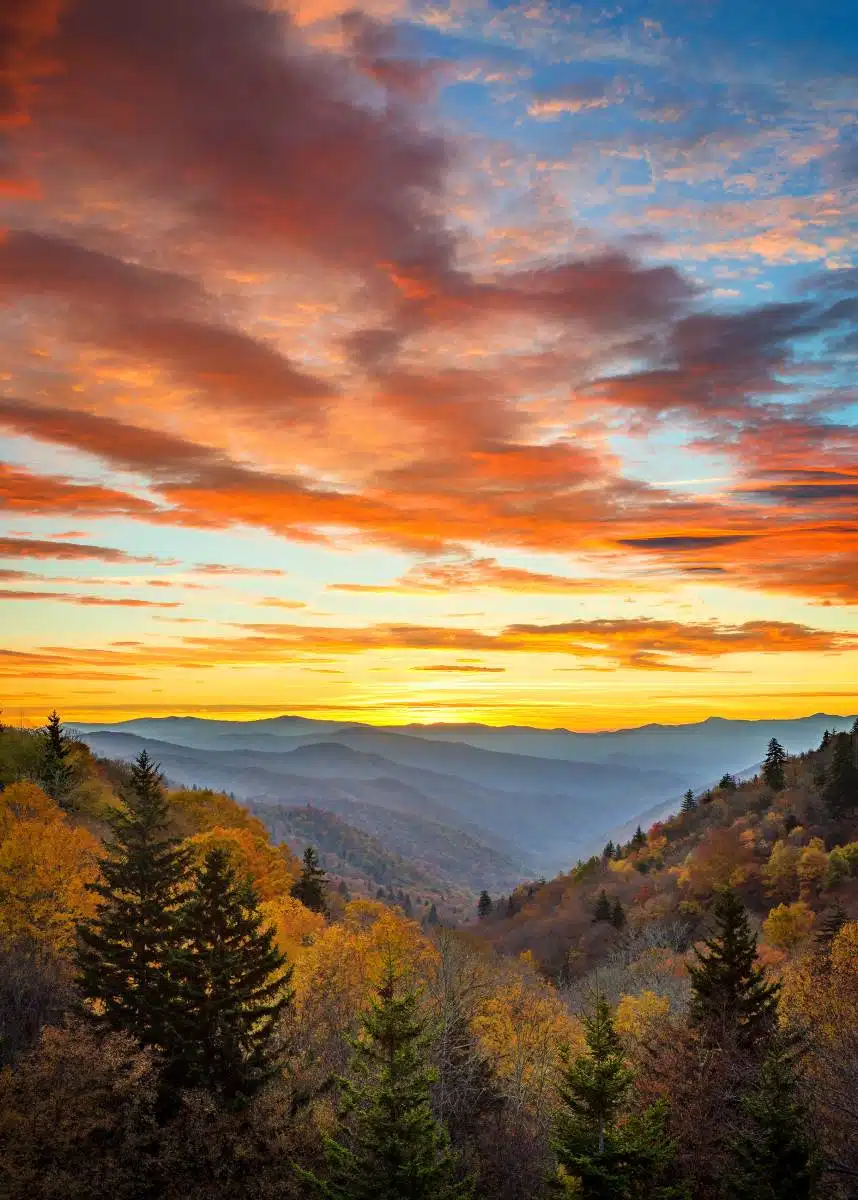 Located in eastern Tennessee, Great Smoky Mountains National Park is a fabulous spring destination for its amazing hikes and temperate climate.
One of the most notable spring activities in the Great Smoky Mountains is watching the synchronized fireflies, which only occur in the late spring (May to early June) each year.
It's one of the only places in the world where visitors can see such a vivid and rhythmic firefly display.
Getting there: Fly into Knoxville (TYS) or Asheville (AVL), then drive to the park (~1-1.5 hours)
Macon, Georgia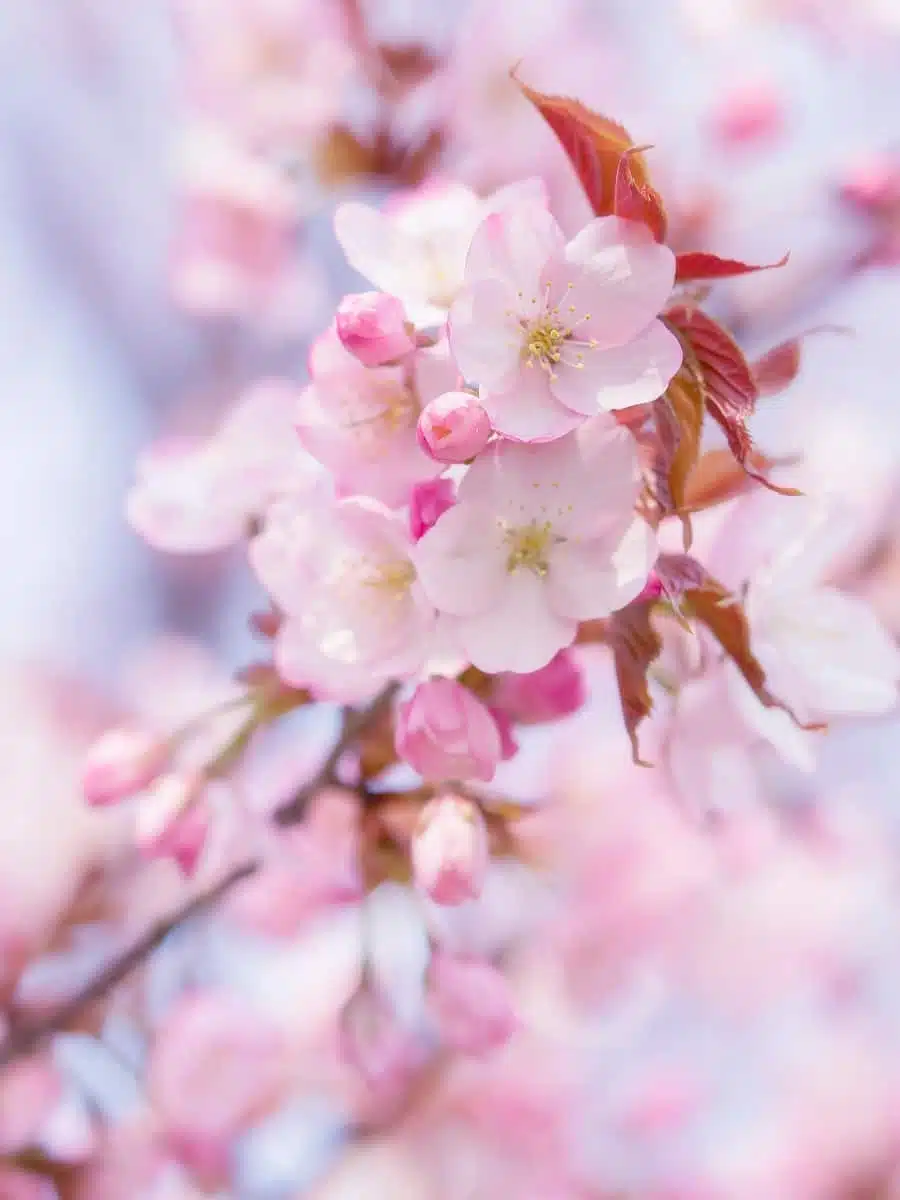 What's the cherry blossom capital of the world? No, it's not Japan or Washington, DC… it's Macon, Georgia!
Located 1.5-2 hours outside of Atlanta, there are over 350,000 cherry trees that blossom in Macon in late March every year.
According to this site, a local was extremely impressed with a cherry tree in his yard, and after visiting the cherry blossoms in Washington, DC, decided to help fill the entire town with these trees.
To celebrate these gorgeous blossoms, there's an annual Cherry Blossom festival that occurs, where visitors and locals alike can admire the blooms and enjoy some outdoor festivities.
Getting there: Fly into Atlanta (ATL), then drive 1.5-2 hours to Macon.
Coachella Valley, California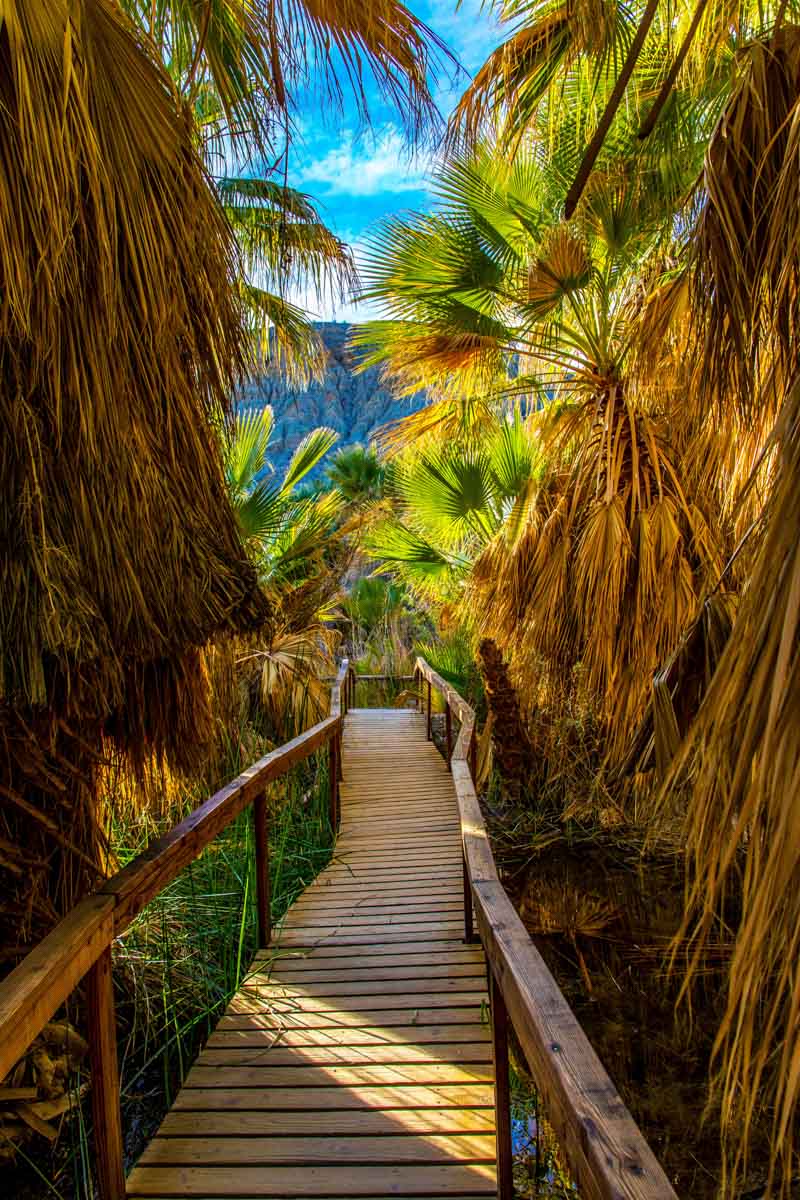 Every year, the normally dry Coachella Valley lights up with wildflowers of all different colors to celebrate the arrival of springtime. In the spring, this area is home to the annual Coachella Valley Wildflower Festival.
Visitors can hike around in the Thousand Palms Oasis Preserve, or admire the dozens of different types of plants and flowers that grow in the area. With over 300 days of sunshine each year, Coachella Valley is one of the sunniest places in the country.
It's also one of the windiest places in the United States, so make sure to come prepared for that!
Getting there: Fly into San Diego (SAN), then drive ~3 hours to Coachella Valley.
Yellowstone National Park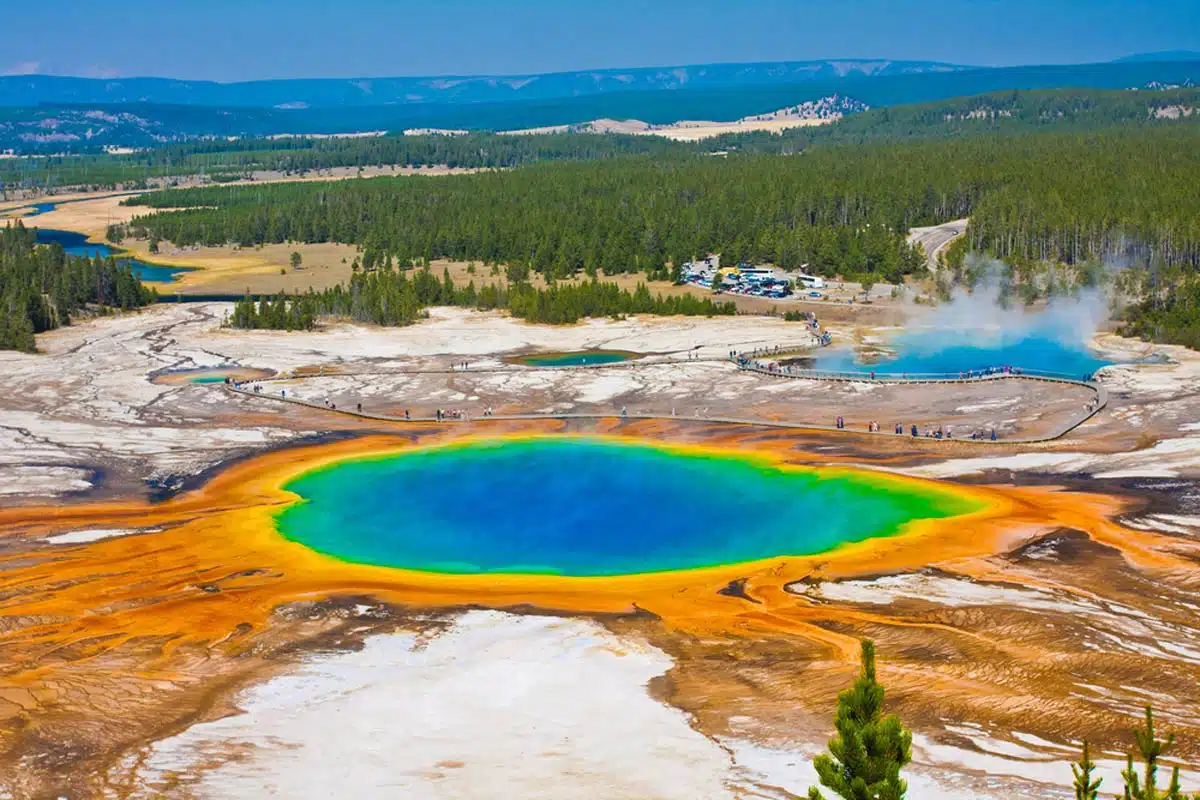 Founded in 1872, Yellowstone National Park was the world's first national park. Now, it's also one of the most popular, hosting over 4 million visitors each year. There are so many things to see in Yellowstone National Park, we can't include them all here!
With its Grand Prismatic Spring and beautiful nature, it is definitely a fantastic colorful destination to see in the spring. And while Yellowstone is most popular in the summer, late spring is the perfect shoulder season to visit and avoid the crowds.
Getting there: Fly into Jackson Hole (JAC), then drive ~1 hour.
Washington, District of Columbia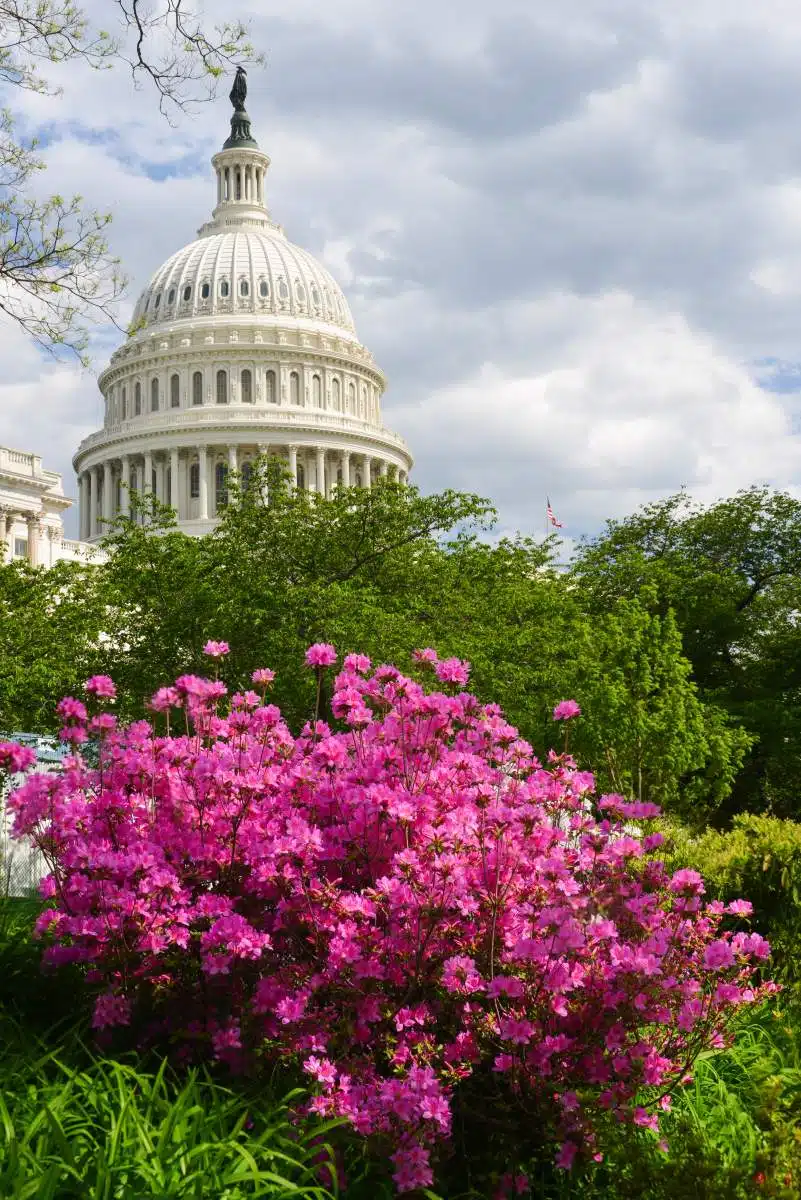 One of the most famous flower festivals in the United States happens in the nation's capital. Washington DC's cherry blossoms come to life on the banks of the Potomac River.
Each year, on different dates, the city holds a Cherry Blossom Festival, which celebrates the gift of cherry blossoms from the Tokyo mayor in 1912 and gives visitors a chance to see the blossoms up close. The best place in DC to view these flowers is in the Tidal Basin, near the Jefferson Memorial.
Getting there: Fly into one of Washington, DC's major airports – BWI, DCA, or IAD.
Antelope Valley, California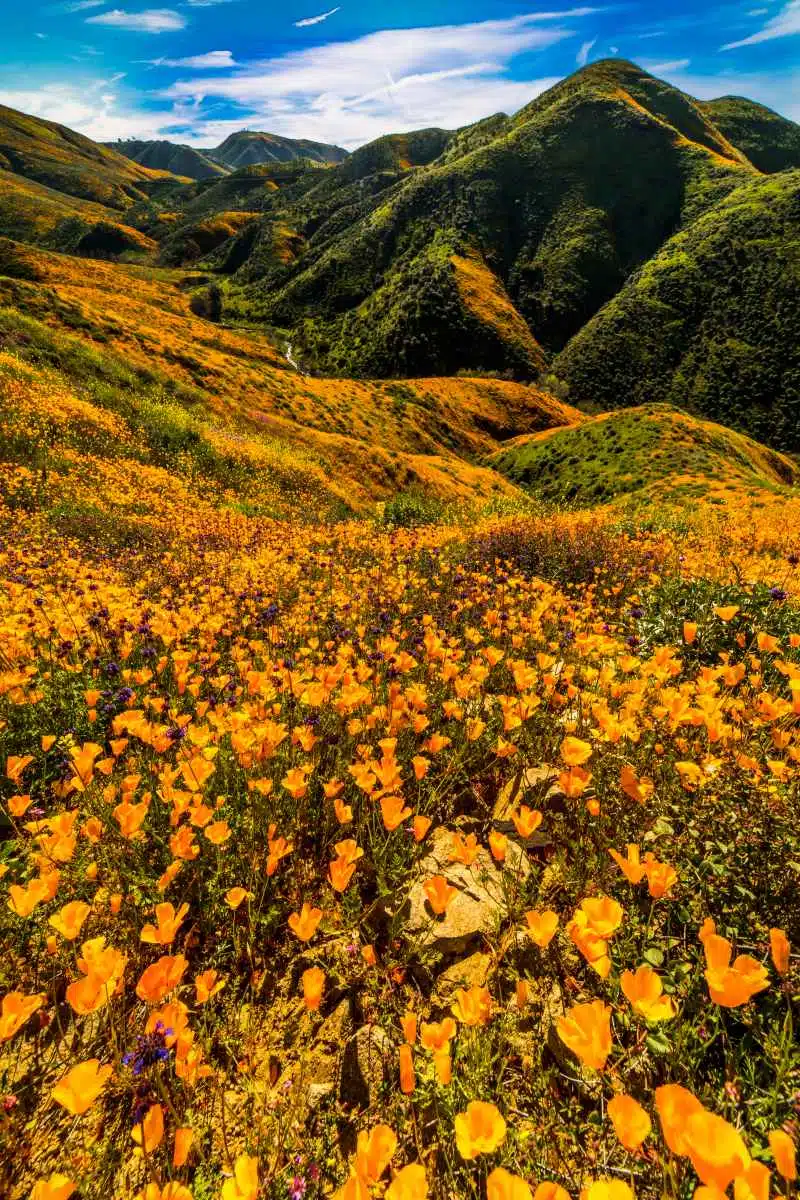 One of California's many state parks, Antelope Valley is home to the California Poppy Reserve, a field of rolling hills filled with orange poppies in the spring.
Despite the name, the area has not contained antelopes for well over 100 years. Instead, visitors flock to the park for the sea of orange poppies from February to May. Although there are typically some blooms each year, the amount and abundance vary by the water, the rainfall, and other factors.
While traveling in this area, you can take a few detours to experience some of the best hikes in Southern California as well. Southern California is loaded with beautiful trails and stunning views, making it a perfect springtime getaway. 

If you have 3 days in Southern California to spend, you can see quite a lot of this beautiful desert region!
Getting there: Fly into Los Angeles (LAX) then drive 2 hours north.
Hawaii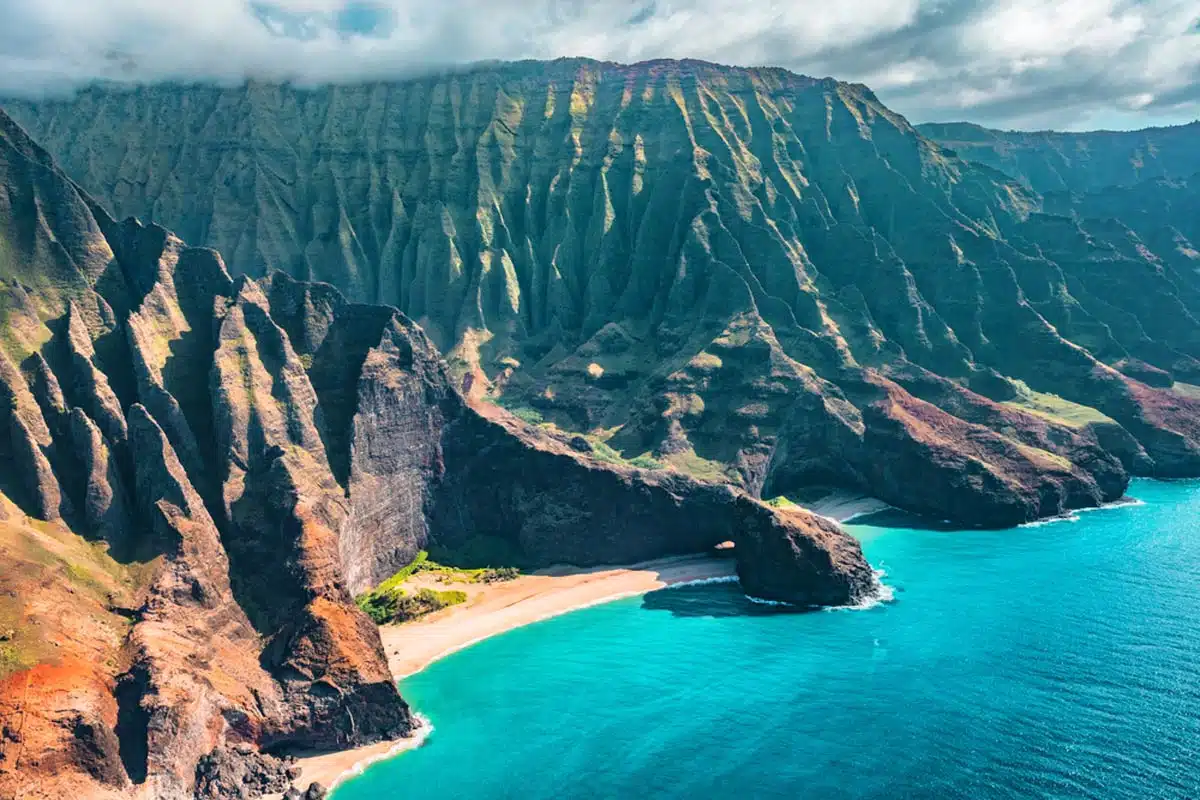 Hawaii is undoubtedly one of the most beautiful places to visit in the United States, and it's the perfect spring destination for adventure lovers and beach bums alike.
You can enjoy lush rainforests, spectacular hikes, and amazing, secluded beaches. Here, springtime boasts clear night skies (great for stargazing) and wildflowers around the islands.
Wondering why we chose Hawaii for this list? Because, in our opinion, spring is the best time to visit. February-May is the shoulder season for Hawaii, so the rains will have subsided, but the high tourist season hasn't begun yet.
Ticket prices are cheaper, hotels are more affordable…and most importantly, there are fewer crowds.
Columbia Gorge, Oregon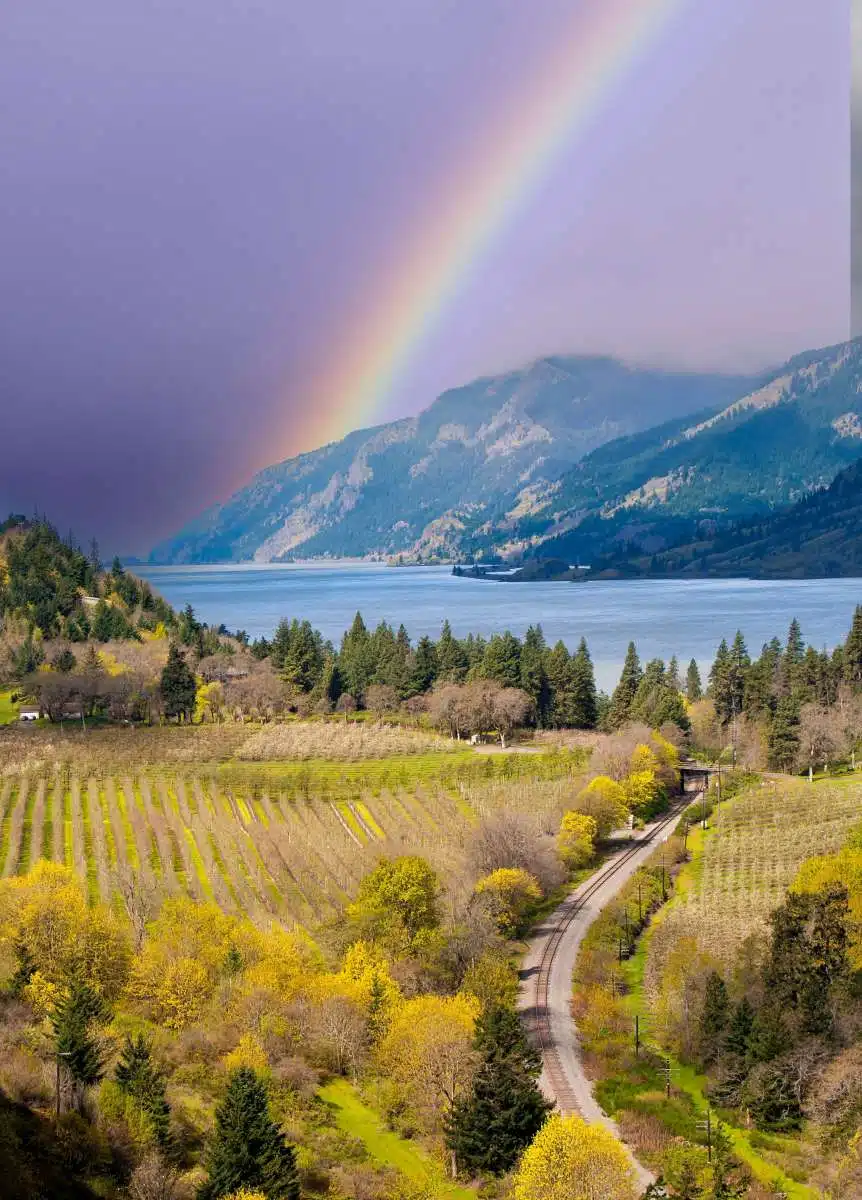 Imagine a place with beautiful valley views, dozens of waterfalls, and amazing hiking trails through the forests and surrounding mountains. Got it in your head? Good – you've just imagined the Columbia Gorge.
Located less than an hour from Portland, this area is paradise for hikers and outdoor lovers. With hiking trails dotting the road, many connected by the historic Pacific Crest Trail, it's a lovely place to spend a spring weekend outdoors.
In the spring, you can see a variety of wildflowers in the area, or visit a local winery to enjoy some local flavors. Or, simply explore the area on foot, checking out hidden beauties like the Oneonta Gorge.
Getting there: Fly into Portland (PDX), then drive ~30 min-1 hour.
Olympic National Park, Washington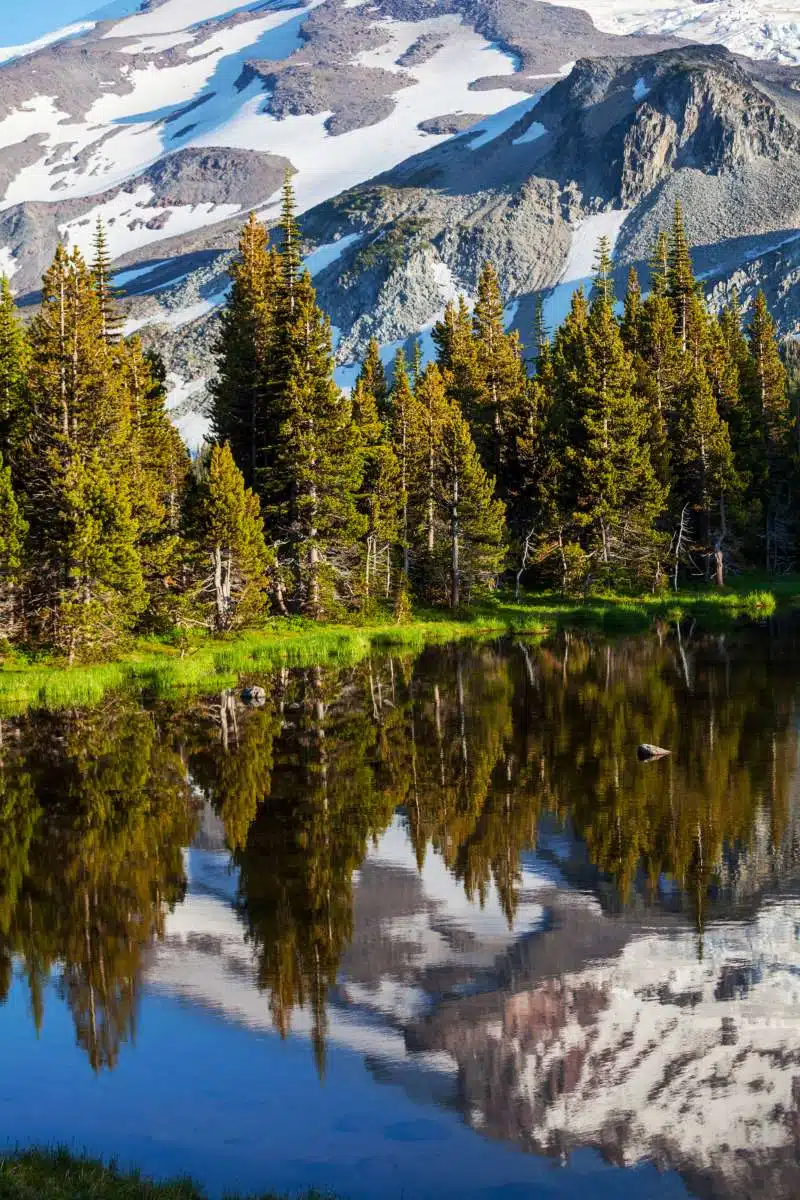 If you're looking for a national park that (literally) has it all, head to Olympic National Park this spring.
Here, you can see temperate rainforests, beaches, and mountainous alpine areas. There are also some gorgeous wildflower blooms during the springtime to enjoy here. From the park, you can see Mount Olympus, one of the tallest mountains in the area.
Spring is the perfect time to visit the park, because the area starts to buzz with life. Whales come out to play, the roads begin to open again…but you won't have to worry about the massive crowds that come with a summertime visit.
Getting there: Fly into Seattle (SEA), then drive ~2 hours to arrive at the park.