Rock climbing in Vang Vieng is the perfect way to explore the beauty of the Vientiane province in north-east Laos. Beautiful sceneries and burning muscles await.
Vang Vieng, Laos. You might as well say Marmite – it's a place that splits travellers just as much as the yeasty condiment. Often when people think of Vang Vieng, they think of tubing, riverside bars, buckets or cafes where episodes of Friends are shown repeatedly on loop. There's more to it than this. Vang Vieng is located in an idyllic setting, with plenty of things to do for those that want a taste of adventure in Laos.
Rock Climbing With Green Discovery
I'm not a spectacular climber. But when I was looking for things to do in Vang Vieng, Laos that didn't involve floating on a tube down the river, rock climbing seemed to be just the thing. For all that is written about the party scene in Vang Vieng, people often miss the fact that the town is set in a gorgeous location centred around the Nam Song river and full of looming cliffs and verdant rice paddies. Where better to try your hand at rock climbing?
I'd been in Vang Vieng for three days (for disclosure, I'd done my fair share of partying), but the quiet walk out of town made the hectic bars dotted along the river feel like a million miles away. We walked along the dirt roads, which grew narrower and narrower as we would our way into the lush landscape.It was almost worth it for the views alone.
Finally, we arrived at our destination. We'd only been walking for 40 minutes but those 40 minutes had taken us completely away from any sign of the town, in fact away from most signs of civilisation. So we geared up, and listened as our instructor Nam talked us through the ropes, then demonstrated our first route up the rock face.
If any of you have ever watched a climbing instructor scale a rock, you'll know that they make it look so effortless and easy. Nam had reached the top without breaking a sweat, or indeed his stride. "That won't be too bad," I thought as I watched him. Incorrect.
Breaking a Sweat
My own attempts to climb the rock were much less glamorous. Within minutes, my legs were burning and sweat dripped into my eyes as I tried to work out where to go to next. "Just a little to the left," Nam shouted as I reached out for my next hold. I stretched and strained… and promptly fell.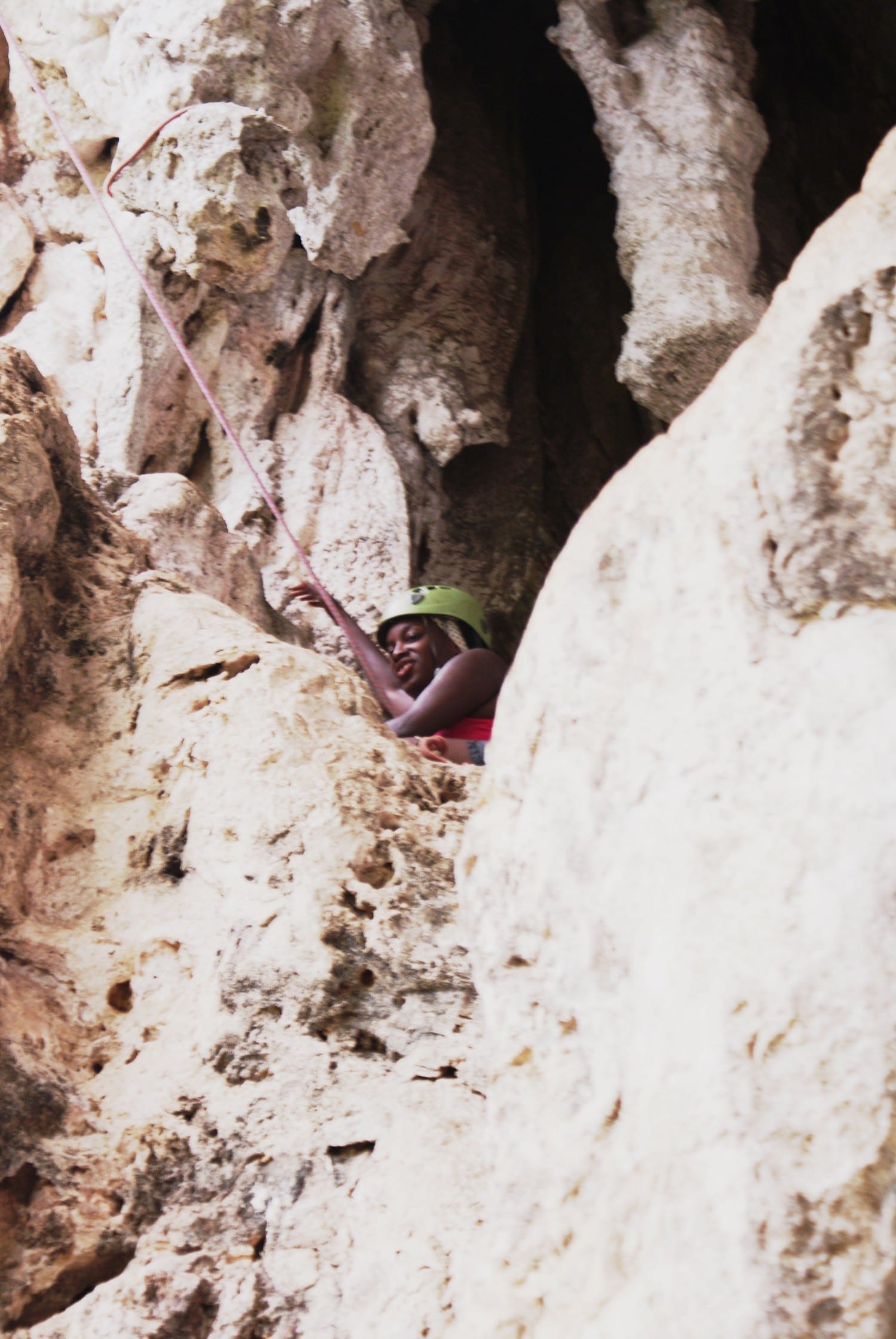 There's nothing like putting your faith in a series of clips and ropes to stop you from falling back down to earth. Of course, the protection held up just fine but there's always a moment when you lose control and the possibility that you will end up with a few broken limbs flashes through your mind.
In this case, I just hit the rock face rather ingloriously, then started back up to where I'd faltered. Metre by metre, minute by minute, I inched my way to the top, then sat back to admire the view.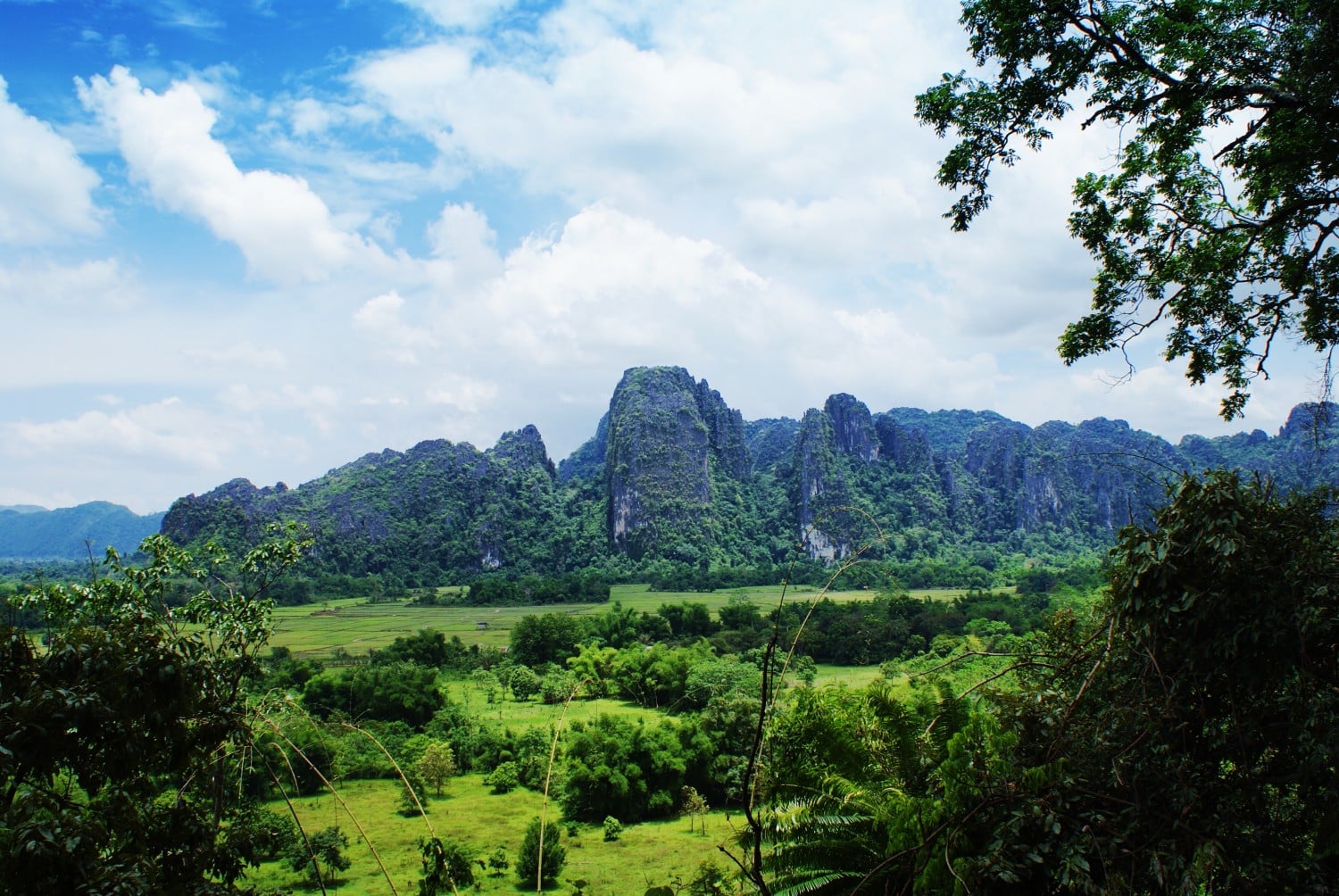 Much as I love to soak up a pretty picture, the fact remained that lunch was waiting for me at the bottom of the rock and all my exertions had left me pretty hungry. Let's just say that abseiling down was a lot easier than climbing up.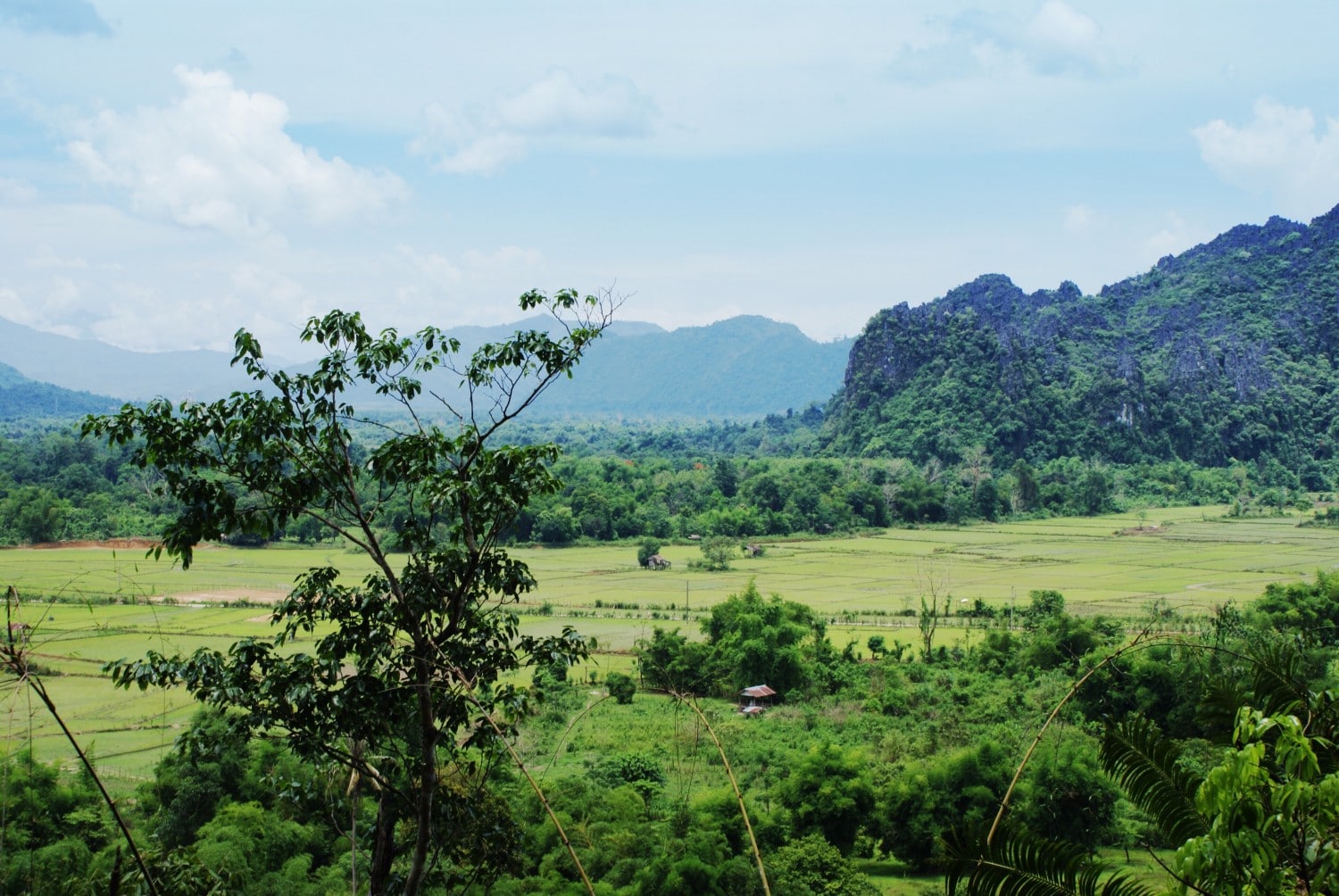 We tried another few routes after lunch, but by late afternoon every muscle in my body was cramped and tired and it was time to head back. Safe to say, I slept well that night.
If anyone's looking to climb in Vang Vieng, I'd highly recommend Green Discovery.
Looking for more travel inspiration? Check out this guide to backpacking in Laos.
Love this? Share it on Pinterest.