Looking for the best hikes in Monument Valley? Read on to discover the ultimate guide to the most scenic hikes in this rugged red landscape.
Straddling the border of Utah and Arizona, Monument Valley is one of the most photographed and beautiful places in the US. And it's easy to see why.
Home to an other-worldly collection of 1,000-foot-tall sandstone formations, colourful buttes, and mesas, hiking near Monument Valley is a dreamlike experience.
While there's only one hiking trail within the park itself, several other hikes near Monument Valley offer the same picturesque scenes (if not better). In other words, deciding which hikes to tackle can be difficult.
Have no fear – that's where I come in. Keep reading for essential tips you need to know before embarking on a hiking excursion to Monument Valley, as well as the best trails worth adding to your itinerary.
Best Hikes in Monument Valley
Wildcat Trail
Length: 3.9 miles (round trip)
Time: 1.5 – 3 hours
Difficulty: Medium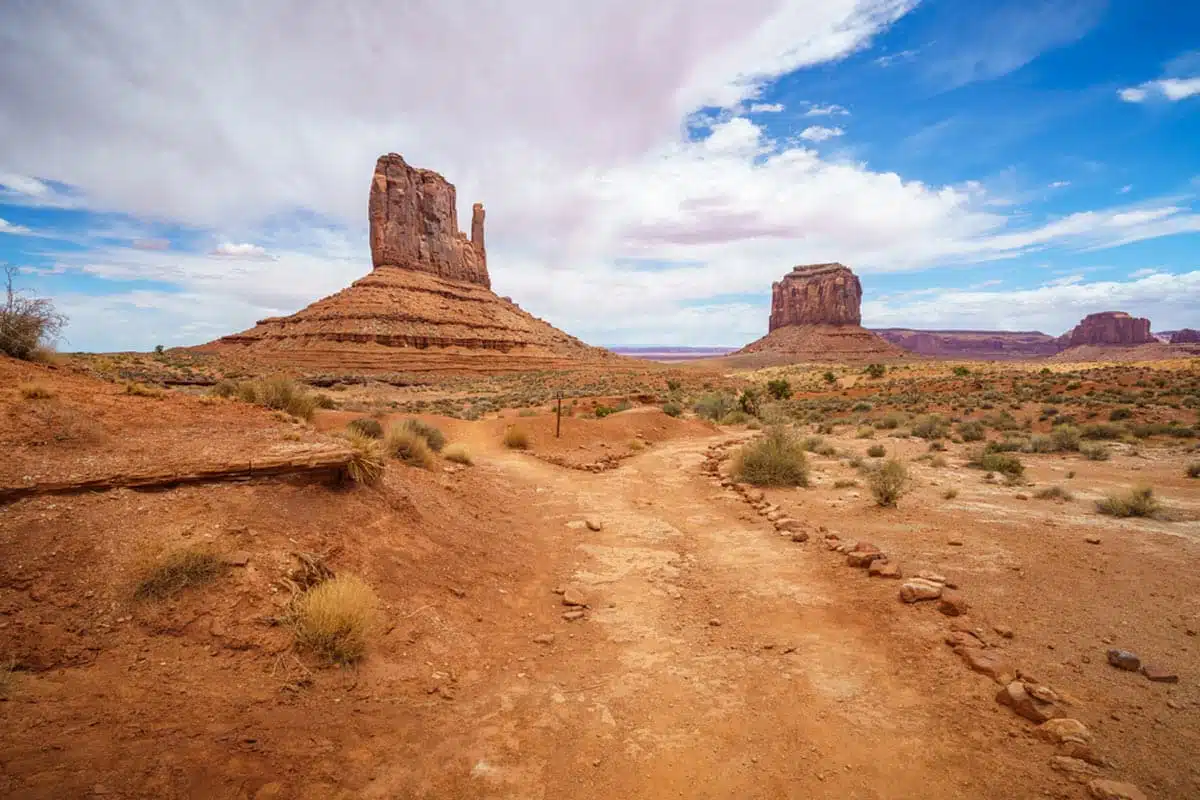 Let me begin this guide with first-time travellers to Monument Valley in mind. The Wildcat Trail is one of only three walkable, self-guided trails in the park and an excellent way to admire the most famous buttes.
This loop hike will leave you in awe, treating you to inspiring views of world-famous landmarks such as Mitten Buttes and Merrick Butte.
Keep your eyes peeled during the hike as you may spot scenic vistas featured as backdrops in several Western movies – prepare to live out your wildest cowboy dreams.
Top Tip: The Mitten Buttes experience perfect kaleidoscopic lighting at dusk, making them the best place to see the sunset in Monument Valley. Because of this, I recommend you take a sunset tour. Just remember to bring your camera along.
Lee Cly and Mesa Rim Trails
Length: 2.8 miles (combined)
Time: 1 – 2 hours
Difficulty: Medium to hard
Traversing through rolling sandy hills, the Lee Cly and Mesa Rim trails are the other two self-guided trailheads you'll find in the park. They take you through the most scenic spots in Monument Valley, and combining them into one mega hike is ideal.
While walking the Lee Cly Trail, you'll spot stunning vistas of the Mitchell Butte, Mitchell Mesa, and Grey Whiskers Butte.
That said, the Mesa Rim Trail requires a bit of rock scrambling, but it ends with unparalleled views of Monument Valley from above. So it's well worth it.
Monument Valley Scenic Drive
Length: 17 miles
Time: 2 – 3 hours
Difficulty: Easy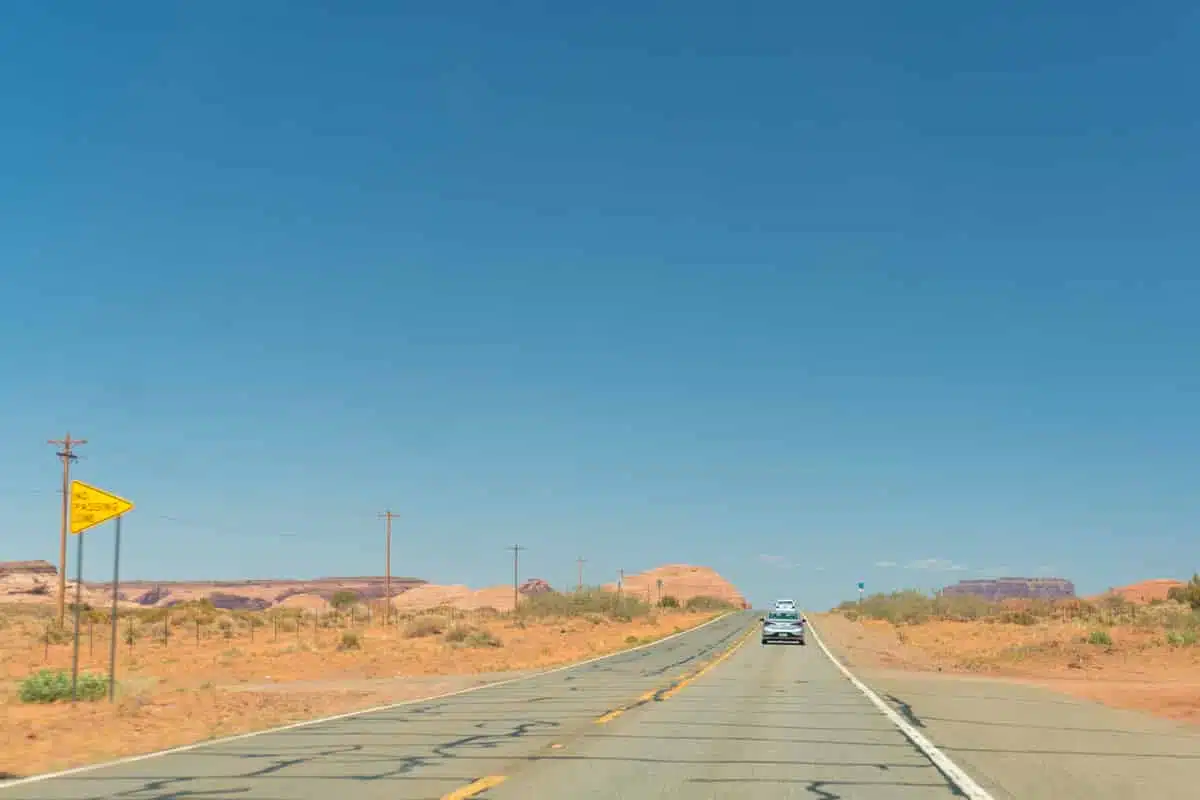 I know what you're thinking, "this is not a hike". Oh, but it can be. The Monument Valley scenic drive allows you to explore the most popular attractions in the park.
This scenic loop traverses through 11 viewpoints. All of which you can see by stopping along the route and hiking to the observation points. Take a Navajo Tribal Park self-guided driving tour and spot some of the most scenic sights in Monument Valley.
Other fascinating landmarks you should hike to while driving the scenic loop include Elephant Butte, Three Sisters, John Ford's Point, and The Hub Point.
Hunts Mesa Viewpoint
Length: Around 3 miles, depending on route
Time: 2 hours
Difficulty: Easy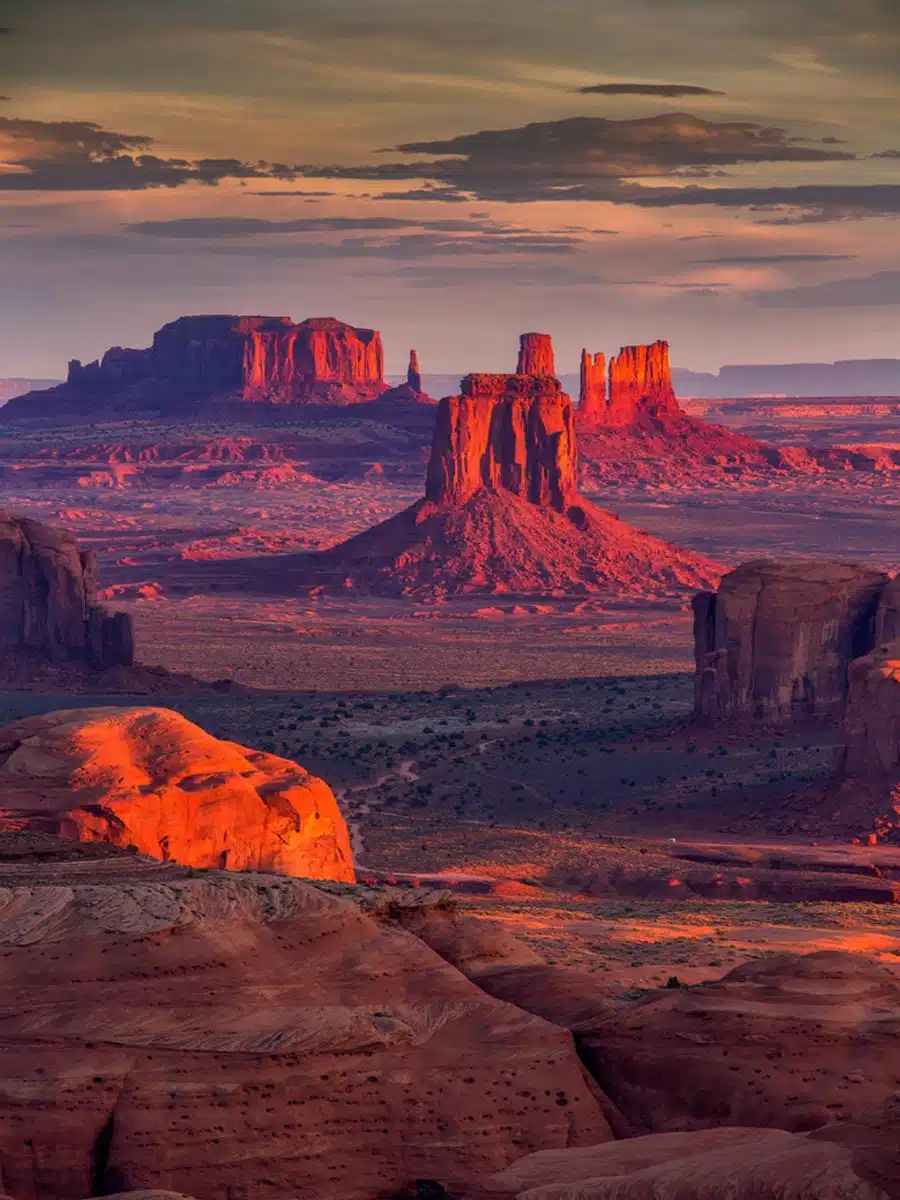 Hunts Mesa is home to some of the most stunning views in Monument Valley. This hidden gem, southwest of the park, is a great vantage point to marvel at the sea of sandstone formations sprinkled across the valley.
You can reach the Hunts Mesa plateau after just two hours of driving. However, many travellers who visit here stay overnight to get more time to explore the region.
Many Monument Valley camping tours offer an 18-hour experience featuring 4×4 drives over dunes, backcountry hiking, and meandering through the labyrinth of red rock mesas. Operators also provide camping gear, cooked dinner, and an expert guide at all times.
Goulding Arch
Length: 0.6 miles
Time: 1 – 2 hours
Difficulty: Easy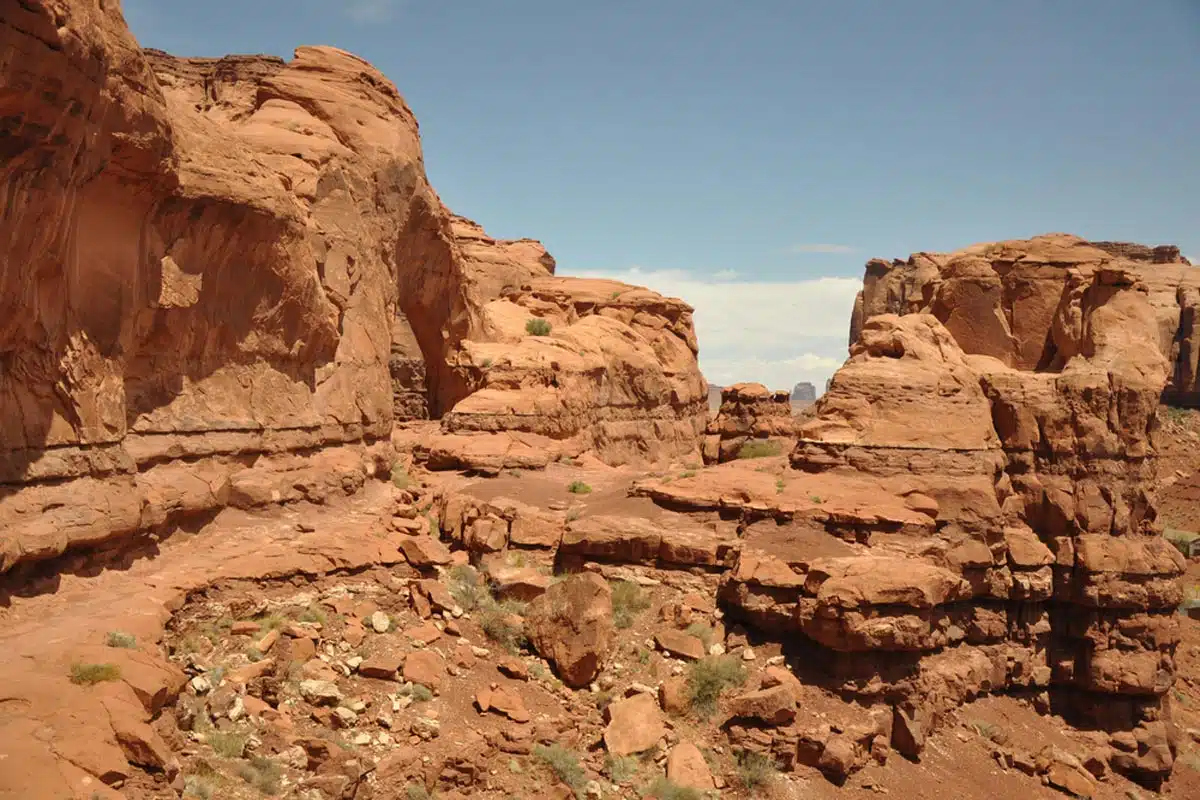 This Monument Valley trail is sweet and short. And the best part is you'll probably find little to no tourists hiking along the trailhead.
Goulding Arch is one of many natural arches dotted across Utah and Arizona, but we all know each one is unique and worthy of admiration.
You can access the Goulding Arch trailhead from the Goulding Campground. From the parking lot, follow the information signs that lead you through the trail.
Don't worry – Goulding's Lodge is just 1.1 miles away from the trailhead if camping and RV spots sell out.
Forrest Gump Point
Length: 8.2 miles
Time: 20 – 30 minute drive, followed by ten minute walk
Difficulty: Easy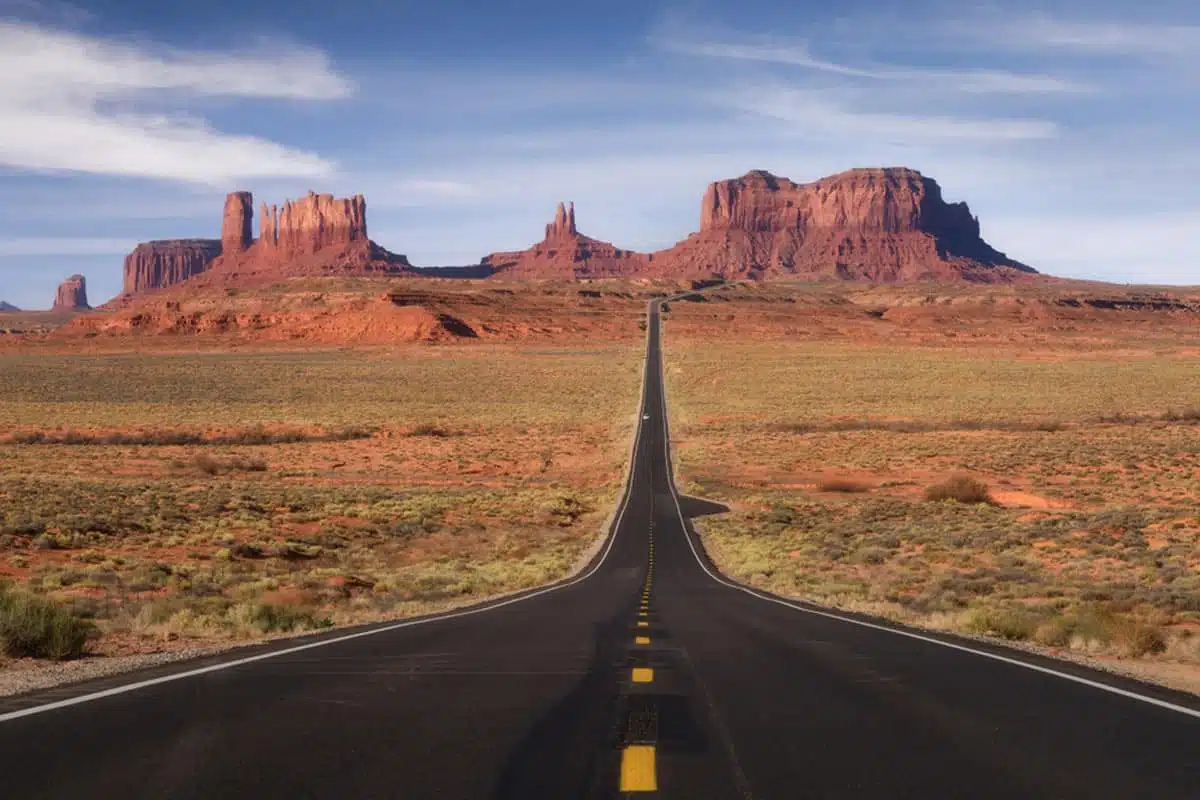 Last but certainly not least, I recommend the final Monument Valley hike to Forrest Gump Point along Highway 163's scenic drive in Mexican Hat County. Sure, it's more of a drive and laidback saunter to the viewpoint than a full-on hike, but it's pretty impressive.
Despite its sweeping views of Monument Valley's most iconic buttes, this viewpoint is more special than you think.
Popularised by the film of the same name, marker 13 on Forest Gump Road is where the character ended his run in the movie and is a popular selfie spot attracting plenty of tourists.
This is an excellent spot for photos — the seemingly endless tar road creates an extraordinary backdrop as it disappears into the buttes.
Fair warning, though: The road is rough. You'll want a 4×4 if possible, though plenty of regular cars tackle the route.
Best Monument Valley Hikes: Practical Tips
There's plenty of wildlife in Monument Valley; hence, animal safety is always a high priority. Make sure to leave no traces of litter behind after your hike. Luckily there are no bears or large predators in the area; you're more likely to encounter desert wildlife like lizards, coyotes, and scorpions.
Utah and Arizona are some of the hottest places in the United States; protect yourself from sunburn with a sunhat, cap, sunscreen, and plenty of water.
When packing for your Monument Valley trip, always check the weather and whether it's peak visitation season. If it is, make your accommodation and dinner bookings ahead of time, as hotels in Monument Valley tend to fill up quite quickly.
Best Hikes in Monument Valley: Map
Monument Valley Hikes: Read Next