Dreaming of a Californian beachside oasis? Discover where to stay in Carmel for the ultimate sunny summer getaway.
Have you heard of Carmel-By-the-Sea? If not, it's time to get to know this fairytale destination.
With plenty of history and beauty to boot – from its magical scuba spots to the soul-enriching museums that dot the city – deciding where to stay can be tricky.
Do you go for Central Carmel? Or opt to stay in the luxurious Carmel Valley? Look no further, as I've got the lowdown on this seaside spot.
Best Places to Stay in Carmel-By-the-Sea: At a Glance
Where to Stay in Carmel-By-the-Sea, CA
Home to some of the best beaches in California, it's no wonder Carmel-By-the-Sea is such a popular vacation spot. Here's where to bed down.
Central Carmel: Best for Easy Access Throughout the City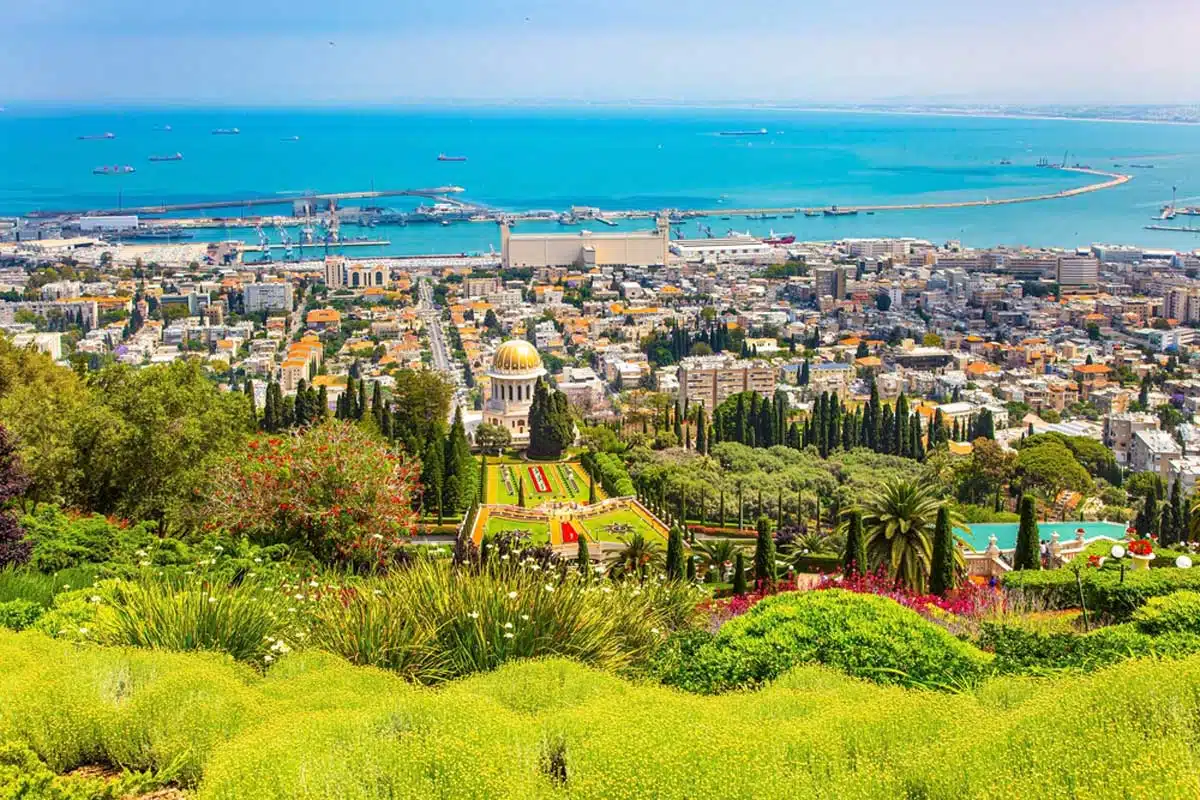 As the hub of all things poppin', it's no surprise the city centre is one of the best places to stay in Carmel. It has all the best restaurants in town, cough cough like La Bicyclette and Dametra Cafe.
Carmel Beach is also 0.5 miles (0.8 km) away, while gallery spaces like the Centre for Photographic Art are a short walk away. And did I mention the eclectic nightlife you'll find at the Forest Theatre or Sunset Centre?
Central Carmel Highlights
Carmel Walks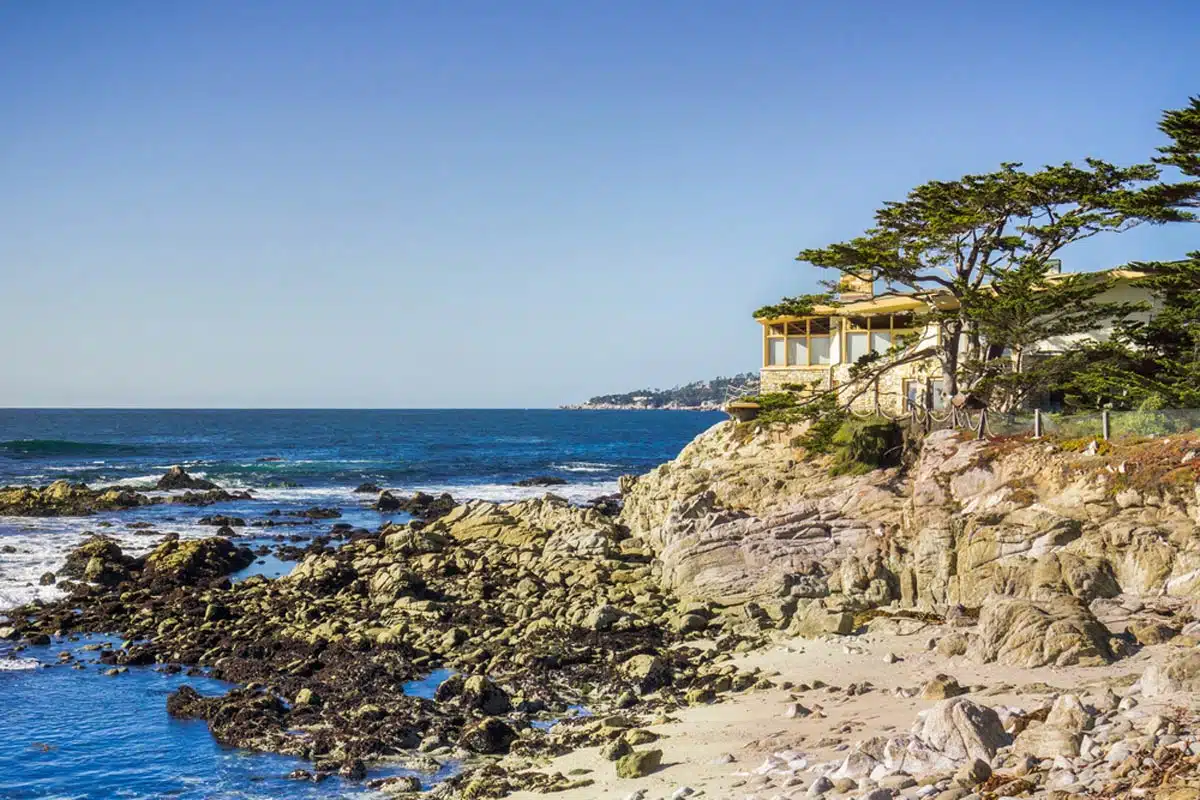 One of the best ways to explore the city is by foot. And one of its top highlights is the unique architecture throughout the town. On a self-guided Carmel house tour, you can see all the cute cottages, rigid contemporary homes and Mediterranean inspiration.
Sunset Centre
Get a taste of Carmel's vibey music scene at the Sunset Centre. With a diverse range of talents, from jazz ambassadors to orchestral symphonies, you're in for a real treat whenever you visit.
Suggested Carmel Hotels in Central Carmel
Carriage House Inn
For a space where high open beam ceilings and tasteful golden finishings are the star of the show, book a room at Carriage House Inn. Keep warm on those chilly nights with a magnificent fireplace.
And just when you think the spacious rooms and stellar bathrooms are all that's on offer, just wait until you tuck into the fantastic breakfast.
Comfort Inn Carmel-By-the-Sea
As the name suggests, Comfort Inn Carmel is all about being cosy. Relax in the blooming gardens with your morning cuppa. Or enjoy some "me time" in your spacious blue and cream room with a plush bed.
With over 30 excellent restaurants within three blocks, I'll just say you're spoilt for choice.
The Golden Rectangle: Best Place to Stay in Carmel for First-timers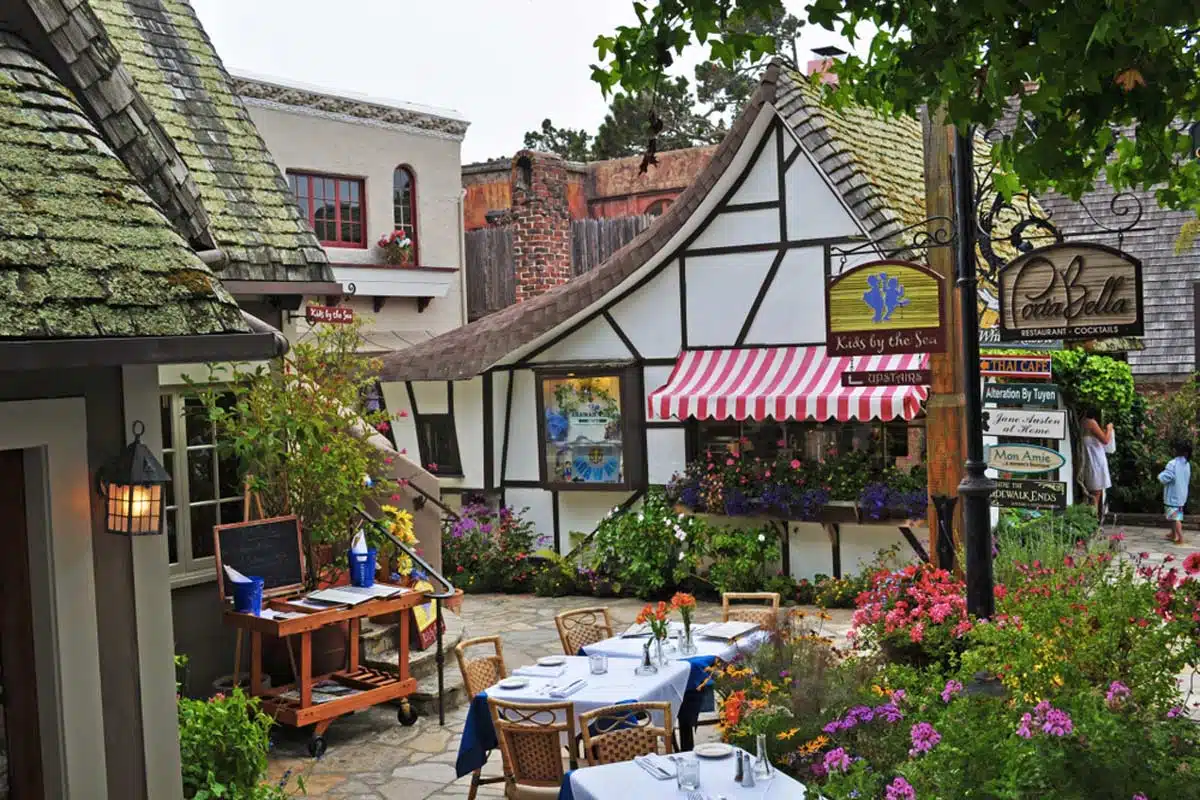 You couldn't ask for a prettier neck in the woods than the beachside neighbourhood of the Golden Triangle. This quintessentially Carmel area is a relaxing oasis for those looking to stay close to the city centre but just out of the way of all its busy streets.
The Carmel Beach Walk also begins at the southern end of the neighbourhood. And the extremely modern Clinton Walker house is a notable feature of the area.
The Golden Rectangle Highlights
Village of Fae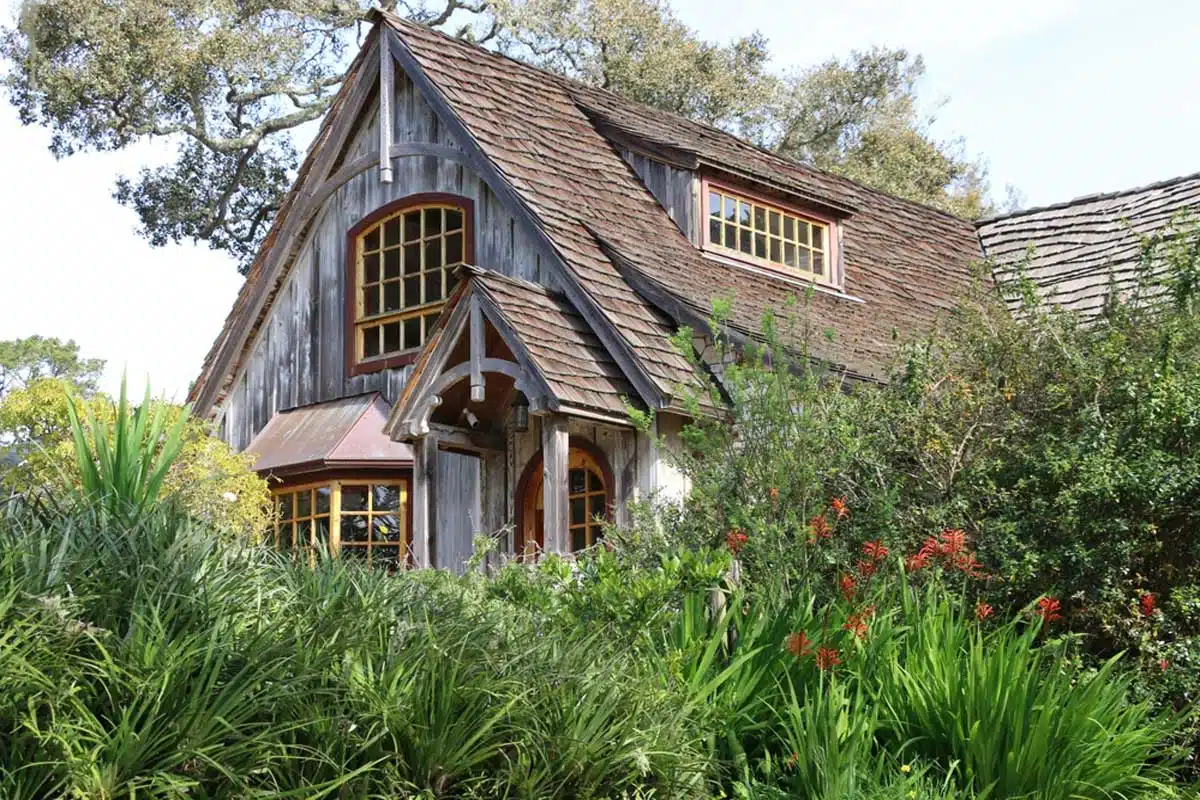 This little streetside feature has everything you expect from a town, like a bank, whisky distillery, and car shop. The only difference? It's all at an adorably small scale, fit for the fairies.
Carmel Mission Basilica Museum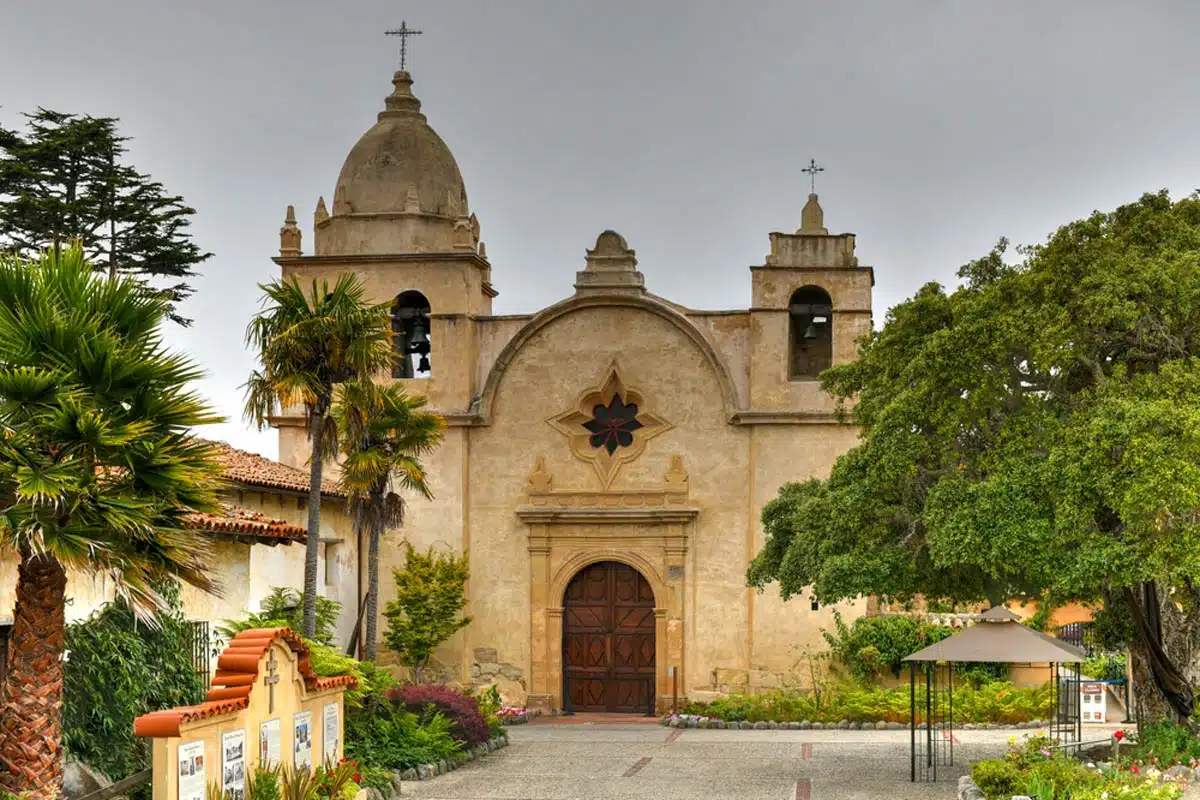 Carmel Mission Basilica Museum is actually a mile out of the neighbourhood, but I couldn't leave out the city's most iconic landmark.
Dating back to 1771, this is one of the oldest missions in California. Its standout feature has to be the shrine of Saint Junipero Serra, the mission's founder.
Suggested Carmel Hotels in the Golden Rectangle
La Playa Carmel
La Playa Carmel certainly picks it up a notch with a dazzling array of accommodation options. While the rooms have a modern simplicity, the beautiful rose gardens take centre stage.
Try your hand at some giant chess (you heard that right) in the stunning rose garden, or relax with some champers in the glorious pool. Either way, you'll feel like royalty.
L'Auberge Carmel
L'Auberge Carmel gives its 1929 building a touch of modern hospitality while maintaining its old-school charm.
The rooms have all the simple luxuries of wooden flooring and magical L-nook windows. And the enclosed courtyard is the perfect place to enjoy that refreshing coastal breeze.
Northeast Carmel: The Best Area for Budget Travelers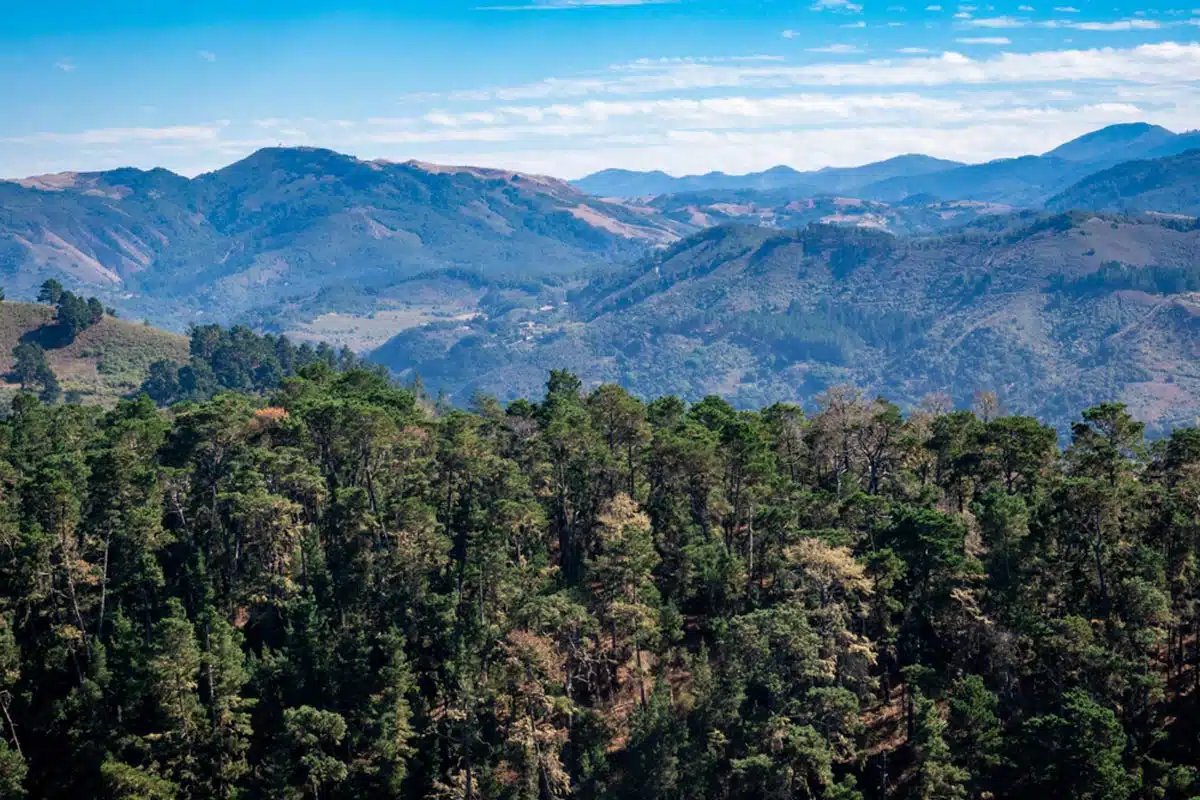 Don't want to break the bank? Then the Northeast neighbourhood may be your jam. It's the gateway between Carmel-By-the-Sea and the buzzing city of Monterey.
And, as it's close to Jack's Peak Park, you're also close to some of the best hikes in Carmel.
Northeast Carmel Highlights
Carl Cherry Centre for the Arts
You won't find a better example of Carmel's stunning art scene than at this Carl Cherry Centre – a sculpture garden and gallery space. As it's only open from Wednesday to Saturday between noon and four pm, you really need to plan your visit.
Forest Hill Park
If you're after a quiet and serene space to enjoy the crisp ocean air away from the hoards of people, venture into the wonderful Forest Hill Park. With loads of picturesque walks and secret nooks with benches, you're guaranteed tranquility.
Suggested Carmel Hotels in Northeast Carmel
Carmel Garden Inn
Carmel Garden Inn is a fairytale haven on the outside with plenty of charm on the inside, too. Soak up the sun from your private flower-filled patio or curl up in your uber comfy bed.
The onsite restaurant even has a happy hour for drinks — just don't go too hard on the cocktails. I know it's very tempting.
Horizon Inn & Ocean View Lodge
Horizon Inn's candy-coloured interiors bring the beach right to your doorstep, or should I say room? While some rooms have kitchenettes and others a private patio, the inn's real calling card is a fantastic outdoor fire pit.
Don't get me wrong, the hot tub is equally lovely, but there's something special about staring at the stars as a warm fire crackles.
Northwest Carmel: Where to Stay at Carmel-By-the-Sea for Nightlife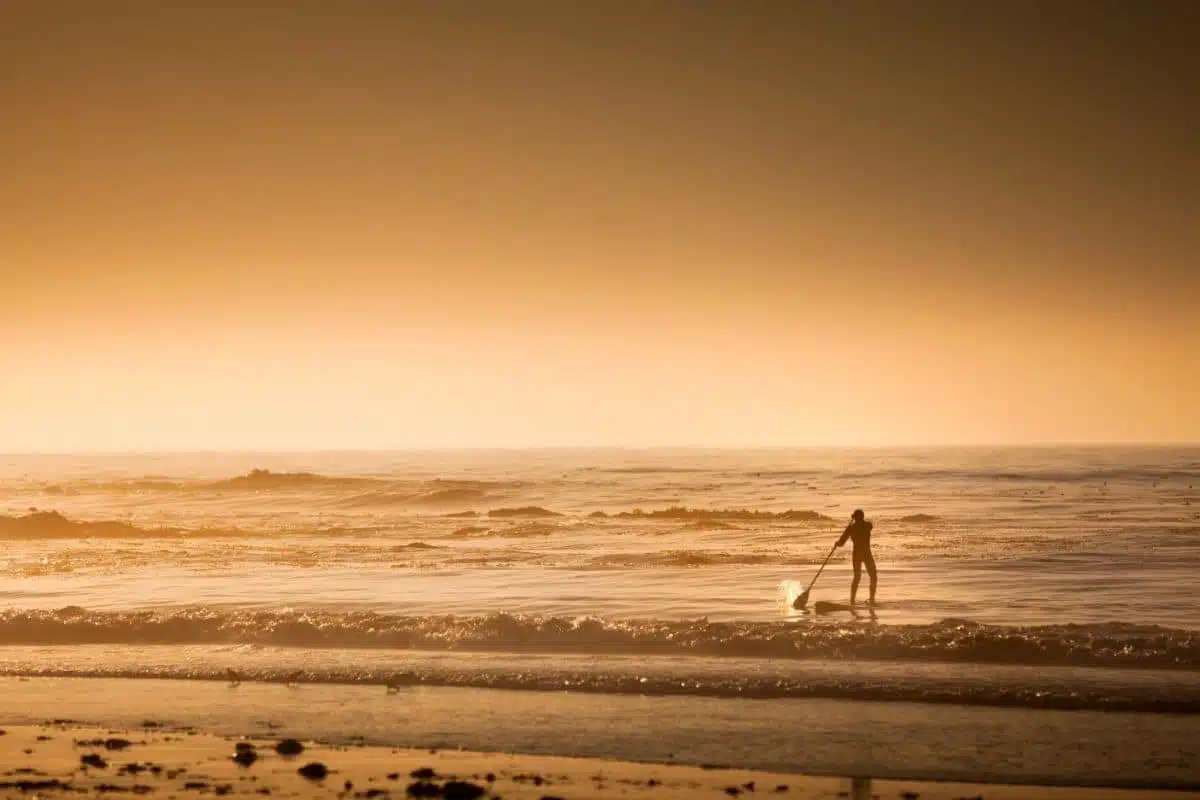 With Pescadero Canyon to the west and the gorgeous Carmel Beach just below it, the views in Northwest Carmel sure are mesmerising.
But Northwest Carmel offers far more than just pretty views, as its bar scene also rakes in the crowds. Grab a drink (or three) at Brophy's Tavern or venture into Central Carmel no more than a five-minute walk away.
Northwest Carmel Highlights
Carmel Beach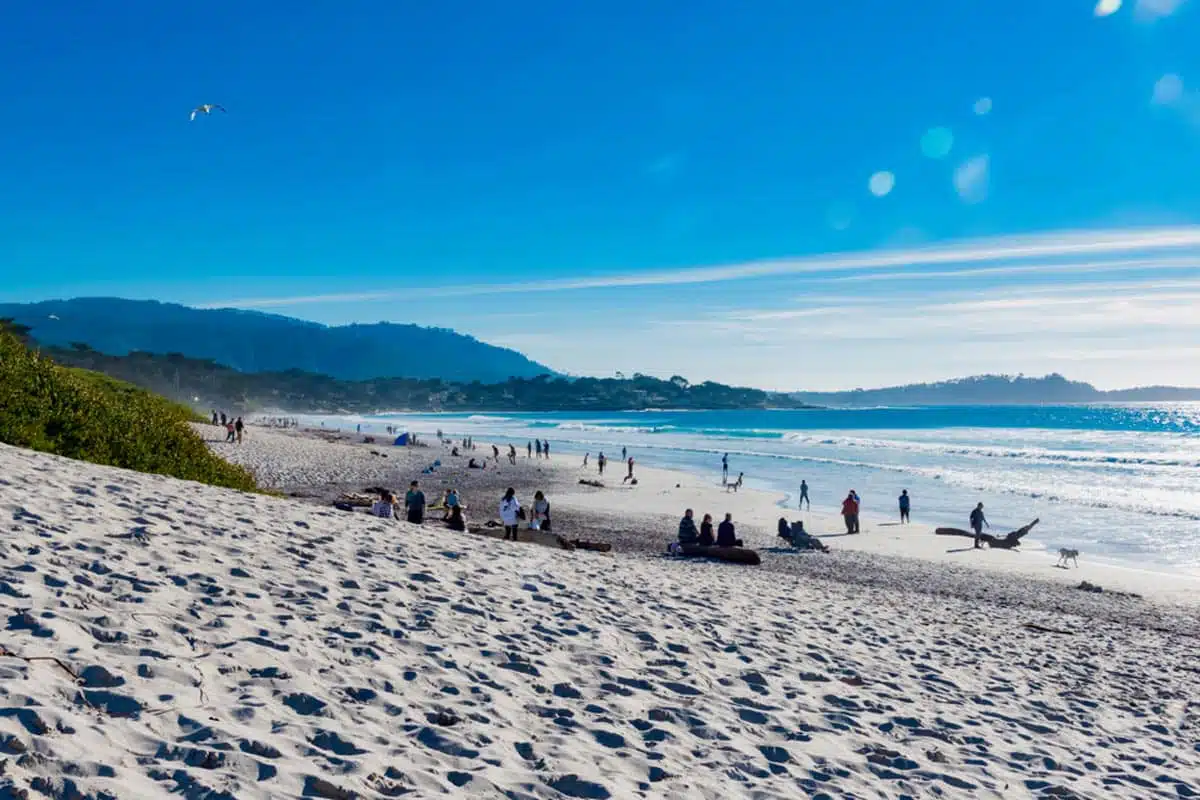 You need to spend some time on Carmel Beach. With roughly a mile of a cypress tree-lined beachfront, space is never an issue, and neither are the views.
Note: Carmel Beach is safe to swim in, but know that rip currents are a common occurrence and can be dangerous.
ZQP Trail
It may be a short walk, but the ZQP Trail is one of the prettiest beach walks in town. It leads you straight to Carmel Beach, and the cypress trees do make it a magical experience.
Suggested Carmel Hotels in Northwest Carmel
Carmel Country Inn
If you're a foodie like me, the Carmel Country Inn's gourmet breakfast spread of quiche, Parker Lusseau Bakery pastries and Peet's coffee might tickle your fancy. The boho-chic interior is wonderful, and their massage services are worth a mention.
Their resident cat Mr. Big is also super cute, and you can even bring your pets with you to keep him company if you like.
Hofsas House Hotel
You'll quickly fall in love with Hofsas House Hotel's pink Tudor exterior and lavish continental breakfast. Though the real hallmark of the hotel is its candy-coloured rooms, with each a particular colour, from poppy reds to grounding greens.
When you're not making a splash at their bean-shaped pool, Carmel Beach is just a short walk away.
Carmel Valley: Best Place to Stay in Carmel for Luxury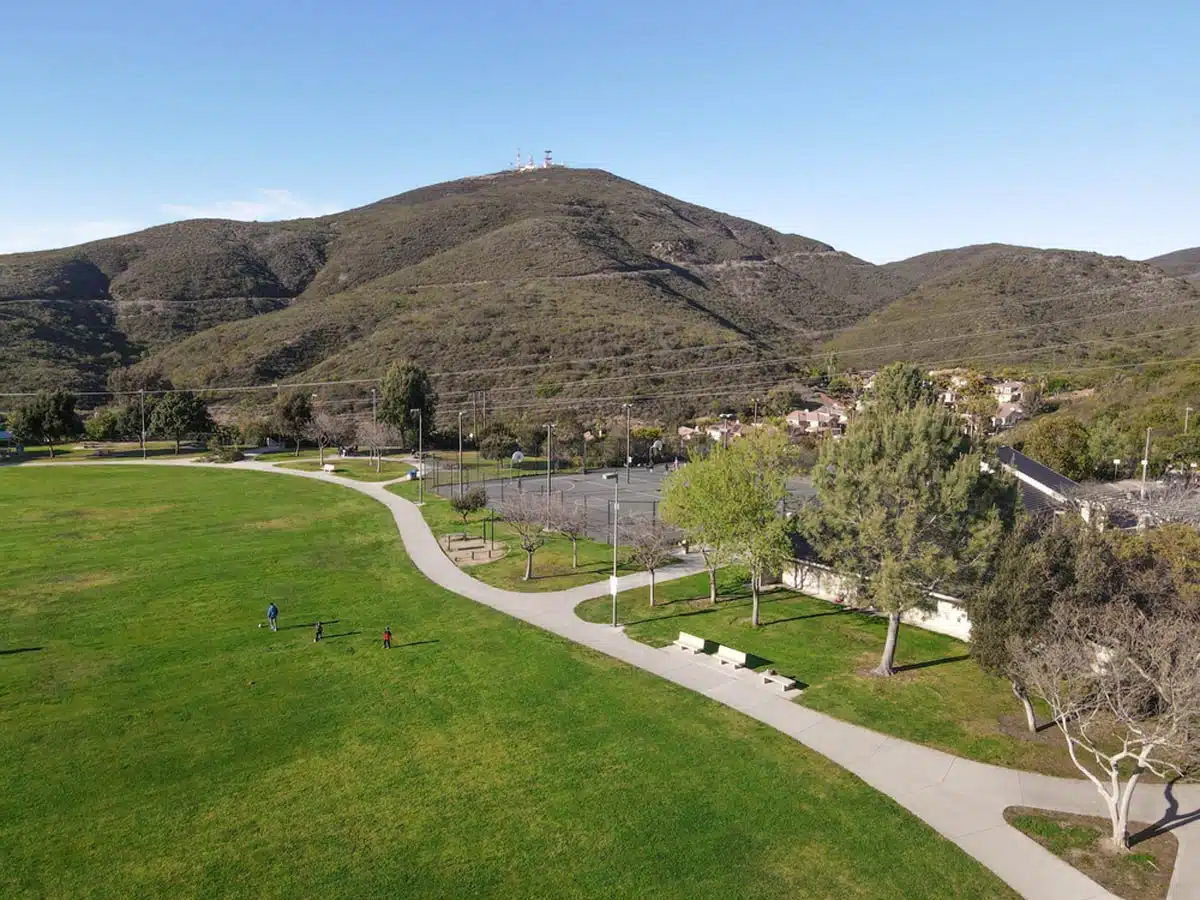 It may be a 13.2-mile (21 km) drive from the city, but the Carmel Valley is one of the best places to stay in Carmel-by-the-Sea. This destination is packed with luxury resorts and calming spas, while also offering the simple pleasures of vista views and fun-filled wine-tasting tours.
Considering it's only a 20-minute drive from the beach, this is a destination you can't pass up.
Carmel Valley Highlights
Inspiration Point
It may be a place of luxury golf estates and wine galore, but hiking up Inspiration Point is a must. It's a short hike, but the views of Garland Ranch Regional Park at the top are pretty impressive.
Eucalyptus Tree Row (1874)
Travel amongst giants as you drive along Boronda Road. With 33 eucalyptus trees over 130 years of age, there's no better place to feel nature's beauty and sheer scale.
Suggested Carmel Hotels in Carmel Valley
Carmel Valley Ranch
Hyatt knows how to do it right, and that's no exception at the 4-star Carmel Valley Ranch. With sweeping vistas of the valley and nearby vineyards, and some rooms with private pools and outdoor baths, luxury is at the forefront.
PS: This hotel is also close to the Korean Buddhist Temple Sambosa, which is worth a visit.
Bernardus Lodge & Spa
A part of one of the most famous wineries in the region, Bernardus Lodge and Spa is a five-star stay that's calling your name. You've got everything here, from a complimentary mini-bar full of grotto wines and hiking trails to magical massage packages and a stellar restaurant.
Monterey: Where to Stay Near Carmel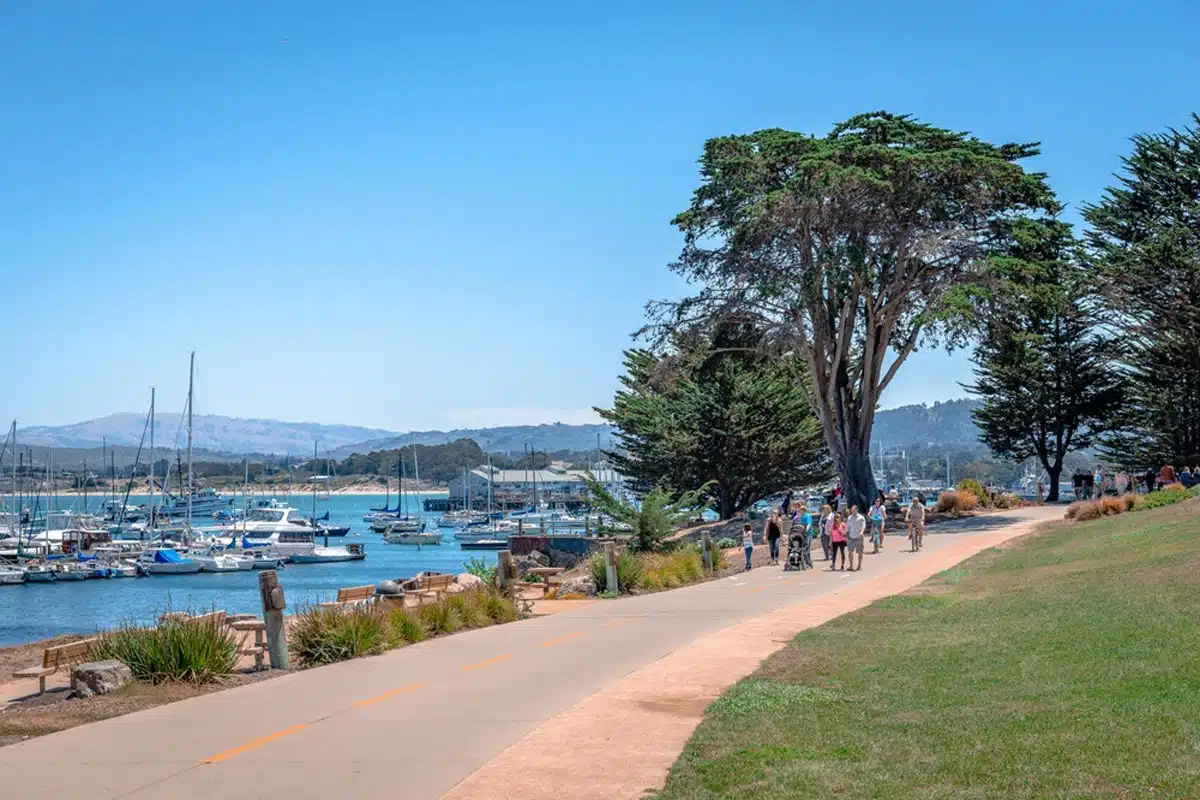 Monterey is very much its own little city, but how could I not include its fantastic hotels when it's only 4.2 miles (6.7 km) away?
Whether you fancy perusing the Monterey Museum of Art and chowing down at trendy fine dining destinations, or you would prefer to relax in outdoor spaces like the Montgomery Veterans Memorial Park, there's plenty to see and do here.
Monterey Highlights
Old Fisherman's Wharf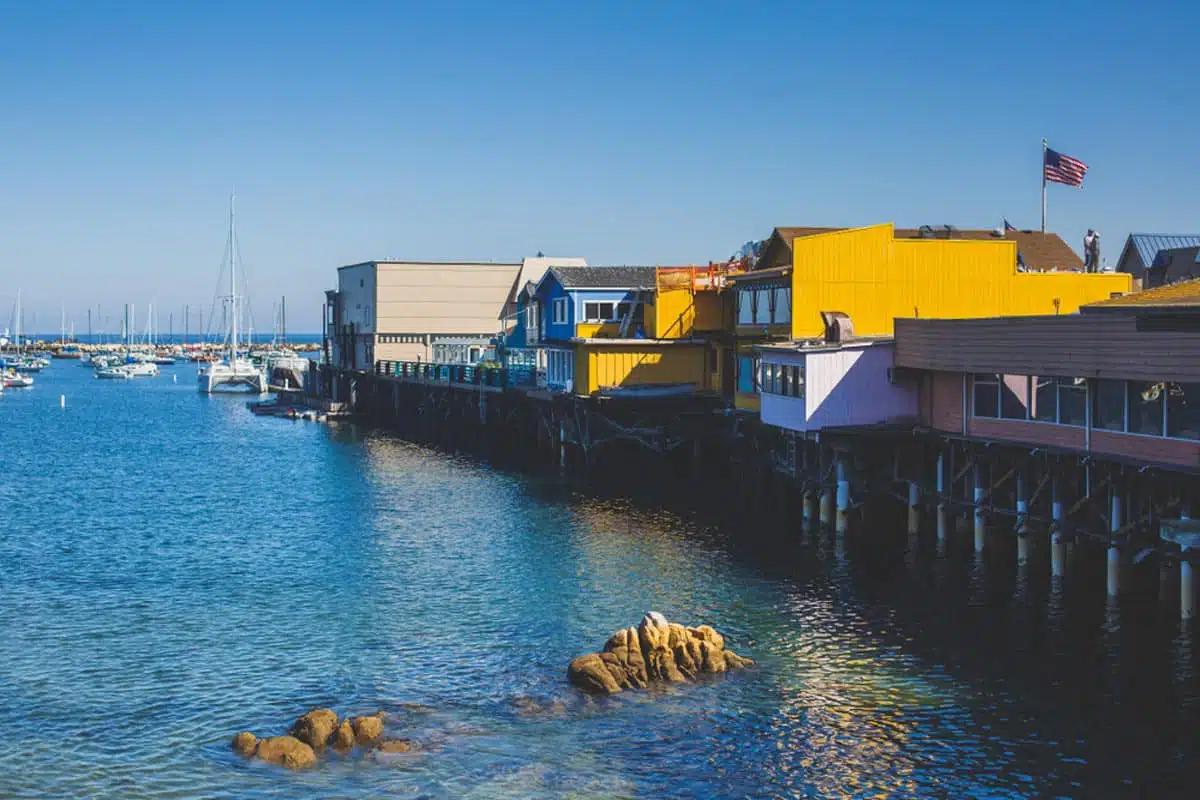 Dining, shopping, whale watching… You name it, and Old Fisherman's Wharf has it in abundance. Try classic treats at the Crab House or set sail on an adventure with a Monterey Bay whale-watching cruise.
And, if you're still not convinced, maybe this will sway you: if you've got a taste for the sweeter things in life, the Wharf Chocolate Factory is also worth a visit. Nom.
Cannery Row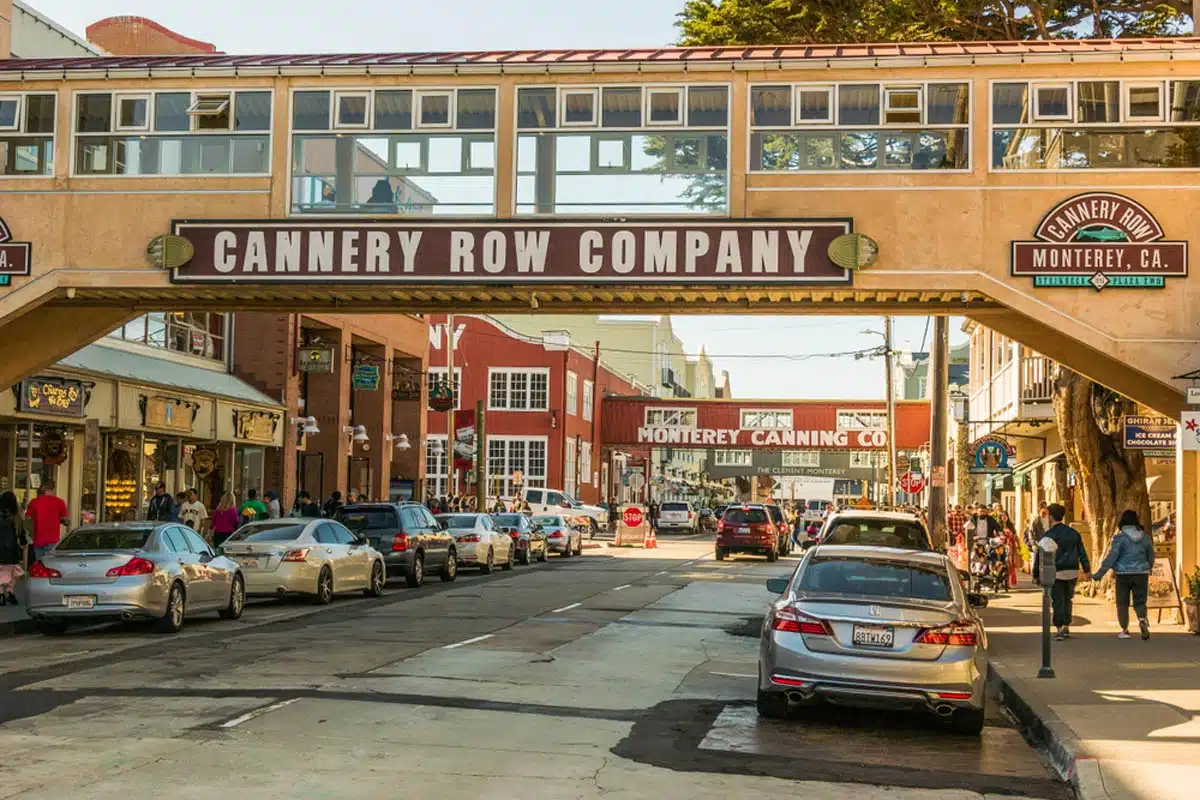 Another unique Californian experience awaits you at the once-sardine canning factories of Cannery Row. There are plenty of fun things to do here, from a wine and bistro tour to exploring the Monterey Mirror Maze. But the real gem of this iconic space is the magnificent coastal views.
Suggested Carmel Hotels in Monterey
Hyatt Regency Monterey Hotel & Spa
Another masterstroke is the Hyatt Regency Monterey Hotel, which offers a golfer's paradise and a beach bum's heaven. The rooms use a simple grey, wood and white interior to allow the ocean views to take precedence.
It also offers all the amenities you expect from Hyatt, such as two stunning restaurants and a calming spa experience.
Portola Hotel & Spa
Trust me when I say you'll swoon over the moody designs of the Portola Hotel's lounge, bar and outdoor courtyard. In contrast, its rooms are a light and airy combination of white and light blues, so you can truly relax after a pumped-up night at Fisherman's Wharf.
Where to Stay in Carmel, California: Frequently Asked Questions
Practical Tips to Consider Before Booking Your Carmel Accommodation
June to August is Carmel's peak tourist season. So if you want to avoid the crowds and the expensive prices that come with it, visit in April, May or September.
When visiting Carmel-By-the-Sea, where to stay is essential, especially if you want to experience a specific aspect of the city. If it's wine and resorts you want, then Carmel Valley is best. But if it's your first time and you don't plan on driving, look for something closer to the city.
Where to Stay in Carmel: Read Next
Love This? Save and Share on Pinterest