Denver is one hot ticket when it comes to street art. With its quirky demeanour and cultural focus, it's no wonder that its urban art scene is popping – and believe me, it is. Planning to explore Denver's murals and street art? I've created this handy guide, complete with a self-guided tour and map. Let's go!
Denver was the first stop on my recent Colorado road trip and boy, did I fall in love with it HARD.
Plentiful sunshine, all the breweries you could ever wish for and (most importantly) a banging street art scene.
I'm ashamed to say that before my trip I had no idea that Denver was such an arts hub… turns out that pretty much everywhere you go, there's a cool piece or two to be found.
Denver has a long history of public art – 1% of any construction project valued at over $1 million has to be donated to public art – huge sculptures and installations (like the famous Blue Bear) have played their role in bringing Denver's streets to life.
Large scale murals and street art are a part of that movement too – moving from the underground to the mainstream within the past few decades.
If you're really serious about finding the best of Denver's street art scene in a short period of time, I'd suggest you head to RiNo (River North), which is what most of this guide to Denver's murals and street art focuses on.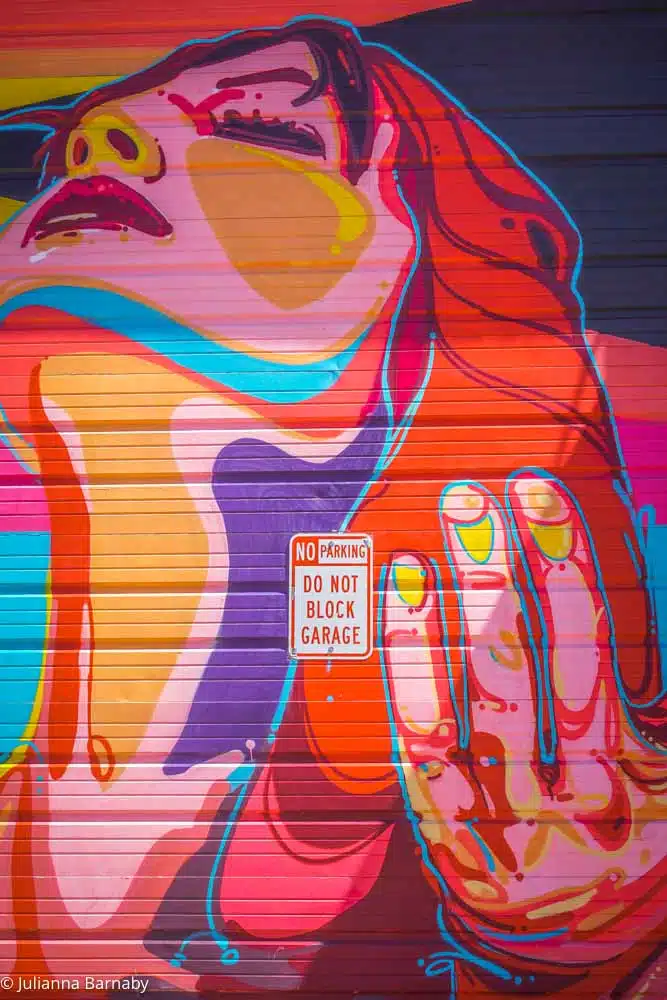 Of course, one of the big things about street art is its transitory nature. There are so many times that I've gone back to one of my favourite walls only to find a new piece has gone up in its place – don't be surprised if you find the same.
That's why I've organised this article by street / area rather than the individual pieces themselves. Enjoy!

Looking for a guided tour? This RiNo Graffiti Tour is too Colorado for words….
Where to Find Cool Denver Murals in RiNo
Hip and happening RiNo is the heart of Denver's street art scene.
Taking a few hours to explore the area's 80+ (no, I'm not exaggerating) official (plus more than a few more unofficial) walls is one of the best ways to see the neighbourhood.
Each September a huge street art festival, CRUSH WALLS is held in RiNo.
The festival brings the boldest and the brightest from the international street art scene (as well as a tonne of homegrown Denver talent to boot) to splash RiNo with all kinds of street art.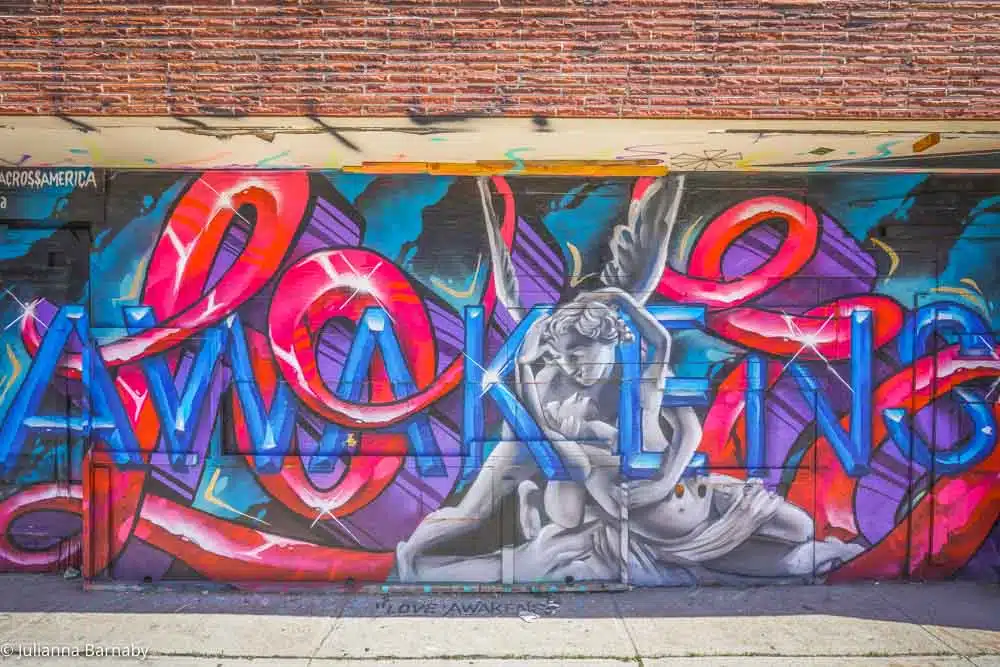 Though lots of cities around the world have similar festivals (Madrid, London and Montreal being three examples that spring to mind, I've never seen anything quite as extensive as the Crush Walls in Denver.
It's huge – to the point where it feels like every corner holds more pieces to be discovered, each one jostling for your attention, making the most of every centimetre of their allotted space.
I've picked some of my favourite spots in RiNo, but if you want a full breakdown of all of the walls and pieces, check out this handy map that Crush have put together of the pieces and their locations.
Obviously that's all going to change come September though.
PS. I wouldn't blame you either if you stopped off at one or two of the many craft breweries dotted around the area as you were checking out the spots because hey, it's Denver and walking is thirsty work.
The Parking Lot Next to Denver Central Market
This was the first place I started in RiNo and what a start.
The pieces here are huge and, thanks to the contrasting styles of the different artists, the overall effect is pretty impressive.
Just don't get so distracted by the art that you forget it is actually a car park with sporadically moving vehicles and everything.
If you're really short on time, I'd suggest sticking to the car park of Denver Central Market and the block surrounding it including Alleys 1, 2 and 3 plus a section of Larimer.
Power and Equality by Shephard Fairey
Shephard Fairey is one of the biggest names on America's street art scene, in no small thanks down to that iconic Obama poster for the 2008 election campaign.
His strong use of shape and limited colour palette guarantee that his works always pack a punch – Power and Equality is no different.
The strong message is reminiscent of civil rights causes of times past, and serves a timely reminder that the message the piece conveys is no less relevant or required today.
Brown Diamonds by Cryptik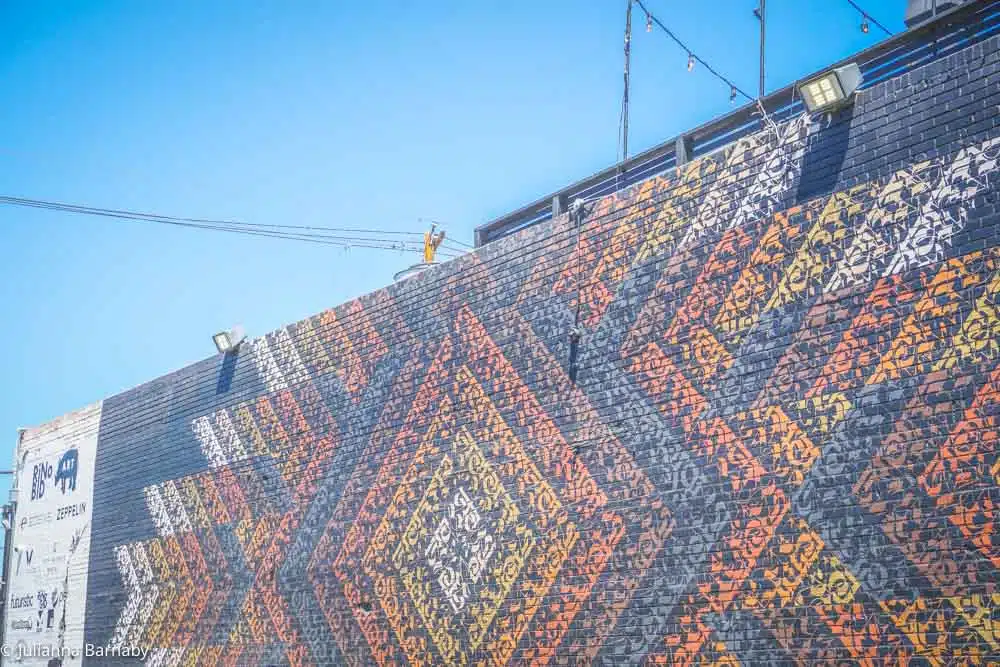 You'll find quite a few pieces by Cryptik dotted around the RiNo District – including this megalith on Larimer Street.
The artist's clever use of Islamic script and geometric forms are mesmerising – it's like staring into an intricate kaleidoscope.
Keep Smiling by David Shillinglaw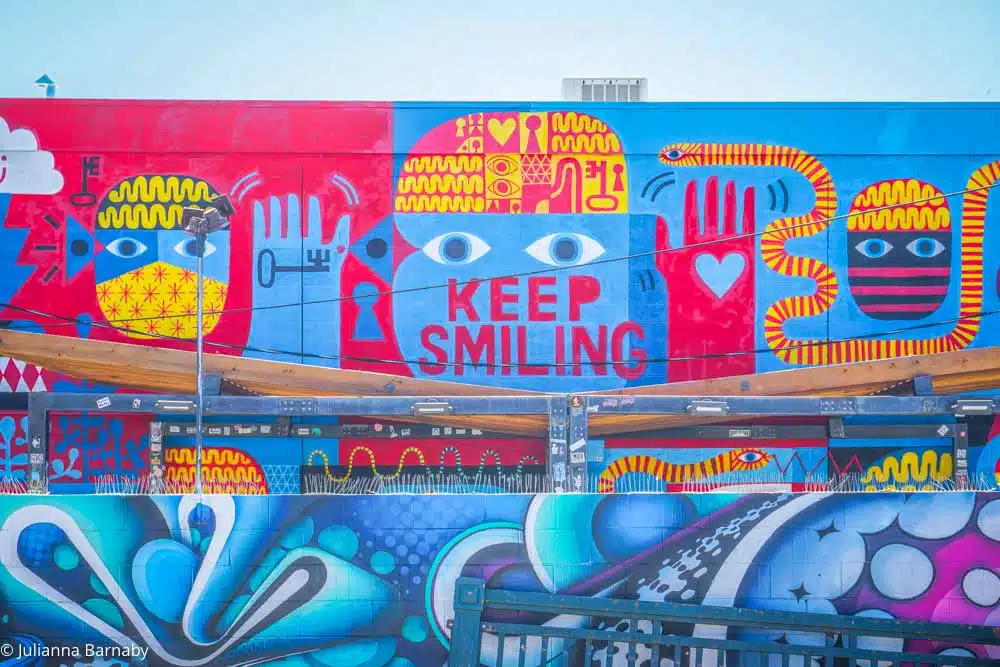 Londoner David Shillinglaw is not afraid of a bold stroke of colour and a happy message – this is one of the many pictures in his positive "Keep Smiling" series.

Woman's Reflection by Napoletano Art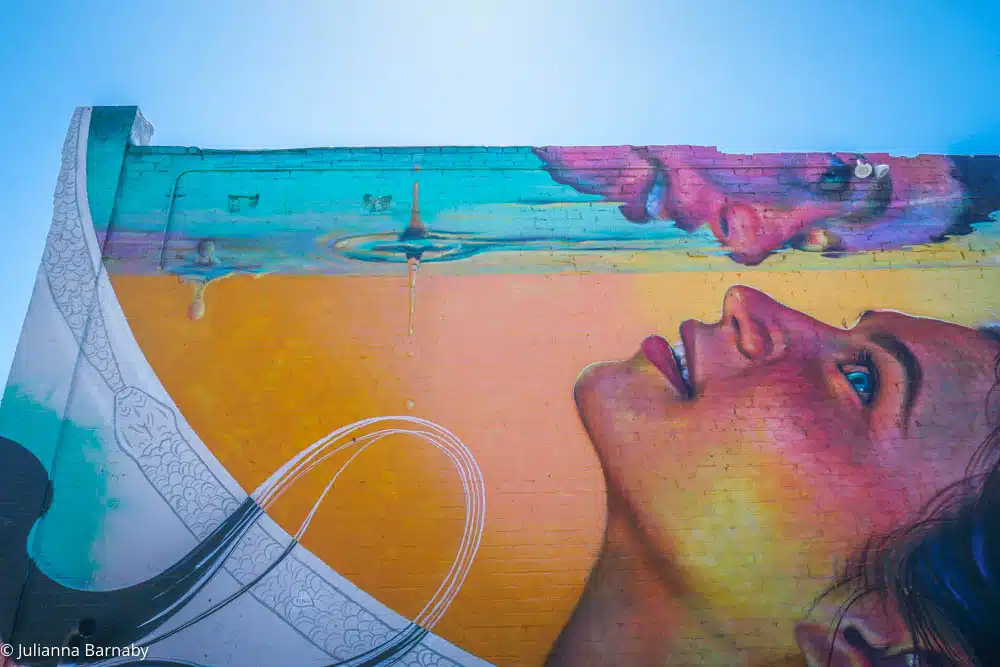 Nick Napoletano blends hyperrealism with a palate of gorgeous colours to create this large-scale inverted piece of a woman staring at her reflection.

Alleys 1, 2 and 3
Make sure you don't miss Alleys 1, 2 and 3 – even though they're not actually that long, it took me at least an hour to dawdle my way along them as there are so many pieces cleverly fitted into each alley.
This does have the flipside that these three alleys are some of the busier RiNo street art spots, but I think you'll agree these pieces are worth waiting a little longer to see.
I've picked a few of my favourites for you to peek at.

Psychedelic Creatures by Pharaoh One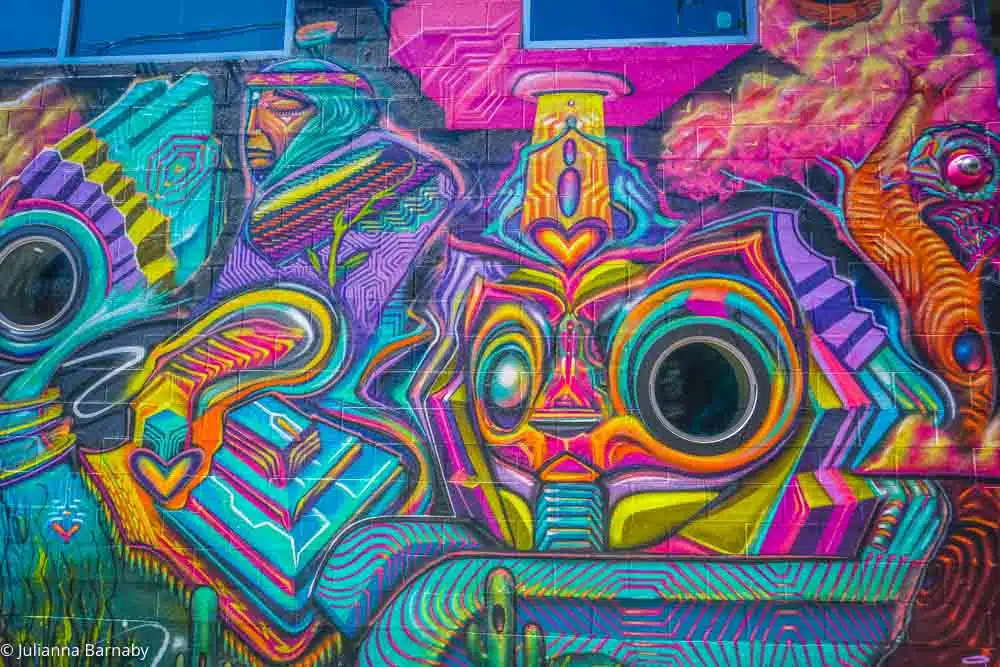 Local artist Pharaoh One blends South American artistic influences with more than a touch of the psychedelic in his eye-popping mural.

Still Wave by ESIC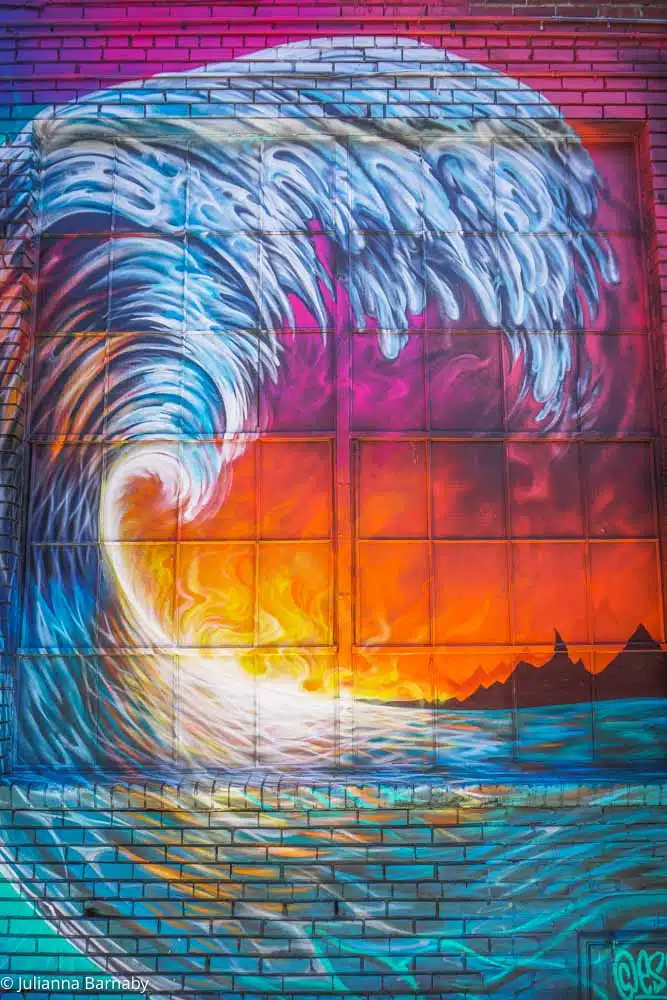 Denver-based ESIC focuses on small details, bringing them to life in striking colours – in this case, a wave caught mid-motion.

Surreal by MPEK 36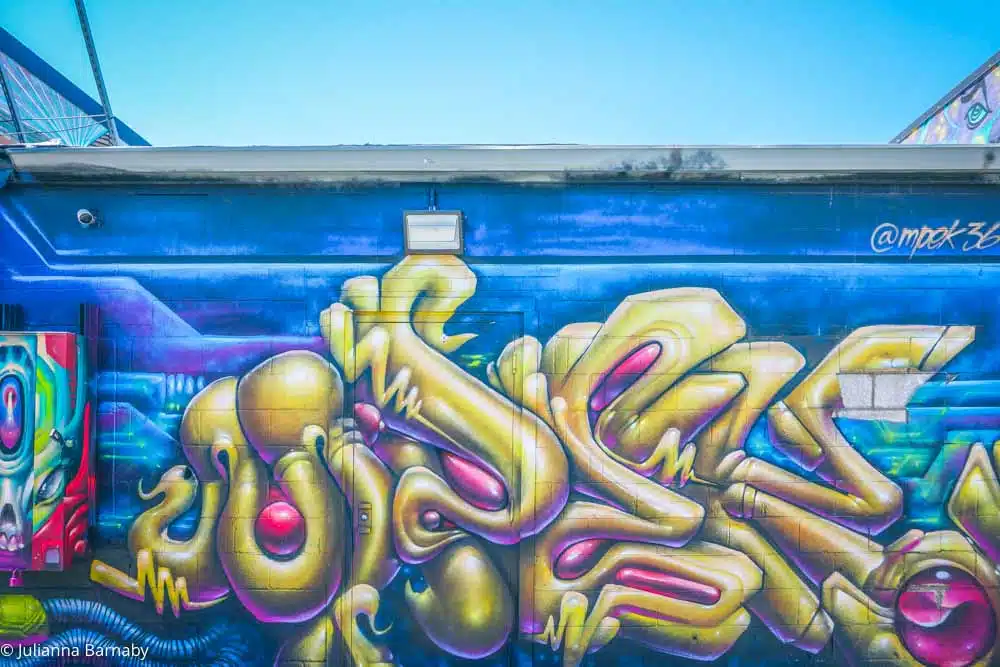 Mexican street artist MPEK is a huge name internationally and you can glimpse his signature style, blending surrealist forms with three dimensional shading in this cool piece.
Spirited Away by Miss Meeg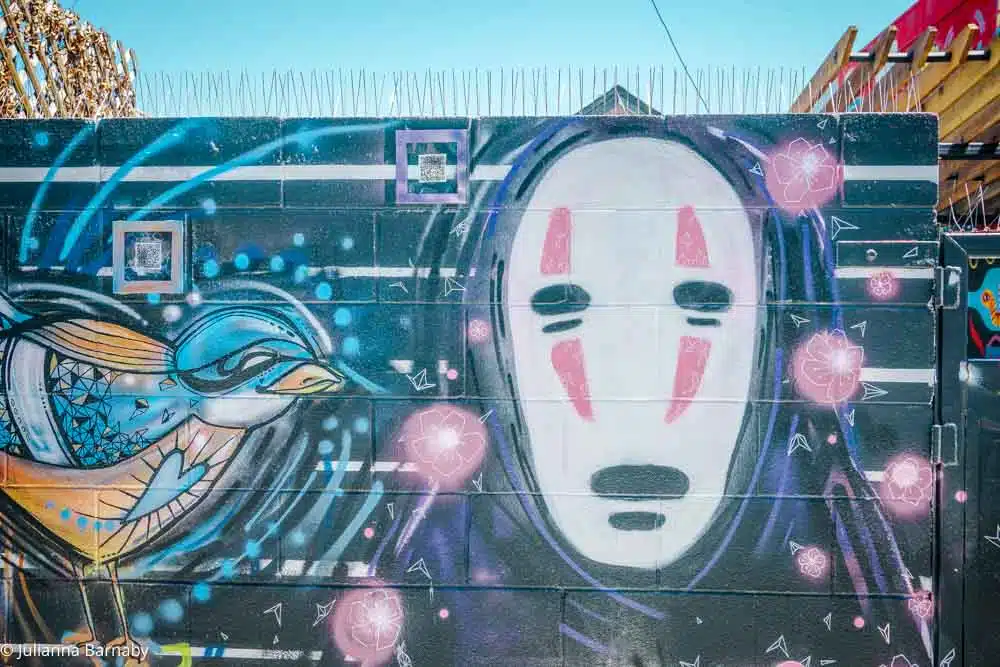 On a completely different note, I was totally digging the Hayao Miyazaki-inspired Spirited Away vibes in this piece by Miss Meeg.
Miss Meeg a.k.a Meeg Conroy combines paint and wheatpasting to create murals of the people and animals that define Denver.
Animal Warrior Woman by Carl Bolsinger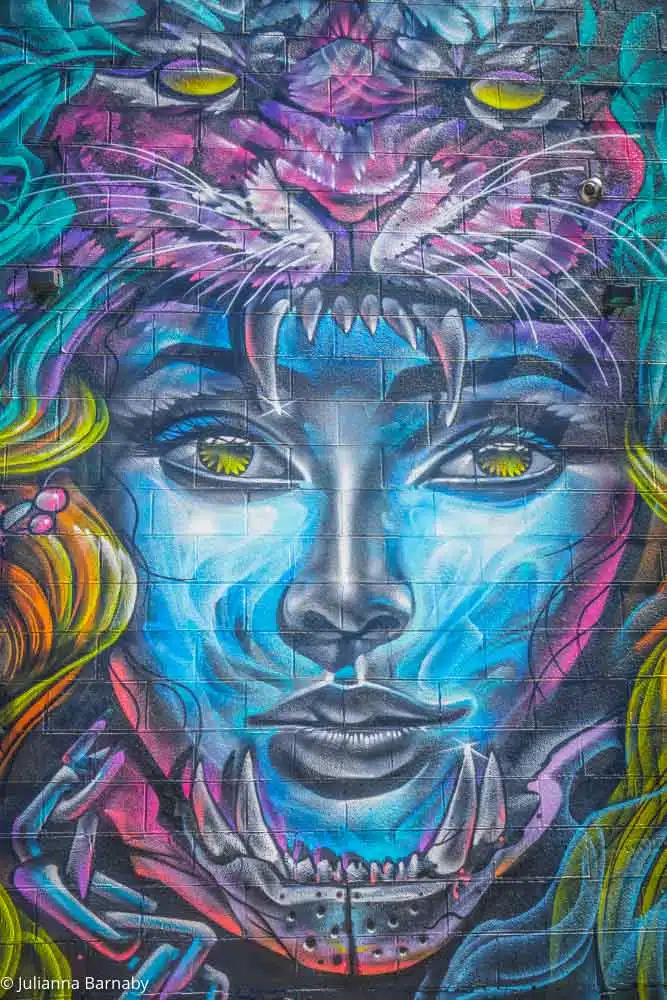 Females in the Night by Poni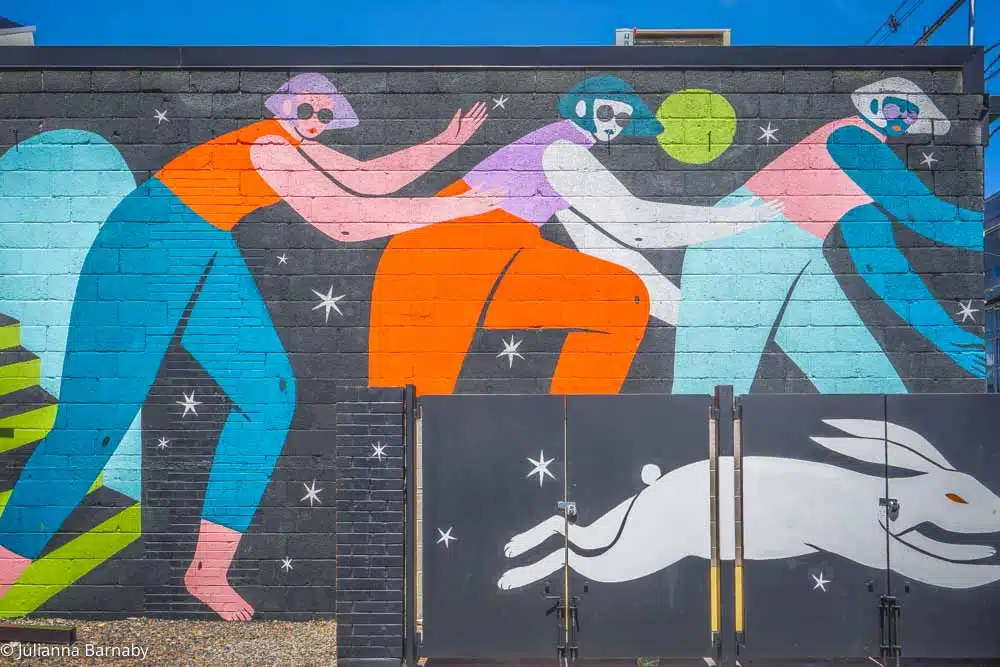 Restore the Balance by Val the Hermit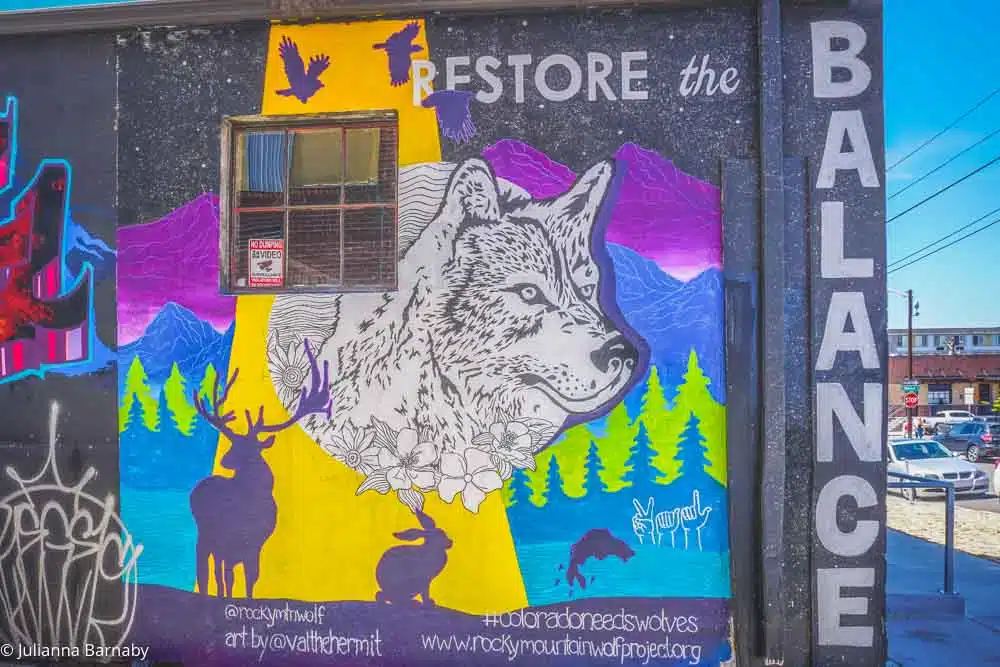 Jher Seno and the Arty Deeds Crew – Running Things
The scale of this piece will totally blow you away – practically running the length of the whole of alley three, this Running Things piece pays homage to everyone's favourite creepy alien Netflix program, Stranger Things with a series of murals depicting scenes from the show.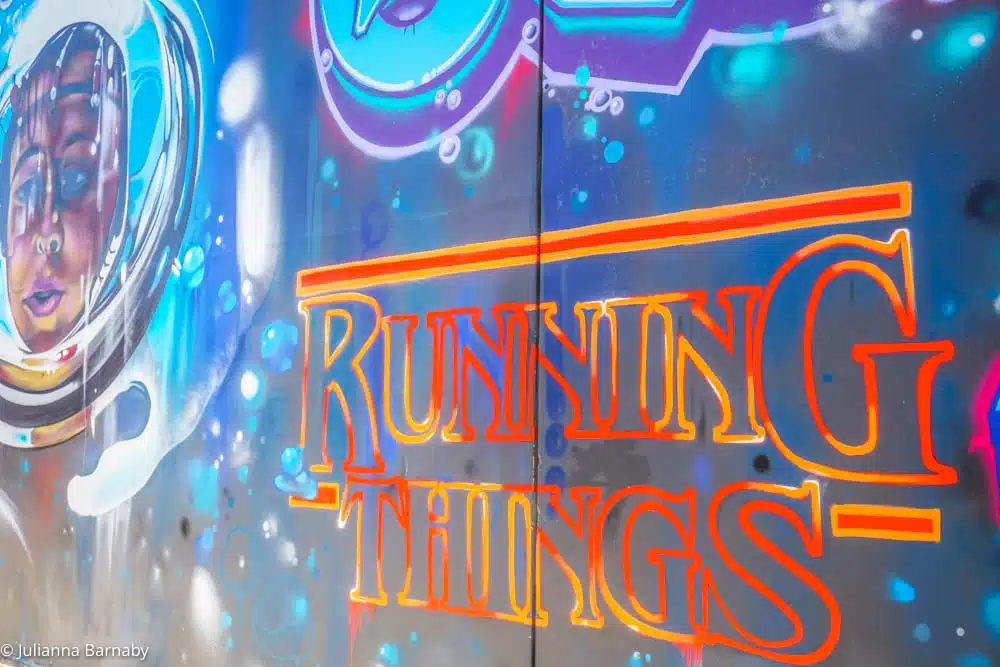 The Watching Woman by Casey Kawaguchi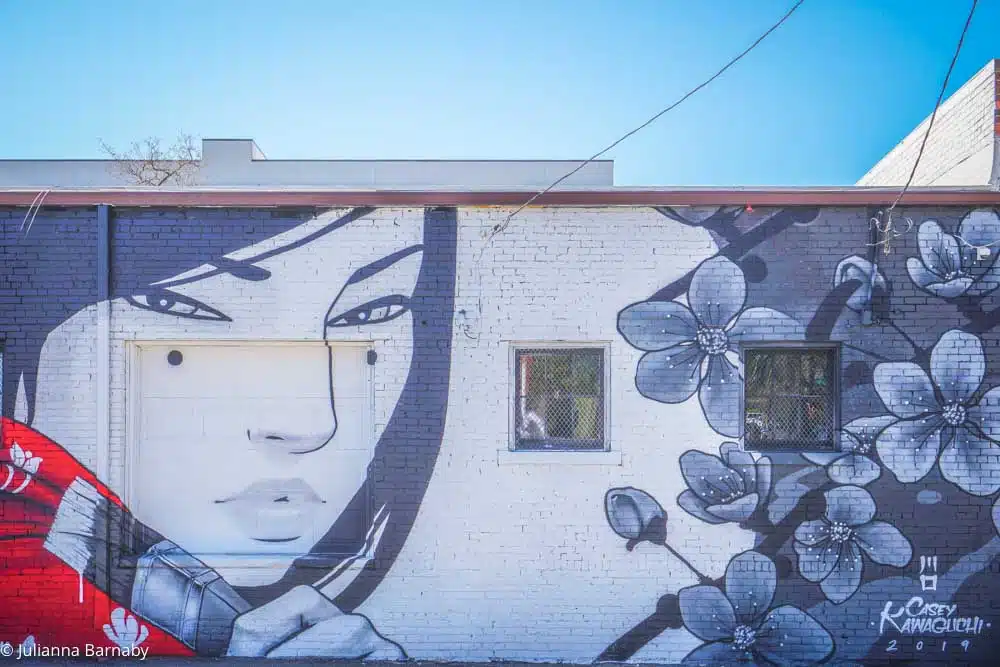 The Tickle by Shitty Kitten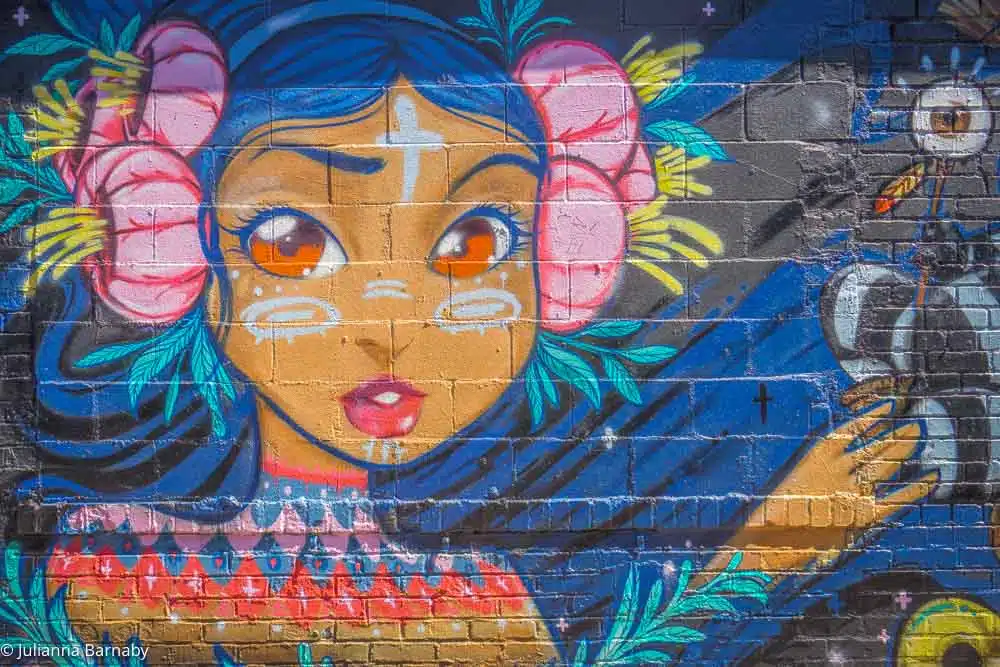 A Conversation by Jaime Perro Pol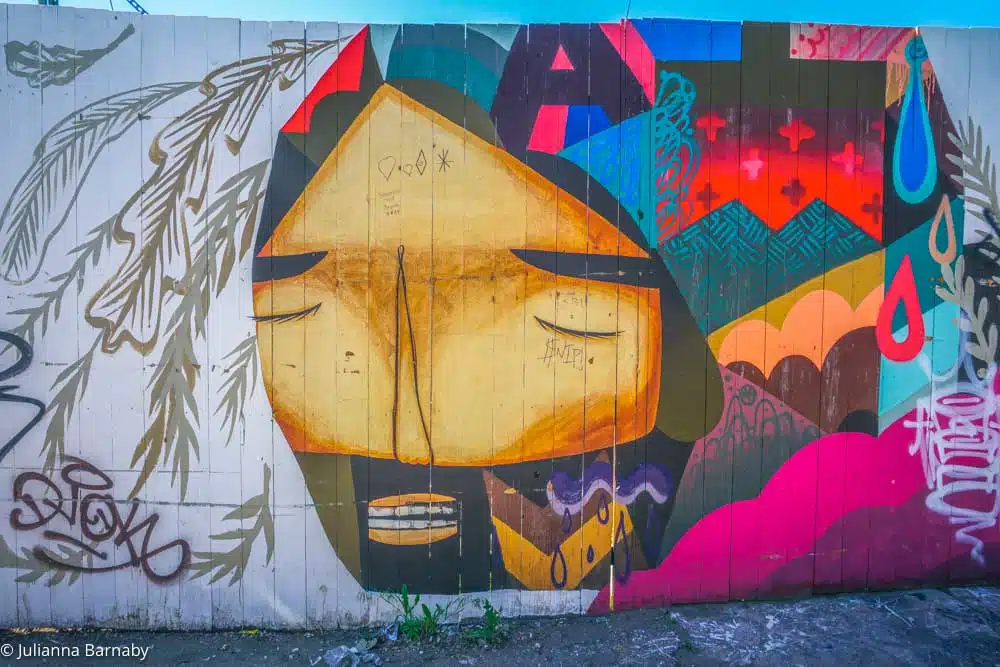 Larimer Street
The Scourge of Society by Nomad Clan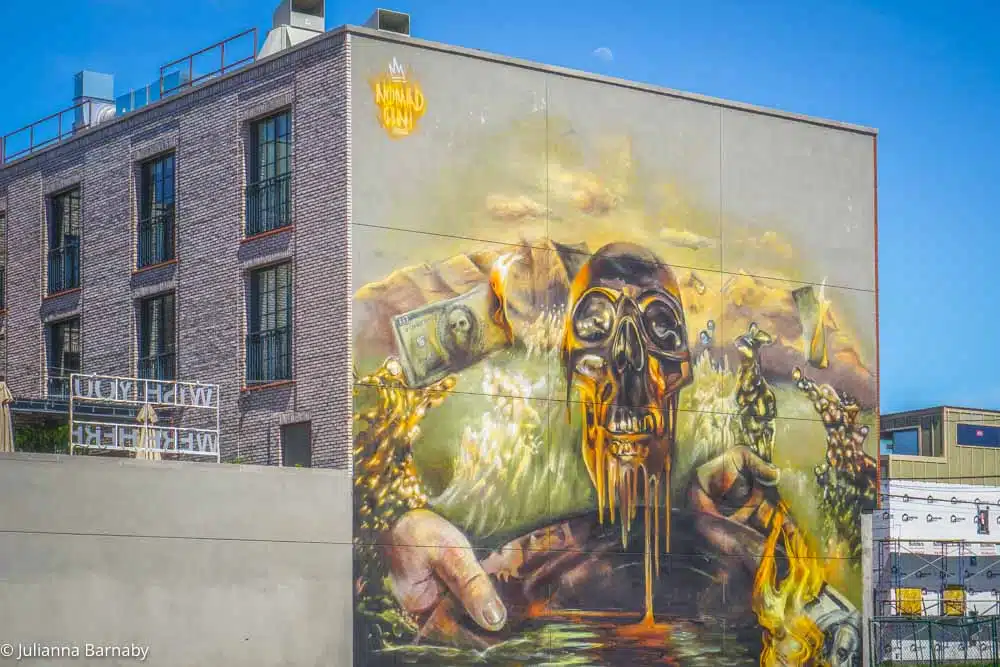 British duo Nomad Clan are tipped as two of the hottest female street artists in the world – they painted this cool piece in Crush 2018.
PS. it's in an inaccessible forecourt around the back of the Ramble Hotel – almost at the junction of Larimer and Broadway, as is Lindee Zimmer's below, but they're so large seeing them isn't exactly a problem!
Lady Larimer by Lindee Zimmer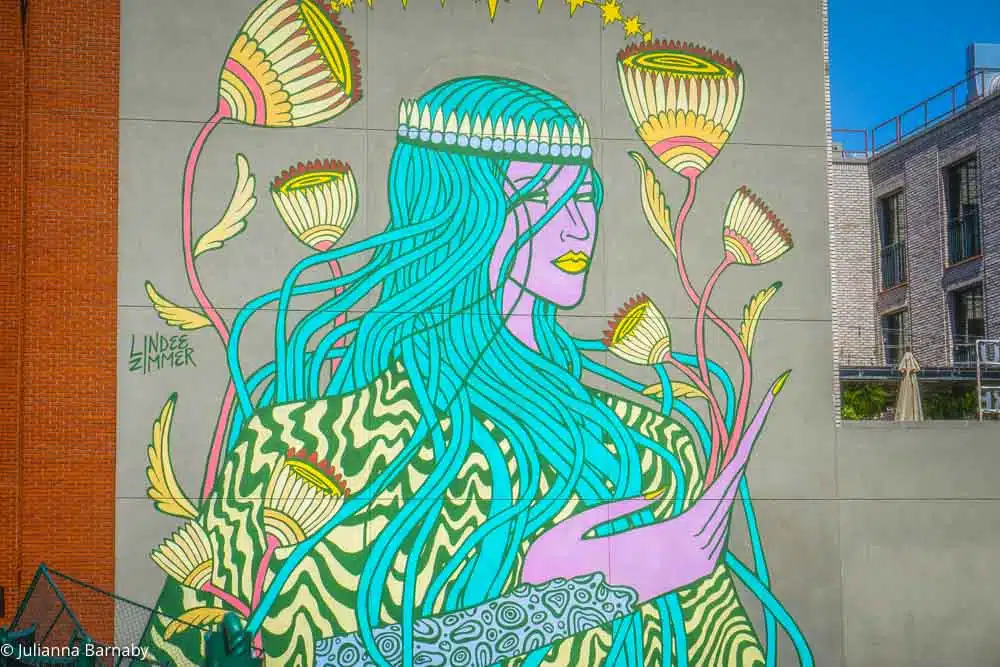 You can find Lindee Zimmer's mystical ladies all over Denver (and a couple of places internationally too).

Botanicare Mural – Michael Ortiz and Jonathon Lamb of Like Minded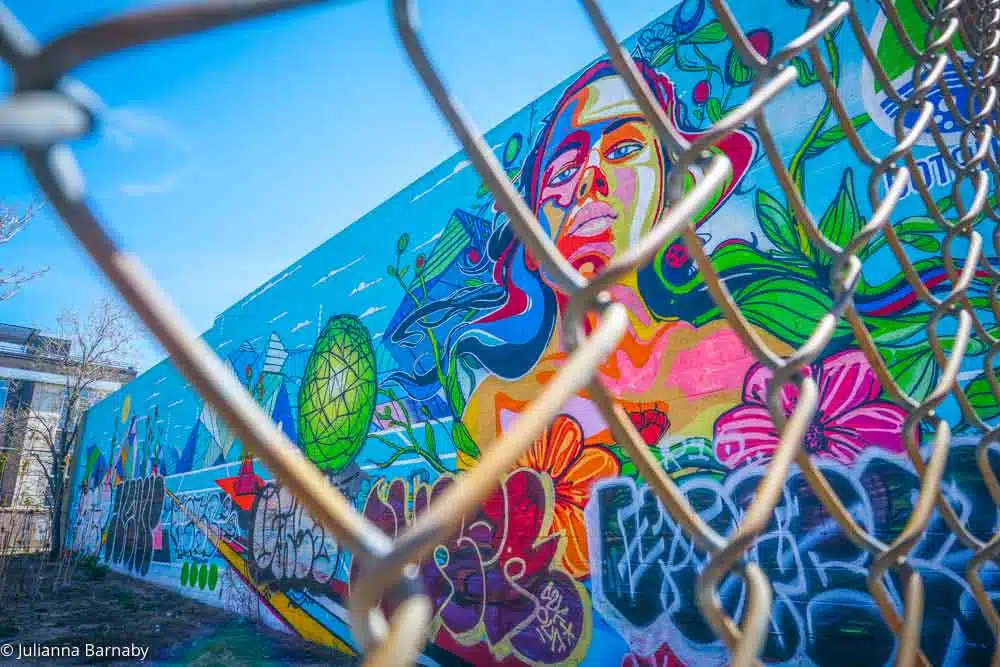 Celestial by Menace Resa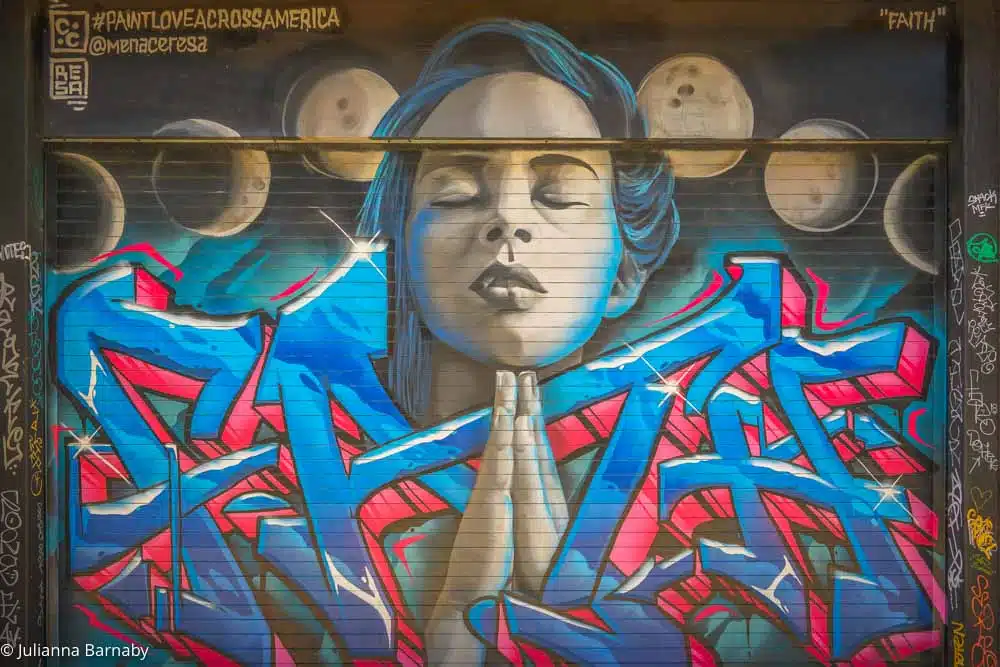 Orange, Blue, and Red Eyes by Aholsniffsglue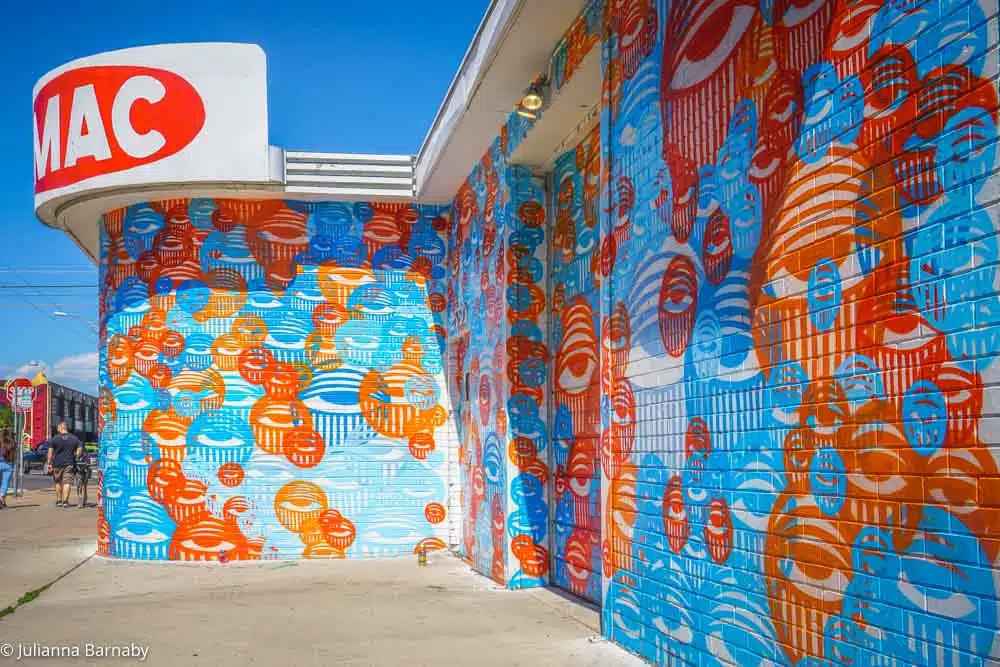 Mesmerisingly creepy, Ahol Sniffs Glue's piece contrasts the intensity of hundreds of eyes staring at you with bright colours and outlines.
Representing Ahol's vision on life, it's definitely one that will make you look twice.

Colourful Woman by Illson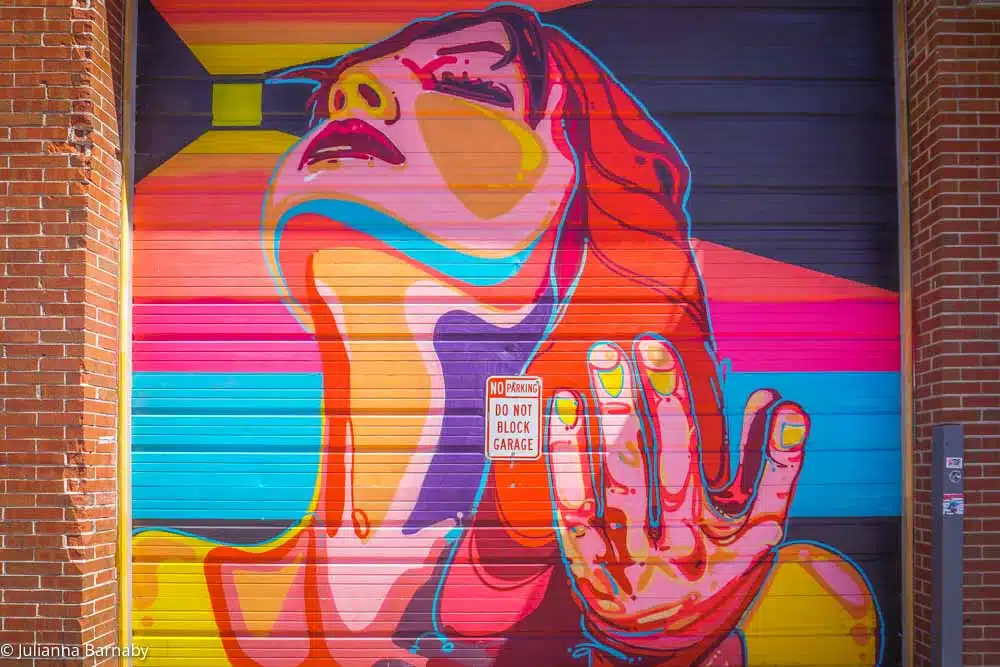 It's Almost Too Hard Not to Look Away by Scot LeFavor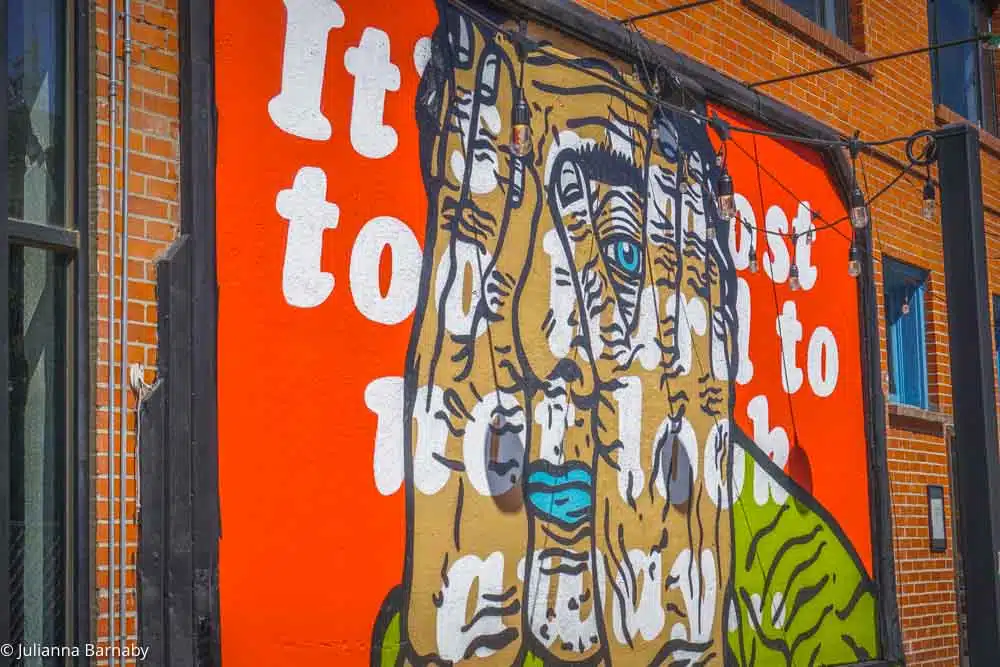 LeFavor makes a political statement with this bold (in more ways than one) piece – the subject reflecting the written statement.
LeFavor created it to channel the worry and anxiety we feel about the things happening in today's world, in line with his generally outspoken and politically-charged works.
Larimer Boy and Girl by Jeremy Burns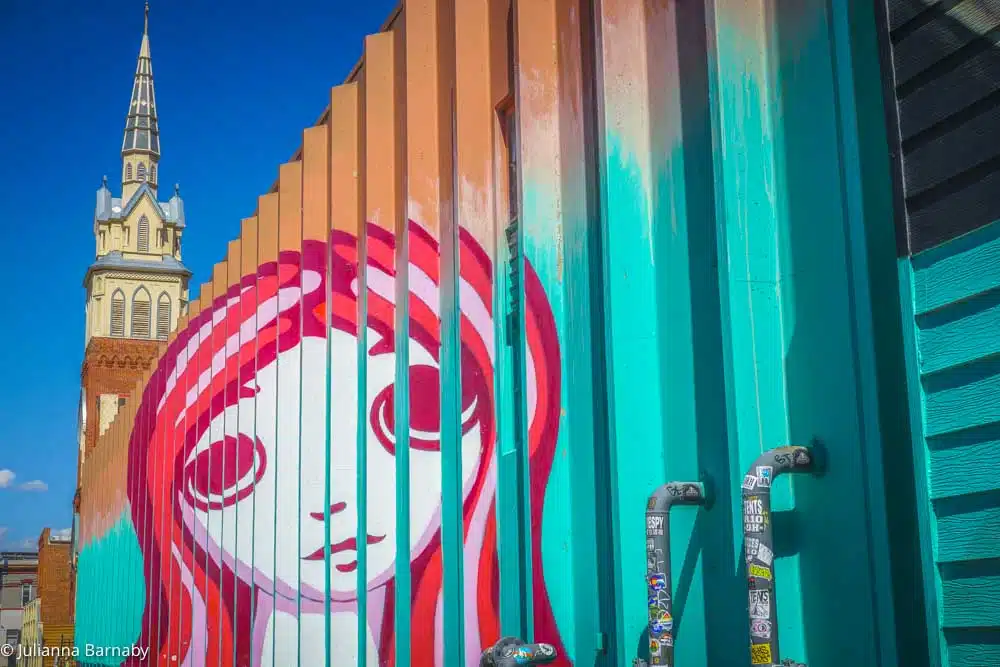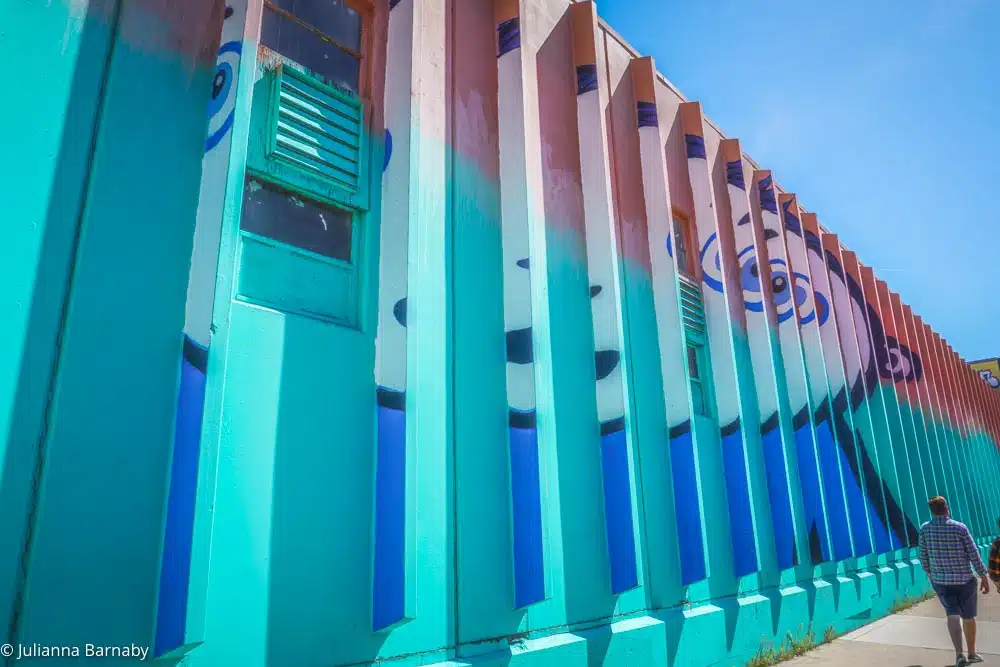 Jeremy Burns has created one of the most unique Denver murals with Larimer Boy and Girl by using a three dimensional canvas to create two completely different images depending on which way you approach it from.
Walnut Street
Eyeballs by Vyal One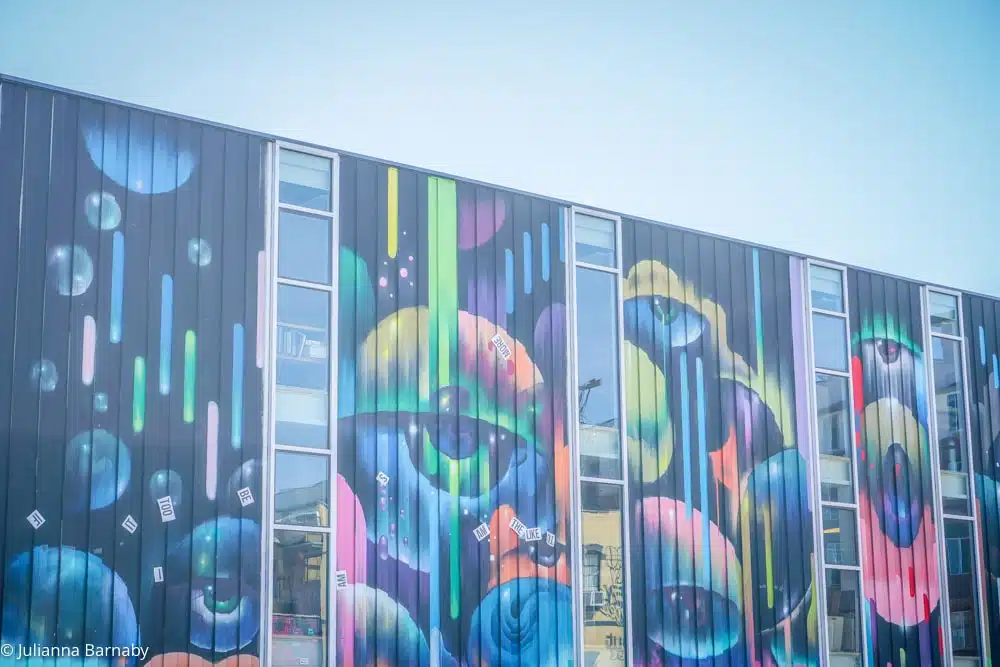 Vyal One's mystical eye paintings have been popping up all over the country, but this one, which covers a whole building on Walnut can't fail to catch your eye – there's so much detail.
Unusual in an abstract painting and I love the contrast between the black background and neon colours.
27th Street
Nina Simone Mural by Detour 303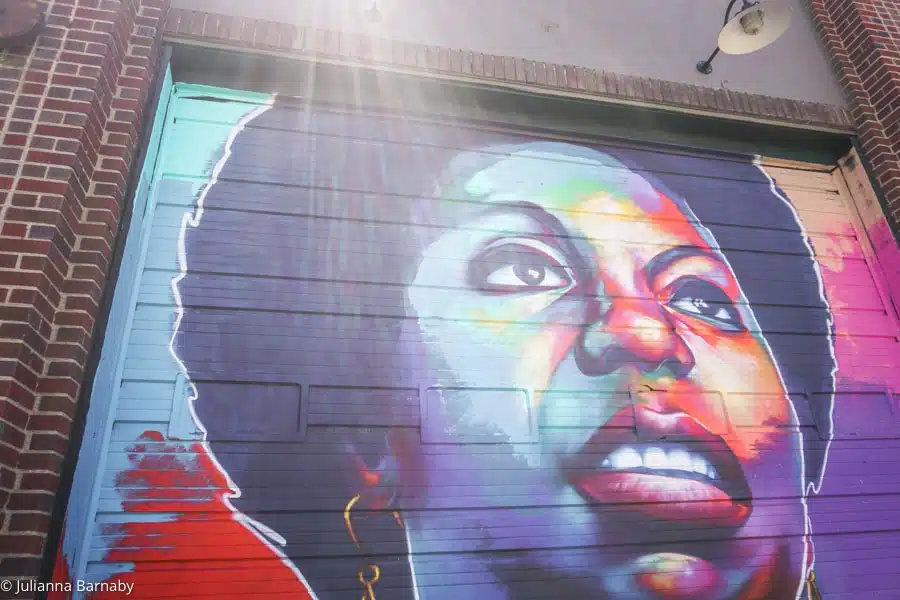 Detour takes up the mantle of portraying minorities in heroic graphics, and I think it's safe to say that he's had spectacular success with none other than Miss Nina Simone.
Channelling pop art simplicity with bold uses of outline, it's one of my favourite pieces that I found that day.
Broadway
Love This City Denver by Pat Milbery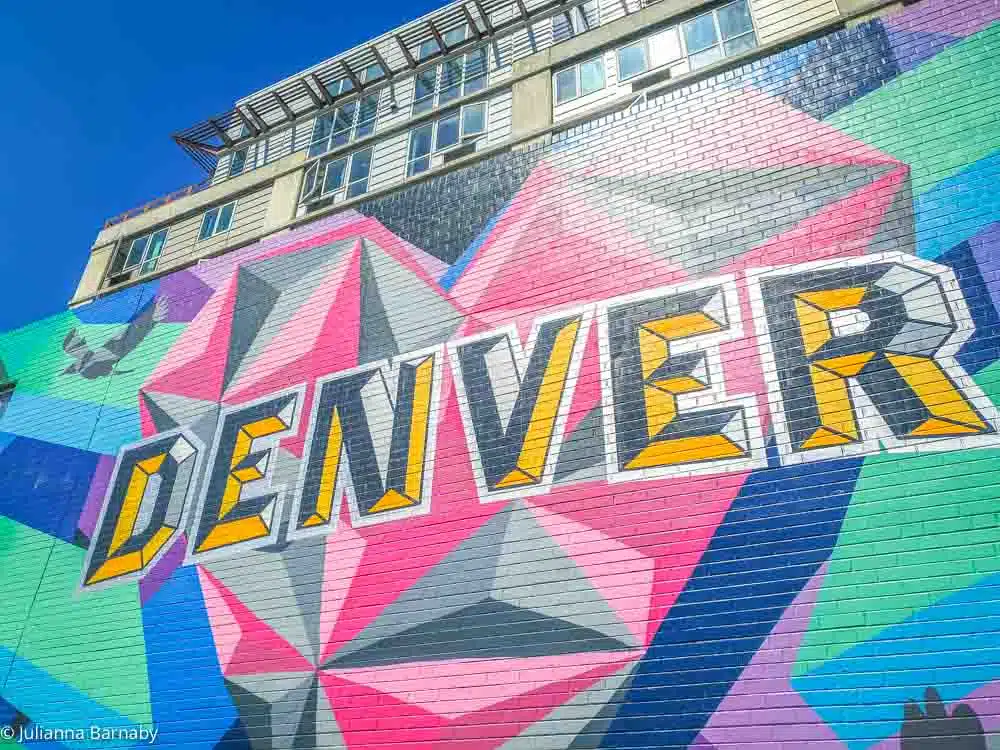 What a way to make a statement. Splashed over the corner of a block on Broadway, there's absolutely no missing this cool piece, one of many by Pat Milbery that are dotted all over the city.
This one's my favourite though and a total must-see Denver mural during your time in the city.
Alleys 4, 5 and 6
Alleys 4, 5 and 6 might not have quite the same concentration of pieces as 1, 2 and 3 (though they're not far off) but you're certainly not going to struggle to find cool works along them at all.
They also have the added benefit of being a lot quieter (particularly 5 and 6 which are some distance away from Denver Central Market at the hub of the action).
That way you can pose away / study pieces closely – whichever floats your boat – with minimal chances of being disturbed.

Dark Dragon by Ease One and Casey Kawaguchi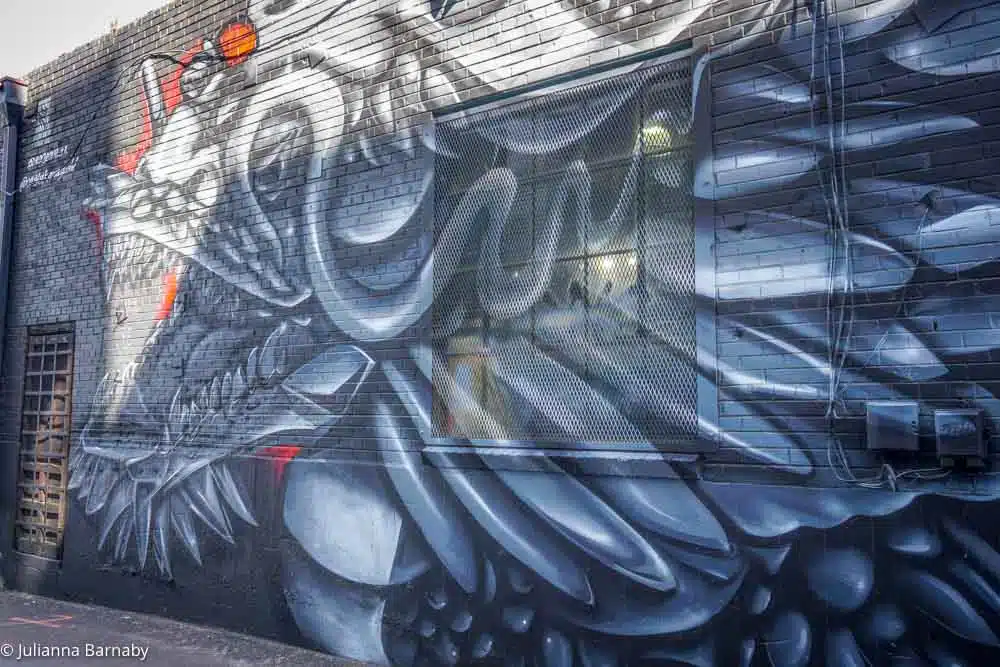 Alice in Wonderland by Mike Graves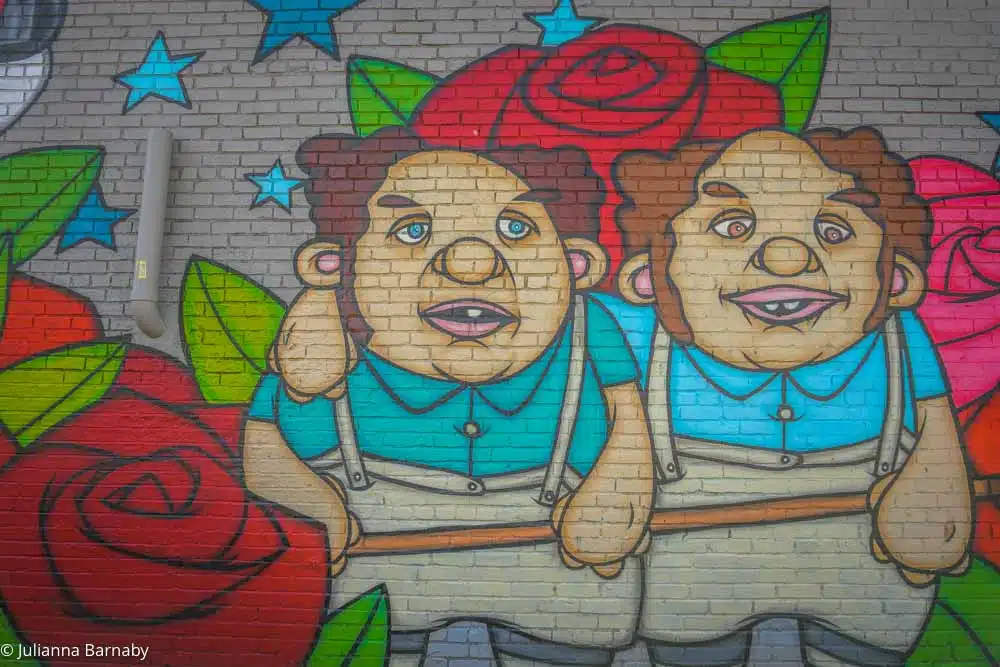 Hermes Messenger of the Gods by PichiAvo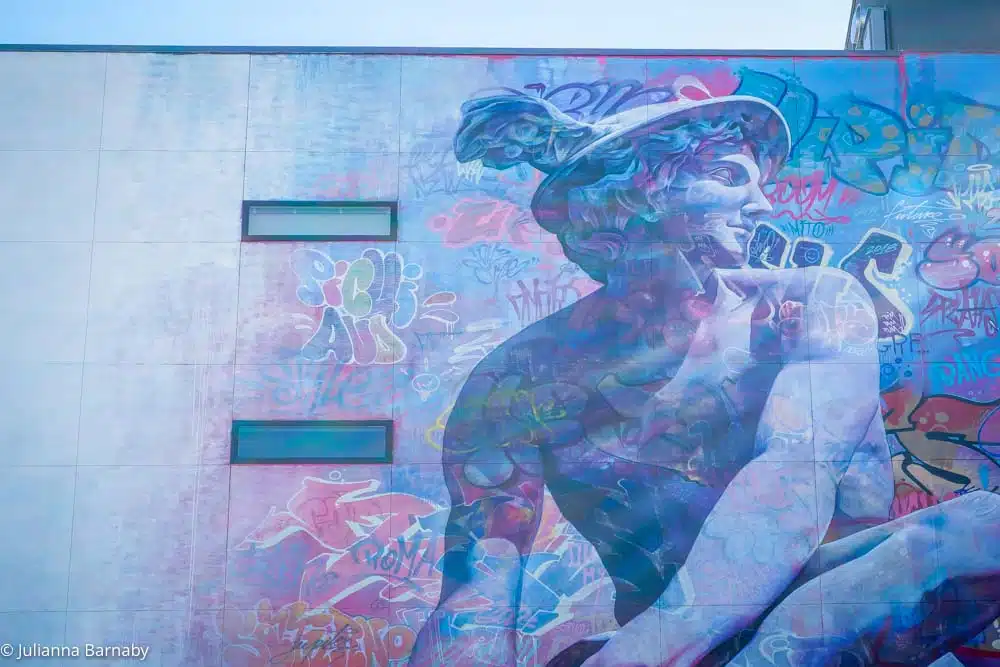 Hermes is given a throughly modern makeover in this piece by Spanish artist PichiAvo (it's actually on 32nd tucked around the corner from alley 6).
Colorado Crush by Inkie + Mr June Collab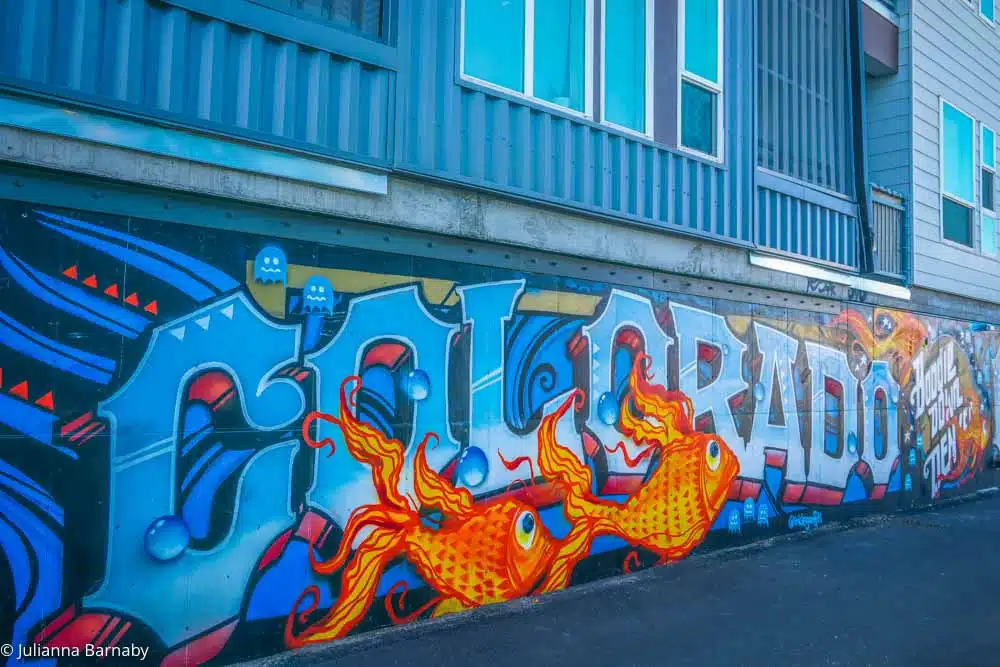 Fallen Masters by Delton Demerest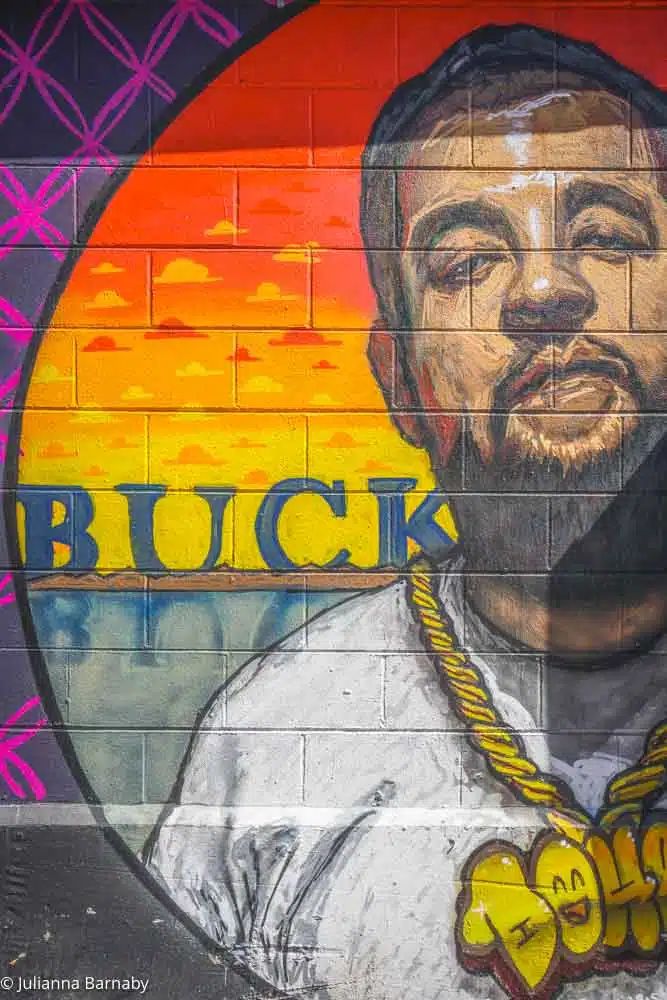 Colorado native Delton pays homage to three lost friends in this eye-catching piece.

Blake Street
Monochrome World by Rumtum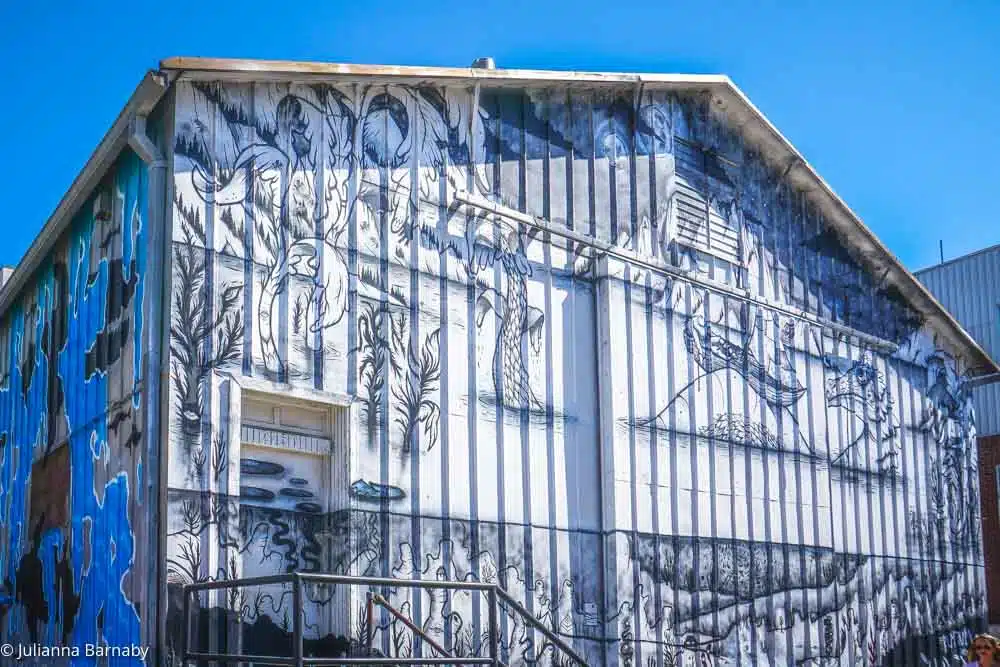 RUMTUM (or John Hastings) uses monochrome colours and fine detailing to create a cool landscape on this building on Blake Street.
Other Cool Places to find Denver Murals in RiNo
The Block Surrounding 35th Street
I totally failed to make it over the railway lines to 35th Street as I completely underestimated the distance and ran out of time.
Disappointing right? I know. I trust that you will do better on that front though – if you do, pieces by SWS Crew and Roadsworth will await.
Other Cool Areas for Hunting out Denver's Murals
East Colfax
I didn't get to spend any time over in East Colfax (best believe I'm saving that for the next trip though).
With its reputation as one of Denver's liveliest cultural hubs (particularly in the music department), it's no surprise that it has a lot of cool wall art that you should add to your Denver graffiti tour if you have time.
Confluence Park
The area surrounding Confluence Park in LoDo (Lower Downtown to those not in the Denver know – there's a reason that South Park took the piss out of the city for its area names) also contains a large number of cool street art pieces for you to explore.
The Art District on Santa Fe
Well, the name pretty much says it all doesn't it. The Art District on Santa Fe has more than 30 galleries.
Not content with that, it also boasts a number of cool pieces on pretty much every outdoor surface that you can think of too!
The RiNo art district murals are among some of the most impressive.
Denver Street Art: 2022 Update
If you haven't heard the news that CRUSH is parting ways with RiNo, I'm sorry to be the bearer of bad terrible news. The only positive, however, is that CW holds the rights to decorate the area until 2023, so we've still got two years of new RiNo murals in Denver, Colorado to look forward to.
The street art in Denver is ever-changing, but these are some of the most impressive pieces that have popped up in recent years…
Portrait by BakPak Durden
To be quite honest, I'm a little bit obsessed with BakPak Durden's work. But there's something so hauntingly beautiful about this Hamlet-esque piece. It's currently my favourite out of all the murals in Denver – quite a feat.
Woke Cartoons by Mythik
Not only a brilliant artist but Mythik is also a teacher and his 8th Grade students helped him to complete this mural for Crush 2020. You'll spot this wall in the alleyway to the north of 27th between Larimer and Walnut st.
Rebellion by The RTD Crew
The RTD Crew have been part of the CRUSH programme since the beginning, and have created this stunning piece to celebrate 30 years of rebellion in Denver. I love it – find it in the alleyway south of 26th between Larimer and Walnut.
Mural by Kendall Paints, Reverie Ink and Anna Charney
This epic trio of badass women have created a skyline mural like no other. It's a shame that you can't see it too well from the ground, because look at how beautiful it is! Though, who needs an excuse to throw a rooftop party?
Floral Walls by Remington Robinson and Jason T. Graves
Another of the best murals in Denver – Robinson and Graves teamed up in 2020 to create this beautiful flower artwork and the level of detail on the petals is insane. You'll find this piece on the corner of Walnut Street and 26th.
Map of Denver's Street Art Hotspots
And that's it. You're all set to go and explore Denver's cool street art scene.
Honestly, it really is something special.
Looking for More Colorado Tips and Guides? Check These Out
I visited Denver as part of my recent trip to Colorado with Visit Colorado. As ever, all views and opinions are very much my own.