When you want to experience the glorious nature of New Mexico, there are a few ways you can go about it. Undoubtedly, the best way is to tackle some of the best hikes in New Mexico (of which there are plenty). Let's explore.
There's no denying the fact that the Land of Enchantment lives up to its reputation.
This southwestern state is home to a wealth of landmarks and hiking trails that are nothing short of breathtaking. From the rugged mountains and mesas to the expansive deserts and canyons, New Mexico is a state of contrasts that I implore you to explore.
And, while checking out the state's man made landmarks is an experience in itself, there's nothing quite like heading out on foot along the hiking trails that weave through its spectacular landscape.
Get ready for an adventure with this brilliant New Mexico hiking guide.
Best Hikes in New Mexico
Rio Grande Gorge
Length: 7 Miles
Time: 4 Hours
Difficulty: Easy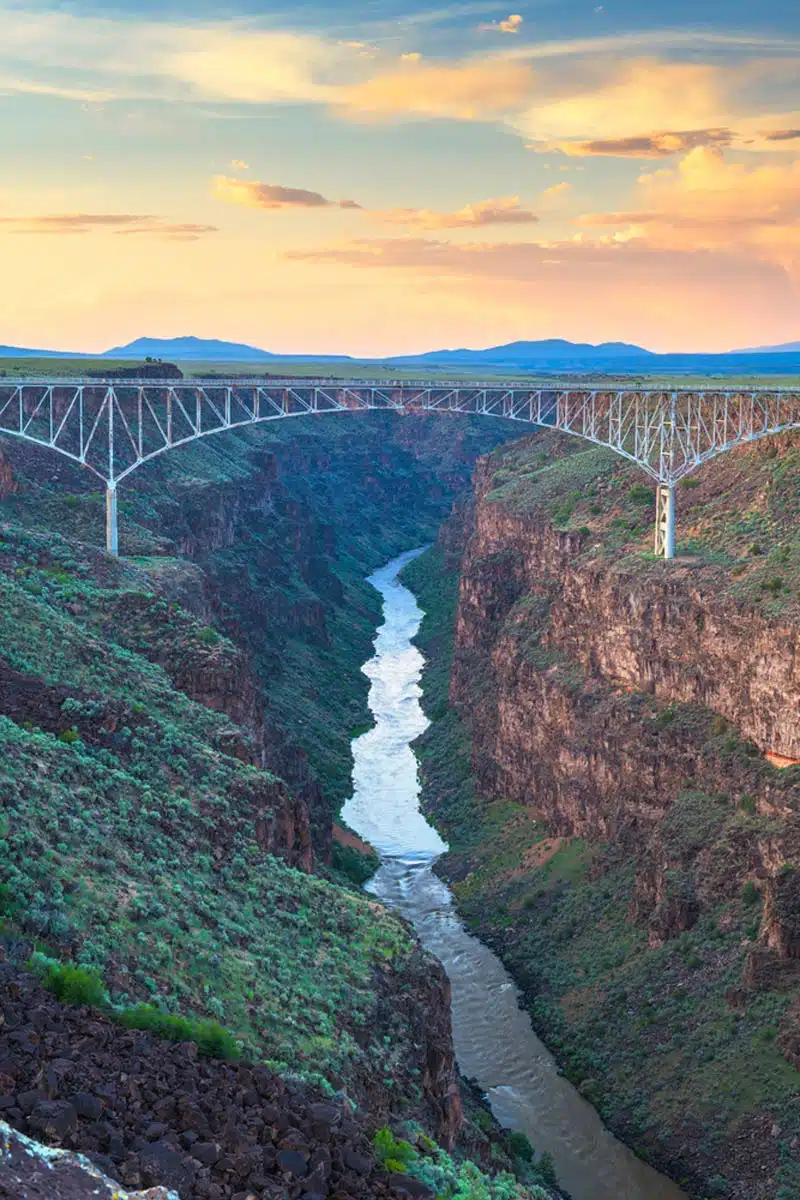 Not able to pack in multiple hikes in New Mexico? Not a problem – there's no better place to start than the Rio Grande Gorge.
Located close to Taos, this trail offers pretty special views of the rugged canyon below. And, to top it off, it's a relatively easy trek.
You'll begin this out-and-back trail from the entry point near Questa at the Wild Rivers Recreation Area. After a short descent near the beginning of the trail, you'll have ample opportunity to take in the geological colours that blend throughout the canyon.
Although it's a gentle trail, once you reach the Gorge at La Junta, a steep climb rises roughly 800 feet in just under a mile. You're never safe from burning calves!
As you make your way up, there are a few spots to stop for captivating snapshots. After all, the area is home to an abundance of wildlife, including mule deer and red-tailed hawks frequenting the region.
Bisti Badlands
Length: Approx 5.5 Miles
Time: 2 – 3 Hours
Difficulty: Easy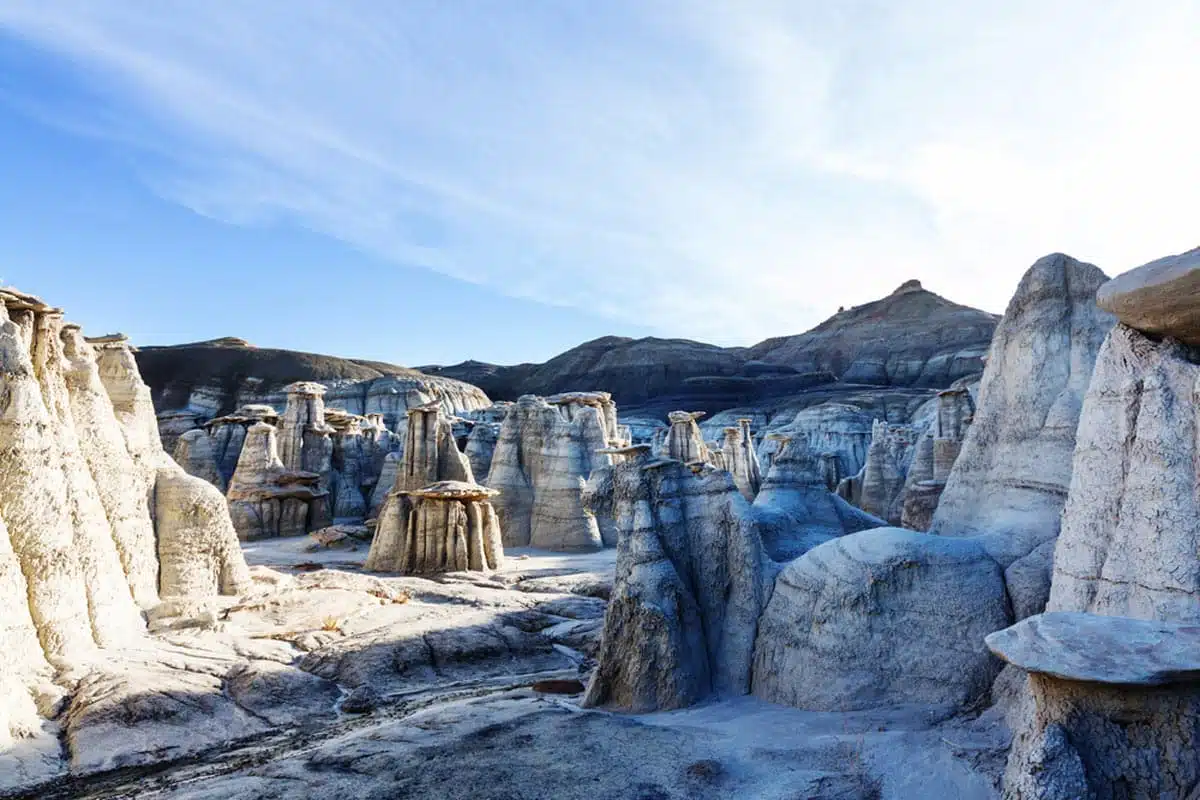 Fancy trekking through a surreal landscape that defies the imagination? Then the Bisti Badlands beckon. Set within the Bist Wilderness, this spectacular region spans over 3,000 acres containing everything from small gullies to contorted rock formations.
I'll be honest, the beauty of the Bisti Badlands rests on the fact that there's no definite trail to follow as you make your way. For those who want the freedom to navigate their journey, this is the best place to do it.
With that in mind, don't forget to bring a compass, map or your trusty GPS. You can thank me later.
More of a wander than a hike; the best time to tackle the wilderness is in early spring because summers here are sweltering, but the views and thrill of conquering the badlands outweigh all.
La Luz Trail
Length: 13.3 Miles
Time: 7 – 8 Hours
Difficulty: Medium
An easy contestant for one of the best New Mexico hikes, the La Luz Trail in the Sandia Mountains is an absolute must. Beyond offering some spectacular views of Albuquerque, it's also a great way to reach Sandia Peak.
Let's just get this out of the way. This is a challenging trek, and even experienced hikers could have some tough times here, but the rewards are worth it. It is daunting, with an elevation gain of 3500 feet and 19 switchbacks in its final stretch alone.
However, what's a hike without some effort? Easy, that's for sure, but once you reach the summit atop the Sandia Mountains, you'll realise why it's so popular. You should ideally plan to tackle this trail from April to November as winter conditions impact the trek heavily.
Rinconada Canyon
Length: 2.2 Miles
Time: 30 – 45 Minutes
Difficulty: Easy
Located within the Petroglyph National Monument, the Rinconada Canyon trail is a must-do when planning your NM itinerary. Following the walls of the Rinconada Canyon, the route cuts through volcanic boulders, eventually reaching many petroglyphs.
With roughly 300 of these located along the canyon, you'll have a lot to look out for and, depending on the sun's position, some are more visible than others. This is an easy trail with almost no elevation gain, and the further you progress, the more you get to see.
This out-and-back trail is ideal for an immersive adventure without breaking a sweat. After reaching the canyon's end, you double back on the same path, and while making your way, you'll have stunning views of the Sandia Mountains.
Pueblo Alto Trail
Length: 5 Miles
Time: 2 Hours
Difficulty: Medium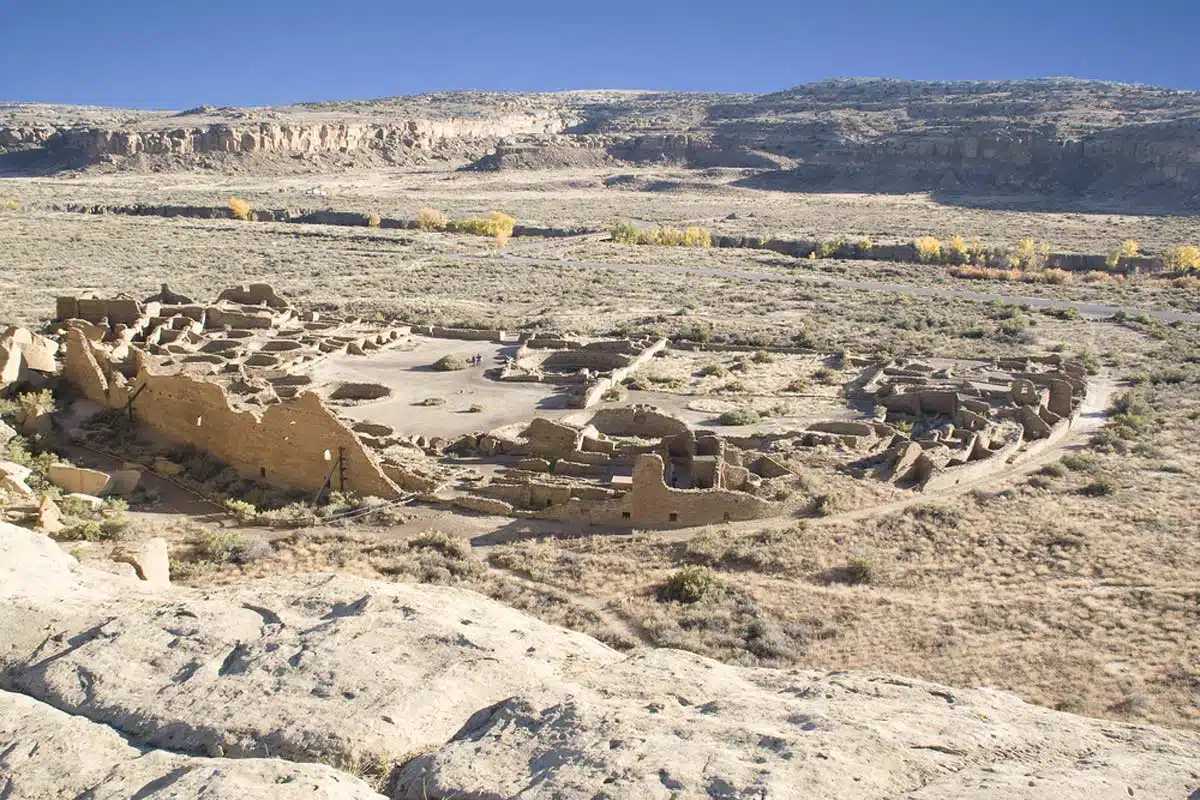 For one of the most beautiful hikes in New Mexico, you shouldn't pass the chance to head out on the Pueblo Alto Trail. Situated within the Chaco Culture National Historical Park close to Nageezi, this one is all about the sights and sounds of the ancestral Pueblo region.
Following an ancient route, this moderately challenging loop trail begins with stunning views of much of Chaco world. Ascending through a somewhat narrow canyon to the rim, you'll find numerous rock piles (cairns) that mark the path across the bluff to a show-stopping lookout point.
Once at the top of the mesa, the trail heads across rock bleached over decades and embedded with the fossils of century-old sea creatures. You can choose to head back the way you came from here or continue the loop, eventually reaching the remains of Pueblo Alto.
Top tip: You must collect a permit from the visitor's centre to enter the park.
Stewart Lake
Length: 10 Miles
Time: 5 – 6 Hours
Difficulty: Medium
Not only is Stewart Lake one of the best hiking trails in New Mexico, but it's also one of the most popular. I see why; sitting in the Pecos Wilderness close to Santa Fe and Las Vegas, this trek outshines most other options thanks to its captivating beauty and topography.
So what's all the fuss about? Aside from the chance to hike through one of the southwest's most stunning wilderness areas, you'll have quite a few rewards as you go. It's a moderately complex loop trail, but you'll pass many wildflower meadows, alpine lakes and a staggering variety of wildlife.
While potentially tricky, the route does lead to a majestic glacier where you can stop for lunch and, from a small waterfall, one more show-stopping moment. Just off the marked path, you'll see a glassy alpine lake reflecting the glorious surrounding ponderosa forest.
Alkali Flat Trail
Length: 4.7 Miles
Time: 3 – 4 Hours
Difficulty: Medium to Hard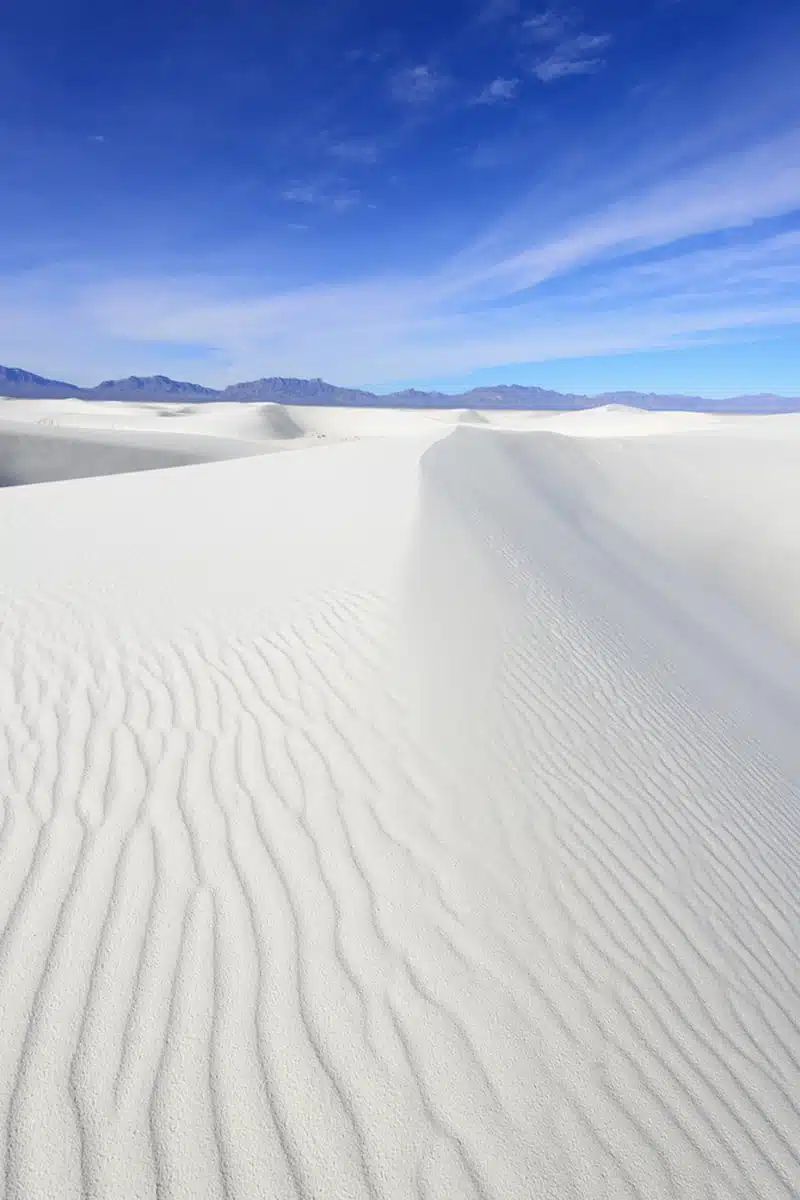 A massive part of the White Sands National Monument, the Alkali Flat Trail is both a challenging and very rewarding New Mexico hiking trail. Don't let the word "flat" fool you – you'll ascend and descend across numerous white, wavy sand dunes, which can be very difficult at times.
The route features few markers, so it's important to keep your eye on where you're going. However, if you stick to the orange topped white post-trail markers, you'll find drop-dead gorgeous views of this distinct environment.
The flats are also home to many Native American sites ranging from petroglyphs to burial mounds, so it's not just all about dunes.
Fair warning, though, you'll literally slip and slide your way down the dunes, so prepare for sandy boots but epic views. Also, there's very little shade, so the sun and heat play a significant role in when to tackle this hike.
Top tip: Don't even think about wearing sandals for this trail – closed toe boots are a must. As is a buff.
Pine Tree Trail
Length: 4.5 Miles
Time: 2 Hours
Difficulty: Medium
A fantastic and popular trek, the Pine Tree Trail often comes up as one of the best hikes in New Mexico. It's an easy to moderately difficult loop trail that's perfectly maintained, and regardless of the time of year, it stays accessible.
Tackling it at a moderate pace is a good idea, as this gives you time to really take in the beautiful surroundings. The trail leads through several Ponderosa pines, Juniper and Pinion fields, culminating in magnificent views of the Tularosa Basin and the Organ Mountains.
Adding to the allure of the trail, if you time your hike right (head there in spring), you'll also find blankets of wildflowers and a range of mountain wildlife roaming around. You can also bring your dog along, but they need to remain leashed for the entire trail.
Winsor Trail
Length: 11 Miles
Time: 3 Hours
Difficulty: Medium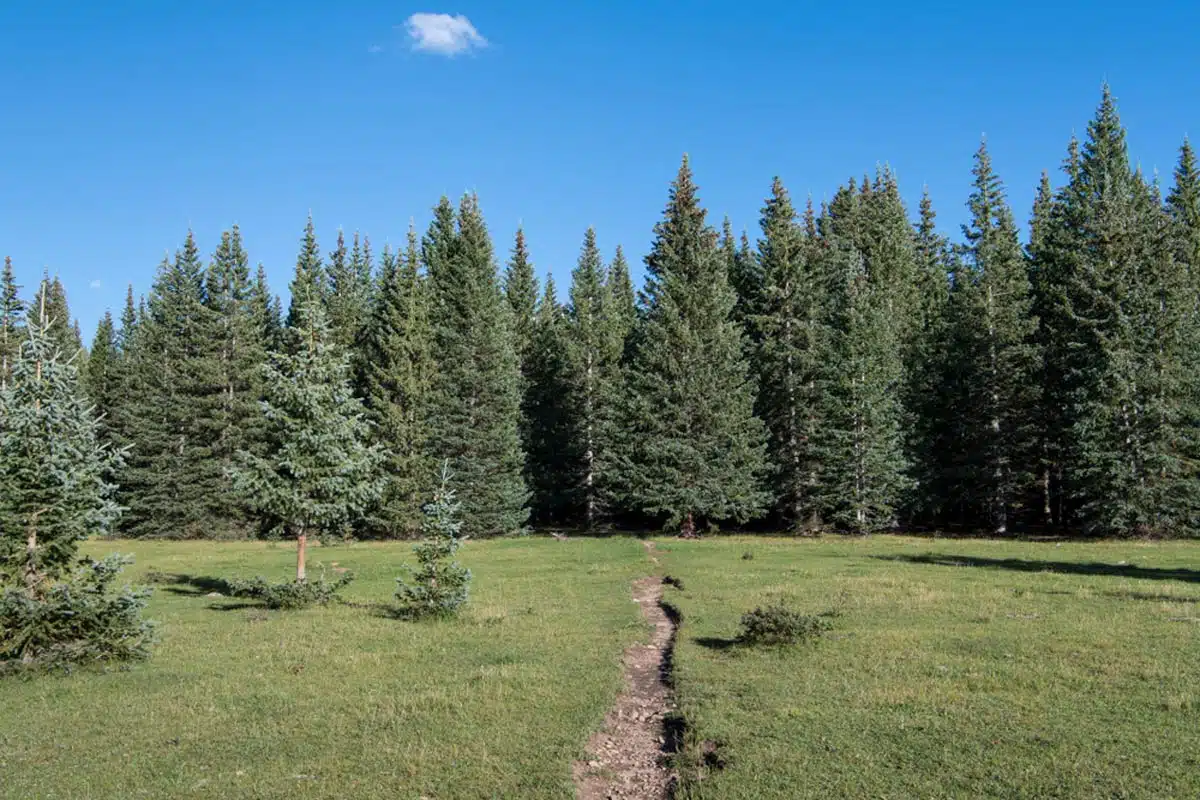 Let's head to Santa Fe for this next hike. The city does so many things right, including having its stake as one of the best places to hike in New Mexico. Look no further than the Winsor Trail within the Santa Fe National Forest for stone-cold evidence of this.
Famous for its mountain biking and horseback riding opportunities, the trail caters to almost every type of outdoor enthusiast.
It features an elevation gain of roughly 3,500 feet and, while it does have some strenuous parts, the effort is worth it. You'll find scenic tree stands, babbling rivers and grassy meadows along the path.
However, the surefire standout moment is the view of Lake Katherine and, after some trekking, the stunning sights of the Sangre de Cristo Mountains. It's an 11-mile out-and-back trail making it about 22 miles roundtrip, but I promise you'll thank me.
Best New Mexico Hikes: Practical Tips
Before your hike in New Mexico, always check the weather conditions for your planned route. With changing conditions affecting some trails' opening and closing times, always keep an eye out for weather announcements.
When putting together your packing list, remember to bring the essentials. These include hiking boots, a lightweight daypack and your water bottle – it gets seriously hot in NM, and dodging the sun on these trails can be pretty impossible.