Discover the best things to do in Santa Fe with this guide – from art galleries to hikes, and plenty of delicious eats along the way.
There's a lot of fuss about Santa Fe — or the "city different" as it's widely known — and justifiably so.
This quirky, relaxed city is arguably New Mexico at its best, an imitable mix of Native American culture, a thriving arts scene and some of the best food you can lay your hands on in the country.
I could talk about my love for the city all day, but I'd rather just show you the best things to do instead. Whether you're into art, history or just plain fun, rest assured, Santa Fe will deliver.
Let's get into it.
Wanna Take a Sneak Peek? Check Out My Youtube Video on Santa Fe!
Need a place to stay? The Eldorado Hotel & Spa in Santa Fe is a luxurious place to bed down, and my top recommendation.
Top 5 Things to Do in Santa Fe
Visit Meow Wolf (House of Eternal Return)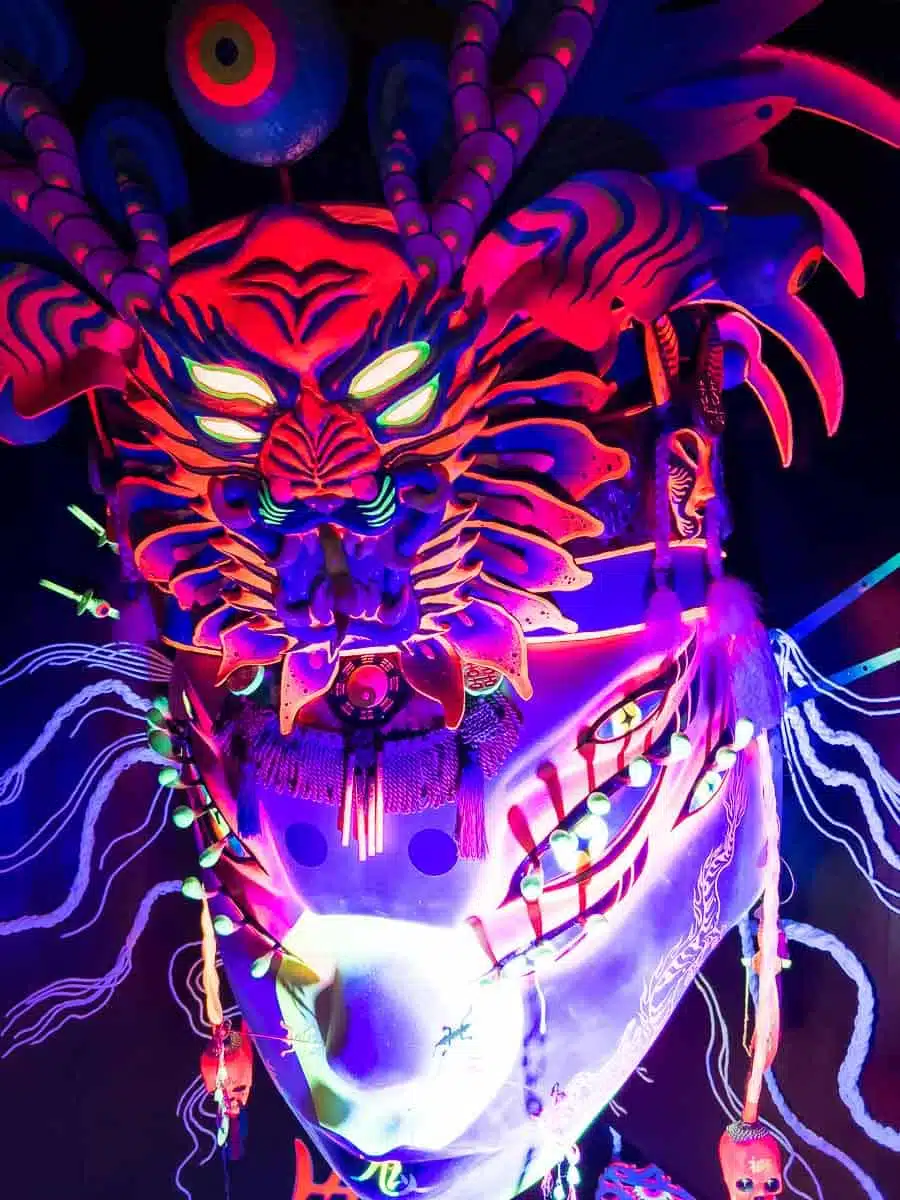 Immersive art experiences seem to be having a bit of a moment right now – but Meow Wolf's House of Eternal Return in Santa Fe is the original (and the best).
Enter into a mind-bending world that invites you to explore a mysterious Victorian house that looks as if it comes from another dimension.
What sets Meow Wolf apart is how visitors engage with the art. Rather than simply viewing pieces from a distance, you can touch, climb and interact with the installations. Yes, the entrance is pretty pricey ($35 if booked in advance online), but it's absolutely worth it.
I didn't know what to expect around each corner — one moment I was sliding through a tunnel behind a washing-machine door. The next, stepping into a portal through an innocuous-looking fridge. This is immersive art on a grand scale – and is definitely one of the most fun things to do in Santa Fe.
Enjoy Breakfast at Tia Sophia's
If there's one meal you should make sure you have when you're in the city, it's breakfast at Tia Sophia's. This family-owned restaurant has served traditional New Mexican cuisine for over 45 years and has become a beloved local institution.
The menu at Tia Sophia's celebrates the region's rich culinary heritage, featuring classic dishes like breakfast burritos, huevos rancheros and green chilli stew. The food is hearty, flavourful, and made with locally sourced ingredients whenever possible.
Santa Fe claims to be the birthplace of the breakfast burrito, and Tia Sophia's has been serving them since 1975. The burritos get filled with scrambled eggs, potatoes, cheese and your choice of bacon, sausage or chorizo.
They then smother them in red or green chilli, or both – Christmas style – for a spicy kick. They're pretty affordable at around $14, and the portions are HUGE.
Trust me, this is what you need to fuel a day of exploring Santa Fe.
Head to the New Mexico Museum of Art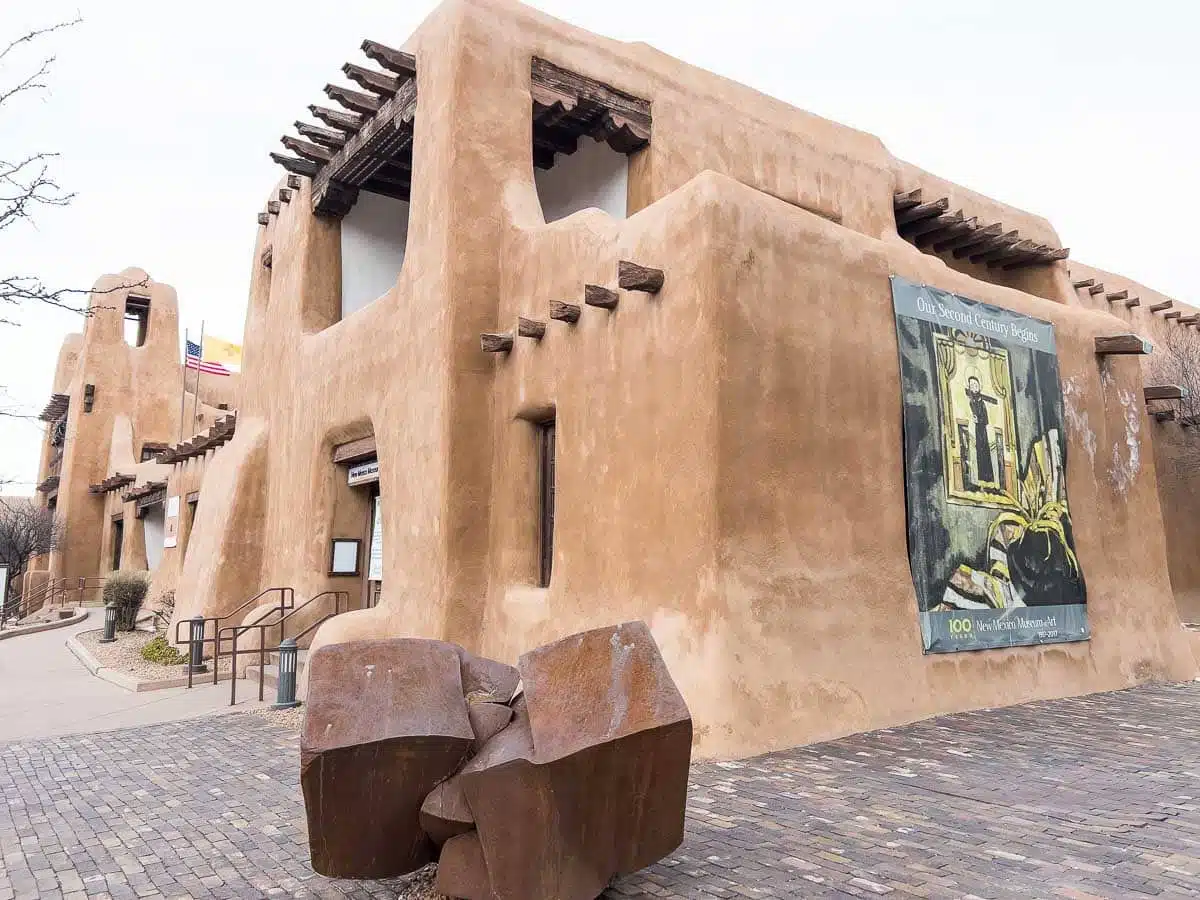 Housed in a historic building in Downtown Santa Fe, the New Mexico Museum of Art features a range of art from the Southwest and beyond.
To be quite honest, there are so many museums in Santa Fe and I definitely recommend picking and choosing the ones you want to visit most (or extend your trip to see them all). Trust me when I say that this one is well worth making some time for.
The museum's permanent collection features work by renowned artists such as Ansel Adams and Gustave Baumann. And the collection includes paintings, sculptures and photos that focus on artists influenced by the landscape and culture of the Southwest.
New Mexico Museum of Art is also home to a range of educational programs and events that offer visitors a deeper understanding of the art and culture of the region. From lectures and workshops to guided tours and family-friendly activities, there's plenty to get involved with.
Explore the Museum of Contemporary Native Arts (MoCNA)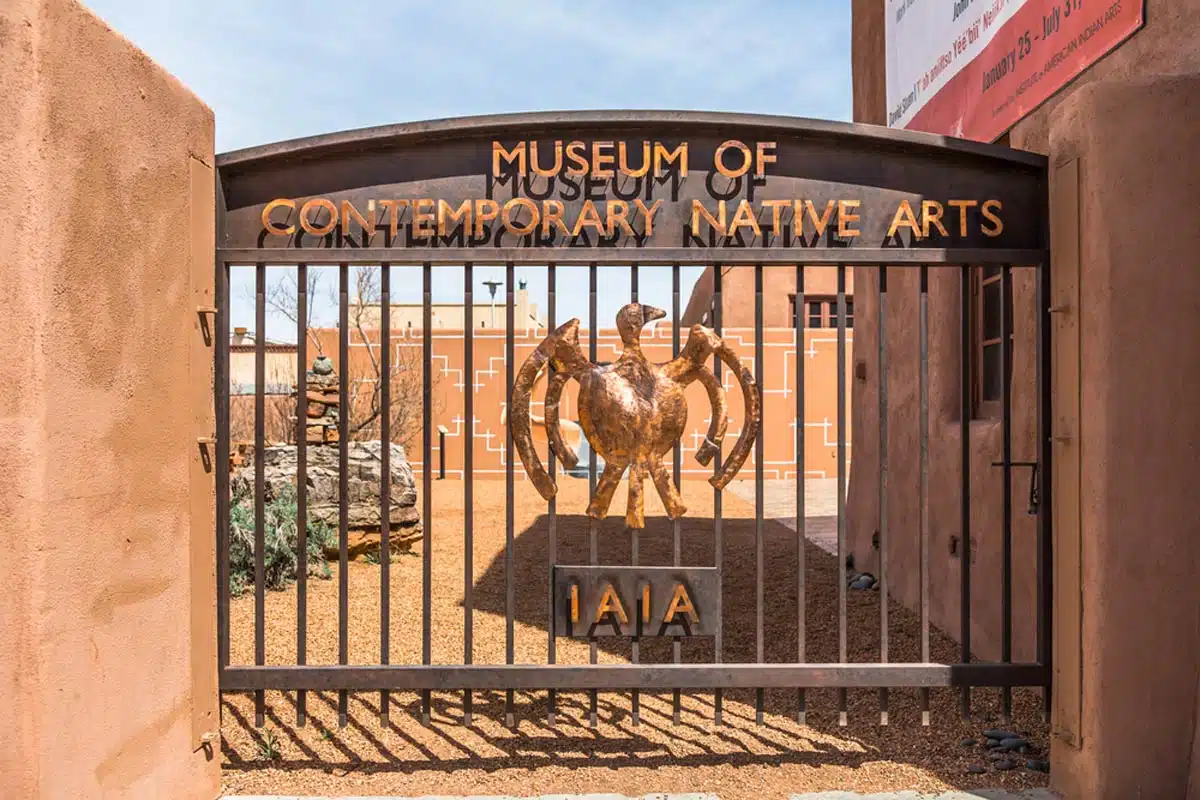 Another of Santa Fe's best museums is the Institute of American Indian Arts, which showcases the work of Native American artists, with a focus on contemporary art forms. Everything from traditional oil on canvas, to those central to Native American culture – like jewellery – is covered.
The museum has ever-changing displays but also offers a unique opportunity to immerse yourself in Native American history and cultures. Which you definitely should be doing during your visit.
Visiting and purchasing artwork from the museum store is a great way to support artists and their communities. Whether you're an art enthusiast, a history buff, or just looking for an exciting and educational experience, MoCNA is a Santa Fe must-see.
Indulge in a Spa Treatment at Ten Thousand Waves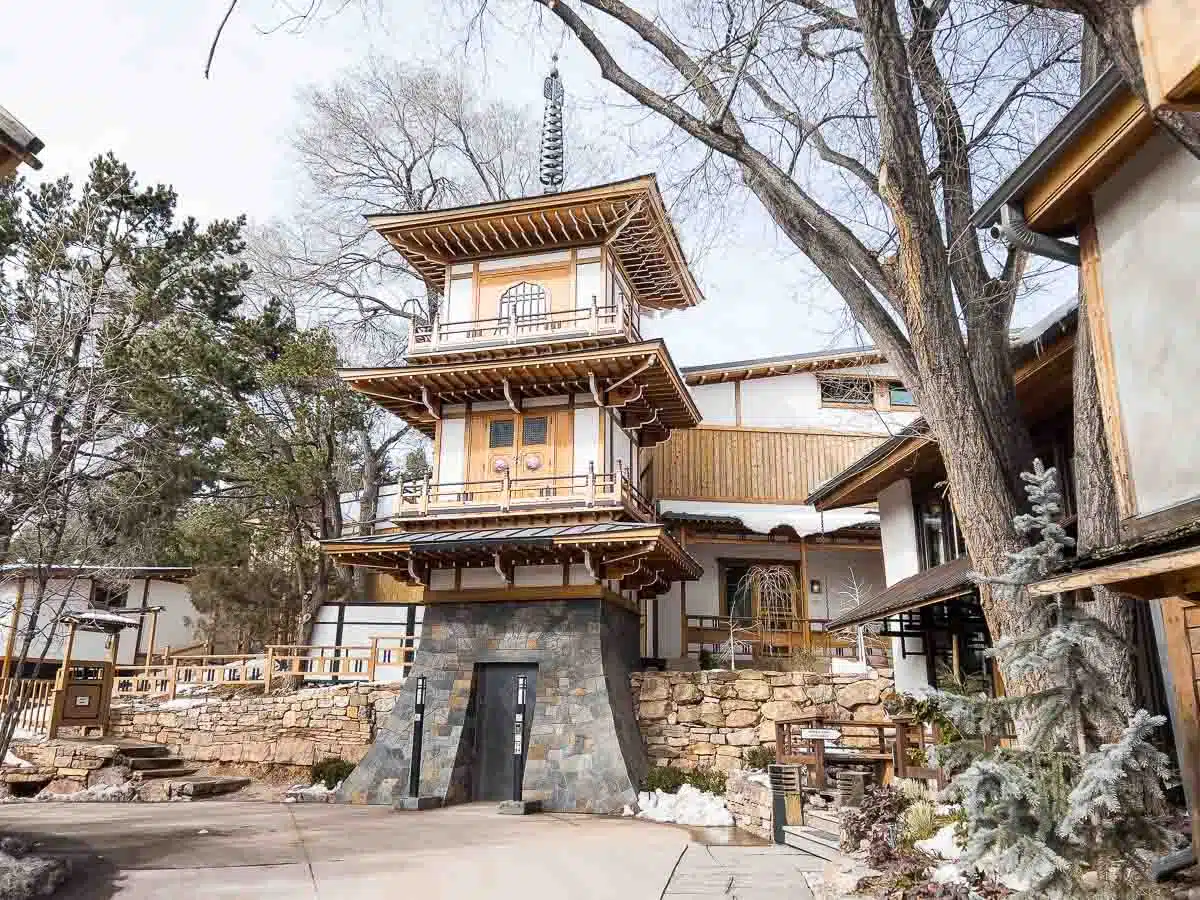 One of the best things to do in Santa Fe is to treat yourself to a spa treatment at Ten Thousand Waves. Located in the foothills outside of Santa Fe, the spa is a tranquil and peaceful retreat from the bustle of the city.
The spa offers traditional Japanese-style treatments, such as the hot tubs and even a communal bathhouse. Not to mention that there are plenty of unique treatments here – it would be rude not to.
I had an 80-minute CBD massage, and it was *blissful*. See why this is an unmissable addition to your Santa Fe trip?
Top tip: I highly recommend arriving a couple of hours before your treatment so you can spend time in the Grand Spa area, complete with a heated pool, plunge pool, sauna and chill-out area.
Brilliant Things to See & Do in Santa Fe
Visit the Palace of the Governors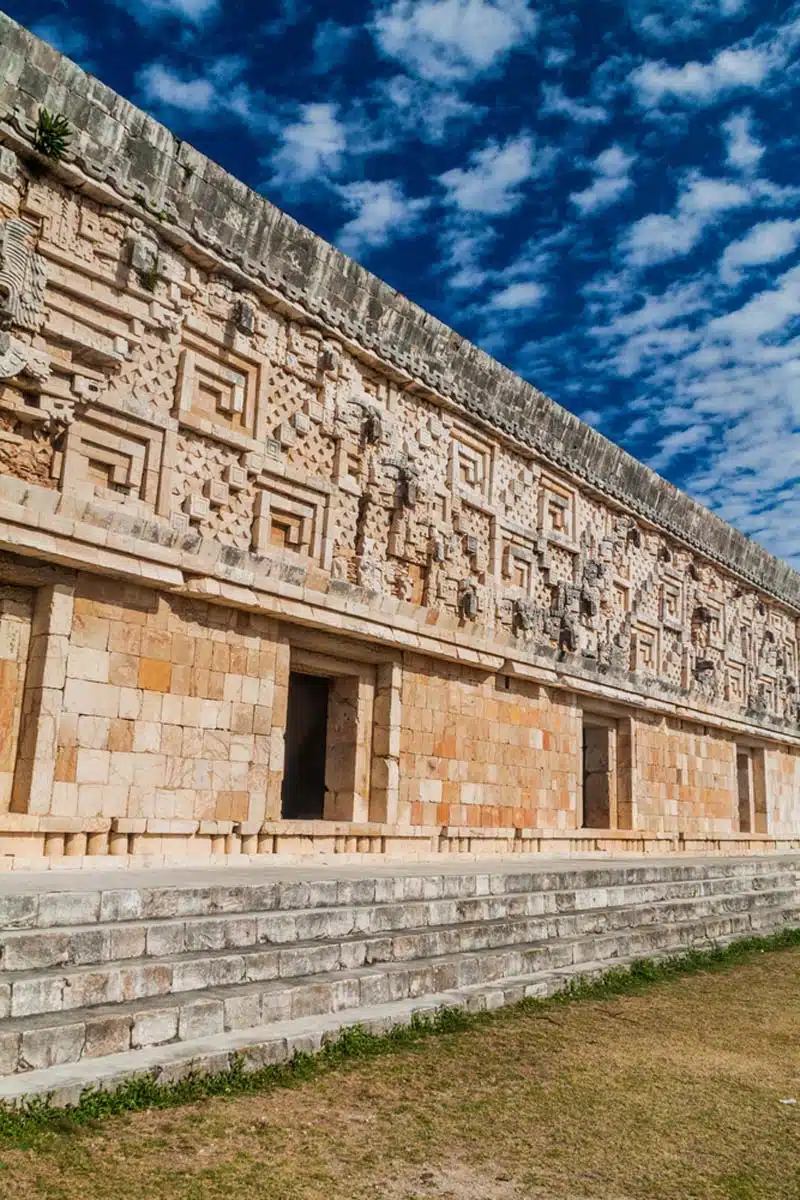 The Palace of the Governors is a historic building built in the early 17th century. It is the oldest continuously occupied public building in the United States and serves as a museum that showcases the rich history and culture of New Mexico.
Visitors can explore exhibits on Native American art and history and Spanish colonialism, while you can also shop for Native American crafts from the rotating selection of artisans outside of the palace.
Enjoy Gallery Hopping on Canyon Road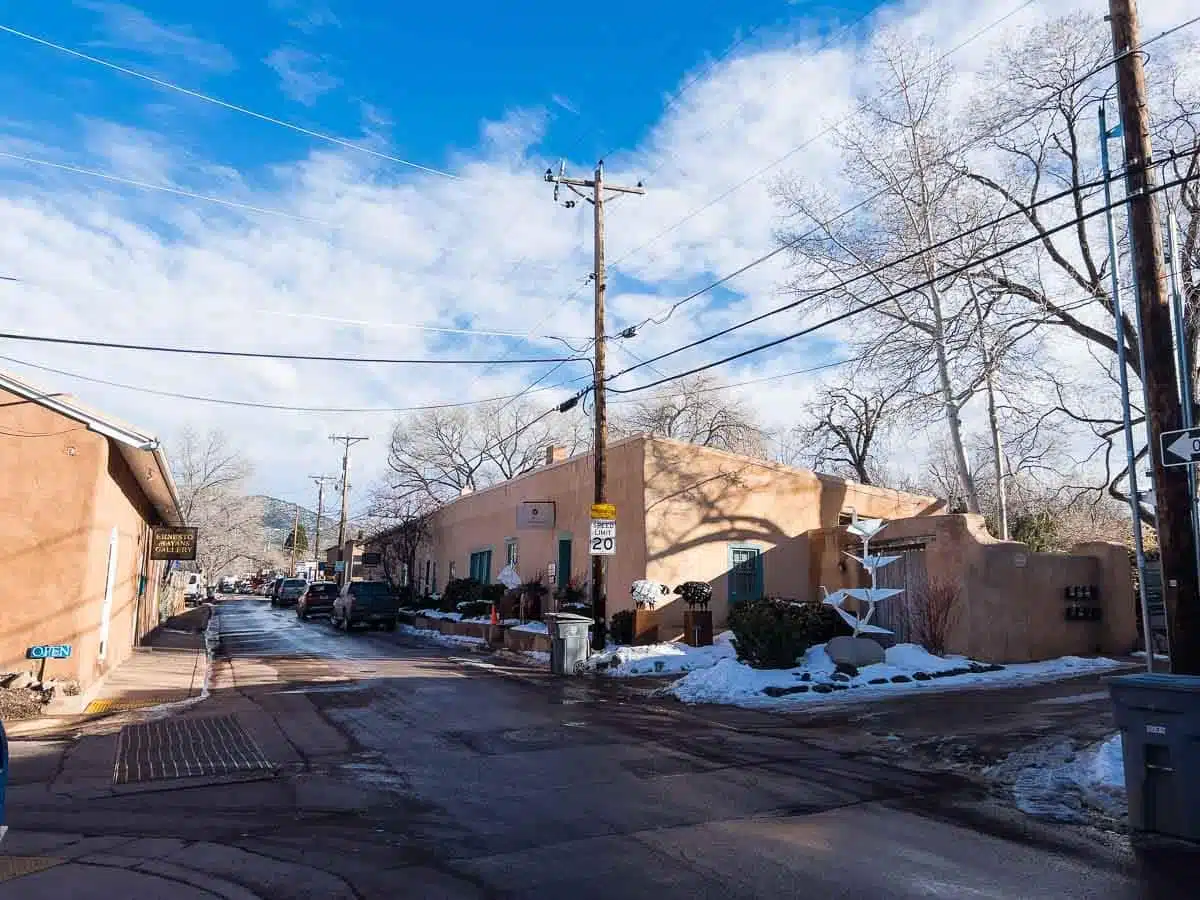 Canyon Road is definitely one of the cooler places to visit in Santa Fe. Over 100 art galleries and studios line this famous street, showcasing works by some of the most talented artists in the world.
I loved the Longworth Gallery and the Kay Contemporary, but you should spend at least a couple of hours gallery hopping as there are so many to choose from. It's the perfect place to find a unique and beautiful piece of art to take home as a souvenir.
Top tip: To discover the hidden art and all the best bits, book a Canyon Road tour.
Explore The Georgia O'Keeffe Museum
Another must-visit Santa Fe museum, this spot celebrates the life and work of one of America's most successful artists, Georgia O'Keeffe. It features a stunning collection of her paintings, photographs, sculptures and other works.
With its comprehensive collection, engaging exhibitions and educational programs, the museum provides visitors with a unique and inspiring experience. I highly recommend swinging by, even if you're not a huge art nerd.
Marvel at The Loretto Chapel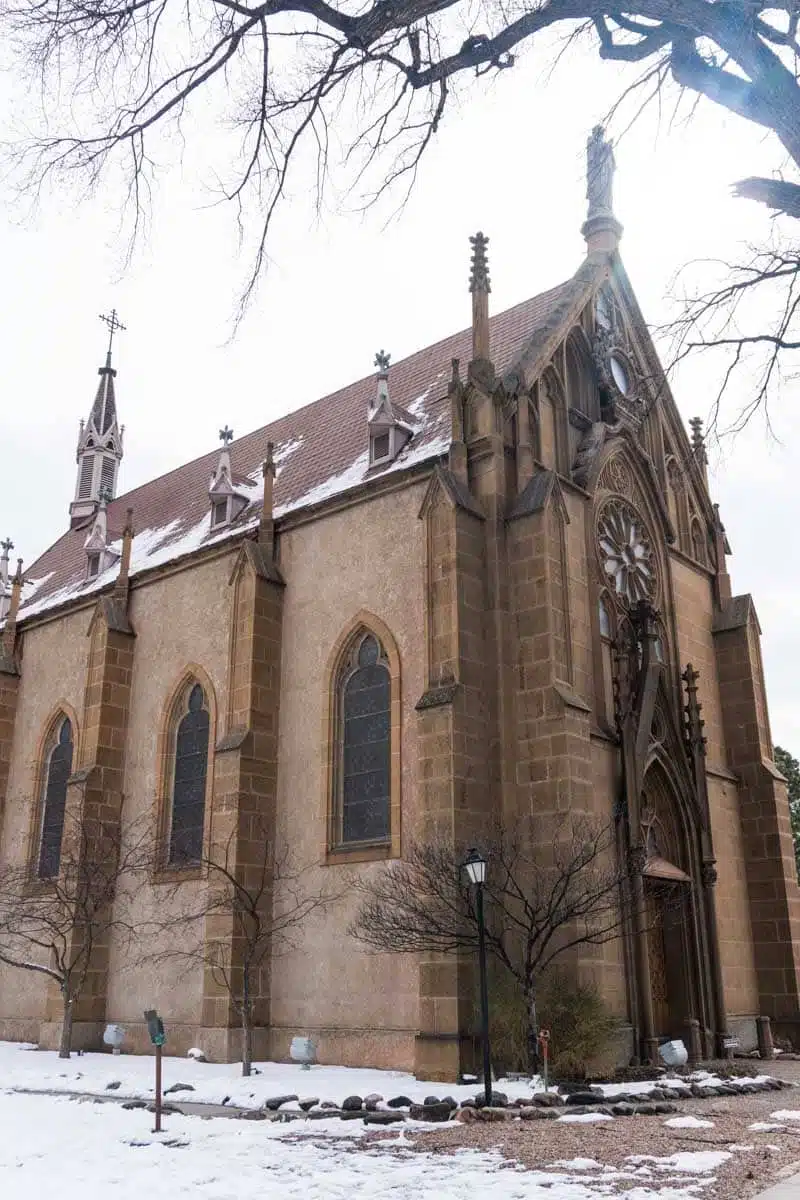 Another place you need to visit in Santa Fe is The Loretto Chapel – famous for its spiral staircase, built without any visible means of support.
There's also a curious story about how the staircase came into existence. Because of the limited space in the small chapel, they deemed a traditional staircase impossible. The Sisters of Loretto, who ran the chapel, prayed for a solution to the problem.
Within days, a mysterious carpenter arrived at the chapel offering to build a staircase, but he was never seen again after completing the staircase. Was it a ghost? An act of God? Who knows – but it's pretty fun.
With its stunning Gothic architecture, mysterious spiral staircase, and rich cultural and religious history, the chapel is a unique feature and is a must-see in Santa Fe.
Snap a Photo of the New Mexico State Capitol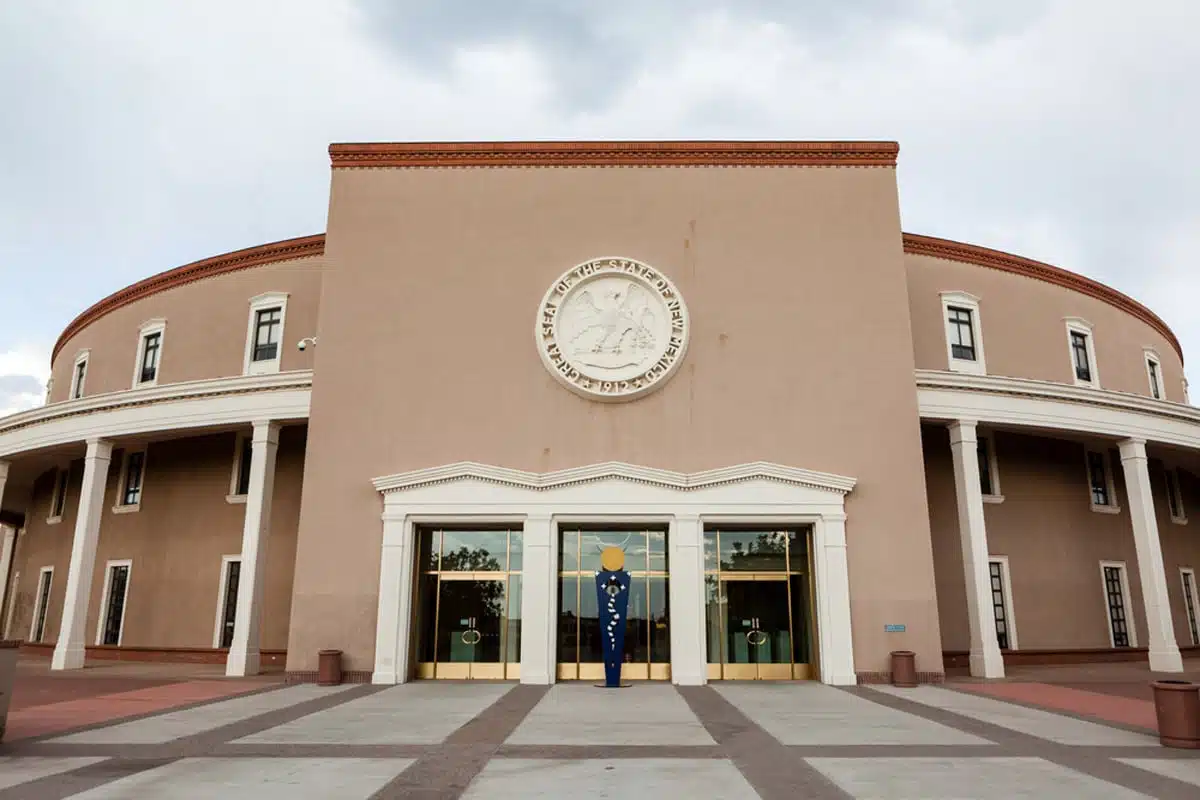 Sure, State Capitols aren't usually anything too special, but the New Mexico State Capitol features beautiful artwork and architecture, including local artists' murals and sculptures. No wonder it's one of Santa Fe's top attractions.
This baby is round and pink, designed by architect Edward Durrell Stone, it's one of those love-it-or-hate-it kinda buildings. Some folks think it's a masterpiece of modernist architecture, while others think it looks like a spaceship that crash-landed in Santa Fe.
But hey, it's where the governor works, so it must be important, right? Plus, it's full of art and history stuff, which is cool if you're into that kind of thing. And if you're not, there's always the gift shop.
Have a Steak at Radish & Rye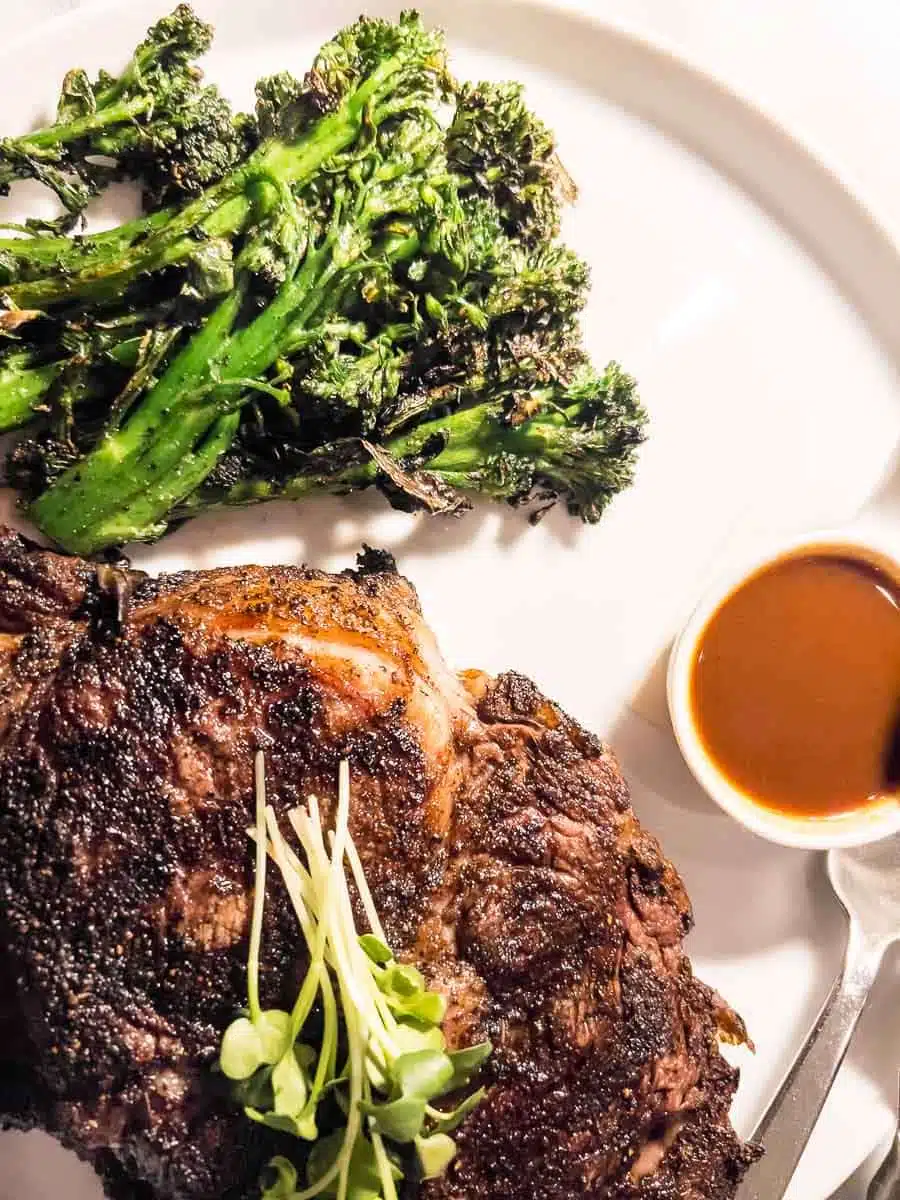 I'm going to take a moment to rave about dinner at Radish & Rye. This farm-to-table restaurant offers a range of seasonal dishes made with locally sourced ingredients. The menu frequently changes to reflect what's fresh and in season, but you can always expect inventive and delicious dishes.
I had a rib-eye steak, and, not to be dramatic here, but I think it seriously might be the best steak I've ever had. The restaurant also has a stellar cocktail menu, with creative drinks made from local spirits and ingredients.
Treat Yourself at Whoo's Donuts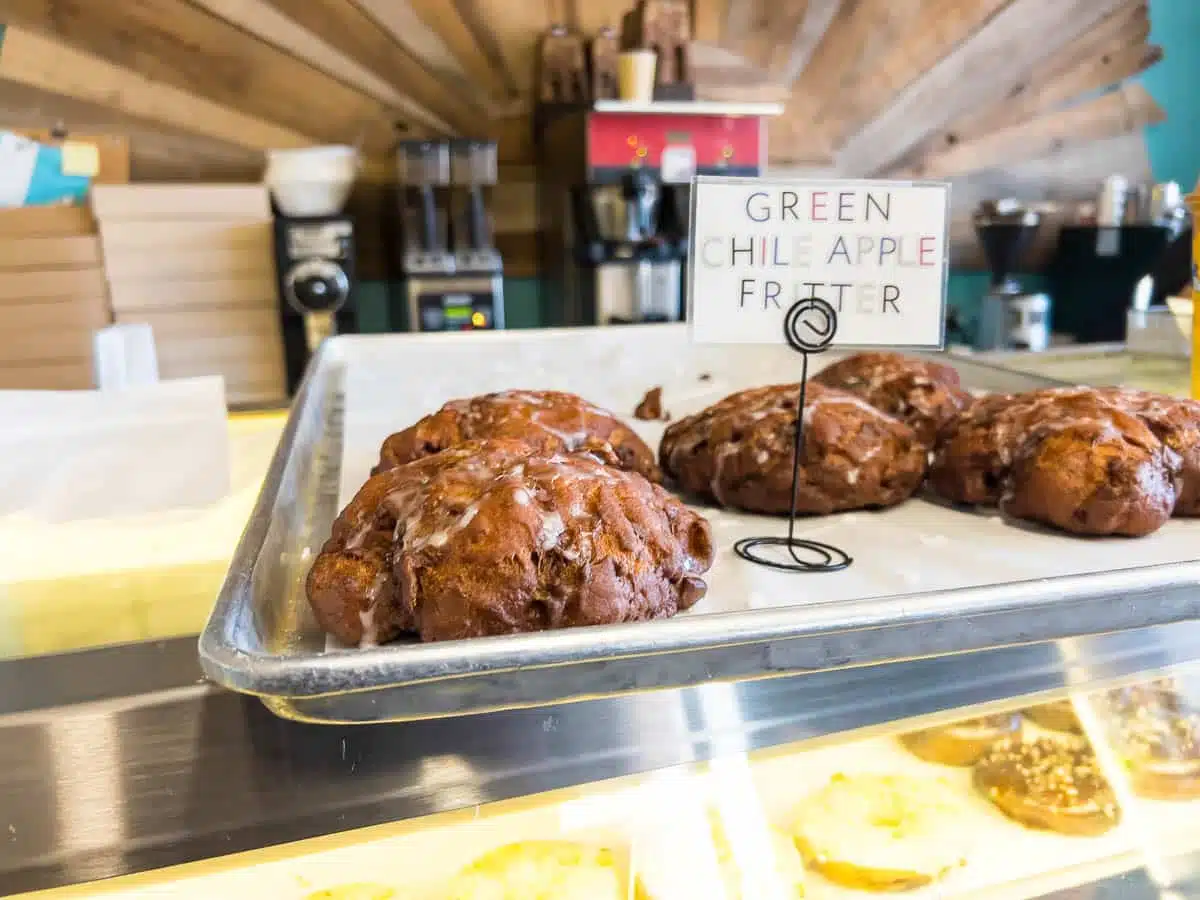 At Whoo's Donuts, the doughnuts are so fresh you'll swear they just jumped out of the fryer and into your mouth.
This Santa Fe-based bakery takes its doughnut game seriously, using only the finest ingredients and unique flavour combinations that will make your taste buds sing.
Want a little kick in your morning pastry? Try the green chilli apple fritter. And the blueberry and blue corn donut is the stuff that dreams are made of.
Tuck into New Mexican Cuisine at Palacio Restaurant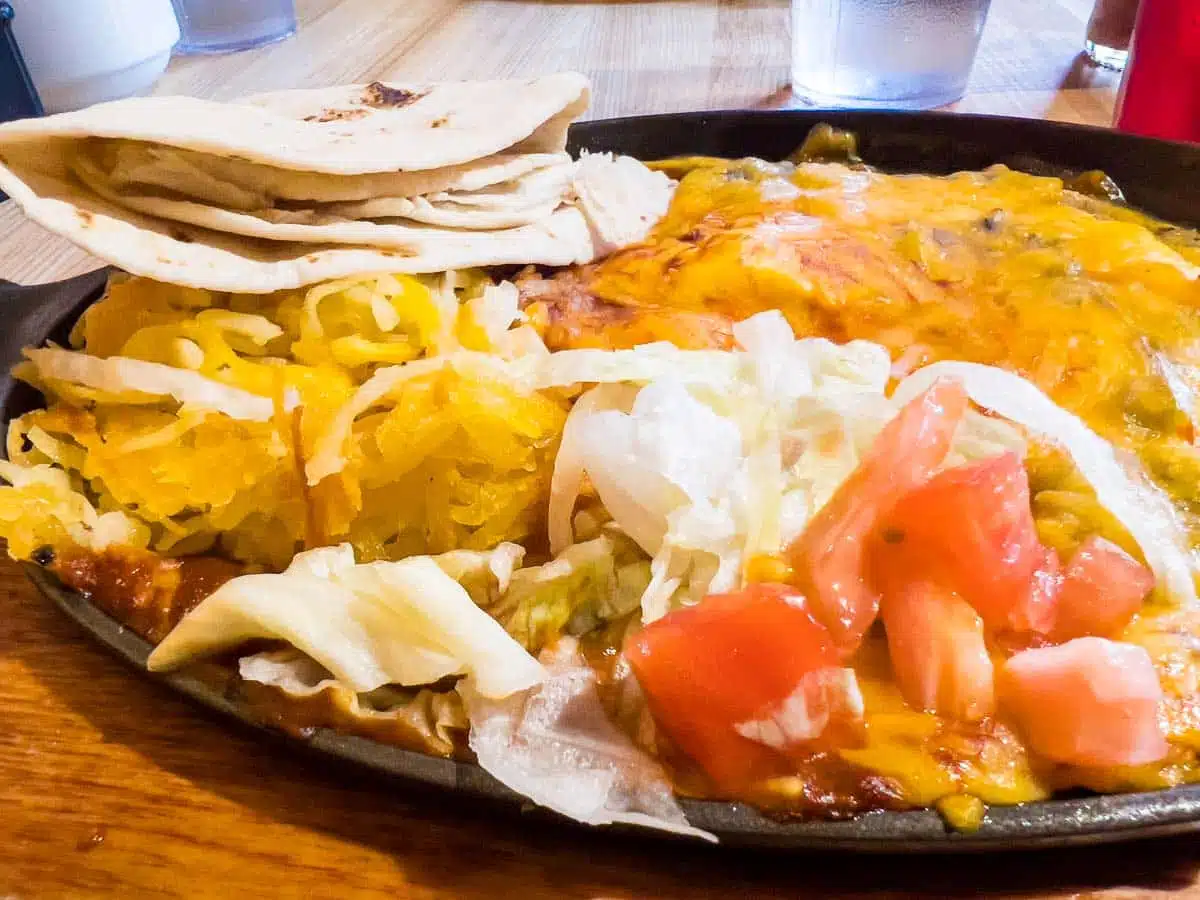 Santa Fe is filled with so many cool spots to dine, but Palacio Restaurant is right up there with my favourites. This relaxed restaurant is located in the heart of Santa Fe, and serves up inventive meals with focus on contemporary American cuisine infused with the flavours of the Southwest.
In addition to the delectable cuisine, Palacio Restaurant boasts an extensive wine list featuring local and international selections. But I recommend this spot for its tantalising New Mexican breakfasts.
Sip Your Way Around Santa Fe Spirits Downtown Tasting Room
Santa Fe Spirits Downtown Tasting Room is a popular destination for both locals and visitors looking to sample some of the finest spirits that New Mexico has to offer.
The menu features various artisanal spirits, including whiskey, gin, brandy, and vodka. They carefully distil locally-sourced ingredients to craft each drink, creating a unique and flavorful experience.
Whether you're a spirits enthusiast or just looking for a fun night out, Santa Fe Spirits Downtown Tasting Room has got you covered.
Dine at Zacatlan Restaurant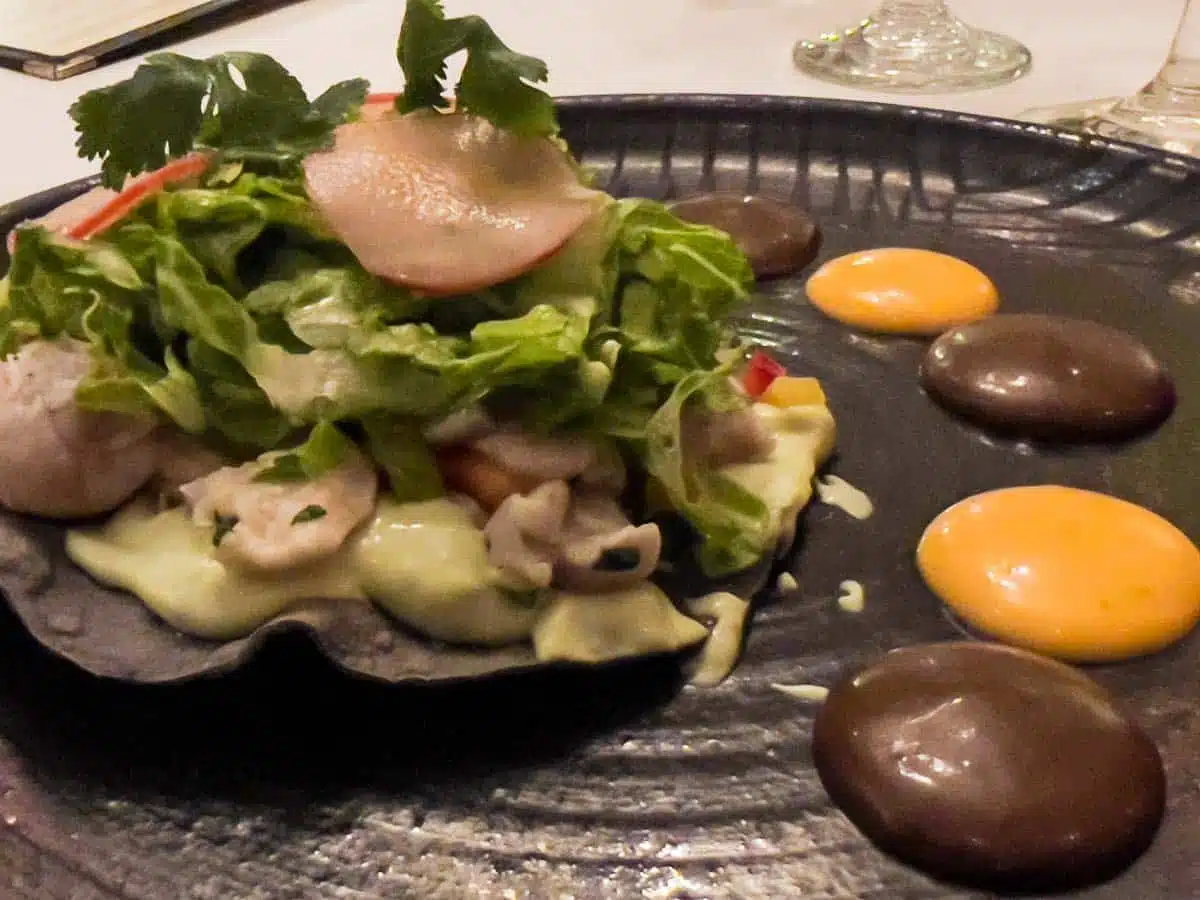 If you're at a loss for what to do in Santa Fe, there is always the option to eat good food. Zacatlan Restaurant is a family-owned and operated haunt in Santa Fe, New Mexico, specialising in authentic Mexican cuisine.
Zacatlan uses fresh, high-quality ingredients and bold flavours to make each dish – including the likes of tacos and enchiladas – transporting your taste buds to the heart of the Yucatan.
Better yet, the restaurant's colourful decor and welcoming atmosphere make it an excellent location for family dinners and casual outings with friends.
Unique Things to Do & See in Santa Fe: Hidden Gems That are Off the Beaten Track
Catch a Flick at the Jean Cocteau Cinema
The Jean Cocteau Cinema is a historic theatre bought by acclaimed author George R.R. Martin, who transformed it into a vibrant cultural centre that includes a bookstore, café and a performance space.
The cinema's namesake, Jean Cocteau, was a French writer, artist and filmmaker known for his avant-garde works. Martin, a longtime fan of Cocteau's, chose to name the cinema in his honour to pay tribute to his legacy and influence.
Since reopening, the Jean Cocteau Cinema has become a hub for film screenings, author readings, and other cultural events. Check out what's on and try to catch a movie here – you won't regret it.
Chow Down at Bumble Bee's Baja Grill
You don't see Bumble Bee's in many recommendations for cool places to eat in Santa Fe. Which, I think, is a real shame as this Mexican counter-serve eatery dishes up fantastic food at a fraction of the price of some of the more hyped spots in town.
The menu features a wide range of tacos, burritos, quesadillas, fresh salads and homemade salsas. The chicken tostada is elite, and I very much recommend washing it down with a Jamaica Agua Fresca — a hibiscus blossom iced tea.
Tackle the Dale Ball Trails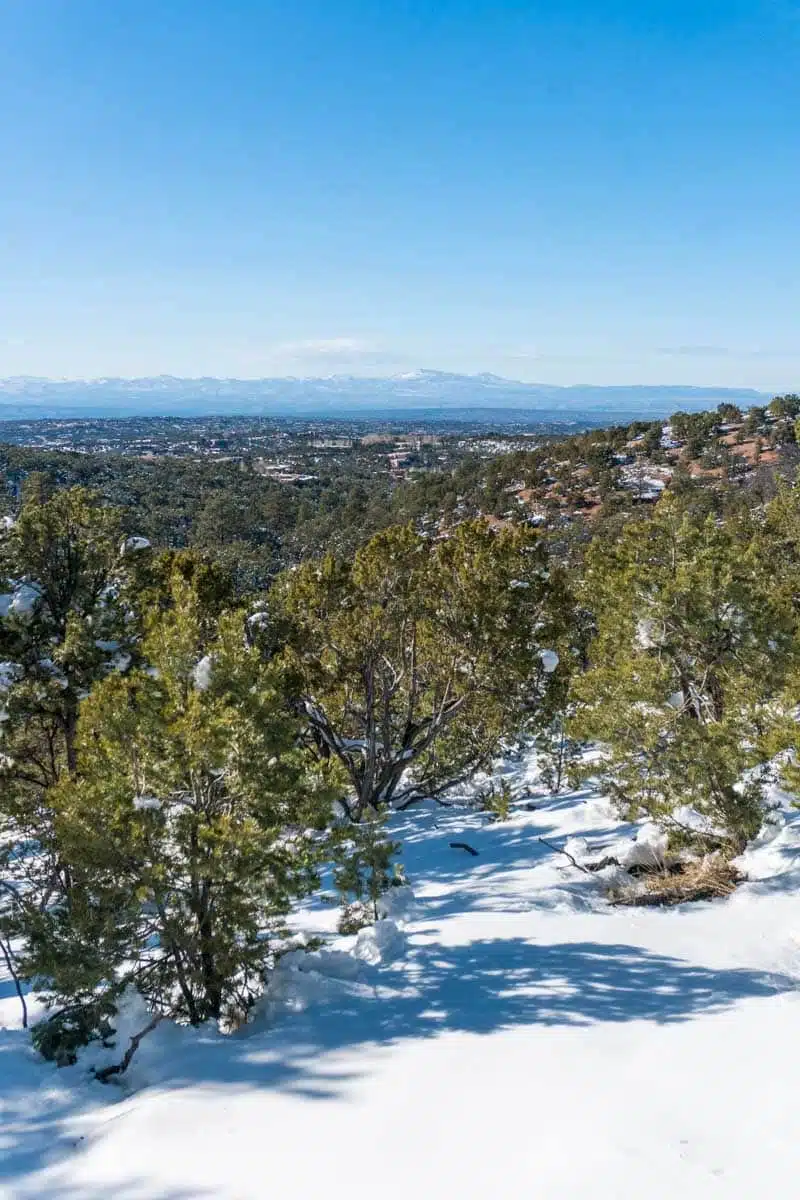 Looking for the best hikes in Santa Fe? Look no further than the Dale Ball Trails. This network of trails in the foothills of the Sangre de Cristo Mountains is a beloved destination for locals and visitors alike.
It's no wonder why – they offer a unique opportunity to explore the natural beauty of the Santa Fe region.
I absolutely loved hiking these trails. They boast great views of the city, are well-marked and you can spend anything from one hour to all day working your way around the different trails in the system.
Whether you are a seasoned hiker or a beginner, the Dale Ball Trails offer a rewarding outdoor adventure that you shouldn't miss.
Top tip: It gets super hot on these trails in the summer months, and there's little shade. So make sure you bring suncream and plenty of water along with you.
Wander Around the Santa Fe Railyard Arts District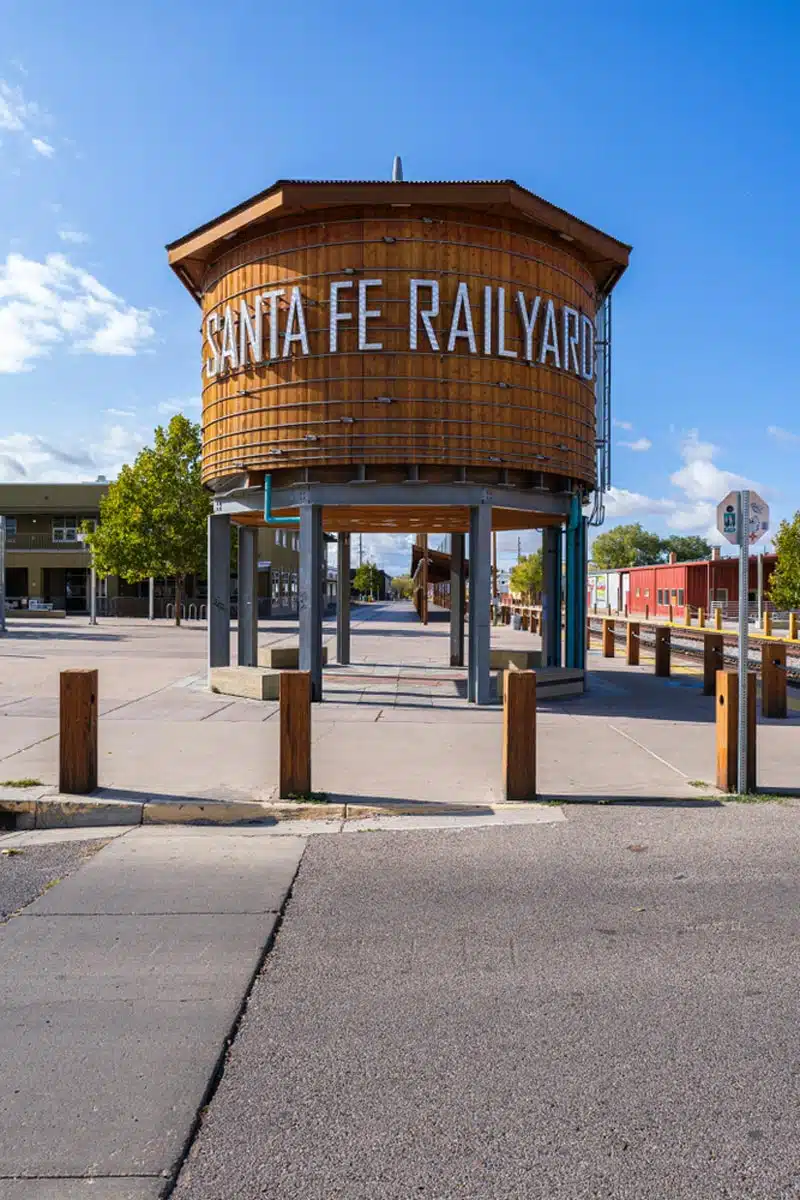 The Santa Fe Railyard Arts District is like an art lover's Disneyland. This place used to be a train yard, but now it's home to a bunch of galleries, museums and event spaces where you can see all kinds of wacky art.
They've got sculptures made out of old tires, paintings of dogs playing poker, and even a giant statue of a chilli pepper (which is, of course, the official state vegetable of New Mexico).
If you're into weird and wonderful art, the Santa Fe Railyard Arts District is the place to be.
Slurp a Hot Choc at The Kakawa Chocolate House
The Kakawa Chocolate House is one of the more unique things to do in Santa Fe. This delicious destination specialises in artisanal chocolate and chocolate drinks.
They offer a variety of unusual flavours and combinations, such as lavender, chilli and hibiscus, as well as traditional favourites like dark chocolate and milk chocolate. The Kakawa Chocolate House offers various chocolate products, including hot chocolate elixirs, truffles, barks, bars and other confections.
With its commitment to quality, authenticity, and creativity, the shop offers a unique and delicious experience – how could you resist?
Things to Do in Santa Fe, New Mexico: Practical Tips for Your Trip
Where Should I Stay in Santa Fe?
Drury Plaza Hotel (Mid-Range)
The Drury Plaza Hotel in Santa Fe offers comfortable accommodations, friendly service, and a convenient location within walking distance of many of the city's top attractions. It also provides a range of amenities, including a rooftop pool, hot tub and fitness centre, making it an excellent option for travellers seeking comfort and convenience.
Rosewood Inn of the Anasazi (Luxury)
The Rosewood Inn of the Anasazi is an exquisite luxury hotel in the heart of Santa Fe. Its elegant decor, impeccable service and luxurious amenities make it the perfect place to stay for a truly memorable and indulgent experience in this historic city.
Eldorado Hotel + Spa (Luxury)
The Eldorado perfectly blends modern amenities and traditional Southwestern charm. Indulge in spa treatments, relax in the rooftop pool or dine at the award-winning onsite restaurant.
Recommended Tours in Santa Fe
Things to Do in Santa Fe: Map
Things to do in Santa Fe: Read Next