Looking for the best things to do in Joshua Tree National Park? Add these unmissable activities to your itinerary.
Part of the Mojave and Sonoran deserts, Joshua Tree National Park is arid and full of abstract rock formations.
But who on earth is Joshua? And why is his tree so famous?
Sorry to burst your bubble, but this area's name actually comes from the Joshua tree, which is evident as they are all over the desert.
Rock fans (see what I did there?) may recognize the name from U2's 1987 album, but that's not all of the interesting tidbits that this beautiful destination offers.
There's lots to do here, such as hiking, rock climbing, horseback riding, and biking, though this is also a brilliant place to learn more about the Wild West and the Gold Rush.
What are you waiting for? Let's discover the best things to do in Joshua Tree.
Looking for somewhere cool to stay? Look no further than AutoCamp Joshua Tree, where you can spend the night in a fitted Airstream.
Top 5 Things to Do in Joshua Tree
Go Rock Climbing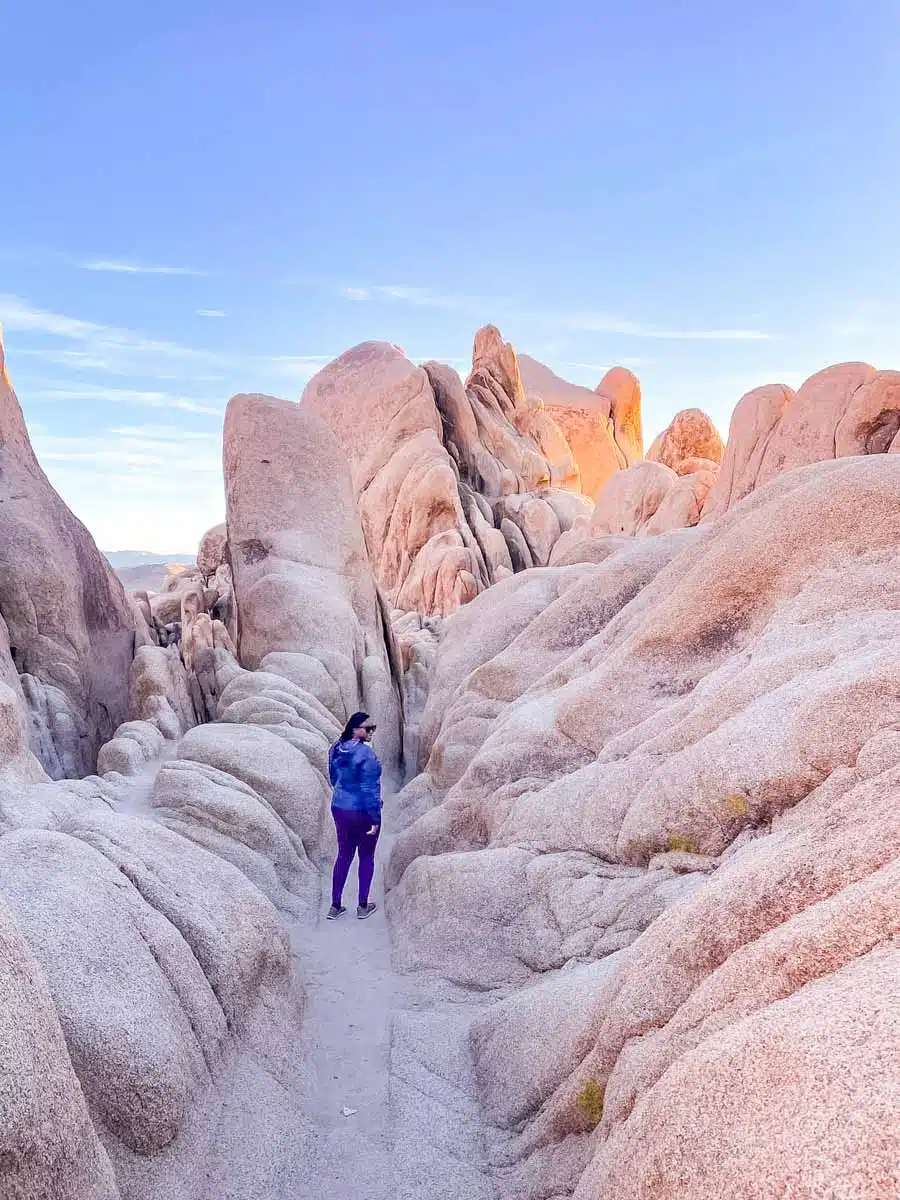 Fronting this list is an activity I love… From afar.
One of the most popular activities in Joshua Tree is rock climbing, which shouldn't come as a huge shock, since the park is full of rock formations and boulders. And, whether you're a beginner or a pro, there are 8,000 different climbing routes and 2,000 bouldering options to undertake.
If you're not that skilled at rock climbing (or confident, for that matter), I'd recommend hiring a climbing guide for Joshua Tree National Park. This is a great way to learn more about the sport, as there are many spots to explore – one of the most famous is The Hall of Horrors.
To get here from Joshua Tree, you'll need to drive down Park Boulevard from the West Entrance. You'll drive past Keys Ranch, Hidden Valley, and Ryan Campground. Stop when you see three large rock clusters and the parking lot.
FYI, the GPS coordinates for the parking lot are 33°59'55.3″N 116°08'41.6″W. It can be pretty tricky to spot it.
If the Hall of Horrors tempts you, head from the parking lot to the first boulder cluster by walking in a clockwise direction. Follow the path until you get to the second boulder group. At the southwestern corner of this cluster, you'll find the entrance to the Hall of Horrors.
The Hall of Horrors is a slot canyon amongst three clusters of giant boulders. This creates very narrow passages, which may require some squeezing. And it goes without saying that this is not for those who suffer from claustrophobia.
Explore Cholla Cactus Garden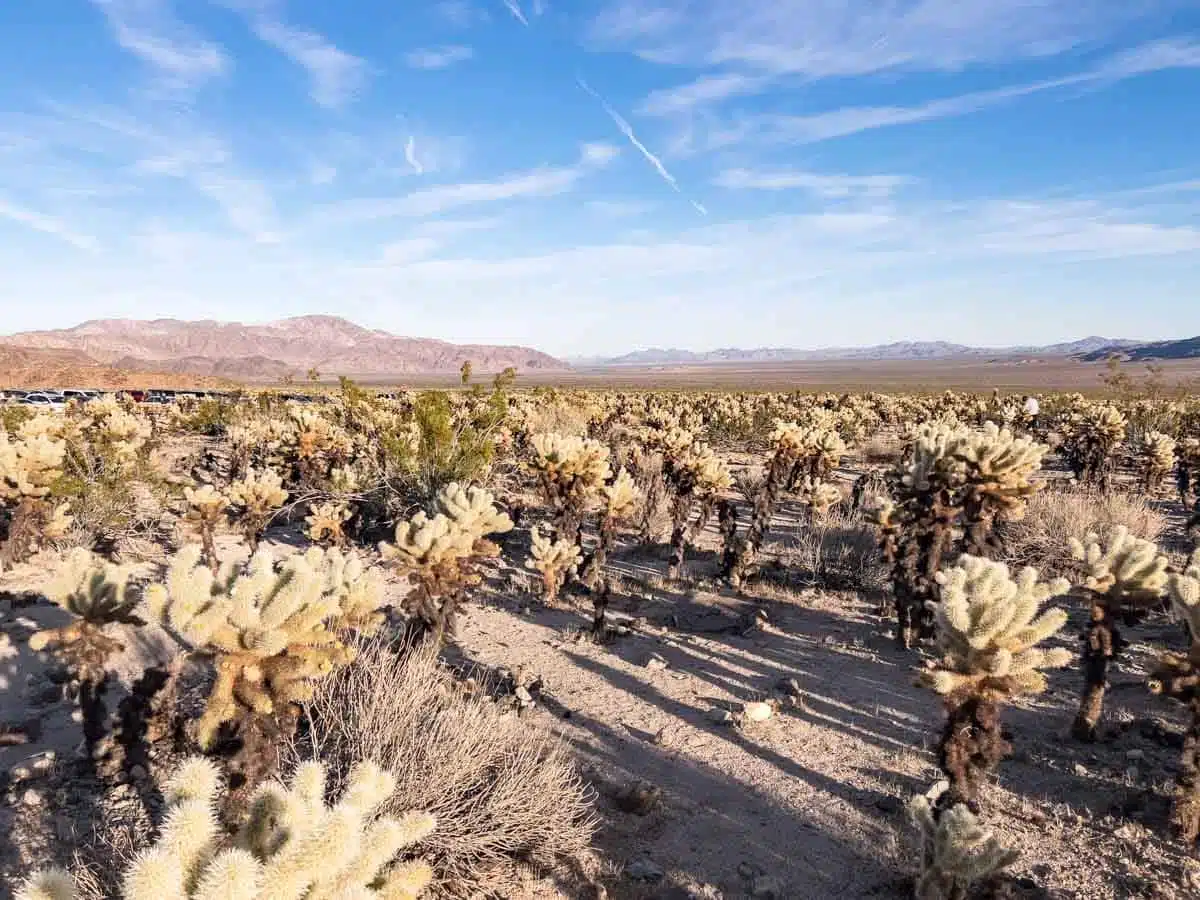 On my recent trip, I was most excited to spot Joshua Tree's infamous greenery. Which leads me onto another brilliant thing to do – visit the Cholla Cactus Garden. This is a perfect spot for plant lovers to explore and is a breezy walk for even those who are hiking-averse.
Adorable fact: The cholla cactus is also known as the Teddy Bear cactus due to its almost fluffy look.
But, let it be known that they are far from cuddly, and you should not attempt to touch them. This is a great activity in the early morning or when the golden hour strikes as the cacti almost glow in the sun's rays.
A brilliant time to visit here is spring when wildflowers bloom. See if you can smell the aroma of the creosote bush, the leaves of which you can use as a medicinal herb (wouldn't recommend doing this yourself, though).
If you can't find time to visit the garden, don't fret, as you can find Cholla cacti throughout Joshua Tree National Park.
Take a Guided Tour of Keys Ranch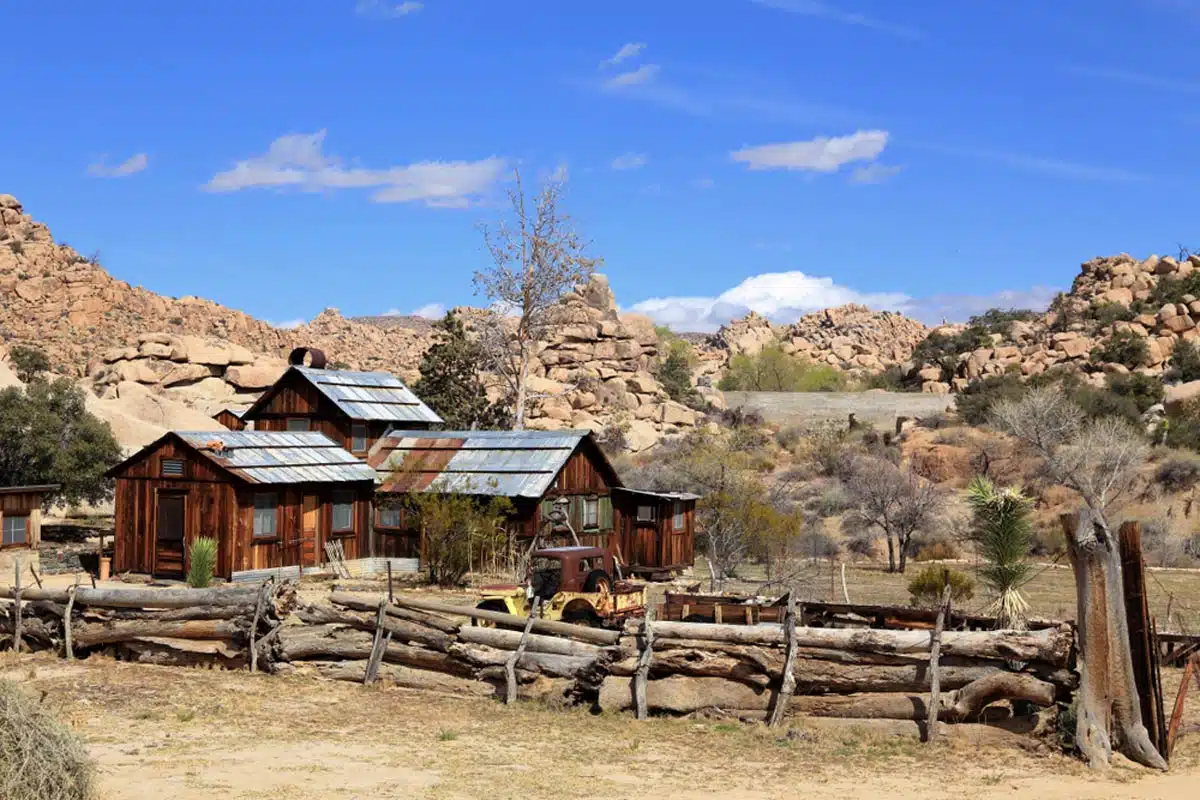 A Joshua Tree must-see is the Keys Desert Queen Ranch – this area played a significant role in gold mining and early settlement in Southern California. The ranch belonged to Bill and Frances Keys, who settled here over 100 years ago in 1918.
It's safe to say then that visiting the Ranch is like stepping into a time machine. The park staff has preserved it well, revealing a fascinating slice of history for all to enjoy.
Bill Keys was a zany character, to put it lightly, and taking a guided tour is a fantastic way to learn more about him and his family. At the Ranch, you'll see various buildings, such as a windmill, an adobe barn, a garden plot, and a general store.
Frances ran the store to bring in more income for her family. You'll also notice the schoolhouse where the Keys children and other children from nearby ranches attended.
As this tour is so popular, I'd recommend booking it a month or two in advance (the most you can do is 60 days). The tour costs $10 per person, and you can book it on recreation.gov with ease.
This is well worth the price as the tour lasts 90 minutes and is only a half-mile walk. Please be aware that this price is separate from the entrance fee, and tours are usually held from November to May as it gets too hot in summer.
Hike the Barker Dam Nature Trail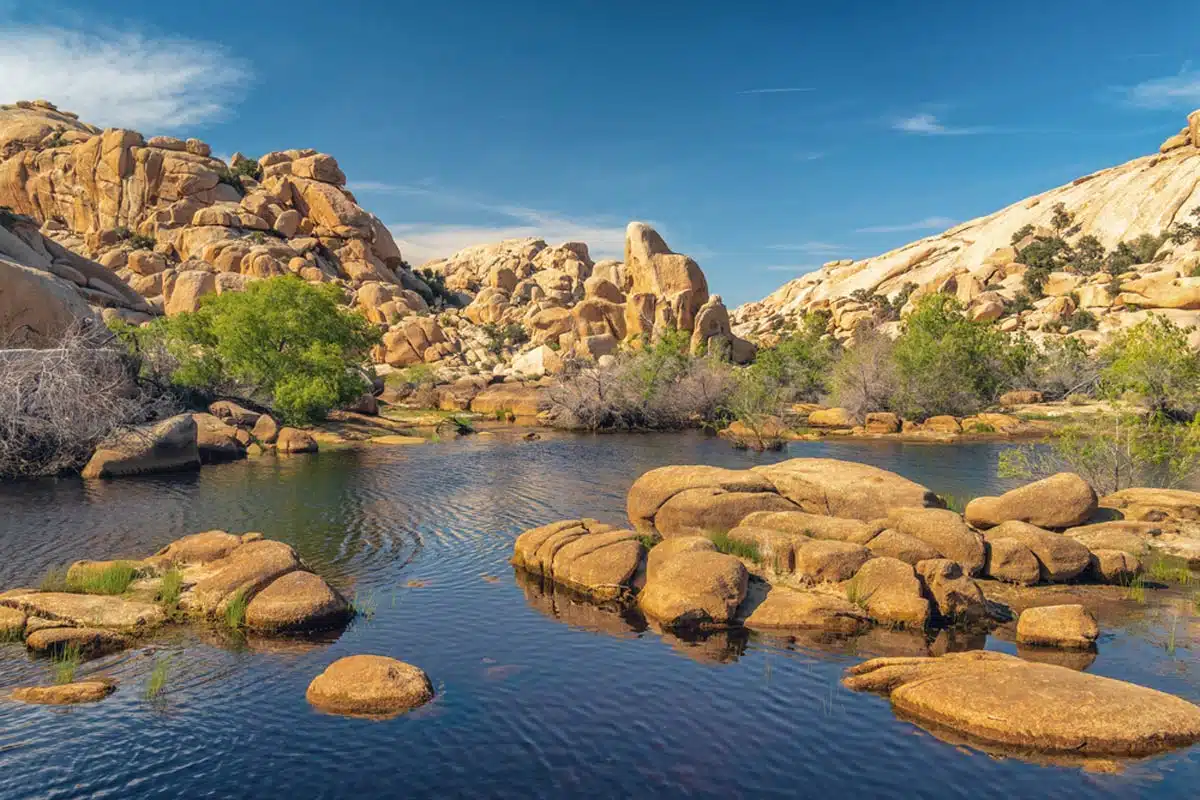 Hiking the Barker Dam Nature Trail is a must-do in Joshua Tree National Park. It's another excellent trail, and it's only 1.3 miles long – this makes it an easy walk and a great way to see all the things that Joshua Tree is famous for.
As you walk, you'll see tall Joshua trees, expansive boulders, and a dam built by ranchers over a century ago. Along the trail are informative signs with info about the local flora and fauna.
And as you go back along the sandy trail loop, look for a marked turnoff to see a rock covered in ancient Native American petroglyphs. Lastly, keep your eyes peeled for the remains of a water tank left by the cattle ranchers of olden times.
Admire the Sights From Keys View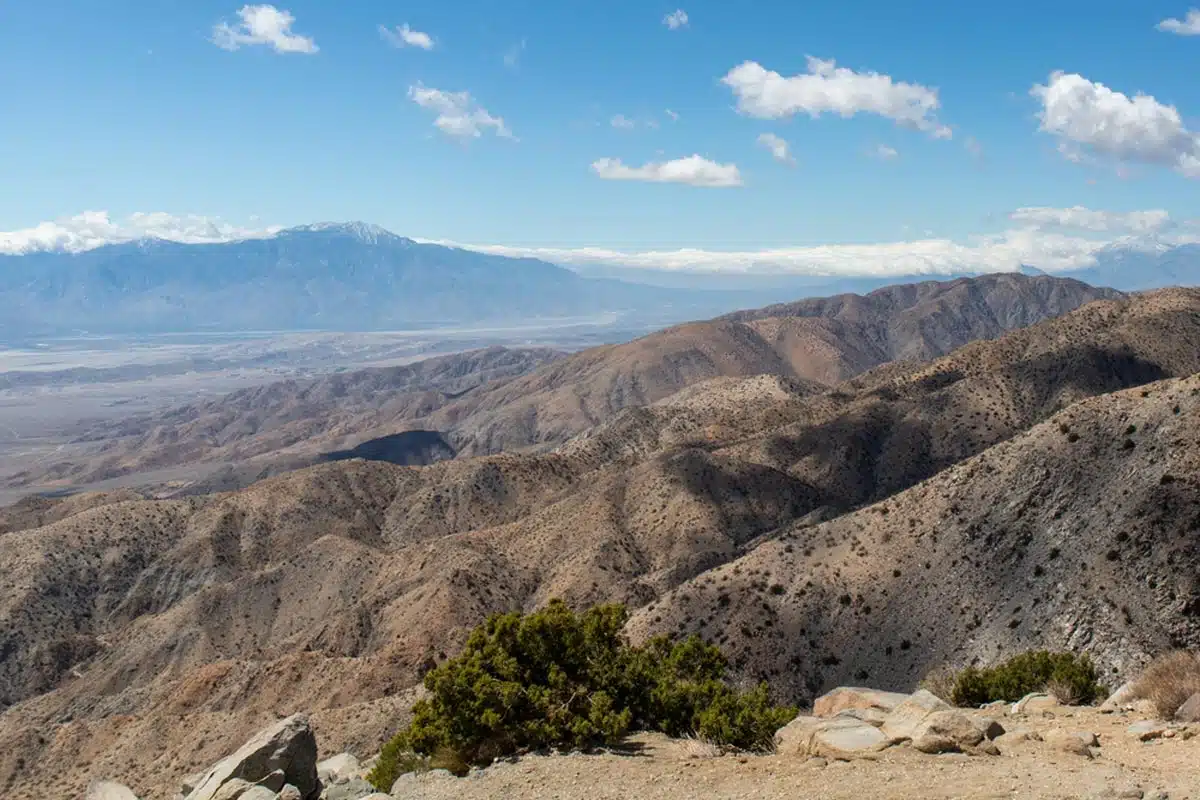 One of Joshua Tree's attractions that is very popular is Keys View. Heading here is a great way to see expansive views of the park, the Salton Sea, Coachella Valley, and the San Andreas Fault. On clear days, rumour has it, you can even spot Mexico.
You will find that this viewpoint is constantly busy, but the most tourist-dense time is sunset. This is because sunsets here are vivid with beautiful reds, yellows, and oranges. To avoid these crowds, consider visiting Keys View at sunrise – it's worth it despite the early wake-up as you'll get more space to yourself.
If you're staying in Joshua Tree, come from the West Entrance. It's a 30-minute drive that starts on Park Boulevard. Continue for ten miles and then take a right onto Keys View Road. From there, it's just five miles until you reach the viewpoint.
Brilliant Things to See & Do in Joshua Tree
Go Stargazing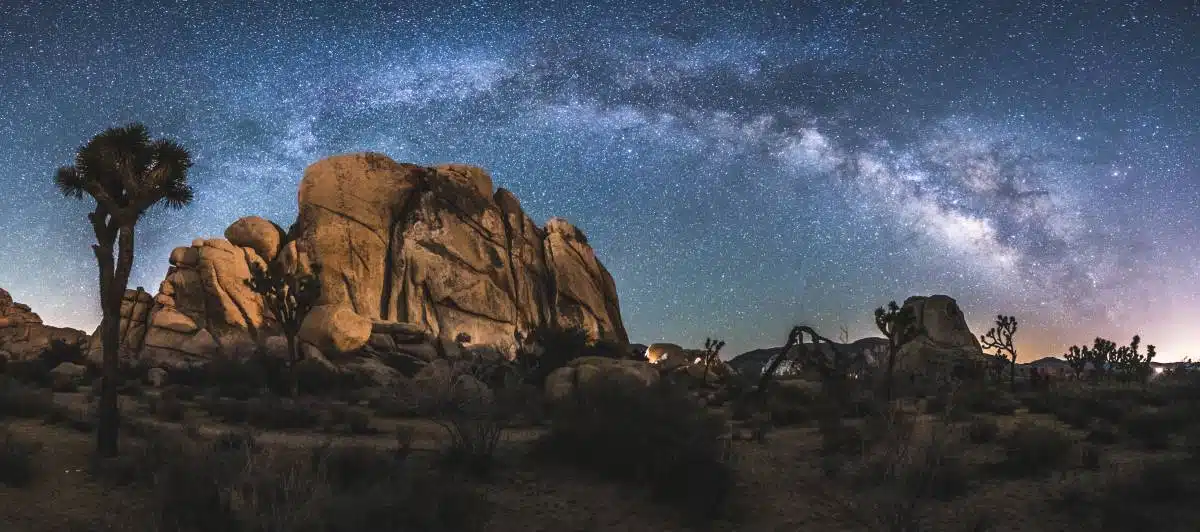 One of the most romantic things to do in Joshua Tree is stargazing. Due to the lack of big cities nearby, the park is an exceptional place to view the Milky Way. It also provides a brilliant opportunity for night photography and long exposure shots.
Some of the best spots for stargazing are in Hidden Valley, Arch Rock, and Jumbo Rocks. Of course, this is one of the best things to do in Joshua Tree at night, and as the park is open 24/7, access is not limited.
That said, there are nine campsites spread throughout the park to make it even easier to admire the night sky. The cost of campsite reservations starts from $20 per night, so there can be affordable accommodation.
Hike the Hidden Valley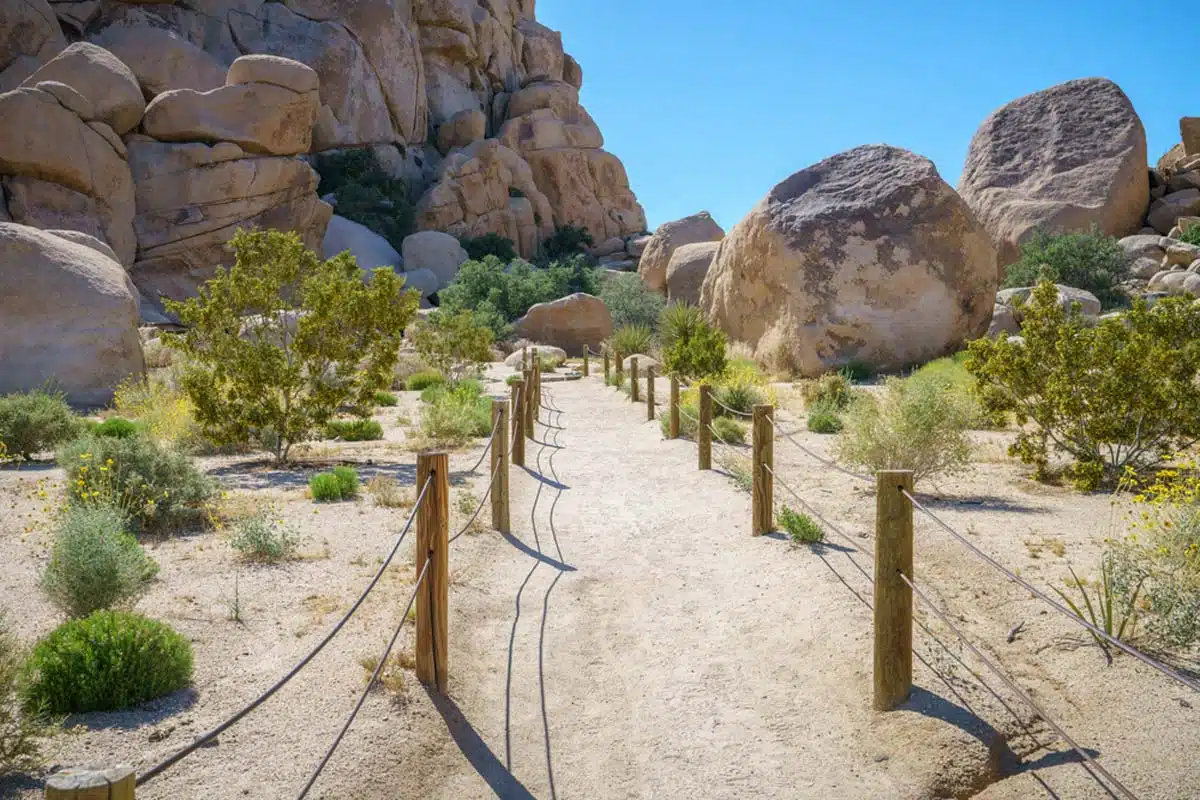 Keen to explore Joshua Tree at a chilled out pace? Hidden Valley trail is a particularly relaxed walk as it's only a mile long.
Along the route, you'll find many stunning rock formations, and you'll often see climbers scaling their way up a rock face – most likely the Great Burrito, a popular monolith.
According to locals, Hidden Valley got its name from cattle rustlers who hid their stolen herds in this area. This was a significant problem for ranchers in the Wild West, who attempted to prevent it by earmarking or branding their cattle.
A great thing to do after your hike is to enjoy a packed lunch at the Hidden Valley Picnic Area. This is because it's covered in the shade at midday, avoiding the sun's heat.
Take on the (Easy) Arch Rock Trek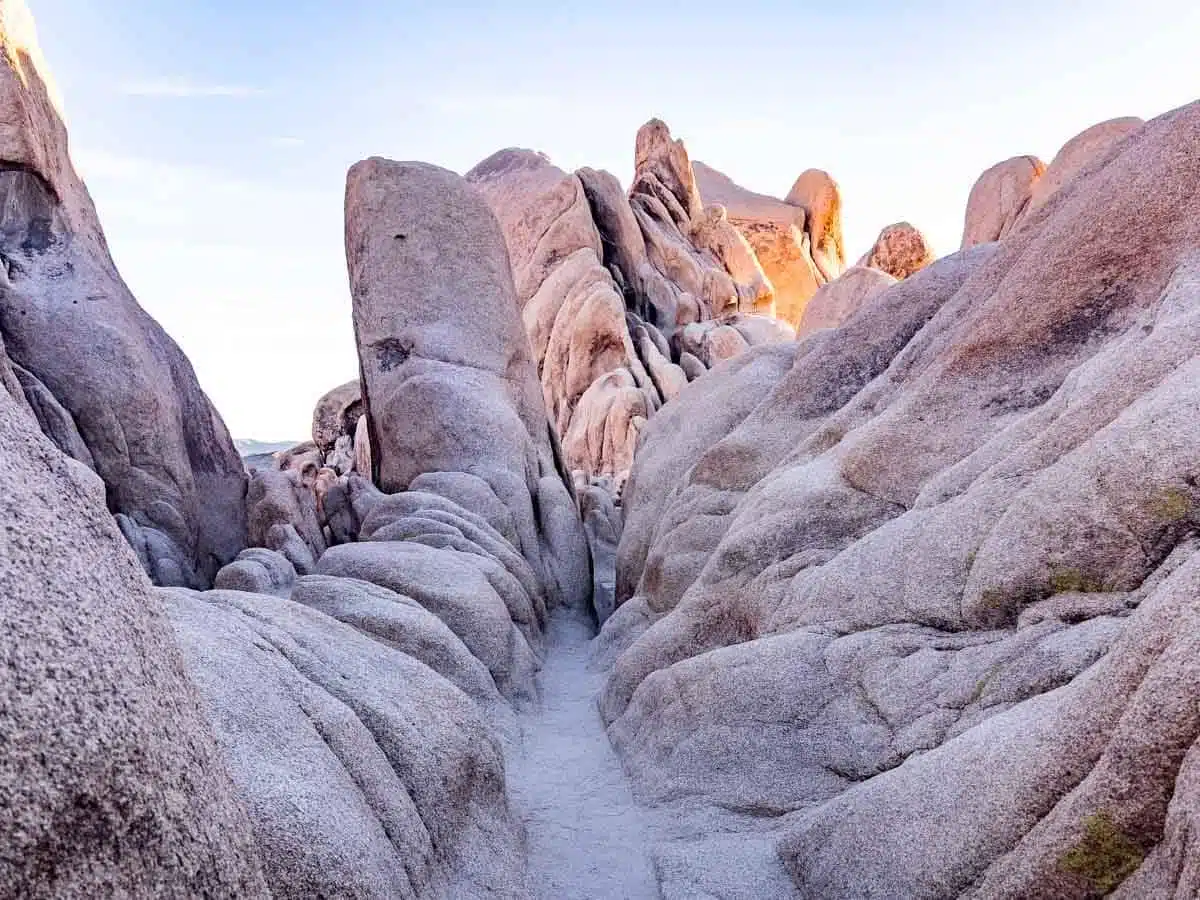 One of the most sought-after Joshua Tree attractions is Arch Rock. It's no wonder – it's a 30-foot wide arch and a marvel of Mother Nature. That said, it's not challenging to get here as it's only a half-mile walk, so it only takes about 20 to 30 minutes to complete.
It's even more popular around sunset or at night as many gather for the excellent photo opportunities it provides. The Arch Rock Trail is also very accessible since it is near White Rock Campground.
If you're feeling brave, consider rock scrambling as a blood-pumping activity if you want to get more exercise out of it. I'll stick to walking, thanks.
Walk the Wall Street Mill Trail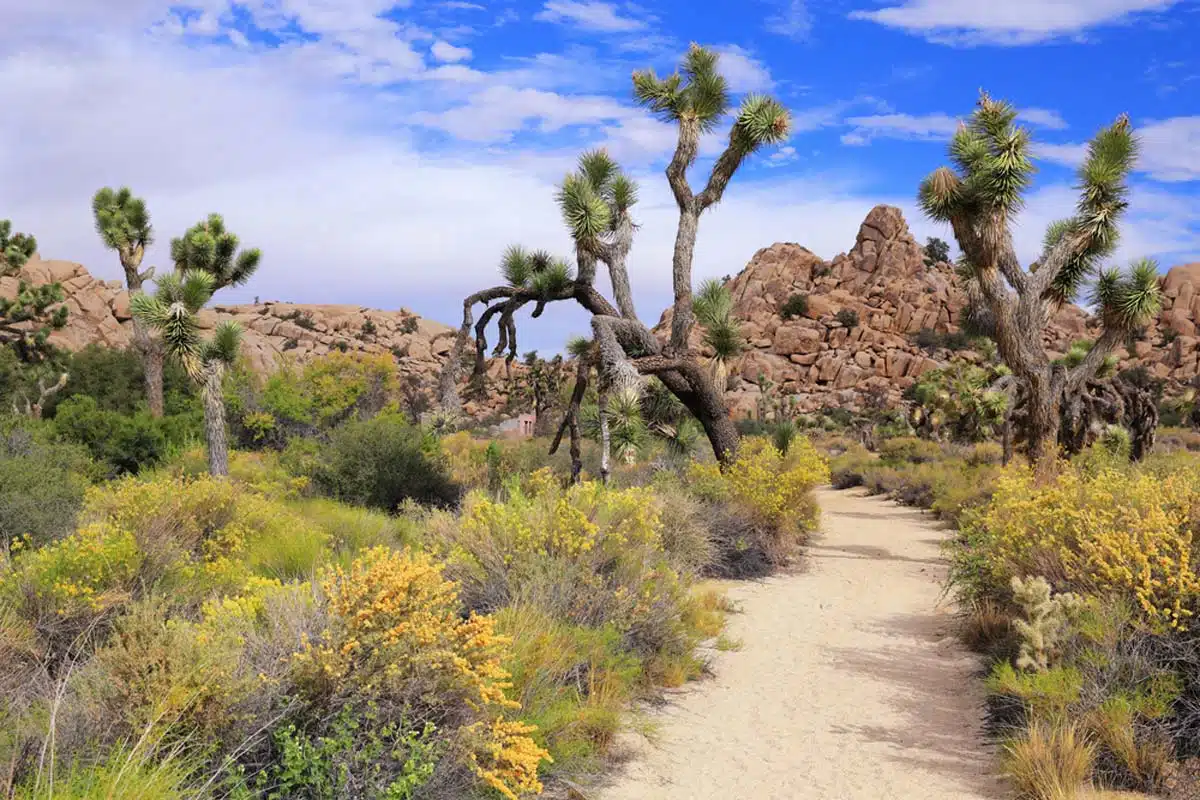 There are so many fantastic walks that you can do in Joshua Tree, but the Wall Street Mill Trail is brilliant for learning more about the history of the area.
Good ol' Bill Keys' name pops up again as this was one of his many businesses – a gold mill. This route generally takes 45 to 120 minutes to complete, depending on your fitness level.
This is also close to the Barker Dam trail, and you'll park at the same parking lot. You won't struggle to get onto the trail as there is a clearly-marked sign for the Wall Street Trail.
Along the way, you'll find ruins of Wonderland Ranch, parts of broken-down trucks, and a monument where Keys killed one of his neighbours. Plot twist.
Unique Things to See & Do in Joshua Tree: Hidden Gems That are Off the Beaten Track
Tackle the Ryan Mountain Trail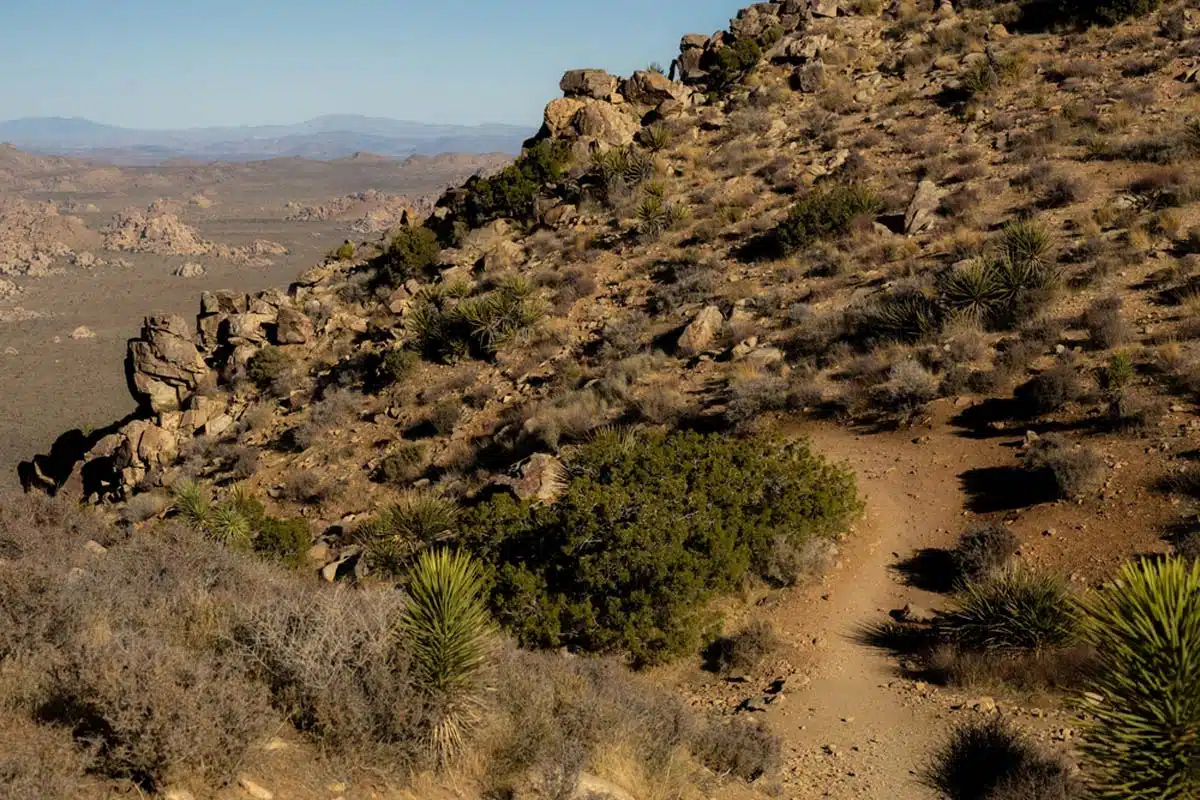 One of the highest points in the park is the summit of Ryan Mountain; sitting at 5,457 feet, it's the fifth-highest mountain in the park. I recommend doing this hike if you want a great view of Joshua Tree and its surrounding areas.
Trekking up Ryan Mountain is one of the more unique things to do in Joshua Tree. It's a six-mile hike, with the peak being the halfway point. It usually takes around 2 hours to complete as there are about 1,000 feet of elevation gain, so it is rather challenging.
I suggest you bring sunscreen as there is little shade.
Off-Roading at Geology Road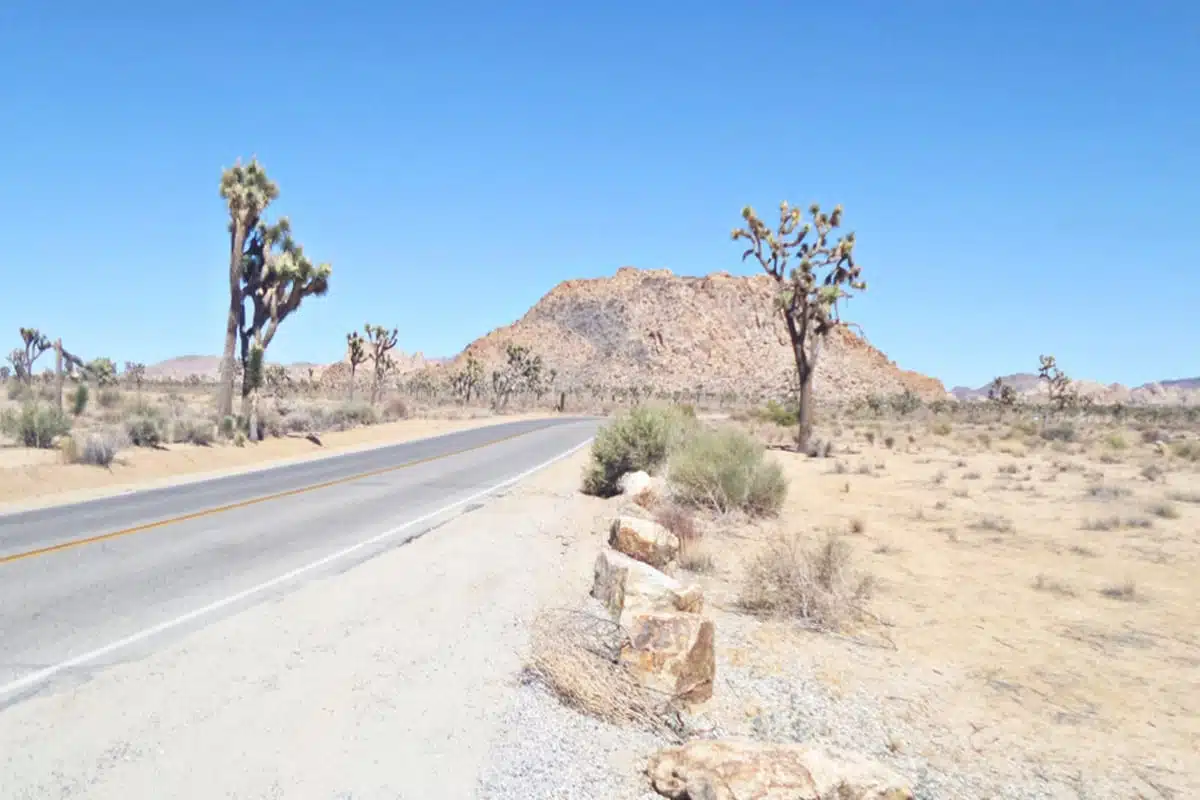 One of the top fun things to do in Joshua Tree – besides hikes – is off-roading at Geology Road. For this, you will need a four-wheel drive or SUV. Along the road, you will see 18 markers for points of interest.
One of these markers will point you to Squaw Rock, a concrete wall that served as a water reservoir. A great way to learn more about Joshua Tree is through this audio tour you can listen to while driving.
Explore the Lost Horse Mine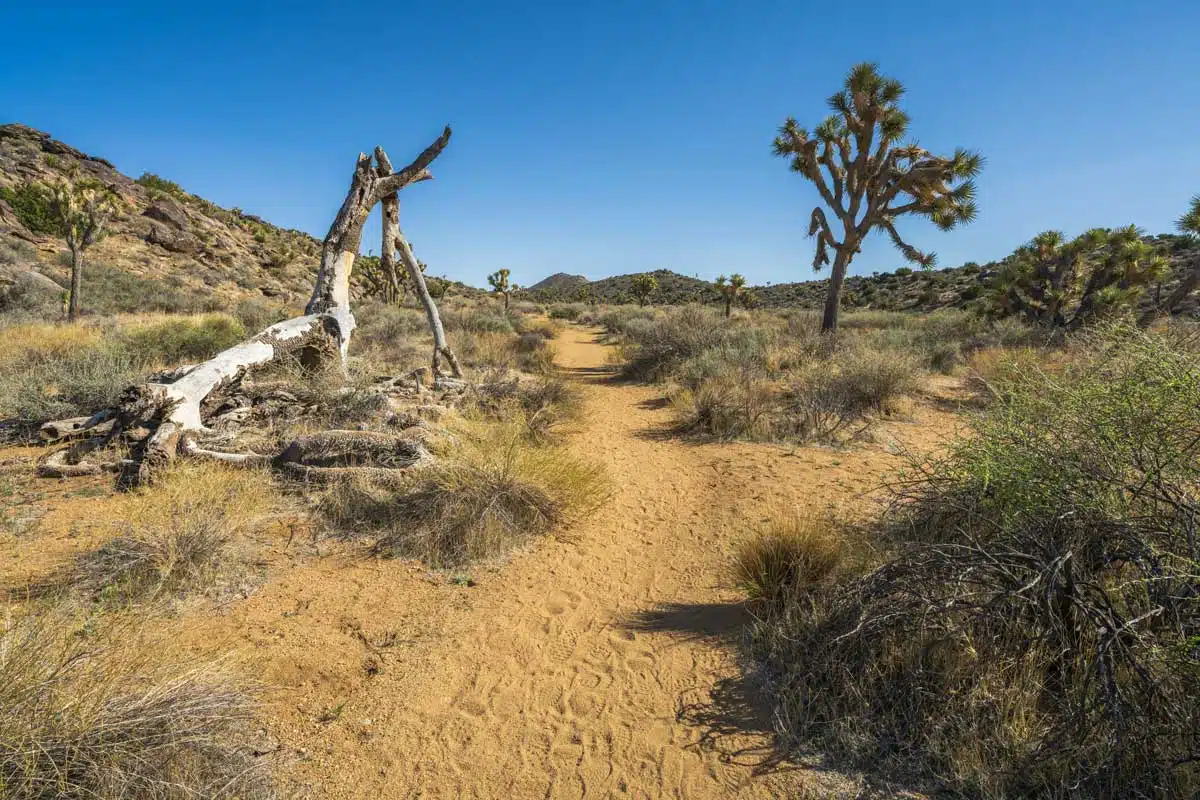 The Lost Horse Mine is one of Joshua Tree's most well-preserved mines. A fascinating fact about Lost Horse is that it was one of the area's most productive mines – it produced up to 280 kilos of gold and over 450 kilos of silver in its heyday.
To get there, you'll have to hike up Lost Horse Mountain. This takes around three hours to complete, but it'll be well worth the effort as you can see historical relics along the way, such as the Optimist Mine bunkhouse.
Once you get to the Lost Horse Mine, you'll be in awe of the site's quality despite years of ageing.
Word of warning: Don't go too close to the site, as it is very unsafe. Also, it's not a playground, so keep any little ones or animals safely away from the mine.
Hike the Chasm of Doom
An ominous name for an ominous landmark. One of the most challenging activities in the park is making your way through the Chasm of Doom.
This is in a slot canyon and is covered with boulders, so if you do it, make sure you go with someone who has already attempted it. Successfully.
It is not advised for those with faint hearts or claustrophobia. You'll need to scramble through the route and bring a flashlight, as parts of it can be very dark.
Things to Do in Joshua Tree: Practical Tips for Your Trip
How Long to Visit in Joshua Tree?
I'd recommend staying a day or two to explore Joshua Tree fully. Most trails aren't too arduous and take an hour or two.
Best Time to Visit Joshua Tree?
The best time to visit Joshua Tree National Park is from October to November. This is because you can avoid the crowds of visitors in spring who come for the wildflowers and the heat of a desert in summer.
The temperature during this period usually ranges from nightly lows in the 10ºCs to a high point of around 28ºC. It gets the coldest in December as it is the start of winter in the park.
Where Should I Stay in Joshua Tree?
Pioneertown Motel (Mid-Range)
Stay at Pioneer Motel for a truly unique experience of the Wild West. This motel is full of history, especially as it was part of a movie set in 1946. 
Don't get discouraged by the old-timey look or the name "motel", as the amenities in your room are far from outdated. Each room has free Wi-Fi, air conditioning, and private bathrooms.
Check Rates and Availability for Pioneertown Motel
Sacred Sands (Luxury)
This guest house is only one mile from Joshua Tree National Park's West Entrance. Three words to describe Sacred Sands are intimate, vibrant, and tranquil. Each room has luxurious bathrobes and an outdoor patio where you can marvel at beautiful sunsets.
Check Rates and Availability for Sacred Sands
Recommended Tours in Joshua Tree
Things to Do in Joshua Tree: Map
Read More Joshua Tree Guides