Hiking the Arch Rock trail in Joshua Tree National Park? Read this handy guide to the trail and the top tips you need to know.
When it comes to the best things to do in Joshua Tree, hiking is certainly up there. I mean, you're surrounded by acres and acres of impressive natural beauty and some of the coolest trails known to man – what's not to love?
And, if it's picturesque hikes you're after, the Arch Rock Trailhead is an epic starting point. This sought-after hike ends at one of the best expressions of Mother Nature in the park – a 30-foot-wide natural arch.
Sounds tempting? I thought it might. Read on to discover everything you need to know before you tackle the Arch Rock hike in Joshua Tree National Park.
Hiking the Arch Rock, Joshua Tree: In Detail
Strap up your boots; here's all you need to know about how to get to Arch Rock, Joshua Tree.
The Arch Rock Trailhead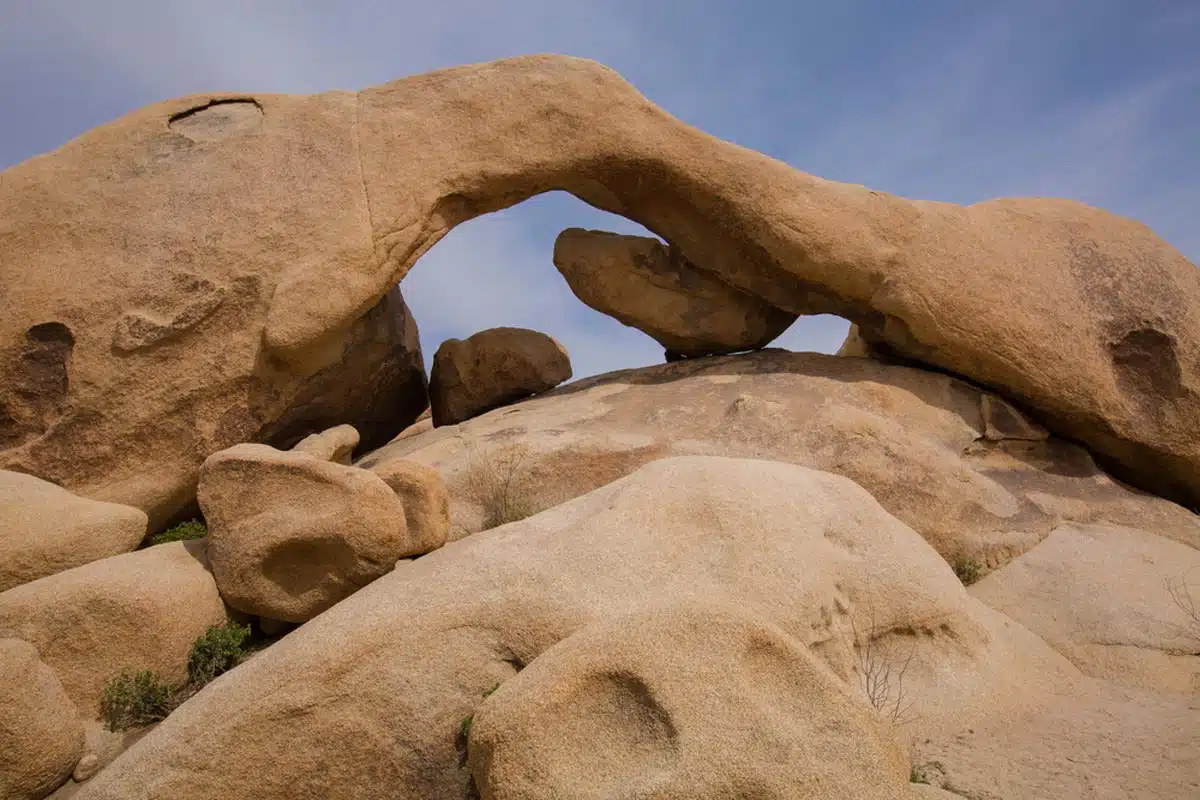 First of all, you'll need to locate the trailhead. And, luckily for you, it's pretty easy.
You'll find the Arch Rock Trailhead in the Twin Tanks parking lot. Prepare to get dirty as this lollipop loop trailhead goes through sandy and rocky terrain (AKA leave your fanciest clothes at home).
It starts with a 0.6-mile walk before reaching the short loop that leads to Arch Rock.
While you can hike this loop from any direction, I suggest taking the anticlockwise route, as it's easier to spot the arch from this direction. The loop is about 0.2 miles, and you'll soon get views of the arch halfway through the loop section.
Fancy nerding out? Along the route you'll spot roadside signs describing the geological characteristics of the area. Pretty fascinating stuff, if you ask me. Oh, and don't forget to keep your eyes peeled for the interesting cholla cacti growing along the trail.
The Arch Rock, Joshua Tree Hike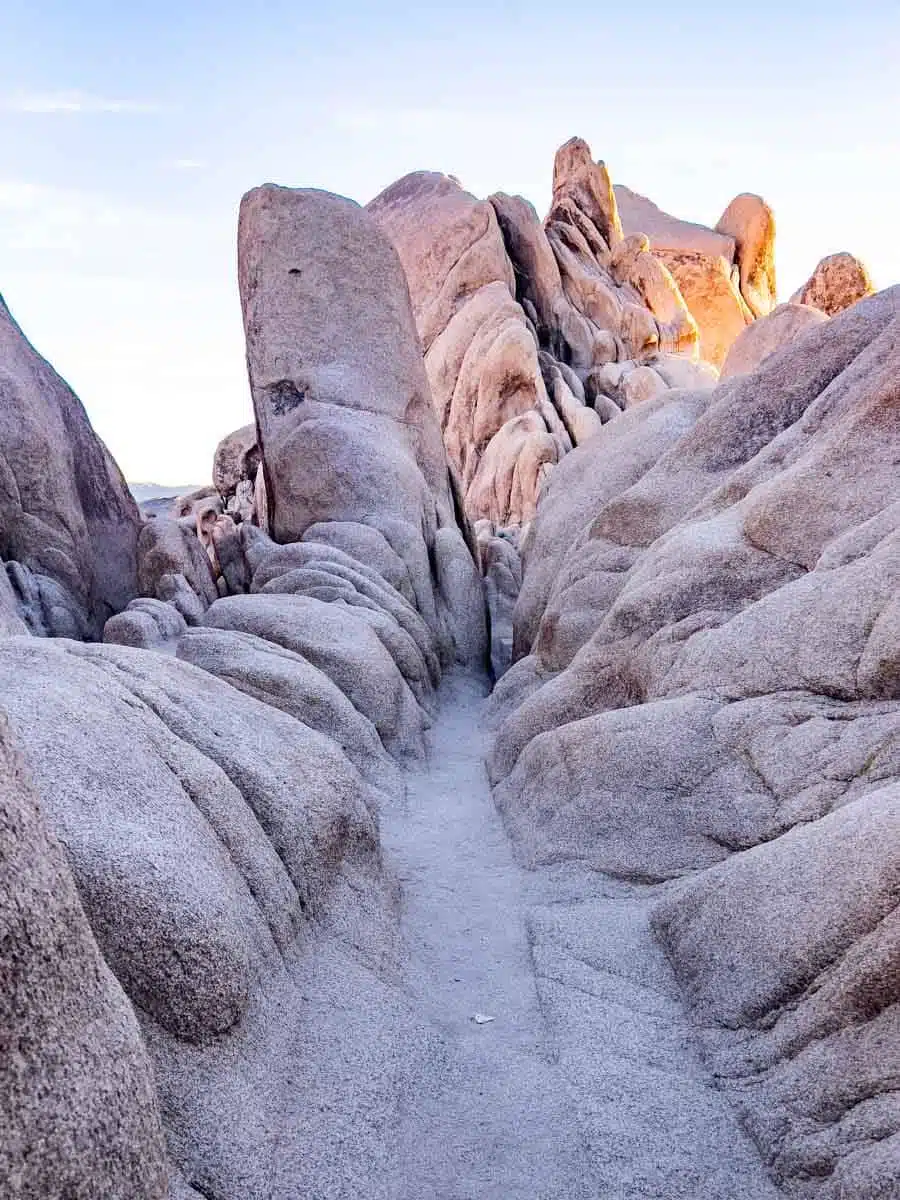 It's no wonder that hiking to Arch Rock is a must-do in every Joshua Tree itinerary; this natural arch is one of the most picturesque attractions in the park. The short 1.3-mile out-and-back trail is easy to complete and only takes about 20 to 30 minutes.
Hiking enthusiasts can hike the Arch Rock Trail in Joshua Tree all year round, but if you take on this trek in summer, take my advice and make sure to start before 9 am. Not only will this help you avoid the scorching California summer heat, but also the crowds of other hikers.
Alternatively, you can hike to Arch Rock just before sunset, which is one of the best times to see this natural phenomenon blanketed in an orange glow. You can check the sunset time at Joshua Tree National Park on this website.
The Arch Rock Summit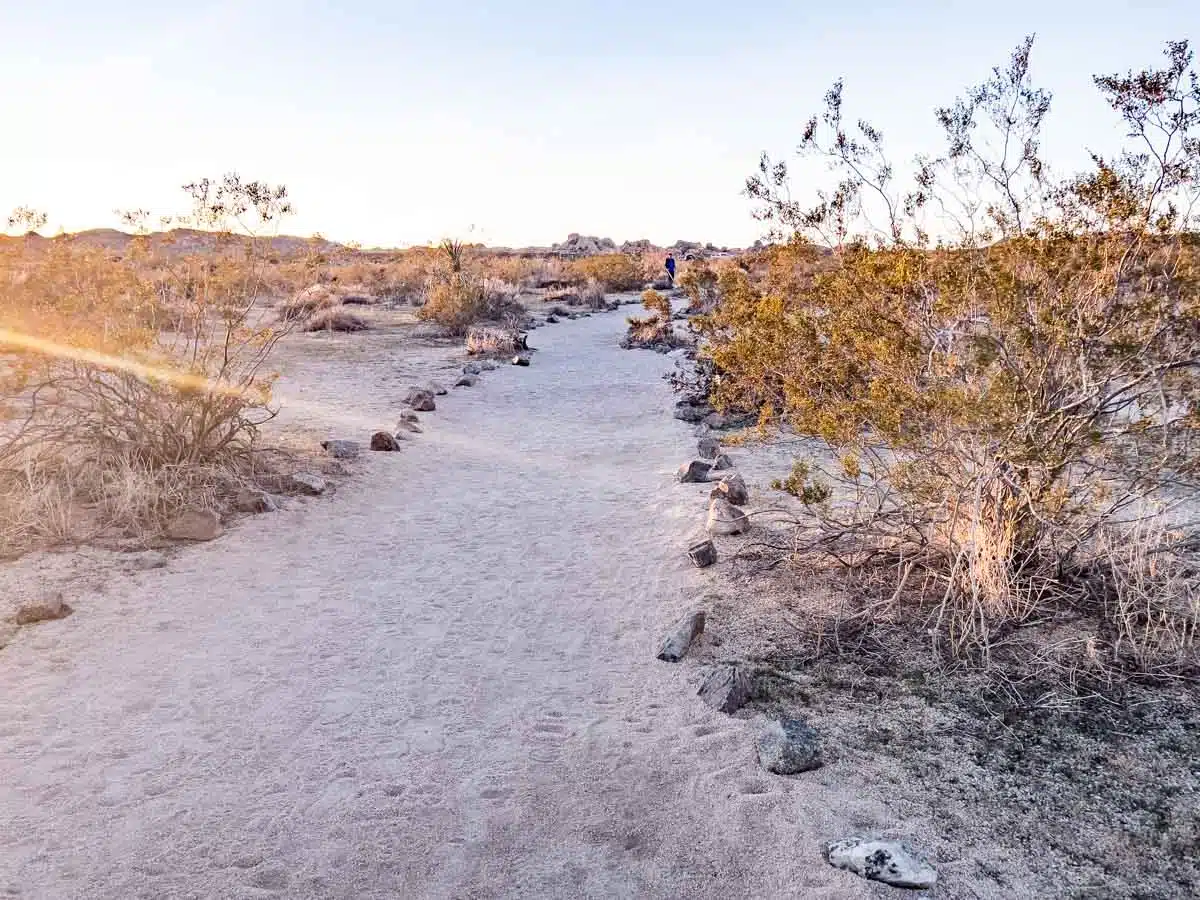 Joshua Tree's Arch Rock Trail is relatively flat, so you'll only gain an overall elevation of about 100 feet. Better yet, the granite arch's summit is easily accessible by carefully scrambling your way up through the surrounding boulders.
In addition to getting scenic views of the desert and the maze of bouldering rocks below, you'll also get to catch a glimpse of the amazing photo-ops that attract thousands of hikers to Joshua Tree annually.
Top Tip: The Arch Rock Joshua Tree sunset is nothing short of stunning. However, I suggest you stick around to take advantage of Joshua Tree National Park's clear and dark night skies and opt for a stargazing experience.
The Arch Rock Alternative Route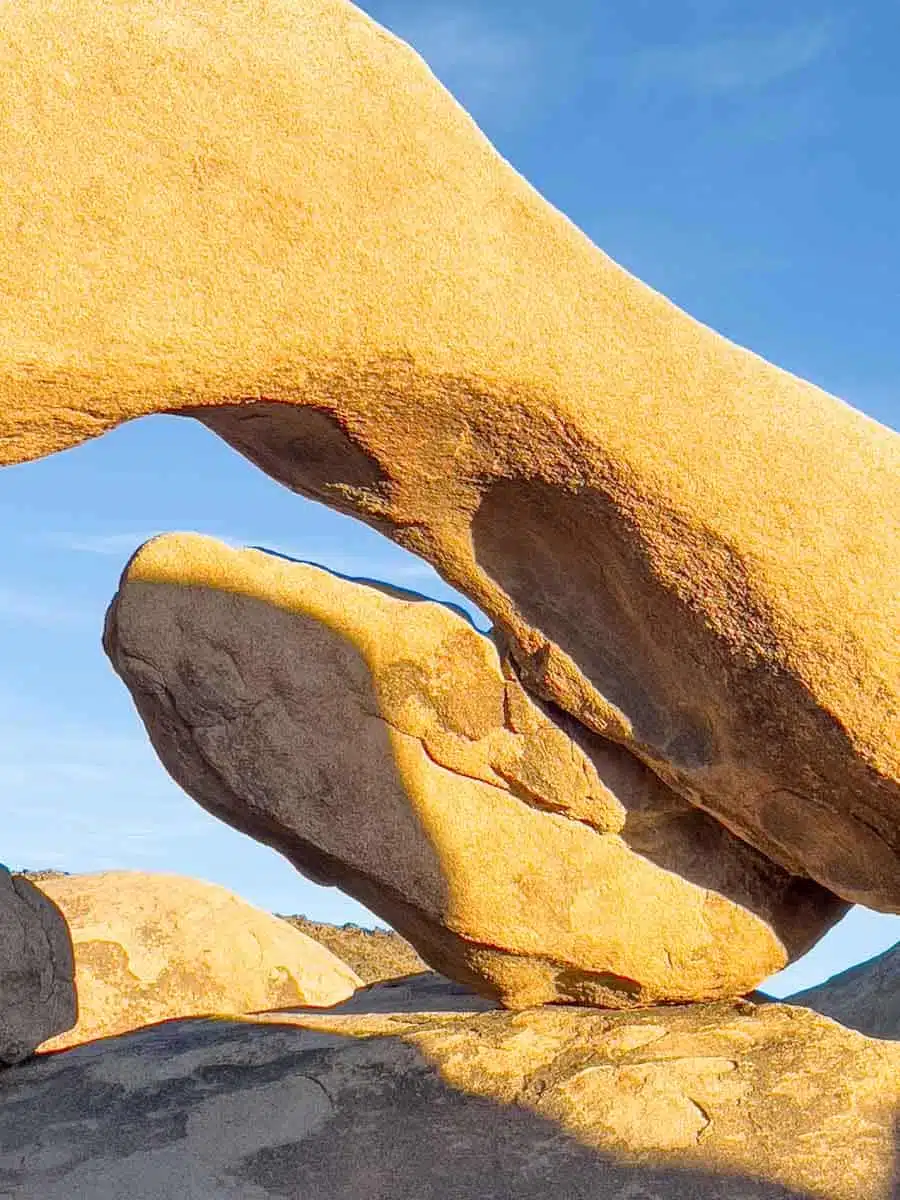 The Twin Tanks parking lot is the most popular access point to the Arch Rock Trailhead; however, there is an alternative. This proxy route mainly appeals to campers staying at the White Tank Campground.
Hikers can access the Arch Rock Nature Trail within the campground. How? After driving into the campsite via the White Tank Campground Road, take a left turn at the bathrooms. Further down the road, alongside campsite #9, you'll find the Arch Rock Trailhead.
Note: The parking lot at White Tank Campground is accessible to campers only, and day-use parking for hiking to Arch Rock is not allowed in the campground.
Alternative Hike Near Arch Rock, Joshua Tree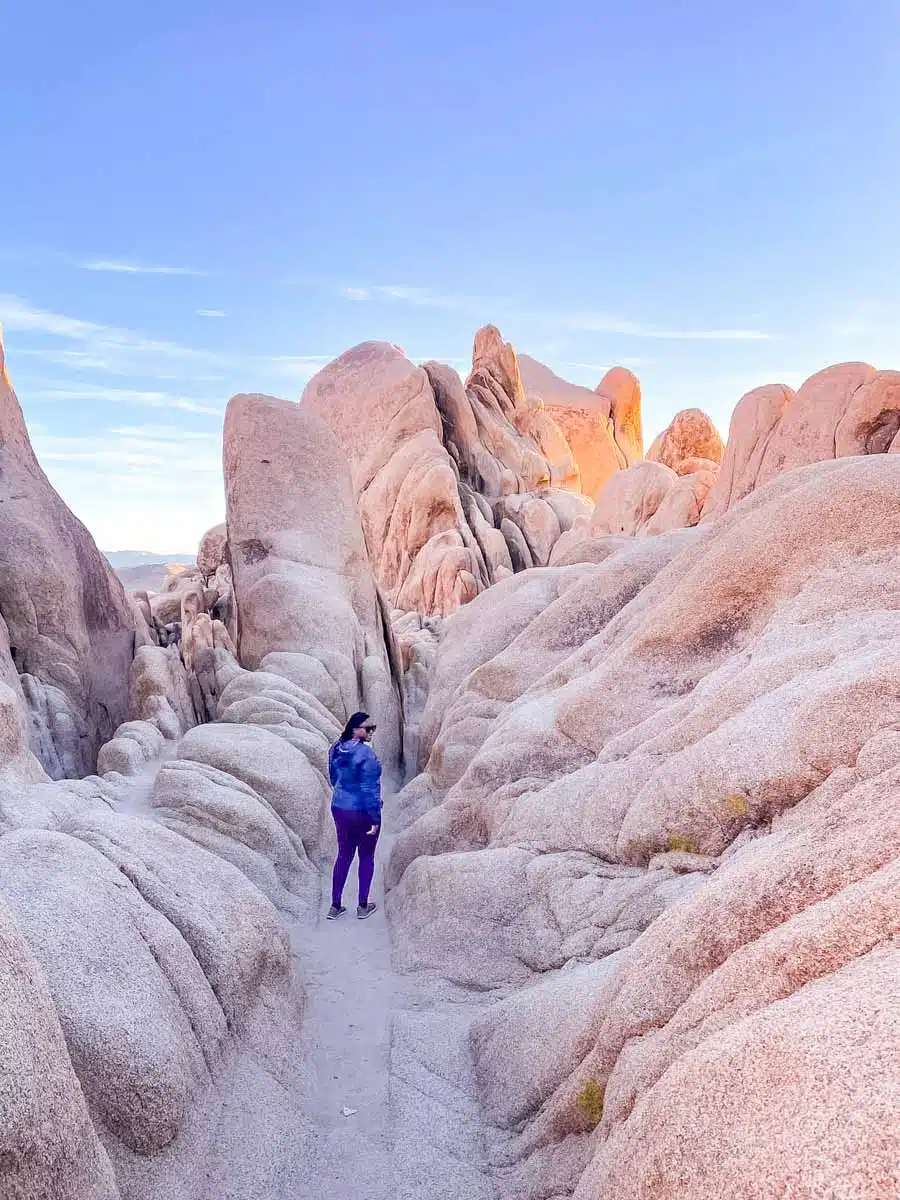 Heart Rock is a spectacular heart-shaped natural wonder that sits about a 15-minute round trip northeast of Arch Rock. You find it isolated atop a hill on a level-surfaced rock, making it a superb place to take photos.
I highly recommend heading here if you have time.
Practical Tips for Hiking the Arch Rock, Joshua Tree
Wondering when to visit Arch Rock? I suggest you check out my guide to the best time to visit Arch Rock.
It's crucial to check the weather forecast before taking on the arch trail in Joshua Tree. This allows you to change plans should the conditions be too extreme.
Bring lots of water to avoid dehydration, a sun hat or cap to protect yourself from the California heat, and salty snacks to boost your energy levels.
Sturdy hiking shoes are a must when hiking to Joshua Tree National Park's Arch Rock, as you'll trek through a sandy landscape and scramble through boulders.
The Arch Rock, Joshua Tree: FAQs
Arch Rock, Joshua Tree Map
Arch Rock Hike: Read Next
Where to Stay in Joshua Tree National Park
Best Joshua Tree National Park Hikes
Skull Rock Joshua Tree
Glamping in Joshua Tree National Park
An Epic 3 Days in Joshua Tree Itinerary
Love This? Save and Share on Pinterest