Looking for the dreamiest Costa Rican beaches? I've got you covered with this handy guide to the best beaches to visit in Costa Rica.
Costa Rica might be best known for its tropical rainforests and national parks packed with wildlife, but this vibrant country also has some incredibly beautiful beaches.
Tucked away between the enormous Pacific Ocean and the Caribbean, Costa Rica has a unique and expansive shoreline begging to be explored. You may also check out stunning beach towns in Costa Rica. I've visited a fair few beaches over the years, but none quite top the magical offerings that Costa Rica has.
Ready to discover the most beautiful beaches in Costa Rica?
Best Beaches in Costa Rica
Jaco Beach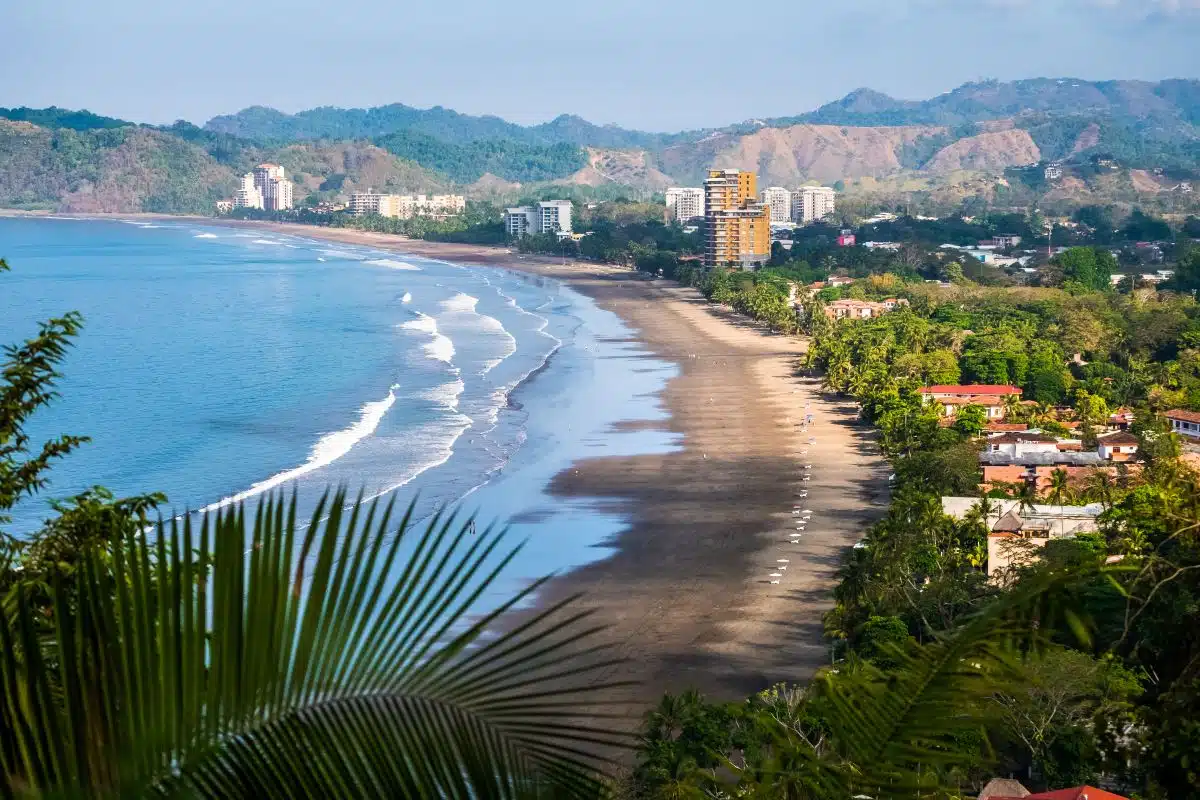 Jaco Beach might be one of Costa Rica's most popular beaches, but it's for a good reason. Stretching across a distance of 2.5 miles, this palm tree–lined beach is a chilled oasis during the day, but party central at night.
As with the majority of Costa Rica beaches, the sand is dark, the water is safe to swim in, and there's an abundance of brilliant restaurants nearby to take shelter from the sweltering midday sun.
If you get bored of relaxing on the sand (though, how could you?) Jaco's lush jungle surrounds the beach, where you can horseback ride, hike, and take a wildlife tour.
Pssst… Jaco beach also boasts an incredible sunset-watching spot.
Tamarindo Beach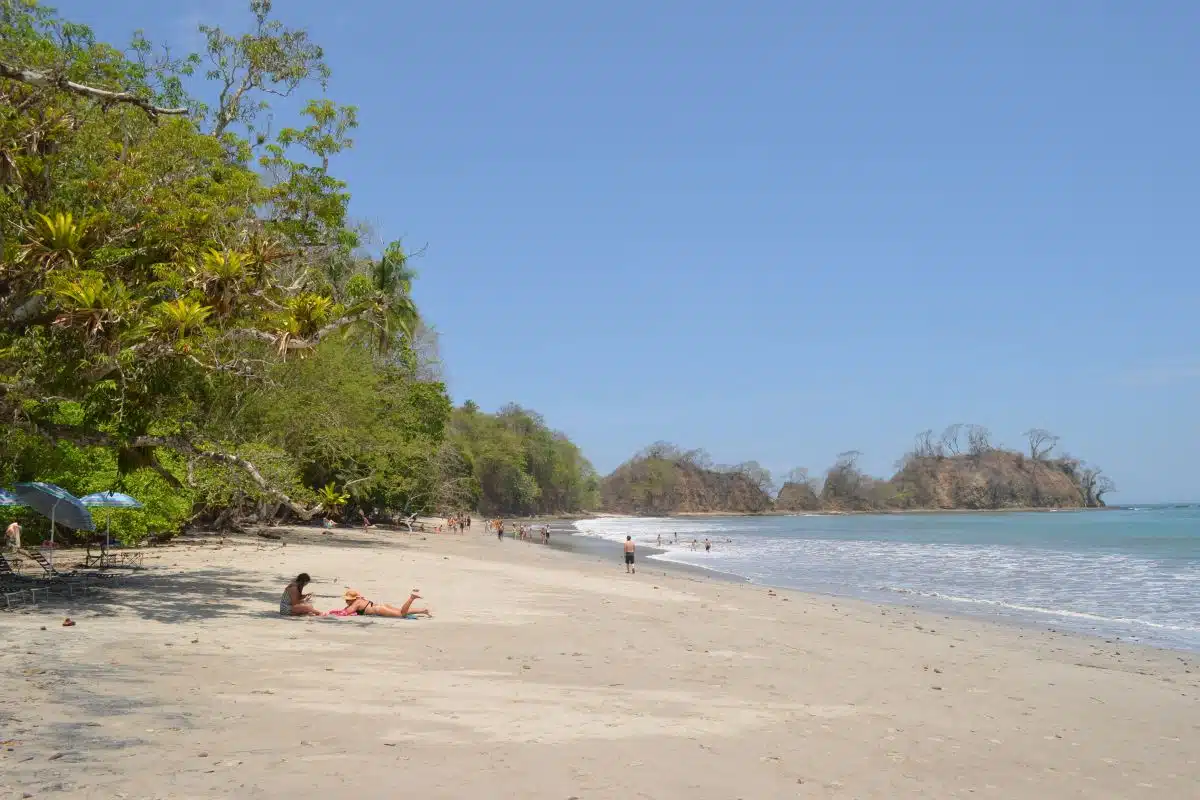 Known as one of the best beaches in Costa Rica for its chilled-out vibes during the day and party atmosphere when the sun sets, I highly recommend taking a trip to Tamarindo Beach during your holiday.
If it's activities you're after, you'll struggle to find a beach that beats this one – from snorkeling, kayaking, and surfing on Tamarindo's epic waves to heading to the nearby Marine Park to catch a glimpse of turtles nesting, there's plenty to get involved with.
At night, the beach and surrounding area comes alive. My top picks? Pacifico's energy is unrivalled (as are the mojito's), though you'll want to head to El Garito nightclub if you're going out-out.
I don't like to pick favourites, but Tamarindo Beach might just be the best beach Costa Rica has to offer.
Playa Negra, Cahuita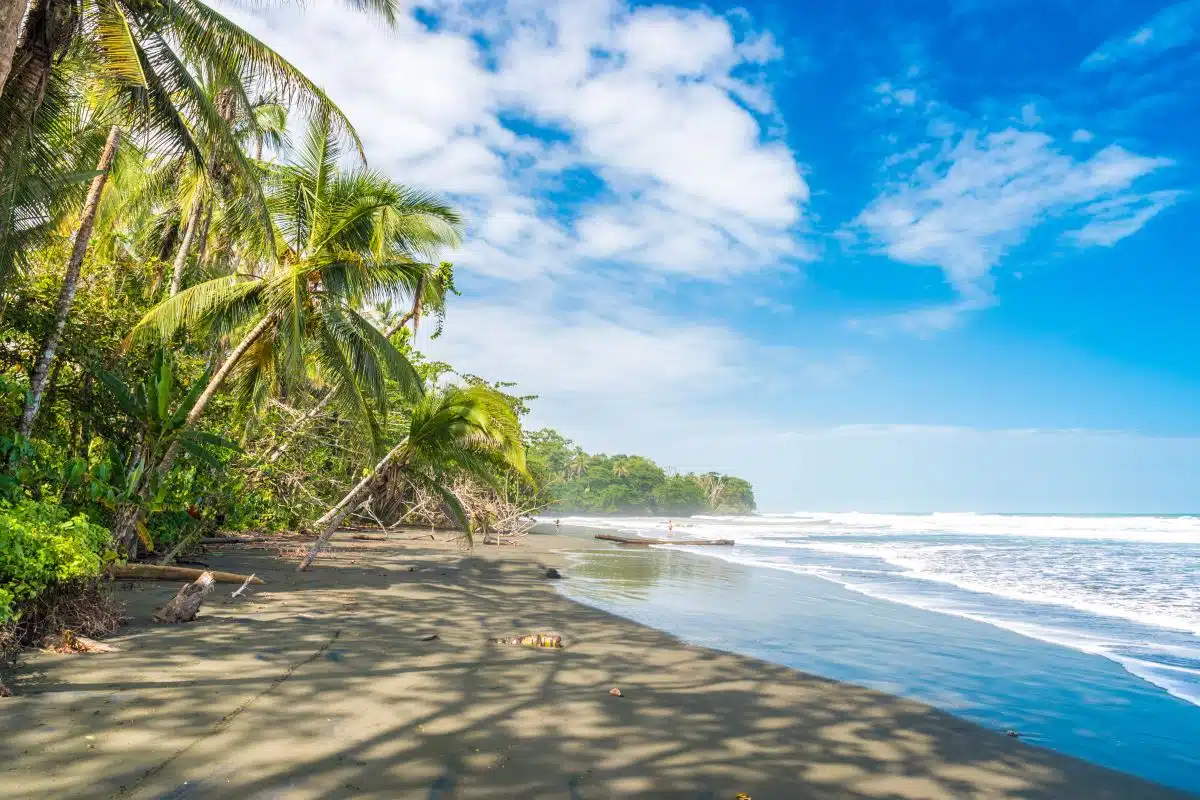 Found near the reggae-loving town of Cahuita, Playa Negra beach is completely covered in dark black sand as a result of volcanic activity. And it's widely regarded as the best beach in Costa Rica.
Lined with dense green forest perfect for escaping the midday heat, taking a walk or diving straight into the turquoise waters of the Caribbean Sea are firm favourites of locals and tourists.
Surprisingly, despite the beach's enormous popularity as Cahuita's most popular surfing spot, Playa Negra always seems to be quiet, making it a great place to unwind and enjoy paradise.
Playa Conchal, Guanacaste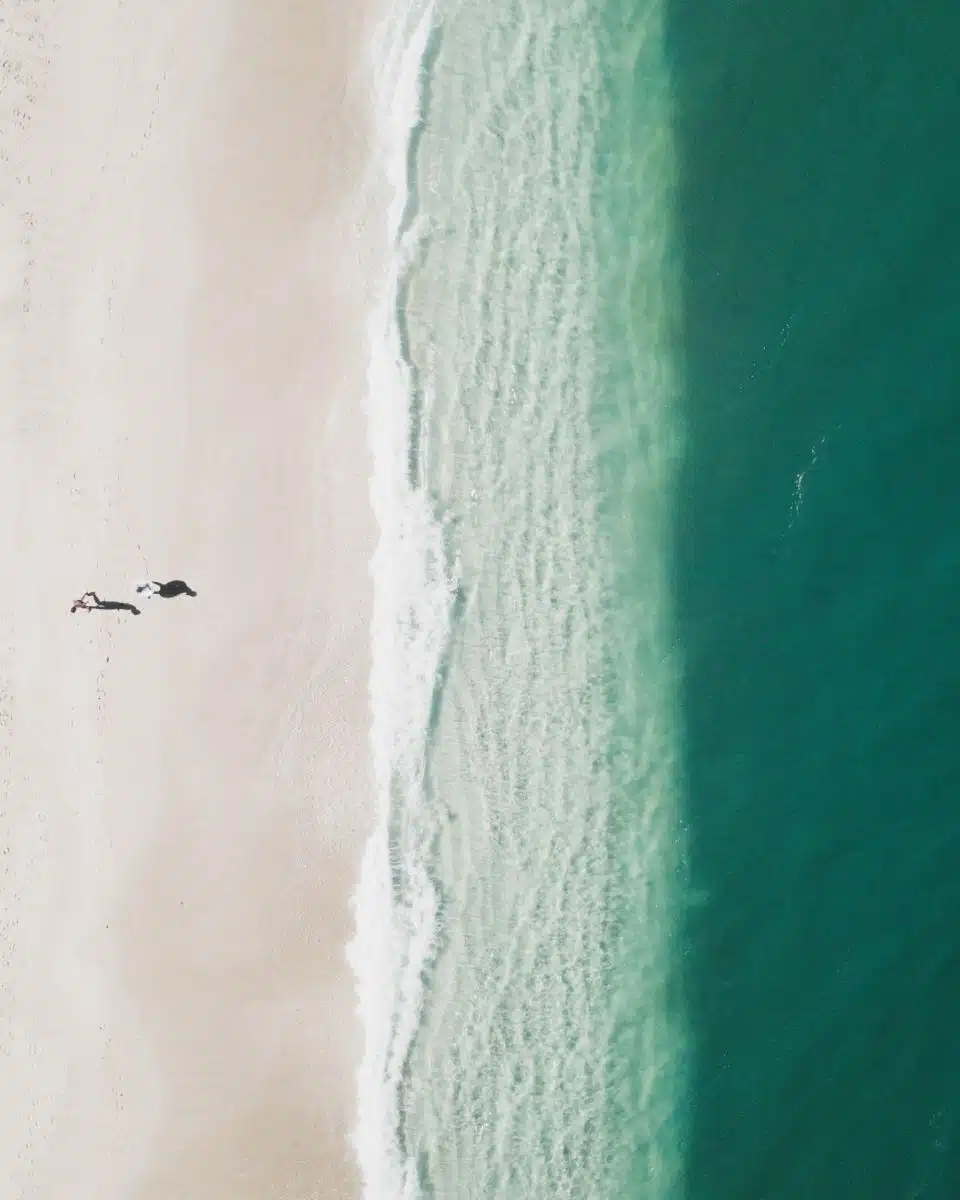 Stunning white sand sits along the shining shoreline of Playa Conchal in a lesser-known area of Guanacaste.
Even quieter than Playa Negra, Conchal Beach offers a long stretch of beach, impressive views of the surrounding landscape, sparkling turquoise waters, and an array of coral reefs to check out. What's not to like?
Make sure you remember your snorkelling gear, so you can make plenty of underwater discoveries and encounter some of the incredible sea life Costa Rica has to offer. Species to keep an eye out for include the blacknosed butterflyfish, spotted puffers, and the Cortez rainbow wrasse.
Playa Dominical, South Pacific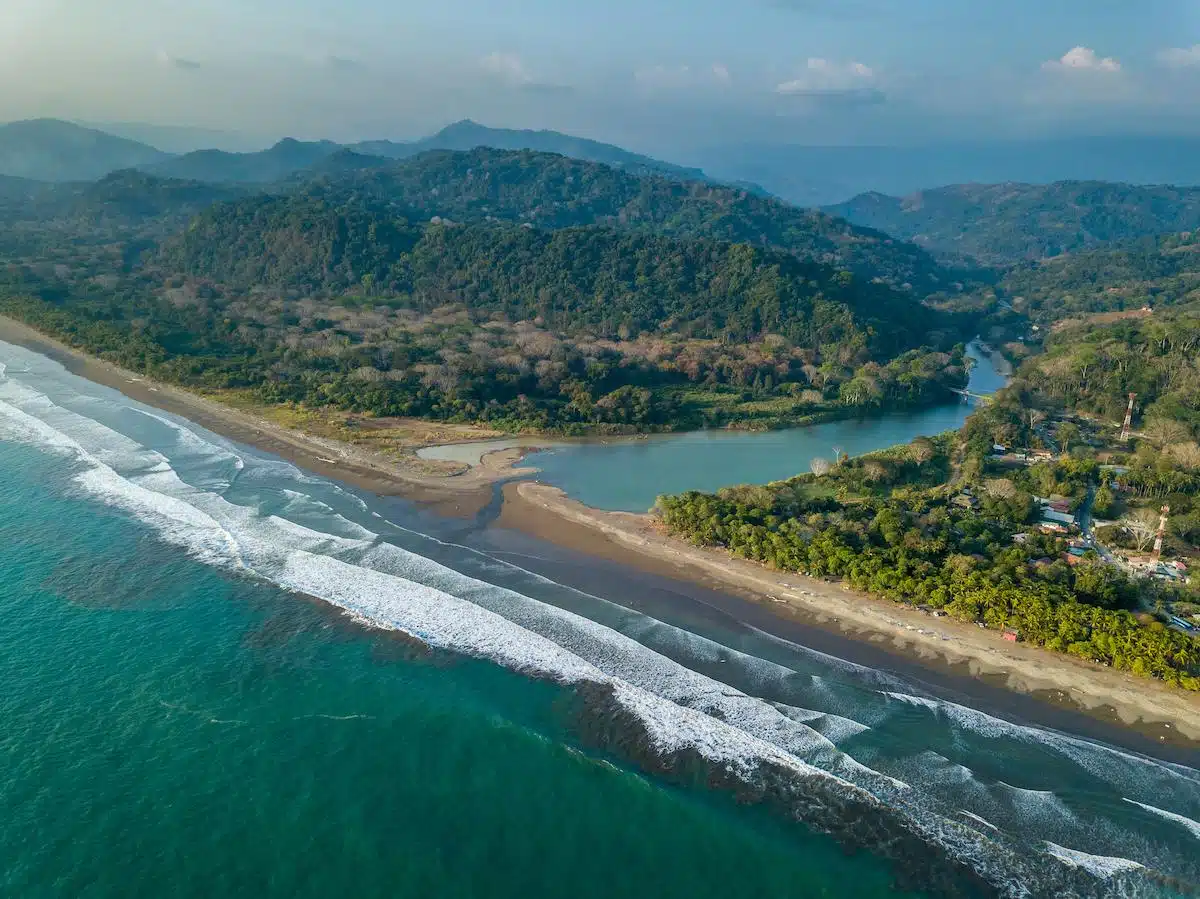 If you consider yourself a keen surfer, Dominical Beach could be the best spot for you.
Found a bit more remotely on the South Pacific Coast of Costa Rica, Playa Dominical is very well known all over the world as one of the best-surfing destinations. Offering amazing, choppy breaks, this beach is a great place to hone your skills.
Aside from surfing, Dominical Beach has an impressive white-sand shoreline, lined with thick palm trees, and a wide range of tasty places to eat. Dominical Beach is also one of the safest beaches in Costa Rica. It is one of the few beaches in Costa Rica to have a lifeguard program that runs all year round.
Whether you want to relax, exercise, try something new or indulge in local food, I highly recommend visiting Dominical Beach.
Costa Ballena, South Pacific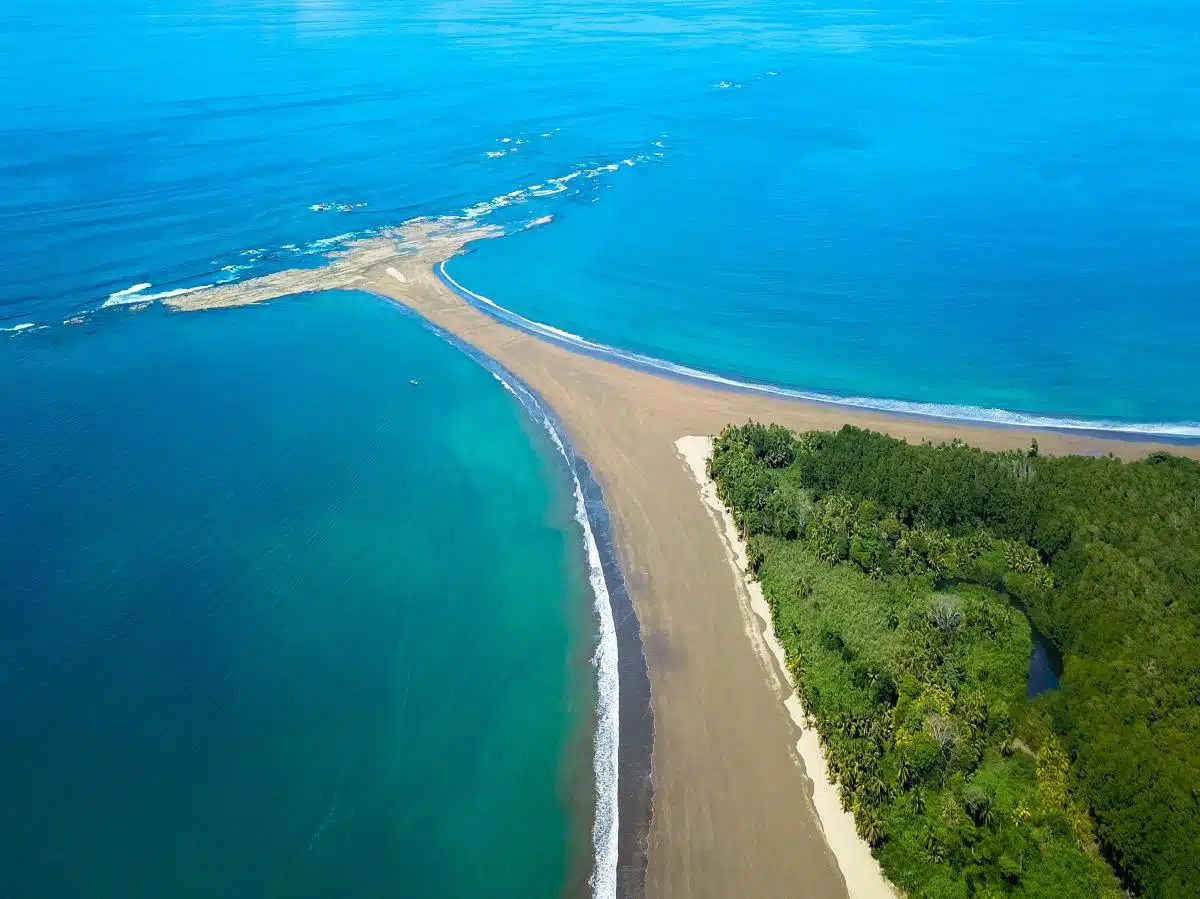 Also known as the Whale Coast, Costa Ballena is home to two Costa Rican treasures in the form of Playa Uvita and Playa Hermosa.
These two Costa Rica beaches border the famous Whale Tail at Punta Uvita in Marino Ballena National Park. Found along the South Pacific Coast, an aerial view of this location reveals a long white sandbar interestingly shaped like a whale's tail.
Well worth checking out, this spot is also the location where humpback whales can be seen returning to the beach. If you're a big animal lover and want to spot the whales, try heading to this part of Costa Rica between August and October. You will also find sea turtles here from May to November.
Get your snorkelling gear on and explore the large coral reef or jump on a whale tour and see if you're in luck. Water sports such as paddleboarding and kayaking are also popular here. It's also one of the best swimming beaches in Costa Rica.
Santa Teresa Beach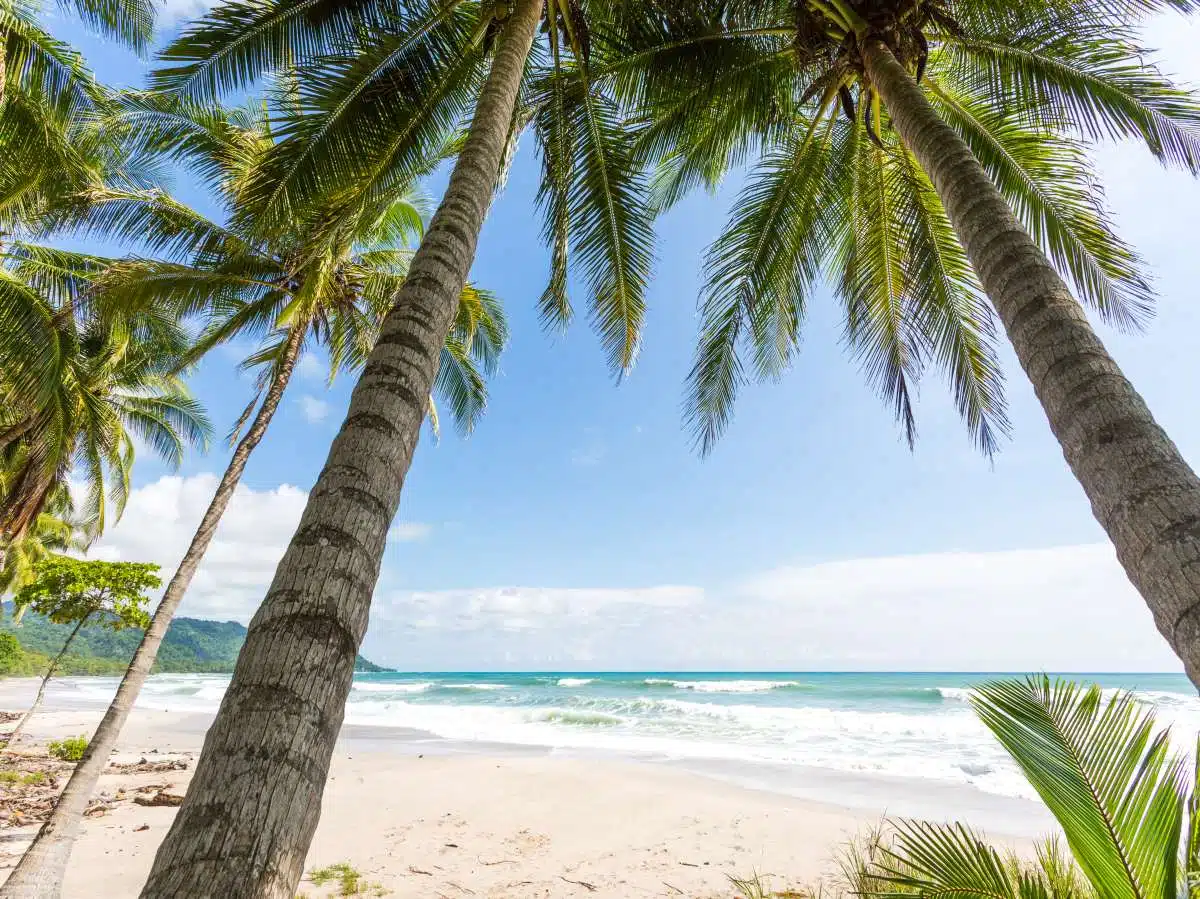 Located on the Nicoya Peninsula, not too far away from Montezuma, is the beautiful Santa Teresa Beach. A two-mile-long white sand beach again lined with tropical forestry, Santa Teresa is a massively popular surfing destination thanks to its cracking offshore breaks.
Those who don't like surfing will love a long walk along the beach, soaking up the sun as they go. At low tide, exploring the tidal pools left behind is a must. In these pools, you'll find an abundance of marine life, ranging from sea anemones to colourful fish.
Many tourists and backpackers like to come here in the evening as the sunset on offer is spectacular. You'll find a host of accommodation options in Santa Teresa or neighbouring Cobano and Carmen.
Playa Flamingo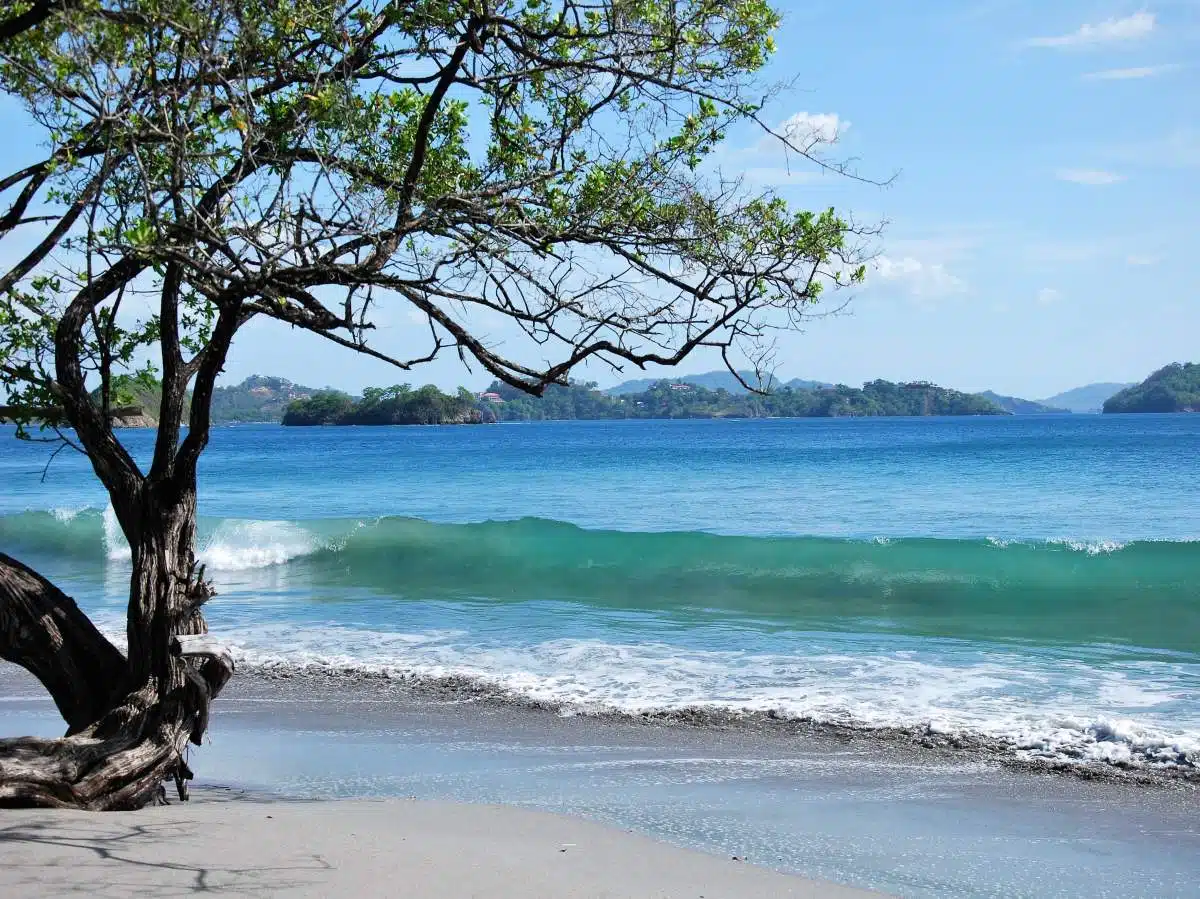 Found just north of Playa Conchal is Playa Flamingo. Unlike most Costa Rican beaches, Playa Flamingo has almost crystal white sand – this alone makes it one of the top beaches in Costa Rica.
Most beaches of Costa Rica have darker or almost black-colored sand, so this is the destination for you if you seek a much more traditional tropical beach.
While the sand here is incredibly white, under certain lighting conditions, the sand can sometimes appear a more pink colour.
The main attraction to this beach, aside from its obvious tropical appearance, is the more manageable waves. The waves here are a lot smaller and calmer than in other locations, making the beach a great location to swim, relax and cool off.
Playa Flamingo is also a lot quieter than other beaches and has little to no developments on its shoreline making it a lot more natural and peaceful.
Montezuma Beach, Montezuma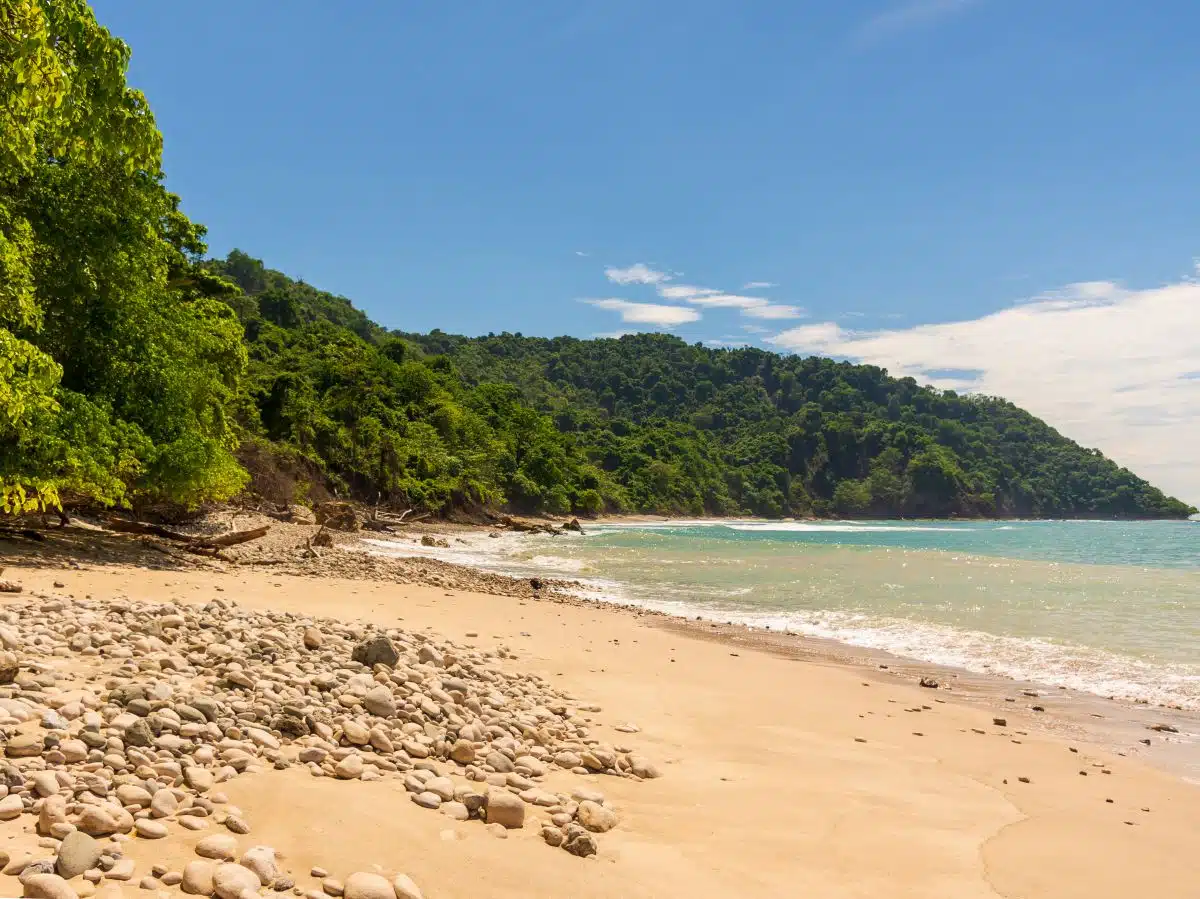 The quaint town of Montezuma hides behind a lush jungle that leads to a small, yet beautiful Costa Rican beach. In fact, I would go as far as to say it's among the prettiest beaches in Costa Rica.
Situated close to the southernmost tip of the Nicoya Peninsula, Montezuma Beach consists of greyish-brown sand, tidal pools, and rocky outcrops. Lined with rocking palm trees, this beach may be small by Costa Rica's usual standards, but you'll find it to be a lot quieter too.
Swimming might be a little trickier and surfing may as well be off the cards, but if you want a pleasant walk and the chance to see sea turtles, you're in luck. If you time your visit to Montezuma Beach right, you'll be able to watch as baby sea turtles are released into the ocean.
Playa Espadillia Sur, Quepos
Just a 30-minute hike away from the entrance to Parque Nacional Manuel Antonio is Playa Espadilia Sur. Also found to the north of Punta Catedral, this Costa Rica beach is very dreamy – Playa Espadilia Sur has a long, white sand beach, lined with a dense, very lush tropical rainforest.
While the beach looks incredible, I must warn you about swimming. The water looks very inviting and can be swum in, but you must be very careful. Swimming here can be very dangerous as there are pretty strong currents.
Samara Beach, Nicoya Peninsula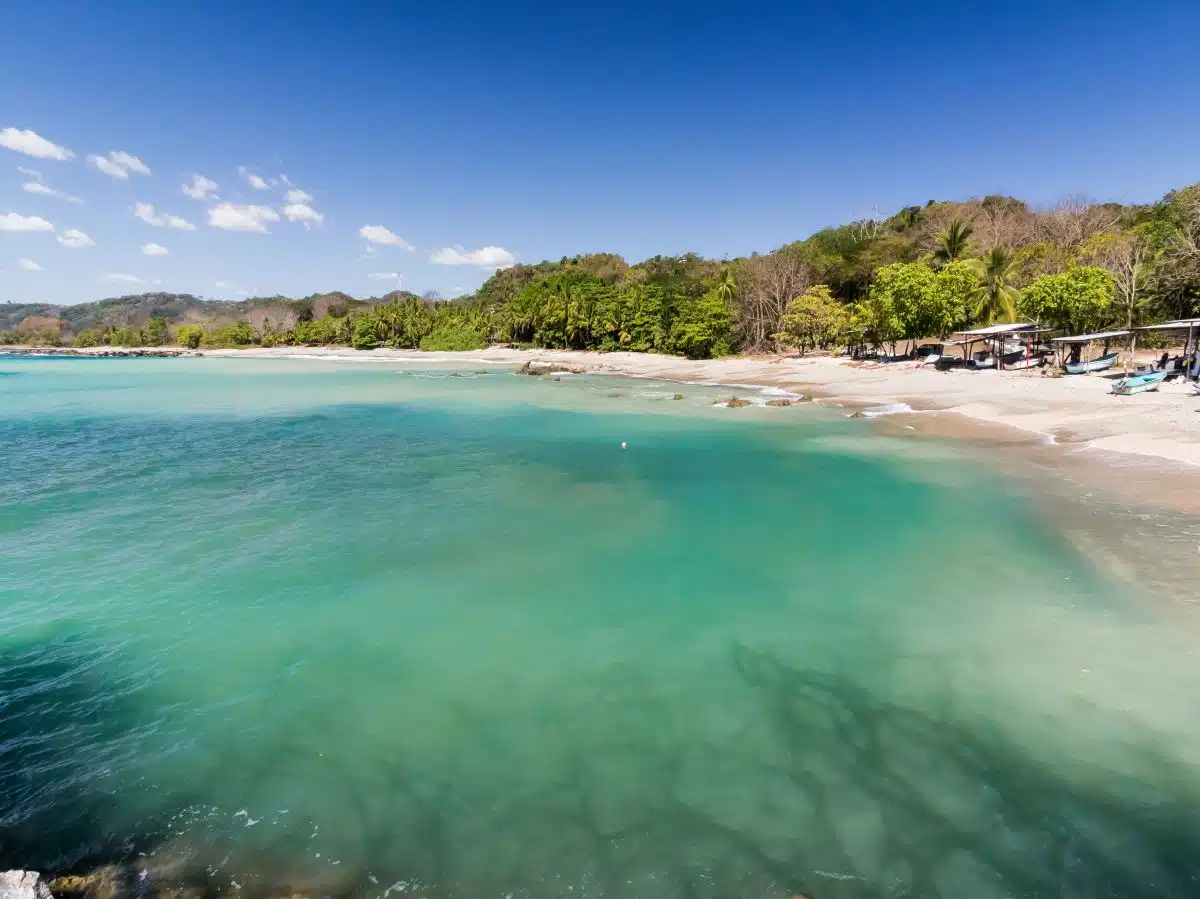 The next beach in this guide is one of the most popular beaches in Costa Rica, and it's not hard to see why.
Aside from the fact this long sandy beach with a lush green backdrop looks absolutely incredible, Samara Beach is also protected by an Island sitting just off the coast. This makes the beach perfect for families who want a fun time at the beach and time in the water without having to worry about choppy waves.
Wrapping around the bay to form a horseshoe shape, this beach is also perfect because of its size, which helps to disperse crowds at the weekend, giving everyone plenty of space to enjoy their time.
Snorkelling and sunbathing are two main attractions on offer, but you can also go kayaking, scuba diving, or sport fishing.
Playa Carrillo, Nicoya Peninsula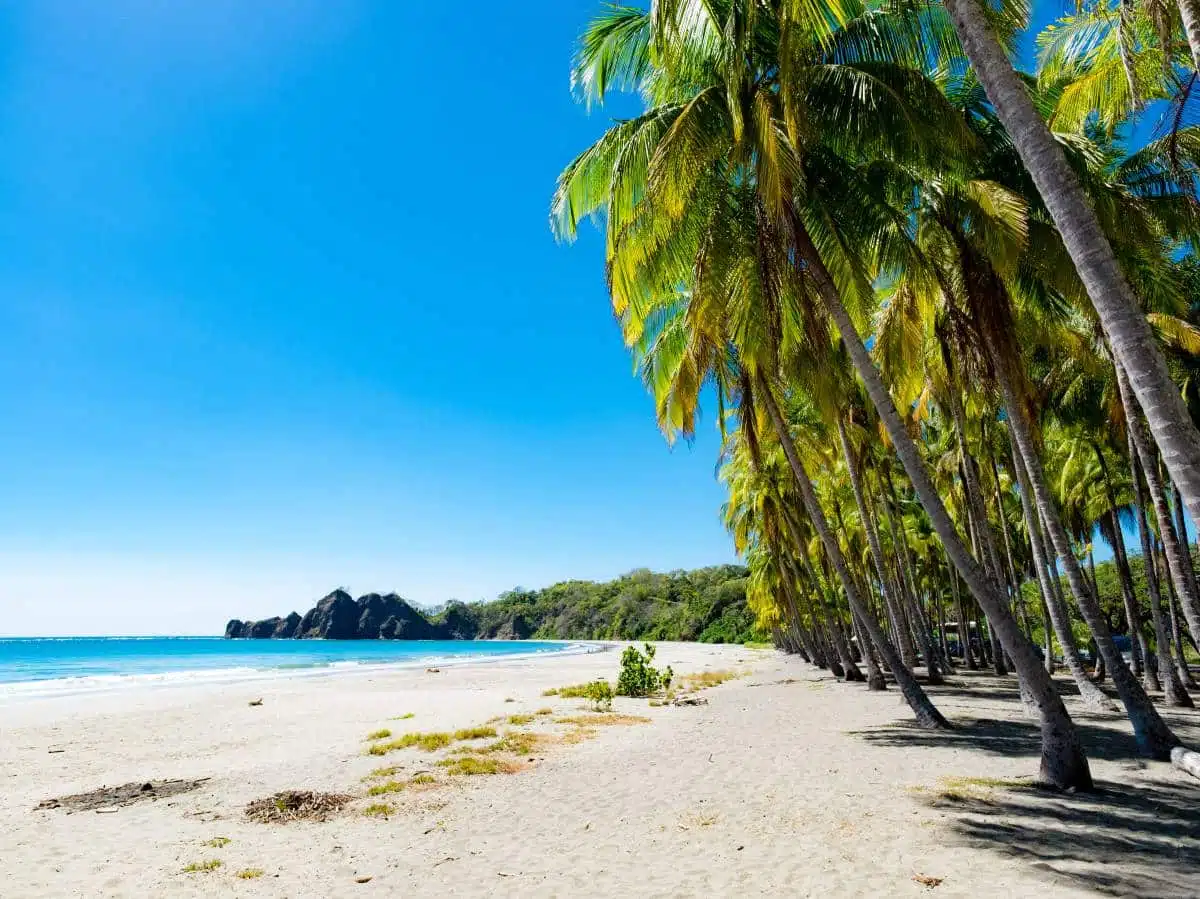 If you're looking for a wide beach with warm waters and calm waves, Playa Carrillo could be the perfect place for you. Again found on the Nicoya Peninsula, this beach is less famous than Samara Beach which is nearby, making it a hidden gem of sorts.
Quiet and free from the hustle and bustle of more touristy beach resorts, Playa Carrillo has absolutely no development at all. This is great because you'll find yourself in a natural Costa Rican paradise. All you'll find on the beach are a few locals and tourists, palm trees, white sand, and glistening turquoise waters.
While this beach sounds out of the way and cut off due to its quietness, it is actually very accessible thanks to a parking facility not too far away.
Ostional Beach, Nicoya Peninsula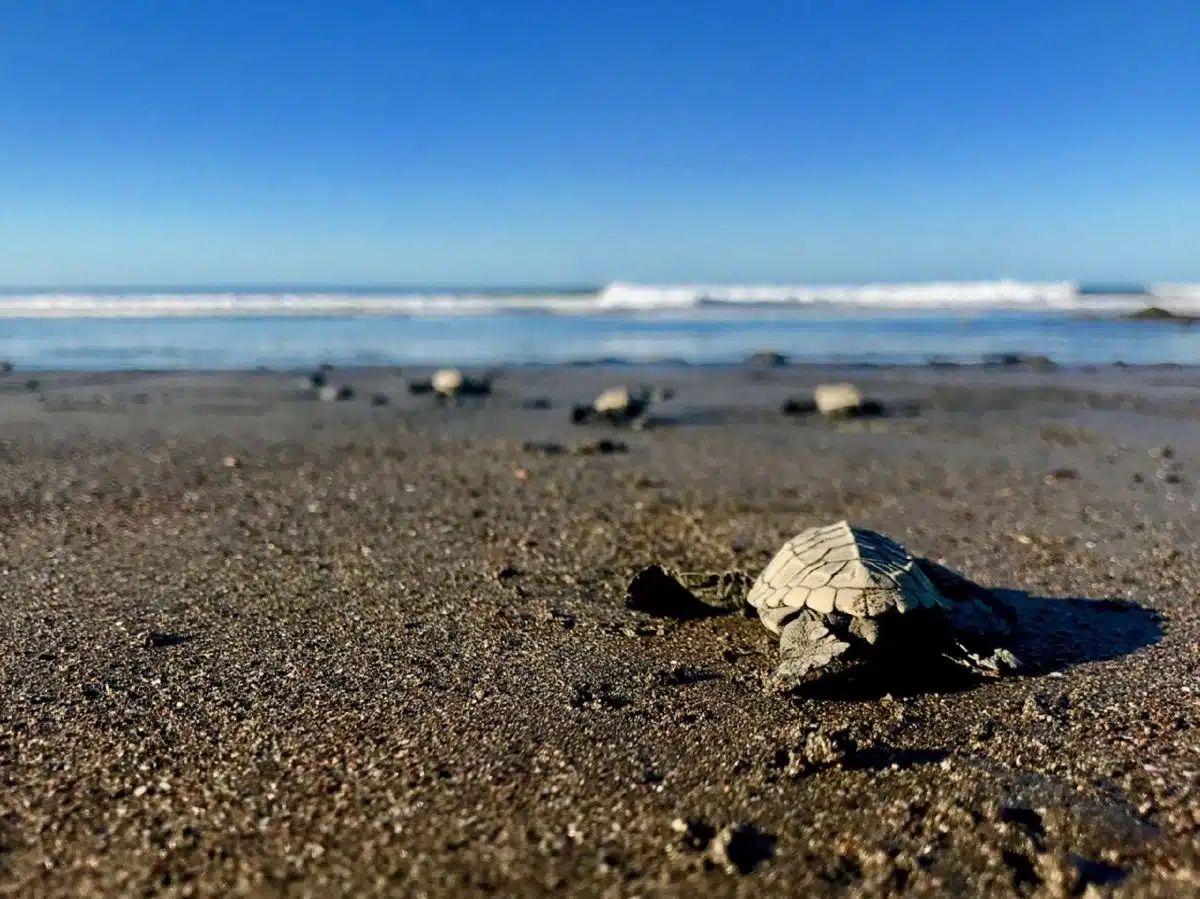 This is probably one of the best beaches Costa Rica boasts if you love wildlife, as it's often said that Ostional Beach is owned by the turtles.
I highly recommend taking a night tour of Ostional Beach between July and October – known as the arribada, this mass annual nesting of the olive ridley sea turtle takes place 5 to 10 times a year.
While the timing can be pretty unpredictable, between those months you should have a good chance to see something happen.
Best Beaches in Costa Rica: Map
Discover More Costa Rica and Central America Travel Guides