Discover the best things to do in Nicaragua. From gorgeous lagoons to beautiful architecture – it's time to explore.
Often overshadowed by neighboring countries such as Costa Rica, in recent years Nicaragua has finally received the recognition it deserves.
Granada sits nestled at the heart of it all – a charming place that should be at the top of any visitor's list of places to go in Nicaragua.
I heard a lot about Granada during my last trip through Central America. All the way from Mexico through Guatemala and other parts of Nicaragua, other travellers talked about how much they'd loved the town – framing it as the perfect blend of laid-back charm and adventure activities.
You know what? They weren't wrong either. Here's why.
Looking for somewhere to stay in Granada? I love the Tribal Hotel – check rates and availability here.
Top 5 Things to do in Granada
Spend Time at Apoyo Lagoon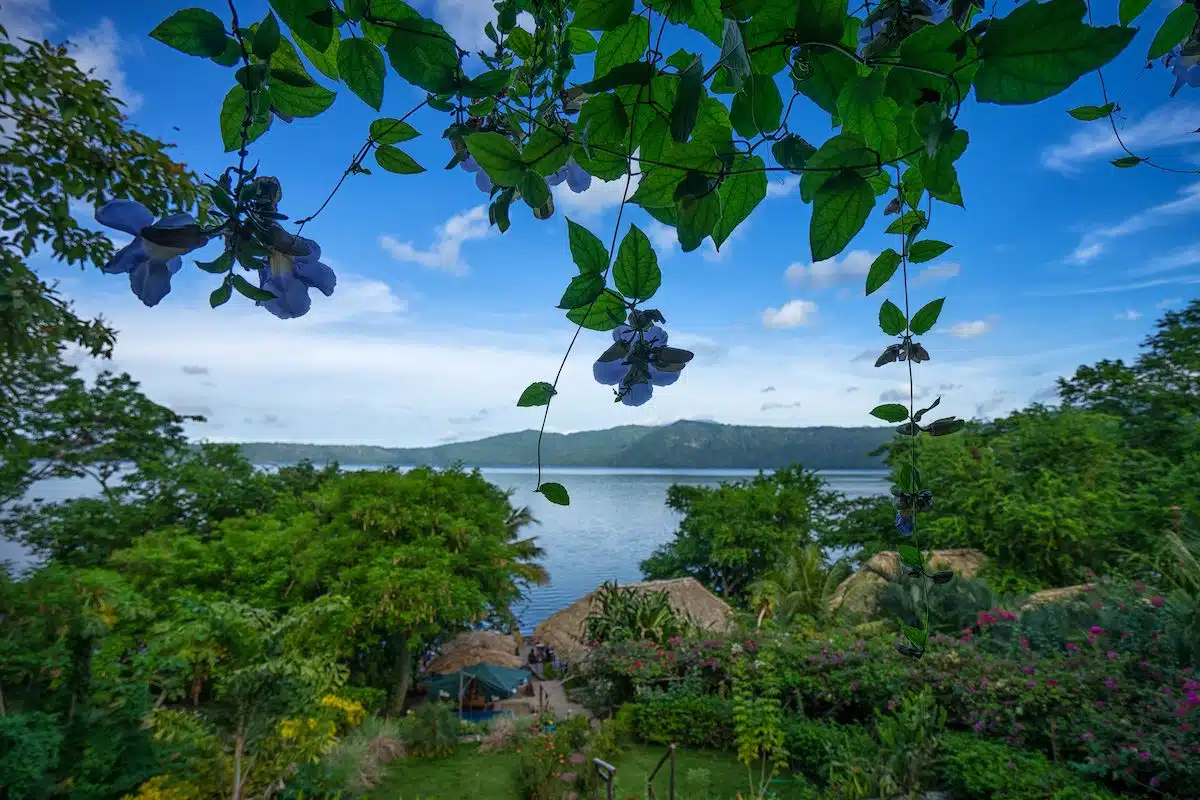 One of Granada's not-so-hidden gems, Apoyo Lagoon sits in the centre of the chain of volcanoes that runs through Nicaragua and is one of Granada's main attractions.
At first glimpse, it looks like paradise – clear blue water surrounded by trees and volcanoes in the distance. It's not just about looks though. Spend the day kayaking, swimming or floating in inner tubes enjoying the lagoon's peaceful atmosphere.
Even though Apoyo Lagoon is a popular thing to do in Granada, it's not overcrowded. The lagoon's size means there's never more than a smattering of visitors in one place.
After spending your day on the water, make sure that you stay for the lagoon's spectacular sunsets. Watching the sun disappear behind the mountains shouldn't be missed.
Hike Up Mombacho Volcano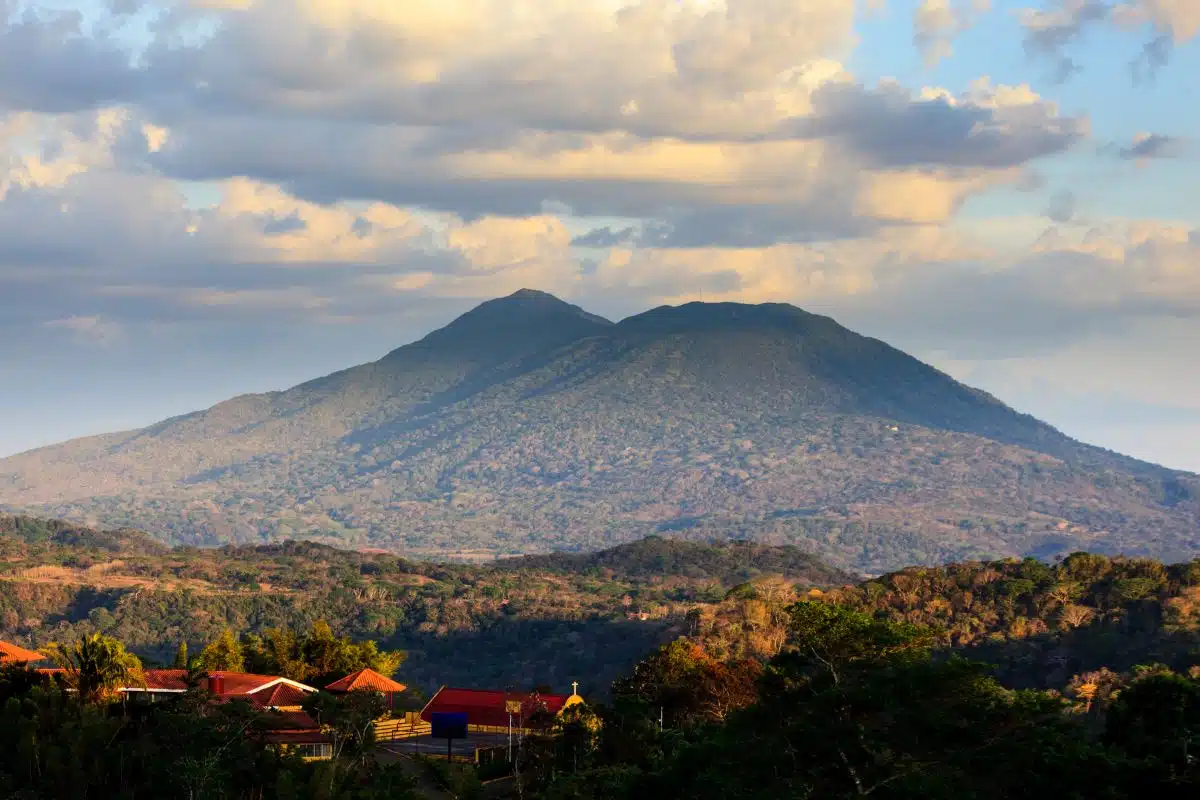 Take advantage of Granada's location and explore the surrounding volcanoes that surround the town – the most famous of which is Mombacho.
Home to unique wildlife and mystical cloud forest, Mombacho Volcano offers a completely different experience to your normal mountain hike.
First of all, there's the lush, cool greenery that has slowly spread over the volcano since its last eruption over 400 years ago. It is the perfect setting for your 10-mile hiking adventure. Add to that Howler monkeys swinging on branches around you and the views from the top and you can't help but agree that it's well worth the effort.
If you're heading to Granada, be sure not to forget your hiking boots – this hike is worth skipping a day sunbathing for.
Book Your Mombacho Tickets Here
Explore Lago Cocibolca and Las Isletas de Granada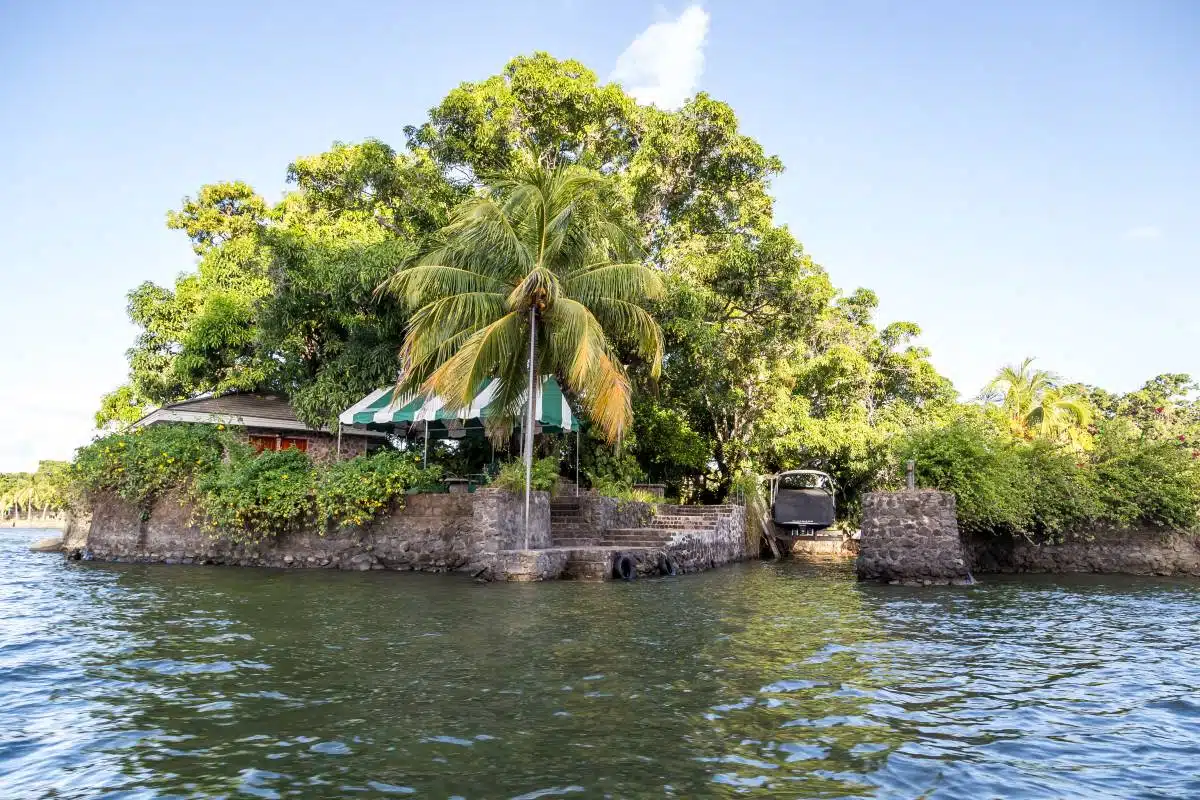 Granada is home to the largest lake in Central America, Lago Cocibolca – venture to it to discover the lake's 365 islands – collectively known as Las Isletas de Granada.
The majority of these islands are developed as many of the local fishermen live on them. You should spend at least a day while you are in Granada exploring a few of them to spy the local wildlife and beautiful scenery.
The best time to jump on a boat to tour around the lake is right before dusk – with the added bonus that you'll have the chance to watch a magnificent sunset while sailing through the waters. I recommend this kayak tour, which allows you to savour breathtaking views from a new perspective.
Spend Some Time in Granada's Parque Central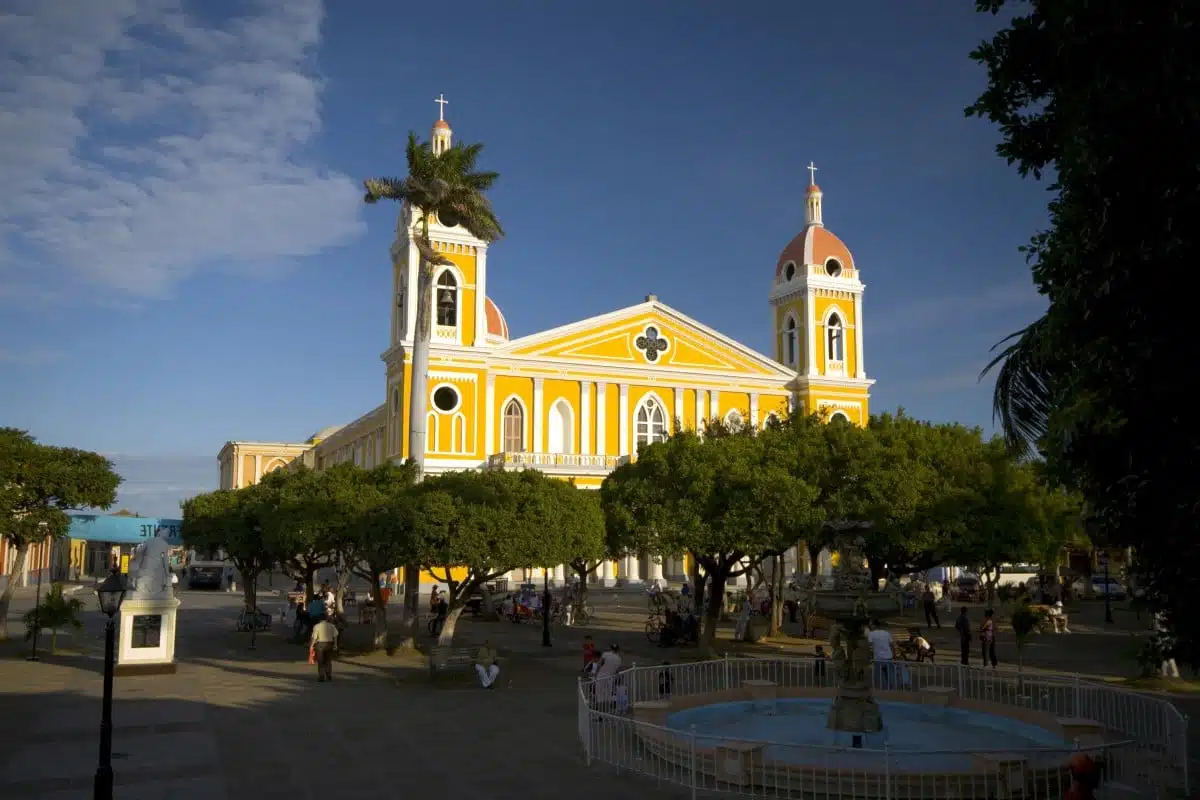 Parque Central sits at the heart of Granada and there's no doubt that spending an evening meandering between the bars, restaurants and sitting areas is one of the best things to do in Granada.
Filled with local markets, churches and museums, it's brimming with historic architecture and rainbow hues that light up the streets.
During the day you would never imagine that the sleepy area dedicated to fountains and statues becomes the place to be when the sun goes down. Locals and tourists fill the streets, hopping into the many bars and restaurants on the parque and in its surrounding streets.
Marvel at the Beautiful Convento y Museo San Francisco
One of Nicaragua's most popular attractions is Convento y Museo San Francisco. The church is not only an important monastery, but also one of the best museums in Central America.
What makes Convento y Museo San Francisco one of the best things to do in Granada? It's the ancient catacombs sitting far below the church.
Since 1546 citizens of Granada have been laid to rest in the catacombs – which is now estimated to have the remains of 75,000 people in its walls.
Brilliant Things to See & Do in Granada During the Day
Visit Fortaleza la Polvora
From the continuous pirate attacks on the city in 1748 Granada built Fortaleza la Polvora to defend themselves.
Though, since then, Fortaleza la Polvora has been used as an army garrison, a jail and now is the home of a popular military museum.
Visitors are able to climb one of the five towers for a scenic view of Granada. I recommend combining a visitor with a tour of Granada's other colonial buildings – this tour is my favourite as it also takes you to the San Francisco Convent and Merced Church.
Book Your Tour of Colonial Granada Here
Head to Mercado Municipal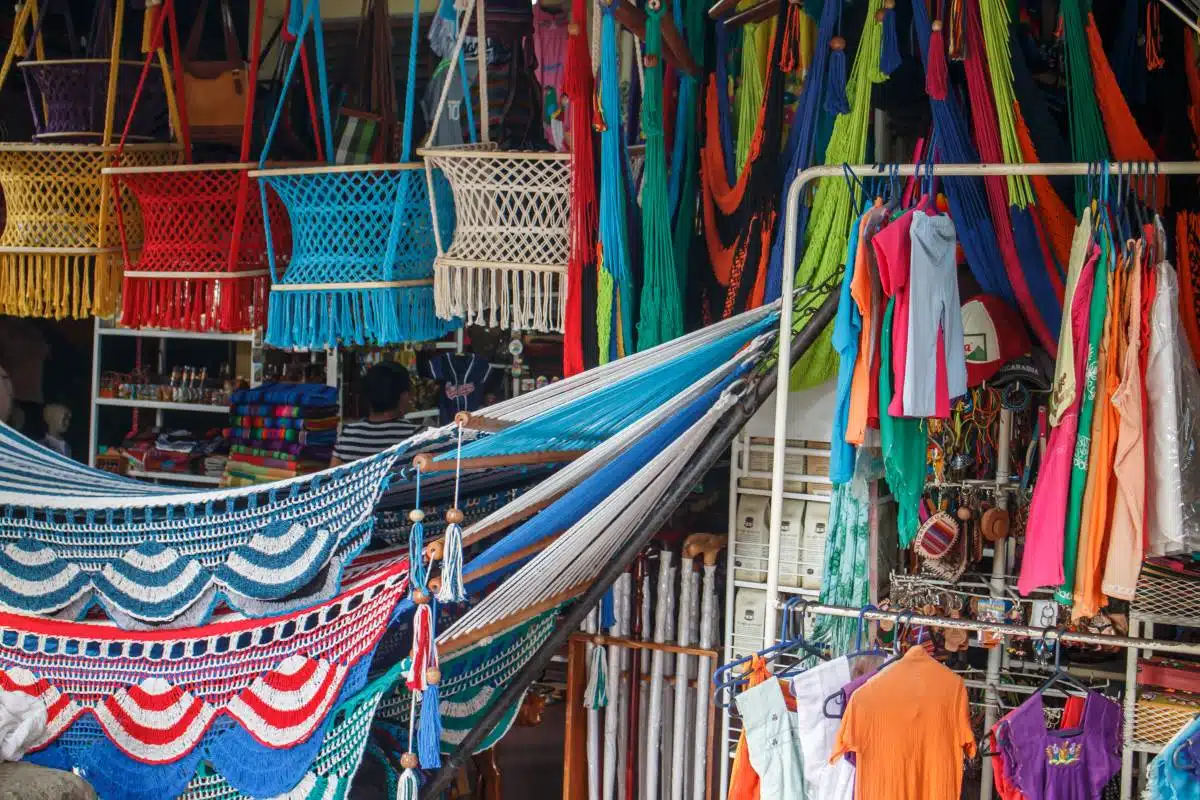 Alive with vendors and customers is Granada's main market, Mercado Municipal. Mercado Municipal is full of the freshest meats, vegetables and fruits you can find in Granada.
This large colorful market is where you'll find most locals in the morning as the products are best when bought early as possible. If you're looking to immerse yourself into the lives of locals in Granada, there is no better place to do so than at Mercado Municipal.
Taste Granada's Impressive Street Food
It's difficult to miss the vibrant street food vendors as you walk through Parque Central – if the delicious smells don't draw you in then the cheerful calls from locals certainly will. Offering delicious local food to visitors, these street vendors are not to be missed.
On every corner you'll find a street cart offering one of Granada's most popular dishes- Vigarón. A salad consisting of fried pork skin, pickled cabbage and mashed yuca served on a plantain leaf is what you'll find almost every visitor of Granada enjoying while strolling through Parque Central.
Climb the Clocktower at Iglesia de la Merced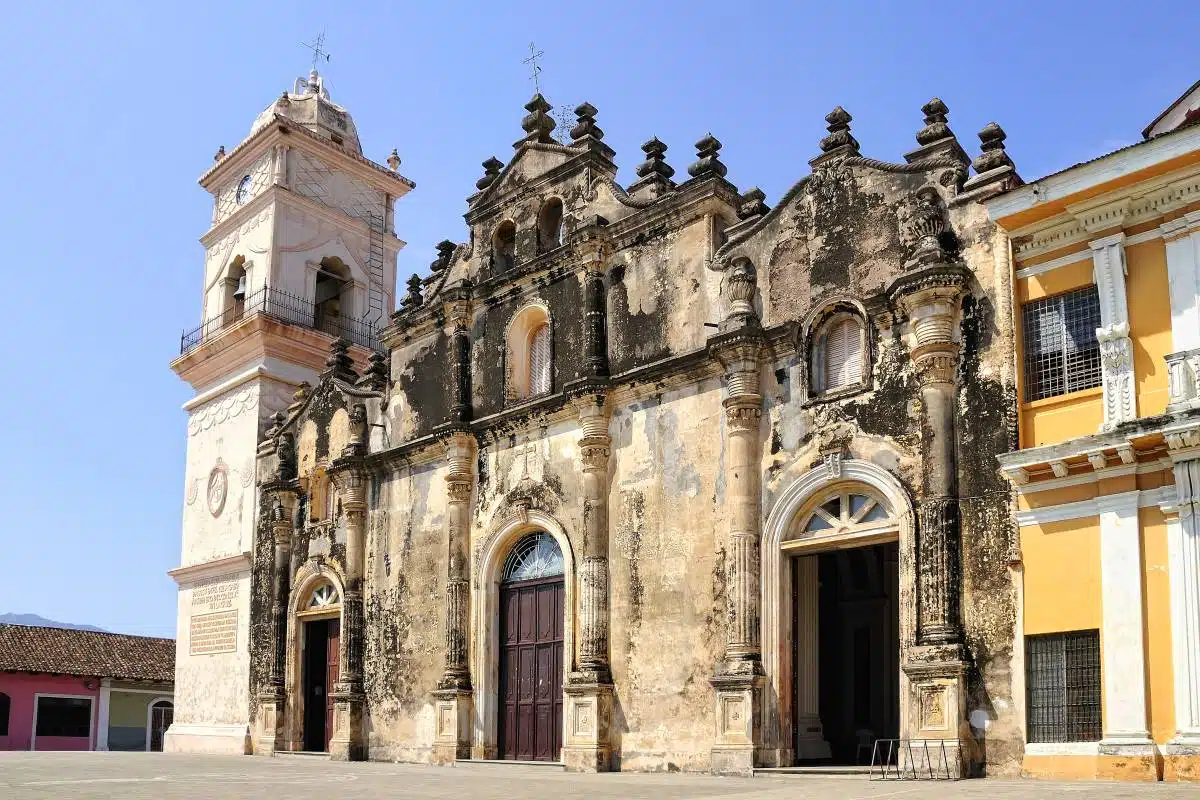 Dating back to 1539 is one of Granada's oldest structures, Iglesia de la Merced – this Granada landmark is located only a few blocks away from Parque Central.
Iglesia de la Merced has suffered damage since first being built, but continue to stands tall today. The highlight of Iglesia de la Merced is it's clocktower which visitors can climb to the top and be rewarded with a 360-degree view of Granada.
Dine at The Garden Café
Popular with many tourists visiting Granada, The Garden Café offers a menu full of fresh healthy food options – a nice retreat from the, often heavy, Nicaraguan food.
A light and artfully decorated setting gives The Garden Café a coffee house vibe – not to mention the free wifi is why many tourists stop by.
Cool Things to See & Do in Granada at Night
Indulge in Sushi and Sake at Bar Kanpai
Craving fresh sushi while visiting Granada? No worries, Bar Kanpai is home to the freshest sushi you can find in Nicaragua.
Bar Kanpai is owned by a talented Japanese chef who prides himself on serving fresh, authentic sushi rolls to the people of Granada. While enjoying your sushi roll be sure to listen to the stories the sushi chef has to tell about his time in Japan and how he ended up falling in love with Granada.
Get a Culture Fix at Casa de los Leones + Fundacion Casa de los Tres Mundos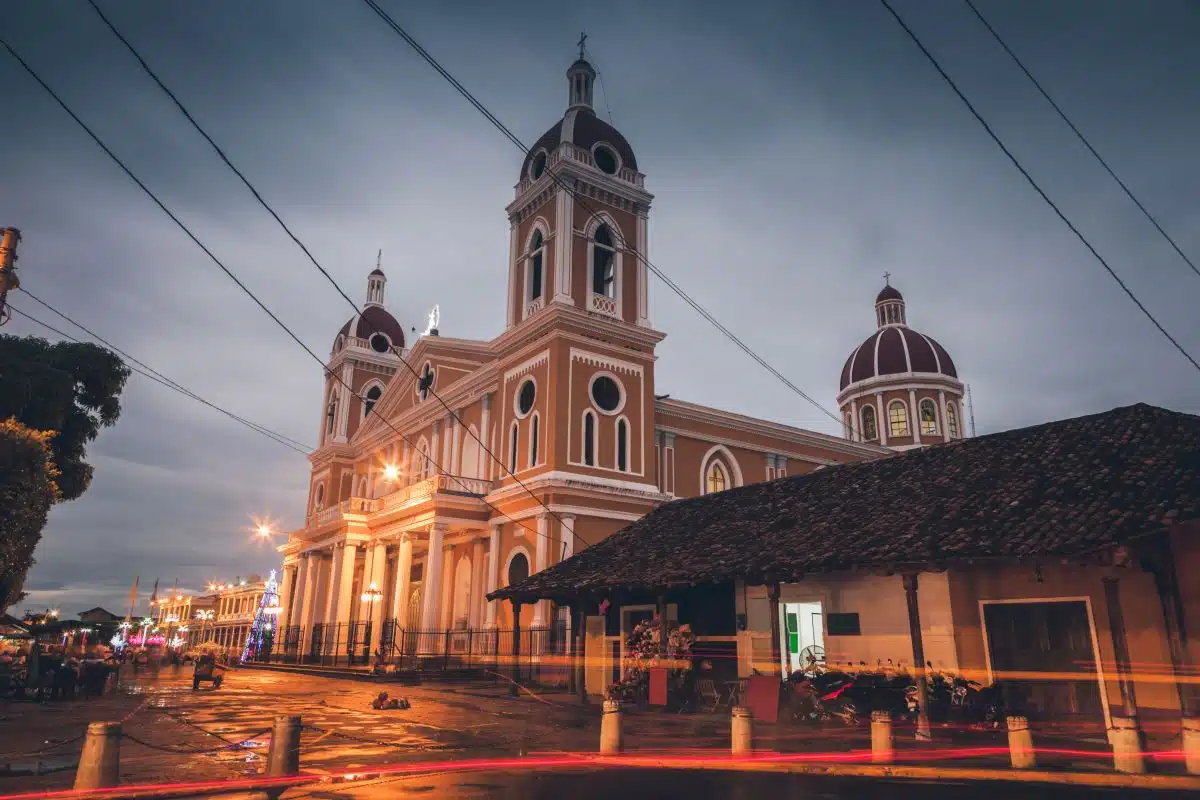 Looking for a Granada culture fix? Then Casa de los Leones and Fundacion Casa de los Tres Mundos is one stop you should make.
As you enter the building, you'll find a bulletin of special events taking place which can range from a movie night to a traditional folk dance performance. This is a great way to immerse yourself into the night life of locals living in Granada.
Chow Down at El Tercer Ojo
One of the best restaurants in Granada is El Tercer Ojo. Specializing in Asian and Latin fusion cuisine, El Tercer Ojo attracts many tourists not only for the food, but the bohemian atmosphere of the restaurant.
Regardless if you have a desire to try the food or not (though, you definitely should – it's delicious) El Tercer Ojo is worth visiting just to enjoy a drink with locals.
Try Tiste at The Volcano Café
At first glance, The Volcano Café may look like just another café on the streets of Granada, but in fact it's a bit more special than the others in the city.
Located near La Merced Church, The Volcano Café is home to mouth-watering Quesillo and the only place in Granada where you can receive the traditional drink called "Tiste"- a primitive drink made from clove, cinnamon, toasted corn, and a variety of other spices in milk or water.
Things to do in Granada: Practical Tips for Your Trip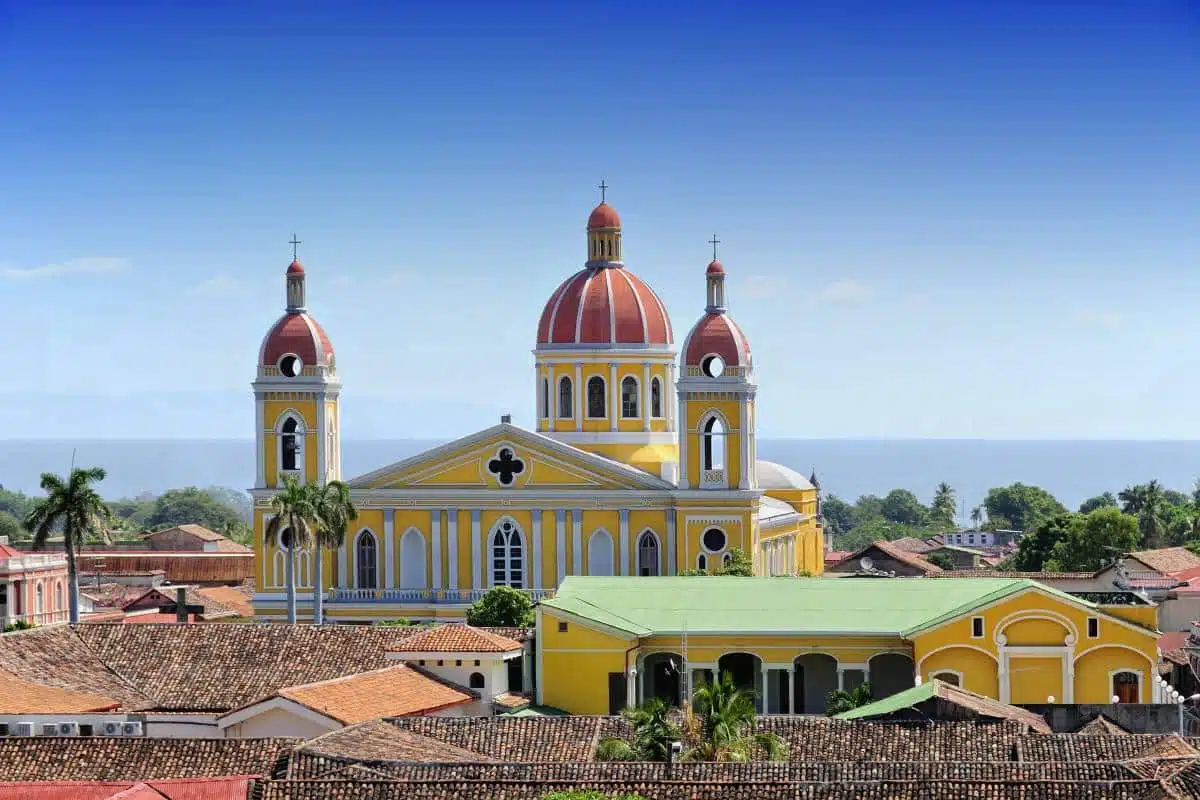 How Long to Visit in Granada?
I recommend at least 4 days in Granada, Nicaragua. This will give you plenty of time to explore the historic heart of the town, as well as venture out to climb the volcano and spend time immersed in the local culture.
Best Time to Visit Granada
The best times to visit Granada fall between May and June and September and October. This is when the weather is hot (but not too intense) and there are plenty of cultural events to get involved in.
Where Should I Stay in Granada?
Hotel Colonial Granada
Not far from Parque Central is Hotel Colonial Granada, a spacious yet small hotel consisting of 36 rooms and a pool. When designing Hotel Colonial Granada, builders made sure that the hotel reflected the area's colonial style to match the older houses that surrounded the property.
Check Rates and Availability at Hotel Colonial Granada
Tribal Hotel
Tranquility awaits you at Tribal Hotel. Tucked away in the heart of Granada, this hotel offers guests a peaceful stay with the convenience of being central to Granada's historic treasures.
Tribal Hotel is a great place for couples looking to stay in Granada as their lounge area becomes a torch-lit romantic getaway at night. You can also take advantage of the hotel's outdoor lounge area featuring comfortable cabanas and easy access to the hotel's pool.
Check Rates and Availability at Tribal Hotel Here
Recommended Tours in Granada
Things to do in Granada: Map
Discover More Central America Guides