So, you're planning your trip and want to discover the best things to do in Costa Rica? You're in the right place. Costa Rica is becoming an increasingly popular travel destination and, with its beautiful landscapes and vibrant culture, it's not hard to see why.
Packed with rainforests, river valleys, and biodiverse wildlife, Costa Rica is a big hitter when it comes to nature-filled escapes. My first trip, I spent 14 days riding around different parts of the country on horseback and it was just as incredible as I'd hoped it would be.
This isn't about me though, this is about you.
Whether you're an adrenaline junky or lover of relaxation, Costa Rica has your back. From zip-lining and surfing to gentle hikes and coffee tours (all of which I'm going to cover in this guide), let's just say it isn't short on options for you to set off and explore.
Ready? These are the best things to do in Costa Rica…
Looking for a hotel in Costa Rica? I love Maquenque Eco Lodge – check rates and availability here.
Top 5 Things to do in Costa Rica
Explore Corcovado National Park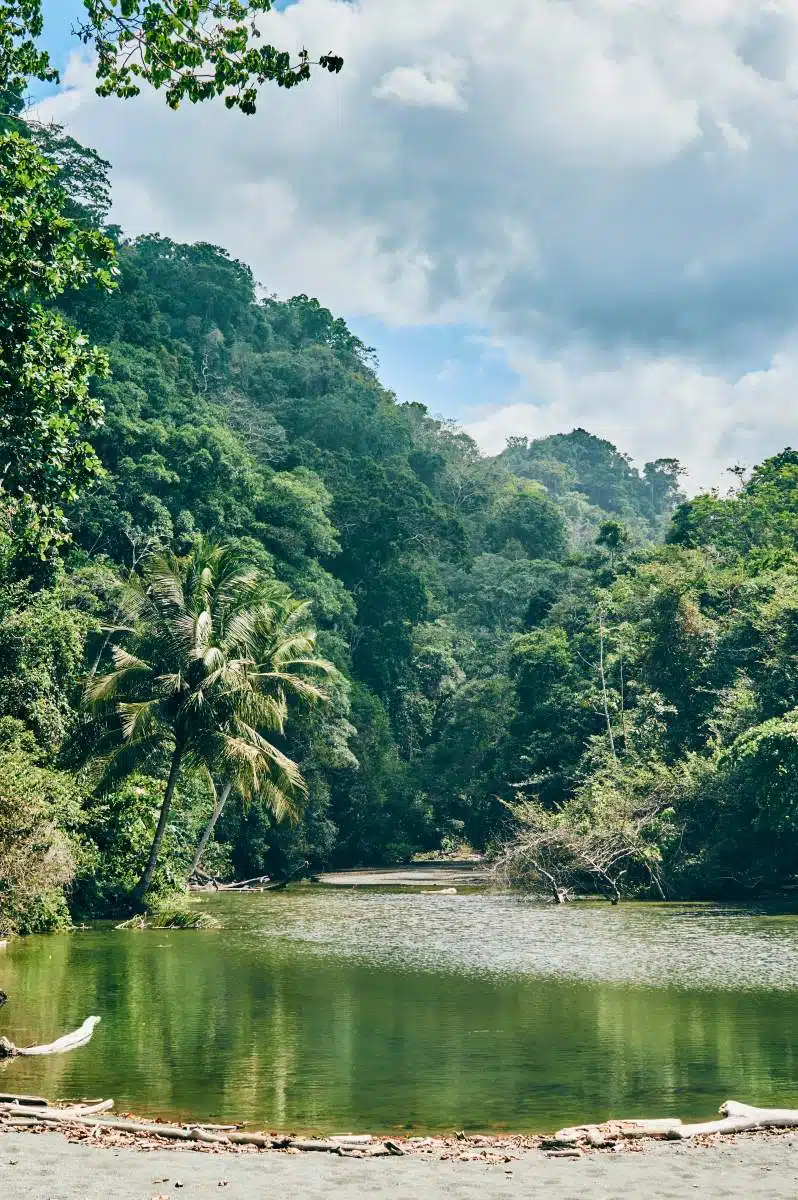 Located on the southwest Osa Peninsula of Costa Rica, Corcovado National Park is one of the world's most bio-diverse regions, boasting 13 different tropical ecosystems and hundreds of rare animals that can only be found in this area. A tour in Corcovado National Park is one of the best things to do make the most of the place!
Not only can you spot the likes of scarlet macaws, tapirs, and squirrel monkeys here, but you can also follow a coastal route through varied habitats ranging from swamps to beaches.
Speaking of beaches, Corcovado is home to more than 23 miles of beaches (little wonder that it's a popular honeymooning spot in Costa Rica) – be careful where you swim though, as hammerhead sharks, crocodiles, and bull sharks have all been spotted in the oh-so-tempting waters.
If you're looking to hike through Corcovado, you'll need to do so with a guide.
In my opinion, the best hiking trail in Corcovado is the one that leads you towards Sirena Ranger Station. Not only will you get to spot extremely rare animals such as the Baird's tapir, but it's far more picturesque than other trails. And, more importantly, the lodging options are slightly more comfortable than others.
San Padrillo is another hiking choice – whilst you wont see as many animals here, the lush vegetation and cloud forests that loom above prove popular with tourists. An overnight stay here will take you back to your roots, with camping tents and basic facilities on offer.
Turtle-Spotting in Tortuguero National Park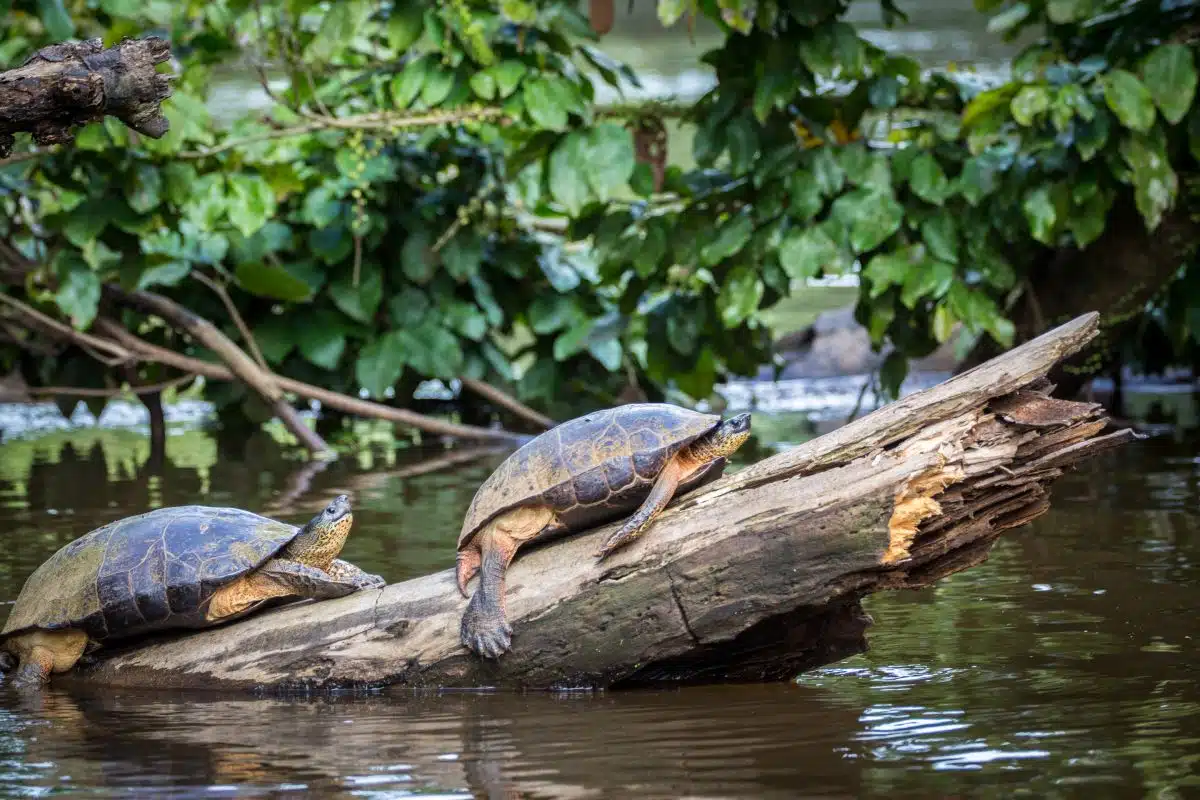 Wondering what to do in Costa Rica? No trip to the country is complete without venturing to Tortuguero National Park.
Anyone with a slight grip on the Spanish language might be able to tell that the main draw of this park are the turtles that can be found nesting (for those who don't, tortuguero is the Spanish for turtle).
While you can wander along the hiking trails – my favourite being the Cerro route which takes you around the inactive volcano, treating you to stunning views from the top – you'll want to head out on the water in a boat to get the best view of the adorable creatures.
Green Sea Turtles, Leatherback Turtles, and Hawksbill Turtles all nest here, though Green Sea Turtles are endangered due to hunting of the adults for meat.
You can take this three-day tour from San Jose, which explores Tortuguero Park in detail – leaving no stone (or turtle nest) uncovered.
Book Your Guided Tour of Tortuguero National Park Here
Explore Arenal Volcano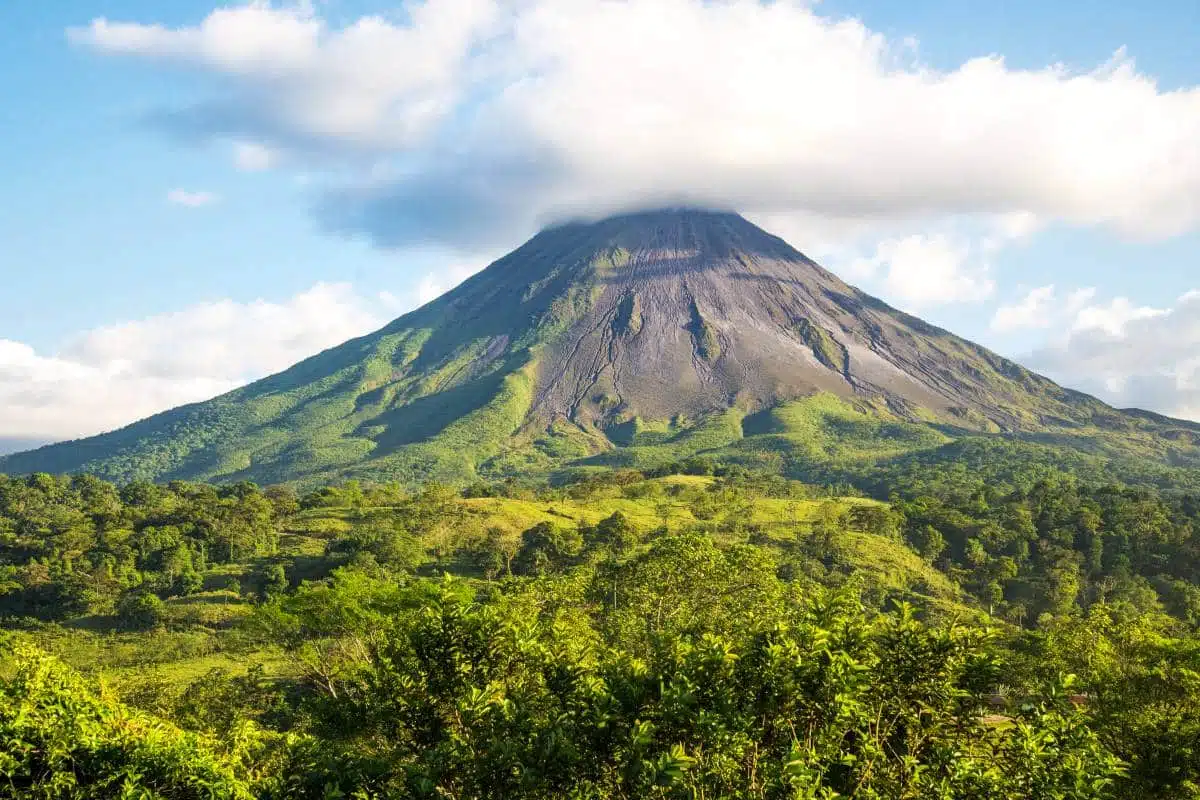 Possibly the most famous volcano in Central America, Arenal Volcano is an active andesitic stratovolcano in the north west of Costa Rica, not too far from San Jose.
It's not possible to climb to the very top of the volcano – though you can hike the entirety of Cerro Chato next door – there are many different tours that undertake guided hikes of the natural phenomenon.
I love this tour, which combines a visit to Arenal Volcano with the nearby La Fortuna Waterfall – tick off two natural beauties in one day.
Sitting at the base of the volcano is Lake Arenal, the largest lake in Costa Rica, and its surroundings are nearly as awe-inspiring as the water itself.
Interestingly enough, this lake is very important to Costa Rica. It's home to a dam that produces nearly 12% of Costa Rica's electric energy. The lake also offers year-round activities to visitors, such as windsurfing, fishing, boat tours, and kayaking.
Spend a couple of days in the nearby town of Arenal with this step-by-step itinerary.
Book Your Tour of Arenal Volcano Here
Visit the Monteverde Cloud Forest Reserve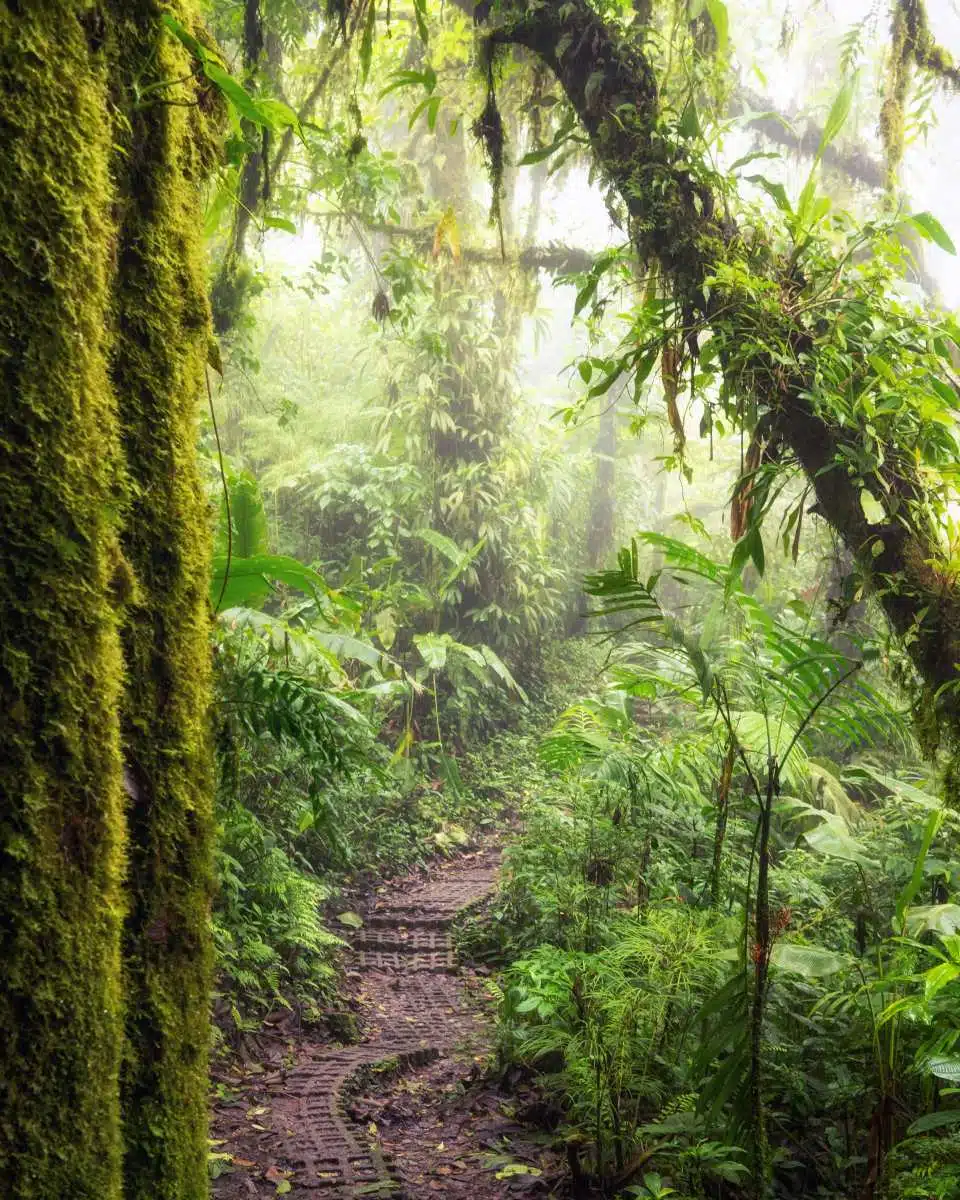 I can't not include Monteverde Cloud Forest Reserve in this guide to Costa Rica activities. What's so special about it you ask? If you're hoping to soak up some of Costa Rica's natural beauty and exciting wildlife, this is the perfect place to start.
Funnily enough, this rainforest was established in 1972 by a group of local Quakers and a scientist from the Tropical Science Centre. Their goal was to protect this area because it is one of the last remaining areas of its kind.
Bursting with more than 400 species of plants, including orchids, wildlife, and plenty of bird species, it's a pioneering and progressive ecotourism and conservation model.
Though one of the main draws of this reserve is the chance to take a peek above the canopy – the infamous zip line above the trees tops the list of fun things to do in Costa Rica.
Book Your Monteverde Cloud Forest Tour Here
Explore the Talamanca Rainforest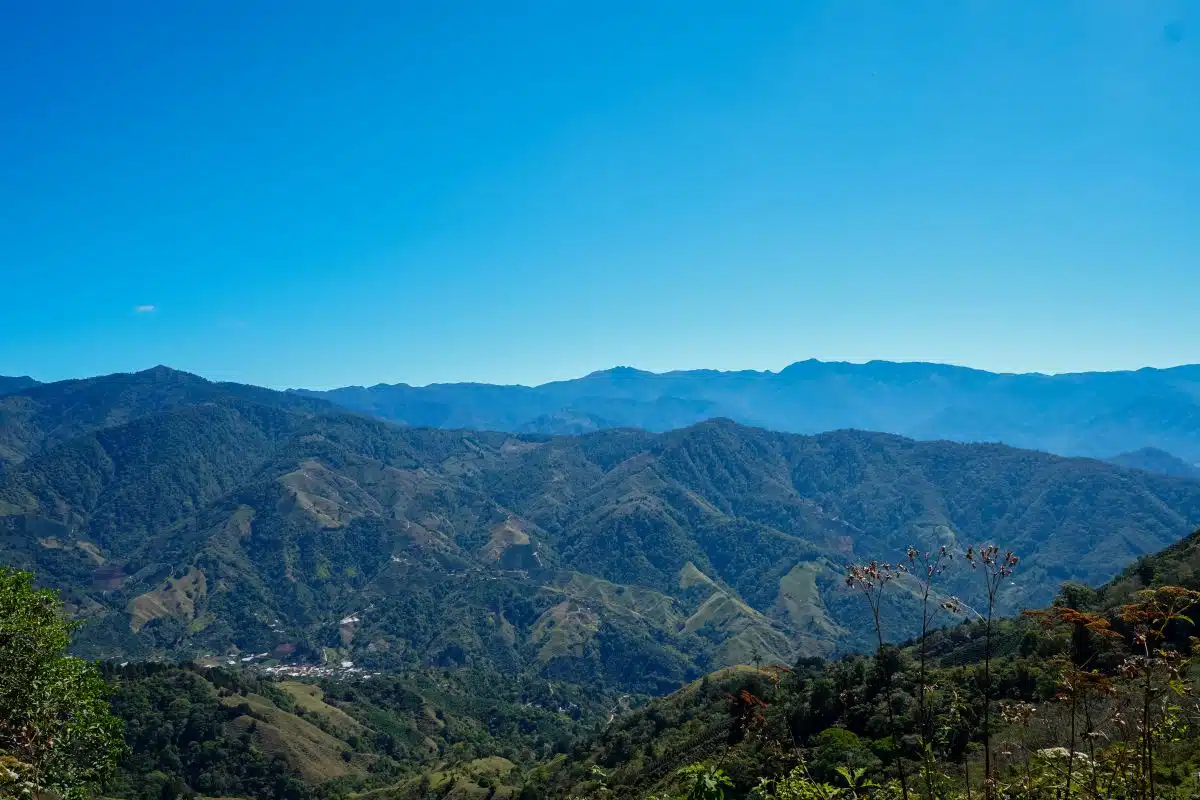 Known for its beaches and turquoise waters, the Talamanca region is situated on the border between Costa Rica and Panama. It is one of the region's most outstanding conservation areas.
The Talamanca Rainforest is the best place for those looking to do some serious animal spotting – the jungle is home to mammals such as the Jaguar and Ocelot, as well as plenty of rare birds, like the Quetzal.
Rest assured, the experience of rising into the clouds whilst hiking the Talamanca mountain range is one of the most wonderful activities I have ever experienced.
Cerro Chirripo, the highest peak in the country, is home to sub-alpine and paramo ecosystems – not to mention beautiful views, for those who dare to reach it.
A word of warning: Getting to this peak is for serious hikers only. As such, if you plan to do this, you need to be very prepared. It is unwise to attempt it unless you have hiked similar distances and terrains before.
You can access this tricky hike via the Chirripo National Park – though, if you're not quite ready to take on the climb, it's a great place if you're into wildlife photography, rock climbing, or fancy taking on a flatter hike.
Brilliant Things to See & Do in Costa Rica
Take a Hike at Braulio Carrillo National Park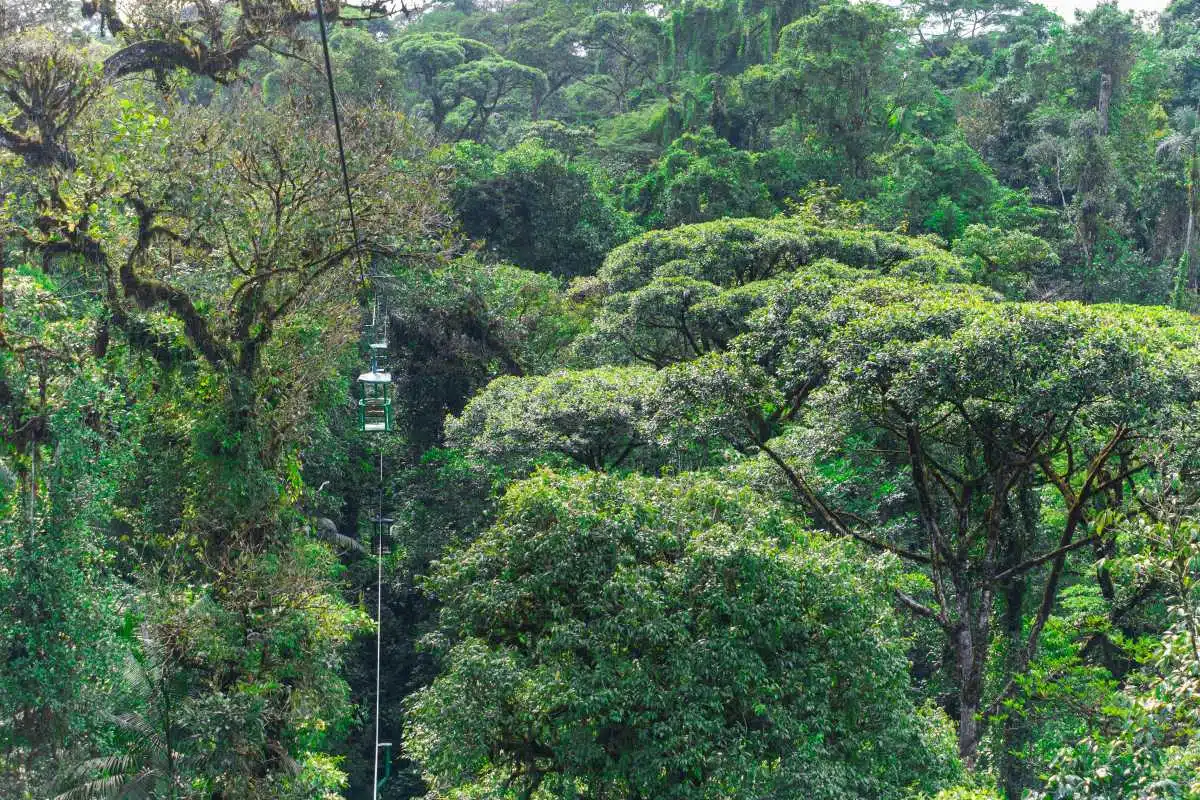 The Braulio Carrillo National Park is home to Barú – the highest waterfall in Costa Rica. Also known for its biodiversity and gorgeous scenery, the park is one of the largest in Costa Rica.
There are more than 500 species of birds, including the bare-necked umbrella birds, snowcaps, black-crowned antpitta, and yellow-eared toucanets. It's also home to over 150 species of mammals, including the howler and white-faced capuchin monkeys. Adorable, but very cheeky. Watch out!
However, it is the hiking trails that are the main attraction in this national park, with both short and long paths available. You can easily walk for hours here, or you can opt for a shorter walk to view some of the most wonderful fauna and waterfalls.
A couple of the best hikes include the Cacho Negro and the Cherro Turo. Though, if it's views you're after, I recommend taking on the hike to San Fernando waterfall – it's fairly simple and the vast majority of the hike is actually downhill.
Go Surfing in Tamarindo
While Tamarindo has long been touted as a sleepy beach town on the north Pacific coast of Costa Rica, it's becoming increasingly popular amongst travelling surfers as of recent years.
There are several gorgeous beaches that surround this beach town, though I recommend visiting Playa Avellanas, which has been consistently chosen as one of the best beaches in Central America.
If you're looking for something off the beaten track, Pirate's Cove is another really good option.
Indulge in this wonderful sunset sailing tour around Tamarindo – enjoy snorkelling, drinks, and dinner as the sun sets on the Costa Rican coast.
Don't surf or need to work on your skills? Why not book into surf school?
If you aren't a confident surfer, there are a number of surf camps and schools in this area – I love Iguana Surf. Don't be intimidated, the surf instructors at this school are all well-trained and keen to get you to love the water.
Go White Water Rafting on the Pacuare River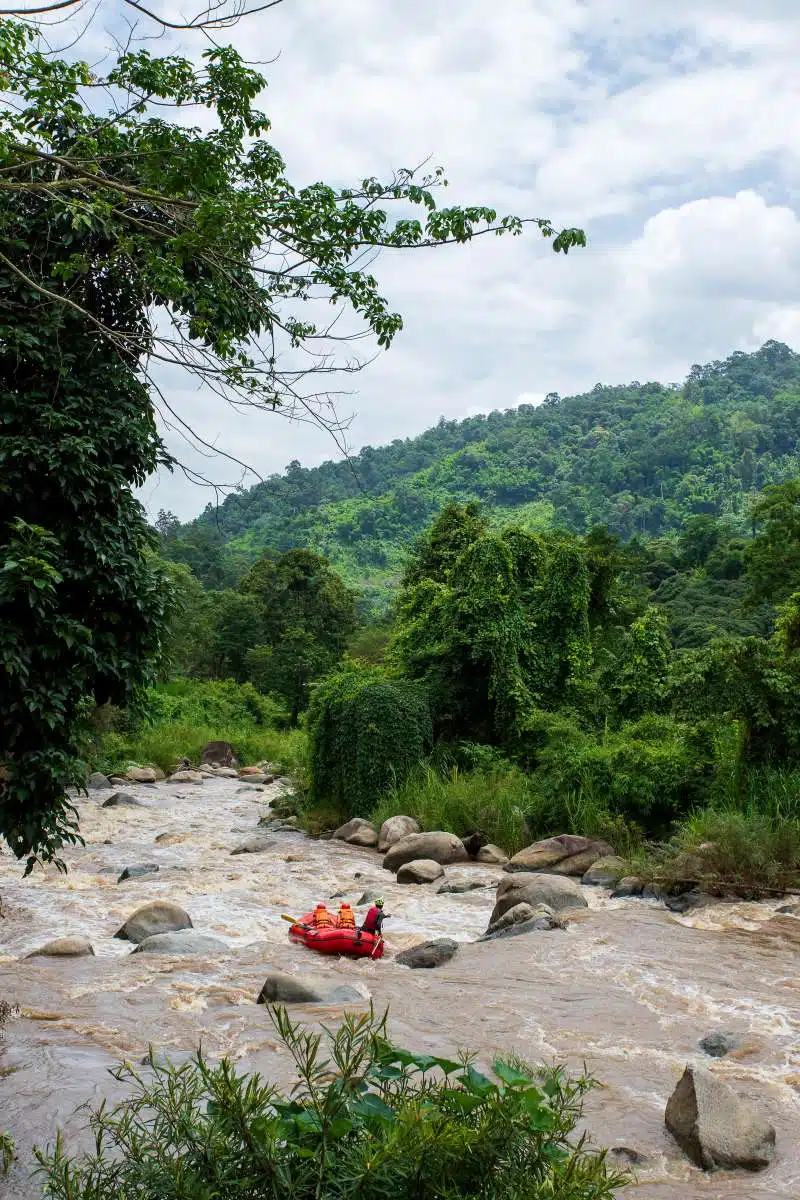 The Pacuare River is one of the best places in the world for white water rafting and kayaking. After all, it's one of the top activities in Costa Rica.
You don't need any previous experience with white water rafting – just show up with your gear and get ready for the ultimate adrenaline rush.
It's home to a number of different levels of rapids – class 3 and the trickier class 4 – so whether you're an expert or a total beginner, you won't be disappointed.
The area also boasts multiple waterfalls and an incredible amount of natural beauty for you to admire, as well as the likes of toucans and jaguars.
Venture into Manuel Antonio National Park
Manuel Antonio National Park is known as the place to see wildlife in Costa Rica. Partially because it's filled with beautiful forests, pristine beaches, and lots of flora and fauna, but also because the park runs a number of different tours which make it easy to spot animals.
You can book yourself onto a guided tour, which will allow you to spot toucans, sloths, and monkeys with the help of a friendly guide.
I recommend the canopy safari in Manuel Antonio National Park – it is the oldest in the southern zone of Costa Rica, first opened in 1997.
What could be better than exploring the National Park from above? In fact, it is a perfect activity for adrenaline junkies. It boasts 20 tall platforms, 11 ziplines, 2 rappel lines, 1 suspension bridge, a Tarzan swing, and more!
However, if you prefer to keep your feet firmly on the ground, they also run a large number of walking tours around the area too.
Book Your Tour of Manuel Antonio National Park
Set Off on a Horse Riding Adventure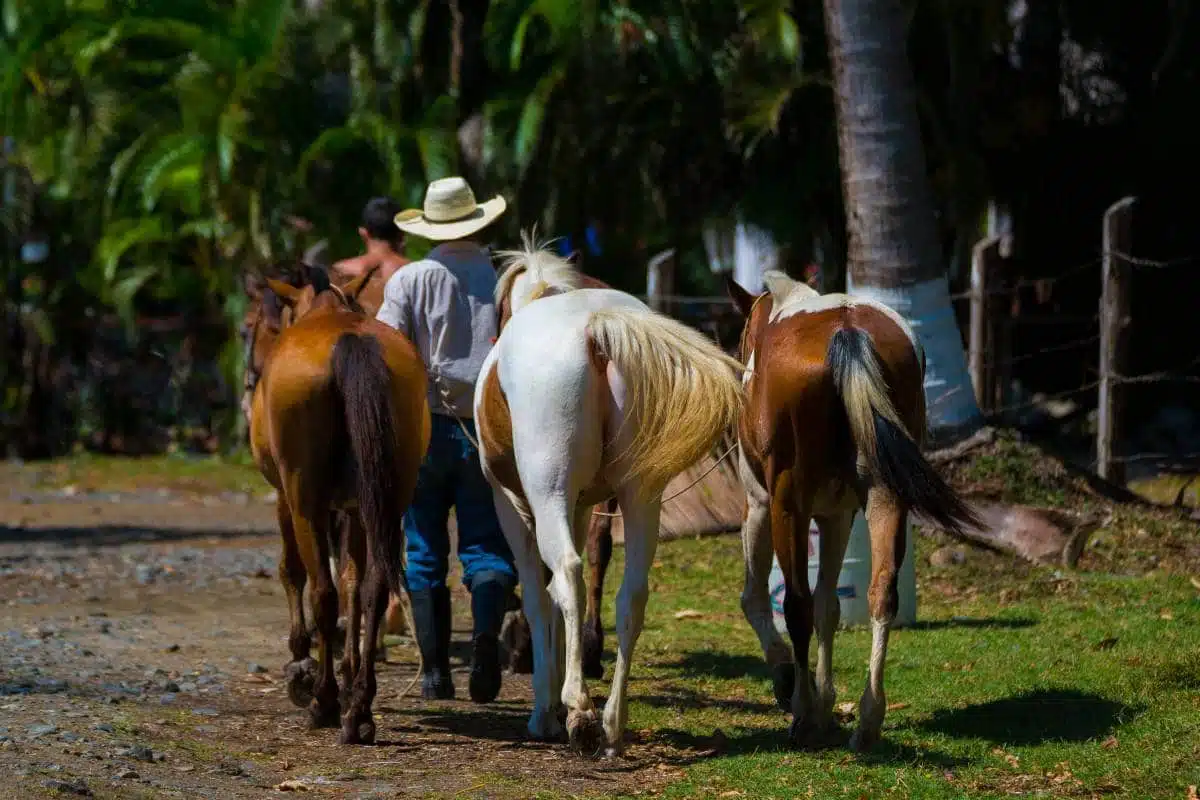 Ever fantasised about horseback riding through lush greenery, hair blowing majestically in the breeze? Well, you can actually live out your wildest dreams in Costa Rica.
If there's one thing you indulge in, make it a tour on horseback – nothing says adventure like galloping (well, realistically it'll be more of a slow trot) through the jungle, not a care in the world. Trust me – I took a long riding holiday through Costa Rica a few years ago and it was magical.
A couple of my favourite companies offering horseback tours include Centaura (just outside of La Fortuna) and Horse Trek Monteverde – who offer tours ranging from two hours to 8 days long!
Not even the guaranteed sore butt you'll face a day later could put a dampener on your spirits.
Go Underwater at Caño Island Nature Reserve
Located on an island not too far from Corcovado National Park, heading to Cano Island Nature Reserve is a must do in Costa Rica. Here you can swim, hike, and climb your way around the island.
While there are very few species of wildlife on the island of Cano, the Biological Reserve is best experienced underwater.
There are 19 species of coral in the waters surrounding the island, and the reserve is also home to hundreds of species of fish and mollusks, including white-tipped sharks, manta rays, stingrays, tuna, marlin, and many other colourful species of reef fish.
If you're lucky, you may even see migrating humpback whales, sea turtles, and dolphins. Pack your snorkelling gear (or rent some from the visitor centre) and see what you can spot! This tour is one of the best, involving two snorkelling sessions at different parts of the reserve, a visit to one of the top beaches in the area, and a lunch to help you refuel.
Explore Costa Rica's Coffee Plantations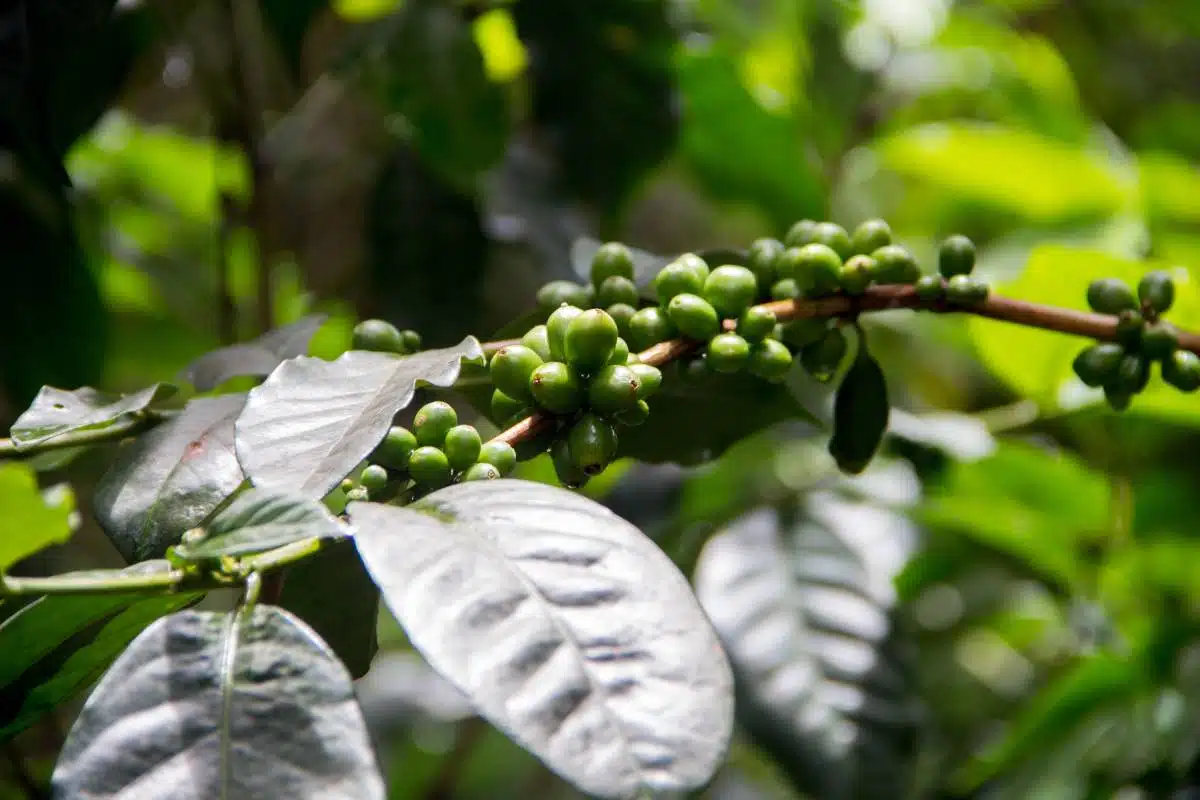 Want to learn about coffee growing in Costa Rica? Then head to one of the country's many coffee plantations, where you can learn more about how the good stuff is made. Without a doubt, It's one of my favourite things to do in Costa Rica.
I recommend visiting the beautiful, family-owned plantation called Finca Rosa Blanca. It is situated in Heredia, just outside of San Jose.
Your tour guide will reveal the secrets of Costa Rican coffee, giving you special insight into the whole process – from origin to harvest. You will also have the opportunity to visit the processing area where the beans are fermented and dried.
I can't think of a better way to spend an afternoon than enjoying homemade biscuits and sipping a fresh brew whilst overlooking the gorgeous scenery.
Hang Glide at Turrialba Volcano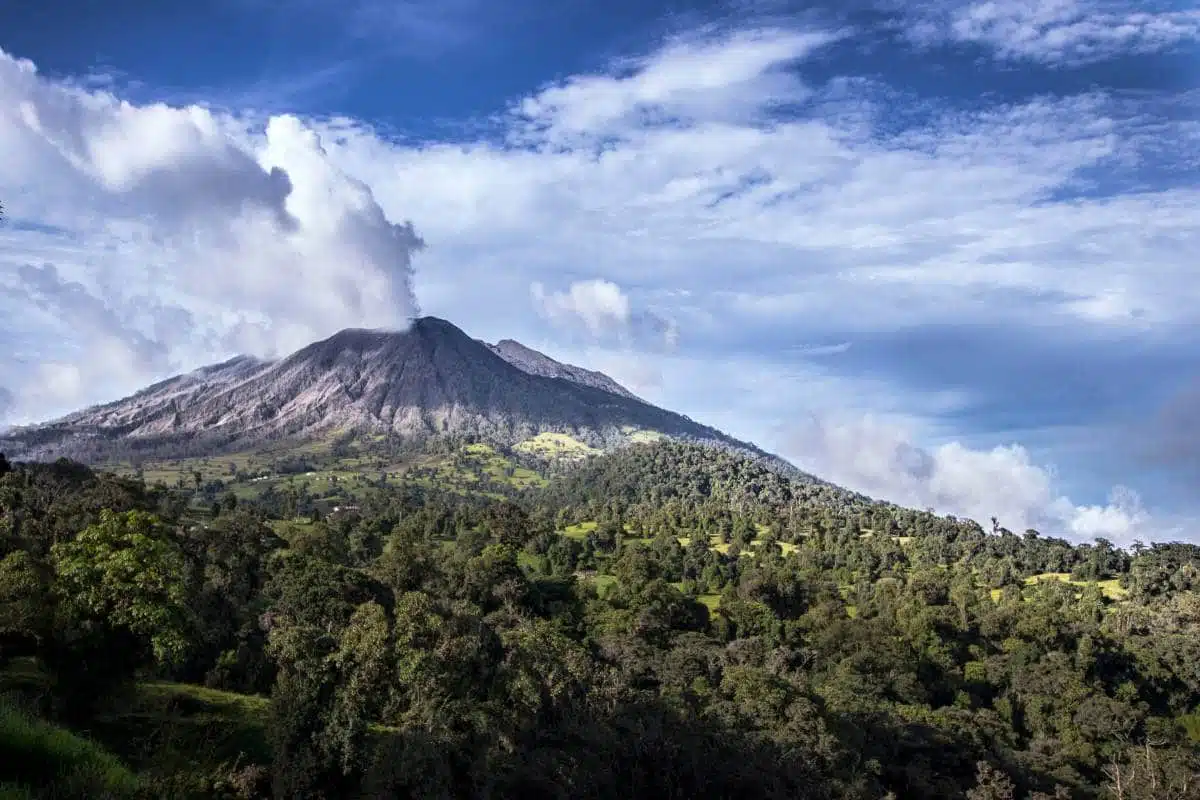 Believe it or not, Costa Rica is just as beautiful from above – especially when you're hang gliding. You can soar along the cliffs hanging over the warm Pacific Ocean, check out the northern flatlands from the sky, or glide over the luscious rainforest.
However, I recommend gliding around the Turrialba Volcano. It's a wonderfully green and grassy area that promises perfect views. Thanks to the wind and landscape, you are certain to fly high when hang-gliding in this area.
Visit the Museums in San Jose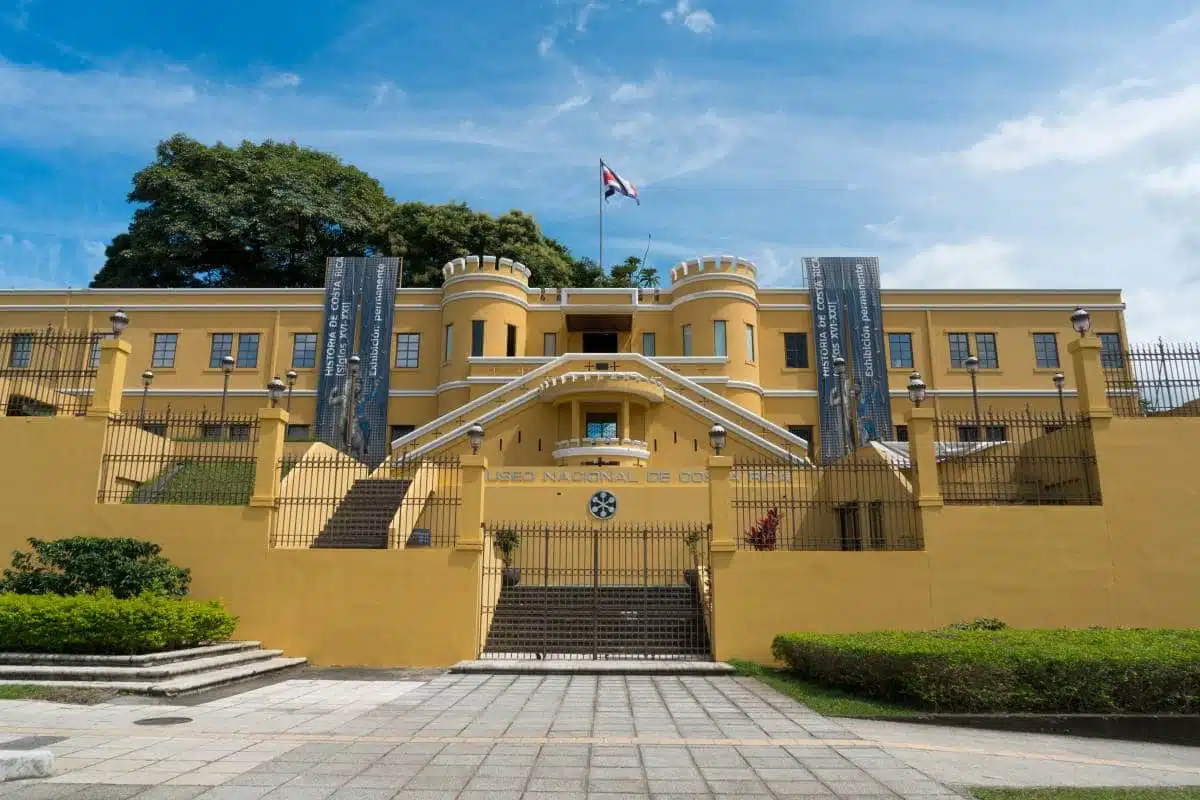 Many people chose to visit Costa Rica for its gorgeous natural beauty. However, it is important to remember that the cities also have so much to offer.
San Jose, the capital city of Costa Rica, is home to some of the most wonderful art, history, and architecture.
In fact, the list of places to explore within this city is endless. I recommend visiting the National Theatre, The Museum of Contemporary Art and Design, The Gold Museum, The Jade Museum, and The National Museum.
Each of these will give you a real insight into the history of Costa Rica and the local culture. If you visit, you should also head to the Central Market to enjoy some local food. Trust me – you won't be disappointed.
Climb Volcan Poas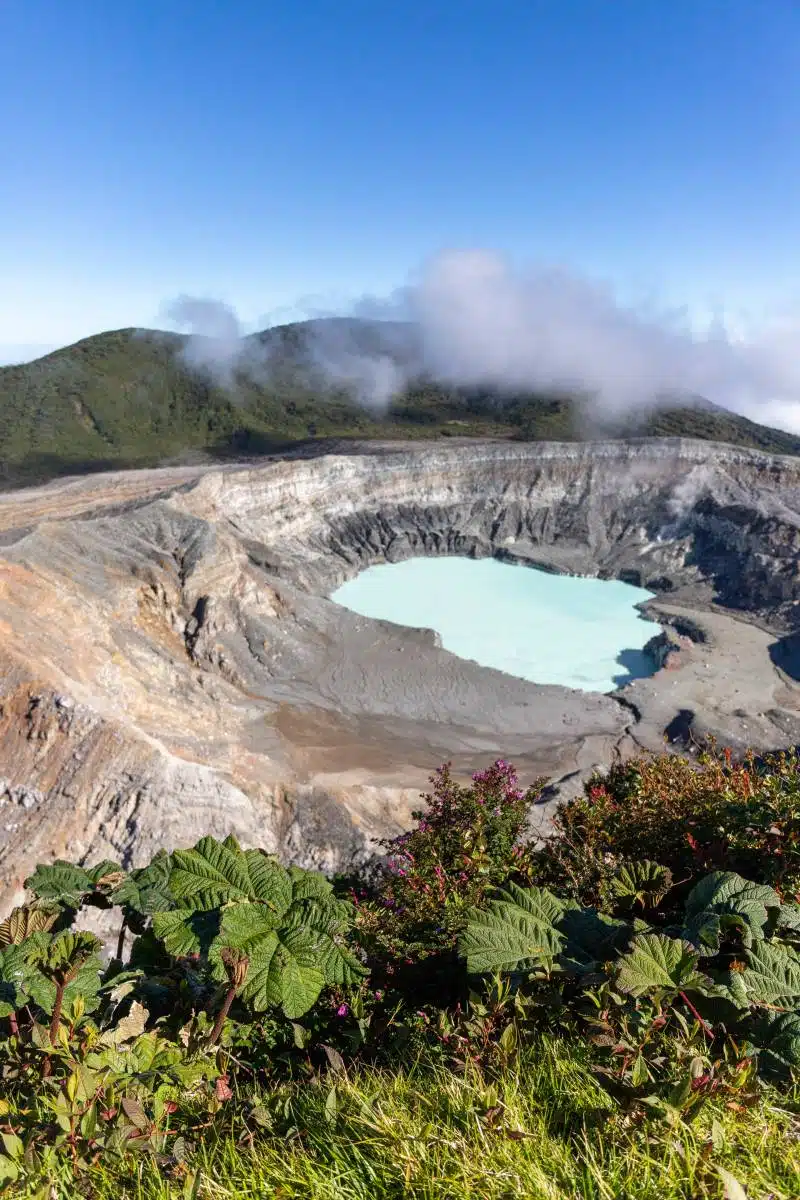 I couldn't write this guide without including the wonderful Volcan Poas – like Arenal, it's an active stratovolcano and stands around 3000 metres high. It's situated within the wonderful Poas Volcano National Park.
Don't be alarmed by its activity – this volcano is still very safe to climb. However, it is important that you do so with a certified guide who understands the region so that you remain safe and informed at all times.
This hike might be one of the most impressive and beautiful hikes in the world – and it's certainly one of the most rewarding experiences on offer within Costa Rica. The views from the top are breathtaking.
Things to do in Costa Rica: Practical Tips for Your Trip
How Long to Visit in Costa Rica?
If you're looking to explore Costa Rica fully, you'll need to spend 10-14 days here to even scratch the surface. With so many national parks, nature reserves, and natural phenomena in Costa Rica, not to mention the beautiful cities, you could easily spend up to a month getting to know this wonderful country.
Best Time to Visit Costa Rica
When exploring all the cool things to do in Costa Rica, the best times to visit are December-April on the Pacific Coast and March-September on the Caribbean side. If you're in doubt, head there around March.
Where Should I Stay in Costa Rica?
Maquenque Eco Lodge
Immerse yourself in a tropical forest at Maquenque Eco Lodge, housed in quaint bungalows nearby a lake. As well as its own orchard, there's an outdoor pool and gardens to explore. Despite this hotel taking a lowkey approach, with a heavy focus on reconnecting with nature, rooms are fully equipped with all the essentials.
Check Rates and Availability for Maquenque Eco Lodge on Tripadvisor I Booking.com
Hotel Vista Las Islas Reservas
This beautiful hotel in Puntarenas boasts an infinity pool, private beach access and spacious rooms with a balcony. Rooms are decorated simply but elegantly, with a touch of Costa Rican flair.
Check Rates and Availability for Hotel Vista Las Islas Reservas on Tripadvisor I Booking.com
Recommended Tours in Costa Rica
Things to do in Costa Rica: Map