Spending 5 days in London? From palaces to museums, and plenty of food along the way, here's what not to miss on your London itinerary – written by a local.
As a Londoner, I take for granted how many wonderful things there are to do in my city. From wandering through London's best parks, hitting up the top museums and, of course, taking an obligatory ride on the London Eye, it's no wonder that the English capital is abuzz with tourists.
Here are 5 jam-packed days filled with epic London sights (but, to be totally honest, you could spend another 5 days here and barely scratch the surface of this bloomin' beautiful city).
Now, I don't want to flex. But I'd like to think I've nailed this itinerary. So, without further ado, here's how to spend five days in London…
Handy Tips for Planning Your 5 Days in London Itinerary
Top Tours for Your London Trip Itinerary
What to Pack for Your London in 5 Days Itinerary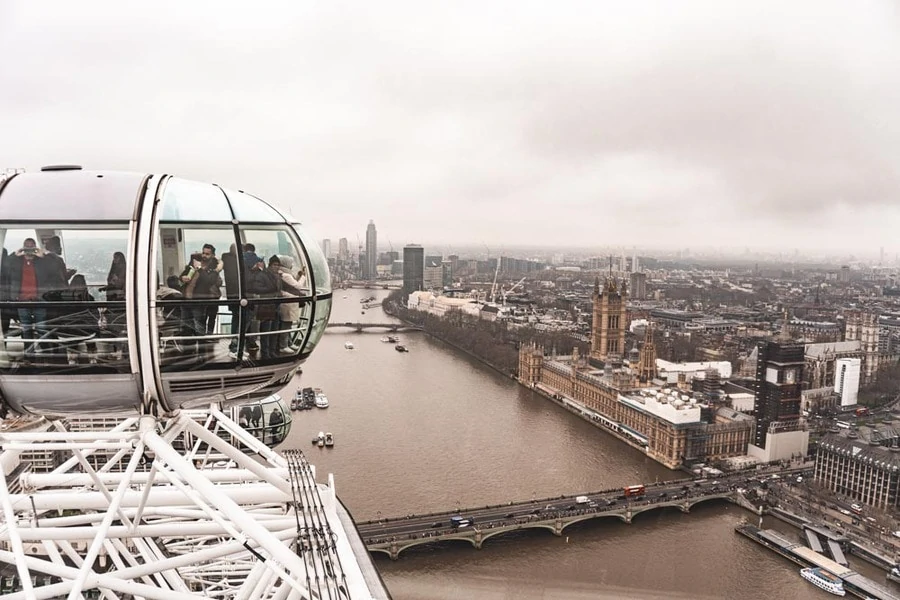 I'll let you in on a little secret: while it does rain in London — a lot — the weather in the UK isn't as bad as many people think.
That said, you want to be prepared. Here are some things you'll want to pack for London:
Outer Shell: The weather can be somewhat unpredictable in London, so an outer shell to protect you from the rain and wind is ideal.
Comfortable Trainers: London and walking go hand in hand, especially with all the picturesque parks. Don't risk uncomfy shoes and pesky blisters – you'll be miserable, I promise.
Umbrella: Look, even a sunny summer's day can turn gloomy in next to no time, so it's good to bring one of these. 
Layers: Even if you're visiting in summer, it will get chilly in the evening. Bring plenty of layers for throughout the day.
Where to Stay for Your 5-Day London Itinerary
Henrietta Hotel
Not sure where to stay in London? The Henrietta Hotel is my top choice. This gorgeous spot blends modern design with classic architecture to create a distinct and equally stunning stay.
Rooms are individually-designed, featuring rounded arches with pastel walls. It's also situated smack-bang in the heart of the city, in Covent Garden and a stone's throw away from the West End and Soho.
Simply put, it's the perfect base for your 5-day itinerary in London.
Milestone Hotel Kensington
Feel like royalty at this luxury London hotel, with royal linen and opulent living areas. From the authentic oak-laden open bar to the delightful delicacies at Cheneston's Restaurant, the Milestone Hotel will make your Kensington stay one to remember.
Room2 Chiswick Hometel
Look no further than the colourful Room2 Chiswick Hometel for an affordable option. They're not afraid to play with colour, as seen in the blue and redwood bedrooms, and the charcoal and cream bathrooms. 
Wake up and indulge in their complimentary breakfast and idyllic street-side views before hitting the streets for a day in LDN.
Quick Info for Your 5 Days in London Itinerary
Time Zone: British Summer Time (GMT+1)
Currency: Pound Sterling (£)
Plugs: Type G
Nearest Airport: London Heathrow Airport, London Gatwick Airport, London Stansted
5 Must-See Spots: The London Eye, Buckingham Palace and the Changing of the Guard, Museum Mile in South Kensington, a West End show and Brick Lane.
Top Tip: Take advantage of the (many) free museums in London. The capital can be expensive, but there are plenty of ways to see the city for cheap.
Getting Around
Tube & Bus
The Tube is hands down the easiest and most affordable way to travel around London.
The London Tube is one of the world's most intricate and expansive railway systems. Grab a Travel Card. You get unlimited travel access using the Tube, trams and buses for however many days to pick.
Alternatively, you can tap in and out with a contactless card – this is the easiest way to travel.
Walking
When you're not using the city's fantastic public transportation, you'll want to walk. Central London is surprisingly walkable, with the likes of Soho, Covent Garden, and even Southbank easily accessible on foot.
Driving
I can't stress this enough, don't drive in London. Thanks to the jam-packed traffic, congestion charges and confusing road signs, public transportation is much easier and less stressful.
Black Cab
Honestly, I don't recommend using a Black Cab unless you need to. They are often costly, and the Tube is usually quicker.
The Best Five Days in London Itinerary
London Travel Itinerary Day One: London's Royal Gems
From Buckingham Palace to Westminster Abbey, day one explores the magical spaces synonymous with the English Monarchy.
See the Changing of the Guard at Buckingham Palace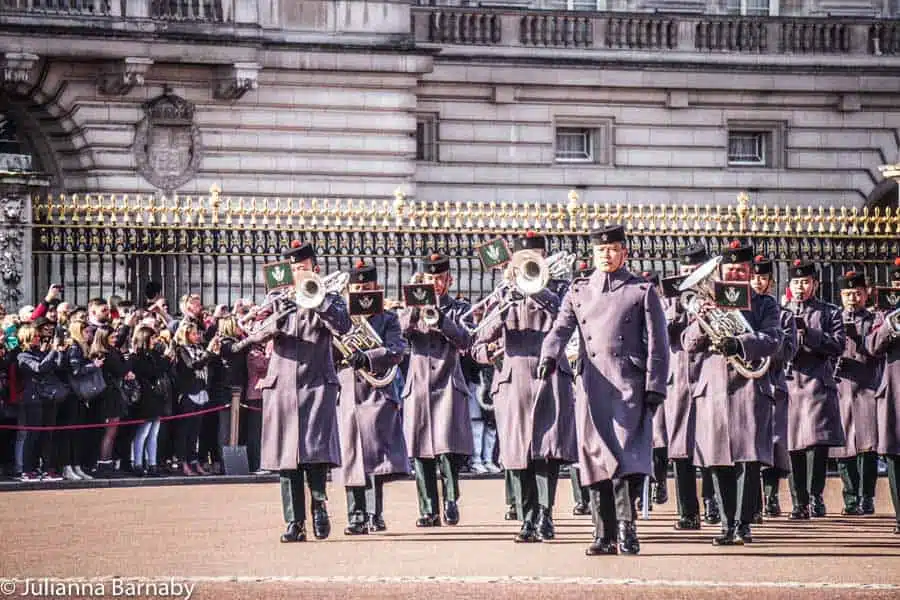 You'll spot those fluffy black hats and brilliant red coats from a mile away. Kick off your London itinerary by watching the Changing of the Guard at Buckingham Palace.
Enjoy a walking tour following the extravagant march from Waterloo Place to Buckingham Palace. A trumpeting band announces the changeover – it's quite the spectacle.
Top Tip: Visit the Changing Guard website to stay updated with the event dates and times, as they change in winter.
Stroll Through St. James's Park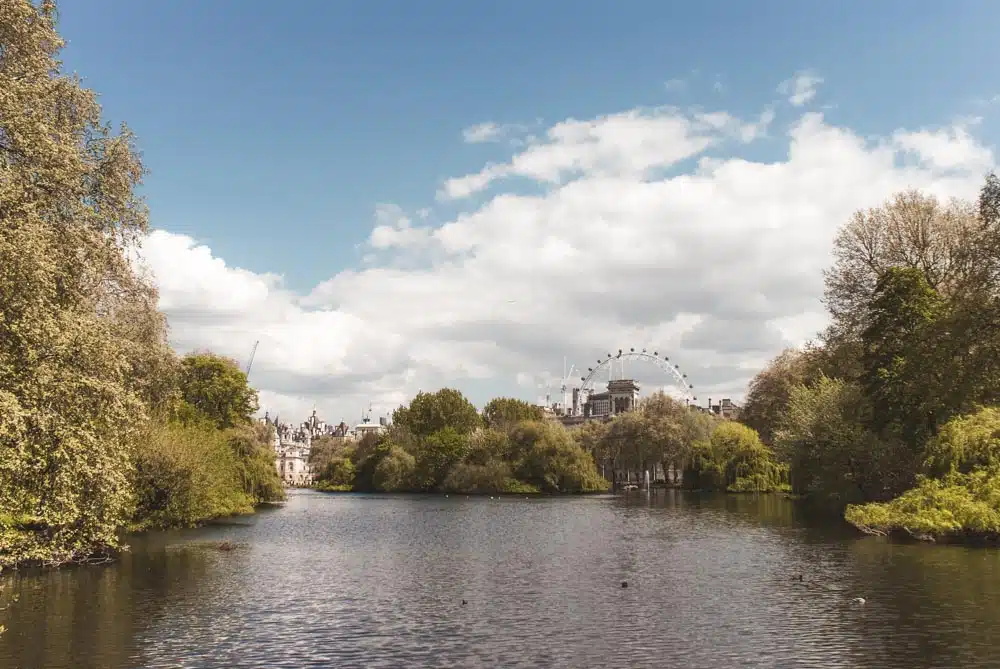 Next up: St James's Park. Admire the beauty of the Buckingham Palace flower beds, with its awe-inspiring display of salvias, geraniums and spider plants.
After that burst of colour, the Diana Princess of Wales Memorial Walk encapsulates all St. James's Park offers. Enjoy green-laden views of iconic landmarks significant in Diana's life, from Kensington Palace to Clarence House.
Visit Westminster Abbey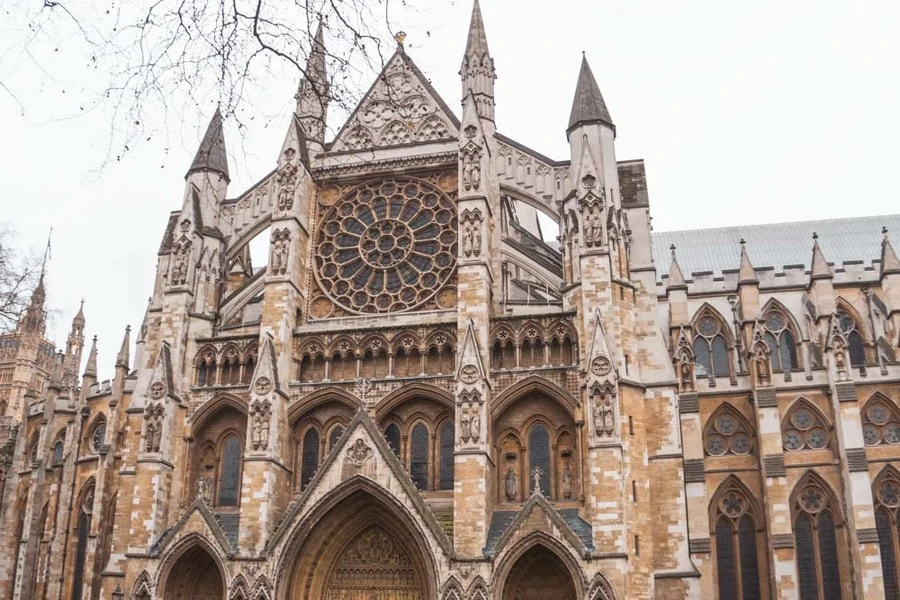 Westminster Abbey imbues itself in English folklore for many reasons, and that's something you'll soon learn on a guided tour.
Discover the burial sights of hundreds of famous writers (including Shakespeare and Dickens) at the Poets' Corner. Or admire the Coronation Chair's majesty and the echoing remnants of royal weddings at the Lady Chapel.
The cloisters connect all there is to see, while the Queen's Diamond Jubilee Galleries holds the royal family's greatest treasures.
Explore Parliament Square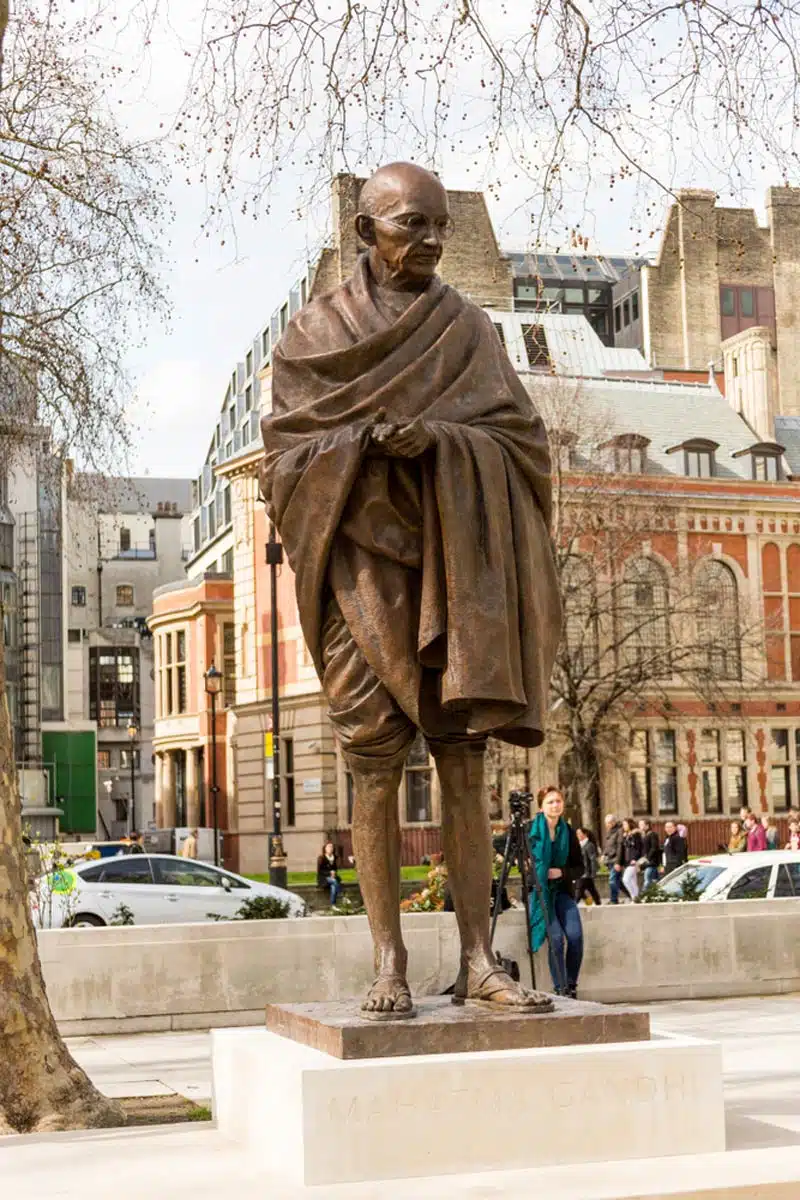 Staying in Westminster, a Parliament Square walking tour is the best way to explore the ins and outs of London's impressive Gothic architecture.
While you've already seen Westminster Abbey and the other iconic buildings in the area, Parliament Square Garden has some nifty sites to check out. Snap photos near sculptures of icons, from Mahatma Gandhi to Abraham Lincoln.
Enjoy a Sunset Ride on the London Eye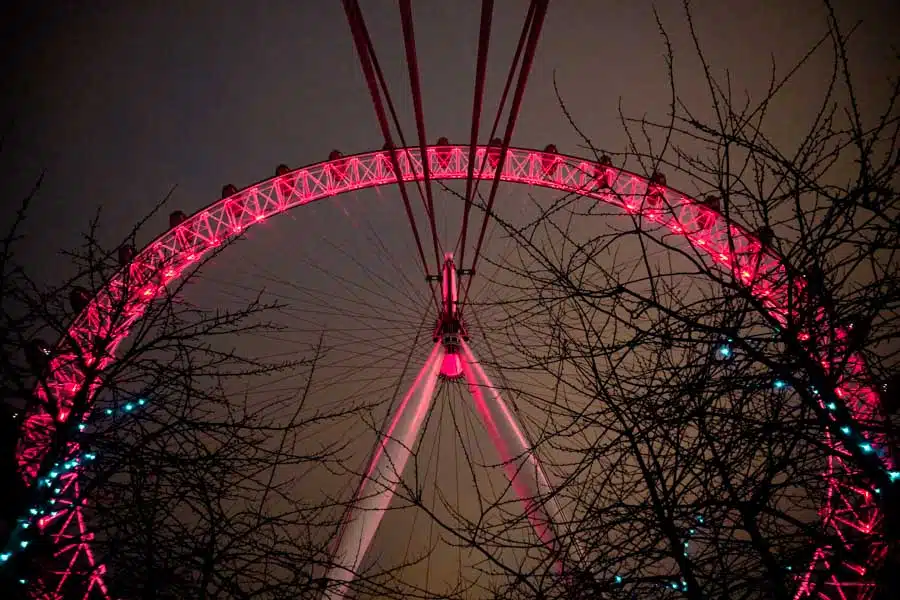 You'll need to walk along Westminster Bridge — stunning in itself — to get to this epic end-of-day activity.
Once there, take to the sky and soak up the city's best views with a ride on the London Eye. Within your magical glass ball, everything is on display. Look out for Big Ben to the south, St. Paul's Cathedral to the north, the River Thames to the west and Jubilee Garden to the east.
Top Tip: Grab your London Eye ticket before getting there to save time. 
Indulge in Dinner and Theatre at the South Bank and West End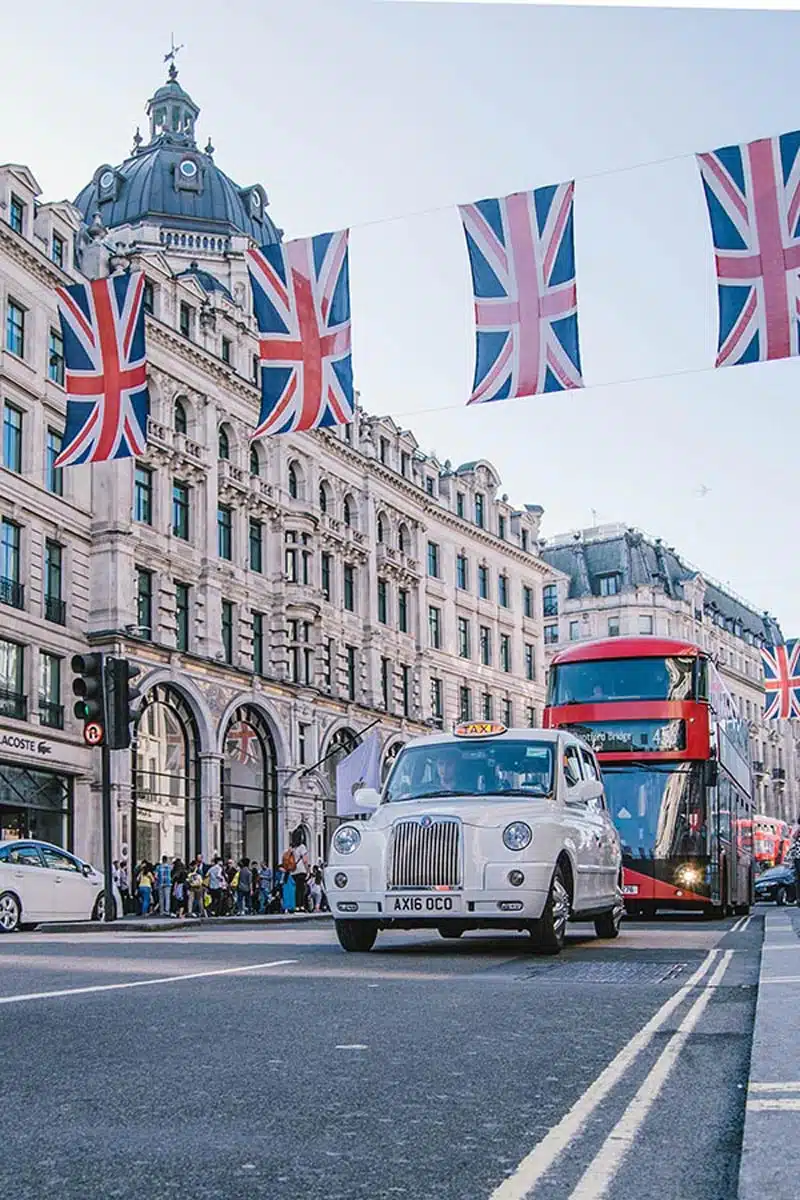 You must be peckish by now, right? There's no better place to dine in style and admire the River Thames than at Skylon Restaurant.
From artichoke tortellini to melt-in-your-mouth Chalk Stream trout, this European restaurant is truly one of the best in London. It's also the perfect destination to fill up before a theatrical end to the day.
Once you're all ready to go, walk across the Golden Jubilee Bridge to enjoy a night of musical magnificence at the West End. From classics like Les Mis and Moulin Rouge to modern greats like Matilda, there's plenty of choice when it comes to which show to see.
London Itinerary Day Two: Discover London's Museum Scene
Day two includes history and intrigue, from the controversial collection at the British Museum to the undeniable masterpieces at the National Gallery.
Be Captivated at the British Museum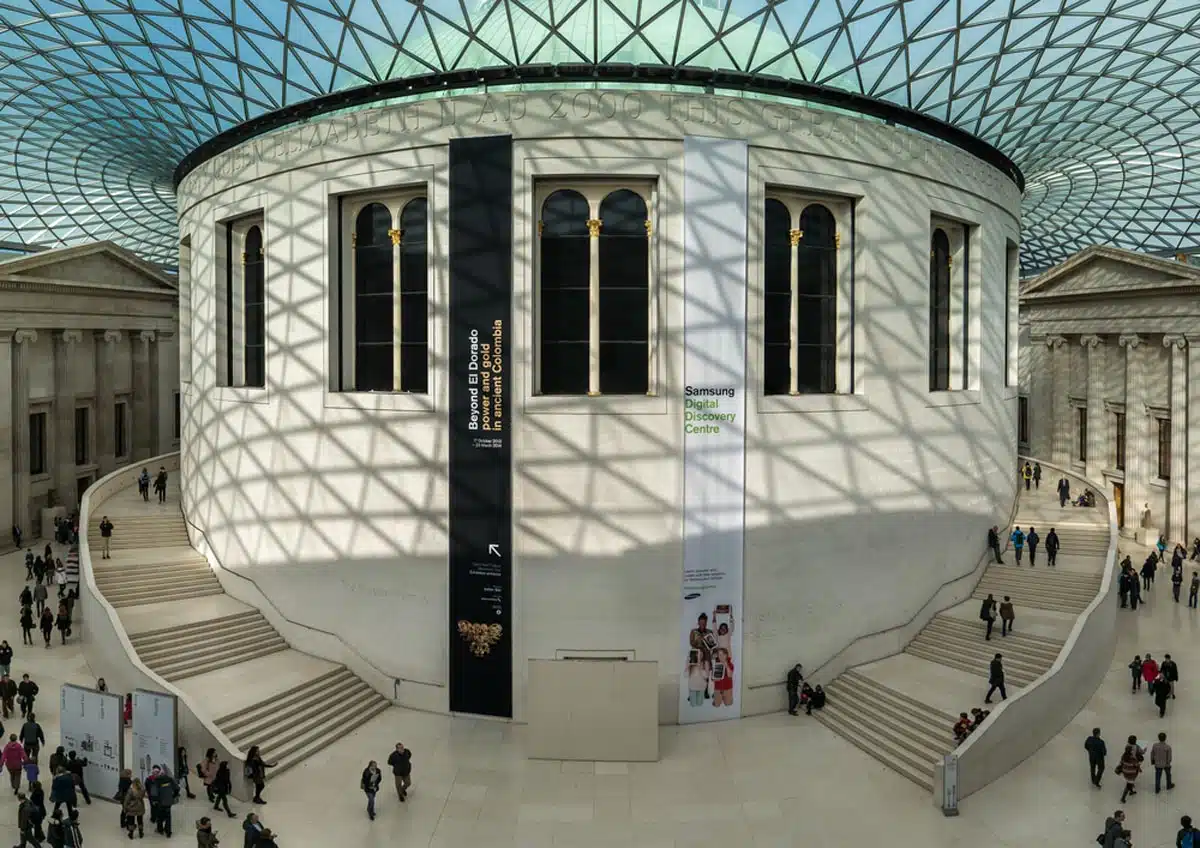 Next up, it's time to explore one of the top sights in Holborn. A British Museum guided tour is the best way to learn about the historical progression of humanity over the last two million years.
I know that this is a sensitive subject – with artefacts from around the globe, the museum has some problematic ownership rights over cultural pieces. For example, there has been a call to return the Benin Bronzes and Parthenon Marbles (and it looks like some movement is being made).
If you don't want to support the British Museum (I don't blame you), how about visiting the quirky rotating exhibits at the Wellcome Collection or the Grant Museum of Zoology?
Dig Into Lunch at Frenchie and Take a Stroll Through Covent Garden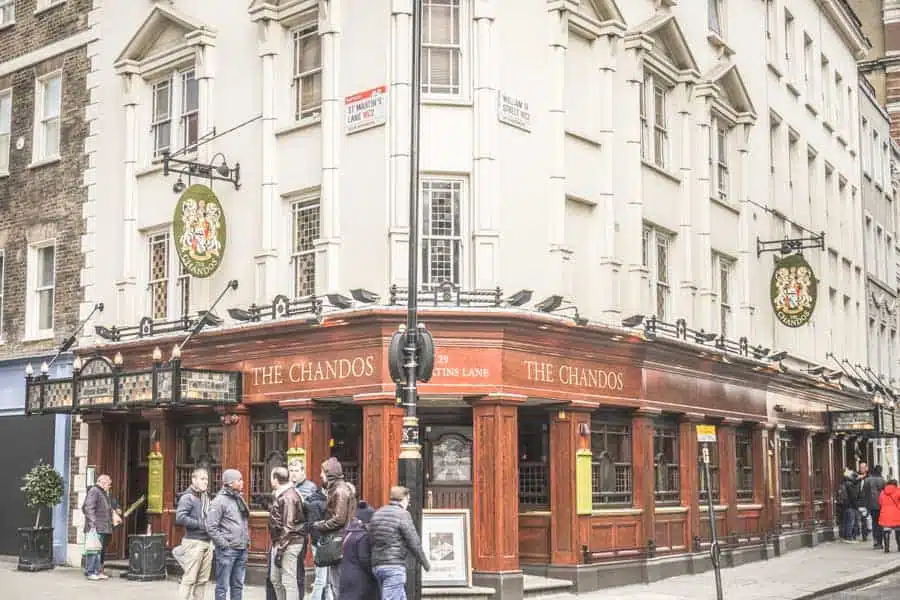 After a couple of intensive hours exploring one of London's top museums, it's about a 15-minute walk to Covent Garden where lunch awaits…
Frenchie is a delicious choice, with its Parisian inspiration and stunning interior creating a decadent dining experience.
PS: A mini shopping spree at Covent Garden is the perfect way to help your lunch settle, I think.
Admire Masterpieces at the National Gallery and National Portrait Gallery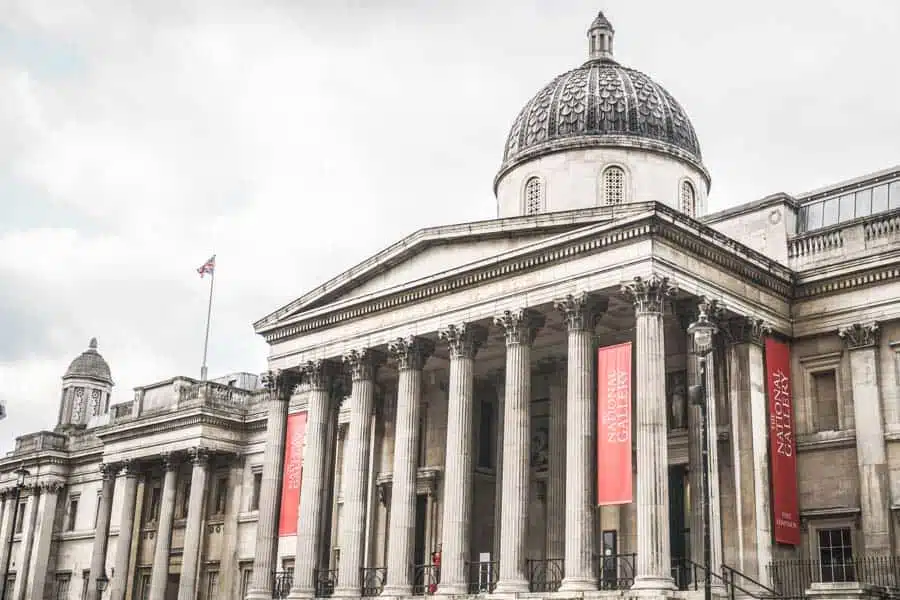 After a short seven-minute walk from Covent Garden, you can begin your National Gallery guided tour. This illustrious building has over 2,600 works, ranging from the impressionist pieces of Claude Monet to contemporary classics by the likes of Pablo Picasso.
While that will keep you busy, don't forget to visit the new National Portrait Gallery (opening on 22nd June 2023). It's a place where the gaze takes centre stage through painting, sculpture and photography.
Feel the Buzz at Trafalgar Square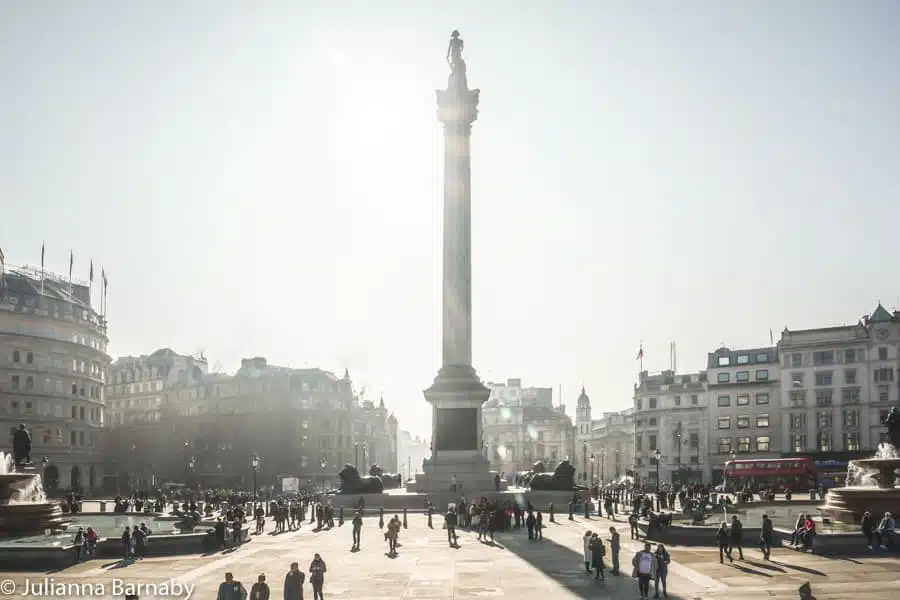 If you ask me, no London itinerary is complete without a visit to Trafalgar Square. Given the name after the famous 1805 Battle of Trafalgar, this stunning square has been a meeting place for many political demonstrations.
Today, it has two crystal clear water fountains comparable to the ones in Rome and towering sculptures you can't miss. The top ones to snap a photo near include The Charing Cross (it's not the original), Nelson's Column and the Landseer Lions.
Indulge in Drinks and Dinner in Soho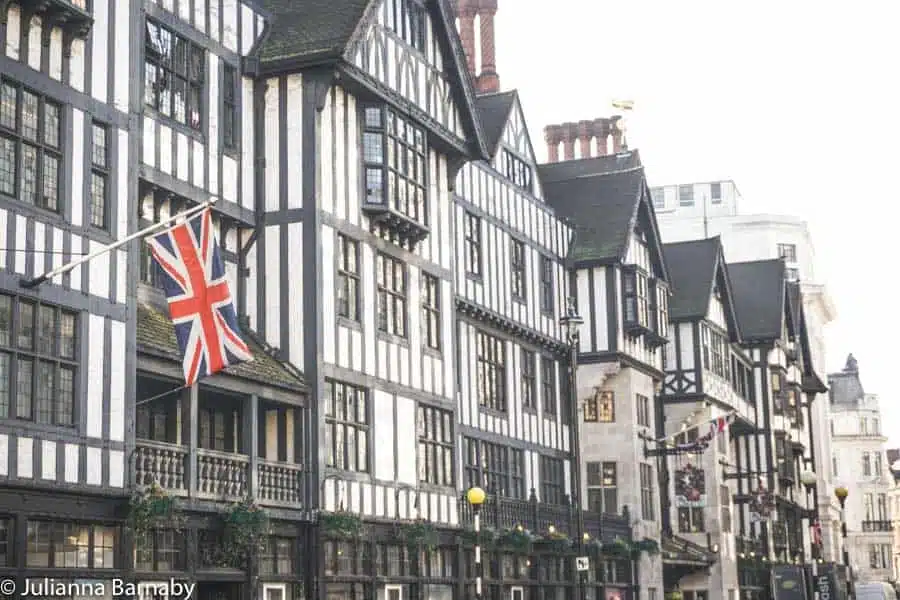 As the sun sets, there's nothing better than ending your day with a few drinks in the vibey neighbourhood of Soho.
There are some genuinely amazing bars in this neck of the woods, which you can explore on this Soho music and pub experience. But I highly recommend popping into Swift, where three distinct cocktail bars await.
Once you've had something at all three spots, it's time to dig into some tasty Thai food with a Londoner's twist at Kiln Restaurant. It's a seafood lovers' sanctuary and a sure way to celebrate the end of day two.
London Itinerary Day Three: Enjoy the River Thames and Greenwich
London itineraries often overlook the historically significant neighbourhood of Greenwich. But this one won't make that same mistake.
Chug Along a Uber Boat to Greenwich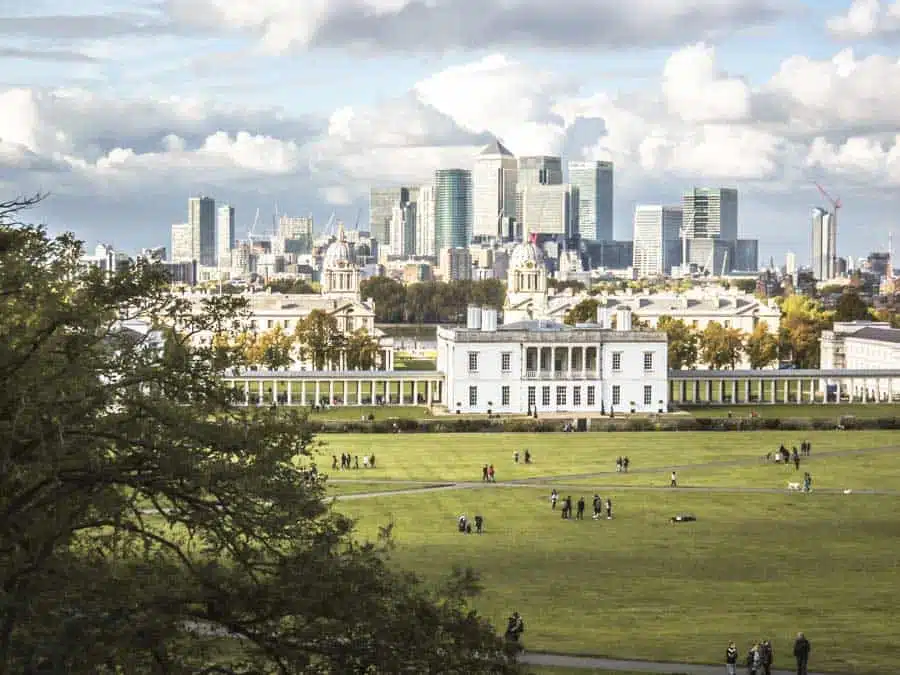 Start with a boat cruise and enjoy the sites and sounds of London along the river. It's roughly an hour's ride from Westminster Pier to Greenwich Pier, so you have plenty of time to sit and relax.
That said, you'll still see some unmistakable landmarks along the way. Gaze at St. Paul's Cathedral, London Bridge and The Gherkin, to name a few of the river's top landmarks.
Enjoy Some History at the Royal Observatory and the Prime Meridian Line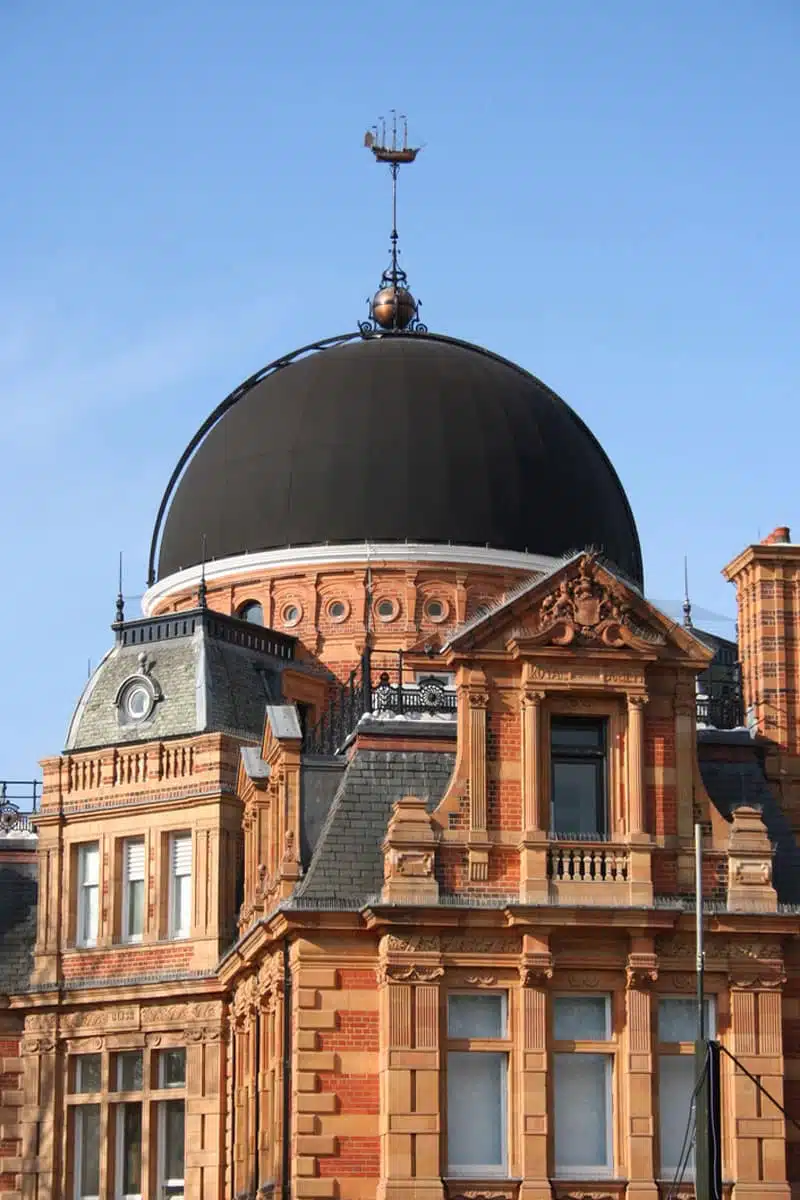 Guys, it might seem super boring, but I promise you need to book yourself a Royal Observatory entrance ticket.
For starters, this is the birthplace of the Prime Meridian Line. Okay, that's not entirely true. The Prime Meridian Line has always been. But it was the first place to acknowledge the east-west divide.
From visiting the Harrison clocks to learning more about the universe at the Peter Harrison Planetarium (catch a show – they're magical), you could easily spend hours here.
Say Huzzah at the Queen's House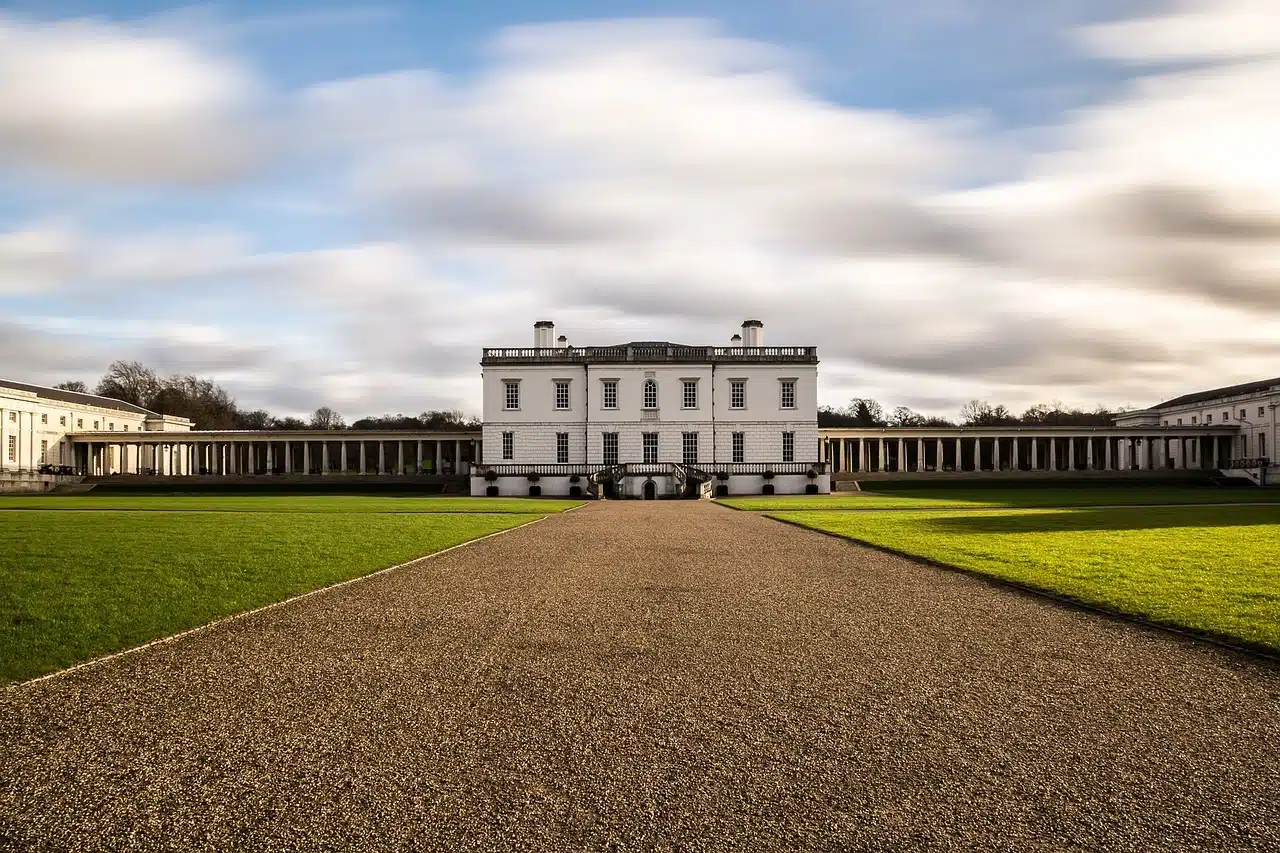 Sticking near Blackheath Park, it's wild to think you can visit the Queen's House. It's been a part of the National Maritime Museum since 1805.
From the spiralling Tulip Stairs and the gold-plated Great Hall ceiling to the hoards of maritime-based artwork, the Queen's House is another historic gem you'll love.
Discover England's Pride at the National Maritime Museum and the Cutty Sark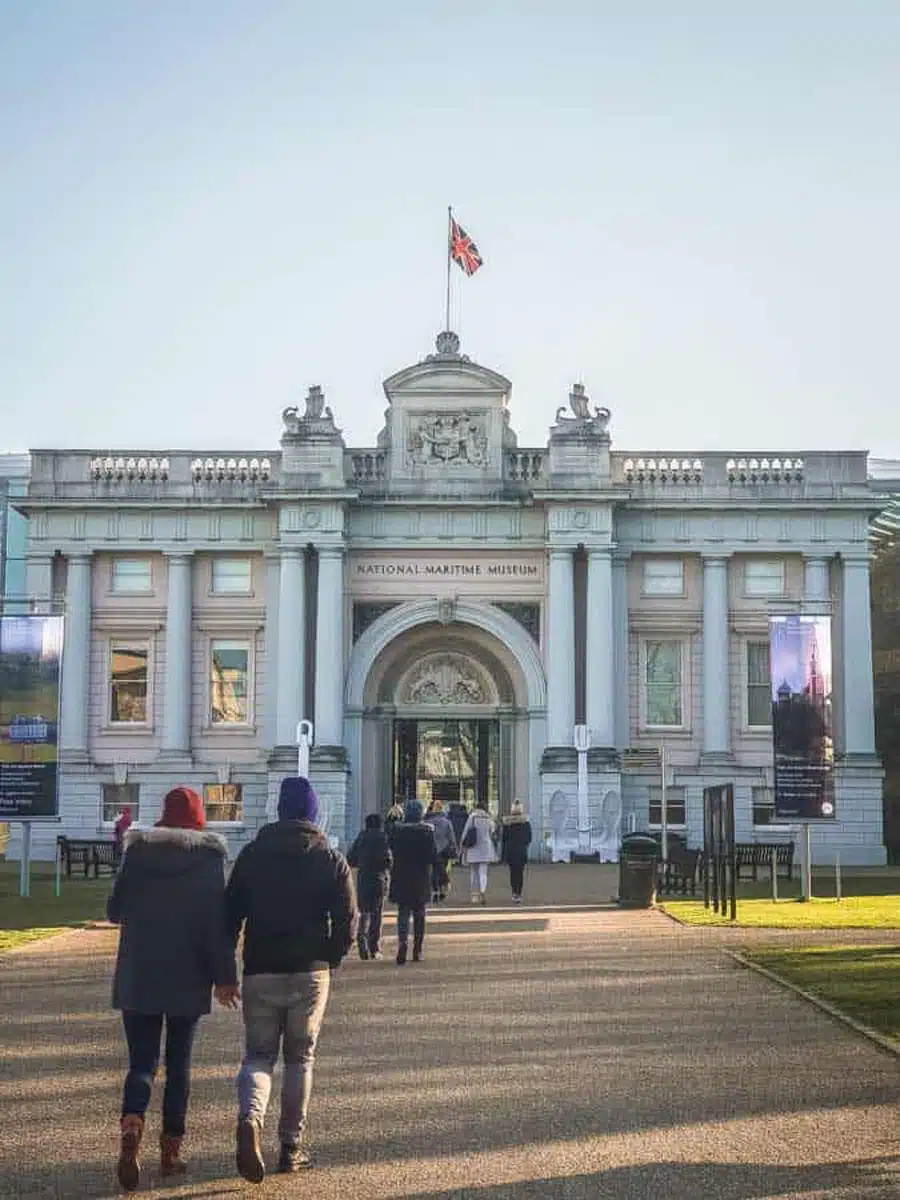 After admiring the beautiful architecture of Inigo Jones at the Queen's House, it's time to extend your maritime knowledge. England is notorious for its naval exploits, and that's on full display at the National Maritime Museum.
It may not be the most exciting destination of the day, but it's a real eye-opener of the country's rich history in sailing. To make your experience even more surreal, hop aboard the 212.5-foot (64.7-metre) long authentic tea clipper, the Cutty Sark.
Top Tip: Make the most out of your trip and visit over 80 museums and attractions in the city with this London Pass.
Ride the Tube to Brick Lane and Spitalfields Market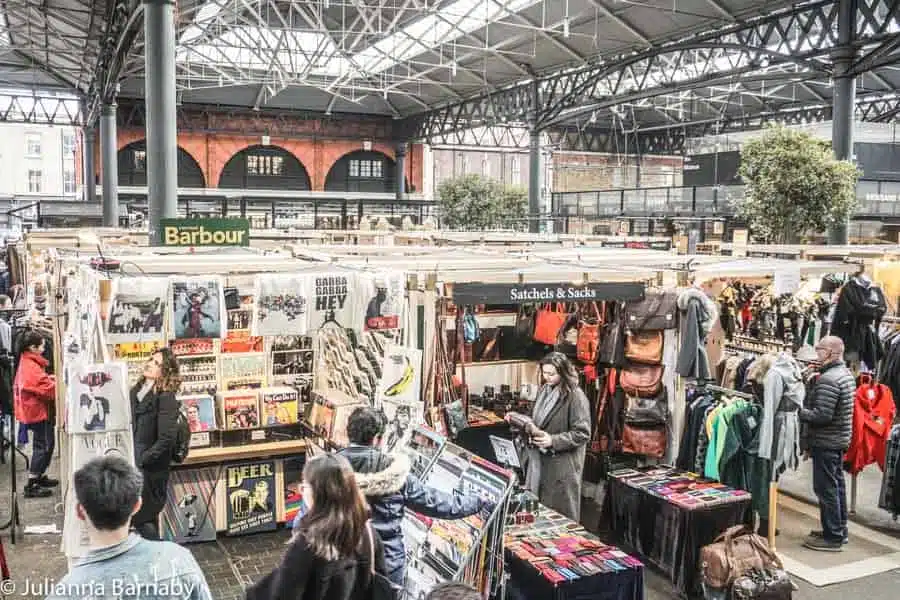 Next, make the journey from Greenwich to Brick Lane (the best way to get there is on a tube to Shoreditch).
Once in Brick Lane, you'll notice that colourful murals paint the streets. While you can admire these on a Brick Lane street art tour, I also highly recommend visiting Spitalfields Market – it's one of the trendiest spots in town.
Top Tip: Visit the Saturday Market for affordable goodies, from homemade ceramics to thrift clothes.
Experience a Flavour Explosion With Dinner at Gunpowder
End your explorative day with a meal at Gunpowder – one of the finest Indian restaurants in the city (Brick Lane is famed for its curry houses, but this one is a totally elevated experience).
The entirely oak interior sets the tone for a pub-grub experience, but this is a dining extravaganza you wouldn't expect. The likes of Gunpowder chaat and Tandoori chicken chop populate the menu, though I recommend opting for a set meal and letting the talented chefs do their thang.
London Itinerary Day Four: Enjoy London's Green Spaces
Believe it or not, there's more to London than just museums, culture and tasty food. London's parks breathe life into the city, and you should take the time to explore them.
Take Your Pick From the Victoria and Albert, Natural History, or Science Museums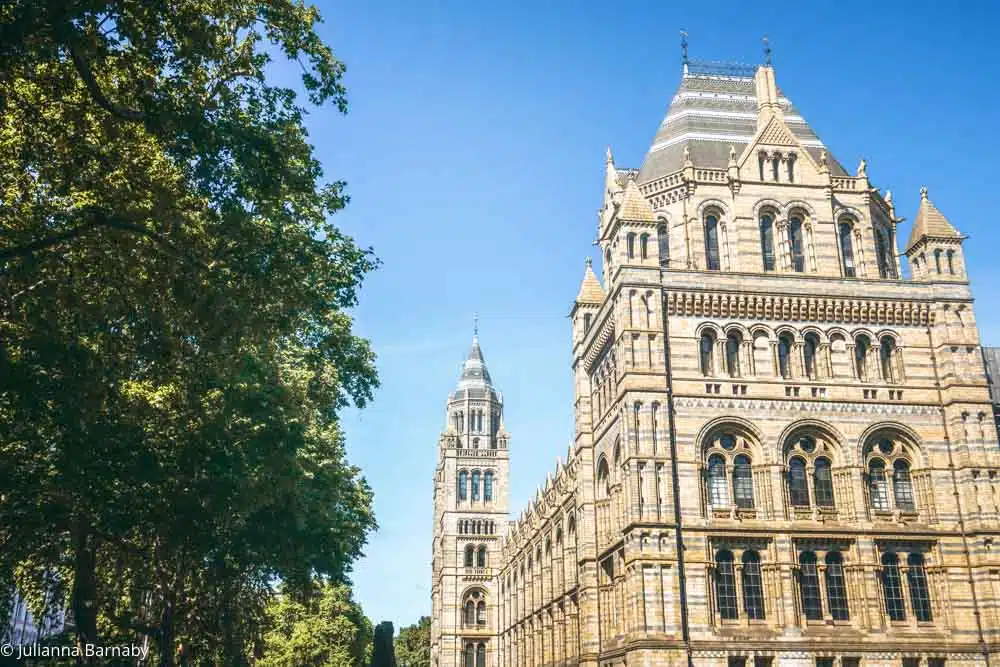 First up, head to Kensington for another museum spot. I can't decide which to pick from these three magnificent museums (I think the V&A just cinches it, though) – you can make your own mind up.
Victoria and Albert Museum: With over 2.27 million artworks in its archive, this museum is London's largest applied arts museum.
Natural History Museum: 80 million objects may sound daunting, but it's all doable after admiring the full whale skeleton Hope or exploring the Charles Darwin Collection.
Science Museum: For an interactive dive into the world of science, walk along the self-guided and immersive trails at the Science Museum.
Discover the Albert Memorial and Royal Albert Hall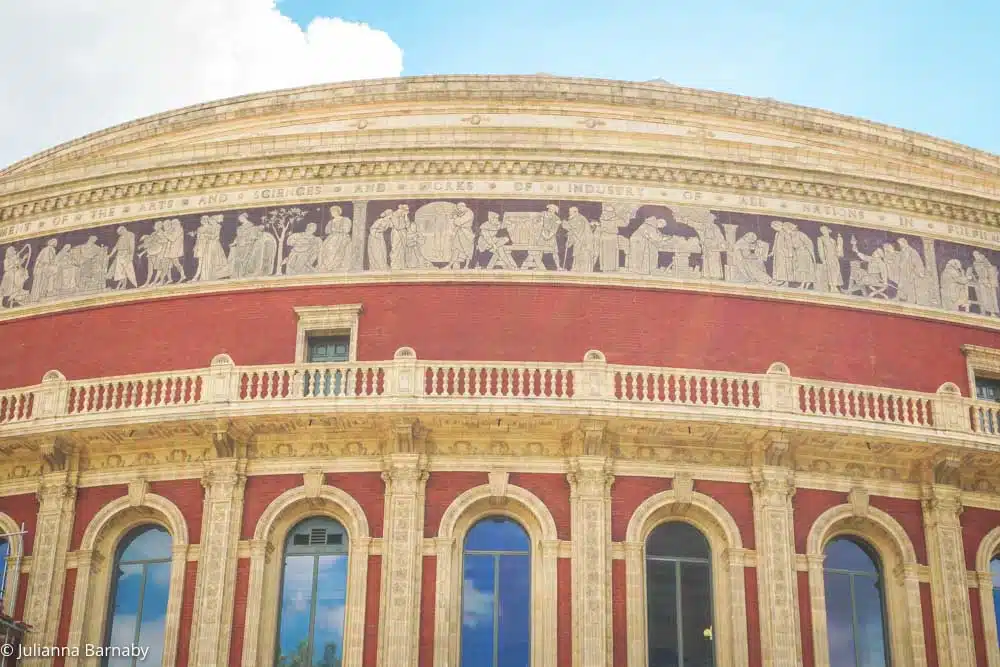 With a seating capacity of 5,272, the Royal Albert Hall has long been the venue for only the best theatre performances in London. Making things even more, wow, its glass dome ceiling is still the largest unsupported glass dome in the world.
And sitting within the theatre space is an out-of-this-world experience. I highly recommend grabbing this guided tour to admire the scale of this architectural phenomenon fully.
Finally, don't forget to visit the Albert Memorial in Kensington Gardens on your way to the next attraction.
Stroll Through Kensington Gardens and Admire the Kensington Palace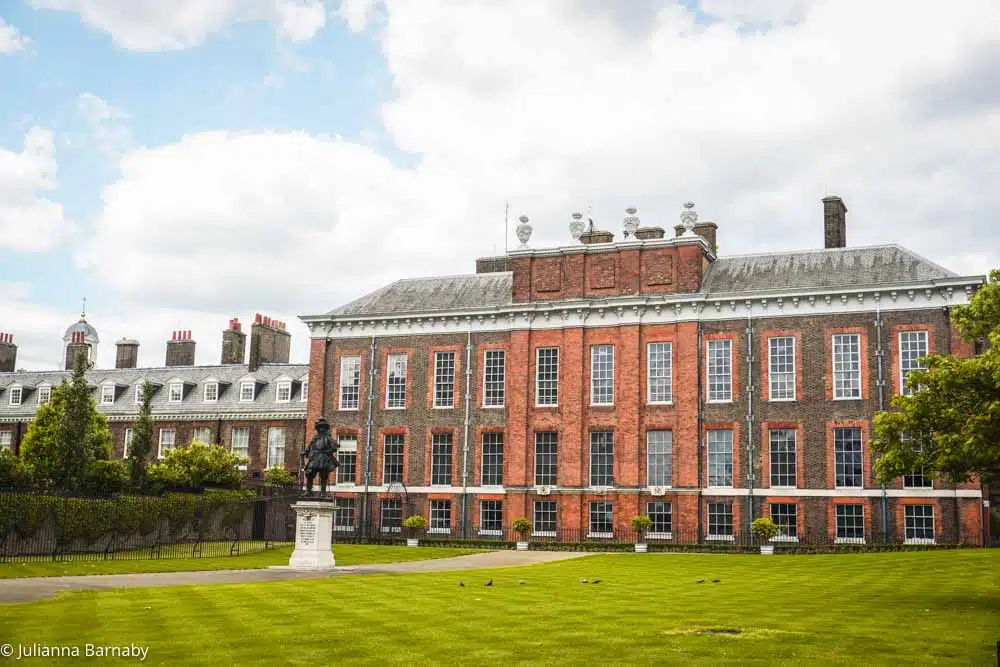 With 107 hectares of evergreen trees and blooming native flowers, a Kensington Gardens and Palace tour is a must. From visiting the 900-year-old Elfin Oak to admiring Long Water beneath The Arch by Henry Moore, you're in for a treat.
As you approach Kensington Palace, the mighty statue of Queen Victoria welcomes you to the royal residence. Although much of the palace is private, you can still explore the gardens and the Kings and Queens State Apartments. Call it a royal invitation, if you will.
Dig Into Lunch at the Churchill Arms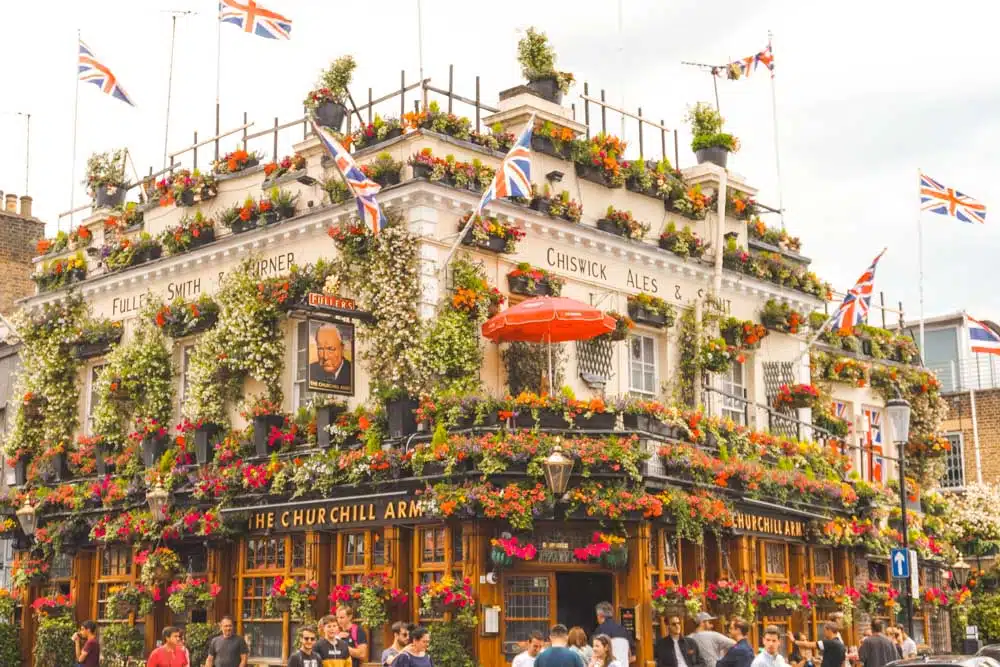 Easily the prettiest pub in London, the Churchill Arms is an absolute must-visit in Kensington. You might first mistake the building for a massive bouquet, but the Churchill memorabilia will give you a quirky pub vibe once you enter.
To make it even more unique, they serve Thai food with authentic ale. It's an odd combination, but it works. You'll see.
Find Kyoto Garden in Holland Park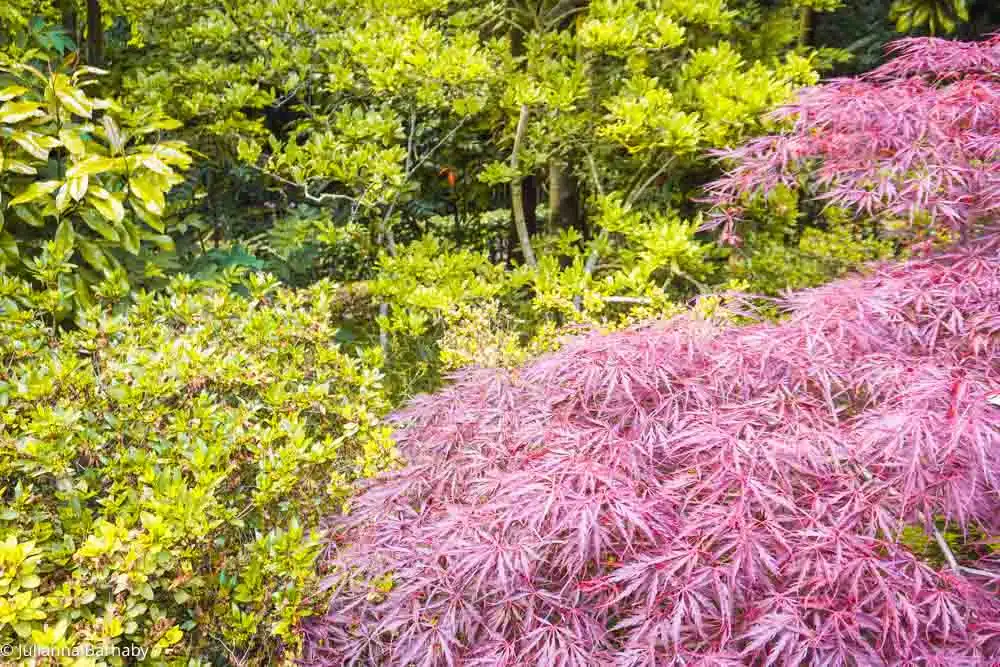 After a sensory overload at Churchill Arms, find inner peace at the tranquil Kyoto Gardens in Holland Park. Given to London in 1991 by the city of Kyoto to commemorate the Anglo-Japanese Alliance, it's a little taste of Japanese authenticity in the heart of England.
Enjoy the calming carp pond and listen to the gentle rustling of the maple trees, which change colour with the season. Simply walking through this space will bring your inner zen back to life.
Top Tip: Keep an eye out for the magnificent peacocks that roam the gardens.
Wine and Dine In Notting Hill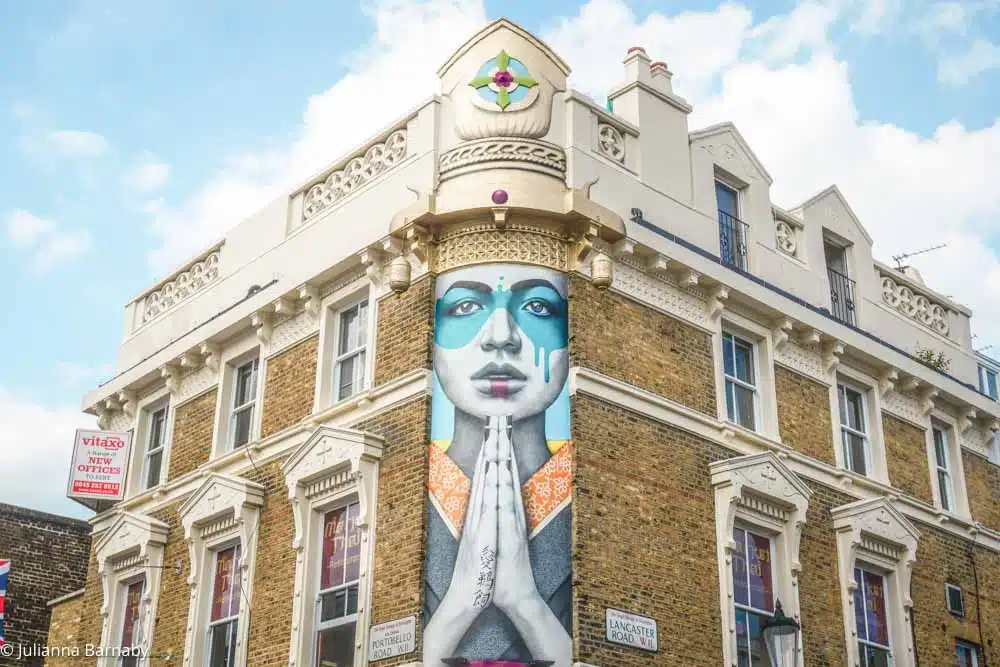 Round off day four with a dinner to remember in Notting Hill. You can grab some deli delights at Ottolenghi Notting Hill — they close at 7 pm, so you'll want to get there early. Or enjoy a six-course tasting extravaganza at The Ledbury (this one is pretty pricey, but boy, it's delicious).
Once you've had your fill, venture into the beautiful world of Trailer Happiness. This dimly-lit rum bar will show why it's an award-winning location. And if you visit on weekends, this trendy spot is pumping with local DJs taking to the stage.
London Itinerary Day Five: A Classic English Experience
When designing this London itinerary, 5 days didn't seem like enough. But the last day is about wrapping up those classic English experiences you haven't had just yet.
Explore Hyde Park and Ride a Boat on the Serpentine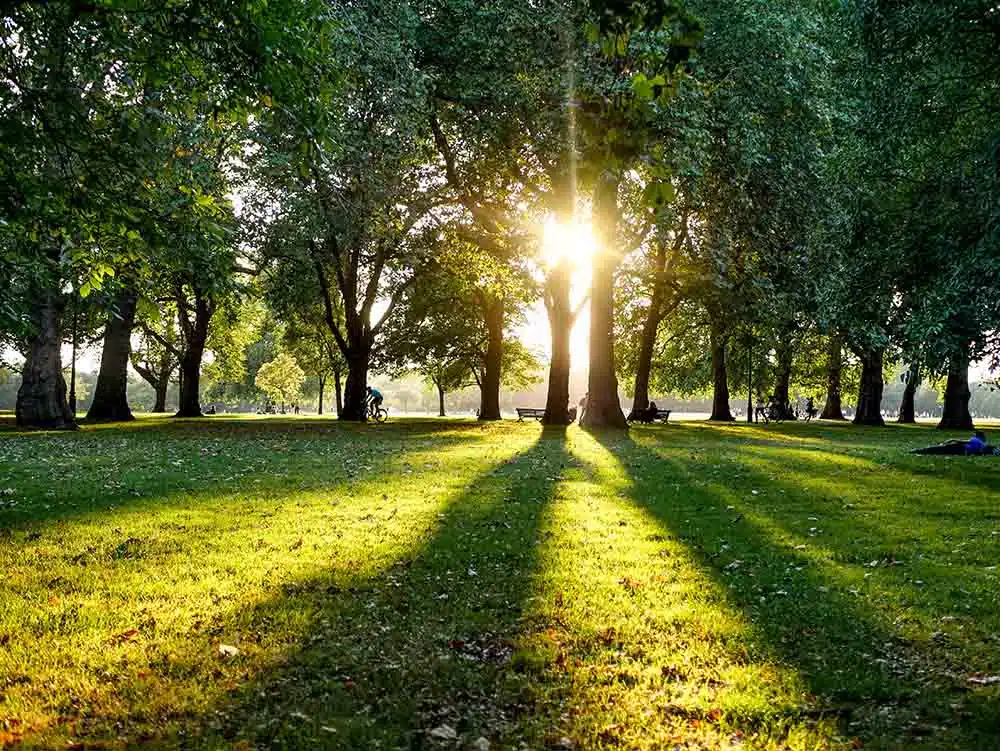 Start your last day with a chilled-out walk through Hyde Park.
Discover Speakers Corner, where many historic protests and rallies took place (and still do, albeit rarely). And visit the Princess Diana Memorial Fountain with its inspirational design showcasing her love for her children.
To make your Hyde Park experience memorable, hop on a boat and ride along the Serpentine. This snake-like lake is mainly for swimmers, but there are a few paddle boats you can hop onto.
Top Tip: While in the park, don't forget to visit the Serpentine Gallery, an architectural revelation by Zaha Hadid, offering a dive into the contemporary art world.
Go Shopping at Harrods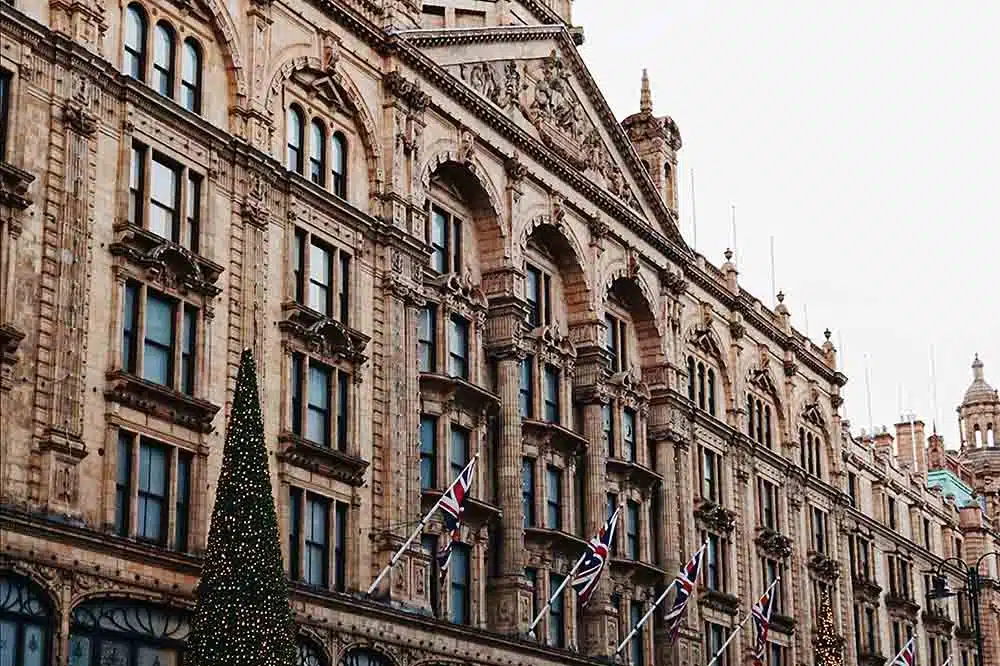 Find all your shopping needs at the world-famous Harrods. With 3,000 brands and 330 stores selling designer and luxury goods, it might just be your new fave spot.
Need I say more other than shop-till-you-drop and don't be afraid to spoil yourself?
Enjoy a Traditional Afternoon Tea
There's nothing more British than a pot of tea and finger sandwiches to cap off a lovely morning. Thanks to an abundance of choice, it can be hard to choose where to go. Don't fret – I recommend picking from The Ritz, Claridges or The Goring (personally, I think The Ritz is unbeatable. Shhh.)
You'll enjoy similar experiences at all three of the above: sumptuous cakes, classic scones and sandwiches paired with tea or fizz. All set within quintessentially British tea rooms. Treat yourself.
Take in the Natural Wonders of Green Park
As one of eight Royal Parks in London, Green Park is yet another tranquil space to wander through. It's also one of the few spaces that doesn't have a designated flower bed. Instead, it's made up of predominantly large open grass fields and towering oaks.
Don't forget to admire the gold-laden Canada Gate and listen out for the Royal Gun Salutes if you visit on the right day – you can check here.
Top Tip: Despite having no flower beds, the park lights up in yellow thanks to wild blooming daffodils in spring.
Cap Off Your London Trip with Dinner and Drinks in Mayfair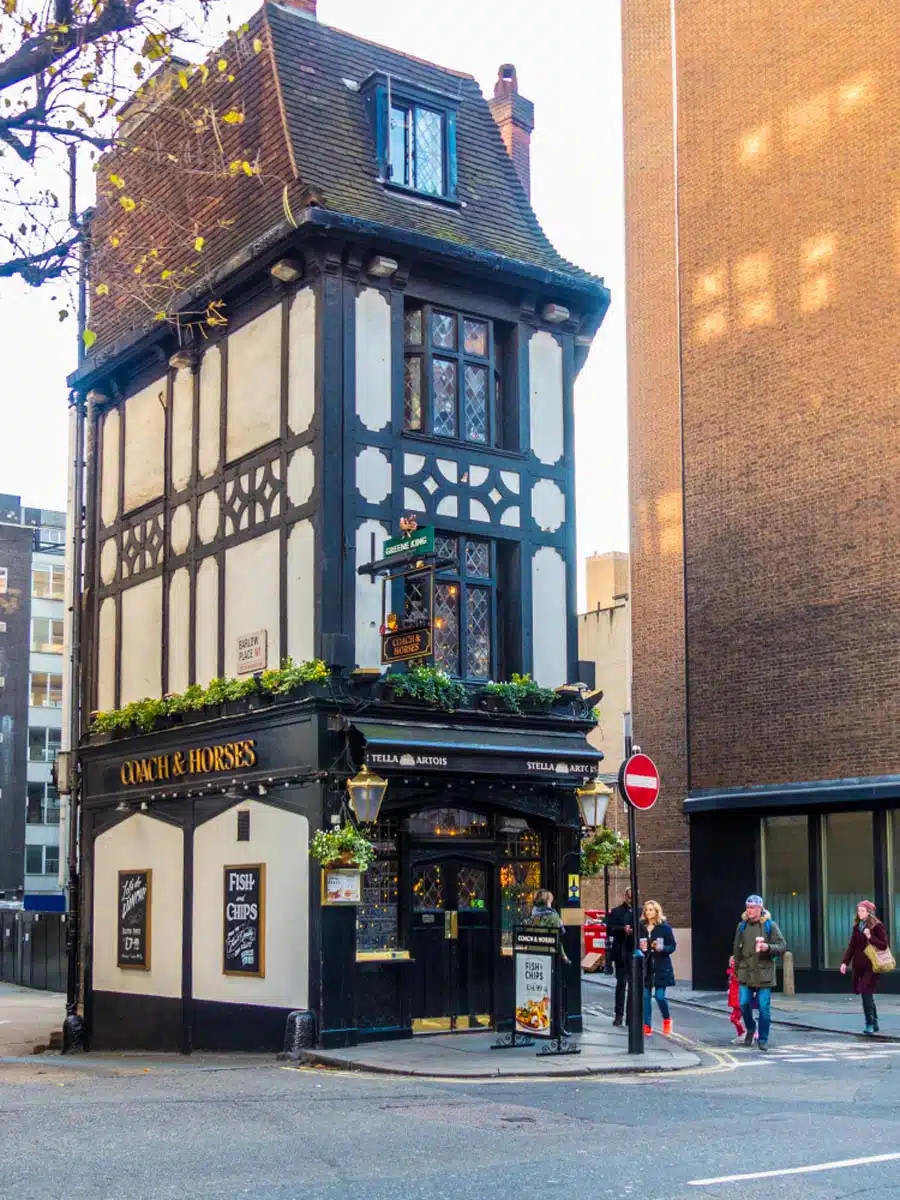 Round up your London experience with a premium dinner at Guinea Grill and drinks at Mr Fogg's Residence. Both are Mayfair classics, but each offers a distinctly unique experience of this fun-loving neighbourhood.
The Guinea Grill specialises in grass-fed, dry-aged steaks – not to mention their award-winning suet-lid pies.
Then you should head to Mr Fogg's Residence, home of historic English explorer Phileas Fogg. It's a truly immersive space, with the explorers' artefacts on windowsills and all over walls, while the drinks take inspiration from around the world.
Top Tip: You can join a cocktail-fueled murder mystery at Mr Fogg's Residence every Saturday – it's ridiculous fun.
5-Day Tour of London Itinerary – Map 
Planning a Trip to London? Here's What to Read Next