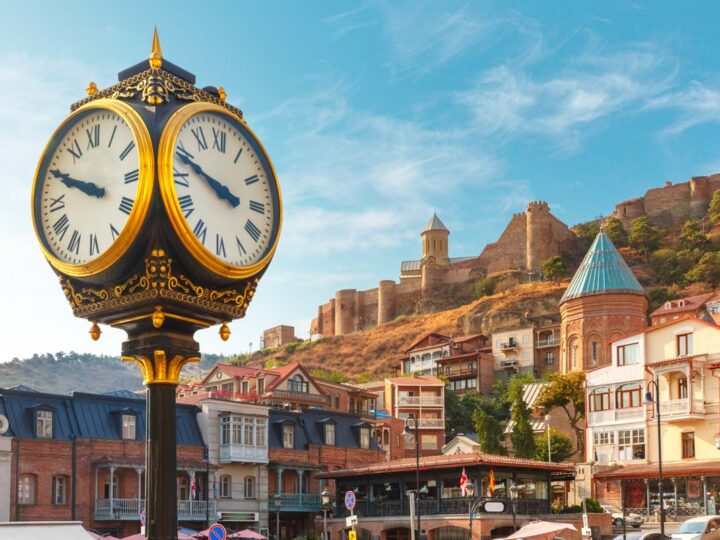 Discover the best things to do in Tbilisi – from the must-see spots to hidden gems.
I almost got stuck in Tbilisi. Not in a "flight-cancelled-life's-over" kind of way, but more in a "wow this city is super chill and beautiful and I want to stay forever" kind of way.
After convincing myself to board my flight back home to the United States, I realized that the reason I had such a hard time leaving was because there are so many AWESOME things to do in Tbilisi. Like, too many things to do.
When I left Georgia, I felt like I didn't have enough time there. But I'm not sure any amount of time would have been enough.
Needless to say, I'm definitely planning on making a return trip to Tbilisi one day to experience even more of what this magical city has to offer. I feel like I barely had a chance to dip my toes in the first time.
To give you an inkling of an idea of what I'm talking about, here's all the stuff I did (or wished I could have done) while traveling in Tbilisi, Georgia.
Best Things to Do in Tbilisi, Georgia
Take a Guided Walking Tour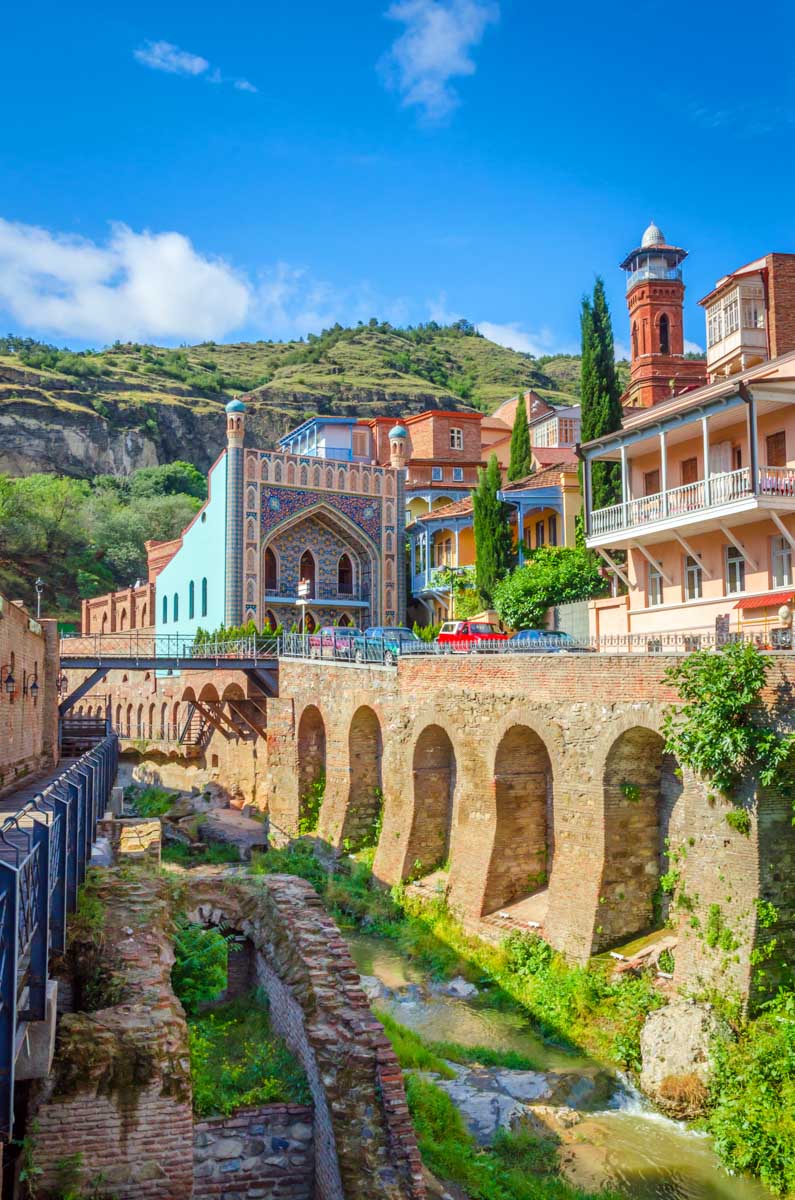 Whenever I get to a new city, the first thing I'll do is take a walking tour. Tbilisi was no exception.
In Tbilisi, I went on the Grand Tbilisi walking tour. I had an excellent guide, who was super knowledgeable about Tbilisi and Georgia, and spoke perfect English.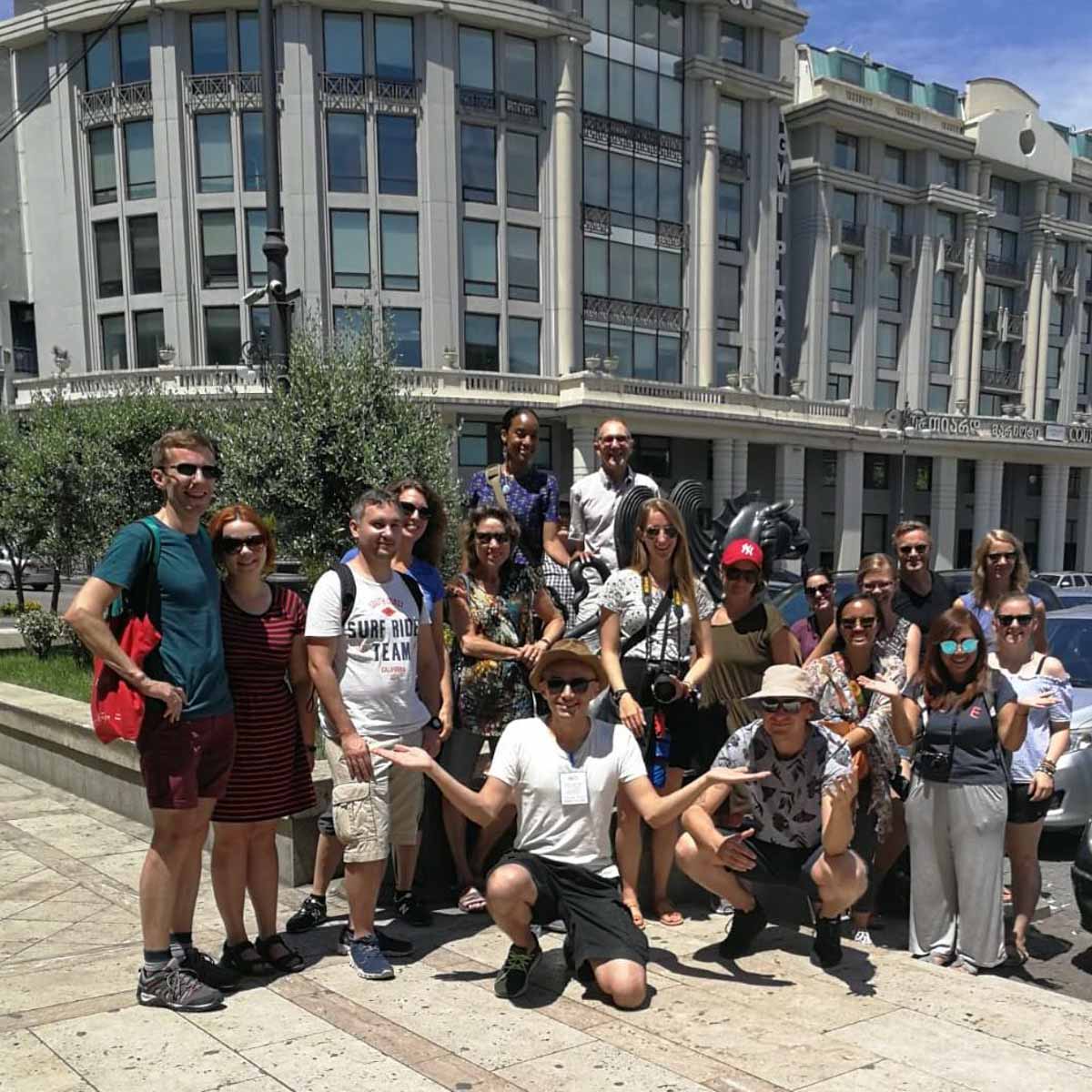 It was the perfect intro to the city and allowed me to get a sense of the different destinations and places to visit in the city.
Wander Through The Old City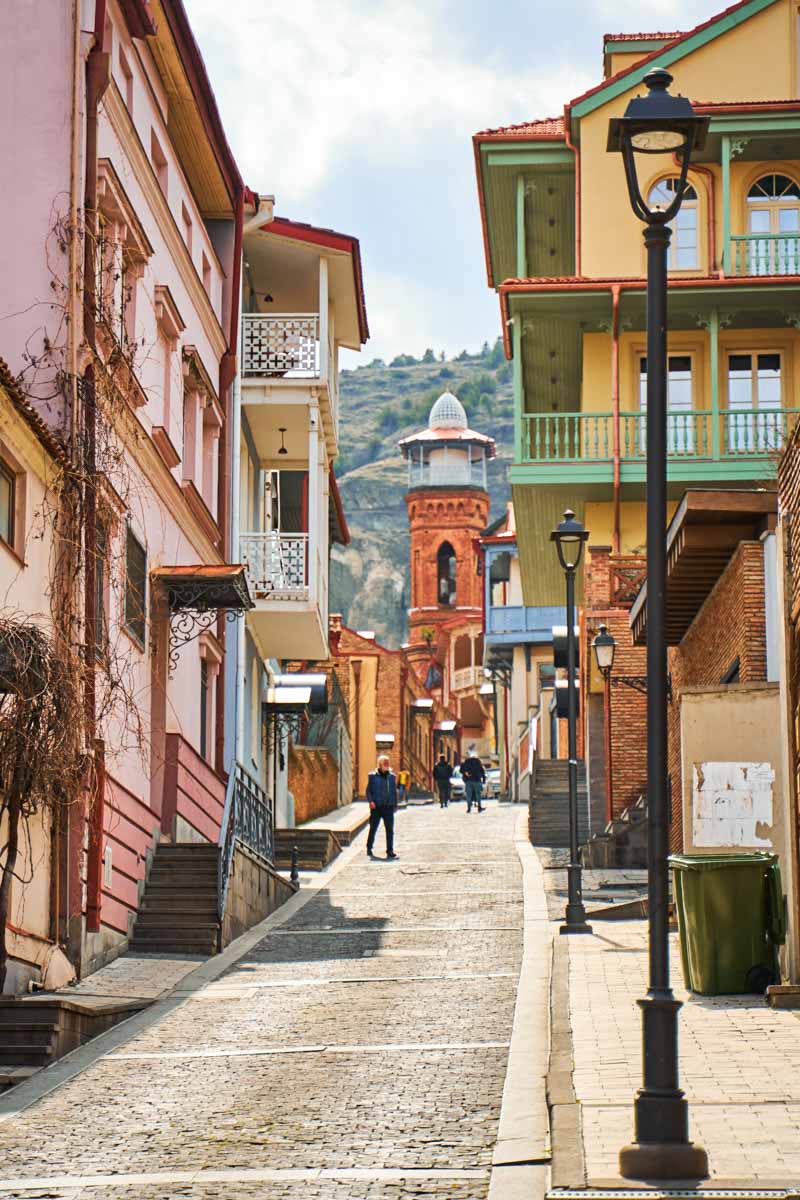 If you have a free morning, the charming Old City of Tbilisi is worth wandering through. In the afternoons, this area can get really crowded with tourists, so I recommend waking up as early as possible and going for a walk here while the sun is still low in the sky and the city is still waking up.
Here, you can see some of the historic homes of Tbilisi, many of which are painted bright colors or are adorned with flowers.
A winding, uphill sidewalk will take you to the Jume Mosque, the city's only mosque that still serves as a place of worship today. Down below, there are dozens of shops and cafes serving all kinds of Georgian treats.
Take a Touristy Photo at the I <3 Tbilisi Sign
This one is self-explanatory, but nonetheless, it's something you'll probably maybe not want to do while you're exploring the Old City.
Located in Meidani Square, the I <3 Tbilisi sign is constantly swarming with tourists and is the perfect place to take a "hey mom I'm alive!" photo to send home from Tbilisi.
What to do in Georgia: Explore the City and its Traditions
Meander Through Vera
Vera is a cute and calm neighborhood located near Rustaveli Avenue. Here, you can wander through a more residential area of Tbilisi that boasts cute coffee shops, historic homes, charming streets, and small boutiques.
It's a great way to spend a sunny afternoon, when you've grown tired of the more crowded areas of the city.
Ride The Funicular Car to Mtatsminda Amusement Park
Looking for a bit of excitement? In the evenings, you can head to the Tbilisi Funicular Car and ride it up to the Mtatsminda amusement park that has sweeping views of the city. Here, you can ride rides, eat amusement park food, or simply soak in the amazing views of Tbilisi below.
Visit the Holy Trinity Cathedral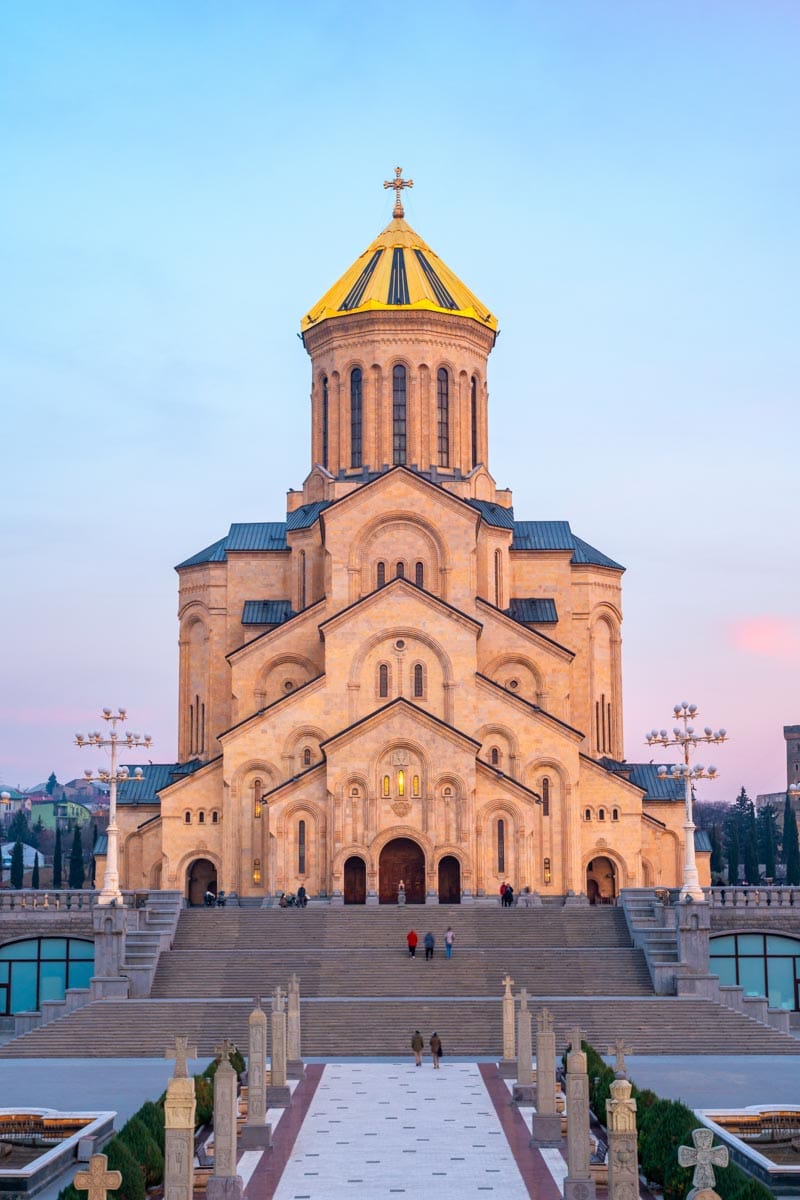 Georgia is one of the most religious countries in the world, and needless to say, there are a lot of churches all over the country.
It's not uncommon to see Georgian people making three signs of the cross when they see a church, even when they're driving, talking on the phone, or riding a bike.
The central church in Tbilisi is called the Holy Trinity Cathedral, and visitors can see the church and its grounds durning non-service hours.
The building of the cathedral is impressively intricate and a marvel just to look at from the outside.
If you want to see the inside of the church, there's a strict dress code to follow. In short, you'll need to cover your head and most of your arms and legs as a woman, and be sure you're wearing pants if you are a man.
Consider Visiting the Stalin Printing House Museum
Stalin, the infamous leader of the Soviet Union, was originally Georgian. While Stalin's history can be traced to many different places in Georgia, in Tbilisi, you can visit Stalin's Printing House Museum.
Hidden beneath the ground under some historic homes, there are a series of tunnels that were home to Stalin's printing press activities. Here, young Stalin printed thousands of publications to persuade Russians, Georgians, and Armenians to support the overthrowing of the Czar.
I know that many people would rather give this a miss given Stalin's legacy, but the option to go is there if you want to take it.
Shop in an Underground Market
Geez, those Georgians really like their underground stuff, huh? It's true. Lots of activity in Georgia actually does go on underground. From wine making to printing, baking to street stalls, Georgia offers underground entertainment like you wouldn't believe.
Along with the theme of underground things to do, you can also shop for souvenirs and everyday items at underground markets!
There's a pretty large one near the train station, as well as others located in street underpasses and in Meidani Square.
Take a Cable Car to the Mother of Georgia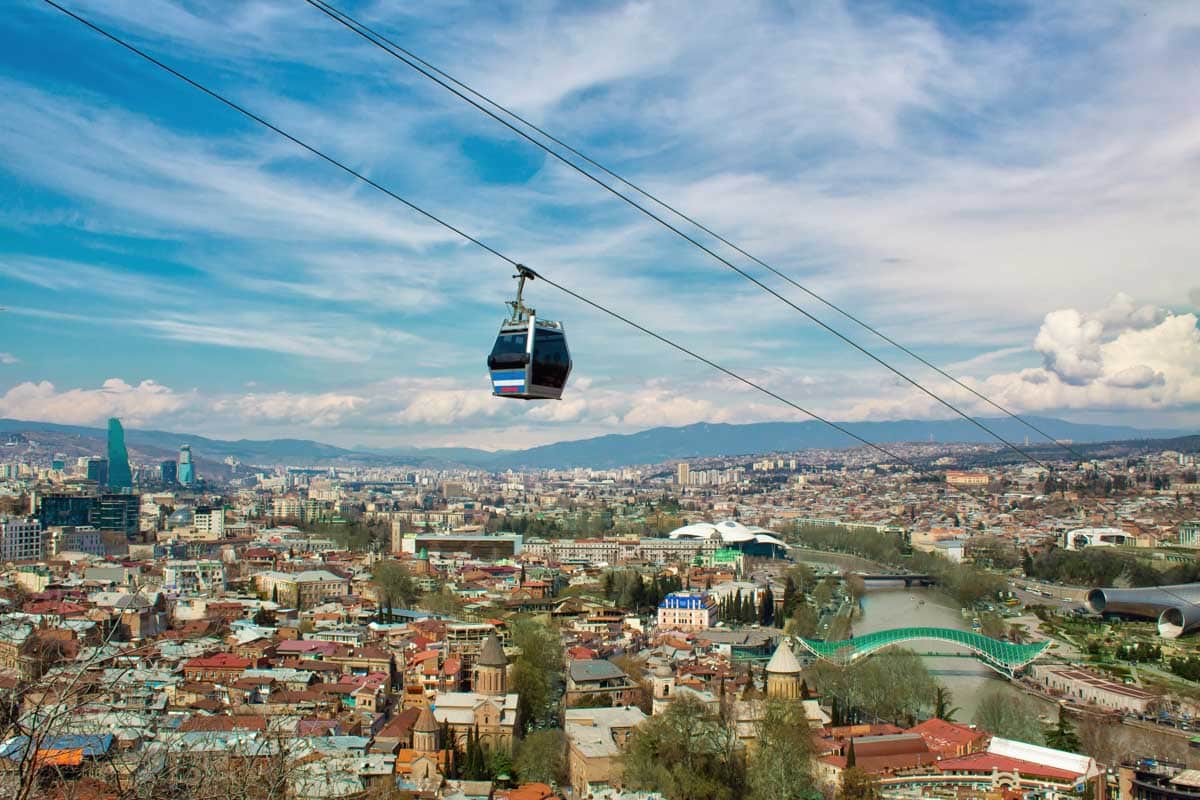 For great views of Tbilisi and a wonderful walk down to the top of the Old City, take the cable car to the top of the hill where the Mother of Georgia statue is.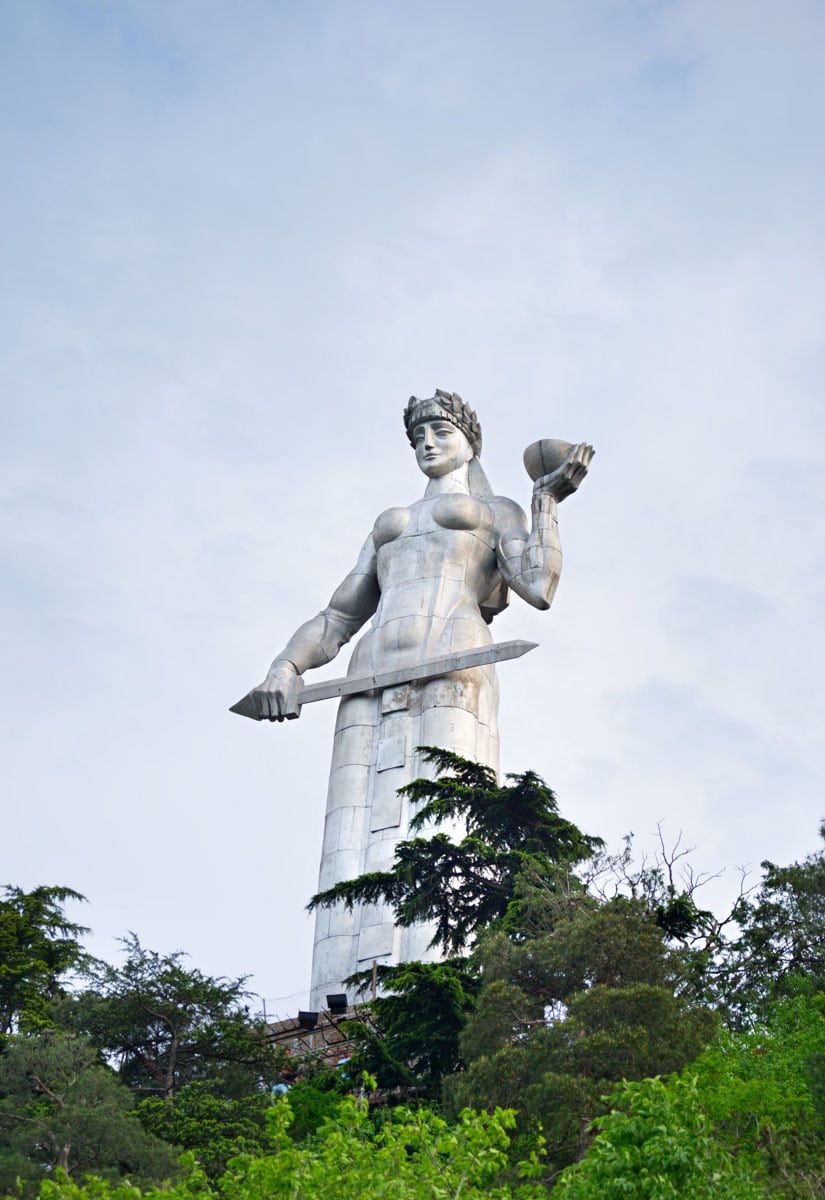 Here, you can get up close and personal with the famed Mother of Georgia Statue, walk down to Narikala Fortress and have a look around, or simply admire the views of the Bridge of Peace, the river, and the many homes and churches dotting the city.
Before you go up the cable car, you'll want to make sure you have a Tbilisi Metro Card (2 GEL at the cable car station or at any metro station). The cost of the cable car ride is 2 GEL, and you'll need to pre-load this amount onto your card before you ride.
Stroll Through the Bustling Freedom Square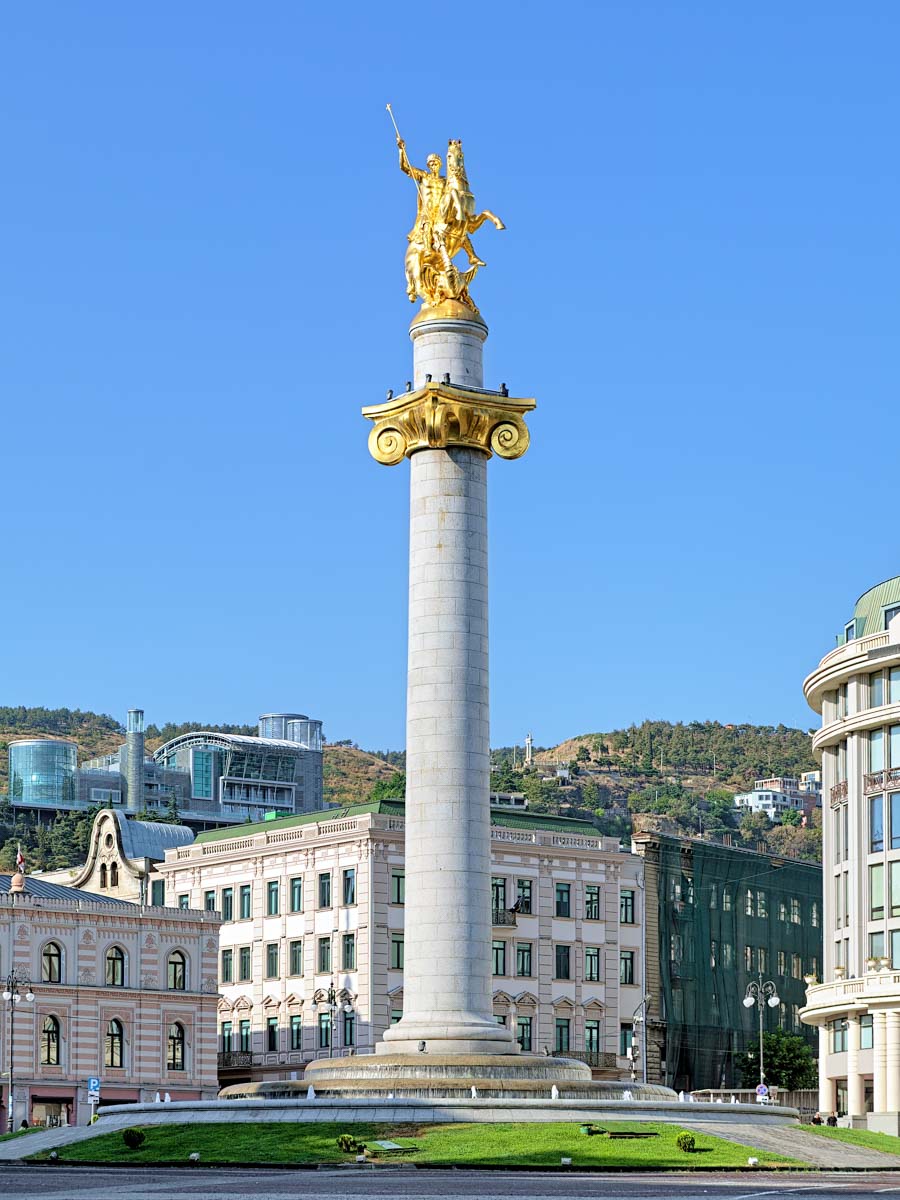 Many people consider Freedom Square to be the center of Tbilisi, and it's easy to understand why: it's a busy, upscale thoroughfare that is always bustling and full of energy.
Home to many high-end retailers, underground passes, and the golden statue of Saint George, it's definitely somewhere you'll at least walk through once during your time in Tbilisi.
Take a Traditional Sulfur Bath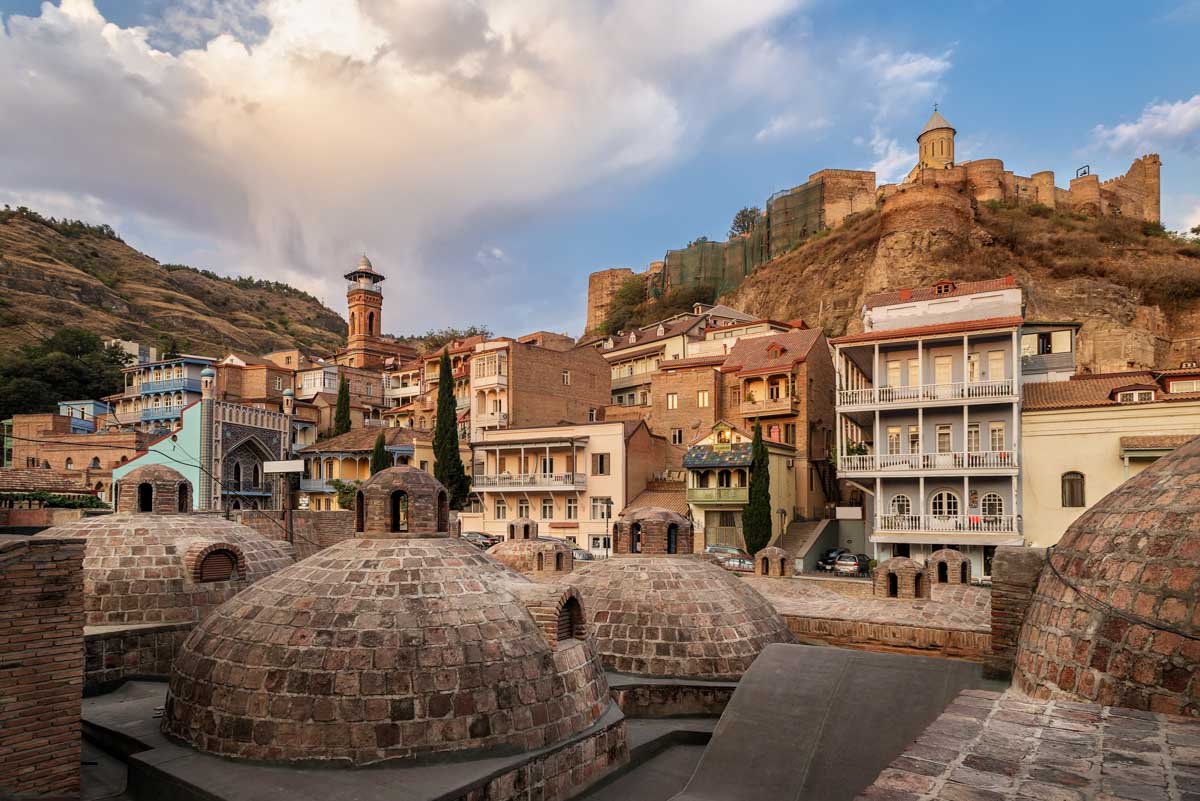 One of the most iconic things to do in Tbilisi is take a dip in the sulfur baths of Abanotubani.
Legend has it that Tbilisi was actually formed because of the natural sulfur-infused spring water that runs through the area. Of course, this means that for centuries, people have been bathing in the sulfur waters to take advantage of their supposed medicinal properties.
Today, visitors can bathe at one of the many bath houses in Tbilisi. Some of the buildings there house large, public baths (separated by gender) that run as cheap as 3 GEL ($0.75 USD).
Other bath houses offer private rooms for 50+ GEL per hour.
While in Tbilisi, I opted for a private room in Royal Bath that had a hot sulfur pool, a cold shower, and a sitting area for 60 GEL (~$15 USD) per hour. There are some cheaper and more expensive private rooms depending on what you're looking for.
One of the most traditional things to try at the baths is the hamam-style scrub, which basically consists of a strong Georgian woman (or man, for male participants) scrubbing you from head to toe then dumping a bucket full of soap suds on you. It's only 10 GEL ($4 USD) and it's definitely…ahem…an experience.
Listen to Buskers on Rustaveli
If you walk through the famed Rustaveli Avenue at night, you'll probably hear lots of people singing and playing guitar. Sometimes they sing Georgian songs, but for the most part, it's familiar American tunes they're jamming to.
The performers will usually get a friend to walk around the crowds of passersby with a big smile and a hat, asking actively for tips.
Visit the Hidden Waterfall
Located past the Old City, beneath the Botanical Garden, is a small pathway that guides curious visitors to a spectacular sight: a hidden (but not-so-secret) waterfall.
Here, you can dip your toes or take part in a Tbilisi tradition: rattling the chains. To the right of the falls, you'll see a large set of iron chains hanging from the cliff.
If you rattle the chains against the rocks three times, it's said that you will return to Georgia in the future. Needless to say, I rattled those chains like it was no one's business!
Traverse the Bridge of Peace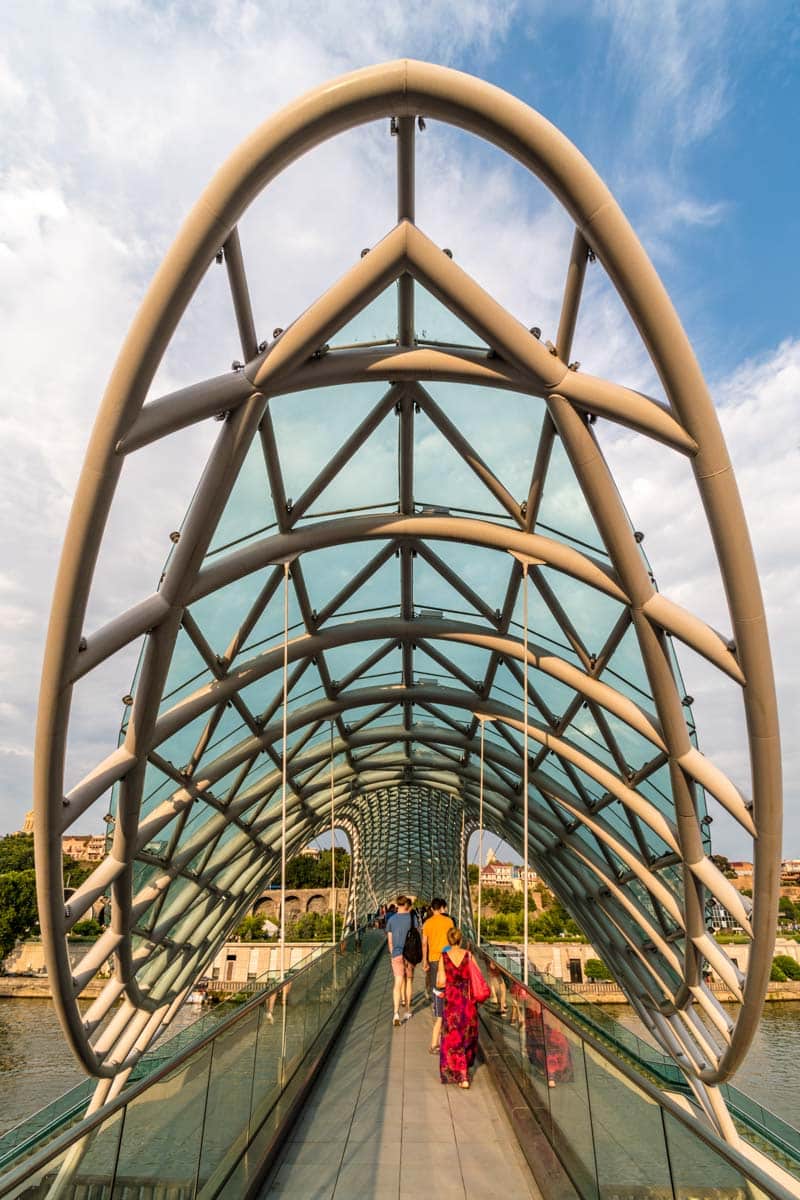 One of the most famous landmarks of Tbilisi is the Bridge of Peace. A blue, modern-looking structure, the Bridge of Peace was built to represent a marine animal.
Which marine animal, you might ask? No one knows, but we'll leave it to your imagination.
Visitors can walk through the Bridge of Peace and take in views of the Mtkvari River and the city nearby.
Smell the Flowers in the Botanical Garden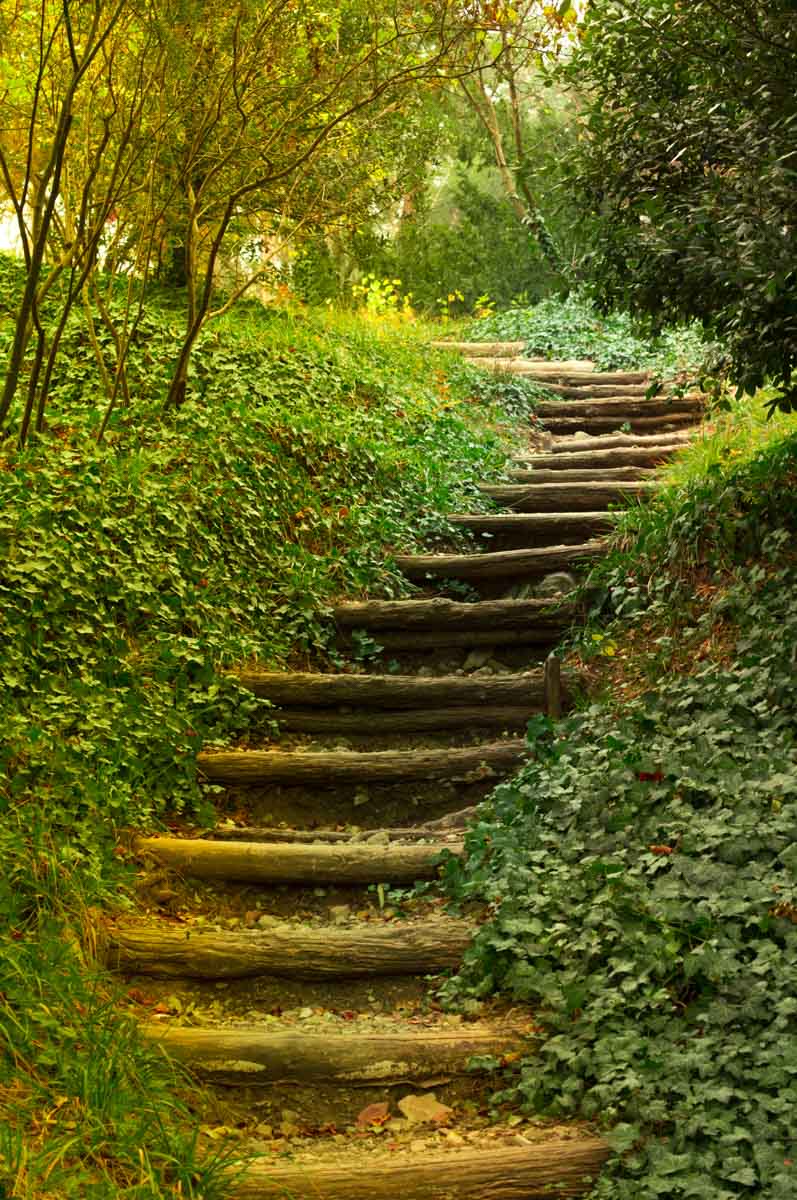 Located up the hill from the Old City is the Tbilisi Botanical Garden. For visitors, there are many paths and viewing areas that wind through this green and beautiful park.
There's also a stream that runs through here and drops down the cliffs below to form the hidden waterfall above.
Watch the Clock Tower and Puppet Show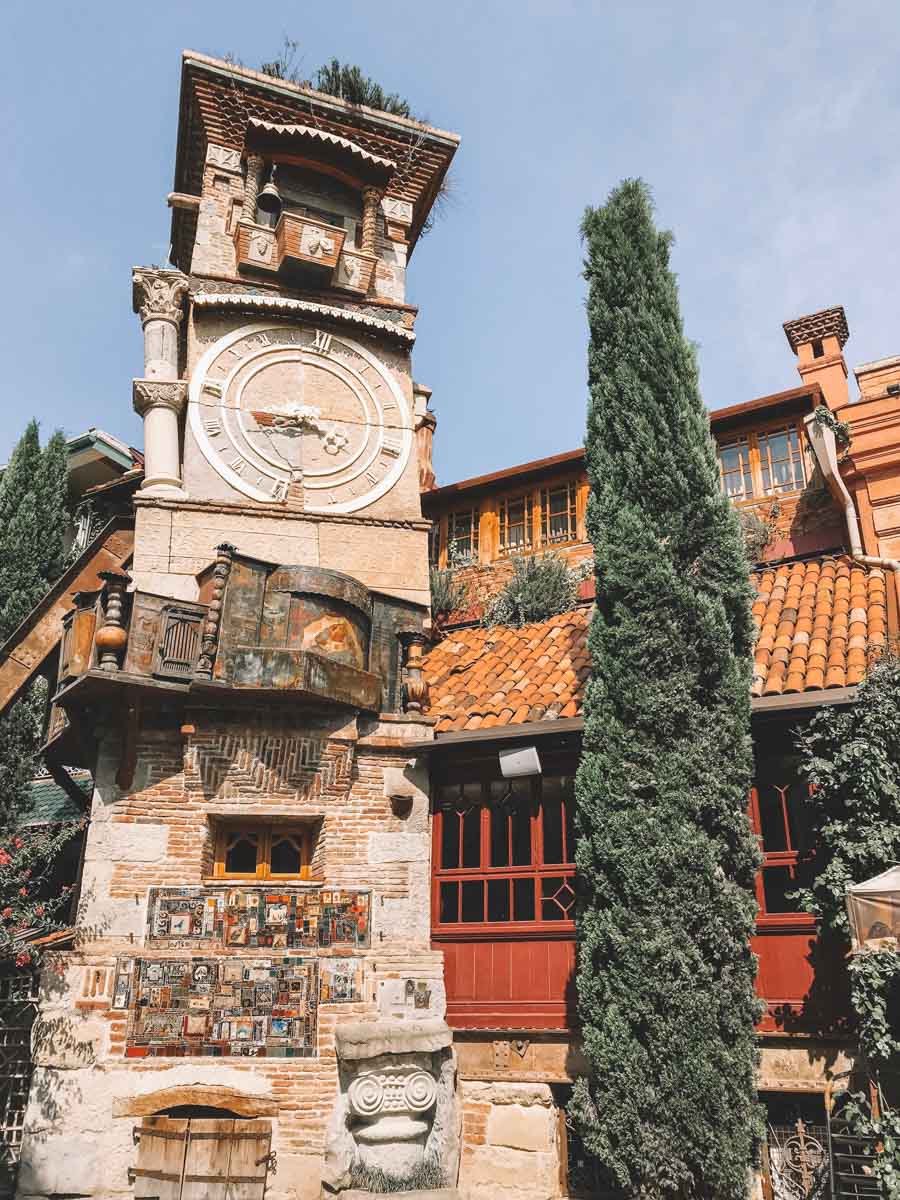 In the Old City, there's a clock tower next to the Marionette Theater that rings every hour, on the hour. If you arrive in the area at 12 PM or 7 PM, you can watch a unique Tbilisi puppet performance.
Don't be fooled, though. The clock tower isn't very old; it was actually built in 2010 by Rezo Gabriadze to complement the adjacent puppet theater.
Take the Plunge in Tbilisi Sea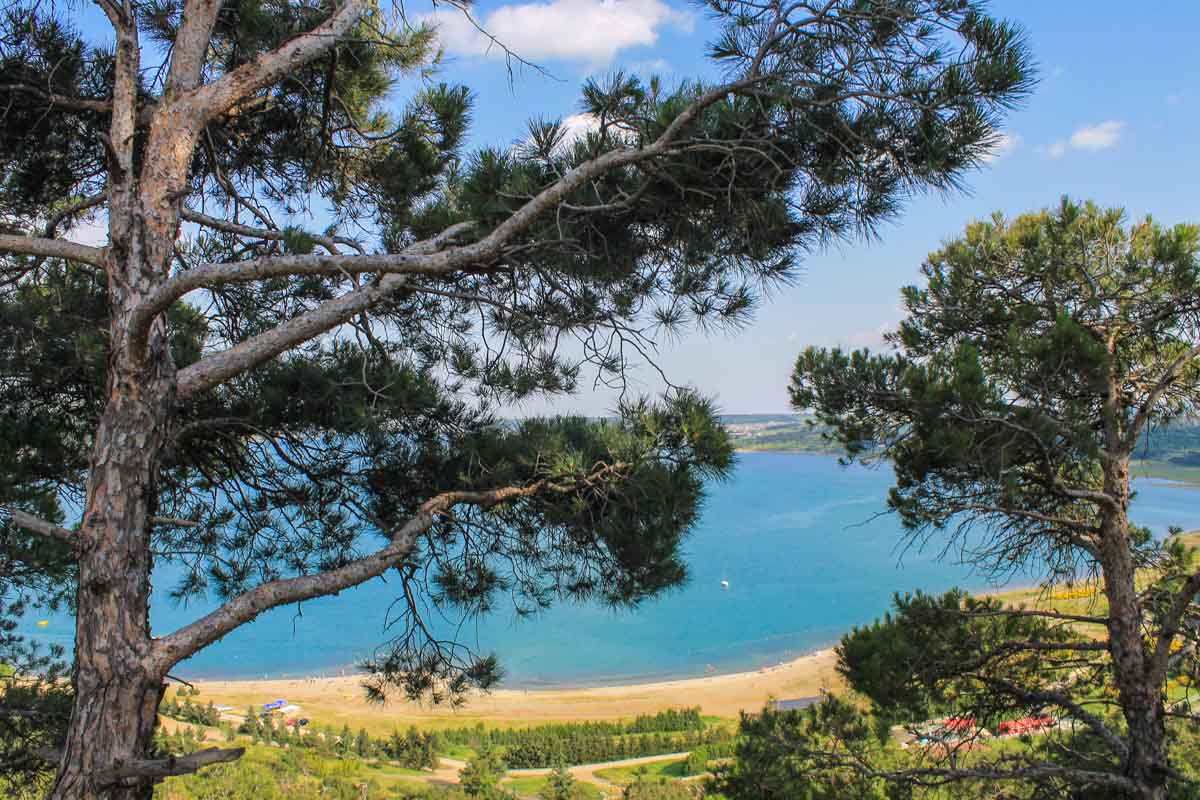 If you're feeling like a dip in the water after a long day of touring the city, you can head to the swimming area of the local water reservoir, aptly coined the Tbilisi Sea.
The Tbilisi Reservoir is an artificial lake, and is the largest one in the Tbilisi area. Here, you'll find locals swimming and hanging out with their families in the public beach area.
To get to the Tbilisi Sea, you can take a taxi (~15 GEL) or take the metro to Girmagle then take a shared taxi or a marshrutka.
Places to Visit in Tbilisi: Hidden Gems
Visit the History of Georgia Monument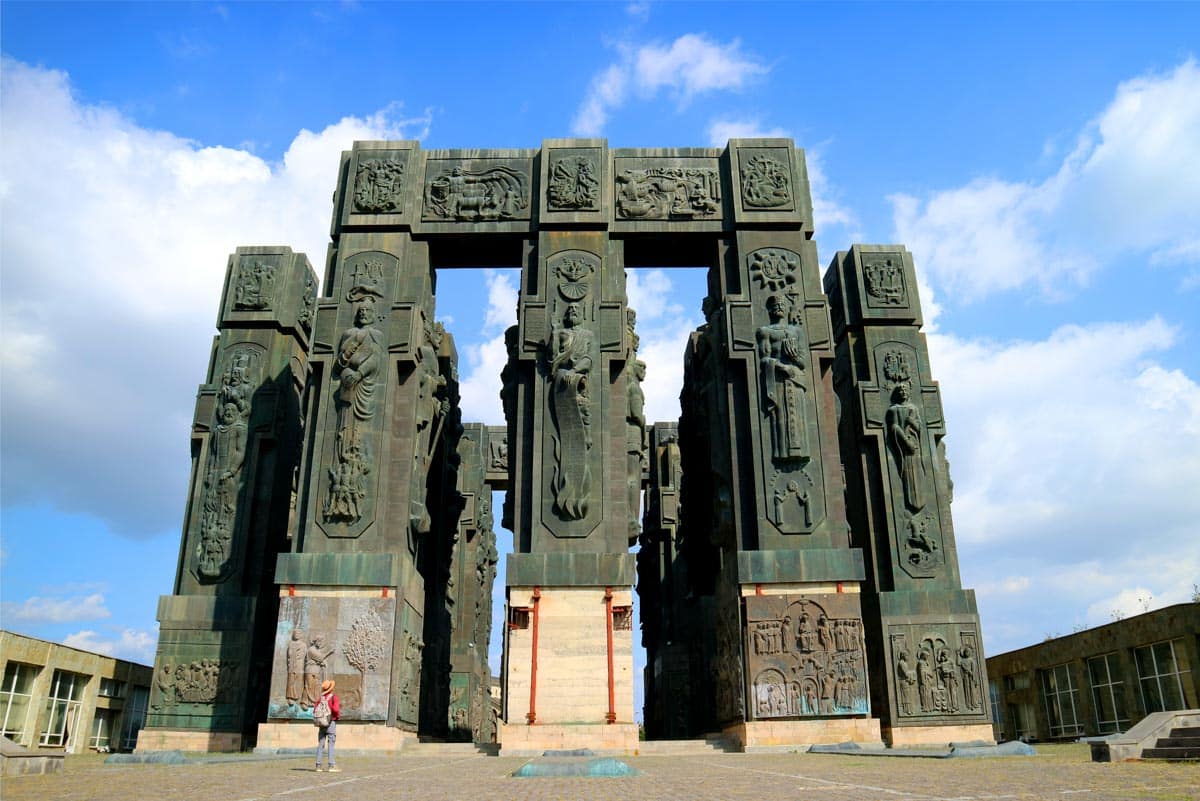 Located near the Tbilisi Sea, the History of Georgia Monument is a beautiful testament to Georgian pride and history. With its large columns and Stonehenge-like design, it's a fascinating place to wander through and photograph.
Since it's a bit far from the city center, many tourists do not visit this area, so there's a pretty good chance you will have the monument all to yourself!
Ride a (Different) Cable Car to Turtle Lake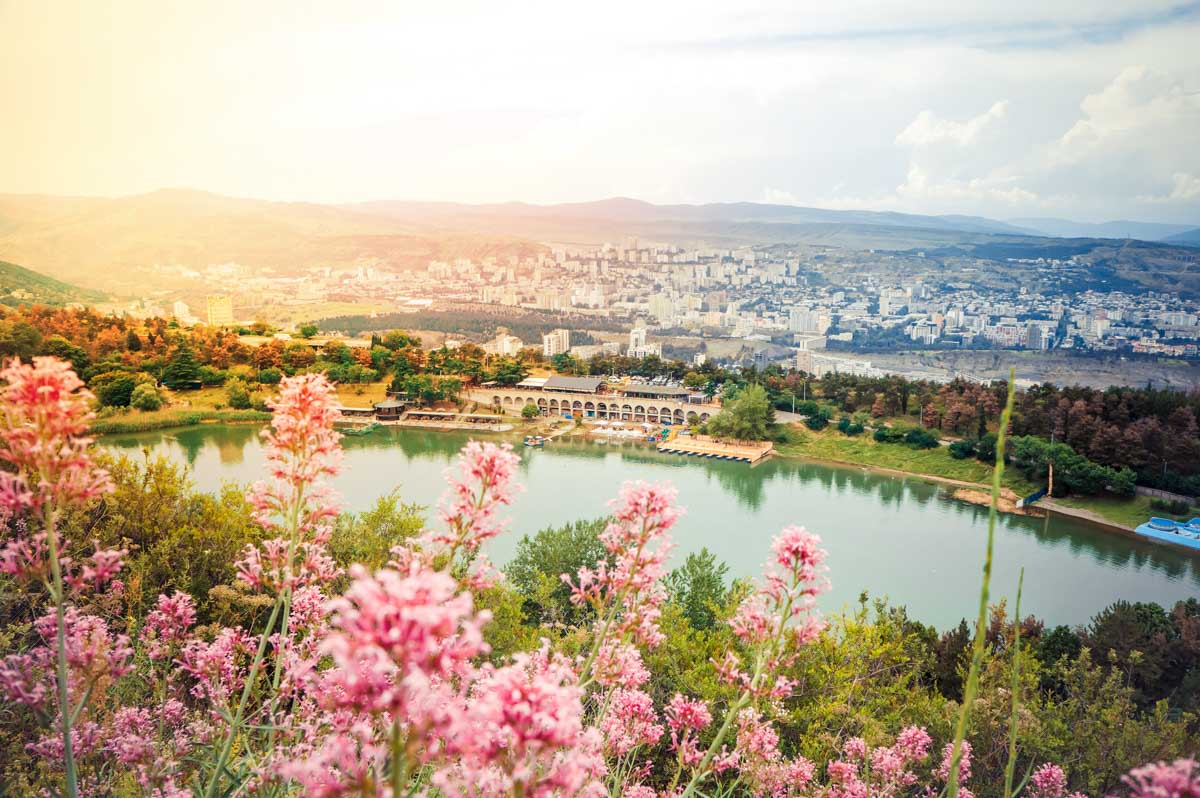 A lesser-known cable car in Tbilisi leads to the peaceful Turtle Lake. Located high above the city, it's the perfect place to rent a boat or go for a dip in the summer.
There is also a place to grab a drink or a bit to eat. If you're looking for a bit of a rest from the city, Turtle Lake is the perfect place to visit.
Take a Break at Lake Lisi
If you're looking for yet another lake getaway in Tbilisi, Lake Lisi is a larger lake recreation area located a bit farther out than Turtle Lake.
Here, you can go for a lakeside stroll, grab a bite to eat, or even have a picnic and camp by the lakeside. However, many recent reviews have said that there's a good bit of trash in the lake, so I would advise checking your surroundings before taking a swim.
Peruse an Art Gallery (Or Even a Few!)
I've always found that admiring local artwork can give often give you a good sense for the political and historical climate of a place, from a very personal perspective.
Luckily, Tbilisi is known for having lots of fantastic local art galleries and cafes where you can do just that.
The Art-Cafe HOME in the Old City is a fantastic and beloved art cafe where you can grab a latte, see some rotating exhibits, and hang out for a while.
Hang Out at a Converted Textile Factory
Located across the river from the old city is Fabrika, a hip, converted textile factory that's now a bar, hostel, and coworking space.
Even if you aren't staying or working here, you can come for a beer or a glass of Georgian wine in the evenings, sit in the large patio space, and take in the industrial, bustling atmosphere.
A lot of young people, both locals and travelers, come here to hang out and meet others over a drink.
Visit the Dry Bridge Flea Market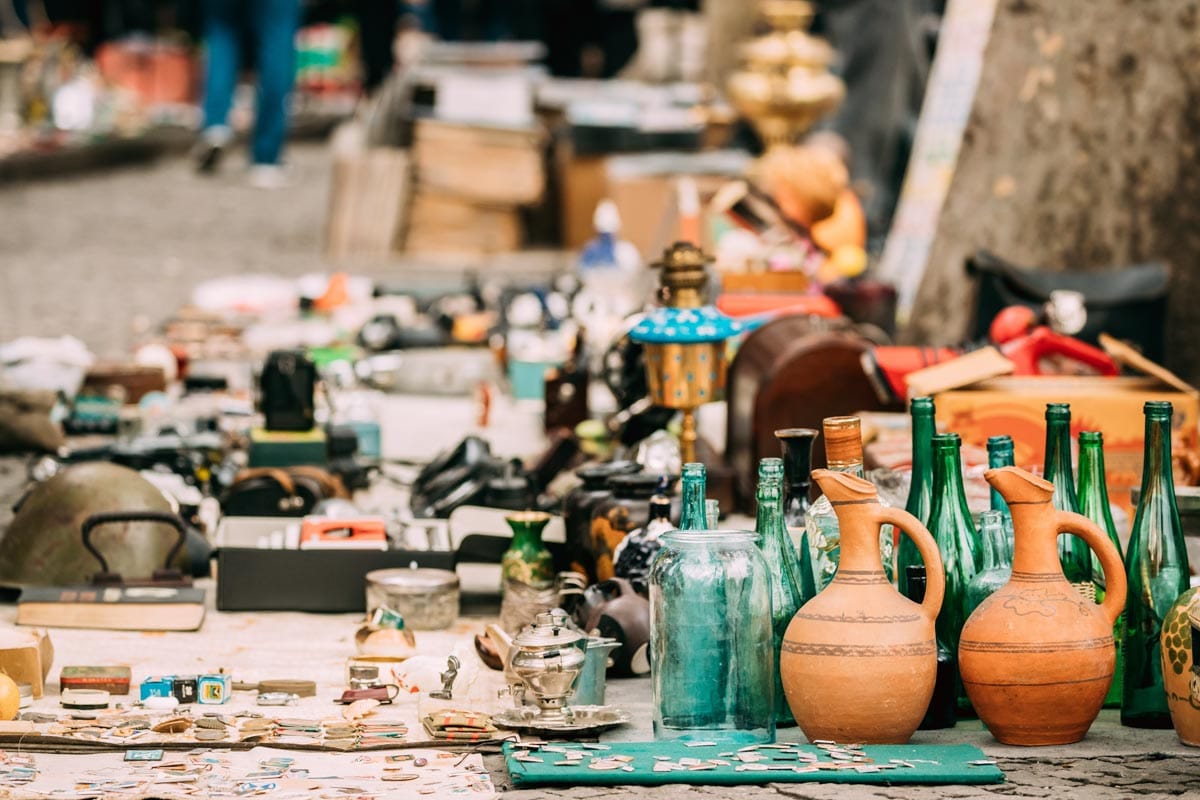 The Dry Bridge Flea Market, located near Dedaena Park near the Mtkvari River, is an eclectic market that houses lots of antiques, local goods, and artisan works. It's a unique and colorful way to walk around and see some weird local oddities. The Dry Bridge Market is open every day from 11 AM to 5 PM.
Meet and Hang Out with Locals
Of course, I saved the best for last. Georgian people are incredibly friendly, kind, and giving, and it's worth it to try and get to know a few during your travels.
Learning a few words in the Georgian language helps, but many young people in Tbilisi also have at least a basic knowledge of English, too. Georgians are more than happy to tell you why their country ROCKS and to teach you some local traditions and fun facts.
Plus, the best souvenirs from ANY trip abroad are friendships!
Things to do in Tbilisi: Food and Drink
Do a Georgian Qvevri Wine Tasting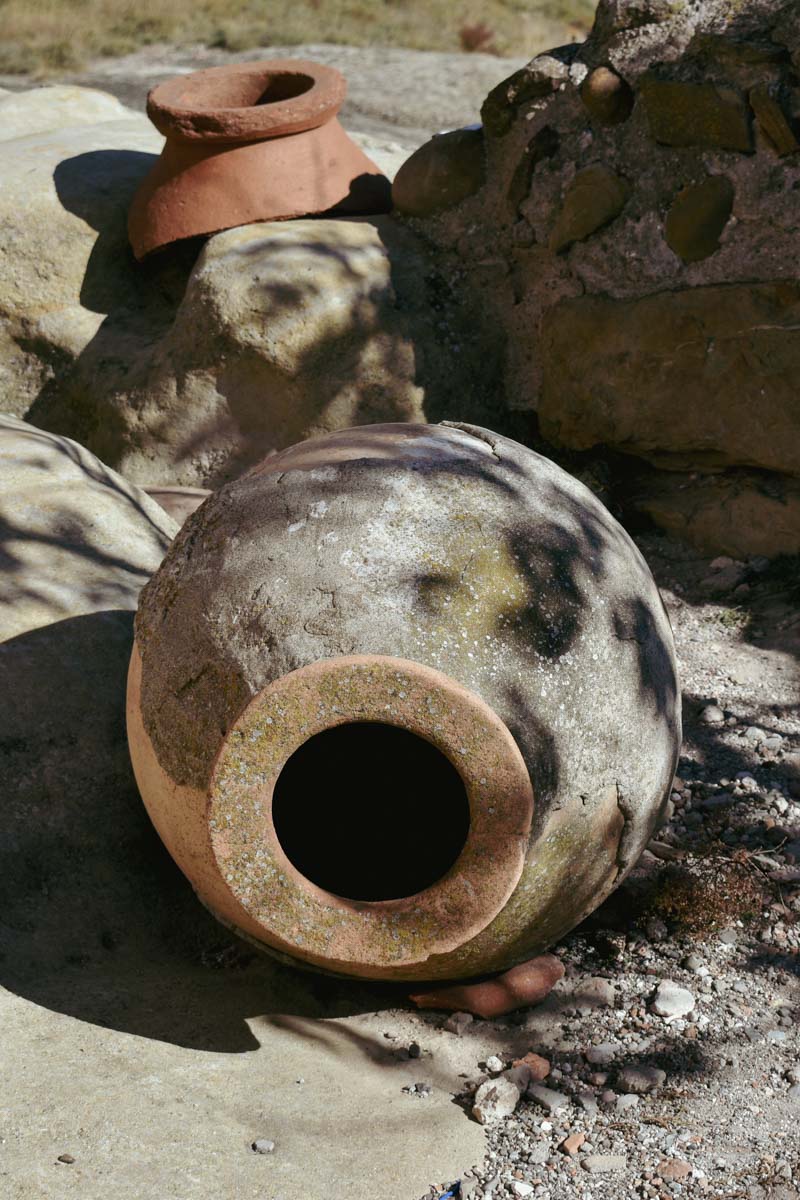 Fun fact: Georgia has one of the oldest wine-making traditions in the world. Some say the Georgians have been making wine for up to 8,000 years.
And the wine itself? It's to die for.
Traditional Georgian wine makers ferment their wine in a type of cask called a qvevri, which is a large clay vessel buried underneath the ground.
While in Georgia, you definitely shouldn't miss out on sampling Georgian wines, especially the kind that are made in the traditional qvevri way.
While there are wine tastings seemingly on every corner, one of the most famous places in Tbilisi to taste wine is Vino Underground. Here you can sample Georgian natural wines from all over the country at reasonable prices. The owners often host wine tasting events as well.
Alternatively, if you prefer an experience that teaches you a little more about Georgia's rich wine traditions, you can opt for an organized food and wine tour in Tbilisi or an all-day tour to the famed Kakheti wine region.
Indulge in Some Wine Ice Cream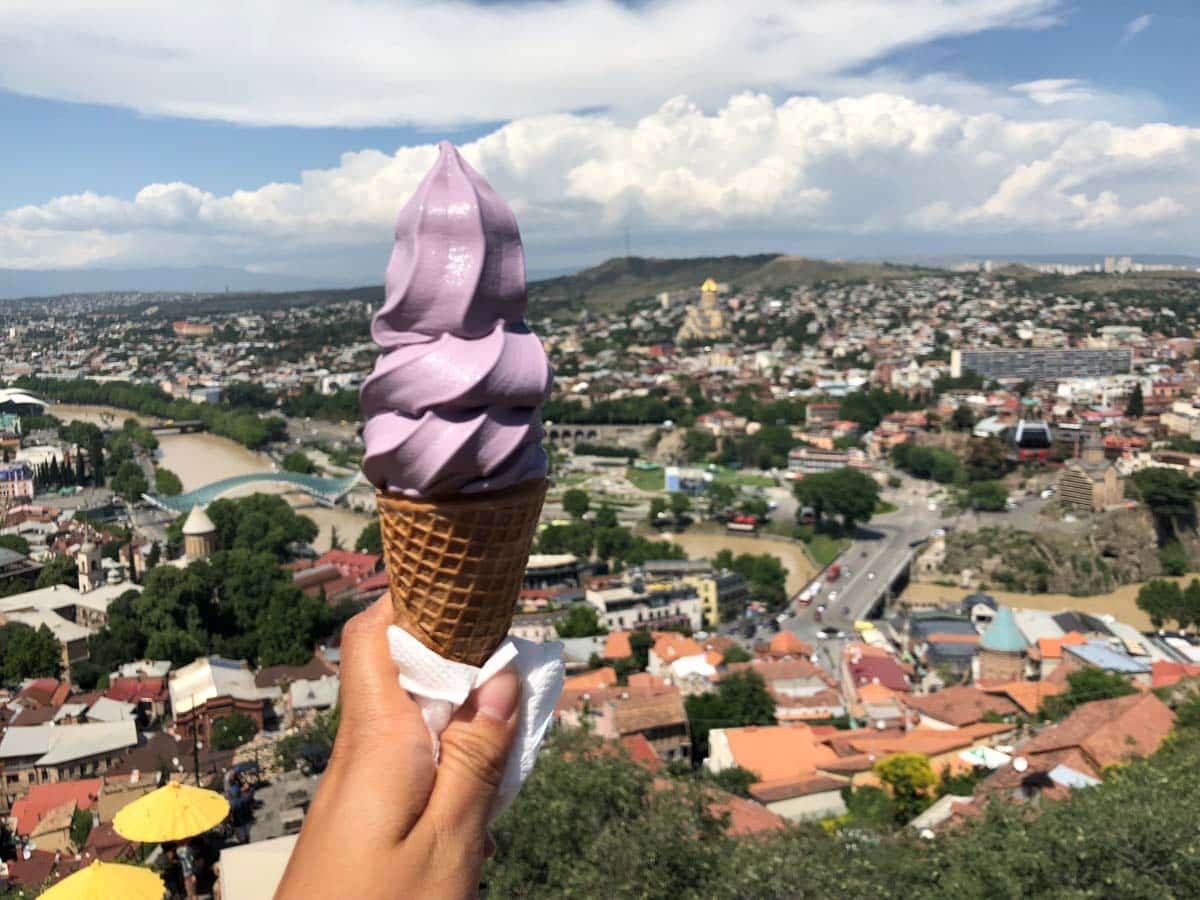 If you aren't feeling like drinking wine, why not try eating it?
In parts of Tbilisi, you can try real wine ice cream.
No, this is not a dream. There's actually wine-infused soft serve ice cream in Tbilisi, and it is glorious. (Personally, I think it's enough of a reason to visit Tbilisi on it's own…)
The only places I saw soft serve wine ice cream in Tbilisi were at a kiosk near the Jume Mosque and at the top of the cable car near Mother Georgia. I'm sure there are others, but it's a little elusive.
While exploring Tbilisi's more touristed areas, keep an eye out for signs that say "wine ice cream." You won't want to miss out on this one.
Taste Local Georgian Staples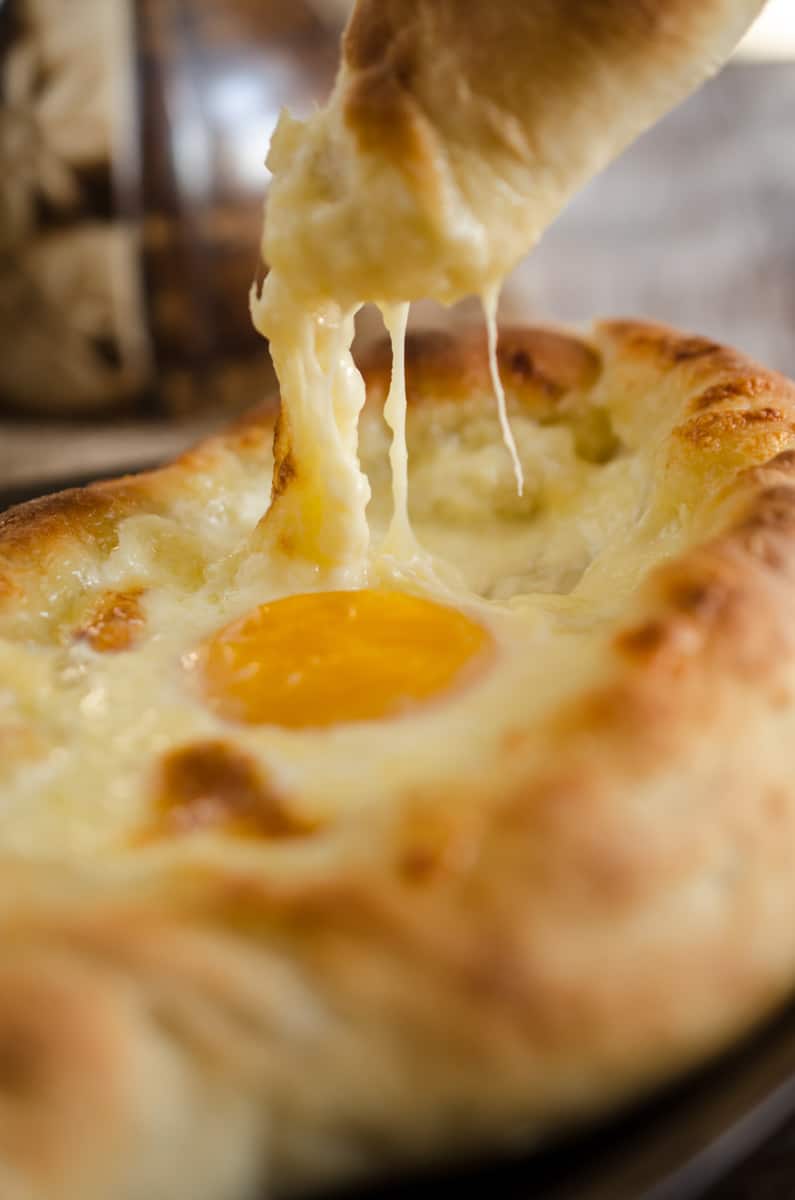 Despite the fact that I'd never heard anything about it before I came to Georgia, Georgian food is surprisingly amazing.
Between their oversized khinkali dumplings to the amazing khachapuri bread, to lesser-known treats like chakokhbili and chakapuli, I found Georgian food to be delicious, flavorful, and unique from anything I'd ever tasted before.
You can find Georgian food on every corner, but if you're looking for some hidden gems, try Zakhar Zakharich for some of Tbilisi's best khinkali and Pasanauri for affordable Georgian food in general.
Sample Churchkhela and Pelamushi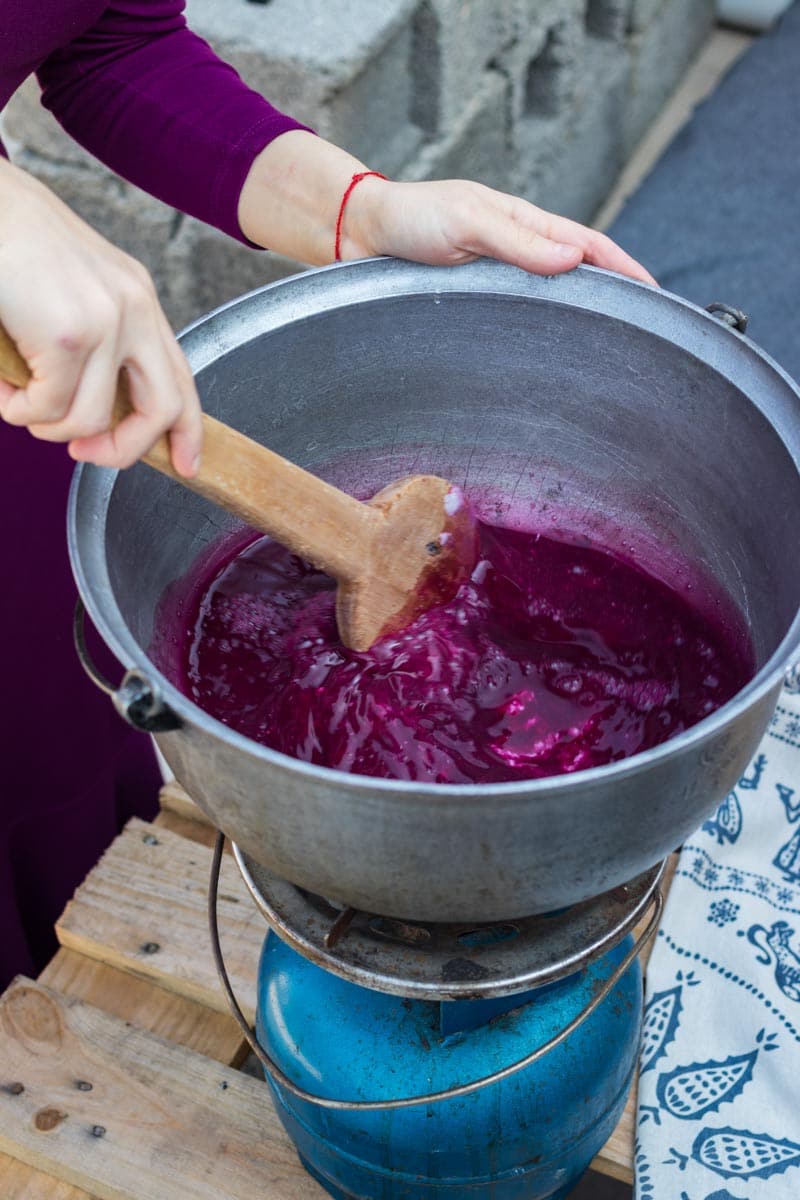 While walking around Tbilisi, you'll probably stumble upon some kind of hanging concoction that looks like a cross between a sausage and a long wax candle, available in many different earthy colors. No, these aren't decorations, they're a kind of Georgian candy called churchkhela.
In Tbilisi, you can purchase these odd-looking sticks and eat them right off the street. On the outside, there's a chewy, sweet substance that's usually grape or pomegranate flavored.
Inside, there are chopped, fresh walnuts from the surrounding farm regions. If your sweet tooth is nagging at you, pick up some churchkhela and try them. I was kind of addicted by the end of my trip.
If you'd rather not eat the weird, hanging concoctions, you can also try pelamushi, a grape-flavored dessert that is made of a similar gelatin pudding substance and natural red grape flavors.
Pelamushi cake is delicious and just thinking about it is making my stomach growl.
Treat Yourself to a Fancy Dinner at Barbarestan
When I asked locals around town where the best restaurant for Georgian food is, every single one of them told me to try Barbarestan.
Founded by a local family and based on an ancient cookbook full of traditional recipes, Barbarestan has really wonderful Georgian dishes with produce and meats that are all sourced locally.
When I finally ate there on my last night in the city, I wasn't disappointed. I was there with some other Americans I met during my walking tour, and we had a feast. Chakapuli and local breads. Grilled sturgeon and fresh mushrooms.
If you want to go to Barbarestan, I recommend making a reservation in advance by phone (you can contact them at +995 032 2943779). The restaurant is at a high price point compared to the other meals in the city, but the incredible, flavorful Georgian food is worth every last tetri.
Learn The Art of Puri at The Oldest Bakery in Tbilisi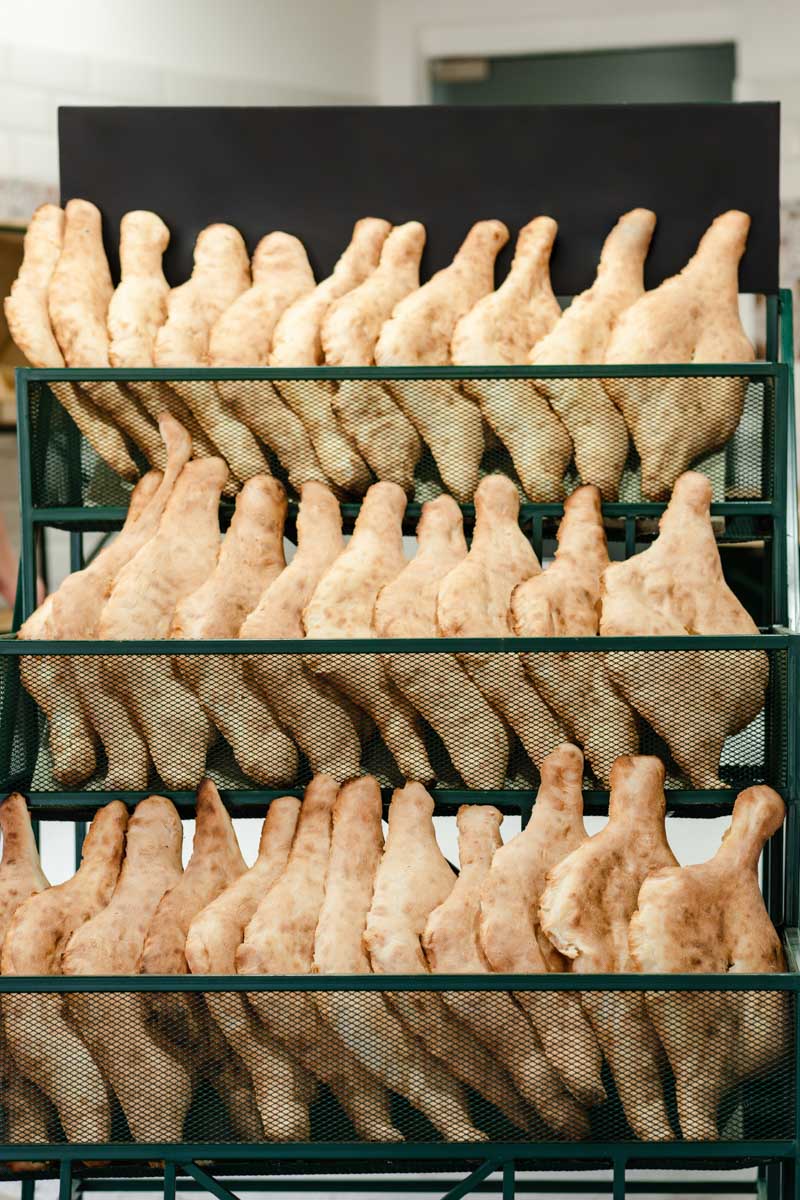 Hidden below the newer buildings of Tbilisi's Old City, near the Sioni Church, is the oldest bakery in Tbilisi.
Here, for centuries, bakers have been making traditional Georgian breads, or puri, in large, bowl-like clay ovens called tones.
During the day, you can stop by this underground bakery and grab some breads and snacks for very good prices, all while watching these professional bakers do their work.
Taste Some Georgian Cheeses
What are wine and bread, two of Georgia's specialties, without cheese?
No worries, Tbilisi has got plenty of fine cheese to try during your travels there.
Many Georgians take pride in their cheeses, and you'll often see a cheese board adorning the tables of the fanciest Georgian feasts.
The most famous of Georgian cheeses is called imeruli, a cheese that is used to make lots of dishes like khachapuri. Then, there's sulguni, a softer, sheep's milk cheese that's absolutely delicious with bread or honey.
Georgians also make a delicious gouda, which is a popular smoky-flavored cheese around the world.
Take a Georgian Cooking Class
If you've decided that Georgian food is your favorite ever, I wouldn't blame you. But what happens when you go back home and can't find your beloved stews and breads anymore?
Don't fear – you have the option to take a comprehensive cooking class to help you learn exactly how to make your favorite Georgian delights.
Things to do in Tbilisi, Georgia: Practical Tips for Your Trip
Where to Stay in Tbilisi
There are two budget hostels I'd recommend in Tbilisi: one I stayed in and one I wish I'd stayed in.
Let's start with the former. I stayed at Margo Hostel House in Vera and LOVED it. With cozy rooms and beds in a big, old house, it was a wonderful place to spend more than a week. It was also within a short walk to Rustaveli Avenue, which is one of the city's main hotspots for pretty much everything. Margo Hostel House
However, if I could have stayed anywhere else in the city, I would have gone to Fabrika Hostel, which is housed in an old textile factory and is also home to a coworking space. Cool, right? The only reason I chose Mountain 13 over Fabrika is because I prefer to stay in an all-female dorm, and Fabrika only has co-ed rooms.
Splurge Accommodations
Of course, when I was in Tbilisi, I was on a bit of a budget crunch so I didn't stay in any fancy accommodations. However, there are three AMAZING boutique hotels that definitely game me a ton of FOMO and had me drooling over their photos. Here they are:
Vinotel: Perfect for the wine lovers out there, this is a wine-centric boutique hotel located near Avlabari Metro Station. Their cellar has a top-notch selection of fine Georgian wines for tasting. When I was looking up places to stay in Tbilisi, the photos of the place looked so wonderful that I almost decided to splurge and stay there. Plus…wine.
Aivani Old Tbilisi: In my opinion, Aivani Old Tbilisi is the cutest hotel in Tbilisi. With pastel walls, cute, retro furniture, and eclectic designs, it's definitely the Instagrammer's choice hotel. It's also located in the middle of the Old City, the perfect place to visit all of Tbilisi's main sights.
Shota @ Rustaveli Boutique Hotel: For a more modern boutique hotel in a chic location, the Shota @ Rustaveli Boutique Hotel is the perfect choice. White walls, contemporary designs, and cozy rooms will greet you once you're there. It's located on one of the main thoroughfares of Tbilisi.
How to Get Around in Tbilisi
Public Transportation
In Tbilisi, there are public metros and buses that go pretty much anywhere you'll want to go in the city. Public transportation in the city requires a transit card, which you can purchase at any metro station for 2 GEL. Rides generally cost 0.50 GEL each way and you can reload your card at any metro station around the city.
Taxify
If you prefer to travel places by private car, there's a ride sharing app that works very well in Tbilisi called Taxify. It works just like Uber or Lyft – you just request a taxi on the app and you can pay either by card or with cash. The only difficult thing is that you'll need to be connected to WiFi or data in order to use it.
Things to Pack for Tbilisi
Tbilisi is like most other European cities in that you probably don't need anything special while visiting there. With that said, here are a few things you should make sure you have:
Swimsuit
Good walking shoes
An umbrella or waterproof rain jacket
Extra space in your luggage (in case you want to bring back a bottle of wine or two!)
---
Did you enjoy this post? Pin it for later!