Ready to immerse yourself in a magical marine world of vibrant colours and exotic aquatic life? Look no further than these incredible snorkelling spots in the Seychelles.
I'll be frank with you guys: The Seychelles is home to some of the world's most exciting marine life.
Exploring this enchanting underwater world is one of the many fun things to do in the Seychelles. The crystal-clear waters of the Indian Ocean offer a perfect window into a world of coral reefs, schools of colourful fish, and curious sea turtles.
And, with over 115 islands and islets, there's no shortage of fantastic snorkelling spots, whether you are a seasoned pro or a first-timer.
But so much choice can leave you paralysed in fear; it can be tricky to decide where to go snorkelling. Have no fear – I've got you covered. Here are some of the best places to snorkel in the Seychelles, each with its own unique underwater discoveries.
Best Snorkelling in Seychelles
Anse Source D'Argent, La Digue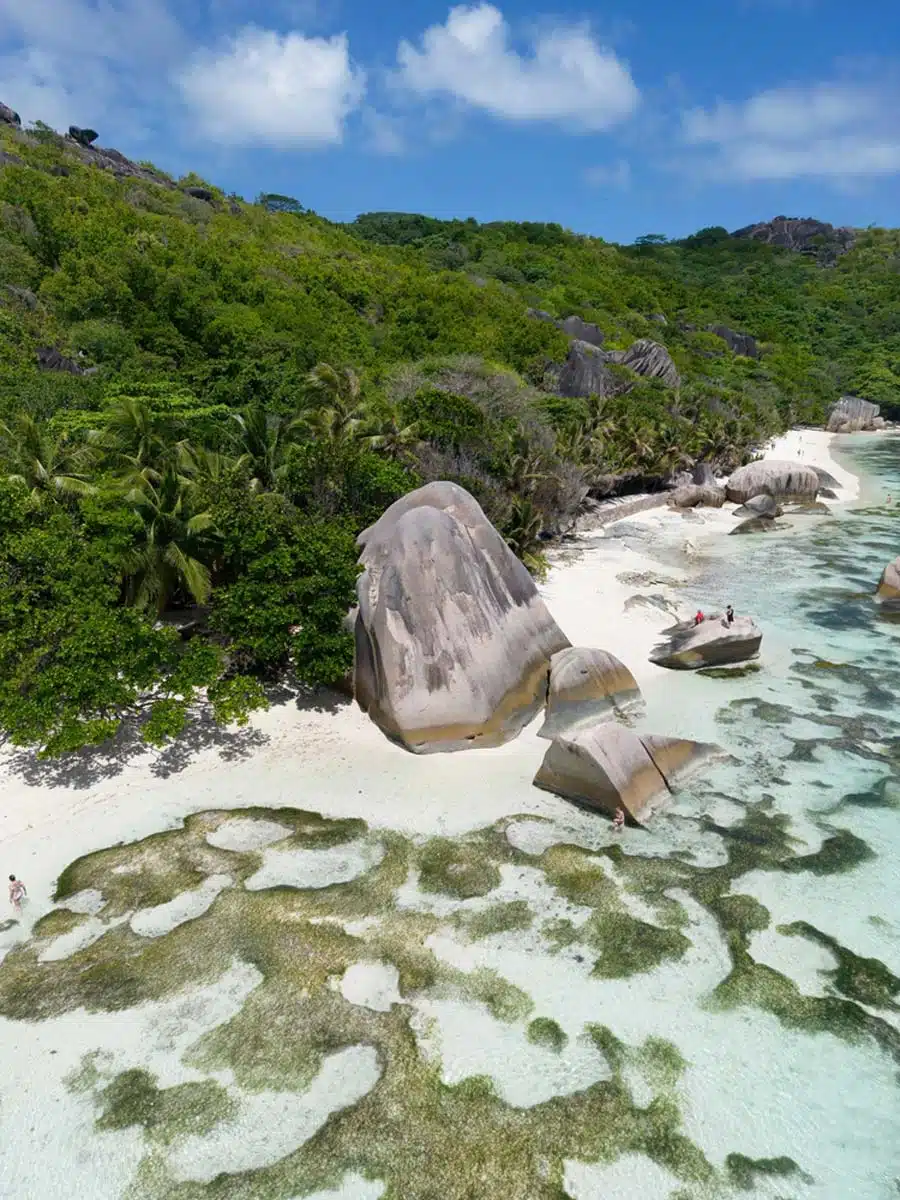 I'm not going to beat around the bush, Anse Source D'Argent in La Digue is a must-visit if you are looking for a serene snorkelling spot.
A bonus is that it's also one of the world's most beautiful beaches, famous for its beautiful granite rock formations, clear azure waters, and stunning coral reefs.
When it comes to snorkelling, Anse Source D'Argent is a fantastic spot, especially for beginners. The reef shelters the beach and creates a calm and safe environment, allowing you to explore the underwater world without worrying about strong currents or waves.
The coral reefs are home to an array of underwater creatures, including threadfin butterfly fish, angelfish, octopus, parrotfish, and convict surgeonfish.
If you're lucky, you may even encounter an angry little triggerfish – they are small but feisty and will get up close and personal. Don't worry, though; they won't attack.
Anse Lazio, Praslin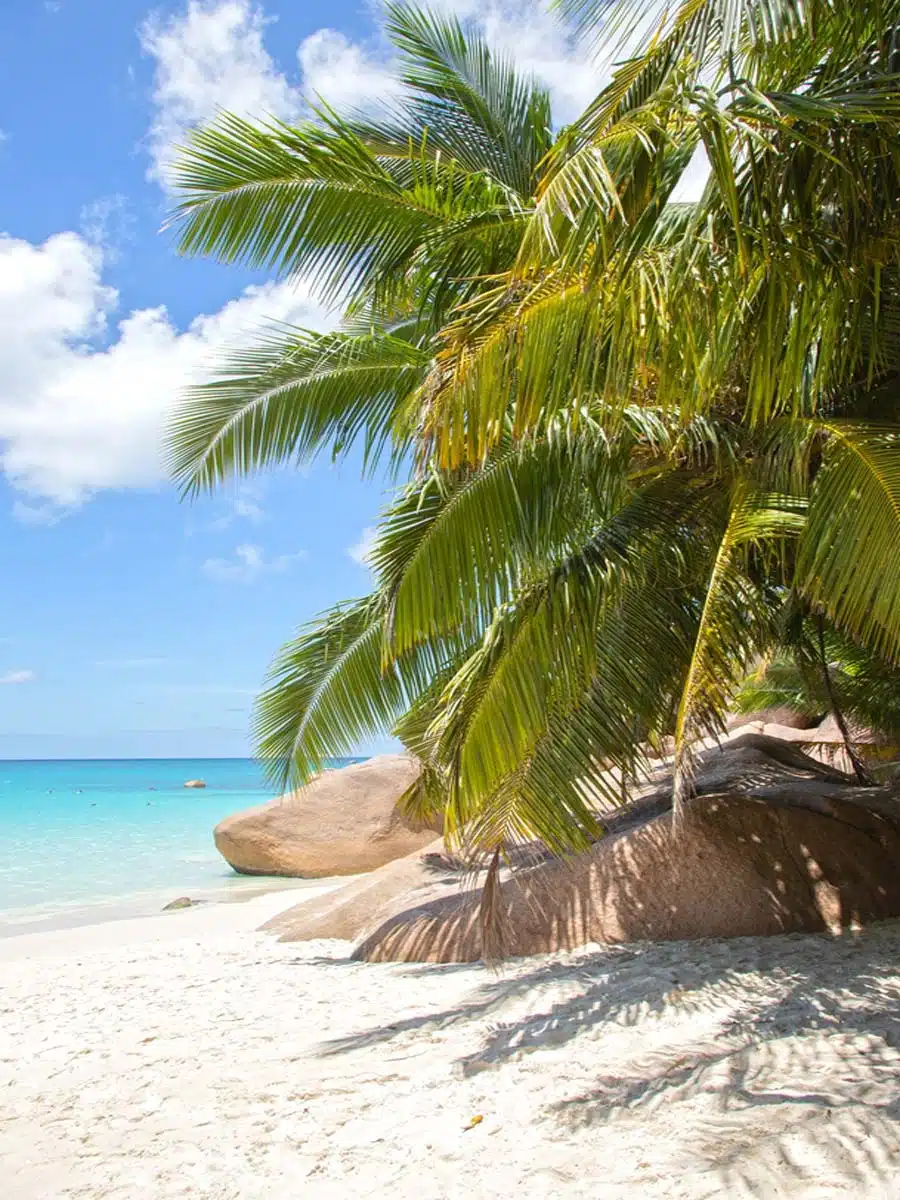 Anse Lazio on Praslin island is one of the most beautiful beaches in the Seychelles and a delightful spot for snorkelers of all skill levels. This secluded beach has powder-soft sand and low-lying coral reefs that house diverse aquatic animals.
If you follow the rock line on the left side of the beach, you can observe rare corals, turtles, manta rays, and alien-like fish. Some common species include reef needlefish, bluefin trevally, scissortail sergeants, and angelfish.
It's worth noting that Anse Lazio can get crowded during peak season from May to August. I recommend visiting early in the morning or late in the afternoon for a more peaceful and less crowded experience.
Coco Island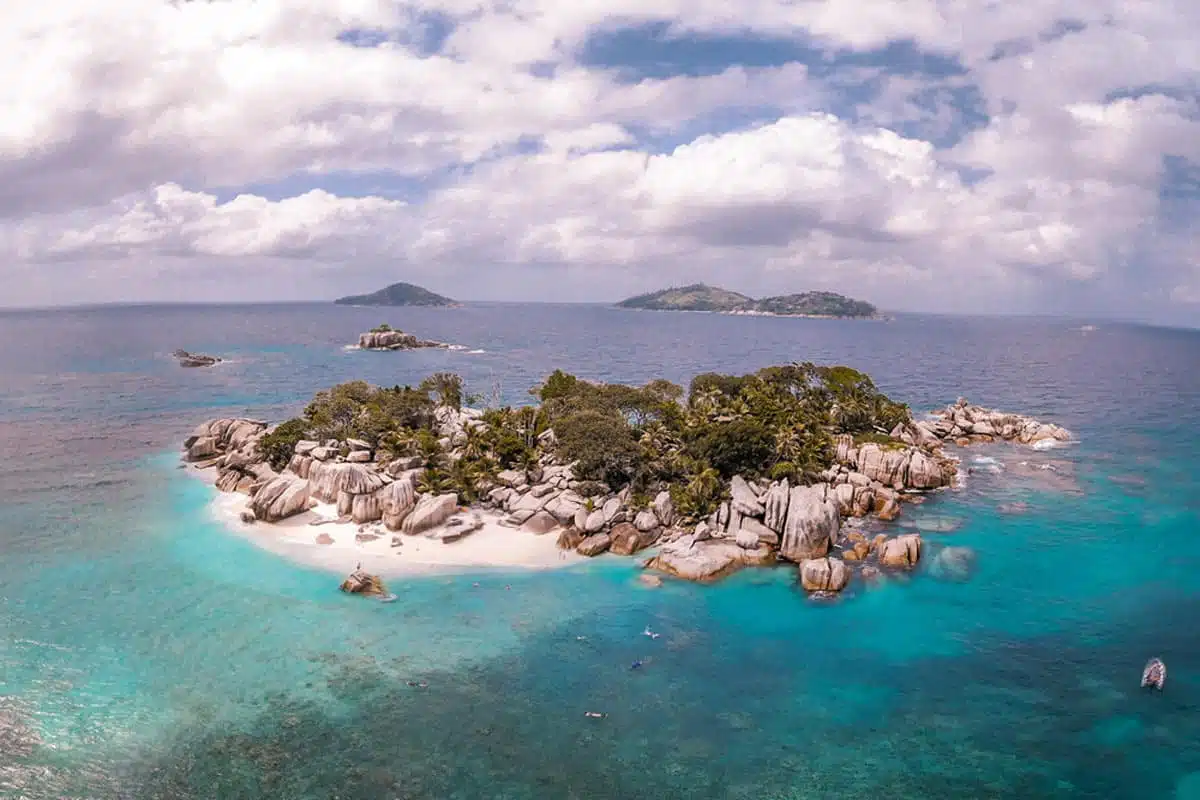 If you're looking for a secluded and breathtaking snorkelling spot, look no further than Coco Island.
Located just over 7 kilometres (4 miles) from Praslin, it is an isolated paradise for marine enthusiasts and adventure seekers. I recommend venturing to the island on a boat tour from Praslin to admire the nearby islands and the stunning scenery.
Coco Island is home to some of the world's most pristine and biodiverse coral reefs. Its crystal-clear water provides excellent visibility, making it easy to investigate the reefs' intricate formations and vast colour spectrum.
When you're under the water, you might just be lucky to encounter spotted eagle rays, eels, a variety of crustaceans, and even the occasional curious reef shark.
Come up for air and you may even spot some of the island's terrestrial animals, including the majestic Seychelles giant tortoise. Coco Island offers a perfect land and sea exploration setting with its lush vegetation and sparkling lagoons.
Grande Soeur West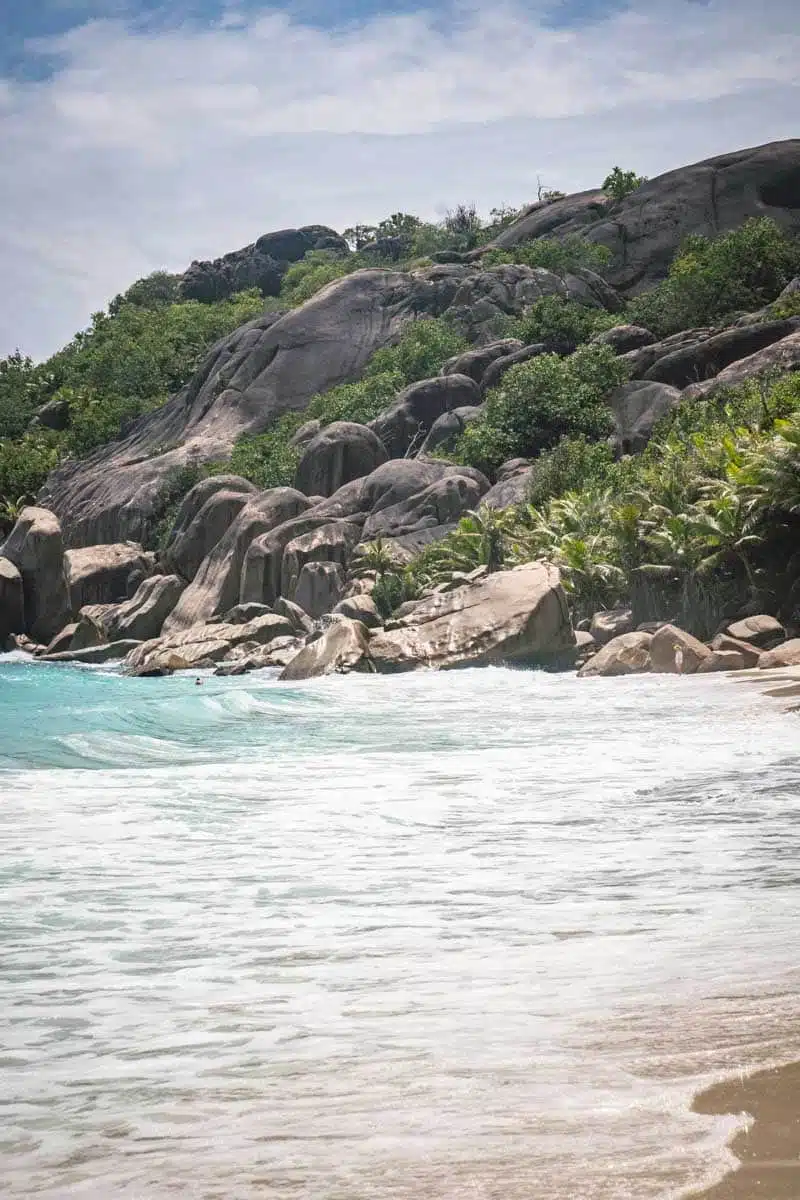 Grande Soeur West is undoubtedly one of the best Seychelles beaches. Better yet, you can easily arrange a boat tour from Praslin to reach this stunning private island.
Snorkelling at Grande Soeur West is among the world's finest and offers clear waters and a thriving underwater ecosystem. You'll encounter all sorts of fish that are social and not afraid of humans, including parrot fish, butterfly fish, and puffer fish.
You might also glimpse small reef sharks and the occasional sea turtle passing by. Although I didn't come across any turtles during my visit (booo), I'm now determined to return and explore the waters again.
Before you pack your snorkelling gear and head out, it's worth checking the weather conditions.
High tides between June and September can damper your underwater adventure, so plan your trip to Grande Soeur West between October and April for the best experience.
Morne Seychellois National Park, Mahé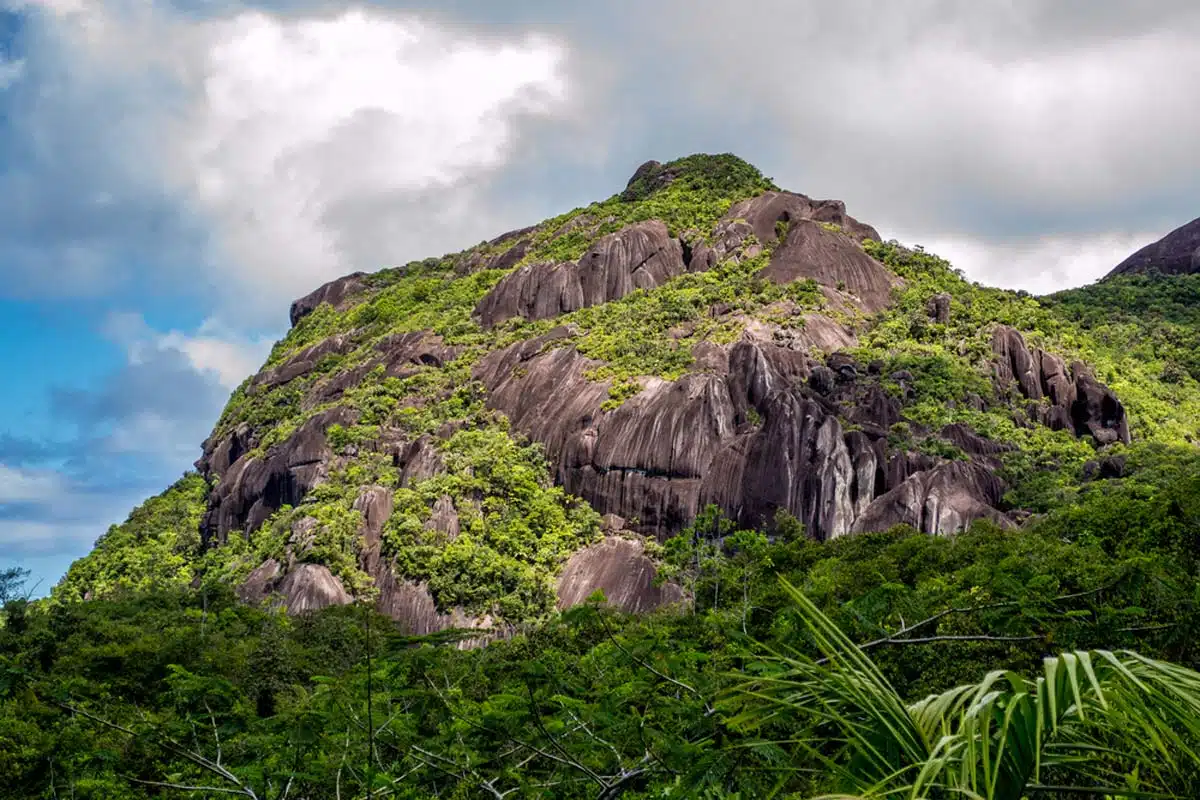 Morne Seychellois Park in Mahé is the largest marine park in the Seychelles archipelago and features tropical rainforests, mangroves, and numerous snorkelling spots.
I hope you're ready to witness the stunning underwater world of Seychelles – some of the best places to snorkel within the park include Anse Major, Anse Intendance, and Baie Ternay.
As you wade into the crystal-clear waters, you'll first encounter shallow, sandy beds scattered with coral, gradually becoming denser as you approach the barrier reef. You'll easily spot various species of angelfish, soldierfish, squirrelfish, sweepers, and possibly even a whale shark or dolphin.
It's important to note that some park areas are marine-protected. Always check with the local park authorities or tour guide to ensure you follow the park's regulations and not causing harm to the delicate marine ecosystem.
Anse Badamier, Curieuse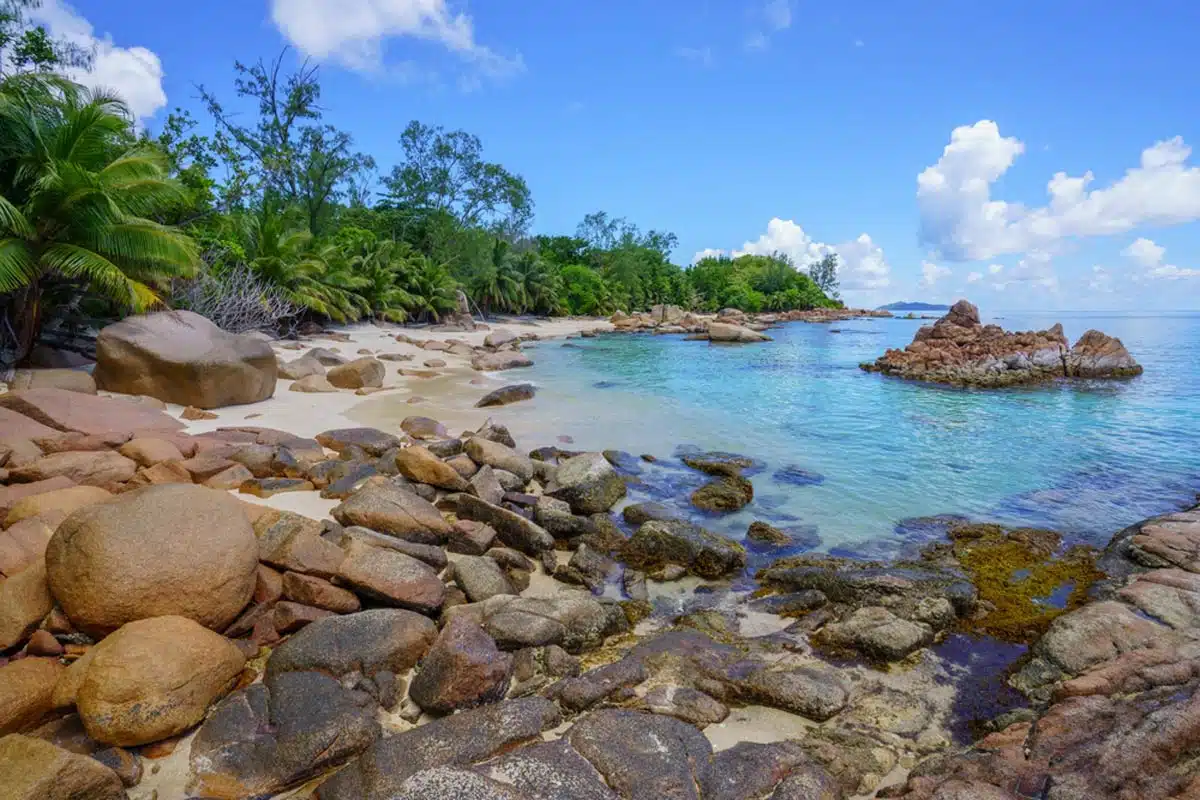 If you're looking for a snorkelling adventure off the beaten path, Anse Badamier is the spot for you. Although it might take some effort to find this untouched paradise, it's worth it.
Anse Badamier hides on the north coast of the uninhabited nature reserve of Curieuse Island. You can reach this hidden treasure by winding through rough, rocky trails and brushing past swaying Coco de Mer palm trees.
And when you finally arrive, you'll get rewarded with a secluded snorkelling spot.
I know I swoon about everywhere in the Seychelles, but the marine life here is truly unrivalled.
Although not much coral is visible, you can spot hawksbill tortoises, nurse shark pups, bump-head parrotfish, and even dolphins – if you're lucky.
Baie Lazare, Mahé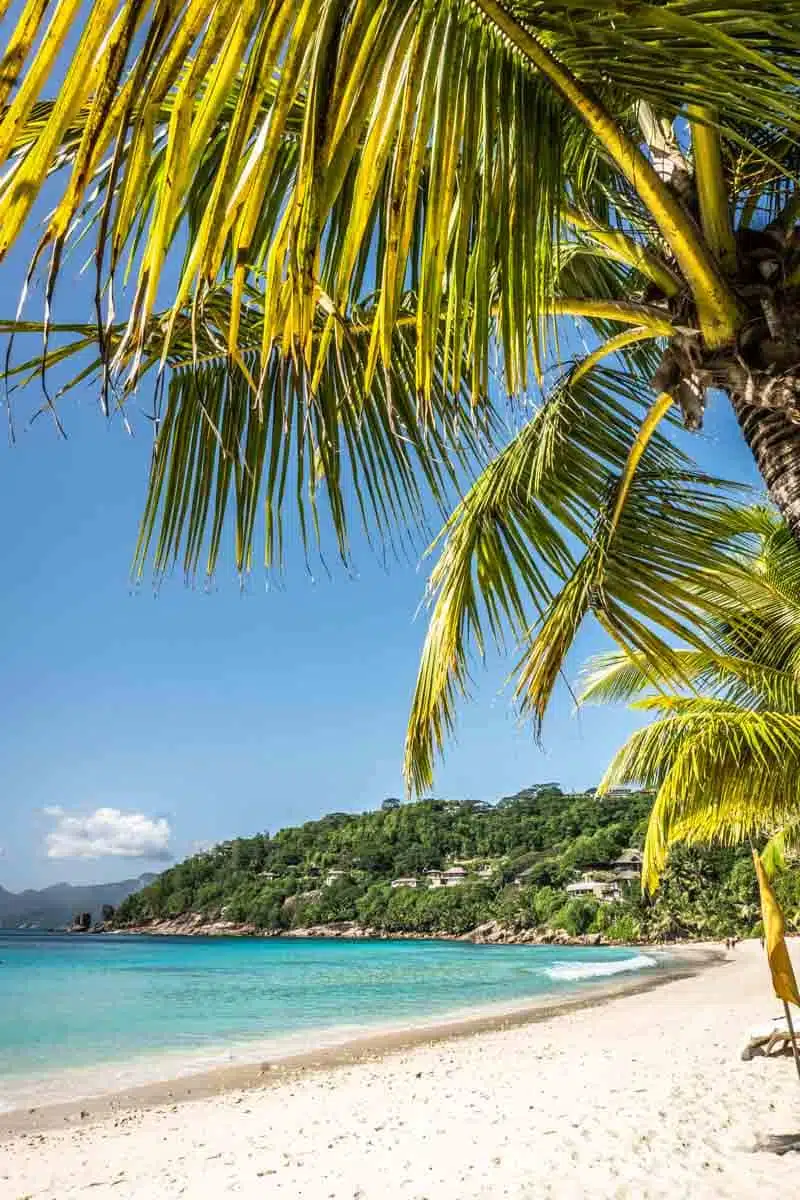 Baie Lazare is a stunning beach on the western side of Mahé island, with a gorgeous turquoise lagoon and swaying palm trees lining its shores.
Partially protected by a barrier reef, it is perfect for snorkelling and exploring the lagoon and outer face of the reef.
Filled with fascinating coral, the reef is home to many fish species, including brightly-coloured surgeonfish, various rays, and parrot fish. A highlight is spotting the massive shoals of green hump-head parrotfish, known for their impressive size of up to 1.30 metres (3 feet).
The best time to snorkel at Baie Lazare is from November to May, as June to October brings strong winds and heavy seaweed cover.
Word of warning: Make sure to wear reef shoes, as there are plenty of spiky corals and pebbles in the sand.
Rémire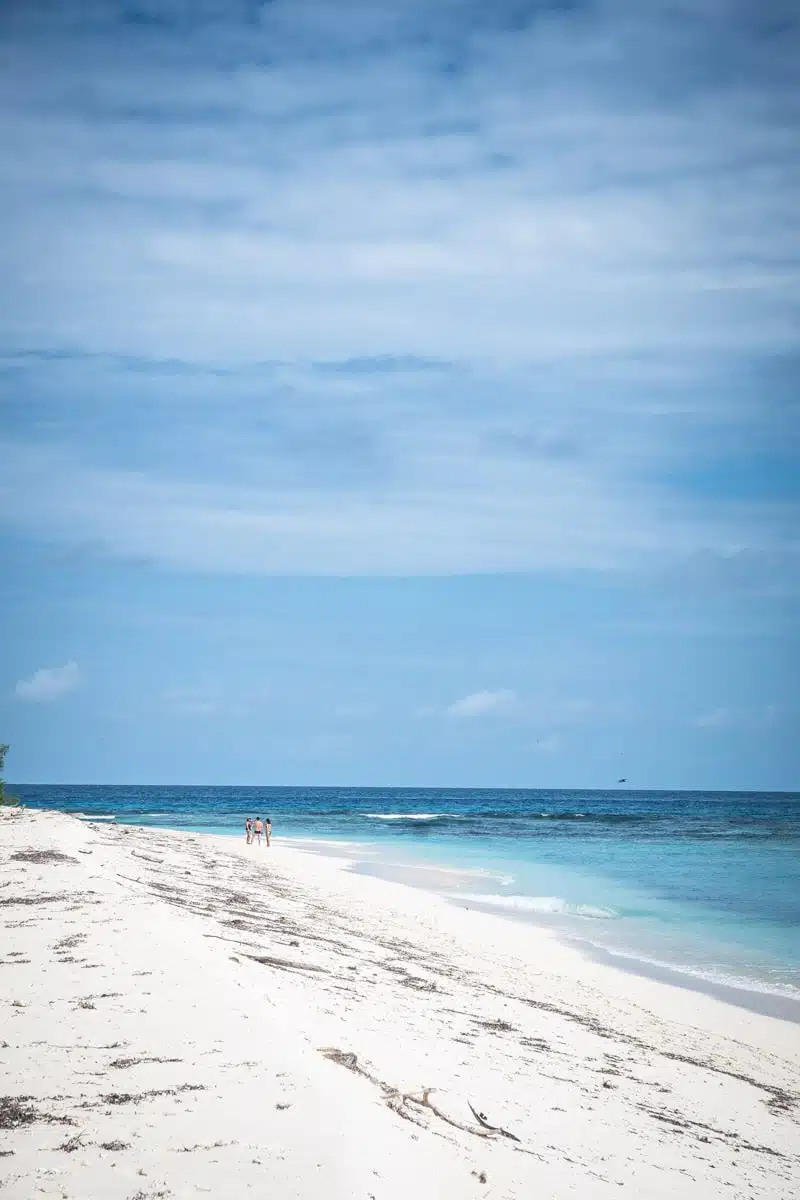 The outer portion of the Seychelles is an often-overlooked treasure trove, which is a real shame as it is an idyllic setting straight out of your castaway fantasies.
The isolated Rémire is one of the best islands in Seychelles for snorkelling and diving, boasting some of the most breathtaking underwater sights in the country.
While the island may not offer a plethora of activities, you'll find yourself easily entertained by observing the local birdlife and many Aldabra giant tortoises that reside here.
Oh, and let's not forget the pristine, untouched beaches. The high-visibility waters provide an excellent opportunity to explore the vibrant marine life that thrives beneath the surface.
You will encounter diverse sea life, including lionfish, Napoleon wrasse, and many parrotfish species. It is also home to other sea creatures, such as moray eels, crustaceans, sea turtles, eagle rays, octopi, and the occasional stingray.
Moyenne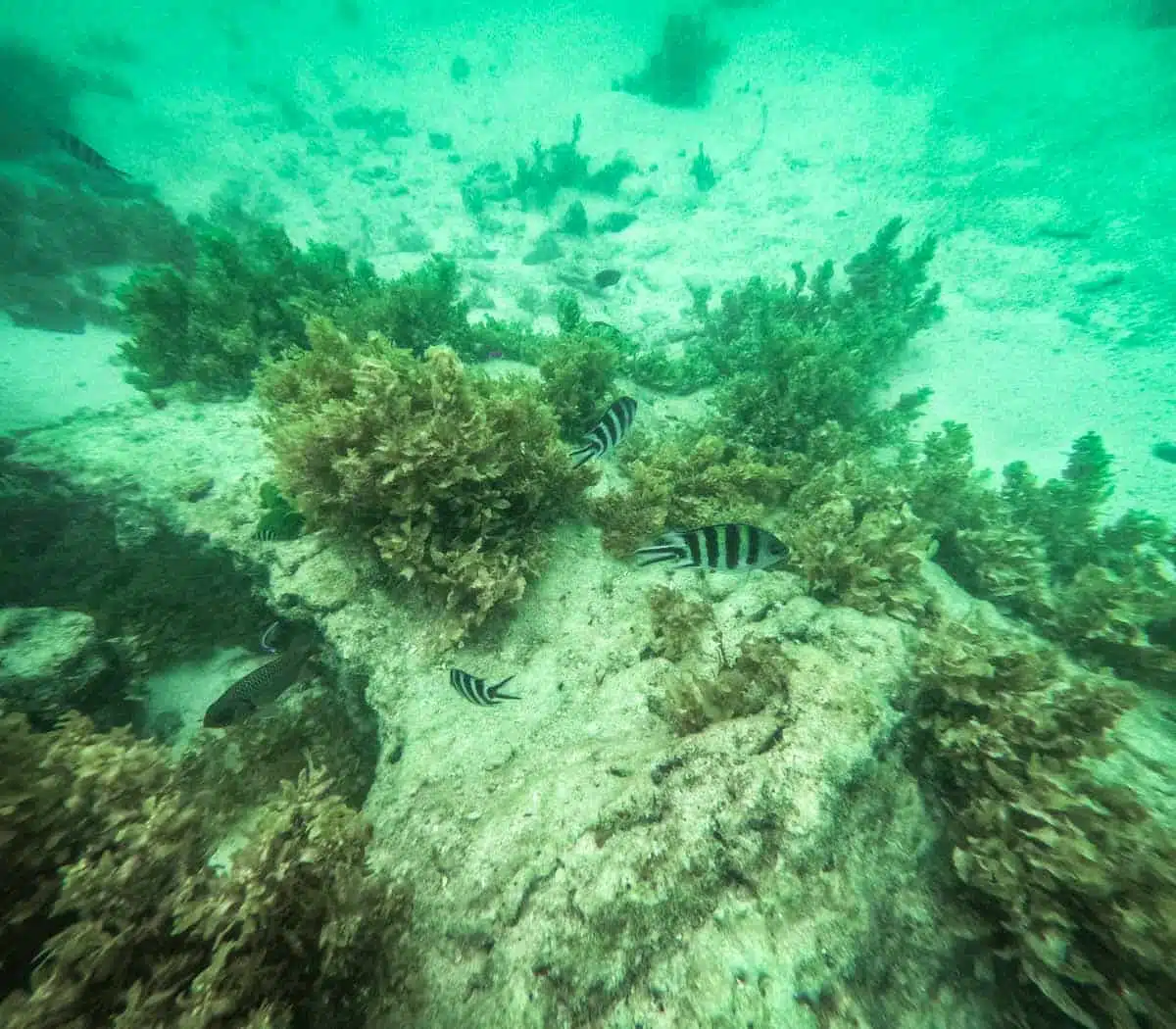 Moyenne Island has you covered if you are looking for a wild and untamed adventure.
This privately owned island is a small, untouched piece of paradise just off the north coast of Mahé. Huge granite boulders and white sandy beaches dot the landscape, sheltered by coral reefs that are home to over 150 species of fish.
To get to Moyenne, you can take a boat excursion from Mahé and explore the island's many nature paths, which wind through its lush plant life leading to the beach.
On the way, you'll likely come across some giant tortoises and see the island's thriving bird population .
Snorkelling at Moyenne also lets you see sea turtles, manta rays, and reef sharks. If that wasn't cool enough, this might just sway you – the island's coral reefs are also home to a diverse range of invertebrates, such as sea stars, anemones, and sea cucumbers.
Saint Pierre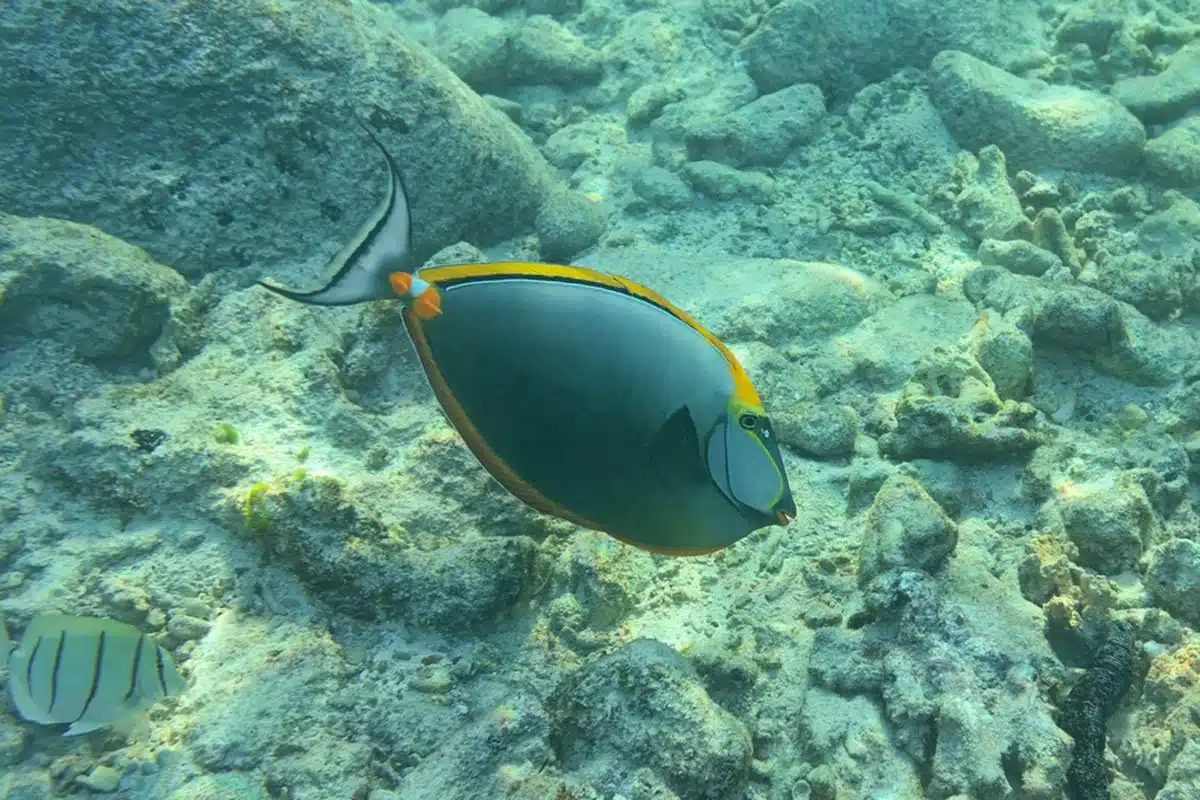 Fancy snorkelling somewhere a little more off-grid? Let me introduce you to Saint Pierre, a tiny islet on the northeast coast of Praslin.
Accessible only by boat, the island is part of a marine reserve and features a stunning reef off the shore. The waters here are clear and calm, making it an ideal location for novice snorkellers.
A stop at Saint Pierre and nearby Curieuse island make for a perfect day trip from Praslin. It's part of the Baie Ternay Marine National Park, a protected area home to many other islands and reefs.
Though the seabed is rocky, you can still see a diverse range of sea life. Expect to come face to face with plenty of tropical fish, such as spine foot, fusiliers, jacks, octopi, rays, and sea turtles.
Practical Tips for Exploring the Best Snorkelling in Seychelles
First thing's first: Getting correctly fitted snorkelling equipment, including masks, fins, and snorkels, is essential. If you plan to snorkel frequently, bringing your own equipment is a good idea to ensure you have the right size and quality gear. However, it is available at diving centres and larger hotels and resorts.
To avoid sunburn, apply plenty of sunscreen before and after getting in the water, and avoid staying there too long.
Always check the weather in advance. It is essential to be mindful of ocean conditions, tides, currents, and any warning signs or public notices on the beaches.
Some of the best snorkelling places in the Seychelles are accessible from the shore, while others require a boat excursion. Be sure to plan your adventure in advance.
The best time to snorkel in Seychelles is during April and November when underwater visibility is at its best. If you want to snorkel with specific types of marine life, such as hawksbills or sharks, visit during the recommended months.
Finally, don't forget to snap some photos with an underwater camera to capture the unforgettable, Instagram-worthy beauty of Seychelles' marine life.
Snorkelling Seychelles: Map
Love This? Save and Share on Pinterest