Searching for a tropical getaway that blends the jungle with the city? Well, Sabah is just that, and then some. Add these brilliant things to do in Sabah to your bucket list RN.
First up, let me give you a little geography lesson: Sabah is a state in Malaysia in the northern region of the popular island of Borneo.
Very much like the rest of Malaysia, Sabah is a melting pot of cultures – from the bustling city of Kota Kinabalu to the tribal communities you can meet at the Mari Mari centre. The influence of modern, foreign, and ancient civilisations is still alive and kicking.
Safe to say, it's one of the most mind blowing areas I've ever travelled to.
Add to this activities that range from climbing mountains to river cruises surrounded by incredible wildlife, and everything in between, and it's no wonder then that visiting Sabah is one of the best things to do in Malaysia.
Excited? You should be. Read on to discover the best things to do in Sabah, Borneo.
Fancy sleeping deep in the forest? The Sukau Rainforest Lodge has suites in Kinabatangan, surrounded by lush jungle wildlife.
Top 5 Things to do in Sabah, Malaysia
Explore Kota Kinabalu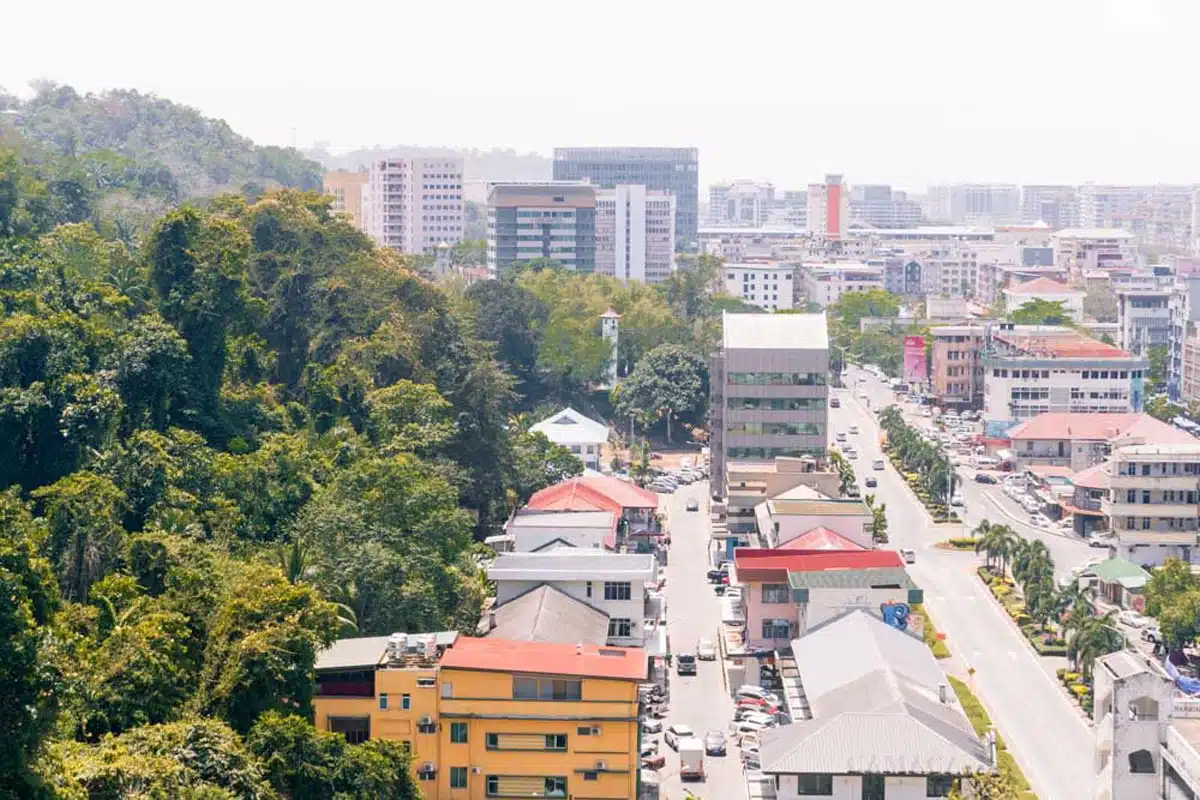 If you're heading to Sabah, you'll likely begin your trip at Kota Kinabalu – it would be criminal not to spend a couple of days here. As the state's capital, many of the best things to do in Sabah are either in or nearby Kota Kinabalu, or KK as the locals call it.
Some of the city's highlights include relaxing on Tanjung Aru Beach, learning about native cultures at the Sabah State Museum, and viewing the oldest building in Sabah – the Atkinson Clock Tower.
Even walking down Gaya Street (more on this later, pals) will yield many amazing sights – and tastes.
Looking for somewhere to dine? The largest native ethnic group of the state is the Kadazan Dusun, so for some authentic cuisine, I recommend you check out D'Place Kinabalu.
I'm not kidding when I say that this was some of the best food I ate on my Borneo trip. This restaurant is unmissable with its bamboo decor, dishes served in palm leaves, and traditional dancers performing every night.
Note: If you're trying to find the restaurant, you might see online it says it is currently closed – rest assured they have reopened (yay!) and can be found at the 2nd Floor of Plaza Shell.
Visit the Orangutans at Sepilok Animal Sanctuaries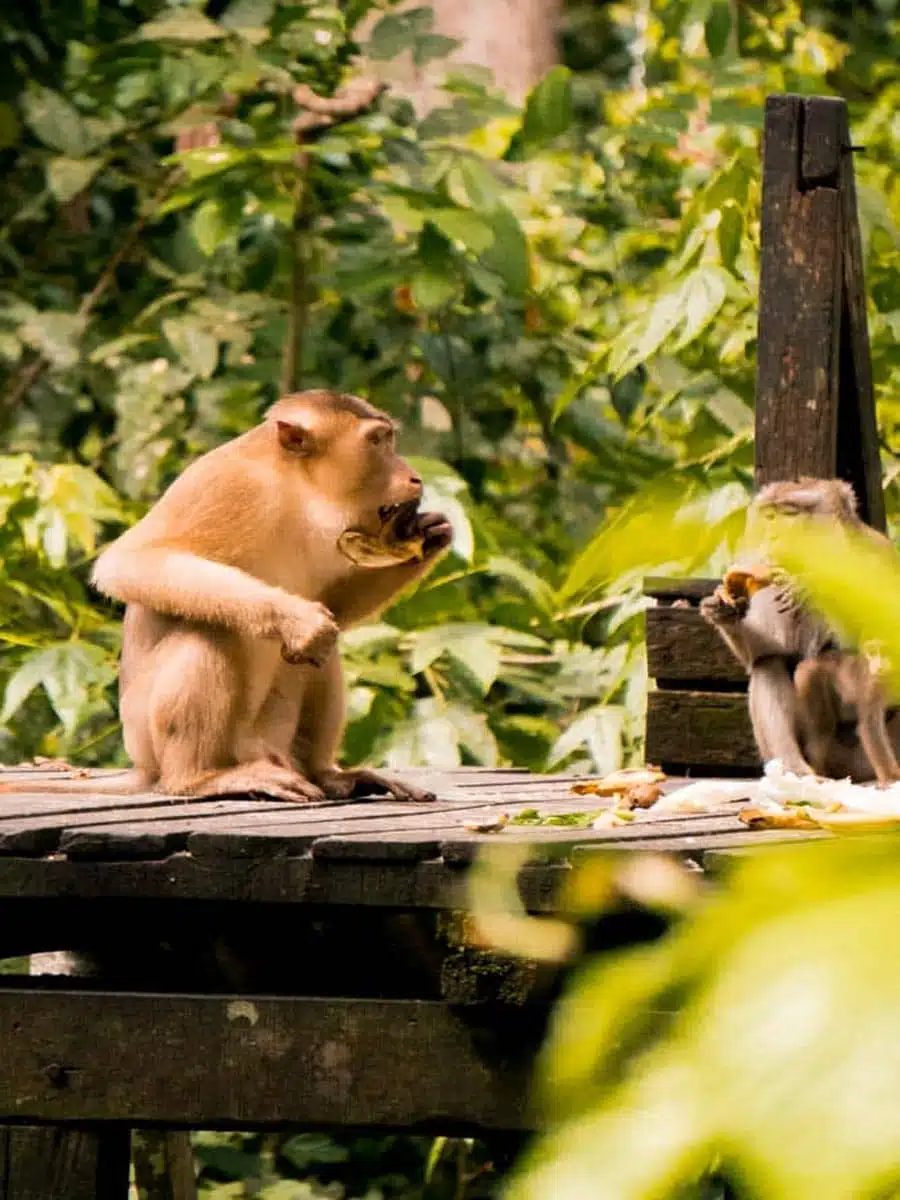 This is my favourite thing to do in Sabah – Orangutan translates to 'man of the forest' in Malay. So, visiting them while here is a must.
You can spot these gentle creatures at Sepilok Orang Utan Rehabilitation Centre in the Kabili-Sepilok Forest Reserve in Sandakan, Sabah. This reserve has rehabilitated orphaned orangutans since 1964 to teach them to live independently in the wild.
Although you can't touch the animals, you can see them up close at feeding times. This usually happens at 10 am and 3 pm at the feeding platform. Come a little earlier, at 9 am, to see a video introducing the centre and its work.
See Malaysia's Native Bears at a Sun Bear Conservation Centre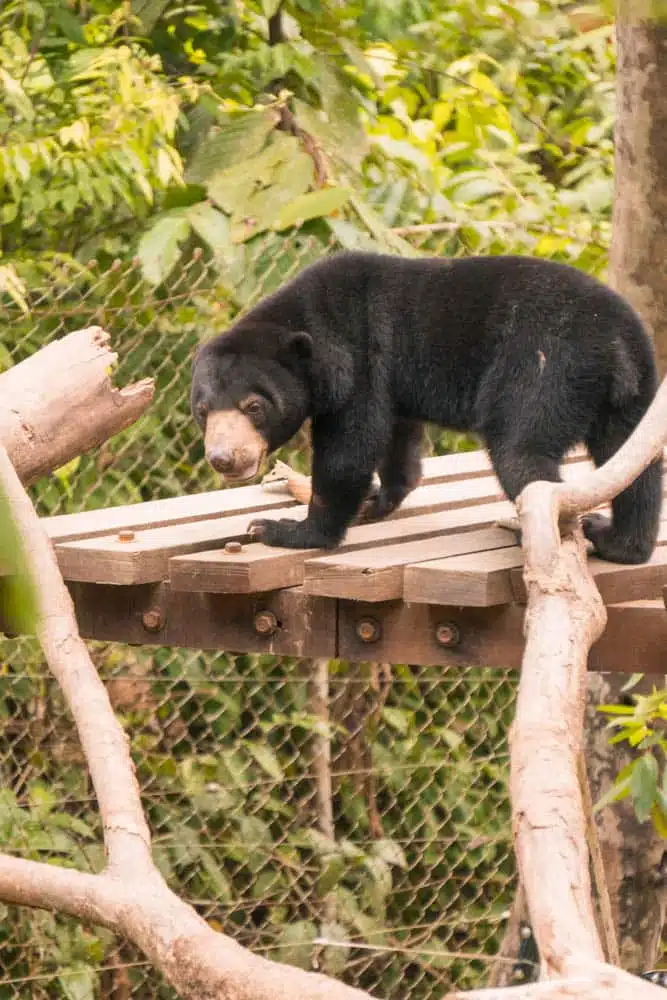 Across the road from the Orangutan sanctuary is the Bornean Sun Bear Conservation Centre, another animal rehabilitation base. This centre focuses on the world's smallest bears and the only ones native to Malaysia – sun bears.
The centre is relatively new, as it only opened to the public in 2014. Not only does the centre provide educational tours and signs along the way, but you can see about 42 bears now living in the large forest environment.
I won't lie – it's a lot harder to spot these bears than the orangutans, but if you're patient enough (and get there around feeding time), you'll likely spot these cheeky creatures gobbling below.
The centre is open daily from ​9:00 am to 3.30 pm, and tickets cost 50RM for tourists.
Spot Wildlife on Kinabatangan River Excursions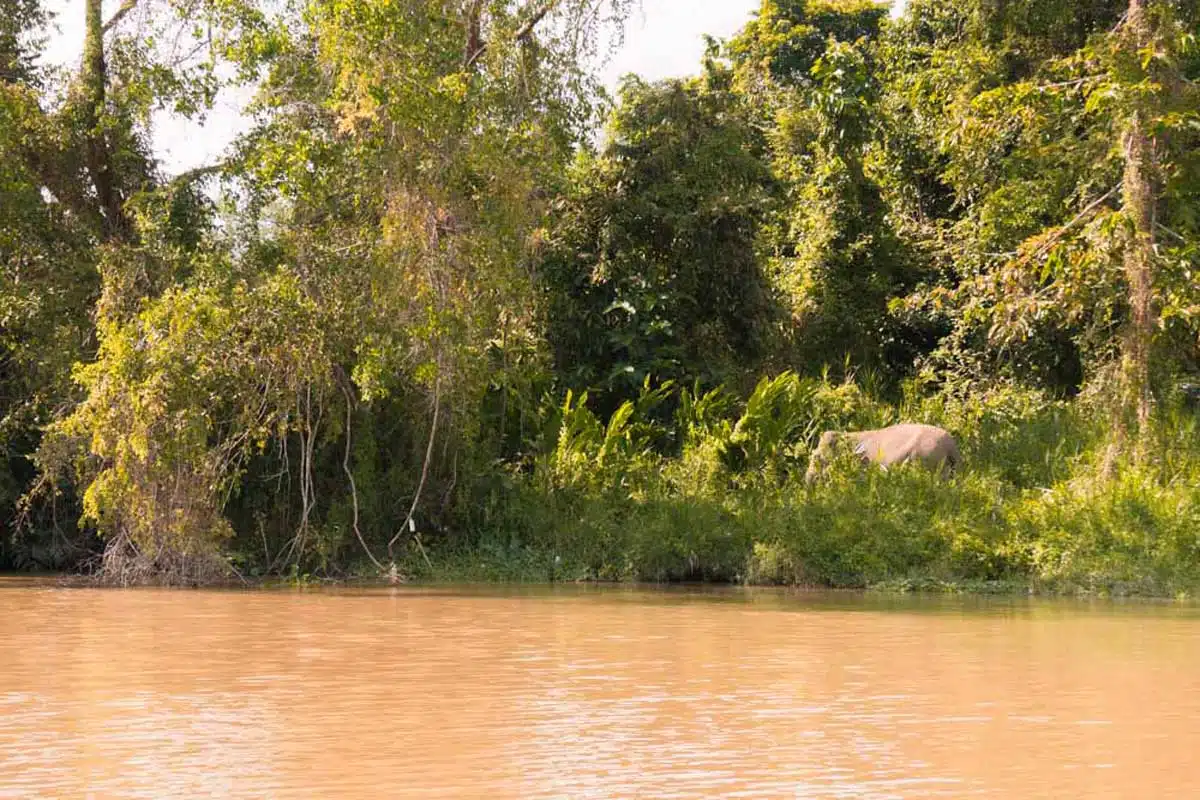 The Kinabatangan River in Borneo is the longest in Sabah, stretching from southeast to southwest of the province and has a vast diversity of wildlife, putting it among Borneo's top things to do.
Taking a Kinabatangan River safari is a great way to see its natural beauty and do some animal spotting. On the cruise, you'll likely see orangutans (if you're lucky), a lot of Proboscis monkeys, various bird species, and some crocodiles.
Some lodges can help you arrange a river cruise, but if you want to book one on your own, you can do so through the likes of G Adventures – this 8-day Borneo adventure is an exhaustive adventure through the jungle and includes a Kinabatangan River cruise.
Climb Malaysia's Tallest Peak at Kinabalu National Park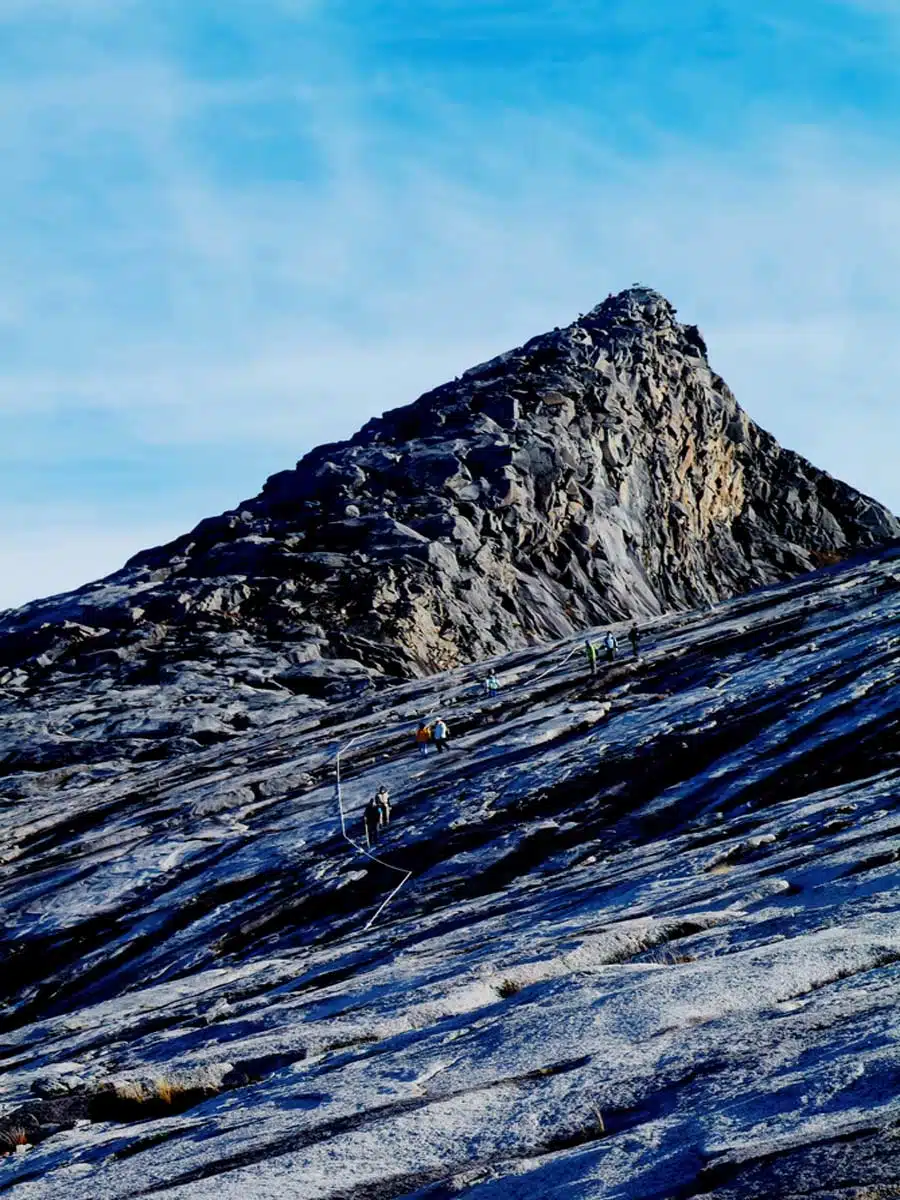 Do you have what it takes to climb Mount Kinabalu — the tallest mountain in Malaysia? This one may be the most challenging of all the adventurous things to do in Sabah. While it takes about two days to complete, the views are worth it.
However, if you're not up to the tough task, you can explore the other beauties of this UNESCO World Heritage Site. Besides hiking up the mountain, you can tackle more minor summits and nature trails or just walk around the lush garden.
These hikes are short but offer incredible views at the end, with the opportunity to do some squirrel, bird, and plant spotting in between.
Brilliant Things to See & Do in Sabah
Try Street Foods on Gaya Street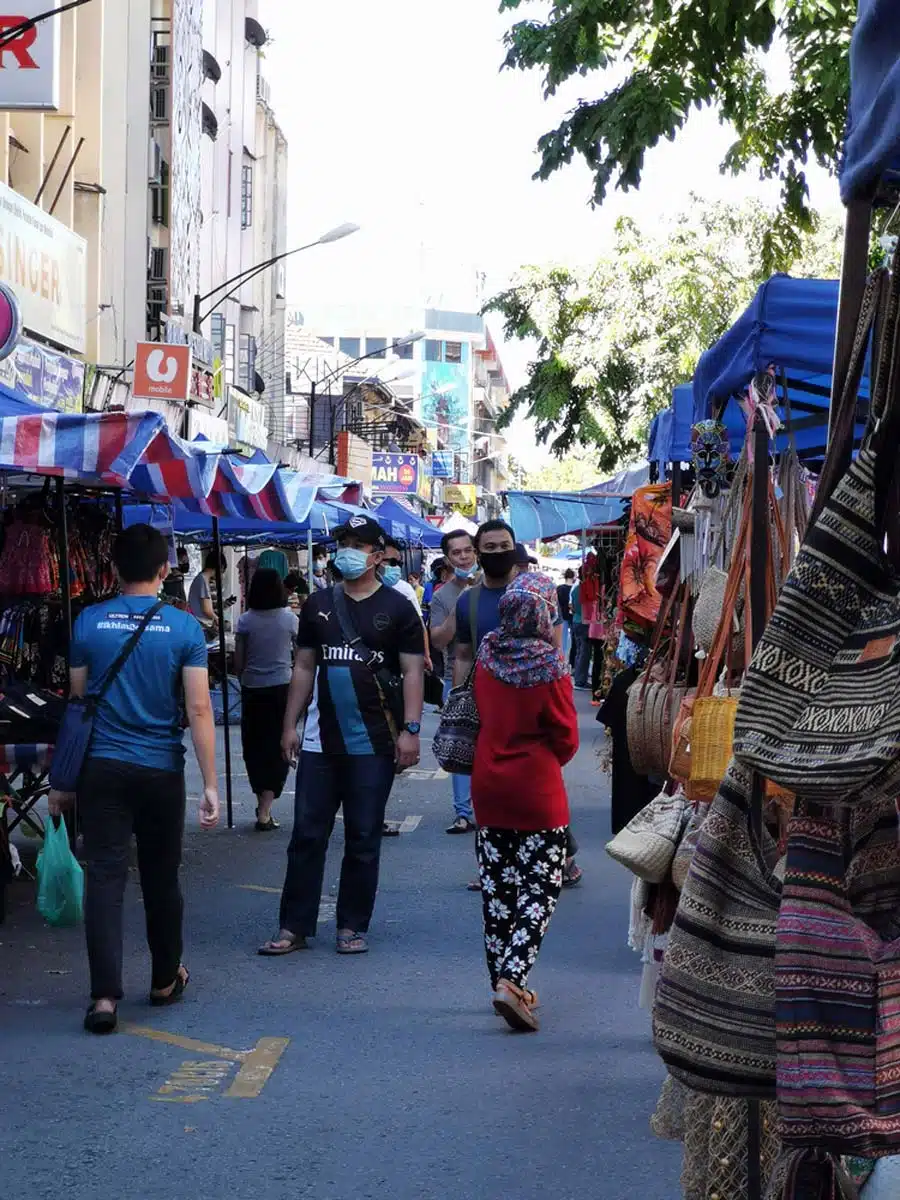 Remember when I said Malaysia is a melting pot of cultures? Well, a large group of its demographic is Chinese. So, it is no surprise that one place you can't miss while here is China Town in Gaya Street.
While locals call it Gaya Street, it stretches across several blocks. On Sundays, it buzzes with friendly chatter as it's market day.
Here tourists and locals alike can buy all kinds of foods, trinkets, and goods – you must try the pineapple buns, beef stew from Peppermint, and Honey Lush's indulgent soft serve.
Take an Early Morning Kelenap Oxbow Lake River Cruise
Situated on the lower part of the Kinabatangan River is the Kelenap Oxbow Lake – a particularly stunning part of the region.
I've cruised this lake at most times of the day but found that it was best as an early morning trip down the narrow channel. This is the best time to go animal spotting as, like you, they've probably just woken up.
Expect to see monkeys, birds, crocodiles, and maybe an Orangutan or two (it's pretty rare though) on your journey. Though, to be totally honest, I enjoyed the lush views equally as much as the wildlife-spotting.
Delve into Bornean Culture at Mari Mari Cultural Village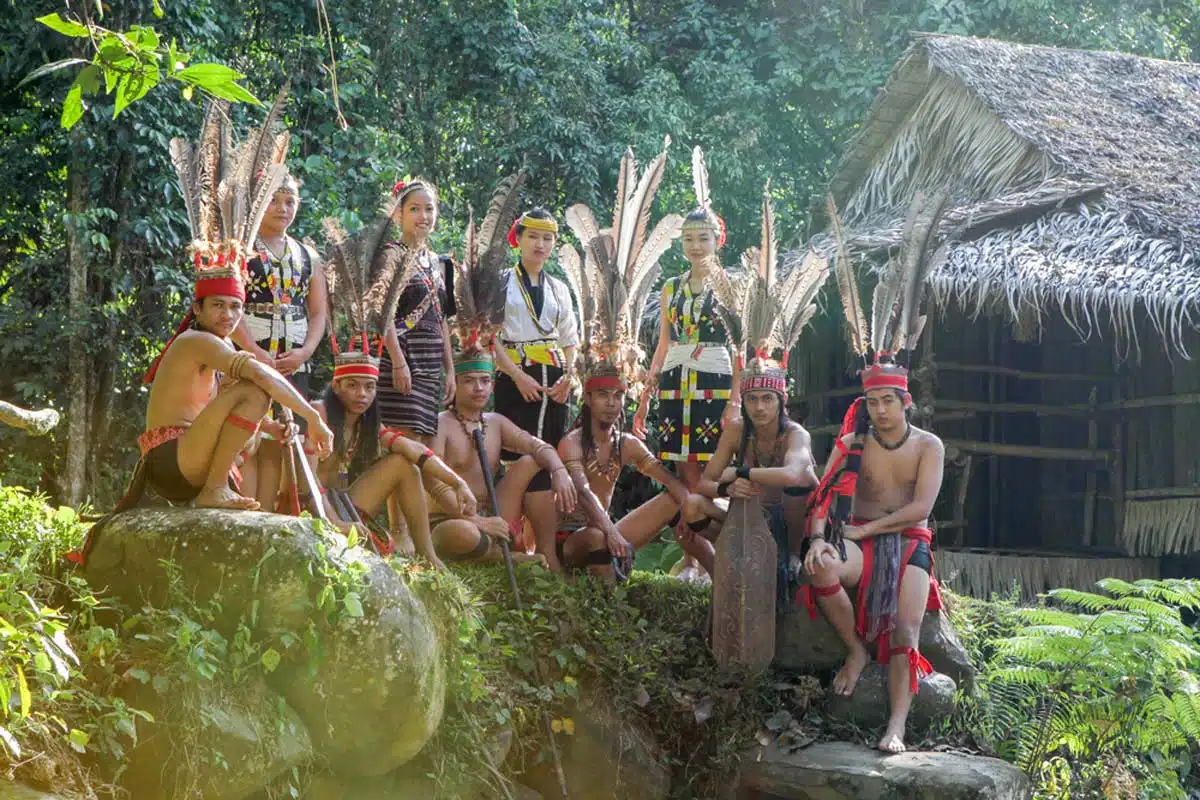 Deep in the Sabah countryside, away from the city, you'll find the Mari Mari Cultural Village, which transports you back in time. To be totally honest, I usually dislike visiting cultural villages, but this trip was different.
While the entire experience only took around two hours, we saw the traditional lives and customs of five indigenous tribes. On these tours, you experience delightful treats like cooking demonstrations, cultural performances, and tasty food.
Take in the Beauty of KK's Floating Mosque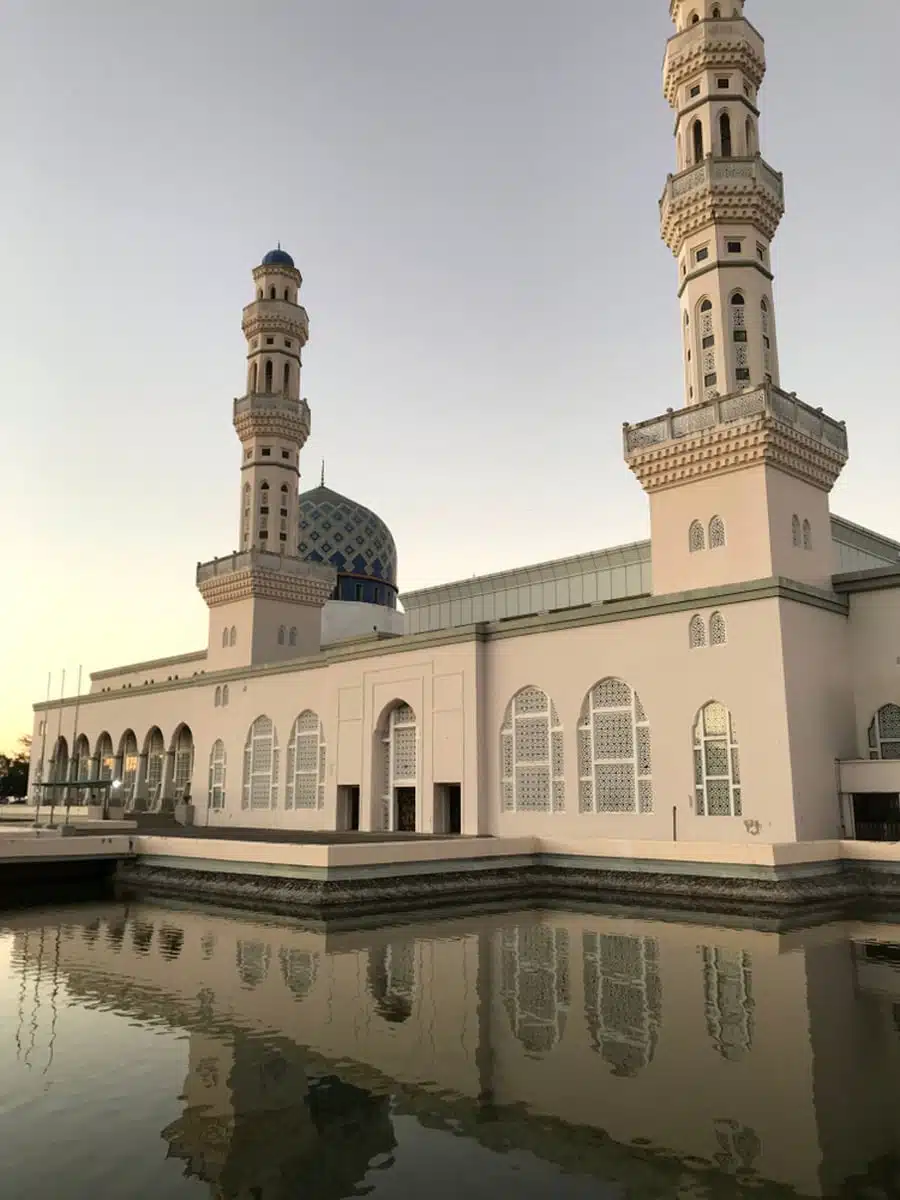 As the largest mosque in the city, it's no surprise that Masjid Bandaraya had to pull out all of the stops. Not only is it gorgeous and full of intricate artwork, but it also sits above the ground on an artificial lagoon.
Of course, the inside is equally as gorgeous with more intricate designs. Non-Malaysian visitors can enter daily for a fee of 5 RM.
Note: Dress appropriately (cover arms and legs, and hair for ladies), but if you forget, you can rent cover-ups for 5RM.
Unique Things to See & Do in Sabah: Hidden Gems That Are Off the Beaten Track
Test Your Bravery at the Gomantong Caves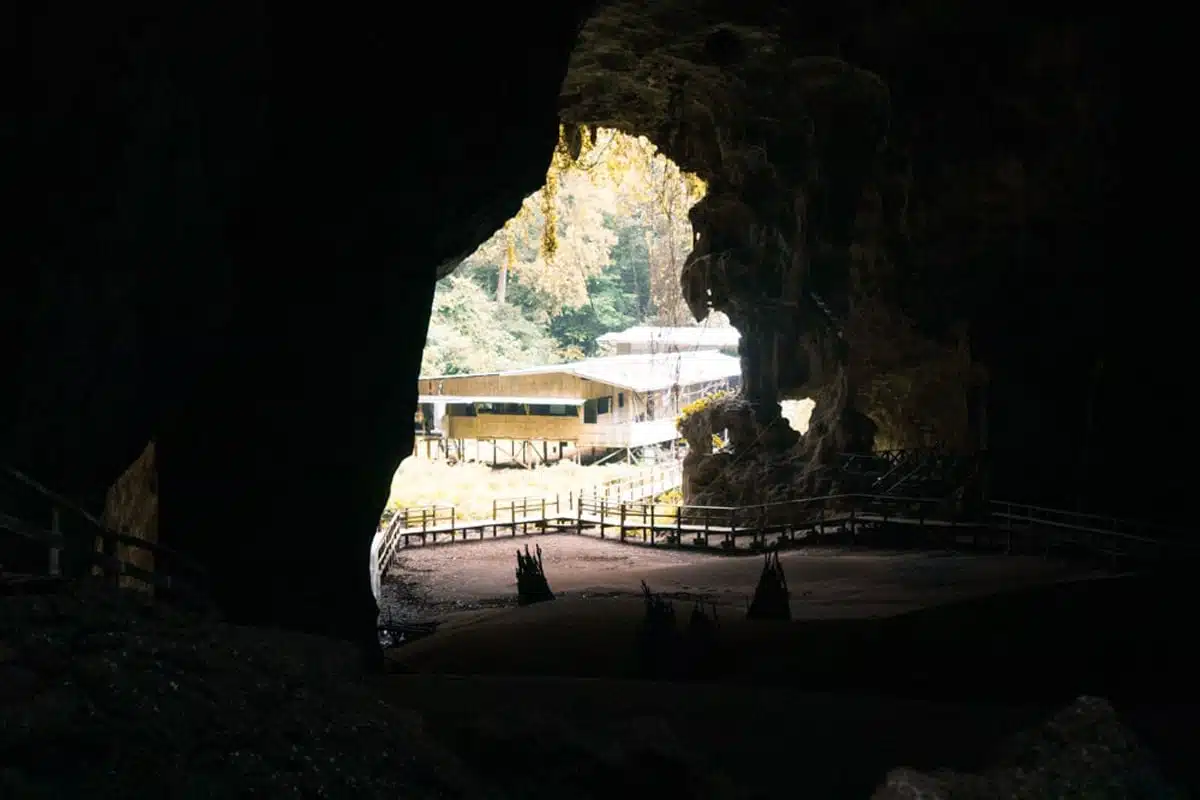 Possibly one of my favourite things to do in Sabah is to visit the Gomantong Caves – these caverns in the Sandakan Division are magnificent in stature. Although they boast a fair share of creepy-crawly residents, it was a highlight of my previous Borneo trip.
While there, we learnt about the Chinese delicacy called 'Bird's nest soup', which sounds exactly like what it is. Walking along the boardwalk deeper into the cave's majestic walls, you'll likely see a few bats, cockroaches on the ground, and swiftlet birds that call this place home.
The cave does have a sour smell (blame the bat guano). But if you can stay there until around 6 pm, you'll see about two million bats fly out for their nightly hunts. It's an incredible sight.
Tip: Wear covered shoes to avoid bringing any cockroaches home.
Shop at the Nabalu Market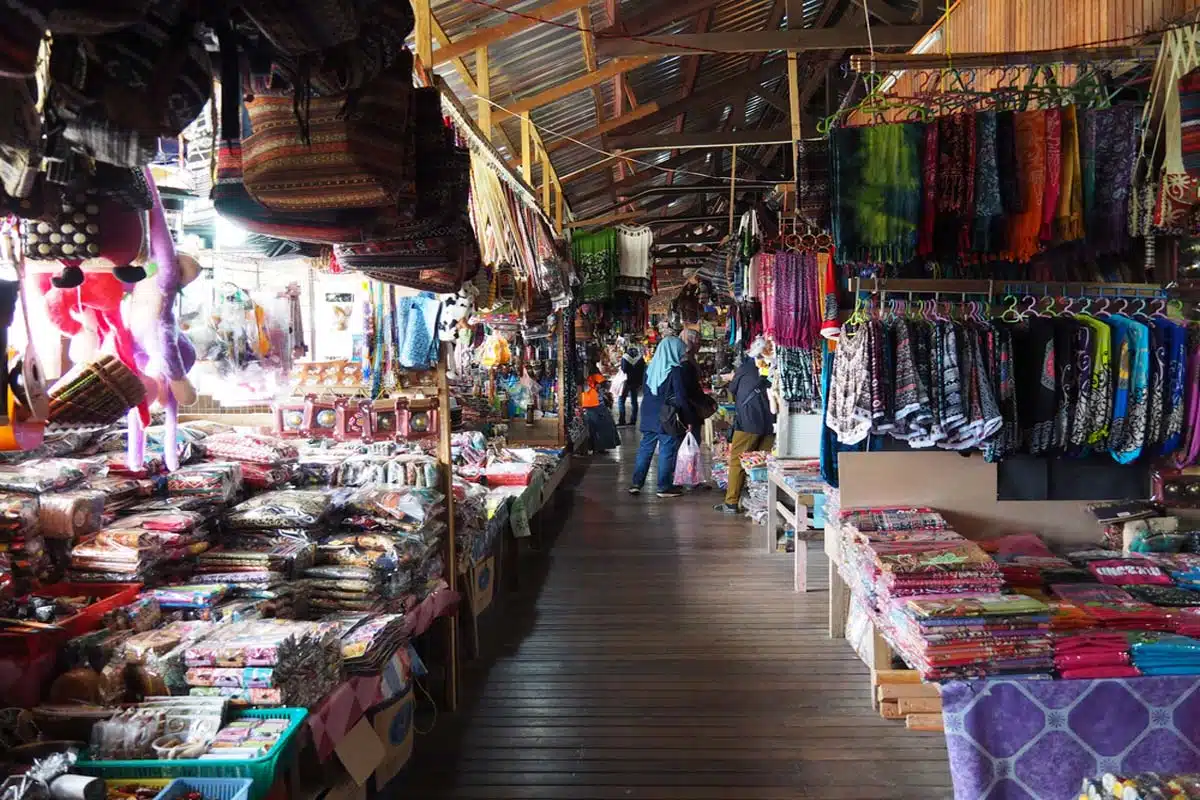 On the way to and from Kinabalu National Park, stop by this cute market in Kundasang town. It's a favourite among tourists and locals and opens daily until 5 pm.
You can expect many stalls with friendly vendors selling fresh produce, handmade crafts, and traditional foods. So, it is the ideal spot to pick up those last-minute souvenirs.
Besides the shopping opportunities, it has impressive views of Mount Kinabalu, which might grant a visit. As it gets quite busy, try to arrive early or late in the evening.
Ease Your Muscles at the Poring Hot Spring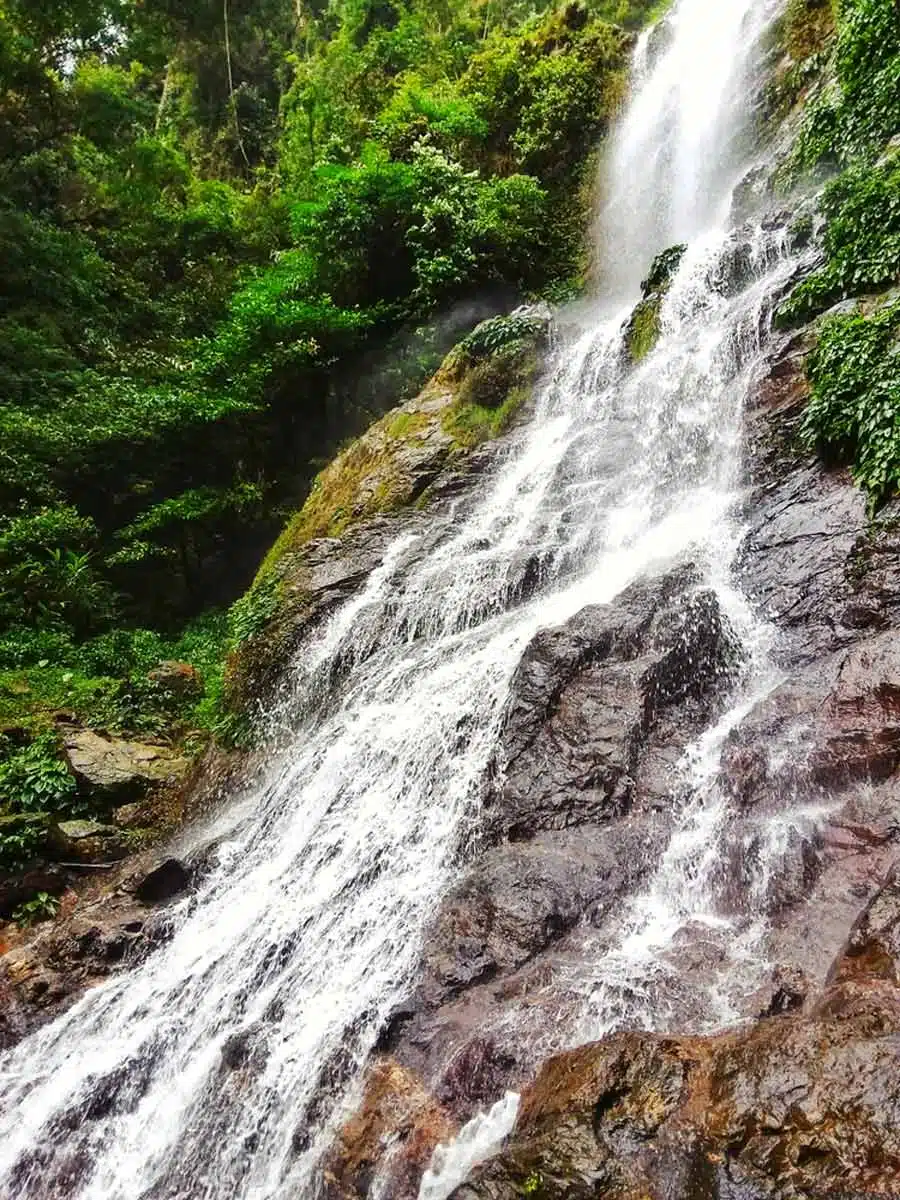 After a long day of exploring and hiking, what is the best thing to do in Sabah? A dip in a natural hot spring for oh so cheap (only 50RM for entrance).
You'll find these sulphur-rich baths about 40km outside Kinabalu National Park, near Ranau. While temperatures can reach 45°C to 60°C, people believe the baths have a healing benefit that helps with skin conditions like eczema and psoriasis.
Oh, and if you'd like some privacy, there is also an indoor bath.
Note: As expected, these springs have a strong sulphur smell. Not exactly the rosewater and lavender scents I was used to at a spa, but it didn't marr the experience!
Splash in the Kipungit and Langganan Waterfalls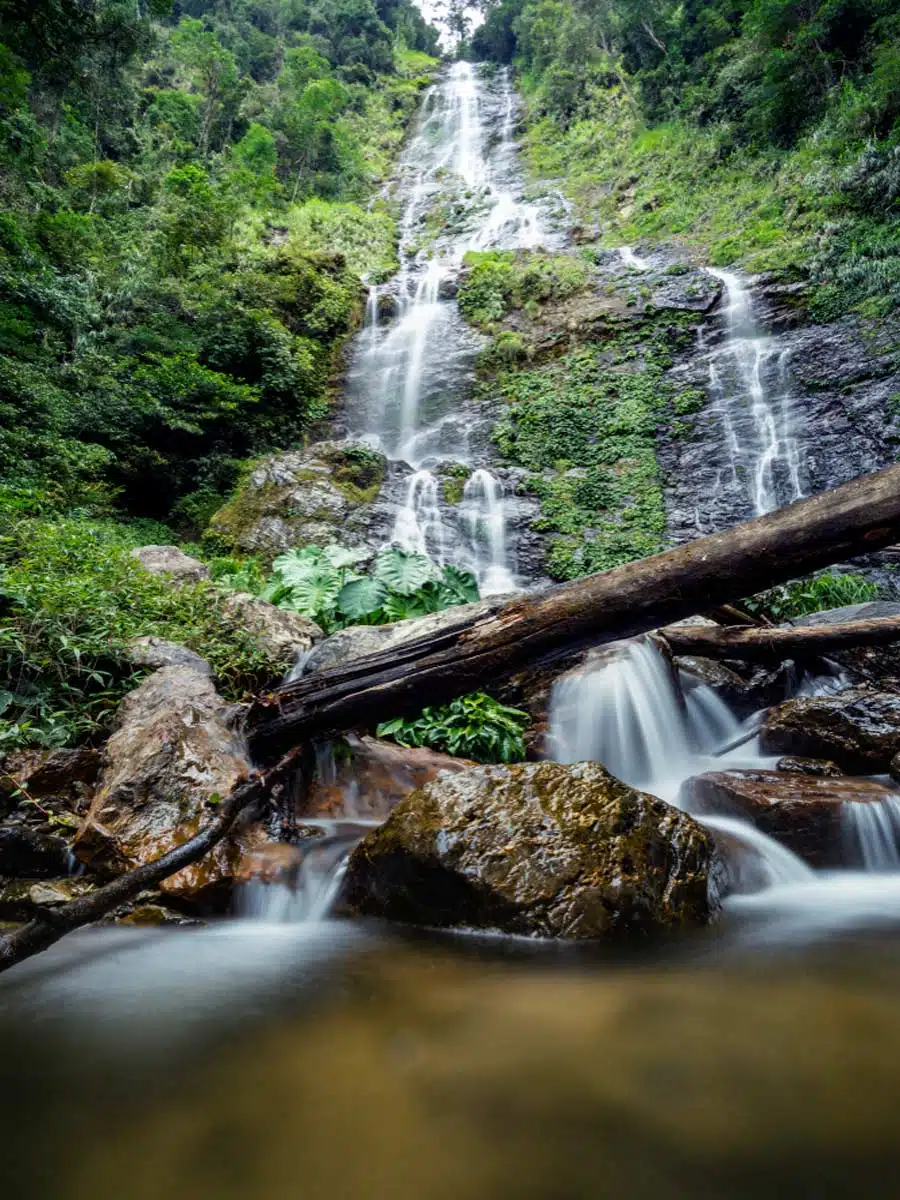 Not too far from the healing waters of the Poring Hot Springs are the Kipungit and Langanan waterfalls.
Kipungit is the closest to the springs and only takes a 10-minute hike. Langanan, on the other hand, takes about a two-hour trek and is more remote. However, it is worth the walk as Langanan is the tallest waterfall in Poring.
You can swim in both waterfalls as they're cool but not cold. Add this as a treat after dipping in the hot springs if the exploration bug still has you.
Explore the Maliau Basin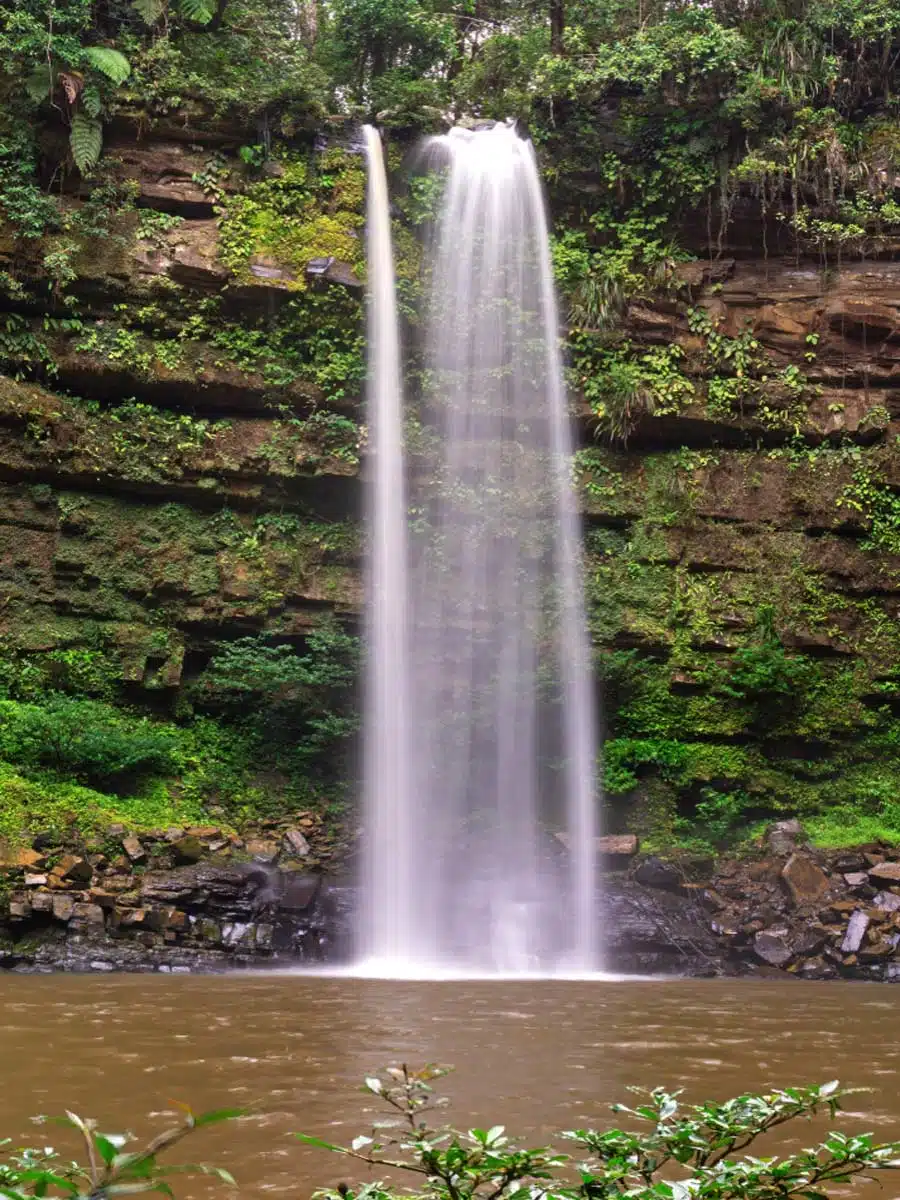 Looking for an off-the-beaten-track experience in Sabah? Few come as close as Maliau Basin.
In fact, the Maliau Basin Conservation Area is one of the least explored places in Sabah – so much so that people nicknamed it 'Sabah's Lost World'.
While the Maliau River flows through it, it is a bowl of almost untouched forests, with most left unmapped. So, the only way to get here is to book a tour from Kota Kinabalu or Tawau – this one from Amazing Borneo Tours is my top pick.
But be warned: Before joining, you need a fitness certificate and travel insurance. It's not for the faint-hearted.
Things to do in Sabah: Practical Tips for Your Trip
How Long to Visit in Sabah?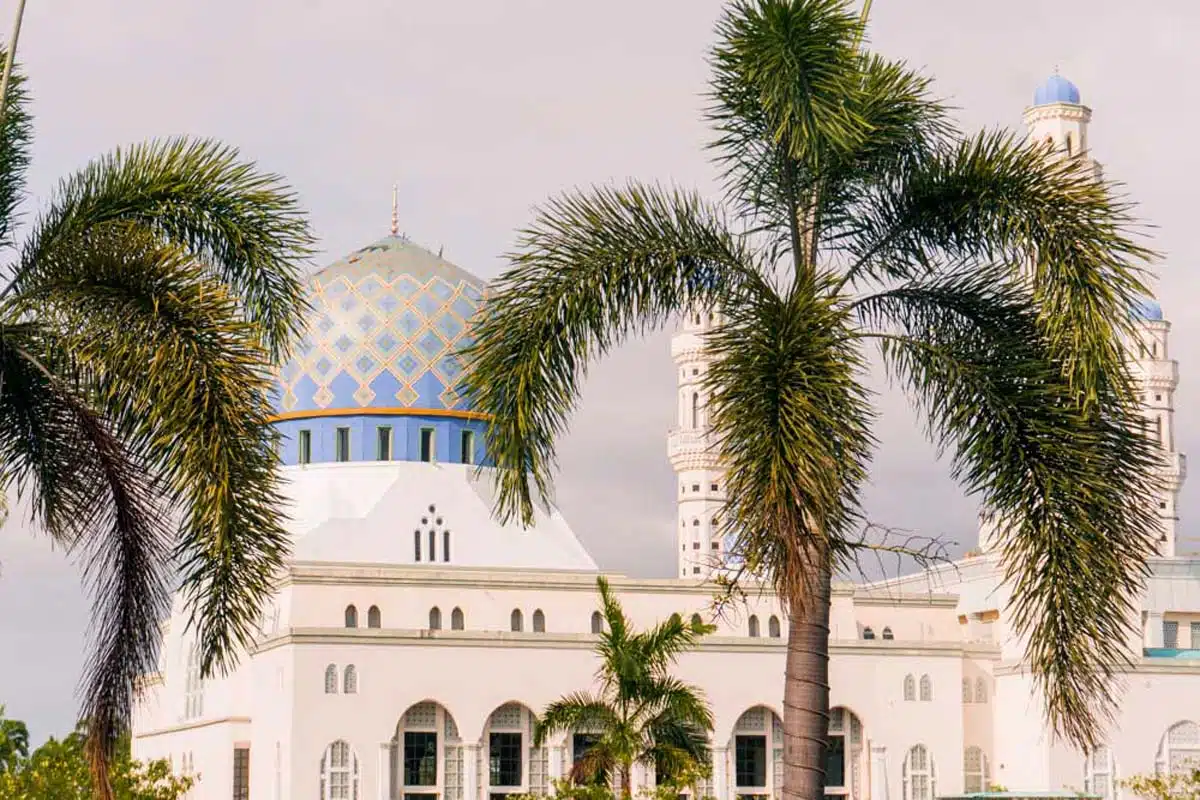 It depends on what you want to do and see but I recommend at least 7 days in Sabah. Kota Kinabalu needs at least two days alone, and then that gives you around a week to head out into the jungle and explore.
Best Time to Visit Sabah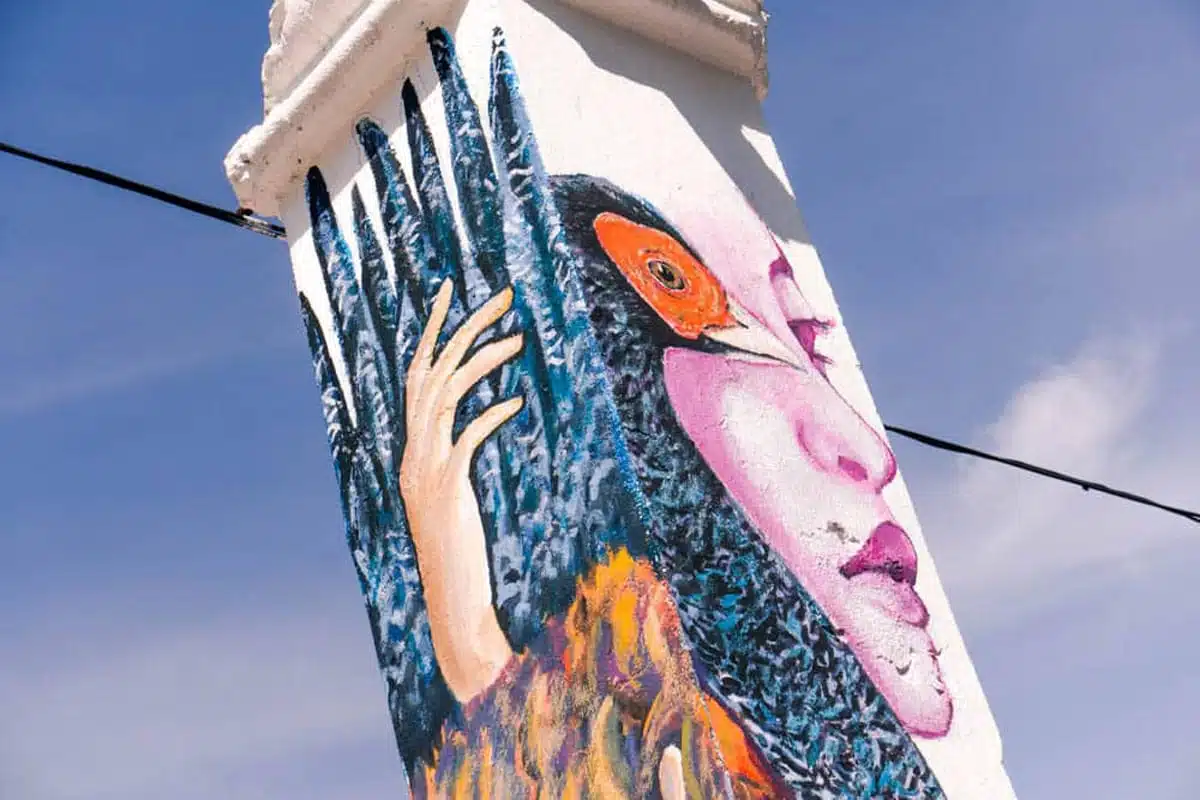 The best time to visit Sabah is any time between May and September. I've raved before about how it's one of the best places to visit in July because trees will begin fruiting, which gives you the best chance to spot some orangutans in the wild.
Where Should I Stay in Sabah?
Nexus Resort & Spa
I've stayed at Nexus Resort before and loved it. It boasts reasonable rates for a high-quality resort – with 8 restaurants, a golf course, spa, and comfortable rooms adorned in classic Borneo decor.
Plus, ending your day with a massage at the resort's spa is the ultimate treat.
The Aru Hotel at Aru Suites (Luxury)
If you're looking for luxury accommodation near the beach, the Aru Hotel is the place to be. It's close to Tanjung Aru Beach and features an outdoor swimming pool overlooking the beach and city.
Recommended Tours in Sabah
Things to do in Sabah: Map
Best Things to do in Sabah: Read Next
Love This? Save and Share on Pinterest