Discover the ultimate 7-day Morocco itinerary with this handy guide – how to see the best of the city in just one week.
A trip to Morocco is never short of a few surprises. Think bustling souks with a heavy dose of culture to serene coastal escapes, and everything in between.
Practically everything is an Instagram opportunity, the country is just that beautiful. So it's no surprise you're planning a dream trip to this colourful north African destination.
Let me take you through the perfect 7-day Morocco itinerary, covering the likes of Marrakech, Fez and the Sahara.
Oh, and I adored Essaouira so much on my last trip to Morocco (my camera barely survived the onslaught of clicks) that there was no way I was leaving it out of this itinerary.
Read on to discover the destinations that need to make it into your 7-day Morocco itinerary…
Handy Tips for Planning Your Morocco Itinerary
Group Tour or Independent Travel?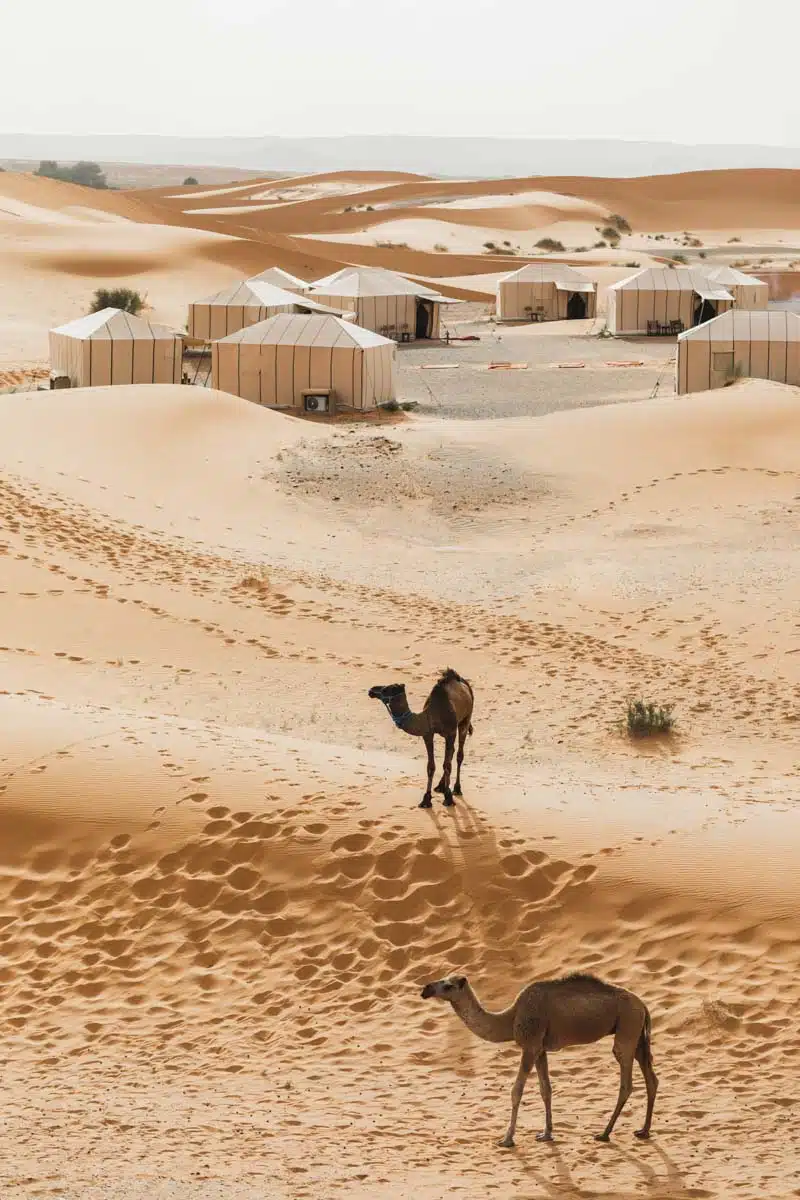 Whether you want to spend a week in Morocco solo or accompanied is up to you. While independent travel means more freedom, and you can make choices based on your preferences, group travel can also take much of the planning off your plate.
I recommend group travels with G Adventures if you're a nervous traveller, especially when going to the Moroccan Sahara. This trip plans everything for you, so all you need to worry about is what you're packing – which, to be honest, is a whole different kind of stress, amirite?
As well as this, guided tours can help make transport around the country a lot easier (as you'll see throughout this itinerary).
Though, I'll admit that few things beat the authenticity and mystery of a solo adventure, and you can plan out everything by yourself. This is where the following sections will come in handy.
What to Pack for Your 1 Week in Morocco Itinerary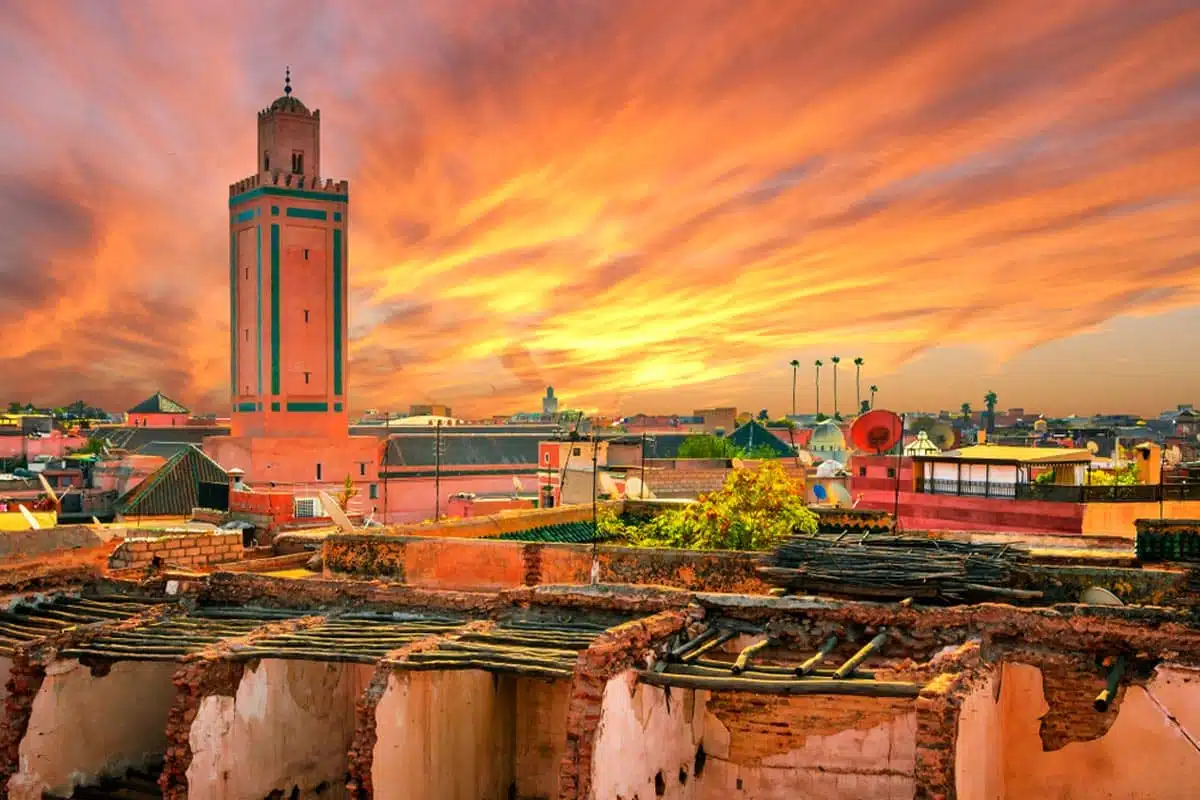 Since Morocco has no shortage of charming mazelike alleys and bustling souks, expect to do a ton of walking. Wearing comfy shoes, a hat, and high SPF sunblock is a must. 
Surprisingly, Morocco has no dress code despite being an Islamic country. Women can wear shorts when visiting coastal areas. However, I advise you not to wear extremely short shorts – just be respectful.
Honestly, it's best to stick to loose-fitting clothing and long pants to protect your skin from the sun. Anything tight and short will make days in the extreme desert weather seriously unpleasant.
You can also protect your peepers from the sun and wind by wearing polarised sunglasses. 
Useful Resources
Skyscanner: A highly reliable search engine and travel agency that helps you find and book affordable flights, hotels, and car rentals. 
Booking.com: One of the largest travel marketplaces, allowing you to browse various properties globally. 
Tripadvisor: A travel information and booking site featuring reviews, photographs and forums about hotels, restaurants, activities, and more.
Get Your Guide: A travel agency/marketplace for tours and excursions around the globe.
Viator: An online marketplace for tours, activities, and attractions globally. 
Rentalcars.com: A booking agency that compares and finds the best prices of different car hire companies, from luxury and economy to family rental cars.
Getting Around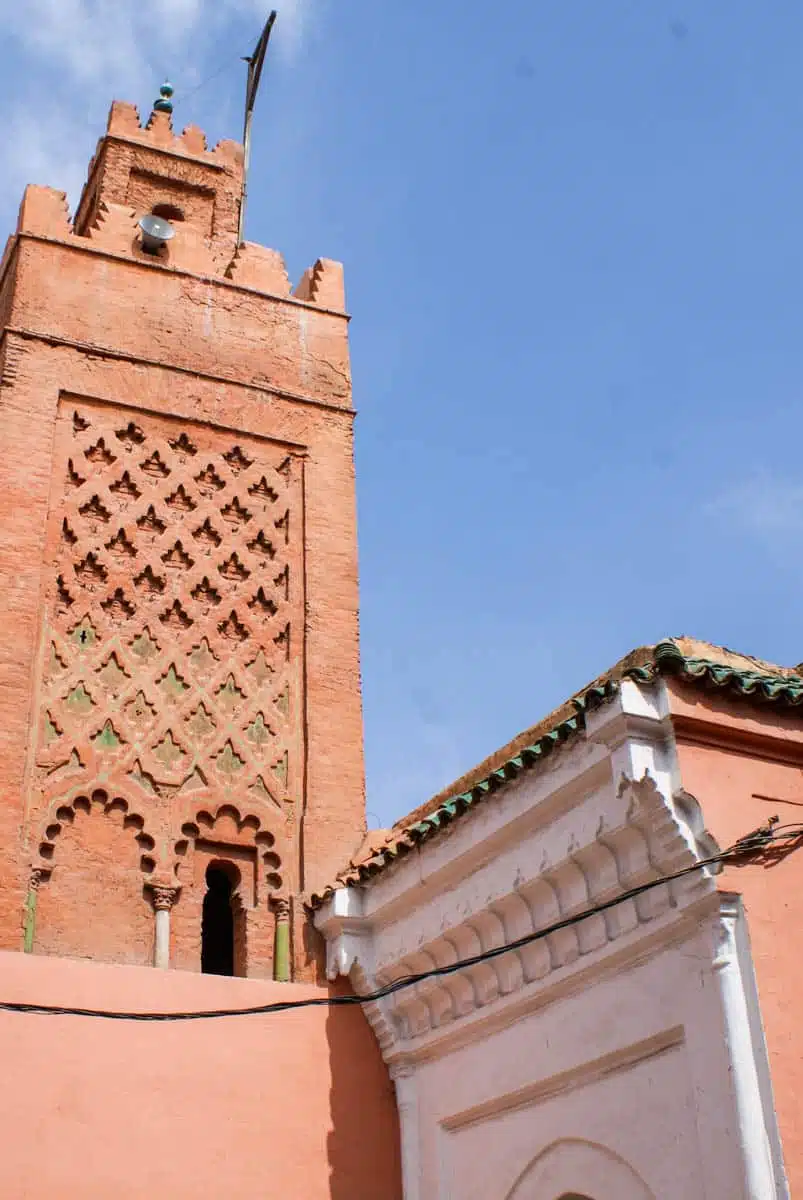 The easiest way to travel in Morocco (between wider locations such as cities) is via shared grand taxis. The grand taxis are a more reliable option and can carry up to eight passengers operating on various routes, making them quicker than most buses or trains.
While it gets you to your next destination much quicker, a grand taxi usually costs more (up to twice as much) than the bus. You could use petit taxis if you travel around in one specific city and do short trips. These are cheap and plentiful, so finding one won't be a hassle.
It's best to rent a car if you're travelling to the outskirts, like the coasts, deserts and the Atlas Mountains. Alternatively, an organised tour can also comfortably get you to these parts of the country.
7-Day Morocco Itinerary
Days 1-2: Marrakech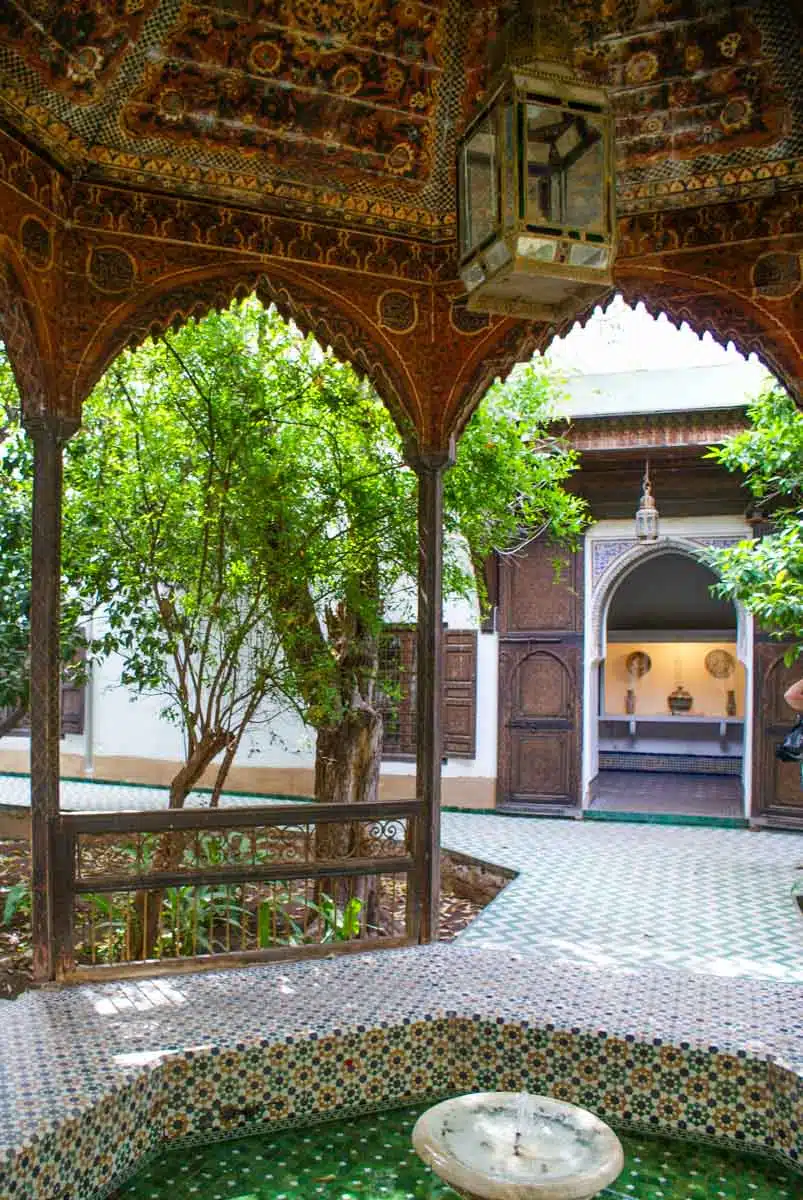 Where else to kick off this Morocco itinerary than in Marrakech, the capital. Here, you'll be able to spend some time adoring the Moorish architecture from an enchanting garden while sipping mint tea (what a life), or pottering around a vibrant souk.
Being a culture and artistic hotspot, you're never far from grand palaces, luxury spas and hammams, five-star restaurants and traditional riads. There's a reason why it's called the 'city of luxury' after all.
The atmospheric souks, bustling streets, heaps of spices and lingering perfumes will delight your senses as you walk through the winding alleyways of this city.
Things to do in Marrakech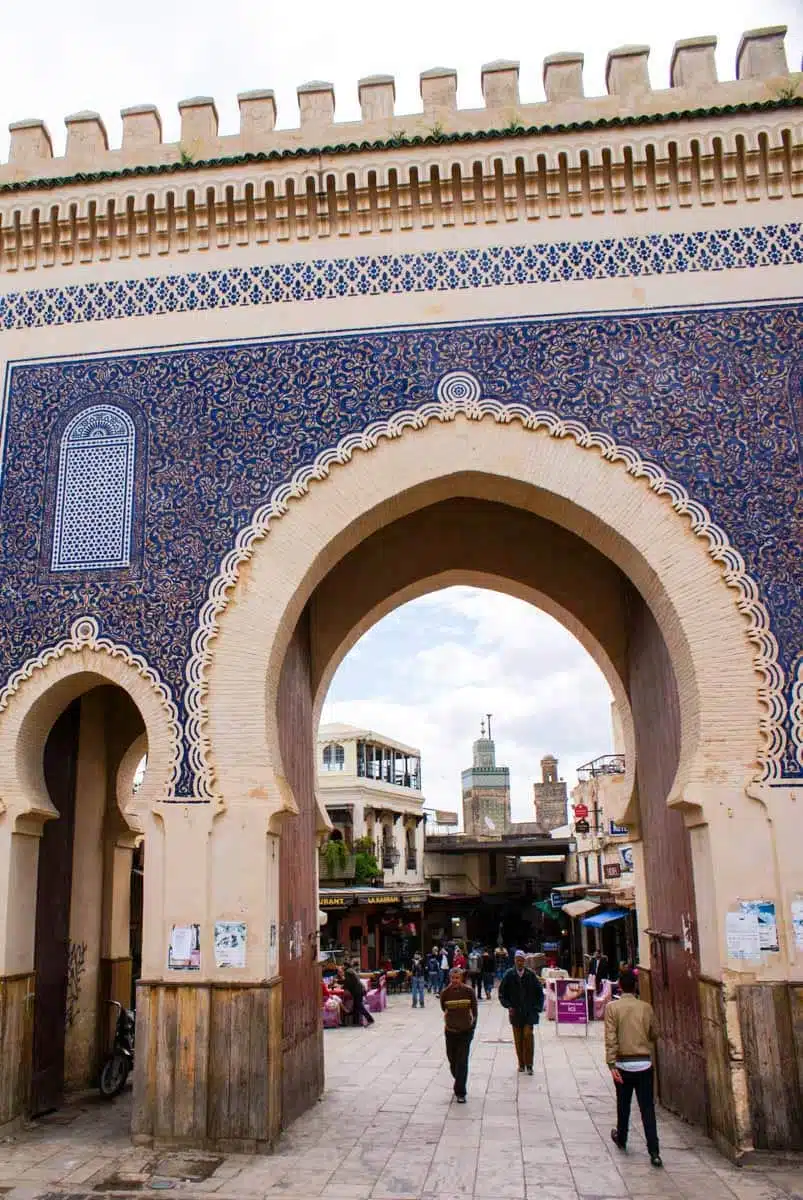 Sample traditional food at a riad: A riad is a traditional house or palace with a courtyard that contains trees and plants. These often feature accommodations and restaurants serving traditional Moroccan cuisine, such as wood-fired breads and couscous.
Admire historical landmarks: See the beautiful Moorish-inspired architecture of some of Marrakech's top landmarks — each with a fascinating backstory. Don't miss Bahia Palace, Saadien's Tombs, El Badi Palace and Koutoubia Mosque. See them all on this historical and cultural tour.  
Relax in a steamy hammam: A hammam or Turkish bath is a tradition where locals gather in a steam-filled public bath (similar to a thermal spa) to unwind and bathe. Experience a hammam's healing and exfoliating properties at Hammam De La Rose, Heritage Spa, or the Riviera Spa.
Visit the top sights: With so much to do, choosing just a few activities is challenging. However, try not to skip out on Marrakech's fantastic sights, including a trip to Majorelle Garden, Palmeraie Ourika Valley, and Jemaa el-Fna square. 
Enjoy a camel ride and picnic in the Agafay Desert: The Agafay desert is a popular location for camel safaris, quad biking and luxury camping. Many tour guides offer exciting activities in this arid, rocky terrain, such as this full-day desert and mountain tour. 
Take a day trip to Ouzoud Waterfalls: Visit one of Africa's tallest and most stunning waterfalls. This Ouzoud Waterfall tour includes a hike and a thrilling boat ride at this mesmerising landmark. 
Getting to Marrakech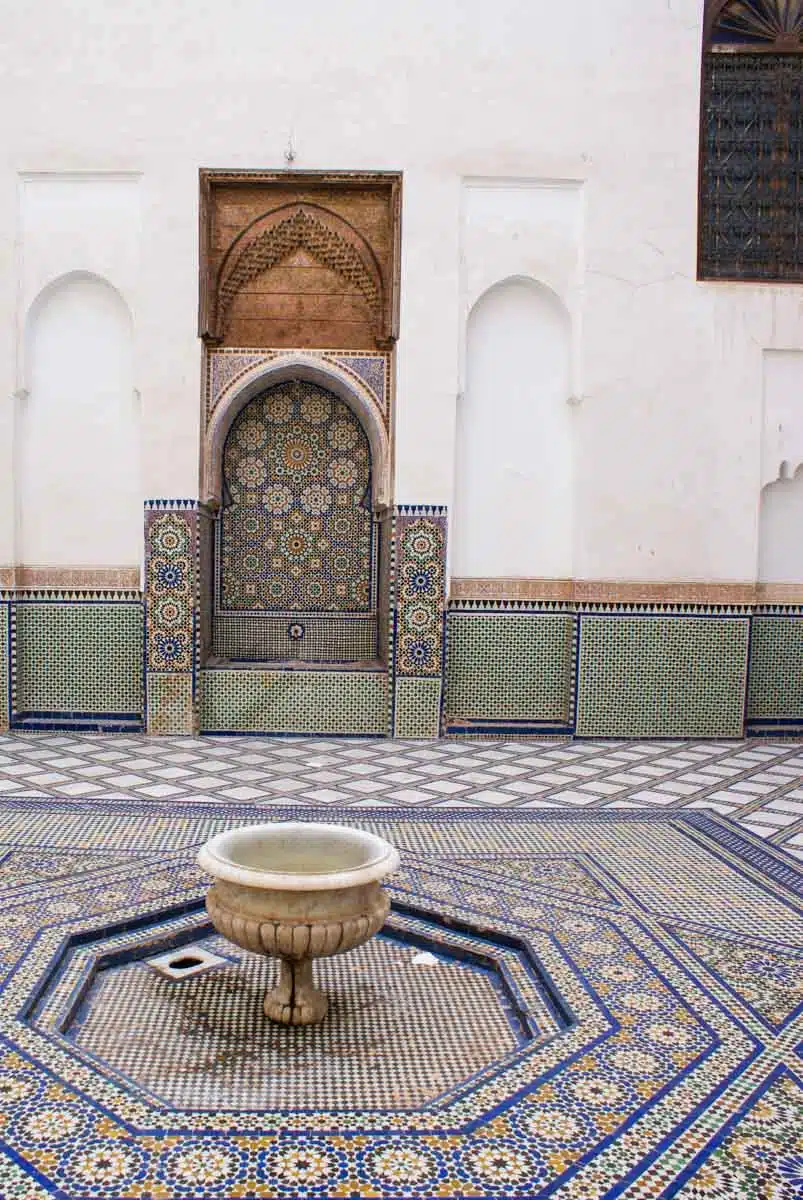 When travelling to Marrakech, you'll likely land at Menara Airport – most major airlines around the world will fly here. Once you land, it's around 20 minutes by taxi to the city centre.
Suggested Stay for Marrakech on your Morocco Travel Itinerary
The Riad Palais Des Princesses & Spa captures the essence of Morocco to the fullest, featuring both a hammam and riad. Now you can tick off two activities from the things to do list and access nearby attractions such as Jemaa el-Fna square. 
The rooms are stunning and feature traditional interiors. Take a couples massage, rejuvenate in the hammam, or cosy up on a lounger in the central courtyard.
You'll also have access to an indoor swimming pool, hot tub, terrace, room service and daily brunch. What more could you ask for?
Alternatively, check all accommodations in Marrakech.
Day 3: Essaouira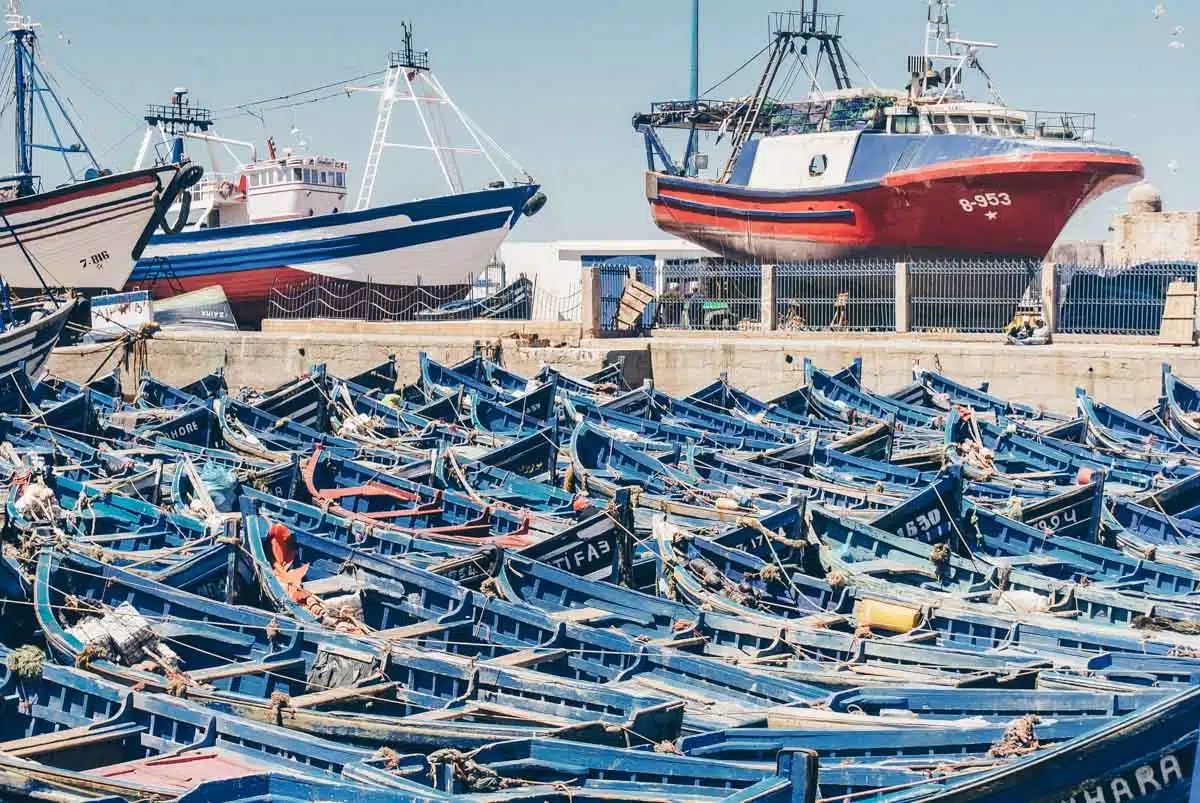 Essaouira is a charming haven by the sea – and a place I fell in love with. It's unique for its 18th-century seafront ramparts called the Skala de la Kasbah that shelter its cobbled medina (old town).
While Morocco is more associated with dunes and colourful markets, it makes perfect sense to explore its lesser-known shores. Essaouira will give you a more tranquil and laid-back feeling after a busy two days in the capital.
Alternative cultures and lifestyles flourish in this city known for its artisan industries – though one full day is enough for you to explore much of the medina and some of its coastal paradise.
Now, I highly recommend you take a day trip from Marrakech and return to the capital in the evening. Why? All will become clear when you see what's in store for day 4.
Book an Essaouira Day Trip From Marrakech Here
Things to do in Essaouira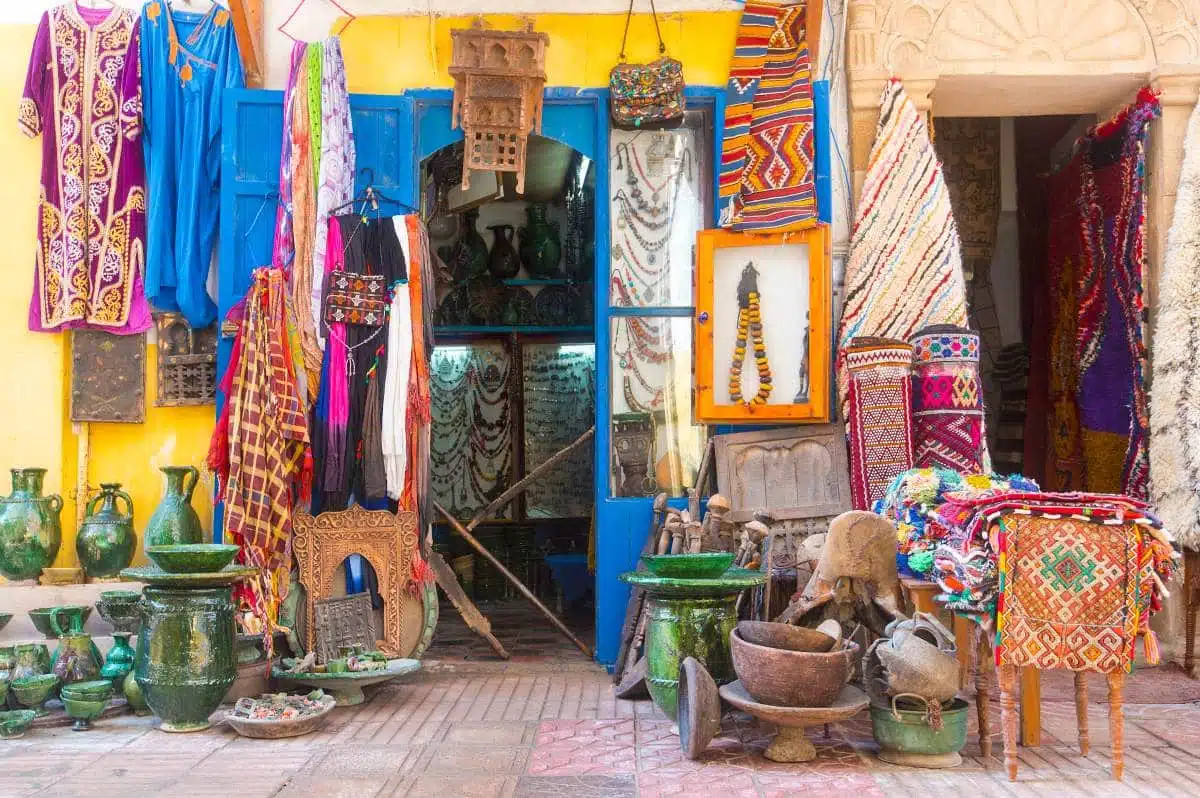 Try wind and watersports: The city's crescent beach sees strong trade winds making it ideal for surfing, kitesurfing and windsurfing. So if this sounds like your thing, waste no time making your way to Plage d'Essaouira.
Visit a hidden beach: Nothing beats finding a hidden gem, and Iftane beach is as charming as they come. Sink into the soft sand of this beach as the azure water caresses the shores — there's no better way to relax.
Admire the top landmarks: Learn about the history and culture of Essaouira by visiting its top landmarks, including Skala de la Ville, Skala du Port and Simon Attias Synagogue.
Wander through the buzzing medina: Stroll through the lively narrow streets surrounded by vibrant galleries, souks and street vendors. Named a UNESCO World Heritage Sight in 2001, you'll see why this picturesque area has made it onto the popular series, Game of Thrones.
Indulge in seafood cuisine: Take the opportunity to tickle your palette with seafood dishes with a Moroccan twist. I highly recommend La Table by Madada, Seafood Corner and The Loft.
Top Tip: There are more brilliant things to do in Essaouira, so I suggest you dive into this guide too.
Getting to Essaouira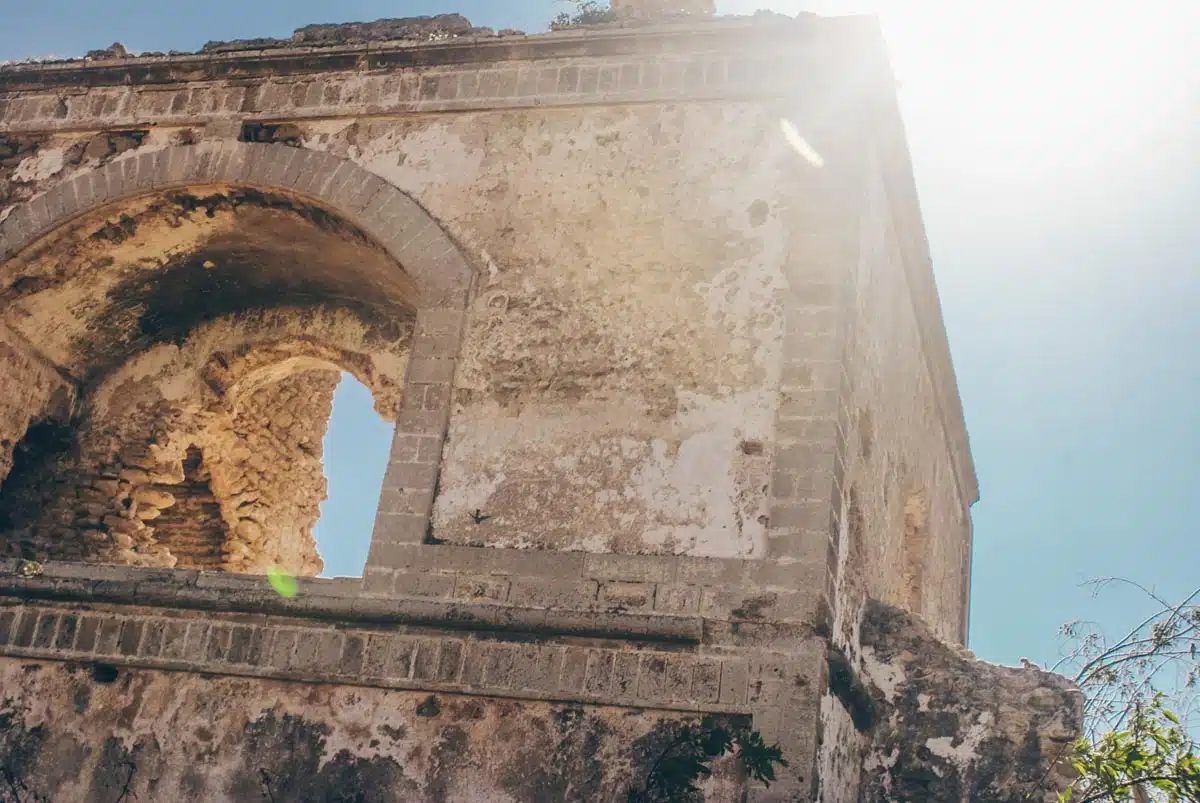 The drive from Marrakech to Essaouira is less than three hours – this is the easiest way to travel between the two if you're not looking for a tour.
That said, I recommend booking a day trip and returning to Marrakech in the evening, as it makes travelling to the rest of the country a lot easier.
If you're staying in Essaouira for a longer period of time, there is also a bus that takes slightly longer. Check tickets and times here.
Suggested Stay for Essaouira on your Morocco 1 Week Itinerary
If you've decided to bed down in this city for the evening, there's no better way to enjoy the magical coastal scenery of Essaouira than staying at an elegant hotel overlooking the Atlantic ocean. Riad Lyon-Mogador gives you that and more.
Rooms are spacious, with traditional Moroccan touches throughout. This hotel features terraces, free Wi-fi, airport shuttles and an onsite restaurant.
Plage d'Essaouira is a nearby beach to soak up some sun, and you can pop over to souks, cafes and bars in the historic old town.
Alternatively, check all accommodations in Essaouira.
Days 4-5: Sahara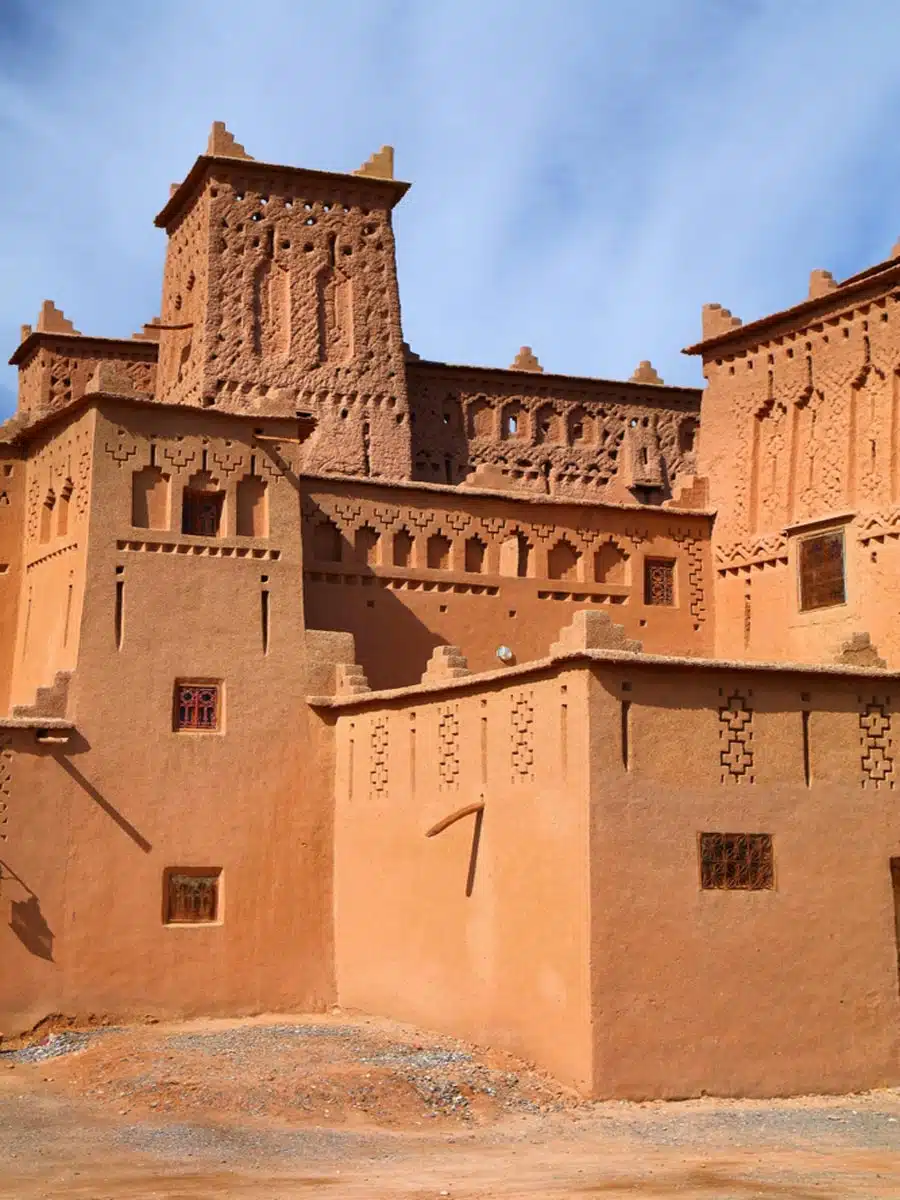 The Moroccan Sahara encompasses a huge portion of the Western Sahara, which the government of Morocco claimed authority over in 1975. Marrakech is the gateway to the Sahara, so it's best to travel from there.
And let me tell you, the journey from Marrakech to the Sahara is one of the most visually appealing, like ever.
What makes the Sahara the biggest tourist attraction of Morocco is its desolate desert flatlands and charming towns or villages that separate you from modern civilisation. The oases, dunes, ethereal skies and frozen-in-time kasbahs dotted about make it unmissable.
Take two days (or three, if you have an extra one to spare) out of your one week in Morocco, as travelling to the Sahara will take up much of your time.
Things to do in Sahara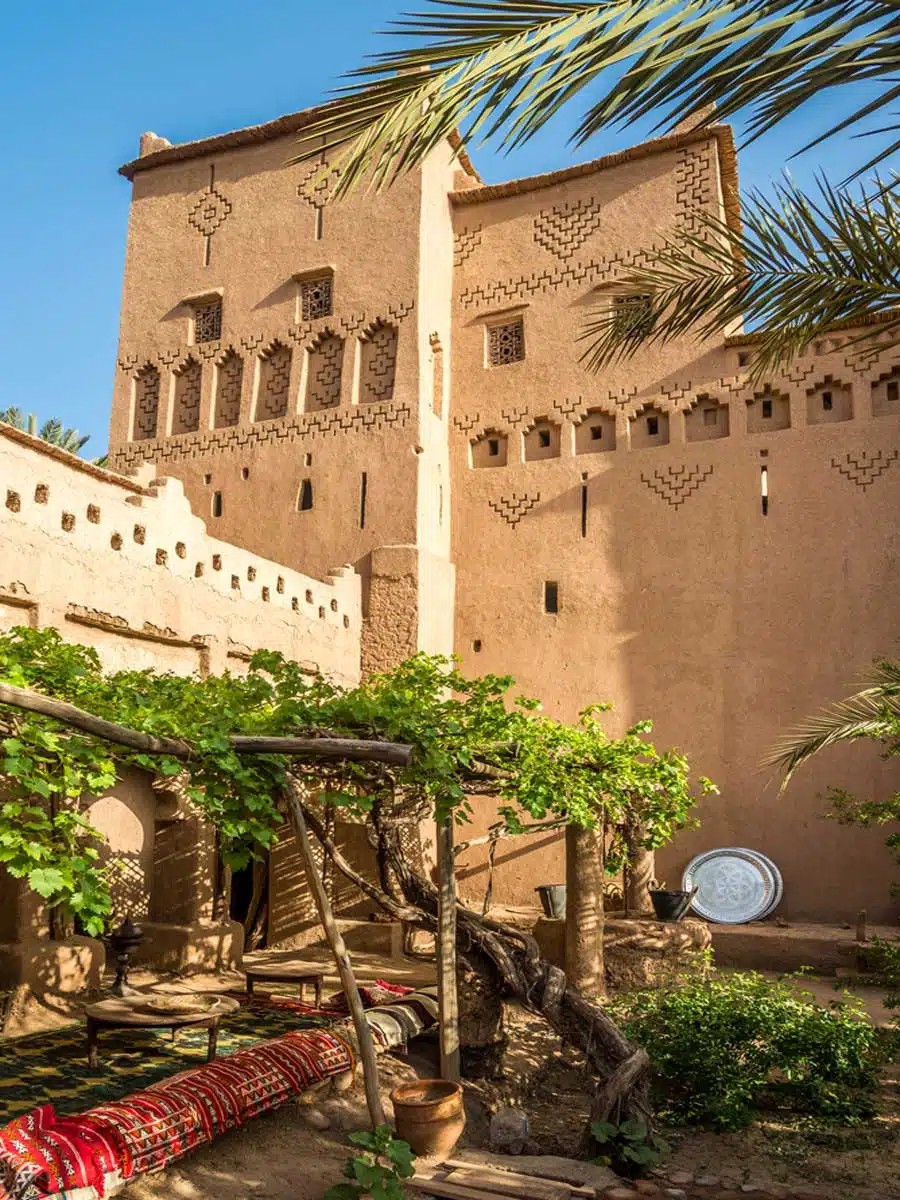 Camp amongst the towering dunes: Embrace the outer edges of the Sahara near Merzouga by spending a night under the stars in a Berber-style desert camp. This overnight camping tour includes luxury or standard tents and camel trekking.
Admire the Kasbah Amridil: A Kasbah is a living museum and fortress showcasing cultural heritage and traditional handmade artefacts over the centuries. And the Kasbah Amridil in sleepy Skoura village is the most iconic of the many Kasbahs across the desert. Visit this site to get memorable insight into the ancient traditions of Kasbah life.
Photograph the Erg Chebbi and Erg Chigaga dunes: Capturing the majestic sea of dunes as the sun creates captivating shadows between them is a must. Some of the dunes can reach 525 feet (160 metres), and the complete silence out there makes it feel otherworldly.
Explore Western Sahara's biggest city: Laâyoune is the capital of the Laâyoune-Sakia El Hamra region. It offers much to do and see, including wandering through Souk ez Zaj (the oldest part of the city). The monuments and landmarks here, such as the Grand Mosque, Place El Mchawar and the Spanish Cathedral, will give you more insight into Sahrawi culture, which differs from the rest of Morocco.
Getting to Sahara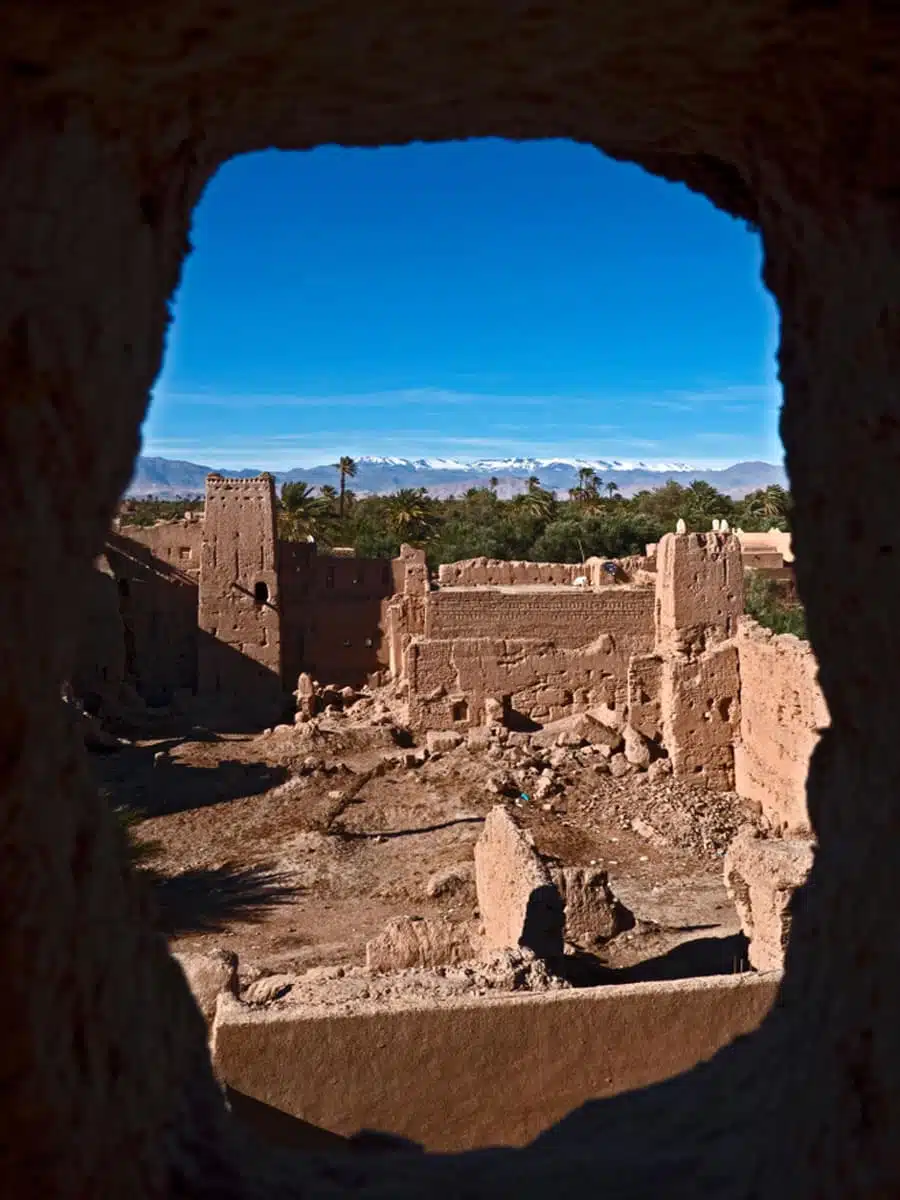 I recommend travelling to the quaint village of Merzouga to base your activities if you're using a rented car. Driving from Marrakech to Merzouga takes about nine hours (346 miles) via N9 and N10.
Alternatively, you can join this desert tour from Marrakech that includes a camel trek.
If you're worried about time, I suggest taking an hour's flight from Marrakech to either Zagora or Errachidia. From here, you can travel to the desert dunes, Merzouga, or other cities and towns. 
Suggested Stay for Sahara on Your Morocco Itinerary
Riad Madu offers comfort, elegance and that classic Moroccan charm. Providing spacious rooms with modern and traditional touches, you'll love its authenticity. Located in Merzouga, this property has everything you need for a cosy stay in the desert. 
Take advantage of their 24-hour front desk, swimming pool, garden, terraces, room services, and other fantastic facilities. Sample tantalising Moroccan dishes, then enjoy lounging by the pool with rolling desert landscapes as your backdrop (talk about a sweet escape).
Alternatively, check all accommodations in the Sahara.
Days 6-7: Fez (And Back to Marrakech)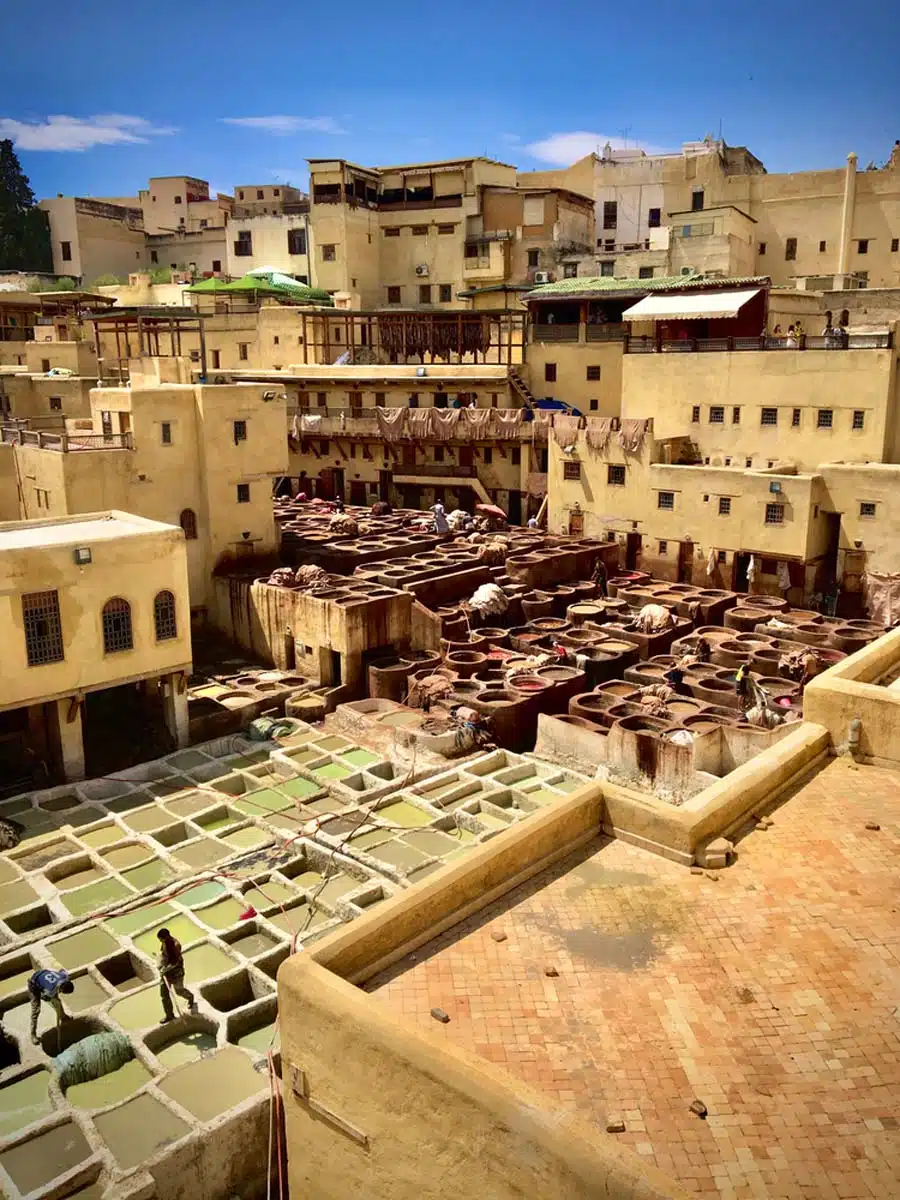 Fez is one of Morocco's biggest cities, yet it's a severely underrated one. It's also known as the country's cultural capital.
This mediaeval city has an old-world flair, transporting you back in time. With Marinid architecture, intricate cedar carvings and elaborate tilework everywhere you look, it's virtually a photographer's paradise.
Things to do in Fez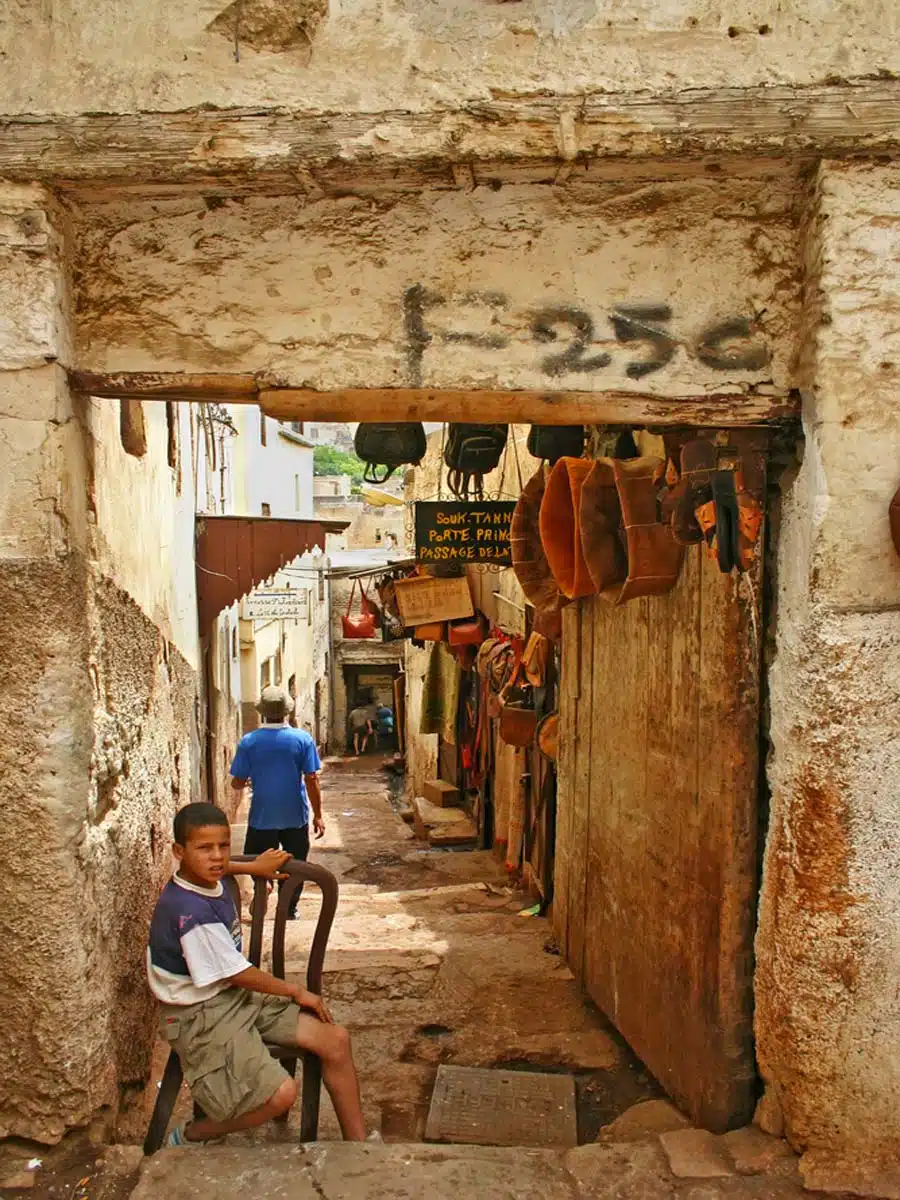 Admire historical landmarks: You can't come to Fez without making time for its stunning ancient buildings. I suggest visiting The Bab Boujloud, Al Attarine Madrasa and Bou Inania Madrasa.
Explore its medina: A walking tour through Fez medina is enough to fill all your senses. It's radiant with food stalls, smells, bustling markets, mosques, palaces, and so much more.
Try some street food: Fez is an excellent place for foodies. From traditional meals to fast food, your taste buds are in for a good time. You'll find stalls in all the different souks of the medina. M'sem is a crispy pancake that is quite popular, but I dare you to taste the infamous camel burger.
Photograph the views overlooking the tannery: Fez is famous for its leather tannery, which is also its main tourist attraction. You must visit one of the many leather shops featuring balconies and viewing platforms to see the tannery in all its glory. The best part is you don't need a guide or tour for this activity.
Getting to Fez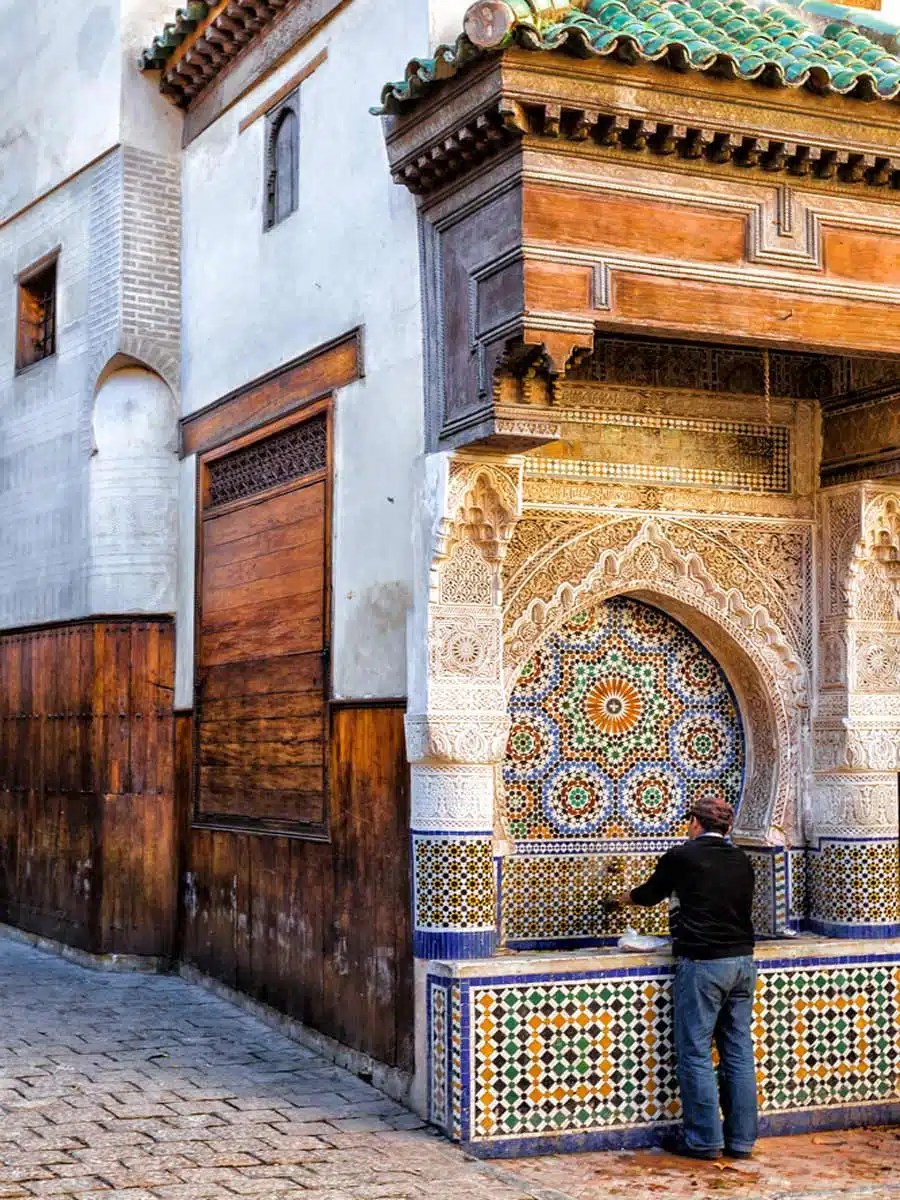 If you've opted to base yourself in Marrakech thus far, the easiest way to travel to Fez is by a one hour flight. Or, if you're in the desert, the drive from Merzouga to Fez is around 7 hours.
At the end of your 7 day Morocco trip, I recommend flying home via Marrakech (or by Fez if you have a direct flight available).
Suggested Stay for Fez on your Morocco 7 day Itinerary
Riad Farah is a place full of Moroccan charm – from decorative tiles and gorgeous wooden shutters throughout, you can't get any more traditional than this. At Riad Farah, you can expect excellent service and convenient amenities such as an airport shuttle, Wi-fi, room service, and more. 
The bar and restaurant on site offer tantalising traditional cuisine, so you don't have to stray too far. Enjoy the breathtaking views from their spacious rooftop terrace, and even the guestrooms feature patios with views.
Alternatively, check all accommodations in Fez. 
Best Morocco Itinerary, 7 Days – Map
Planning a Morocco Itinerary? Read Next