Discover the best things to do in Marrakech with this handy guide – unmissable attractions to add to your Morocco bucket list.
Morocco has been high on my radar lately – and Marrakech is a city I'm dying to return to.
It's easy to see why. Every corner of the city is a banging photo opportunity, with its colourful tiles, Moorish architecture, and bustling streets. Not to mention the beautiful spas and brilliant restaurants that dot the city.
Whether you fancy wandering around the ancient palaces, heading out to the nearby dessert, or spending some time perusing the souks, there are so many incredible things to do in Marrakech.
Let's go and discover.
Looking for a hotel that brings the best of Marrakech to your doorstep? Stay at the Hotel La Maison Arabe and relax in a hammam, stroll the gardens, or take a cooking class.
Top 5 Things to Do in Marrakech
Stroll Through Jemaa el Fna Square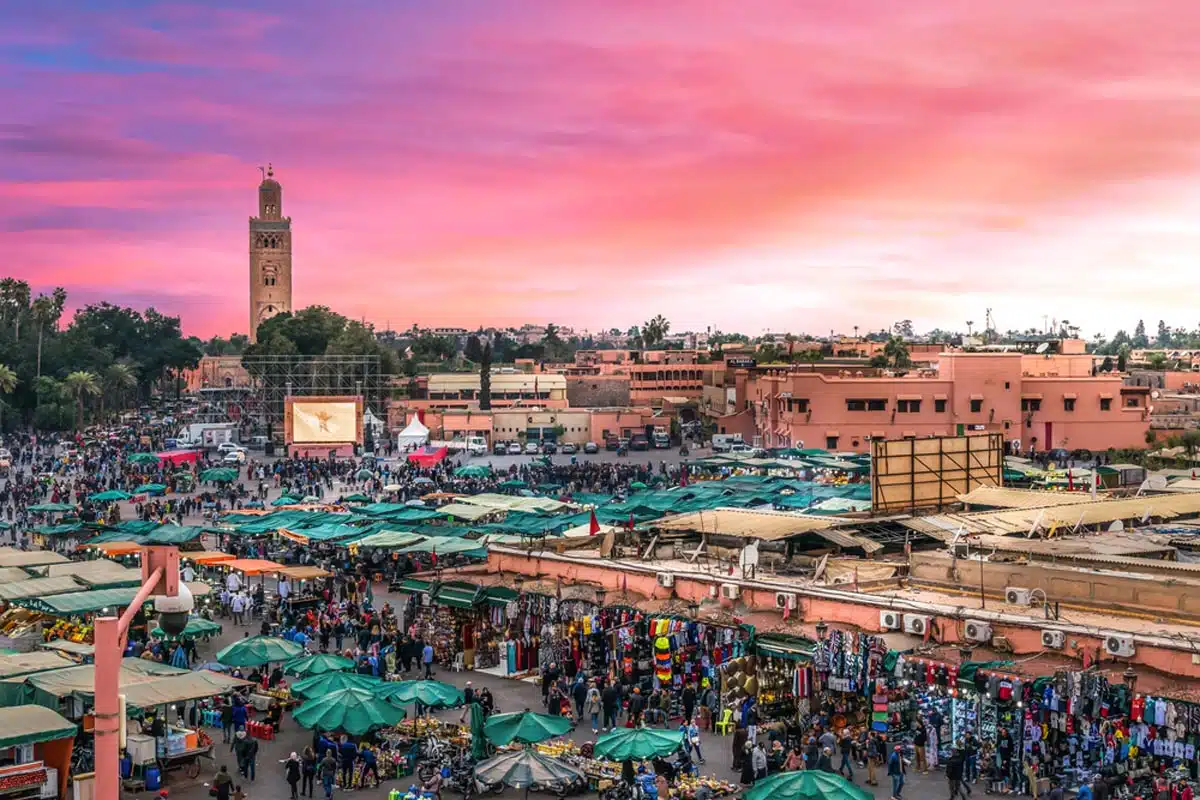 Sitting at the heart of the Medina of Marrakech (the old town), the Jemaa el Fna Square remains the main watering hole in the city, where tourists and locals congregate.
No wonder it's the first pit-stop for many in the city – you'll feel immersed in the local culture as you walk through rows of snake charmers, street food vendors, and fresh juice stalls.
After the sun sets, Jemaa el Fna Square comes to life with vibrant street entertainers, flute players, and dancers showcasing their talent under the sparkling lights on the vendor stalls.
This display of authentic Moroccan culture makes walking through Jemaa el Fna Square one of the best things to do in Marrakech at night.
A word of warning: As a rule, don't eat at the restaurants in Jemaa el Fna – many are tourist traps that have been known to throw ridiculous price hikes at foreigners, not to mention that there are so many better places to dine.
Top Tip: Jamaa el Fna Square gets super busy from 6 pm to 9 pm, so visiting early in the morning or the afternoon is your best bet to see the square uninterrupted.
Snap Photos at Bahia Palace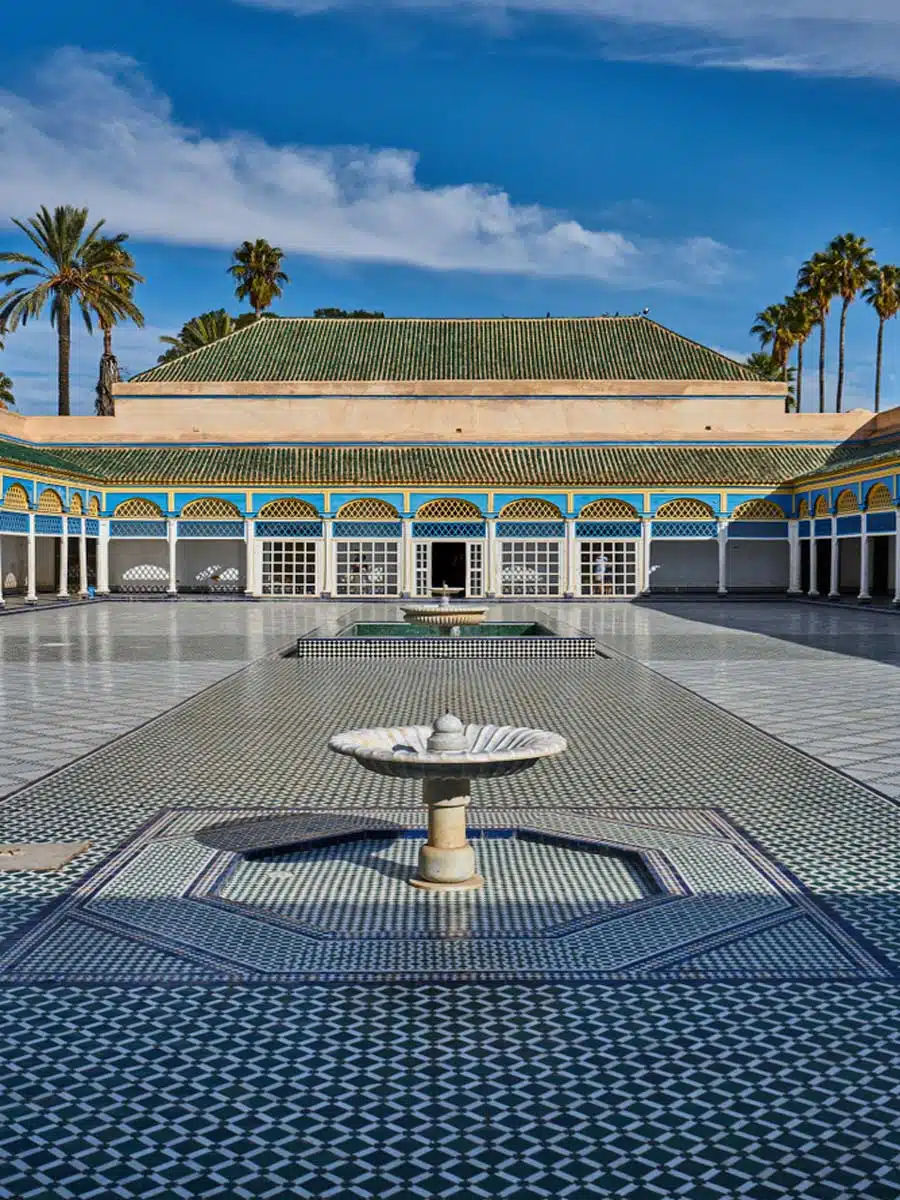 If you're a fan of architecture, decor, and lush courtyards, Bahia Palace is the go to. This 19th-century Moroccan palace boasts a breathtaking interior and exterior with stucco-painted walls, muqarnas, arabesques, mosaics, and high, gilded ceilings.
Take a tour of Bahia Palace and closely examine marvellous Moroccan architecture and its Islamic influence. When the Grand Vizier of Hassan I built this magnificent 150-roomed palace in 1859, he wanted it to be the greatest of all time — and — he wasn't too far off.
Believe me when I say, make sure your camera is fully charged for this palace. You're going to need it.
Book Your Bahia Palace Tour Here
Marvel at the Jardin Majorelle-Yves Saint Laurent Mansion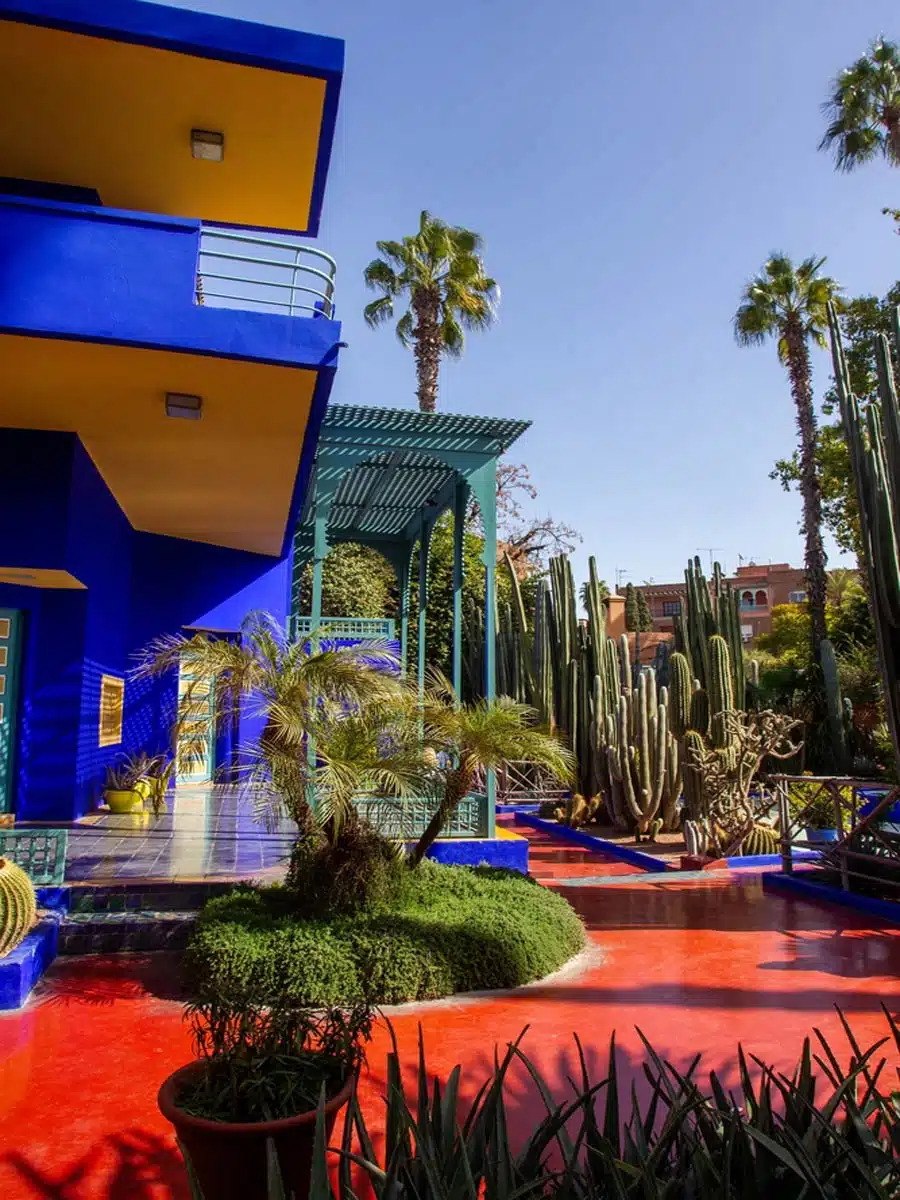 You've likely seen this next spot on the 'Gram – the Jardin Majorelle-Yves Saint Laurent Mansion (yes, it belonged to Mr YSL himself) is a stunning botanical garden boasting over 15 bird species endemic to North Africa and insurmountable plant species.
In 1923, designer Jaques Majorelle planted exotic plants worldwide. Today, Jardin Majorelle has more cacti and desert plants than any other garden in the world.
To explain the YSL part, and I know you're wondering. In 1980, Jardin Majorelle was at risk of destruction by investors. But remembering his first trip to Marrakech in 1962, Yves Saint Laurent bought and saved the garden from despair.
Today, Jardin Majorelle-Yves Saint Laurent's deep blue Moorish and art deco mansion stands on 2.22 acres of verdant land boasting cacti, ferns, palms, ponds, and fountains.
Wander Around Souk Semmarine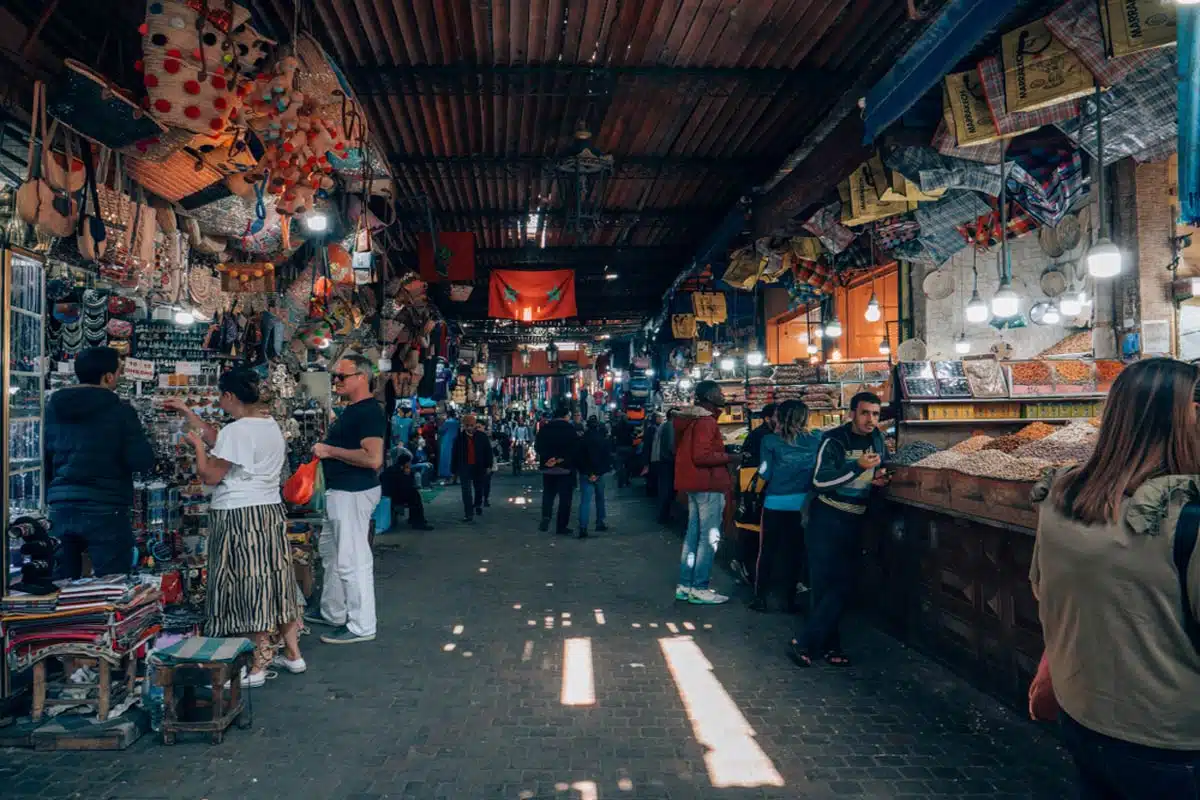 Every list of things to do in Morocco involves visiting a souk – or a North African marketplace. Souk Semmarine is the largest and most popular in Marrakech, thanks to its proximity to Jamaa el Fna Square.
Souk Semmarine's busy alleys boast an array of stalls selling colourful fabrics, street food, spices, antiques, shoes, bags, and many other souvenirs. The souk is also lined with henna artists and craftsmen workshops making leather goods, lamps, pottery, and metal items.
Top Tip: Hold onto your belongings – this is a well-known tourist attraction where criminals like to pinch things.
Take a Day Trip Agafay Desert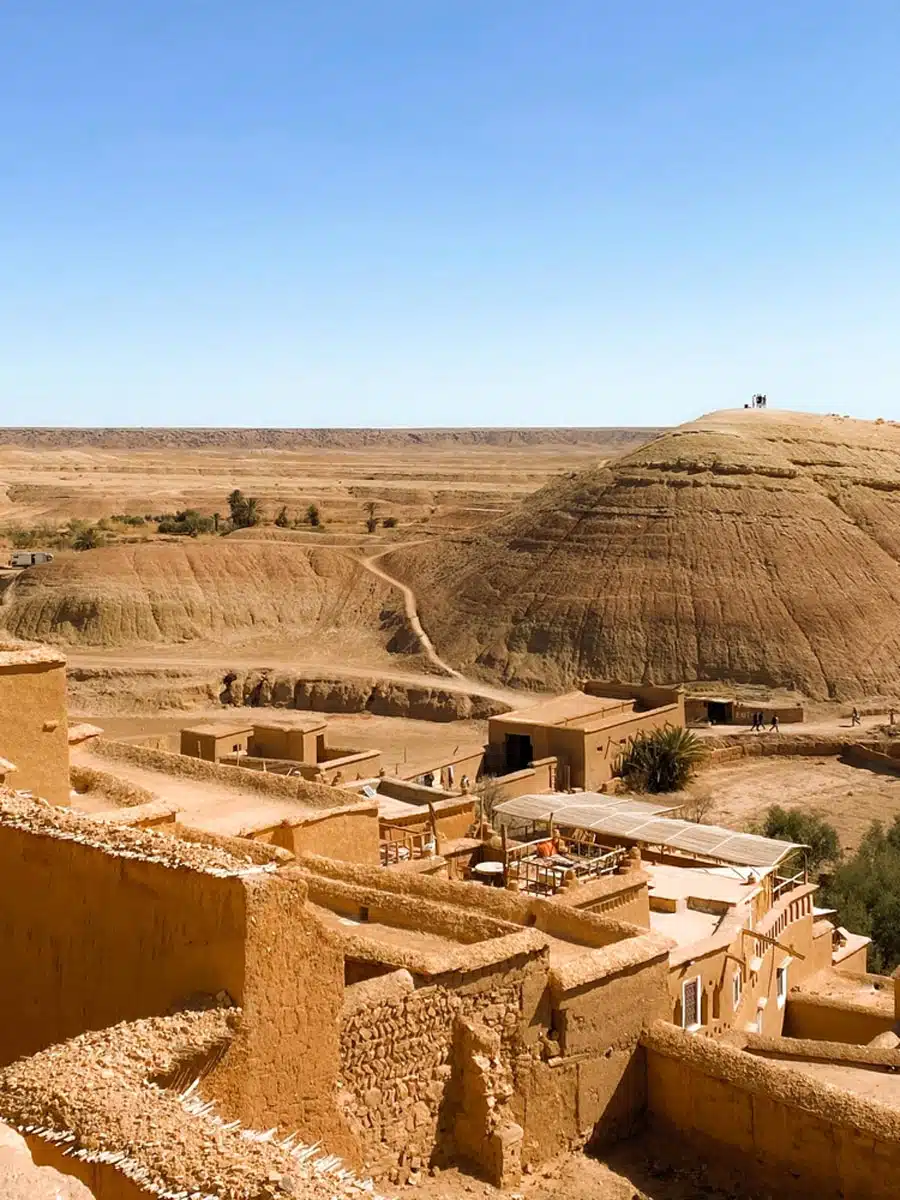 Another thing you cannot skip on your list of cool things to do in Marrakech is a day trip to the Agafay Desert. Located 18.6 miles south of Marrakech, this expansive arid land is one of the best places to go when looking to escape the city.
You can spend the day quad biking over the dunes, camel riding, and taking picturesque photos of one of the most beautiful places in Morocco. Book a full-day desert tour and explore Agafay, the Atlas Mountains, and nearby local villages for an authentic experience.
Top Tip: If by sunset you haven't had enough of Agafay, you can book a magical dinner and sunset experience, and I would recommend you consider camping overnight.
Book Your Agafay Desert Tour Here
Brilliant Things to See & Do in Marrakech
Stroll Through the Medina of Marrakech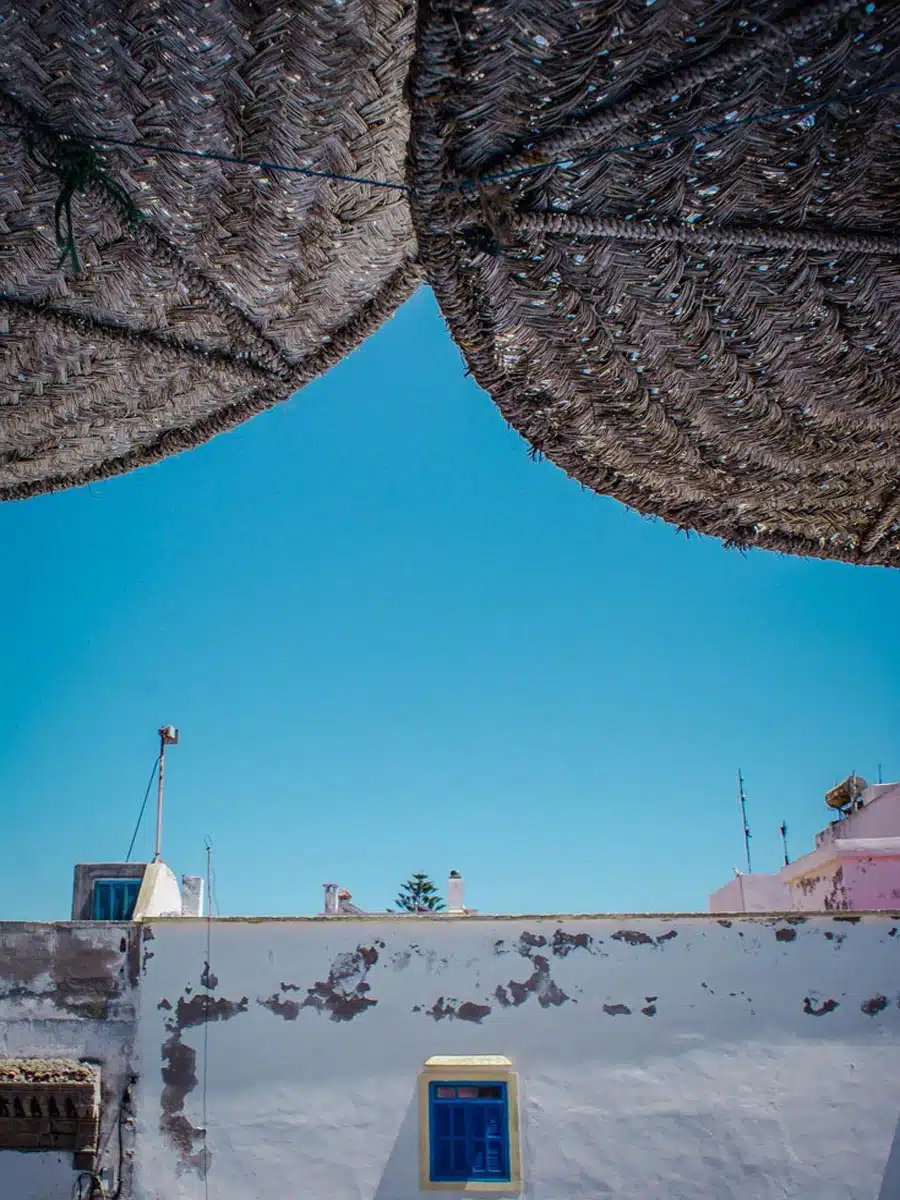 Walking through Medina is one of the best free things to do in Marrakech. Fortified behind ancient city walls, the 11th-century Medina of Marrakech is one of the city's oldest parts and a designated UNESCO World Heritage Site.
Take a walking tour of the Medina of Marrakech, and explore its city gates, tombs, palaces, and bustling squares. You'll also learn about the Old City's ancient industries.
As you stroll through Medina's cobblestoned labyrinth of alleys, you'll come across the enchanting Bahia Palace and Jamaa el Fna Square, where a night market awaits.
Admire the Koutoubia Mosque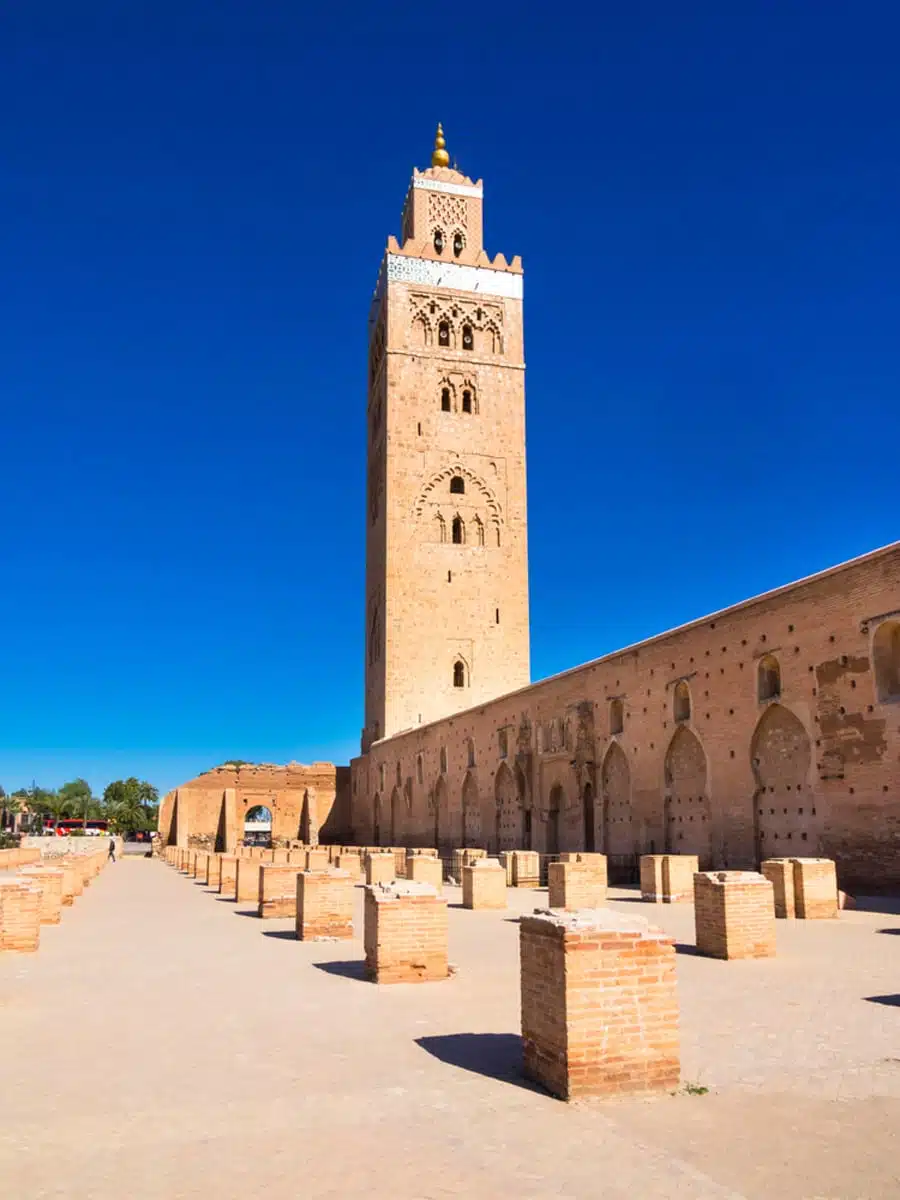 The Koutoubia Mosque is one of the top places to visit in Marrakech – it's characterised by a towering 253-foot minaret, visible from every corner of the city.
Built in 1147, the 12th-century mosque excellently displays the Almohad architecture, a common style in Morocco.
Although non-muslims are not allowed inside the mosque, you can still admire its architecture from the outside and the gardens around it. When illuminated in bright gold light, Koutoubia Mosque gets even more impressive at night.
Grab a Poolside Lunch at Dar Moha
Moroccan food is some of the best food you'll eat in North Africa. You'll find dishes like lamb and chicken tagine commonly served with couscous and veggies. At the Dar Moha, you can even try a sea bass tagine made from sea bass with prawns.
While Dar Moha has regal interiors with elegant chandeliers, the patio seating and tables around the colourful, Grecian-shaped swimming pool are the most sought-after. Dar Moha is an excellent place to explore Marrakech's gastronomy and escape from the busy Medina.
Visit Cyber Park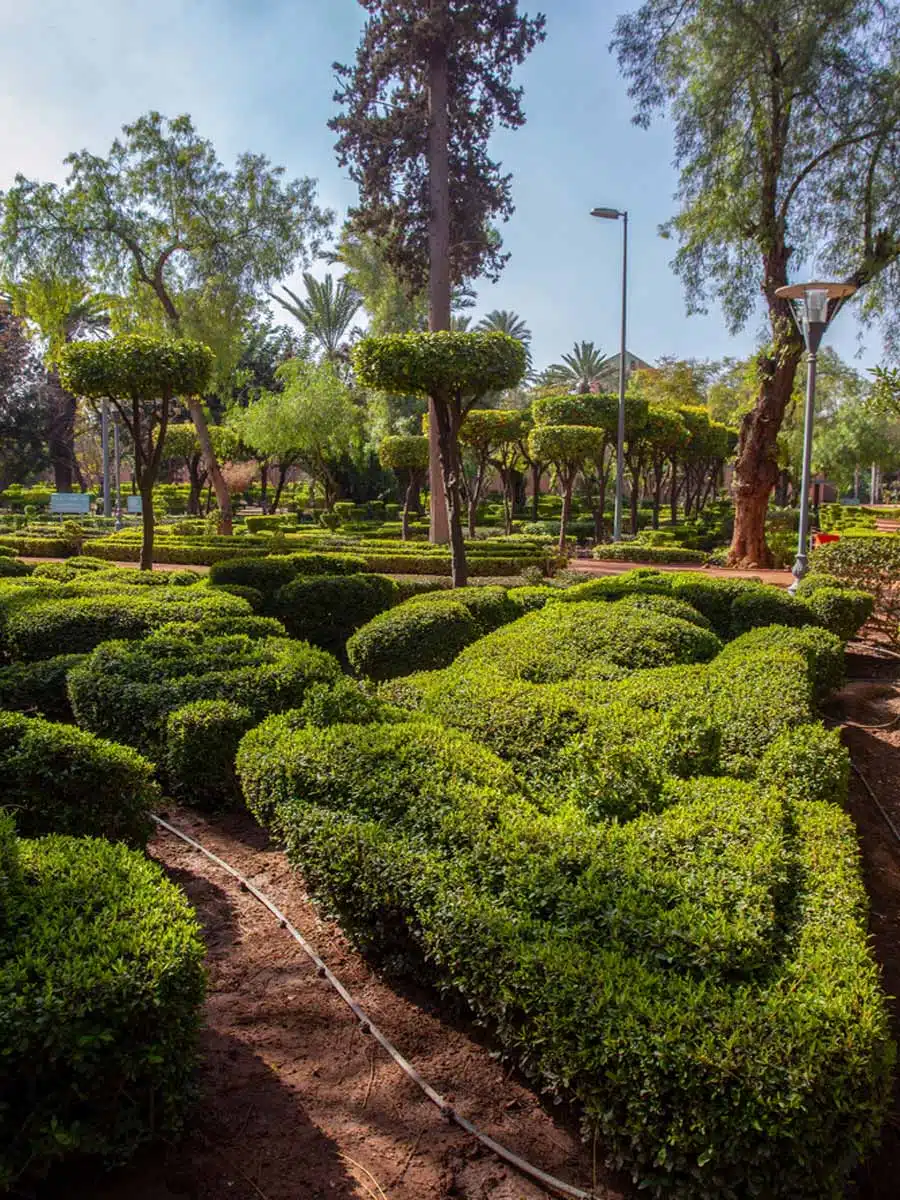 Locally known as Arsat Moulay Abdel Salam, Cyber Park is one of the most beautiful places in Marrakech. These ornamental gardens span eight hectares and boast impressive fountains, citrus fruits, and Wi-Fi stations.
You read that right. Cyber Park is home to several internet terminals and fully connected broadband networks, making it a perfect place to spend time as a remote worker. People often visit Cyber Park to learn about the history of telecommunication.
Day Trip to Ouzoud Waterfalls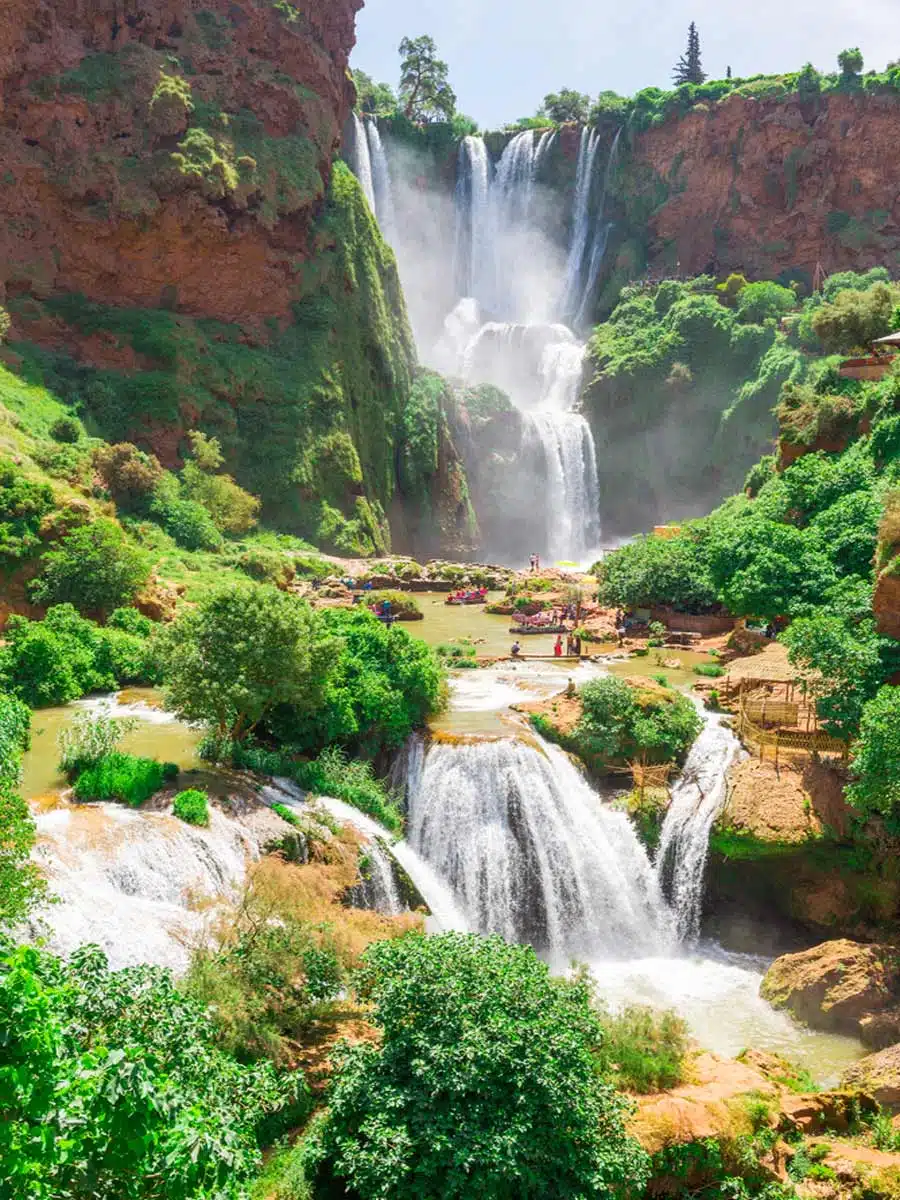 Escape the hustle and bustle of Marrakech by taking a day trip to the spectacular Ouzoud Waterfalls. Located outside the village of Tanaghmeilt, 93.2 miles northeast of Marrakech, Ouzoud Waterfalls boasts cascading falls dropping into the El-Abid River gorge.
Several outfitters host tours, including a hike and boat ride in the Ouzoud Waterfalls from Marrakech. Your expert guide will take you on a scenic discovery hike around the falls before you get a closer look via a boat ride.
You can swim in the pools at the bottom of Ouzoud Waterfalls, but I'd only recommend you do so in summer when water temperatures are ideal.
While taking a trip in the pools, keep your eyes peeled for wild monkeys roaming around. They're ruthless and will pinch your things.
Book Your Ouzoud Waterfalls Trip Here
Explore the Souks of Marrakech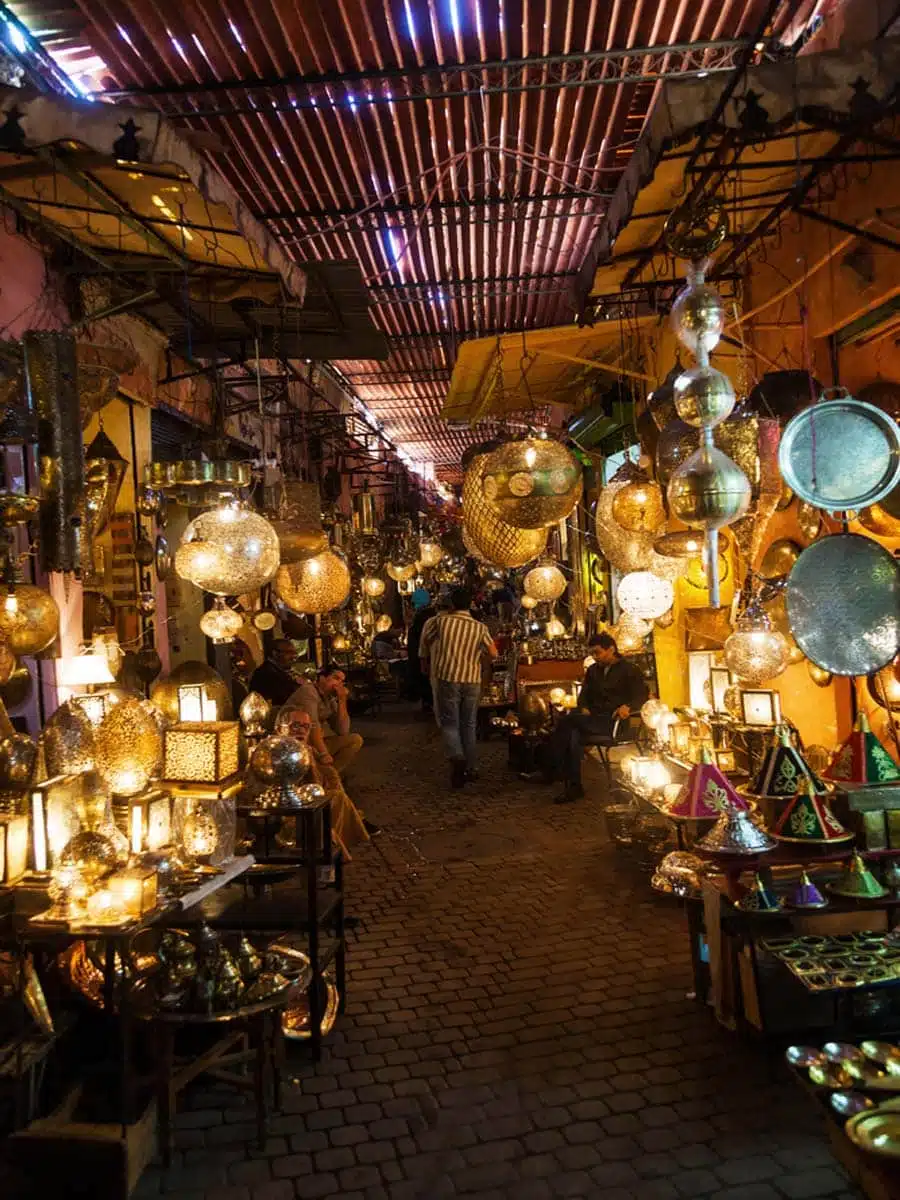 A souk is an ancient marketplace that displays perishable and non-perishable products to locals and travellers across North Africa. And Marrakech is home to some of the biggest souks in Morocco.
The souks of Marrakech are home to over 3,000 stalls and vendors spread across 18 markets. One of the most famous souks in Marrakech include Souk Attarine, which historically sells spices and scents.
If you want to buy traditional Moroccan pottery, you can head down to Souk Fakhrine for a great deal on tagine dishes, salad bowls, and candle holders. Or you can explore Souk Smata, where hundreds of colourful babouche slippers dot the stalls along the alleyway.
Top Tip: Navigating Moroccan souks can be overwhelming, especially if it's your first time. I recommend taking a guided souks tour, where an expert will lead you through the best stalls and assist you in haggling for the best prices.
Shop for Souvenirs at the Ensemble Artisanal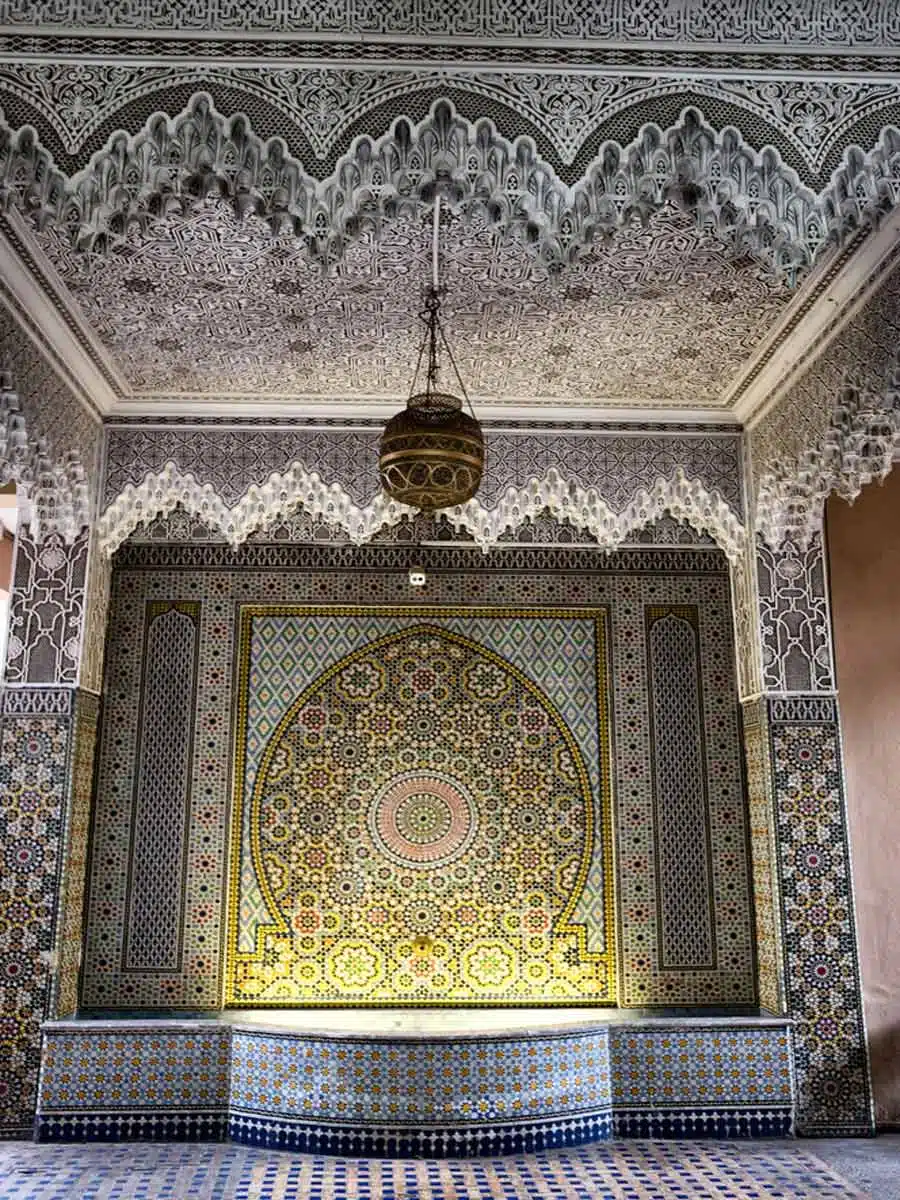 If walking through a busy souk is not your style, perhaps the Ensemble Artisanal is the place you should go. This complex of artisan workshops sells handcrafted artworks, houseware, fabrics, woven baskets, and much more.
While the Ensemble Artisanal lacks the vibrancy, aromas, and atmosphere at Marrakech's souks, you'll get top-notch products. The fixed prices at this complex mean no need for haggling or negotiating.
Ensemble Artisanal also has an onsite cafe with a simple menu offering a variety of food and drinks, including omelettes, grilled meats and tagines.
Walk Through the Ruins of El Badi Palace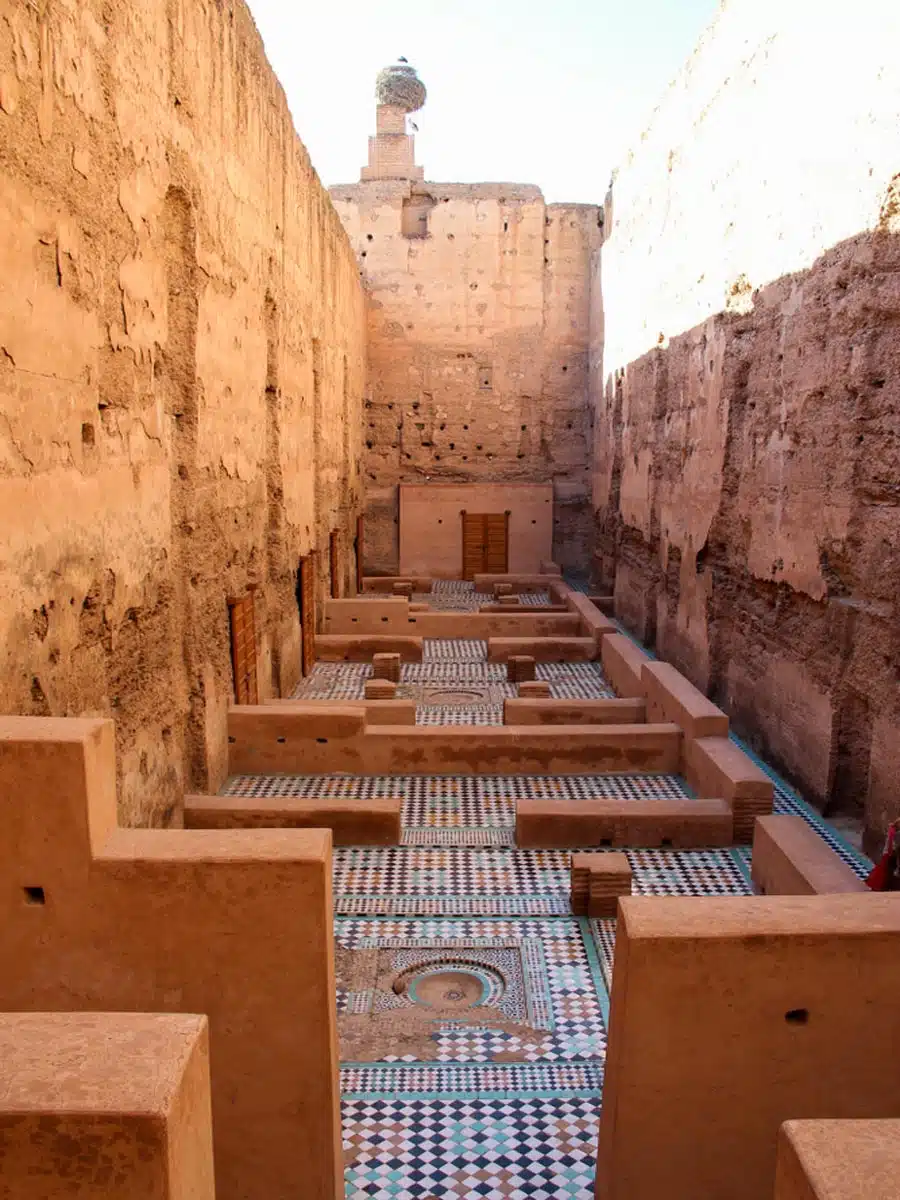 When construction began in 1578, Sultan Ahmad al-Mansur al-Dhahabi thought his opulent palace built atop a rampart would be one of the greatest in Morocco. But as his reign came to an end, so did the magnificent palace.
El Badi Palace's ruined pavilions, colossal gardens with reflective pools, and run-down towers showcase the power and wealth of past Moroccan dynasties. Wander through the dilapidated sunken gardens and try spotting the remains of mosaic-tiled floors.
Marvel at Saadien's Tombs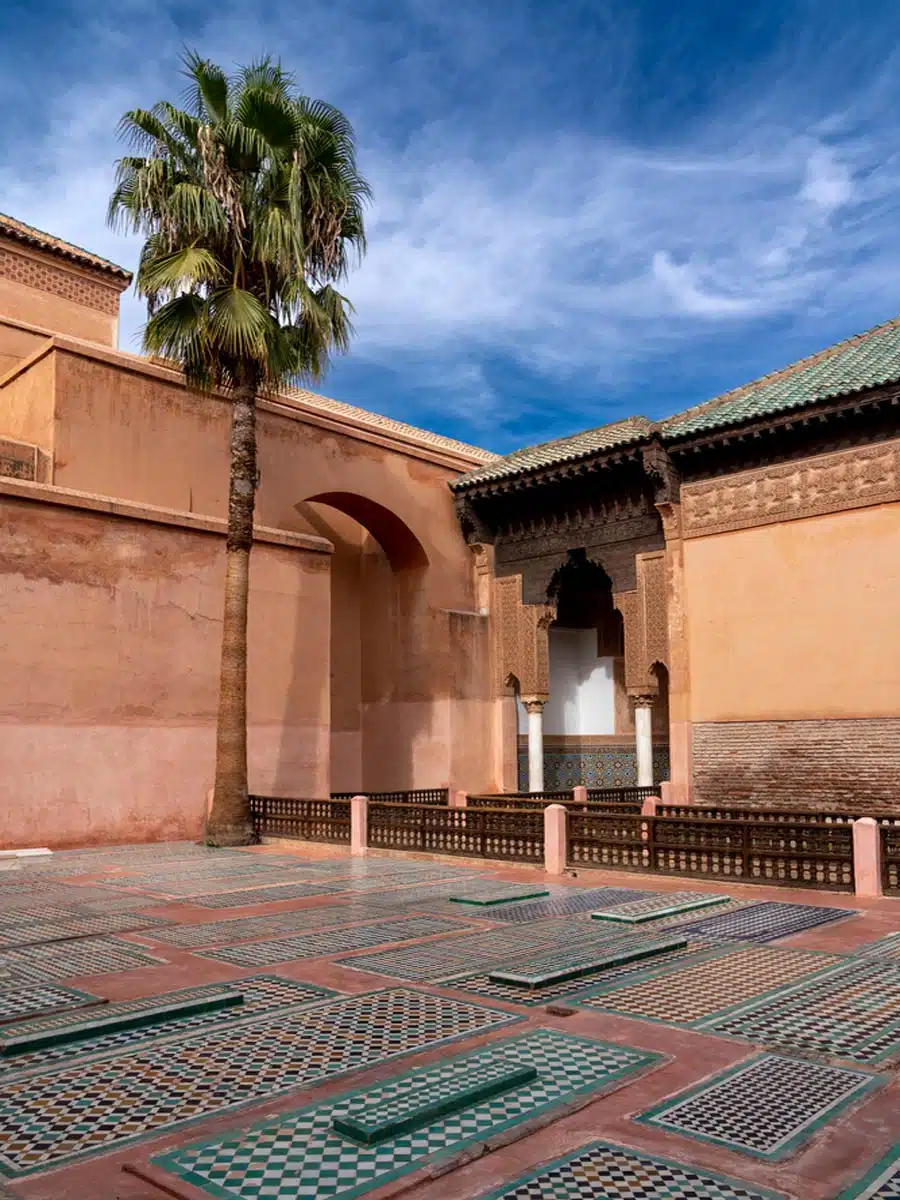 After exploring the ruins of El Badi Palace, take about a seven-minute walk to the Saadien's Tombs. Surrounded by gardens and boasting colourful mosaic tiles, arched doorways, chandeliers, and marble, Saadien's Tombs are an ancient royal necropolis in Marrakech.
While the idea of walking through a network of tombs is a bit unbecoming, these are not your usual tombs. Saadien's Tombs are an excellent display of Moroccan culture and heritage.
As you tour the Saadien's Tombs, you'll also come across depictions of Islamic mythology and the history of Marrakech. It's a bit macabre, but it's fascinating.
Visit the Ben Youssef School (Madrasa)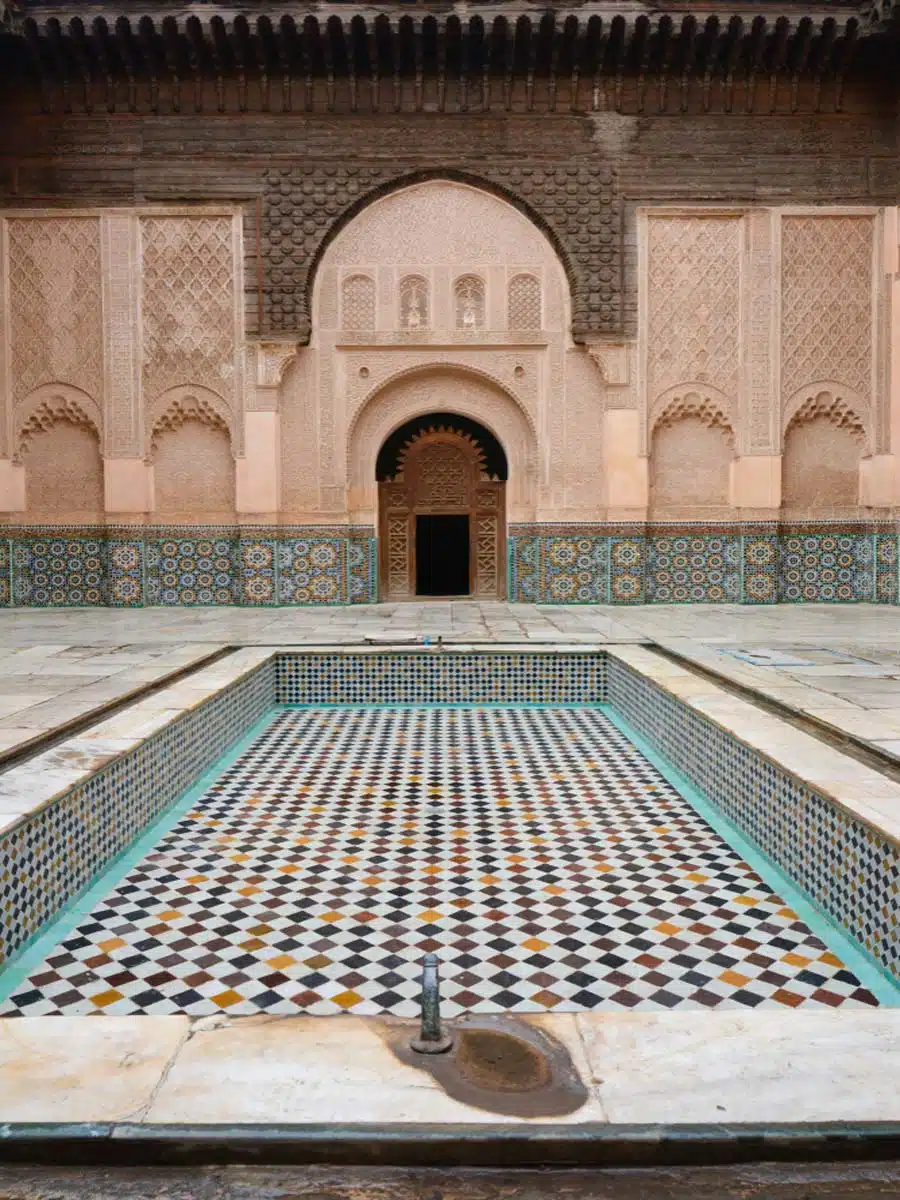 After its construction ended in 1565, Ben Youssef School was the most splendid theological college in North Africa. Dotted with intricate designs of mosaic tiles, stucco, and marble, the school housed over 900 students over four centuries.
Although the madrasa ceased operating as a school in 1960, it was rebuilt and opened to the public in 1982. Today the historical site draws tourists from across the world with its outstanding display of Andalusian-Arabic architecture.
Explore the House of Photography in Marrakech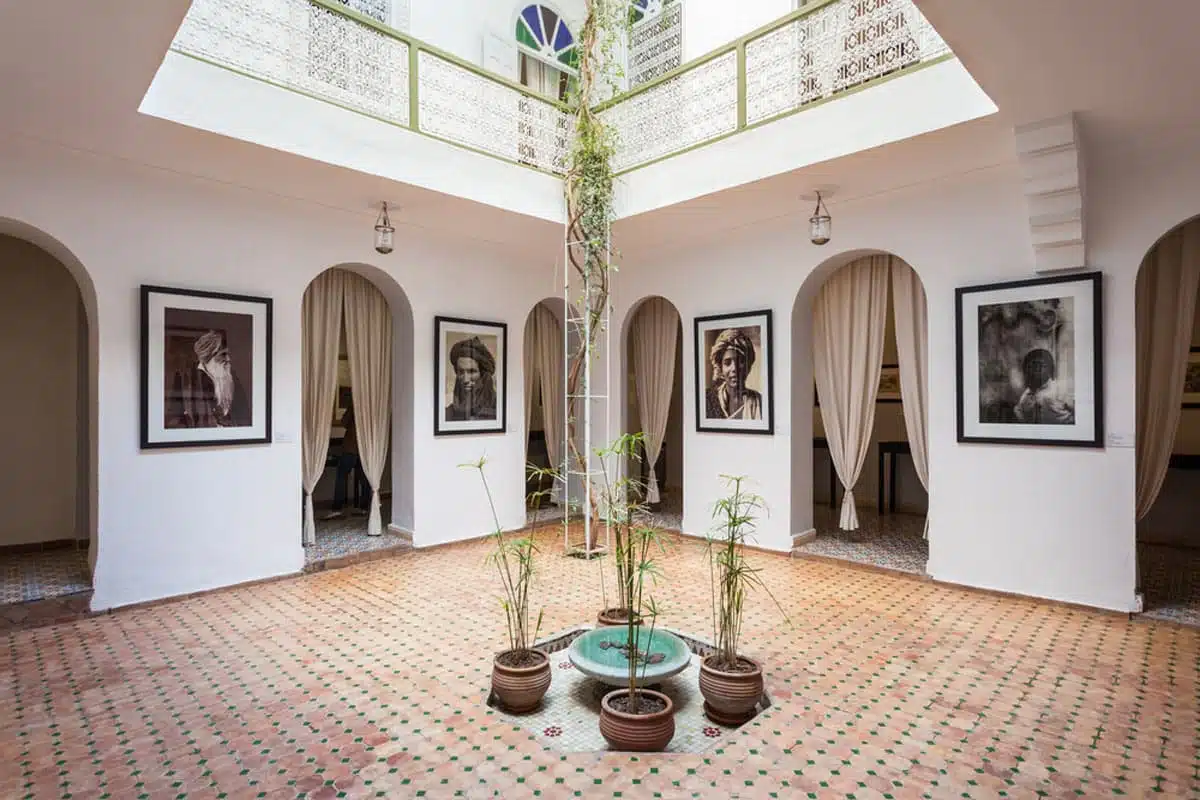 If you're an art lover, the best place you can admire some of Marrakech's most popular artworks is the House of Photography.
This riad-turned-museum boasts temporary and permanent collections of photographs that show the lifestyle and landscapes of Morocco from 1870 to 1950.
Take a tour of the museum and discover the extraordinary diversity of Morocco and its people. If you're looking to buy souvenirs, you'll find some artwork for sale at the gift shop.
Book a House of Photography Tour Here
Stroll Through the Dar El Bacha Palace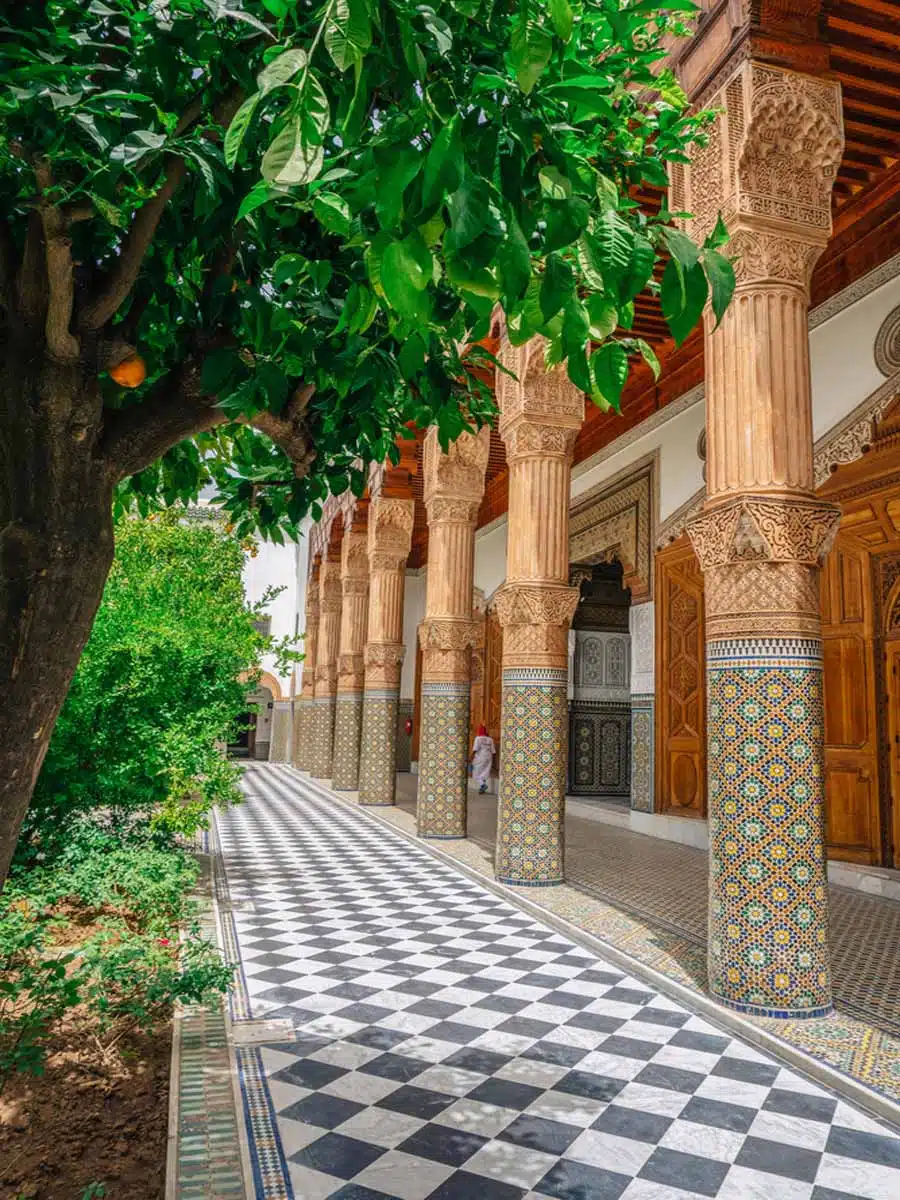 Built in the 18th century, the Dar El Bacha Palace complex housed former rulers, their families and important guests. Today, the palace stands as a symbol of Marrakech's rich history and culture.
The complex boasts a series of intricately decorated buildings separated by gardens and courtyards. As you stroll through the complex, you'll spot a mosque, a library, and several art galleries and museums showcasing the city's history and culture.
Dar El Bacha Palace is also a fantastic place to admire Moroccan architecture, as it features several grandiose minarets and domes.
Unique Things to See & Do in Marrakech: Hidden Gems That are Off the Beaten Track
Escape into the Riad Yima Tea Room
Possibly my favourite thing to do in Marrakech – and an excellent way to escape the buzz of the city can be found tucked away in the heart of the Medina. Riad Yina Team Room offers you serenity, culture and, of course, delicious mint tea.
Visit the Riad Yima and get an inside look into the home and gallery of Hassan Hajjaj, who's locally and internationally renowned for his photography, films, and painted fabric.
The artist is locally known as the "Andy Warhol of Marrakech", so you can expect vibrant artwork, upcycled pop art, and refurbished furniture while sipping a cup of cha.
Stroll Through Le Jardin Secret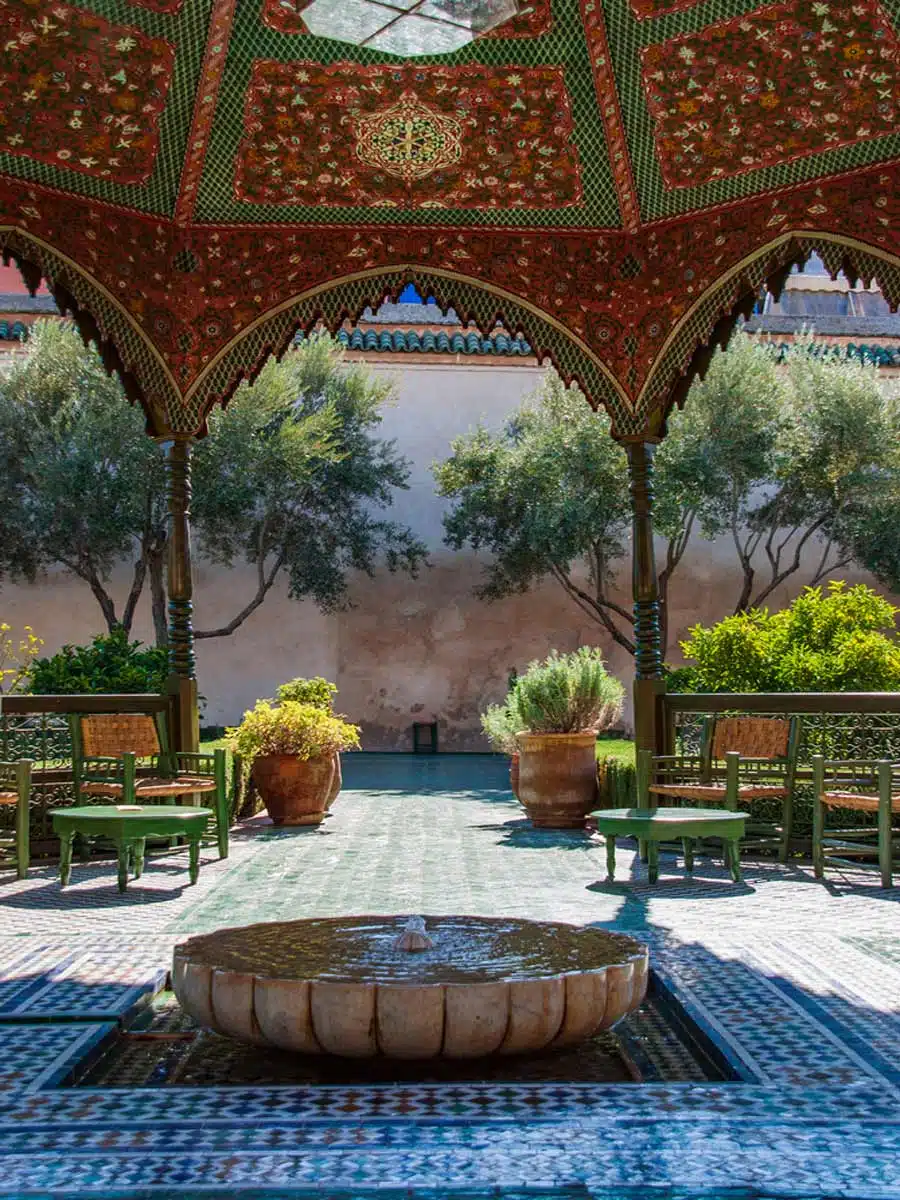 Most of Marrakech's hidden gems offer an escape from the busy city streets, and Le Jardin Secret is possibly the best one. This ornate 19th-century botanical garden boasts elegant grounds with pavilions, tiled floors, and charming fountains.
The traditional Islamic garden also houses an exhibition space, a souvenir shop, and onsite cafes where you can grab some mint tea or fresh smoothies. Café Sahrij and Menzeh serve sandwiches, pizzas, and salads, making Le Jardin Secret the perfect spot for a tranquil lunch.
Admire Art at Jardin Rouge
Marrakech is a city filled with incredible art, and what better place to admire the artwork of Morocco's most talented than at Jardin Rouge? Located in a village on the outskirts of Marrakech, Jardin Rouge is an artist's residency aimed at professionals and amateurs looking to improve their art.
The art hub is a sanctuary for artists. Its programs allow artists to research, reflect, and experiment in a unique environment. Visit the residence and admire the contemporary and street art on display. Paintings, sculptures, and graffiti walls are all over the property.
Luckily, you don't need to be any good at art yourself to visit.
Enjoy Dinner at L'mida – The Highest Rooftop Restaurant in the Medina
L'mida is a trendy restaurant in the heart of the Medina of Marrakech. Its chic, elegant interior decor boasts white marble tables, mosaic tiles, and swish rattan seating.
The cafe serves Moroccan fusion cuisine courtesy of Chef Narjisse Benkabbou. He uses locally sourced fresh produce to recreate traditional homemade dishes with an avant-garde touch.
Take my advice and book an early evening reservation to enjoy these tasty Moroccan-inspired meals while admiring a stunning sunset over Marrakech. The rooftop bar opens us into a lush terrace boasting scents of jasmines from the garden – stay for a drink or two.
Take a Day Trip to Aït Benhaddou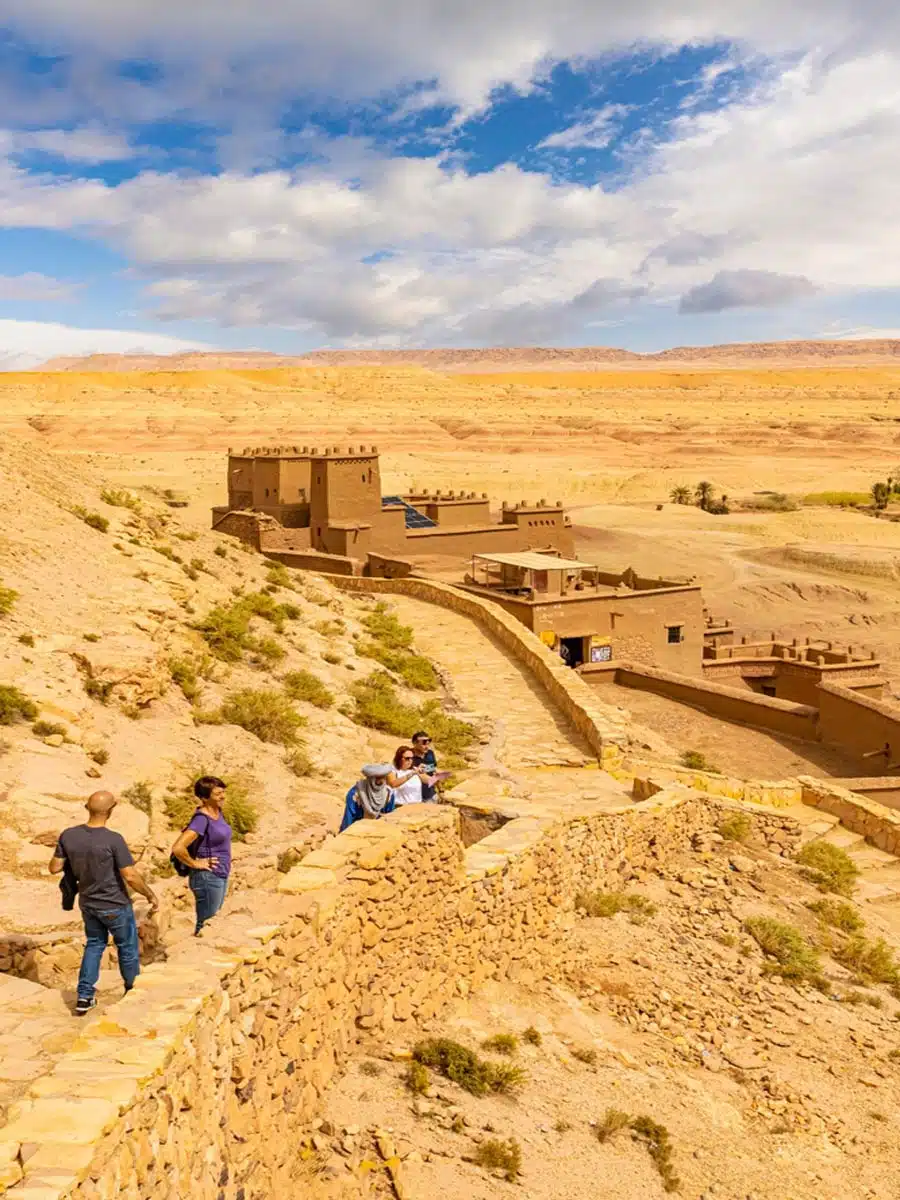 For those who want to delve deeper into traditional Morocco, you'll be happy to hear that Marrakech is only a stone's throw away from towns and villages that encapsulate ancient Moroccan lifestyle and vulture.
If you are a curious history buff, I recommend a day trip to the ksar of Aït Benhaddou. This designated UNESCO World Heritage Site showcases Morocco's best display of earthen clay architecture.
On your guided tour to Aït Benhaddou, you'll drive through the winding Tizi n'Tichka Pass, giving you excellent views of the magnificent Atlas Mountains. After arriving in ksar, your expert guide will treat you to titbits and historical recollections of the village and its people.
Things to do in Marrakech: Practical Tips for Your Trip
Riad Le Petit Joyau (Mid-Range)
Situated in Kasbah – the historical part of Marrakech, Le Petit Joyau is a riad-turned-hotel with modern rooms featuring colourful mosaic tiles, photographs, and unique furniture.
Hotel La Maison Arabe (Luxury)
Tucked into the medina of Marrakech, Hotel La Maison Arabe is a boutique riad boasting colourfully decorated rooms with ornate gilded ceilings and marble walls.
Recommended Tours in Marrakech
Things to Do in Marrakech: Map
Things to do in Marrakech: Read Next