Planning a trip to the star-studded LA? Discover the best places to stay in Los Angeles with this handy guide.
LA is no stranger to the limelight, and if you thought that was a Hollywood joke – it was. If you want evidence of this, look no further than some of the iconic landmarks of Los Angeles.
Let me tell you one thing: Los Angeles is more than Hollywood, with epic beaches and Californian sun. It's the playground where creatives come to find fame. It's also an epic destination spot.
If you're planning a trip to the city, you've probably come across the dilemma of choosing a base for your adventure. And while it might seem impossible, putting together a where to stay in Los Angeles guide is anything but.
There are so many options for all budgets – and I've written this in-depth guide to help you out. You're welcome.
Best Places to Stay in Los Angeles: At a Glance
Where to Stay in Los Angeles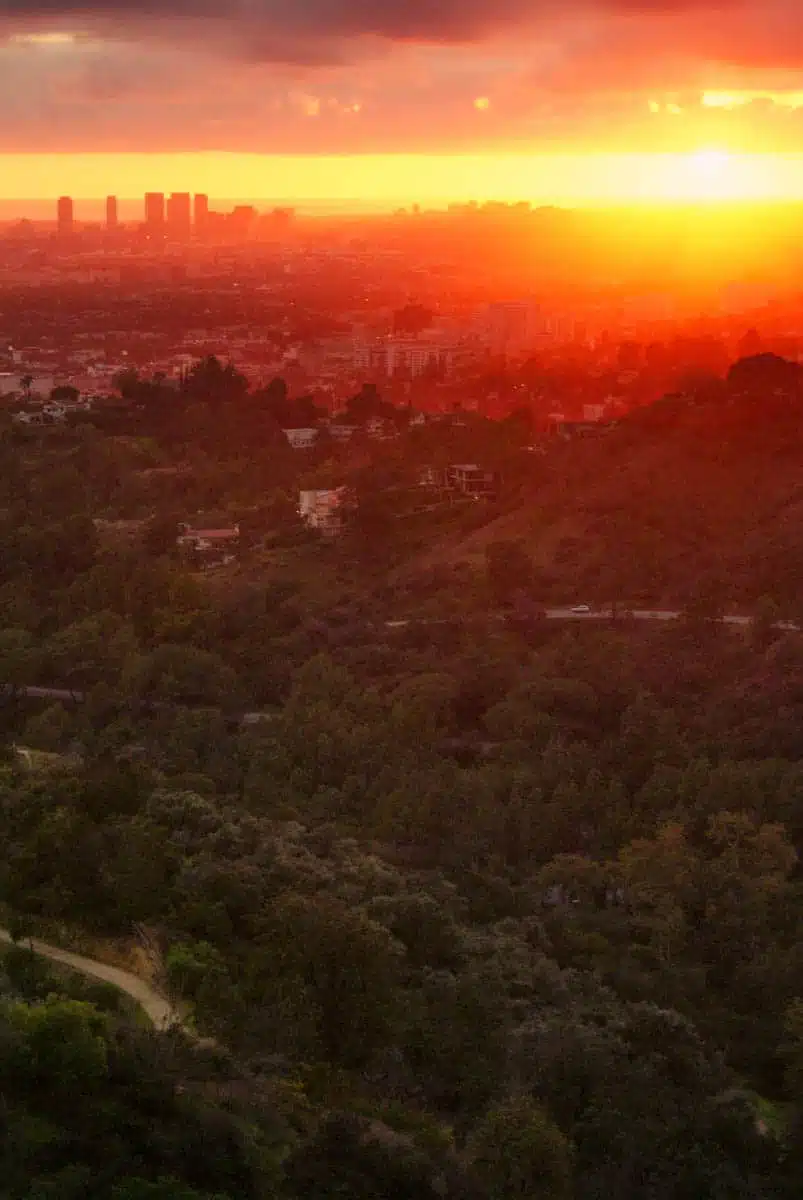 The historic heart of Downtown LA, the tourist hub of Hollywood, and a dash of the best beach enclaves at Santa Monica, how could you possibly choose where to stay? That's before we even envision the streets of Beverly Hills or the coastline straddling Malibu.
So let's get down to finding the best neighbourhoods to stay in Los Angeles.
Read Next: The Best Things to Do in Los Angeles
West Hollywood: Best Area to Stay in Los Angeles for Tourists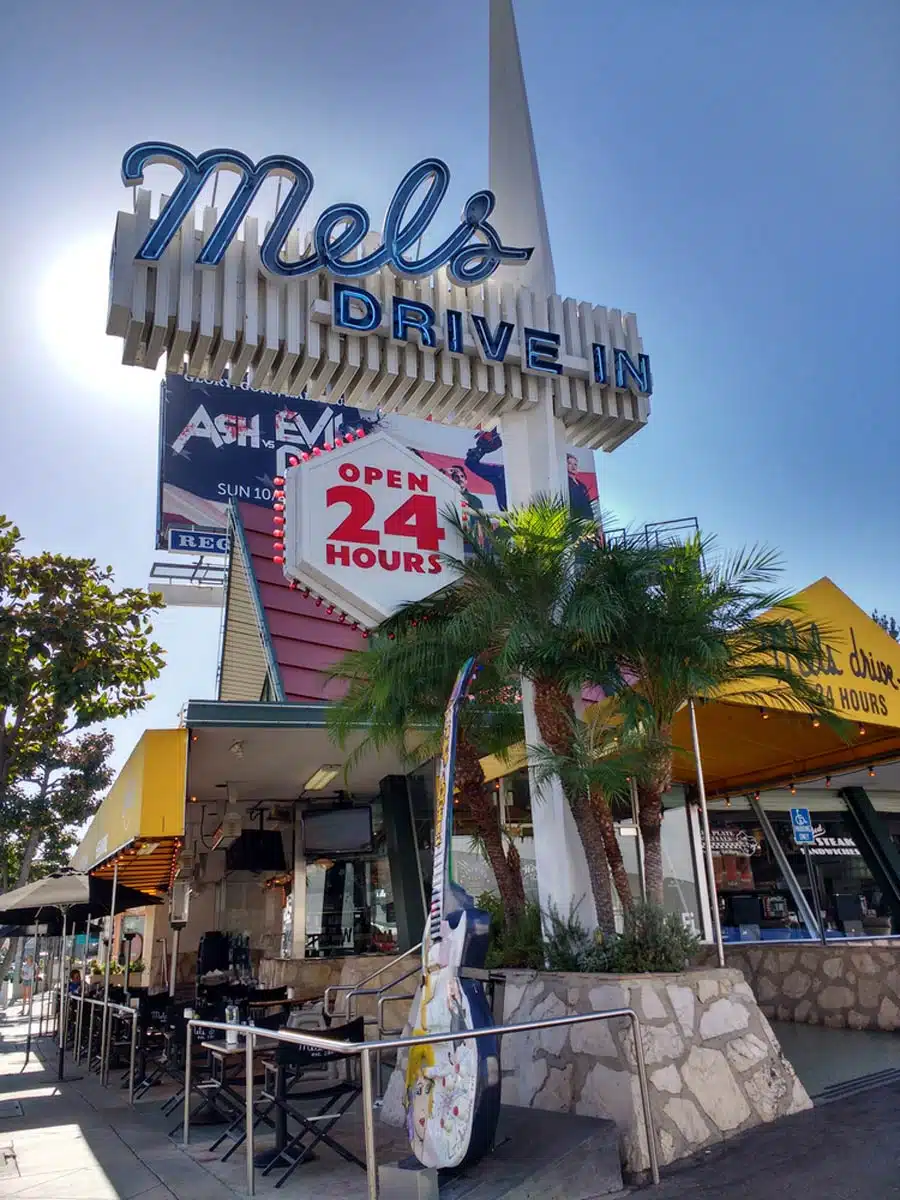 Often, the best gets saved for last, but I can't do that. Not with a trendy and vibrant neighbourhood like West Hollywood, begging for your attention. Although this stretch of Sunset Boulevard doesn't need to do a lot of begging.
Affectionately known by locals as WeHo, this is the place to be if you're after inclusivity, a lively nightlife, and an unparalleled experience of living like a local.
Beyond that, it brims with chic restaurants, boutique stores, and nostalgic vintage shops. I'm sure you can see why it's my favourite place to stay in LA.
West Hollywood Highlights
This is a seriously star-studded area (and I can't blame you for wanting to celeb-spot) so you should head over to the popular bookstore and coffee shop, Book Soup. Located on Sunset Boulevard, it's an iconic attraction in its own right, with regulars including Elton John, Stephan King, and Bette Midler.
A quintessential part of the Los Angeles landscape is the famous Sunset Strip. By day it's a premier shopping hub, but at night it turns into the biggest hotspot for the best in LA nightlife.
What's life without laughter? If you're in LA, there are plenty of spaces to laugh till your sides split, with renowned comedy clubs like Laugh Factory and the Comedy Store.
For the art lovers amongst us, indulging in some of the best local and international exhibits at the Los Angeles County Museum of Art is a top thing to do.
Suggested Hotels in West Hollywood
Downtown Los Angeles: Best Neighbourhood to Stay in Los Angeles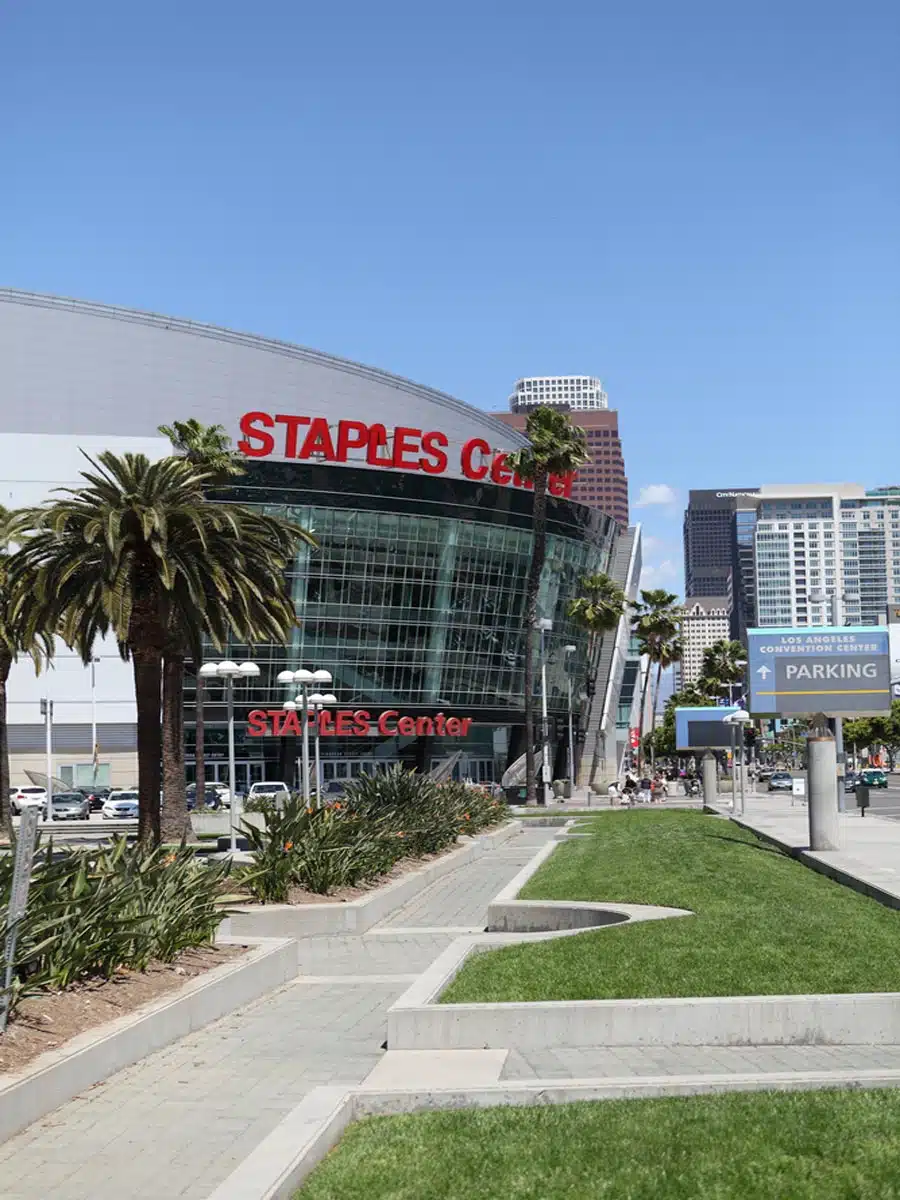 Downtown Los Angeles deserves its legendary status. It's a forest of gleaming skyscrapers encircled by some of the city's best museums, restaurants, and bars.
The historical heart of LA today boasts the moniker of the region's financial and commercial hub.
If that's not enough in terms of claims to fame, its air of excitement and possibility draws millions every year. In Downtown LA, there's always something happening or something to experience.
Your itinerary can go from attending a concert by the best musicians around or a wild party thrown by the city's elite.
Downtown Los Angeles Highlights
Indulge in the best food from every corner of the world with the massive selection of offerings at Grand Central Market. With its humble beginnings in 1917, these days, vendors serve up every imaginable dish, both old and new.
You can't come to Los Angeles and not treat yourself to some retail therapy. One of the best places to do this is at ROW DTLA, a 32-acre shopping hub that brings together global brands and indie labels under one roof.
Entertainment and The City of Angels go hand-in-hand, and visiting LA Live has to be on your bucket list. The home of the famous Staples Centre, it also includes a cinema, bowling alley and numerous restaurants and nightclubs.
Immerse yourself in the massive collection of museums that call DTLA home. With standouts such as The Broad Art Museum, The Museum of Contemporary Art, and The Grammy Museum, there's something for everyone.
Suggested Hotels in Downtown Los Angeles
Read Next: The Best Road Trips from Los Angeles
Beverly Hills: Best Area to Stay in Los Angeles for Luxury Getaways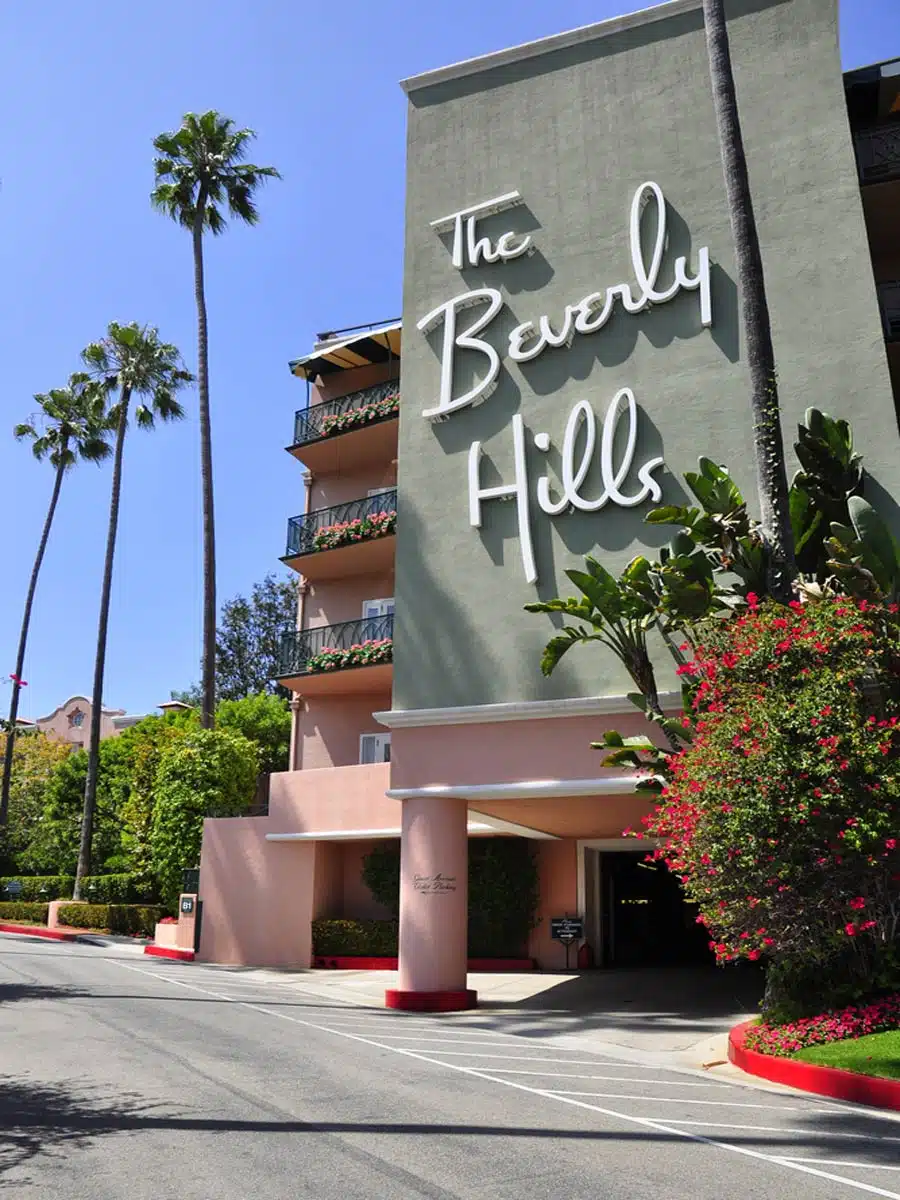 It wouldn't be a proper guide to the best areas to stay in Los Angeles if I skipped Beverly Hills. And I don't intend to do so either.
When images of this affluent part of LA spring to mind, they often include shopping on Rodeo Drive and the famous 90210 zip code.
And don't mistake things, either. Beverly Hills celebrates its exclusivity and opulence in a way that you can only understand in person. It's a paradise playground for the rich and famous and the perfect place to splurge if and when you can.
Luxury hotels, lavish restaurants, and abundant shopping are all synonymous with the jewel of Los Angeles.
Beverly Hills Highlights
Retail indulgence and therapy take on an entirely new level with the almost poetic showcase that is Rodeo Drive. As one of the base points for the so-called "Golden Triangle", more than 100 high-end retailers call it home.
When it comes to culinary excursions, Beverly Hills holds nothing back. Iconic eateries such as The Grill on the Alley, La Dolce Vita, and Lawry's The Prime Rib are all staples of the food scene in this part of the city.
The exclusivity of Beverly Hills is palpable in its public spaces, one of which is the legendary Beverly Gardens Park. A 1.9-acre linear park that includes numerous famous sights, including the 40-foot-long Beverly Hills sign, it's a must-visit.
Easily one of the world's most dynamic live performance venues, The Wallis Annenberg Centre of Performing Arts hosts dozens of awe-inspiring events annually. Beyond that, its stunning layout comprising two eye-catching buildings is worth a trip on its own.
Suggested Hotels in Beverly Hills
Santa Monica: Where to Stay in LA by the Beach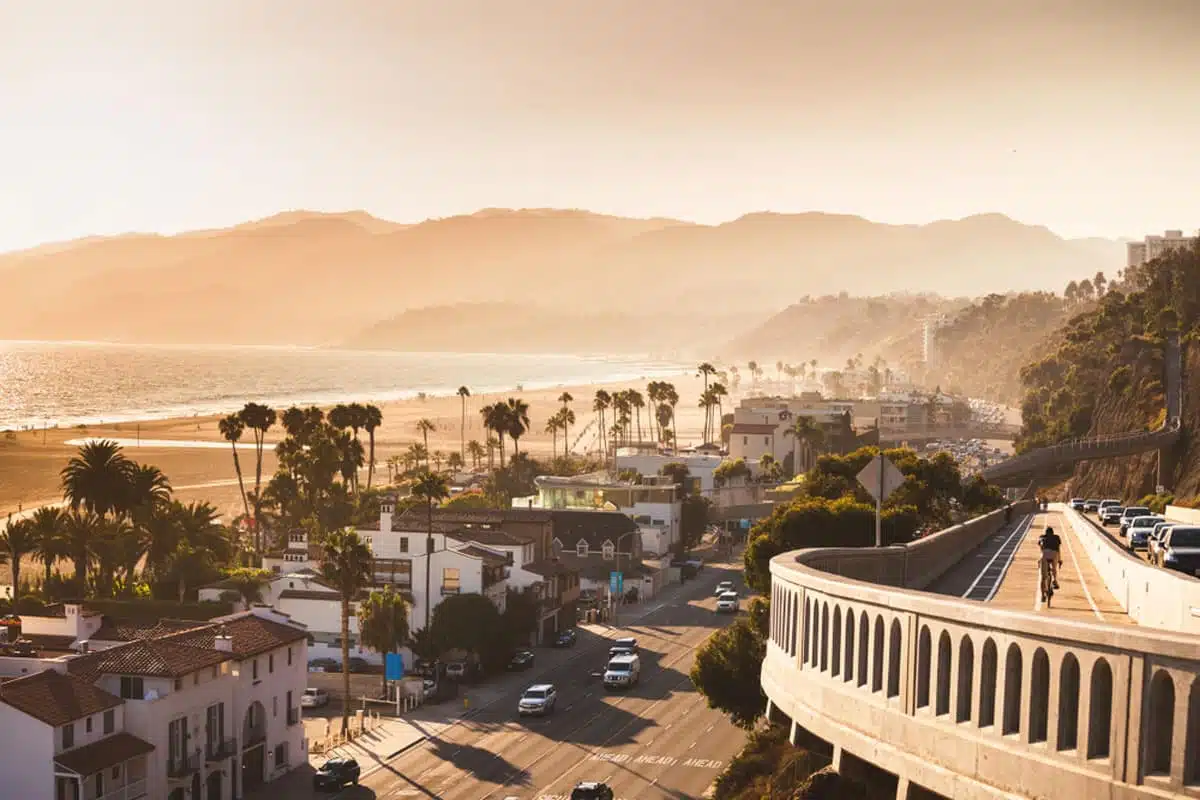 While most come to Santa Monica for the beach, this part of Los Angeles might just be the reason it's called The City of Angels. A destination in its own right here, you'll find celebrities, surfers, and hippies blending together in a picturesque location second to none.
I'll admit, the beach here is really epic and an iconic attraction, but Santa Monica is so much more than just a beach neighbourhood – it's a harmonious blend of vibrant city life and a relaxed beach atmosphere.
Santa Monica Highlights
You guessed it, but if you didn't, visiting the Santa Monica Pier is an essential part of any time spent in this area. Add to it a day lounging and exploring Santa Monica State Beach. You won't get a better coastal adventure spot anywhere else.
By now, it's no secret that Los Angeles assumes a very solid place in culinary heaven, but if you're looking for the best in fresh produce, head to the Santa Monica Farmers Market.
For a more budget-friendly version of Rodeo Drive, take time to indulge in some affordable retail relaxation at Third Street Promenade. Covering three pedestrianised city blocks, it mixes boutique stores with indie outlets for some unique shopping options.
While technically part of Santa Monica Pier, spending an entire day at Pacific Park at the end of the pier is a must. A fun-filled and packed carnival, it's a fantastic place to feel and act like a kid again, and taking a ride on the iconic Ferris Wheel should be top of your to-do list.
Suggested Hotels in Santa Monica
Read Next: Cool Places in Los Angeles
Venice Beach: Where to Stay in Los Angeles on a Budget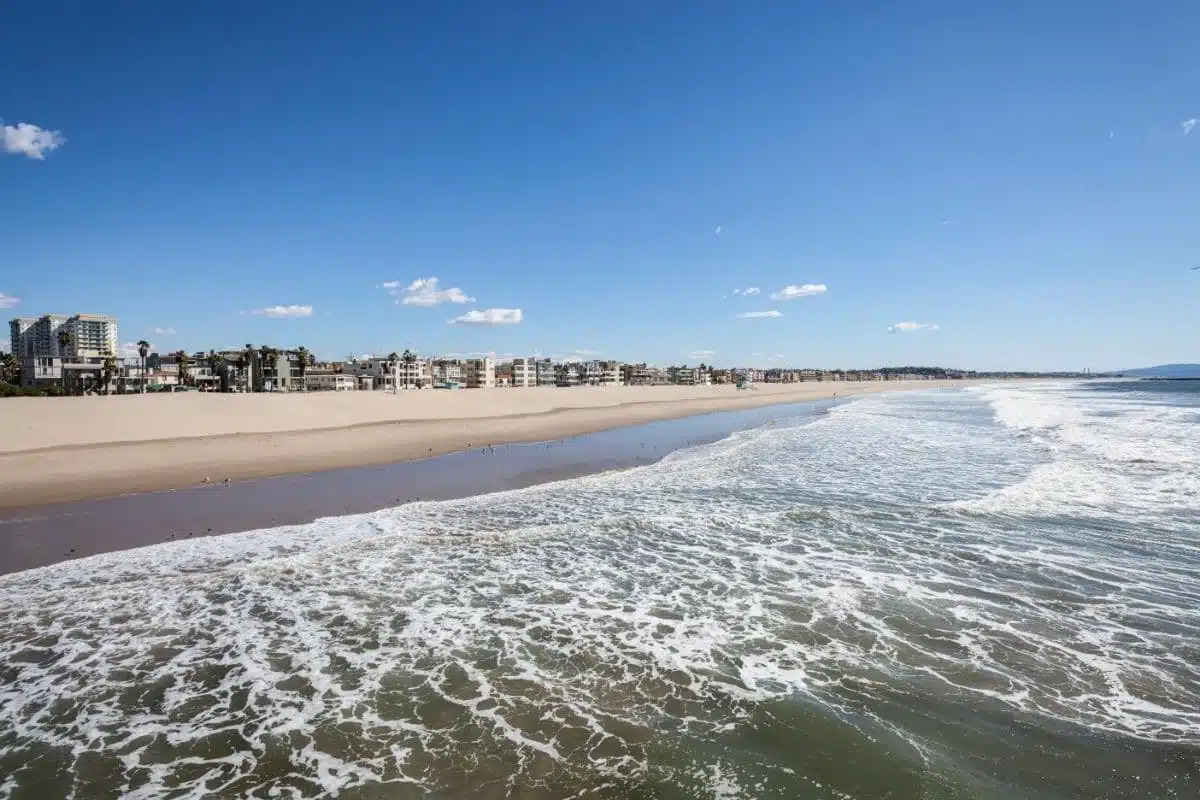 Picture sprawling palm trees set against a backdrop of blue skies, chipper street performers, and eager artists hawking their wares.
I'll agree that it totally came across as a beach blockbuster. Ironically that's precisely what Venice Beach is.
It's also great if you're after a bohemian vibe, with every bell and whistle to suit any traveller's needs. Add to that great accommodation options proving that where to stay in Los Angeles on a budget isn't an impossible question to answer.
Venice Beach Highlights
Images of the ideal beach neighbourhood come to mind when thinking of Venice Beach. But, for a different perspective, take a walk along the unique Venice Canals – three canal-lined blocks providing an idyllic scene of arched bridges far removed from the familiar Venice archetype.
What happens when surfers get tired of the waves rolling out from the ocean? They swap their surfboards with skateboards, and taking some time to see them in action at the Venice Skate Park is quite something.
Synonymous with Venice Beach is the slice of beach you might know as Muscle Beach. A famous outdoor gym where chiselled bodybuilders come out in droves to soak up the sun while breaking a sweat. It's the perfect spot for some people-watching.
Far from the beach vibes, Abbot Kinney Boulevard offers some of LA's best boutique stores and art galleries in a laid back environment. Here you'll also find excellent restaurants such as Felix and Gjelina.
Suggested Hotels in Venice Beach
Hotel Erwin – Aspiring to create the ultimate Southern California beach getaway spot, this property embraces the bohemian vibe of the area in a fantastic way. A stunning boutique property with bright and contemporary rooms, it includes an amazing rooftop lounge with epic ocean views.
Inn at Venice Beach – If you're looking for good value for your money while not sacrificing the promised beach life of Venice Beach, this is the spot for you. An unfussy hotel that features a modern design and rooms with a chic monochrome colour palette, it's quaint and charming.
The Kinney – Venice Beach – Also falling on the affordable side of LA, this 3-star property is an all-frills approach to comfort stays in Venice Beach, with the boardwalk only a few minutes away. Here, you can expect lo-fi charm blended with modern design and edgy elements throughout the property.
Where to Stay in Los Angeles: Frequently Asked Questions
Practical Tips to Consider Before Booking Your Los Angeles Accommodation
In Los Angeles, things can get very expensive very quickly. This is especially true for accommodation, but you can avoid it if you book far in advance and shop around before deciding on one property.
Plan your LA itinerary to match your accommodation choice. The city is big, so it's a great idea to stay as close as you can to the attractions you plan to visit. Also, consider how you're going to get around when choosing where to stay. Some areas are more walkable than others.