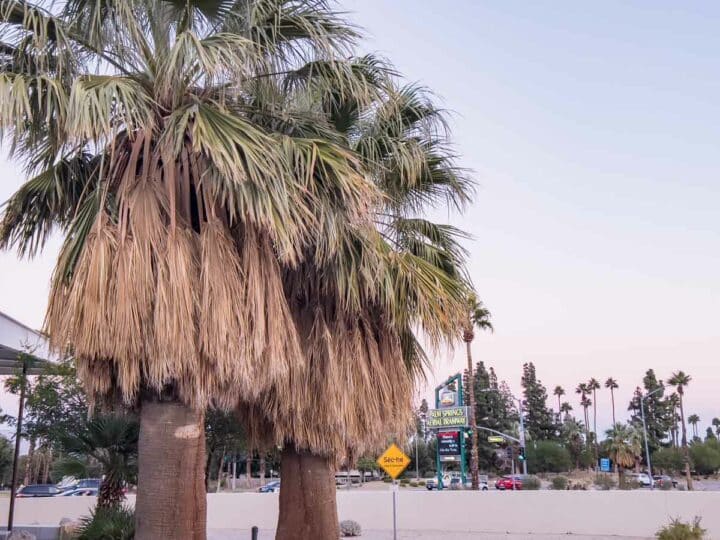 The quintessential desert oasis, Palm Springs has long lured visitors with the promise of mid-century modern architecture and cool things to do. Discover its highlights with this in-depth Palm Springs itinerary.
Can we talk about how much you are going to love Palm Springs?
Set in the middle of one of the most distinct landscapes in the US, Palm Springs has quite the reputation. What was once the premier getaway spot for Hollywood's elite is now a must for any wanderlust-filled traveller looking for the ultimate escape.
I spent quite a bit of time hanging in Palm Springs on my most recent Cali road trip (there have been lots of them – can't get enough of California) and whew, it was something.
I always knew I was going to love Palm Springs' mid-century vibes but when you throw in stunning weather (yes, even in November) and plenty of opps to spend time in the great outdoors, it had me smitten.
Ready to plan your own Palm Springs itinerary?
This guide will walk you through some handy tips for your trip (suggested stays, useful resources and the like) then will get into the nitty gritty of a step-by-step suggested itinerary for 2 days in Palm Springs.
Yallah, yallah, let's go!
Handy Tips for Planning Your Palm Springs Itinerary
Group Tours or Independent Travel?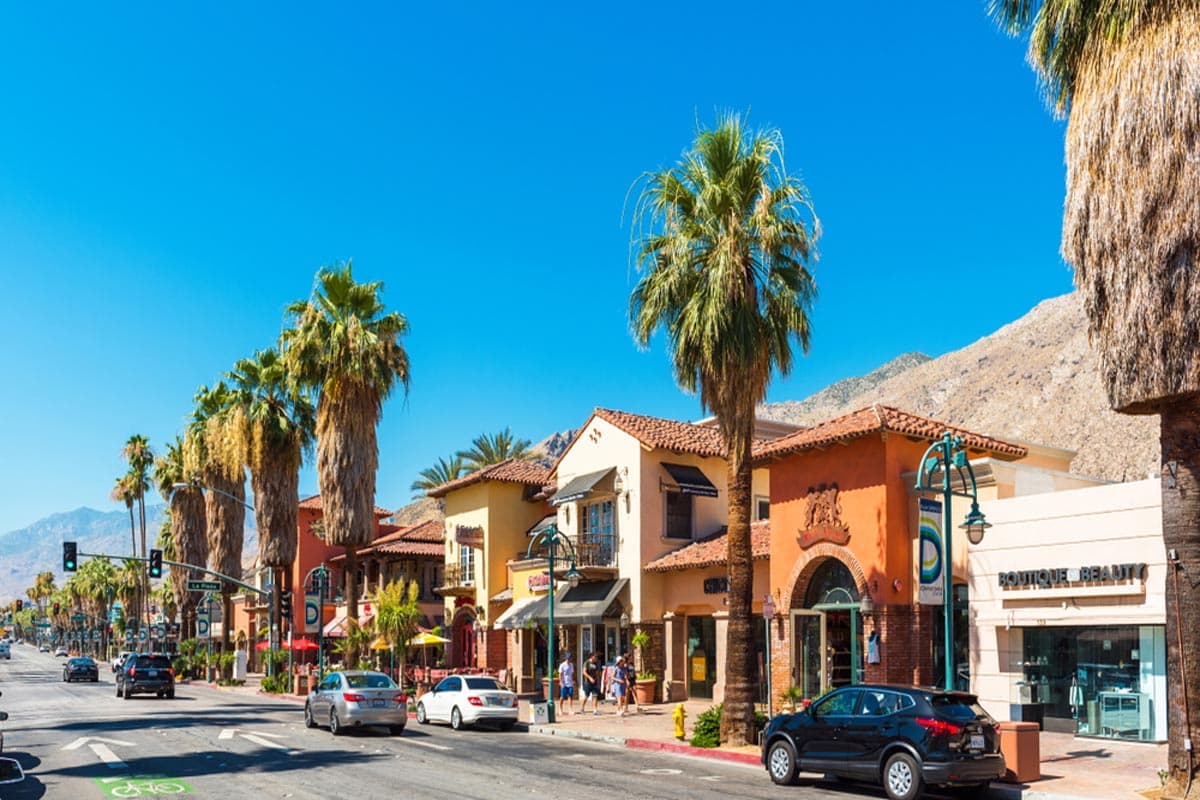 This is a tricky question. Venturing into Palm Springs independently is a fantastic option if you want to explore at your own pace. It allows you the freedom to do things and visit places as you please, but it requires a bit more planning.
On the other hand, joining a guided tour is a great way to add structure to your trip. For example, this legends and icons tour is a fantastic way to discover the ins and outs of this iconic city. A group tour (or two) also helps if you have limited time. At the end of the day, it's up to you how you explore Palm Springs.
What to Pack for Your Palm Springs 2-Day Itinerary
Sometimes, the most challenging thing about any trip is deciding what to bring along. Here are a couple of quick tips for what you should bring for your Palm Springs weekend itinerary.
Where to Stay for Your Weekend in Palm Springs
Korakia Pensione
An absolute highlight of luxurious living in Palm Springs, the Korakia Pensione is famous amongst celebrities. A stunning Mediterranean-style resort, it's featured in numerous magazines for its decor, service, and design.
In the heart of Downtown Palm Springs, it's the perfect base for your trip. You have a variety of rooms, while finer touches such as yoga classes and spa treatments crown this opulent property.
Check rates and availability at Korakia Pensione
Dive Palm Springs
The Dive Palm Springs is a fantastic boutique hotel that ticks all the boxes for an amazing home away from home. Its mid-range pricing and unique 1960s French Riviera atmosphere make it a standout.
Tastefully decorated rooms all feature a private patio that offers stunning mountain views. Other features include a gorgeous outdoor pool, hot tub, and huge sun terrace.
Check rates and availability at Dive Palm Springs
The Saguaro Palm Springs
A property that's no stranger to fame, The Saguaro Palm Springs is often found amongst Instagram Reels. And for a budget-friendly stay, few places come even remotely close to this motel-style stunner.
Each room flaunts modern finishings with touches of contemporary vintage elements. While each features an en-suite bathroom, other highlights include the on-site El Jefe restaurant and the weekly pool party with live DJ shows.
Check rates and availability at The Saguaro Palm Springs
Top Tip: Not keen on staying in a hotel? Read my guide to the best Airbnbs in Palm Springs for some great alternatives.
Useful Resources for a Palm Springs, California Itinerary
Getting Around Palm Springs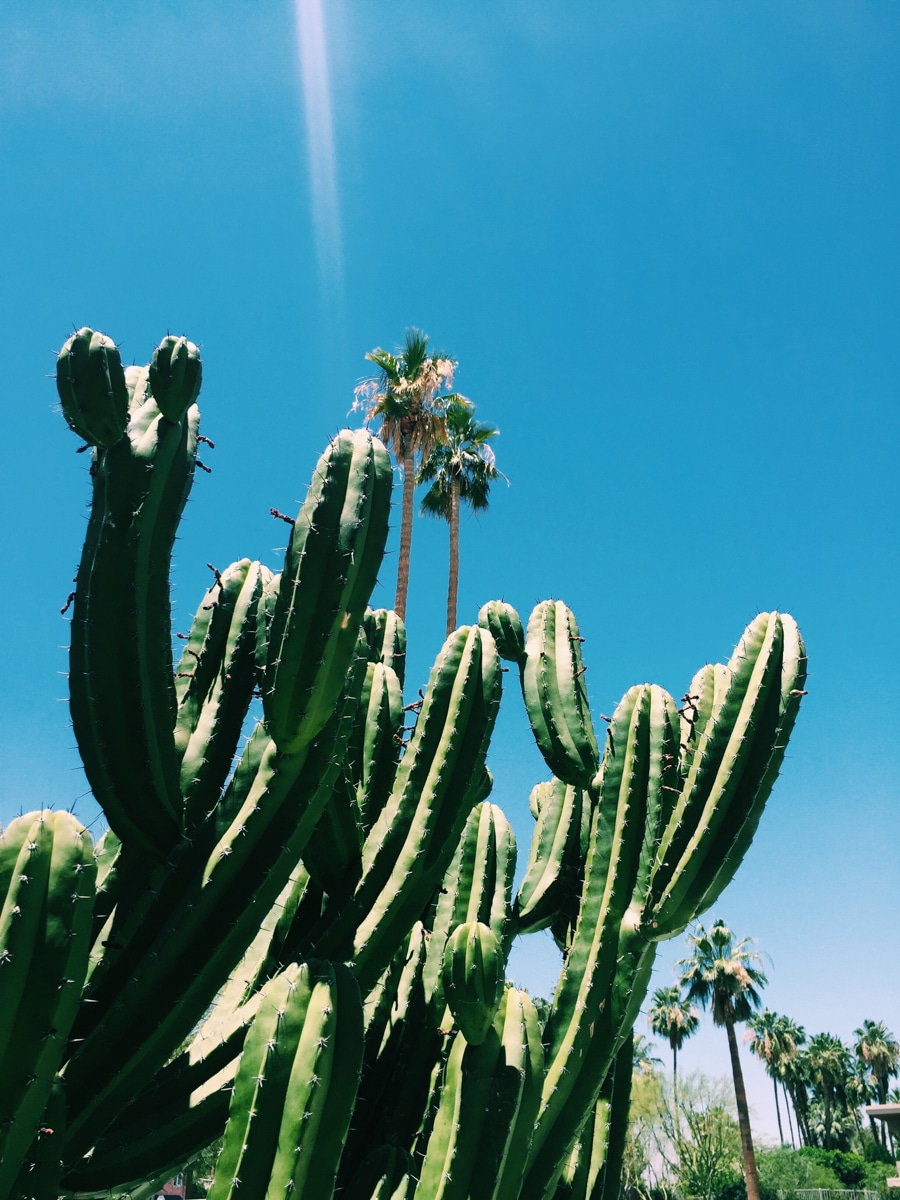 One bit of information is crucial whether you're spending 1, 2, or even 5 days in Palm Springs. And that's how to get around once you're in the city. Something great about Palm Springs is the fact that you can explore most areas on foot.
For every other destination, unless you're using your car, you can use popular ride-sharing apps like Uber and Lyft. Alternatively, opting for a rental car is a good idea if you're doing a lot of exploring. Use Rentalcars.com for this, as they have the best deals locally.
Read more: Find out why Palm Springs is a fantastic destination for a road trip from Los Angeles if you're keen to extend your trip.
2 Days in Palm Springs Itinerary
Palm Springs Itinerary Day One: Experience the Natural Side of Palm Springs & Downtown Palm Springs
It's only fitting that you explore Palm Springs' many natural attractions on day one of your trip.
Start with a hike, immersing yourself in a majestic desert garden paradise – then it's time to hit Downtown Palm Springs for an urban adventure.
Head Out Hiking in Indian Canyon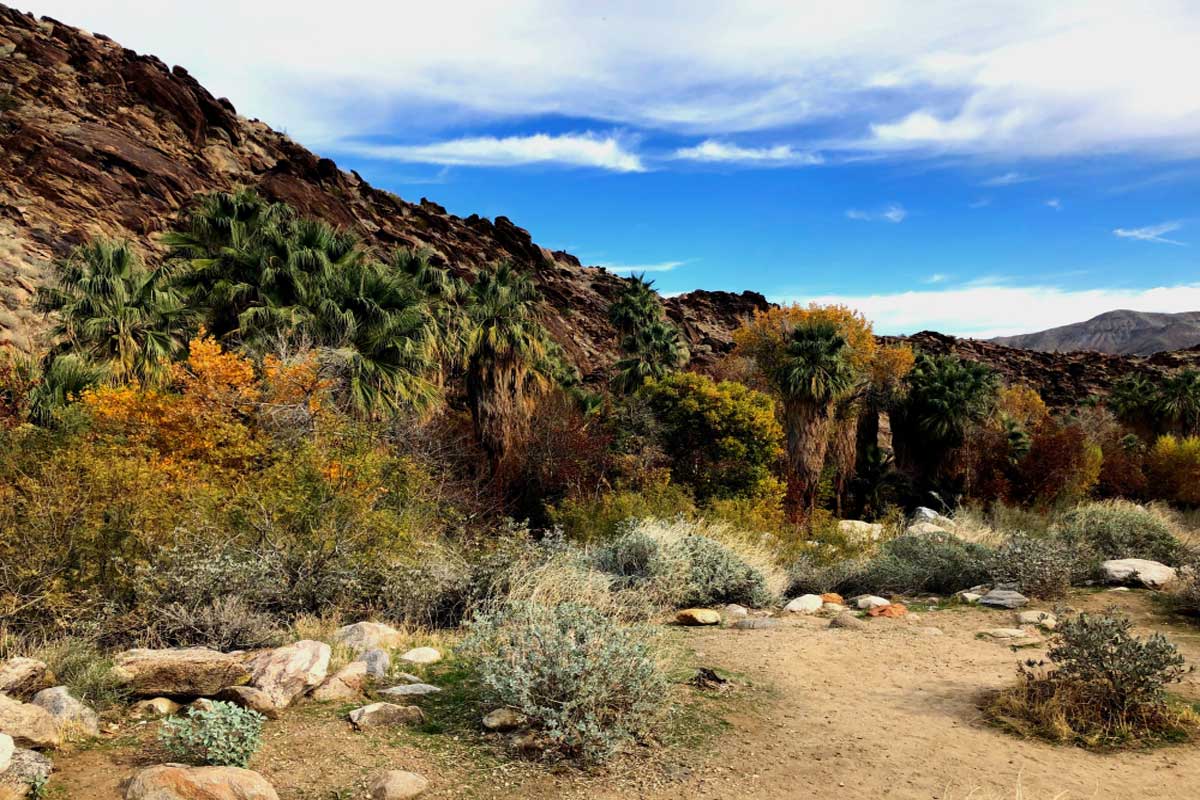 If you're wondering what makes this the best Palm Springs itinerary, this is your answer. It's simple. You can't visit the city without tackling one (or more) of its excellent trails.
Located at the end of South Palm Canyon Drive, you'll find the mesmerising Indian Canyons. Take your pick from the area's numerous trails, including:
Andreas Canyon Trail – An easy one-mile loop trail running along the picturesque Andreas Creek.
Murray Canyon Trail – Somewhat tricky, this 4-mile moderate out-and-back trail takes you to the stunning Seven Sisters Waterfall.
Surround Yourself with Nature in the Moorten Botanical Gardens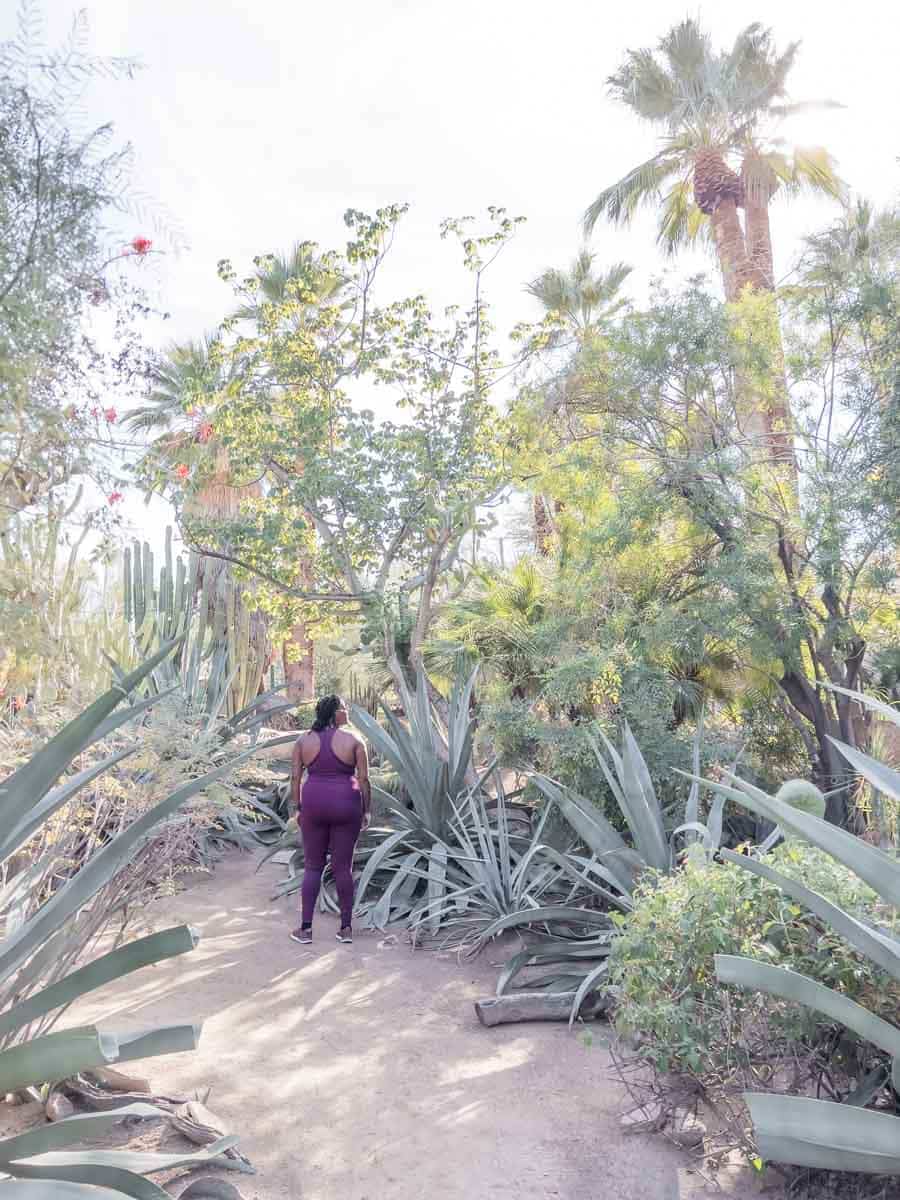 A botanical garden in the middle of the desert?
It sounds like madness, yet the Moorten Botanical Gardens, opened in 1939 by Patricia and Chester Moorten, is a Palm Springs highlight.
You'll no doubt want to do something a little less demanding after an early morning hiking in the desert – strolling through this impressive garden is a must.
There are more than 3,000 cacti species, as well as other non-native flora from around the world, all spread out over a series of beautifully curated gardens (don't miss the glasshouse either).
Fancy yourself as a bit of a green-fingered pro? Browse the extensive shop with rare cacti for you to bring home.
Meander Along Palm Canyon Drive
Once you've had your fill of desert landscapes and cacti, the illustrious Palm Canyon Drive awaits. Running through Downtown Palm Springs, you can treat yourself to some of the finest boutique shopping and lunch options.
Keep an eye out for the *iconic* Marilyn Monroe statue in front of the Palm Springs Art Museum. It's not to everyone's tastes, but it is one of the city's most photographed spots.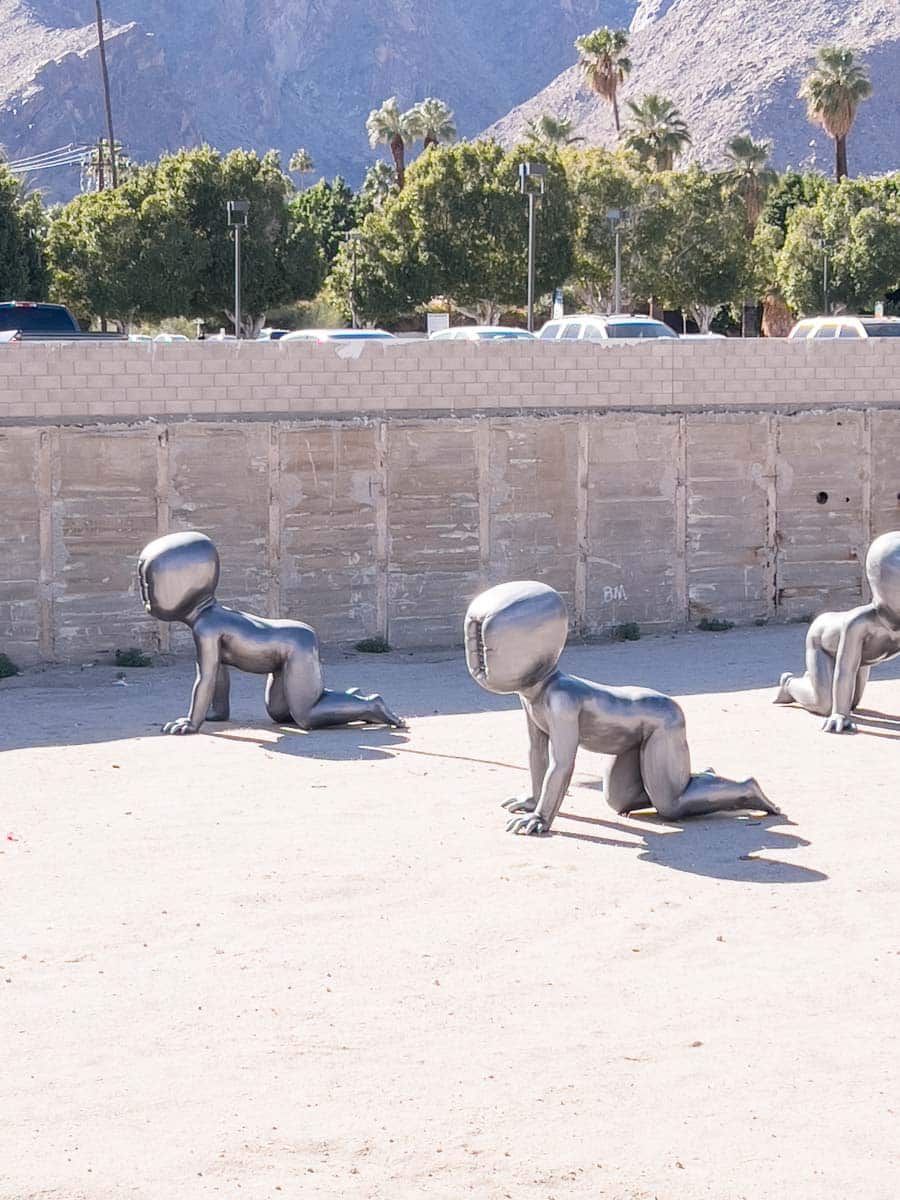 Personally I was much more excited about seeing the installation of Czech artist David Cêrny's Babies set a little further back from the drive.
Who wouldn't want to look at weirdly unsettling sculptures with barcode-faced babes crawling around in the sun? Want to know more? I wrote all about David Cerny and his Prague-based works here.
Venture Into the Windmill Farms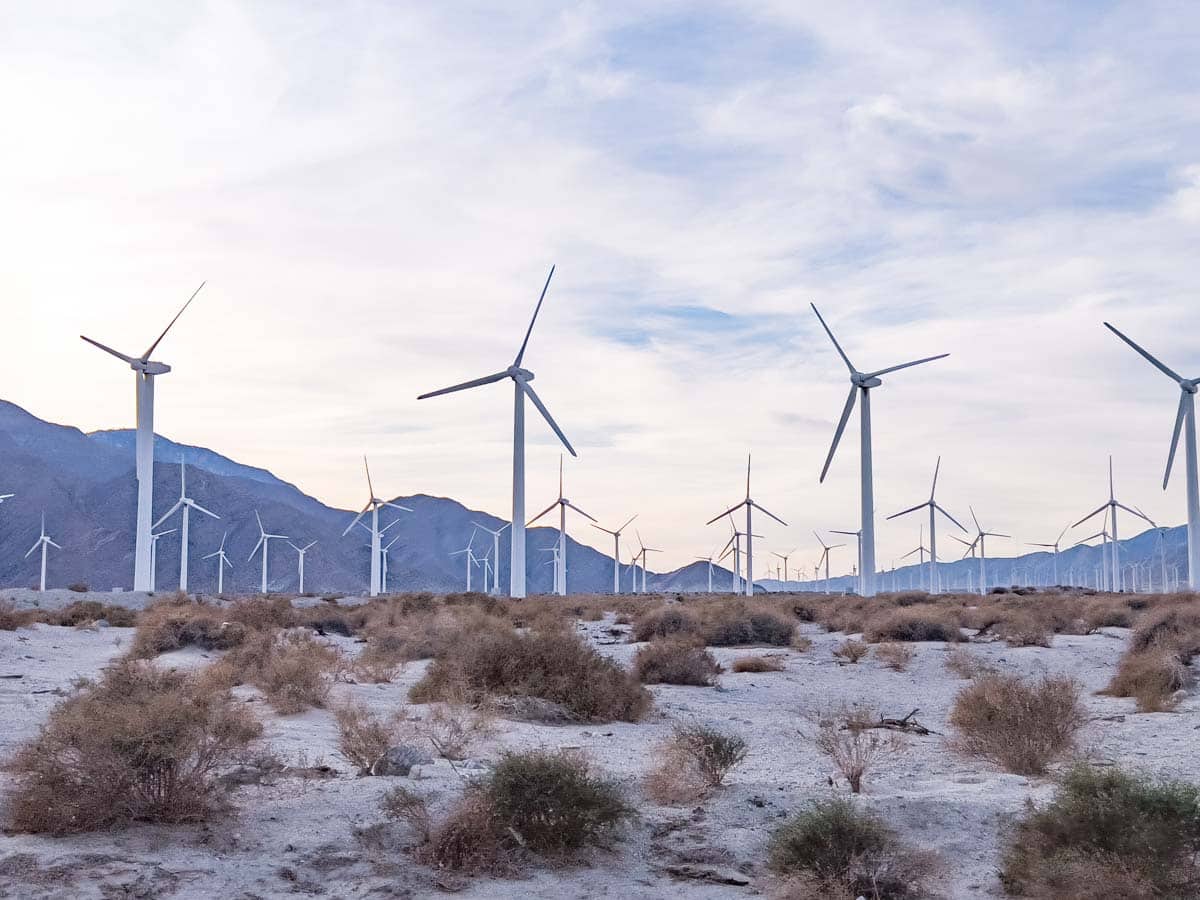 Visiting Palm Springs' monumental windmill farms is a great way to fill your afternoon.
A unique part of the skyline, these gigantic windmills produce clean and renewable energy, with 2,700 in and around the city.
Collectively located in the San Gorgonio Wind Park, you can head out exploring them on a solo mission. Alternatively, venture out with this self-driving windmill tour. It adds some interesting flair to a trip through the farms.
Venture into Pre-Historic Times at Cabazon Dinosaurs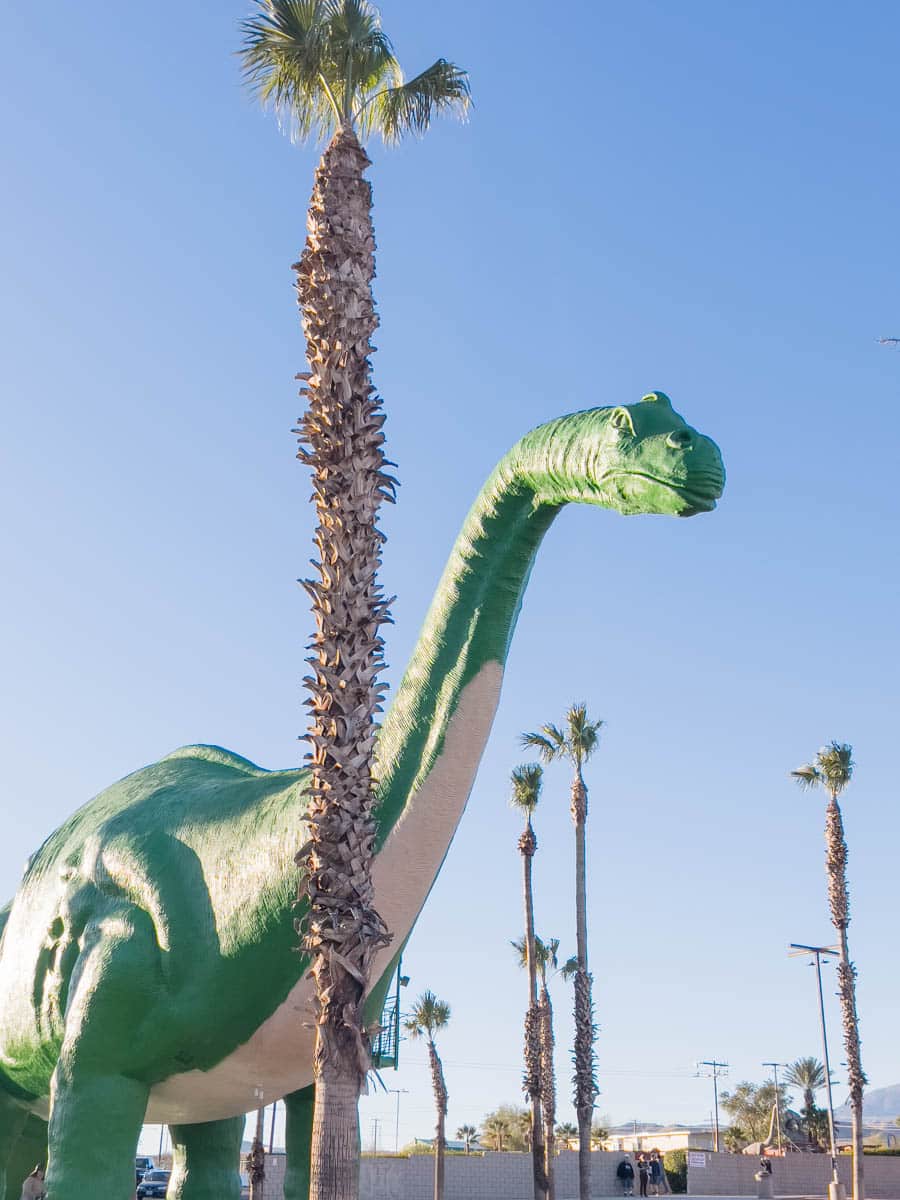 Something of a left-fielder, the Cabazon Dinosaurs aren't for everyone – so if you don't like the idea of running around a small park packed with (sometimes bizarre) life-sized dinosaurs… skip onto the next one.
For the rest of you, the Cabazon Dinosaurs is a *treat*. Gigantic vintage replicas of dinosaurs are strewn around the grounds, ready for you to play a game of make-believe Jurassic Park in.
Bonus points for those who climb to the top and inside the head of the giant T-Rex and roar their face off. Legend has it, it's very therapeutic (OK, OK, I did it, and it was).
Dinner at Boozehounds Palm Springs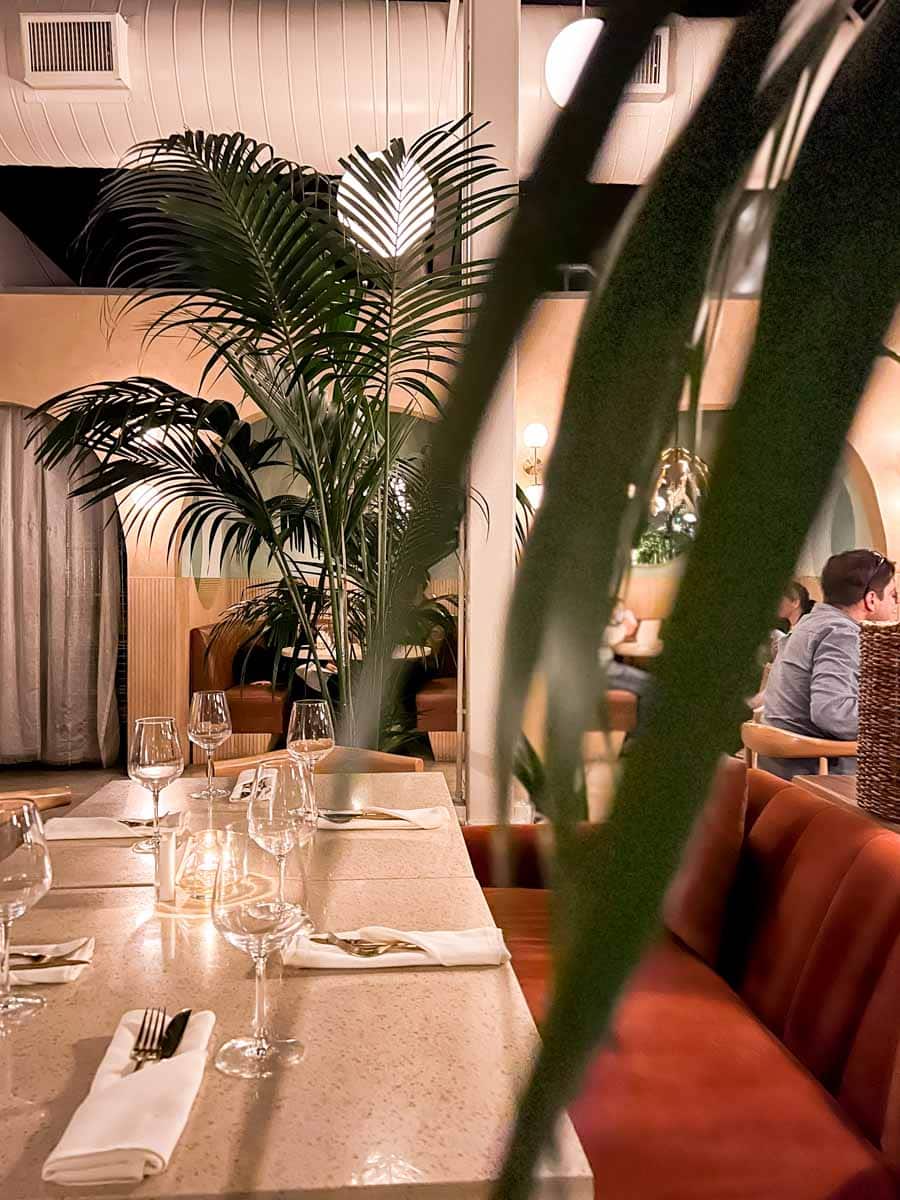 I won't lie – I didn't think the food in Palm Springs was as great as everyone made out. There were a few exceptions though, one of which was Boozehounds.
But dining at Boozehounds is a no-brainer. With a menu spanning contemporary American and international dishes, the ambience, service, and menu are all exceptional. It doesn't hurt that the interiors are *Gram Goals* either….
Add in a cocktail from their drinks menu to the roster, and you've got one helluva way to end day one with a bang.
Palm Springs Itinerary Day Two: Indulge in Palm Springs Highlights & Unmissable Attractions
Day two of your Palm Springs trip is all about heading into nature, paired with the city's classic attractions.
See Sunrise at Joshua Tree National Park or Head to The Coachella Valley Preserve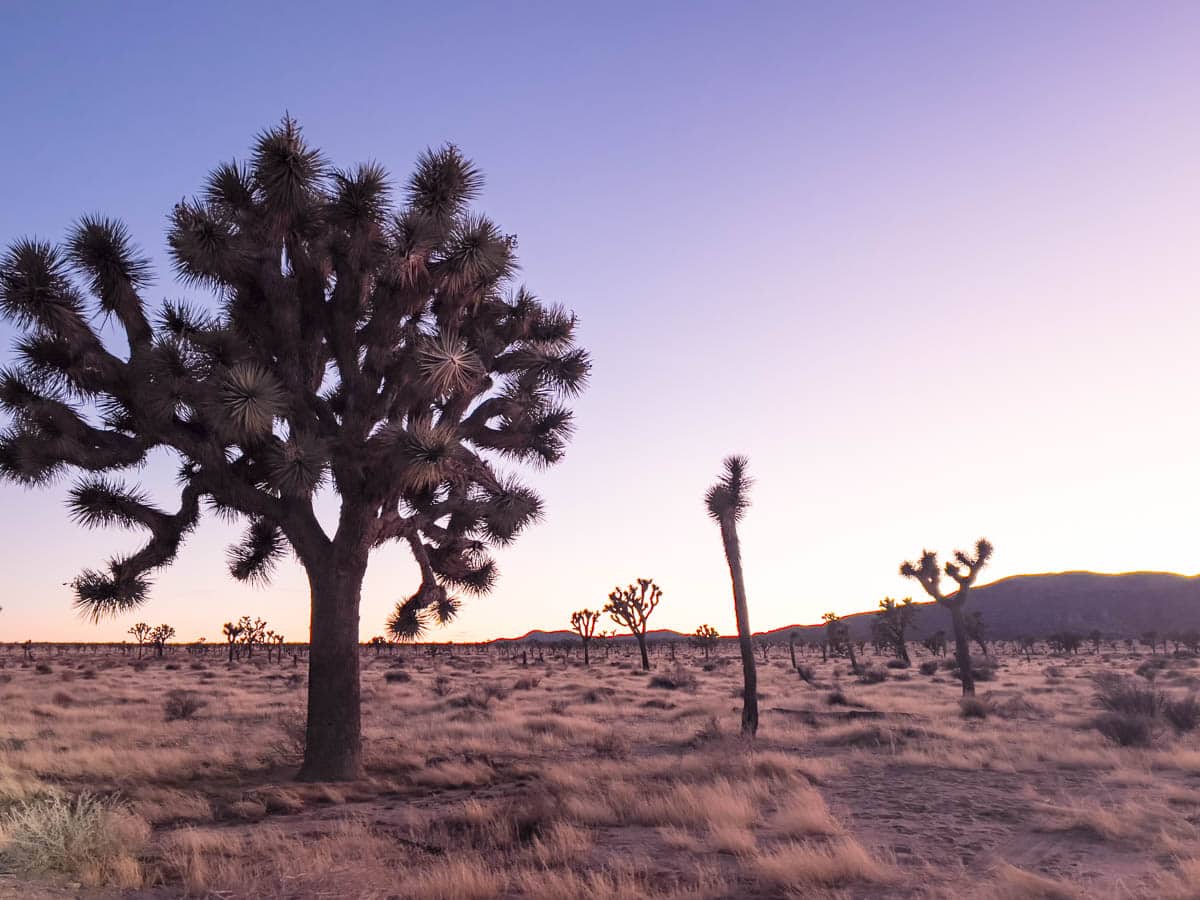 I'm going to give you two options for the morning of your second day, 'cos there are two epic things in striking distance and you only have time to do one.
The first is to see the sunrise and spend the morning at Joshua Tree National Park. Located roughly 50 minutes from Palm Springs by car, Joshua Tree is an otherworldly landscape yearning for eager explorers.
There's a lot to see here, so it's best to pair a Palm Springs and Joshua Tree itinerary together. This allows you enough time to see its distinct features, like the alien-looking Skull Rock.
The second option is to go to the much closer Coachella Valley Preserve, a lush palm-tree filled oasis that's straight-up gorgeous with a capital G.
They're both worthy options but you'll really get the most out of Joshua Tree if you get up early or decide to stay there for the whole day.
Top Tip: Read my guide to the best things to do in Joshua Tree if you want to discover more about this epic national park.
Soar into the Mountains on the Palm Springs Aerial Tramway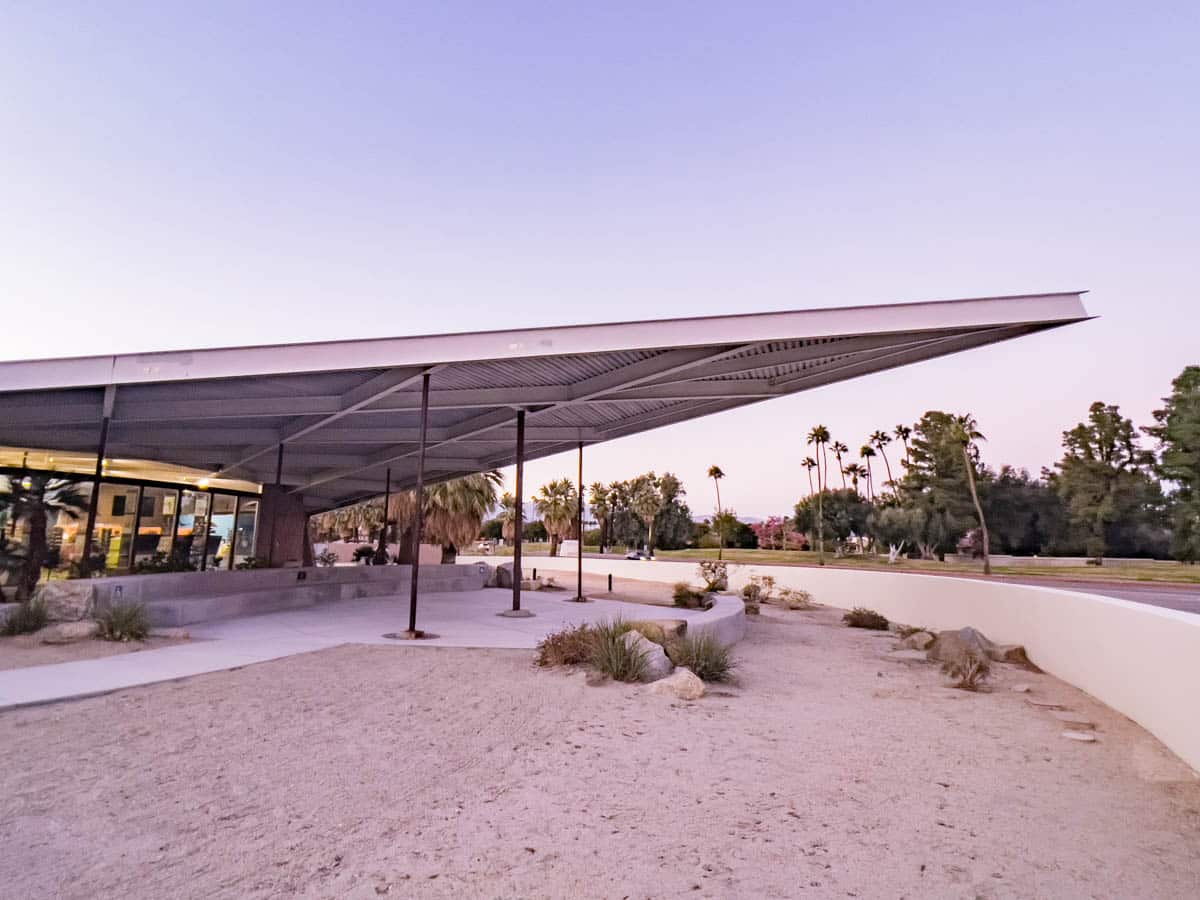 Once you're back in Palm Springs, it's time for a once-in-a-lifetime adventure into the sky above the city. The largest rotating aerial tramway in the world, expect epic views and scenery you won't ever forget.
At its summit (the 8,516 feet mountain peak), you can view the city and valley below from several observation decks.
Head to the on-site history museum, dine at its two restaurants, or hike on the surrounding trails.
Top Tip: Be sure to book your tramway entry ticket WELL IN ADVANCE, as they sell out quickly.
Discover the Art & Architecture of Palm Springs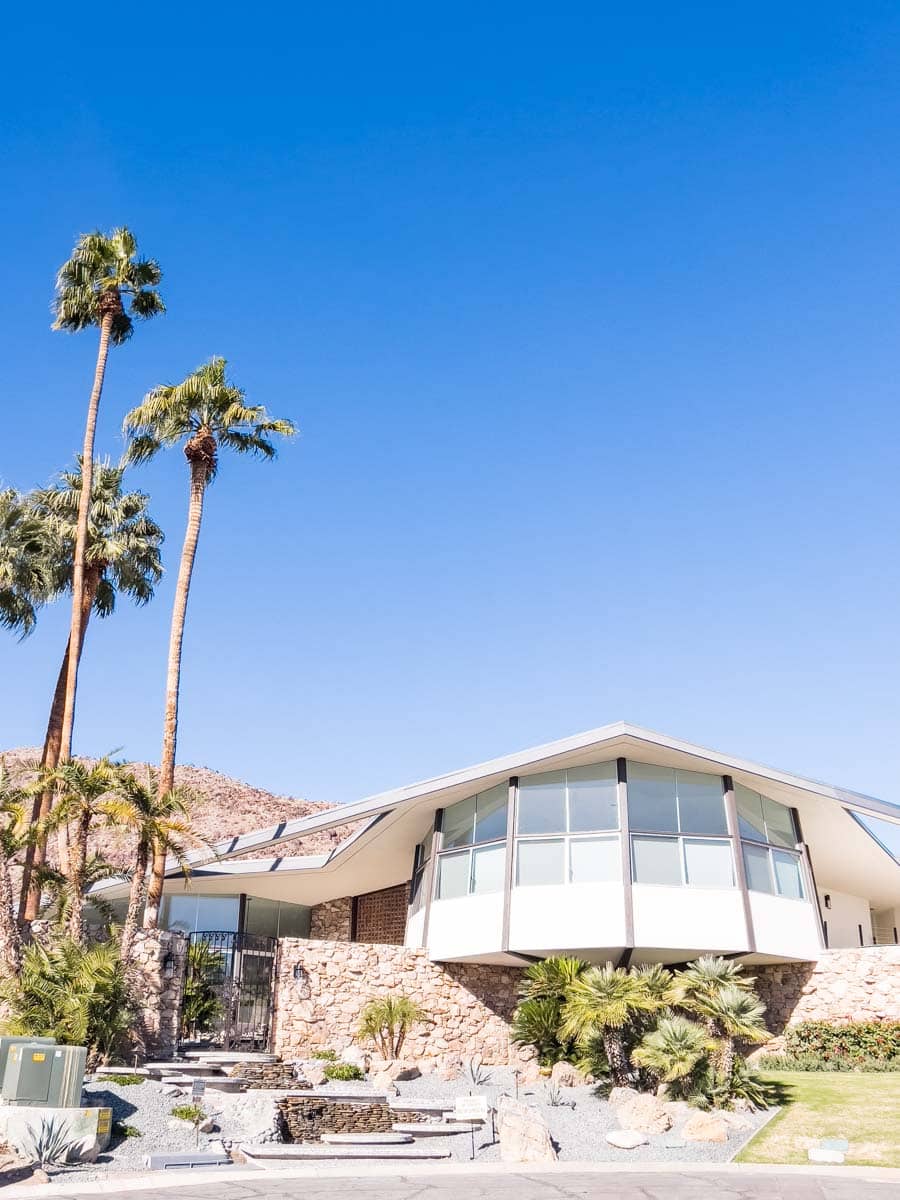 By now, I think we've established that Palm Springs isn't short on highlights, but its architecture and art galleries are in a league of their own.
After you've experienced the city from the surrounding desert and its skies, head downtown to set off on a self-guided Palm Springs architecture tour.
Buy a map ($5) from the Palm Springs Tourism board (the centre is handily located in the Tramway Gas Station – itself a mid-century masterpiece at the end of the road for the Aerial Tramway).
After that, all you have to do is hop in your car to gawp at mid-century classics like the House of Tomorrow (1962, William Krisel) where none other than Elvis spent his California honeymoon, the Frank Sinatra Residence (1947, E. Stewart Williams) and the Kaufmann House (1946, Richard Neutra).
Finish up with the architecture tour to head downtown to visit the Palm Springs Art Museum.
It's pure eye candy from the massive Marilyn Munroe sculpture at the entrance to the outdoor sculpture garden. Exhibits focus on contemporary art, while the glass art exhibit is a must. Visit their website for more details.
Wine and Dine at Workshop Kitchen
What could be better after a day of highlights than dining at one of Palm Springs' most famous restaurants? Not a lot, I can guarantee you that. Perhaps grab a drink (or five) at the Bar Cecil, but for the fantastic food, you're heading to the Workshop Kitchen.
A restaurant with modernist styling, its menu is as rave-worthy as they come. Dishes are all farm-to-table with a rotating selection throughout the year. After indulging in the chef's specialities (of which there are many), close off the night with a craft cocktail.
Palm Springs Itinerary – Map
Read More Travel Tips for Your Palm Springs Itinerary