Ready to explore a different side of Prague? It's time to discover the public sculptures of its most controversial artist, David Černý.
It was difficult to look away from the mesmerising silver head. Unlike your bog-standard statue, this one was split into tens of lateral slices, each one rotating at a different pace and often in different directions.
The overall effect was of something solid rendered liquid – the shifting movements bringing together and then unforming the subject's face in a play on identity and perspective.
Whatever I'd expected from my stay in the historical city of Prague, I was sure that this was not it.
In fact, I can tell you exactly what I'd expected: golden stonework and medieval towers, rich food and heavy beers, not a tongue-in-cheek oversized rotating head of Franz Kafka, one of the city's most famous past inhabitants. 
That's the magic of the sculpture's creator David Černý though, the "refuse to play by the rules" verging on bad boy artist whose works proliferate across the city. His provocative works are not what you expect to find in Prague, which is part of the reason why it's so delightful when you do.
Černý has been a central figure in Prague's artistic scene for more than a few decades now – first gaining notoriety in 1991 whilst still at art school when he transformed a Soviet memorial tank from its usual staid camouflage colours to a rather fetching shade of pink and adorned it with a finger (the middle one, natch) sticking out of the top. In a somewhat unsurprising turn of events, the Soviet government of the time was not pleased and Černý was placed under house arrest for hooliganism before being released.
Though a small snippet in the long tale of Černý's relationship with Prague, it lays the framework for understanding the works you see in the city today. On the face of it a Kafka's head is far more acceptable than a pink tank making an obscene gesture, but there have been many risque – some would say rude – pieces along the way – many of which are still standing at various points around the city. Finding the most prominent of them became my priority for my short time in the city.
Statue of Franz Kafka (2014)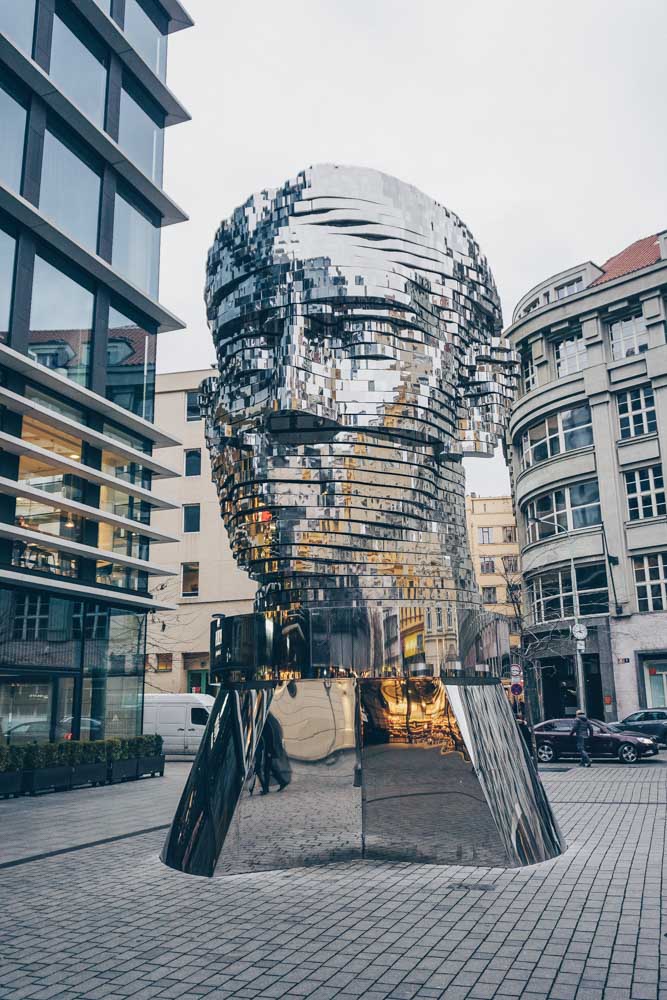 So, I'd kicked things off with Kafka's head – one of the best-known Černý pieces in the city. 11 metres tall and weighing over 39 tonnes, the kinetic chrome-plated sculpture was installed in 2014 facing a government building and behind a Tescos.
On the face of it, it's simple enough – but the head represented is actually Černý's own, reminding viewers that things are never quite what they seem.
Man Hanging Out (1996)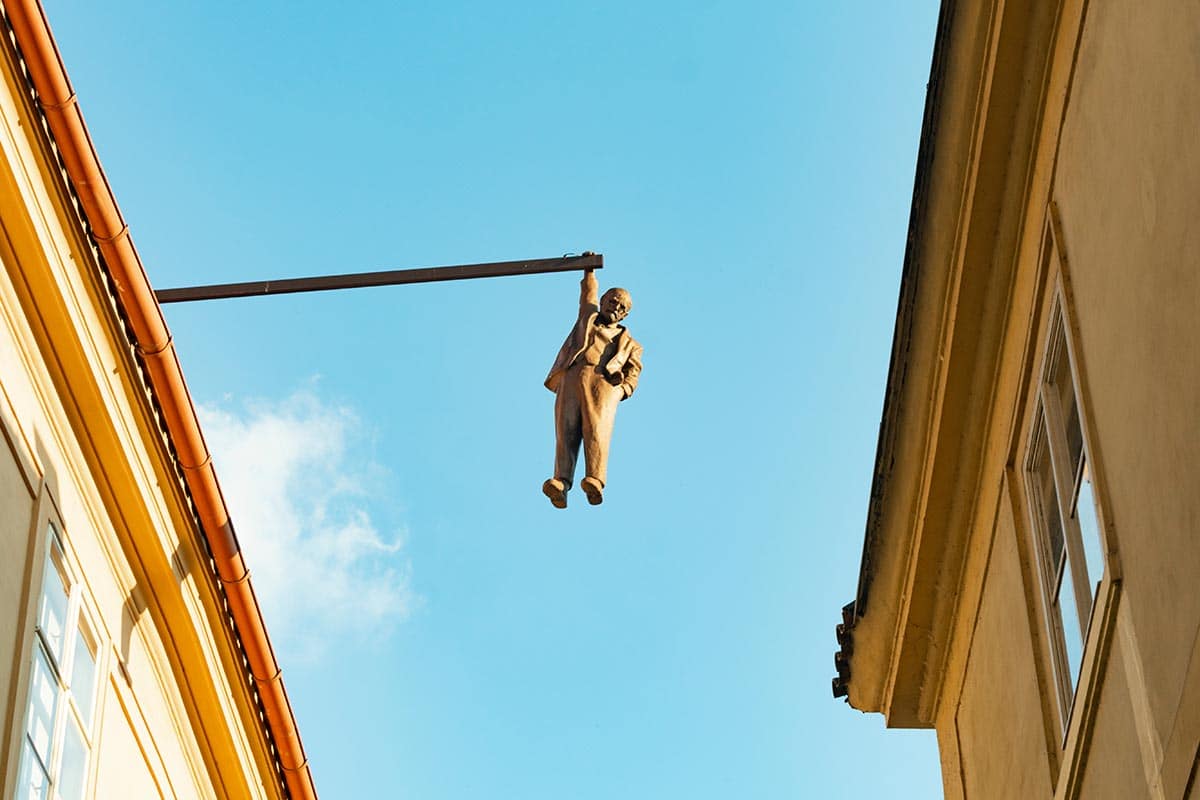 It was a pretty short walk from Kafka to another eminent Czech figure – Sigmund Freud, depicted in the rather unusual position of hanging from one hand above the Old Town's Husova Street. On the face of it, it's a ridiculous way to depict one of the most respected figures in psychoanalysis.
Looking at once like he may let go, or grip tighter, the uncertainty of the figure is thought to represent Černý's uncertainty about the role of intellectualism in the 20th century. Another theory is that it represents Freud's battle with his own anxiety about his death – hanging from one hand over a steep drop would certainly be one way to confront it.
Statue of King Wenceslas Riding an Upside-Down Dead Horse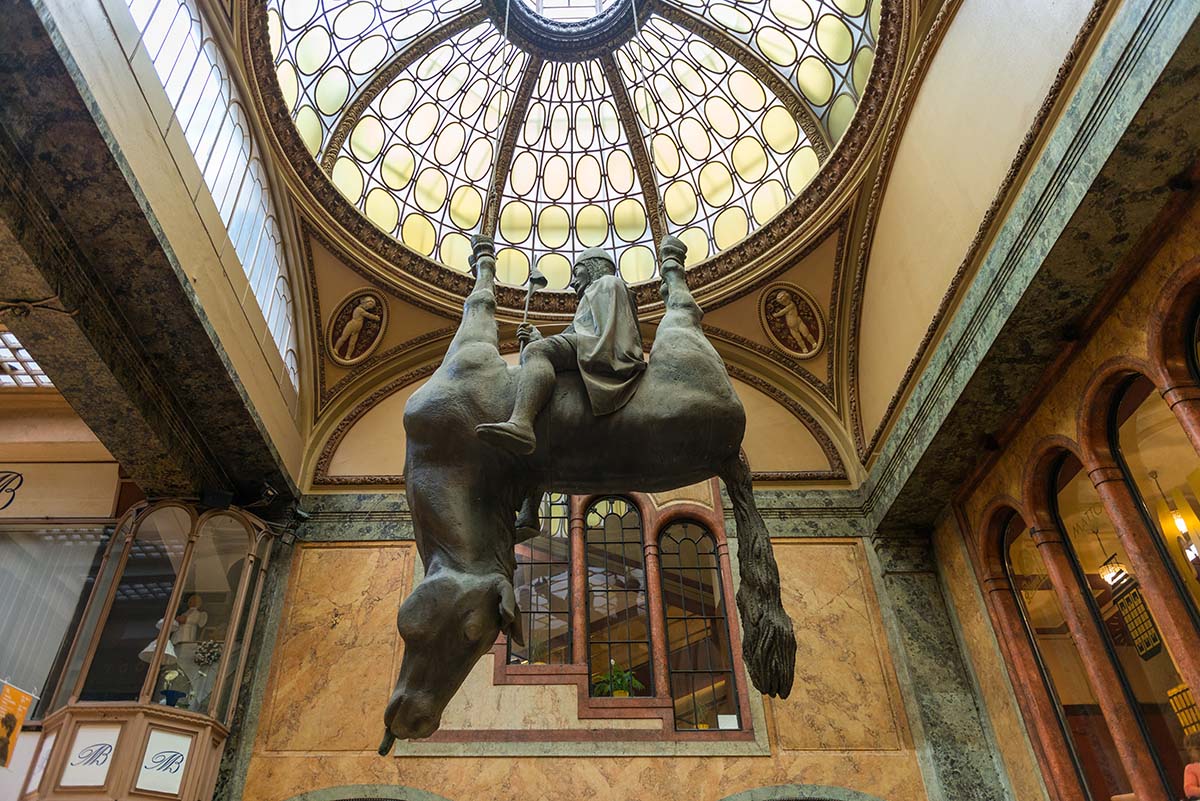 Few of the David Černý pieces you find in Prague are as pointedly tongue in cheek as the statue of King Wenceslas Riding an Upside Down Dead Horse. Providing a stark contrast to the much-venerated statue of the King on Wenceslas square, this rounded depiction of Wenceslas, charging forwards on an apparently dead horse raises more than a few questions.
Whatever interpretation you put on it (in the absence of any explanation from Černý himself, interpretation is all we have), it's clear that Černý doesn't hold much regard for the veneration of the former Duke of Bohemia.
Crawling Babies (2008)
The last of the Černý pieces I saw during my time in Prague actually ended up being one of my favourites, the larger-than-life weird babies stationed in Kampa Park. I kind of stumbled on this series of sculptures after taking a pretty sunset stroll along the banks of the Vlatva. One minute we were watching the light play on the water, the next – facing these strange creations.
After seeing a few of Černý's pieces, I thought I'd seen it all – but I have to be honest, these were weirdly disconcerting, if only because of the giant barcode-like pattern stamped where their faces should have been. You can also catch sight of the babies strewn along the length of the Zizkov Television Tower, but I didn't get to visit them myself. At least I know what's top of my list for my next trip to Prague for #Czechin2021.
This is a sponsored post produced for Visit Czech Republic. As ever, all thoughts and opinions are my own.
Wanna catch a glimpse of what else I got up to in Prague? Check these out…
Love This? Save and Share on Pinterest!