Forget the busy summer months – this is why you need to explore Prague in Winter. Brilliant things to do and places to see on a wintery trip to Prague.
Prague is one of Europe's most beautiful cities – but the secret is very much out.
In the peak summer months, Prague is… well, packed.
Contrast that with Prague in Winter. The streets are quieter, the attractions calmer, it's a much more affordable place to stay and the overall vibe just that little bit less frenetic.
I'm not sure how, but this was the first time that I'd stepped foot in the Czech Republic (Czechia) – spoiler alert – it won't be the last.
Take a sneak peek at what I got up to in my Prague winter trip with this video !
Planning to visit Prague in Winter? These are the spots you shouldn't miss.
Brilliant Things to do in Prague in Winter
Take a Walk Across the Charles Bridge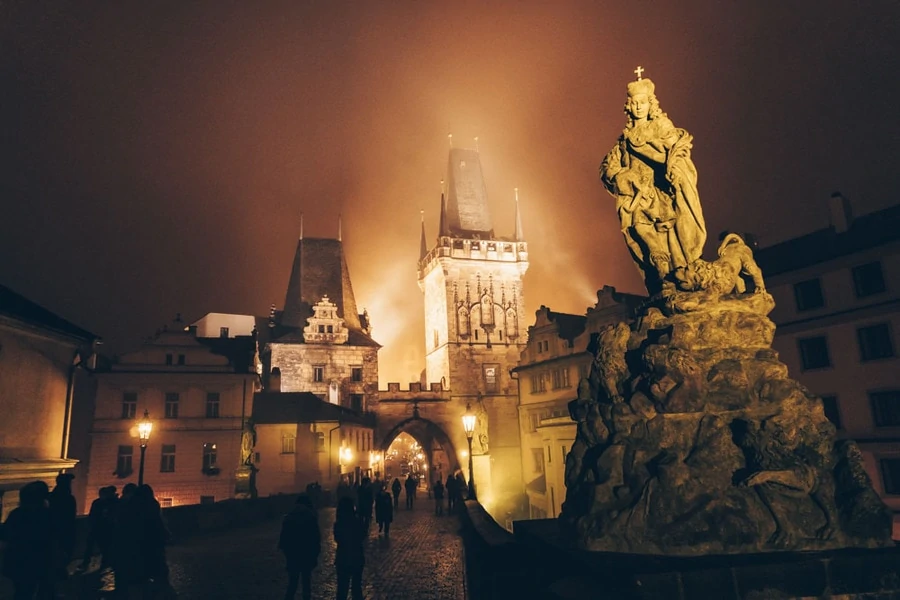 Yes, Charles Bridge is that famous bridge that pops up in almost every single damned picture of Prague.
Don't hate on it though – it really is an interesting spot. Stroll over the bridge's ½ kilometre length, stopping off to gawk at the baroque statues that line its parapets and feasting your eyes on views of Prague Castle, the Vlatva river and pretty little Prague in general.
Now, I've heard that the Charles Bridge becomes something of an assault course in peak season, with tourists scrumming in each other's pictures to get that perfect Instagram pose.
In fact, it's the distinct lack of crowding that I think the Charles Bridge is one of the best places to visit in Prague in the winter.
I'm not saying you're going to have the bridge to yourself (you won't), but you will have enough space for a leisurely walk without having to elbow any other people along the way. Praise be.
Pamper Yourself With a Beer Spa
Watch my Prague Beer Spa Video on YouTube – Don't forget to subscribe and join the conversation!
Czech people really like beer.
Scrap that. Czech people LOVE beer.
The country prides itself on drinking the most beer per capita in the world. Yes, you read that right – in the world – beating other beer-swilling nations like the UK and Germany hands down.
Now, I don't know how you feel about drinking beer (I personally like it, but I don't love it) but I think we can all get on board with the idea of having a beer spa.
There are several beer spas dotted all over the city. You simply book a session, rock up and hop into a steaming, bubbling bath full of beer-y goodness.
It's only fair that I say you're not actually bathing in beer itself: rather the ingredients (mostly hops) that go into making beer. BUT, your session does come with a bathside tap from which you can have unlimited refills, so there's no shortage of beer in the equation.
I wasn't sure if the beer spa was going to be a bit of an overhyped tourist gimmick but I actually really enjoyed it. Not only that, but my skin came out much smoother and more hydrated than when I went in.
In other words, the perfect treat for battling the curse of winter-drought skin (you know what I'm talking about) and a top pick for things to do in Prague in January.
Check Out the Beer Spa for Yourself
Looking for something a little more child-friendly? Karlovy Vary is one of the Czech Republic's best-known spa towns and an easy day trip from Prague.
Visit Prague Castle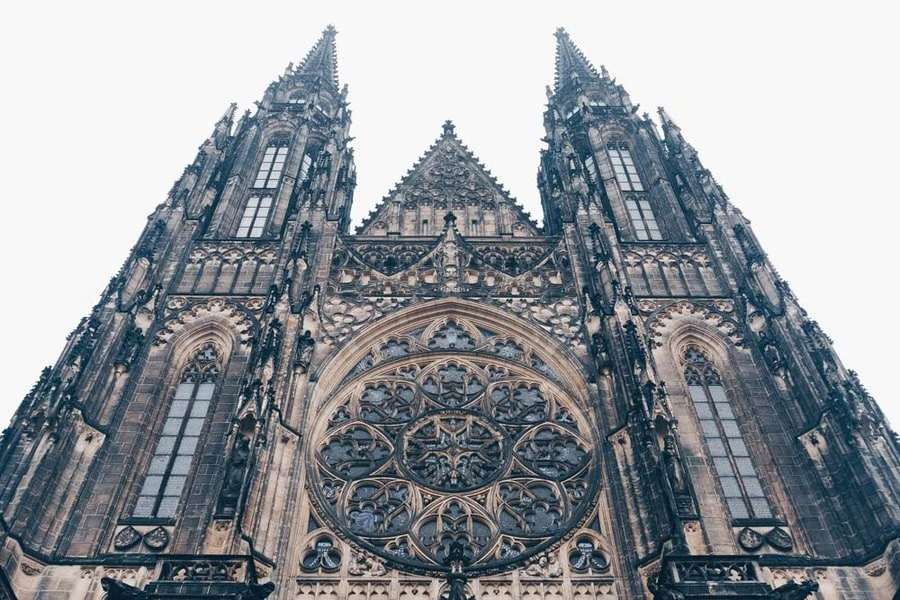 Sitting majestically on its elevated perch, overlooking the city like a watchful parent, Prague Castle is no secret find. In fact, there are very few people who visit Prague without taking a close-up peek of the castle.
The UNESCO World Heritage-castle is actually the largest in the world. However, before you go imagining some larger-than-life Disney fortress you'd have to crane your neck to see the top of, I'll say that it's actually an extensive complex of buildings – not one monolithic structure.
If I'm frank, I was a little underwhelmed by my visit to the castle. While the buildings are impressive when clustered together, they're not particularly beautiful when looked at individually – well, except St Vitus Cathedral. Don't hate me – you'll see what I mean when you go yourself.
Take a Historical Tour of the Old Town
There are lots of destinations where you can walk around, soaking up the atmosphere without knowing (or caring) a fig about the history…
Then there are places like Prague where the history has shaped the city to such a degree that it would be a shame to miss out on the story. It really is one of those places where taking a history tour is an absolute must.
I'm a huge history geek, but even if you're only mildly interested in learning about Prague's fascinating past, a history tour is a must.
Our guide Jakub walked us through the Old Town and the Jewish Quarter before hopping over the bridge to catch a tram to the castle. He was a master of narrative – weaving the tale of rulers past, dynasties and the city's inhabitants into Prague's winding lanes and alleys.
Discover the Bizarre: Walk in the Footsteps of Franz Kafka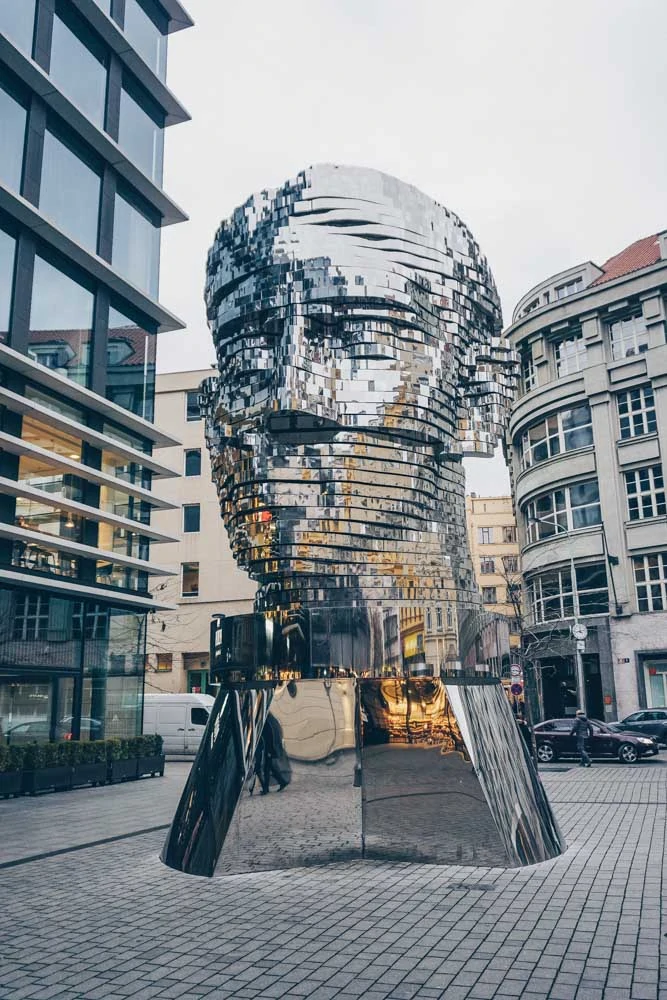 It's impossible to spend any time in Prague without finding out that:
Franz Kafka was born and lived in Prague; and
The locals are hella proud of that fact.
Despite writing mainly in German, the famed 20th-century visionary was (you guessed it), born and raised in Prague. He lived a rather odd life – working at an insurance company during the day, writing his paranoid, angst-ridden and appealingly bizarre stories by night.
There are tributes to Prague's infamous progeny all over the city – from the Franz Kafka Museum to a monument next to the Spanish Synagogue and (my personal favourite) a giant, rotating and ever-changing Kafka head in the New Town.
Wrap up Warm and Take a Walk to Peek at Prague's Public Art
Historically, Prague has had a turbulent relationship with art – seeing everything from the decadent fin-de-siecle style at the turn of the 20th century to strong Cubist and Surrealist movements in the decades to follow – not to mention the artistic repression and censorship of the communist era.
Celebrate contemporary Prague by wrapping up warm and taking a walk to see the wealth of public art on display in the city. I've listed some of my favourite pieces below – but keep your eyes open as you walk around to discover even more.
David Cerny's Babies
It takes a lot to stop me in my tracks, but the sight of controversial Prague artist David Cerny's grotesque, larger-than-life babies with barcodes for faces, certainly did the trick. Why? Just why? Yet they are weirdly fascinating – I didn't see one person walk past without edging a bit closer to take a second look.
The babies I spotted were in the Kampa Park, but there are also a set of the little critters cleverly positioned on the on Zizkov Television Tower so it looks like they're scaling the building. Brilliantly weird.
John Lennon Wall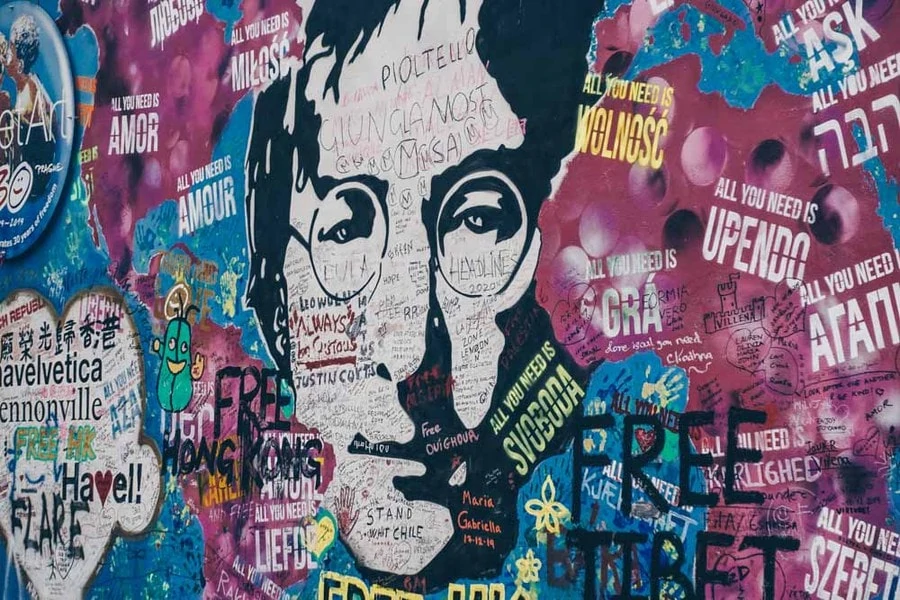 John Lennon was something of a figurehead for Prague's counter-culture – and its participants felt the sting of his assassination deeply. An unknown artist first painted a picture of Lennon on the wall, accompanied by some Beatles lyrics shortly after his death in 1980 and the rest, as they say, is history.
Since then, the wall has stood as a sign of protest – imbued with layer upon layer of paint, artwork on artwork – constantly evolving into the colourful mural we see today.
The Head of Franz Kafka
I mentioned this above in the Kafka section, but it's so good it deserves to be mentioned again. The fluid motion of the head is just the tiniest bit mesmerising and ever so Kafkaesque.
Statue of King Wenceslas Riding Upside Down on a Horse
Another rather weird piece, the Statue of King Wenceslas Riding Upside Down on a Horse is plumped in Prague's Lucerna Palace.
It's exactly as described and is interpreted to be a pastiche of the older statue of King Wenceslas (sitting the right way up) in Wenceslas Square. Oh, and it's also by David Cerny too.
Eating and Drinking Your Way Around Prague in Winter
Take a Scrummy Food Tour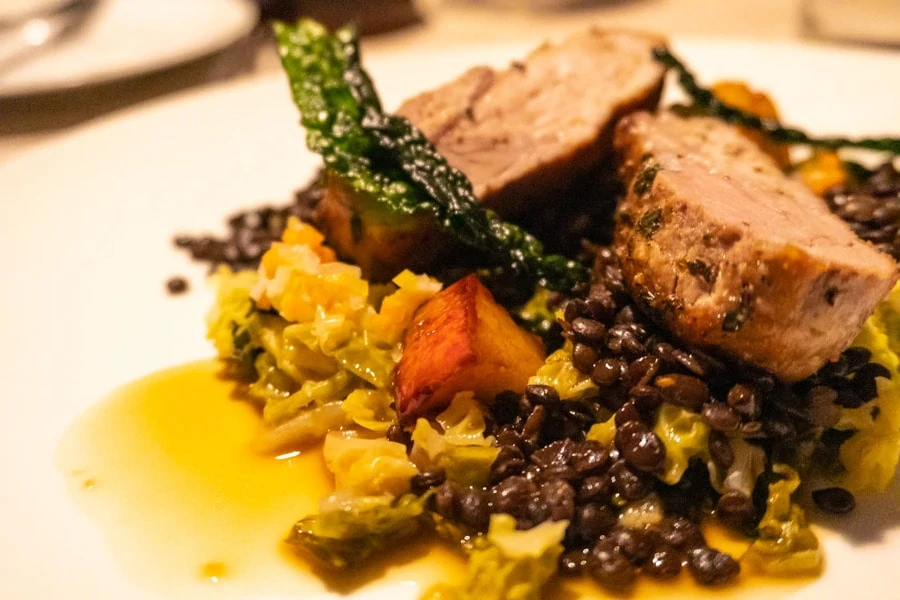 Think Czech food is only heavy meats, bland flavours and lots of potatoes? Think again.
No matter how much research you do into a destination's food scene, there's nothing like heading out with a local to discover their favourite destinations and sample their beloved eats.
By the end of the Communist era, Prague's food scene was a little lacking on the excitement front. Fast forward a few decades and Prague boasts a lively foodie scene that my stomach and taste buds took plenty of pleasure from exploring.
I took a food tour with one of Eating Europe's local guides to help me discover Prague's flavour palate. Four hours of eating our way around the city whilst learning a bit (OK, maybe a little too much – our guide was heavy on the detail) about the city's complex history: it was an adventure I would have never been able to put together myself.
I'd been in town for three days by the time I took the tour and yet each of the dishes and destinations were completely new. Hidden gems you'd walk past without blinking an eye were transformed into an explosion of flavour and many a fond memory.
Thumbs up.
Sink a Beer or Two in a Local Tavern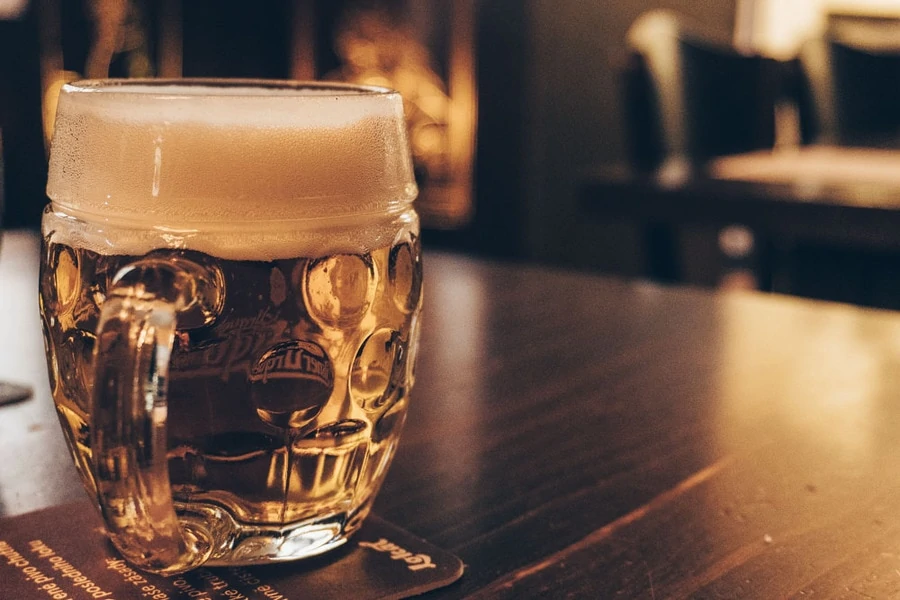 Remember how I said that the Czechs love beer? Well it shouldn't come as a surprise that Prague is absolutely rammed with places to drink the stuff.
A couple of words of wisdom before we start.
Don't bother with anywhere selling beer at more than 100Kč per ½ litre. I have it on good advice that locals won't touch those places and so it will just be you and all your other tourist friends being fleeced for your money.
Ideally you want to find a place selling beer straight from the tank as it will be super fresh. Also price-wise, locals generally expect to pay 50Kč per ½ litre unless it is an absolute knockout craft beer.
My favourite spot was the beer from the brewery at the Strahov Monastery. The amber beer is 75Kč but falls under the "stellar beer" exception.
Hang Out at a Hip Eatery (Kantyna)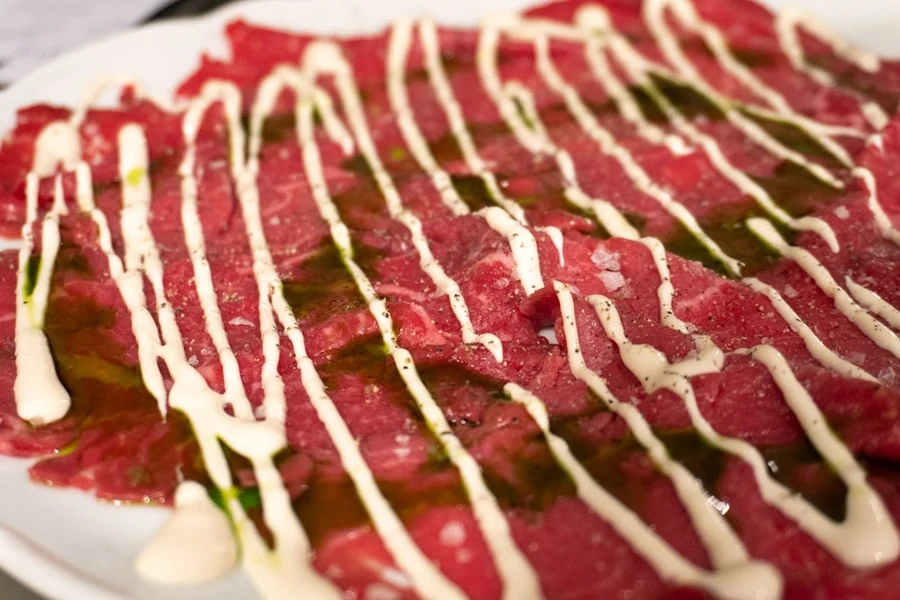 It's a tough call to say which was my favourite restaurant in Prague (the Savoy, which I've included below was a very close contender) but Kantyna just pips it to the post.
The premise is simple. You either go to the canteen-style serving area or the butcher's shop at the front, choose what you want, take your number and wait for them to bring it to your table.
That's the theory anyway. The reality is low-key fighting people to grab a table as you try and juggle drinking your beer, looking nonchalant AF and shark the next available spot at the same time.
I was the tiniest bit (read: really quite) disgruntled by the time we got a table thanks to the group who tried to steal it from right under our noses – uh uh buddies. Anyway, all that melted away once I had my first bite of dinner.
You see… the reason that Kantyna is heaving on a Friday night is because the food is freaking great.
To elaborate more, we're talking juicy steaks, redolent with grassy, unctuous notes from the ageing process, accompanied by bramboráky – potato pancakes similar to rosti. It really was the standout meal of the trip and the perfect warming fodder you need in your tummy for tackling Prague in Winter.
Treat Yourself at Cafe Savoy
Bypass the bakery and cafe at the front (well, maybe buy a couple of treats to snack on later first) and make your way to the restaurant section at the back of Cafe Savoy.
Once you've plumped yourself down and ordered, wait for some of the most delicious food in Prague to arrive at your table before settling in to a good old-fashioned FEAST.
Look, I'm not going to front – I had the steak tartare here… which is actually a Czech speciality, but the menu specified it was Parisian-style so guess I failed on the Czech food discovery front there. It was divine though and I have no regrets.

Other Notable Mentions for Winter Food Spots in Prague
Lokal – There are several branches of Lokal around Prague and one of them finds their way into pretty much every Prague travel guide. The food was great, the beer was similarly good and the prices were ridiculously reasonable.
Krčma – Another much-talked about entry (even our guide on the history tour recommended eating there), Krčma is a tavern-style drinking hole and eatery serving traditional Czech specialities at low prices. I had the Bohemian roast duck and would give it the thumbs up.
Practical Information for Planning Your Visit to Prague During Winter
As I mentioned at the top of the article, I went on this trip with the newly-launched easyJet holidays which is a great option for a trip to Prague.
I fly easyJet all the time, so when I found out that they were launching easyJet holidays, I was pretty excited about it.
Instead of trawling through endless hotels with misleading pictures on certain hotel platforms , you simply hop onto the easyJet holidays site, choose the location, duration and then take your pick from their expertly-curated hotels.
All trips even come with 23kg of baggage allowance per person, so there's no need to faff about working out how heavy your bag will be before you book.
Where to Stay: The Alchymist Hotel & Spa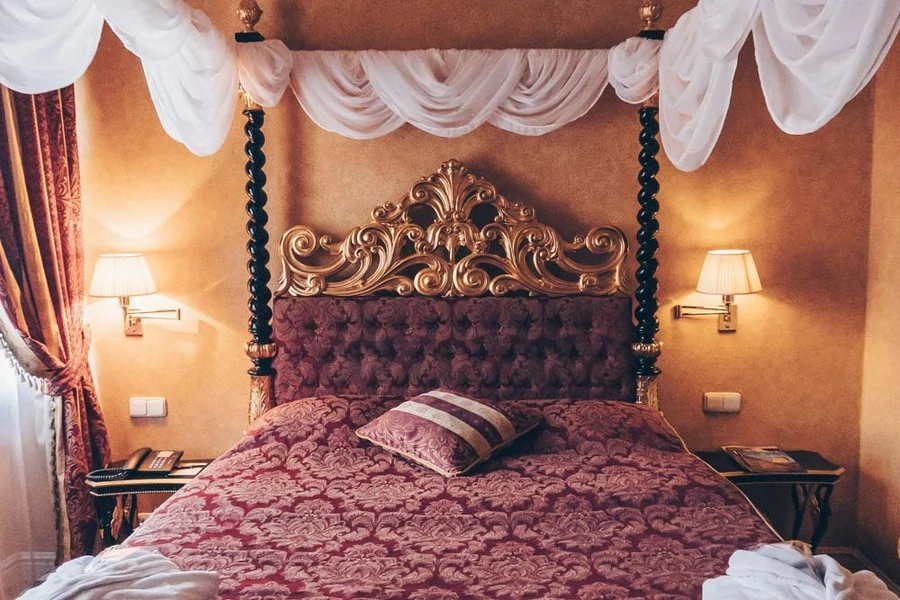 I stayed at the gloriously-OTT five-star Alchymist Grand Hotel & Spa in the lesser town area and would highly recommend it. It's only a five-minute walk to Charles Bridge but the hotel's location in the lesser town means you're out of the hustle and bustle of the Old Town.
The hotel itself boasts an unashamedly baroque interior – from the four-poster beds to the crystal chandeliers, gilt-edged pouffes and velvet chairs, the theme here is out-and-out old-school luxe.
There's even a gorgeous pool and spa area for that necessary January new-year-new-me pampering. No, you can't just stay in there for the whole of your trip.

---
So, Should You Really Visit Prague in Winter?
Yes! Ditch the crowds, book the holiday and feel smug, smug, smug that you have had the chance to see another destination on your European bucket list sans the fuss.
Read More Winter Travel Guides
Love this? Save and Share on Pinterest!