It's time to delve into the wonders of the Czech Republic. Read on to discover 23 brilliant things to do in Czechia, beyond just exploring Prague.
I don't know about you, but I always feel like there's a certain air of mystique surrounding the Czech Republic. It's a country I've always wanted to explore more of – especially since I spent some time in Prague a few years ago.
Feel the same? I thought so. Perhaps you're drawn to its fascinating folk tradition and cold war history. Or maybe it's because you're dreaming of visiting its mediaeval castles and charming woodland villages.
Either way, there's plenty to see and do in Czechia. And much of it is outside of the capital, Prague. Ready to explore? These are the things you don't want to miss.
Looking for somewhere to stay in the Czech Republic? Experience a stay at one of Czechia's dreamy castle hotels: Château Rychvald. It's complete with lavish gardens, a majestic courtyard and a small chapel.
Top 5 Things to do in the Czech Republic
Explore Prague's Historic Attractions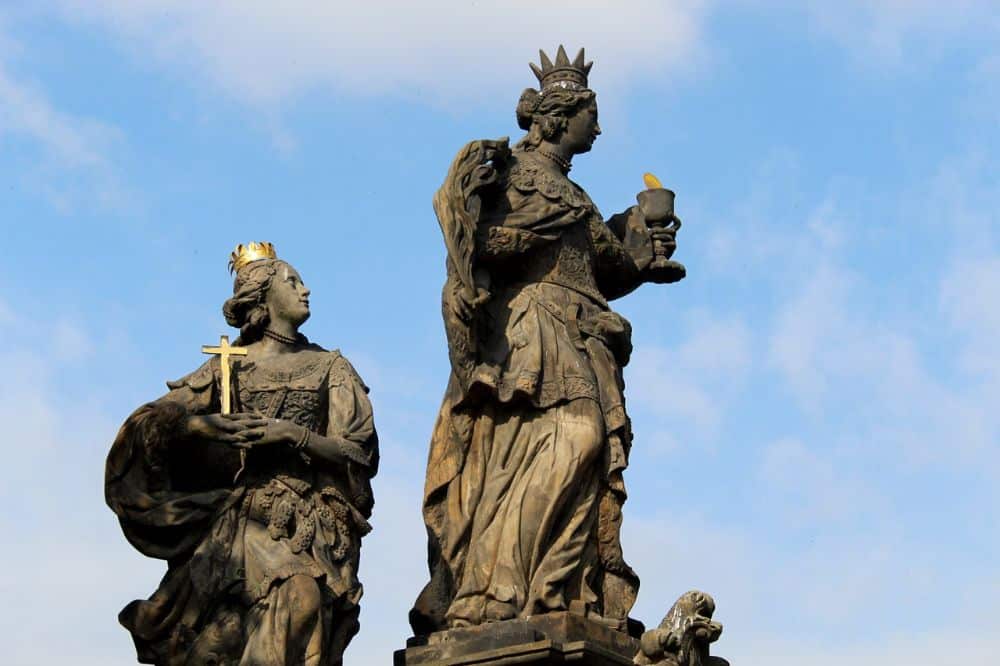 I know I said that you should venture outside Czechia's capital, but Prague is an incredible place to start. It's an eclectic city known for its provocative street art, riotous beer halls and vibrant music and club scene. But exploring its historical side is a must.
Start your day at Charles Bridge – a monument that should be on your ultimate Europe travel bucket list. From here, wander through the Old Town and make your way to the historic Old Town Square. Glance up at the beautiful Astronomical Clock, showing the relative positions of the sun, moon, earth and zodiac constellations.
Be sure to check out Prague's impressive array of unusual museums. I personally loved the Museum of Communism and the Nuclear Bunker Museum, both of which give a unique insight into a darker time of Czech history.
Hike Through Bohemian Switzerland National Park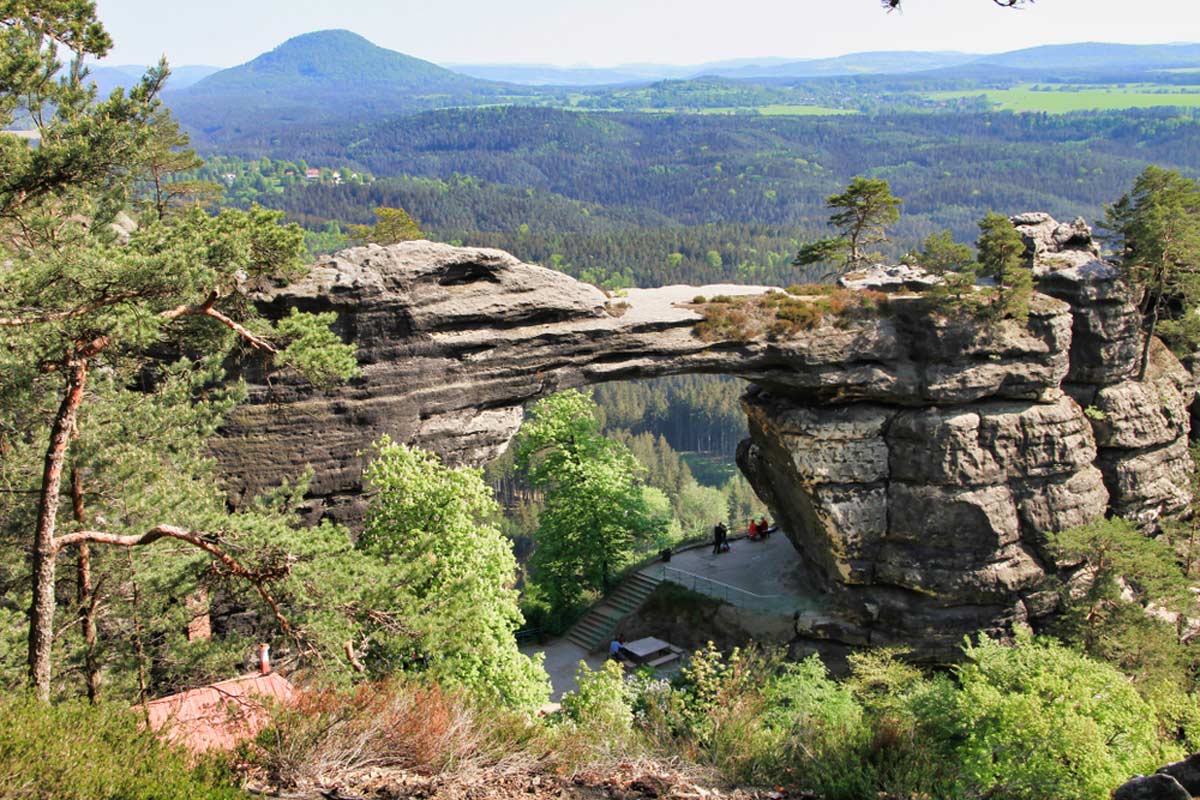 Despite its name, Bohemian Switzerland National Park is one of the most beautiful places to visit in the Czech Republic and (dare I say) Europe. A visit to the national park is perfect for nature lovers, avid hikers or those who simply enjoy peace and quiet.
To make the most of your visit to the national park, I highly recommend the Bohemia and Saxon Switzerland trip (not to mention that it makes the logistics a breeze).
This hiking tour leaves from Prague and takes about eight to twelve hours. On the tour, you'll see the astonishing Bastei Bridge, Pravcicka Gate and the Kamenice Gorge.
Unwind in a Beer Spa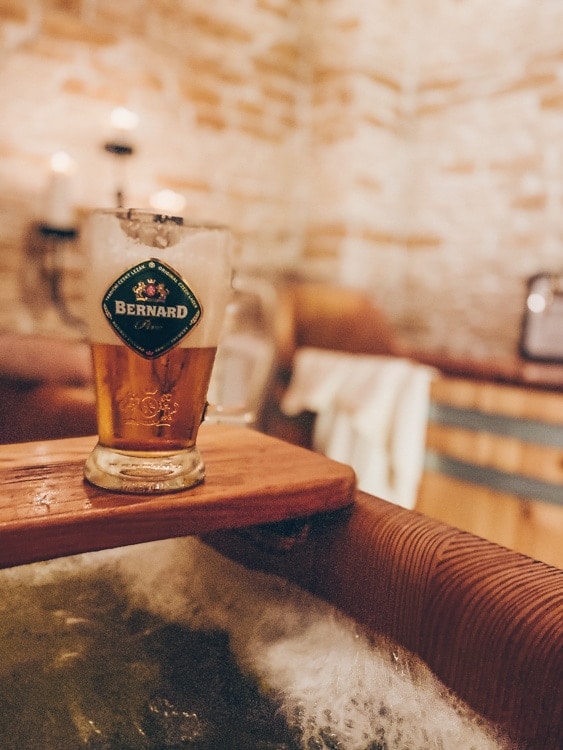 Move over lavender and herbs, it's time for a beer spa. Yes, really.
Soak in hot water infused with key beer ingredients of malt, hops and medicinal herbs at a traditional beer spa. This helps to relax the muscles and detoxify the body – not to mention that it's ridiculously fun to pretend you're floating in your fave craft brew.
Ingrained in Czech's traditional folk activities and used to treat ailments for over 2000 years, beer spas are like Eastern Europe's alternative medicine. Fear not — you can also enjoy a beer out of the bath!
Most beer spas have a wide range of local craft beers on tap to enjoy before, during and after your treatment.
Read Next: My Guide to Visiting a Prague Beer Spa
Visit the Town of Český Krumlov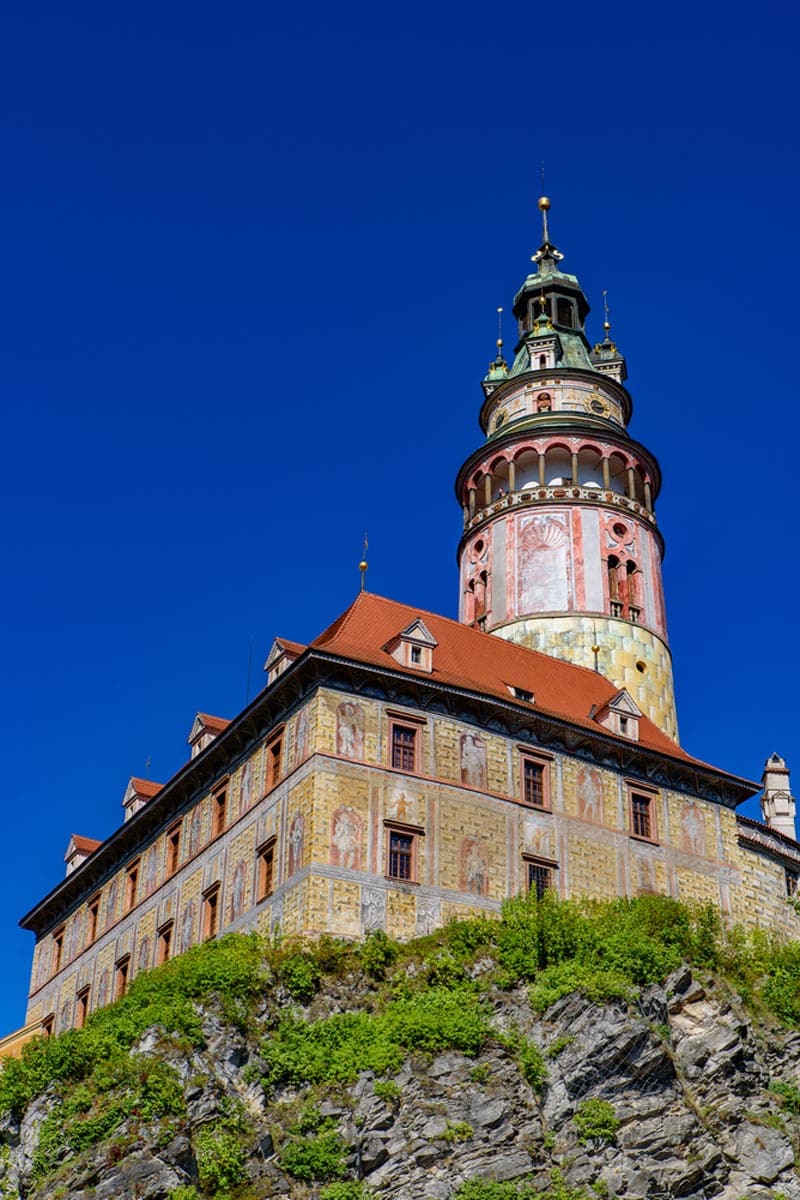 Prague is hella cool, but don't skip out on the Czech Republic's other towns and cities. Český Krumlov, in particular, is a small fairytale town and UNESCO World Heritage Site in the southern Bohemian region. It's one of the Czech Republic's most beautiful places.
Amble through the village and you'll discover quaint coffee shops tantalising your tastebuds with the smell of freshly baked vdolky (zesty lemon doughnuts) and Pernik (spiced cinnamon cookies).
If you're up for an adventure, you can book a wooden raft cruise and float down the Vltava River that runs through the town.
Experience the Spa Town of Karlovy Vary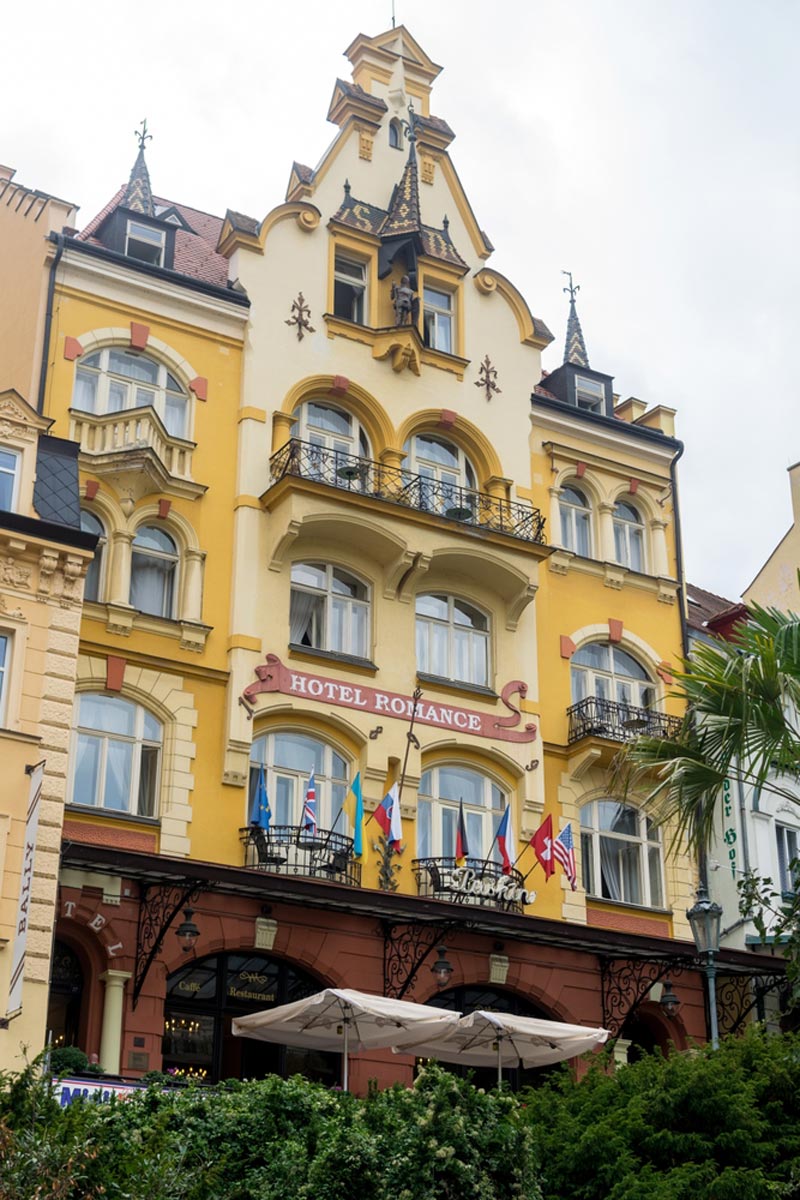 Karlovy Vary is the most well-known spa town in the country. Full of history, it's one of the Czech Republic's best places to visit.
There are 13 thermal springs scattered throughout the city, each with a unique name, temperature and mineral composition. Some of the springs even sprout up to the height of the surrounding buildings. Drink from various ones to see which is your favourite (it's totally safe, I promise you).
Better yet, you're also likely to stumble upon several top-notch museums, art galleries and restaurants during your exploration.
Brilliant Things to See & Do in the Czech Republic
Walk Amongst the Treetops in Lipno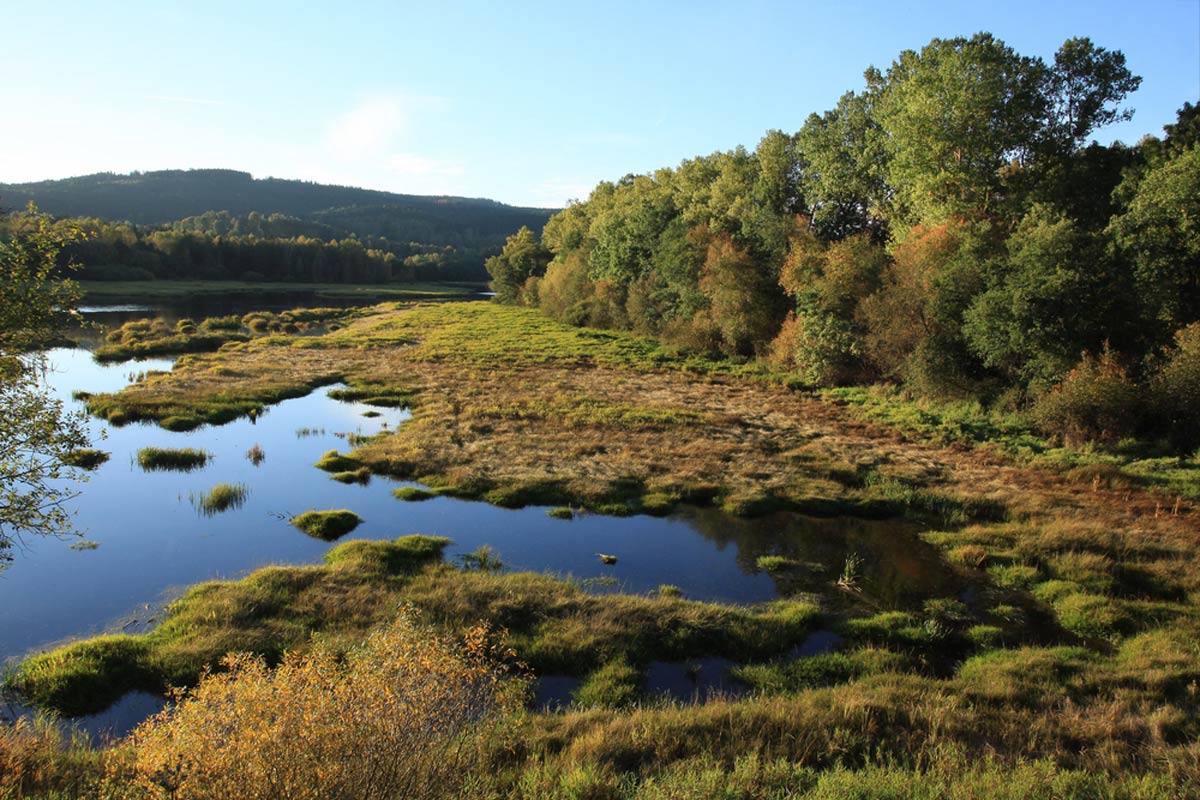 To the very south of the country, near the Austrian border, is Lipno – a stunning rural retreat. And delicately merged into Lipno's landscape is a 675-metre wooden walkway that takes you from the ground to above the treetops.
The walkway gradually leads to a 40-metre-high wooden tower, where you can enjoy panoramic views above the forest.
Once you're satisfied admiring the scenery, release your inner child and slide down the tower on a toboggan — one of the longest (52 metres) dry toboggans in the Czech Republic.
Dine on a Mediaeval Dinner
This merry mediaeval dinner is one of Prague's most unique experiences. The journey will transport you back to a cosy Middle Ages tavern filled with music, fire spinning, swordsmen, jugglers and belly dancers.
Share your table with other travellers and allow the food and entertainment to bring you centuries into the past. Be part of a truly spectacular show while you eat and drink your fill with a five-course meal and unlimited drinks.
Get Ready for an Evening Ghost Tour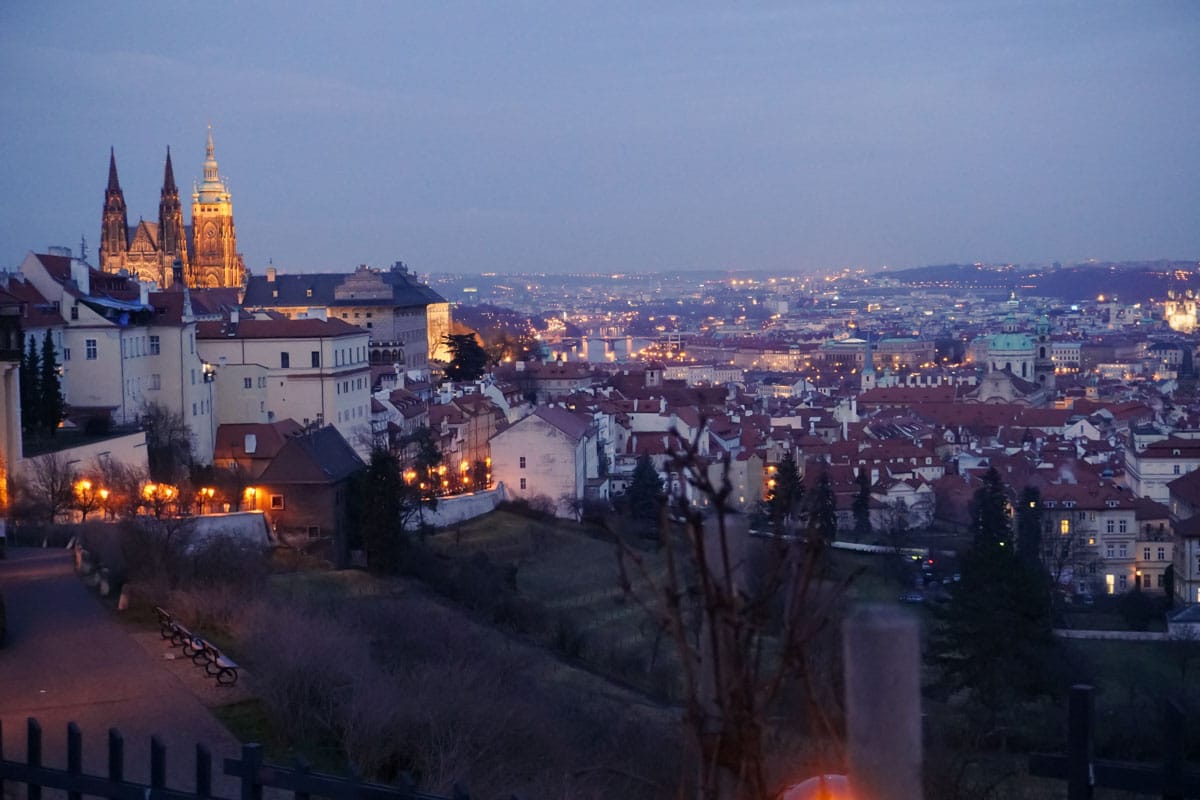 If you're into getting spooked and want to learn more about the sinister side of Czechia history, this ghosts and legends tour is for you.
On this tour, you'll wander along the dark, winding, cobbled streets of Prague's old town at night. Which, by the way, can be extremely creepy on their own – nevermind with a ghoulish guide.
You'll learn about the spirits that still haunt certain nooks and crannies of the Czech capital. If your skin begins to tingle and you feel a strange chill in the air, let's just hope it's not an encounter with the Mad Barber or the Murdered Nun.
Plan a Day Trip to Kutná Hara
Kutná Hara is a UNESCO World Heritage Site city just east of Prague. It's the perfect place for a day trip from the capital, as it's only a short bus ride away. You'll see some of Bohemia's most beautiful architecture on your visit.
Make sure to stop at St. Barbara's Cathedral, followed by a visit to the Italian Court. To end your day, swing by the Chocolate Museum — a huge favourite amongst. There's an on-site award-winning local chocolatier that even offers candle-lit chocolate tastings. Sign me up.
Visit the Budweiser Budvar Beer Factory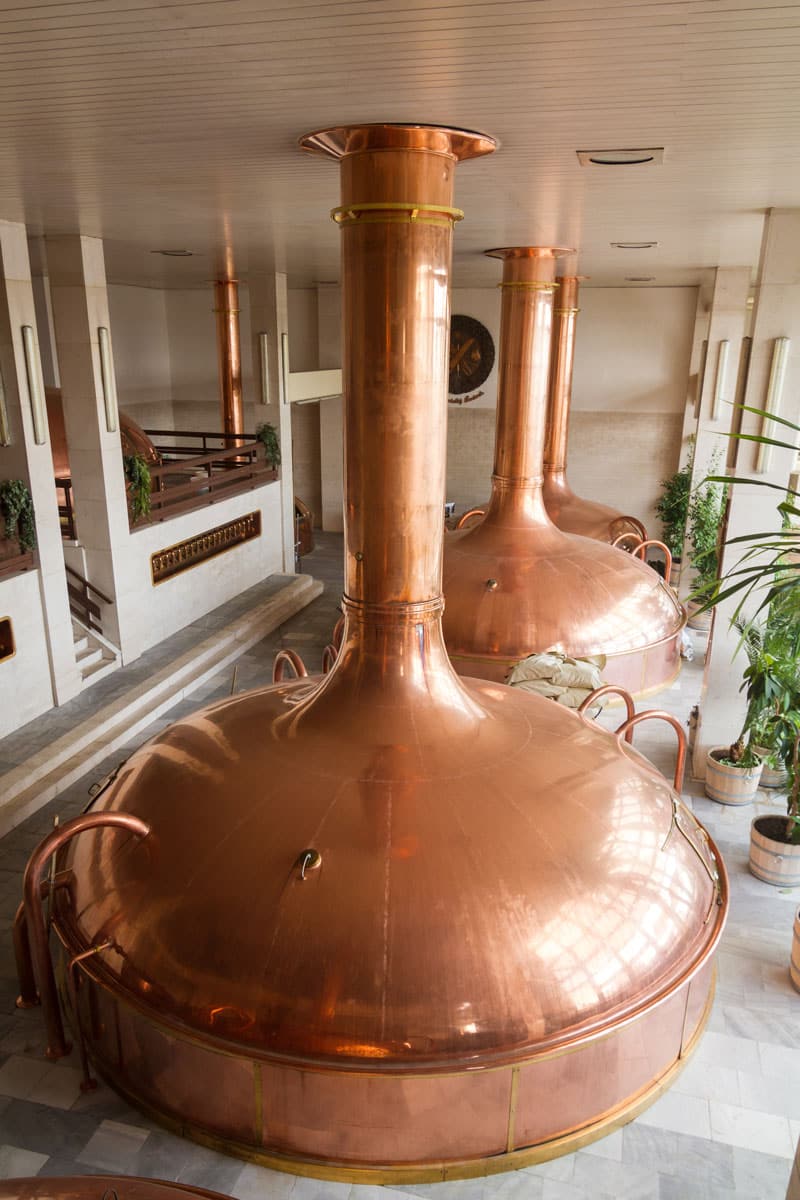 Calling all beer lovers! Located in České Budějovice, this 128-year-old beer factory is a must-visit. Nationalised at the end of WWII (the start of Communism), it's the only brewery in Czechia owned by the government.
Sample some beer while you learn about the exciting history of the factory involving a decades-long legal battle over the name 'Budweiser' – with the American and the Czech brands fighting for ownership of the term.
Take a Photo at the John Lennon Wall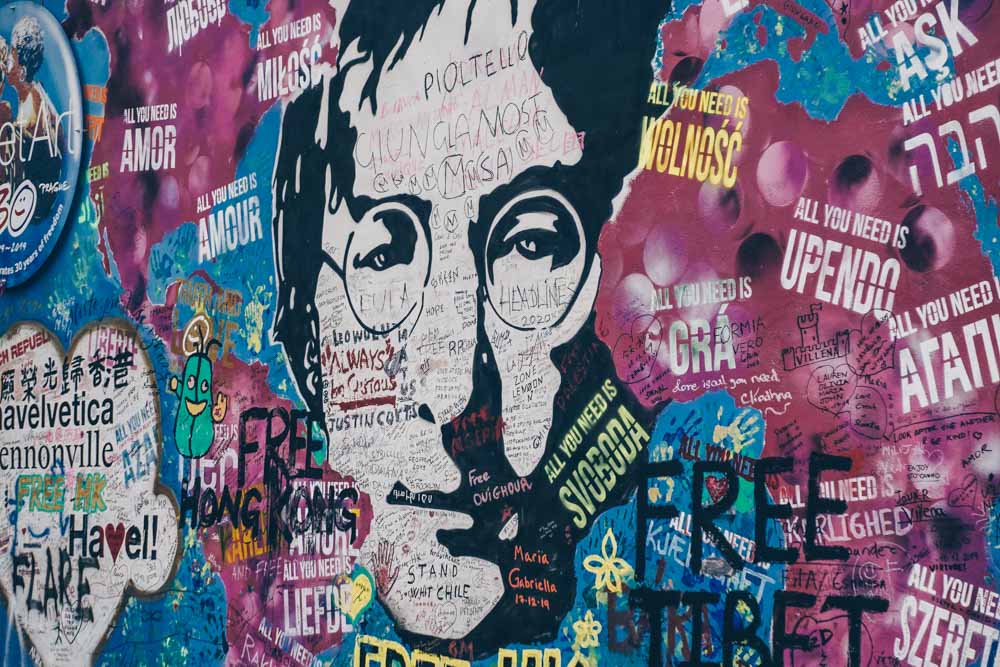 You've probably heard of this brightly coloured graffiti wall adorned with Lennon-inspired graffiti and Beatles song lyrics. But did you know it's in Prague?
This wall started in 1980, shortly after the murder of Lennon. The Czech youth used the wall to express freedom of speech and nonviolent resistance to Communism. Over the years, the wall became a symbol of peace, love and unity.
I'll be totally honest, it's a little bit underwhelming. But it is a must-visit on any Prague trip. Plus, it's only a few minutes on foot from the Charles Bridge.
Walk Across the Sky Bridge 721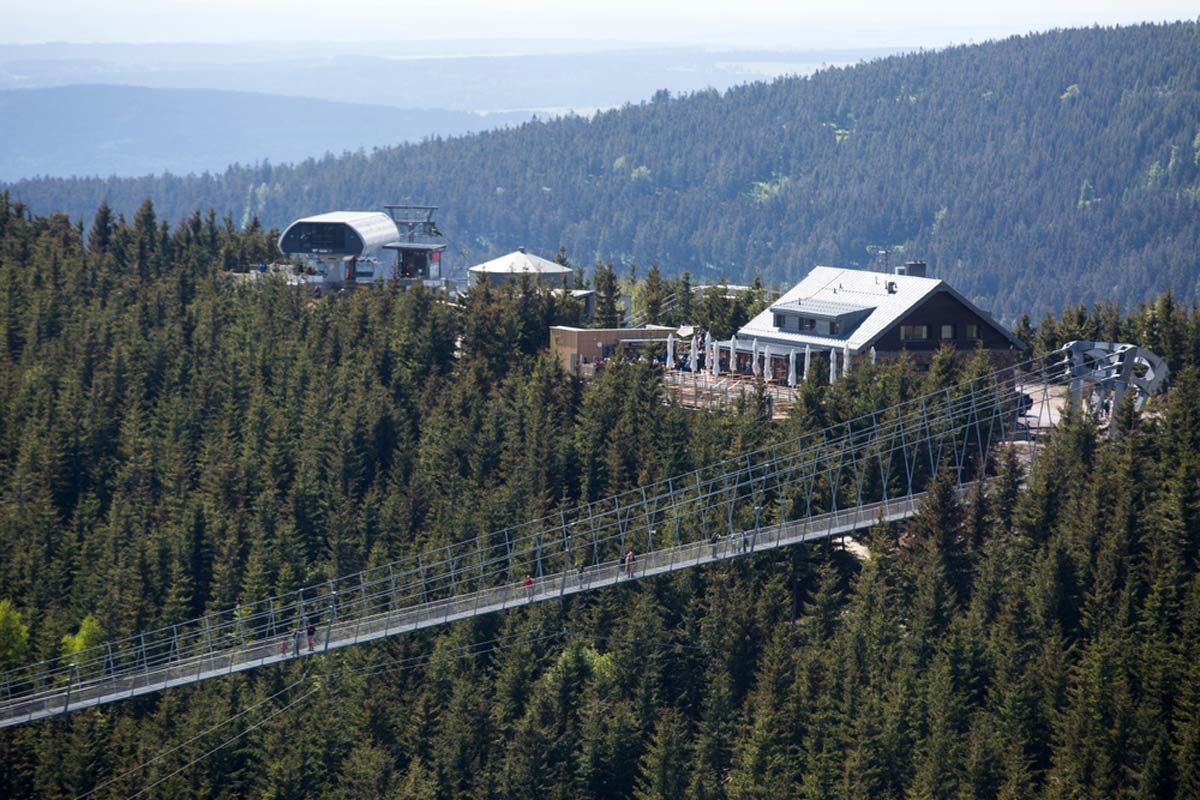 Walk from one mountain ridge to another along the narrow Sky Bridge 721 as you dangle 100 metres above the ground.
Located in Dolní Morava, it's the world's longest suspension bridge, spanning a whopping (you guessed it) 721 metres long. As you conquer your fears and cross the bridge, peep over the edge at the magnificent canopy of the forest below you.
Explore Prague's Jewish Quarter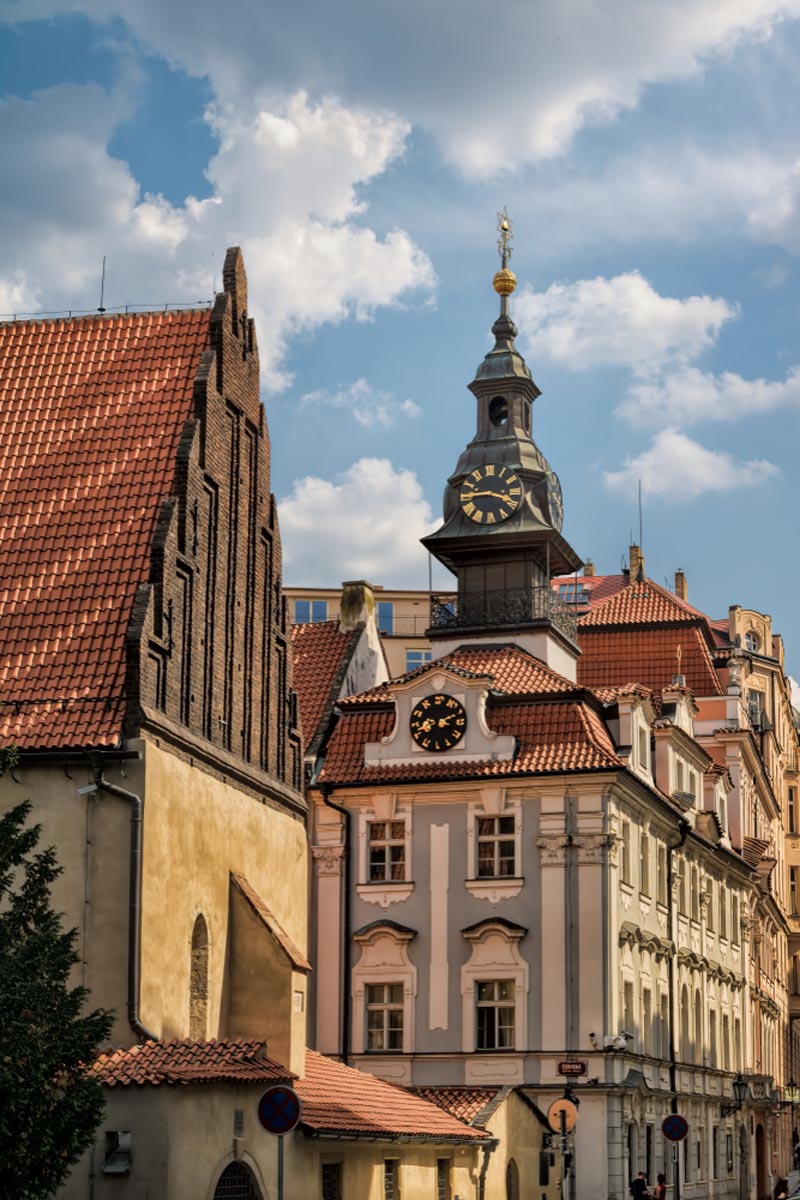 Defined by a turbulent time in history, strolling through the Jewish Quarter in Prague is a truly eye-opening experience. The residential area developed in the 13th century as a Jewish Ghetto — the Prague government banned Jewish people from living elsewhere.
The Jewish Quarter comprises some of the best-preserved Jewish monuments in Europe. Be sure to visit the Old Jewish Cemetery, followed by the Spanish Synagogue and the Jewish Museum in Prague.
Enjoy a Dinner Cruise on the Vltava River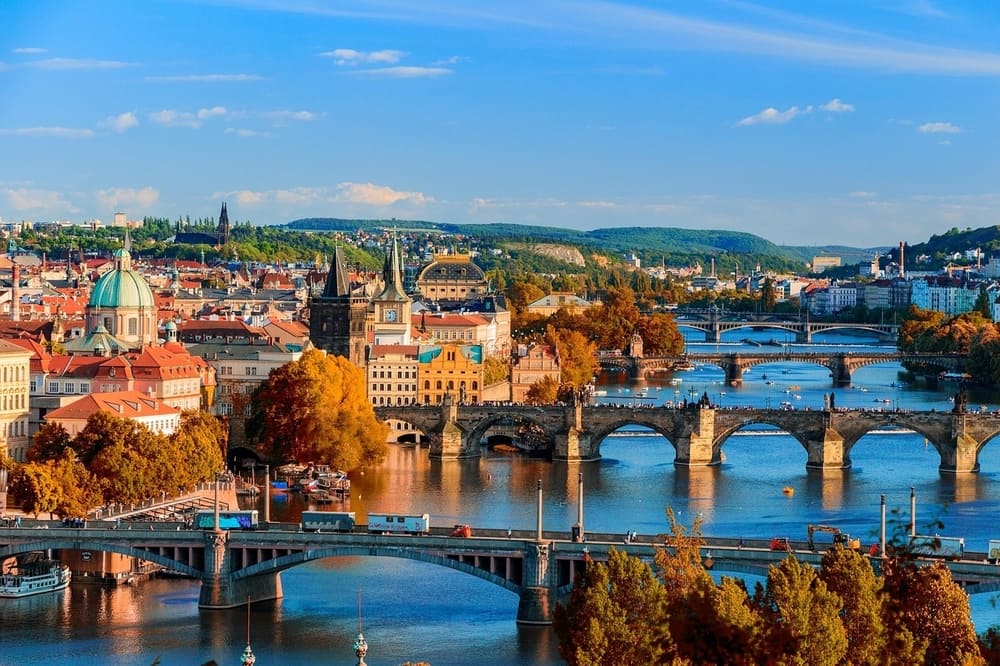 Feel like putting your feet up and spending some much-needed time on the water? This luxurious evening sightseeing dinner cruise on the Vltava River is perfect for just that.
Enjoy panoramic views from the glass-top boat during this three-hour cruise as you wine and dine on fantastic local and international cuisine. Delight in live music and an audio commentary available in multiple languages.
You'll cruise past beautifully illuminated Prague monuments such as the Dancing House, Prague Castle and Kampa Island as the sun sets.
Amble Through the Waldstein Palace and Garden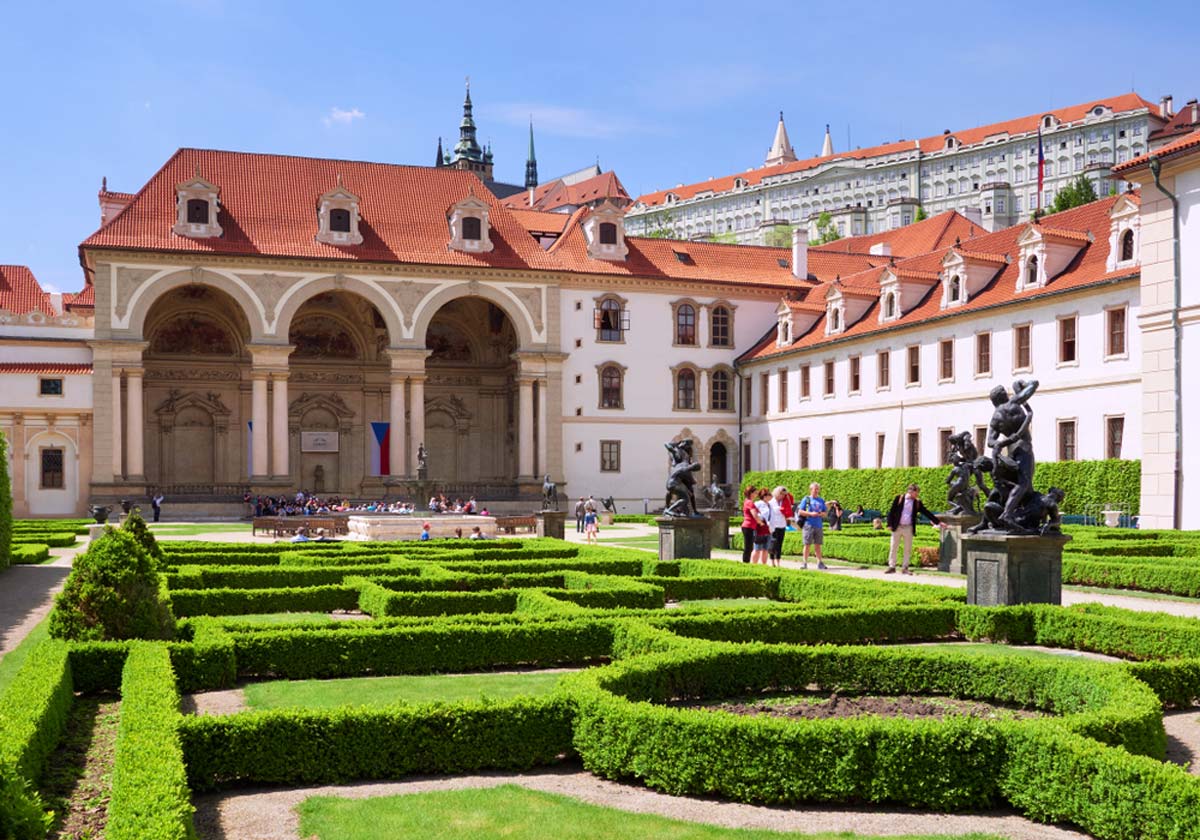 Looking for somewhere to truly appreciate the Czech Republic's natural beauty? Look no further than Waldstein Palace and Garden. It's pretty mesmerising, with roaming peacocks, ornamental pools and magnificent bronze sculptures.
It's one of Czechia's most prominent buildings of the Baroque era, but today, the palace acts as the seat of the Czech Republic Senate.
Check the weather before you go — you'll enjoy the garden the most on a sunny day. Bring a book and sprawl on the lush grass as you take in this beautiful 17th-century oasis in the middle of Prague.
Unique Things to See & Do in the Czech Republic: Hidden Gems That Are Off the Beaten Track
Swim in the Black Lake
Do as the locals do, and immerse yourself in the Black Lake. It's not as ominous as it sounds, I swear – If you're up for a secluded swim amid a magical forest, plan a visit to the Black Lake.
As one of the Czech Republic's most beautiful swimming spots, the Black Lake lies in the Bohemia Forest, near Zelezda Village. Its name comes from the reflection of the trees on the lake, making the crystalline teal water appear darker than it is.
Top Tip: When swimming in natural water, no matter how safe it might be, exercise caution. There won't be any lifeguards so don't mess around and make sure you're a strong swimmer.
Explore the Maze of Underground Tunnels in Telč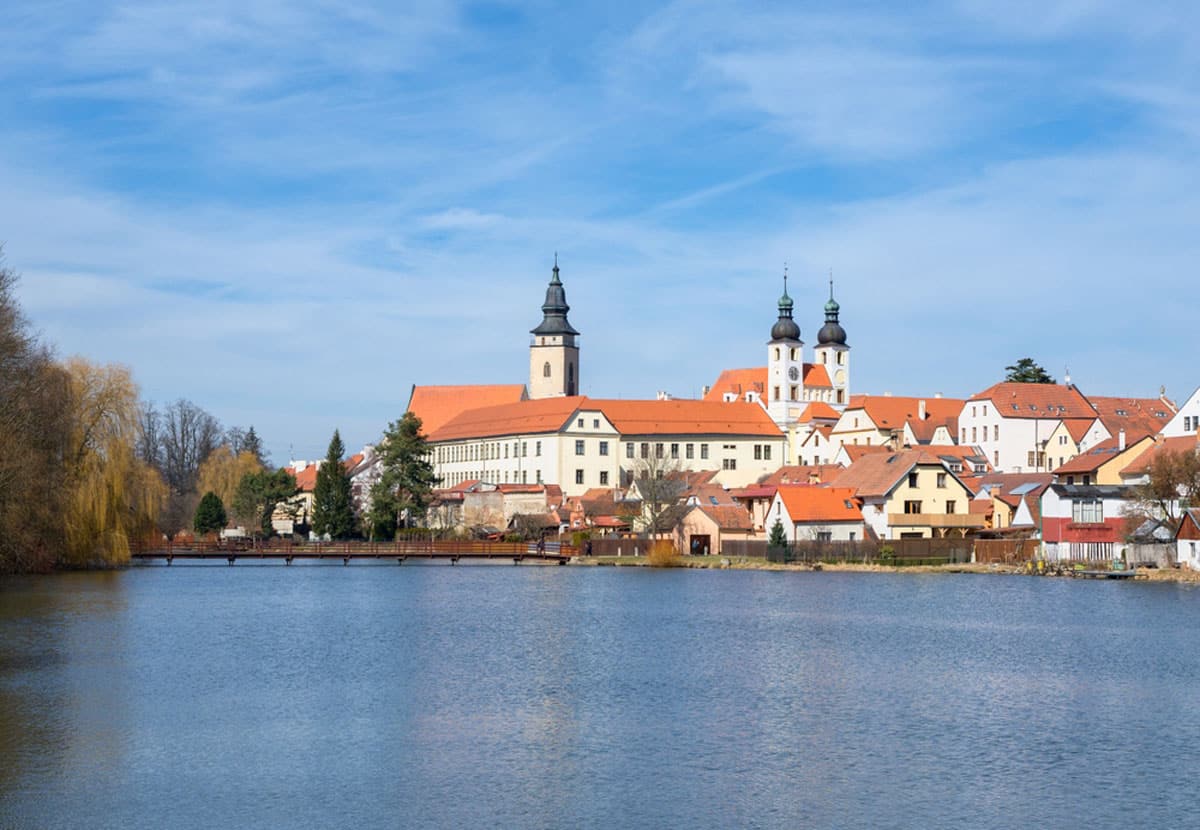 Next up is a Czechia attraction that I find completely fascinating. Beneath the tiny town of Telč lie a series of underground tunnels connecting the town's 13th-century homes via their cellars.
The primary purpose of the tunnels was to store food and supplies. But they also served as handy hiding places if the town was ever attacked.
Fair warning: If you have even a glint of claustrophobia, these tunnels won't be for you. Be prepared to crouch down low and bend at the waist to learn about Telč's fascinating Renaissance history.
Pay an Eerie Visit to Sedlec Ossuary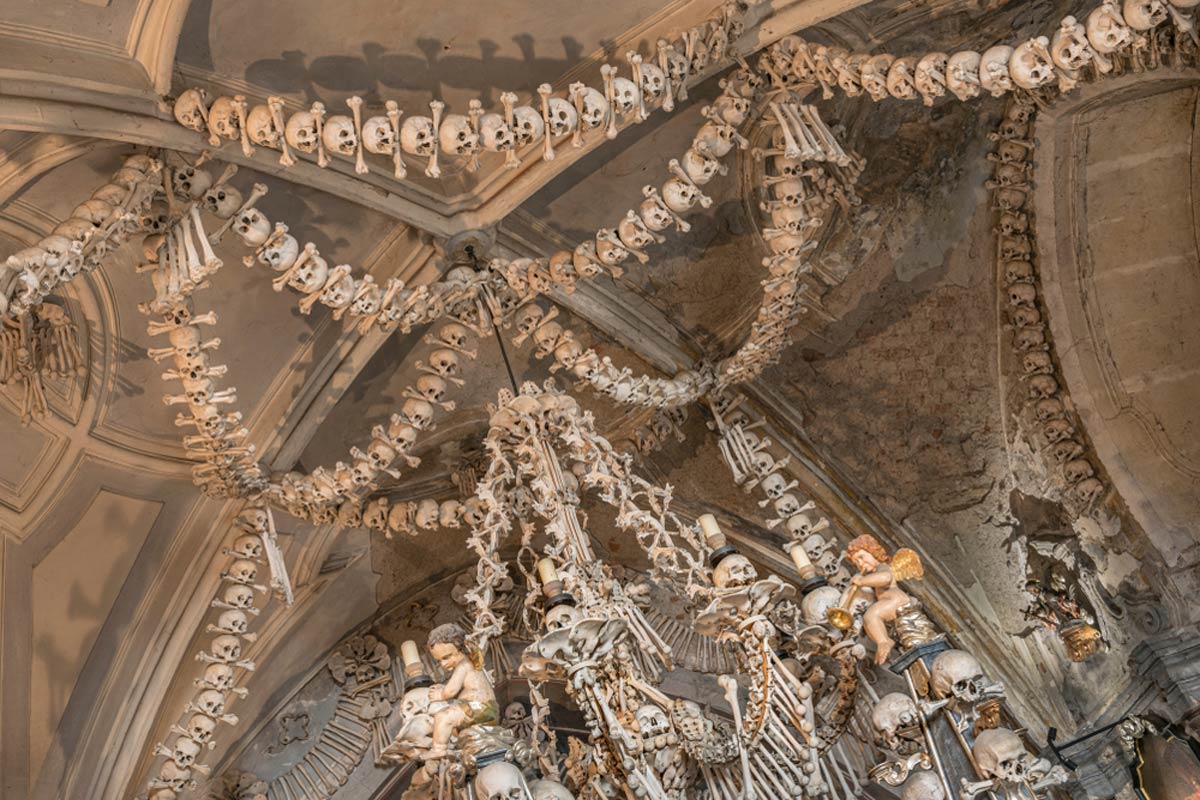 From the outside, this Kutna Hara chapel seems rather quaint and unassuming. You'd never guess that mystery and death have shrouded the Sedlec chapel for over 800 years.
Instead of stained glass and oil paintings, the chapel has used the bones of over 40,000 human skeletons to adorn its interior. Be prepared to witness hundreds of human skulls strung together like beads on a necklace.
Sedlec Ossuary is one of the Czech Republic's must-see places to give you goosebumps.
Delve into the Punkva Caves
Plenty of the best things to do in Czechia revolve around heading out into the wilderness and exploring above ground. But how about delving beneath the surface?
Taking a tour of the Punkva Caves will take your breath away — maybe quite literally, too, as though they're 130 metres underground. Walk through 810 metres of caves via a series of underground pathways, and take in the cathedrals of stalagmites and stalactites (geology lovers – you'll know what I'm talking about).
After walking through the caves and reaching the bottom of the Macocha Abyss, travel back to the tour's starting point by boat along the underground Punkva River.
Top Tip: Bring something warm to wrap up in, as the temperature in the caves can get rather chilly.
Browse Treasures at the Flea Market Prague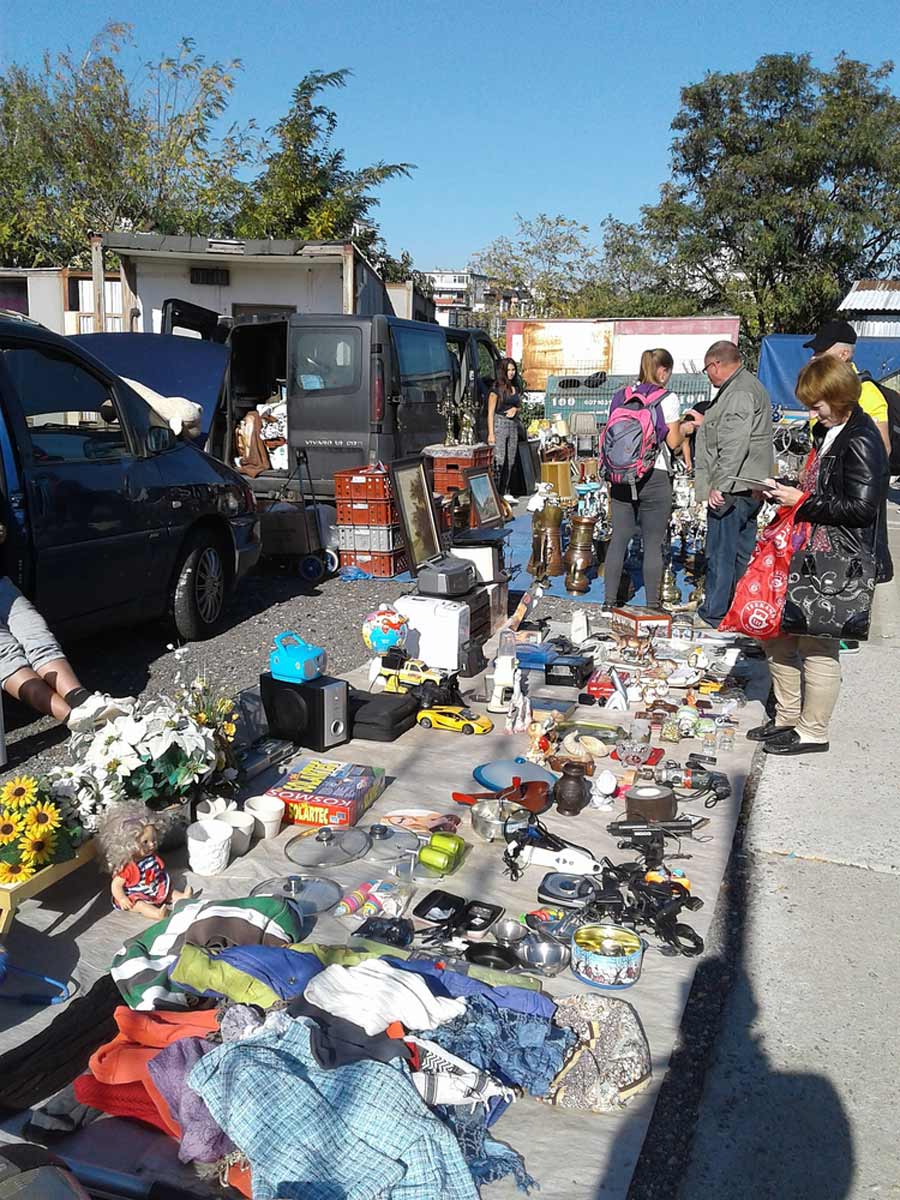 If you're an antique lover or bargain hunter, you NEED to visit the Flea Market in Prague. This specific market is the largest of its kind in the whole Czech Republic, and it's open on weekends from 6 am until 2 pm.
Honestly, you could spend hours searching through both old and new treasures. Find gems of Bohemian glass, antique European jewellery and colourful gypsy crystals.
Even if you're not a big vintage-find fan, it's pretty fascinating; you'll likely stumble upon some old Communist propaganda and Soviet heirlooms tucked amongst the bric n brac.
Sip Wine at the Valtice Chateau
Trust me to recommend the town of Valtice – it's the home of Czech winemaking. The Chateau of Valtice is home to one of the country's oldest and largest wine cellars, the National Wine Salon of the Czech Republic.
Enjoy an afternoon of vino sipping as you sample your way through some of the country's finest wines paired with delicious cheeses. Afterwards, stroll through the lavish grounds and marvel at the Baroque architecture and majestic gardens.
Also, remember to snap a photo with the huge bottle of wine that marks the entrance. Iconic.
Venture on the Vyhlidka Maj Day Hike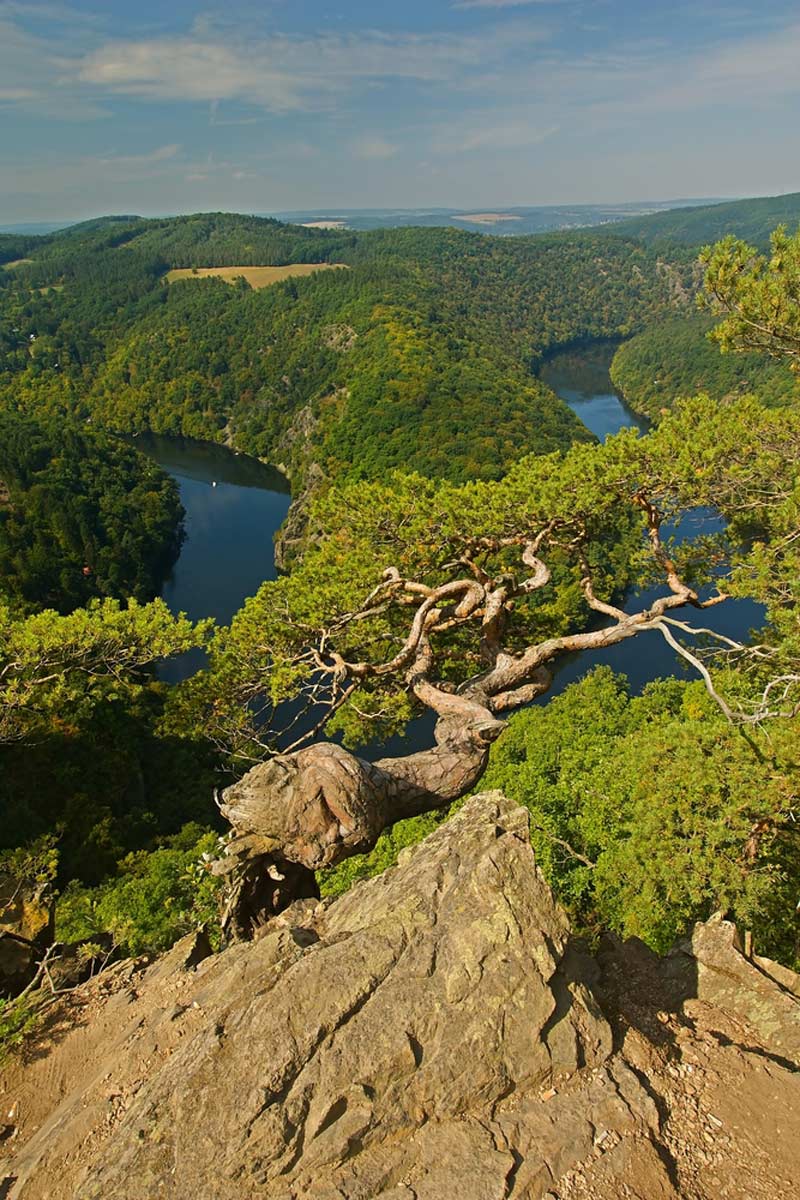 Looking to break a sweat in Czechia? Hit up the Vyhlidka Maj Day Hike. This day hike is situated around 18 miles from Prague and is one of the country's hidden gems.
The walk will take you to a stunning viewpoint of the Vltava River and its famous horseshoe bend, often called the Horseshoe Bend of Europe. It's a moderate trail, about seven miles return, usually taking about two to three hours to complete.
Top Tip: Use a map to stay aware of the trail, as the path can be tricky. Here's a map I recommend following.
Watch a Film at Bio Oko
Fellow film nerds will want to listen up. If you're looking for more of a local hang-out spot, check out what films are on at Bio Oko in the Holešovice district of Prague.
As one of the oldest film clubs in the Czech Republic, this intimate theatre shows various artistic and cult films (don't worry, many are in English).
Relax, kick back and chow down on popcorn on comfy bean bags, sun chairs or classic movie theatre seats.
Things to do in the Czech Republic: Practical Tips for Your Trip
Where Should I Stay in the Czech Republic?
For more information on areas and hotels in the capital, check out this post on where to stay in Prague.
Château Rychvald (Mid-Range)
A harmonious balance of fairytale and mediaeval, Château Rychvald is a restored aristocratic mansion. Historic furniture and hand-selected art pieces fill the hotel, making it stylish yet comfortable.
The nearest airport is Ostrava Leos Janacek Airport, about 19 miles from the hotel.
The Mandarin Oriental (Luxury)
Centrally located and set in a 14th-century Dominican Monastery, the Mandarin Oriental is the ultimate luxury stay in Prague.
Enjoy lavish spa treatments, carefully crafted cocktails and an Asian fine dining experience that rivals any of the city's top eateries.
If you've been wondering what to do in the Czech Republic, the hotel offers a range of bespoke experiences that will make your stay in Prague unforgettable – from guided tours to spa treatments.
Recommended Tours in the Czech Republic
Things to do in the Czech Republic: Map
Planning a Trip to the Czech Republic? Read More Czechia Guides
Love This? Save and Share on Pinterest