Planning a trip to Prague? This guide on where to stay and all the best hotels in the Golden City has you covered.
Prague blew me away. It's an incredibly beautiful city, with so much to see and do, it could take you months to explore and you still wouldn't feel like you've finished.
Unfortunately, most of us have 9 to 5s, and can't spend more than a few days in the Golden City. That said, you can still experience a great deal in that amount of time – and there's nothing stopping you from coming back again.
I visited Prague in winter, to avoid the peak-season crowds and soak it all in with a little winter sparkle. If ever you wanted to stay in a fairytale city, Prague will have you hooked.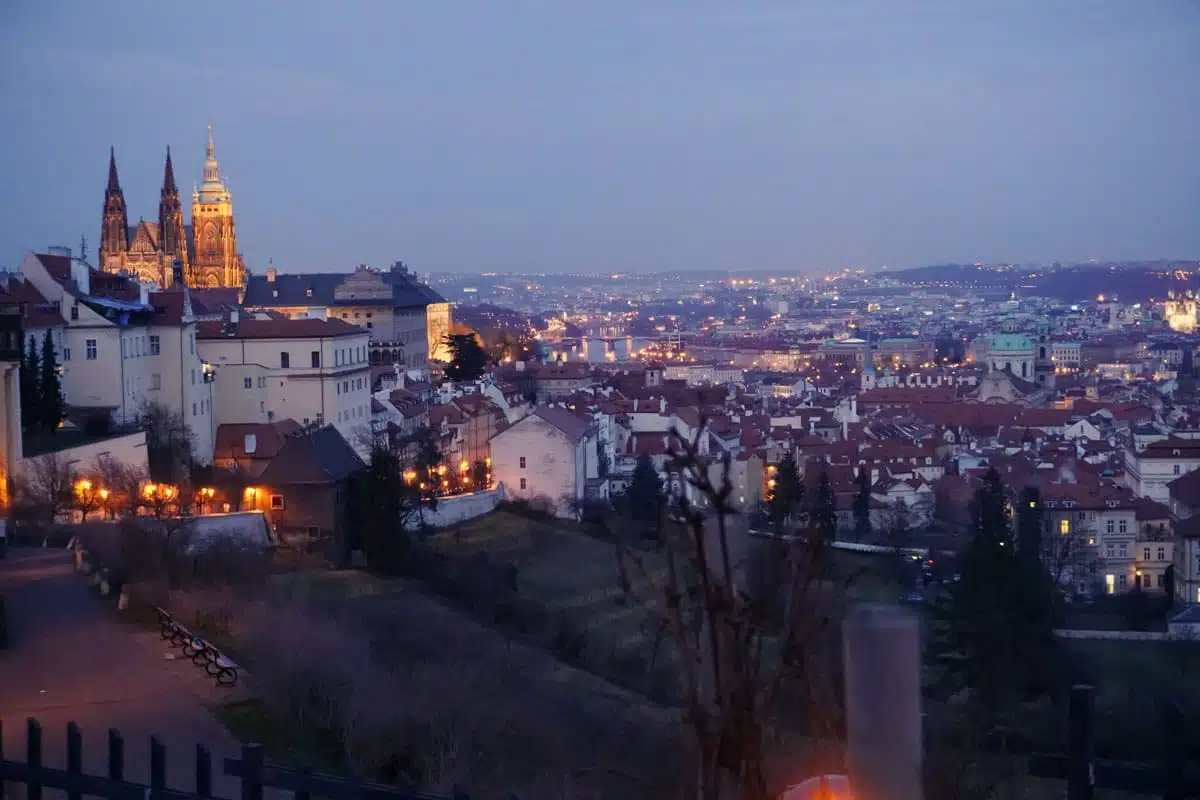 So, where should you stay while visiting Prague?
The whole city is ridiculously beautiful, but there's a lot of variation in the neighbourhoods.
Whether you're looking for a local experience, a raucous holiday, or a budget-friendly history-fest will determine where you should be.
I've written this guide all the best neighbourhoods to stay in Prague, as well as the most spectacular hotels. This is my favourite part of holiday planning!
So delve in, and find the perfect spot for you.
Pssst… I love using Plum Guide to find my dream accommodation in Prague. Each of the homes is vetted by Plum Guide staff, so only high-quality apartments make the cut.
Best Places to Stay in Prague
The absolute best place to stay in Prague is the Old Town. It's the city's central hub, exquisitely beautiful around every street corner, and always has so much going on.
If you're visiting Prague during peak season, you may struggle to find accommodation. So, hunt down the perfect place for you, and book early.
Old Town (Staré Město): Best Area to Stay in Prague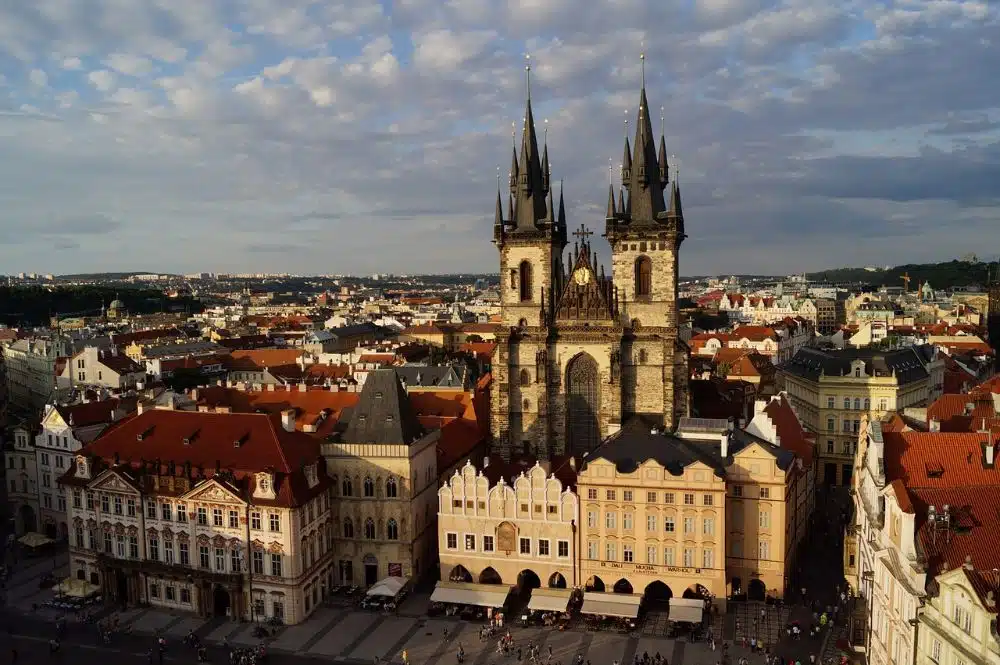 Old Town is, as you can perhaps imagine, the oldest part of the city.
You'll find many of Prague's top attractions right here – and some of the coolest restaurants and bars too.
In my book, this makes it the best place to stay in Prague.
Stroll through the historic square, snacking on Trdelník or Kolace.
Pop into old churches and galleries for a little culture. And take loads of photos. You can even go on a tour of the Old Town.
Staré Město Highlights
Kinsky Palace – this gorgeous Rococo palace sits right on the square. It's Prague's National Gallery, so not only is the exterior pretty as a picture, the interior is worth spending hours in.
Estates Theatre – it's one of the most beautiful, historic theatres in Europe, built during Europe's 18th century cultural enlightenment. Try to get inside to enjoy the old-world glamour. And if you get to see a show here, I envy you.
The Powder Tower – one of the original entrances to the Old Town, this Gothic structure is intricately ornamented. And the view from the tower is perfect.
Old Town Square – you can't visit this neighbourhood without spending time in the square. You'll be surrounded on every side by incredible historic buildings and monuments. And it's always got a vibrant atmosphere.
Suggested Staré Město Hotels in Prague
Hotel U Prince – a luxury hotel in the heart of the Old Town. Hotel U Prince will make you feel like Prague royalty, bringing the area's historic charm right into your room.
Old Town Boutique Apartments – a lovely apartment with beautiful views of the Old Town, a five-minute walk from the Metro.
Hotel Cerny Slon – with a killer location in a historic building, this upper-mid-range hotel is a fantastic base for your Prague travels.
Holešovice: Where to Stay in Prague to Live Like a Local
If you want to live like a local in Prague, there's no better neighbourhood than Holešovice.
Visit the alternative bars, try all the beers you can (nothing is more local than beer in Prague), and enjoy the great vibe.
If you want to pamper yourself in a uniquely Czechian way, try out a beer spa. Where else can you imagine soaking in beer, while drinking unlimited beer? Uhm, luxury!
Back to the topic at hand: Holešovice is a radical creative hub, and one of the most interesting Prague neighbourhoods.
You can really experience what makes contemporary Prague great here, beyond its impressive past.
Holešovice Highlights
Trade Fair Palace – this impressive seven-storey gallery showcases contemporary and modernist art. You could spend a whole day here, leaving only to collect snacks and return again.
Veverkova Street – you'll find everything on this charming street, from delicious Czechian cuisine to vinyl and vintage clothes.
Letná Beer Garden – drink your fill and try local snacks at the neighbourhood's greatest beer garden. It's always a vibe.
Suggested Holešovice Hotels in Prague
Plaza Prague Hotel – with terrific staff and lovely rooms, this luxury hotel is a steal. The tasty breakfasts are icing on the cake.
Mama Shelter Prague – this mid-range hotel has some of the best views in Prague. Combined with comfortable rooms and two fun in-house bars, it's a big favourite.
Karlín District: Coolest Area to Stay in Prague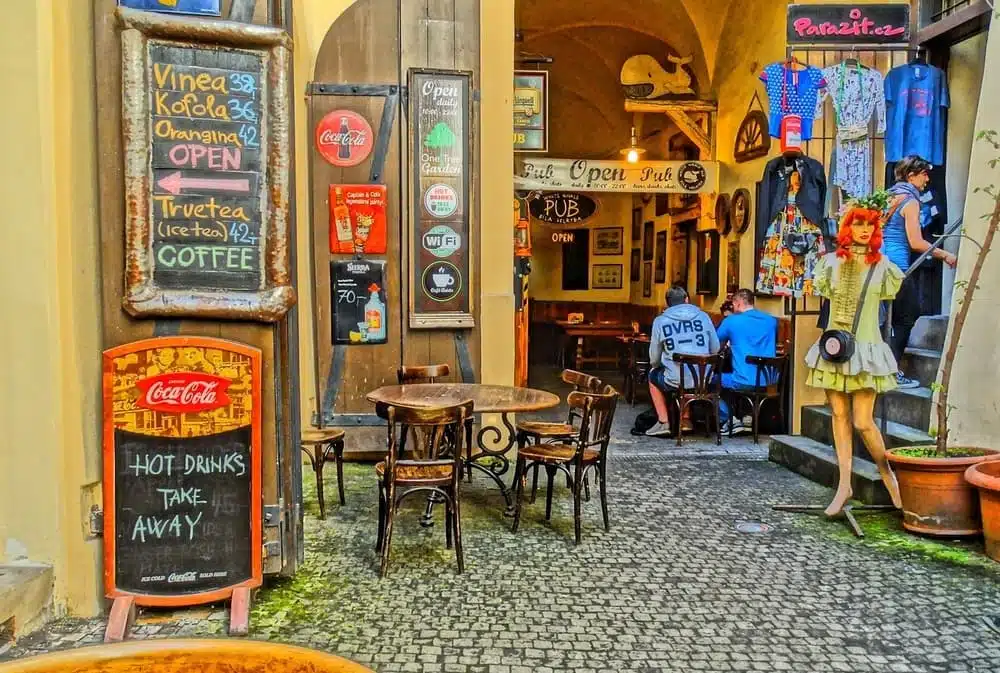 Hip bars, absurdly Instagrammable cafes, and an atmosphere totally unique to the area. Karlín is one of the best neighbourhoods in Prague. Especially for food and wine lovers (so… everyone, right?)
This neighbourhood, once a fully industrial area, was the hardest hit by Prague's 2002 flood. But it's back in full force.
Check out the galleries hosted in converted factories, and don't shy away from the creative cuisine.
Karlín District Highlights
Church of Saints Cyril and Methodius – this is one of the most important landmarks in the area, this impressive church is a sight to behold, both inside and out.
Lyčkovo náměstí – this is a gorgeous walking route through the neighbourhood. A great way to see all the little details that make this area amazing.
Karlin Musical Theatre – a lavish theatre with some really stunning performances. If you can see a show here, do.
Můj šálek kávy – there are a lot of cool cafes in Karlín, but this is one of the greats. Grab a freshly baked treat, fill up on your coffee quota, and do a little people watching.
Suggested Karlín Hotels in Prague
Pentahotel Prague – this boutique hotel has great rooms and a fantastic in-house restaurant serving Czechian cuisine.
Botanique Hotel Prague – comfortable, bright and spacious, this large hotel is great for solo travellers and couples. It's also just a quick walk from the Old Town, so you can tick off two of the best neighbourhoods in one day's walking.
Malá Strana: Most Beautiful Prague Neighbourhood to Stay on a Budget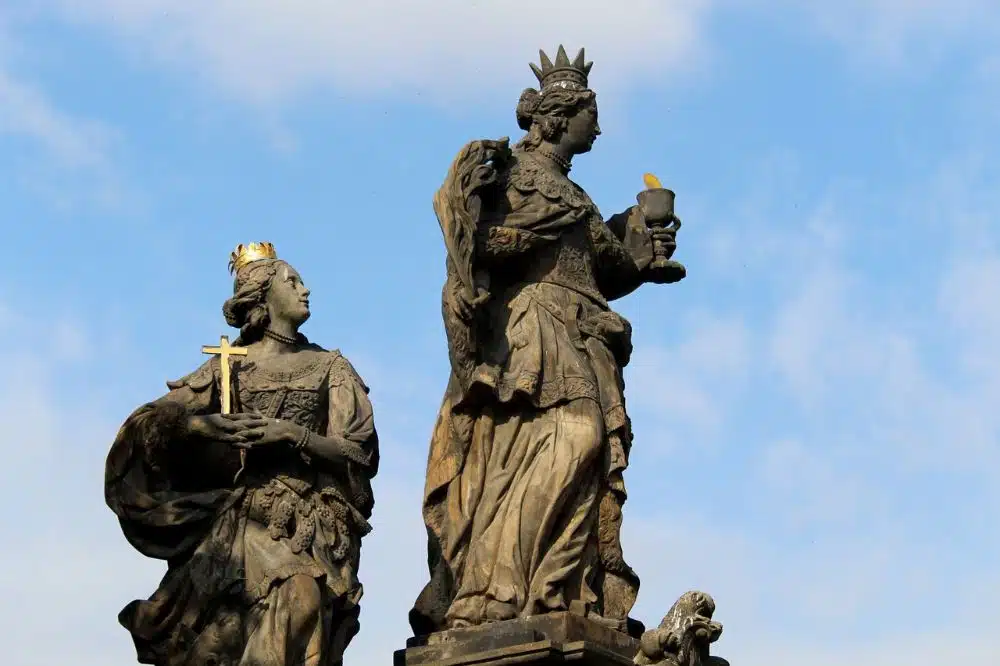 Malá Strana is also known as 'Lesser Town' – which is not something that will come to mind when you see this neighbourhood.
A leafy hillside suburb overlooking Old Town, Malá Strana has plenty of charming architecture itself.
If you want the beauty and convenience of Old Town, without the prices, you don't have to stray far.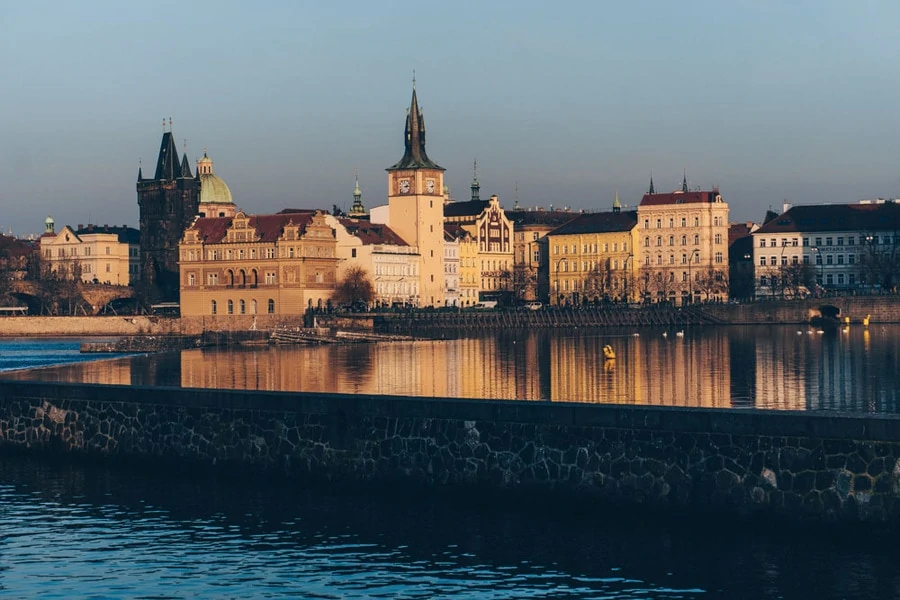 Just cross the beautiful – and often pretty packed – Charles Bridge, and you're right here.
Malá Strana Highlights
Franz Kafka Museum – this unusual novelist is one of the most important figures in Czech history. You'll see tributes to him and his work throughout the city, but visiting the museum is a must for anyone keen on his work.
Wallenstein Garden – the ornate gardens of the Czech Senate are crazy beautiful. Stroll through, and enjoy a little peace and calm away from the bustle of the city.
Church of St. Nicholas – you'll have seen this church's distinct green dome when overlooking the city. Climb the bell tower for epic panoramic views of Prague.
KGB Museum – if you're interested in Prague's more recent history of communism, this is a fantastic museum. It's a bit morbid but really fascinating and enlightening.
David Cerny's Babies – controversial sculptures from Prague's famous artist.
Suggested Malá Strana Hotels in Prague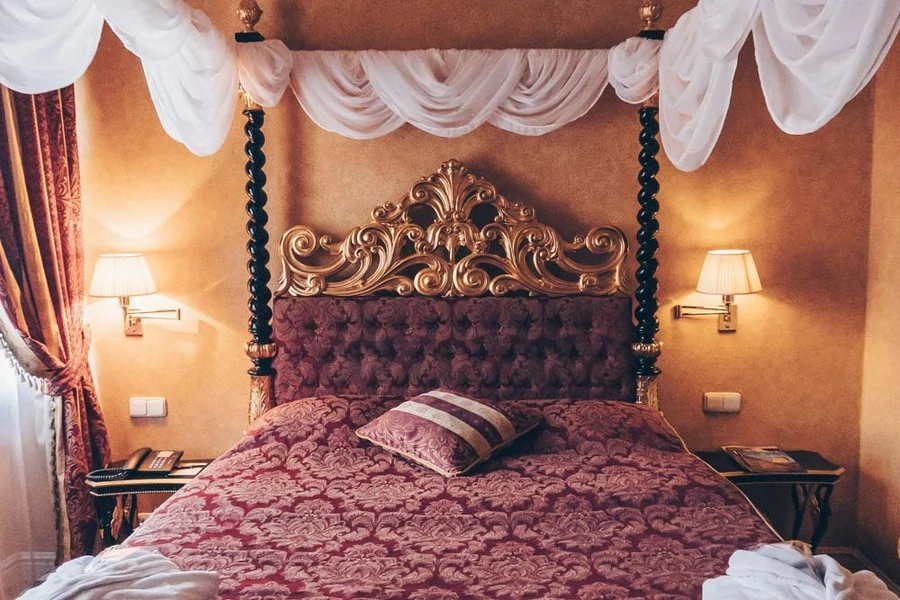 Alcymist Hotel and Spa – richly decorated rooms and baroque architecture make this luxury hotel stand out. There are also fabulous snacks and Czech-made chocolates, so really, you can't go wrong.
Historical place under Castle – this mid-range homestay is a great option for those on a budget. A fully equipped kitchenette means you can make your own food, and you'll be within walking distance of Prague's top attractions.
Lazenska N°4 – if you're keen to cook for yourself, but aren't bothered by price, these apartments are ideal. A full kitchen, excellent location, and lovely city views.
Vinohrady: Most Unique Party Area for Prague Accommodation
Once one of the biggest towns in Czech before they incorporated it into Prague, Vinohrady is a really cool place to be.
Pastel-coloured Art Deco buildings line the streets, making them super photo-worthy.
The community is young and professional, so the atmosphere here is different to the rest of the city. It's hip and artsy, with a lot of really cool cafes and modern art galleries.
If you've had your fill of historic Prague, and want to move on to the more contemporary side of the city, this is the perfect base.
It's famous not only for the architecture but for its bars, markets, and nightclubs – like Sweet Paradise and Le Clan.
Vinohrady Highlights
Church Of The Most Sacred Heart Of Our Lord – the neighbourhood's most famous church has the biggest clockface in Central Europe! It was inspired by Noah's Arc, and dominates Vinohrady's skyline.
Riegrovy Sady – this lovely park is one of the most popular in Prague. You'll have brilliant views of the city from its grassy slopes. Stroll through and enjoy it with the locals. It's particularly stunning in summer.
Jiřák Market – Prague locals love their outdoor markets. Even in winter, you'll find them here, snugly dressed and snacking on something warm. Join them and check out the tasty foods and homemade beers. If you're cooking for yourself, this is also the best place to find fresh produce.
Suggested Vinohrady Hotel in Prague
Le Palais Art Hotel Prague – this is a 5-star boutique hotel with gorgeous rooms, a gourmet restaurant, and frequent art exhibitions held in the lobby.
Best Hotels in Prague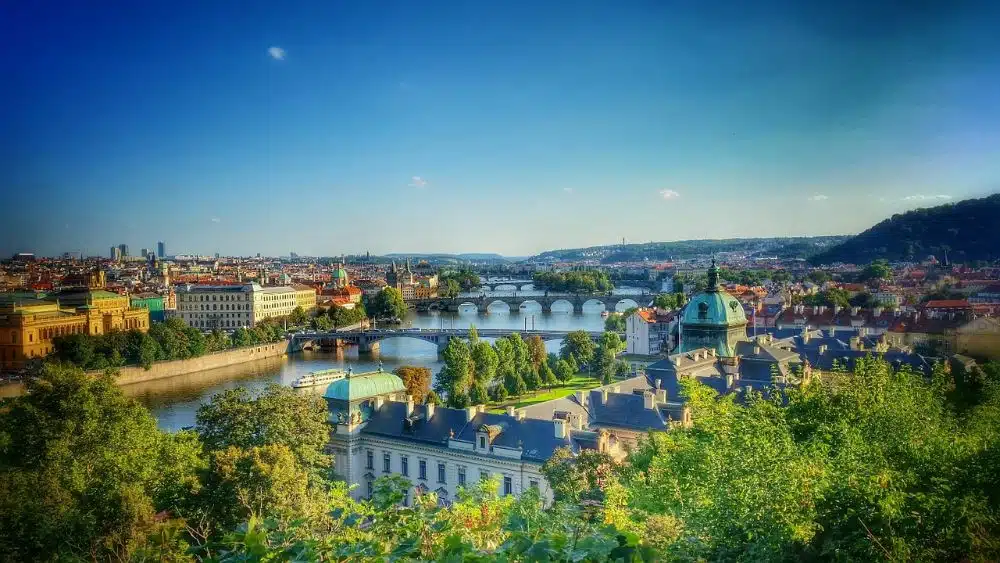 If your hotel is a bit more important to you than your location, check out these top picks.
After all, Prague's neighbourhoods all have something special about them, so you may as well find the best accommodation to suit you!
Apartman Nebovidy (Luxury)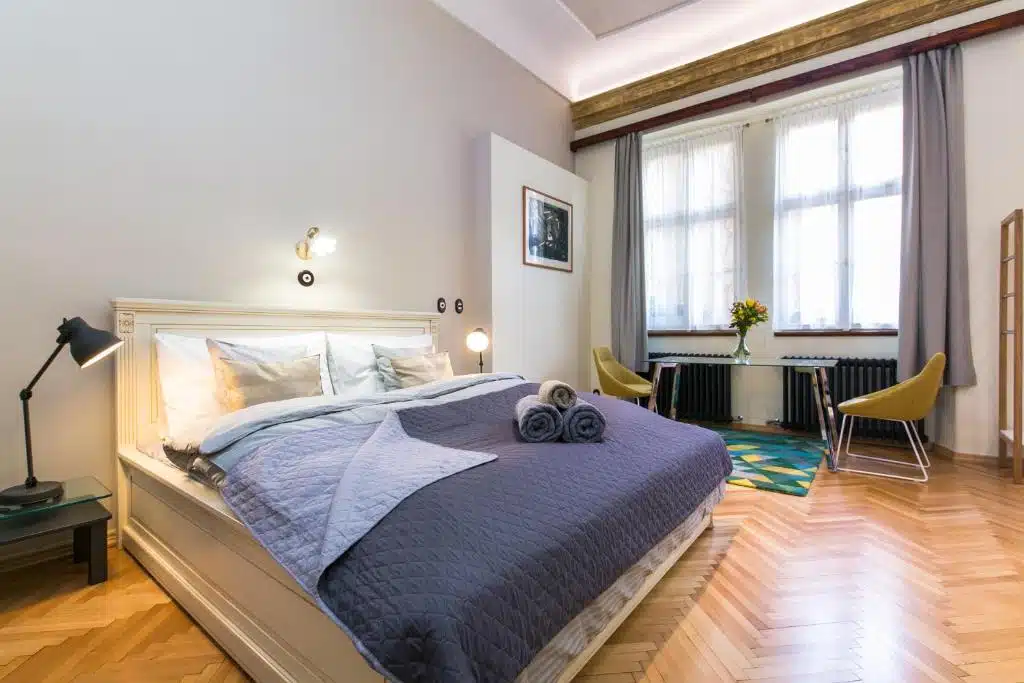 This luxurious apartment is sleek and self-contained, with a kitchen and patio. The location is perfect, situated in the heart of Prague. It's just a short walk away from both Prague Castle and St. Vitus Cathedral, as well as a number of other attractions.
There are plenty of extra features to enjoy here. These include a flat-screen TV, a cosy patio where you can drink coffee with a view in the mornings, and a dishwasher. Because washing dishes is so not a holiday activity.
This is a particularly great place to stay if you're planning on an extended stay in Prague. You'll have the whole apartment to yourself, with everything you need. Pets are even allowed!
Le Palais Art Hotel Prague (Luxury)
Set in a gorgeous 1897 residential palace, this hotel is something special. The rooms are beautifully decorated, and the service is impeccable.
If you want to stay fit on your holiday (I've heard tales that it's possible), there's a very well-equipped gym. The gourmet restaurant will have you eating-in every day, with a summer terrace and world-class views.
This is an incredible place to stay for anyone interested in art and architecture. The art displays showcasing the work of Czech and global artists elevate the experience. In addition, contemporary exhibitions are often held in the lobby, so check your dates.
Take some time out from exploring to pamper yourself at the wellness centre. And take full advantage of the Nespresso coffee machines and bathrobes in your room.
Hotel U Prince (Luxury)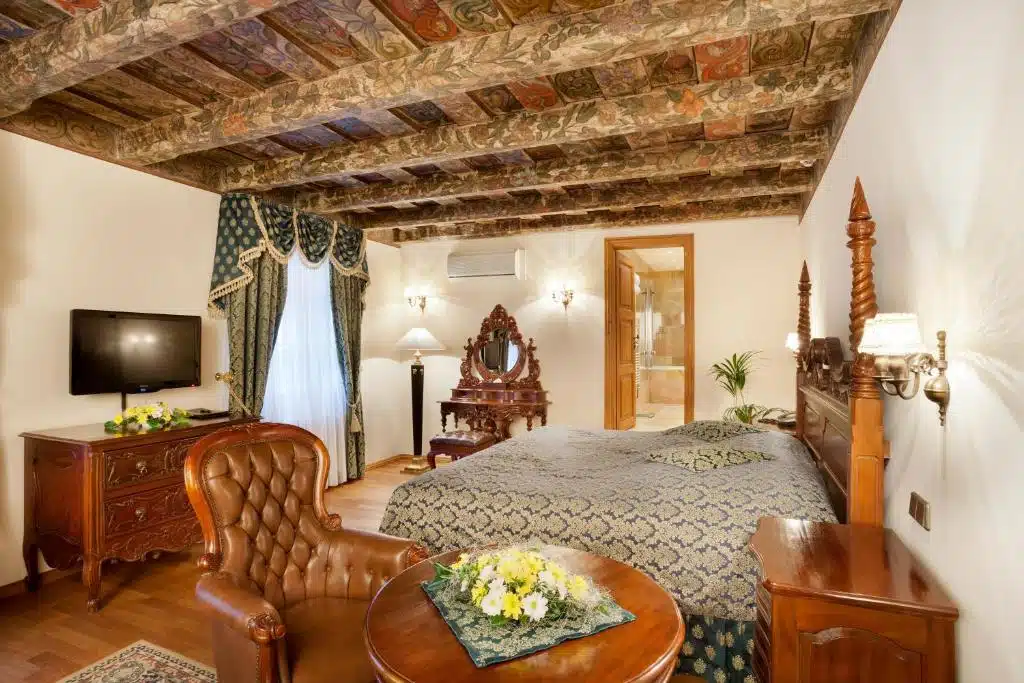 Hotel U Prince is at the top of my list for Old Town hotels, and for good reason. Antique furniture, spacious rooms, and a great vibe make it both unique and fantastic.
You couldn't hope for a better location. It's situated right on the Old Town Square – which gives you an idea about how beautiful the building itself is.
Step out onto the rooftop terrace to take some photos of the Golden City without the crowds you may find in other places. Pamper yourself with room service (and snap a shot for Instagram – room service in those decadent rooms, with a view out the window. Your likes will go through the roof).
They serve traditional Czech specialities at the in-house restaurant. The basement bar is award-winning, and a fantastic place to chill out and enjoy a few drinks with friends, old or new.
Timmy Apartment (Mid-Range)
A gorgeous guest house located in the homey suburbs of Prague, this place is ideal for those who'd prefer a little respite from the action of the city at the end of the day.
Because sometimes, when your feet are aching and you want to spend your evening looking through the photos you took today, all you want is some tea and silence.
Timmy Apartment is a 5-star guest house at a great price. Relax in the garden, grab a drink at the bar, and make use of the shared kitchen. It's got everything to make your stay in Prague very comfortable.
The staff is welcoming and helpful, so you can get a little advice on where to go and how to get there if you're feeling overwhelmed.
Hotel Uno Prague (Mid-Range)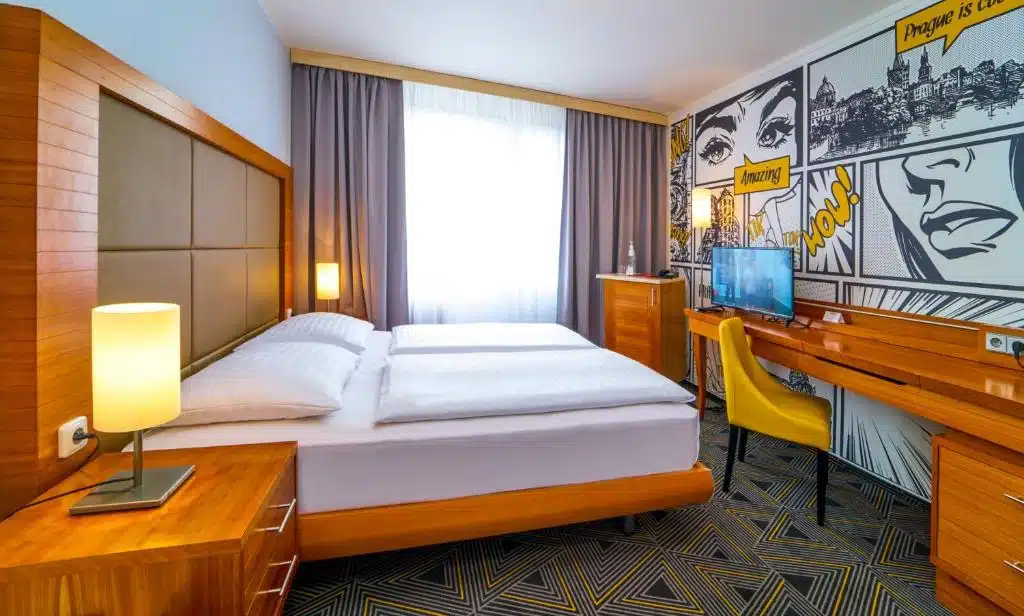 Interested in something a little more modern and quirky? This fun mid-range hotel is bright and pop-themed, with walls covered in giant comic strips.
It's pretty far out of the city centre, but a short walk from the nearest metro stop. You'll also find some cool cafes and bars in the area, so there's still a lot to be enjoyed.
Unwind at the in-house bar, or try the local delicacies at the restaurant. It's a very comfortable hotel, with cosy rooms and superb service.
Hotel Waldstein (Upper Mid-Range)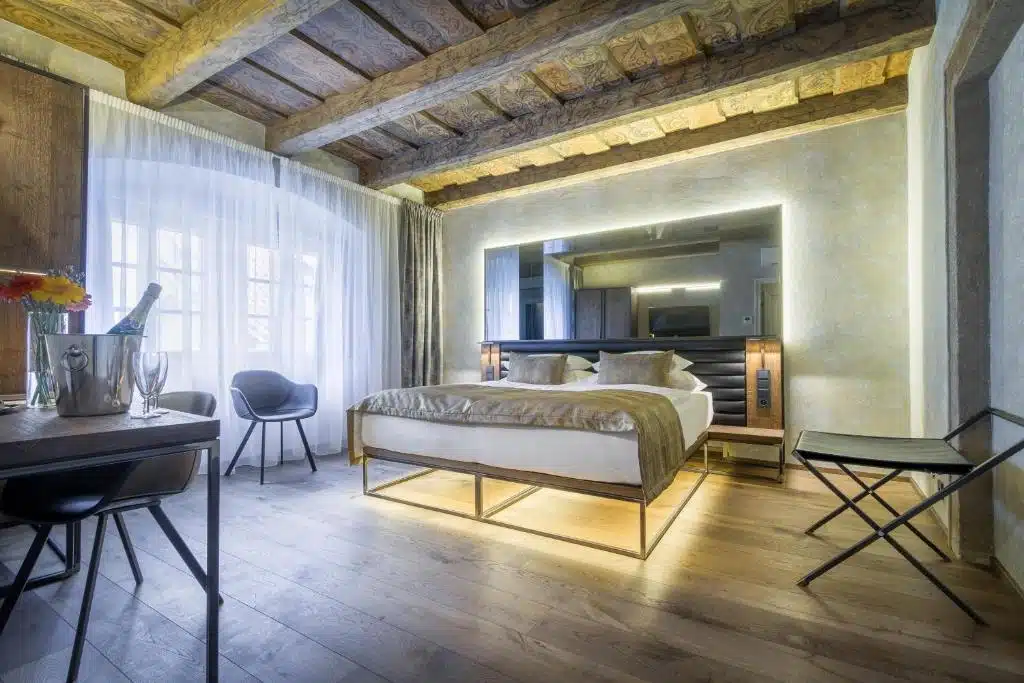 Looking for a comfortable base while you experience Prague like a local? Just a few steps from the famously beautiful Charles Bridge, this hotel is the perfect option.
Classy modern decor contrasts with the 14th-century building its located in. Prague's top attractions are all within walking distance, as well as some incredible restaurants, galleries and cafes. But if you want to tick more off the bucket list and enjoy a wind-swept ride around town, bicycles are available to rent.
Start your day with a tasty hot buffet breakfast in a vaulted Renaissance cellar. That's not something you can do at home! If it is, please advise.
Hotel Marketa, like much of Prague, is an architectural wonder. Ideal for culture, art and history enthusiasts.
Best Places to Stay in Prague: Frequently Asked Questions
Prague is a totally unique city with a lot going on. These are some of the most commonly asked questions about staying in the City of a Hundred Spires.
How Many Days Should I Spend in Prague?
Prague is such a beautiful, historically rich city. You don't want to get here with only a day to spend before leaving again – there's just too much you'd miss. I'd recommend spending 3-4 days here. A week if you're feeling decadent, and really want to experience the little things.
In 4 days, you can tick off Prague's most beautiful and iconic attractions, and still get a little time to pop into those cute cafes and trendy bars you'll be spotting around every corner.
If you give yourself a week, you can even take time to explore the city's leafy outskirts. And spend an evening or two in your hotel with your feet up, just enjoying some relaxation without feeling guilty about wasting precious time. Ideal.
How Do You Get Around in Prague?
Prague is a very walkable city. So pack those trendy walking shoes that don't quite match any of your best outfits. You'll be spending most of your time in them.
But, if you're not so keen on taking the city by foot, there are other options. Prague's has a very efficient metro, tram and bus network that will take you anywhere. And not at a bad price.
The tram is your best sightseeing option, with frequent stops at top attractions. More and more people are also cycling around the city. If you do, just be careful of busy motorways.
Is Prague an Expensive Place to Visit?
Prague can be pretty pricey, with accommodation and attraction tickets up there in terms of cost. It's more of a luxury destination than a shoestring budget one, and is definitely best suited to a trip where you've got some cash to blow.
However, this doesn't mean you have to spend everything you've got and then Google how much your kidney's worth. There are plenty of ways to bring down costs to a kidney-keeping level.
Stay out of the city centre, where accommodation prices are cut in half.
Visit the free churches, gardens, and outdoor attractions, rather than places with ticket entry.
Last one? Drink your beer in taverns that aren't quite so trendy. You'll be surprised by the price difference, and probably meet a good deal more locals too.
Where to Stay in Prague: Practical Tips to Consider Before Booking Your Prague Accommodation
Prague's city centre is the place to be. Everything is going on here, from contemporary theatre performances and art shows to historic tours. However, this makes the area an expensive place to stay. 
Weigh up the benefits of walking versus public transport, and consider the type of experience you want to have before making your final decision on where to stay.
Summer is very busy in Prague. Like most of Europe, this is tourist season, and we come a-flocking. Consider visiting during winter, like I did (loved it). Or even during a shoulder season, when things are a little quieter, and prices are lower.
Public transport is a breeze in Prague. So if you have to catch a tram or two to get to your destination, don't sweat it. It won't take you long.
Even at night, Prague is a safe destination. You can walk around freely – just avoid completely empty streets. It's also always preferable to have a buddy.
If you're visiting Prague with a car, find accommodation that has parking. This will save you a lot of hassle, as on-street parking is often extremely hard to find.
Use Plum Guide to find high-quality apartment rentals.
Love This? Save and Share on Pinterest!