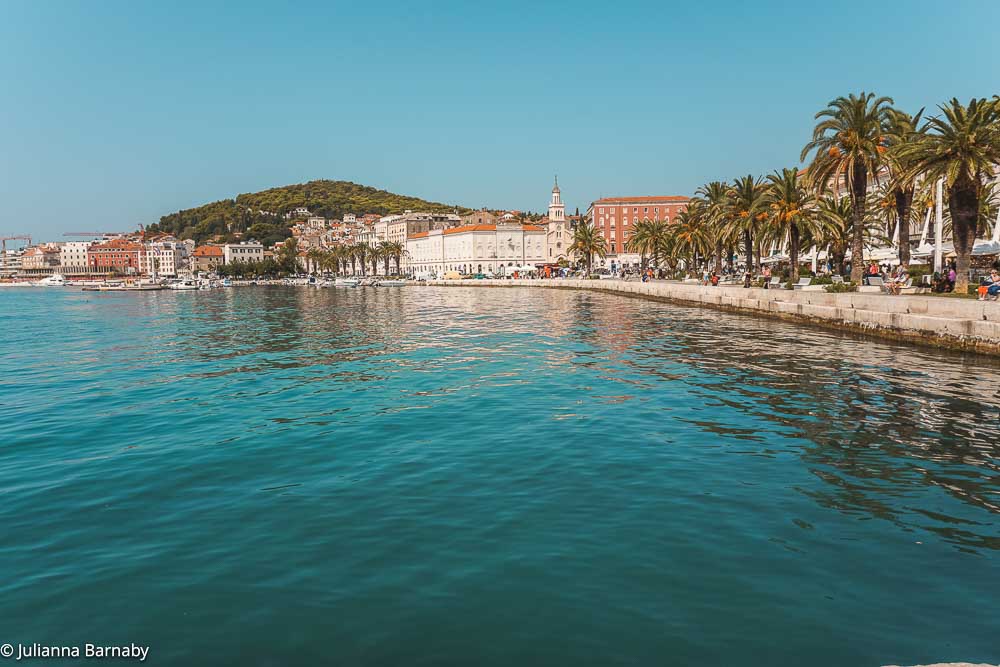 Split is one of the Adriatic's most vibrant cities: bustling with a wonderful mix of modern life, ancient history and true Croatian charm. Looking for the best things to do in Split? Don't miss this step by step guide.
Ah Split. Where do I start?
Stunningly positioned between mountains and sea, Split simply oozes charm.
It's Croatia's second largest city – but that's not what draws you in.
Perhaps it's the maze of architecture, spanning every period since Roman times (where else will you find a UNESCO heritage centre stuffed with Roman ruins cosied up to by Venetian, French and Croat architecture?).
Perhaps it's the location – after all, Split commands a jaunty perch on the Adriatic coast.
Framed by crystal clear waters and pine forests, there's no doubt about its beauty – but look beyond the facade and you will find a city buzzing with life and culture.
If I'm truthful, after becoming totally enraptured with Dubrovnik, I thought that Split might be a bit of a let down. Not so. Split is one of Croatia's not so hidden gems – spend more than a day here and chances are that you won't want to leave.
Planning your trip? Check out my pick of the best things to do in Split.
PS: Planning to spend more time in Croatia? Read this guide to seeing the best of the country in 10 days

and also The Best Places to Stay in Split
The Best Things to do in Split
See Diocletian's Palace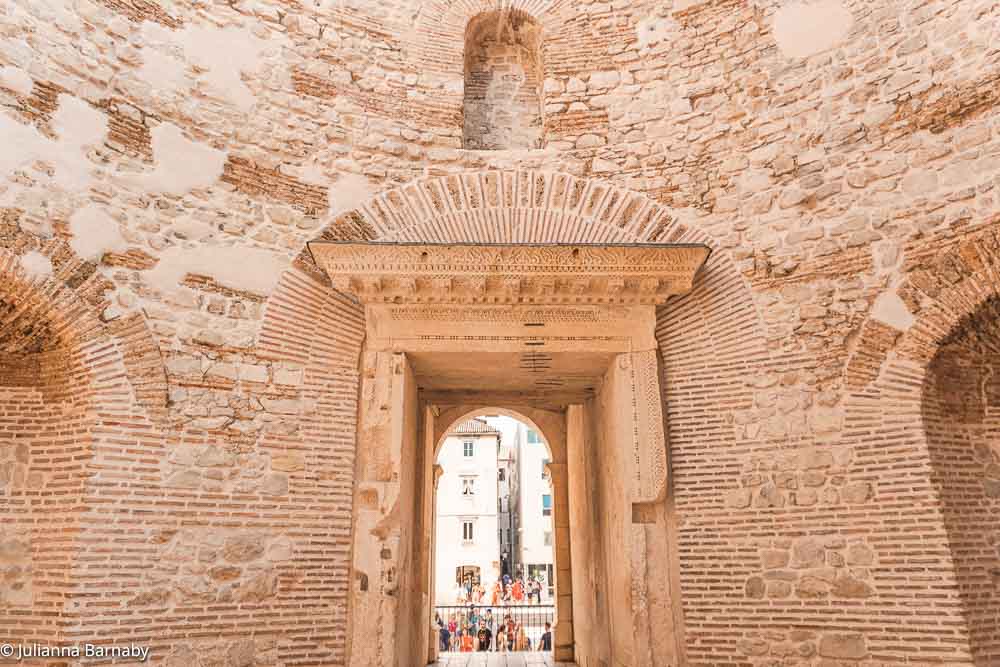 Short on time? If I had to pick one must see landmark in Split, it would be Diocletian's Palace.
It would be kind of hard not to, to be honest – you can't really avoid it if you visit the Old Town as it is an integral part of the whole area.
This UNESCO World Heritage site was built in 305AD for the Roman Emperor Diocletian, and forms the backbone of Split's Old Town.
Over the centuries, Split has grown up around Diocletian's Palace. Thankfully, many of the Palace's buildings have remained intact – providing the perfect opportunity for you to marvel at their beauty and soak up a bit of the city's long history at the same time.
Unmissable sites within Diocletian's Palace include the Peristyle (the center of the Palace), the Cardo (one of the main streets through the Palace), and the cellar, which doubled up as a filming site for Game of Thrones.
Visit Saint Domnius Cathedral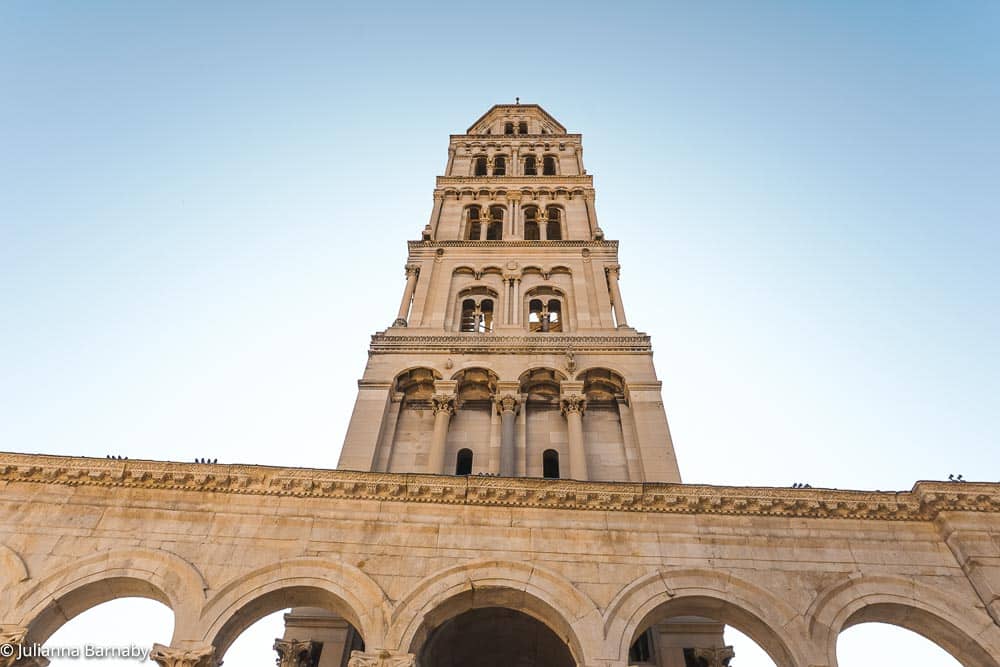 Wondering what to do in Split? There's no missing St Domnius Cathedral: you'll spot the bell tower peeping out above the rooftops in many parts of town.
Located in the heart of Diocletian's Palace (the Peristil), the cathedral used to be Diocletian's mausoleum – but was transformed in the 7th century, making it the oldest Catholic cathedral in the world.
Fancy a challenge? You should totally climb the bell-tower for the best views of the city.
Hunt Out Game of Thrones Filming Locations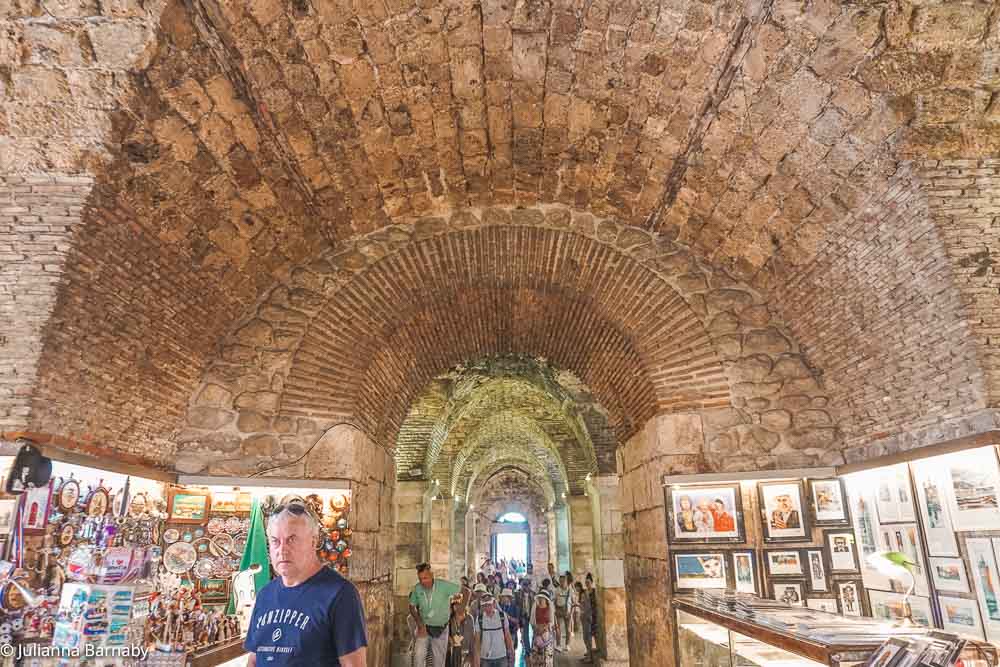 It's no secret how much I adore Game of Thrones (as in hunting out GOT filming locations in Dubrovnik kind of obsession). Even with the slightly clunky last episode, it's a love that burns hot and fierce.
So there was zero chance of me not finding / stalking the Game of Thrones filming locations in Split.
Unlike Dubrovnik, Split's filming spots (which are generally used for scenes in Mereen) are harder to find.
In the city itself, they're mainly focused on one spot: the basement of Diocletian's Palace. The basement was used both as the place where Daenerys locks away her dragons in Mereen and also as her throne room.
If you're lucky, you will also spot a few familiar passageways overground too – including the one where the Unsullied are attacked by the Meereenese.
As Split's Game of Thrones filming locations are so well-hidden, the best way to discover them is on a Game of Thrones-themed walking tour. Simply rock up and prepare to be immersed in the programme's fantastical world.
Read Next: The Game of Thrones Guide to Dubrovnik
Walk Around the Old Town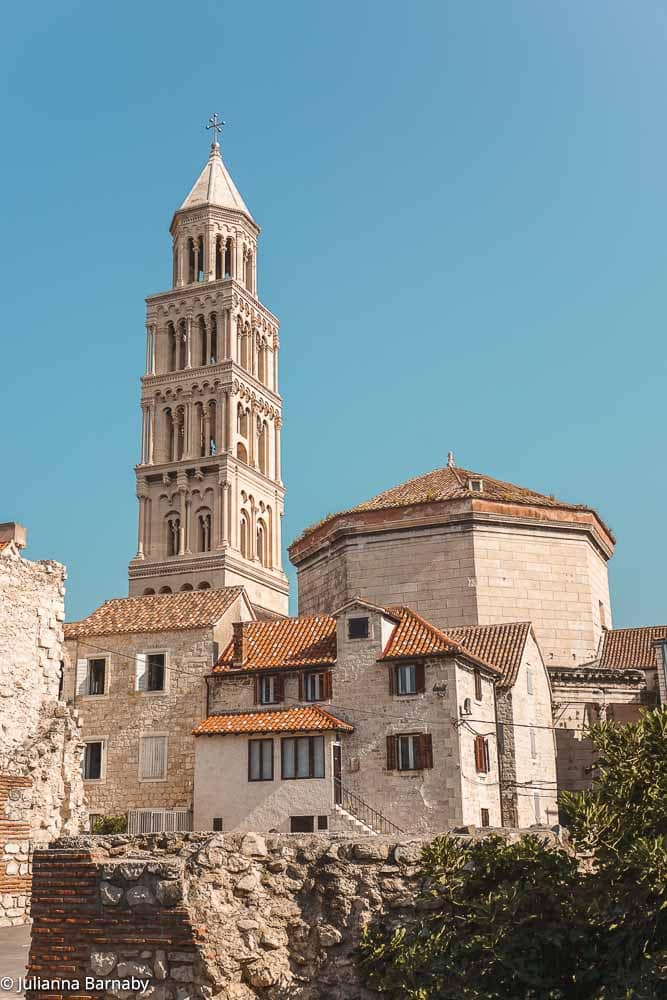 Split's Old Town is a charmer.
You can be certain of two things during your visit to the Old Town: you'll stuff the memory card on your camera / phone from taking so many pictures and you will get lost in the area's notoriously confusing labyrinth of tiny lanes and alleys.
There are a few landmarks you shouldn't skip – the statue of Nin (see entry below), the City Museum of Split, Archaeological Museum and the Meštrović Gallery to name a few.
Be sure to pop into the numerous artisan stalls and boutiques selling local crafts and unique souvenirs (the basement of the Palace is a particularly good shopping spot).
Stroll Along the Riva
I said that there's more to Split than its beauty, and that is true, but there's no denying the city's visual appeal.
A stroll along the Riva, city's waterfront promenade, is undoubtedly one of the top things to do in Split – and it's pretty gorgeous to boot.
Day and night, the Riva is buzzing. Perpetually filled with a mix of locals hanging out (a cup of strong coffee in hand) and wide-eyed tourists soaking up the obvious charm. There's no better place to people watch in the city.
Check out the Meštrović Sculpture of Nin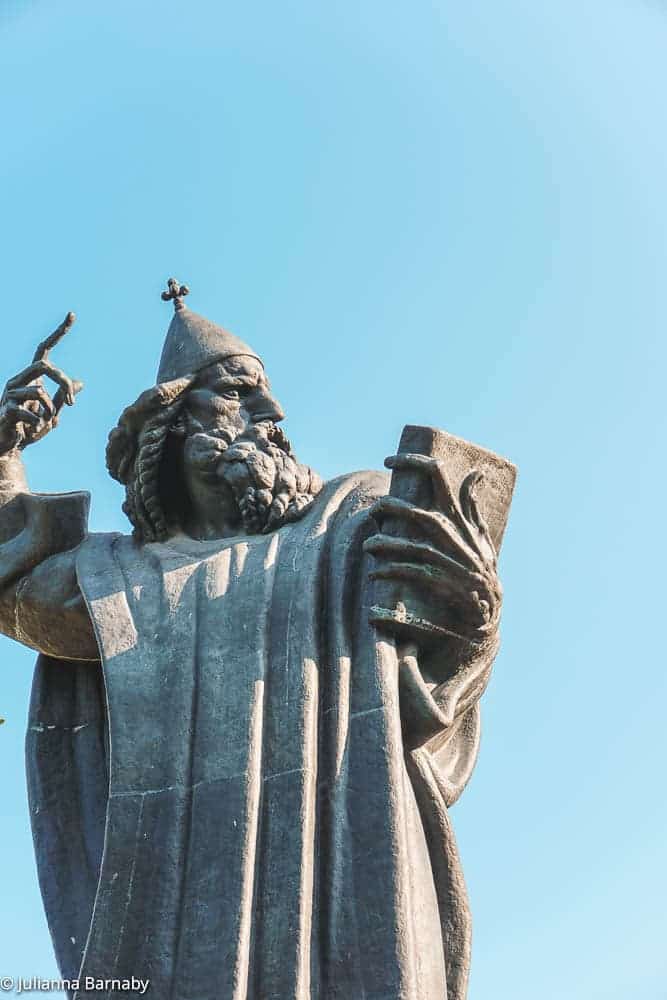 Gregory of Nin was a local bishop in the 9th century who heavily influenced Croatia's history: holding services in Croatian (rather than in Latin as decreed by the Church).
Given the measure of his influence, it's fitting that his large statue dominates the section of the Old Town in which it stands.
Created by Croatia's most famous sculptor, Ivan Meštrović, the statue is testament to Meštrović skill – even if he did rather cheekily put his own face on it.
Legend has it that if you should rub the statue's toe for good luck.
You won't have a problem spotting the right toe – it's bright gold from all the rubbing it's received over the years.
Meštrović Gallery
Meštrović was one of the best-known sculptors of the 20th century – and he lived in Split for some of his formative years.
Take the opportunity to get up close and personal at the striking Meštrović Gallery, situated in his old family home in the southwest of the city and a must on any list of the best things to see in Split.
The gallery houses many of the sculptor's definitive works. Bronze, marble, wood…there were few mediums he couldn't master in order to create striking sculptures in his signature style.
Spend Time on Marjan Hill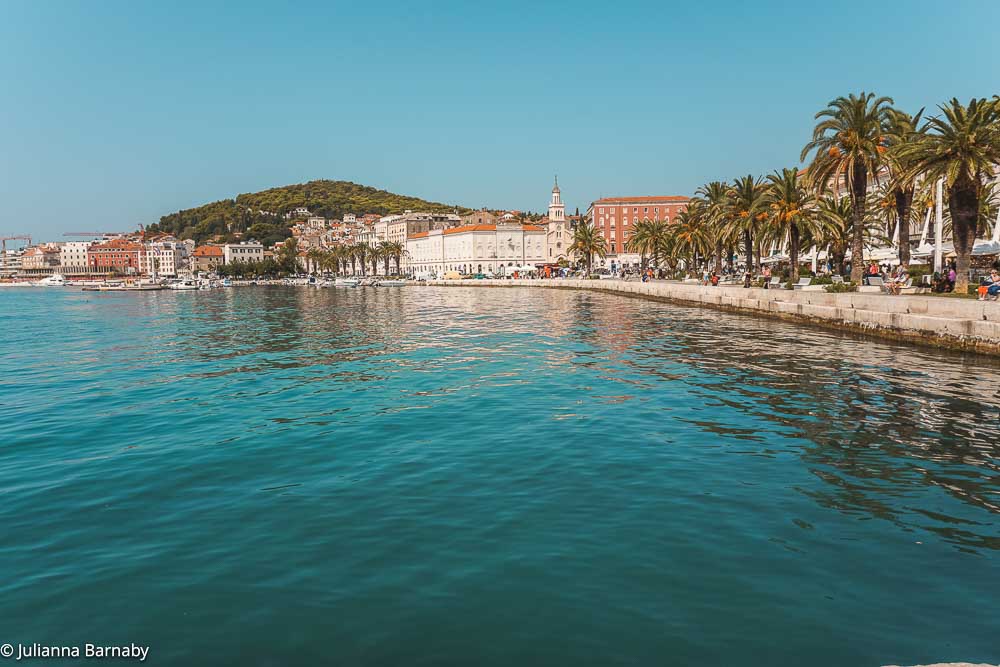 Imagine leaving the Old Town, walking a few minutes and being immersed in a natural setting that also doubles up as one of the best places in Split.
Marjan Hill is just that.
A broad slope, covered in pine trees, criss-crossed with hiking paths and more than the occasional viewpoint, spending time on Marjanis a must.
Marjan offers a welcome respite from a city can feel busy to the point of bursting during peak season. Don your hiking boots and set off for at least a few hours traversing the paths, or you can take a taxi to a few key spots.
Chill Out on Bacvice Beach
Only five minutes walk from Split Old Town, Bačvice Beach is the city's most popular coastal hangout. You can see why – the sandy shores and shallow, warm waters are too tempting to resist. It's the best of Split's laid-back lifestyle in one spot.
Don't expect to have it all to yourself: between the inflatable slides, tourists and locals vying for their share of the sunshine, it does get busy – that's just part of the appeal.
There are plenty of bars and cafes to hang out in. The beach is a lively spot to spend some time in at night during the summer months when it becomes one of Split's coolest nightlife spots.
See How the Romans Lived in Salona
Salona was the capital of Dalmatia well before Split was a twinkle in Croatia's eye – a remarkable Roman city that had over 60,000 inhabitants.
Those days are long gone: it was pillaged to ruins by Croats in the 7th century.
If you're visiting Split, a trip to see Salona's ruins is highly recommended, they're only 5 km north of Split and spread out throughout an extensive archaeological park.
Walking around serves as a reminder of Salona's importance during Roman times. Though some of the city's treasures have been transferred to the Archaeological Museum in Split, a sizeable number have been left on site.
Leave at least an hour to explore but I'd recommend taking the morning or afternoon to walk around at leisure.

Find the Jewish Passage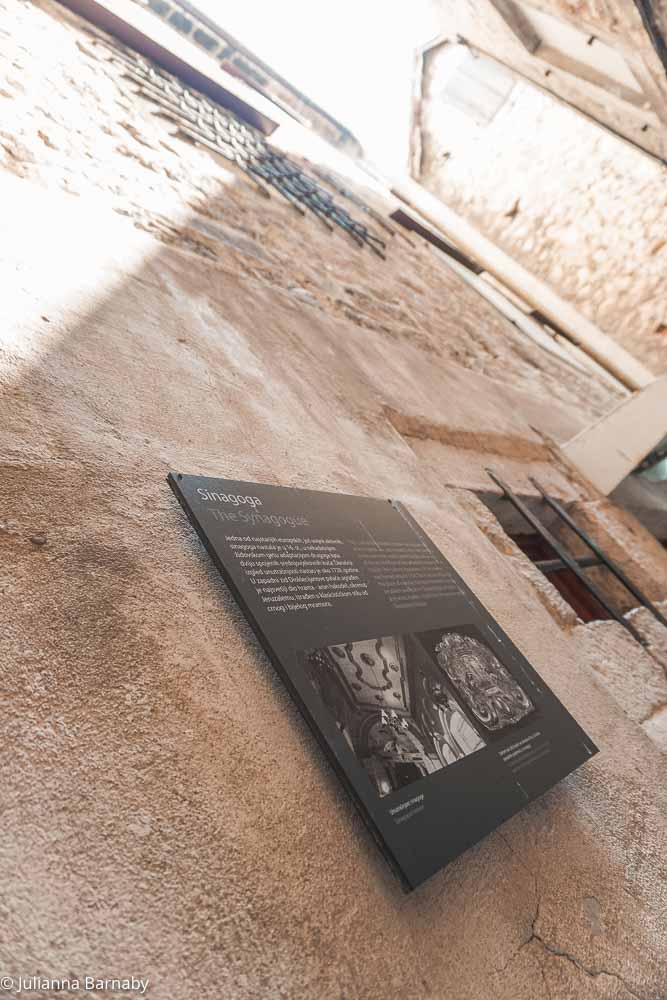 There has been a Jewish community in Split for over 2,000 years: look and you will see the city's Jewish heritage interwoven within the culture and architecture of the city.
Zidovski Prolaz, or Jewish Passage, where you can spot the third oldest Sephardic Synagogue in the world.
The synagogue takes some finding – it was created from two converted medieval residences, so doesn't look like a synagogue from the outside. Inside, the Aron Hokadesh and the Torah are embedded within the Roman walls of Diocletian's Palace.
Visit the Ethnographic Museum
Croatia has a fascinating cultural history, but despite all of the historic architecture, it can be difficult to get a sense of who its past inhabitants were.
The Ethnographic Museum showcases the traditions and people of Split and wider Croatia through many of the crafts, clothing and practices that formed a part of their everyday lives. With centuries of woodcarving, weaving and traditional dresses, it's unlike any other spot in the city.
Time your visit to coincide with a Klapa performance on the rooftop of the dome of the Vestibul next door (see below).
Hear the Klapa Singing
Klapa is a traditional form of acapella singing traditionally performed by male singing groups. There are a few spots where you can see Klapa in Split, but the most iconic is undoubtedly in the Vestibul – the magnificent domed receiving room next to the Peristyl.
The groups perform at intervals between 9am and 4pm daily, transporting you into the Croatia of days of yore.
Go Kayaking in the Sea
It would be a shame to go to Split and not spend any time on the cerulean waters that glitter from most vantage points in the city.
The calm waters of the Adriatic and easy-to-reach coastal hideaways set you up nicely for a kayaking trip from the city. Guided trips range from a few hours to half day affairs – complete with a picnic and time to sunbathe on beaches further along the coast.
Cool Things to do in Split: Food & Drink
Enjoy Brunch at Uje Oil bar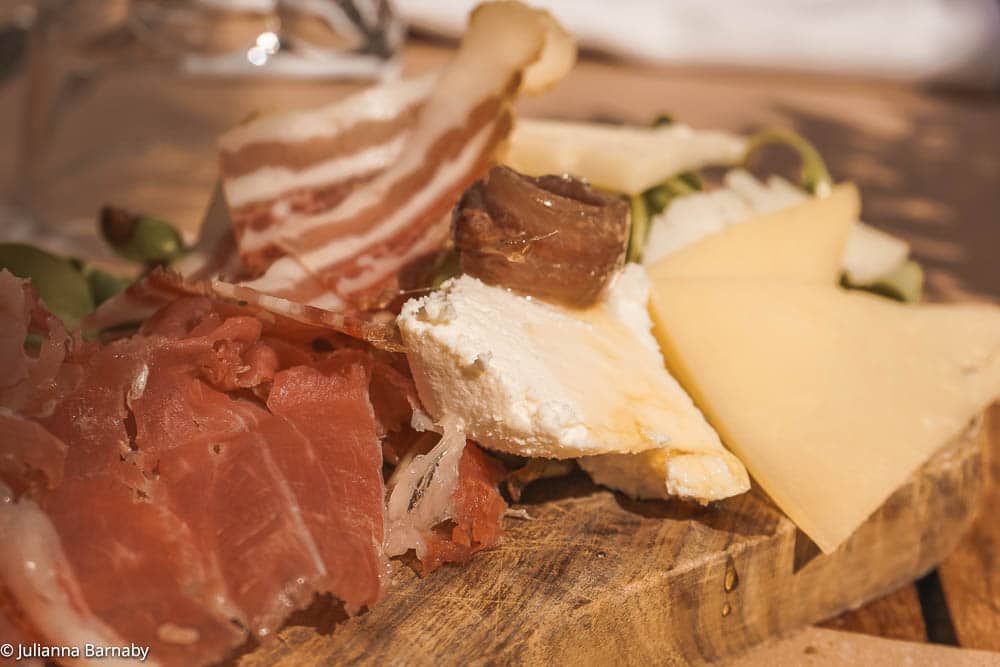 There are many traditional restaurants in Split, but its contemporary food scene is thriving too. Step in Uje Oil Bar – one of the city's most popular restaurants and a must for any foodie visiting the city.
The chic bistro-style restaurant is nice, but it's the Dalmatian food and wine that are the real stars of the show. Pop in for the delicious brunch to try their rustic dishes washed down with a glass of wine (the rich, fruity Plavac Malic is a real treat) at a snip of the a la carte price.
Eat Some Peka
Split boasts many local traditions, but few are as iconic as Peka – a baked dish of meat and vegetables cooked on the embers of a fire.
The meat varies depending on who's cooking or what's on the menu veal, lamb, chicken and even seafood such as octopus aren't unusual choices.
Many houses across the city contain a special spot for preparing Peka: tucked away in the barn, it's used on a daily basis.
The best way to experience Peka is at a local's house, but failing that, there are a few restaurants in Split that offer the experience. You generally have to reserve at least a few hours in advance – or book onto a Split food tour ending with a Peka meal.
Enjoy a Coffee in D16
The artisan coffee revolution has spread its grip to pretty much every major city in Europe: unsurprisingly, Split is no exception.
In need of a caffeine pick me up? Head to D16, my favourite coffee shop in Split. The coffee is unfailingly perfect, just what you need to set you up for a long morning exploring in the Old Town.
Konoba Varos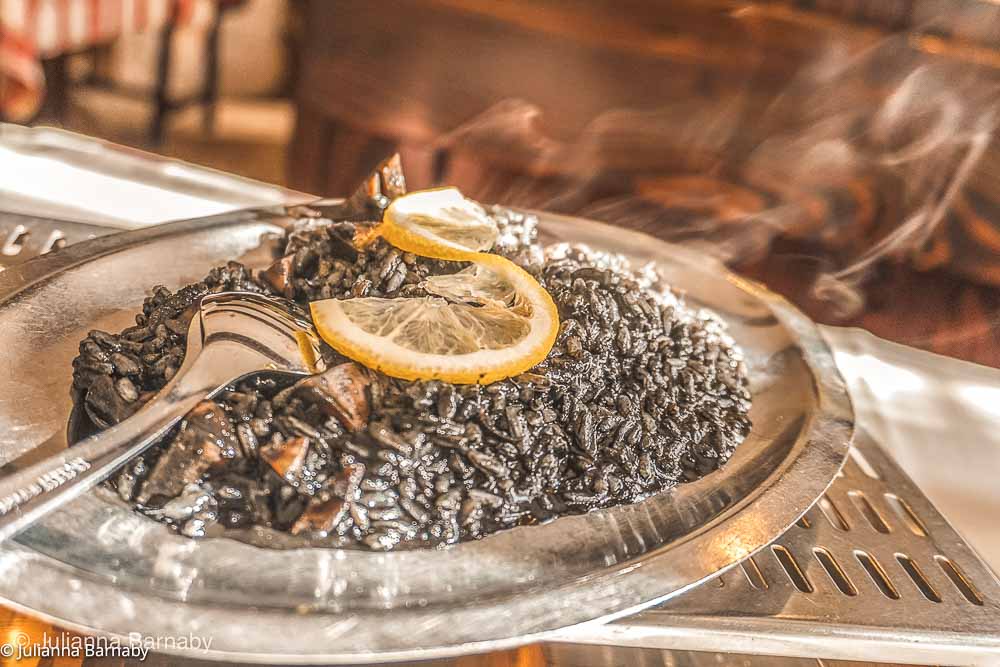 Finding traditional food in Split isn't tough. The city's culinary scene is poppin' and there are plenty of restaurants serving up Split's distinctive regional cuisine.
Even so, eating at Konoba Varos, a 100 year old taverna, is undoubtedly one of the best things to do in Split. Tucked down a small road on the outskirts of the Old Town, it's traditional in every sense of the word – from the reasonable prices to the decor.
Want to try something different? Opt for the cuttlefish risotto – cuttlefish ink black and flecked with the tenderest pieces of cuttlefish – it's a delight.
Find Fresh Food at the Green and Fish Markets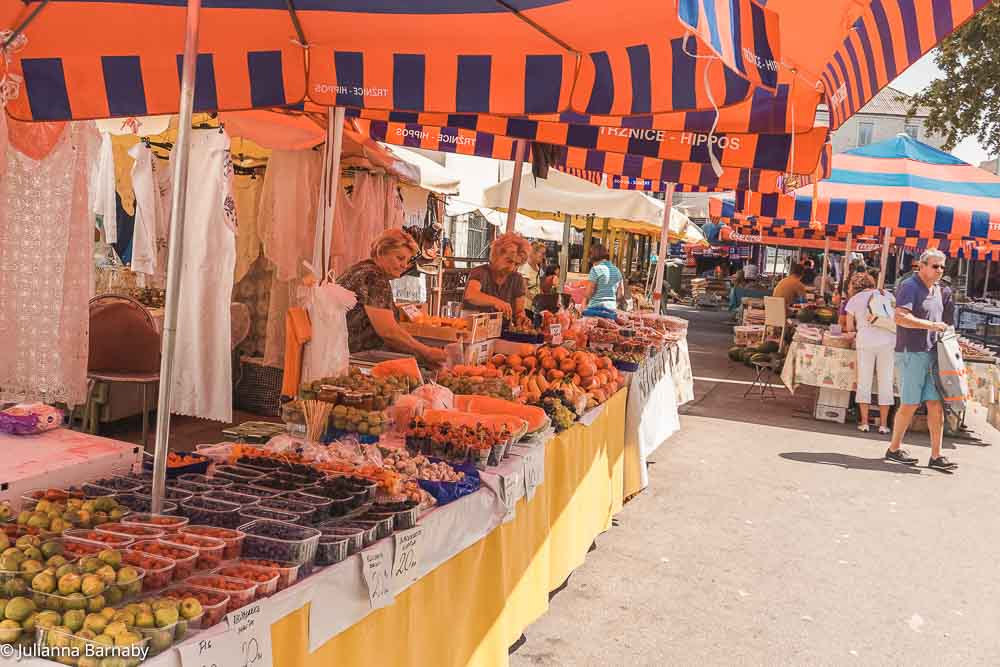 It's easy to see why Split's outdoor markets are a central part of local life. Stall after stall heaves with colourful fish, vegetables, fruit and preserves – what's more they're manned by equally charismatic sellers.
If you only have time to peek at a couple, make a beeline for the Fish Market and the Green Markets.
The Fish Market, close to the town's fishing port Matejuska can be a little overwhelming at first sight. Perhaps not one for the faint of stomach either.
Get past that and you can browse fresh-off-the-boat catch and immerse yourself in the bustle of locals picking up their evening's meal.
The Green Market is a marginally more sedate affair – there's food of course, but also flowers, souvenirs and some (not so great quality) clothes. It's an obvious stop if you're self-catering but is worth a nose even if you're not.
Split, Croatia: Travel Tips For Planning Your Trip
A few pointers and handy tips for what to see and do in Split and how to plan your trip.
The Best Time to Visit Split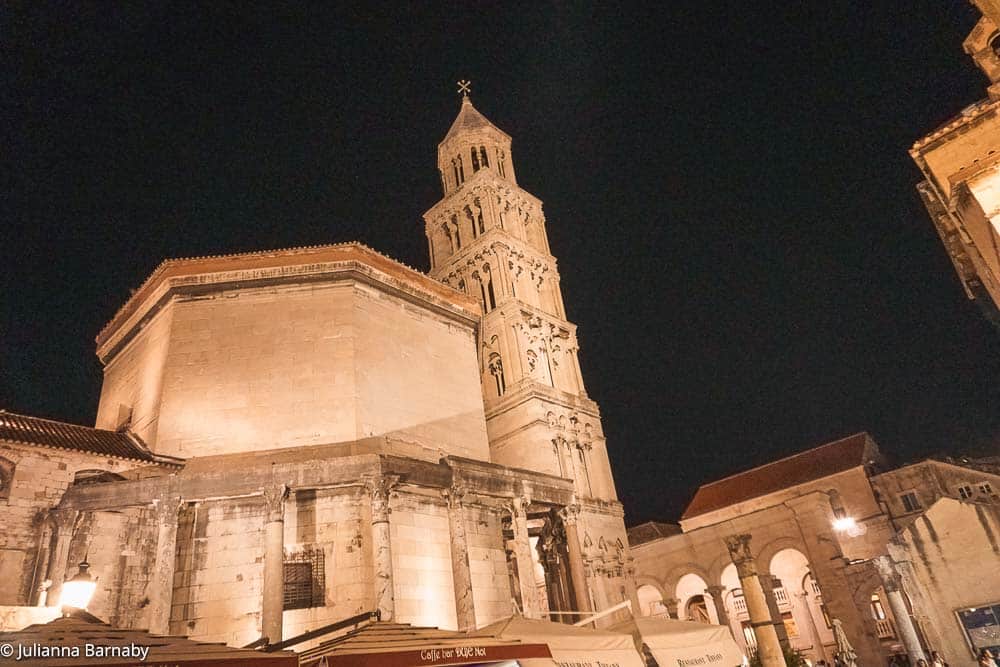 Split is a great destination year-round but if you want to see it at its liveliest, visit between May and October. July and August are very busy (but not unmanageably so) – go in May or September / October for a quieter experience.
Climate-wise, Split has typically Mediterranean dry and warm summers, mild and wet winters. It's rarely bad enough to ruin a trip.
Getting to and from Split
Split is well connected – both nationally and internationally.
By Air
Most passengers arriving in the country will fly to Split Airport (Resnik Airport): which is served by a host of budget airlines including Easyjet, Thomas Cook and Wizz.
By Bus
The main bus station has buses serving pretty much most towns and cities in Croatia. If you're combining a trip to Split with Dubrovnik. Coaches to Dubrovnik take around 6 hours (remember your passport as you pass through a small section of Bosnia on the way down and there are passport checks at the border).
By Boat
Heading to the islands? Split's port has regular ferries running to all of Croatia's main islands (including Hvar, Vis and Korcula). You can also catch the ferry from Split to Dubrovnik – journeys take around 4.5 hours.
How Long to Visit Split?
You can see all of Split's main sights within one day but I'd recommend spending a little longer (at least two – three days) to allow you to explore Split at leisure. With more time, you can take some cool day trips to destinations such as Omis, Klis, Salona and Trogir and Plitvice Lakes.

Where to Stay in Split?
The city is mainly divided into eight districts, all of which have different things to offer for visitors planning their stay. I'd recommend the Old Town if you can afford it – there's nothing quite like waking up to views of the UNESCO Heritage buildings.
Old Town: Best for First-Time Visitors
Split's Old Town is packed with heritage – each corner reveals a new historic landmark or cultural attractions, all interwoven with the big ticket – Diocletian's Palace.
Recommended Stay: Plaza Marchi Old Town
Unashamedly opulent and quirky, this boutique hotel is one of the most in-demand hotels in Split. Snag a reservation for stellar service and panoramic views of the city.
Check Rates: Booking.com I Tripadvisor I Hotels.com
Radunica: Best Area for Old World Charm
East of the Old Town, Radunica is another historic neighbourhood with a lot of charm, but with lower prices. It's still an easy walk to the Old Town's main sights with the added benefit that things are a bit quieter.
Recommended Stay: Balatura Split Luxury Rooms
This cosy but chic bed & breakfast is a good option if you want to snap up a well-priced stay without sacrificing the luxury touches.
Check Rates: Booking.com I Tripadvisor I Hotels.com
Bacvice: Best Area to Stay in Split for the Beach
Beachside Bacvice sits to the southeast of the city centre. The sandy beaches, lively bars and cool hangouts make it the perfect spot for the younger crowd, or those looking to nab the best spots on the sand for some sunbathing.
Recommended Stay: Bacvice Arti
Metallic walls and neon lighting – Bacvice Arti certainly lives up to its name. The decor falls on just the right side of eccentric without being overbearing – plus it's in a great location too.
Check Rates: Booking.com I Tripadvisor
Read More: Where to Stay in Split, A Step by Step Guide
Best Tours of Split
Sea Kayaking Sunset Tour
There are many sea kayaking tours in Split – opt for a sunset one if you really want an unforgettable experience. You paddle along the coastline, hopping out for some cliff jumping and snorkelling – and, if you're lucky, chilling on the sea as you're treated to a radiant sunset.
City Walking Tour with Marjan Hill
Most city tours stick to the Old Town and its immediate surrounds, but opt for one that includes a trip to Marjan Hill for something a little different.
Game of Thrones Tour
I mentioned that Split was used as a filming location for Game of Thrones. Many of the locations are tucked away within the old town (as well as Klis which is a short drive away). A Game of Thrones tour is the best way to see the different spots used for the TV series (and, if you're lucky, pick up a few pieces of insider gossip).

Tips for Visiting Split: Frequently Asked Questions
Where Can I Watch the Sunset in Split
Split's sunsets are legendary – the best place to watch the sunset in Split is from one of the viewpoints on Marjan Hill. You should do it at least once during your trip.
Is Split Safe?
Generally, the answer is yes. The level of crime in Croatia is quite low and Split is a safe place to visit. You should always take general precautions when travelling and be aware of your surroundings.
Split Attractions: Map
Click here for a Google map of the places and attractions featured in this guide.

Love This? Save and Share on Pinterest
Looking for more Croatia Travel Tips? Read these…