Copenhagen's winters might be chilly but this Scandi-chic capital is a surprisingly fab winter escape. Read my full guide to the best things to do in Copenhagen in winter.
Copenhagen is one beaut of a city. A short jaunt away from the UK, and a reasonable flight from the US, it is the perfect destination for a long weekend away.
I've visited Copenhagen so many times, during all of the seasons but it was Copenhagen in winter that took me most by surprise. Where I'd expected it to be bleak and grim, I found a cosy city, filled with lights and snug spots and late-night haunts.
Planning to visit Copenhagen in the winter? Here's what you need to know.
Why You Should Visit Copenhagen in the Winter
First up, I can hear you asking why should you even visiting Copenhagen in the winter in the first place? There are so many reasons, but we want to keep this relatively simple so I'm going to stick to three.
Read more: The Best Things to do in Copenhagen
The first and the biggest is that it is so much cheaper to stay in Copenhagen during the low season than in the summer months. Copenhagen can be eye-wateringly expensive, even if you have a comfortable budget – but the prices of airbnbs, Plum Guide properties, and hotels drop significantly.
Bed down in the uber-cool Generator Hostel or chic boutique hotels 71 Nyhavn and SP34 for a fraction of the price you'd pay in the summer months.
Danish people do winter spectacularly well. Copenhagen's winter is all about the things you need to stave off the blues – Christmas markets, lots of lights, saunas, cosy places to settle in for a few hours and watch the world go by – it's almost like they've had a lot of practice…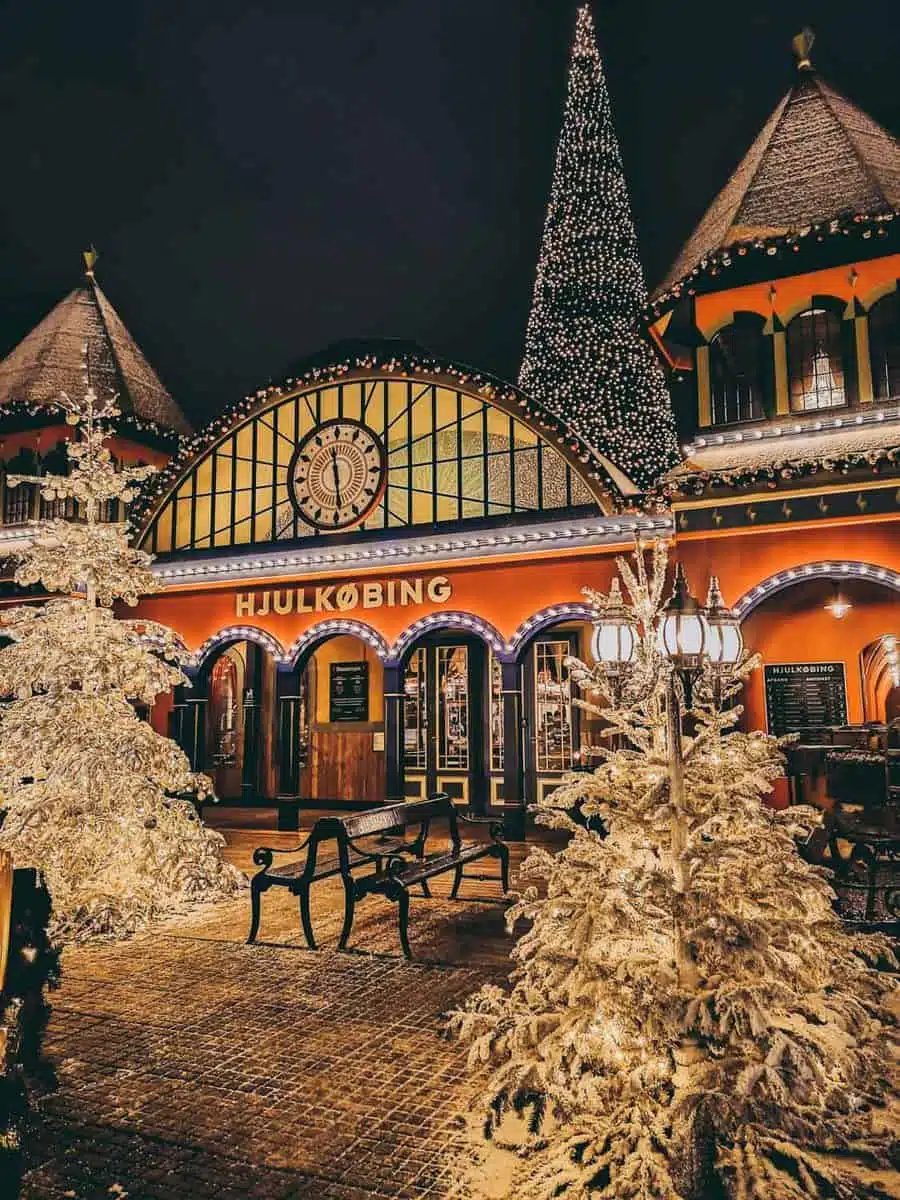 There are no crowds. The days when Copenhagen was a bit off the beaten track are long gone – something you can't help but notice as you get sucked into the huge crowd snapping pictures of The Little Mermaid as if their lives depended on it.
That's in the summer months. In the winter months, the crowds of tourists disappear and you can pretend that it's just you and the locals. Want to get that perfect picture with noone in it – easy peasy. Want to avoid the gargantuan queues at the palaces? Done. It's blissful.
OK, so you're sold. You've got your heart set on visiting during the chillier months? Great. Here are the best things to do in Copenhagen in winter.
Tivoli Gardens
Tivoli is about as touristy as they come – crack out any list of the best things to do in Copenhagen and it will be right up there at the top. That said, I dare you to walk away from the oldest amusement park in the world without a massive smile on your face.
I hate to bandy the word magical about, it's way too overused but… in this case it's completely appropriate.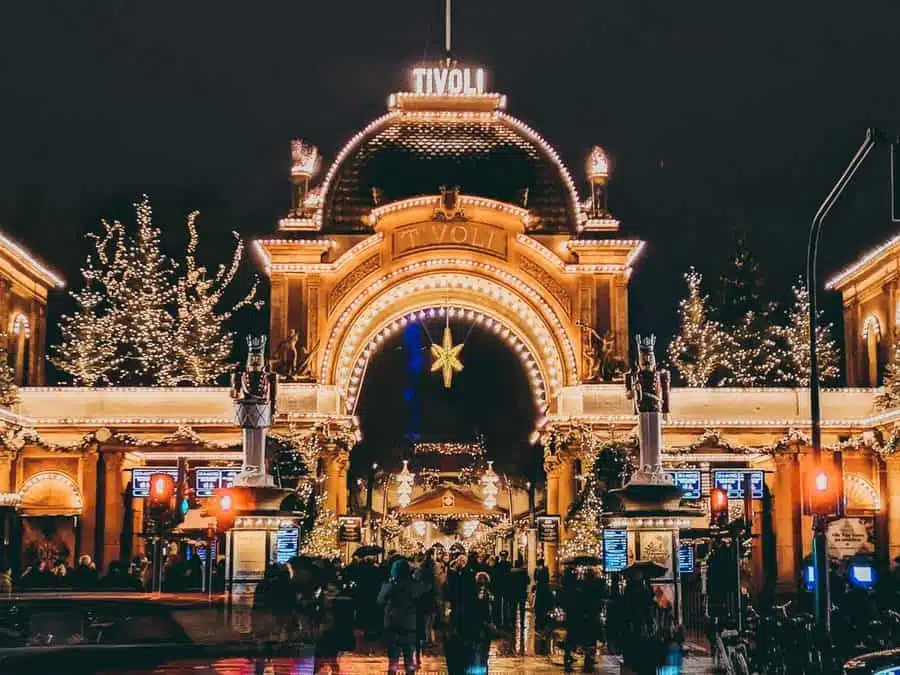 Stepping through the gates of the Tivoli, you forget that you're in the middle of a city. Instead, you're transported to a world of fun rides (beware, they're scarier than they look – or maybe that's just me), beautiful lights and cool little eateries and shops in the rather apt wooden cabins.
Now Tivoli isn't open all year round, but it does open for a spell up to and around Christmas, and again in February, after which it closes until April (check specific dates here).

PS. If you're going to be in Copenhagen and plan to visit some of the largest attractions, I'd recommend buying a Copenhagen Card. The card provides you with free access to lots of Copenhagen hotspots, including the Tivoli.
Read more: Guide to the Copenhagen Card.
Explore Copenhagen's Castles
Copenhagen (both the city and the region) is home to a ridiculous number of castles and palaces – visiting them should go straight on your things to do in Copenhagen itinerary.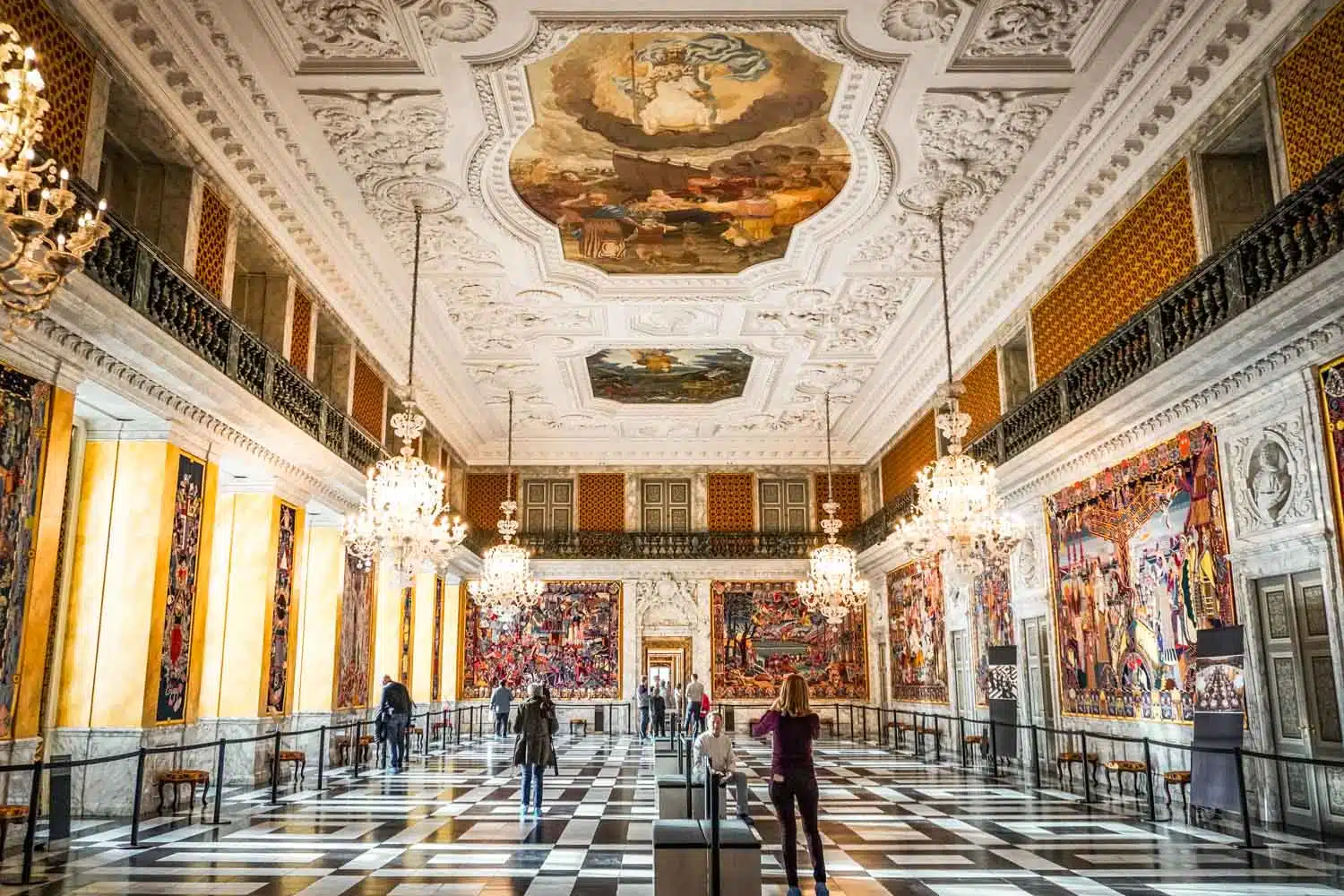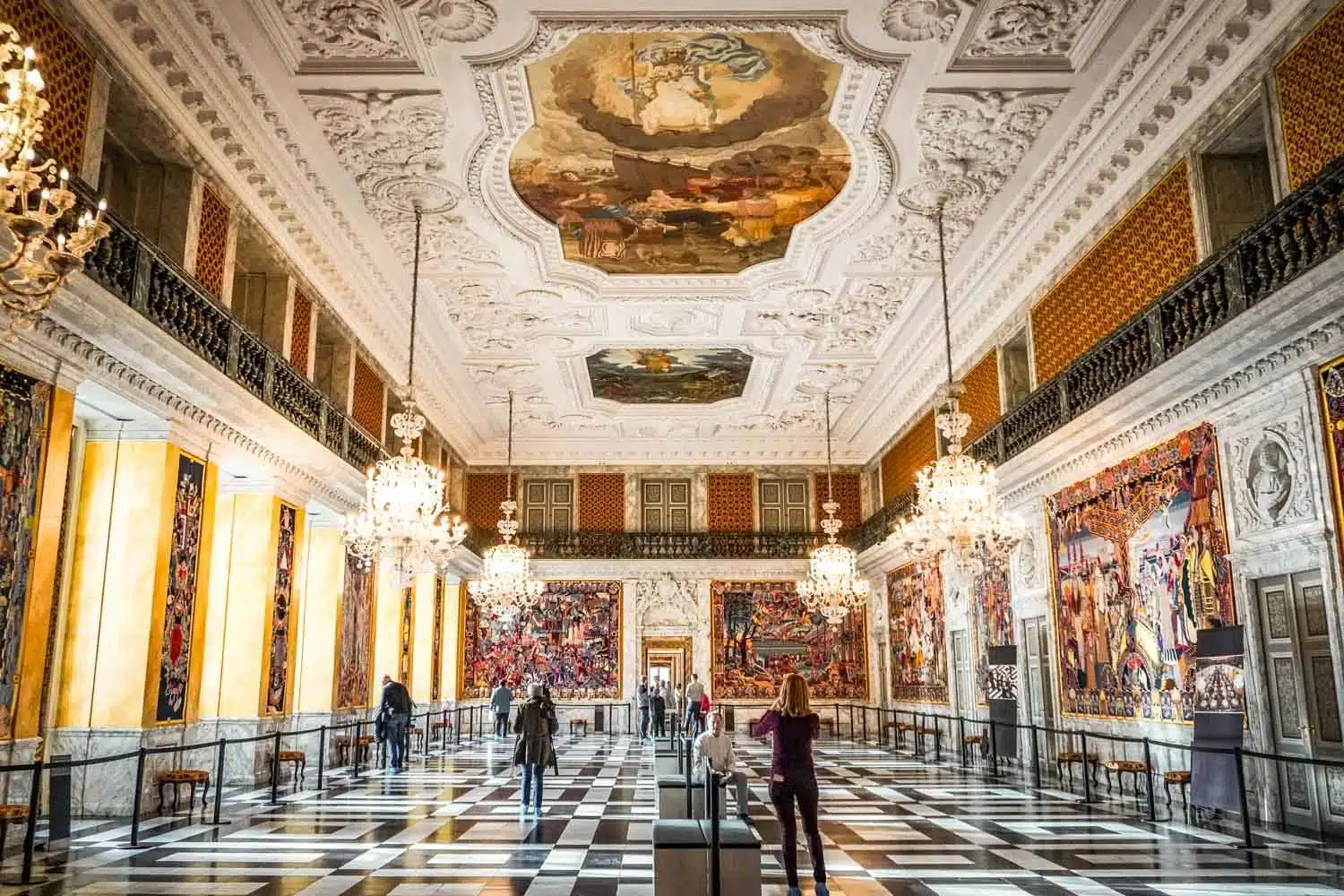 Start with the gorgeous Christiansborg Palace in the centre of town – though it's no longer the Danish Royal Family's main Copenhagen residence, it's my favourite of all the palaces. Resplendent in gilt and tapestries, it's the perfect escape from the chillier weather outside.
After Christiansborg, make your way to Amalienborg, the current Royal Residence. Much more modern than Christiansborg, a visit to the palace allows you a glimpse into the lives of the rather down-to-earth Danish Royal Family.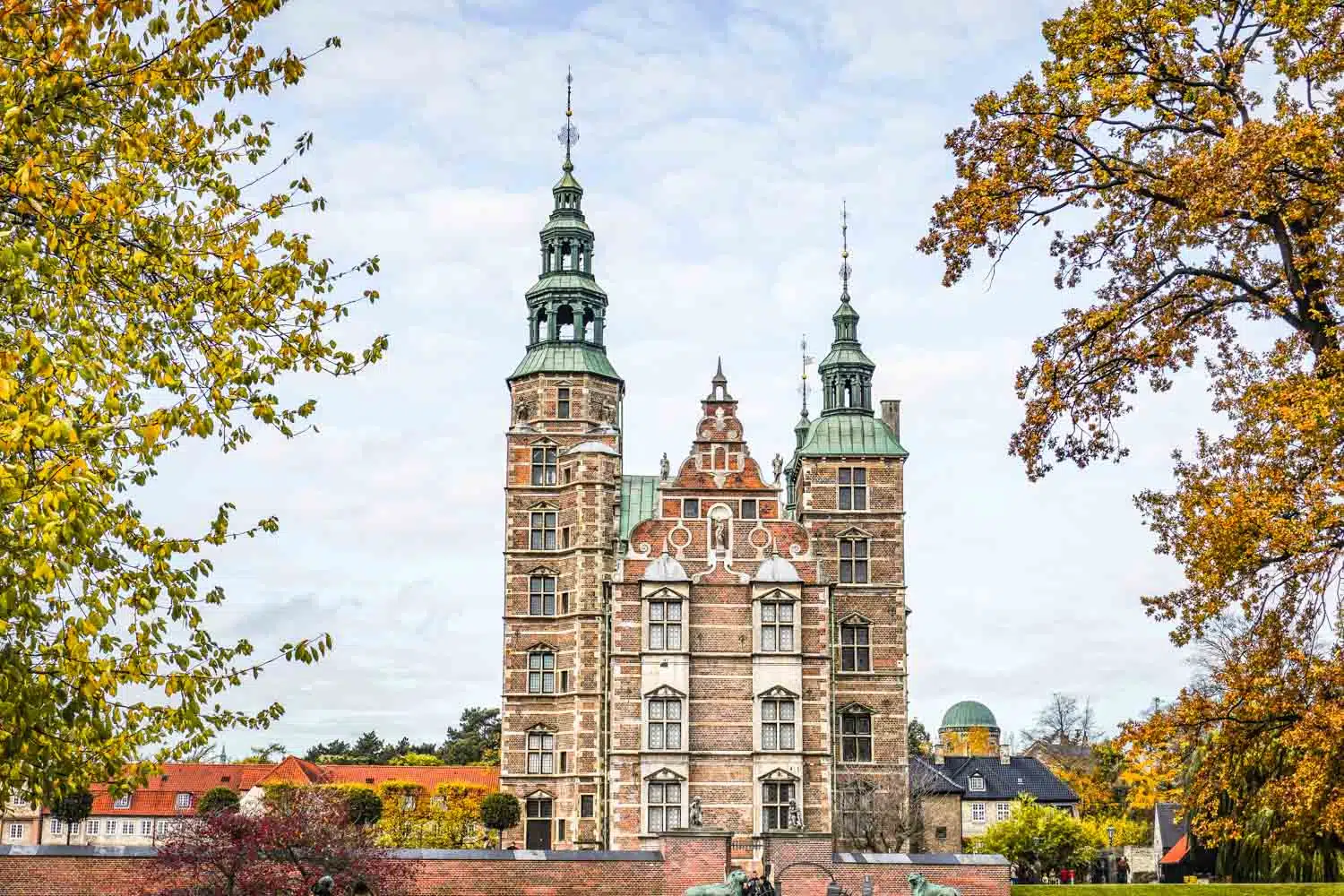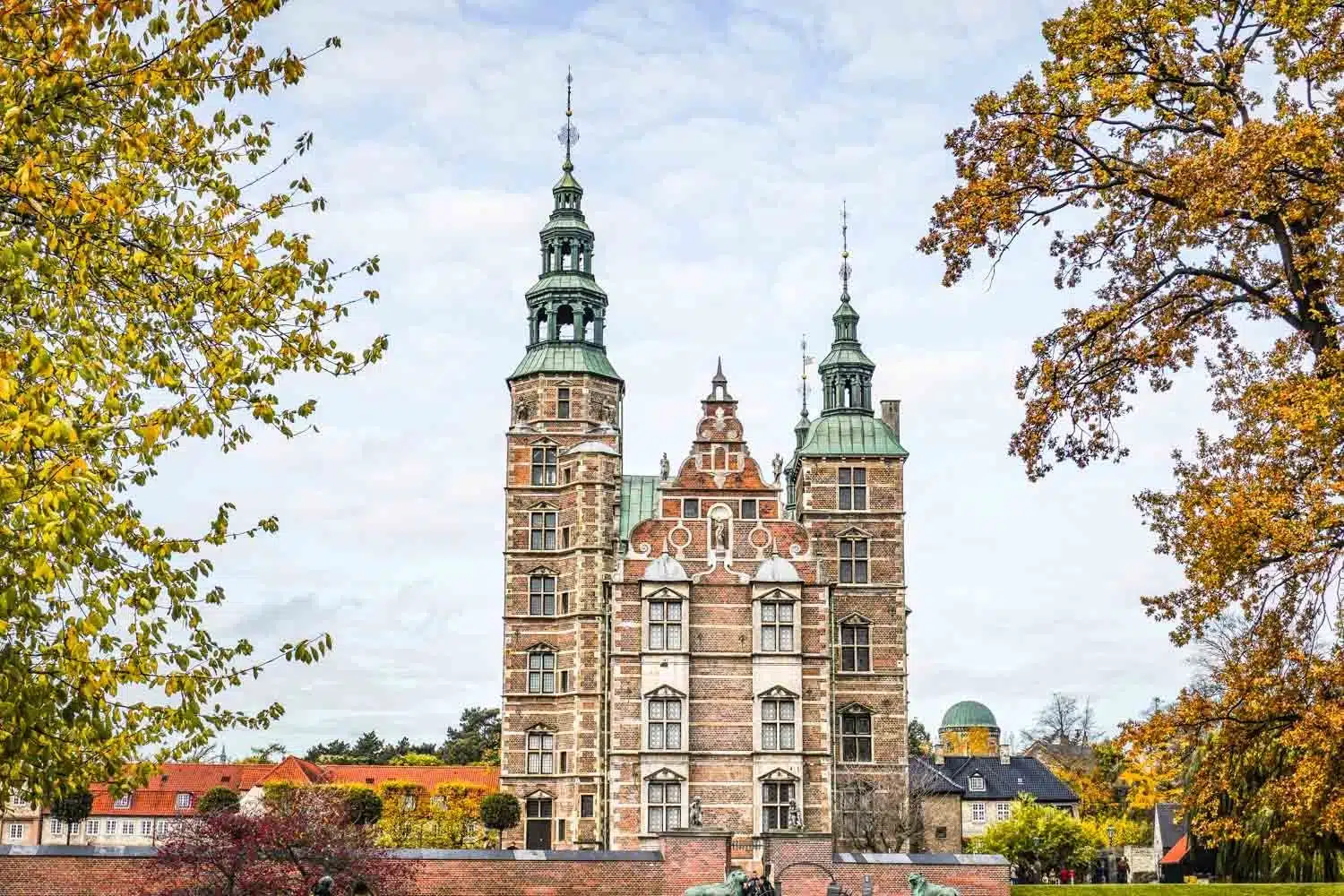 Round it off with a visit to the hedonistic Rosenborg Slot. Nicknamed Copenhagen's pleasure palace after King William IV built it to indulge his wilder occupations, it's also home to the Danish Crown Jewels.
If you have a bit more time, there are a number of castles and palaces in the wider Copenhagen region you should visit.
Read more: Copenhagen Palace and Castle Guide
Visit the Christmas Markets
Copenhagen's Christmas Markets are the stuff of legend. Nothing, and I repeat, nothing is going to get you more in tune with what winter in Copenhagen is all about than visiting one of the city's cute Christmas markets.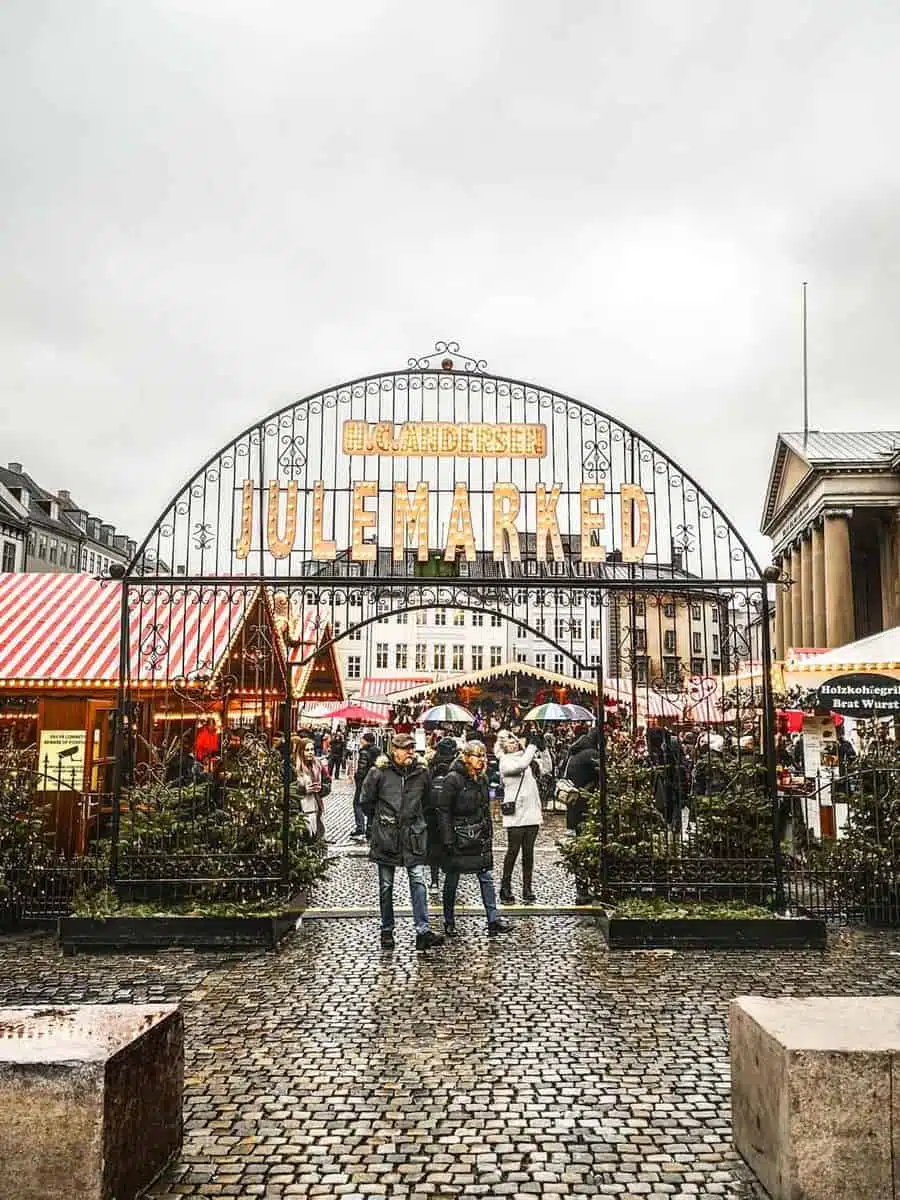 If you're visiting Copenhagen in December, I'd be surprised if you managed to avoid them anyway. December sees Christmas markets mushroom all over the city – the best-known is in the Tivoli, but there are others in Freetown Christiania, Nyhavn, Højbro Plads – there's even one at the Carlsberg Experience!
Check out the tourist board's Copenhagen Christmas Market guide for the full list and make sure you know what to wear in Copenhagen in the Winter.
Canal Tour
You should hop onto a canal tour at any time of year. Be warned though, it is absolutely freezing outside during the winter months, so if you want to stand outside the heated canopy on the tour boat, you should wrap up warm.
Tours depart from Nyhavn or Gammel Strand and take about an hour. Although you can see many of the tour's highlights – which include the Amalienborg Palace, Opera House, Christiansborg Palace and Nyhavn – on foot, watching as you glide by on the water is a unique experience.
Hang Out in Nyhavn
The colourful higgledy-piggledy buildings of Nyhavn really stand out on a crisp and clear winter's day. I know that Nyhavn is another of Copenhagen's tourist spots, but it's so much quieter in the winter months and it is so pretty that you can't not visit.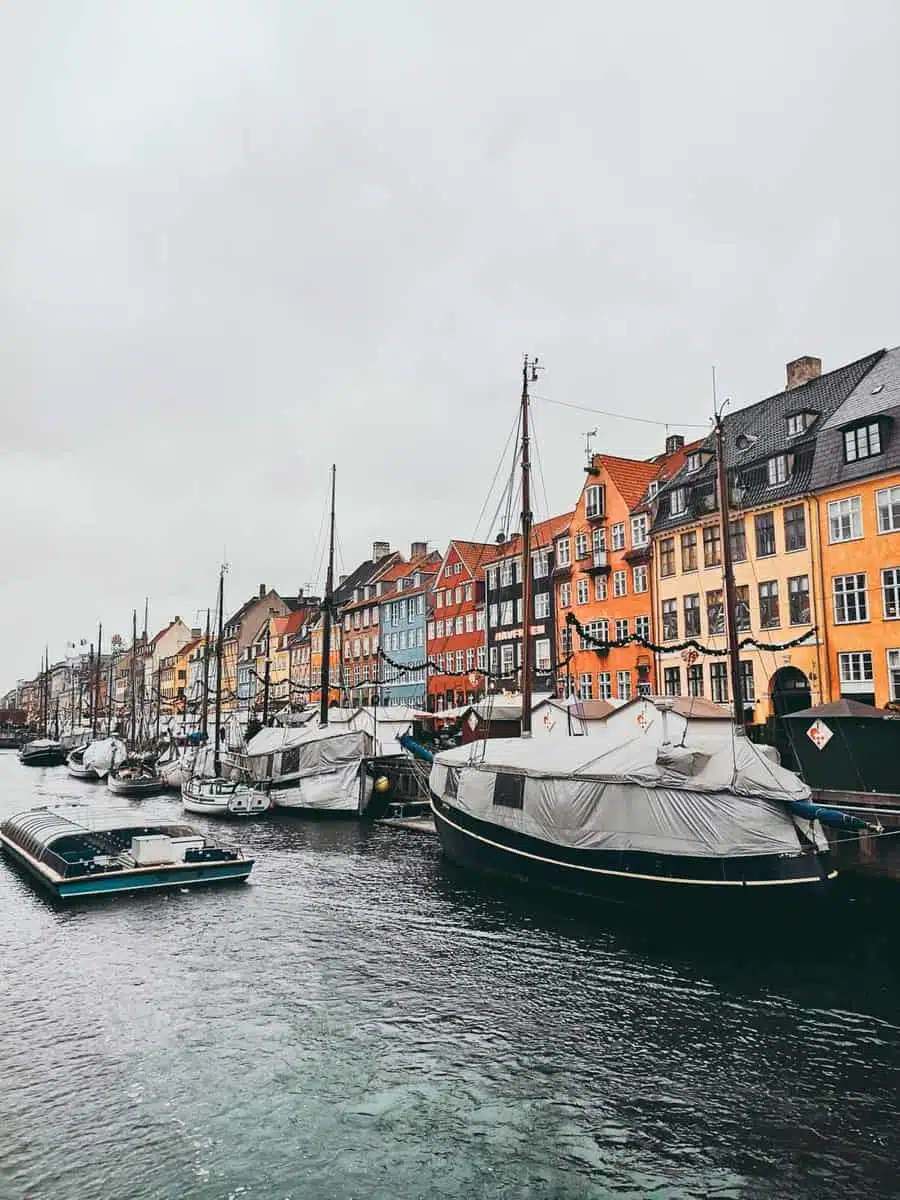 Back in the day, Nyhavn used to be one of Copenhagen's less salubrious areas – as the city's docks it was very much on the rough and ready side. These days, it's less riff raff and more cute coffee shops and canal-side walks. Don't forget to hunt out the house where legendary Danish storyteller Hans Christian Andersen lived either.
Read more: Three Days in Copenhagen Itinerary
Cosy up With Some Coffee…
Coffee culture in Copenhagen is on point – to the point I'd put it high up on the list of European cities that take their coffee very, very seriously.
It's cold out, so you're going to want something warm to heat you up – what's better than snuggling into a cool cafe with a perfectly made coffee and a good book?
Next Door Cafe and Democratic Coffee are some of the big names in town, but half the fun is just wandering into a nearby cafe when you're in desperate need of a caffeine fix.
Feast at Copenhagen's Cool Food Markets
I cannot tell you how much my stomach rejoices each and every time I tell it I'm visiting Copenhagen. Sure, there are a tonne of cool restaurants for you to eat at (errr Noma anyone?) but for me, Copenhagen's street food markets are where it's at.
Traditional Torvehallerne next to Norrebro station is one of the best – so I'd highly recommend that you start there. There's a diverse range of eateries covering pretty much every single cuisine you can think of (and probably a few that you can't too). Want to go full Danish? Head to Hallernes Smorrebrod and pick a few traditional Danish smorrebrod to sate your appetite.
The food market next to Tivoli is a slick affair, and is a useful stop if you're in that part of town.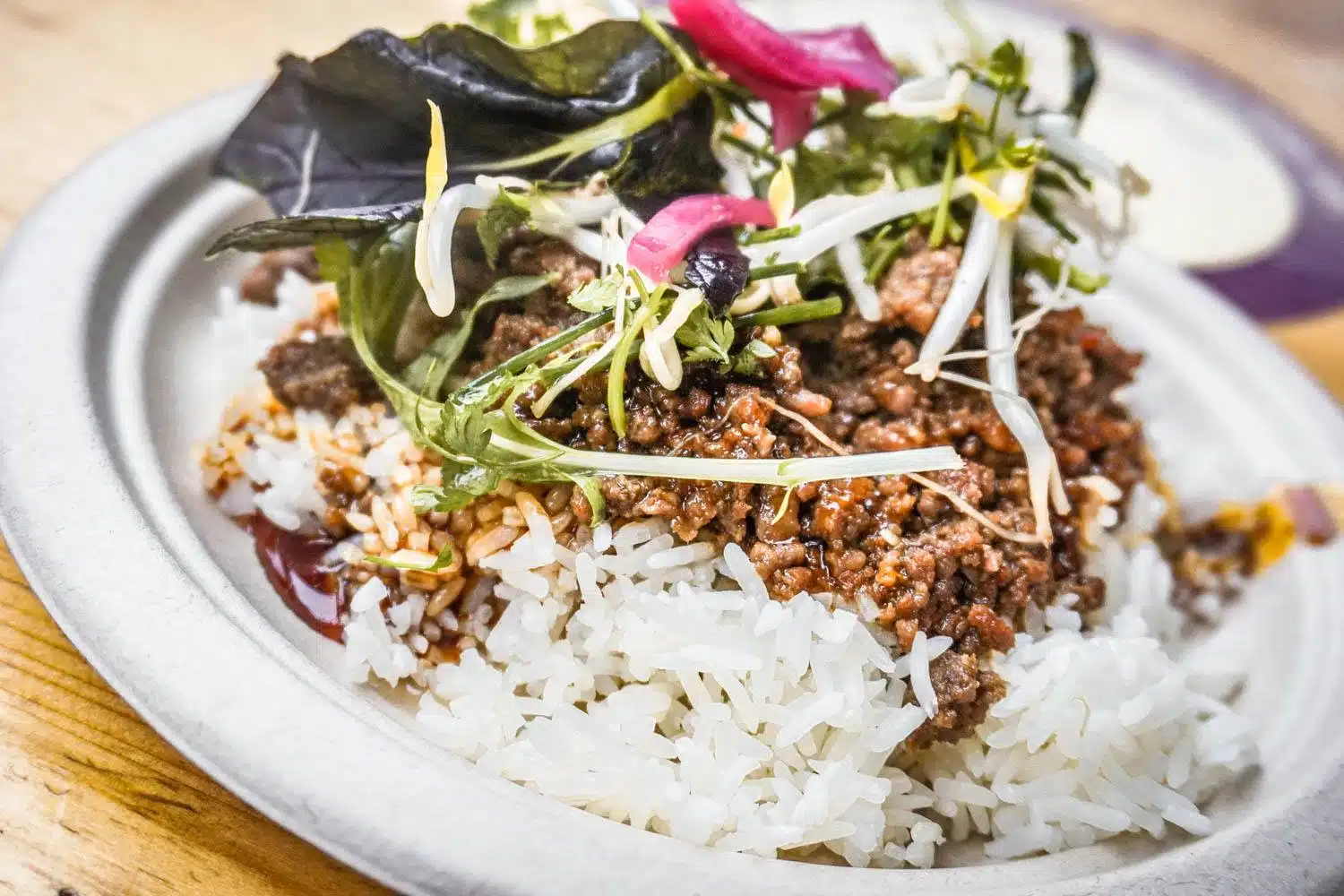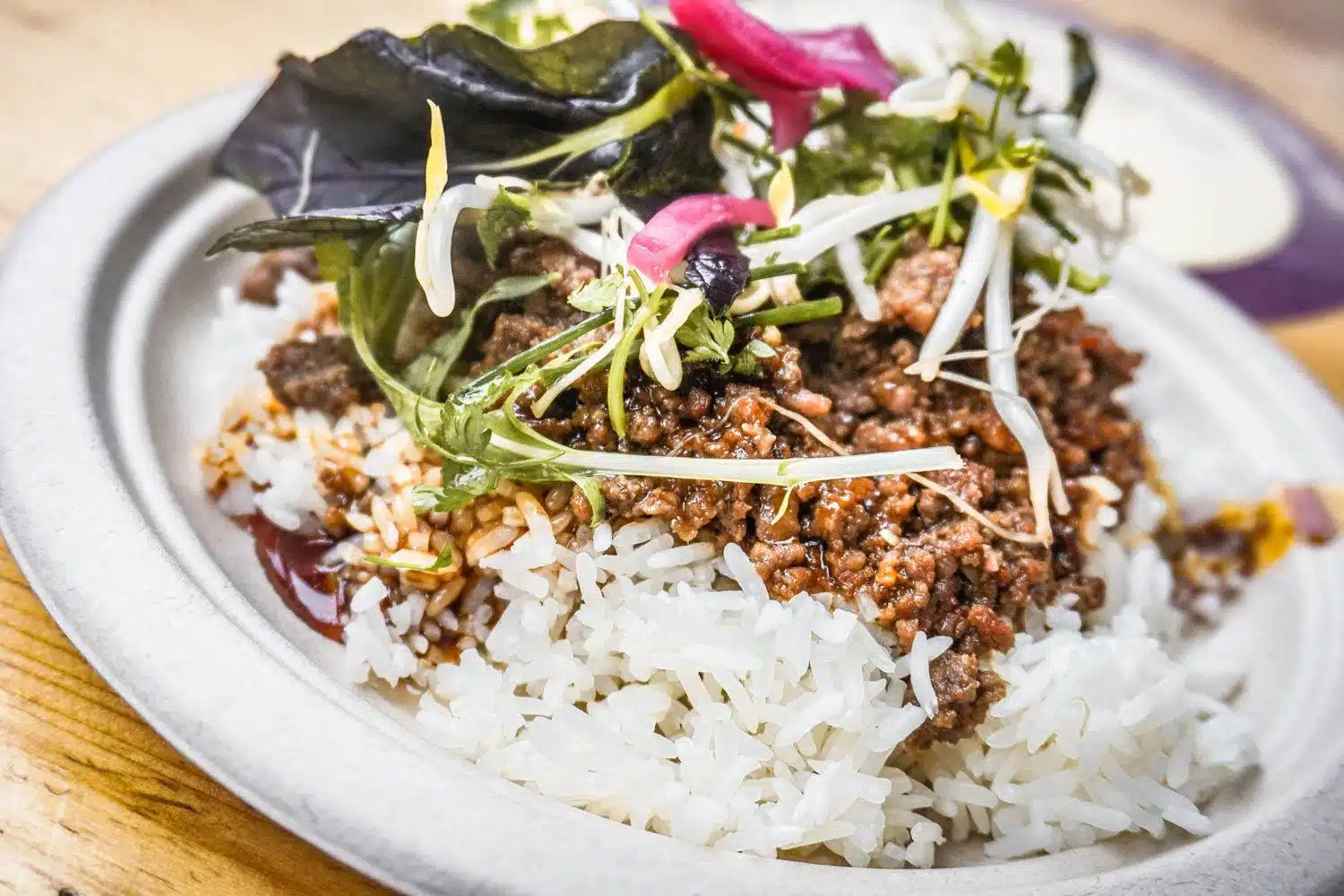 Contrastingly, the newly-opened Reffen Island is an absolute pain to get to (particularly if you miss your water ferry and have to wait 40 mins more for the next, doh) but it is so worth the effort.
Spread over 6000 square metres, it's packed with street food traders who'll happily serve you something to warm your cockles. My recommendation? Thrilla in Manila for straight-up Filipino spicy deliciousness.
Read more: Street Food Markets in Copenhagen
Go Museum Hopping
Copenhagen isn't short on a museum or two but to list them all would a) take an age and b) probably wouldn't be that interesting anyway so I'm just going to include my favourites.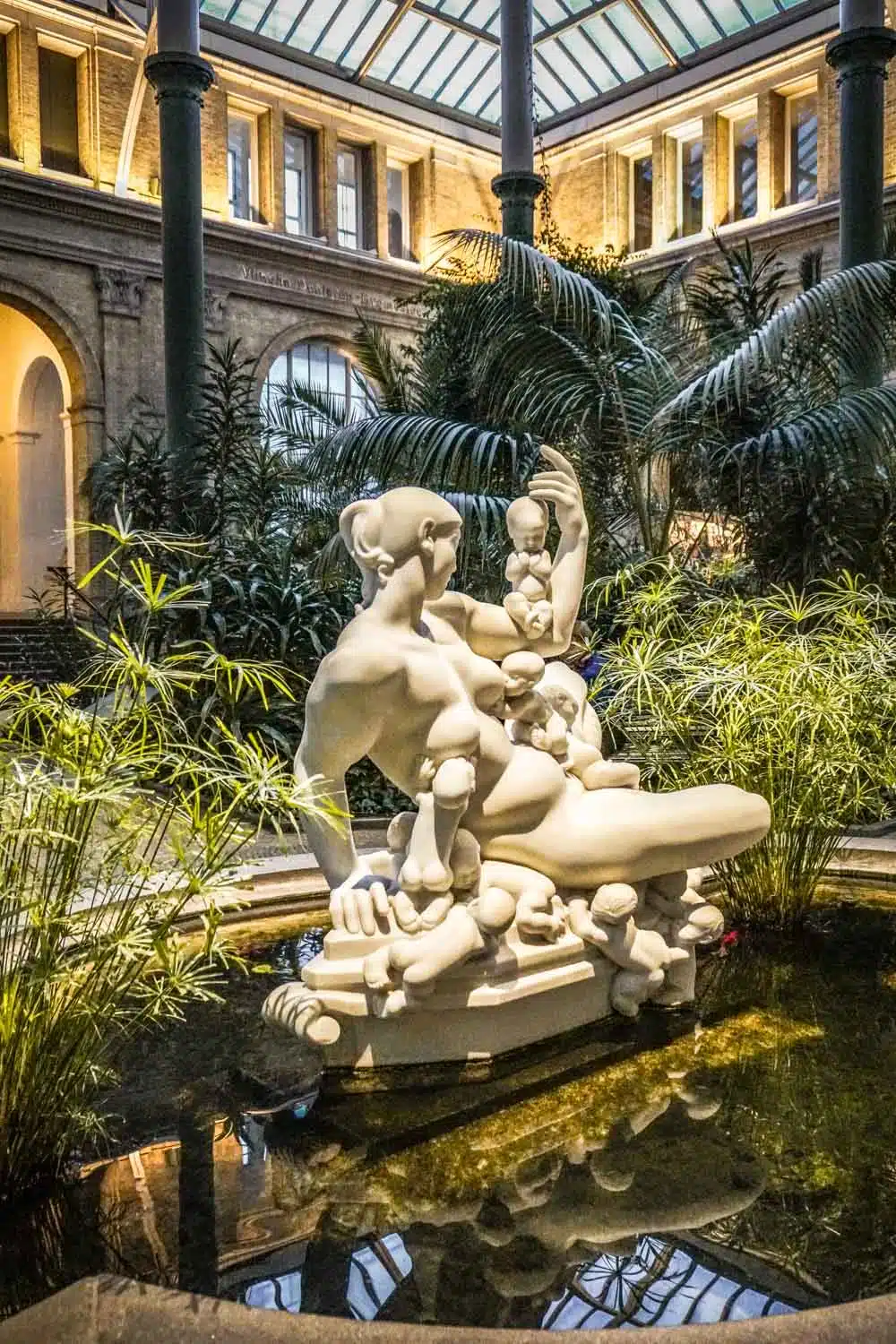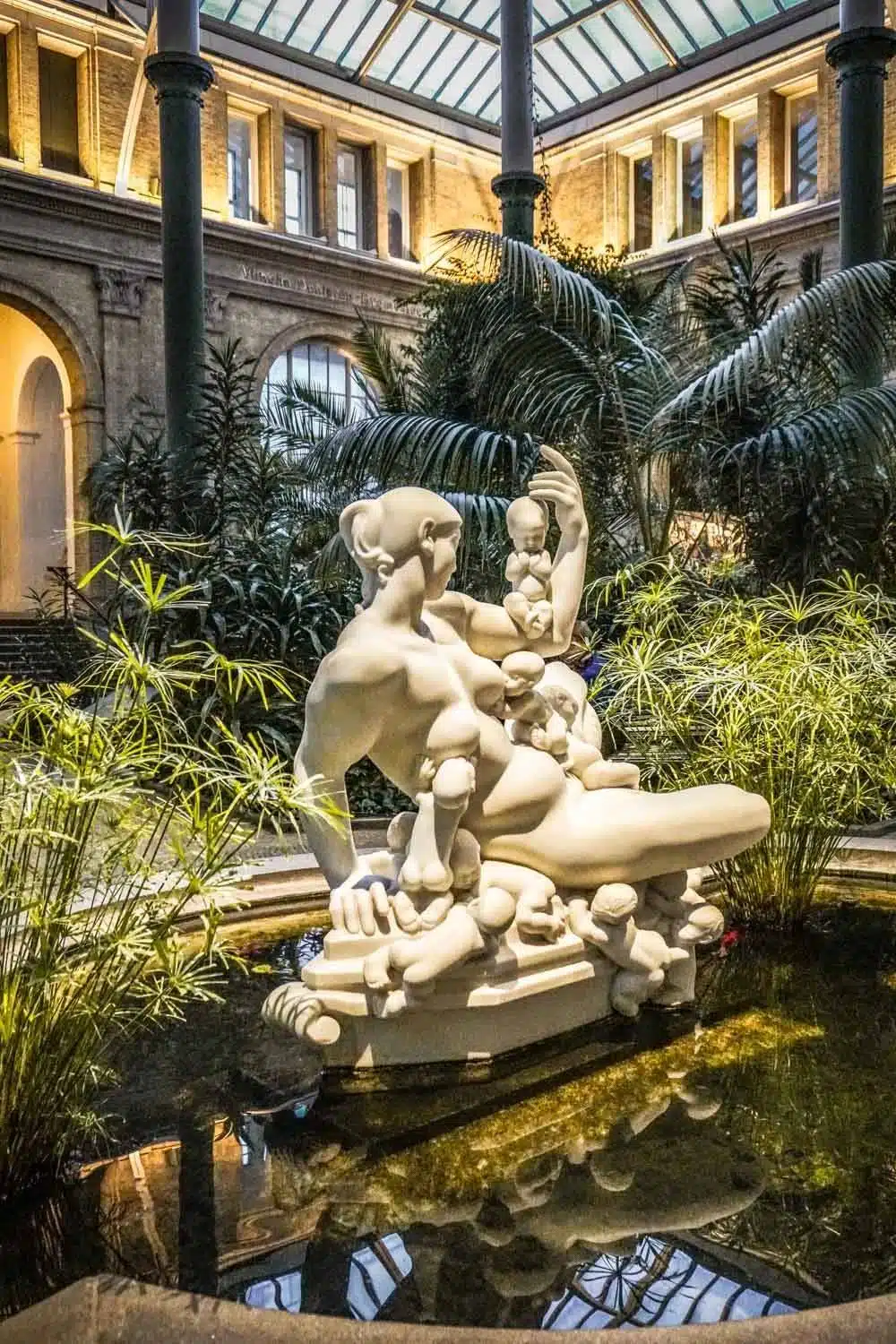 Absolute top of the list is the Ny Carlsberg Glyptotek – a museum centred around showcasing the history and beauty of sculpture.
The former collection of Carl Jacobsen – son of the founder of the Carlsberg dynasty, it's just stunning. Don't believe me? Take a look yourself…
Exactly. Allow at least a few hours for wandering around the museum's excellently-curated galleries, then cosy into their cool little cafe to rest your feet afterwards.
SMK – The National Gallery of Denmark is another big-hitter. The largest art museum in Denmark, you should believe me when I tell you that it is vast.
Be sure to wear some comfortable shoes and keep your eyes peeled for highlights such as The Portrait of Madame Matisse by… Matisse and the mind-boggling piece The Fall of the Titans by Cornelis van Haarlem.
Warm Up in a Hot Harbourside Sauna
Unfortunately, I didn't get to try this on my winter visit to Copenhagen but you can be sure that it's the first thing I'll be doing when I head back later in the month.
What's not to like? A sauna is always a good thing, but a harbourside sauna, complete with amazing views at CopenHot sounds too good to resist.
Embrace Hygge
There are few people who haven't heard of the Danish concept of hygge. It's blossomed from something that only the Danes had heard of, to an international obsession during the course of the last couple of years.
But what exactly is hygge and why should it be front and central to your Copenhagen winter trip? Hygge roughly translates as cosiness – the kind of warm feeling you have when you create a nice, warm atmosphere in which you spend quality time with your friends. It's prioritising and understanding the things that matter in life.
That means hanging out in coffee shops, snug neighbourhood restaurants, eating pastries, drinking glogg (Danish mulled wine) and sitting in front of open fires. Sounds pretty blissful right – who needs summer anyway?
Visit Copenhagen's Cool Cocktail Bars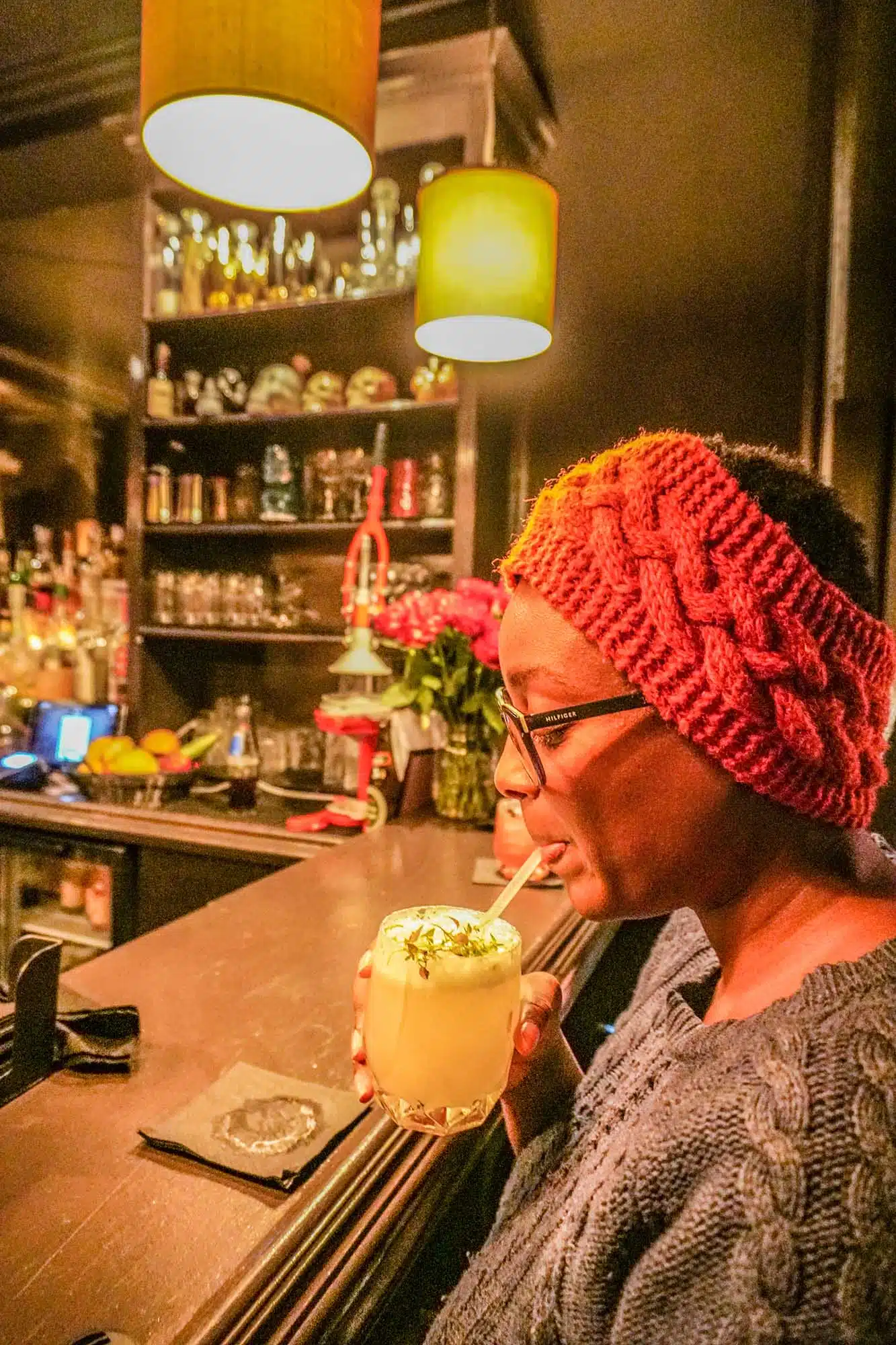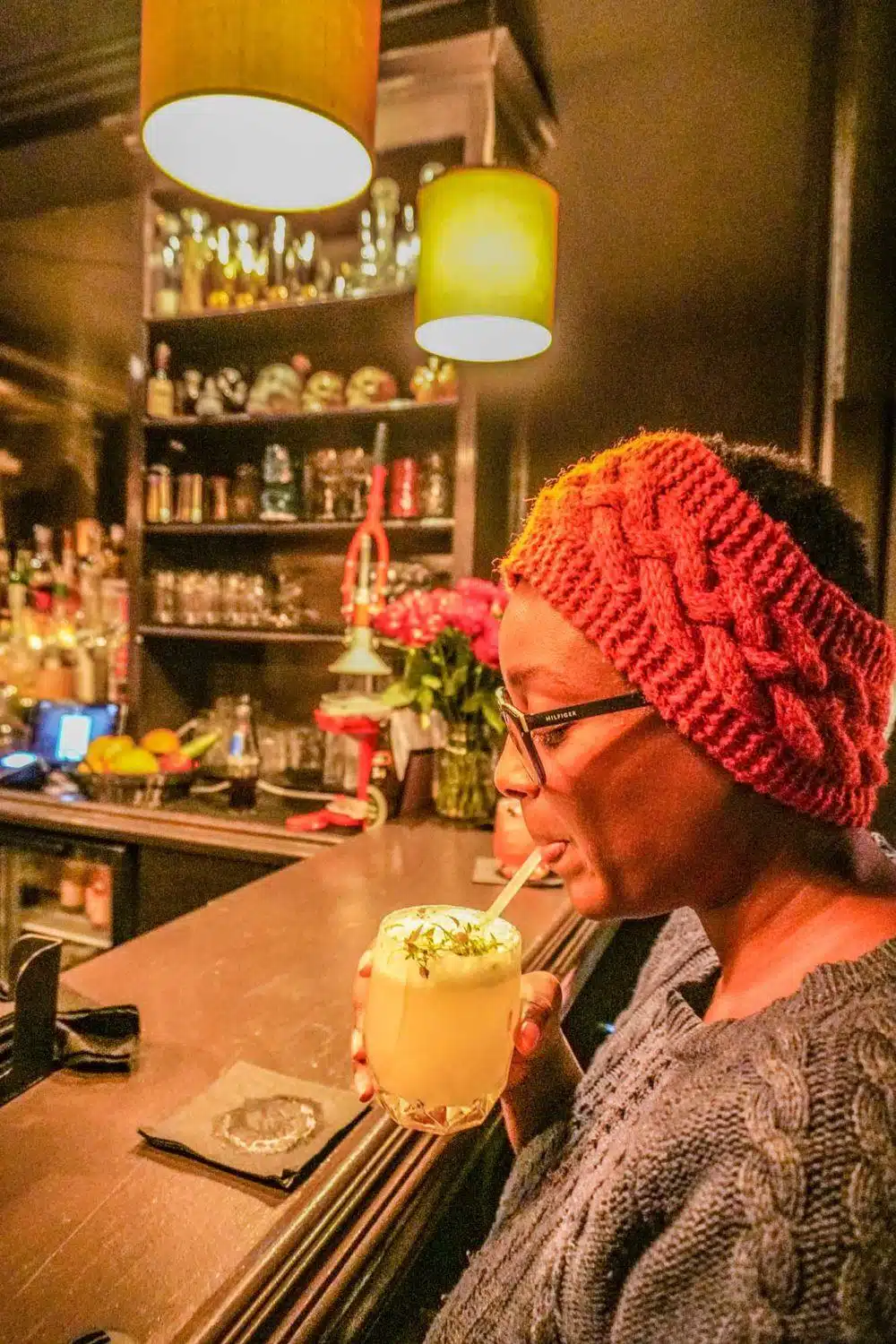 Look, Copenhagen has some very cool cocktail bars. There are few places I'd rather be on a chilly night than propped up next to a bar sampling a delicious cocktail.
If that also sounds like a good idea to you, be sure to pop into 1656.
It's just around the corner from the uber-cool Kodbyens (Meatpacking) District and has more than enough tasty tipples to keep you out of trouble for an evening.
Go and See Some Live Music
Like any European capital, Copenhagen has a thriving music scene. From neighbourhood jazz bars (I know, I know, these guys are so cool) to little music dens where you can get up, close and personal with your favourite artists there's always something on.
Suggested Copenhagen Winter Itinerary
Day One
Start your day with a visit to Christiansborg Palace before hopping onto the canal tour on Gammel Strand. Disembark at Nyhavn for a walk and lunch, pop into the sauna and hot tubs at CopenHot. Grab a quick bite at the Tivoli Market before heading into Tivoli for the evening.
Day Two
Start your day with a coffee and breakfast – before you head to Ny Carlsberg Glyptotek to take your time admiring the museum's impressive collection. Hop on a bus to Reffen Island for a street food lunch, before cruising back on one of Copenhagen's waterbuses. Walk back towards the centre down to the Amalienborg and Rosenborg Palaces. Stop off for coffee and a spot of hygge before dinner and cocktails.
Day Three
You can either spend your third day exploring more of the city (see my piece on the best things to do in Copenhagen for ideas), or head out on a day trip from Copenhagen. Kronborg Slot a.k.a Hamlet's Castle, Frederiksborg Castle (which houses the Danish Museum of National History) and the Louisiana Museum of Modern Art are all easily reachable from the city.
Watch out for the shorter winter opening hours though.
Things to do in Copenhagen in Winter: Map
Click here for the things to do in Copenhagen in winter map