Copenhagen's street food scene is popping. From huge industrial complexes filled with every flavour imaginable, to old-school markets packed with Danish specialities – here are 5 Copenhagen food markets you shouldn't miss.
Who else loves street food? You know, that uniquely wonderful phenomenon where you can walk up to a food truck or a stall, order something tasty and be tucking into your feast within a matter of minutes.
My hand is firmly up. I hope yours is too.
Copenhagen isn't short on a street food hotspot or two… and hunting out the city's best street food dishes should be on your list of must-do Copenhagen activities.
All very well and good for me to say, but you need to know where to go to get down and dirty with a hungry stomach in tow, right?
These are the top places you need to have on your list.
Street Food Markets in Copenhagen
Reffen Island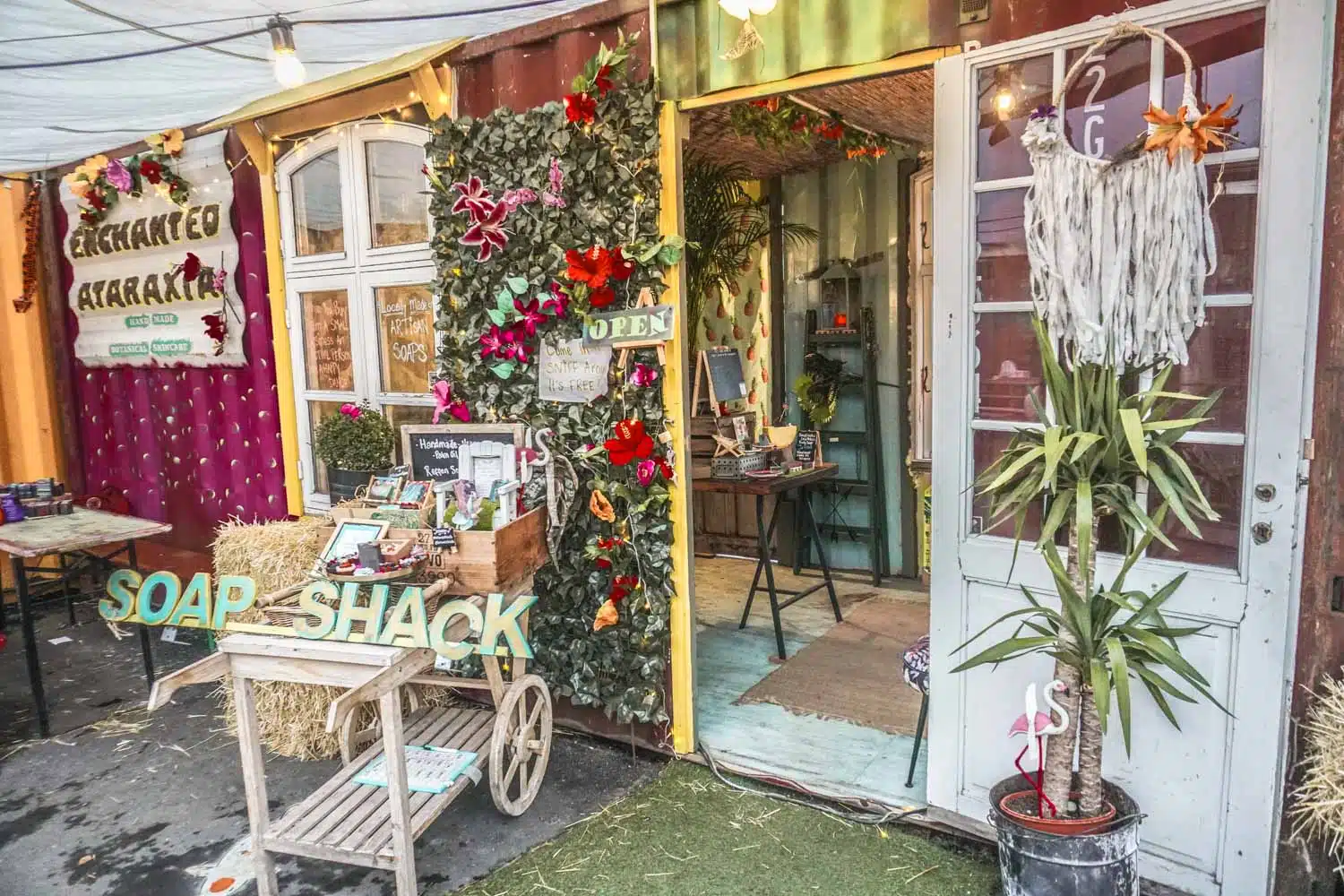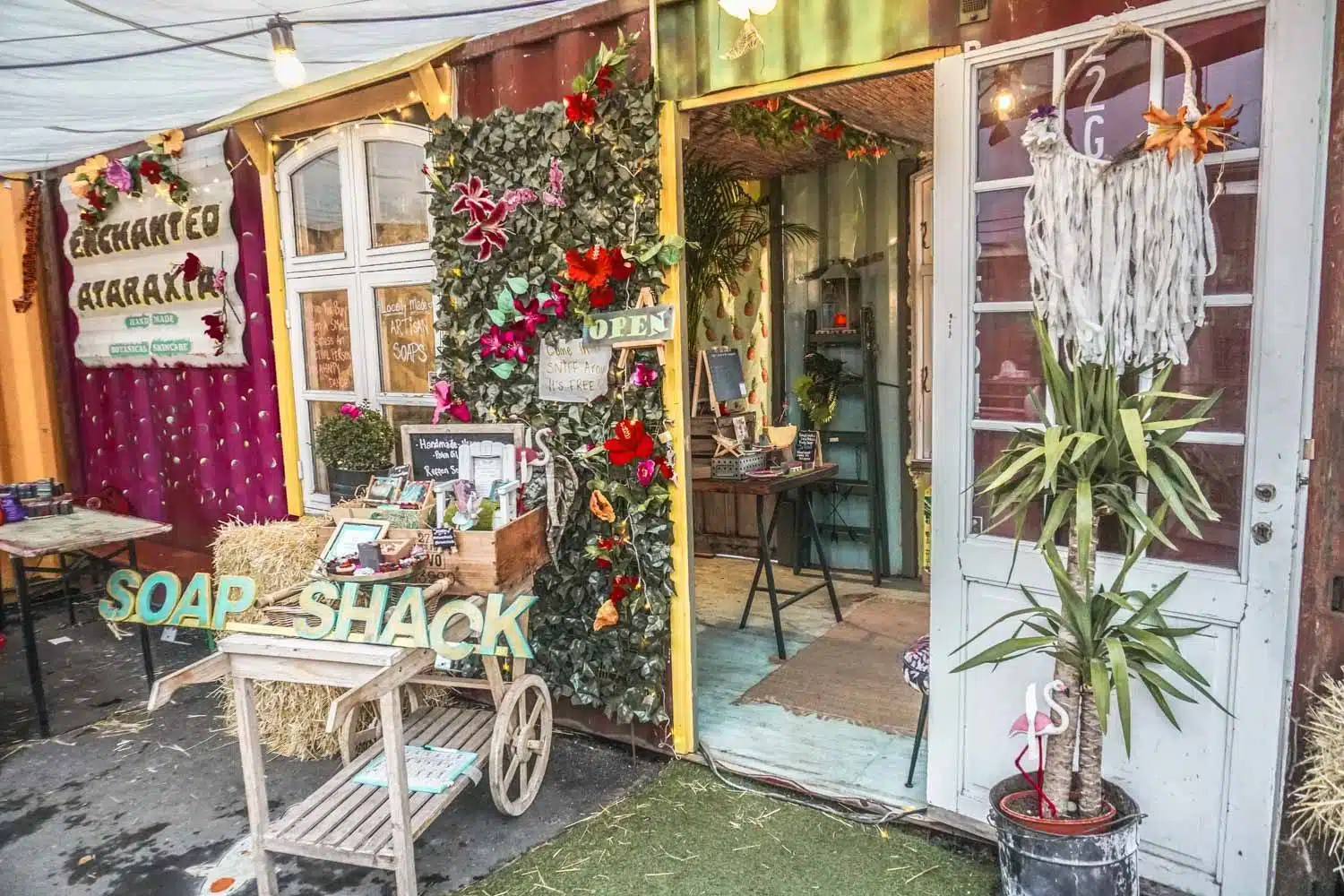 Reffen Island is one of the newest street food market in Copenhagen – and one of its most ambitious. It thundered onto the city's street food scene just a couple of years ago with a mix of over 50 street food trucks, bars and boutique shops in a largely outdoors location on Refshaleøen.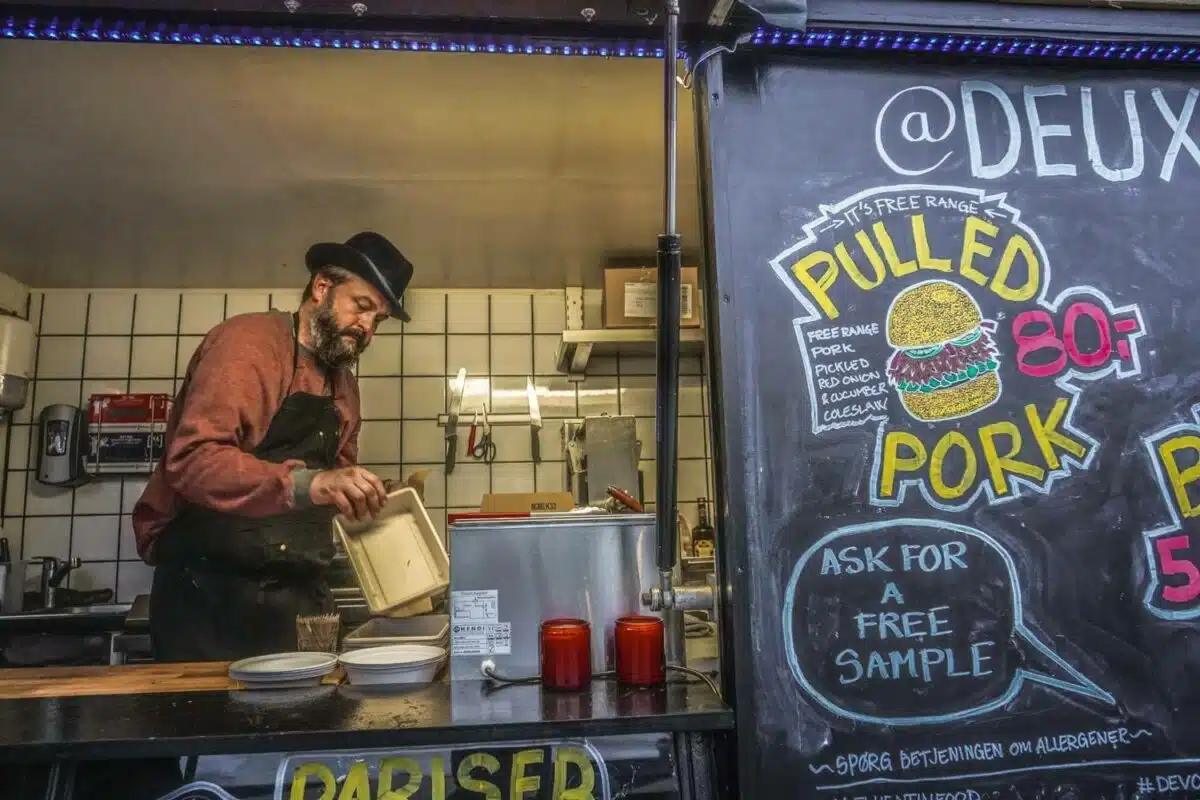 Reffen is large. The space alone covers a whopping 6,000 square metres and is packed with so many street food stalls that it's impossible not to find something to suit even the fussiest eater. You could eat a different dish from stallholders at Reffen for a month and still have plenty to choose from.
From banging Filipino spiciness to full racks of ribs, vegan burgers or plates of filling pasta, Reffen Island's stallholders are diverse and eclectic. Yet they are all united in their passion for good-quality food made using locally-sourced ingredients. That's a concept I can totally get behind.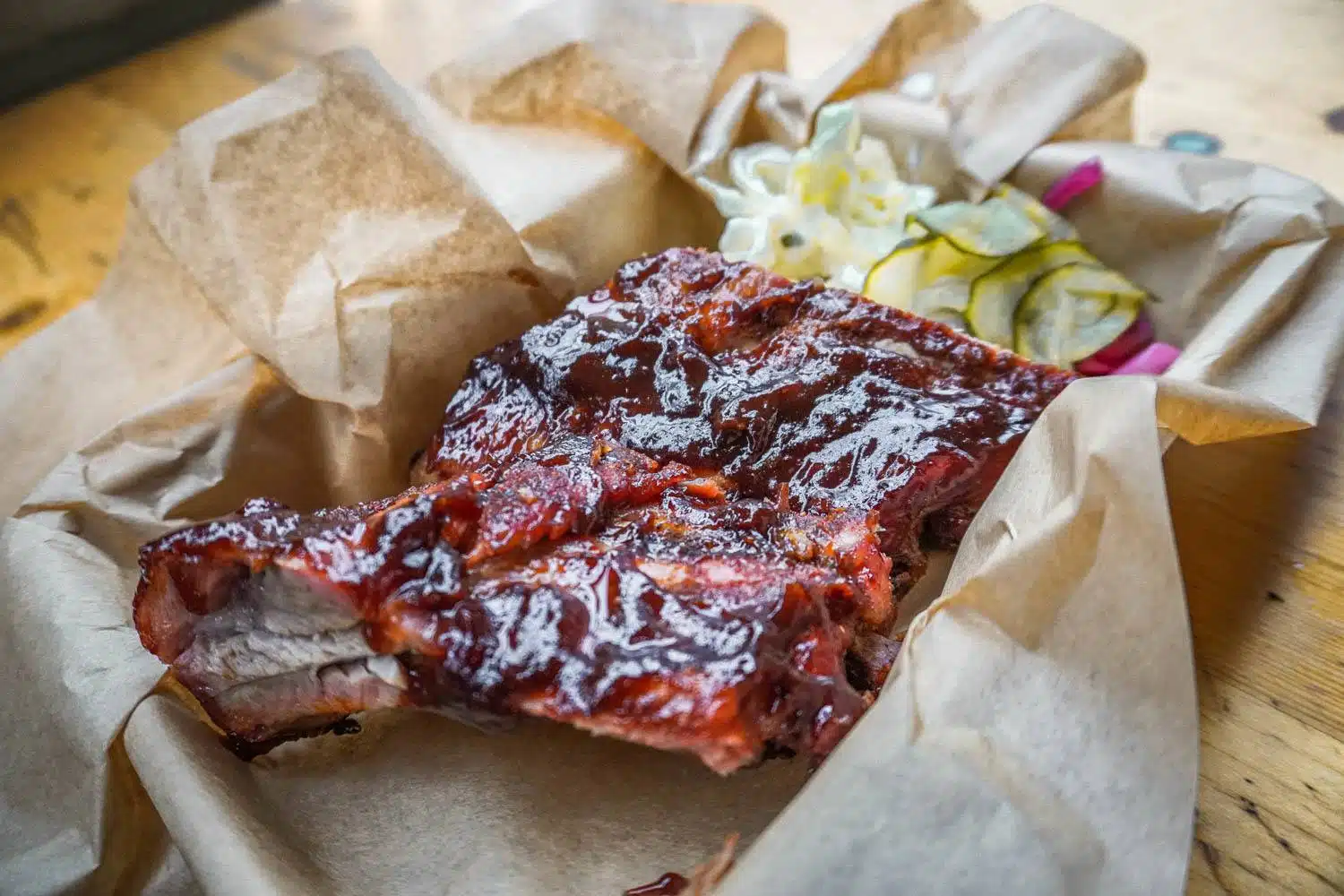 I've tried to pick a favourite vendor but it's just too tough. Really, I think it's better to say that I haven't had a bad meal here at all and you should just pick whatever you fancy on the day.
Although Reffen Island is a new concept, its owners are old hands at putting together exciting Copenhagen food markets that get your taste buds tingling: they previously ran the now closed down street food hotspot Paper Island.
Wrap up warm: While Reffen is open all year – Copenhagen's winters can be cold. There are braziers but you should go prepared.
Getting to Reffen Island Street Food Market in Copenhagen
You have several options when it comes to getting to Reffen.
Take the harbour bus 991 or 992 to Refshaleøen (using the harbour buses and all public transport is free with the handy Copenhagen Card). The harbour buses aren't that frequent (one Sunday we missed ours and the next one wasn't for another 45 minutes) but they're quick once you're on them.
Hop on bus 9A from the centre of the city. The bus is every 5-10 minutes and takes about 10-15 minutes to take you back into the centre of the city.
Take a canal cruise to Refshaleøen. This is the most expensive option and not really worth it unless you have bought the hop-on-hop-off ticket for your trip.
Torvehallerne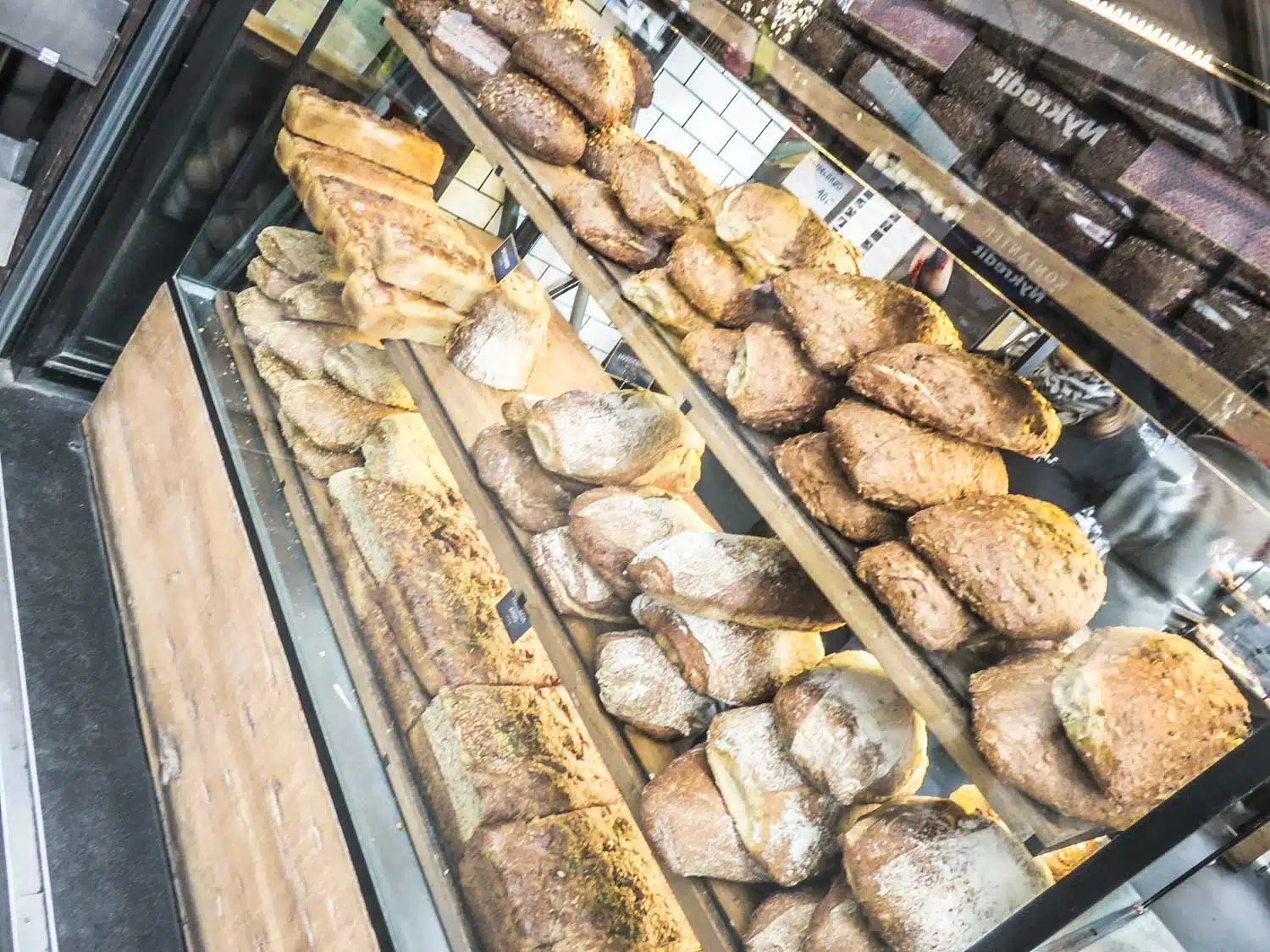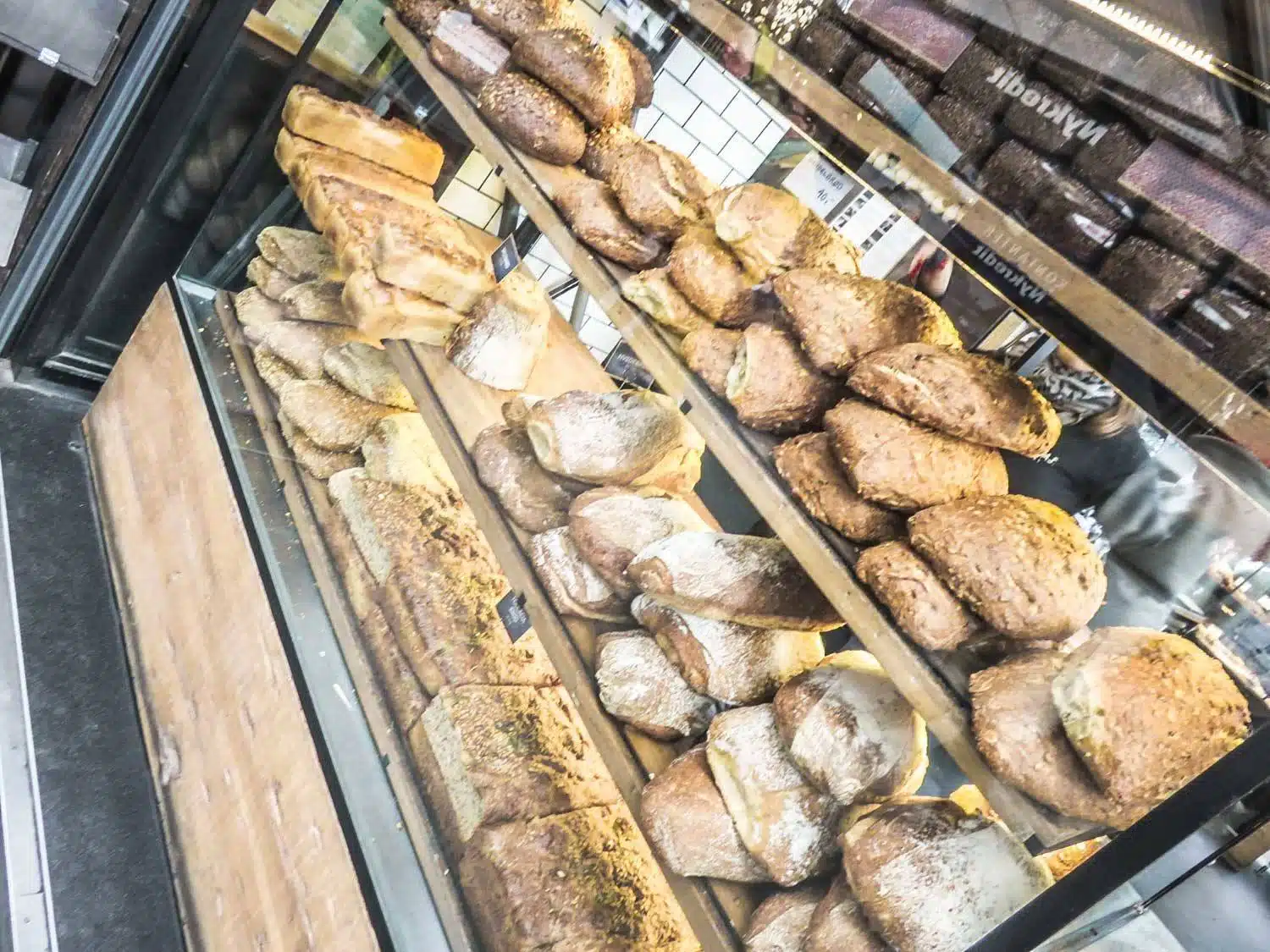 Torvehallerne is a cool food hall right in the centre of Copenhagen. Mere paces away from the city's Nørreport station (and the equally busy street of the same name), it's an easy Copenhagen food market for you to add to your Copenhagen itinerary while you are in the centre of town.
OK, so we've established that it's easy to get to but why should you visit? Well, I have two questions for you.
Do you have tastebuds?
Do you get hungry?
If the answer to both of those is yes, then I'd strongly recommend that you shuffle along with Torvehallerne to treat your stomach with a few tasty indulgences.
Torvehallerne is not only a street food market – the food hall is actually a living, breathing food market where locals buy their fish, fruit, meat and veg from too. If you're staying in an Airbnb or anywhere where there are cooking facilities, it's a great place to stock up on ingredients.
Walking around, I was struck by the emphasis on quality produce – something that translates to their street food offering too.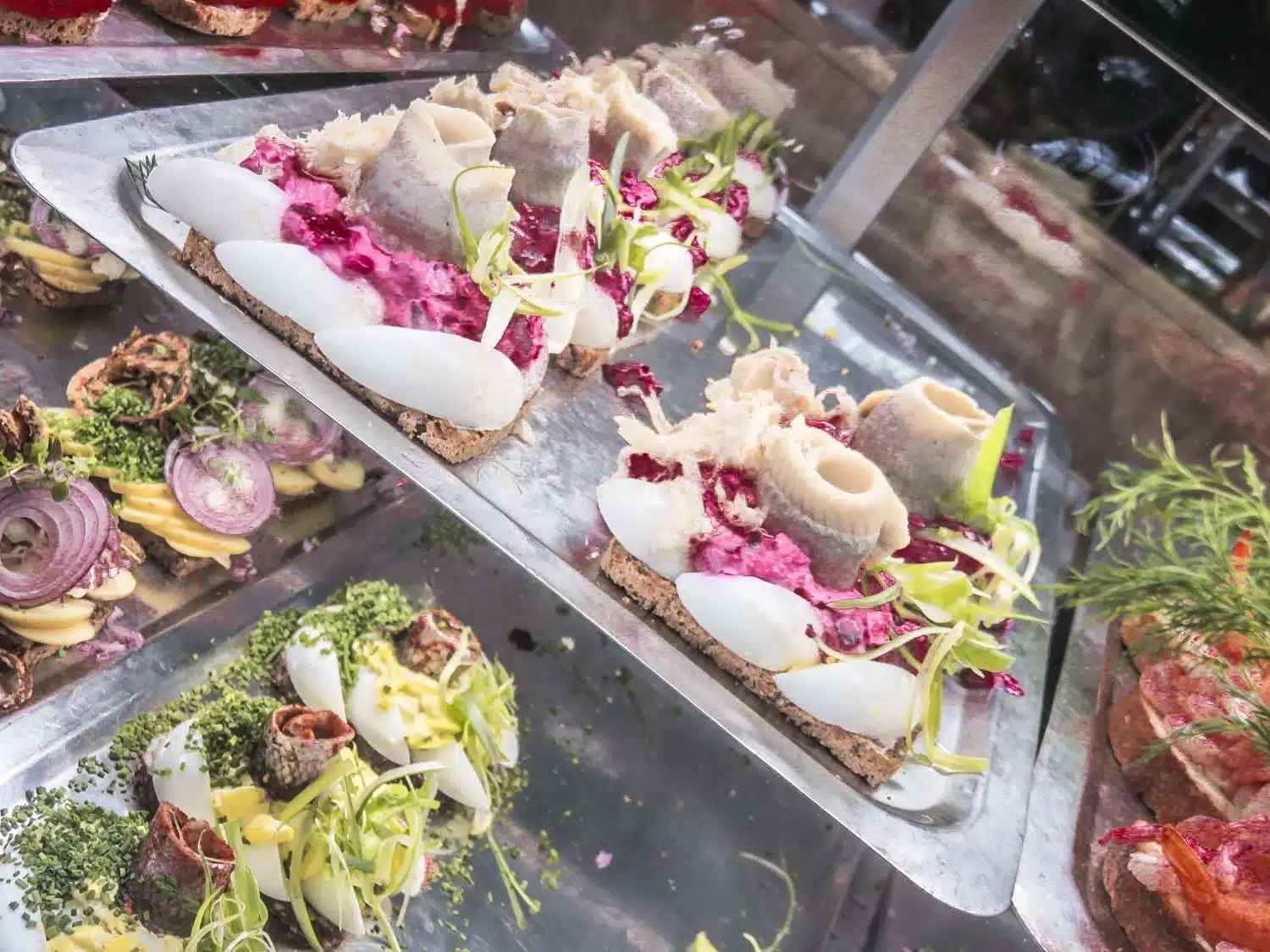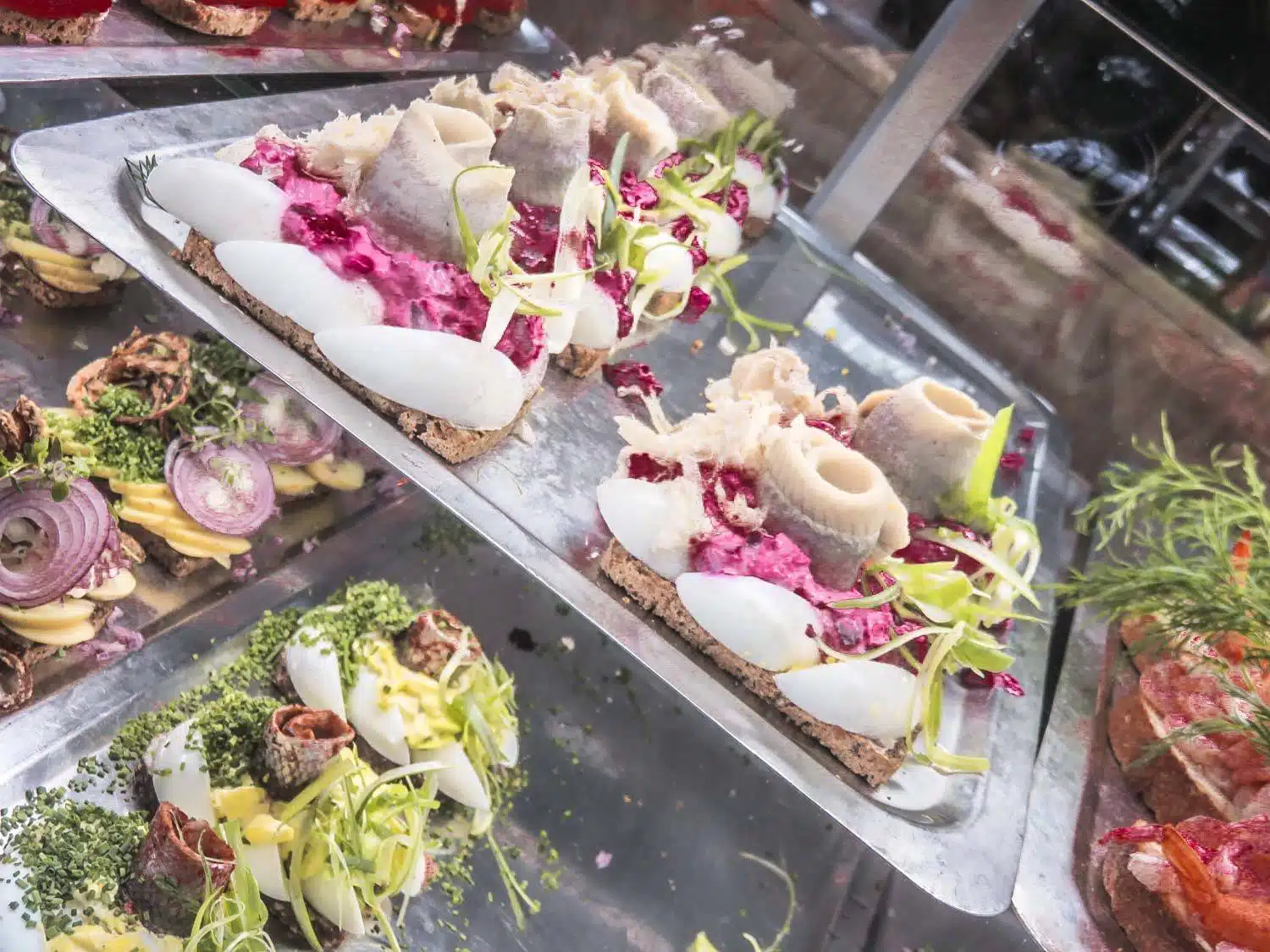 First up, if you're even remotely into Danish smorrebrod (buttered rye bread piled high with all manner of ingredients) you have to try it from the Copenhagen institution Hallernes Smorrebrod. Whether you opt for simple classics such as herring or opt for a more elaborate option, there are few places better to feast on this Danish classic.
If that's not quite to your taste (or you're just plain greedy and you've decided to max out while you're in town – no judgement), there are lots of other vendors for you to choose from.
Hija de Sanchez is where you'll want to pick up the tastiest tacos in Copenhagen, while Chinese street kitchen Bingo serves up crispy Jian bing crepes.
All work (unsurprisingly) well with a glass or two of locally-brewed Mikkeller Beer or wine from vintners VinVento II to wash them down.
Getting to Torvehallerne Food Hall in Copenhagen
Torvehallerne is less than a minute away from Norreport Station – it's incredibly well connected by bus, train and metro. It's also pretty much right in the centre of the city, so you can walk it easily.
Broens Gadekøkken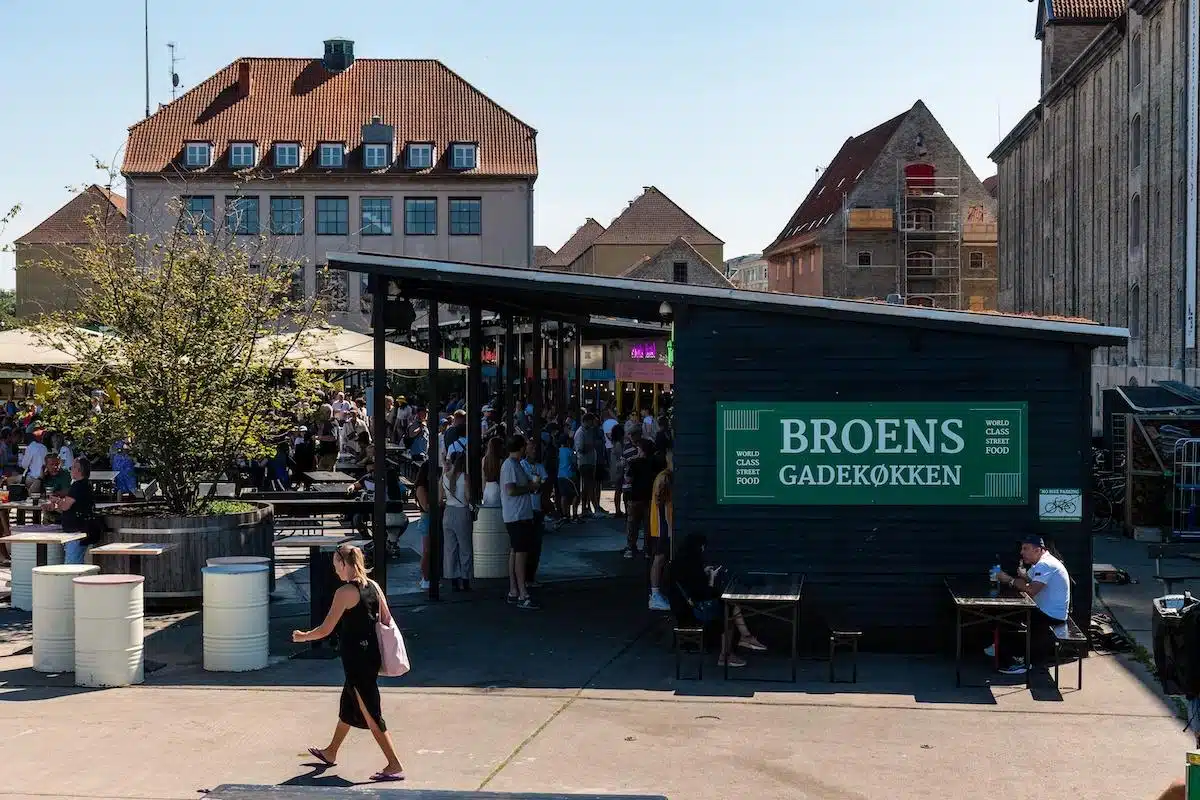 Broens Gadekoekken, or the Bridge Kitchen, first opened in 2016 and has since become one of the top places to chow down in Copenhagen. This street food market, located in the trendy Nørrebro neighborhood, offers a wide variety of delicious and affordable dishes from around the world.
Housed in – and around – a former factory building, there are more than 20 food stalls and trucks to peruse, each serving cuisine from around the world.
Swing by The Coffee Collective, one of the most popular roasteries in Copenhagen for a reason, and purchase a cuppa Joe. Or, if you're in need of some sustenance, Gastrologik, specialises in delish Nordic cuisine with a modern twist – think pickled herring with dill and apple, or smoked salmon with beetroot and horseradish.
Still hungry? Gasoline Grill's burgers will fill you right up (I mean it, those patties are huge), while Haddock's fish n chips are pretty spectacular. And that's coming from a Brit.
Getting to Broens Gadekøkken Food Market in Copenhagen
This market sits just across the bridge to the east of Nyhavn. The easiest way to get there is to take the metro M1 to Kgs. Nytorv or Christianshavn Torv. From these, it's a short walk.
Tivoli Food Hall
Next to the completely over the top but still loveable Tivoli Gardens, the Tivoli Food Hall is a relatively new food market in the heart of the city.
If Reffen is the scrappy but creative side of Copenhagen's street food scene, Tivoli is its more upmarket and more sanitised cousin. I wasn't quite convinced – there were far too many international big names and too few truly independent businesses in the food hall for me to get that excited about it.
That said, the location and choice of food on offer makes it a worthy contender for your wallet if you're looking for a quick bite to eat in the centre of Copenhagen.
Getting to the Tivoli Food Hall
Again, the Tivoli Food Hall is well-located in the centre of the city. Right next to Tivoli Gardens and across the road from Central Station, it's well served by buses, metro (Kobenhaven H station) and trains.
One for the Summer: Kodbyens Summer Weekend Food Market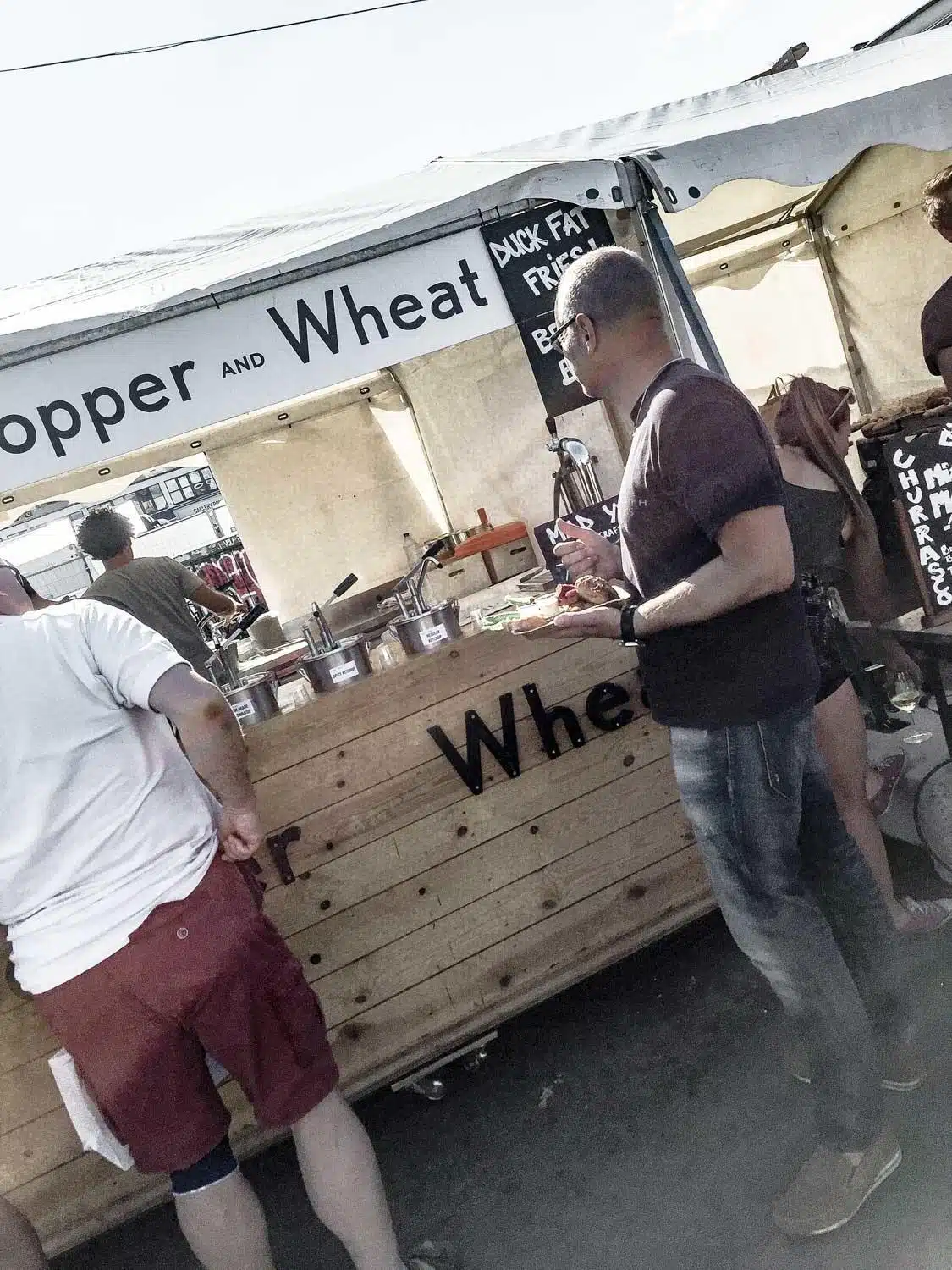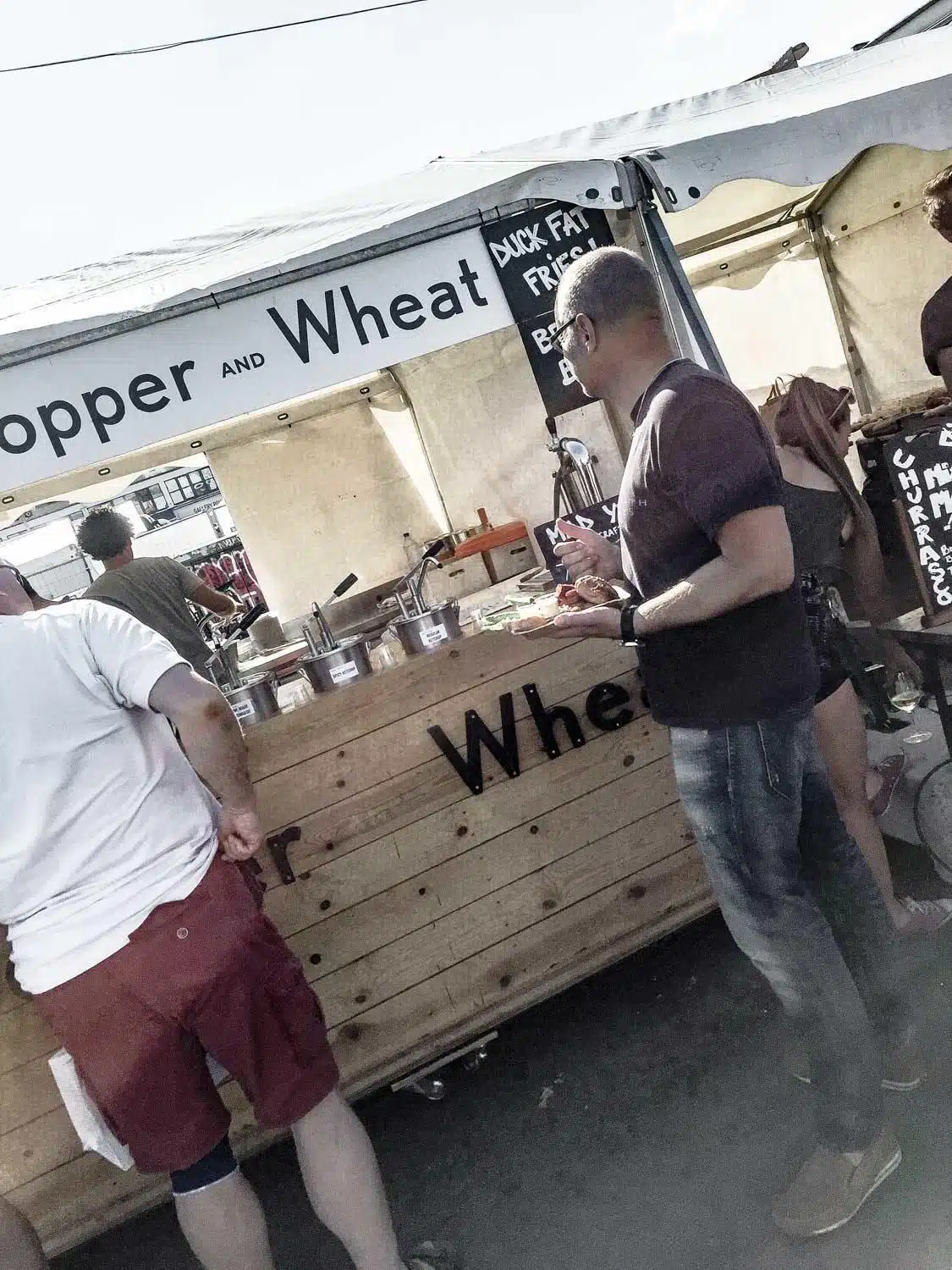 A weekend market in Copenhagen's cooler than cool Kodbyens (Meatpacking) district.
Expect even more delicious bites (the Kodbyens district already boasts some of the city's best restaurants – in fact, if you only have time for one sit-down meal in the city, I'd make it Kodbyens Fiskebar).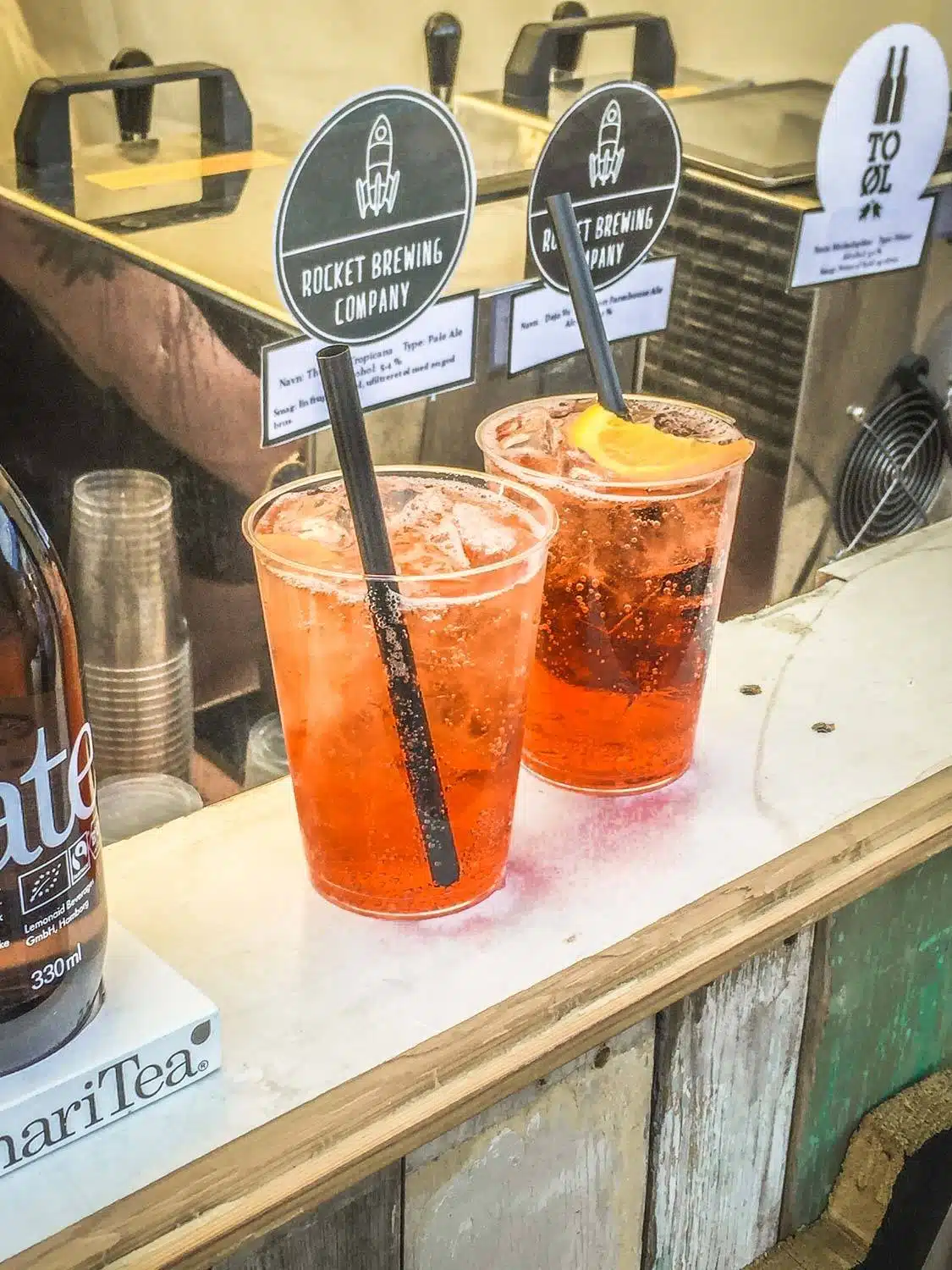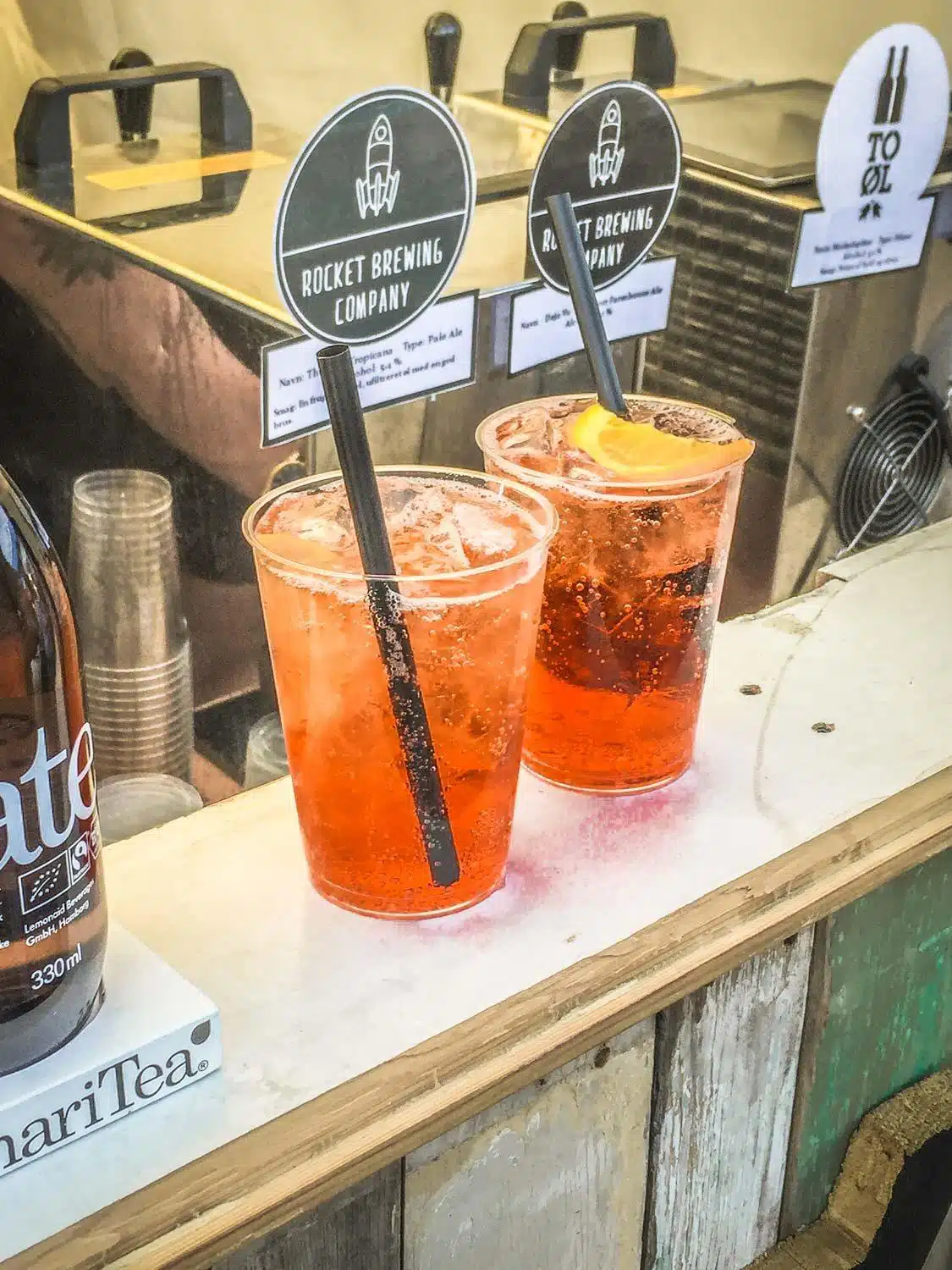 Plus some rather refreshing summertime beverages.
Getting to the Kodbyens Summer Weekend Food Market
The Kodbyens district is about a five minute walk from Copenhagen Central / Kobenhaven H station for trains and metros. There are plenty of buses that stop nearby too.
Copenhagen Street Food Map
Love this? Save and share on Pinterest!