Wondering where to stay in Santa Barbara? This handy guide has got you covered when it comes to the best hotels and neighbourhoods in the city.
Okay, pals – It's time to discover Santa Barbara. Well, more specifically, it's time to discover where to stay in Santa Barbara.
Is it really any surprise that a place with the nickname American Riviera is one of my fave spots in the USA? I didn't think so, either.
Sitting on the central California coast, a region known for its vast natural beauty, Santa Barbz makes for a particularly great road trip from L.A. This city is famous for its gorgeous beaches, red-tile stucco buildings and upscale dining experiences.
What's more, there are so many exciting things to do in Santa Barbara, from visiting its Urban Wine Trail to surfing some waves on its expansive beaches.
But where to stay? An excellent question. Luckily, I've got the answers. Read on to find out where to bed down in Santa B.
Best Places to Stay in Santa Barbara: At a Glance
Where to Stay in Santa Barbara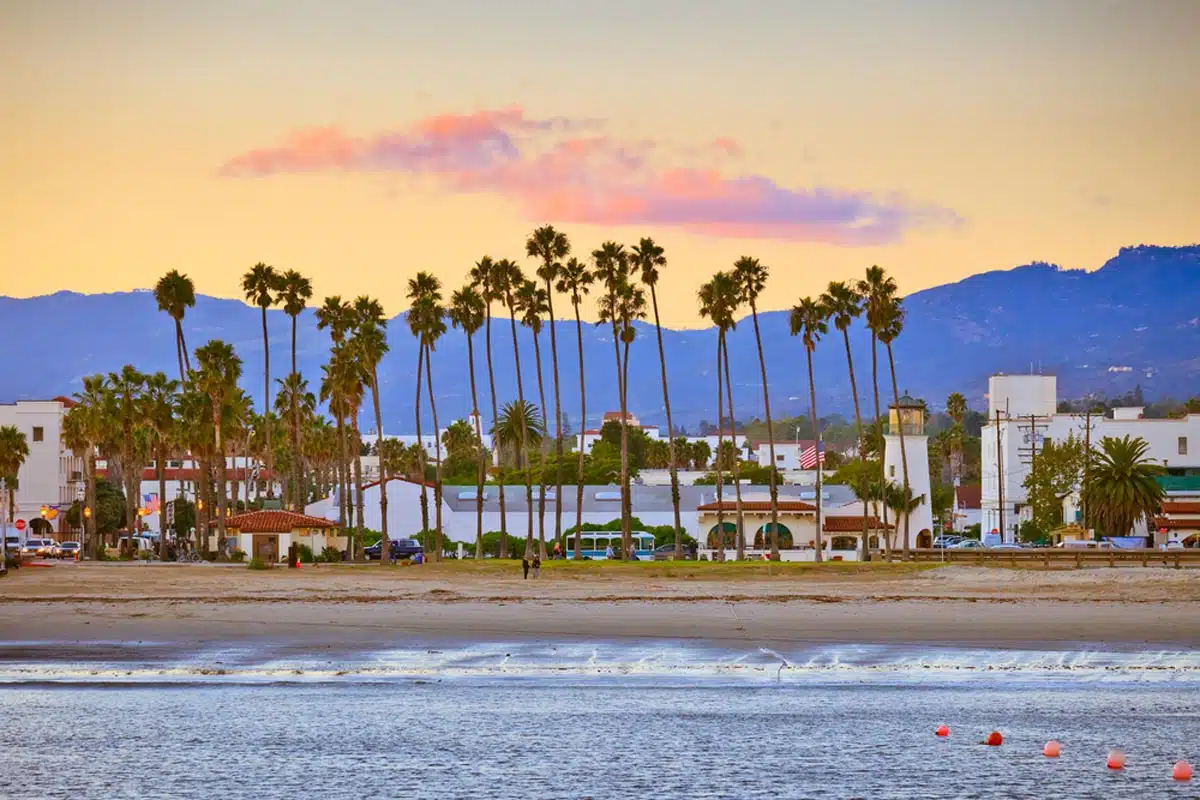 Santa Barbara is a fantastic place to stay along the central coast, as it boasts wineries, picturesque views, and a hella relaxed way of life (sign me up).
That said, each of Santa Barbara's neighbourhoods possess different vibes, and here are my favourite places to stay in Santa Barbara.
West Beach: Best Area for Sightseeing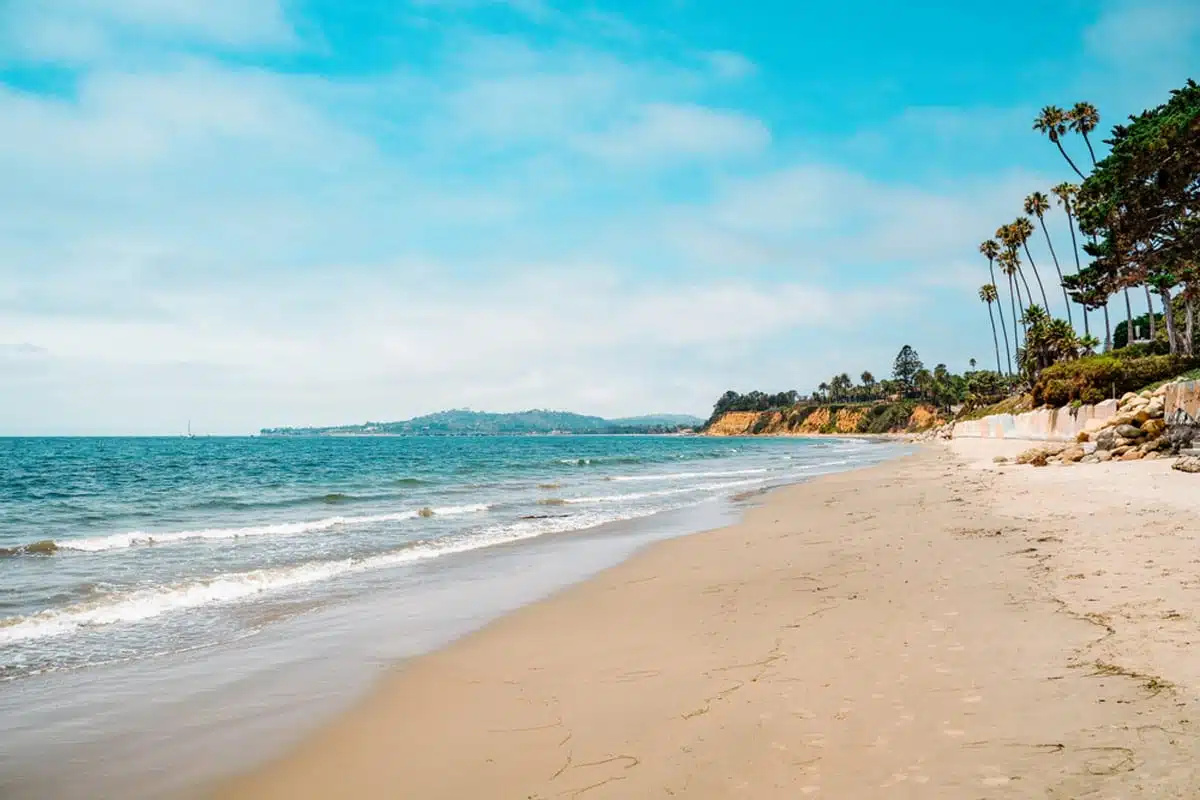 As with many seaside cities and towns along California, beaches are a spot of top intrigue for visitors and locals alike. Ideal for taking a dip, lazily reading a book, or even just enjoying the views.
And luckily for you, West Beach certainly has these.
Besides this, it's also a terrific place to learn more about Santa Barbara's history, at the Museum of Natural History Sea Center or at Stearns Wharf, California's oldest functioning wharf.
There are also tonnes of places to stay in West Beach, whether you're looking for an Airbnb in Santa Barbara or a luxury hotel.
West Beach is also conveniently located in Santa Barbara, near Highway 101 and close to the Downtown area. That's why it's perfect for sightseers looking to get the most done in a day.
West Beach Highlights
Santa Barbara Maritime Museum – Located just between West Beach and Leadbetter Beach is this museum, which explores the maritime history of the region. It's got various exhibits and the Munger Theater which plays films about deep-sea archaeological explorations. It's open between Thursday and Tuesday, from 10 am until 5 pm, and entry tickets cost $8 per person.
Stearns Wharf – A great thing about staying in Santa Barbara is the fresh seafood you can eat there. There is no better place to get some than from Stearns Wharf, where fishermen offer you their freshly-caught fish. Other than that, there are also plenty of boutique shops, restaurants, and activities to do, such as wharf fishing and water taxi rides.
Suggested Hotels in West Beach
Hotel Milo – Just across the road from West Beach is this gorgeous hotel. It's got spacious rooms with the comfiest white linen, en suite bathrooms, and coffee-making facilities. What's even better is the fantastic views from the sun terrace and the lovely pool, perfect for a quick dip.
Hideaway Santa Barbara – this boutique hotel is perfect for those of you looking for a quaint place to stay in the city. It's got rooms with calming tones of blues and greens and loads of natural lighting. What's more, it's got grand views of both the Santa Ynez Mountains and the Pacific Ocean.
Haley Hotel – This modern hotel is ideal for younger adults looking to socialise, as it's got outdoor games, BBQ facilities, and a snack bar. It also features modern amenities, like free WiFi, air-conditioned rooms, and a flat-screen TV. It's a bit further from the beach, but that also means it is closer to the city centre and delicious dining options.
East Beach: Best Area for First Timers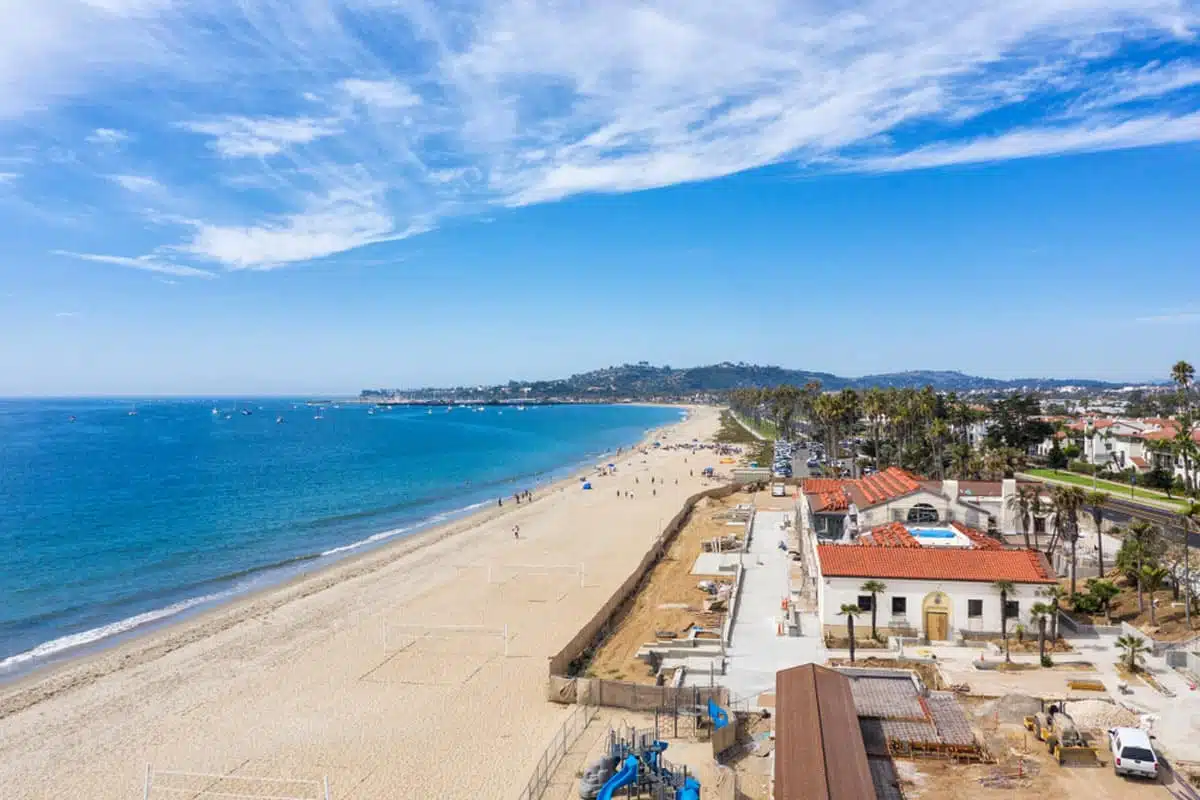 Located just east of West Beach (obviously) is East Beach, a more laid-back part of Santa Barbara. And, while it is a bit further from Downtown, it's still not far from Santa Barbara's most popular attractions.
Moreover, there are quite a few things to do in East Beach, from seeing animals at the Santa Barbara Zoo to walking through the expansive and majestic Bellosguardo Mansion. There are also various parks to explore, whether for a fun picnic or for a bit of exercise.
It's also home to the wide East Beach, from which the neighbourhood gets its name, which is a great spot for surfers and other water sports enthusiasts. So if you're looking for a place to stay in Santa Barbara near the beach as a first-timer, you won't find a better location.
East Beach Highlights
Santa Barbara Zoo – Just off the beachfront is this fabulous zoo. There's a wide variety of animals here – over 146 different species, to be exact. It's open all week, from 9:30 am until 5 pm, and tickets cost $25 per person.
Beaches – Luckily for you, East Beach is a wide beach, so you'll be sure to get a spot. Just remember to bring enough sunscreen, a good beach towel, and a great book to immerse yourself in (if that's your thing).
Suggested Hotels in East Beach
Hilton Santa Barbara Beachfront Resort – This gorgeous hotel is just a stone's throw from East Beach. It's also got some cracking amenities, with a magnificent outdoor pool, tennis court, a mini golf course, and a spa. The resort also has a wide range of rooms, from beautiful suites for a romantic getaway to rooms with private balconies.
Santa Barbara Inn – Right next to Cabrillo Park and just across the road from East Beach is this chic hotel. This hotel's architecture fits right in with the rest of Santa Barbara, with red terracotta roofing and beautiful arched windows. Besides this, it's got an oceanfront terrace perfect for sundowners, an onsite Italian restaurant named Convivo, and artfully-designed rooms.
Funk Zone: Best Area for Nightlife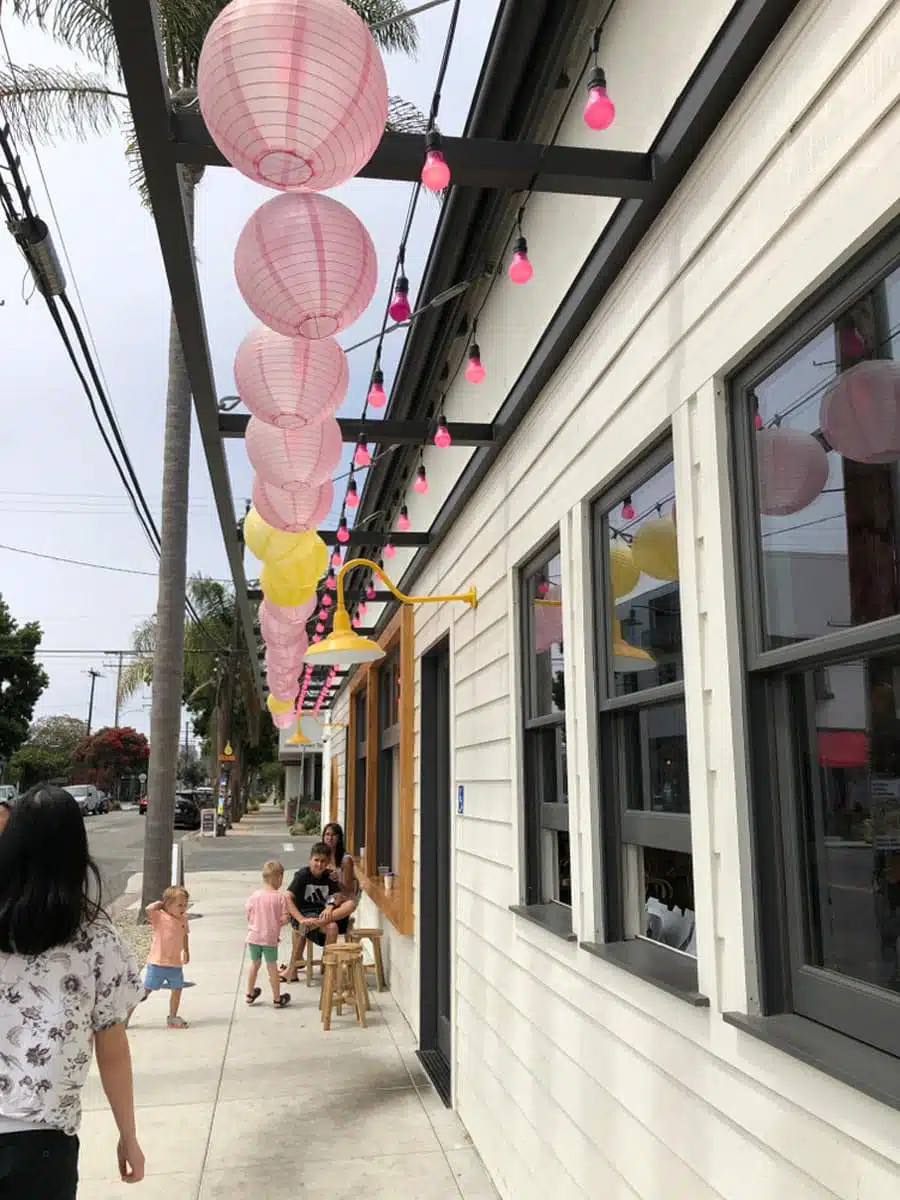 Just off West Beach and along Mission Creek is the small but busy neighbourhood called the Funk Zone. With such a groovy name, it's no wonder that this is the best place to stay in Santa Barbara for foodies and clubgoers.
It's a bustling community full of art galleries, wine-tasting rooms, up-and-coming eateries, and microbreweries. So if this interests you, I highly recommend staying here.
Better yet, it's also still close to the beach and 15 minutes from Downtown, a great central point for those wanting to get the most out of their visit.
It's home to MOXI, a science museum full of fascinating exhibits and things to learn. But it's most famous for the Urban Wine Trail, where you can taste wine from all over Santa Barbara's Wine Country.
There are also great places to stay here, so keep reading.
Funk Zone Highlights
Urban Wine Trail – This trail is a great way to explore the delicious wine made in the area. Most of the tasting rooms on this list are in the Funk Zone, but there are also spots in Downtown, Midtown, Presidio, Summerland, and Goleta. One great spot is Pali Wine Co. which produces single-vineyard wines, such as Pinot Noir and Chardonnay.
Plenty of restaurants – As I've mentioned, the Funk Zone is a brilliant place to taste some of Santa Barbara's best food – from wood-fired pizza at Lucky Penny to tapas at Loquita. And if you're looking for a brunch spot, check out Helena Avenue Bakery for some of the best seasonal pastries and fresh bread.
Suggested Hotels in Funk Zone
Hotel Californian – Just between the beach and the Funk Zone is this classy hotel. It's perfect for a relaxing stay, as it's got the Majorelle spa, onsite casual dining options (there's more than one), and a swimming pool. It also features ridiculously cosy beds.
The Waterman – This modern 5-star hotel is a fantastic spot to stay for a good night's rest. It's got colourful decor, an outdoor pool, and a fully equipped communal kitchen. Rooms come with 55-inch flat-screen TVs, free WiFi, and comfy beds. The hotel is also close to various restaurants, bars, and beaches.
Downtown: Best Area for a Romantic Stay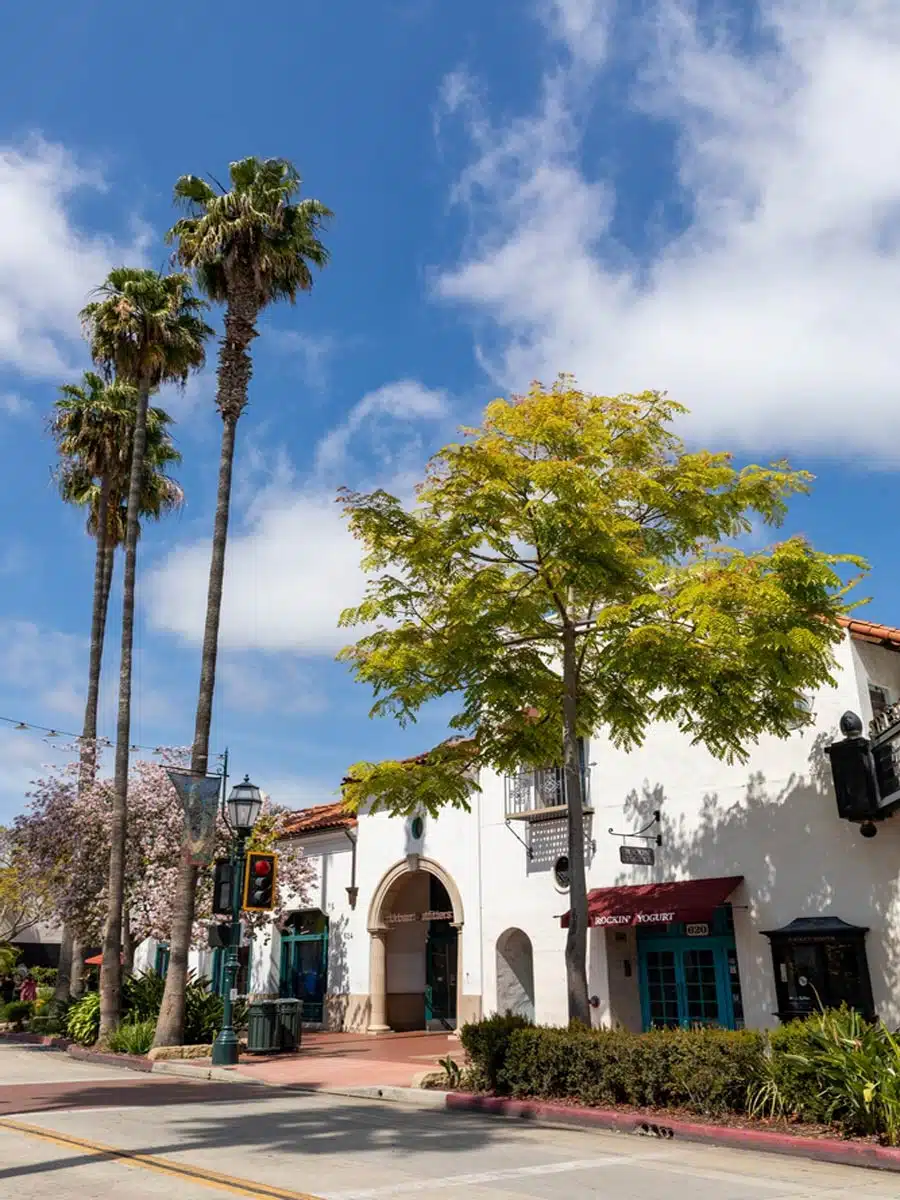 Downtown Santa Barbara is one of the city's signature areas, with loads of Spanish colonial architecture, historical attractions, and shopping options. That makes this another terrific place to stay in Santa Barbara, as it's really the heart of the city.
There is so much to explore, from California's second-oldest building, El Cuartel, to the Santa Barbara Courthouse, made in a Spanish Revival style.
There are also lots of choices for places to eat in Santa Barbara, such as El Paseo, a Mexican restaurant, to the Santa Barbara Public Market, which has a smorgasbord of options.
Downtown Highlights
Santa Barbara Museum of Art – After an extensive renovation project, this museum is back up and running. It has a large collection amounting to over 27,000 pieces from all over the world. Its collection features mostly Impressionist artworks, but it also has exhibitions highlighting international and local artists. It's open from Tuesday to Sunday from 11 am to 5 pm and stays open until 8 pm on Thursday (It's free on Thursday evenings). Tickets cost $10 per person.
Old Mission Santa Barbara – For a brilliant way to experience Santa Barbara's history, visit this landmark. It's a religious monument that's over 200 years old and was a starting point for Spanish Franciscans in 1786. It's open all week from 9:30 am to 4 pm, except for Sundays when it's open from 11 am. Self-guided tours cost $15 per person.
Suggested Hotels in Downtown
Kimpton Canary Hotel – This boutique hotel is maybe the best place to stay in Santa Barbara. That's because it's got lovely Spanish-inspired rooms and a rooftop terrace that has some of the city's best panoramic views (and a pool). It's also home to an excellent tapas restaurant, Finch & Fork.
Belmond El Encanto – For a truly luxurious stay in Santa Barbara, look no further than this marvellous hotel. It's just above the Downtown area, so it's also a bit quieter, making it perfect for relaxing.
Montecito: Best Area for Exploring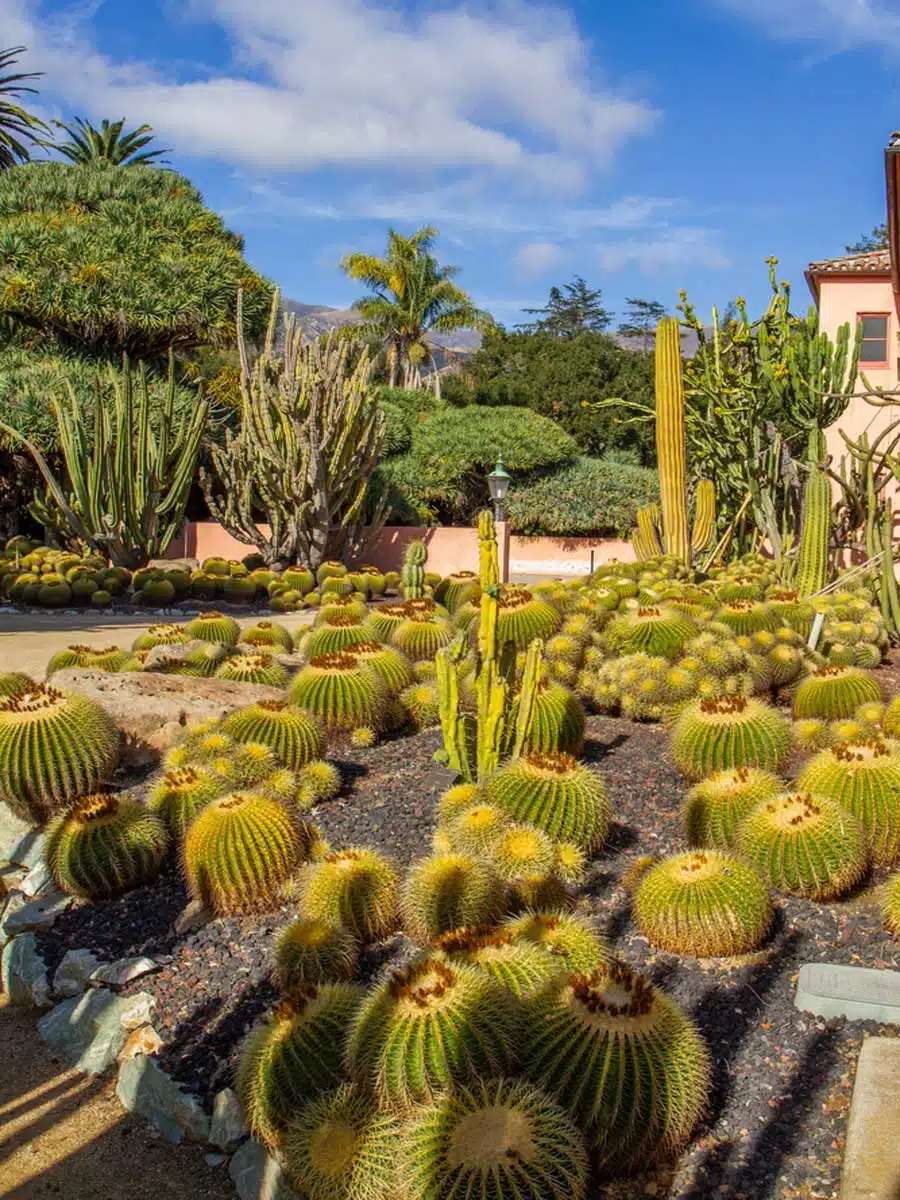 One area that is particularly great for accommodation in Santa Barbara is Montecito, which is an unincorporated town in Santa Barbara County.
That said, it's adjacent to Santa Barbara, so it's not far from any of the highlights on this list. It's also a brilliant area for hiking and exploring the Santa Ynez Mountains, as Montecito sits between this range and the Pacific Ocean.
Montecito is a more upmarket area near Santa Barbara, and it's famous for the various celebrities who live in the area, such as Oprah Winfrey and Prince Harry. It's also got some delicious bakeries and cafes, making it perfect for where to stay around Santa Barbara.
Montecito Highlights
Lotusland – This is the perfect activity for plant lovers. Lotusland is an exotic garden that features all kinds of beautiful plants, from cycads to orchards of fruit trees (idyllic in springtime). It's open from Monday to Friday from 9 am to 4:30 pm, and tickets cost $50 per person (It's worth the steep price).
Hiking – As I've mentioned, Montecito is a great place for hikes in Santa Barbara County. There are over 15 walking trails that lead in and around the Santa Ynez Mountains, such as the San Ysidro Trail. This is a fantastic activity to do in Santa Barbara if you're looking to get out into nature.
Suggested Hotels in Montecito
Montecito Inn – This adorable hotel is famously known for being the creation of the legendary actor Charlie Chaplin back in 1928. Despite its age, it's incredibly well maintained and has great features, from its heated outdoor pool to pristine and spacious rooms. Lastly, the hotel also has free bike rental, making it super easy to get to the beach.
Coast Village Inn – If you're searching for where to stay in Santa Barbara on a budget, look no further than this cosy inn. It's also close to the city and its beaches, especially on its complimentary beach cruiser bicycles. And what's more, they have a restaurant, Oliver's, that serves delicious vegetarian offerings.
Where to Stay in Santa Barbara: Frequently Asked Questions
Practical Tips to Consider Before Booking Your Santa Barbara Accommodation
Looking for where to stay in Santa Barbara on a budget? Use booking.com to get the best accommodation prices – so you can save for memorable experiences along California's central coast.
Wanting to visit a winery in the nearby Santa Ynez Valley? Here is a brilliant wine-country tour that includes pick-ups and drop-offs, a locally-sourced lunch, and all wine-tasting fees.
Where to Stay in Santa Barbara: Read Next