So, you're headed for the Grand Canyon, and you've got everything pretty much planned out. But one thing remains undecided: Where to stay in the Grand Canyon. Well, you're in the right place to find your adventure getaway spot.
Look, I'll be the first to tell you how incredibly breathtaking the Grand Canyon is. And on my last trip to this massive marvel, I tackled as much as possible. 
Accommodation was one thing I set in stone before I planned anything else. And to my surprise, this was somewhat of a challenge. With the number of properties in and around the canyon, I put in more than a few hours, narrowing my options down.
Read on to discover the best places to stay in Grand Canyon.
Best Places To Stay in Grand Canyon: At a Glance
Where To Stay in Grand Canyon
The Grand Canyon isn't just home to some of the most awe-inspiring sights, the park and the surrounding region have some of the best places to stay in the entire state.
Grand Canyon Village: Best Place To Stay in Grand Canyon National Park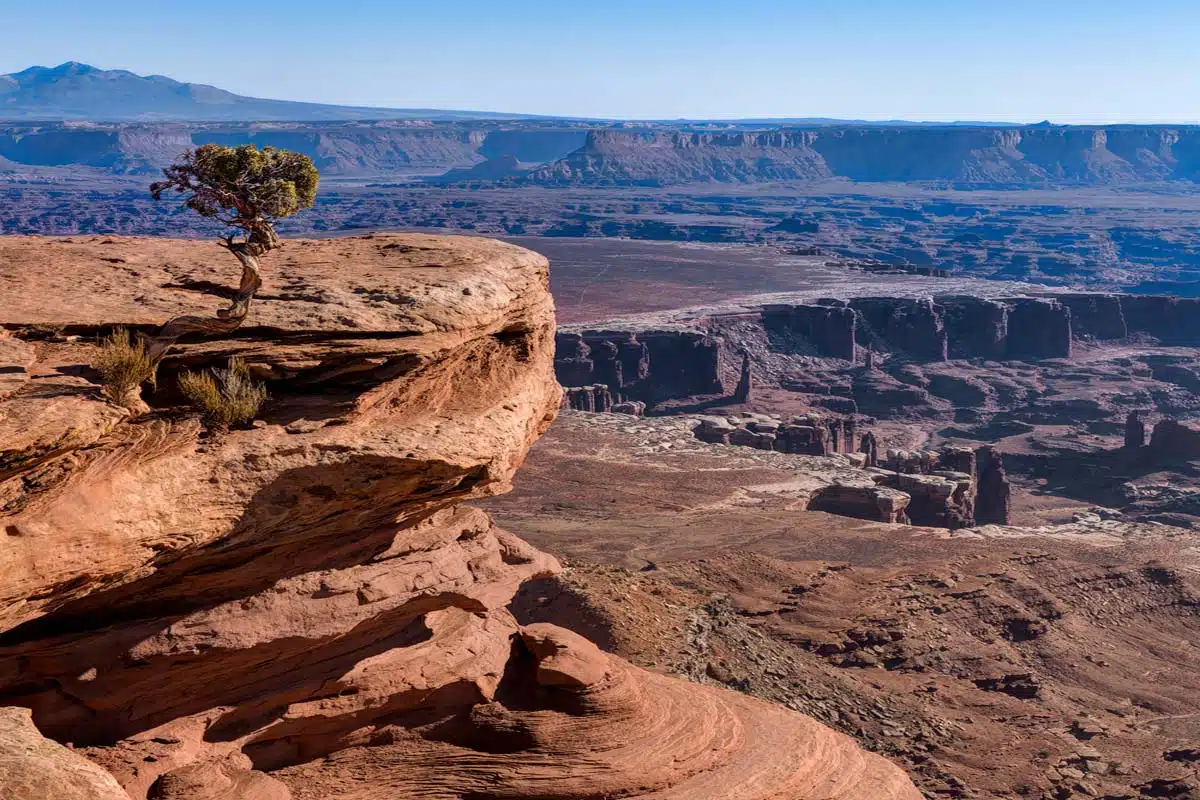 Simply put, the best place to stay for your trip is within the Grand Canyon Village. It sits snug inside the South Rim of the canyon, which beyond its stellar location, holds many advantages for your adventure.
To present an array of accommodation options takes a village (see what I did there?) – I'd dare to say that inside the village you'll find a place to stay to suit all tastes.
Grand Canyon Village Highlights
South Rim Trail – A beautiful hiking trail. Moderate in difficulty and around 13 miles long. Marked at one end by Hermits Rest, a scenic rest point made up from an arch made of rocks.
Grand Canyon Railway – An old-school train that carries visitors to the South Rim Trail.
Canyon Coffee House – Pretty little place to grab coffee and a pastry before you set off in the morning.
Suggested Lodges/Hotels in Grand Canyon Village
Tusayan: The Best Places To Stay for Grand Canyon Trip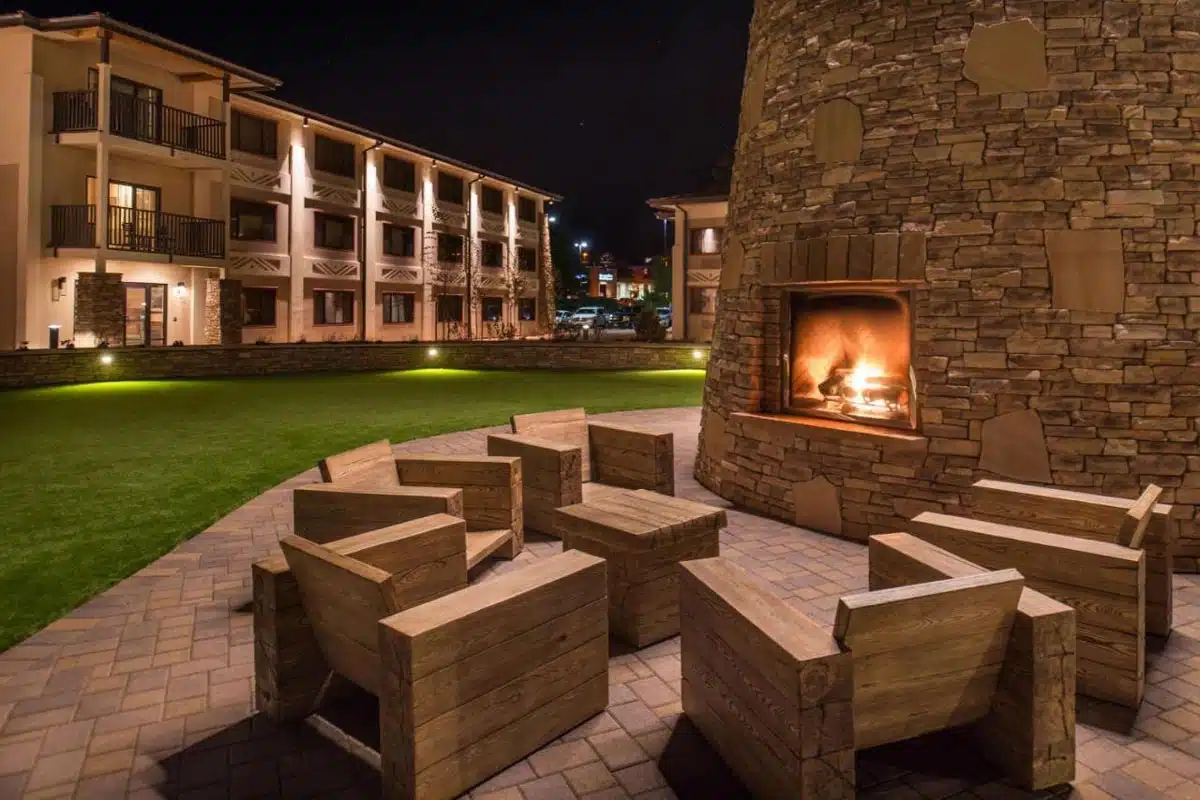 With accommodation inside the park tending to fill up quickly, your next best option is to stay as close to the park as possible. That's where Tusayan comes in. It's a 10-minute drive from the park and has a far better cost-to-quality ratio than alternative options inside the park.
Tusayan Highlights
Suggested Hotels in Tusayan
The Grand Canyon Hotel – This is a top-tier 5-star luxury hotel and aptly shares the canyon's name. With spacious and well-equipped rooms, a tastebud-treating in-house restaurant, and an indoor swimming pool, this is the place for you if you're willing to spend a bit more.
Western Premier Grand Canyon Squire Inn – The most popular option outside the park, it offers modern and airy rooms. You'll find indoor and outdoor swimming pools, several on-site restaurants, and even a bowling alley on the grounds.
Valle: The Best Place To Stay to see The Grand Canyon During a Road Trip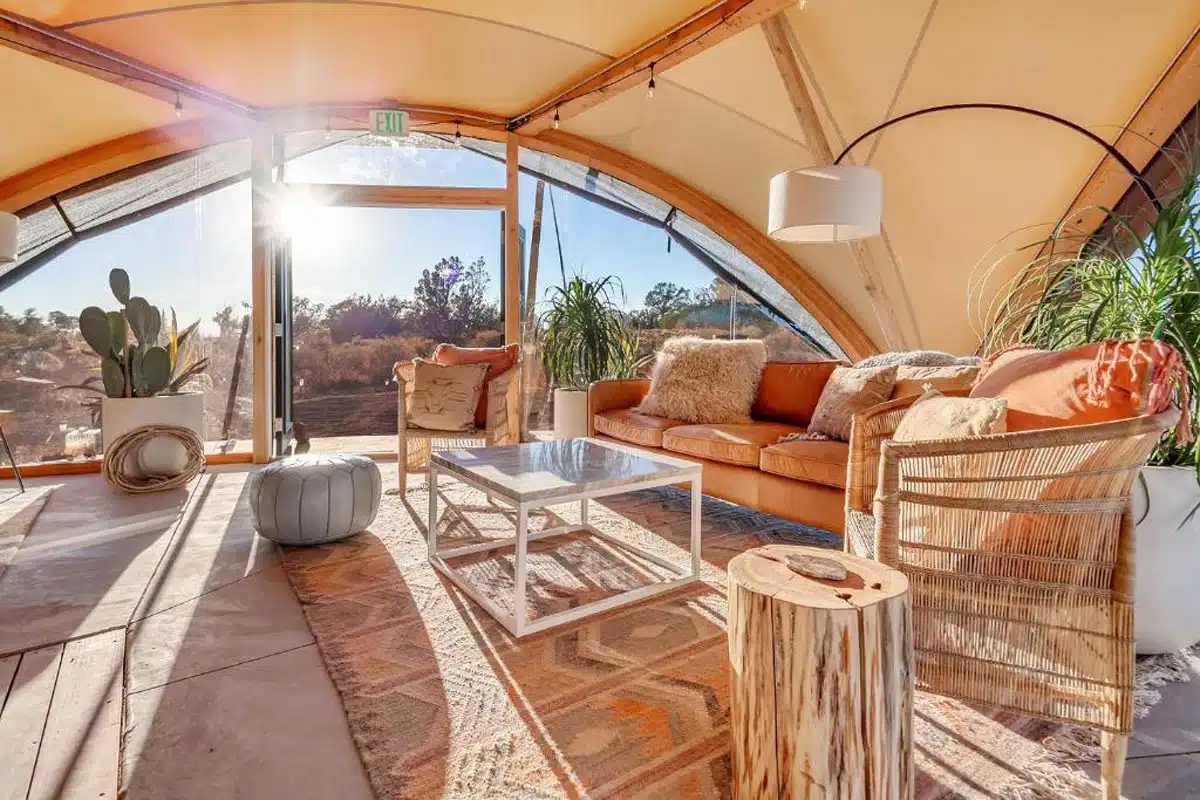 For those on a road trip through California, Arizona, or Colorado, Valle is the perfect little town about a 30-minute drive from the park. There are a few great lodges here, and (bonus) they're all extremely budget-friendly.
Valle Highlights
The most popular tours to the canyon depart from Valle. These include the notorious Hummer tour of the canyon and the North Rim helicopter tour.
Raptor Ranch Amusement Park – perfect for some adrenaline-pumping escapades.
Suggested Hotels in Valle
Grand Canyon Inn & Motel – With many affordable and spacious motel-style rooms, an in-house restaurant, and a bar. The bar is where you'll indulge in a range of craft beers straight from the Grand Canyon Brewery.
Under Canvas Grand Canyon – A truly unique place to stay. Here you get to experience prime glamping close to the canyon. With all the glamping canvas tents kitted with modern amenities and an on-site tour coordinator, it's one of the best places to stay near the Grand Canyon.
Williams: The Best Place To Stay At Grand Canyon Along Historic Route 66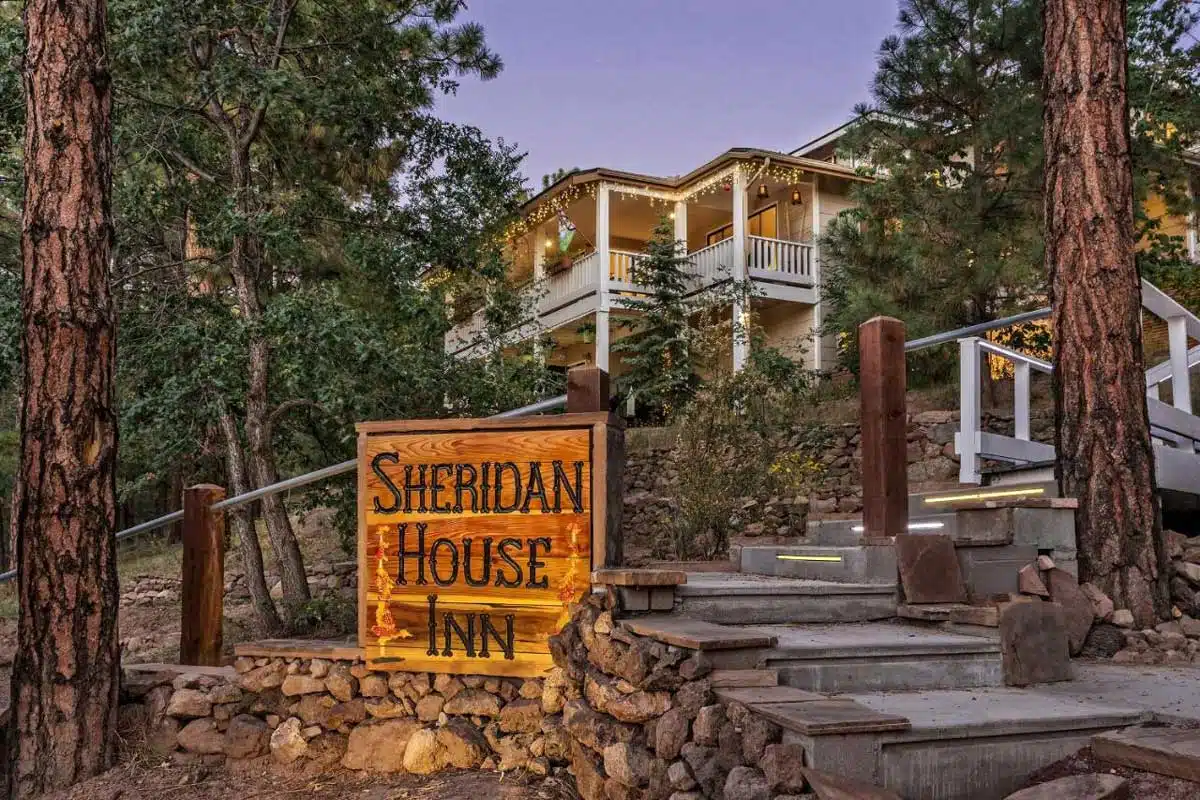 Often called the gateway to the Grand Canyon, this scenic town sits on Route 66, about an hour's drive from the South Rim. Isn't that a bit far? No, considering the extra element this old-fashioned American town adds to the greater canyon experience, you'll quickly fall in love.
Williams Highlights
Americana Throwbacks – The entire town features bespoke vintage Americana-style shops, boutique stores, restaurants, and bars. If you are eager to deep-dive into Americana culture, Williams is your paradise.
Bearizona Wildlife Park – This is a drive-through (yes, drive-through) wildlife park where you can spot bears, bison, and on a good day, even wolves.
Pete's Route 66 Gas Station Museum – A retro museum frozen in time, boasting plenty of vintage cars.
Suggested Hotels in Williams
The Lodge on Route 66 – As one of the most well-rated accommodations in Williams, here luxury and modern minimalism blend perfectly. You can choose from spacious and stylish rooms to spacious private suites.
Sheridan House Inn – An adults-only bed and breakfast, it is the most luxurious option in the town. It is a bit more expensive, but it's worth the extra cost if you're looking for quality.
Flagstaff: The Best Place To Stay near Grand Canyon for Urban Living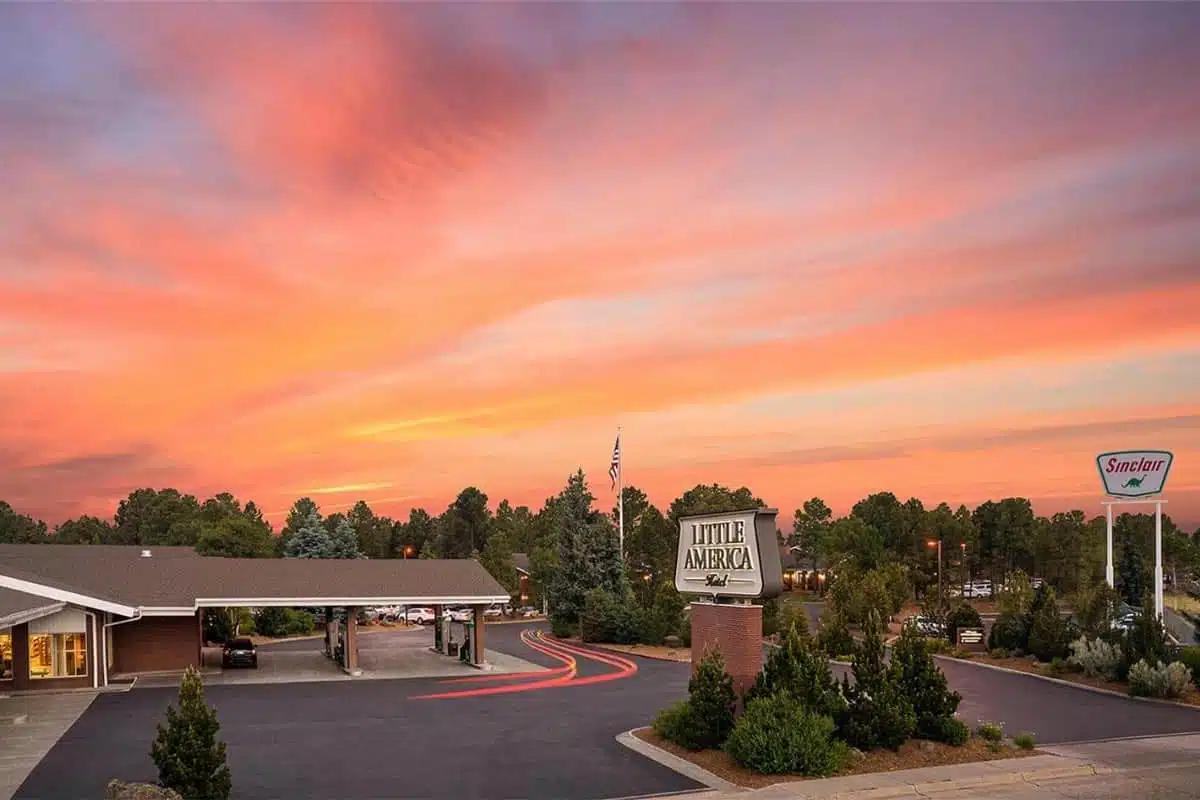 The largest town close to the Grand Canyon, Flagstaff, is roughly an hour and a half drive from the park. It might not be that 'close', but it is a center point for most other major Arizona attractions.
Flagstaff Highlights
Walnut Canyon National Monument – A national monument boasting millions of years of history hidden in the rocks.
Arizona Snowbowl – This is a skiers paradise, with huge slopes and a modern gondola offering expansive views of the canyon nearby.
Meteor Crater – A 50,000 year old meteor crater, a phenomenal national icon that is as unique as it is striking.
Suggested Hotels in Flagstaff
Little America Hotel – This is an idyllic rustic getaway spot nestled in a beautiful pine forest. Rooms are modern and feature a range of amenities. Airport shuttles are available from here as well.
Residence Inn by Marriott Flagstaff – The best place to stay near the Grand Canyon if you want affordable self-catering options. It's very modern, and each suite is tastefully decorated.
Drury Inn & Suites Flagstaff – The perfect option for mid-range luxury at an affordable price. A 10-minute drive from the airport, this is one of the best places to stay near the Grand Canyon.
Where To Stay in Grand Canyon: Frequently Asked Questions
Practical Tips To Consider Before Booking Your Grand Canyon Accommodation
There are a lot of varying options for accommodation both inside and outside the park. Before choosing one, shop around to find the best fit for your budget. Most of the hotels in this guide are on the cheaper side of things, though there are a couple of more luxurious options.
Plan your Grand Canyon itinerary as well as best as you can before you go – there's so much to see and do in the national park.
Where To Stay in Grand Canyon Guide: Map
Where to Stay in the Grand Canyon: Read Next