Planning your Grand Canyon trip? Lucky you. Finding somewhere to stay can be daunting, but I've made it easier – take a look at these stunning Airbnbs in the Grand Canyon.
The Grand Canyon is a sought-after addition to any travel bucket list, boasting red rock mountain peaks, breathtaking gorges, and stunning views of the Arizona landscape.
Wondering where to stay near the Grand Canyon? Start by checking out these brilliant Airbnbs.
Best Airbnbs in and Near the Grand Canyon
Grand Canyon Bungalow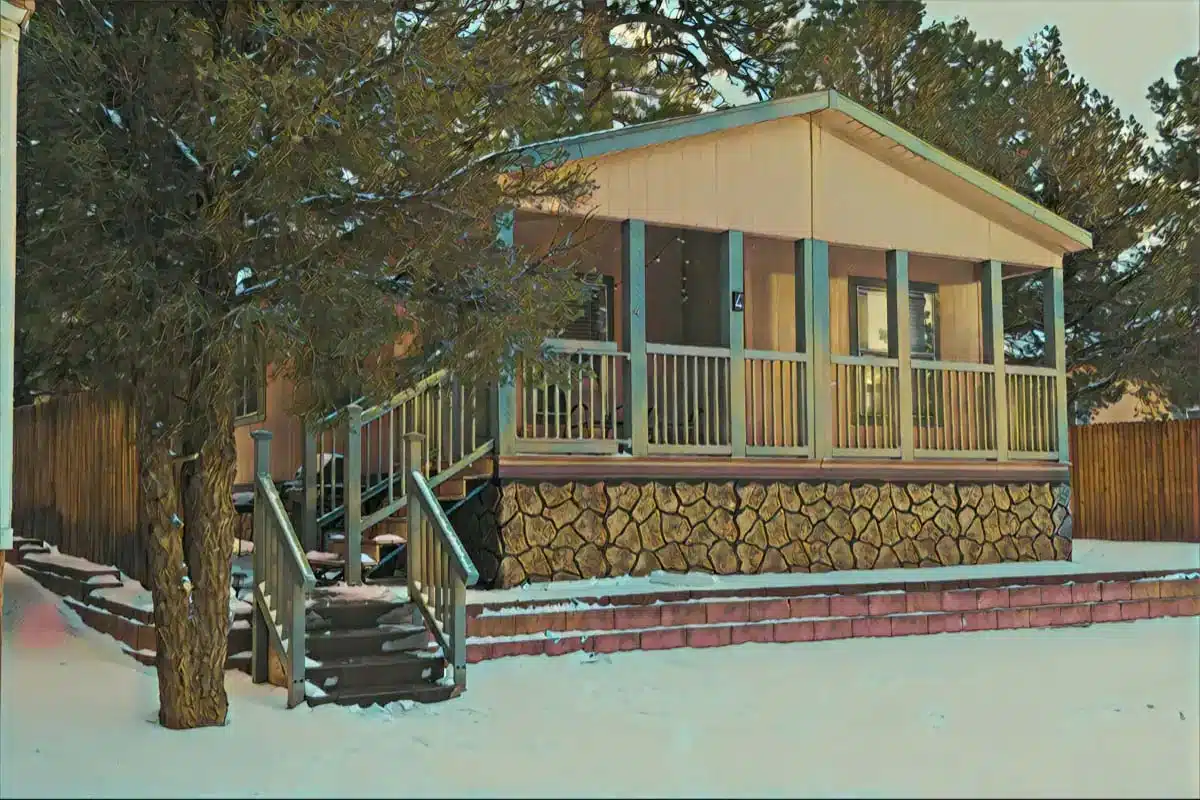 The spacious bungalow boasts a rustic interior and three bedrooms perfect for a large group vacation.
Nestled in the Ponderosa Pines, you'll find many Grand Canyon hiking trails, flora, and fauna. But nearby grocery shops can be pricey, so get your supplies beforehand.
Location: Grand Canyon Village
Just 1.6km from the national park, this Grand Canyon Airbnb gives you access to the Arizona Trail, which transverses the canyon into Utah.
Red Beauty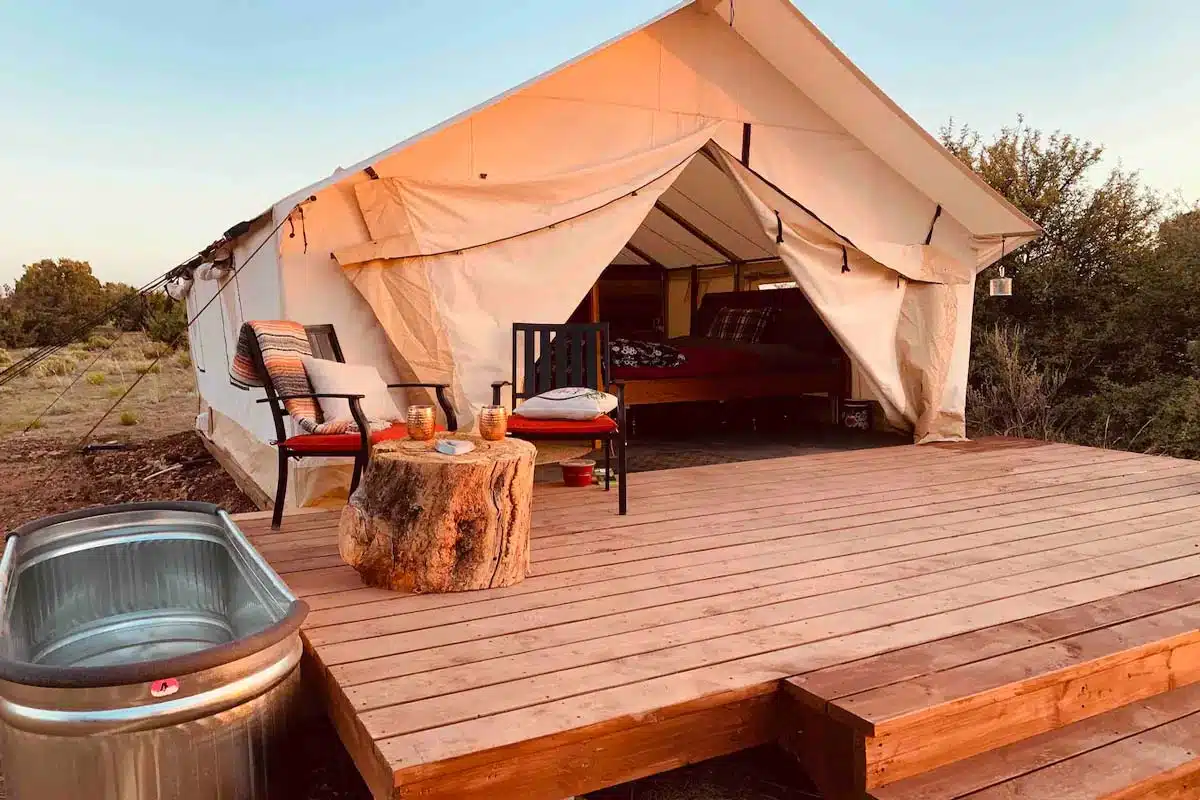 This elegant safari tent offers biking around the property, picnic dates for you and your partner, and tours around the mini farm where you'll meet free roaming animals.
Be warned that the tent is off-grid and there's no running water in winter, so it's quite the wild experience. In summer, you can take a cold bath in the outdoor tub and then gaze at the star-studded sky before warming up in front of the wood-burning stove.
Location: Williams
The farm is a short drive from US 180 and offers scenic views with majestic Red Butte Mountain backdrops.
Glampsite – Airbnb Grand Canyon South Rim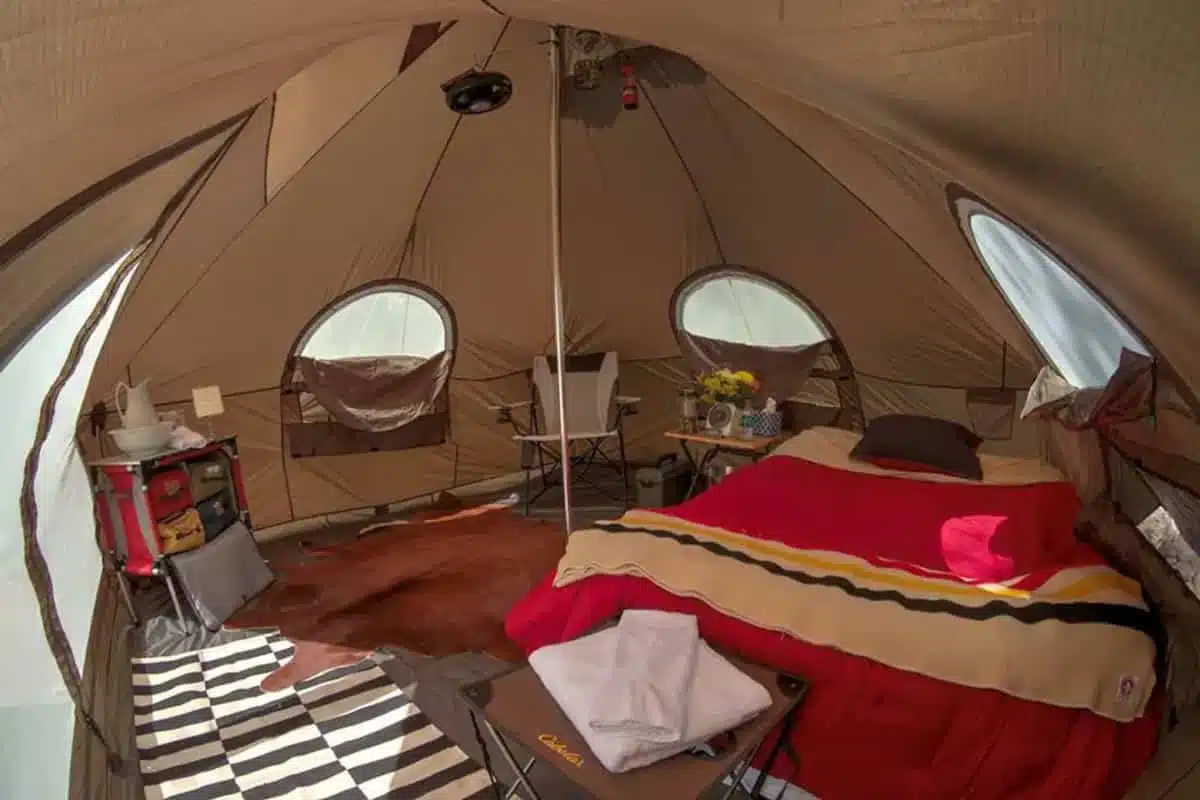 For an authentic camping trip, minus the sleeping on the floor and having to lug your own tent around with you, opt for this spacious canvas tent.
It offers an all-inclusive outback escape with guided tours, campfire dinners, and delicious meals. Although it's not as opulent as other glamping spots, this tent is a short skip away from the park, offering gorgeous canyon views.
Location: Grand Canyon Village
You'll have access to a tour guide, optional extras like dinner dates under the stars, and adventurous hiking excursions.
Grand Canyon Tiny House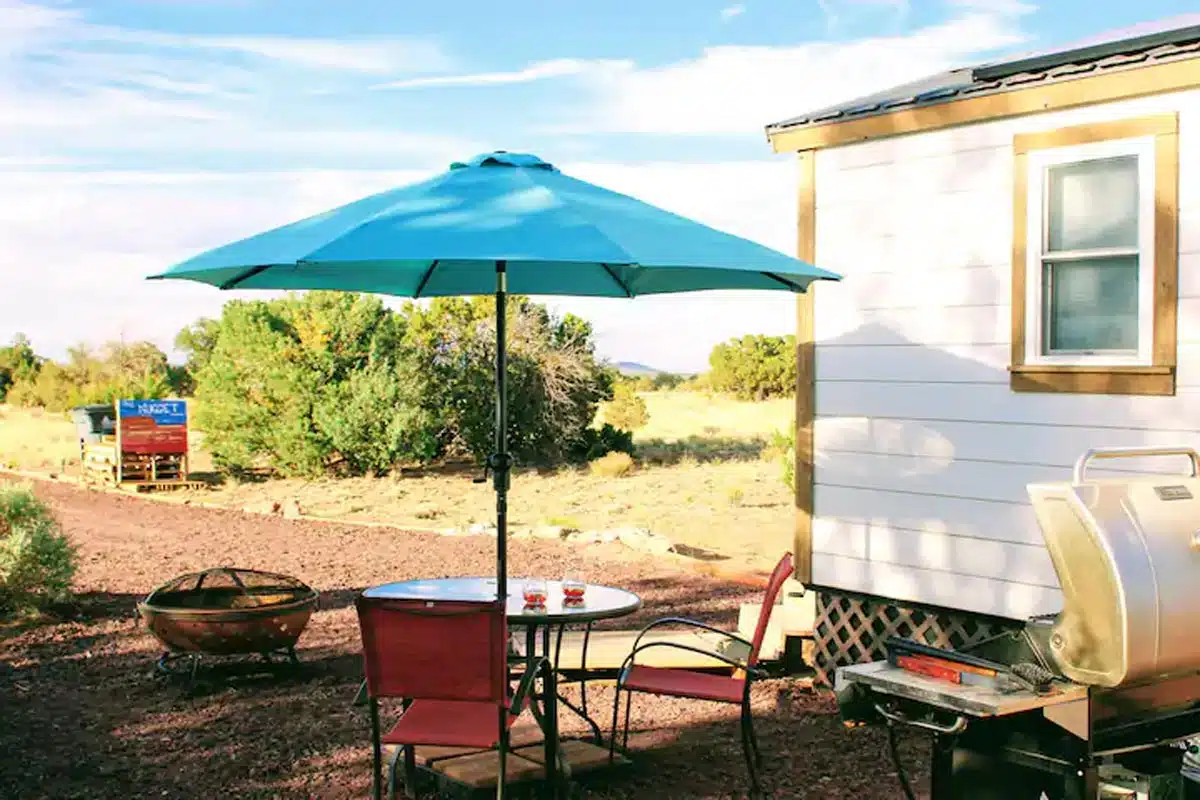 This charming tiny home boasts a whitewashed facade and a gorgeous interior, featuring pale wood furniture with rose gold finishings. The little house is a bit cramped, but the indoor greenery and comfy bed give you that home-away-from-home feeling.
After hiking and exploring the rarities of this flora-rich area, cook your dinner in the kitchenette or by the grill on the outdoor patio while taking in scenic vistas of the Arizona sky.
Location: Williams
Situated close to Williams and Flagstaff, this home offers easy access to shops, restaurants, and plenty of sightseeing opportunities.
Yö'ngö – Luxury Dome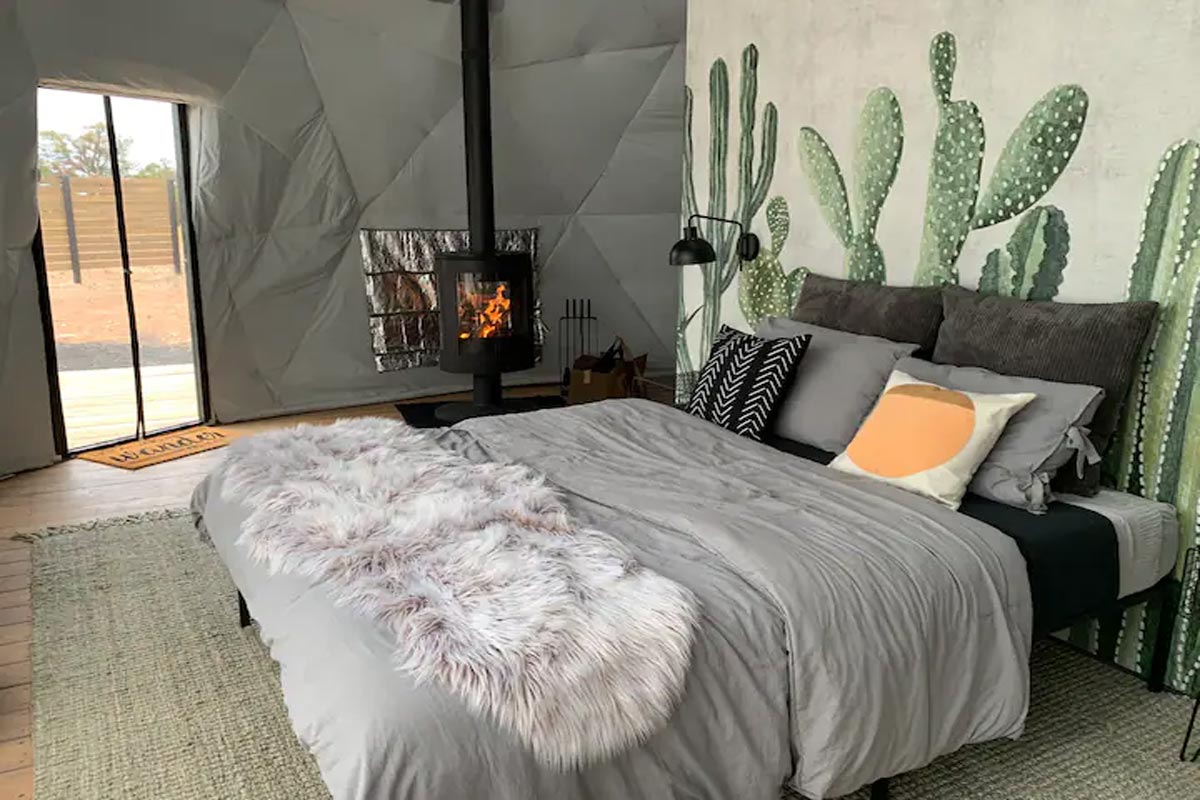 This luxury dome is perfect if you're a stargazer seeking pretty views of the Milky Way. The geodesic dome is neatly tucked between Pinyon and Pine trees, giving you a secluded glamping experience and first-class amenities like a steam shower and USB charging ports.
Although the dome is twice insulated, it is still a tent and can get quite chilly. The expansive glass siding gives you sweeping views of the horizon so you can enjoy sunrises from the comfort of your bed.
Location: Williams
This gorgeous Airbnb near Grand Canyon's South Rim is just 20 minutes from the park entrance and offers fantastic nearby hikes, mountain views, and wildlife sightings.
Rustic Barn Near Grand Canyon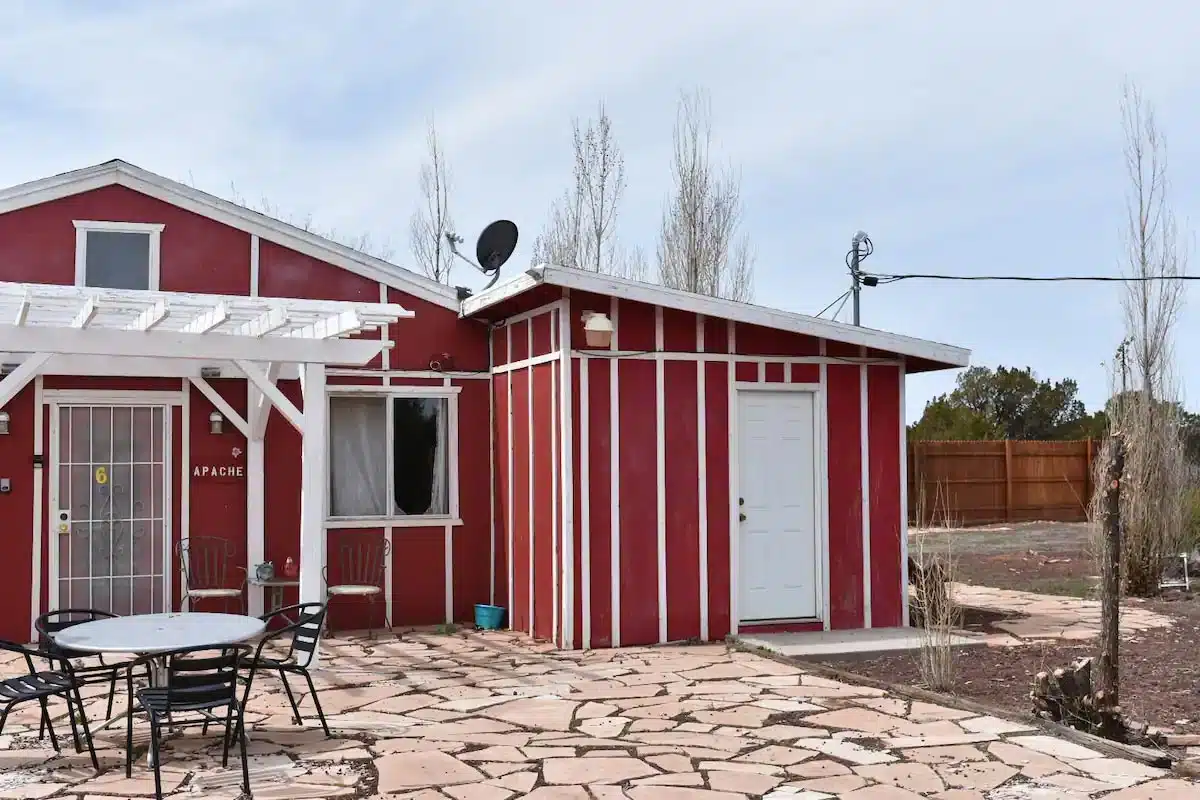 Get the whole gang together for a trip to the Grand Canyon!
The rustic barn cabin features a striking red facade, five beds, and a full indoor bathroom – perfect for a large group looking to explore outdoor activities in Scottsdale and nearby towns. Enjoy a delicious breakfast courtesy of the friendly staff before heading out for your adventure.
Although the barn shares the property with other cabins, the spacious yard provides free parking and an outdoor terrace ideal for stargazing.
Location: Apache Junction
The property is close to the Grand Canyon South Rim, thus providing access to shops, hiking trails, and other state and regional parks.
Wander Camp Grand Canyon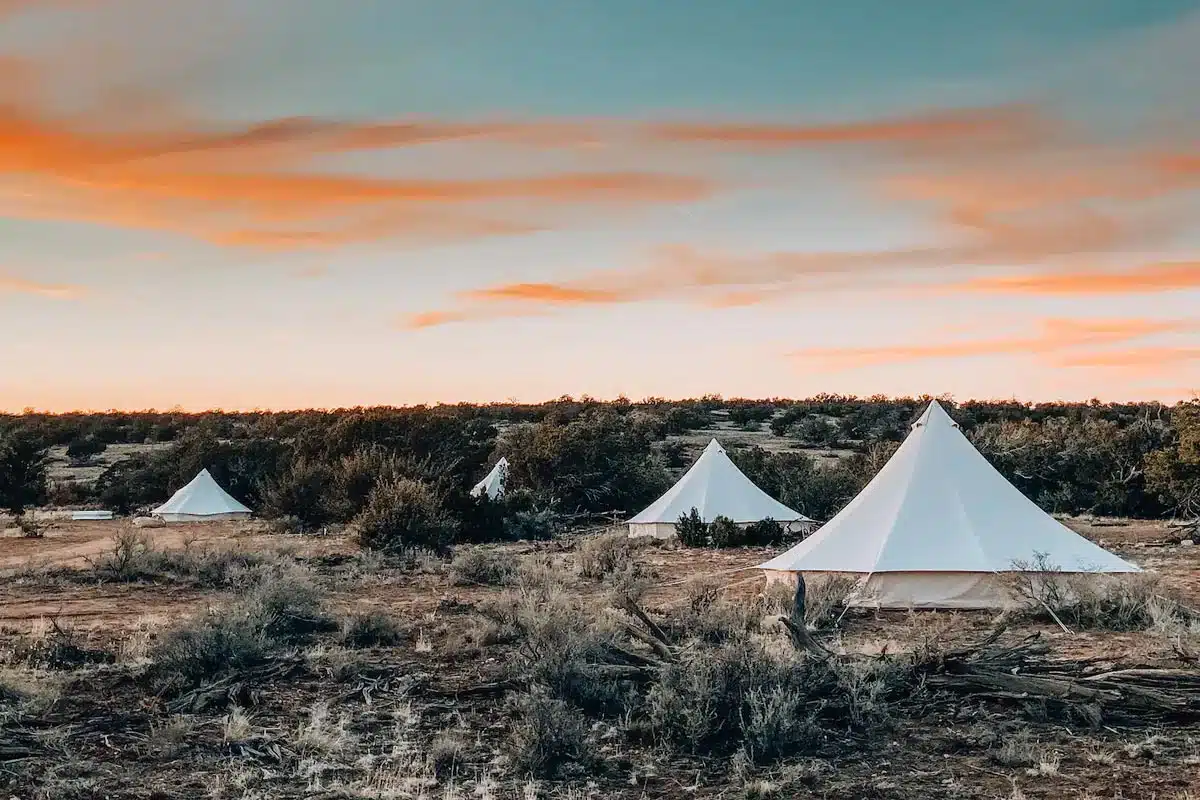 Experience the best things to do in Grand Canyon alongside your best bud in this stunning twin canvas tent. This completely off-grid Grand Canyon Airbnb is pet-friendly and features rustic but elegant decor, shared bathrooms, and solar-powered amenities.
To maintain the natural beauty of sunrises, sunsets, and star-studded vistas, the camp has no electricity and instead uses solar panels to power the tents.
Location: Grand Canyon Junction
Wander Camp is an Airbnb on Grand Canyon South Rim. Its proximity to Valle allows visitors to get all their camping supplies beforehand.
Stargazing Bubble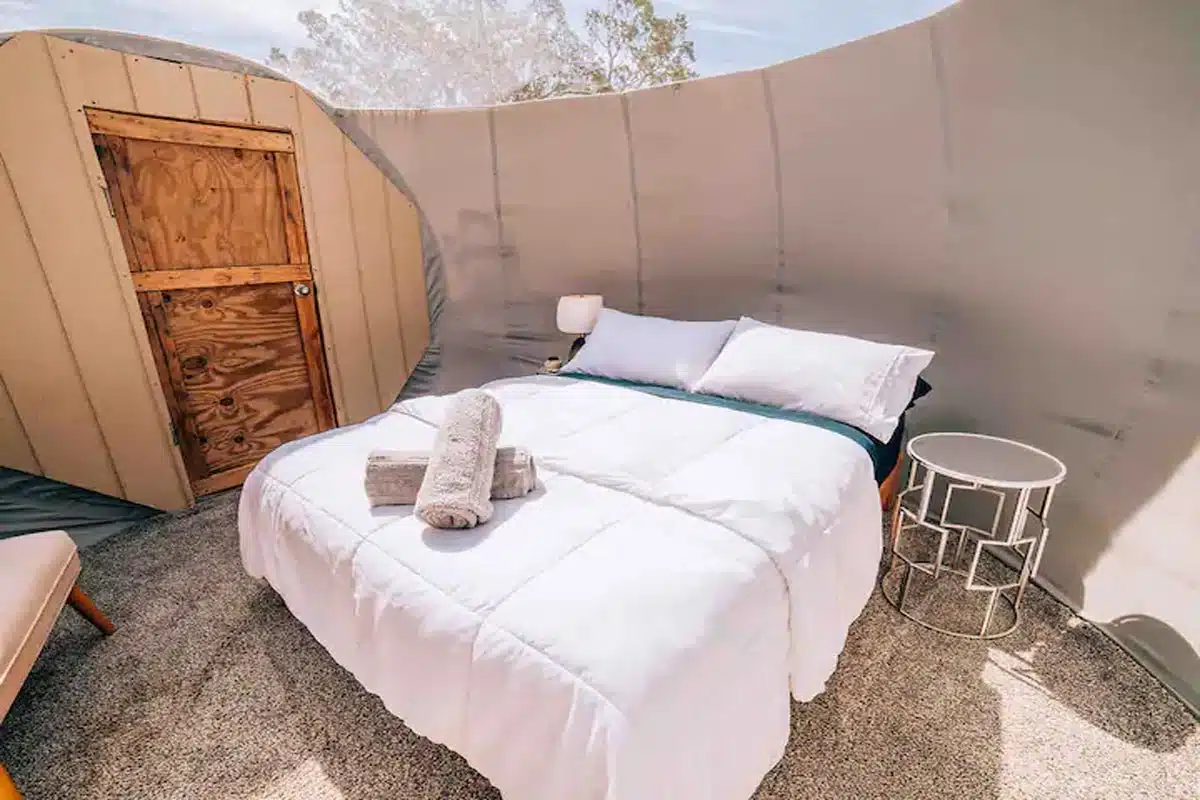 Campers often describe this astonishing dome as sleeping in a real-life planetarium. This Grand Canyon dome Airbnb boasts an intriguing spherical shape with a clear ceiling allowing you to watch shooting stars from bed.
The shared bathroom sits outside in the outhouse several metres from the dome (not ideal for 2am trips, but well worth the effort for the views). You'll also find a fire pit for roasting smores, a shared balcony, and breathtaking mountain views.
Location: Williams
The camp is 35 minutes from Grand Canyon and Historic Route 66. You'll find quaint cafes, souvenir shops, and other amenities without hassle.
Worn Out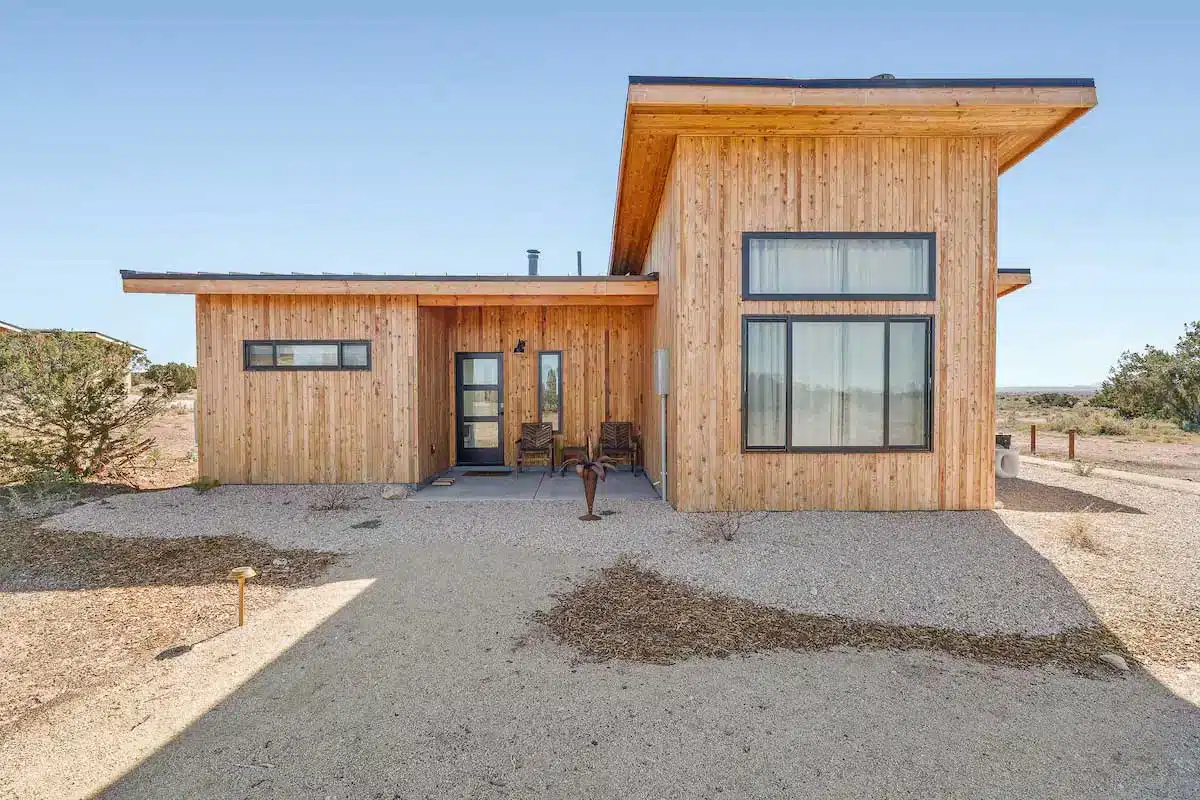 If you want a desert getaway without compromising on luxury, this deluxe wooden cabin boasts high ceilings and expansive glass windows, giving uninterrupted views of the horizon.
The modern decor and fully-equipped rooms make up for the arid surroundings. Take a walk through the 80-acre ranch, and enjoy stunning views of the Red Buttes and the San Francisco Peaks before cooling down with a drink from the canteen.
Location: Williams
Get gorgeous views of the darkest sky regions of the US, and see the Milky Way with the naked eye.
Eco Valley Ranch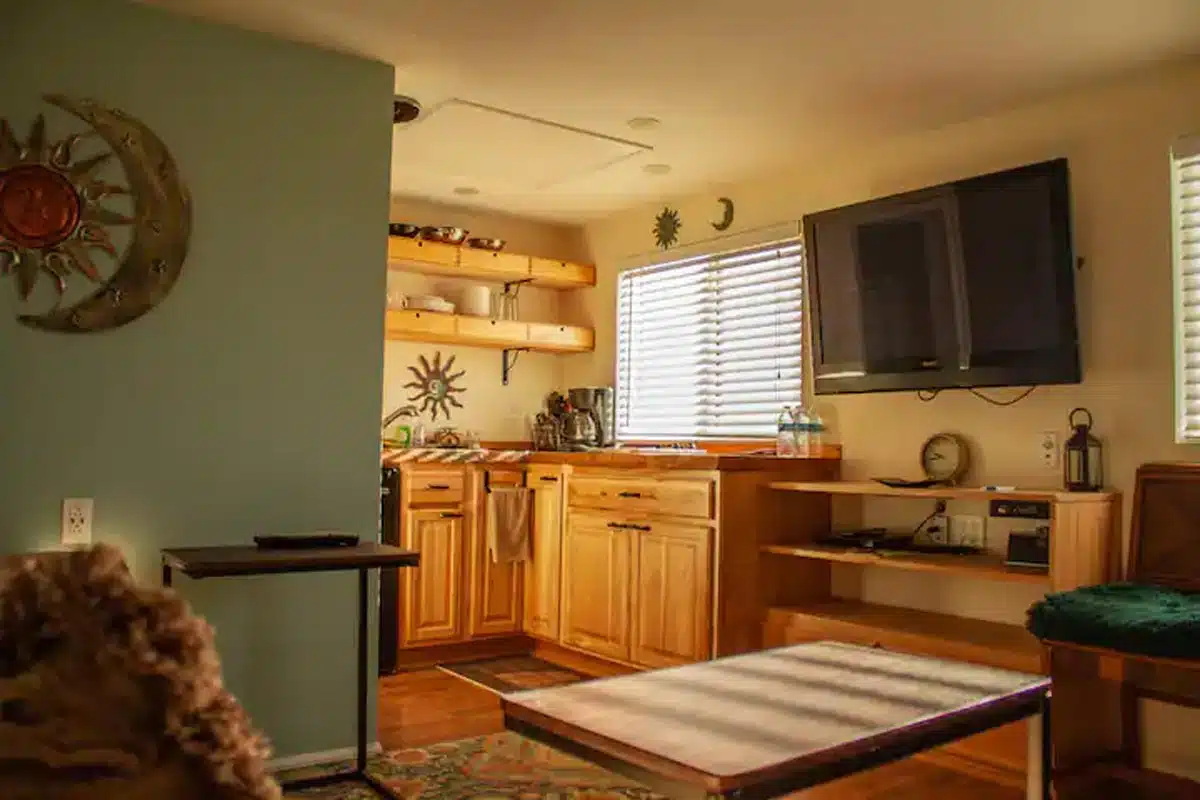 Opt for a secluded stay at this off-grid ranch. Kick back and watch some Netflix after an adventure-filled day hiking the best trails in Grand Canyon. You'll share the yard with your hosts, their two adorable Australian cattle dogs, and a squawking Macaw.
Location: Williams
The ranch is about 32km from Grand Canyon, where you can go exploring, hiking, shopping, and dining at the charming nearby towns.
The Hopi House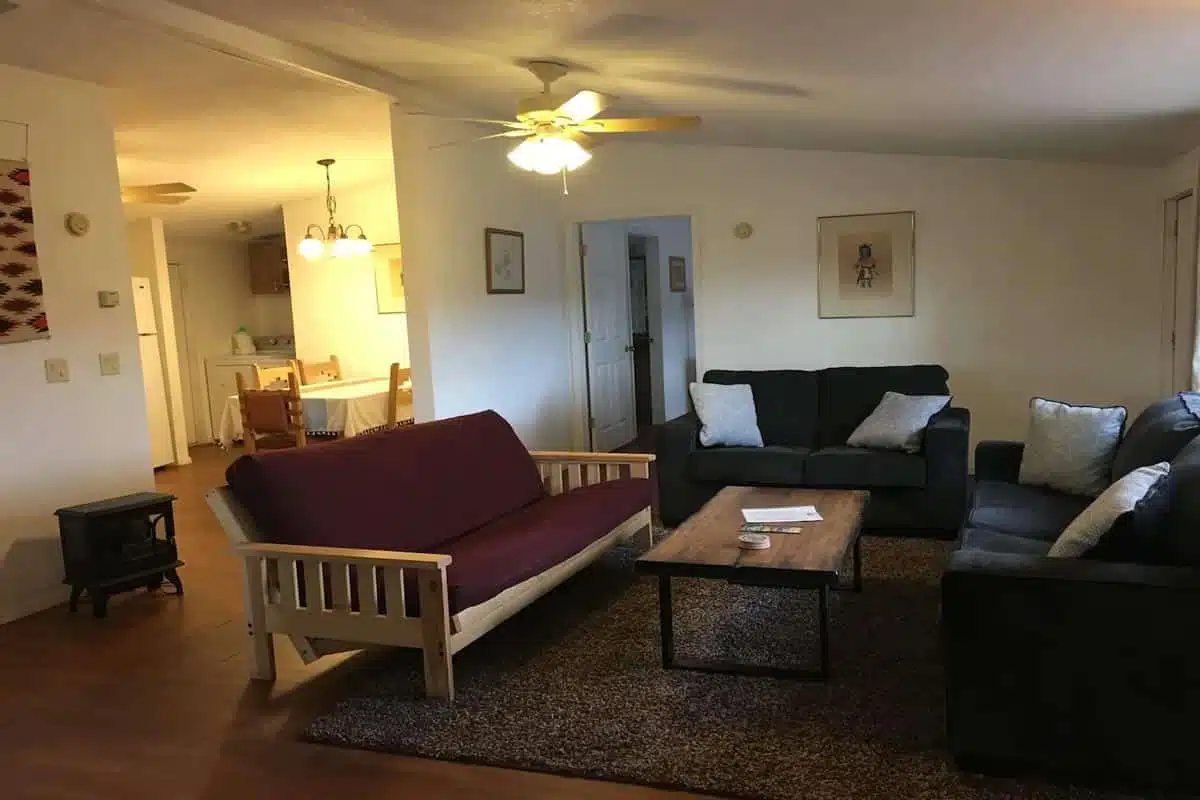 Enjoy a conservative stay at this tiny home. Its rustic brown facade camouflages with the surroundings and peaking cliffs in the background. You won't feel the absence of a TV when you can access adventures like kayaking, hiking, and mountain biking on your doorstep.
The Hopi House is a perfect stop on your Colorado road trip before heading to the Grand Canyon.
Location: Marble Canyon
The property lies behind a historic nature lodge with free roaming wildlife, a restaurant, and a bar to get some cold beverages.
Beautiful Mesa – Airbnb North Rim Grand Canyon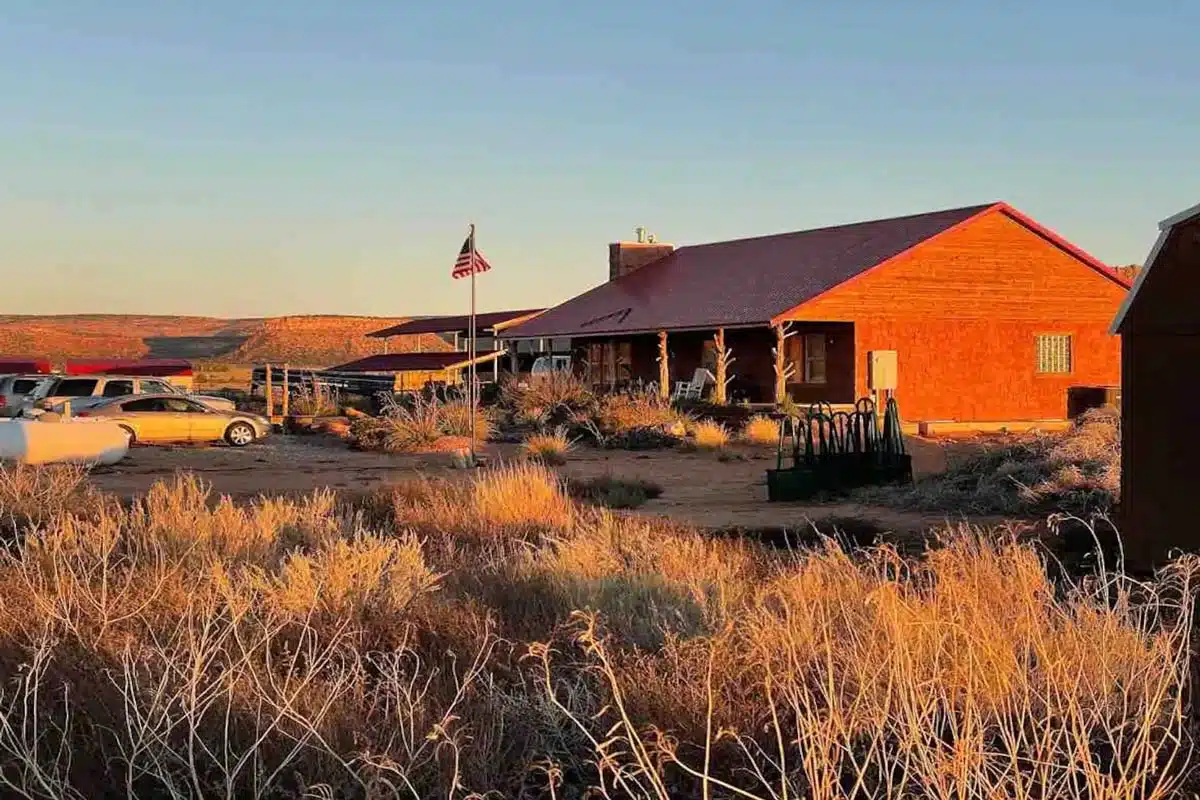 The tiny mesa home is the ideal place for an ultimate trip exploring the best parks, from Zion to Grand Canyon.
Fair warning – the bunk bed cabin is quite cosy, so stay with people you won't mind sharing beds with. Enjoy walking the grounds of this equestrian farm, flanked by desert and mountain views.
Location: Fredonia
The Coral Pink Sand Dunes State Park and Sand Hollow Reservoir at your doorstep give you access to sightseeing, swimming, and fishing.
Practical Tips To Consider Before Booking Your Airbnb in Grand Canyon
There are so many different kinds of Airbnbs near the Grand Canyon – decide whether you would prefer a glamping experience, homestay, or somewhere a little bit more luxe.
Pack sensibly – this means travel clothes that are conducive for hiking and outdoor activities, a pair of comfortable trainers (these Tropicfeel ones are great), and plenty of sun protection.
Prepare an itinerary to guide you on where to stay in Grand Canyon – I suggest checking out my epic 2-day itinerary for inspo.