Looking for the best things to do in Seattle? Don't miss this handy guide filled with everything you need to know to plan your trip.
I absolutely loved my time in Seattle – it's a city I'm dying to return to. Whether you're a sports lover, a coffee drinker, a museum wanderer, or a sightseeing enthusiast, this wonderful place has something for you.
While the perfect day should always start with a coffee, there are plenty of other things you don't want to miss here.
Not sure where to start on your trip to Seattle? I've compiled a guide to all my favourite things to do in the rainy city.
Looking for a hotel in Seattle? I love the Mayflower Park Hotel – check rates and availability here.
Top 5 Things to do in Seattle
Marvel at the Space Needle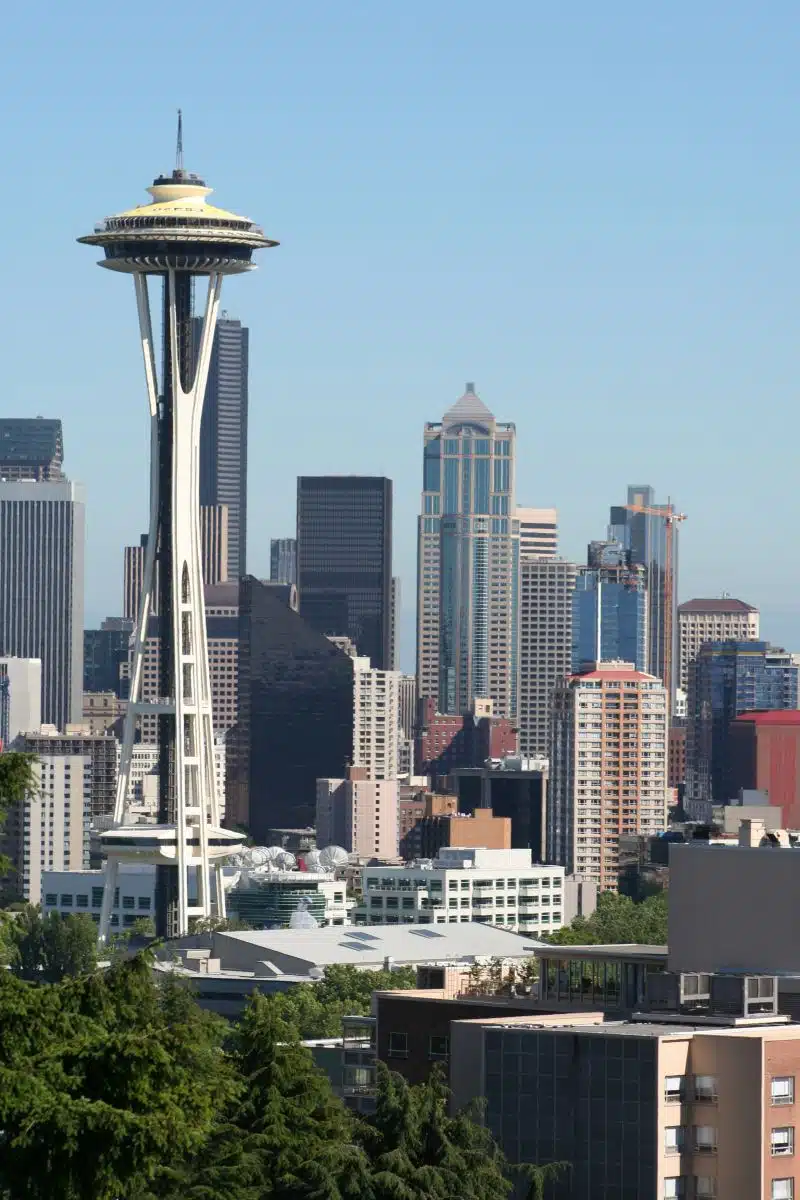 I couldn't possibly start this guide to things to do in Seattle with any other attraction than the Space Needle. The most iconic building in Seattle's bustling skyline, the Space Needle was built in 1962 for the World's Fair.
Towering over the city at 605 feet tall, the Space Needle quickly became one of the city's most popular sights and most recognisable landmarks. Feeling brave? After a 43-second journey in the building's elevator, you'll reach the observation level.
It will come as no surprise to you that from this level you will be greeted with sweeping views of the city. The top features on view are the Cascade Mountains, Mount Rainier, and Elliot Bay.
Book Your Space Needle Ticket Here
Chow Down at Pike Place Market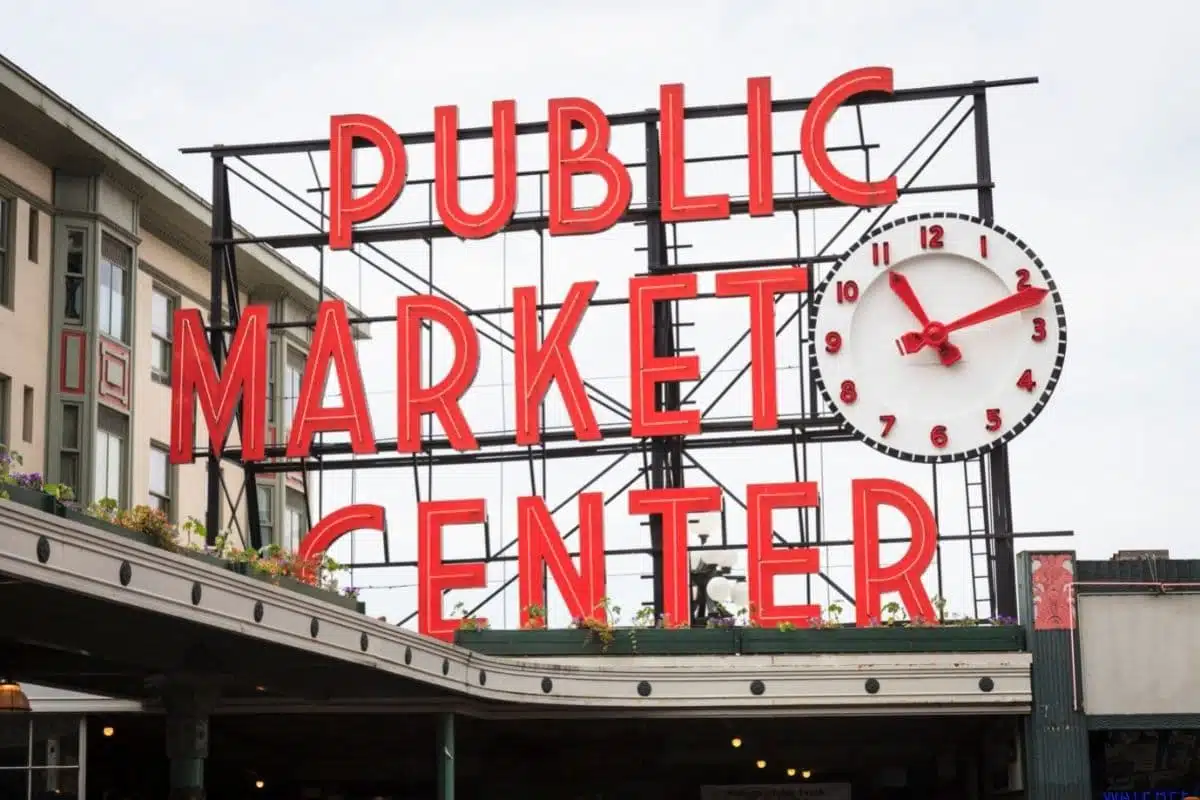 If you're a big foodie like me, Pike Place Market should be very high up on your list of top things to do in Seattle.
Pike Place Market is the most famous market in the city, in fact, it is actually the city's most visited attraction – even topping the Space Needle in popularity. It's a fantastic place to indulge in local foods or grab some tasty grub from around the world.
I reckon that getting stuck into a chef-guided tour is the best way to enjoy the market. After all, if you're going to get lost in the city, this is the place to do it. You can expect to experience a market full of colour, flavour, character, and atmosphere.
Book Your Pike Place Market Tour Here
Pop Into Chihuly Garden and Glass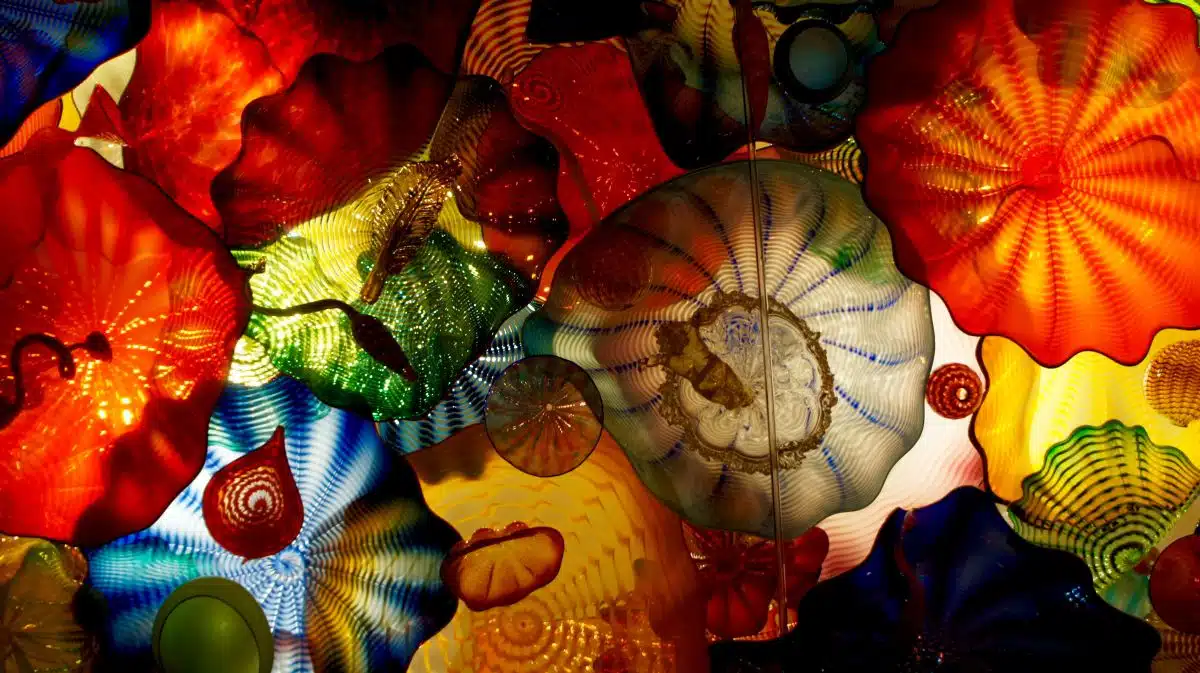 While you're at the Space Needle, you may as well give yourself some time to check out Chihuly Garden and Glass – you won't regret it. I have to say, when I visited Seattle I wasn't expecting much from this attraction, but I soon ate my words.
Found at the base of the needle, this attraction is a museum dedicated to the career and work of world-famous, locally born glassblower Dale Chihuly.
Interestingly, Dale was introduced to glassblowing while studying at the University of Washington. Here you will find a comprehensive collection of his most amazing work up to date, with interior galleries featuring a range of his work in the medium.
The most impressive part of this museum is the 100-foot-long colourful sculpture hanging from the glasshouse ceiling.
Book Your Chihuly Garden and Glass Ticket Here
Explore Pioneer Square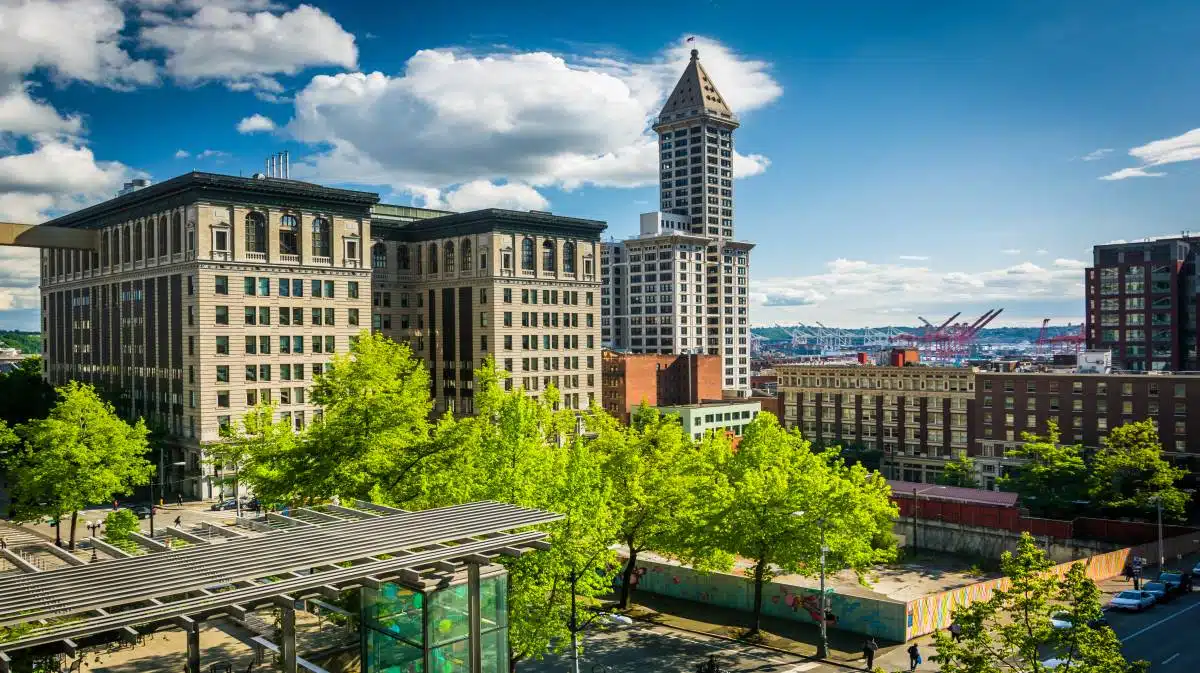 Boasting the most amazing architecture, cafés, bookstores, and art galleries, Exploring Pioneer Square is a Seattle must see. The oldest neighbourhood in the city, this is where you should come if you want to learn more and see Seattle's history and culture.
Indulge in a fresh coffee as you explore the area, steeped in history. Keep your eyes open for first settler sculptures, the Klondike Gold Rush Museum, Smith Tower, and Bill Speidel's Underground Tour.
The Klondike museum will teach you all there is to know about Seattle's involvement in the mass migration to Canada's Yukon region which took place in the 1890s.
Take The Washington State Ferry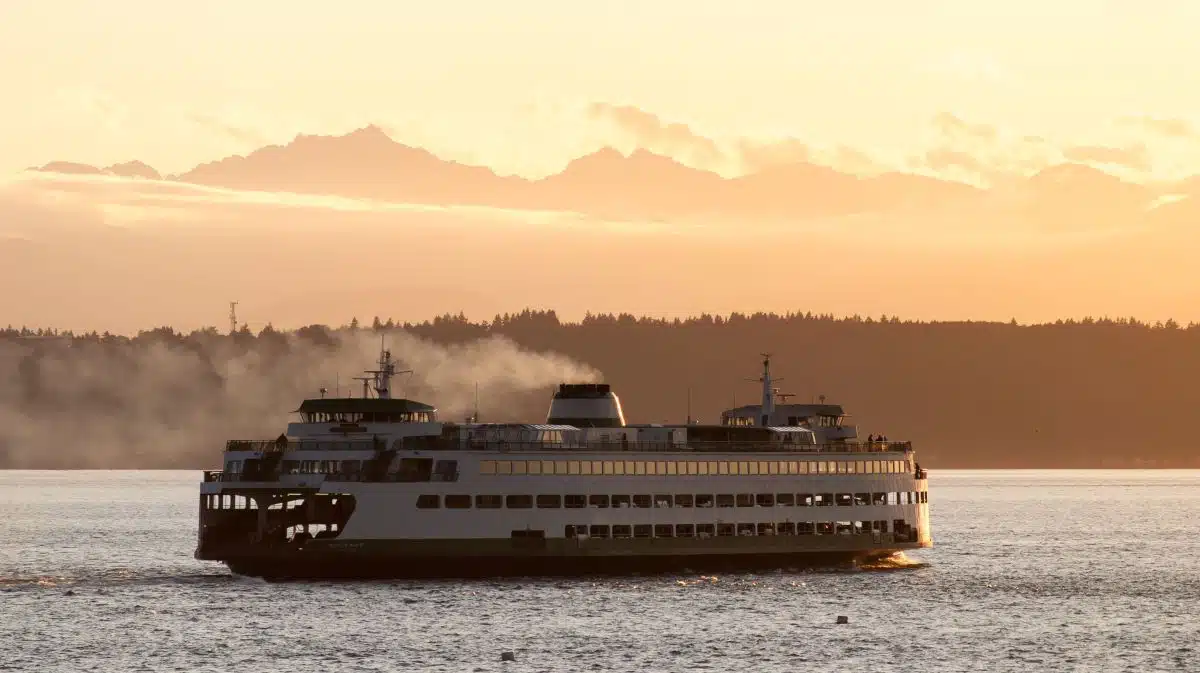 Washington State Ferries has 22 vessels, running daily trips across the Puget Sound. On a clear day, these vessels provide visitors with the perfect opportunity to explore the Pacific Northwest.
From the bow of the vessels, you will experience one-of-a-kind views of the breathtaking Washington landscape. You'll also get the chance to explore the nearby Bremerton and Bainbridge Island communities which is incredibly fun.
This is one journey where you won't be asking 'are we there yet?'. If the sun's out and the skies clear, definitely jump on one of these ferries.
Brilliant Things to See & Do in Seattle During the Day
Learn a Trick or Two with Seattle Barista Academy
Seattle is known for many things. One of those things is its coffee. Regularly referred to as the Coffee Capital of The World, it's not a surprise to see a variety of places offering entertaining coffee experiences.
If you love your coffee, you'll love the Seattle Barista Academy. Situated not too far away from downtown Tukwila, the Seattle Barista Academy offers 3-hour coffee classes to coffee lovers.
During these classes you get the chance to get your hands dirty as you learn everything about North American coffee. You learn all about how the coffee is made before being given the chance to practice latte art.
Head to T-Mobile Park or Lumen Field
Big lovers of American sports will probably already know that Seattle is home to the NFL team Seattle Seahawks and Major League Baseball team Seattle Mariners. Exploring each of these huge stadiums on a tour, or even catching a game live, is a great way to unleash your competitive spirit.
Aside from Baseball and the NFL matches, keep your eyes peeled out for big events with musicians, Monster Jam, and Supercross taking place at Seattle Seahawks' Lumen Field.
Kayak On South Lake Union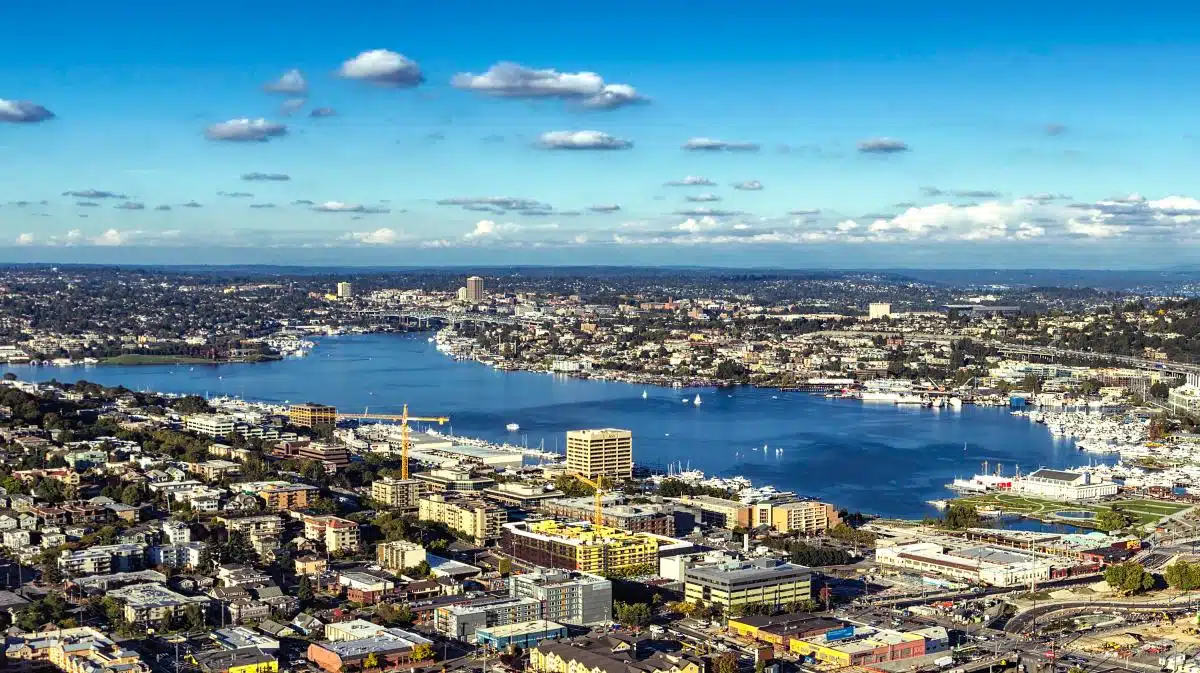 South Lake Union is great for many things, but if you're someone who seeks more adventure and thrills, kayaking is what you'll want to do here.
To the northeast of downtown Seattle is where you can find the large yet calm South Union Lake, complete with seaplane attractions, wooden boats, the floating home, and adventure sports centres.
There are a wide range of different operators found alongside the lake where you can rent a kayak. Exploring the lake by kayak was one of the biggest surprises I had during my trip to Seattle – I loved it.
Admire Marine Life at Seattle Aquarium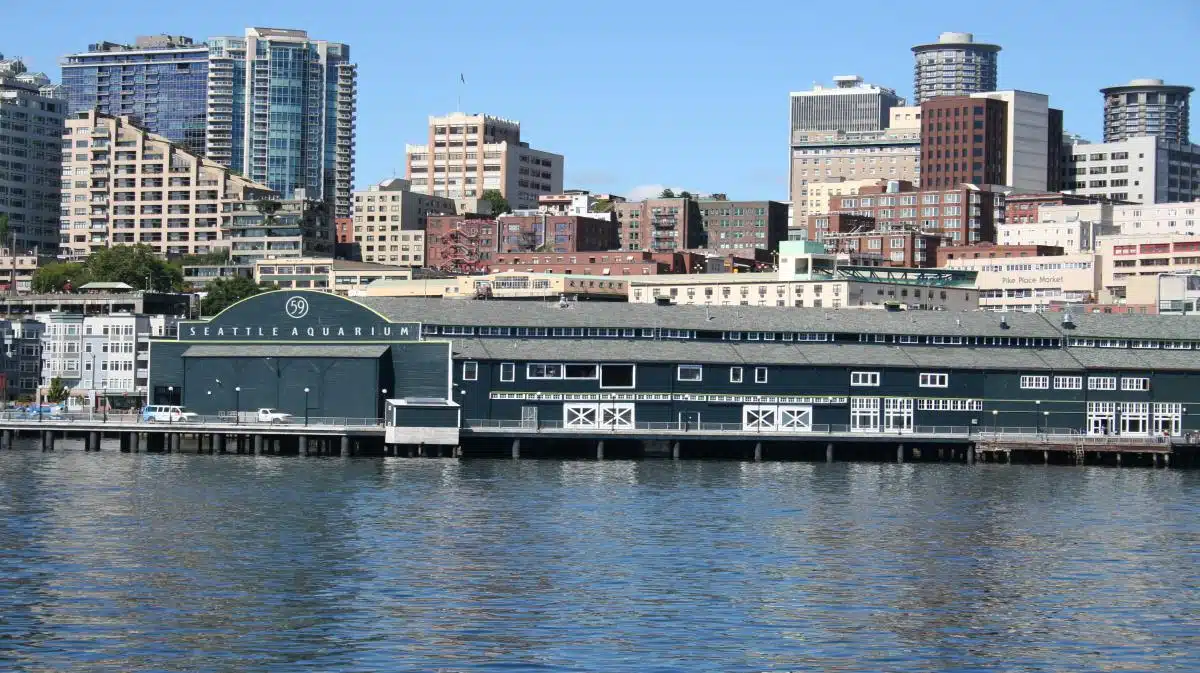 If the weather really isn't on your side, but you still want something fun to do, check out the Seattle Aquarium. Found on Pier 59 at the waterfront in Downtown Seattle, this aquarium is the perfect place to spend the afternoon with your family, especially on a wet day.
There's a huge variety of exciting sea creatures and marine life (all of which come from the Pacific Ocean), though the sharks that swim overhead, adorable sea otters, and quirky-looking puffer fish are arguably the best highlights.
In certain parts of the aquarium, your little ones will have the chance to interact with marine life (or you, if you fancy elbowing your way through toddlers), with the opportunity to learn about salmon and touch a sea anemone.
Take a Flight With Kenmore Air
If you're not satisfied with the view from The Space Needle, the only answer is to fly over Seattle. Kenmore Air operates absolutely outstanding air tours where they take families and small groups into the sky above Seattle to give them a one-of-a-kind experience.
As if this doesn't sound cool enough, the planes Kenmore Air use are actually seaplanes – this makes the whole experience all the better because you get treated to the unique experience of taking off and landing on the water.
That said, if you're not a big fan of heights or water, you will probably want to skip this attraction.
Visit Starbucks Reserve Roastery & Tasting Room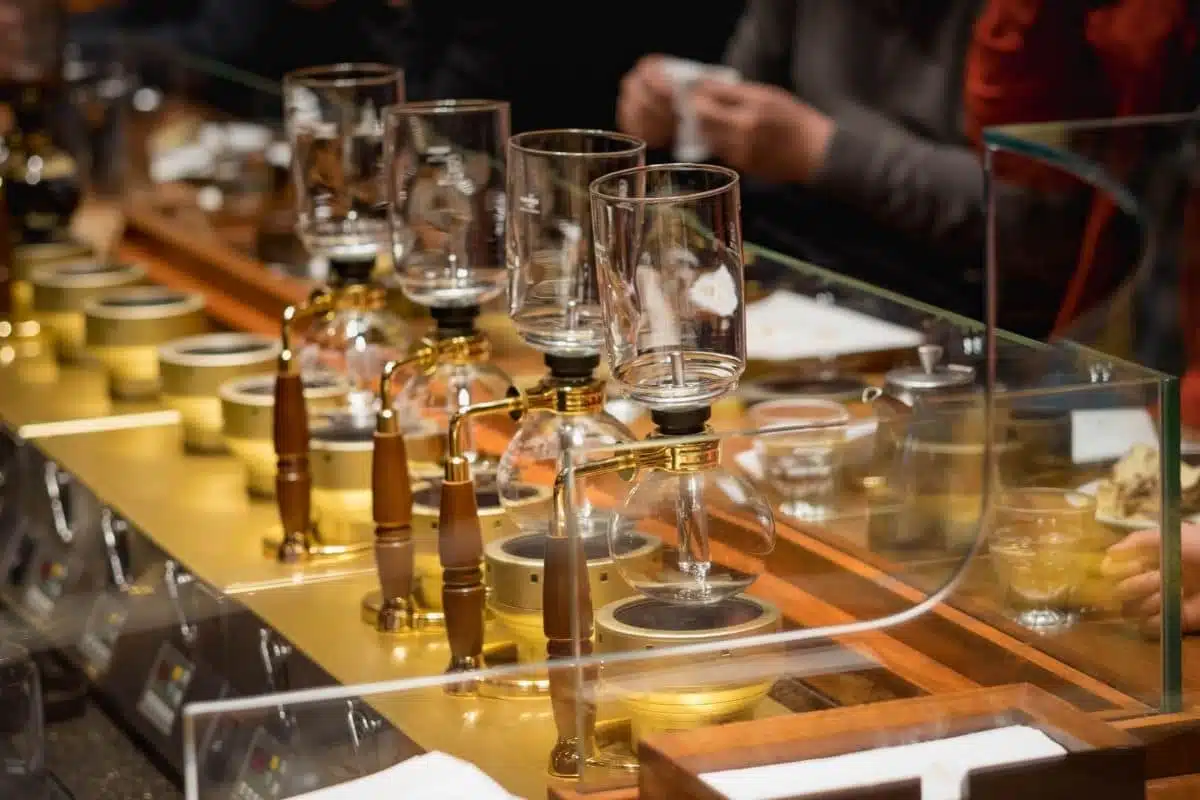 Usually I would say to skip chain coffee in favour of an independent find, though if you're not drinking Starbucks in Seattle, you're doing it wrong. It's a crime to visit the city and not check out the Starbucks Reserve Roastery & Tasting Room.
You won't have much trouble finding a Starbucks in the city, so it makes perfect sense to explore something a little more unique.
Found on Capitol Hill, at the Starbucks Reserve you can expect a Willy Wonka-esque experience minus the Oompa Loompas and the river of chocolate (sadly).
At this wonderland, you'll be treated to behind the scenes access to how Starbucks operates, exclusive drinks, the methods used to make certain brews, a cool coffee library, and so much more.
Explore the Chinatown International District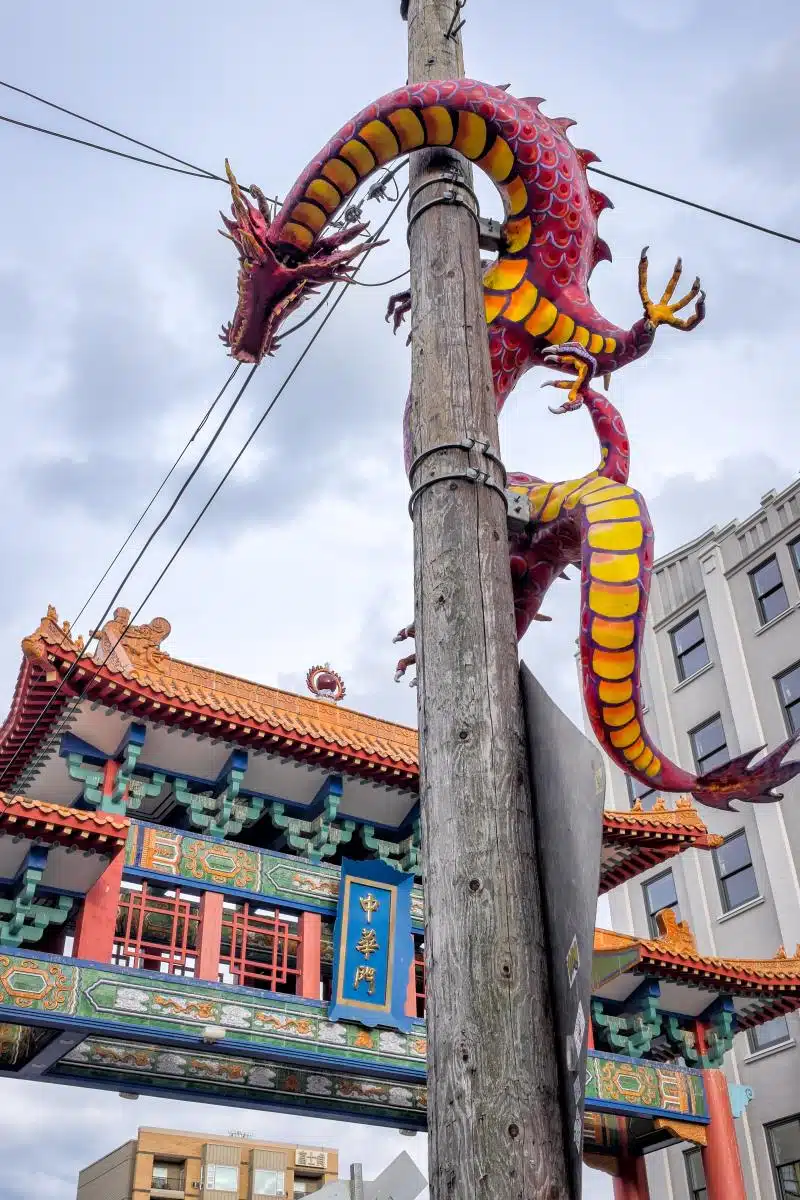 When it comes to cool things to do in Seattle, this is one of the very best.
Seattle has a large Chinese community, and there's no better way to immerse yourself in the culture than by heading to the Chinatown International District – you'll know you've arrived by the sheer amount of colour, tempting smells, and an array of delicious foods greet you.
Step through the ornate Chinatown Gate and enter another world bursting with history. After indulging in the best pho or sushi, head to Wing Luke Museum – this museum is dedicated to giving visitors an Asian Pacific American experience.
Other fantastic attractions found within Seattle's Chinatown include the Seattle Pinball Museum and the incredible Japanese supermarket called Uwajimaya.
Cool Things to See & Do in Seattle at Night
Take in the View From Seattle Great Wheel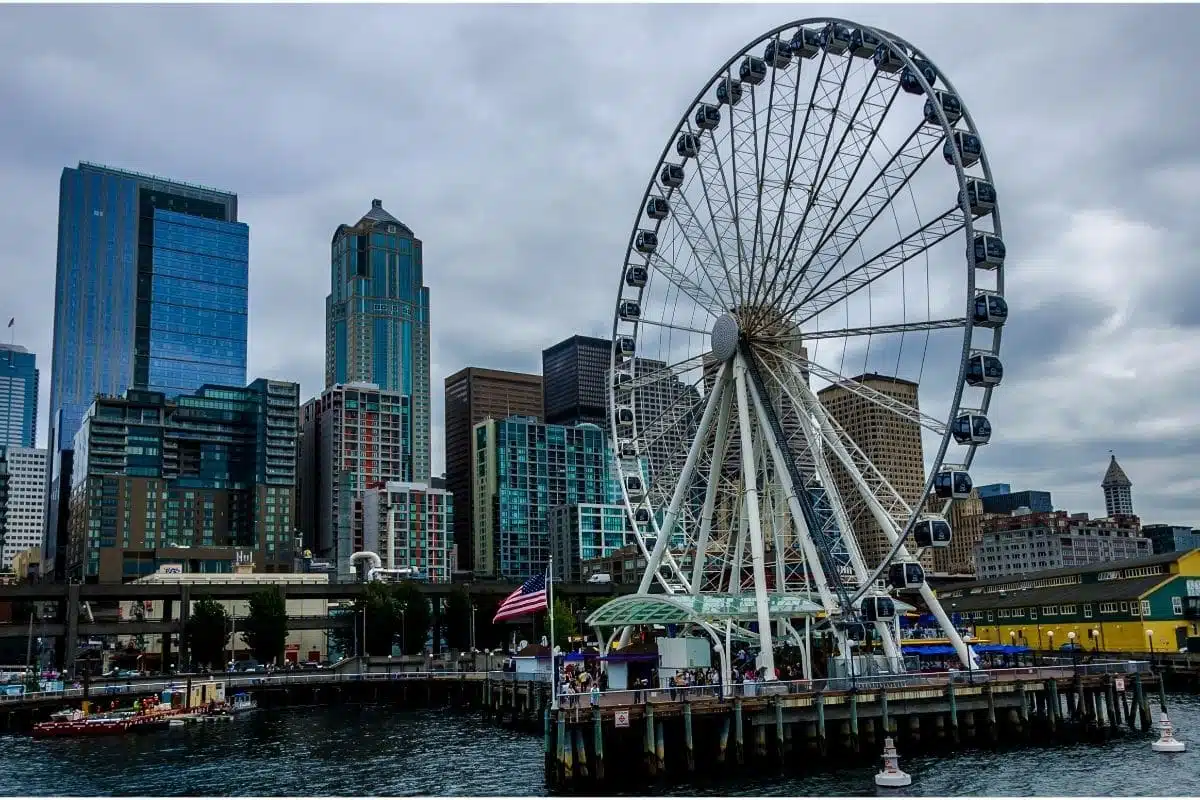 Found on Pier 57, the Great Wheel of Seattle is actually one of the largest of its kind in North America. Taking a spin on the Great Wheel is fun at any time of day, though when the city is illuminated at night it's even better.
With great views of the city skyline and out to sea, the 175-foot wheel can also reveal impressive views of the Olympic Mountains if the weather is on your side.
Thankfully, the designers behind the wheel built it with enclosed gondolas, so even when it's raining you can enjoy the ride without getting wet.
Crawl Seattle's Best Bars
I spent a fair time in Seattle's bars during my trip to the city, and so I'd like to think I've got a handle on the best spots for boozing.
My favourites? Bathtub Gin Co. is the perfect spot for gin-based cocktails in an ultra-cool bar, Percy's and Co's artisanal cocktails were sublime (without an ounce of snootiness), and Lorretta's Northwesterner is a cosy joint I'm dreaming of returning to.
Catch the Sunset at Kerry Park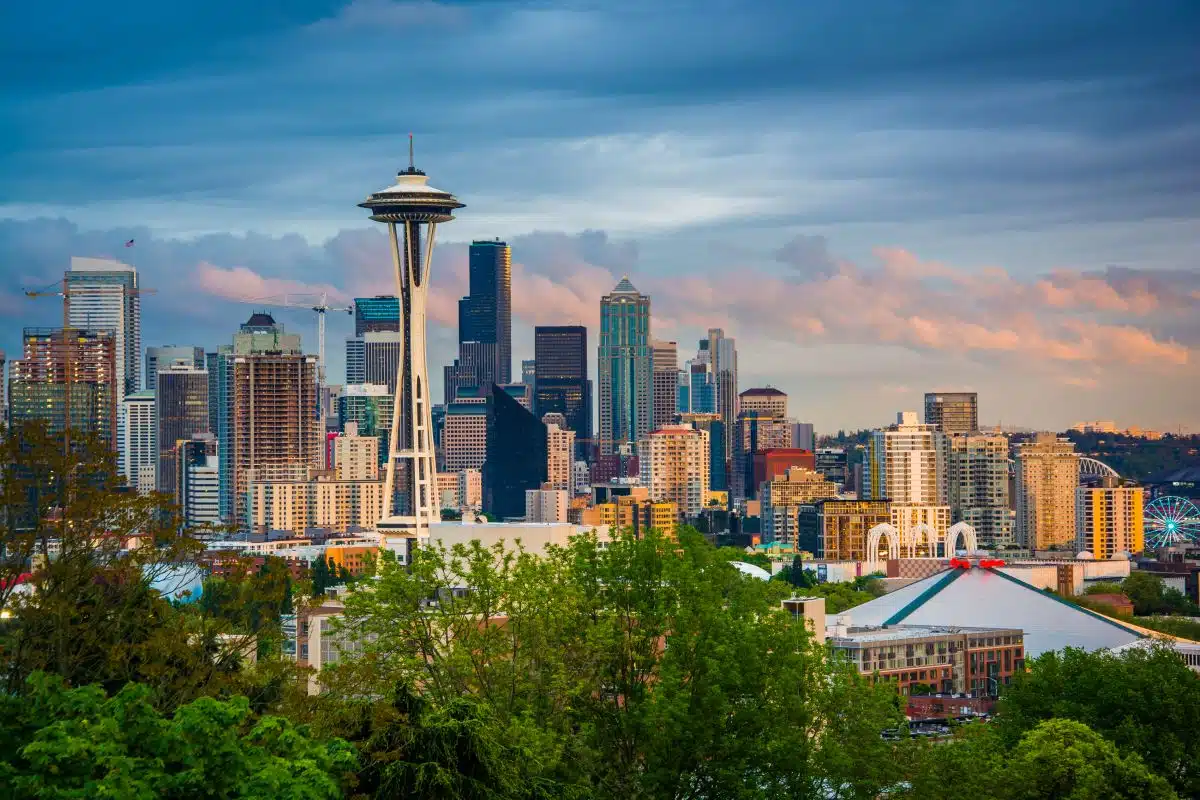 Particularly at sunset, one of the best things to do in Seattle is to head to Kerry Park. Kerry Park is home to the famous Queen Anne spot that overlooks the whole of Seattle from the North, so it's arguably the best place to experience an ultimate view of the city.
Featuring an insane view of the Space Needle, downtown skyscrapers, and Elliot Bay, on a super clear day it is even possible to get a glimpse of Mount Rainier.
When Mount Rainier reveals itself, you can expect this spot to become very busy with tourists and locals alike who want to get that perfect Instagram shot – though, don't let that put you off. I think it's worth it for the view.
Watch a Show by Pacific Northwest Ballet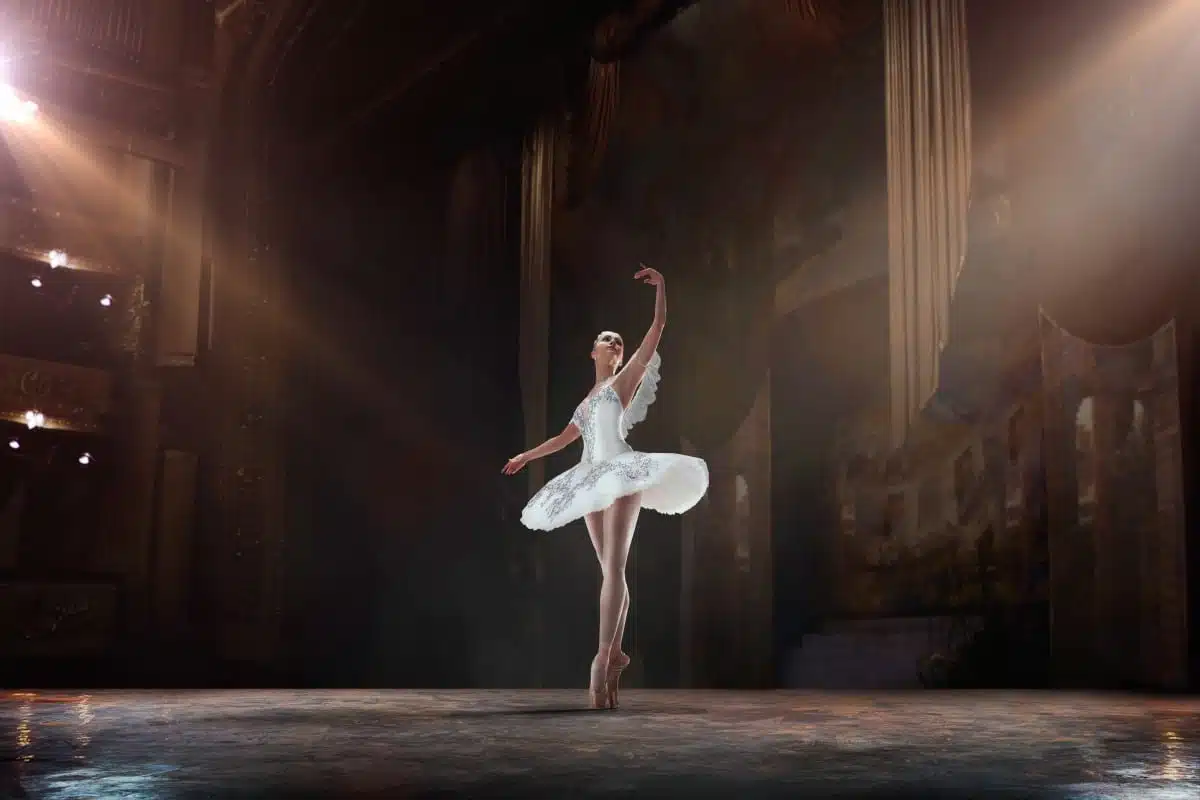 Looking for unique things to do in Seattle? Considered to be one of, if not, the best dance company in the world, Pacific Northwest Ballet is a ballet company consisting of 49 dancers.
Every year, the ballet company treats locals and tourists to over 100 shows based on classical and modern ballet. The shows take place at the Seattle Center's McCaw Hall and are created by renowned dancer Peter Boal.
If you happen to be in Seattle at the time of one of these shows, I highly recommend taking the time to enjoy one – it's also the perfect respite should the weather be grey and drizzly.
Spook Yourself Silly on a Haunted Tour
One of the top things on my list before heading to Seattle was a haunted tour. It may sound strange, but I love finding out about a city's dark secrets – and this is one of the best things to do at night in Seattle.
I recommend this tour, which takes you to the likes of the Suquamish Burial Grounds and the Northwest's first mortuary, amongst plenty of other haunted places as your spooky guide spills all the gory secrets.
Book Your Haunted Seattle Tour Here
Head to the Pacific Science Center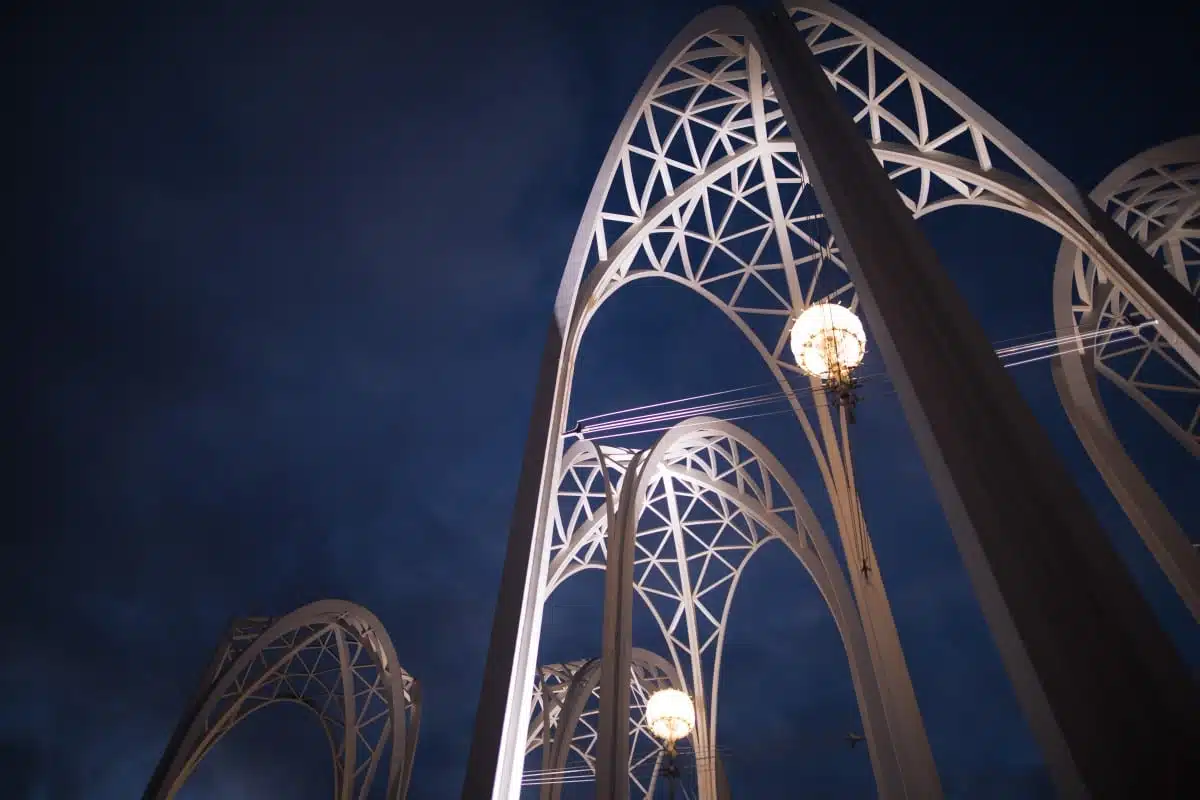 Wondering what to do in Seattle? Science lovers should add the Pacific Science Center to their Seattle bucket list. While the centre is open throughout the day, it is at night that the centre truly comes to life. This 21st-century museum has 7-acres to explore so give yourself plenty of time.
The centre runs entertaining evenings called PacSci, where visitors can expect to take part in a variety of fun activities. These include laser shows, lectures, IMAX films, virtual exhibits, and the latest updates regarding biotech advancements.
WildLights At Woodland Park Zoo
If you're travelling to Seattle with children (or you're a huge kid yourself), a must-visit attraction in Seattle is the Woodland Park Zoo. At night, Woodland Park Zoo hosts a wonderful display of LED lights called WildLights. It's one of the top fun things to do in Seattle.
During the evening, the zoo is lit up with thousands of impressive LED silhouette displays, depicting wild animals and far-off places. The exhibits can be found on the North Meadow as well as the zoo's pathways.
Food and drink is also available on site, so you can easily make a full evening out of your visit.
Things to do in Seattle: Practical Tips for Your Trip
How Long to Visit in Seattle?

I think at least 3 or 4 days is the perfect amount of time to stay in Seattle. This will give you enough time to experience all of Seattle's best places, while also giving you plenty of time to relax.
Best Time to Visit Seattle

The best time to visit Seattle is usually from September to October. The cooler temperatures during this time of year deters more tourists, which means that hotel rooms will be more readily available and affordable. You also won't have to queue as much for the main attractions.
Where Should I Stay in Seattle?
Mayflower Park Hotel (Mid-Range)
Constructed in 1927, the Mayflower Park Hotel is one of Seattle's most historic hotels. Providing guests with beautiful rooms and tasty food at very reasonable prices, the beauty of this hotel is that it is only a 10-minute walk away from key attractions like Pike Place Market.
Check Rates and Availability for Mayflower Park Hotel on Tripadvisor I Booking.com
Fairmont Olympic Hotel (Luxury)
Those looking to stay in luxury while in Seattle should consider staying at the Fairmont Olympic Hotel. Listed on the National Register of Historic Places, This stunning downtown Seattle hotel has the most amazing rooms with sweeping city views, award-winning dining options, a fitness centre, and a large indoor swimming pool.
Check Rates and Availability for Fairmont Olympic Hotel on Tripadvisor I Booking.com
Recommended Tours in Seattle
Things to do in Seattle Washington: Map
Looking For More USA Travel Guides?