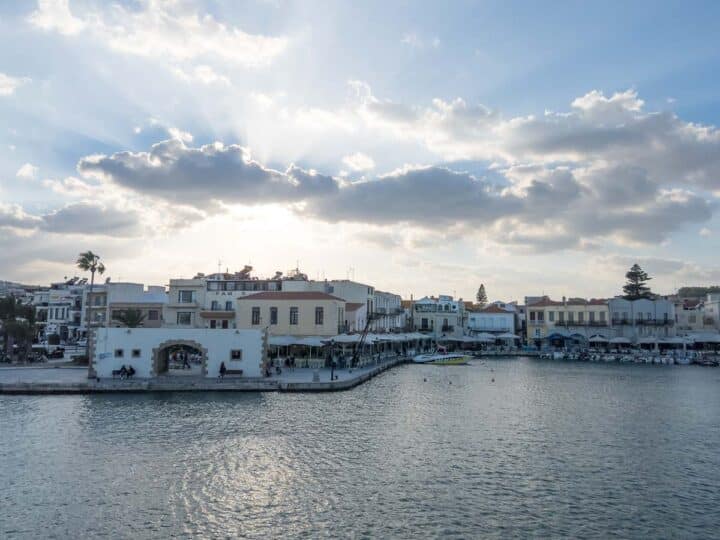 Discover the very best things to do in Crete for an epic Greek trip. Here are 14 incredible things to add to your Crete bucket list.
Pink beaches, ultimate dining experiences, exquisite architecture, and azure seas — have I got your attention yet?
Thought so.
Well, you're going to want to head to Crete, where you can experience all this and more.
Perhaps you've already explored hidden travelling gems such as Iraklia in the Cyclades, but the nearby Crete is just as full of potential, mythology, and allure.
In fact, I guarantee you'll find yourself wooed by its magic embrace, with touches of Venetian architecture and loads of history at every turn.
Sounds too good to be true? I promise you it's not. Check out these brilliant things to do in Crete and discover for yourself.
Looking for somewhere to stay in Crete? With warm and rustic stone interiors, Manili Boutique Suites & Villas will cater to your every whim – and looks hella good doing it.
Top 5 Things to Do in Crete
Hike the Gorge Sarakina in Meskla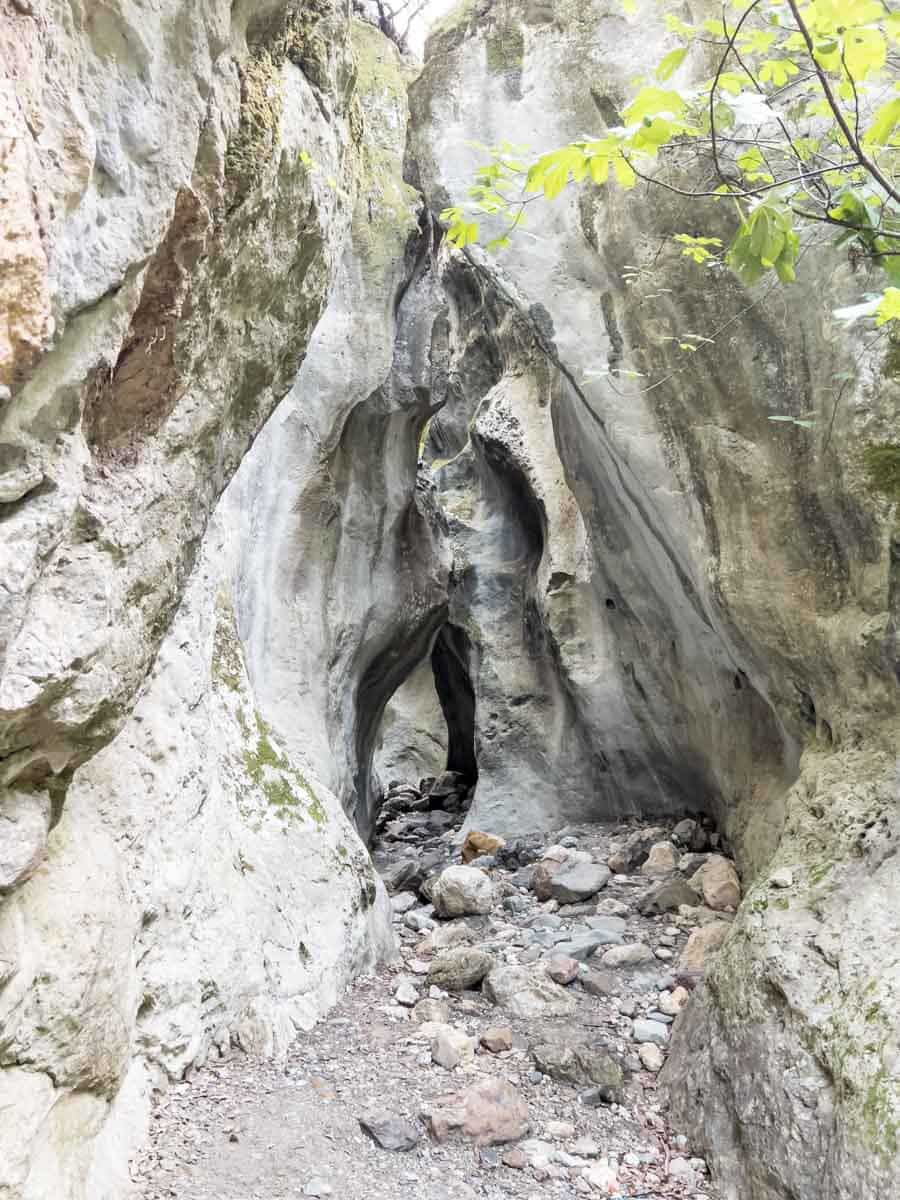 It might not be an epic hike of Iliad proportions, but the short Sarakina Gorge by the village of Meskla will enchant you – and provide endless Instagram images. Which, you know, is just as cool.
The gorge is hidden in a ravine with cypress trees and (you'll be delighted to hear) offers an easy 1-hour trek along a circular path created by local authorities.
No need to schlepp your way up mountains for incred views of the Greek countryside, this hike is made of different kinds of paths and boasts dramatic scenery in abundance. You'll get to wander beside a forest river before the landscape changes dramatically to boulders and sculpted striped limestone.
Top Tip: Good hiking shoes are essential. I don't go anywhere without my Tropicfeel Canyon shoes.
Pay A Visit to Heraklion Archaeological Museum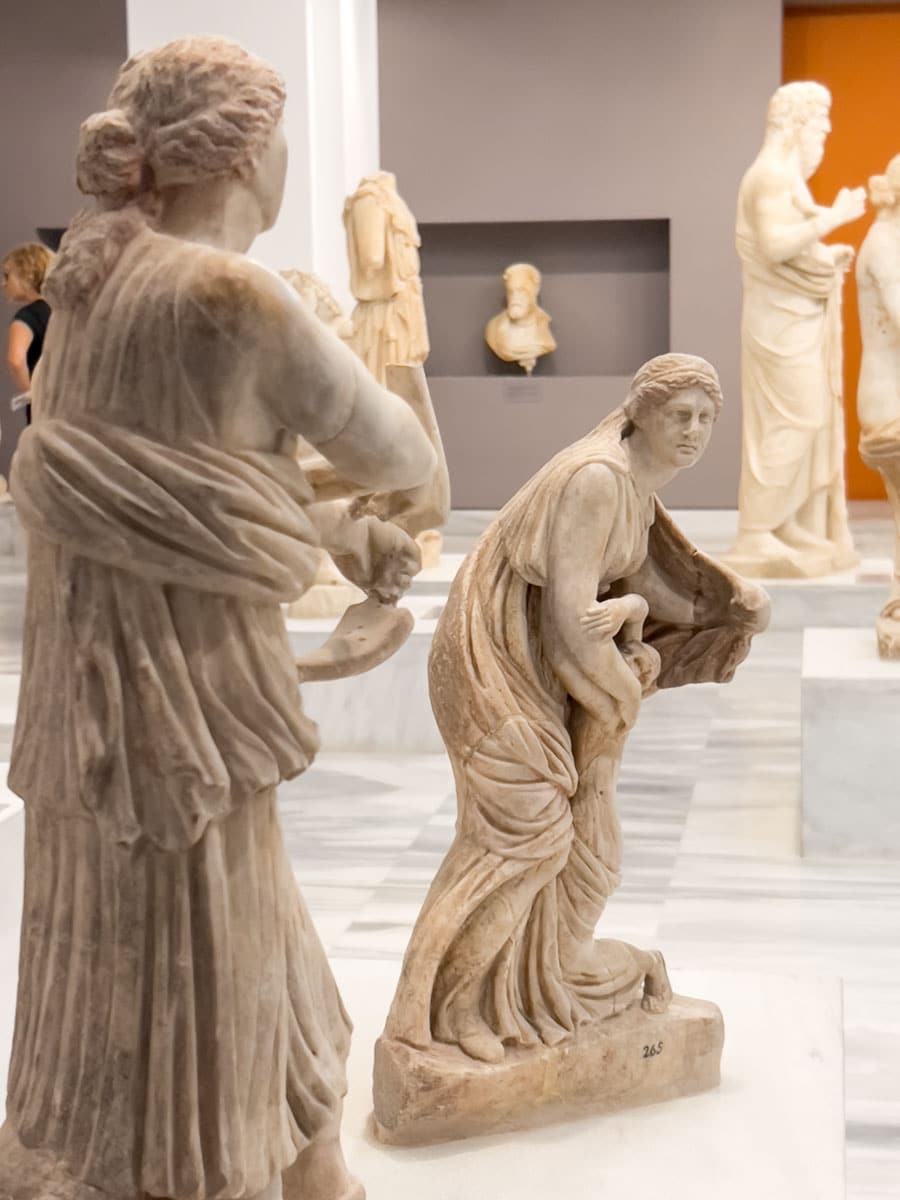 Although I didn't really expect much, I was blown away by the Archaeological Museum at Heraklion.
Maybe it's because I'm a little bit of a nerd (ok, that's an understatement), but I reckon that getting to gain insight into the oldest civilisation in Europe is seriously worthy of a spot in this guide to the best things to do in Crete.
The museum also has the largest Minoan artefact collection, so prepare for a bevy of fascinating sculptures and statues. And plenty of weird ones that will have you giggling like a school kid.
You'll embark on a chronological expedition through 20 rooms. Beginning with the Neolithic era, you'll continue to later ages with jewellery, vases, and liturgical figurines on display, not to mention weapons and armour.
There's the ivory Bull Leaper from Knossos Palace, the most mysterious Phaistos Disc overwhelmed with symbols, and the Arkalochori Axe etched with 15 strange inscriptions. Seriously, you can't miss those.
Top Tip: Grab your museum e-ticket and audio guide here.
Marvel at Balos Lagoon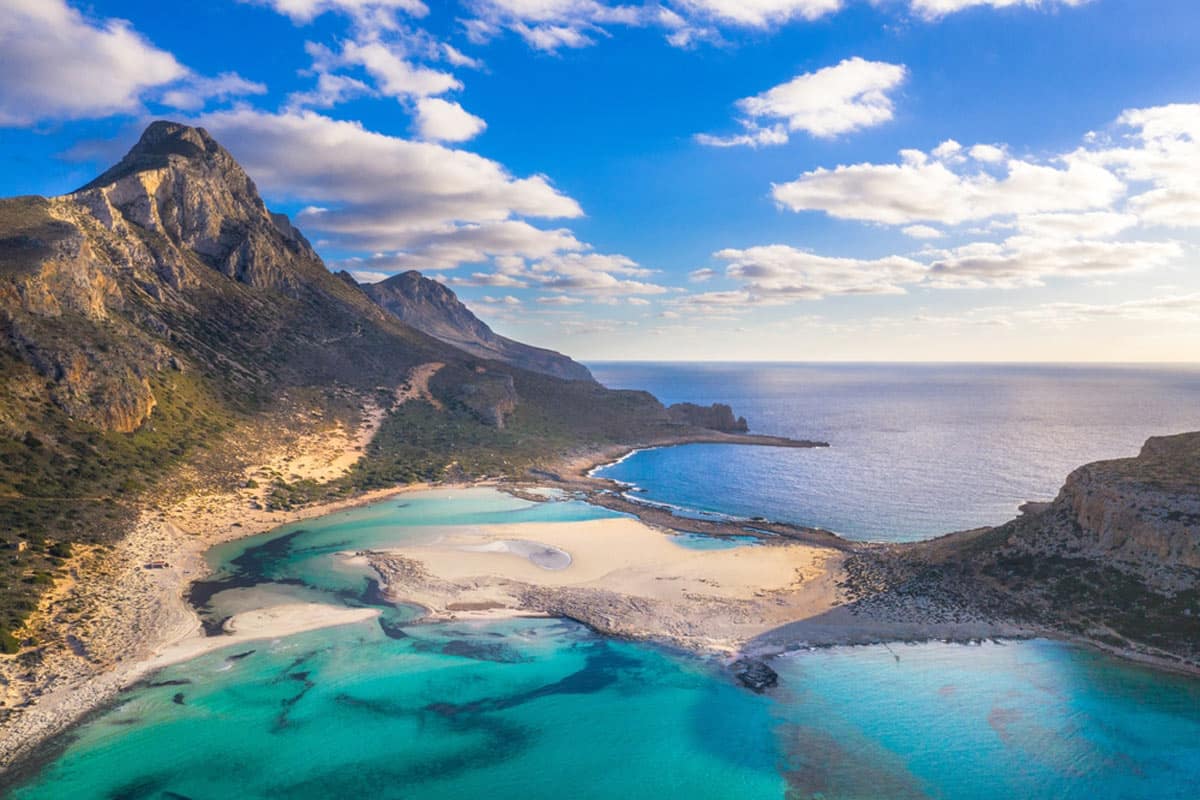 One of the most beautiful things to see in Crete is the swirling canvas of colour that is the Balos Lagoon. Sitting pretty between the capes of Gramvousa and Tigani, this large shallow pool of turquoise water is a sight to behold and a pleasure to wade in.
Arrive by car and you'll need to walk down a rugged hillside to reach it – which gives you the perfect vantage point to see its breathtaking swirling patterns against the white sand. That said, if you take a boat tour, you'll be able to visit the Venetian Fort on Gramvousa Island.
Chow Down at Prima Plora Restaurant
You know me — I'm obsessed with food and delight in the best local fare I can find when travelling. And let me tell you, the classic Cretan dishes with a twist at Prima Plora will amaze your tastebuds.
Nestled on the western outskirts of Rethymnon, the decor and setting promise a first-class dining experience. The crashing waves below accompany the house music while you happily indulge in generous portions of ouzo-flavoured shrimp and Dakos.
Seafood is their specialty, and the locals know it, so make a reservation in advance.
Undertake the Samaria Gorge Trek (If Your Stamina Can Handle It)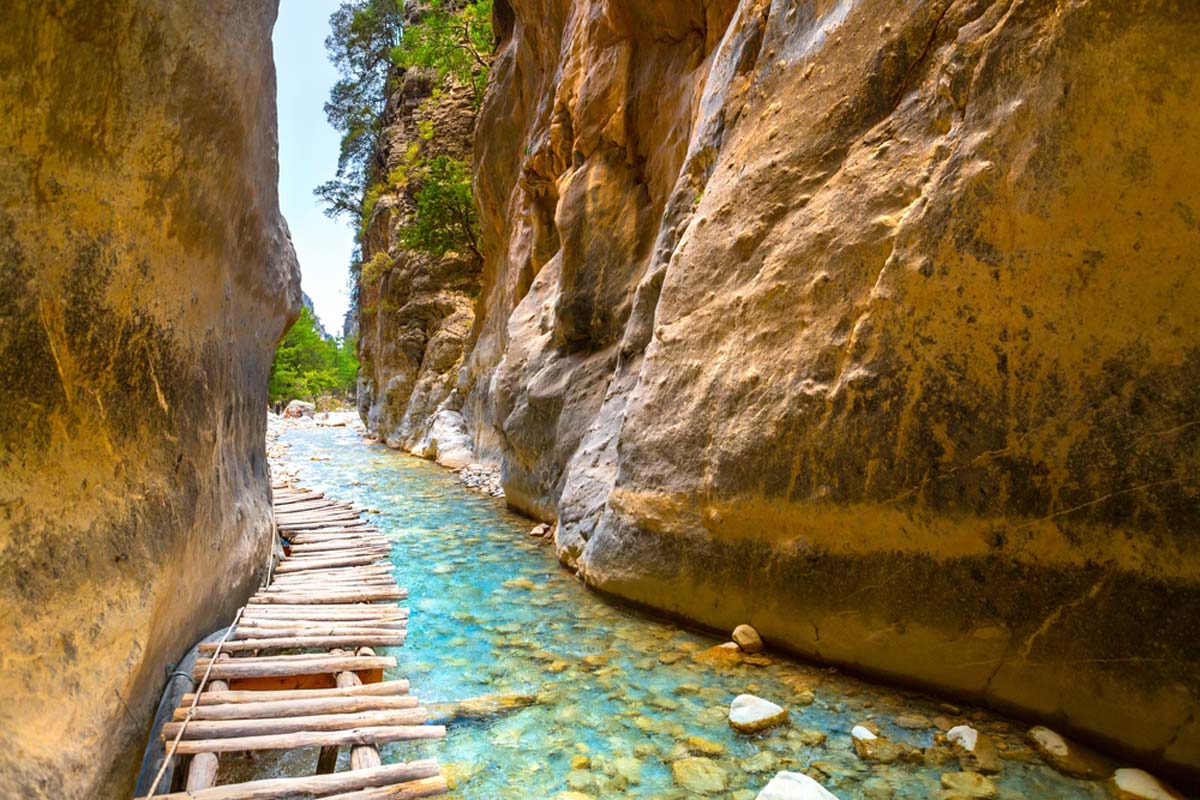 Remember the good hiking shoes I was talking about earlier? Now's the time to strap them on and prepare for this once-in-a-lifetime 9.9-mile hike. You'll begin at a viewing platform at the bottom of some wooden steps, and if you look up, you'll immediately see the towering walls of rock on either side of you.
As you continue your trek, you'll be able to spot the odd tree reaching towards the opening of the gorge and greenery flush on the rock walls.
You might even catch a glimpse some endangered kri-kri, a feral goat that'll make your light footing look like a joke compared to their impossible gymnastics on the sheer rock faces.
The ravine narrows until you reach a section referred to as the "Gates" or the "Iron Gates." – where the gorge cinches in its waist to a mere 13 feet across. Eventually, you'll come to the shores of the Mediterranean. Take the easy route and go on a full-day hiking tour; you're on holiday, after all.
Top Tip: This hike is only open from 1st May to 30th October, although the exact dates can vary slightly according to weather. If rain is on the cards, the route is typically closed for safety reasons, so check the weather forecast carefully when planning your trek.
Brilliant Things to See & Do in Crete
Head to Chania's Venetian Harbour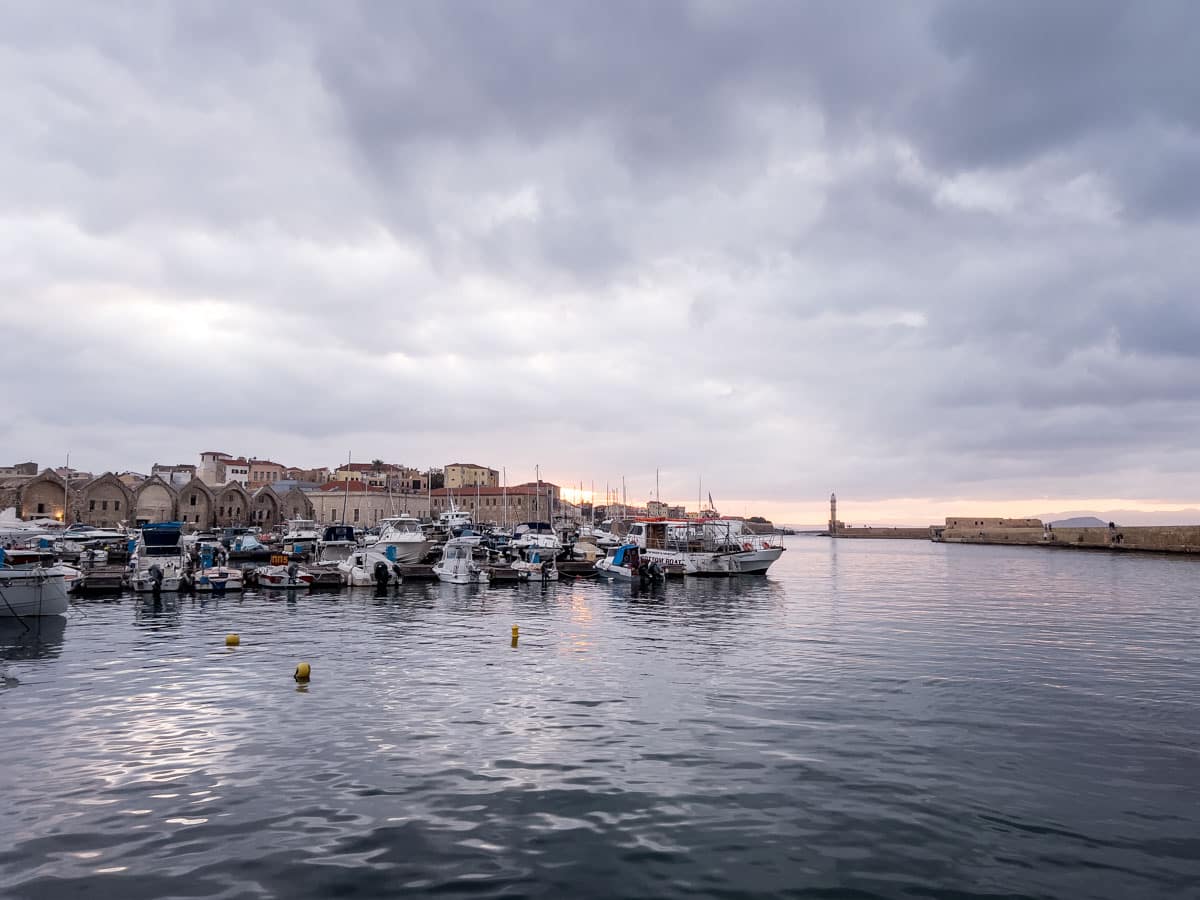 Although construction began in 1320, it took three centuries to complete Chania's beautiful harbour. I think you'll agree it was well-worth it, though.
The rectangular buildings painted in bright colours are spectacular, and along the eastern side, you can still see the terrace and dry docks for repairs known as Arsenali.
From the eastern end, you can walk along a long path toward the famous lighthouse, a city symbol. It has a minaret shape given to it during the Egyptian period of the 1830s, although originally built at the beginning of the 17th century.
I highly recommend taking this tour of Old Town and the harbour and marvelling in the stunning architecture.
Wander the Streets of Rethymno Old Town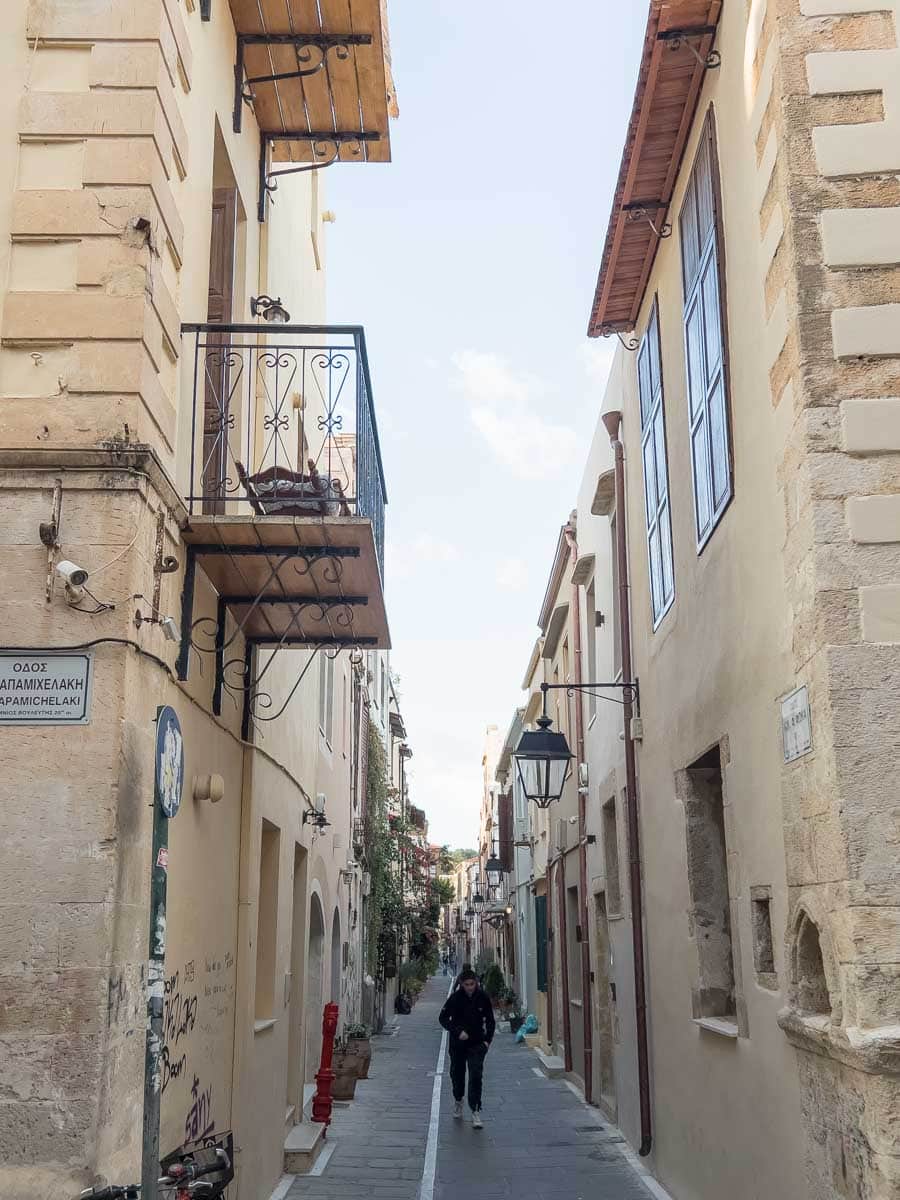 Colourful and quaint, you can't miss Rethymnon Old Town – it's one of the best places to visit in Crete. In fact, it's the third largest city on the island with the best preserved Old Town.
The winding cobblestone alleys are from as far back as the 14th century, and its Renaissance mansions, arches, and catholic churches still stand in all their glory.
The Neratz Mosque is a particular point of interest, though. It began as a Venetian church until its conversion to a Mosque by the Ottomans for almost 300 years until 1925, and now it's the city's municipal odeon. Regular music concerts blast their melodies here.
There's also the 17th-century Venetian Loggia and the Rimondi Fountain from 1629 to see, as well as Corinthian columns and Gothic archways. It's easily one of the most beautiful places in Crete, and you can immerse yourself further with this walking tour of Rethymnon Old Town.
Visit Apiri Greek Eatery
A visit to Crete without heading to the Apiri Greek Eatery is criminal, if you ask me. It might be small, but the atmosphere is calm and cosy, and it serves a modern take on cuisine that you can't miss. The dishes are artistically presented, and – just as importantly – the wine list is superb.
The menu isn't limited to Greek food, but offers a range of worldly inspirations. The beef tartare is exceptional, as is the rib-eye steak with puréed sweet potatoes. Don't forget to try the rooster goulash or the goat stew for something different.
Stick around and you might just get a little freebie for dessert, too.
Pretend You're a Greek King at Knossos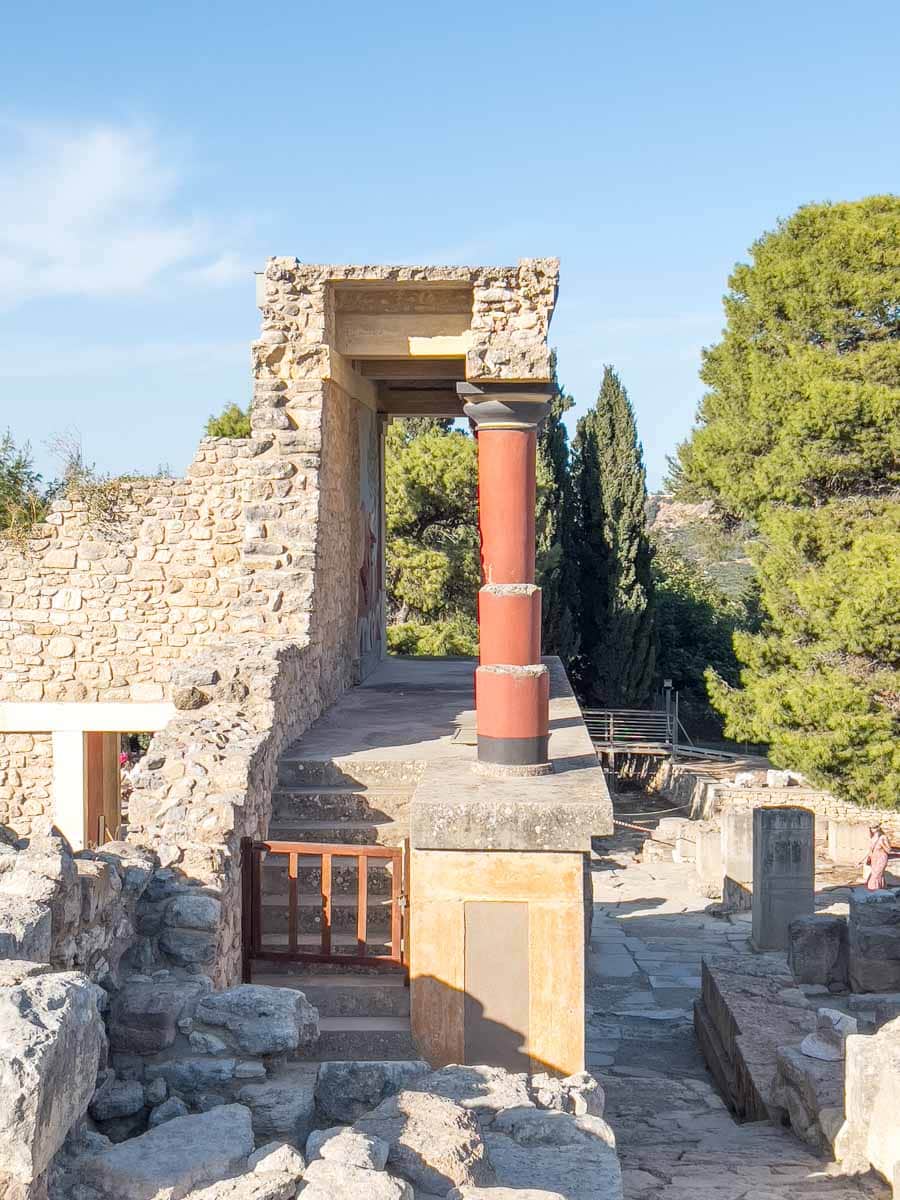 The capital of Minoan Crete, Knossos, is the name of the ancient palace and the city surrounding it. Built about 3,000 years ago, according to myth, King Minos sat upon the palace's throne with his deadly labyrinth beneath its floors.
Yes, the same labyrinth where the Minotaur stalked through endless darkened corridors (Greek mythology buffs – or anyone who has read Ariadne – do I have your attention?).
There may not be a labyrinth to explore, but there is a spectacular reception courtyard, a Throne Room, Sanctuary, and the Royal Apartments if you walk along the Royal Way.
Otherwise, there are frescoes to gaze at and all sorts of majestic ruins uncovered in the excavation in 1900. It's the best place to go in Crete for an insight into its history.
Top Tip: Take this private tour around the Palace for a unique experience.
Wind Your Way Through Chania Old Town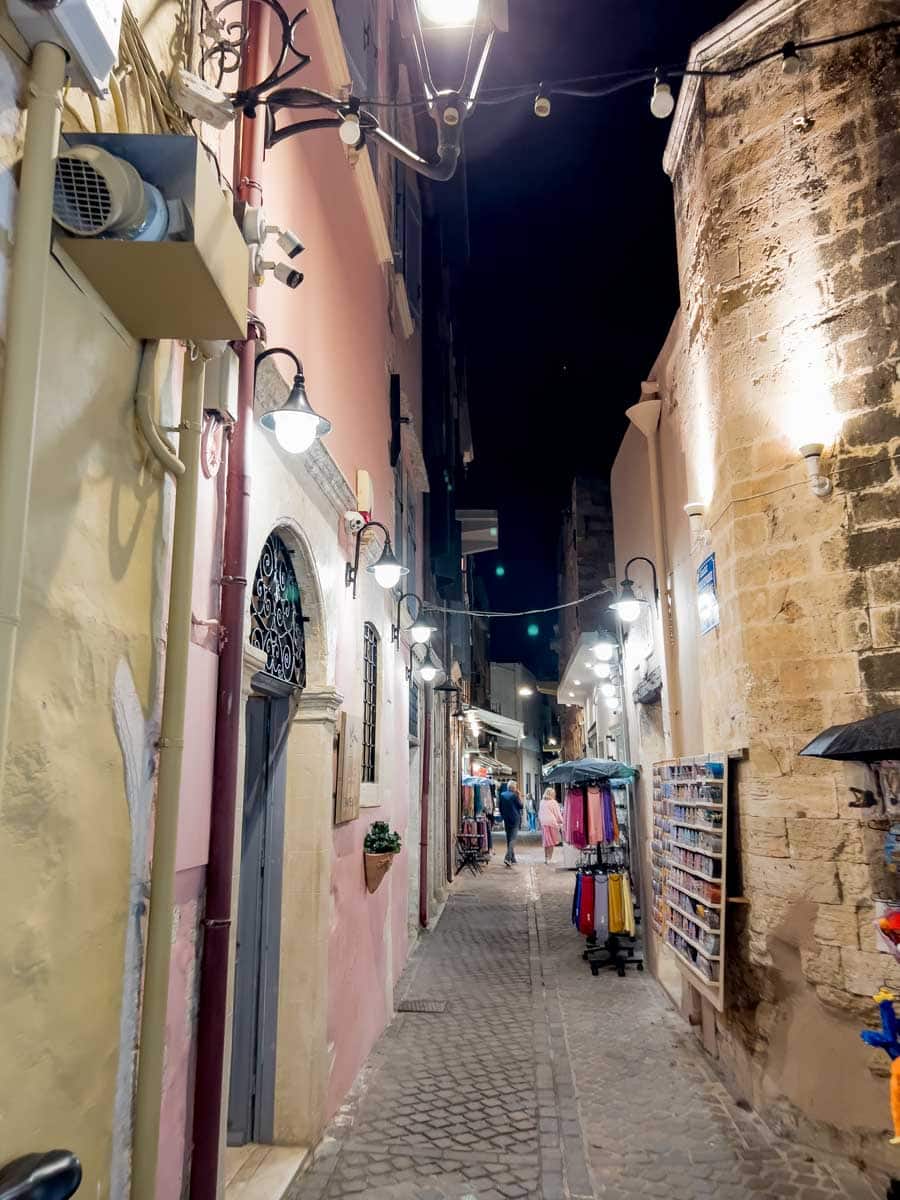 Looking for things to do in Chania, Crete? This beautiful city on the island's northwest side is a must for Crete sightseeing. The Old Town has romantic alleyways steeped in character and old-world charm, with overgrown pot plants trailing over wrought-iron railings and original brick façades.
The Venetian District is home to the most picturesque streets, thanks to the era-authentic architecture and mansions that are now boutique hotels. On the other hand, the Turkish Quarter of Old Town is where the locals indulge in sumptuous food.
Restaurants line the streets, serving everything from traditional Cretan dishes to high-end fusion cuisine. You'll even be able to see the Minaret of Ahmet Aga from here and perhaps catch a glimpse of the restored 16th-century monastery near it.
Need a guiding hand? This tour will take you to all the highlights of Chania Old Town and (more importantly) show you where the good grub is.
Spot the Roman Ruins at Gortyna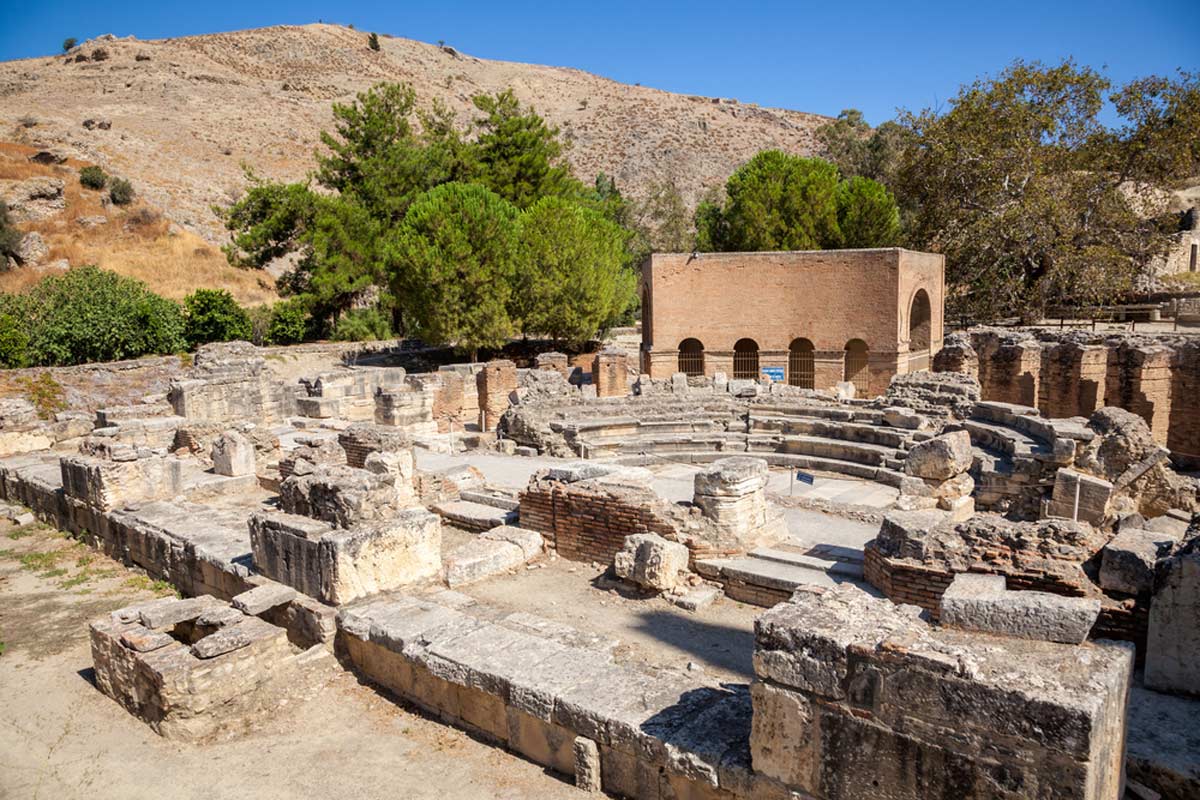 Surrounded by lush greenery, the Roman Ruins at Gortyna are an unmissable edition to your Crete bucket list.
Situated just 50km from Heraklion, the ruins here are Roman as opposed to the Minoan offerings that dot most of Crete. Make sure you snoop out the slice of wall that is marked with the Law of Gortyn (the earliest known Greek law FYI), dating from first half of the 5th century BC.
Other highlights of this site include the Odeon from 1st Century AD and the Church of St Titus from the 6th Century AD. Oh, and take five to sit under the beautiful plane tree – it's where Zeus and Europa apparently *ahem* got busy.
Unique Things to See & Do in Crete: Hidden Gems That are Off the Beaten Track
Dine at Emilia's Restaurant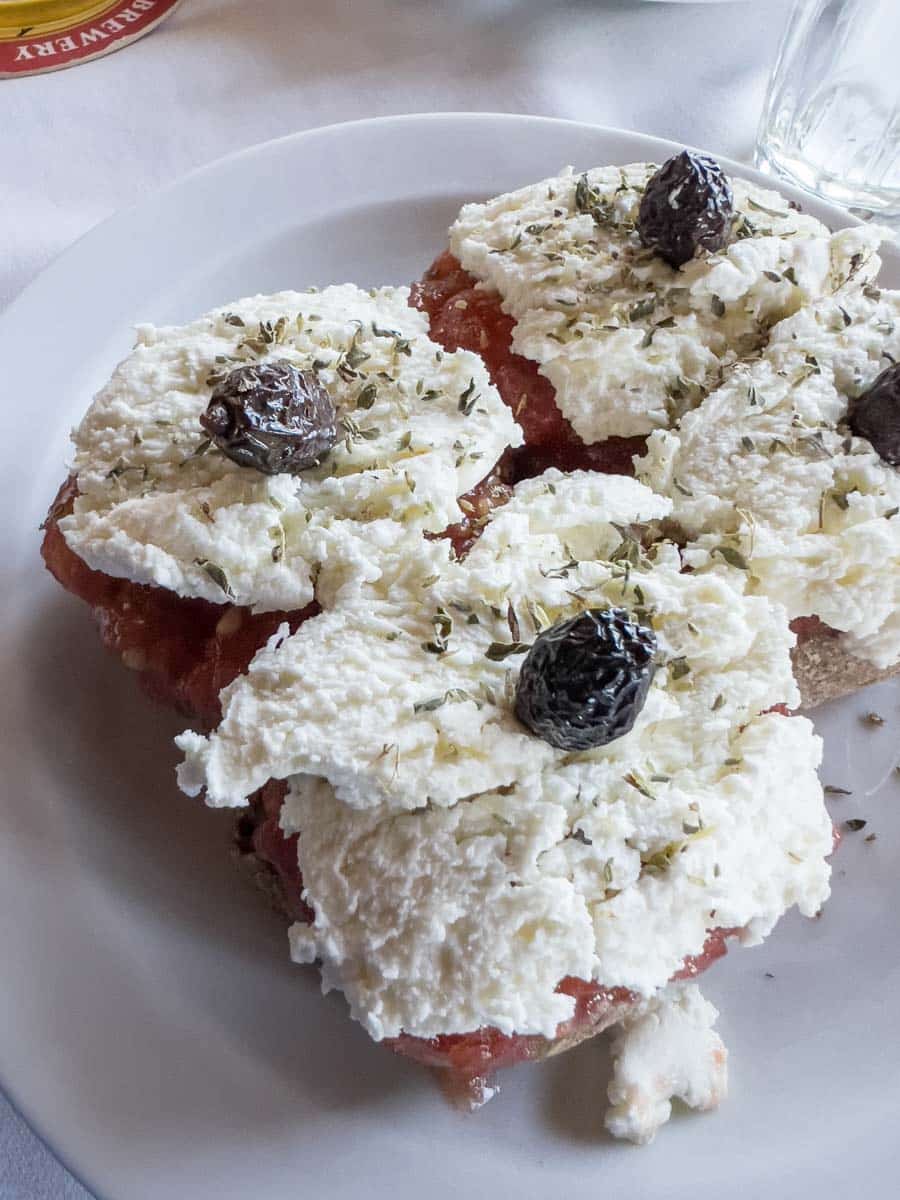 Nestled in the mountains, Emilia's is a hidden gem slowly gaining traction with the international crowd (the locals have long been in the know and I don't blame them for trying to keep it a secret).
The views are incredible, but it's the atmosphere and food that keep bringing people back for more.
It's a family-run endeavour with home-grown ingredients making up authentic Cretan dishes. Try the rabbit and omelet for a soul-satisfying meal, or simply drop by for a coffee and ice cream on your way back along the Sarakina Gorge hike.
Chill Out on Spilies Beach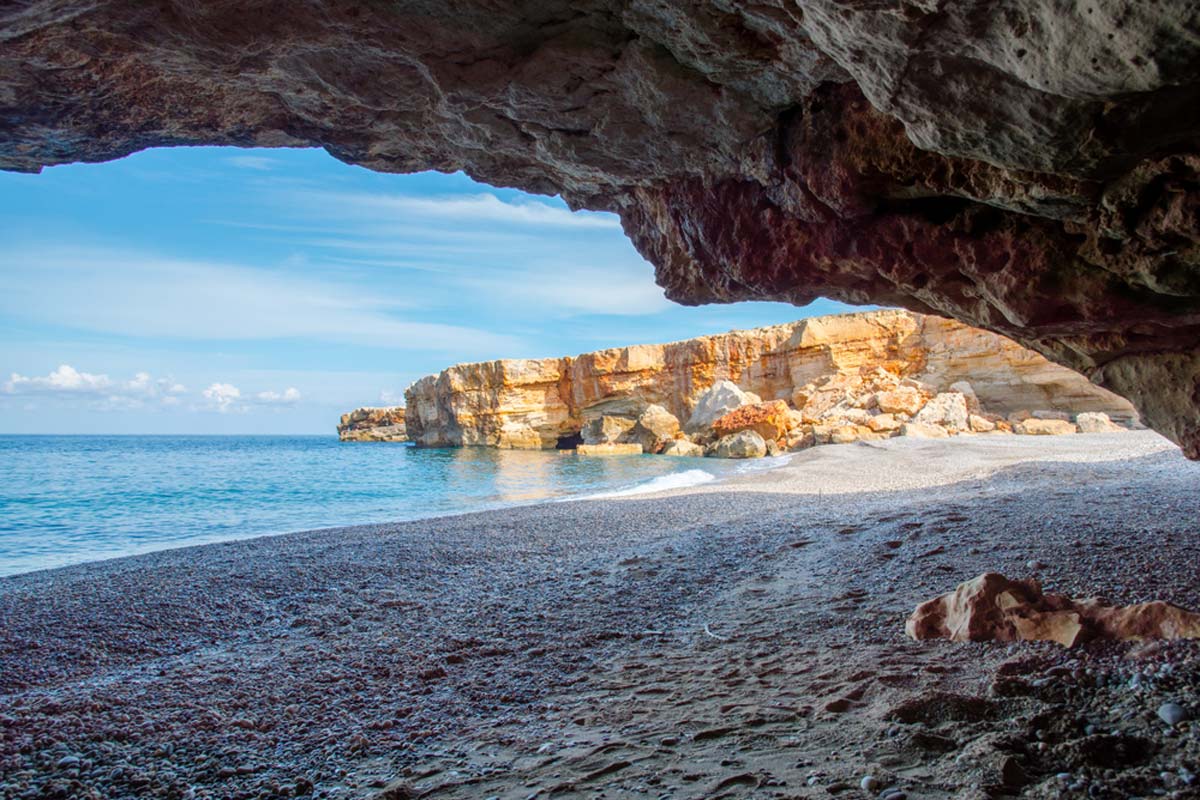 Unless a local or an avid traveller in the know tipped you off (you're welcome), you'd be hard-pressed to discover Spilies Beach. Secreted away down a rural road, it's one of the most beautiful hidden beaches and best places to go in Crete.
With low cliffs embracing it on both sides, this pebbled beach is only 328 feet wide, but it's fully organised. Sunbeds, umbrellas, four-poster lounges with curtains; you name it, they have it.
There's also a taverna and beach bar to keep you fed and watered. That is, when you aren't basking in the crystal-clear waters.
It's 17 km from Rethymnon and a minute's drive off the highway to Heraklion. The signage is easy to miss, so ensure you get good directions.
Gawk At the Arkadi Monastery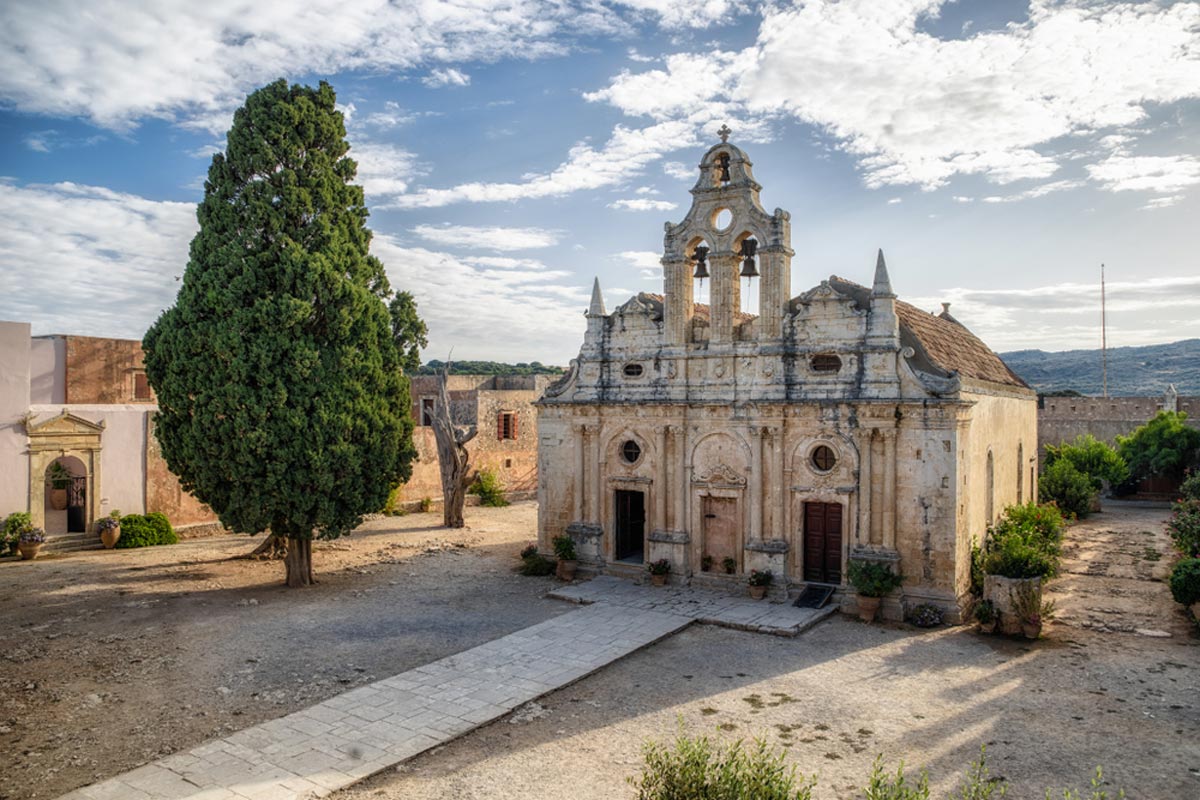 Somehow simple and elaborate simultaneously, the Arkadi Monastery stands proudly southeast of Rethymnon and is an essential landmark for the Cretans. It rests on a plateau surrounded by olive trees, vineyards, and oaks.
Famed for its gold embroidery and rich library in Ottoman times, it also has a tear-inducing history. During the Cretan Revolt, 943 Greeks walled themselves in the monastery for three days, holding out against the Ottomans.
Ultimately, they chose to ignite their gunpowder barrels and martyr themselves instead of surrendering. Today, the site is a Greek national sanctuary, and the Cretans observe the day of the explosion, 8th November.
Top Tip: This e-bike tour will take you to the monastery and neighbouring villages.
Have a Sunbathing Sesh on Elafonisi Beach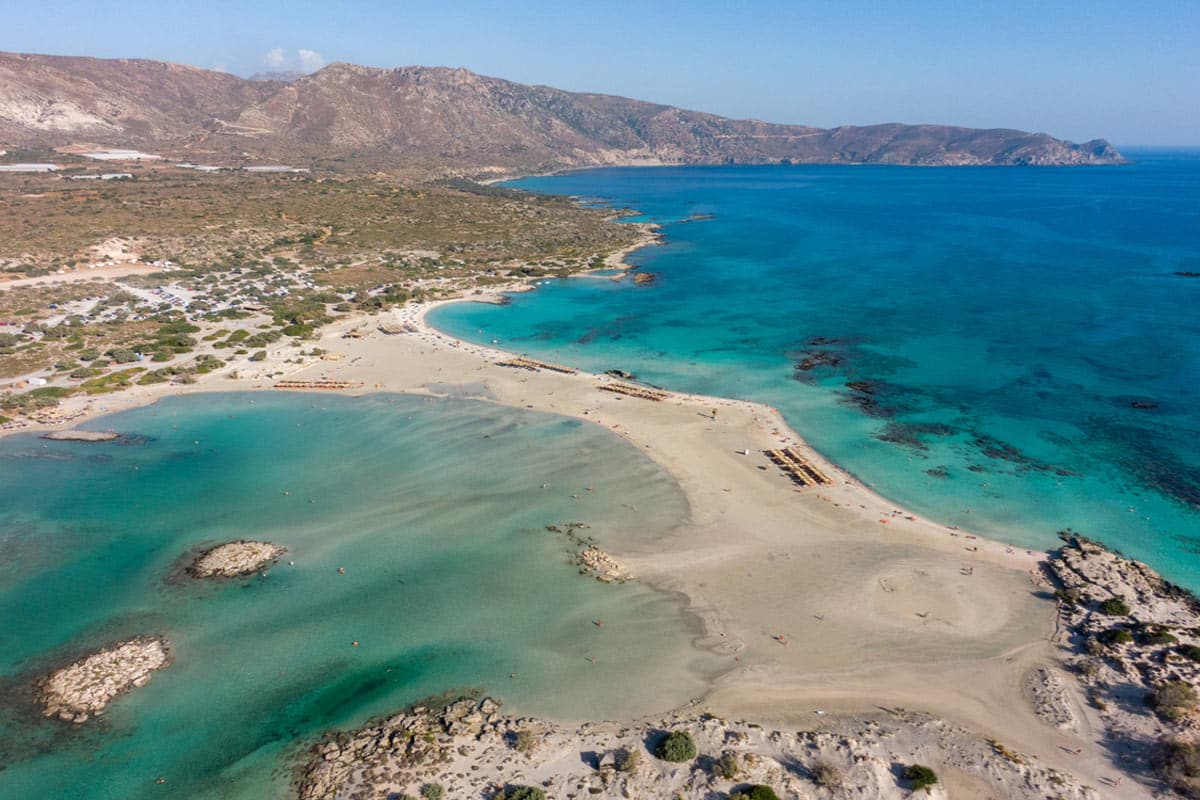 Stuck for ideas on what to do in Crete? Visit Elafonisi Beach. It's famous for its pink sands, which also dominate the dunes on its namesake island. Located between the mainland and Elafonisi Island, the beach's waters are crystalline and shallow.
You can walk comfortably through the ankle-deep pockets of water or lie back and enjoy the azure skies above with the gentle kiss of the ocean on your skin.
Either way, bring your camera because you won't want to forget this piece of pink paradise.
Top Tip: You can visit Elafonisi Island on this hassle-free tour.
Explore Spinalonga Island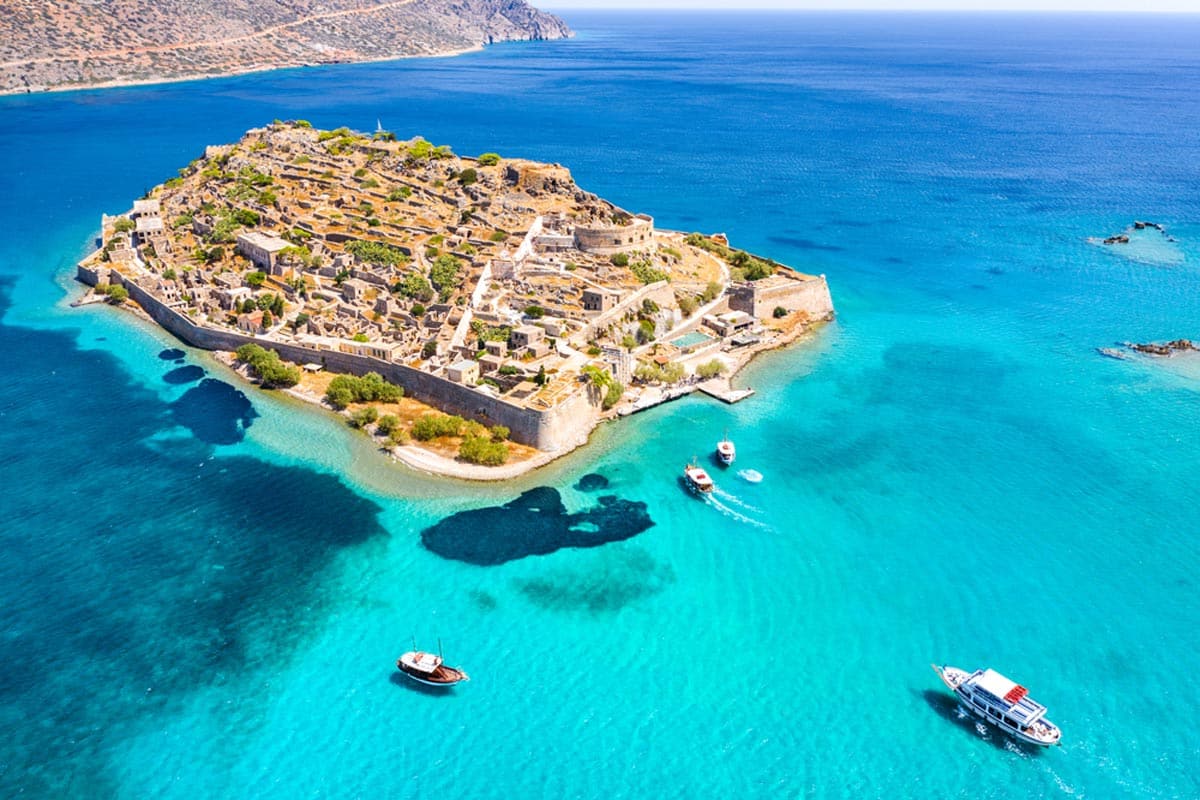 Just off the northeastern coast of Crete is a little gem of an island I urge you to explore – Spinalonga Island is dotted with both Leper colony ruins and pretty pebble beaches that line the azure coastline.
But, while sunbathing on the sand is off the cards here, there are plenty of other things to do on this small, uninhabited island. Mainly exploring the Venetian and Ottoman ruins that pepper the islet. There's even a museum that explores the island's fascinating (and cruel) history.
The best part? From Plaka, the boat ride to Spinalonga is just ten minutes, making it an incredible day – or even half day – trip.
Marvel at Koules Fortress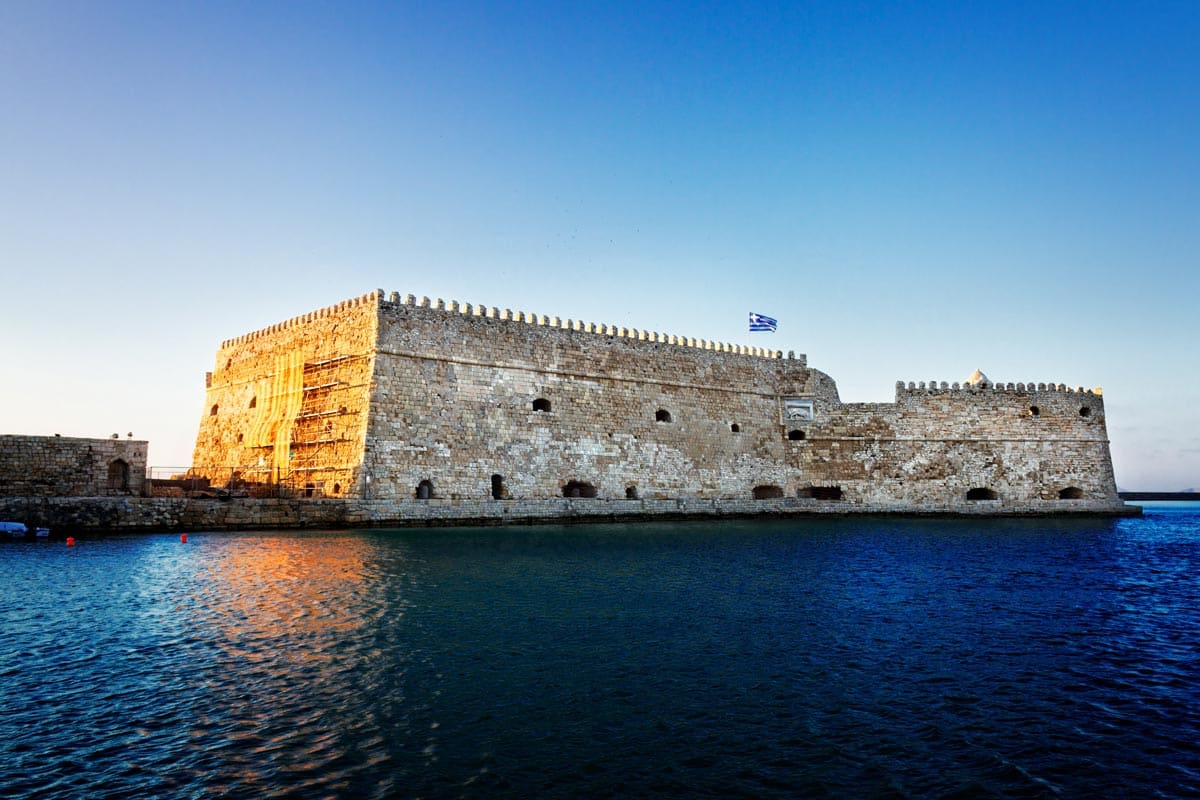 Another hidden gem you need to visit in Crete, Koules Fortress sits at the entrance of the old port of Heraklion. Dating back to the 16th century, it was built by the Republic of Venice but still stands in pretty excellent condition today.
The two story fortress originally boasted 18 cannons on the ground, with a further 25 on the top floor – if you look closely you'll notice the different types of stone that have been built up on the fortress throughout the years.
Visiting the fortress is free between November and March, as well as a few selected sundays throughout the year. Aside from that, it costs two euros to enter, but this allows you to explore the fortress in all its glory.
Hang Out on the Beaches of the Southwest Coast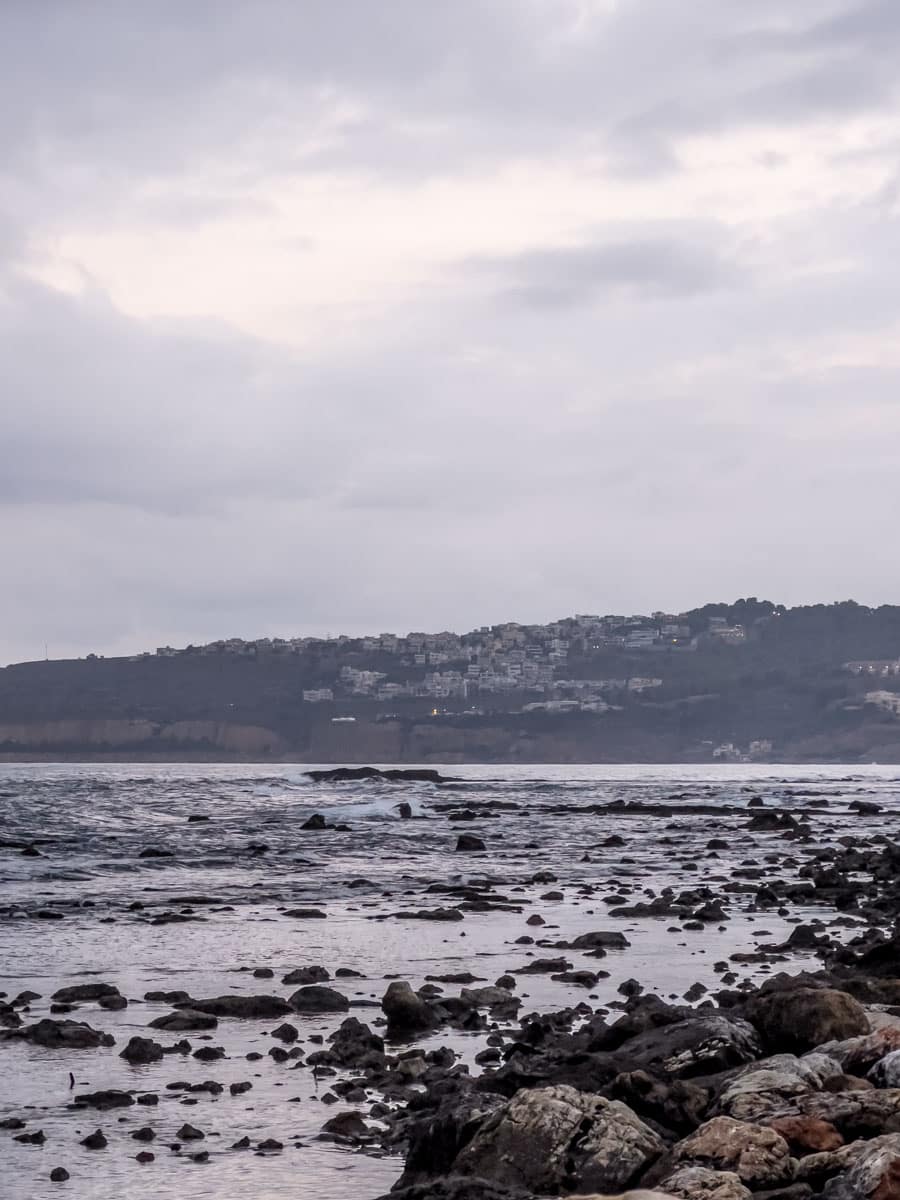 Where do I begin to rave about the beaches of the Southwest Coast of Crete?
Maybe with Triopetra Beach, which sits surrounded by some rather kooky rock formations. Or, just up the coast, Preveli Beach feels like a little secret that only you and the other sunbathers know about.
Though a little bit out of the way, Ilingas Beach is small but worth the drive for the dramatic views alone, while Agios Pavos is larger (and slightly more busy), but this has its own benefits. The nearby Seloudas Viewpoint makes for an epic trek – in fact, this side of the island is home to many wonderful hikes, caves, and ruins to explore.
Things to Do in Crete: Practical Tips for Your Trip
How Long to Visit in Crete?
This obviously depends on budget, time, itinerary, and all that good stuff. But, the minimum number of days I'd recommend for a stay in Crete is five days. This will allow you to see the major attractions, although your trip may be a tad rushed.
If I'm totally honest, a ten day trip will give you the best experience, with time to visit every impressive attraction the island has to offer. Not to mention, plenty of time to chill out on those dreamy Greek beaches.
Best Time to Visit Crete
I imagine by now you've got Skyscanner open and you're itching to book those flights. Hold up sunshine, let me help.
Knowing when to visit Crete can make or break your trip. July and August are the peak tourist months as it's the height of summer, so I recommend opting for a mid-May to June trip. This is the perfect spring option, with wildflowers blooming everywhere and warm waters.
Or, if you're budget-conscious, September to October are better months as autumn ushers in a cooler climate and lower accommodation and airfare rates. It'll also be far less tourist dense.
Where Should I Stay in Crete?
Galaxy Iraklio Hotel (Mid-Range)
Delightfully modern with all the home comforts you could ask for, this five-star hotel boasts two gourmet restaurants, a free wellness centre, and a freshwater pool.
Rooms at Galaxy Iraklio have air-conditioning and Egyptian cotton sheets, and the fitness centre is superb. On an affordable budget, you'll fall into a luxurious stupor at Galaxy Iraklio Hotel.
Casa Delfino Hotel & Spa (Luxury)
Luxury and old-world charm combine in this five-star hotel in Old Town Chania. This 17th-century Venetian mansion has courtyard and rooftop terraces for divine views, and each of the rooms offer luxurious bedding and marble bathrooms.
The on-site spa will soothe your soul after a long day of sightseeing. That is, unless you'd rather take a short stroll to the beach.
Recommended Tours in Crete
Things to Do in Crete: Map