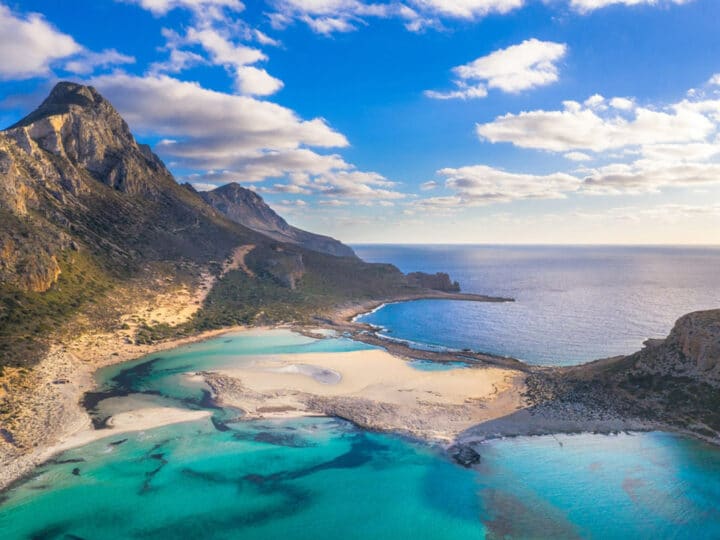 Looking for the best beaches in Crete? Add these spots to your itinerary and prepare for an epic beach break.
So you're planning a vacay to Crete? Lucky you. It's a seriously beautiful Greek island – in fact, it might just be my favourite, but don't tell the others.
Once you've sorted your flights and bagged your dream accommodation, you'll want to turn your attention towards the next most important aspect of your trip: The island's many beaches.
It can be tricky deciding which ones you need to visit, but that's where I come in.
While the hunt for the most idyllic setting can seem daunting (trust me, I know), it's never impossible.
These are the Crete beaches you shouldn't miss…
Best Beaches in Crete
Falasarna
Best for Escaping Crowds
Chania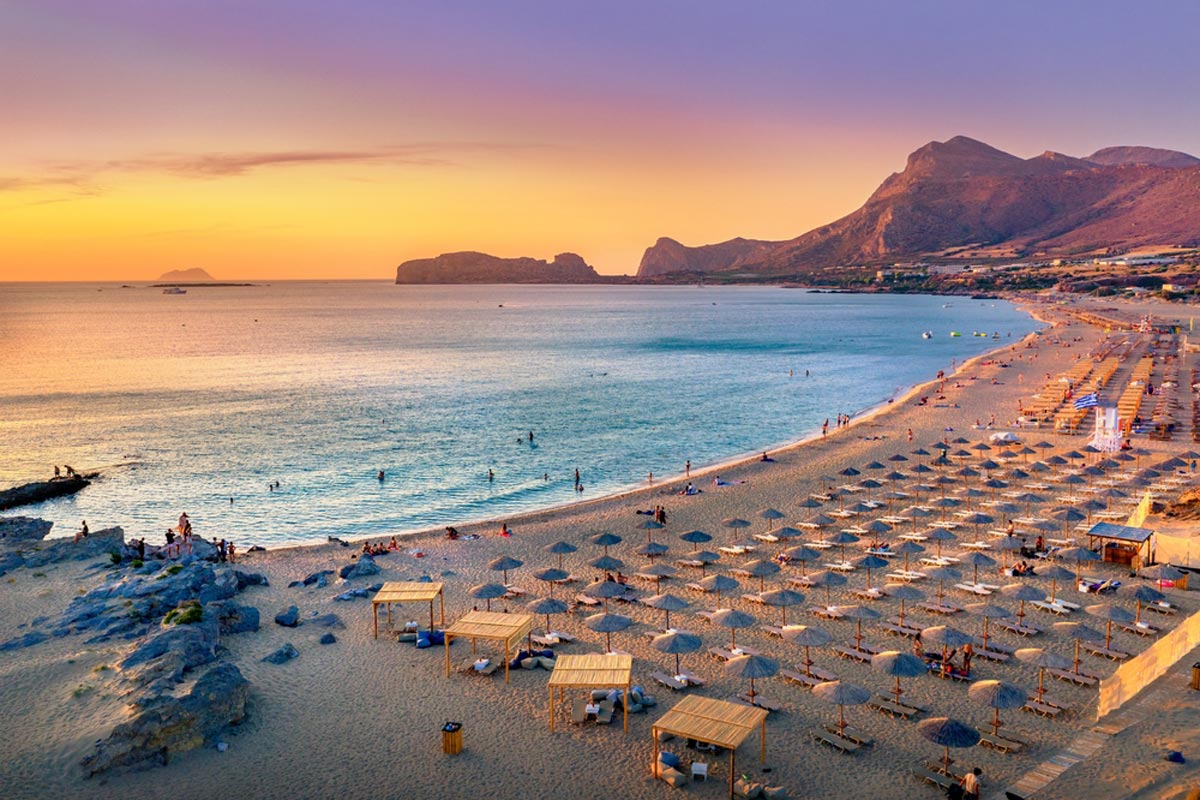 Though similar to Elafonisi and Balos (more on those later), Falasarna stands out as it's a far more laidback beach with fewer crowds and almost no travel hustle needed to get there. Which is a win, if you ask me.
One of the top beaches in Crete, it's only about an hour's drive from the city of Chania. Here you have five sprawling yet separate beaches that form the regional area of Falasarna.
Each showcases stunning wide and sandy coastlines that meet aquamarine blue waters.
It's easy to find a spot of sand if you want to soak up the golden sun. Or, if you want to relax under shade, you can rent a chair and umbrella. The waves get pretty large, thanks to winds from the west, but they are still as inviting as possible.
Elafonissi
Best for Unparalleled Beauty
Kissamos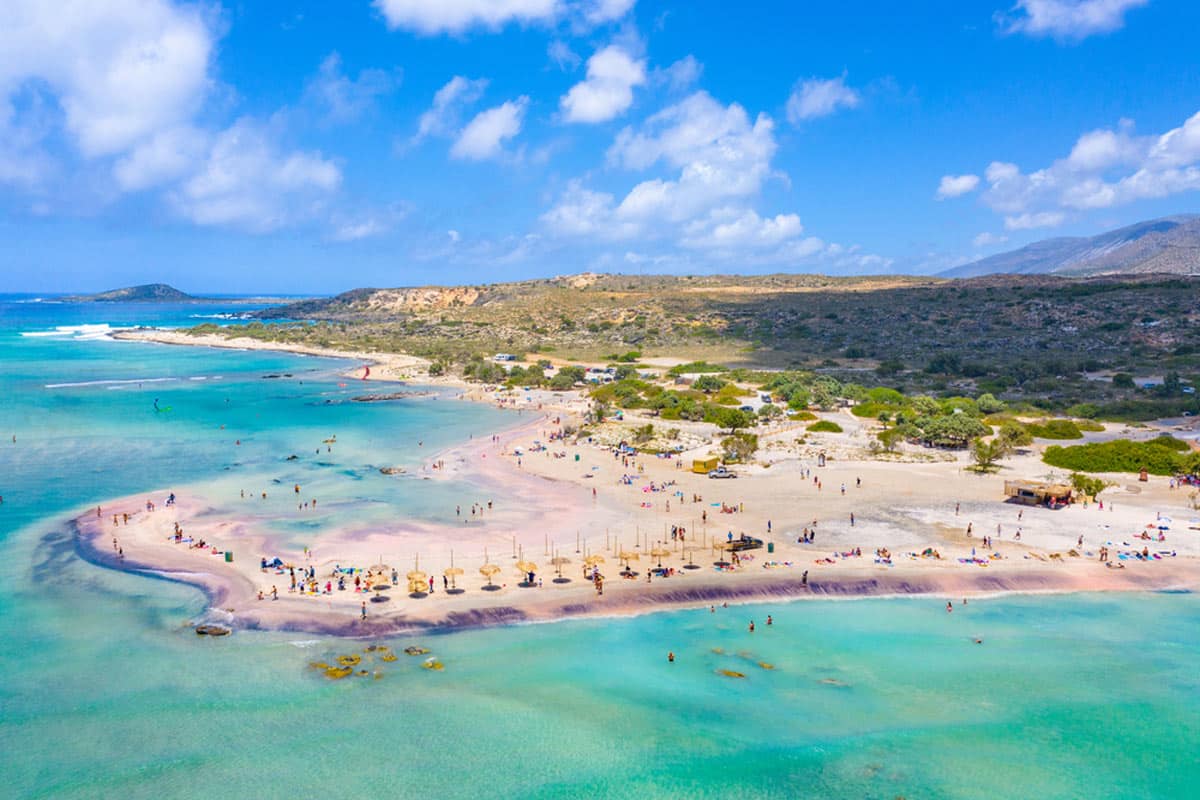 Tucked away in the southwest corner in a remote pocket of untouched natural beauty lies one of the most beautiful beaches in Crete. Famous for its white and pink sands, the shoreline here is visually striking in multiple ways.
Where the waters breach onto the sands lie thousands of pink crushed seashells that add a rosy colour to its already stunning appearance. If that wasn't enough, just wait till you see the crystal-clear turquoise waters roll onto its sands.
Divided by a narrow strip of sand, Elafonissi features two shallow lagoons that are perfect for floating. But the wind here causes the best conditions if you're an eager kiteboarder or windsurfer.
However, for those just looking for silky soft sands, it's also ideal, especially when compared to other pebble beaches in the Mediterranean.
Balos
Best for a Wilder Beach Experience
Balos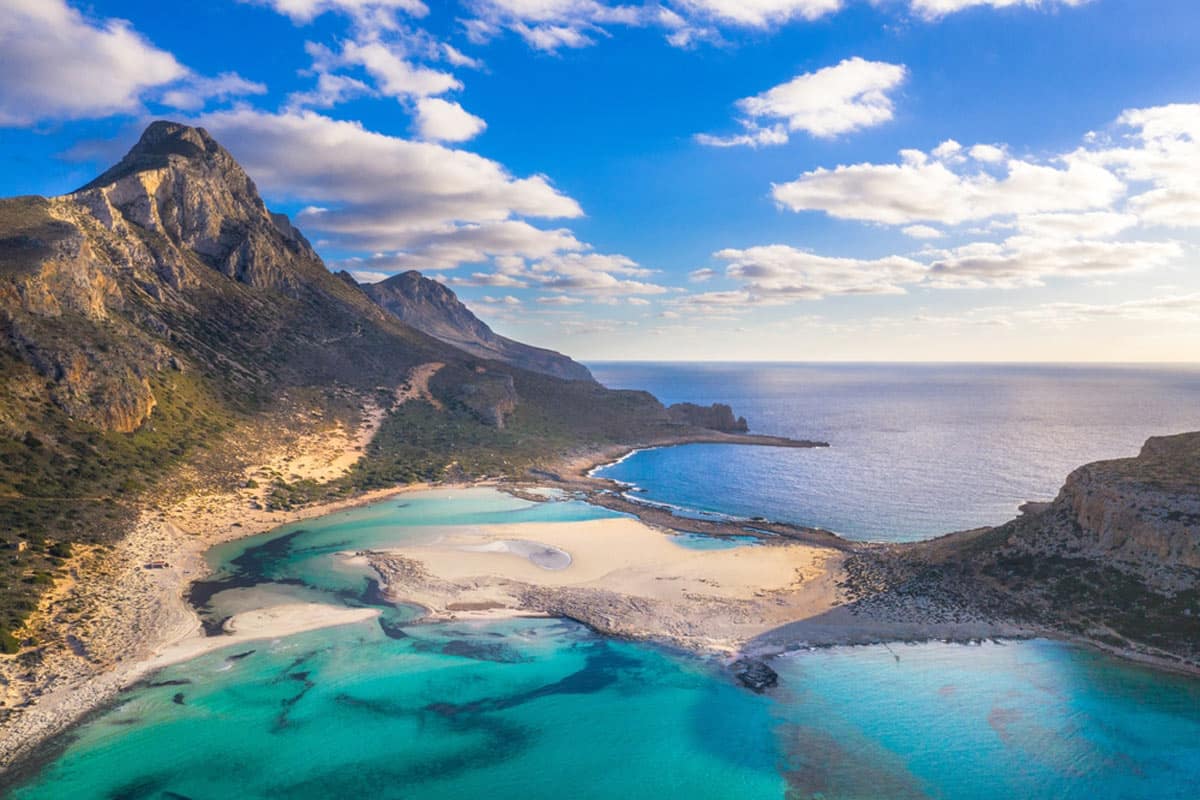 Who knew that you would find one of the best Cretan beaches snuggled into the northwestern peninsula of the island? I did.
Balos is synonymous with picturesque beauty – as you gaze down onto the beach, you'll notice its array of greens and blues.
You can reach Balos via boat from Kissamos Port, and once here, the region is rife for a wilderness-themed beach excursion. The beach connects to an offshore island, and on both sides, features shallow lagoons similar to Elafonisi.
But before you head out (or in) to its classically blue waters, indulge and spend a few hours on some of the softest sands in Crete.
Word of warning: Pack a picnic basket for your trip, as this unspoilt beauty doesn't feature amenities such as food and drink kiosks.
Preveli
Best Beach in Crete for Snorkelling
Preveli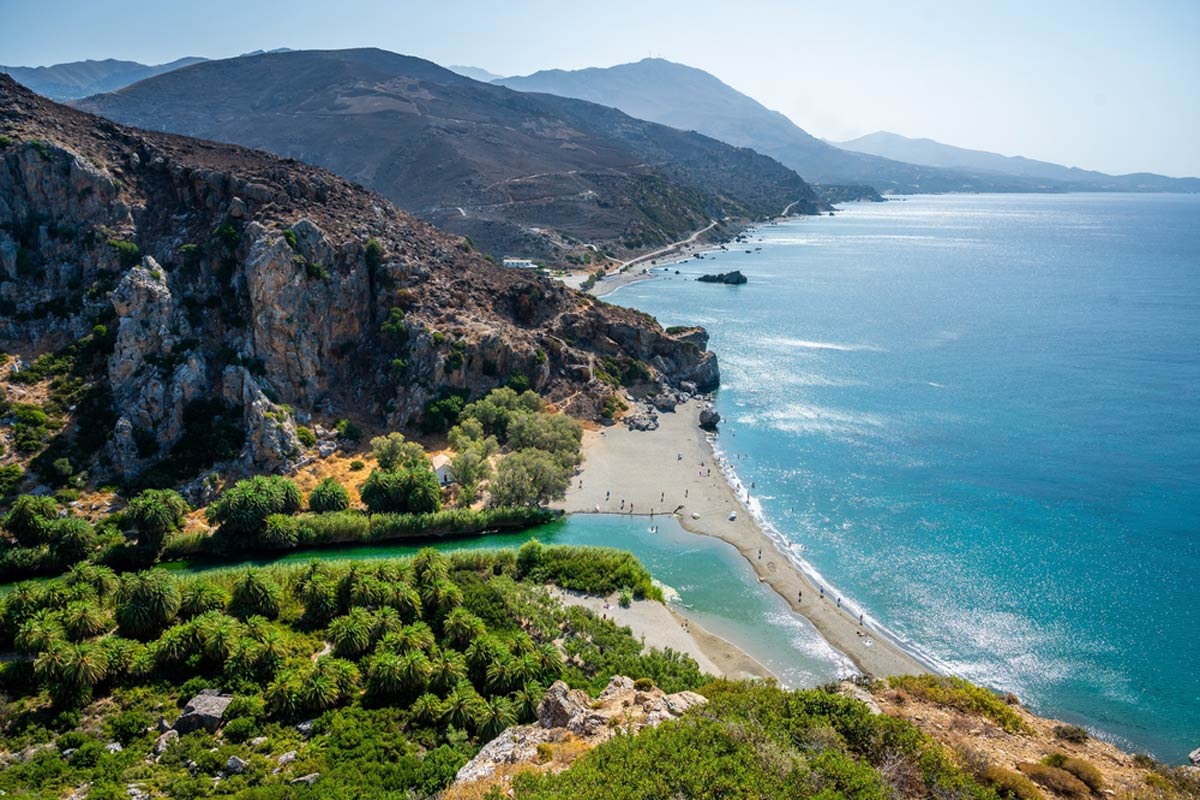 From atop the steep downward path, the view of Preveli Beach and the Libyan Sea as a backdrop is nothing short of majestic. It might not be Crete's most sandy beach, but this narrow coastline is well worth your attention..
Although the descent down the stone pathway is strenuous, don't let that put you off. Set between two imposing cliffside hills, Preveli truly shines because of the freshwater stream that flows right down its centre.
Aside from the beach, you'll find lush palm trees that emulate an oasis in an otherwise dry setting.
You won't find any chairs or umbrellas here, so come prepared. While the water is clear, the beach is pebbly and not as soft as Elafonissi. It's also quite rocky, so I recommend wearing a sturdy pair of walking shoes and bringing along your water bottles, as there aren't any kiosks on Preveli.
Voulisma
Best for a Wide Bay Beach Trip
Mirabello Bay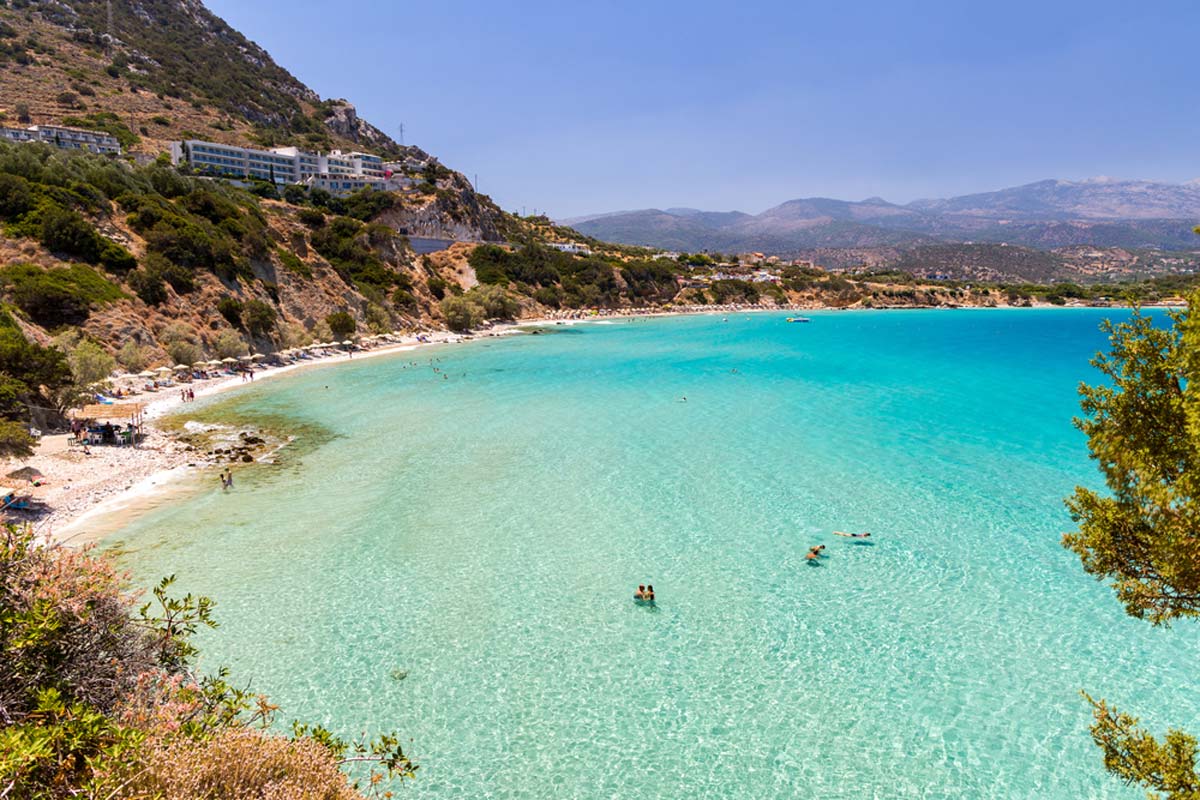 Listen up because I'm about to let you in on a little big of a gem. One of the most spectacular, if not the best, beach in northern Crete is Voulisma Beach.
Its long curving stretch of sand effortlessly blends into its pristine waters to the backdrop of towering cliffs. Voulisma is perfect for swimming, and that's obvious, with warm water and a shallow well deep into the bay.
Considered undeveloped, you won't find any tavernas or seaside shops here. However, a restaurant perched atop one of the overlooking cliffs provides service right down to the beach.
This means you never have to leave your chair, but if you want, indulge in any of the available watersports, including jet skiing.
Vaï (Palm Beach)
Best for a Secluded Beach
Lasithi Province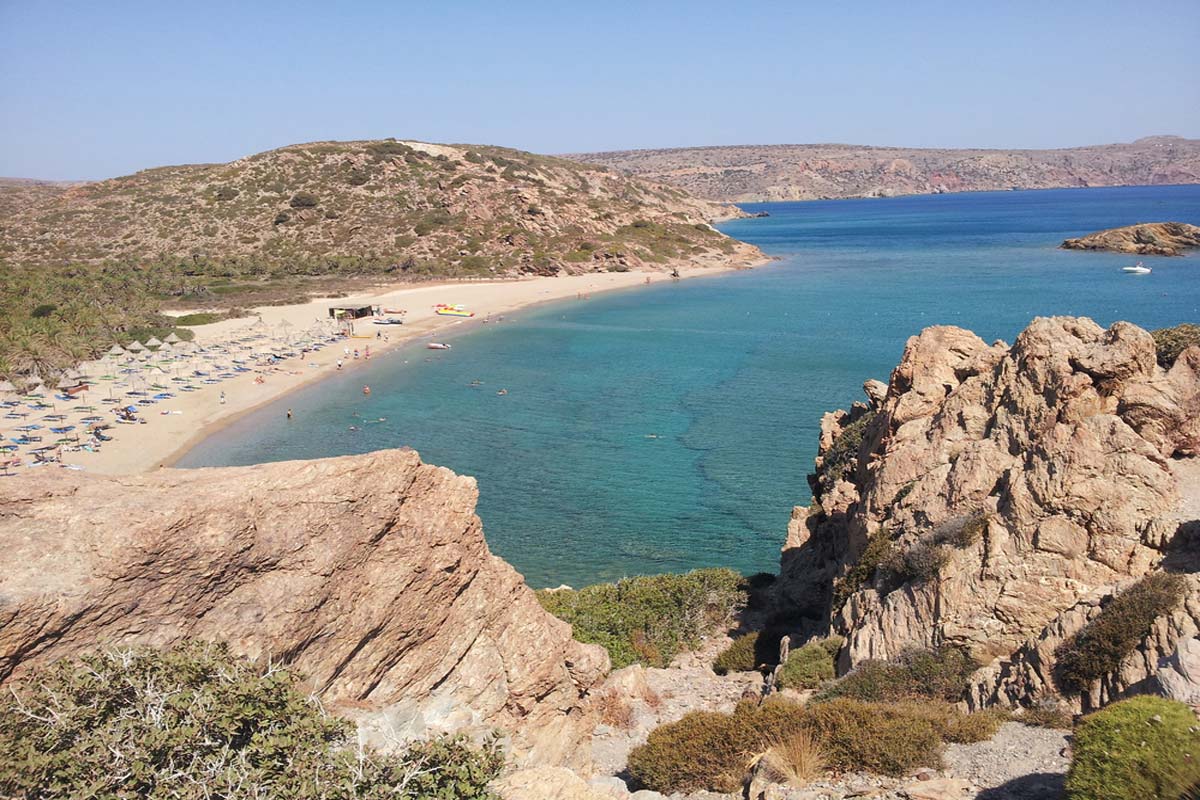 A secret slice of Mediterranean heaven, Vaï Beach stuns with shimmering and calm waters backed by one of Europe's largest palm groves. Although the trek to Vaï might be long, it's one of the best beaches in eastern Crete.
Fun fact: It was only discovered in the late 70s when Bounty filmed a chocolate commercial here, and while the main cove can get crowded, its many secluded bays are always quiet.
You can lounge on the primary beach as there are sun loungers and umbrellas but not much else in terms of luxuries.
It does, however, have clear skies, soft sand, and seemingly unending views over the sea that are spellbinding. Draw yourself away for a moment and tackle the 30-minute trail to the ancient Minoan site of Itanos, where three tranquil bays await.
Plakias
Best for Crescent Bay Chasers
Rethymno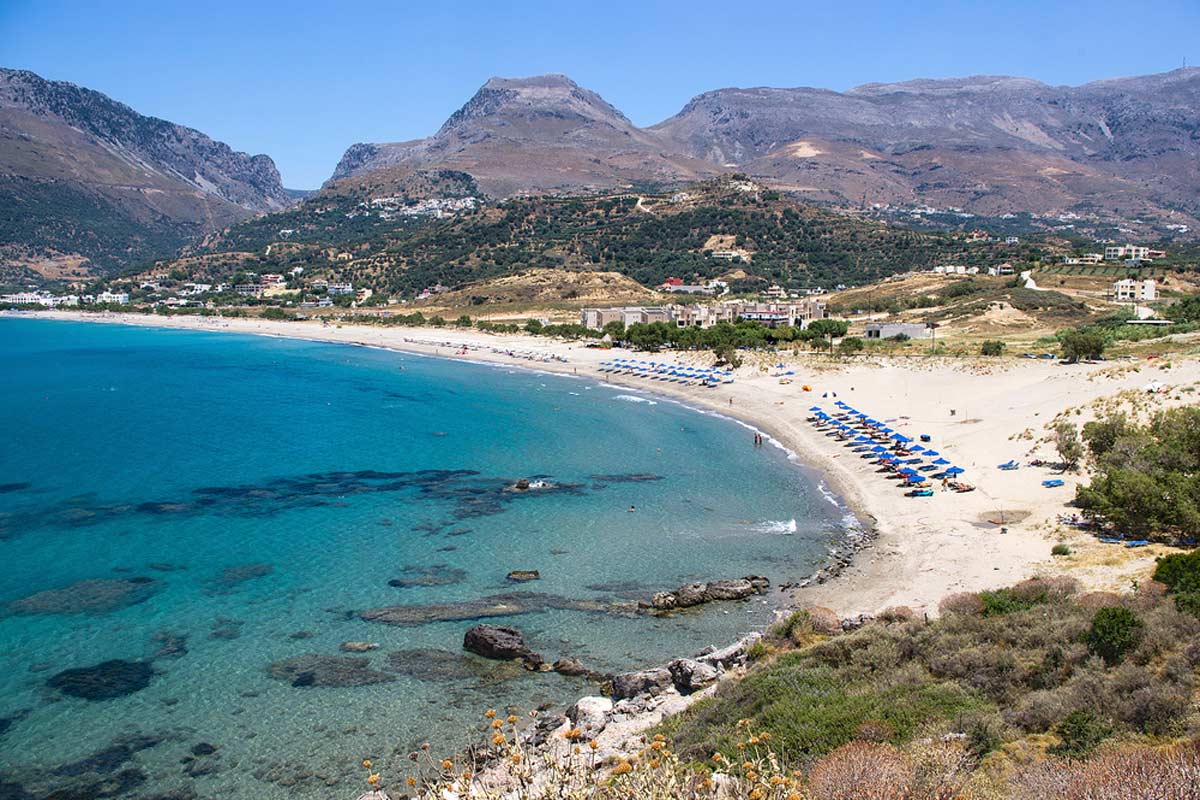 Plakias is the ideal destination if you're after a long and wide crescent that sits within a picturesque bay on the southern coast of Crete. It faces Africa, and thus, you'll get sunny days here that almost never ends.
This could possibly be the best sandy beach in Crete, and beyond that, the waters of Plakias are calm with small waves as most of the wind here sits offshore. While other beaches tend to be more relaxed, you'll find a lively atmosphere with numerous restaurants and shoreline stores.
You can rent lounge chairs and umbrellas on both its western and eastern sides, with the former being more crowded.
The east shore of Plakias is clothing optional at its furthest end. And right at its edge lies a massive rocky cliff perfect for eager photographers. Just don't get them mixed up or you might raise a few eyebrows.
Matala
Best for a Touristy Beach Experience
Plakias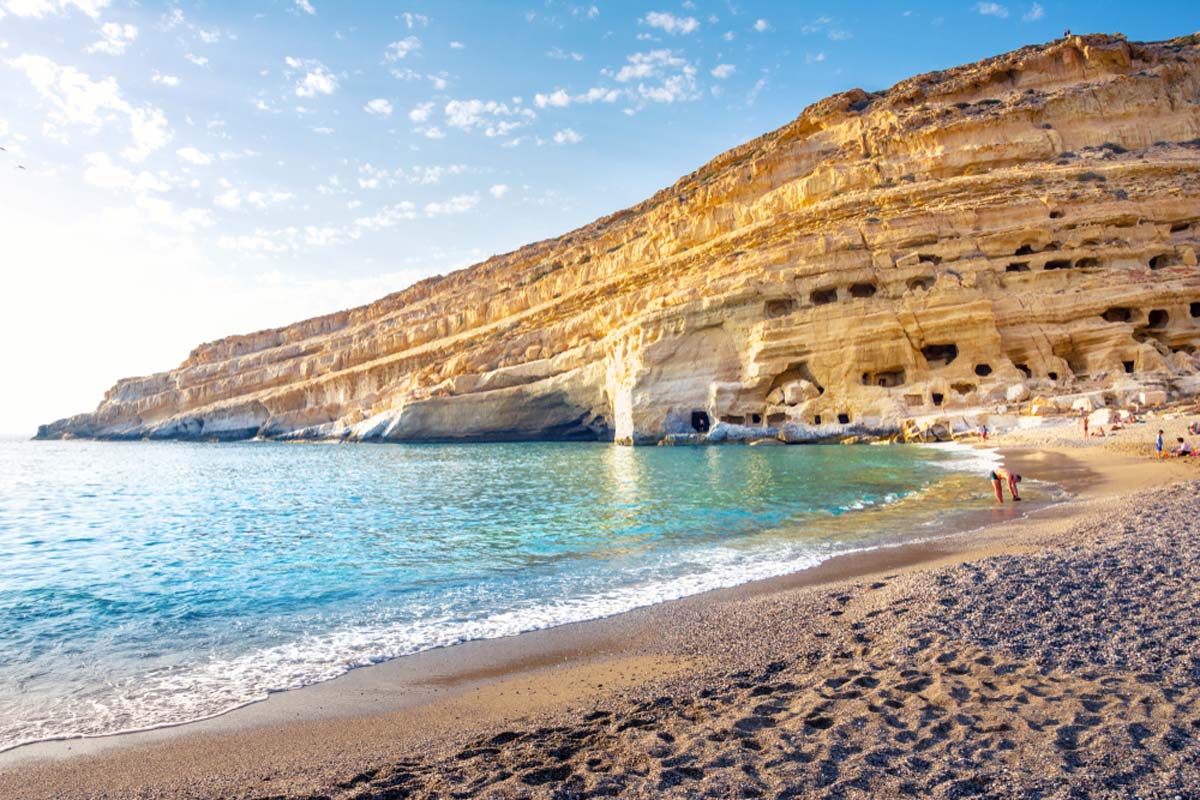 Steeped in myth and origin as a fishing village, Matala is nothing short of legendary. According to Greek legend, this is where the Greek God Zeus swam ashore after kidnapping Europa, while more recent stories say it became a pilgrimage site for hippies in the 60s.
It may have been Crete's best-kept-secret, but that was long ago, and today it is a popular destination during peak season overdrawn by tourists.
Flocking to the gently rippling waters of Messara Bay with honeycomb-like sandstone cliffs surrounding it, its beauty personified. It even features numerous mysterious caves, which you can explore for a fee.
Matala is easily one of the best beaches near Heraklion and is perfect for a day trip from the city at just an hour's drive. When you're not lounging on the beach, many fantastic restaurants sit atop the surrounding cliffs, and right behind them is an array of boutique stores for some retail therapy.
Seitan Limania
Best for a Unique Seaside Escape
Akrotiri Peninsula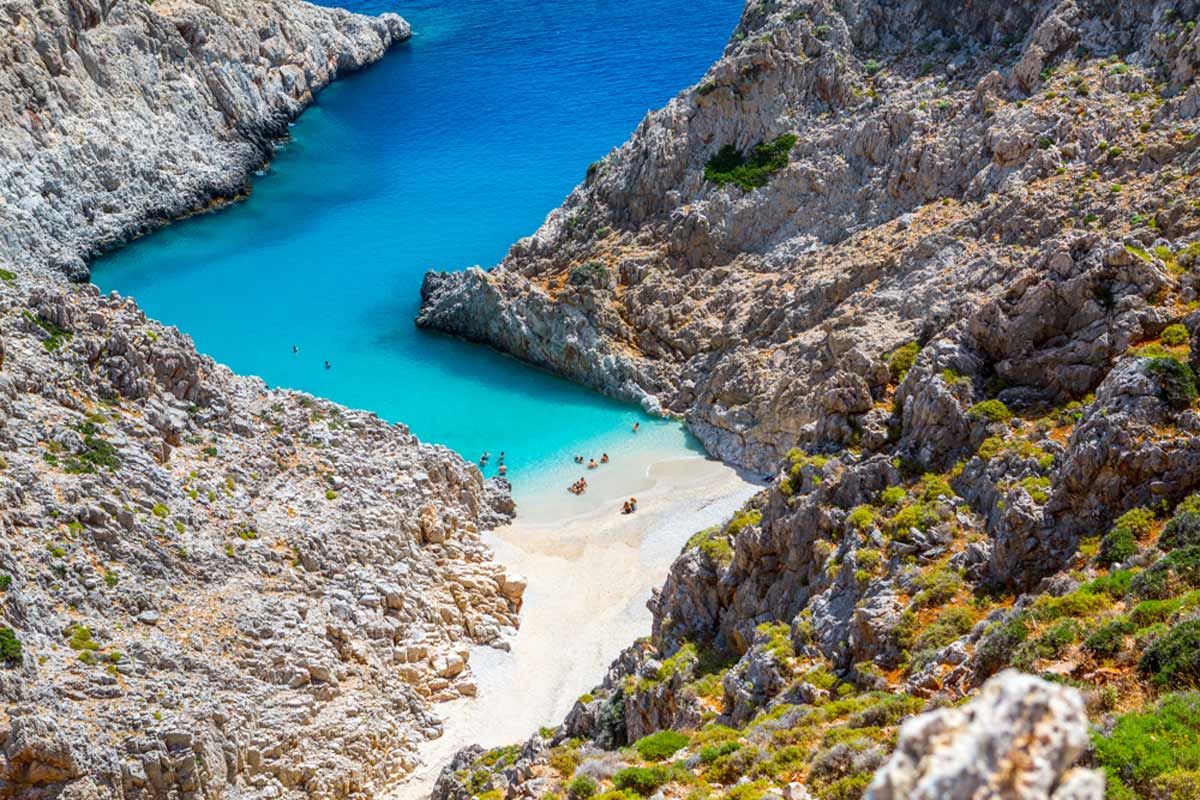 A short drive from Chania, Seitan Limania sits in a hidden corner on the northeastern side of Crete. And although many still debate, visitors consider it the most majestic and spectacular beach on the island.
Why? Let me tell you.
First of all, it's an impressive sight as you arrive, thanks to the fact that it sits in a canyon that leads out into the ocean, with a small beach section.
Then there are its calm and shallow waters that can be pretty cold, contrasting to other Crete beaches. It's a no-frills beach experience, and lounging on its sands comes highly recommended.
However, cliff jumping is one of the best things to do at Seitan Limania. Along the canyon walls, many perches make for the ideal jumping point. Both a thrill for adrenaline junkies and divers, hurtling down into its crystal clear waters is euphoric, to say the least.
Practical Tips for Exploring the Best Beaches in Crete
When heading to the beach, pack accordingly (I've got a few packing list ideas you might want to check out). I don't want to nag, but essentials like sunscreen, sunglasses, and a stylish bathing suit are absolute musts.
While most beaches are reachable via public transport, some require your own vehicle so getting a rental car is a good idea.
Some beaches have more facilities than others, so check beforehand what you need to bring along, such as snacks, chairs, or umbrellas.
Consider where to stay in Crete while planning your beach trips to make getting where you want to go as easy as possible.
Best Beaches in Crete: Map