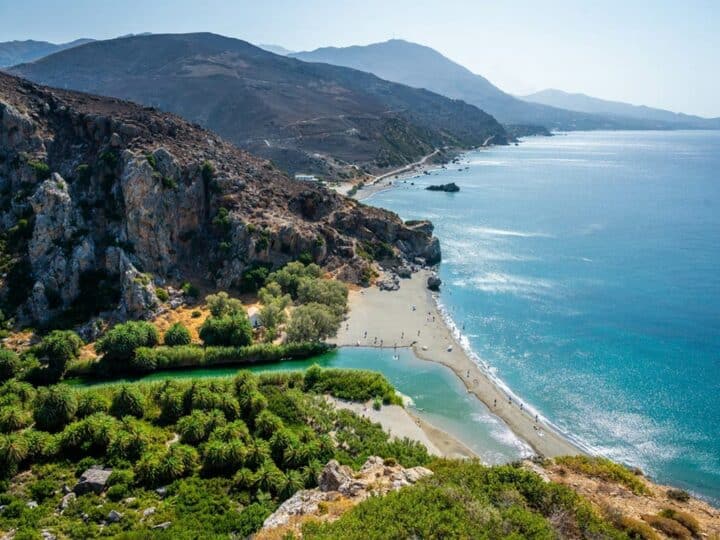 Hunting out the best walks in Crete? Well, you've hit the jackpot. Keep reading, as this guide covers some of the most stunning Crete hikes you'll ever experience.
I'll be honest – heading out on a jolly through Crete's picture-perfect landscape is a no brainer. The island is famous for its clear waters, stunning beaches, historic ruins, and seaside villages.
And, when hiking in Crete, you get a front-row seat to the island's gorgeous scenery.
From jagged gorges and ghostly landscapes to towering alpine peaks and lush plateaus, you'll get to experience some of the best things to do in Greece, all in one place.
Ready to explore? Strap on your hiking boots and check out these brilliant walks in Crete.
Best Walks in Crete
Samaria Gorge
Length: 9 miles
Time:5 hours
Difficulty: Medium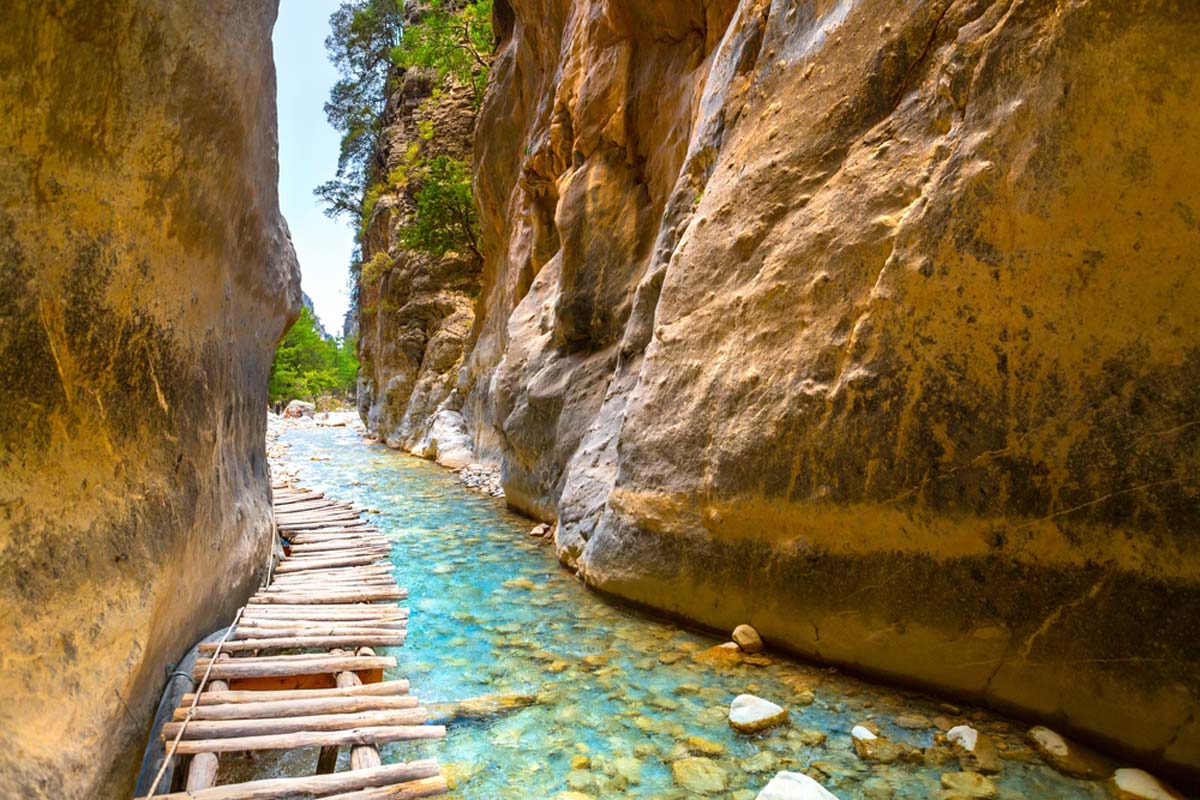 Hiking in Crete doesn't get any better than at Samaria Gorge. This moderately challenging route is the most popular walk in Crete. Unfortunately, that means you'll find the path often overcrowded, but the mountainscape scenery makes it all worth it.
You can access the Samaria Gorge trail via two entrances. From the north, you enter through Xyloskalo, near the Omalos Plateau in the stunning White Mountains of Crete.
The south entrance is my favourite and sits close to the beautiful coastal village of Agia Roumeli. While you can get through the north entrance by car, the south trailhead is only accessible via boat.
You'll cross the river multiple times along the main path, either by stepping on rocks or walking along small wooden bridges. Samaria Gorge is the longest in Europe, and its trail runs through one of the deepest canyons in Crete.
Note: Samaria National Park opens from 1st May to 31st October every year, and gates open from 7 am until 4 pm.
Agia Irini Gorge
Length: 4.3 miles (7.8 miles extended)
Time: 3 – 4 hours
Difficulty: Medium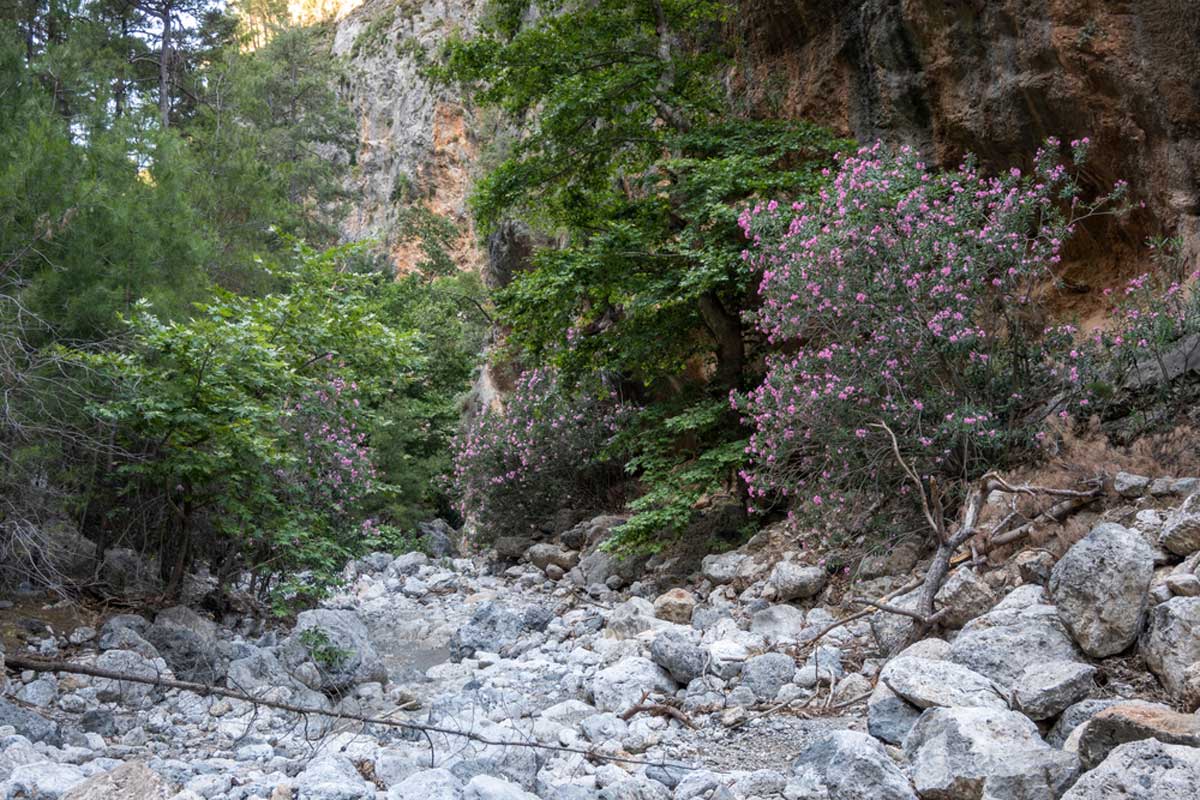 Less popular than the Samaria Gorge walk but equally as beautiful, the Agia Irini Gorge walk is a winner in my eyes.
It boasts extraordinary scenery dotted with lush vegetation and towering cliffs, which makes this Crete gorge hike great if you're looking for a shady walk through the island. You'll begin the trek at the gorge's namesake village, Agia Irini.
As you traverse the trail, behold the colossal cliff walls dotted with small caves. Take some time to smell the aromatic scent of wild herbs, cypress pines, and maple trees, then marvel at the contrasting oleanders' pink flowers.
The path also boasts an abundance of wildlife, including the endangered Kri-kri or Cretan wild goat. I know they might be ridiculously cute, but certainly don't touch them.
The Agia Irini Gorge hike is only 4.3 miles in length but if you're up for more exploration, take the extended path towards the charming waterfront village of Sougia. Here you can sit down at a seaside taverna and enjoy a delicious Greek meal while taking in views of the Libyan Sea.
Preveli Beach
Length: 4.7 miles
Time: 2 – 3 hours
Difficulty: Moderate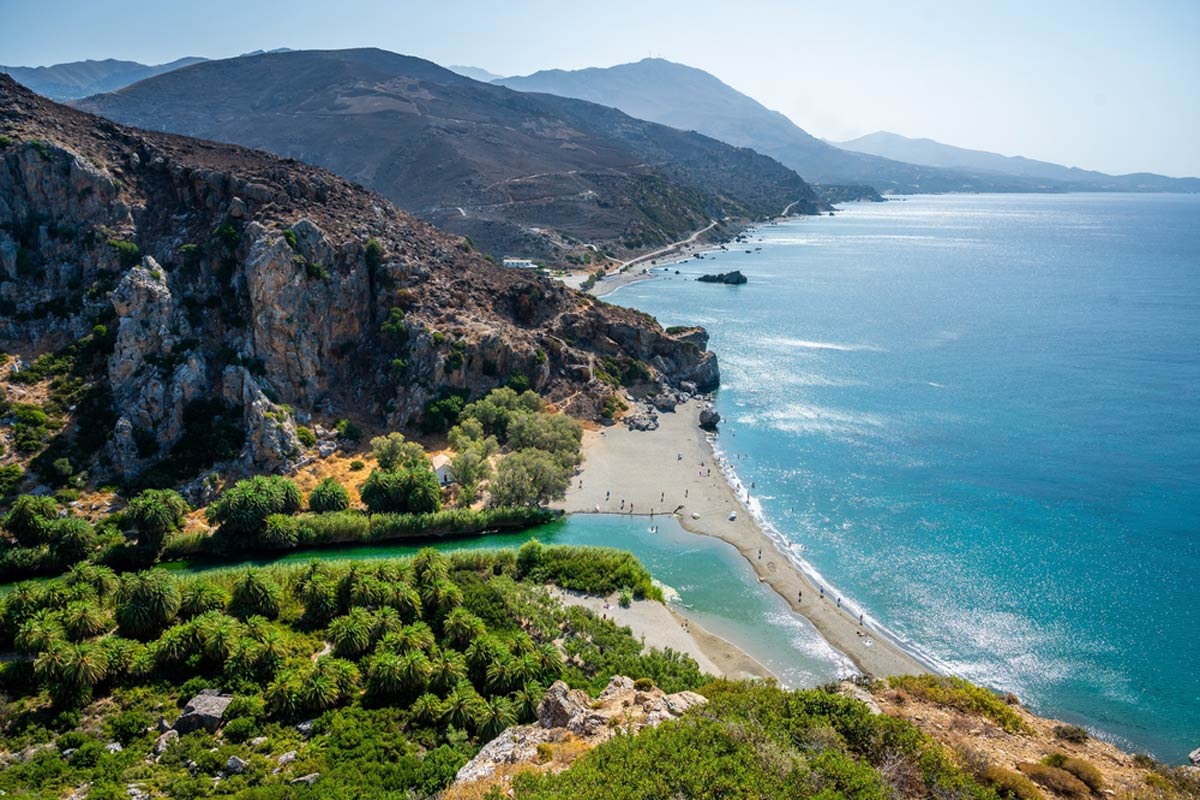 Potentially my favourite trek in Crete. A bold statement, I know – but the stunning views and dramatic vistas are what really sway it for me.
That said, this isn't exactly a secret trail, and it can get very busy between April and October. Don't let that put you off though – charge your camera and prepare to swoon.
This circular route begins at the Megali Gefira Bridge over the Megalopotamos river. You'll then head across the east bank to Preveli beach, where the waters pool.
Along the way, you'll be able to marvel at one of the largest palm forests in Crete, as well as the Glymmenos Volakas rock formation that sits out in the sea.
Mili Gorge
Length: 3.1 miles
Time: 2 hours
Difficulty: Moderate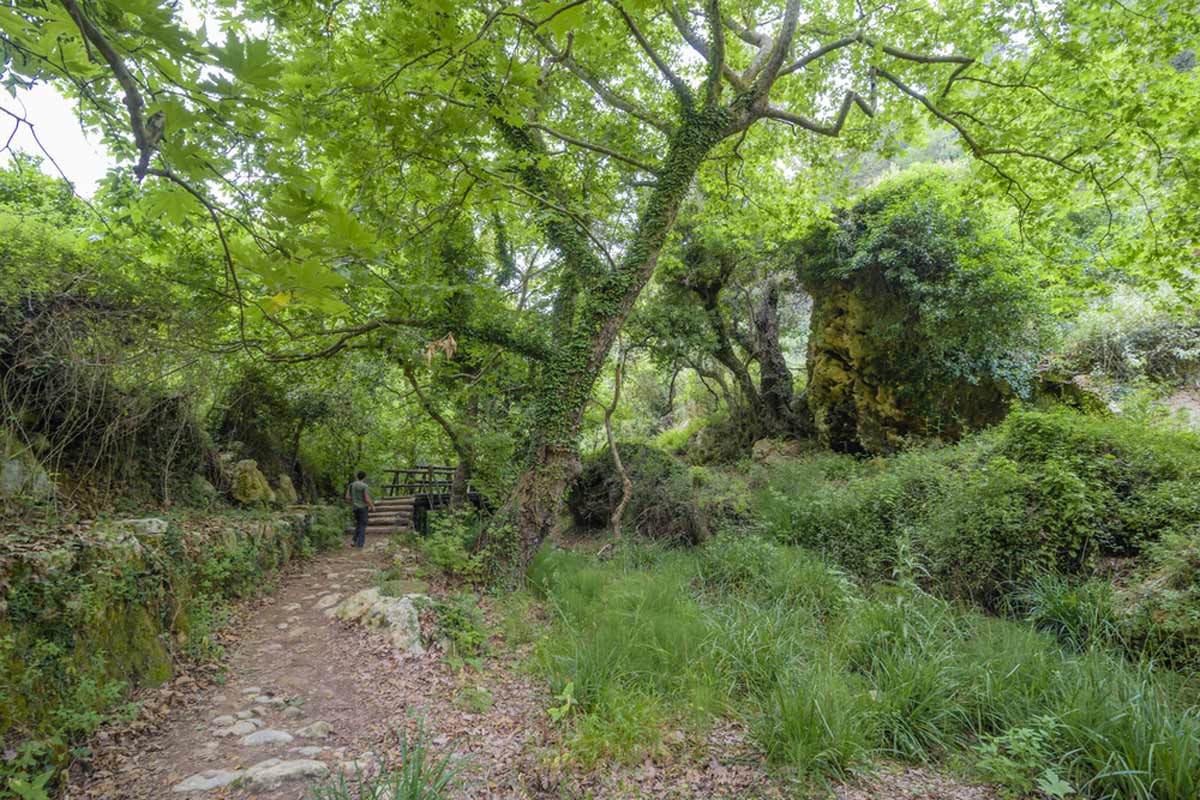 A moderately difficult walk that spans Roussospiti to Mili Gorge near Rethymno, you need to add this to your Crete itinerary.
Expect a couple of hours filled with incredible natural beauty – this hike is surrounded by a particularly verdant landscape. As well as this, keep your eyes peeled for ruins, watermills, and teeny tiny churches along the way.
On route, there are a few wooden bridges you'll need to cross. Which only adds to the fun, if you ask me. Plan to spend some extra time on this hike – pack your swimsuit and take a dip in the two (really cold) lakes that you'll pass along the way.
Imbros Gorge
Length: 6.8 miles (but 5.3 miles is walkable)
Time: 2 – 3 hours
Difficulty: Easy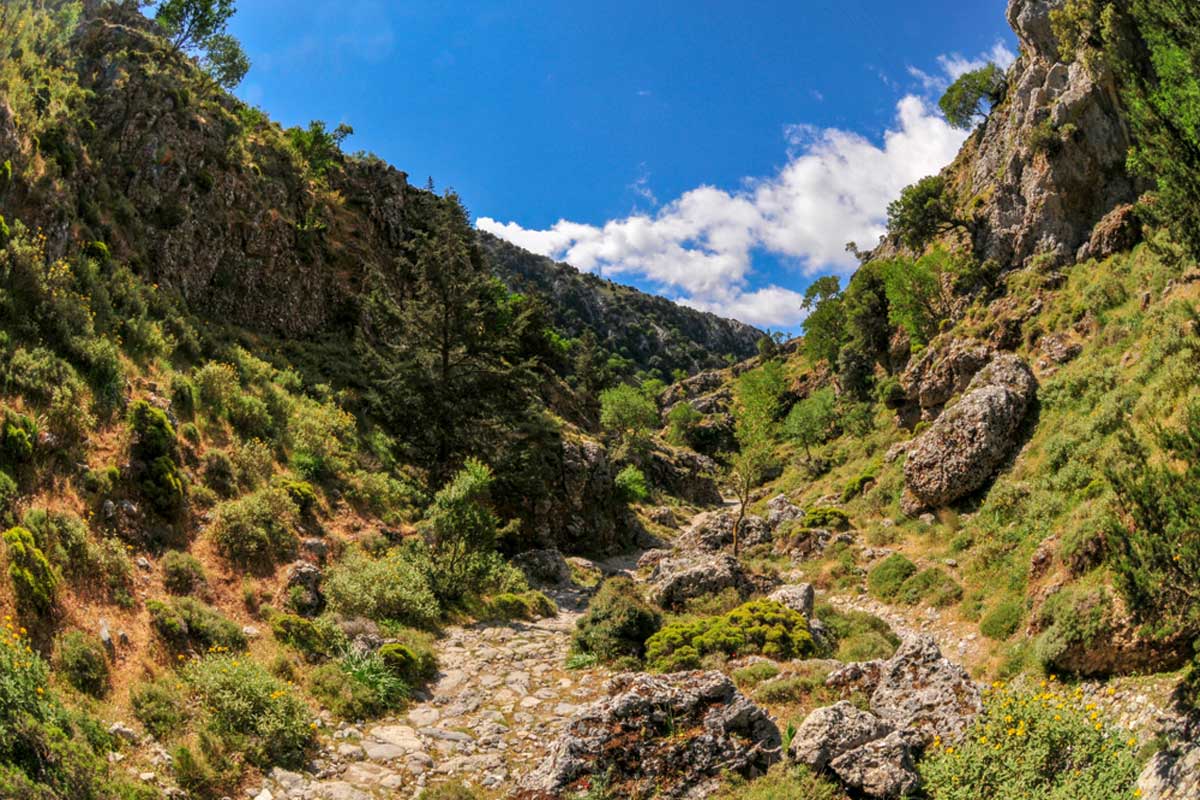 The Imbros Gorge walk is the third most popular gorge hike in Crete after the Samaria Gorge and the Agia Irini Gorge. But that's not to say it's any less spectacular. This is one of the easier hikes in Crete, allowing you to admire the island's breathtaking scenery without breaking a sweat.
The path begins in the quaint Imbros village, where you'll find tavernas serving local cuisine – stock up before you tackle the hike. Thank me later.
This trail ends at Komitades village, which gets overrun by tourists during the peak season. As you descend through the gorge, the path becomes narrower, and the walls become higher until you reach the picturesque Xepitira Arch, a stunning natural rock resembling a rock gate.
From there, the path begins to widen until you reach the endpoint. Komitades village is a great place to simmer down and enjoy a beverage after your walk. Go on – you deserve it.
Sarakina Gorge, Meskla
Length: 4.5 miles
Time: 1 – 2 hours
Difficulty: Medium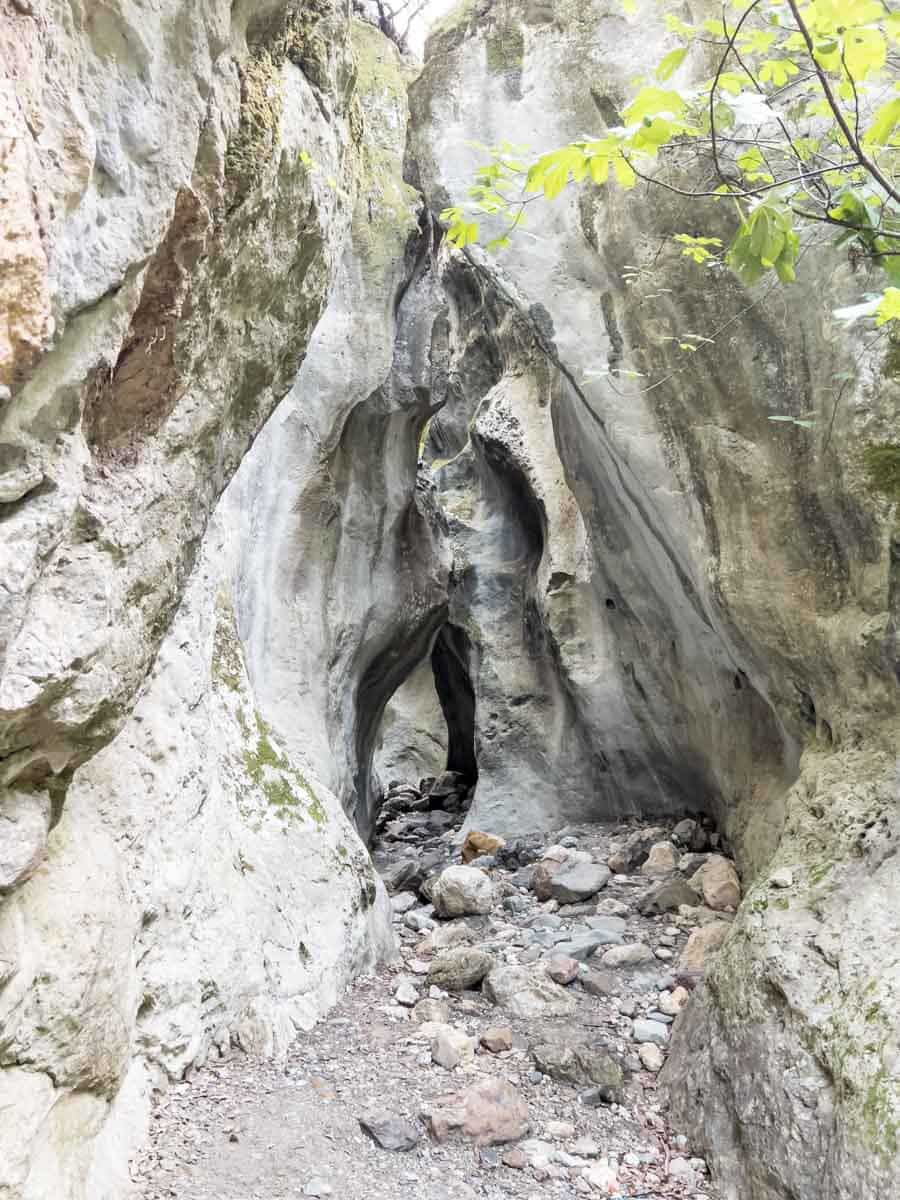 The Sarakina Gorge in Meskla, Chania, is one of two Crete gorge hikes named Sarakina. The other one is in East Crete. This small gorge is short in length but requires some effort to meander through the gorge's oddly-shaped crevices.
Sarakina Gorge lies hidden in a ravine, surrounded by towering plane trees and cypresses. As a result of the gorge's obscure nature, it remains one of the least explored things to do in Crete by locals and tourists alike. But they're all missing out.
This unknown hiking trail features an intriguing natural wonder. The gorge boasts limestone boulders with naturally-carved openings through the middle — a jaw-dropping spectacle.
To get here, you'll walk on a dirt road to the riverbed and head past metal and wooden bridges before reaching the limestone rocks.
Nida Plateau – Psiloritis
Length: 5.3 miles
Time: 4 – 5 hours
Difficulty: Hard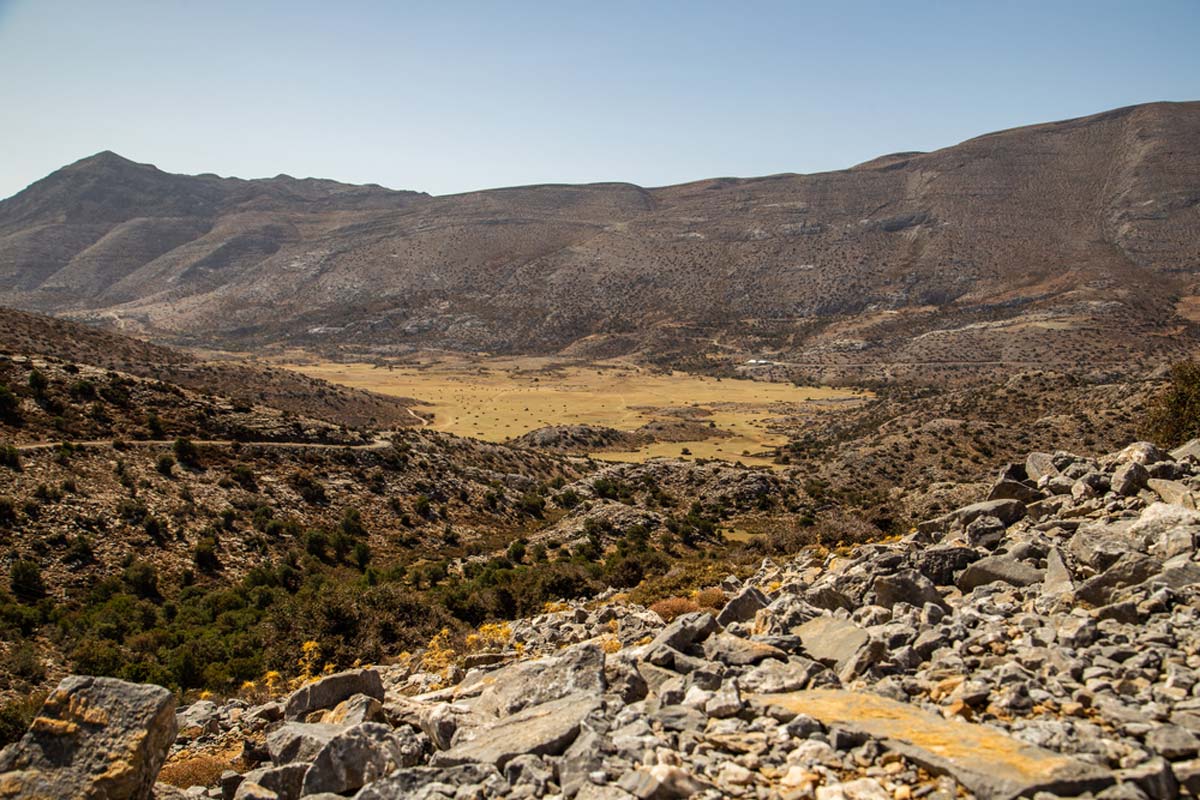 One of the best hikes Crete has to offer is ascending the largest plateau in Crete, standing at an altitude of 4,593 feet. The Nida Plateau sits in the heart of the Psiloritis Mountain Range, also known as Mount Ida.
The Nida Plateau is popular for hiking, climbing, and mountaineering. Until early summer, the alpine peaks have a blanket of snow while the vegetation stays relatively low. Be sure to bring sunscreen, as you won't find any trees on the pasture due to overgrazing.
The openness of the plateau makes it an excellent place to get uninterrupted views of Psiloritis. You can access the paved route to Mount Ida in the lovely village of Anogia, but there's also a dirt road from Gergeri if you're up for the challenge.
There are plenty of things to discover in the Nida Plateau. You can visit the Ideon Antron or Zeus Cave, where according to mythology, the Greek god, Zeus, grew up there. You'll also find Shepherds' Shelters, a collection of hills dotted with stone huts called "mitata".
Depending on when you visit Crete, you can get the unique opportunity to join a cheese-making class, see a sheep milking, shearing or even a raki distillation.
Cave of Agios Ioannis
Length: 2.8 miles
Time: 1 – 2 hours
Difficulty: Easy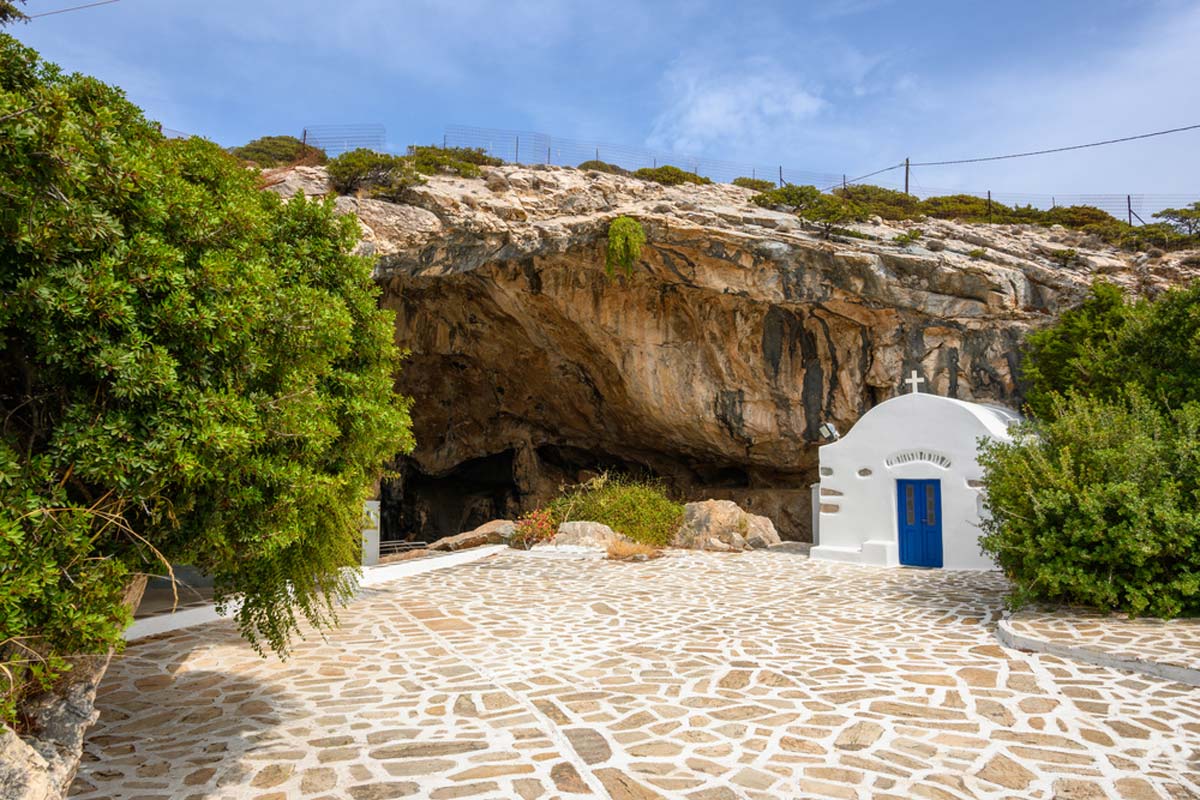 Crete hiking routes always have an interesting twist, and the cave of Agios Ioannis is no different. This is one of the best hikes in Crete, Greece, as you'll get to see the early-Byzantine Church of Agios Ioannis and a stunning array of stalactites.
The trek to the cave of Agios Ioannis is famous for hiking, running, and birding. But this Crete mountain hike is worth it for its rewarding scenic landscape and historical relics alone. The main path connects the village of Agios Ioannis to the well-preserved monastery of Koudoumas.
To get to the Cave of Agios Ioannis, you'll walk along traces of the old monasteries. The path is rocky, dry, and windswept. Keep your eyes peeled for caves and cavities along the cliffs. At the end of the path, you'll find a small fjord squeezed between rocks and the seashore.
Best Crete Hikes: Practical Tips
Thankfully, Crete isn't home to too many predators. But, when hiking anywhere rural, safety should always be a top priority. Avoid drawing attention from predatory wildlife by not littering or leaving any other traces behind.
Mobile network connections are often limited or unavailable in the outback, so pack a printable map of Crete and avoid getting lost.
The weather will likely be warm and sunny when hiking in Crete, so ensure you have plenty of water on you. Always wear comfortable clothing and hiking shoes, and don't forget to bring sunscreen and a hat for sun protection.