Planning a visit to Greece? Here's why you need to include visiting Delos to your itinerary to throw in some history with a touch of mythology.
If your trip to Greece includes plenty of mythological sites, then making a detour to Delos is highly recommended. It's a stunning island frozen in time, dotted with impressive ruins and plenty of ancient relics.
Now what if I told you that there are no hotels on Delos, and the only way to get there is via a ferry from nearby islands.
Curious? I thought so.
Well, take my hand, intrepid traveller, and let's hop to the island of Delos.
Why Visit Delos?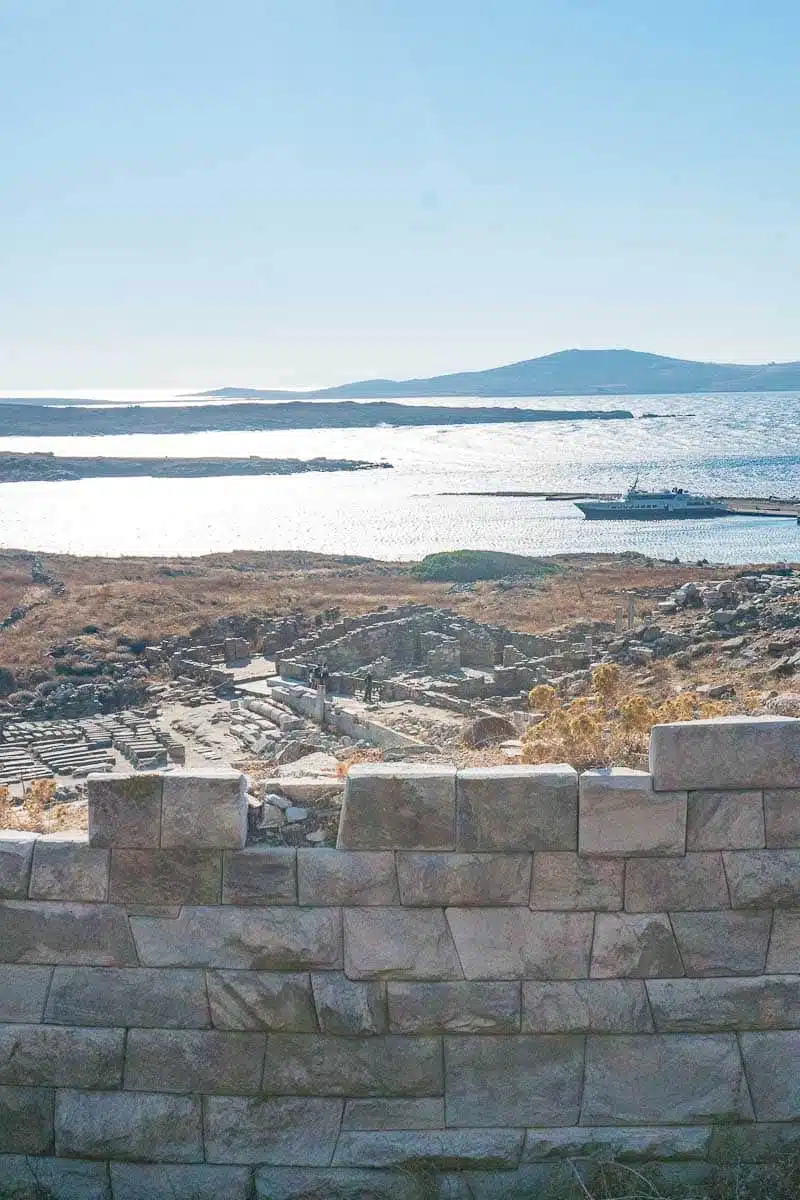 A fair question. The island of Delos doesn't get the hype it deserves as most just see it dotting the horizon from a Mykonos beach. Allow me to let you in on a little secret, though.
This tiny island is pure nirvana if you love Greek mythology and history. As a UNESCO World Heritage site, it's among Greece's most important archaeological locations.
Beyond that, it's also a welcome break from the bustling beaches and island life that permeates the Cyclades.
A Brief History of Ancient Delos
To the untrained eye, the island of Delos might just seem like a rocky, barren plane without much to write home about. But, allow me to transport you back to Delos in ancient Greece during the 3rd millennium BC.
There's a lot of Delos and Greek mythology surrounding the island's importance, but here's a quick breakdown. Zeus (yes, that Zeus), the all-father of the Greek pantheon, was quite a promiscuous fella.
While married to Hera, Zeus frequently (to put it lightly) romanced human women. One of them, Leto, fell pregnant with twins. Fearing for the lives of his unborn children, Zeus enlisted the help of Poseidon to find a secret spot for Leto to give birth. Enter the island of Delos.
In secret, Leto gave birth to twins on Delos. These twins were the god Apollo and his sister Artemis. It was then, more than 3,000 years ago, that Callimachus declared Delos "the most sacred of all islands".
Okay, now, back to historical fact. Starting in 900 BC till about 100 AD, the island served as a holy pilgrimage site devoted to Apollo. Thousands made the trip to worship at the many temples and monuments erected here.
Circa 167 BC, Delos turned into a free port and quickly became a main trading port in the Mediterranean. Throughout the island, a small town quickly developed around the holy shrines and temples.
Soon, Delos was abuzz with very wealthy merchants, influential bankers, and shipowners. The humble town quickly saw luxurious homes and expertly crafted infrastructure become staples.
By 90 BC, the island had an estimated 30,000 residents. Detailed architecture, massive temples, and imposing statues and monuments dotted the landscape. Tragedy befell the island in 88 BC when Mithridates, an enemy of Rome, attacked and looted Delos.
A few years after this, in 69 BC, pirates led by Athenodorus, an ally of Mithridates, ransacked the island again. This signalled the beginning of the decline of Delos and eventually led to its abandonment.
Delos: The Sights You Have to See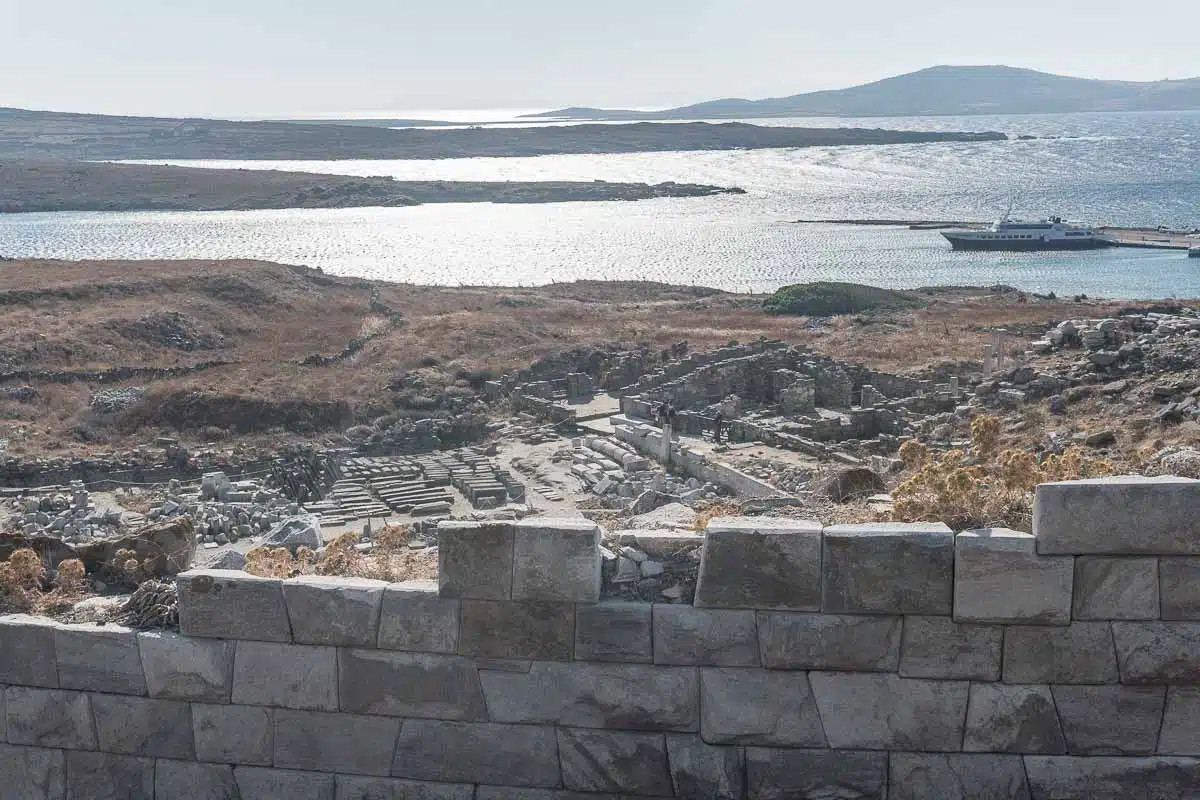 So what is there to see on "the most sacred of islands"? Simply put, quite a lot.
Excavations started in 1873 by archaeologist A. Lebégue. These revealed some stunning sites you have to see on an ancient Delos, Greece tour.
Terrace of Lions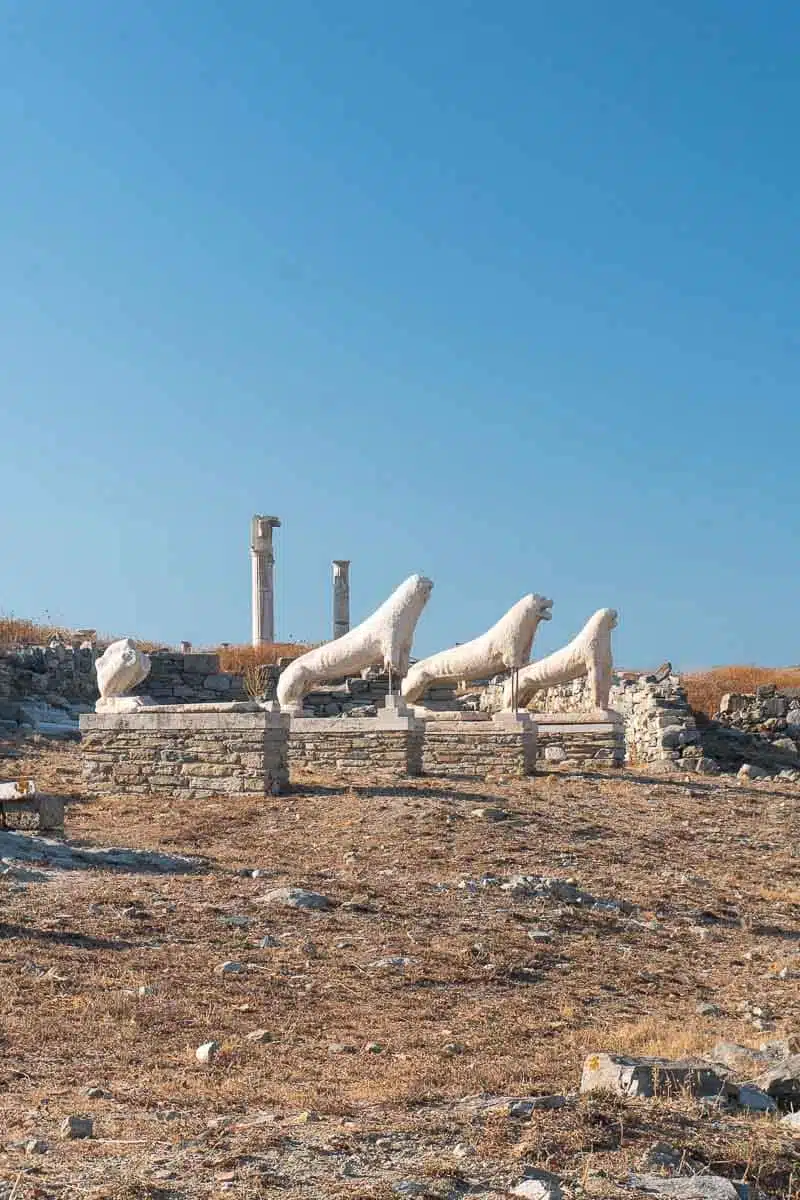 First up is probably one of the most-photographed attractions on the island. The Terrace of the Lions in Delos, Greece, consists of a row of lion statues carved from white marble.
Surprisingly, they were actually built by people from the neighbouring island of Naxos, and dedicated to the god Apollo.
The Sacred Precinct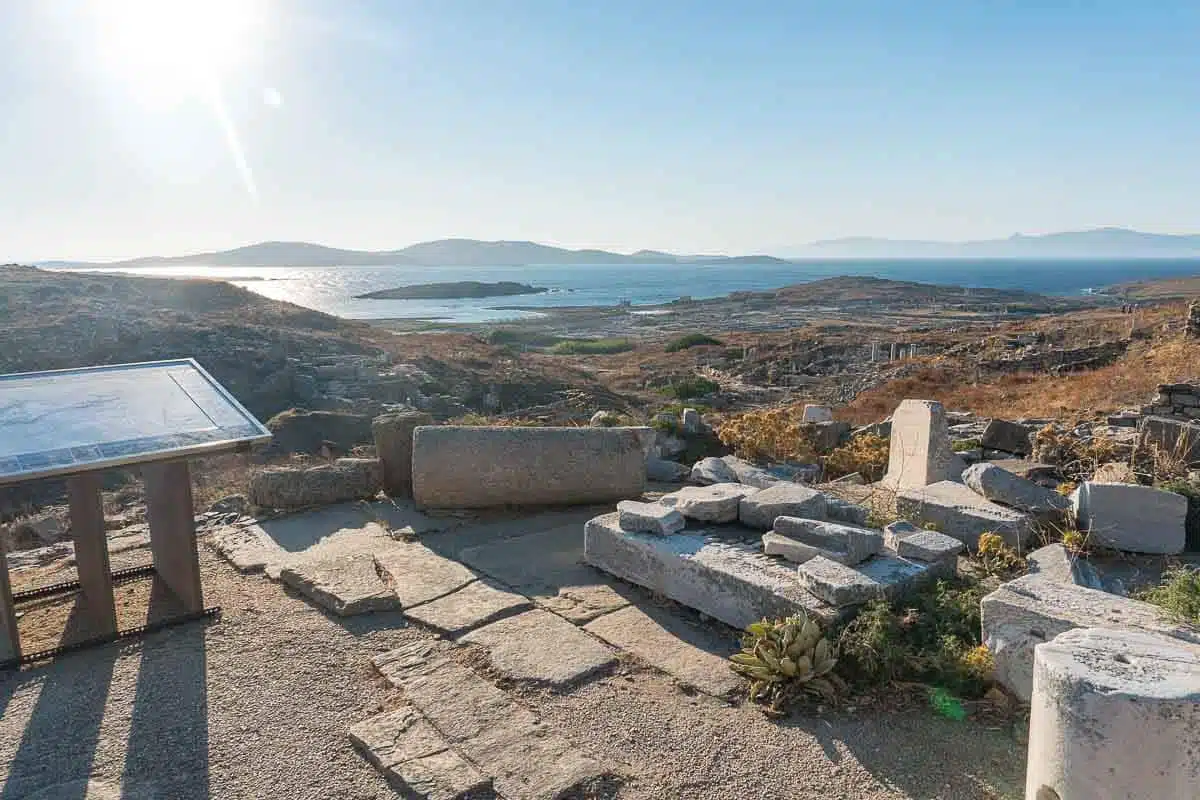 Today, the ruins of the Sacred Precinct tell only a tale of the history of Delos, Greece. Inside, you'll find multiple buildings, including three parallel temples dedicated to Apollo.
As well as this, you'll be able to spot the gargantuan Statue of Apollo. Don't worry, he wasn't this tall in real life – it's around four times life-size – and was carved from Naxian marble.
Sacred Lake
This is one spot on most Delos, Greece tours where mythology and history meet. According to myth, this is where Leto gave birth to the godly twin's Apollo and Artemis.
Now, before you expect to find a tropical oasis, the lake is long gone, and left in its place is a dry patch of land that is one of the most important mythological sites in Greece.
Mount Kynthos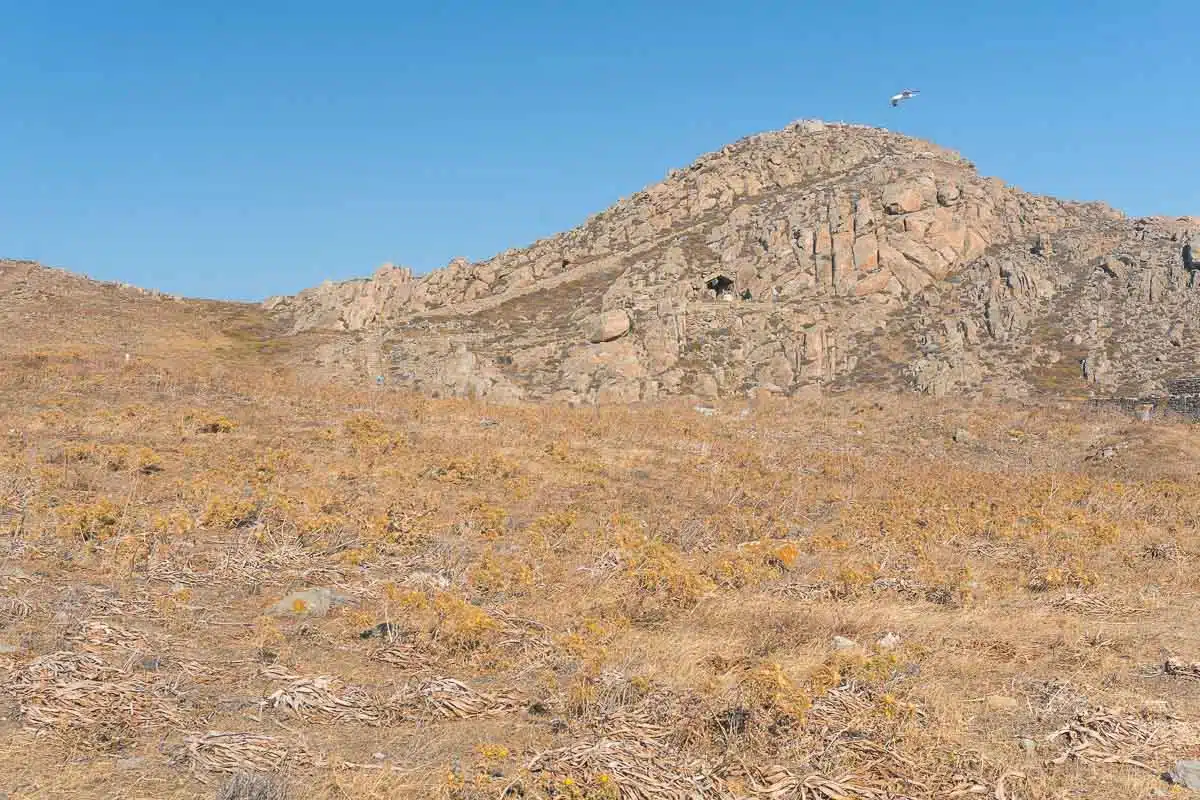 One of the best things to do in Delos is a hike up Mount Kynthos – this is a Sanctuary sacred to Athena Cynthia and Zeus Cynthius.
This 113-metre trek is a bit steep but easily doable. Push through, I say, as from its summit, you'll have panoramic views of the entire island.
Temple of Isis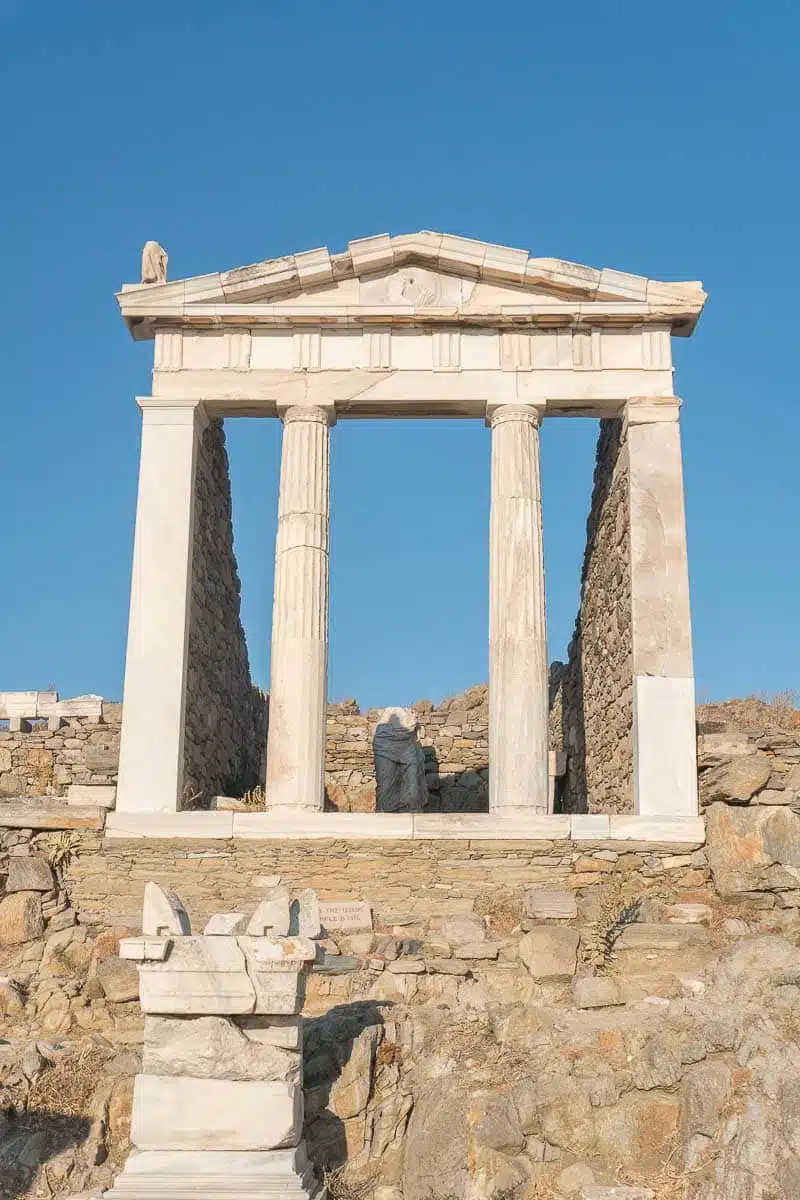 Originally an Egyptian goddess, Isis was later worshipped by the Greeks and Romans. This temple dates back to the 2nd millennium BC and is a massive part of ancient Delos in Greece.
It remains in pretty good shape, too. You'll find two huge columns at the front of the temple, and plenty of brickwork still standing around the sides. Note that most tours won't take you here, but it's well worth the detour.
House of Dionysus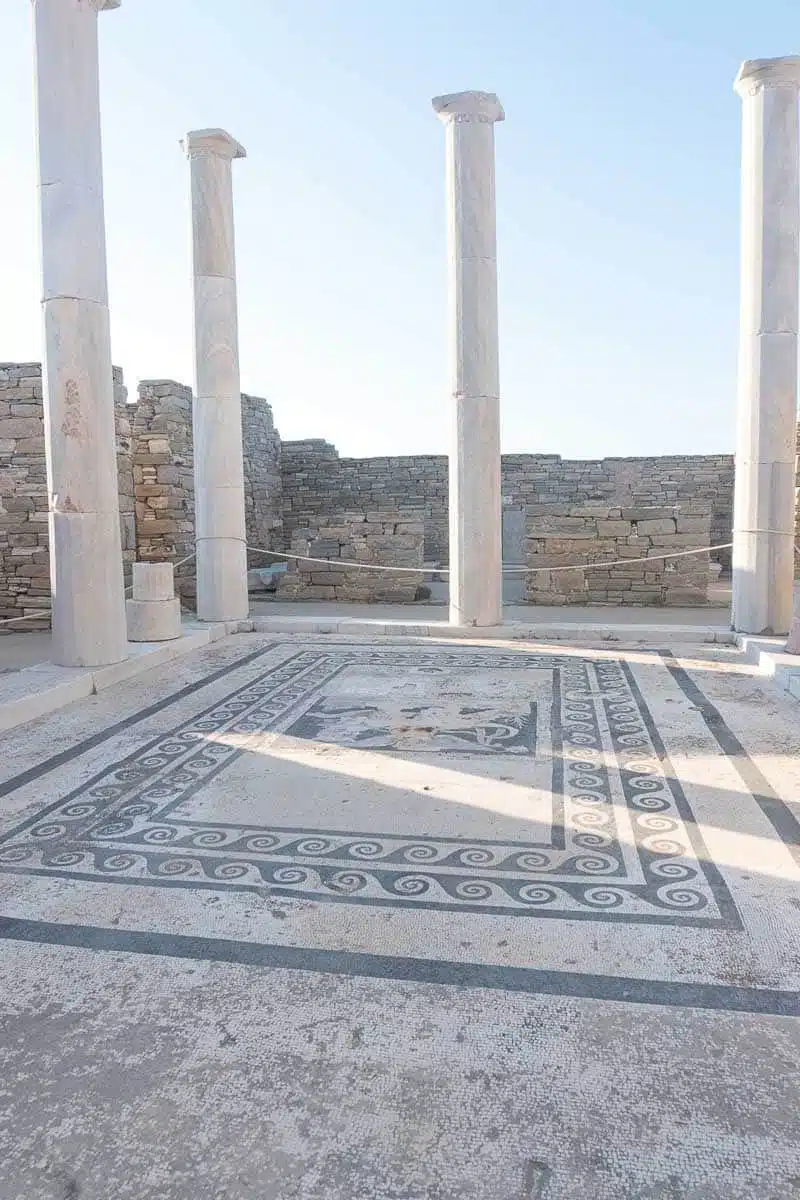 Dedicated to the god Dionysus – the god of wine and pleasure – this well-restored house within the theatre quarter is a must-visit in Delos island, Greece. Restored mosaics inside are still in excellent condition and make this a popular spot amongst visitors to the Delos ruins.
House of Cleopatra
Although this isn't a house once owned by the famous queen of Egypt, it is a stunning site to visit. Inside are the ruins of a (headless) statue depicting Cleopatra and her husband, Dioscorides. Pretty creepy, but a very incredible site.
Delos Archaeological Site & Museum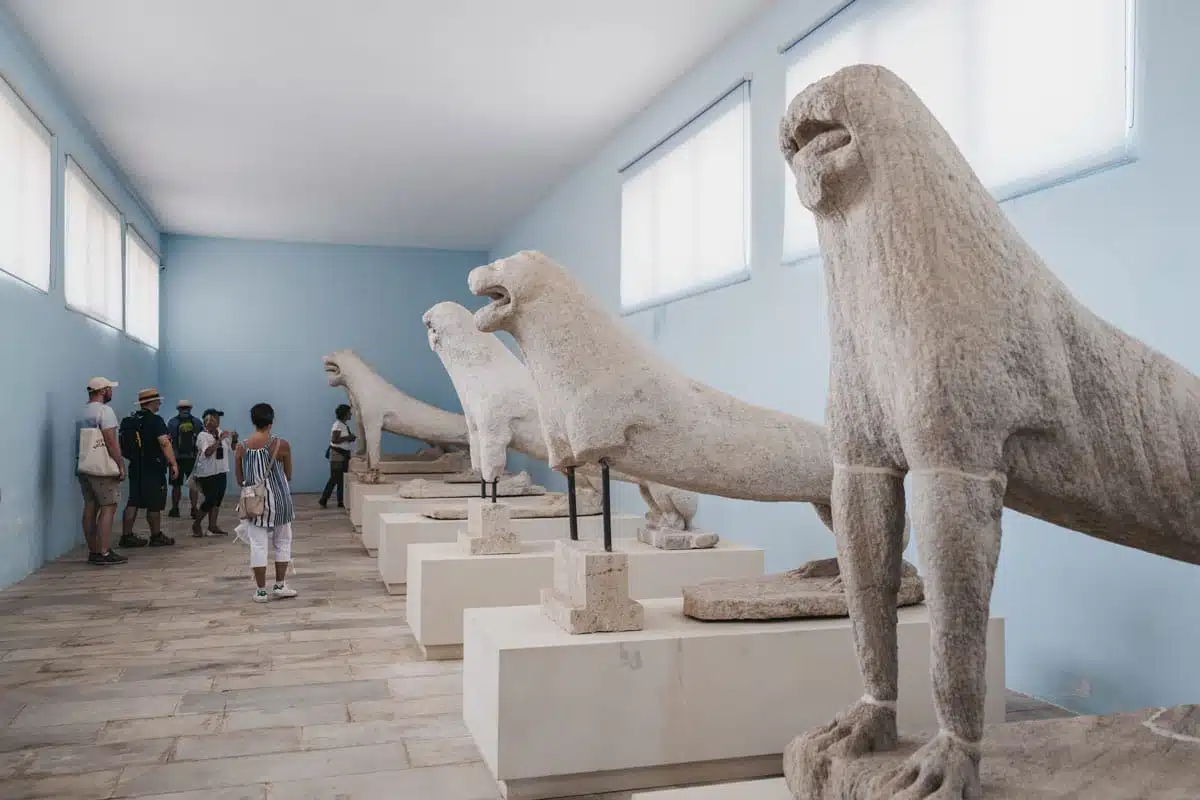 This relatively small museum on the island showcases many artefacts found on the island of Delos, including ancient pottery, jewellery, and ceramics.
The museum is only open from March to November (and it's currently closed for renovation – check before you go), and your entrance is part of the €12 ($11.95) access fee to the island. So, it would be rude not to check out the museum, right?
Planning Your Visit to Delos
How to Visit Delos Independently
The best way to visit the island independently is by catching the ferry from Mykonos, which departs from its old port. Once on the island, you can take a Delos self-guided tour by using the maps available from the ticket office.
Then it's as simple as following the red or green route outlined on the map.
How to Visit Delos on a Tour
If, however, you opt for a guided ancient Delos tour from Mykonos, there are a number of tours daily to Delos from Mykonos. Alternatively, there are day trips from Paros and tours from Naxos.
Delos: Address
Delos 846 00, Greece
Delos: Opening Times
The island is only open from April to October, with daily opening times from 10 am until 5 pm.
Where to Stay for a Visit to Delos
Kivotos Mykonos – This lavish hotel in Mykonos features its own private beach, luxury villas and suites, and stunning outdoor pools. Also on the property are two excellent restaurants, Le Pirate and La Meduse.
Saint John Hotel Villas & Spa – Located on a massive 20,000 square metres in Mykonos, it features three restaurants and two bars. On its grounds, you'll also find a spa, tennis court, and infinity pool.
Need More Inspo? Read My Guide to Mykonos Hotels
Delos, Greece: Map