Planning a Greek Island hopping excursion for your next holiday? Here's everything you need to know to make your trip smooth sailing.
There's no doubt that Greece is one of the most beautiful countries in the world. While the mainland is pretty special, I think that the Greek isles are the real stars of the show.
If you didn't know, Greece has over 6,000 islands spread across the gorgeous Aegean and Ionian Seas – and, of those 6,000, only 200 islands are home to people.
While narrowing down the number from 6,000 to 200 is a good start, that still poses a big problem. Which of those 200 Greek islands are you going to visit?
Don't worry, planning a Greek island hopping holiday doesn't have to be quite so daunting. Here's everything you need to know to get the best out of your trip (and where I recommend you go).
Why Go Island Hopping in Greece?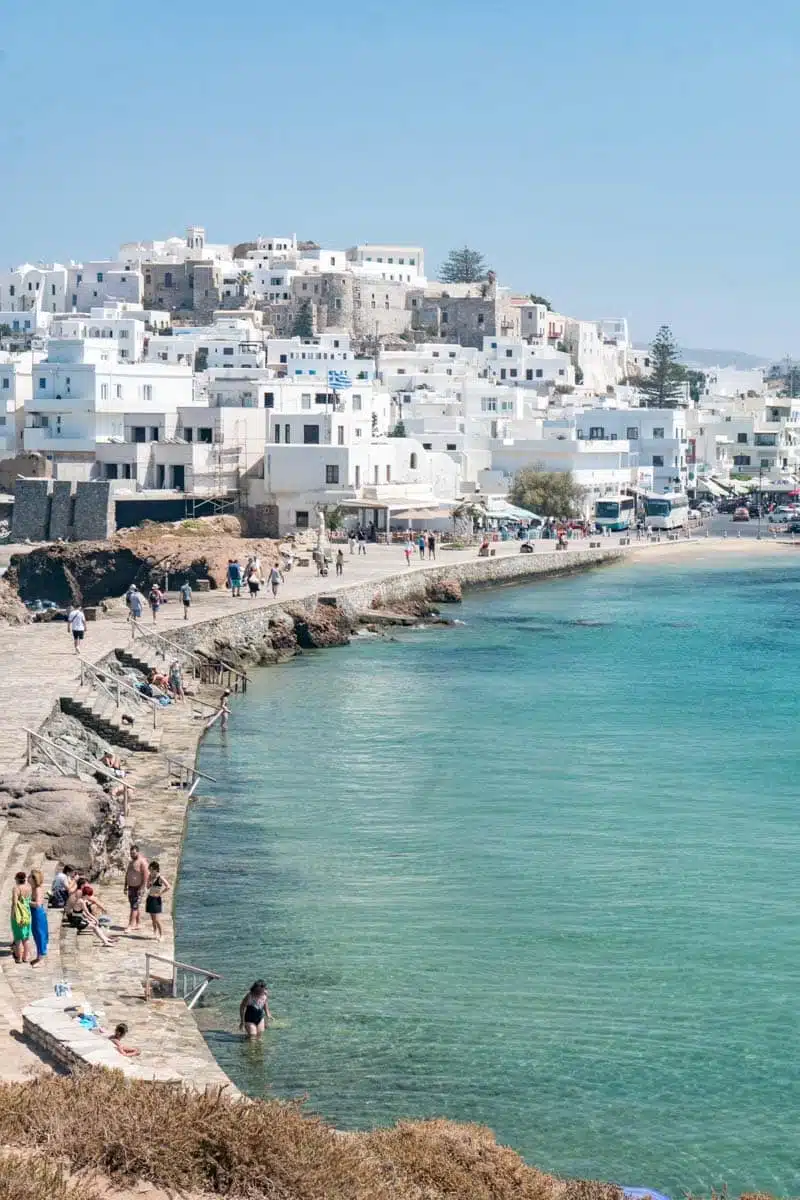 Visiting the Greek islands is an absolute must – there are just no two ways about it.
Greece has six stunning major island groups: The Cyclades, The Ionian Islands, The Dodecanese Islands, The Sporades, The Saronic Islands and the North Aegean Islands.
No two islands, nevermind island groups are alike, and each has its own distinct identity, culture, and uniqueness. This is what makes island hopping around Greece so incredible, if you ask me.
My top tip? While you're there, make the most of your trip and visit as many islands as possible.
When's the Best Time to Go Island Hopping in Greece?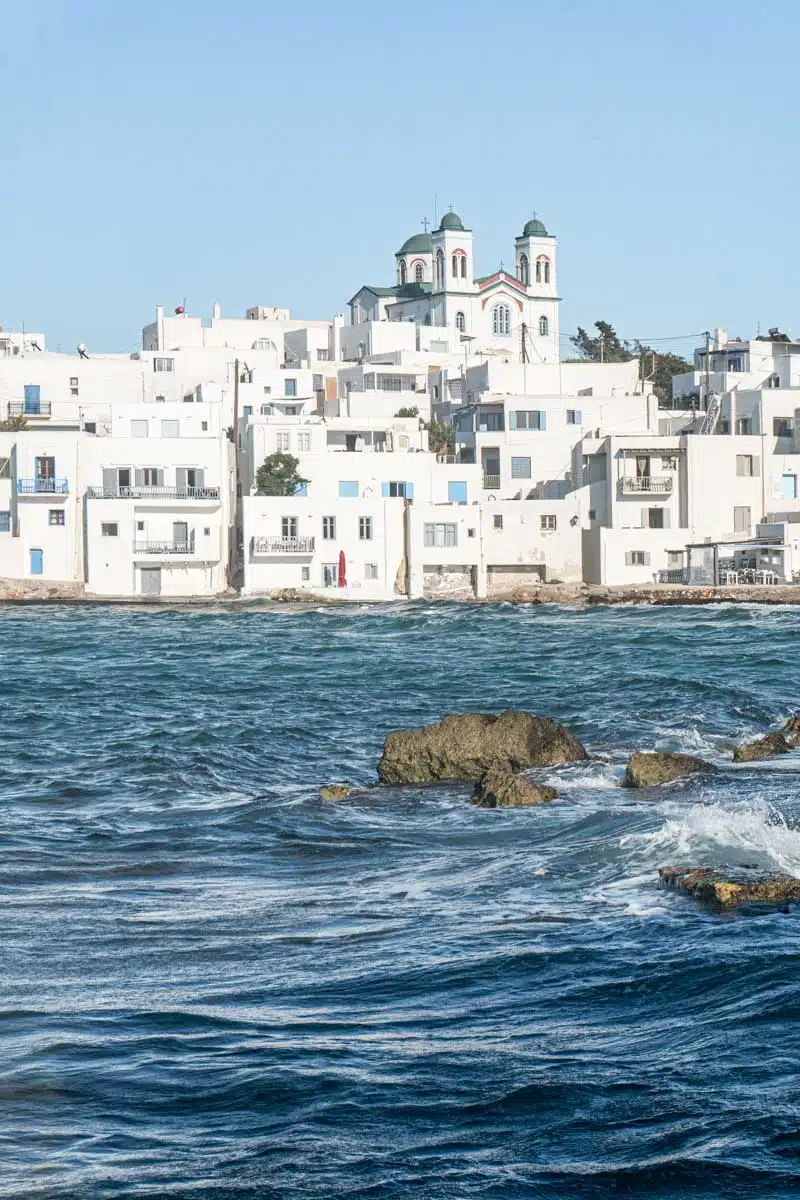 Technically, island hopping in Greece is a great idea all year round. However, that's not to say that there aren't ideal times to visit.
The best time to visit is from March to May and then again from September to October. Spring falls from March to May, so you can expect moderate temperatures, though the islands are not flocked with tourists. A big plus.
And again, September to October is the shoulder season after the busy peak season – you will get all the same benefits of visiting in spring.
These are the best times to go because most services, such as ferry rides and regular flights, are still up and running but at more reasonable prices. Tours and accommodation are also quite reasonable compared to the busier times of the year, and temperatures are still warm but not scorching.
How to Go Island Hopping in Greece? Independently or on a Tour?
Greek Island Hopping Tours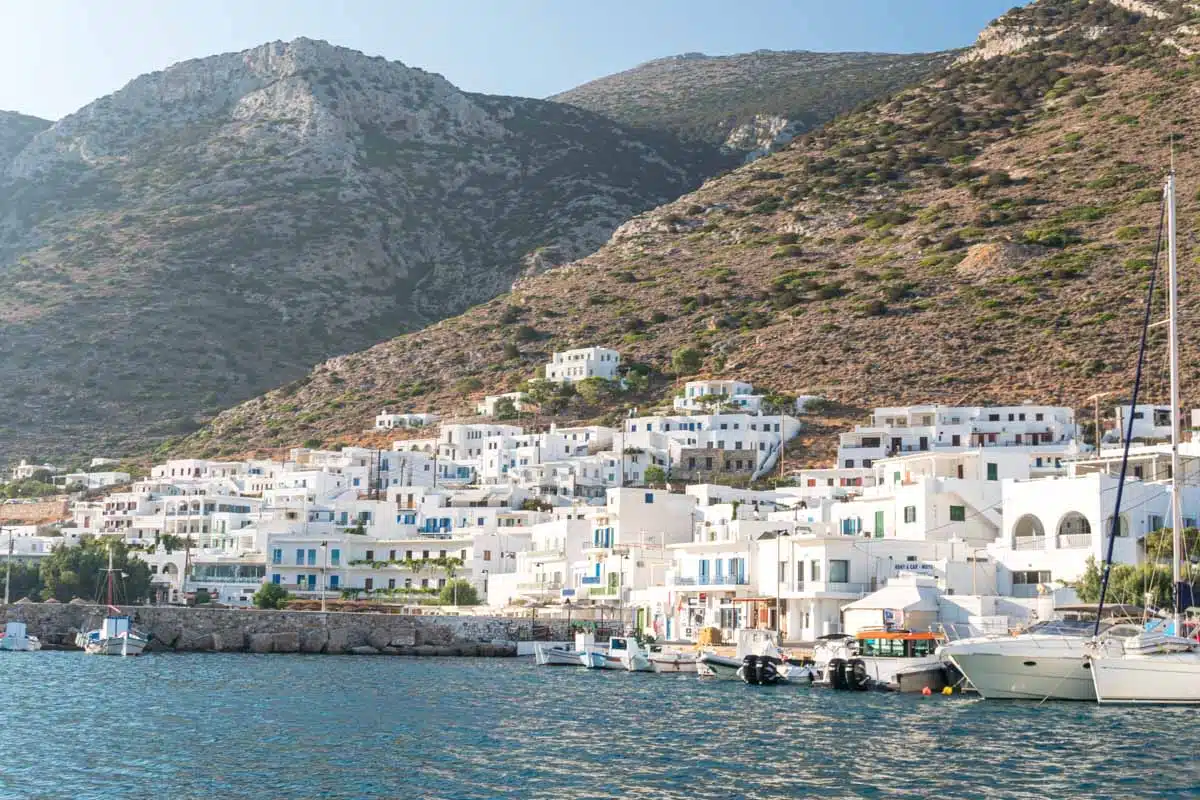 If you're looking to take the hassle out of planning, I highly recommend visiting the Greek isles on a tour. It makes life so much easier, especially if you're touring as a group or travelling in the summer months.
The benefits of booking a Greek island hopping tour are that your accommodation, transport, and additional activities are all taken care of. In addition to this, many companies allow you to customise your itinerary. So, you can decide where you'd like to go and for how long and choose which activities you'd like to do.
I recently went on a Sailing Greece trip with G Adventures trip and loved it. It covered all my accommodation and transport (all I had to do was pop in my details) and allowed me to explore some off-the-beaten-track places on the islands. Plus, it was excellent value for money.
Read my review on sailing Greece with GAdventures
Greek Island Hopping Independently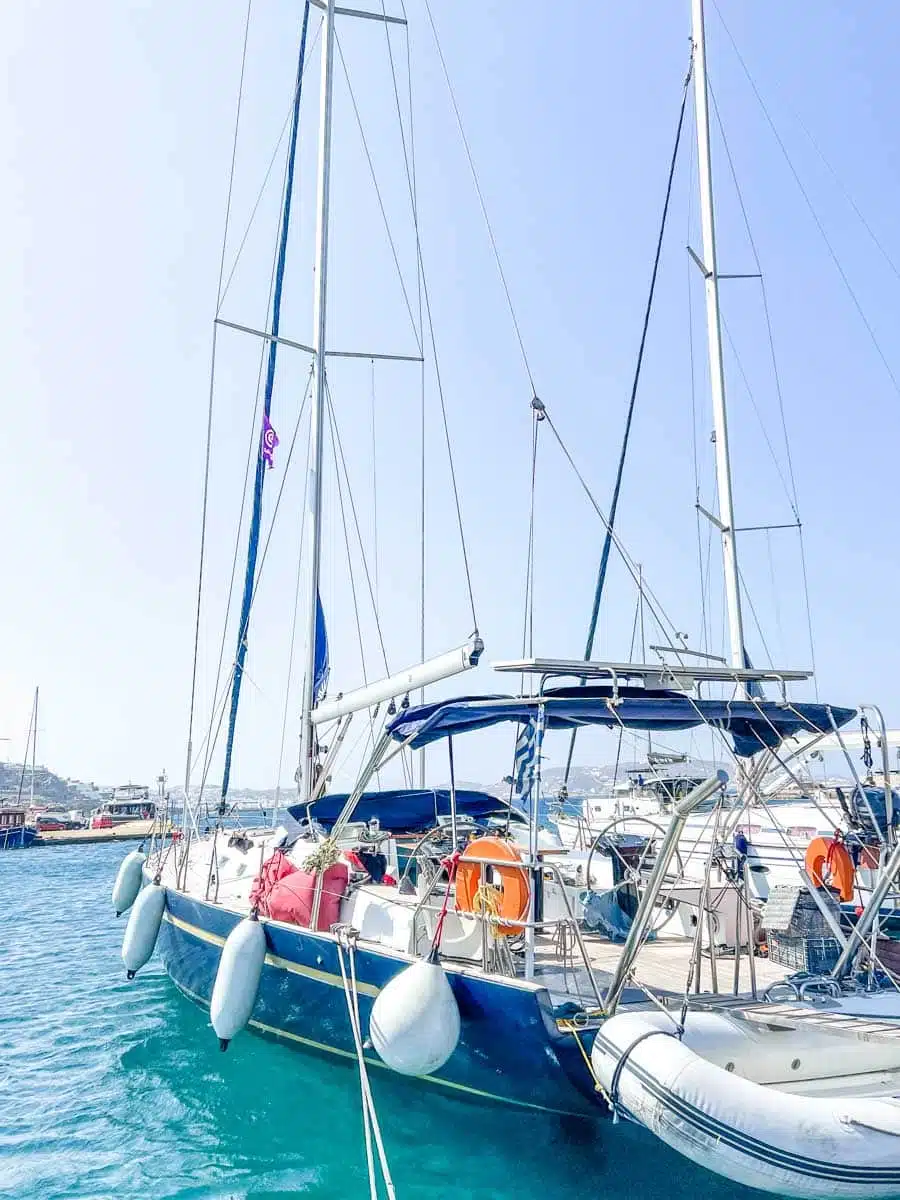 If you're a bit more spontaneous, independently planning a Greek island hopping itinerary might work better for you. The plus side of planning an independent trip is that you have complete control over your itinerary.
You can decide which islands you want to visit, how long you want to stay, where you'd like to stay and what you'd like to do. The downside is that it requires meticulous planning, especially if you're travelling in the summer.
You'll need to book your flights, accommodation, ferry rides, and other transportation in advance as everything becomes more expensive during summer. Ferries fill up quickly even though numerous and frequent services are running throughout this time.
Ferries
Throughout the years, I've found that the most reliable tool for searching for ferries is Ferryhopper. Here you'll find a list of the main ferry companies that operate in Greece. These include Hellenic Seaways, Minoan Lines, Sea Jets, Blue Star Ferries, Ekaterini P, and Alpha Lines.
You can compare prices across the different service operators and book using their portal. Ferry rides along popular routes such as Mykonos to Santorini and Athens to Mykonos can cost anything between €38 – €84 per person (and sometimes more). Prices usually depend on the season, departure time, duration, and operator.
There are different types of ferries that you can choose from:
Closed Deck: This is the cheapest and most reliable way to travel between the islands.
Open deck ferry: These larger boats can accommodate cars.
Flying Dolphins: There are small hydrofoils that will get you to your destination in a fraction of the time of a closed deck but will not always operate on choppy seas.
Catamarans: These are more comfortable yet pricer boats.
Car Rental
If you're renting a car to travel around Greece, you can expect to pay around €30 per day for the cheapest car. It's not always required, but it's good to inform your car rental company that you plan on taking the car on a few ferry rides.
Usually, you need special permission from the car rental company to take the vehicle on a ferry. There may also be an additional cost to cover any damage. If you are from a country that isn't part of the European Union, you will need to provide the car rental company with an International Driver's Permit.
I must mention that most car rental companies require drivers to be at least 21 and might charge a surcharge for drivers under 25.
Suggested Greek Island Hopping Routes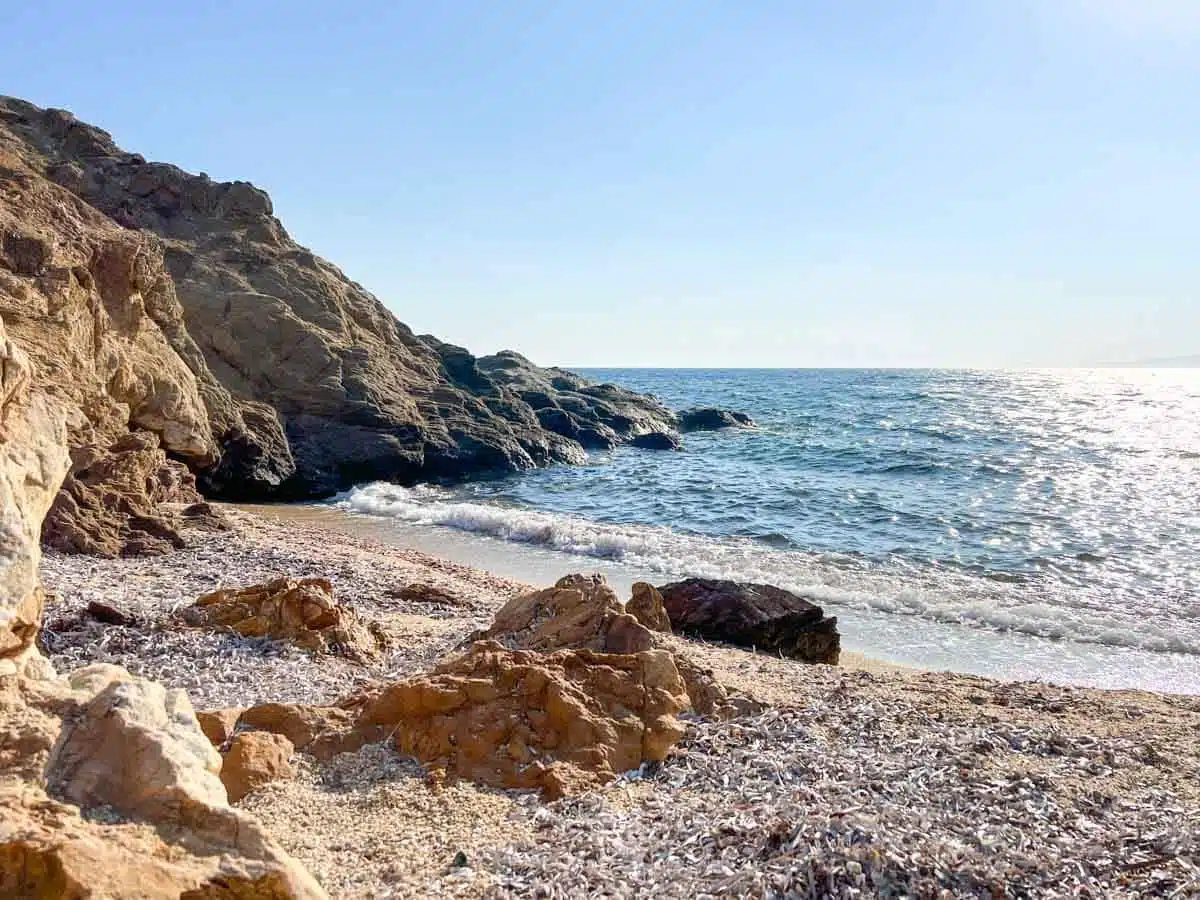 A Greek island hopping holiday is pretty easy to plan because the islands are easily accessible by ferry. The bigger islands, such as Mykonos and Santorini, even have their own airports, meaning you can fly between islands.
It is good to note that if you plan on island hopping by ferry, you should stick to the same island chain. The main island chains are quite far apart from each other. So getting from one island to the next is not as simple as jumping onto a ferry and setting off.
Cyclades Islands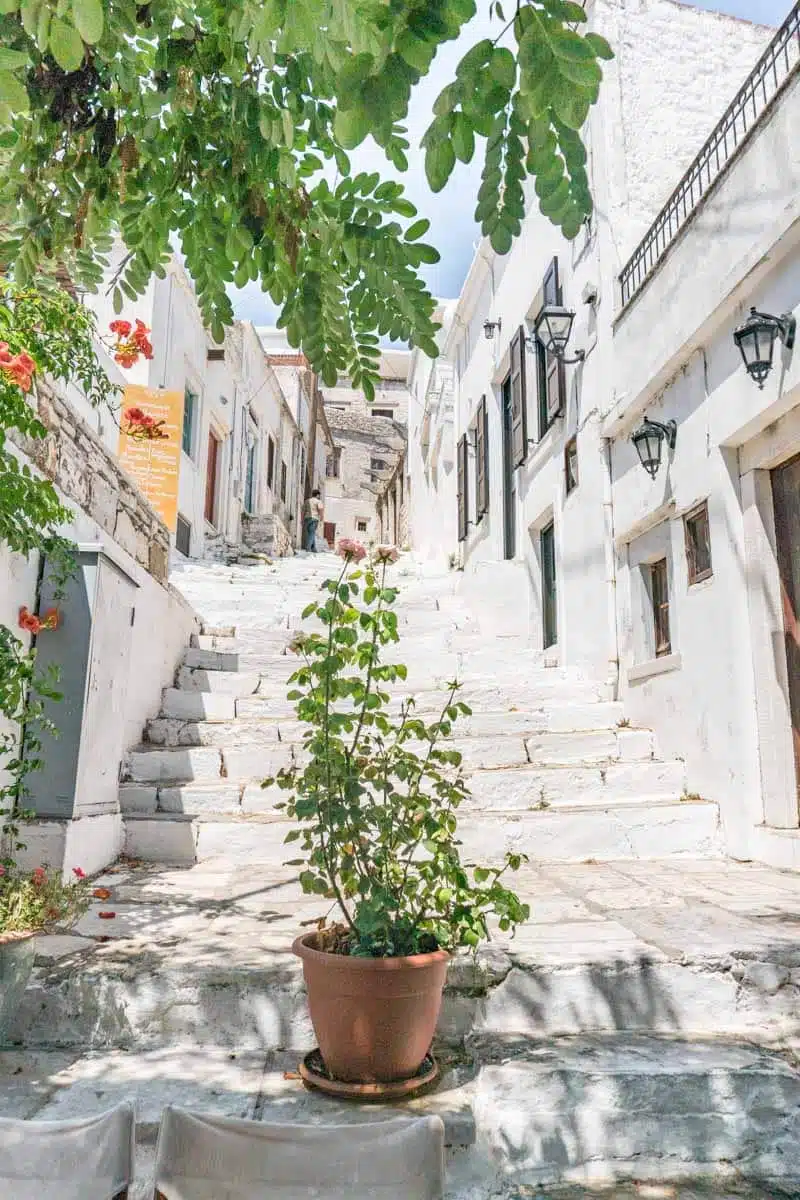 The Cyclades are perfect for a Greek island hopping itinerary and are also the most popular islands.
This island chain consists of some of the most idyllic islands in Greece. It is famous for its rocky landscape, stunning beaches, azure waters, and gorgeous white-washed houses. It's also the closest island to the mainland and the capital, Athens.
Some of the most popular islands in this chain include:
7-Day Cyclades Itinerary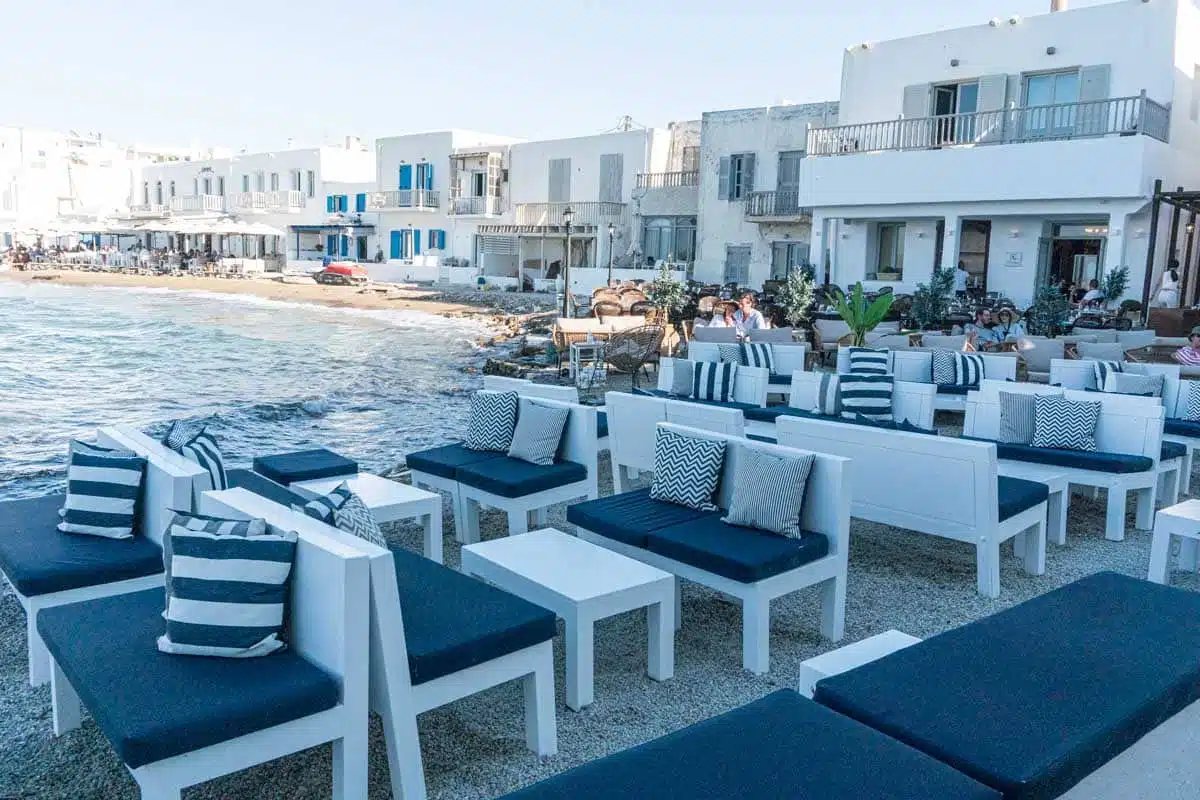 Day 1-2: Mykonos
Day 3: Naxos
Day 4: Paros
Day 5:Ios
Day 6-7: Santorini
Top Tip: Book these tours if you're going to use this itinerary: Mykonos Cruise to Delos and Santorini Catamaran Cruise with Lunch. And check out my guide to Brilliant things to do in Mykonos.
Ionian Islands
The Ionian Islands are a smaller chain than the Cyclades but just as stunning. These islands enjoy a much cooler climate and are abundant in olive and cypress trees. They sit west of the mainland and have a mix of Venetian, French and British influences.
The Ionian Islands are postcard-worthy and boast some of the most picturesque beaches in the Mediterranean, including the turquoise waters of Zakynthos.
The Ionian Islands are:
Zakynthos
Corfu
Kefalonia
Ithaca
Lefkada
Paxi
Antipaxoi
Kythera
Top Tip: Is Corfu worth visiting? Read this guide to find out.
7-Day Ionian Island Itinerary
Day 1-2: Zakynthos
Day 3: Kefalonia
Day 4: Ithaca
Day 5: Lefkas
Day 6-7: Corfu
Top Tip: Book these tours if you're going to use this itinerary: Zakynthos Beach Boat Tour, and Corfu Caves Boat Cruise.
Dodecanese Islands
The Dodecanese Islands sit on the southeastern side of Greece, between the Cyclades Islands and Turkey. Their name translates to the "12 islands" because of the 12 biggest islands in the group.
If you are a history lover, you'll love this group of islands. You'll find mediaeval castles, Byzantine churches, ancient archaeological sites, and much more here. Plus, they've got very idyllic beaches.
The main 12 islands are:
Rhodes
Kos
Patmos
Karpathos
Symi
Lero
Nisyros
Lero
Halki
Lipsi
Karpathos
Astypalea
Tilos
7-Day Dodecanese Islands Itinerary
Day 1-2: Rhodes
Day 3: Symi
Day 4-5: Kos
Day 6: Leros
Day 7: Patmos
Top Tip: Book this three island tour from Kos that takes you to Kalymnos, Plati, and Pserimos.
Sporades Islands
They might not get quite the same amount of hype as the Cyclades, but the Sporades Islands are easily the most impressive of the many Greek island chains.
These islands are situated in the northwest Aegean Sea and famed for their crystal clear waters for snorkeling, diving and swimming.
The name Sporades actually refers to the fact that these islands are dotted around rather sporadically, which might not seem conducive to island hopping, but it's relatively easy to travel between them all.
There are actually 24 Sporades Islands, though the main ones to visit are:
Skopelos
Alonnisos
Skiathos
Skyros
Kyra Panagia
Peristera
Gioura
7-Day Sporades Islands Itinerary
Day 1-2: Skopelos
Day 3: Peristera
Day 4-5: Alonnisos
Day 6-7: Skiathos
Top Tip: Mamma Mia! fan? You'll want to take this guided island tour of Skopelos, which includes a visit to the iconic church from the movies.
Saronic Islands
The Saronic Islands are situated just off the mainland and each boasts something special – from the beautiful mansions on Spetses to the idyllic waters of Poros.
These islands get especially busy during peak summer season, as they are closest to Athens and fill up quickly with Greek tourists, as well as those taking day trips from the capital.
The main islands are:
Salamis
Aegina
Agistri
Spetses
Poros
Hydra
Dokos
7-Day Saronic Islands Itinerary
Day 1-2: Salamis
Day 3: Agistri
Day 4: Poros
Day 5: Hydro
Day 6-7: Aegina
Top Tip: If you're short for time, consider this day tour from Athens to Aegina, Poros and Hydro.
North Aegean Islands
They might be situated closer to Turkey, but a vast amount of North Aegean Islands belong to Greece. They might be slightly trickier to travel to, but they are well worth the effort – these remote islands are some of the most gorgeous in the entire archipelago.
There are more than 30 North Aegean islands so, unless you're planning a mammoth trip, you'll need to miss out on quite a few. The ones I recommend visiting are:
Lesbos
Chios
Ikaria
Samothraki
Thassos
Samos
7-Day Aegean Islands Itinerary
Day 1-2: Ikaria
Day 3: Chios
Day 4-5: Lesbos
Day 6: Samothraki
Day 7: Thassos
Top Tip: Enjoy the region's best wines at this incredible wine tour in Ikaria. Cheers!
Island Hopping in Greece: Practical Tips
Which Greek Island Group is Best for Island Hopping?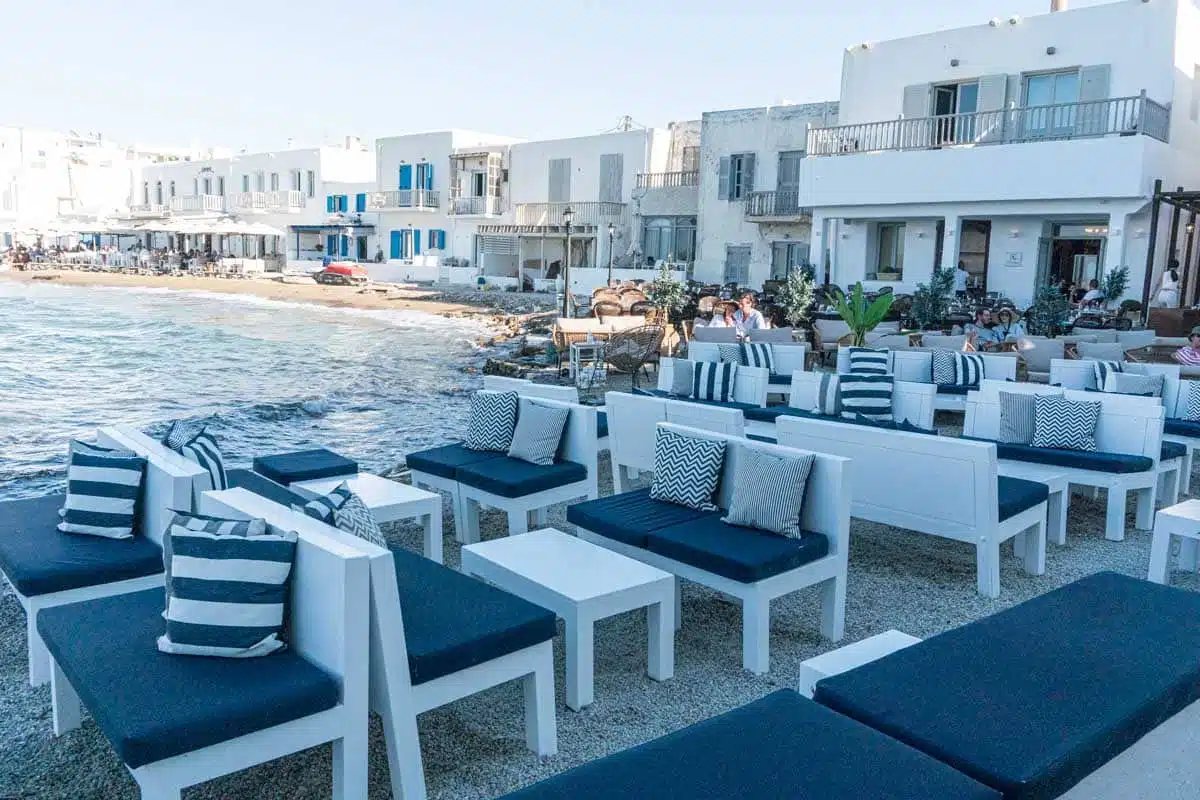 The best islands for a Greek island itinerary would be the ones in the Cyclades and Ionian groups, especially if you're visiting Greece for the first time. They'll give you a good oversight of life on the islands of Greece, and they're also the closest to the mainland.
How Much Does it Cost to Island Hop in Greece?
Here's a quick break down of Greek island hopping holidays on average, excluding flights:
On a Tour
7 Days Greek island hopping: £1,200 per person
10 Days Greek island hopping: £1,500 per person
15 Days Greek island hopping: £2,300 per person
Independently
7-14 Days Solo traveller: £1,000-1,500 per person
7- 14 Days Couple: £2,000-3000 per couple
What is the Best Way to Travel Between Greek islands?
The best way to travel between the Greek islands is via ferry.
How do I Book Greek Island Hopping?
I highly recommend this G Adventures tour. It's excellent value for money, covers all your accommodation and transport and quite a few islands.
If you plan to book independently, these are the best tools that you can use to book your trip:
Top Spots to Add to Your Greek Island Hopping Itinerary: Map
Greek Island Hopping: Read Next