I'm sure you don't need convincing to visit Naxos – it's a paradise island with a rich history, beautiful beaches, and so much more. If you're already planning your trip, you'll need to know the best hotels in Naxos. That's where I come in.
Being the largest of the Cyclades islands, you can imagine the extensive accommodation scene — and you'd be right. But, you won't need to spend hours diving into list after list on where to stay in Naxos.
I've done that for you and put together this nifty guide to the options available in Naxos, Greece.
Whether you're looking for an impressive beachside hotel or somewhere simple to bed down — these are the best hotels in Naxos.
Best Hotels in Naxos: At a Glance
Best Hotels in Naxos
Nissaki Beach Hotel
£££
Saint George Beach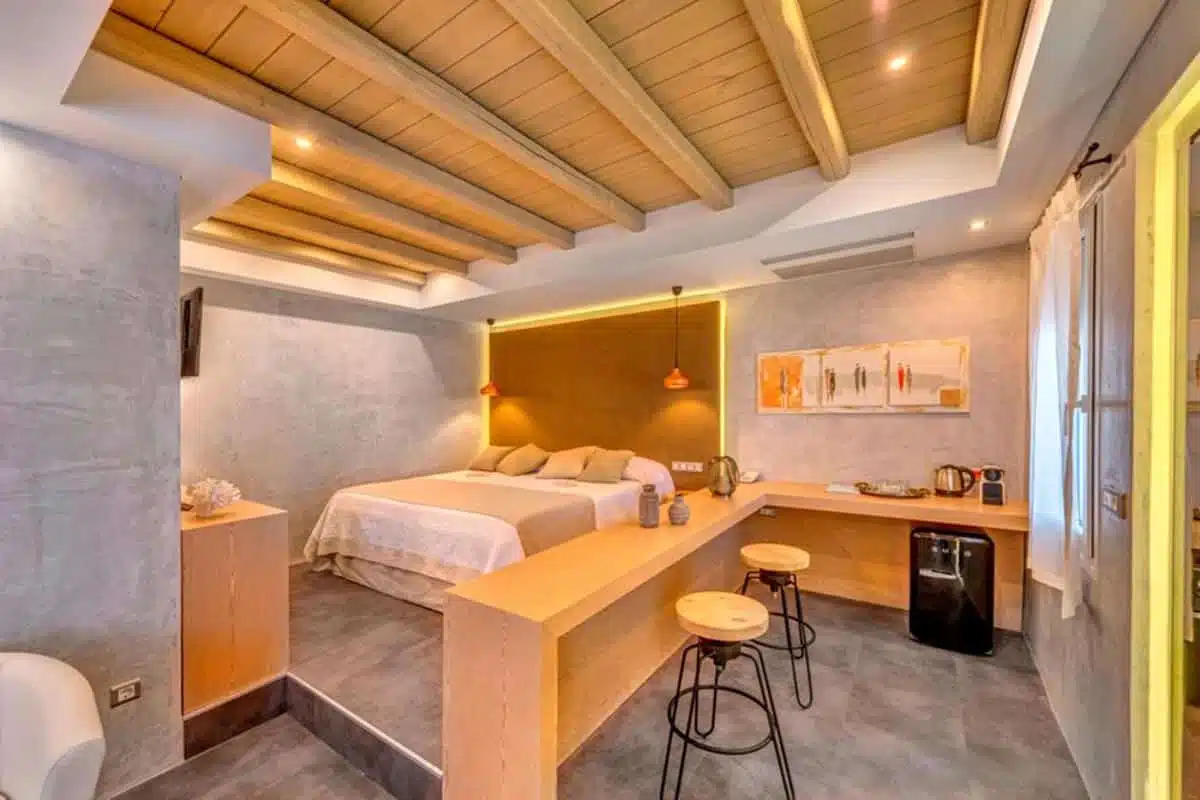 If you're looking for a 5-star luxury hotel that's both close to Naxos Town and Agios Georgios Island then you're in luck.
I'd say you're quite lucky actually, because the Nissaki Beach Hotel is the only 5-star hotel in Naxos, Greece. So grabbing a spot here is supremely coveted.
You'll find this gem following a boutique-style property layout, while the overarching theme screams minimalist Cycladic. This means you can expect light tones and colourful accents throughout. Every room and suite is spacious, boasting private terraces, high ceilings, and stunning wooden support beams.
Picturesque palm trees surround the hotel, and you can indulge in some of the best seafood and Mediterranean cuisine at the on-site seaside restaurant.
Portara Seaside Luxury Suites
£££
Naxos Town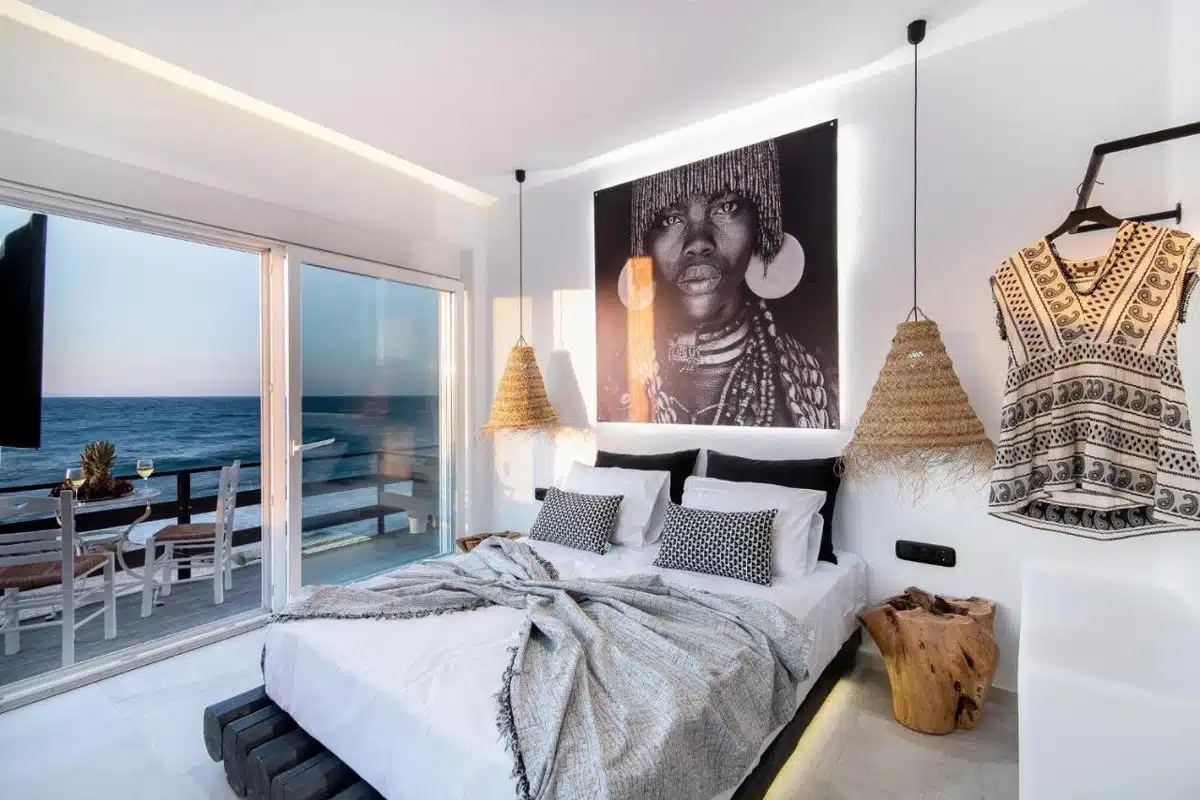 For truly luxurious suites, look no further than Portara Seaside Luxury Suites. It's super close to the beautiful port of Naxos Town, and the popular Naxos Castle attraction is about 800 metres from this aparthotel.
Every unit comes tastefully decorated with modern influences and vibrant styling choices. All of the suites come with a full kitchen, either a private terrace or balcony and have spectacular views. The property also offers a handy bicycle rental to make getting around that little bit easier.
When in the mood for a beach excursion (which I assume you would be), the stunning Agios Georgios Beach is 900 metres from the hotel. Other beaches close to Portara include Laguna and Dream View.
Saint Vlassis Hotel
£
Naxos Town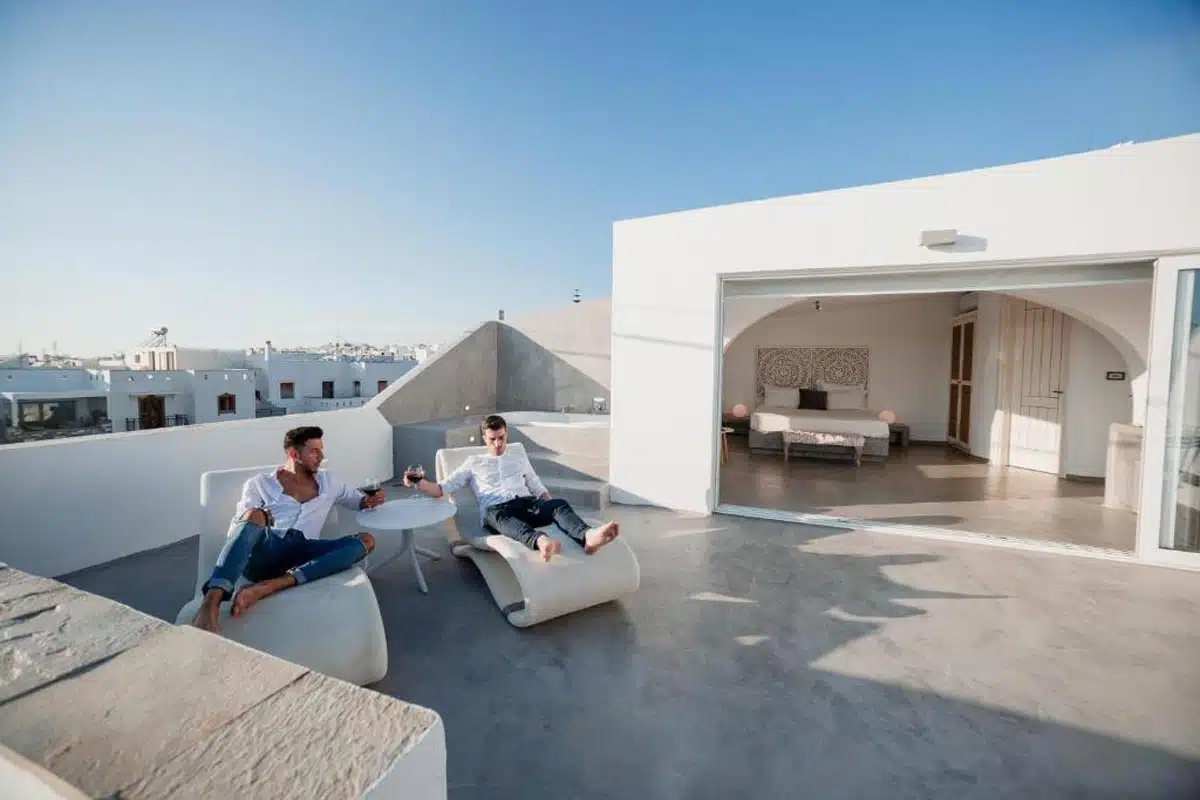 In the category of affordable luxury, Saint Vlassis wins hands-down. This stunning property blends boutique with chic. Set in a very peaceful part of town, the gorgeous Agios Georgios is just 400 metres from its doorstep.
Every room is tastefully decorated and furnished, packing a wide range of amenities. The hotel offers a Les Clefs d'Or concierge, a 24-hour reception service, pillow menus (LOVE), and airport transfer.
Larger suites include private terraces or balconies, jacuzzi tubs, and a comfortable outdoor seating area with sofa beds. The food served from the in-house restaurant is delicious. And you can even order a breakfast box or picnic lunch — perfect for trips to the beach.
ELaiolithos Luxury Retreat
£££
Moni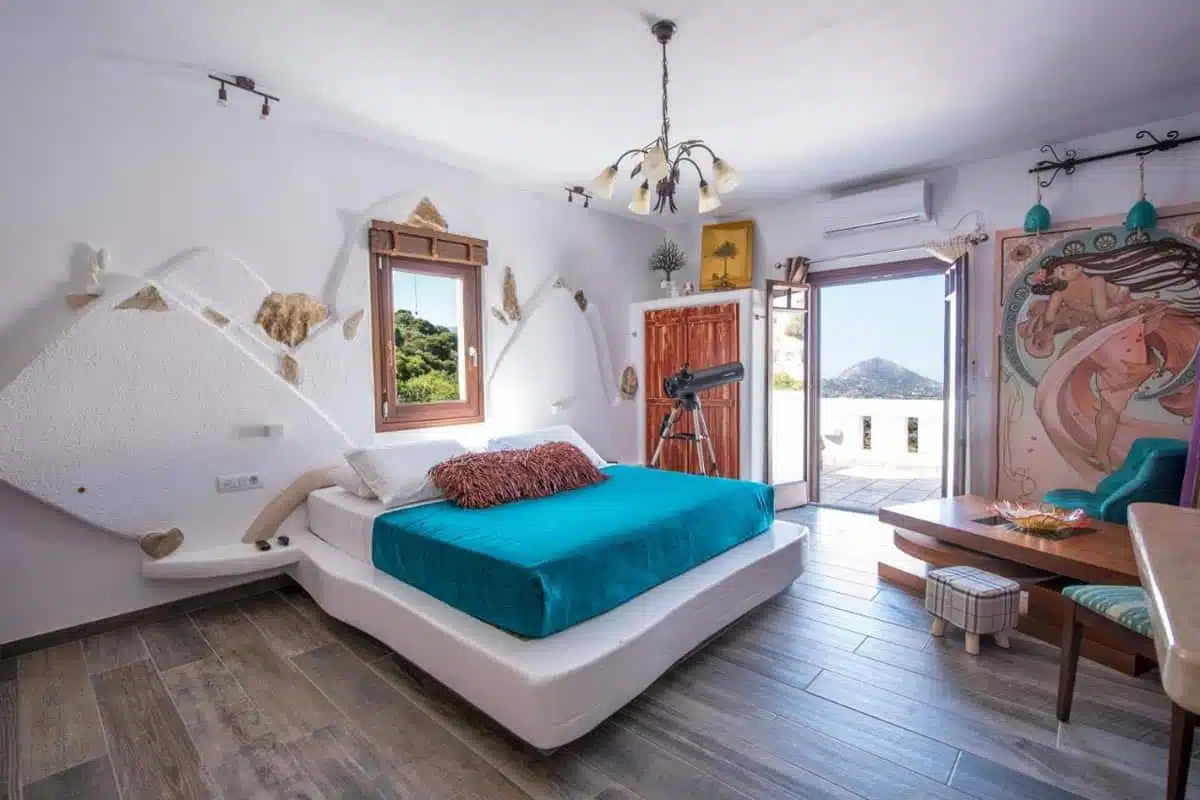 Now, while Naxos is famous for its beaches, its landscapes of mountainous areas are just as stunning. That's where you'll find this jewel — the ELaiolithos Luxury Retreat.
Surrounded by mountain peaks, olive trees, and numerous hiking trails, this is a fantastic place to explore a different side of Naxos.
Each suite is spacious and airy, with a very laid-back atmosphere. Fully-equipped kitchens are standard per suite. You'll really appreciate the attention to detail, as every single textile, piece of furniture, and art throughout is handmade locally.
And, when you're feeling peckish (or ravenous, for that matter), the on-site restaurant ser
Hotel Grotta Naxos
££
Naxos Town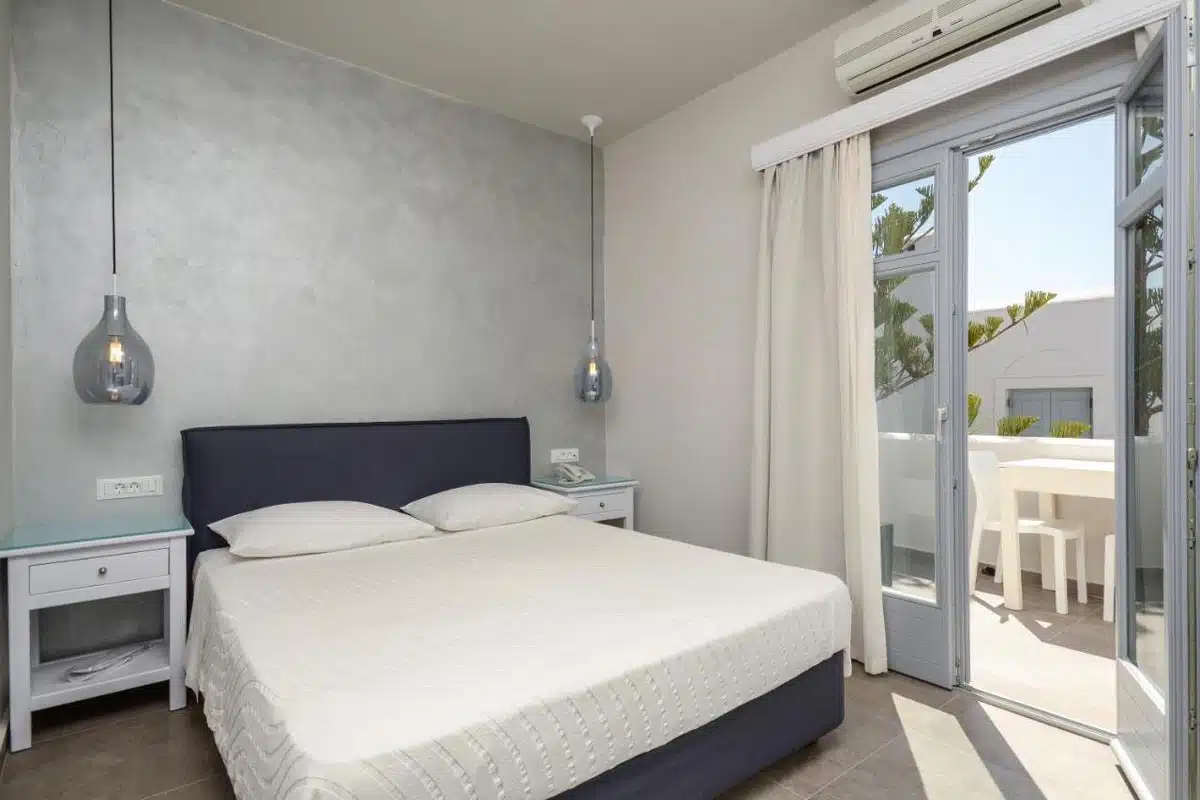 A no-brainer for one of the best hotels in Naxos, Hotel Grotta, sits nestled atop a hillside that overlooks Naxos Town.
This is a stellar getaway spot, close to the bus station, ferry port, shops, and many fantastic restaurants. Don't be put off by the fact this hotel only boasts 2 stars, it's an excellent place to stay.
Rooms are stunningly decorated and make use of natural light that highlights modern styling. Each room includes a private balcony or terrace, which provides unparalleled ocean views. Small kitchenettes are standard, and there's complimentary WiFi throughout so you can catch up on emails (or spend a lazy evening Netflix and Chillin').
Agios Georgios is a 20-minute walk from the hotel, while the hotel staff handles car rentals, sailing excursions, and guided tours. But, if you choose to stay at the hotel, the indoor pool and hot tub are excellent unwinding spots.
Galaxy Hotel
£££
Saint George Beach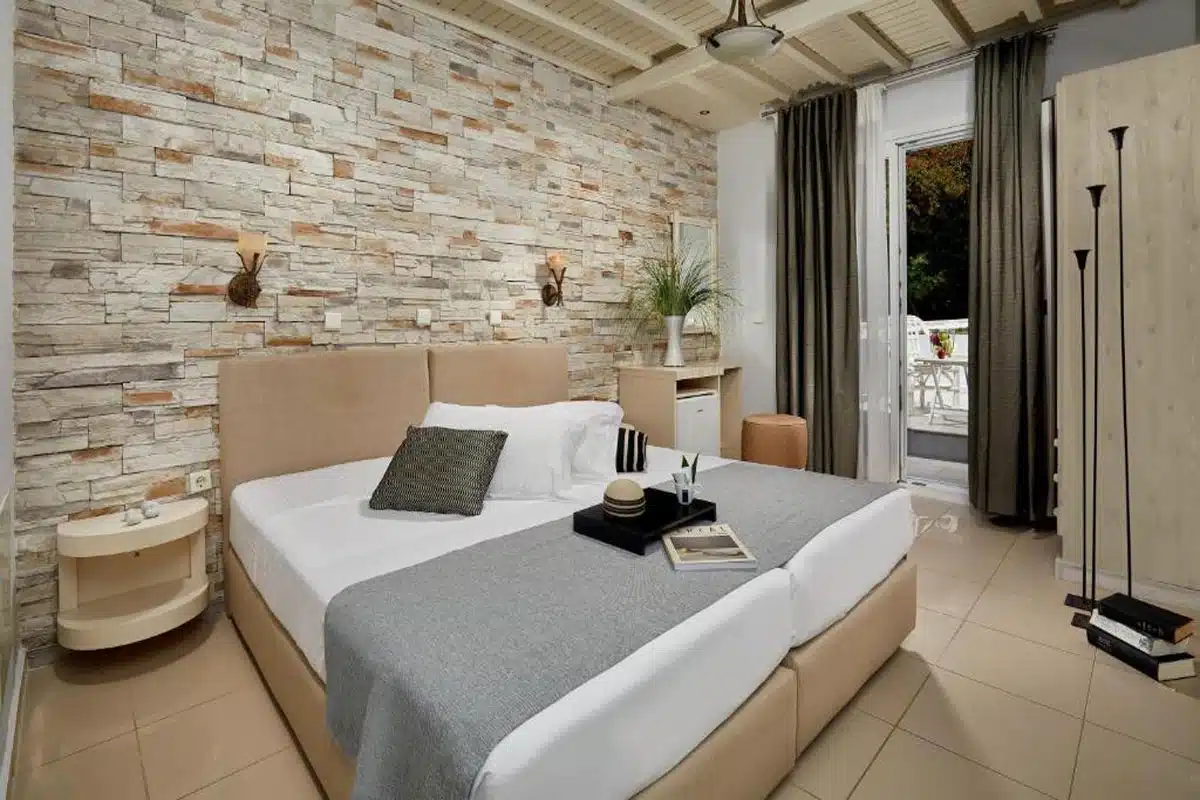 Just a few steps from Agios Georgios, Galaxy Hotel Naxos is the perfect example of a Mediterranean paradise. With its prime location near to the beach, the main square, The Castro, Naxos Archaeological Museum, and what remains of Marco Sanudo's castle, it's any explorer's dream.
Instantly recognised by its whitewashed exterior and sprawling lush gardens, the interior is equally enticing and in keeping with Cycladic tradition. All 54 rooms feature private terraces with either garden, pool, or ocean views.
The in-house restaurant serves up tantalising Greek classics made fresh from ingredients grown on-site. Where better to enjoy the food than next to the massive outdoor pool lined with lounge chairs?
Oh, and did I mention you can even pick fruit straight from the trees on hotel grounds and treat yourself?
Prestige on the Beach
££
Naxos Town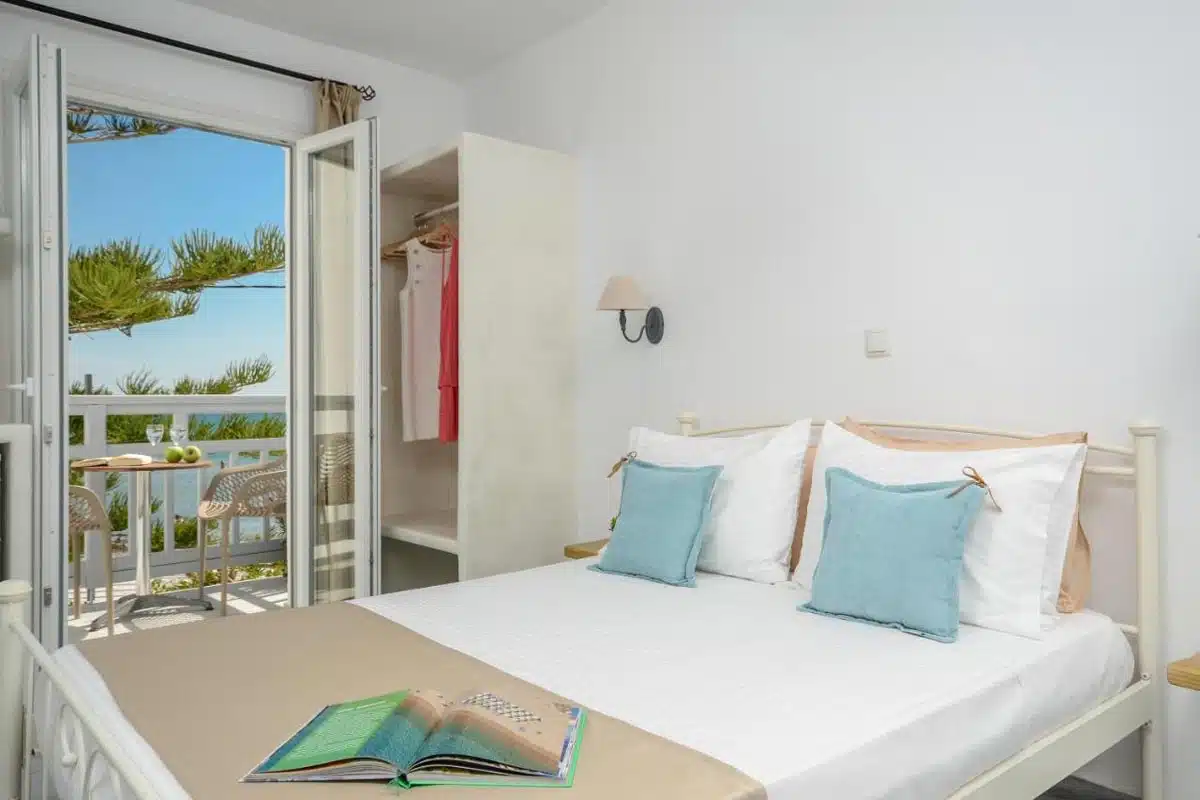 How does a beachfront luxury hotel at a budget-friendly price tag sound? Well, it sounds like a done deal, I'm sure you'll agree. And once you see Prestige on the Beach, you'll agree.
About 150 metres from Agios Georgios and a 15-minute walk from Laguna Beach, it's perfect for some beach-lounging.
Rooms designed and decorated in a mix of contemporary and minimalist styles with neutral tones await you. Well-equipped and deluxe rooms feature balconies overlooking the stunning Aegean Sea.
The popular bar, Finikas, and fine dining restaurant, Oasis, are both within walking distance. And if you're a connoisseur of epic sunsets, Prestige is sure to become your top pick for one of the best places to stay in Naxos.
Argo Boutique Hotel
£
Naxos Town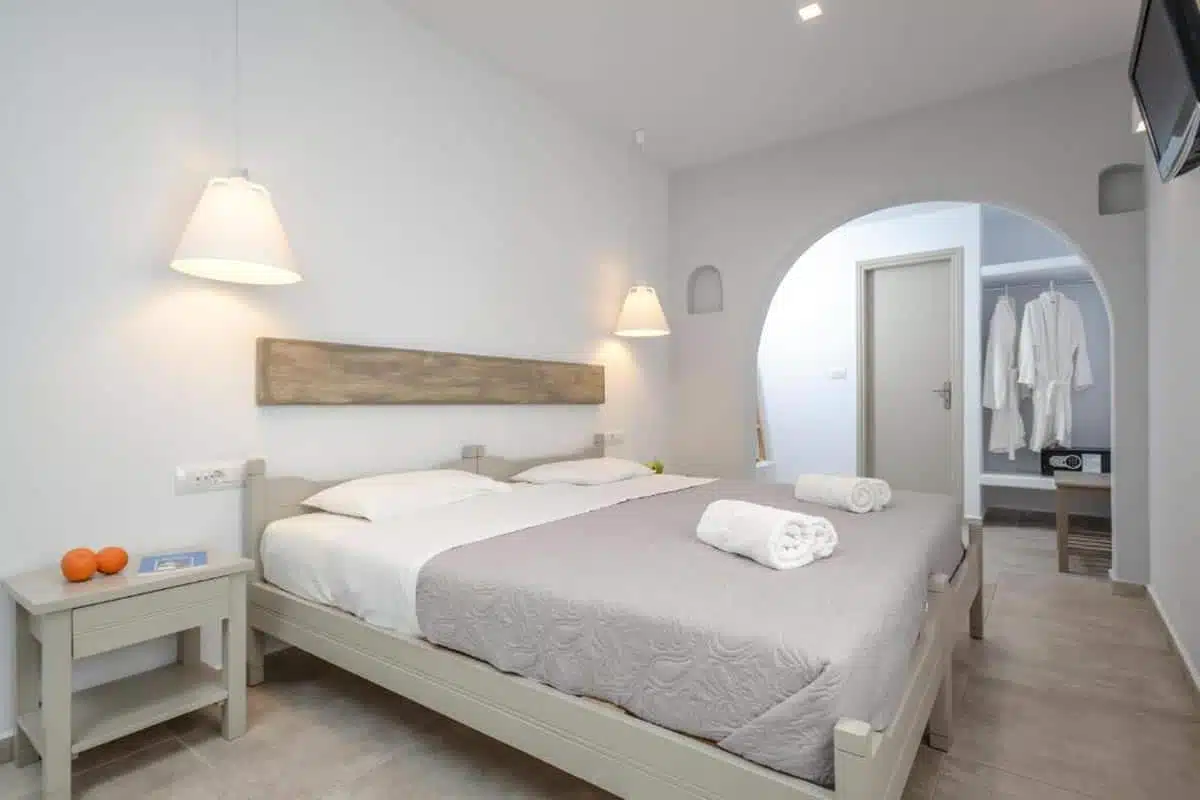 Close to the downtown area of Naxos Town, the Argo Boutique Hotel is a fantastic small boutique hotel right on the sands of Agios Georgios.
It's also close to both Laguna and Dream View Beaches. If you're after a quick break from the bustle of the main touristy spots, this is a great place to escape.
Rooms and suites are elegantly decorated and equipped with modern amenities, including air-conditioning, a kitchenette, and satellite TV. Depending on your room choice, you'll either have a standard en-suite bathroom, one with a spa bath, one with a hydromassage shower cabin, or an outdoor hot tub. I can't choose.
At Argo, you're situated close to many restaurants, while the on-site Kalesma serves delicious brunch, lunch, and dinner options from an à la carte menu.
18 Grapes Boutique Hotel
£££
Agios Prokopios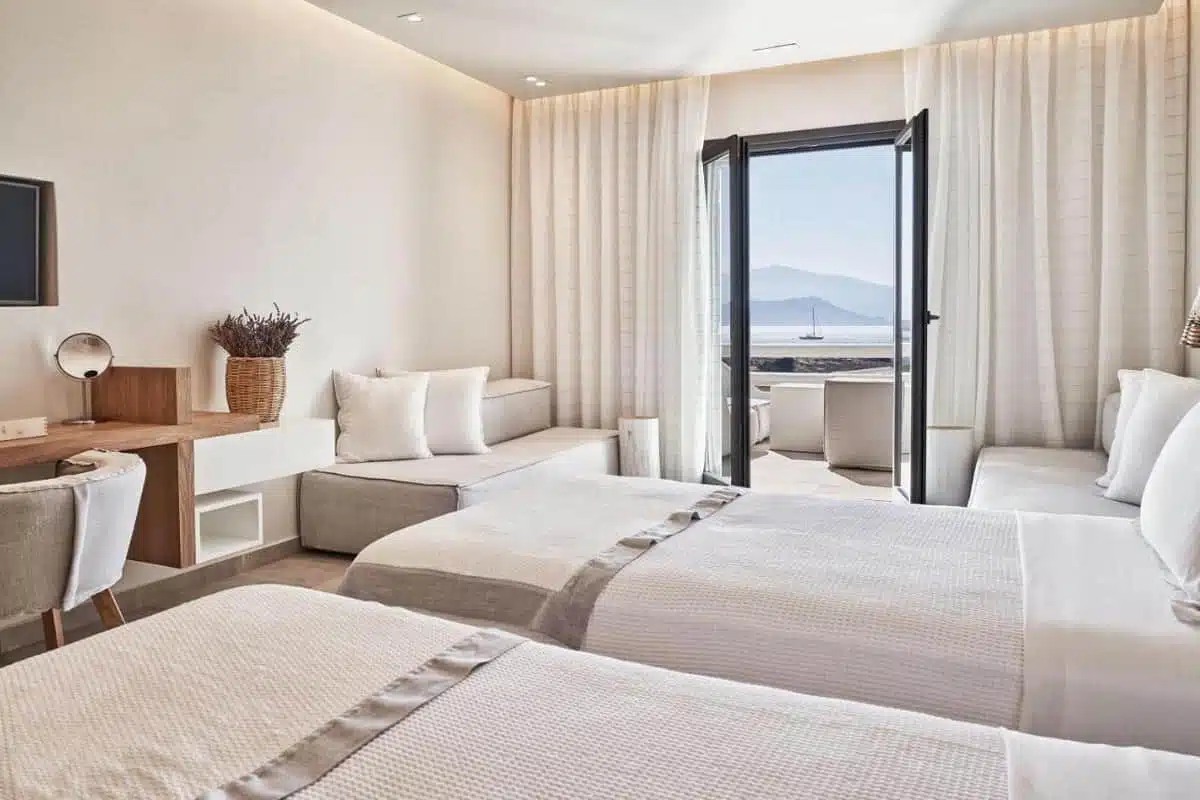 While small in stature, this stunning boutique hotel, a 5-minute walk from Agios Prokopios, packs a massive punch. 18 Grapes Boutique Hotel is sure to top many a best hotels in Naxos list, as beyond its beach access, few other spots can compare in value.
Rooms are traditional yet modern, with lofty designs and warm, welcoming tones, both in finishings and textiles. Every room or suite has its own private terrace, with most having ocean views.
The hotel also has a luxury outdoor pool, a rooftop jetted pool, a full-service holistic spa, and a tastebud-treating on-site restaurant. Beyond that, it has its own vineyard (I mean, how cool is that?), and they offer tours and tastings to all guests. You even get a bottle of your choice upon checkout.
Panos Studios
£
Saint George Beach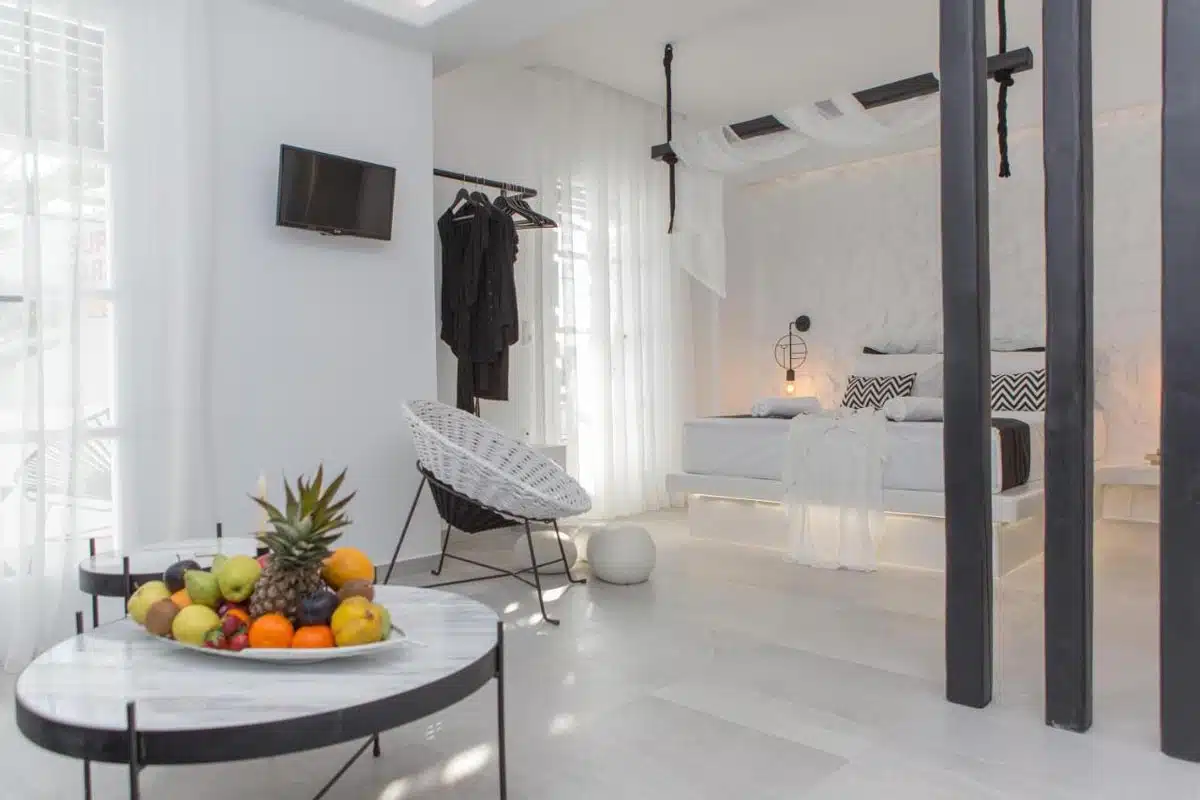 If you're more of a self-catering traveller, you can't go wrong with Panos Studios. It's literally 20 metres from Agios Georgios and 100 metres from Naxos Town Square. This is the perfect spot to choose if you're looking for easy access to the many activities in and around Naxos.
Each studio apartment features sublime tones of white and black, creating an elegant atmosphere. They all come standard with a well-equipped kitchenette and air-conditioning. Oh, and their private balconies are to die for.
A number of fantastic restaurants surround the studios, and Finikas awaits as the perfect sundowner spot. Speaking of sunsets, the rooftop terrace at Panos offers out-of-this-world sunset views.
Melidron Hotel & Suites
£
Agios Prokopios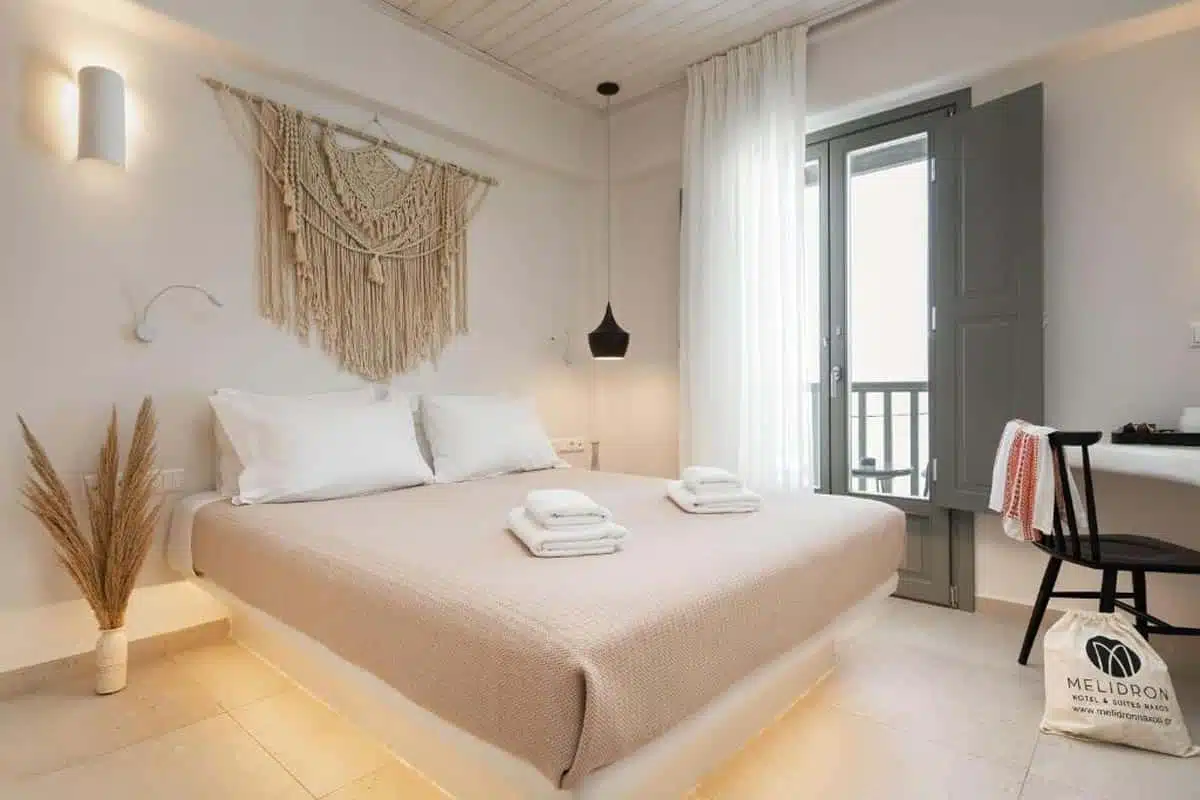 For those of you eager to beach hop while in Naxos, I can't recommend the Melidron Hotel & Suites enough. While being superbly located within walking distance of Agios Prokopios, Agia Anna, Laguna Beach, and Dream View Beach, it's also super budget-friendly.
Characterised by a pristine whitewashed exterior, Melidron easily ranks high on the aesthetically-pleasing side of things.
Rooms are beautiful and well-equipped, featuring a fully furnished private balcony. Think picturesque Cycladic sun loungers framed by wooden beams overlooking the ocean.
The outdoor pool features a stunning and well-stocked bar, so enjoying a few mouthwatering cocktails while relaxing poolside comes highly recommended.
Naxian Utopia
££
Stelida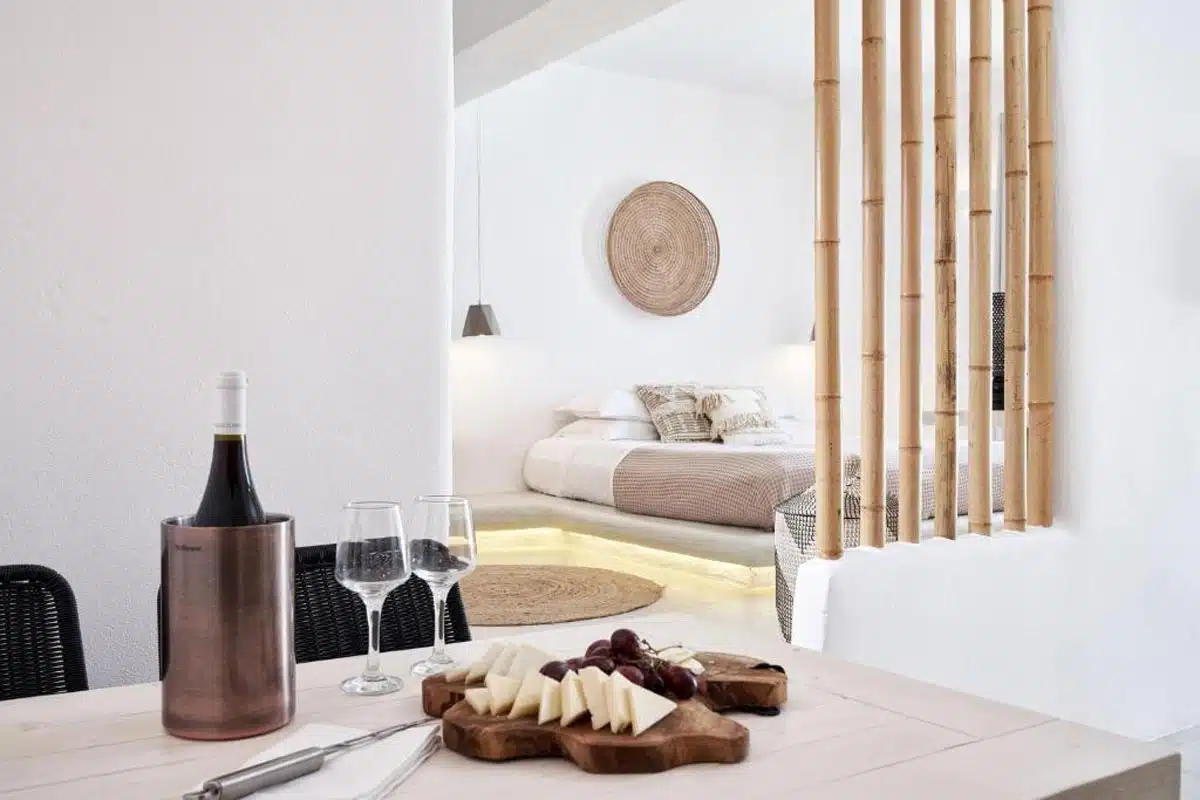 Halfway between Laguna Beach and Agios Prokopios, you'll find Naxian Utopia. A collection of stunning suites and villas, each has a private pool with truly amazing views. By stunning, I mean the level of detail and classic Cycladic architecture is sublime.
The complex, which sits atop a rocky hill, sports views of the Aegean Sea you won't find elsewhere else. And what's better is the plunge pool equipped with sun loungers where you can easily spend hours under the Greecian sun.
As for the villas themselves, they all have either a jacuzzi or hammam. While the on-site spa and wellness centre is ideal for relaxation in one of the best Naxos island hotels.
Naxos Illusion Nikos Verikokos
£
Naxos Town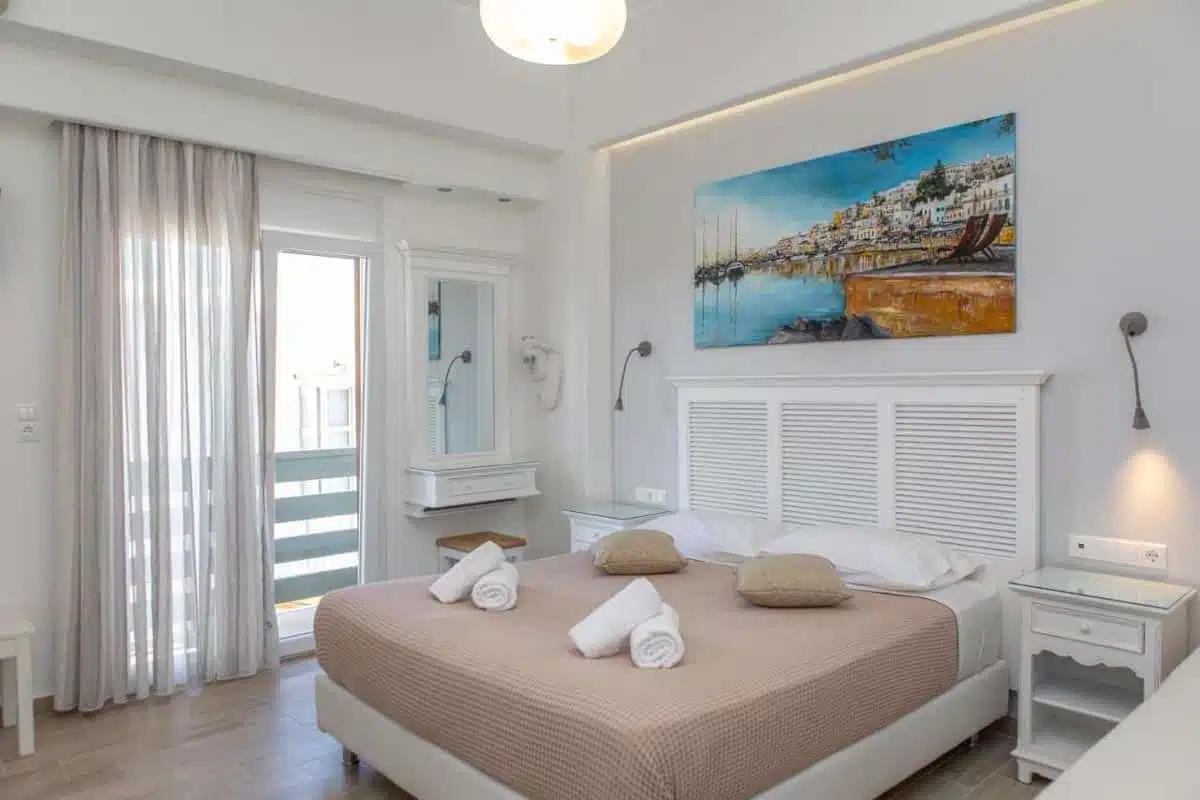 Sitting in central Naxos Town, if you're looking for a more homely alternative to the many other hotels in the area, Naxos Illusion Nikos Verikokos is ideal. Within walking distance of the port, Agios Georgios, and the town square, this property also offers free 2-way transfers to the airport.
Providing stunning views of the Aegean Sea from private balconies, the interiors exude opulence with a touch of class. Every unit is air-conditioned and comes equipped with a kitchenette and complimentary WiFi.
And if you want to go sightseeing, the Venetian Castle is right next to Naxos Illusion Nikos Verikokos. Popular restaurants Typografio and Oniro, are a mere 50 metres away.
Kavos Boutique Hotel Naxos
££
Stelida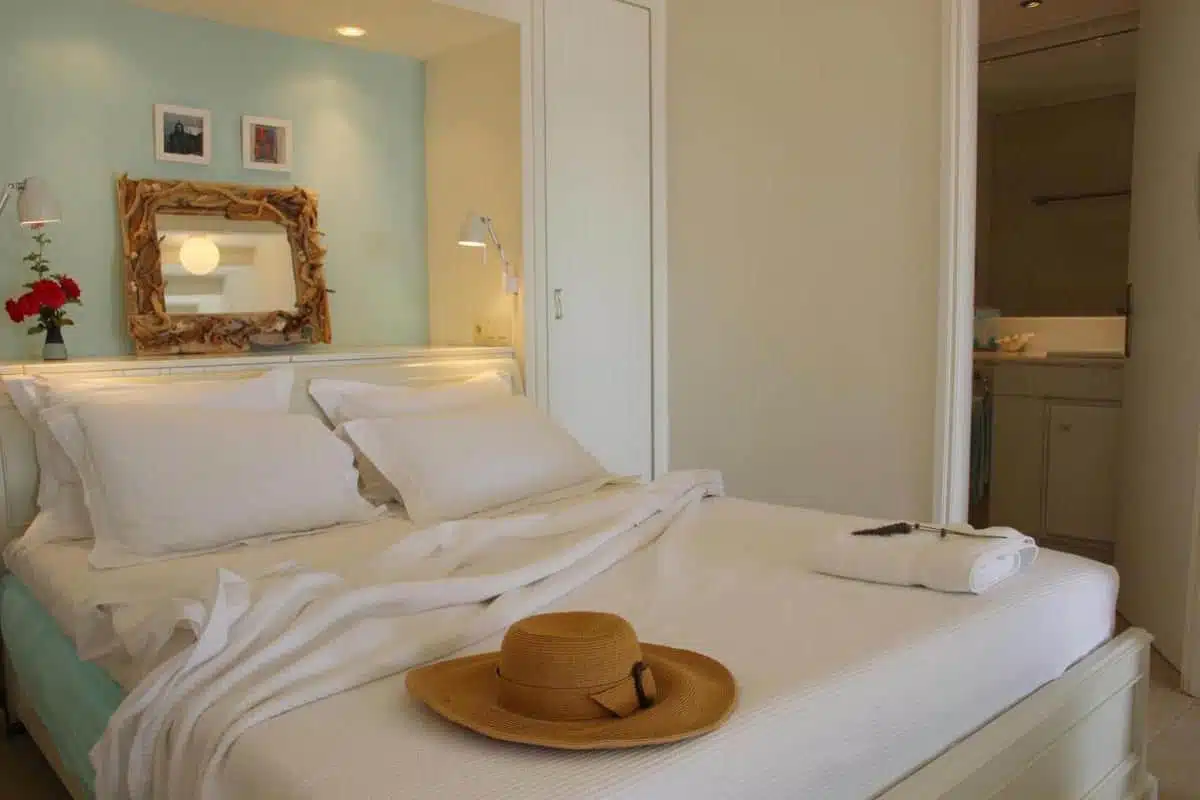 An absolutely beautiful boutique hotel 400 metres from Agios Prokopios, Kavos Boutique Hotel offers you the choice of a range of stunning villas and suites. Each has its own private terrace, surrounded by verdant gardens that provide amazing views of the Aegean Sea.
All villas and suites have well-equipped kitchenettes, but the on-site Stelida Restaurant and Bar is open all day. Trust me, the delicious dishes served here are creative takes on Greek classics, while seasonal menu items even cater to vegans and vegetarians.
If you want to unwind at the hotel, you can opt to relax on the sun terrace next to the outdoor pool. And if you want to break a sweat, the fitness centre is fully stocked.
Best Hotels in Naxos: Frequently Asked Questions
Practical Tips to Consider Before Booking Your Naxos Hotel
I cannot stress this enough — book your accommodation at any Naxos, Greece hotels as far in advance as possible. Naxos is incredibly popular and one of the best places to travel to in Greece. Thus, snagging a spot at some of its best hotels is almost an extreme sport.
With that said, shop around before making your choice. Every hotel in Naxos is unique, and it's really cool to tailor your trip to exactly what you want it to be.
Pay attention to what to pack for your trip. Use my packing list ideas to ensure you don't forget anything really important.
Naxos Accommodation Guide: Map