Planning your next island getaway? These Airbnbs in Mauritius are the perfect place to bed down on your trip.
Between the luxurious resorts and the cosy boutique hotels, deciding where to stay in Mauritius can seem incredibly difficult. And, trust me, it is.
But what if I told you there was a third (often cheaper) option?
Sounds too good to be true, right? Well, it's really not. These Airbnbs in Mauritius offer all the glamour and comfort of a hotel, mixed with the ease of being located right in the heart of the action and the charm of a local haunt.
So, ditch the hotel and opt for one of these Mauritius Airbnbs instead.
Best Airbnbs in Mauritius: At a Glance
Best Airbnbs in Mauritius
Designer Studio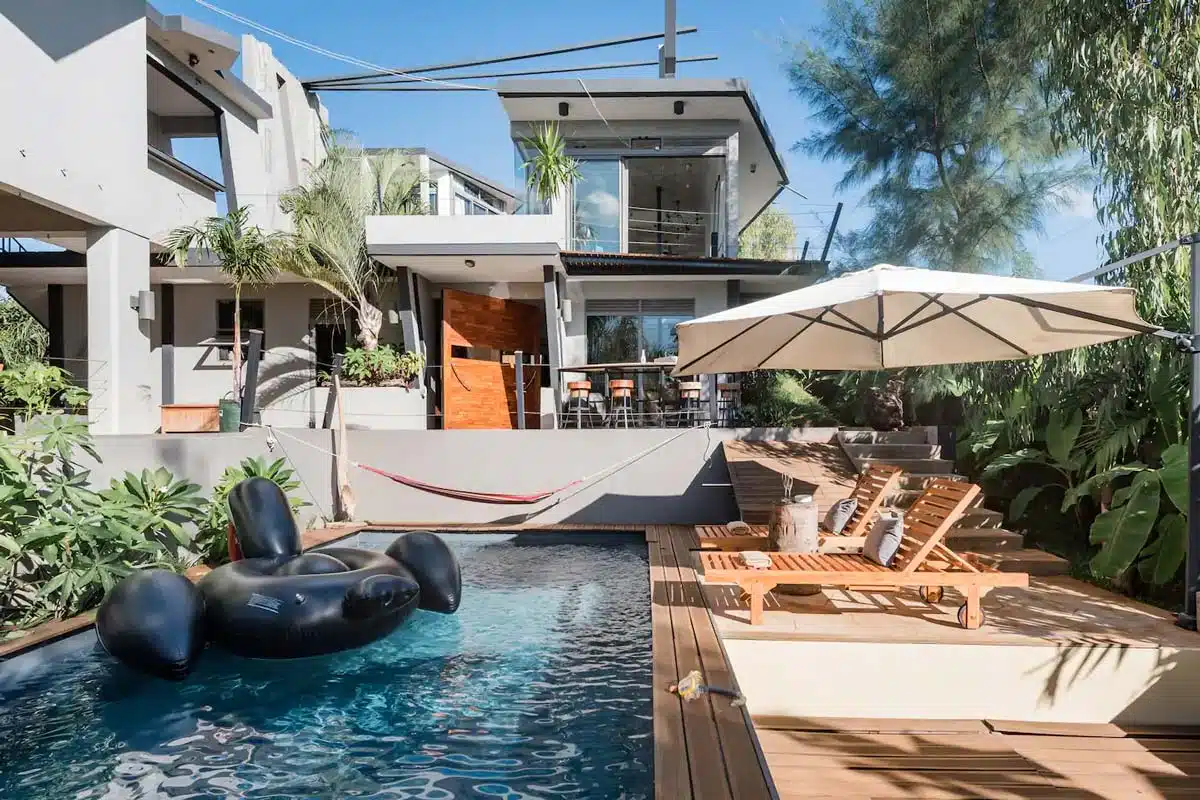 Right in the heart of Pointe-aux-sables, this modern and contemporary studio features dreamy Mauritian inspiration around every corner.
With a bright white interior mixed with silver finishings and elegant decor, it's the perfect spot to spend your days on the island.
Not to mention that you have a private pool, hammocks to unwind in, and the vibrant city of Port Louis surrounding you.
Location: Port Louis
Port Louis is where you'll find everything from thriving Mauritian restaurants to bustling nightlife and numerous cultural sites.
Peaceful Oasis 
Hunting for the best Airbnb in Grand Baie, Mauritius? This welcoming and aptly named peaceful oasis-styled home is ideal.
It's on the beachfront, with classic Mauritian decor and styling dripping from every inch of the property. Oh, and outside, you have a private backyard with a terrace to soak up the sun on your days spent away from the beach.
Location: Grand Baie
This sheltered cove is one of the coolest places to stay on the island and a spectacular hub for those looking for thrilling nightlife.
Wood N Sea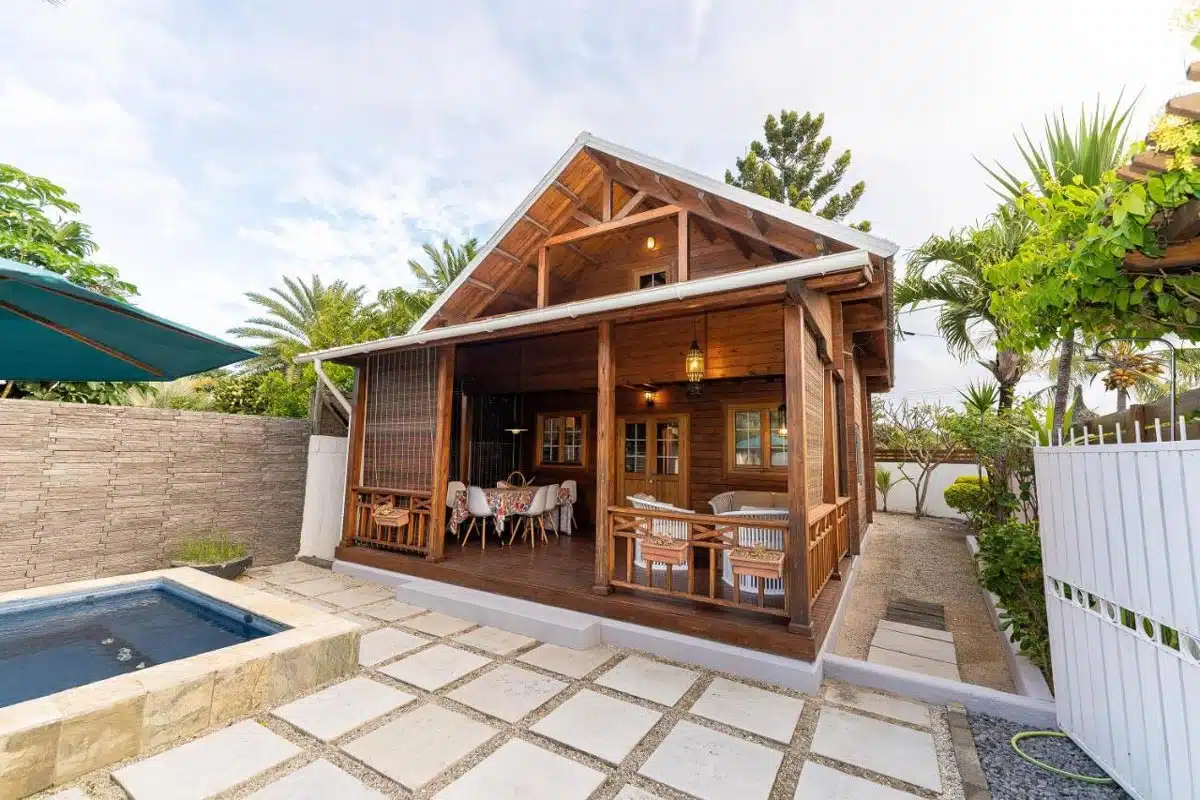 What's a trip to Mauritius without living it up in a luxurious beachfront villa? Nothing, I say. As part of the Fabular Villas & Hotel group, you're in good hands.
Spacious, inviting, and exquisitely decorated, the villa features two bedrooms, each with an en-suite bathroom, a fully-equipped kitchen, and a furnished balcony. Other standouts include access to a private beach area.
Location: Cap Malheureux
Set between the breathtaking beaches of Pereybere and Anse La Raie, this is where you'll have the best beach bumming experience.
Pingouinvillas
Now for a taste of the stunning south. These Pingouinvilla holiday rentals are an incredible choice for Airbnbs in Mauritius–Blue Bay.
Offering all you could want from a sprawling apartment, these modern mini-homes exude a calm atmosphere complimented by tasteful decor. Surrounded by lush gardens under palm trees, you can unwind on the private patio or head out and explore Mahebourg town.
Location: Blue Bay
Blue Bay showcases excellent restaurants, eclectic boutique stores, and breathtaking beaches.
Otentic Eco Tent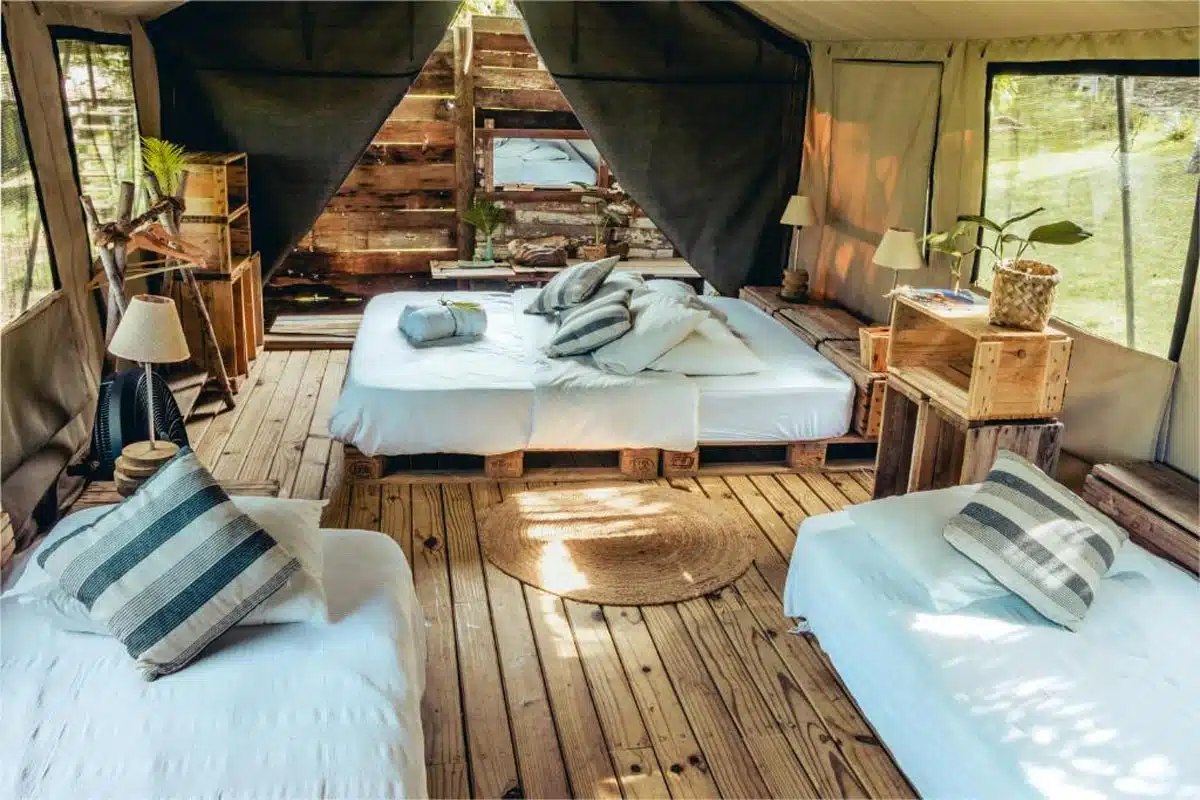 Nestled on the banks of the Grande Riviere, indulging in a modern and stylish glamping experience is a must in Mauritius.
Each eco tent sits raised onto a wooden deck offering superb views of the surrounding palm gardens and the river. While staying here, you can enjoy canoeing, scuba diving, and snorkelling, all on-site.
Location: Grande Riviere
Beyond its natural setting, Grande Riviere is a tranquil spot with the famous Ile Aux Cerfs Beach close by.
Modern Studio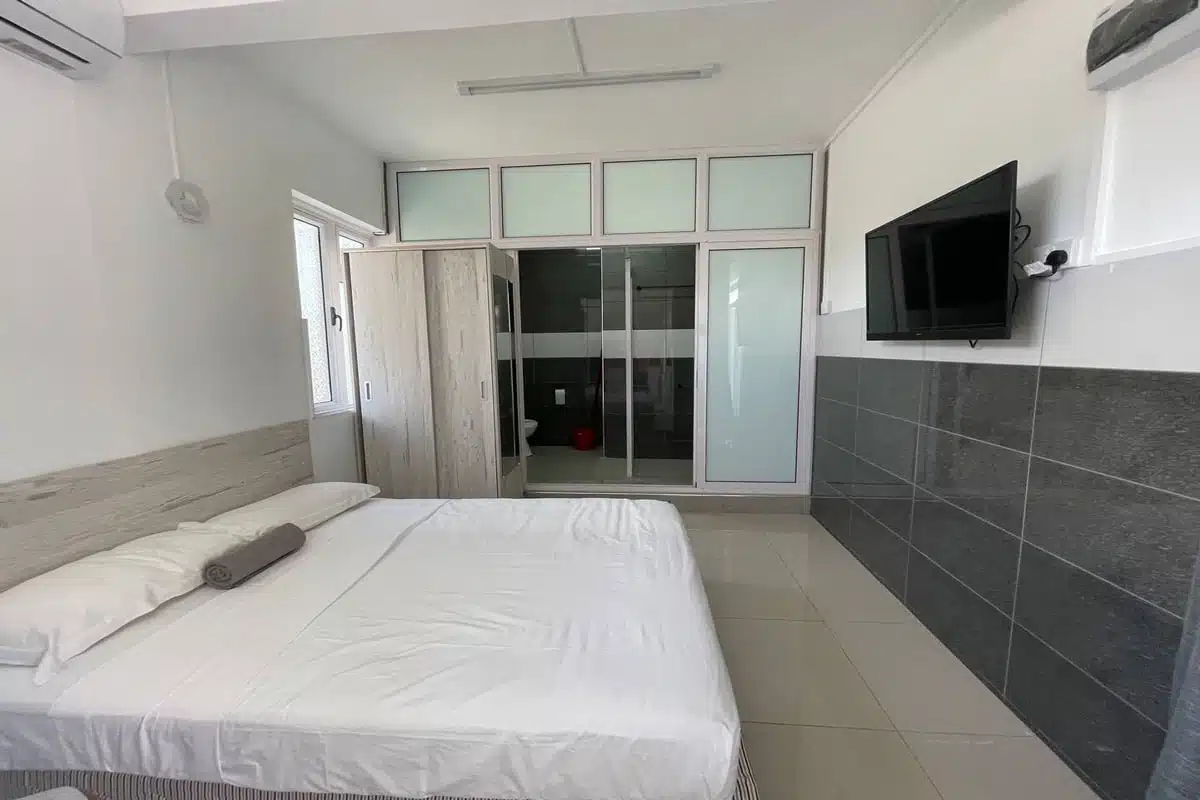 Finding an Airbnb in Mauritius near Flic en Flac is a popular choice. And when you choose this modern studio flat, you'll quickly see why.
A fully furnished and charming studio, this one stands out due to its minimalist yet cohesive take-on vacation staying. It features elegant styling with amenities, including an outdoor pool and wooden sundeck.
Location: Flic en Flac
Famous for having some of the best beaches and coastlines in Mauritius, Flic en Flac is a tourist heaven.
Villa Angelou
You simply can't skip visiting Belle Mare when you're in Mauritius, so why not stay for a few nights? If you do, choose Villa Angelou. You can thank me later.
It's a beautiful four-bedroom home with an open-plan living area and striking kitchen. The palm tree-lined outdoor pool is massive, and it's one of the best Airbnbs in Mauritius near the beachfront.
Location: Belle Mare
Belle Mare features some of the best beaches in Mauritius and boasts a vibrant tropical culture.
Residence Frangifleur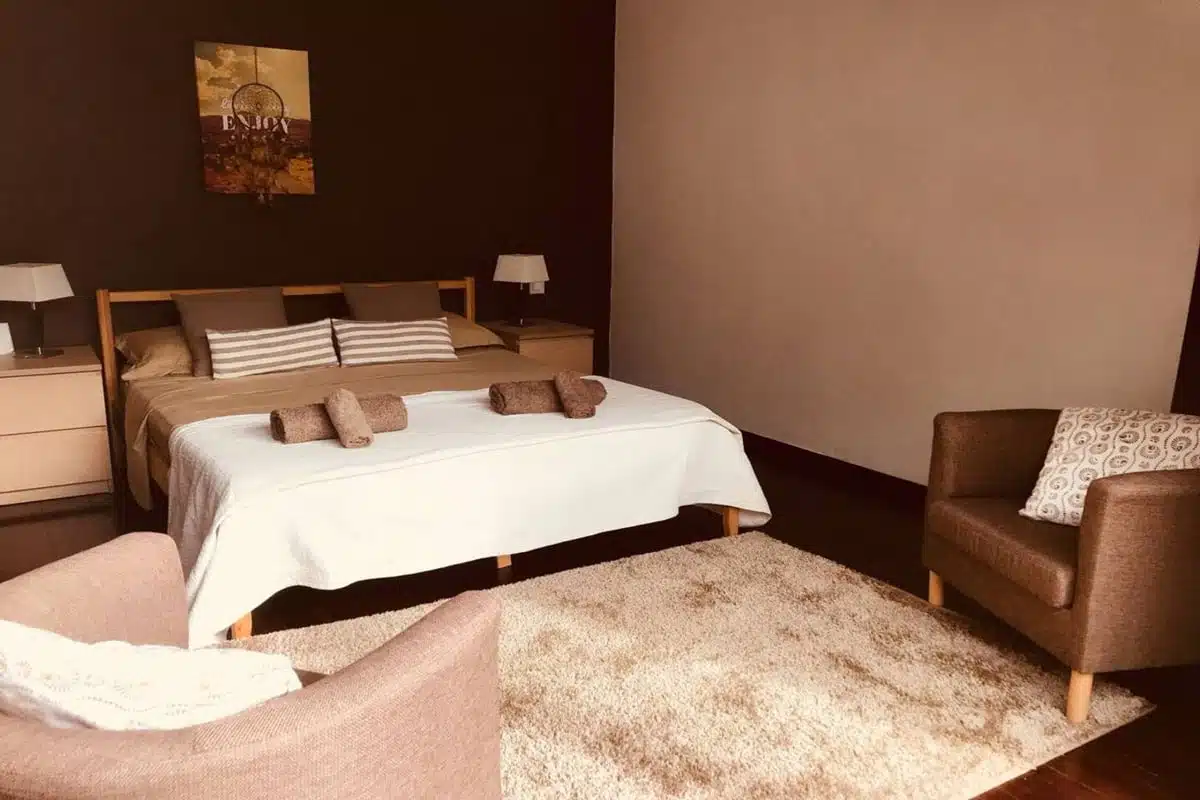 If you're stuck weighing up staying at a Mauritius Airbnb vs hotel, grab a spot for a few days at this guest suite in the Goodlands. It treads the line of both. And looks hella good doing it.
A cosy offering, this suite features warm and earthy tones with a contemporary decor structure. It includes a well-equipped kitchen, dedicated workspace, and outdoor pool. You can even bring your pets along.
Location: Rivière du Rempart
Close to Grand Baie and brimming with epic beach life, the Rivière du Rempart district is ideal for coastal adventures.
Dodo Studio #2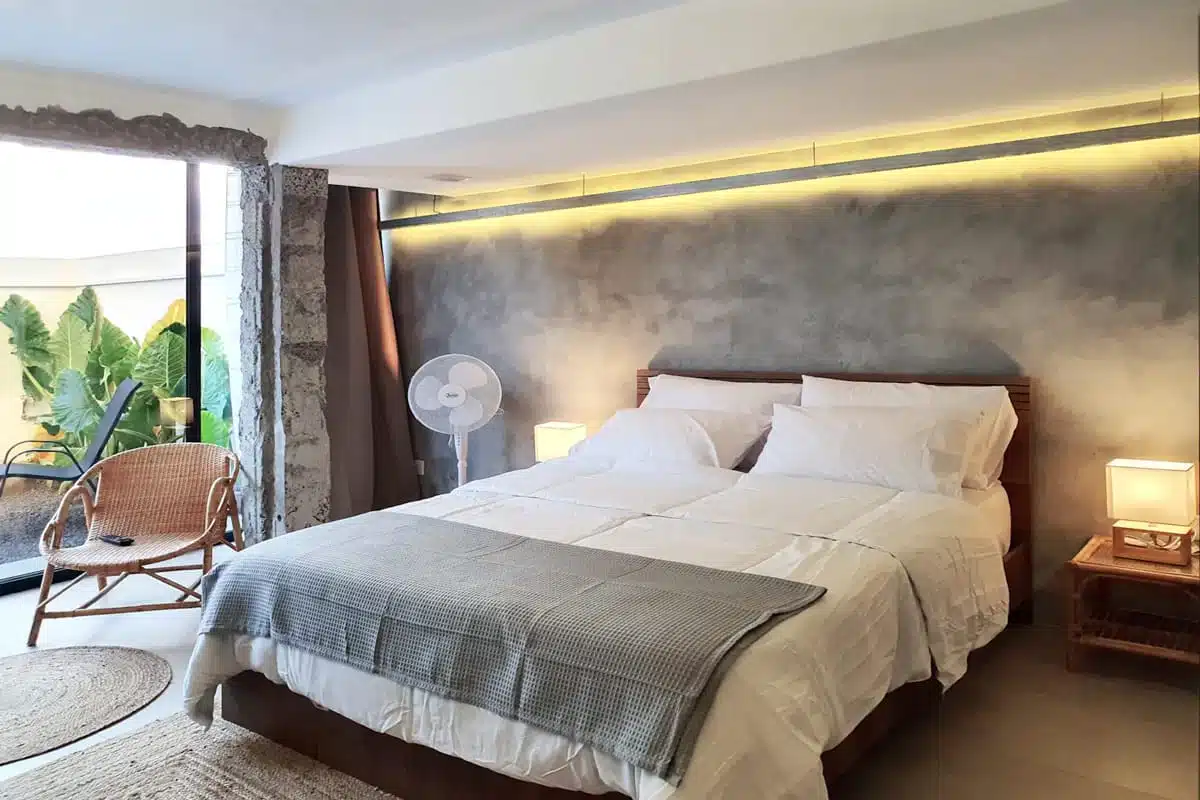 Now for something a bit more distinguished. Book a few nights in this modern studio apartment and enjoy living the dream.
Sitting at the foot of a densely forested hill, it showcases modernistic Mauritian design (AKA it's an Instagrammer's dream). This property has a refreshingly laid back atmosphere that includes mountain views, and you even have the choice of room service from the on-site restaurant.
Location: Plaines Wilhems
The perfect setting for those looking for an urban escape in paradise, as it has unparalleled nightlife, cuisine, and retail options.
Beach Hut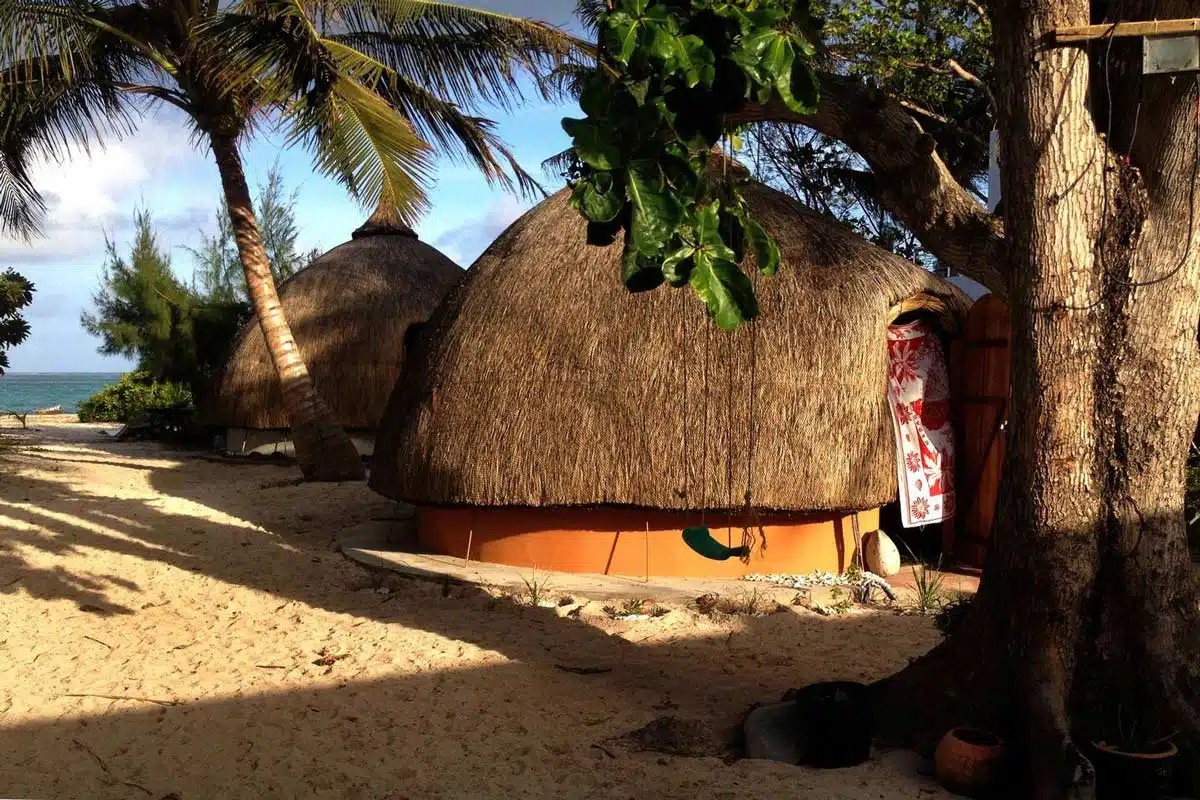 For something a little bit different, immerse yourself in an island experience like a few others when you stay in this genuine straw-roofed dome beach hut.
You'll stay directly on the beach, between a picturesque palm forest while the echoing waves of the Indian ocean rock you to sleep. All while not sacrificing any luxuries, including WiFi, a fully-stocked kitchen, and BBQ facilities.
Location: Pointe d'Esny
You're close to numerous attractions like the Black River Gorges National Park and, of course, Pointe d'Esny Beach.
Practical Tips to Consider Before Booking Your Airbnb in Mauritius
Check out my guide of packing list ideas to ensure you've brought everything you could need on your trip.
Take my advice and book your accommodation as far in advance as possible, especially when travelling during peak season. These Airbnbs fill up fast.
Airbnb Mauritius: Map