Ready to discover the most beautiful waterfalls in Mauritius? I've rounded up 11 of the best for you to admire.
To call Mauritius gorgeous would be an understatement. You might know the island for its turquoise waters, long white sandy beaches, reefs, and luxurious resorts.
But what if I told you there's much more than beaches and reefs to look forward to?
Many people are blissfully unaware that Mauritius has some of the most beautiful waterfalls in the world.
Don't believe me? Keep reading to discover them for yourself.
Tip: Take a look at my review of Outrigger Beach Resort to find out why this luxury hotel should be your base for your trip to Mauritius.
Best Mauritius Waterfalls
Underwater Waterfall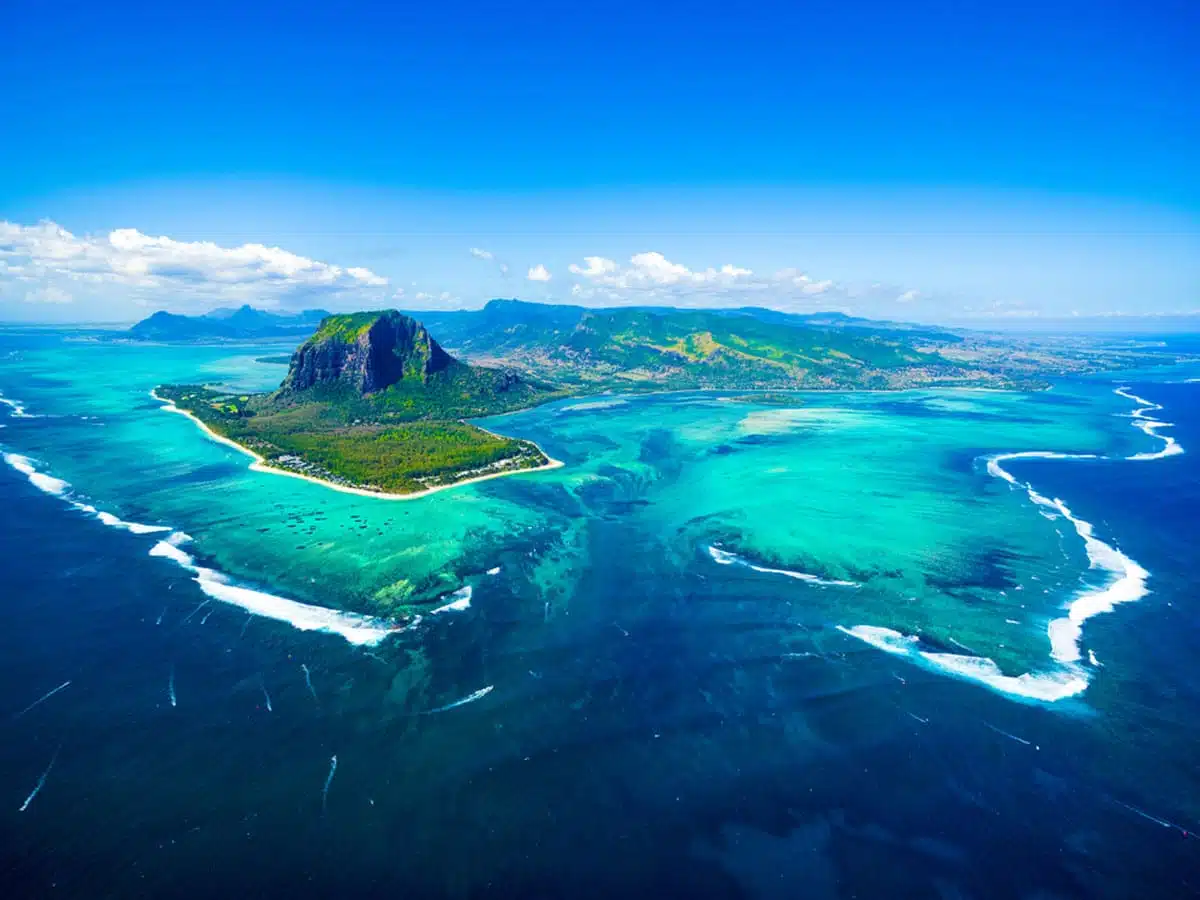 Let me kick things off with the waterfall that has everyone in a buzz. You've most likely seen pictures and videos of Mauritius' jaw-dropping Underwater Waterfall on Instagram or Pinterest while looking for travel inspiration.
Of all the waterfalls of Mauritius, this has got to be the most incredible. I'm sorry to spoil it for you… But, contrary to what most people think, this isn't a waterfall. Sitting off the coast of Le Morne Brabant, it's an optical illusion created by sand and slits that run down to the ocean floor.
The flow of ocean currents helps create this dramatic scenery, making it seem as if the water is pouring down to the depths of the ocean. There's only one way to truly appreciate this incredible sight: from a helicopter ride.
Unfortunately, this can be a bit pricey, so your next best alternative is to go on a guided hike of Le Morne Mountain. While it might not be quite as magical, you'll still get incredible views of the surrounding area.
Alexandra Falls
Standing 700 metres above the Black River Gorges National Park is another of Mauritius' iconic waterfalls, Alexandra Falls. Let me tell you, what makes this waterfall so special is its surroundings.
Alexandra Falls sits right in the middle of the most incredible lush green forest, making the clear towering falls pop out even more. It's a short hike up to the falls, but once you get there, it will be all worth it.
Remember to charge your camera. You're going to need it.
Chamarel Waterfall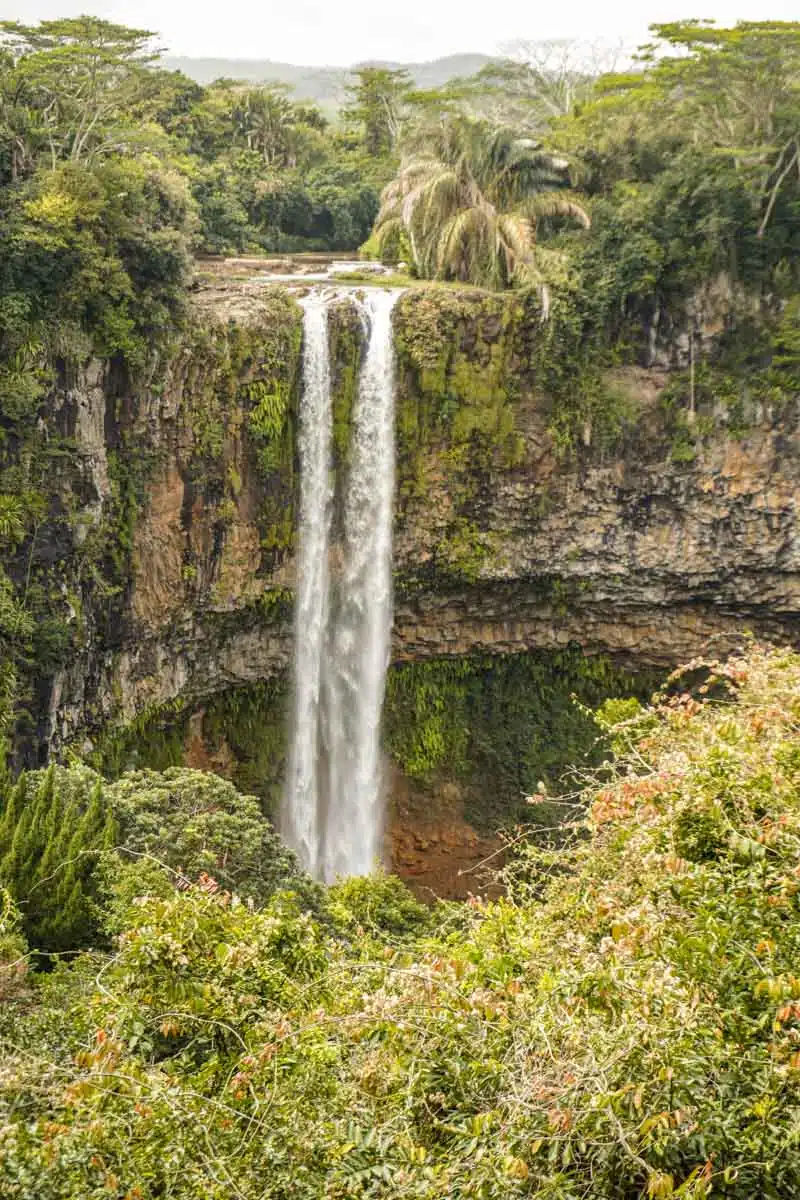 In search of the highest waterfall on the island? Chamarel Waterfall is the one you should visit.
I'm not kidding when I say it's high. There's a 100-metre plunge from the top of the waterfall down to the pool below. For obvious safety reasons, I don't recommend taking the jump.
The falls take their name after the village surrounding them. Apart from visiting the falls themselves, you can take the Chamarel Waterfall hike and see the iconic Seven Coloured Earths – another one of Mauritius's top attractions.
Trust me: Of all the waterfalls in Mauritius, this is one you won't want to miss. Even if it's the only one you end up visiting.
Tip: Read my guide to visiting Chamarel Waterfall.
Tamarind Falls (AKA the 7 Cascades) 
Sitting along the Black River District, you'll find one of Mauritius's most awe-inspiring series of waterfalls. Contrary to the name, there are 11 waterfalls that start from the top of a central plateau, making their way down to a large pond.
I won't lie to you; getting to Tamarind Falls is a bit of a trek, as it's one of the most strenuous hikes on the island. But what makes it worth it is that there are multiple smaller pools where you can cool off along the way.
Plus, it's one of the most scenic hikes in the area, so you won't feel the intensity of the walk.
Exil Waterfalls
These next waterfalls shocked me on a recent trip to Mauritius – I wasn't expecting to love them so much.
If you take a trip down to the southernmost tip of Mauritius, along the outskirts of the Combo Forest, you'll find the Exil Waterfalls. These are two waterfalls that sit inside the Exil Canyon, surrounded by the most beautiful green forest.
The Leon Waterfall is the smaller of the two and drops 20 metres into a 25-metre-wide pool. Cascade Cecile waterfall, on the other hand, has a more impressive drop of about 45 metres.
There's a moderate hike up to both falls, but they're only about an hour's walk away from the nearby Rochester Falls. Apart from hiking, there's ample opportunity here for swimming and evening abseiling.
Rochester Falls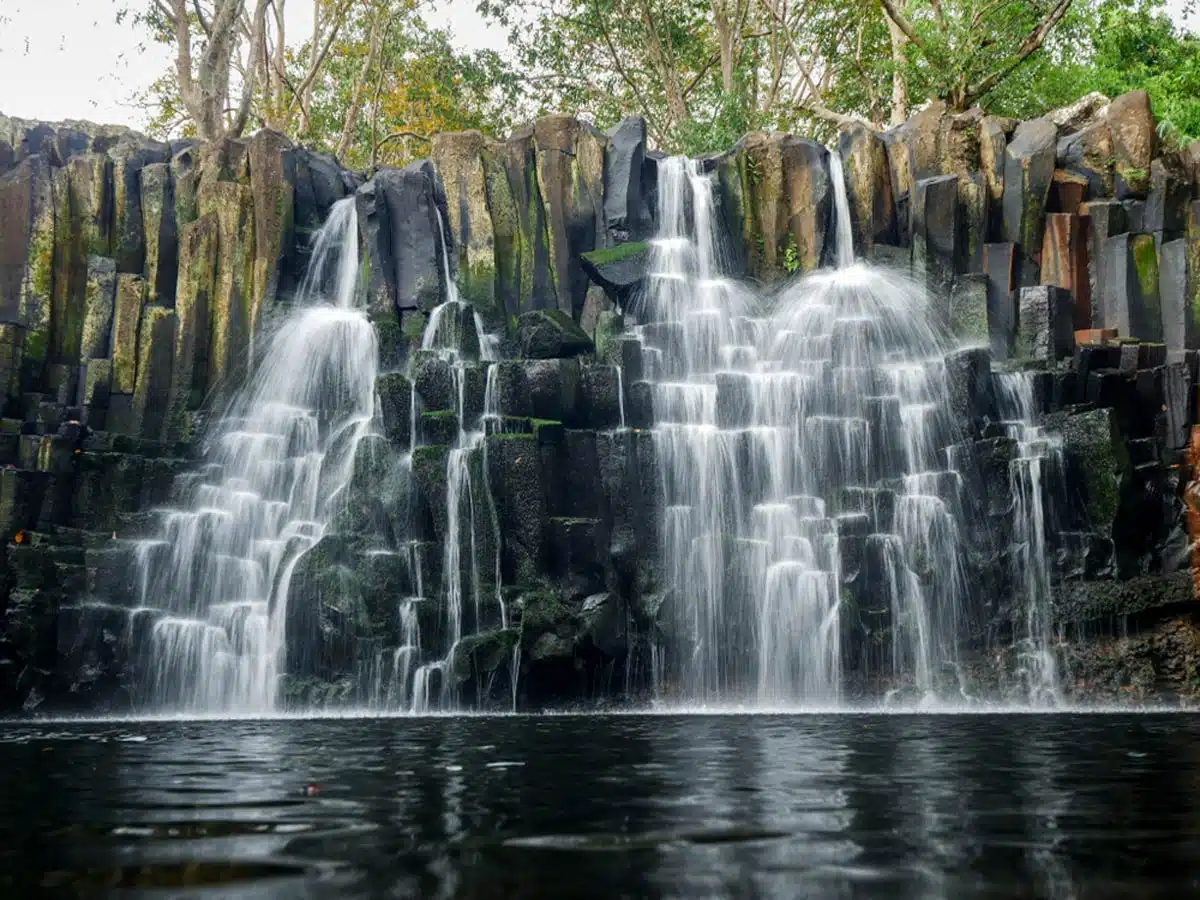 I know I've raved about every waterfall on this list, but this one is seriously special.
To the south of Mauritius, in the Savanne District, lies one of the most mesmerising waterfalls on the island. At 100 metres wide, Rochester Falls claims the title of the widest waterfall in Mauritius. Pretty impressive, if you ask me.
I'll let you in on a little secret – one thing that makes it stand out from its competitors is its interesting rock formation, made from natural rectangular blocks formed over hundreds of years and stacked on each other.
As the water runs down the rock formation, it turns into a beautiful cascading waterfall leading down into a large plunge pool surrounded by vibrant greenery. Pack a picnic – this spot 's perfect for escaping the island's humidity.
Eureka Falls
Nestled beside the Eureka Mansion in Moka, the Eureka Falls are some of the most unique (though, not quite as unusual as the Underwater Falls, I'll admit).
Walking down the path from the mansion, you'll find yourself staring at four spectacular waterfalls with mango and palm trees surrounding them. The falls are pretty special, but if you're a nature lover, you'll appreciate a trip to this area because you'll find an abundance of aquatic plants and sea life.
However, the path from the Eureka Mansion down to the falls is quite tricky, so only visit if you are moderately fit and not afraid of a challenge.
Grand River South East
Romantics, listen up… The Grand River South East waterfall is something out of a fairytale. Water flows down a series of basalt rocks, creating a majestic tiered waterfall that leads into a plunge pool.
It's not a super tall waterfall like others on this list, but it's still a ridiculously pretty sight.
The journey to GRSE is also unique, as winding roads take you past the gorgeous coastal villages of south-eastern Mauritius. You'll witness how the landscape changes from turquoise blue waters to thick green vegetation.
Cascade de 500 Pieds
I love stumbling upon something a little unique. And, if it's hidden gems you're after, you won't have to look further than Cascade de 500 Pieds.
Tucked away in the Black River Gorges National Park, Cascade de 500 Pieds is one of the most beautiful places on the island, with unrivalled views of the southern Mauritian coast. And to top it all off, it has its own natural infinity pool – seriously, what more could you ask for?
To reach this waterfall, you must first hike to the Alexandra Falls viewpoint. From there, it's another 30 to 45-minute hike to Cascade de 500. However, all that walking is worth it because the scenery around the waterfall is just unbelievable.
Chamouzé Waterfall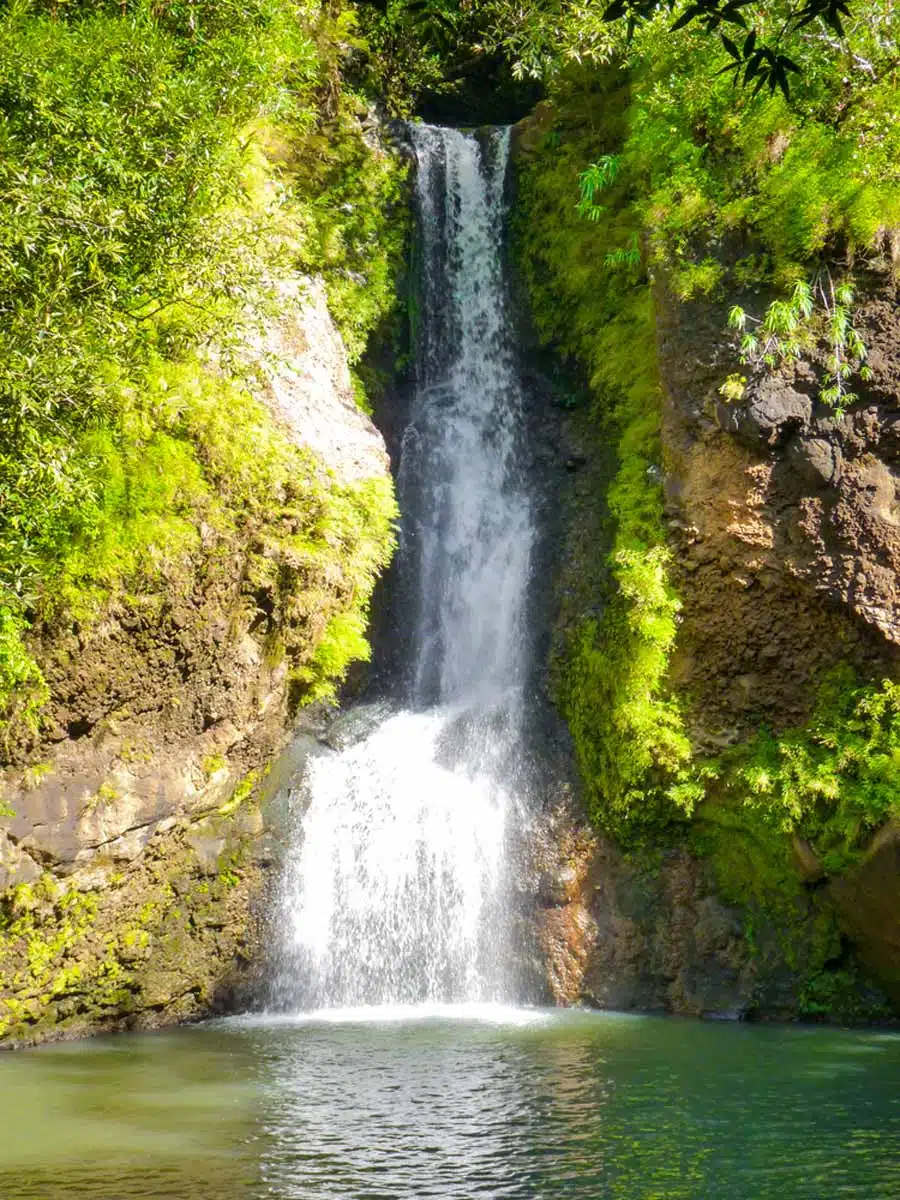 Situated inside the Vallée des Couleurs Nature Park, Chamouzé Waterfall is a pretty idyllic spot that had me oohing and aahing on my first visit.
Sure, it's not as flashy as some of the others that flow down rocks in tiers; instead, it's one straight column that flows down into a stunning emerald pool.
It's quite an easy hike to get to the waterfall as you simply have to follow a few signs and take a set of stairs to get to the bottom of the fall. But if that isn't thrilling enough for you, take a hike higher up where you can zipline over the waterfall.
Mare Aux Joncs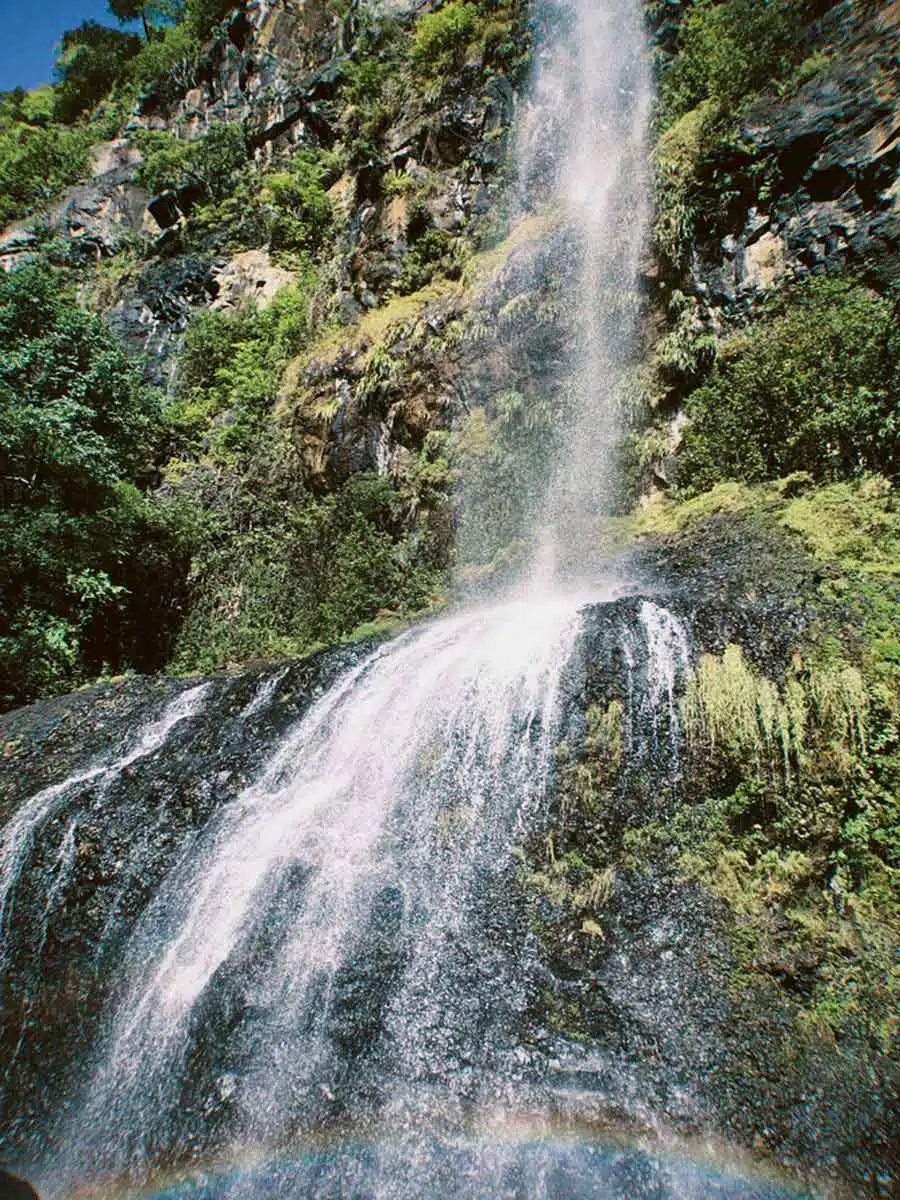 If there's one thing Black River Gorges National Park is famous for, it is its number of waterfalls. Mauritius's largest national park has several awe-inspiring waterfalls, and Mare Aux Joncs is no exception.
Prepare to feast your eyes upon a waterfall that flows into a large plunge pool at the bottom. If you're looking for a relaxing day out to cool off from the heat, then this is the place to be.
You'll be glad to hear that reaching Mare Aux is pretty simple, and there are a few mixed-ability hiking trails to get to the falls. The easiest of which has loads of shade, isn't too strenuous, and should take about 1 hour to reach the falls.
Fair warning: While you can swim here, the plunge pool is very rocky, so be careful and resist cannonballing straight into the pool.
Practical Tips for Exploring the Best Waterfalls, Mauritius
Probably the most important tip: Invest in a pair of hiking shoes or boots with a good grip to avoid injury, as some rocks and surfaces near the waterfalls are slippery. Walk on demarcated paths to avoid getting lost or injured – if you're not an experienced hiker, book a hike with a guide to show you the way.
Mauritius is very humid, so bring lots of bottled water, sunscreen, and a wide-brimmed hat to avoid dehydration and sunburn.
Some parks require you to pay an entrance fee before hiking up to the waterfall, so check this before you arrive.
Only in Mauritius for a short period of time? Some of the waterfalls are quite a distance from each other. Check which ones are closest to where you are staying and visit those first.
Mauritius Island Waterfalls: Map
Mauritius Waterfalls: Read Next