Hiking in Mauritius? These epic trails need to be at the very top of your bucket list.
If there's one place on Earth that I'd bet Mother Nature is super smug about, it would be the stunning island of Mauritius.
And I'm not just saying that because I've just come back from a recent trip. Promise.
Its hilly terrain, the result of aeons of volcanic activity, does what few others can, bringing together a kaleidoscope of enticing landscapes.
When planning your Mauritius itinerary, tackling any of its famous hiking trails is an absolute must. Whether your wanderlust pushes you to hunt for cascading waterfalls, mountain ranges, or ocean views, this tiny island has your back.
Lace up your boots – we're going hiking in Mauritius, baby!
Best Hikes in Mauritius
Le Pouce Mountain
Length: 2.6 Miles
Time: 2 – 3 Hours
Difficulty: Easy to Medium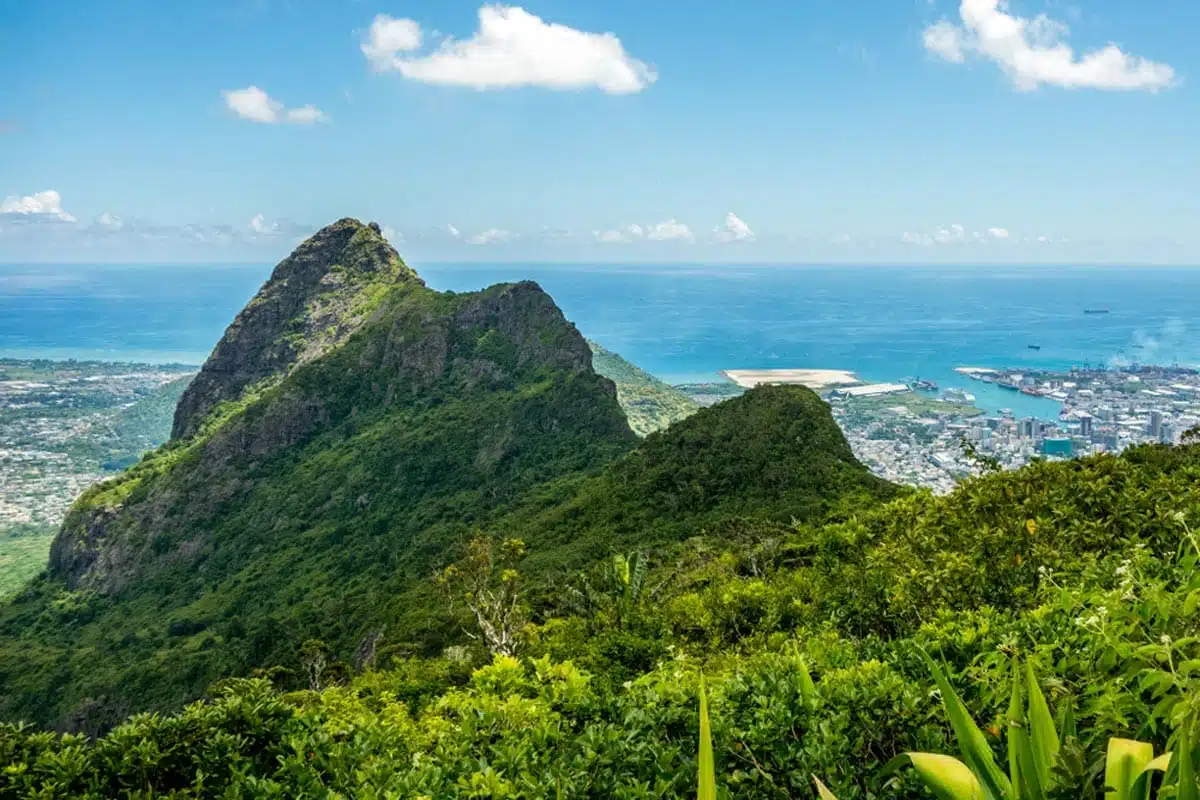 Let's kick things off with an essential trail that many (myself included) argue might be the island's finest. As the third-highest peak in Mauritius, Le Pouce stands at 2,664 feet, and due to its unique shape, the locals call it "the thumb".
Located close to Port Louis, the out-and-back Le Pouce trail is a treat for those looking for a moderate hike. Most of this route is easy enough, but some parts require skill, although it's still possible if you're a newbie.
From the trailhead, you'll venture through sugarcane fields which lead to a curvy mountain road where the actual hiking begins. You'll traverse lush rainforest terrain as you make your way up the mountain.
Stick with me here – while the final part of your ascent might be challenging, the reward is worth it. From the summit, you'll have panoramic views of hundreds of sugar plantations and the docks of Plaine Williams and Pailles in Port Louis on its western coastline.
Lion's Mountain
Length: 5.2 Miles
Time: 3 – 4 Hours
Difficulty: Medium to Hard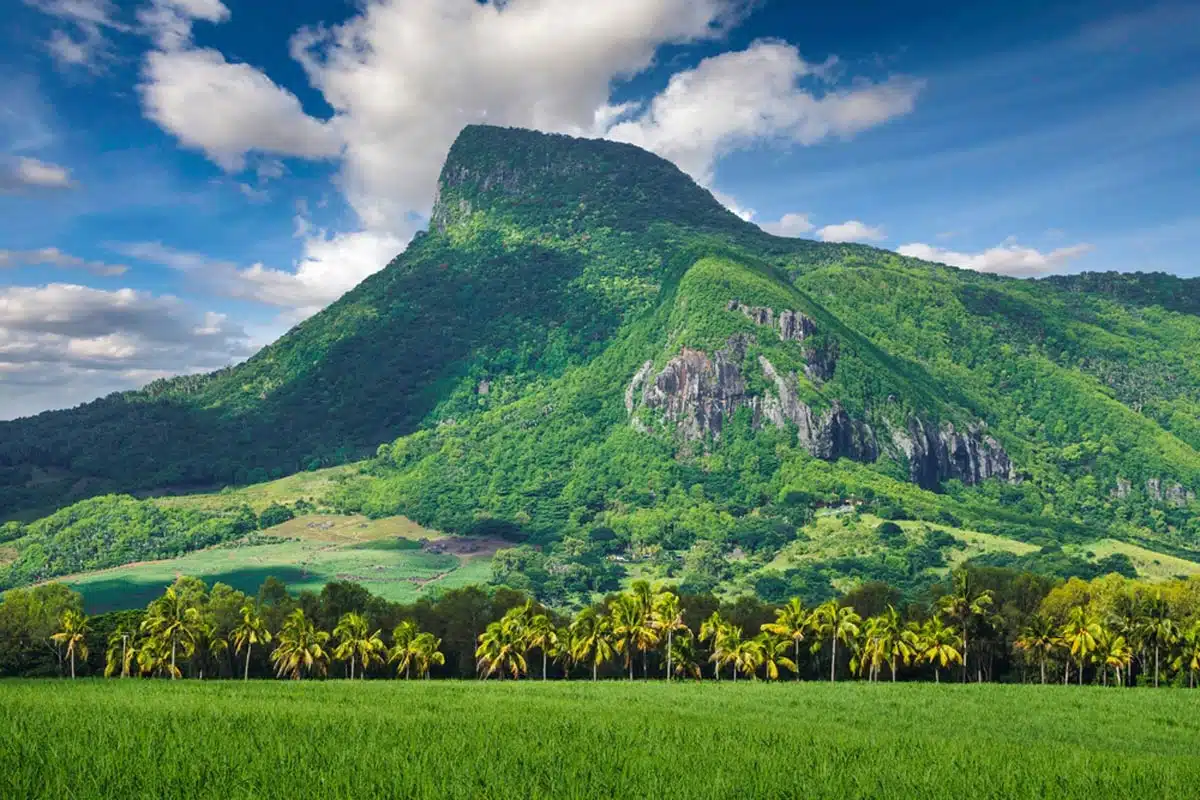 Feeling brave? Although it might not be one of the easiest hikes in Mauritius, Lion's Mountain blends a challenging trail with unparalleled views. Reaching a peak at 1,607 feet, this mountain from afar resembles a lion perched atop a cliffside, which is where it gets its slightly terrifying name.
Some would even say you need a lion's courage to tackle this hike, but I'd wager the excitement and payoff is enough motivation. This loop trail offers enough uphill scrambling and rock climbing to please avid hikers while keeping experienced folk well entertained.
Starting at the tip of the lion's back, you'll head along its spine to reach the summit at its head. Along the way, there are a few steep drops and some slopes to get the adrenaline rushing. And if you're looking for the best encounter with some of the island's exotic plants and wildlife, this trail is perfect.
Yes, this trail is, at some points, not for the faint of heart. But, once you reach the summit, it's all worth it. With sweeping views of crystal-clear lagoons and dense forests, it's pure eye candy.
Le Morne Brabant
Length: 4.3 Miles
Time: 3 – 4 Hours
Difficulty: Medium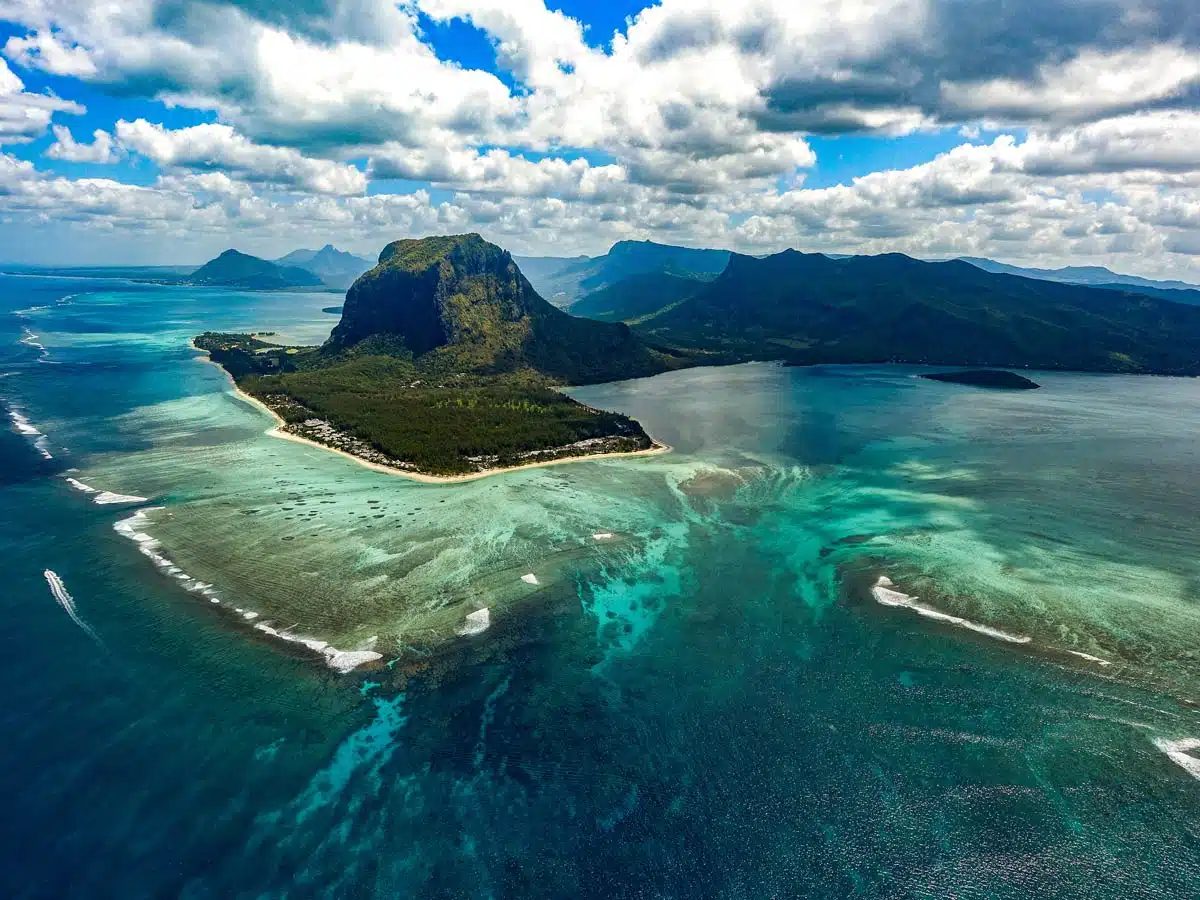 Whenever you mention Mauritius hiking to those who have scaled its peaks, they'll typically tell you that you shouldn't miss out on one specific trail. That being the Le Morne Brabant Peak hike.
Although it reaches just over 1,600 feet, it might not appear daunting, but it'll get your pulse racing.
This out-and-back route begins close to St Martin in Savanne and is a popular spot for hiking, biking, and jogging. This means you'll get to enjoy the trek with other avid hikers, so if you're looking for a solitary experience, Le Morne could be too busy.
Along the trail are a few sheer drops, exposed cliff sections, and some challenging rocky accents ideal for adrenaline junkies. And, as a UNESCO World Heritage Site, beyond its natural beauty, it's also a favoured hike for history buffs.
Why bother hiking this? Aside from its landscape, there's one major reason – Le Morne sits next to Mauritius' famous underwater waterfall, and from the summit, you'll have stunning views of the coastline, lagoons, and the coral reefs of Le Morne Beach.
Le Trois Mamelles Mountain
Length: 2.6 Miles
Time: 2 Hours
Difficulty: Medium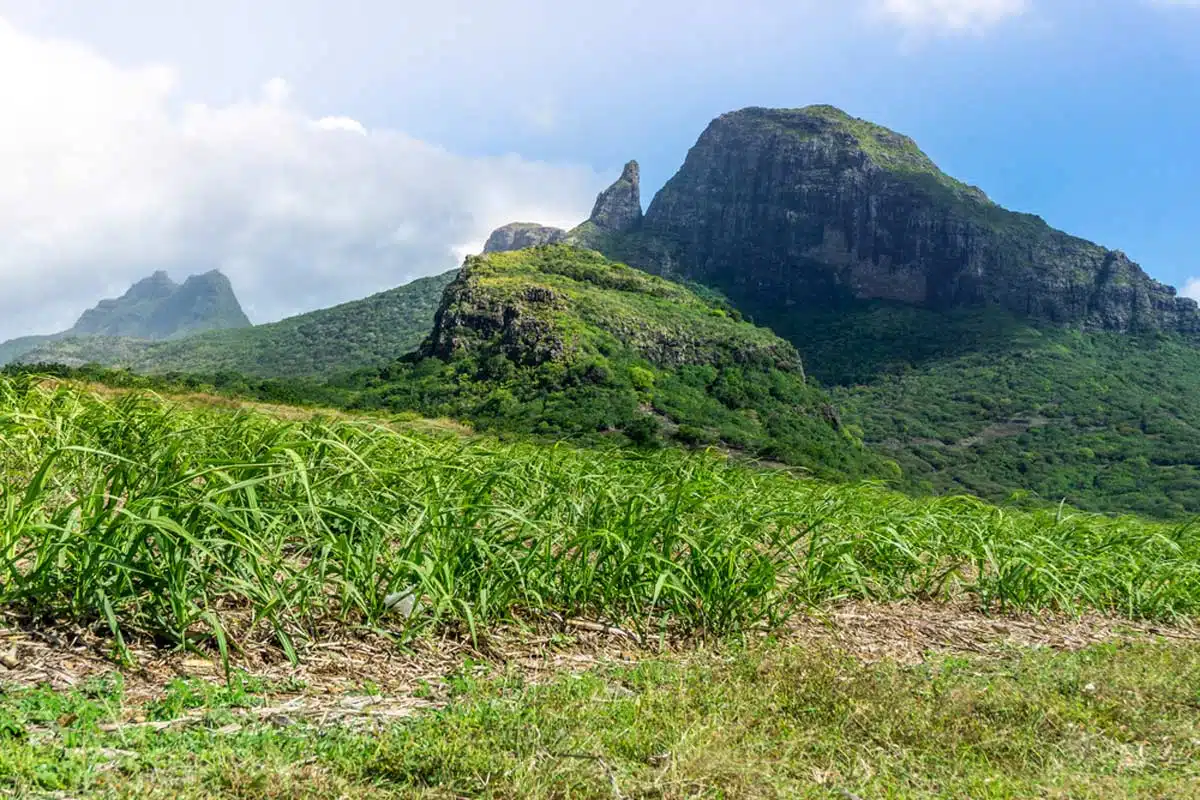 If you're looking for a less-travelled trail with one of the world's most beautiful ridgelines, skipping Le Trois Mamelles would be a great injustice. This collection of three towering peaks reaches a height of 1,640 thanks to its mid-pinnacle.
It's this middle peak that hikers tackle most often, but you surprisingly won't have to deal with too many other adventurers. Split into two halves, the first part of the trail is easy to walk as you venture through lush greenery, but when its second half begins, so does the challenge.
Thanks to this section, the trek requires intermediate hiking skills, with steep exposed drops and increasingly rougher ridges as you near the summit. Differentiating itself from other routes in Mauritius, you'll only have shading for the first part of your journey.
But, around every corner, you'll still have the stellar beauty of the island, and close interactions with its epic wildlife and nature.
Piton De La Petite Rivière Noire
Length: 4.3 Miles
Time: 3 – 4 Hours
Difficulty: Medium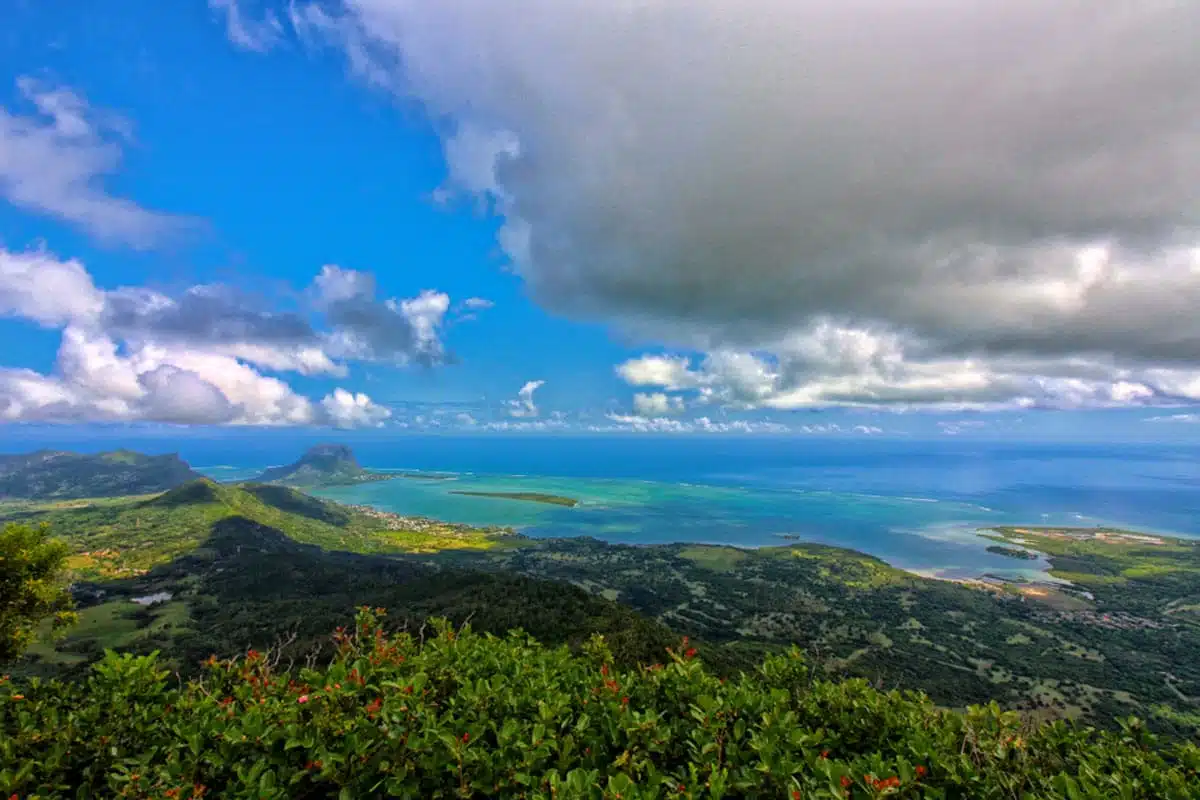 Welcome to the highest peak in Mauritius, which, if it's not already on your bucket list, should be.
Unfortunately, this one might not make the cut if you're looking for an easy hiking trail in Mauritius. But, at 2,717 feet and with spectacular beauty, it's a standout for sure.
The entire hike is well-maintained and signposted, making exploring a solo mission easy. Starting from the Black River Gorges viewpoint, the trail sees shade from sprawling forests. With the start being relatively simple, you'll head through majestic landscapes filled with farmer's fields.
The second part of the trek demands a bit more from you, especially if it has been raining due to muddy and slippery conditions. But, once you've conquered this section, the final and short climb to the summit becomes very challenging.
You'll need to scramble up a steep incline once at the peak; however, from here, you have a fantastic and unique 360-degree view of the southern peninsula. Pat yourself on the back if you've made it.
Tamarind Falls
Length: 3.1 Miles
Time: 3 – 4 Hours
Difficulty: Medium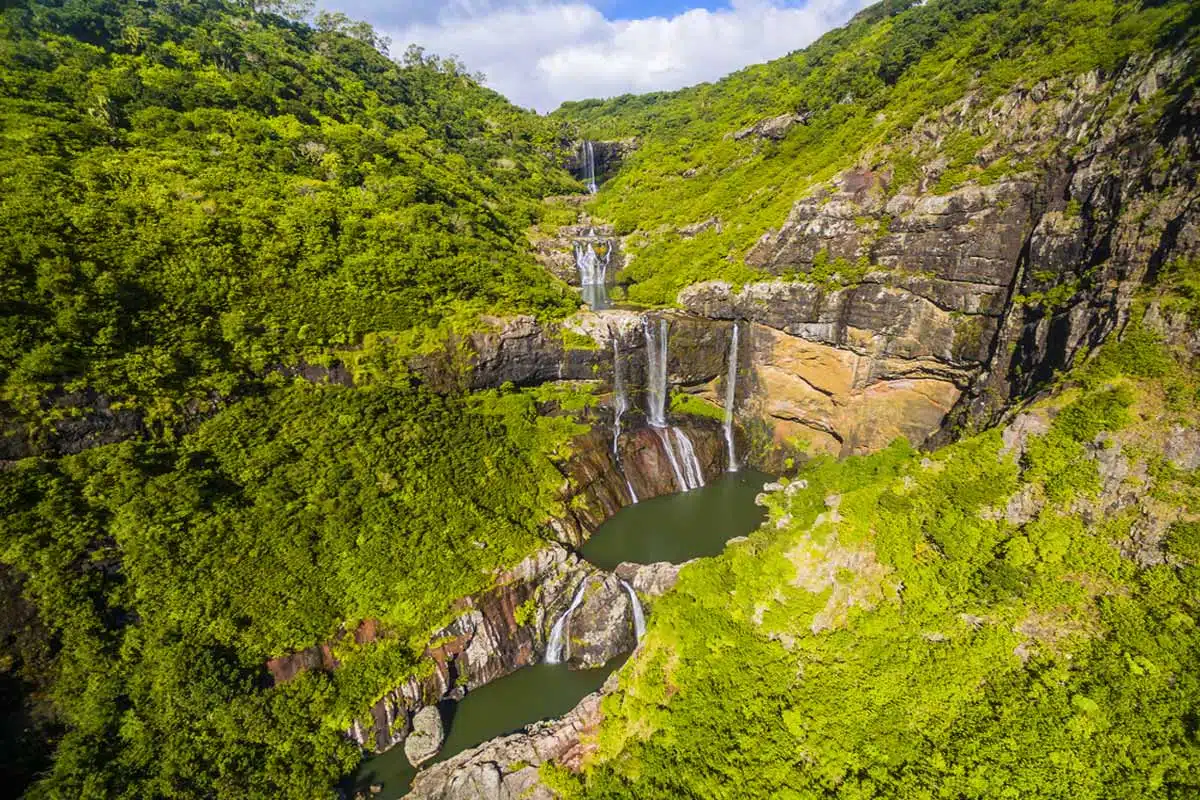 For those looking for some stunning scenery and numerous waterfalls (which you can quite literally dive into), the Tamarind Falls trail is one of the best hikes in Mauritius.
Here you won't find imposing peaks. Instead, you'll traverse terrains ascending Mauritius waterfalls as you go.
That doesn't mean that this Mauritius hike isn't a challenging trail, albeit only somewhat. Along the route, you'll encounter 10 waterfalls ranging in height from 32 to 180 feet. It might be hard to get to, but the unspoilt nature and picturesque green valleys of the trek make it worth the effort.
If you're a beginner, ensure your fitness level is up to scratch, and if you're a more experienced hiker, you can venture off the beaten path to explore the forests a bit.
Macchabee Trail (Black River Gorges National Park)
Length: 6.2 Miles
Time: 2 – 3 Hours
Difficulty: Easy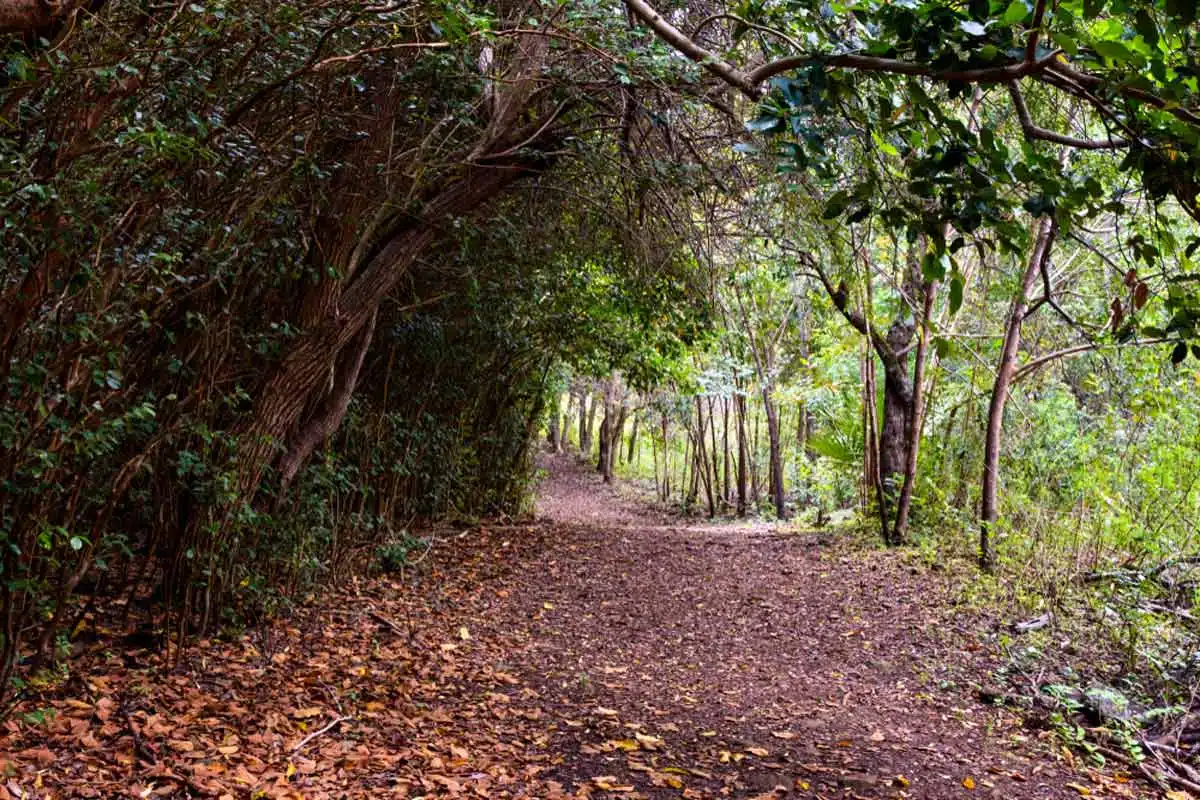 Typically, Mauritius doesn't boast many easy hikes. But if you're looking for one ideal for beginners, then the Macchabee trail within Black River Gorges National Park is for you.
Although the park features multiple hikes, this one shines because of its ease.
Starting at the Le Petrin Information Center, it leads you through a stellar mix of landscapes, offering numerous chances to encounter the island's wildlife. A mild hike that slips past the picturesque Macchabee viewpoint, which I don't want to spoil, but is perfect for some excellent snapshots.
With a stunning mix of landscapes, gorgeous views, and wildlife that ranges from exotic birds to monkeys, this one is for nature lovers and scenery chasers.
La Vallée De Ferney (Ferney Blue Trail)
Length: 1.8 Miles
Time: 1 – 2 Hours
Difficulty: Easy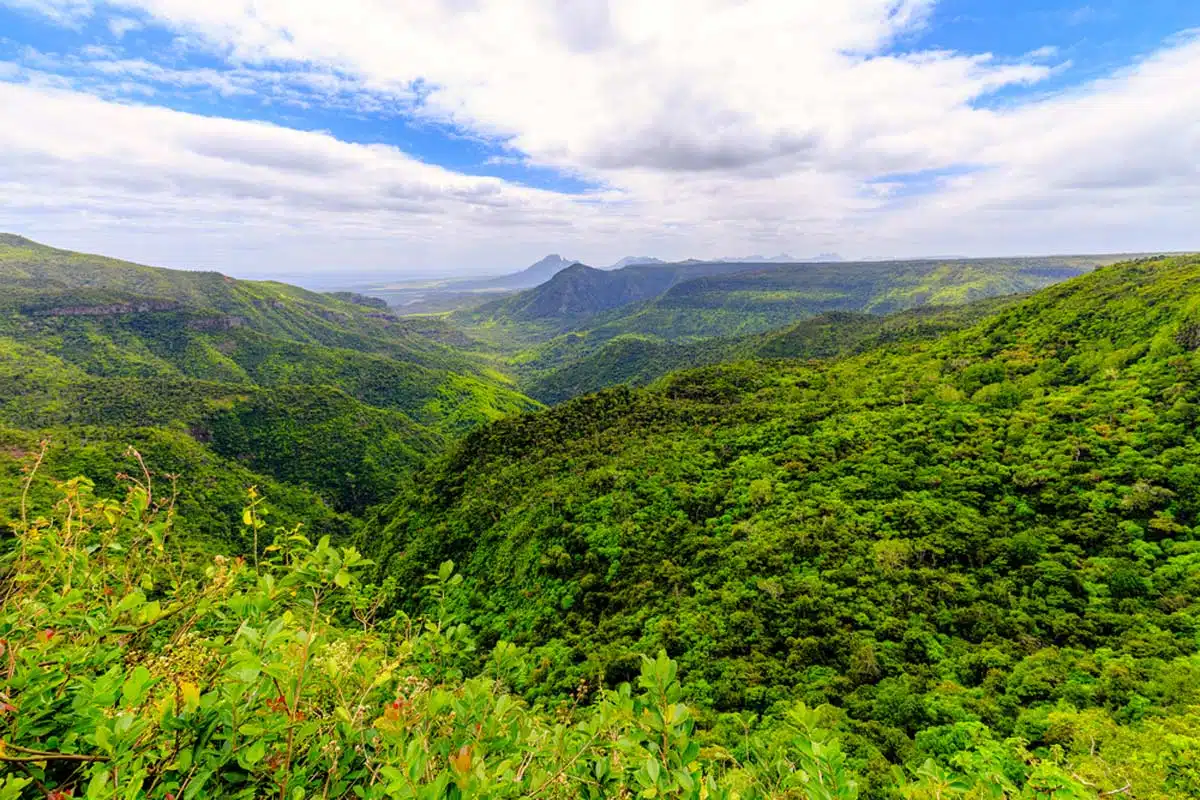 While scrambling up mountainsides is fun (very fun, actually), sometimes a hiking trail shines without intensity. Enter La Vallée De Ferney, a 200-hectare forest and wildlife sanctuary that you can easily hike in less than 2 hours.
Mauritius has some of the world's finest indigenous trees and plant life, from its Ebony trees to Coffee Mauritania and the striking Takamakas. If you want to take in as much of the island's natural landscape as possible without breaking a sweat, I reckon that a trip to this sanctuary should be top of your list.
Open year-round, the sanctuary and its hiking trail offer more than enough opportunity to explore, learn about, and delight in the scenery.
Corps De Garde Mountain
Length: 2.5 Miles
Time: 3 – 4 Hours
Difficulty: Medium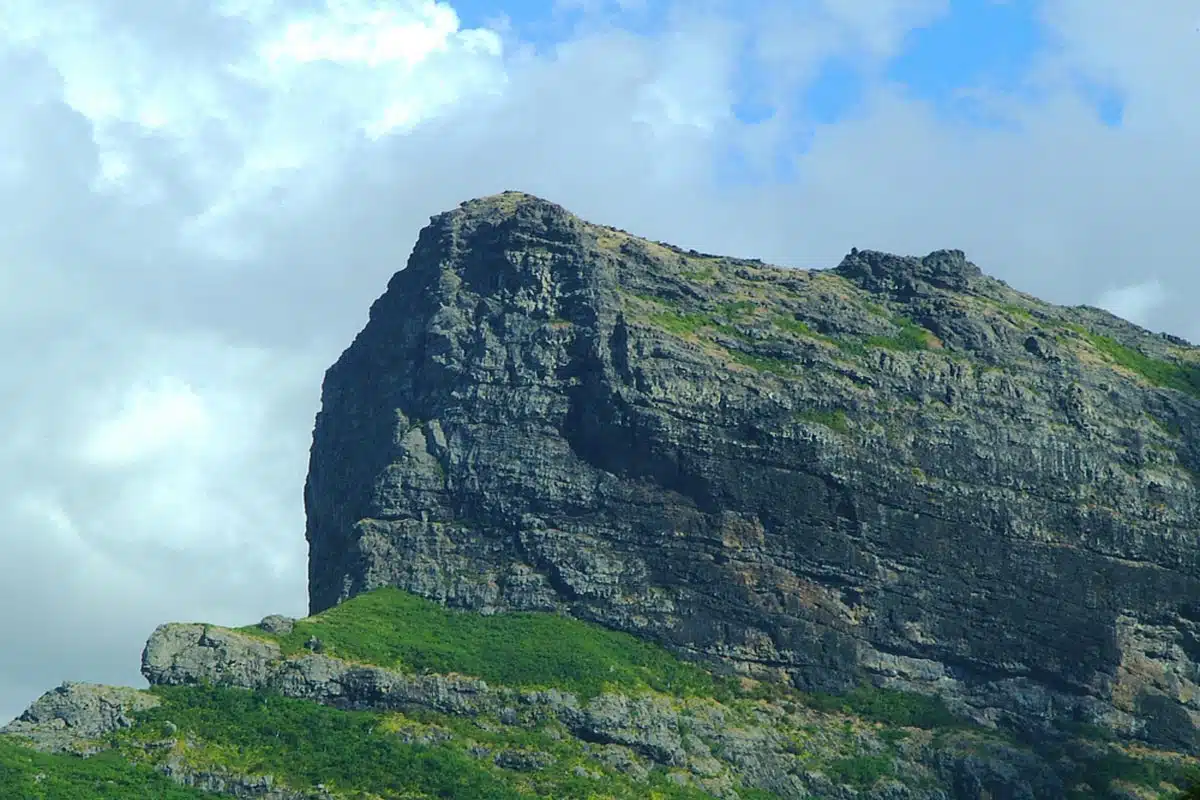 Now, for those eager to test their stamina, the Corps de Garde trail is one of the best options in Mauritius. At the summit, you'll stand at 2362 feet above sea level – so prepare to test your mettle.
Starting from the trailhead at the Camp Levieux Housing Estate in Stanley (more glamorous than it sounds, I promise), this is a well-marked track, so finding it is a breeze.
The majority of the trail doesn't feature much shading and is very exposed, so be sure to bring enough water. And to avoid the sun's heat, try to start this hike as early in the morning as possible.
With a very easy-to-follow trail and a few rocky scrambles to the top, once at the summit, catch your breath — then pat yourself on the back and enjoy the spectacular views surrounding you.
Best Mauritius Hikes: Practical Tips
When heading out on any of these hikes, make sure you always pack essential travel gear. This includes high-quality hiking boots (I won't go anywhere without my Tropicfeel shoes), hiking poles, sunscreen, and a wide-brim hat.
Stay hydrated no matter which hike you tackle with a hydration pack and water bottle.
Always ensure that a trail doesn't demand a higher skill than you have, and keep to the recommended trails for your experience level.
While the wildlife on the island isn't dangerous along hiking trails, the dense forests do have a lot of mosquitos, so bring insect repellent to avoid being eaten alive (it's really not fun).
Mauritius Hiking: Map
Read More Mauritius Guides
Love This? Save and Share on Pinterest