Discover where to stay in Mauritius with this handy guide to the best areas and the ultimate hotel destinations.
Hankering after a visit to a coastal paradise for a retreat you sorely need? I feel ya, fellow traveller.
And that's exactly why you should be planning a trip to Mauritius – where island life, culinary flair, and beach bliss meet.
After exploring the best of Mauritius' attractions, like Chamarel Waterfall and the abundance of breathtaking hikes dotted across the island, I guarantee you'll need a place to rest. With a drink in hand, of course.
I might have my own personal preference when it comes to staying in Mauritius (more on that anon), but it's true that no matter where you bed down on the island, you're never too far from gorgeous beaches, lively cultural hubs, excellent dining options, and epic nature.
Sold? I thought you would be. Let's explore Mauritius, area by area.
Best Places to Stay in Mauritius: At a Glance
Where to Stay in Mauritius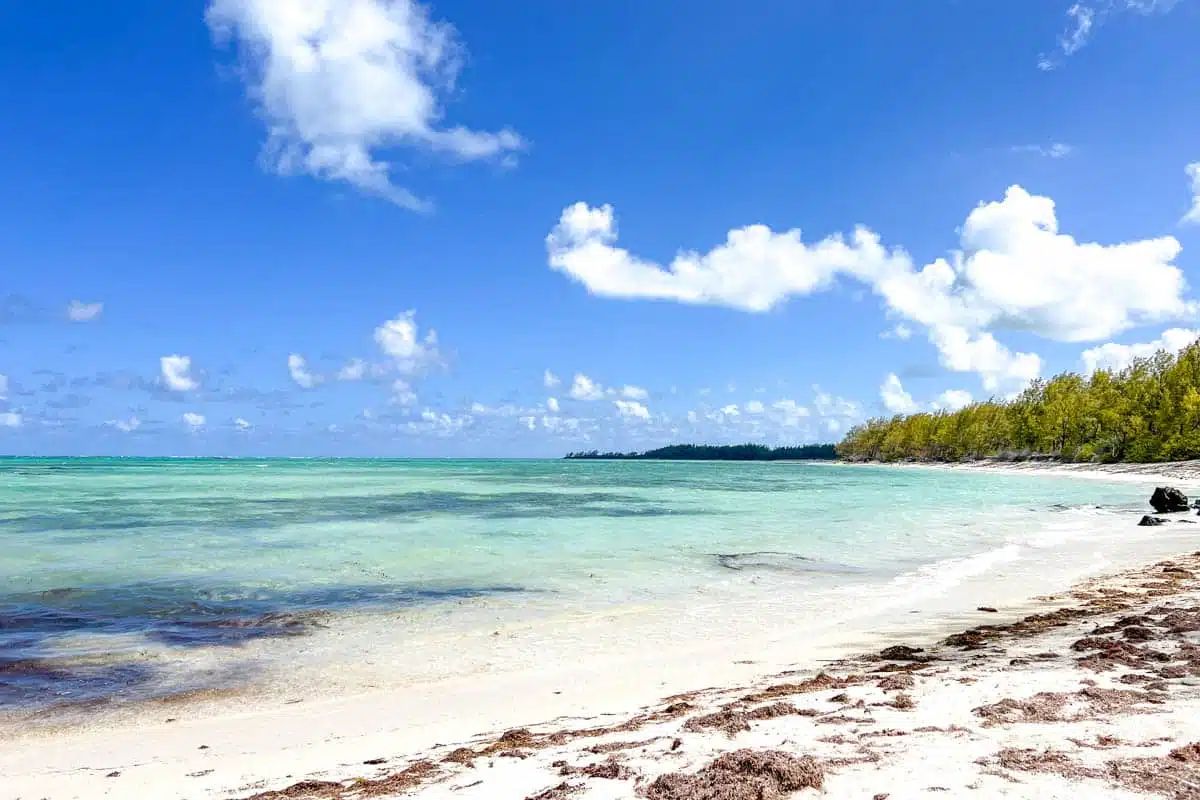 I bang on about this island for good reason – whether you're seeking mesmerising sunsets or a haven of nature, Mauritius has you covered. Better yet, this is a small island, so it won't take long to get from one place to the next.
And with these handy tips on the best areas to stay in Mauritius, you can explore the entire island and retreat to ultimate luxury and comfort. You're welcome.
Grand Baie: Best Place to Stay for First Timers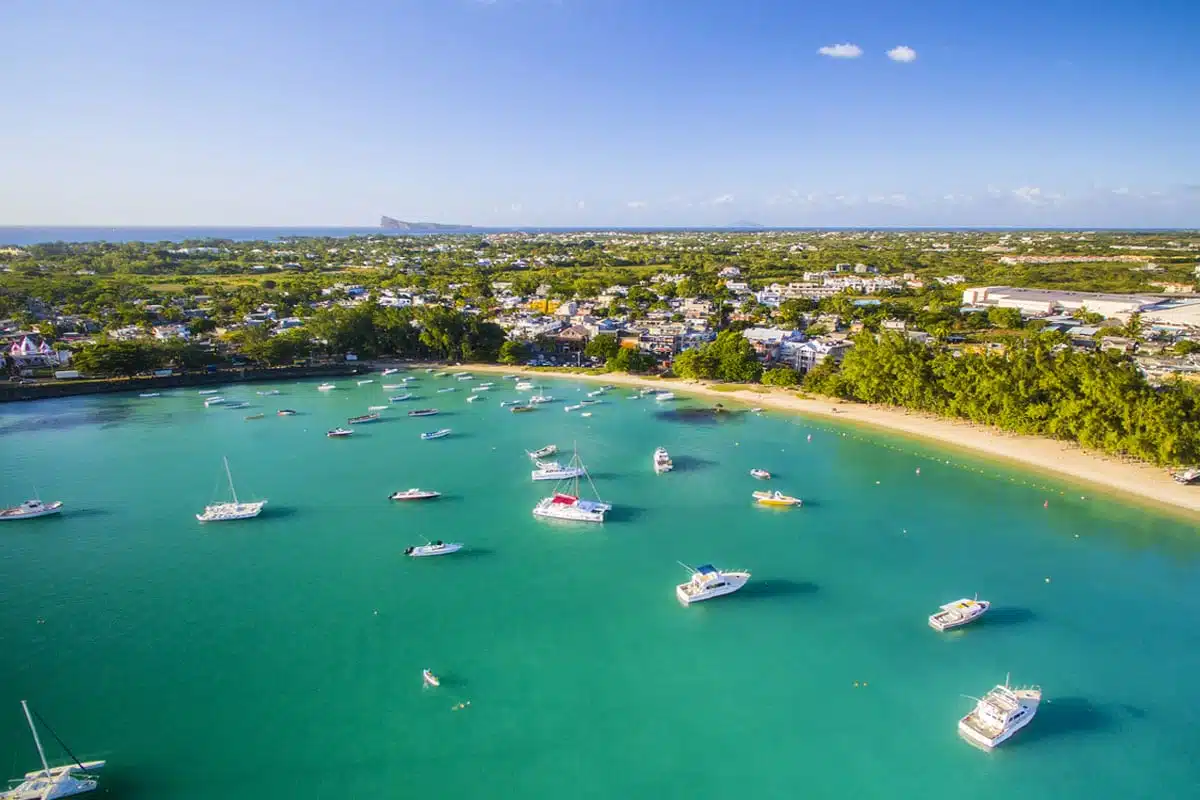 If you want to explore the coral reefs and northern Isles of Mauritius (a no-brainer, really), look no further than Grand Baie. If you ask me, it's the best part of Mauritius to stay in for first-time travellers, as it boasts all the charms you could possibly want or need.
It goes without saying, then, that it's one of the most popular tourist destinations in the country, so you'll likely meet some friendly people. Grand Baie public beach is one of the main attractions thanks to its calm turquoise waters and idyllic golden sand.
It's one of the closest towns to the Northern Isles of Flat Island, Serpent Island, Round Island, and Gunners' Quoin. There's also a wide variety of hotels, shops, and restaurants for you to enjoy, and a cool nightlife scene also makes it a fantastic destination for partygoers.
Heading in from the capital? It's a short 30-minute drive (14 miles) from the main city of Port Louis. Grand Baie is easily the centre for all things good in Mauritius, so why not stay in this charming town for a lively vacation?
Grand Baie Highlights
Northern Isles – Join this catamaran cruise to enjoy the breathtaking coastal scenery of the Northern Isles. You'll be able to admire three islands, all of which are nature reserves with pristine beaches, water, and coral gardens.
Beach Hopping – Grand Baie Beach, La Cuvette Beach, and Pereybere Beach are all within 10 minutes of one another, so it's a no-brainer to visit all of them. Each has inviting water and lovely viewing points, like the Pointe d'Azur at Pereybere.
Banana Beach Club – In the mood for cocktails and a boogie? Duh – visit the effervescent Banana Beach Club. You can enjoy everything from signature cocktails and meals to live jazz and soul music.
Suggested Luxury Hotels in Grand Baie
LUX Grand Baie Resort – Expect everything from complimentary yoga classes to undisturbed views of the Indian Ocean. Don't forget to snap an unbelievable photo of you swinging over the infinity pool at this lovely 5-star resort.
Mauricia Beachcomber Resort – If you want to stay between la Cuvette and Grand Baie Beach, book a room at this 4-star resort. It has everything from water sport facilities to special diet menus.
Ocean V Hotel – Stay at the Ocean V Hotel for clean and airy rooms. It's in the northern region of Grand Baie near Pereybere Beach.
Trou Aux Biches: Best Place to Stay for Honeymooners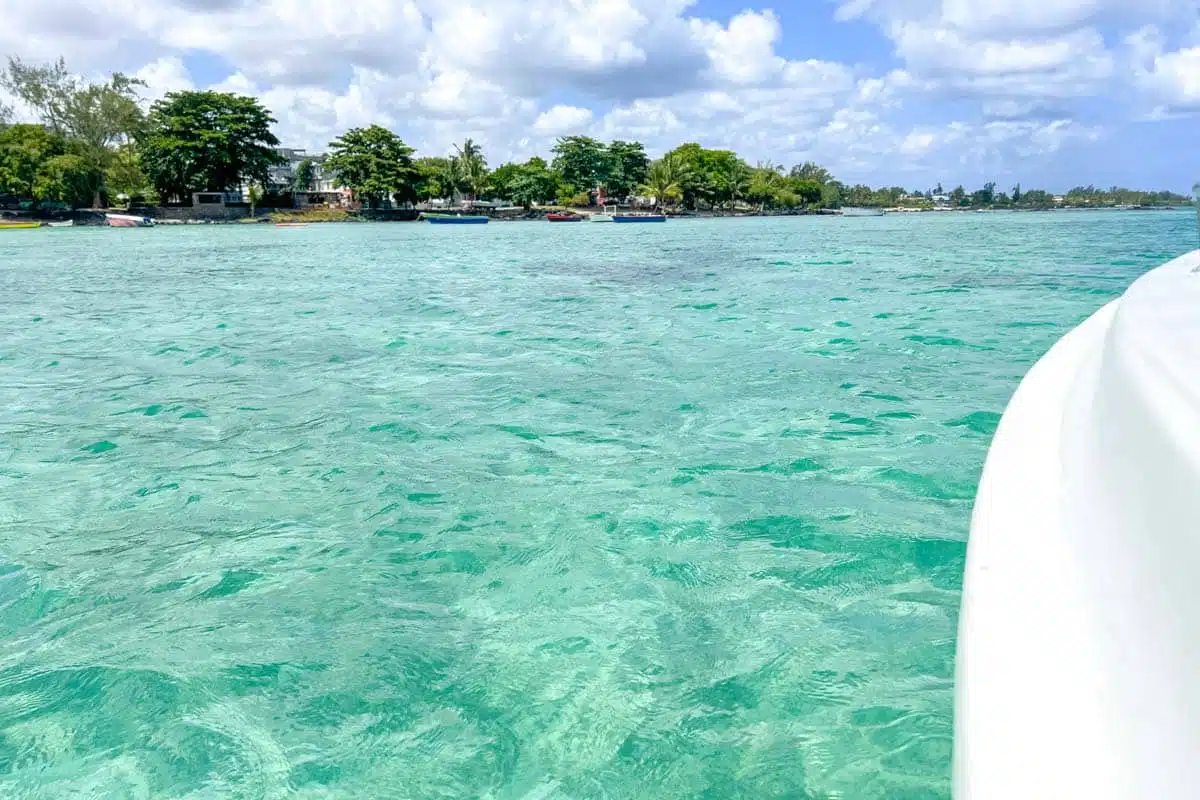 Troux Aux Biches is just 25 minutes from Port Louis (11 miles) and a honeymooner's ultimate island destination. It's roughly 5 minutes from Grand Baie, so you can expect similar activities to its northern neighbour.
That said, Trou Aux Biches is slightly more exclusive, with luxury resorts and palm trees lining the beach. Evaco Beach Club is the best place to visit for a vibey night of music and its restaurants galore along Trou Aux Biches Road.
You can enjoy a romantic sunset dinner at L'Oasis, and to make it an unforgettable honeymoon, how about joining some fun activities? Discover the diverse wildlife of Mauritius' coastline, or visit the SSR Botanical Gardens.
With all this in mind, it's no wonder that Trou Aux Biches is Mauritius' best area to stay for honeymooners.
Trou Aux Biches Highlights
SSR Botanical Garden – Nothing is better than walking through nature, and there's no better place to do it than here. In Trou Aux Biches city centre, you'll find SSR Botanical Garden, which houses indigenous plants like Trochetia Boutoniana.
Cap Malheureux – Join this day tour of Mauritius' north coast and discover the town of Cap Matheureux, only 20 minutes from Trou Aux Biches. The village is best known for its Roman Catholic Church with its bright red roof.
Coral Gardens – Explore Mauritius's diverse marine life on this scuba diving excursion. You'll swim through the coral gardens off the coast to see a diverse range of marine life, like the crown squirrelfish.
Suggested Luxury Hotels in Trou Aux Biches
Westin Turtle Bay Resort – Where is the best place to stay in Mauritius for couples? It's hard to argue against this lovely resort, which is roughly 10 minutes from the town centre. You'll have everything you could possibly need, from delicious food to fresh beach towels daily.
Sakoa Boutik Hotel – For a 4-star lodging along Trou Aux Biches Beach, stay at Sokoa. You'll meander through breathtaking gardens to get to your room from the stunning restaurant.
Trou aux Biches Beachcomber Resort – Stay at this romantic 5-star resort near the turquoise waters of Trou Aux Biches Beach. This is an all-inclusive resort you'll never forget, and the giant shell-shaped pool is a lovely touch.
Flic en Flac: Best Place to Stay For Beach Lovers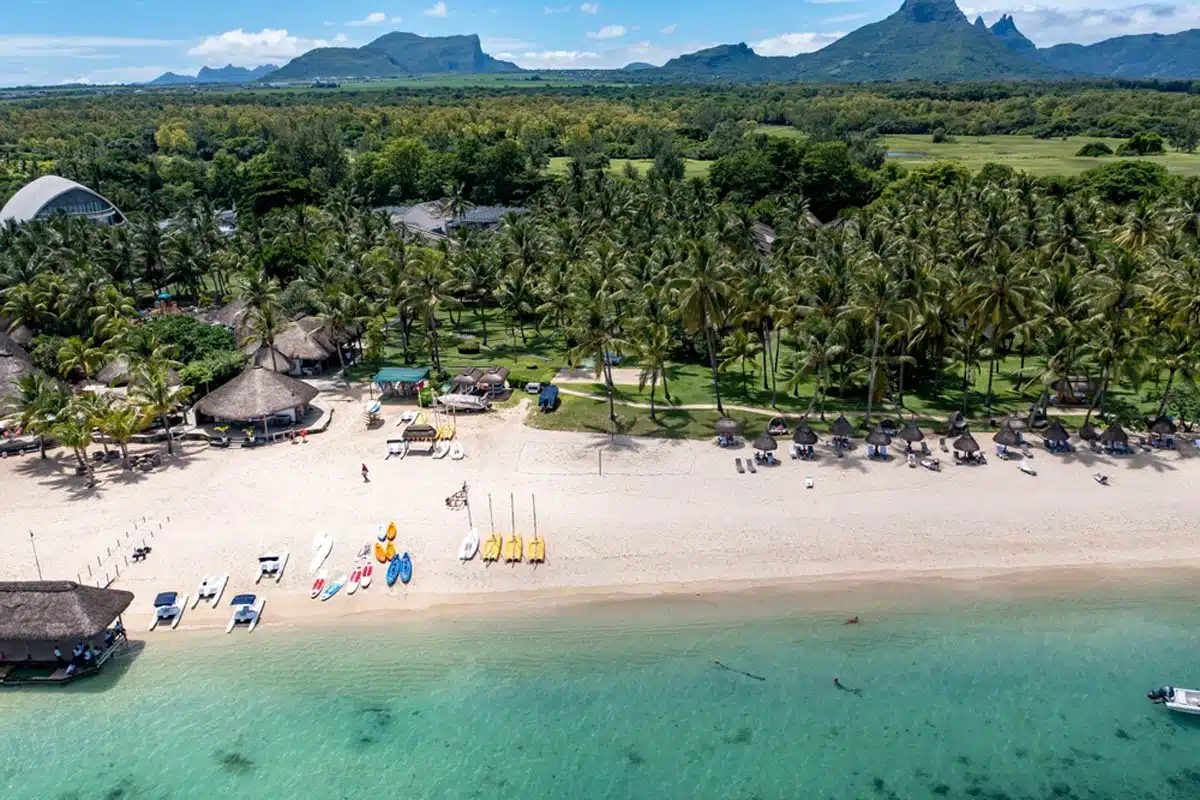 The town's name means free and flat land, and, as you take your first steps onto the beach, you'll see why. The lack of deep valleys makes it the perfect place to admire the sunset. And when you pair that with a powder-soft beach, you're in for a treat.
Flic en Flac boasts one of the longest beaches on the island at an impressive 5 miles. It's also a short 35-minute drive (16 miles) from Port Louis, the island's cultural capital. And, although Flic en Flac Beach gets pretty busy, the actual town is quieter than the more northern areas of Mauritius.
That said, it's not lacking memorable activities. You can visit the Casela World of Adventures, a nature park where you can get up close – and even pet – wild animals like zebras.
And after a long day of exploring, grab a bite at one of the many restaurants along the vibrant Coastal Road.
Flic en Flac Highlights
Tamarin Bay – For one of the best surfing beaches on the island, go to Tamarin Bay, only 5 minutes from Flic en Flac Beach. It's slightly quieter than the main beach and provides the same golden sand and warm water.
Cascavelle Shopping Village – Feed all your shopping needs at the Cascavelle Shopping Village. You'll find all the big brands as well as some unique Mauritian shops perfect for holiday gift finding.
Dolphin Encounter Mauritius – Fancy a once-in-a-lifetime experience of swimming with dolphins? Even better, this one is in the wild (no nasty cages here!). You can watch, feed and swim with dolphins.
Suggested Luxury Hotels in Flic en Flac
Maradiva Villas Resort – For breathtaking coastal views, lavish pools, and everything in between, stay at the Maradiva Villas. The rooms are simple and elegant, and you can enjoy divine dishes at the on-site restaurant.
Hilton Mauritius Resort – Luxury resorts keep on coming, and Hilton Mauritius is no exception. You'll find everything from a fantastic spa, fitness centre, and beach views here.
Sugar Beach Mauritius – For the best sunset views on the island (possibly in the world, if you ask me), book a room at this 5-star resort. You can enjoy yoga in pristine gardens or leafy terrace dining areas for an unforgettable sunset-kissed dinner.
Le Morne: Best Place to Stay for Nature Lovers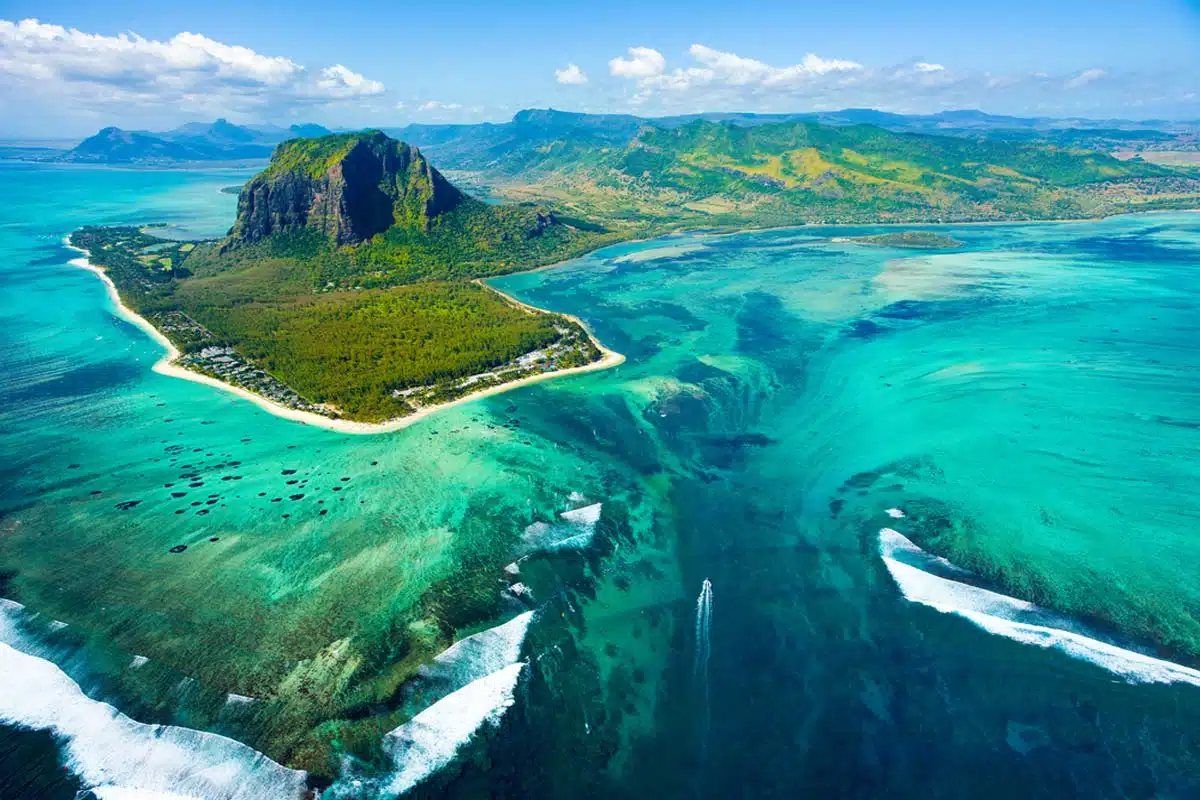 You may be thinking, where's the best place to stay in Mauritius for nature lovers? Well, wonder no more, as Le Morne is the place to visit, jam-packed with historical landmarks and natural phenomena.
This dreamy area is situated in the island's southern region, roughly an hour's drive from Port Louis (28 miles). Le Morne Peak dominates the landscape and serves as a significant historical landmark – it was once a trail that enslaved people would use to gain their freedom.
But the region isn't just a natural treasure chest, as the main town has plenty of luxury lodgings. There are fantastic hiking trails, such as the highly-recommended Slave Route Monument, and the gorgeous public beach is perfect for relaxing after a busy day.
Looking for a place to eat? Le Morne isn't short of options, with L'Harmonie and La Plage serving delicious Mauritian cuisine. And that's not all, as you can enjoy plenty of coastal excursions like visiting the world-famous Underwater Waterfall in this region.
See why it's my favourite?
Le Morne Highlights
Le Morne Brabant – This UNESCO World Heritage Site is jam-packed with incredible rainforest hikes and breathtaking coastal views. You'll also be able to learn about Mauritius' slave history on this guided hiking tour.
Chamarel – Discover the beauty of the Chamarel waterfall and the seven-coloured geopark on this guided day tour.
Underwater Waterfall – Go scuba diving or snorkelling at the Underwater Waterfall, a natural phenomenon you simply can't miss. When flying to and from Mauritius, you'll likely see it from the air – so keep your eyes peeled.
Suggested Luxury Hotels in Le Morne
Outrigger Mauritius Beach Resort – For an unparalleled stay on the south coast of Mauritius, book a room at Outrigger. This all-inclusive resort is simply stunning, and the mountain views are just as spectacular.
Paradis Beachcomber Resort – Stay at Paradis for golden beaches and spectacular views at the world's edge. It's also the closest accommodation to the Island's Toe viewpoint.
Dinarobin Beachcomber Resort – You can expect palm trees, soft sand, and luxurious spa treatments at Dinarobin Beachcomber. The pools are a fantastic relaxing spot, and the on-site restaurants are divine.
Top Tip: Read my review of Outrigger Mauritius for a deeper dive into why you NEED to stay there.
Blue Bay: Best Place to Stay to See the Island's Eastside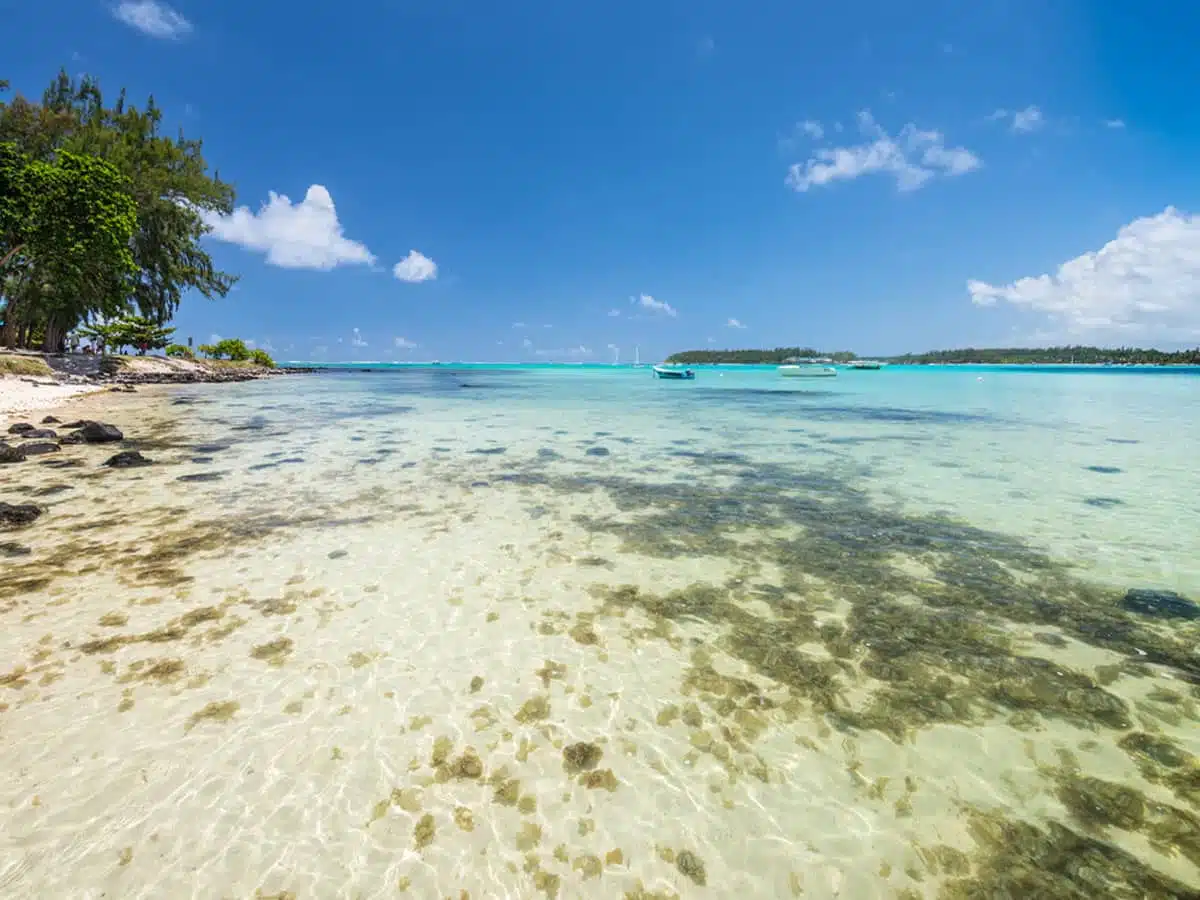 If you want to explore Mauritius' eastern side and have quick access to the airport, look no further than Blue Bay. SSR International Airport is the only way to fly into the island, and it's only 15 minutes (6.2 miles) from the city centre.
As it's close to the airport, there are several coastal resorts and hotels that offer an exclusive Mauritius experience. It's also a great starting point to explore the east coast of Mauritius, as many tours depart from here.
Looking to splash some cash? There are also plenty of boutique shops at Bo'Valon Mall. And, if you're after a fun day out, take a short 30-minute drive to the picturesque Pont Naturel cliffs.
You can also find knowledgeable locals that provide taxi boat tour services to neighbouring islands like Serpent Island. It's a great way to explore the area and support local businesses.
For a relaxing day with sun and sand, Blue Bay Beach is the perfect place to settle down.
Blue Bay Highlights
Ferney Valley – Visit this 200-acre wildlife sanctuary to explore the diversity Mauritius has to offer. It's a great place to find your connection to nature again.
Mahebourg Waterfront – It's a fantastic day outing with the history of Napoleon's only Naval victory against the English and breathtaking coastal views.
Blue Bay Marine Park – One of the best coral gardens in Mauritius is the protected wetlands region of Blue Bay Marine Park. You'll find hundreds of coral varieties and an abundance of vibrant fish species here.
Suggested Luxury Hotels in Blue Bay
Anantara Iko Mauritius Resort – Book a room at this lavish 5-star resort in the Blue Bay Marine Park area. You'll have easy access to the diverse coral gardens and first-class service at the restaurant and spa.
Talamba Blue – For hidden pools and secret forest gardens, stay at this luxurious 4-star hotel. It's an attractive option for a self-catering stay.
Shandrani Beachcomber Resort – For the best all-inclusive resort in Blue Bay, stay at the Shandrani Beachcomber. You'll have access to everything, from windsurfing and snorkelling equipment to delicious breakfasts and dinners, at your doorstep.
Where to Stay in Mauritius: Frequently Asked Questions
Practical Tips to Consider Before Booking Your Mauritius Accommodation
Avoid visiting Mauritius in late March and April as this is the tropical cyclone season.
Book your stay depending on what you want to enjoy during your holiday. Each area has a unique charm, so while Le Morne is great for exploring, Trou Aux Biches is better for honeymooners.
Although English is common throughout the island, knowing a little French can often be helpful when visiting remote parts.
Where to Stay in Mauritius: Read Next
Love This? Save and Share on Pinterest