Discover the best things to do in Astana with this handy guide.
Kazakhstan's newly-named capital city, Astana, is like a shimmering light in the middle of the Kazakh steppe.
I visited Astana during the heat of August and I found its cool temperatures and even cooler modern vibes a relief from the otherwise sweltering summer in the southern parts of the country.
While many tourists seem to pass this vibrant city by in favor of the larger former capital Almaty, there are actually several wonderful things to do in Astana that would warrant a few days in the city.
The Kazakh capital is certainly worth a visit for its cosmopolitan feel, its otherworldly architecture, and its vast collection of museums and monuments.
If you're interested in architecture, history, or strange, photogenic landmarks, don't miss Astana on your Kazakhstan itinerary!
Top Things to Do in Astana, Kazakhstan
Visit the Astana Waterfront at Night
I had the huge pleasure of being introduced to a local by a friend of a friend. That local, Kamila, met me for dinner on my first night in Astana and blocked off the whole night to show me around.
Unfortunately, some money exchange issues and a very unfamiliar taxi system had me totally frazzled and an hour late to meet her, but finally we sat down over pasta and chatted. Turns out Kamila was a total gem of a human and her love for her new city really shows!
After dinner, Kamila took me for a walk around the waterfront. At sunset, all the buildings light up and shimmer across the blackness of the water – a beautiful sight, especially after a long day of traveling. The edifices shone green, pink, blue…every color you could imagine.
Moreover, the entire waterfront was buzzing with life. People were everywhere taking selfies, chatting with friends, and just strolling around.
For visitors, I recommend taking a stroll just after the sun sets around the entire area, through the strangely-shaped white pedestrian bridge (you can't miss it!) and across to the main road. Later in the evening, keep an eye out for the light show that happens on some of the larger buildings.
Explore the Largest Mosque in Central Asia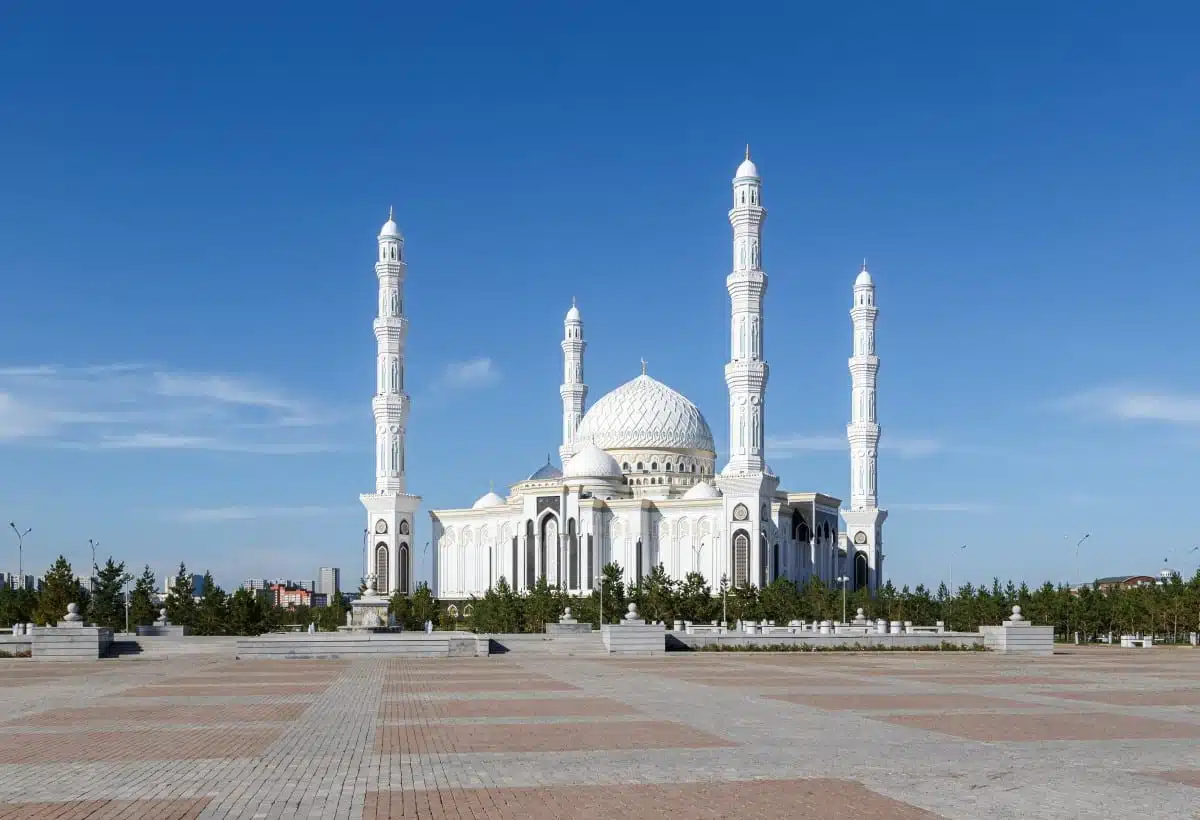 When Kamila and I parted ways, she gave me a piece of advice, "If you do nothing else in Astana, go to Hazrat Sultan Mosque. It's amazing and you won't regret it."
She was right. As soon as I stepped into the enormous building of Hazrat Sultan Mosque, a feeling of peace and serenity swept over me.
The complex is huge – the largest in Central Asia, in fact – and it boasts a gorgeous interior with several floors that tourists can enjoy. The walls and dome are painted white with turquoise and gold embellishments, and the windows let in just the right amount of bright sunlight to light up the entire prayer area.
Of course, much like any mosque, women must use a chador (provided at the entrance) and all visitors must remove their shoes. There are cubbies where you can store your things free of charge, but they're not locked so don't leave any valuables hanging around in there.
Journey to the Top of the Bayterek Tower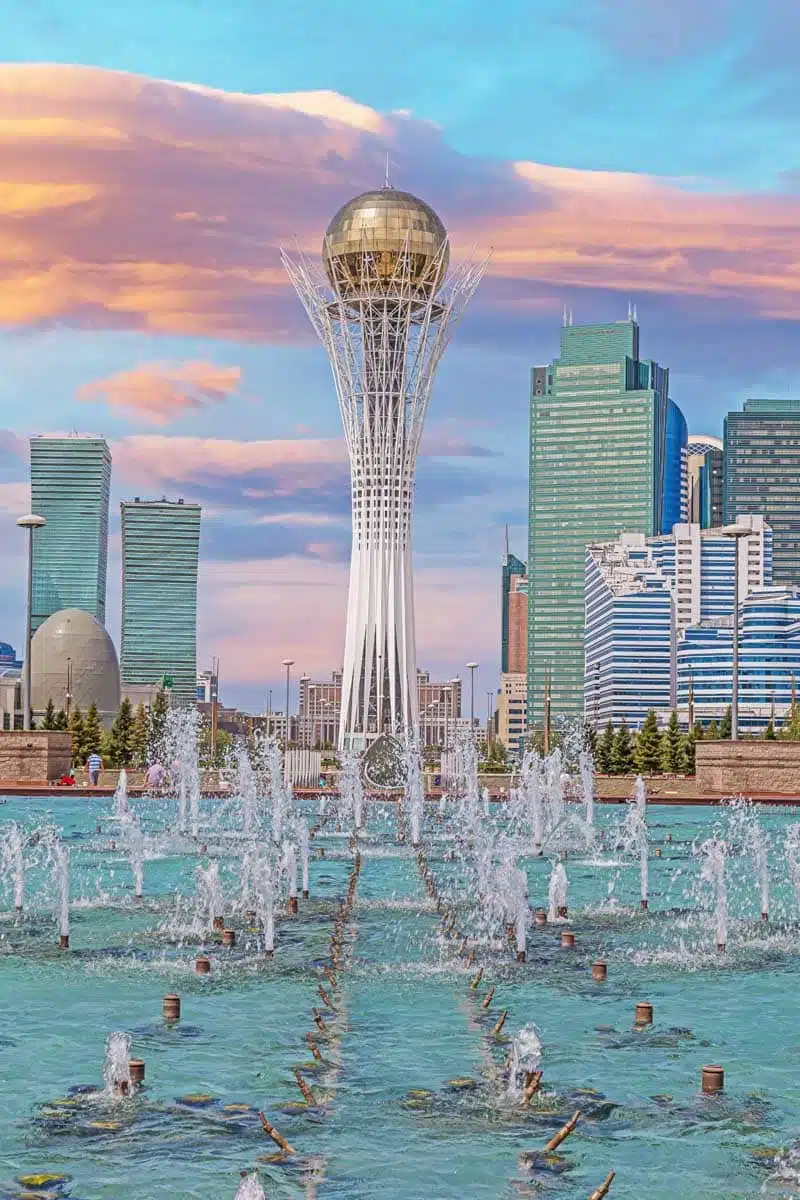 If you've done any other research on Astana, you're familiar with the famed Bayterek Tower, or the tall, strange, white structure that holds a giant, golden golf ball at the top.
This tower is one of the main symbols of Astana, and it symbolizes the tree of life, with its deep roots, holding up a golden egg that symbolizes a bright future. I'll admit, the tower looks almost alien-like, but it's pretty fascinating and unique.
The best part of the tower is that you can actually go to the top. I didn't get to do this while I was there, but for just 700 KZT, you can take an elevator up to the golden egg and admire the sweeping, 360-degree views of the entire city.
Visit the Palace of Peace and Reconciliation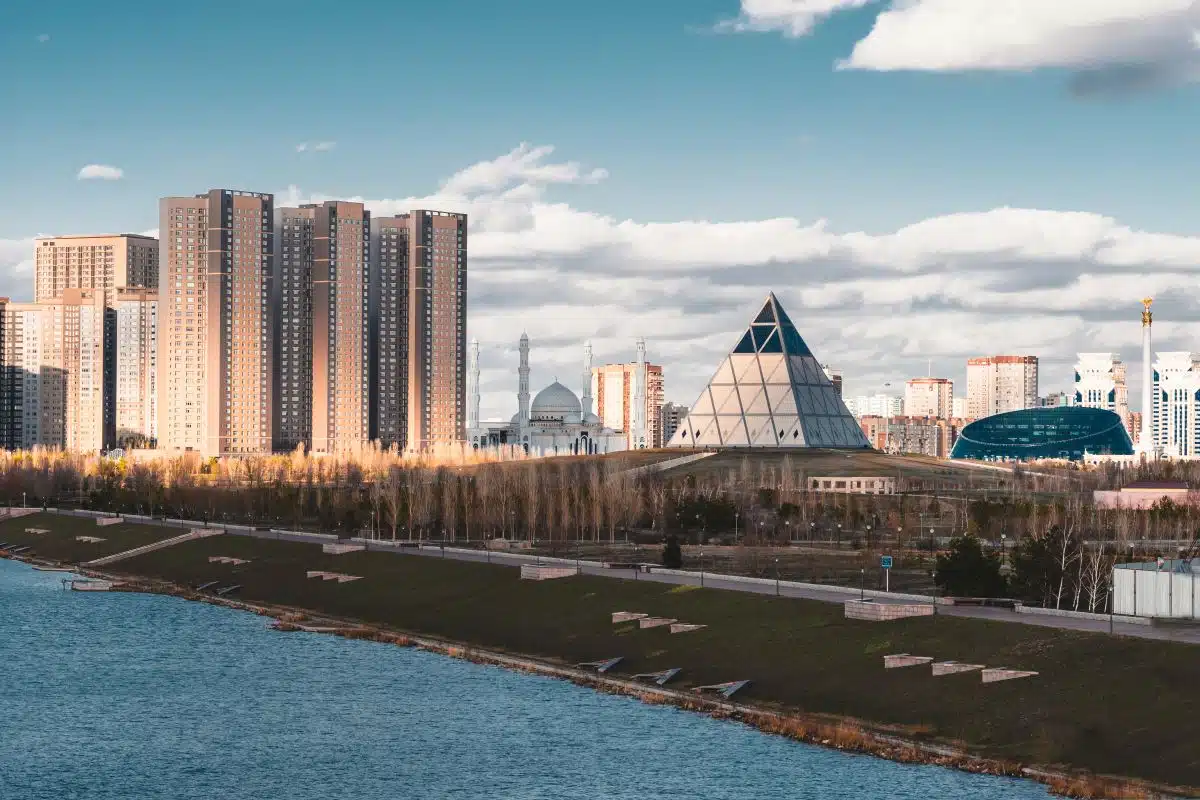 Another iconic Astana monument is the modern-looking pyramid known as the Palace of Peace and Reconciliation. Originally built to host the Congress of Leaders of World and Traditional Religions, the pyramid now stands as a testament to religious tolerance and coexistence in the world today.
If you're a math/architecture/conspiracy theory nerd you might love some of the details of this structure. Architecturally, it was designed and built largely using the Fibonacci sequence and the Golden Ratio.
At the very top of the pyramid are paintings of doves, which stand for the many different nationalities living in peace in Kazakhstan.
Check Out the Presidential Palace
The Ak Orda Presidential Palace is one of the crown jewels of Astana and shouldn't be missed, even if it means you just walk past it and admire the beauty of the structure.
If you're curious about what's inside, you can sign up for a tour of the grounds and the palace, which includes the President's residential areas.
Go Shopping in the Largest Tent in the World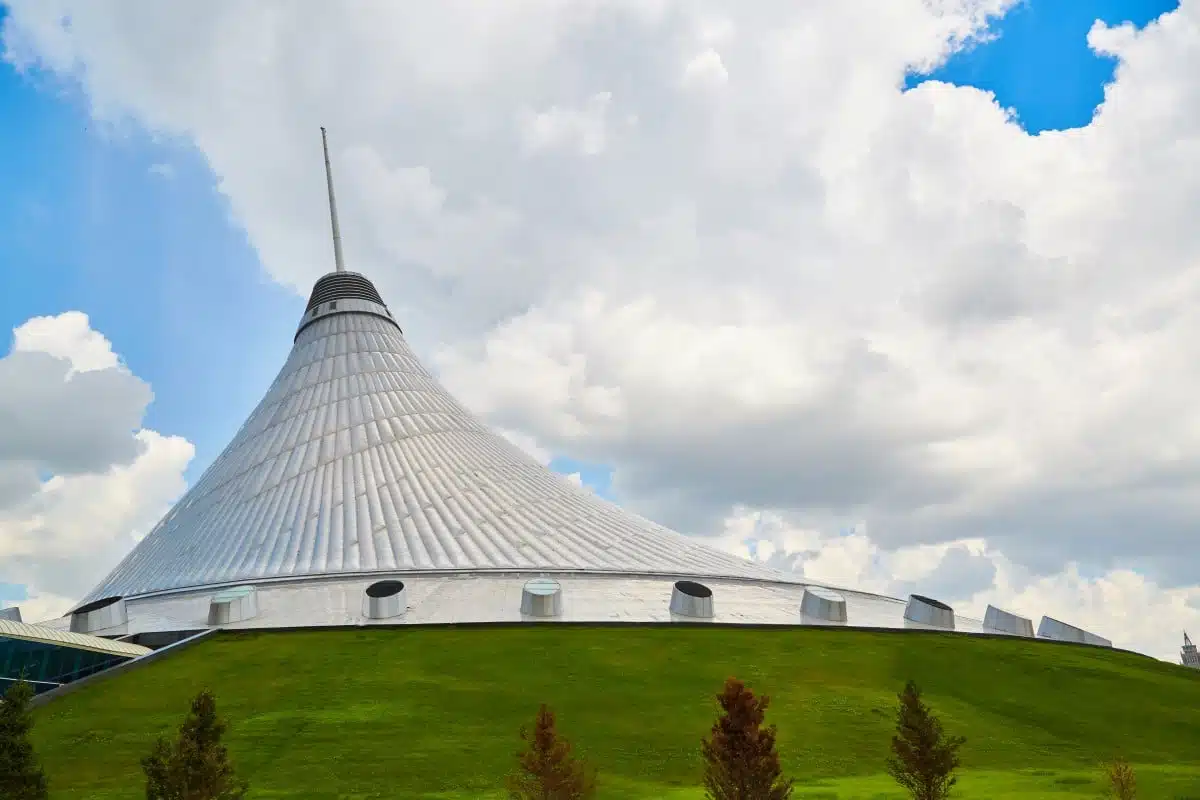 Another alien-like structure in Astana is the Khan Shatyr Entertainment Centre, which looks like a giant, translucent pointy tent. Actually, this mall was mentioned in the Guinness Book of World Records for this very reason – because it's the largest tent in the world.
The inside boasts your run-of-the-mill shopping mall, complete with clothes shops, a Starbucks, and more. If you need anything for your trip to Kazakhstan, you can probably find it here.
The best time to visit the Khan Shatyr Center is right at sunset, as the sun shines through the translucent tent roof and casts an orange glow across the whole thing. Once the sun sets, the whole tent gets lit in all kinds of psychedelic colors.
Unfortunately, I found myself severely suffering from food poisoning when I visited Khan Shatyr, so I only have one horrible phone pic to prove how awesome it is during sunset. But take my word for it – dusk Khan Shatyr is a cool sight!
Take a Grand Tour of Kazakhstan at Atameken
If you're not planning on traveling anywhere else in Kazakhstan (or you are, but you want a sneak peek!), head to the Atameken Ethno-Memorial Complex to see a bunch of miniature displays about all of the 14 oblasts (regions) in Kazakhstan. It's a huge warehouse full of them!
While I've been to many capital cities in my life, I've never been to one that had an exhibit that's this detailed about the country at large. Pretty cool, if you ask me.
Hop on a Boat Ride Down the Ishim River
What's more relaxing or laid-back than a boat tour? Nothing, methinks. Luckily, since Astana has a pretty extensive riverfront, there are boats that can take you around to see the city from the water.
There's a short, 40-minute boat tour that's run by a local operator that will take you around the river and explain some of the sights you can see. The timing is perfect for squeezing it into an itinerary full of activities without clogging up the whole day.
Visit Several Monuments and Museums Around the City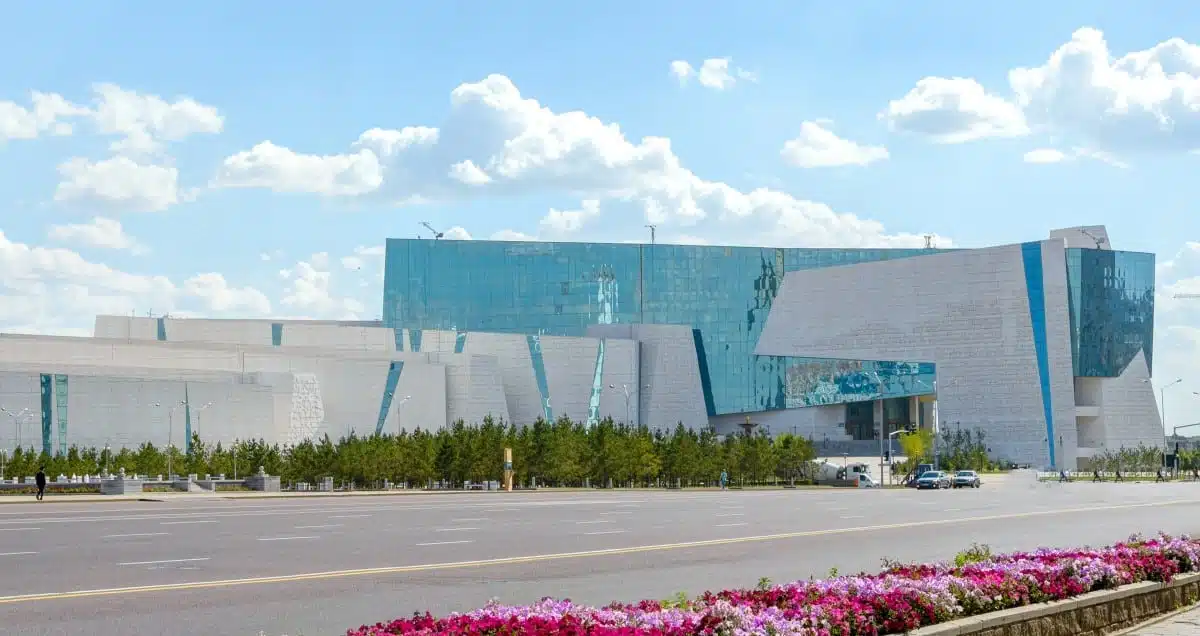 If you aren't yet tired of weird buildings, monuments, and museums, there are plenty more things to see in Astana like them.
For example, the National Museum of Kazakhstan has tons of artifacts and interesting information about Kazakh history and culture. Nearby, you can see the Kazakh Yeli Monument, a large, white pillar with a golden statue of the mythical bird Samruk (or simurgh) on top.
Additionally, the vast Central Park is the perfect place to get lost for an afternoon, winding through the neatly-kept paths or simply people watching as the world goes by.
Meander Through the Expo 2017 Complex
Ready for another strange structure? Ok, good, because we've got one more for you, and it may just be the strangest of them all. It's a giant glass dome centered in the middle of a complex with several other building surrounding it.
The Expo 2017 Center was built in Astana for the International Expo 2017, and since then it serves as a center and museum for energy in Kazakhstan.
If you visit this complex, you'll find many areas to walk around and see the massive dome from all different angles. You can also go inside if you're interested (but I didn't because I found the outside much more interesting).
Get Away For the Weekend to Burabay National Park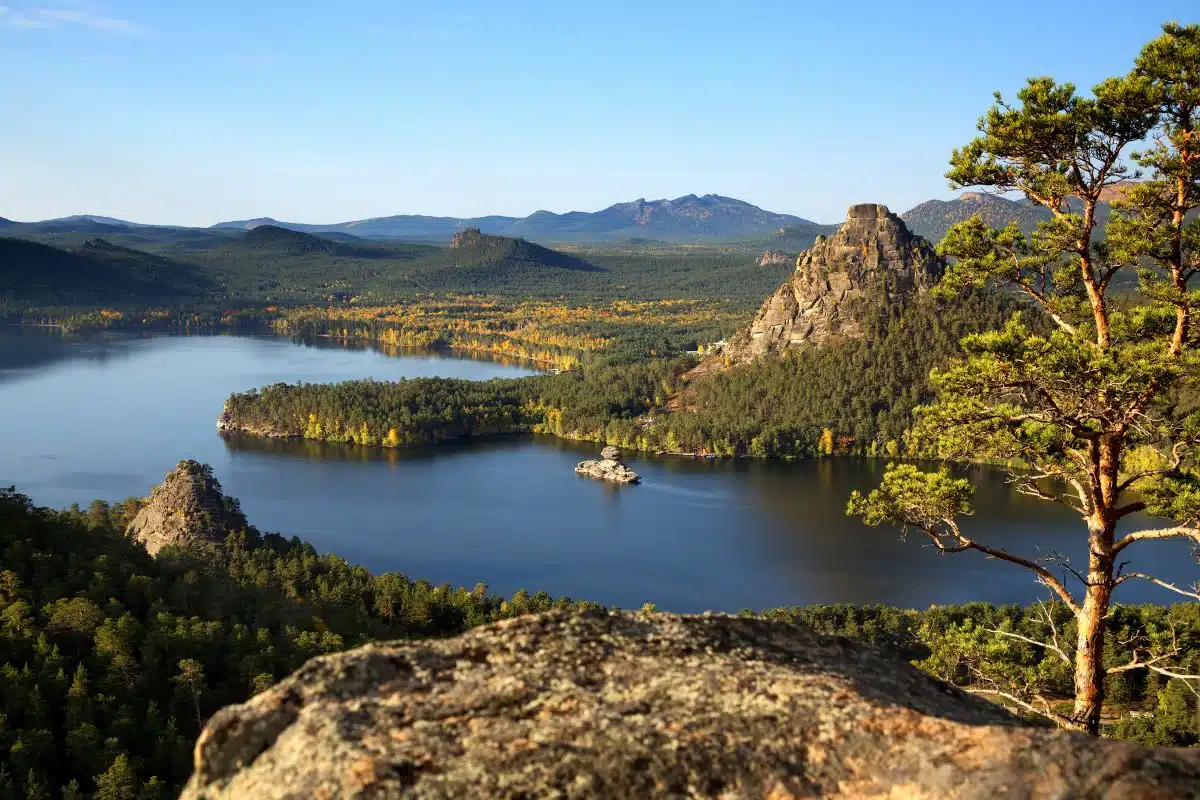 I'm not going to lie, the nature lover and hiker in me was secretly dying for some outdoor time after so many city attractions. So, to solve this problem, I packed my bags and headed to Burabay National Park for one night.
Burabay National Park is a stunning and peaceful park with several lakes and some really nifty pointed rock formations, some of which you can climb! While many of the hotel areas are packed with partygoing Russian tourists, it's easy to escape the booming music in favor of quiet nature paths and breathtaking views.
To get to Burabay, head to the bus station where you can find shared taxis either directly to Burabay or to Shuchinsk, where you can then take another shared taxi to Burabay.
The drivers may be eager to try and rip you off if they know you are a tourist, so some negotiating may be in order. I paid 3,000 KZT for my ride to Shuchinsk, then another 2,000 for a shared taxi directly to my hotel (but I think it's probably less if you can speak Russian and negotiate).
Astana Travel Tips
Getting Into Astana
Unfortunately, one of the downsides of Astana is that it's really far from *LITERALLY EVERYWHERE ELSE* you might want to go in Kazakhstan. Below I've detailed the different options you can use to get to Astana (and I've made it REALLY obvious which one I'd recommend).
By Air
If you at all care about maximizing your time (or your sanity), travel by plane to Astana. It's the fastest and easiest way to get there from almost everywhere, and it's not too expensive either.
Astana's airport is pretty easy to navigate and services several domestic and international airlines and routes. (Clearly I did this, and I also flew to my next destination when leaving Astana. I don't regret it.)
From Astana's airport you can grab a taxi or an airport express bus to the city center.
By Train
Several trains run to Astana every day from most major cities in Kazakhstan, including Shymkent and Almaty. Head to this website to see the schedules, then purchase your tickets directly at the train station.
By Bus
Like trains, there are buses from most cities in Kazakhstan to Astana. You can find more information about timetables and ticket prices at your local bus station, as they vary by city and time of day.
Getting Around Astana
Buses
Within Astana, there are many ways to get from place to place. Depending on where you are staying, you can walk to many sights in the city. However, I'd highly recommend using the cheap and efficient bus system to get from place to place. Download the 2GIS app and the offline maps for Astana to find bus routes that help you get from point A to point B.
Taxis
Additionally, if you're looking for a ride-share alternative, Uber theoretically works in Astana.
However, I have to tell you that it DID NOT WORK on my phone while I was there. It just flat out refused to load, to find my location, or to call a car for me.
So, instead, I did as the locals do and downloaded the Yandex app. It's another easy ride-share app that allows you to call a car and pay the driver in cash. Easy and rip-off proof!
Hitchhiking
I don't do this much because I don't really feel safe doing it as a female, non-Russian speaking traveler, but there's always the option to take a "street taxi," AKA hitchhike.
To do this, just stand on the side of the road in the direction you're trying to go and hold out your hand (NOT your thumb, unless you want to look like a weirdo!). It helps if you can speak a bit of Russian.
Kamila does it all the time as a local and says it's the easiest way to get around. Many foreign travelers have also reported favorably about using the local hitchhiking system.
Where to Stay in Astana
Hostel Forum
I stayed in Hostel Forum, which is a new hostel located in an apartment/shopping area in the city center. It is walkable to a few attractions, but if you stay here, you'll likely need to rely on the bus system or Yandex to get from place to place.
Hilton Astana
For mid-range to high-end travelers, I recommend the Hilton Astana. It looked beautiful from the outside and travelers have reported great things from staying there.
Ritz-Carlton Astana
Luxury travelers can enjoy the international standards and beautiful decor of the Ritz-Carlton Astana. It's a five-star property with all of the Western comforts you could possibly want, including spacious rooms, a fitness center, and a spa.
Things to do in Astana: Read Next