Get ready to discover the best places to visit in the Philippines with this handy travel guide.
Looking at a world map might lend you to think that the Philippines is a tiny country. But zoom in. If you look closely, you'll see that the Philippines actually consists of over 7,000 islands.
That's a LOT of islands to explore and places to visit in the Philippines. If you spent one day on each island, it would take you 19 YEARS to see everything.
Needless to say, you could probably spend a whole lifetime traveling around the Philippines and never get bored.
But Kay, you might ask, what else is there to do in the Philippines besides going to the beach?
Oh boy, you're in for a big surprise. The Philippines has pretty much everything, except for snow (and who likes the freezing cold anyway?!). In addition to the most beautiful beaches in the world, the Philippines has:
Mountains and volcanoes
Stunning, misty rice terraces
Giant caves
UNESCO World Heritage and historic sites
Bustling cities
Amazing tropical fruits and regional foods
The best coconut water (fresh off the tree!)
Some of the friendliest, kindest people
So, yeah. What I'm basically saying is that you should get yourself over to the Philippines ASAP and explore it for yourself. It's quite possibly one of the most underrated destinations in Southeast Asia, and its beauty and hospitality will blow you away.
Don't believe me? To help inspire convince you to visit, I've compiled a list of 30 of the most beautiful places to visit in the Philippines. If not a single one of these beautiful places interests or fascinates you…well, I just don't know what to tell you.
Best Places to Visit in the Philippines
Northern Philippines/Luzon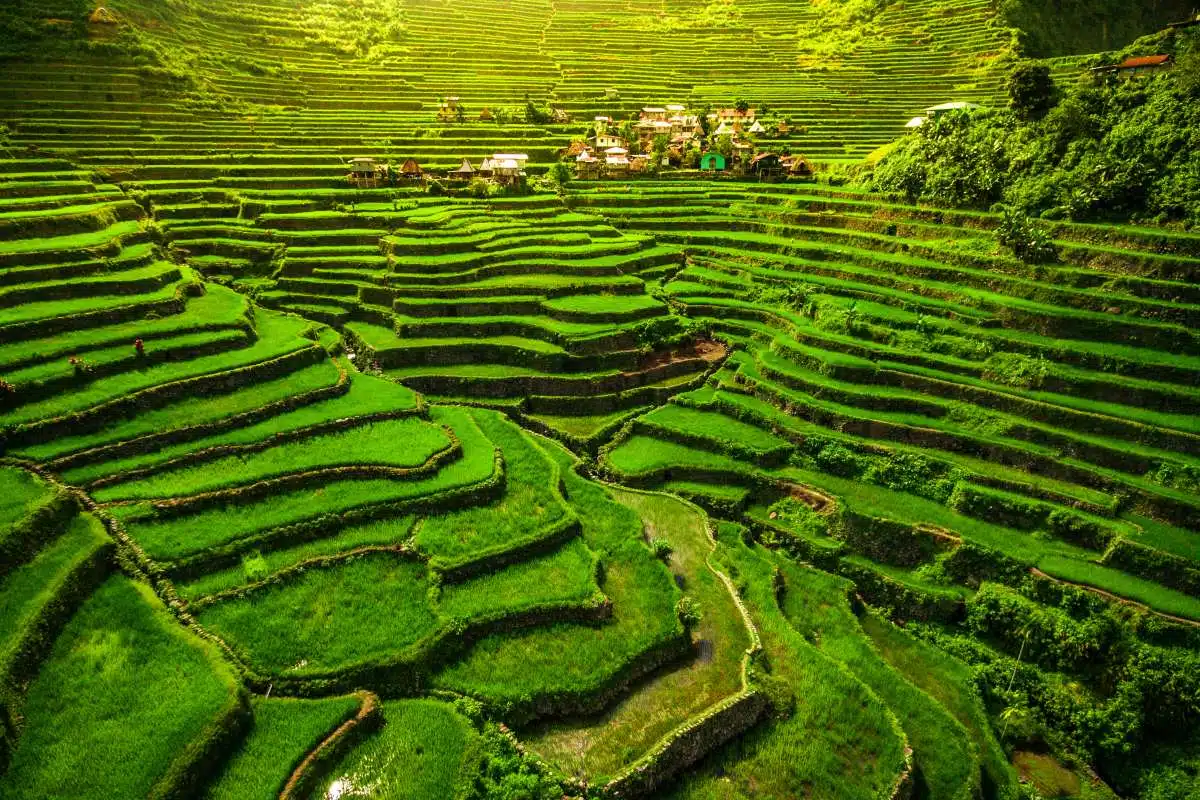 The land of rice terraces and rolling hills, the northern part of the Philippines is mainly occupied by the province of Luzon. Not only can you find lush forests and beautiful landscapes here, but there's also quite a bit of history and significant landmarks in the region.
Ifugao Rice Terraces
Deep in the center of the island of Luzon lies a green, mountainous area. The climate here is perfect for growing rice, and throughout the high season, many farmers have worked for years to cultivate their crops here.
As a result, there are miles of stark, verdant rice terraces carved into the sides of the mountains here, and the resulting imagery is absolutely surreal. If you enjoy a good adventure (and stunning scenery), the Ifugao Rice Terraces belong on your list of places to visit in the Philippines.
It's fairly difficult to get to the Ifugao Rice Terraces, and will take at least 2-3 days to explore fully. To get there, you have to take a bus (9+ hours) from Manila to Banaue, then continue hiking more to reach the viewpoints.
There are two main villages in Ifugao where you can base yourself to see the rice terraces: Banaue and Batad.
Tagaytay
What Manila offers in traffic, energy, and noise, Tagaytay has in relaxation, natural beauty, and solitude.
Located less than 2 hours outside of Manila on a mountain overlooking Taal Lake and Volcano, Tagaytay offers mountain bed & breakfasts, beautiful views, and areas for quiet reflection. It's like the Pacific Northwest of the Philippines, minus the hipsters.
For a relaxing, rejuvenating weekend away, there's no better place to go than Sonya's Garden. Located in a garden with bright flowers, fresh foods and herbs, and lots of tropical forest areas, this locally-owned inn is a cute and cozy getaway.
Luxurious cottages dot the grounds, and in the morning, you'll be treated to delicious breakfast and warm pastries by the kindest staff. There's also a spa and restaurant here for those truly looking to unwind.
Taal Volcano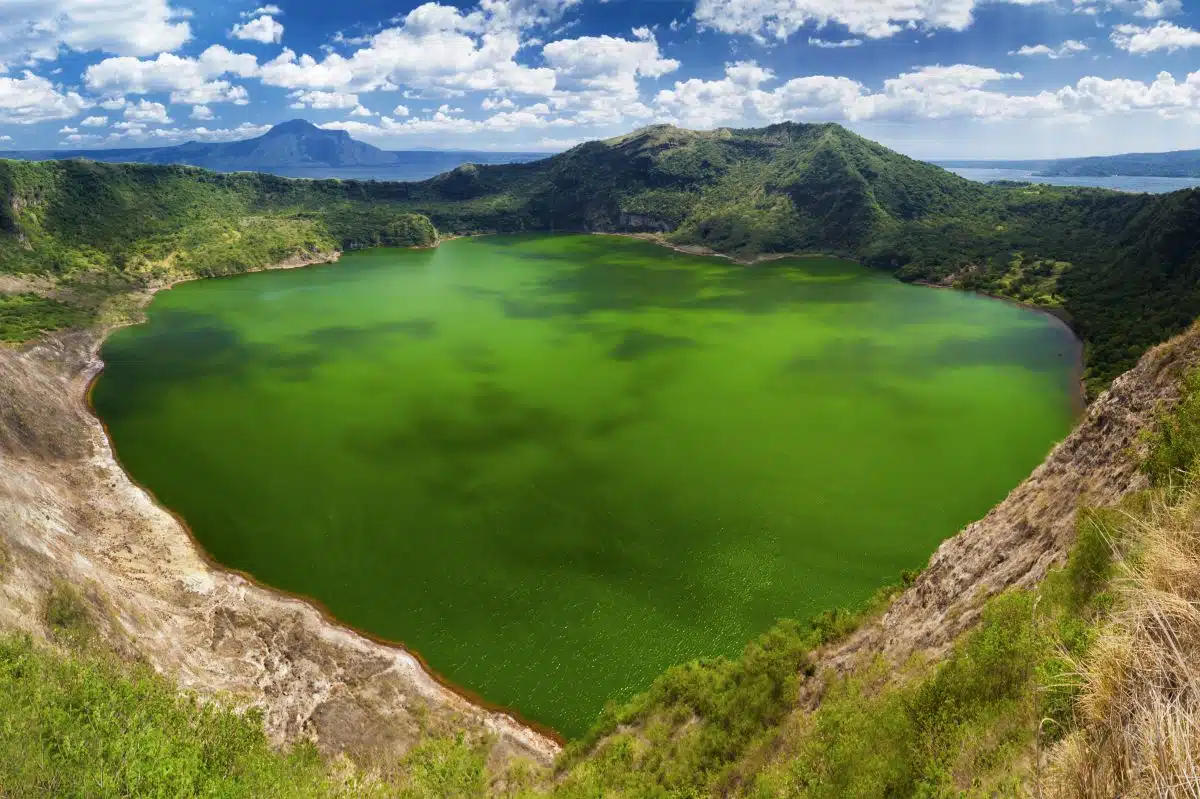 Want to see one of the Philippines' cutest volcanoes? Head to Taal Lake, which boasts the tiny but mighty Taal Volcano in its center.
It might look small, but Taal packs a big punch, as it is the second most active volcano in all of the Philippines. For the adventure junkies out there, this is one of the best places to visit in the Philippines because you can actually hike this volcano and see its crater, too.
To hike Taal volcano, you need to take a boat from Precious Boat Station to Taal Volcano. Then, from the trailhead, it takes less than an hour to get to the crater. From the top, you'll be rewarded with stunning views of the inside of the volcano, as well as the entirety of Taal Lake.
Sagada
Sagada is the Philippine version of a mountain town gone backpacker haven. Located 6-7 hours outside of Manila in some limestone valleys, it is perfectly situated in between hiking trails, caves, and peaceful greenery.
Here, visitors can get their outdoor fix without needing to go too far from the town. There is also a lot of deep local tradition and history in Sagada, with some of the most unique attractions being those of local death rituals and burials.
Batanes
Batanes is to the Philippines as the Azores is to Portugal. It is the island in this archipelago that's so far north, you probably didn't realize it was part of the Philippines.
Located ~200 km from the northernmost tip of Luzon, Batanes is an island of rolling hills, historic lighthouses, and lush farmlands. Here, you can hike, explore historic buildings, or simply relax and take in the isolation of it all.
The only way to get to Batanes is to fly. Luckily, many budget carriers in the Philippines fly from both Cebu and Manila to Batanes, so you won't be short on options for getting to the island.
Catanduanes
If you're looking for the isolation for Batanes but don't want to be as remote, head to Catanduanes.
Filled with craggy, rocky mountains, beautiful green forests, and remote beaches, this place is a perfect haven for rejuvenating and disconnecting, and it's right off the coast of Luzon.
Vigan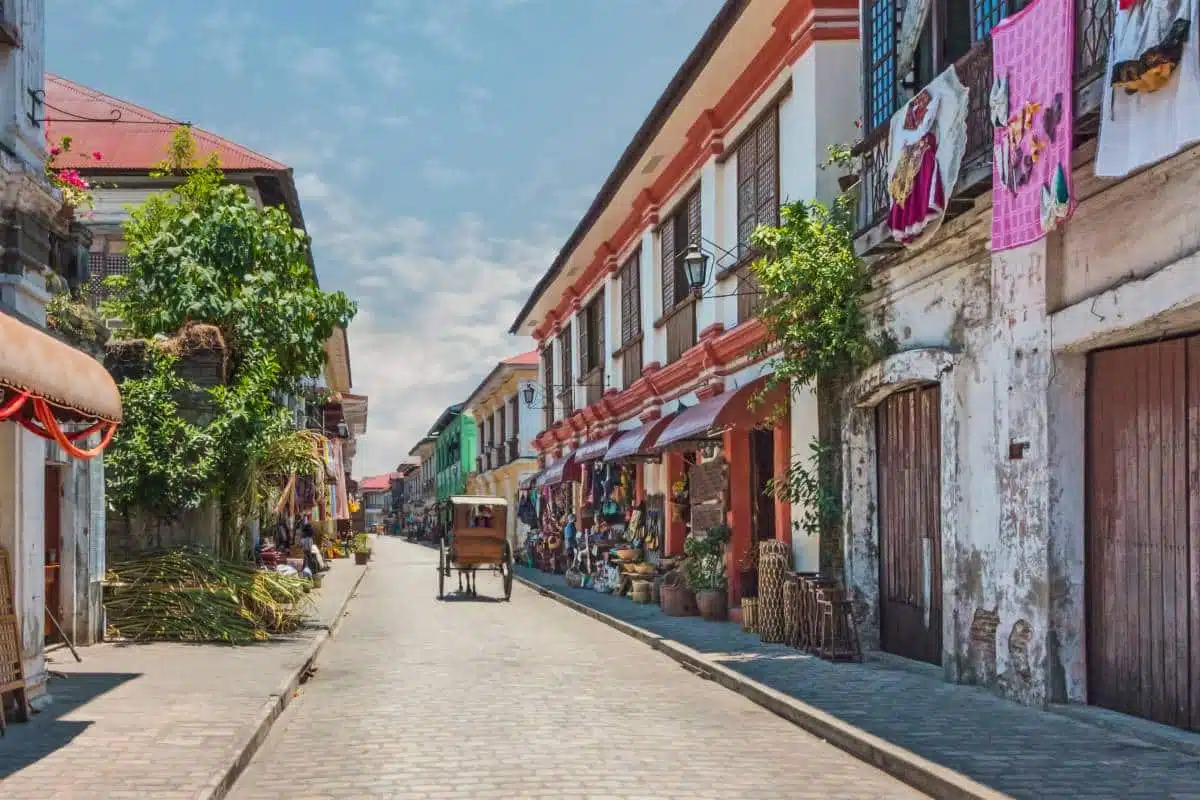 A UNESCO World Heritage Site, Vigan is one of the most historically significant parts of the Philippines.
Established in the 16th century, Vigan was one of the original Spanish colonial cities and trading posts in the Philippines. The unique blend of Philippine, Spanish, and Chinese designs make the city and architectural and historical marvel – the coming together of many civilizations.
Today, Vigan's central area includes Calle Crislogo, which boasts cobblestoned streets, brightly colored homes, charming guesthouses, and many historic sites that tourists can visit.
Here, you can also cruise down Vigan's river, or admire local artisans at work, weaving brightly colored fabrics and tapestries.
Corregidor Island & Bataan
Remember how I mentioned that the Philippines has several historically significant sites? Corregidor Island and Bataan are two of them.
Known most famously for the Bataan Death March in 1942, this area was home to an American military base and was one of the main fighting grounds in WWII.
Today, visitors and history buffs alike can visit the area to learn more about the impact of WWII in the Philippines, and the critical role these islands and their people played during the war.
Bulusan Volcano Natural Park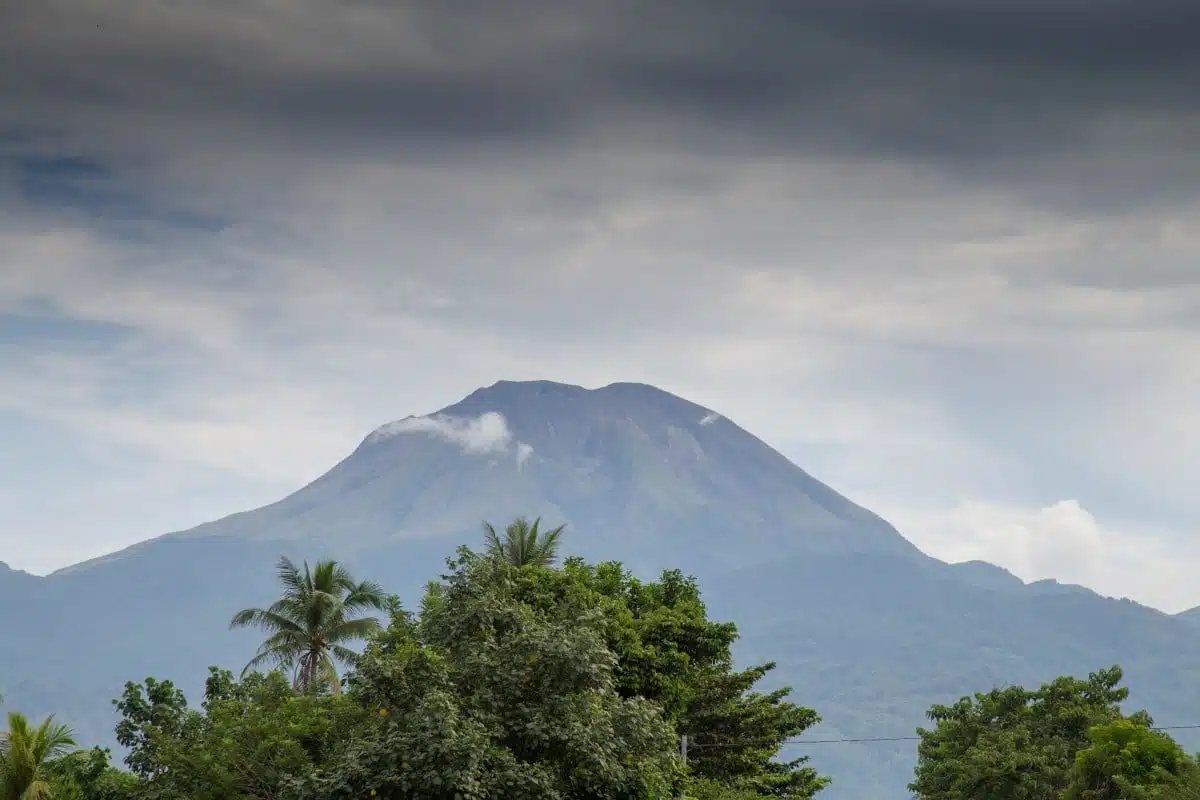 If you didn't get enough of volcanoes in Taal and want to see more, Bulusan in Sorsogon is the best place to do so. Here, you can hike and take in epic views of Mount Bulusan.
There is also a center here to learn more about volcanic activity in the area and in the country as a whole. In addition to being a fantastic outdoor and learning experience, a visit to Bulusan is just really freaking beautiful too.
Donsol
Located in Sorsogon, Donsol is best known best for one major perk: whale shark sightings.
Unlike in Oslob (Cebu) where whale sharks are fed by humans and their natural behavioral patterns are potentially disrupted, in Donsol, tourists are instructed to silently observe these gentle giants going about their normal daily routines. This kind of distant observation is much better for the whale sharks AND for the tourists.
If you're dying to see these magnificent creatures, I highly recommend heading to Donsol and observing them with as little human interaction as possible.
Visayas/Central Philippines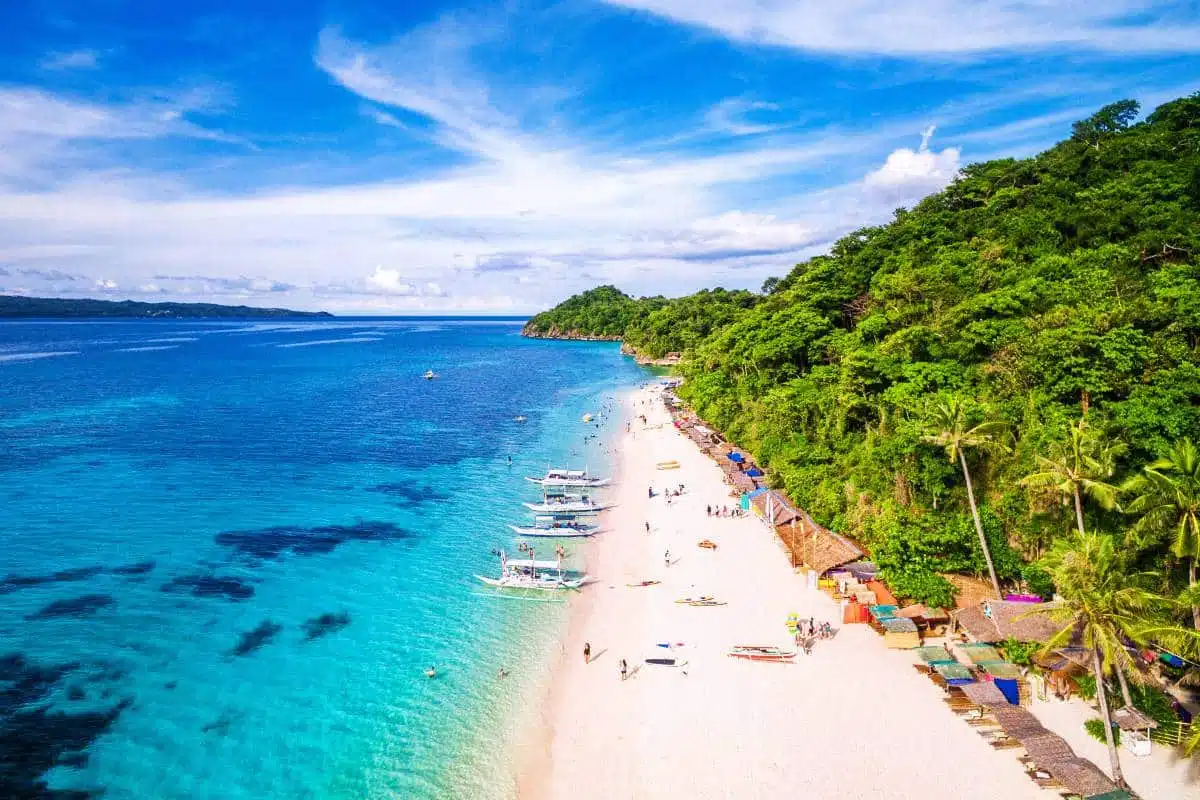 The Visayas is literally and figuratively the heart of the Philippines. Located in the central part of the Philippines, the Visayas (pronounced "Bees-eye-yas") region has some of the most spectacular islands in the country.
Here, you can find some of the most colorful and unique snorkeling and diving in the country, as well as volcanic islands and incredible wildlife. Of all of the places to visit in the Philippines, the Visayas region is probably my favorite.
Camiguin
Camiguin Island is the "island born of fire," and from its volcano-laden landscape, it's easy to see why.
Although it's one of the smallest inhabited islands of the Philippines, Camiguin really packs a punch in terms of things to do. Waterfalls? Yup. Volcanoes? You got it. Historic ruins? They're here. Pristine white sandbars and blue water? Check check check.
From diving to hiking, sunbathing to swimming, Camiguin is like a giant playground for people who love to be outdoors.
While here, you can also sample local specialties like fern salad (yes, made of real Camiguin ferns), lanzones, turones, and the Philippine version of ceviche.
Cebu City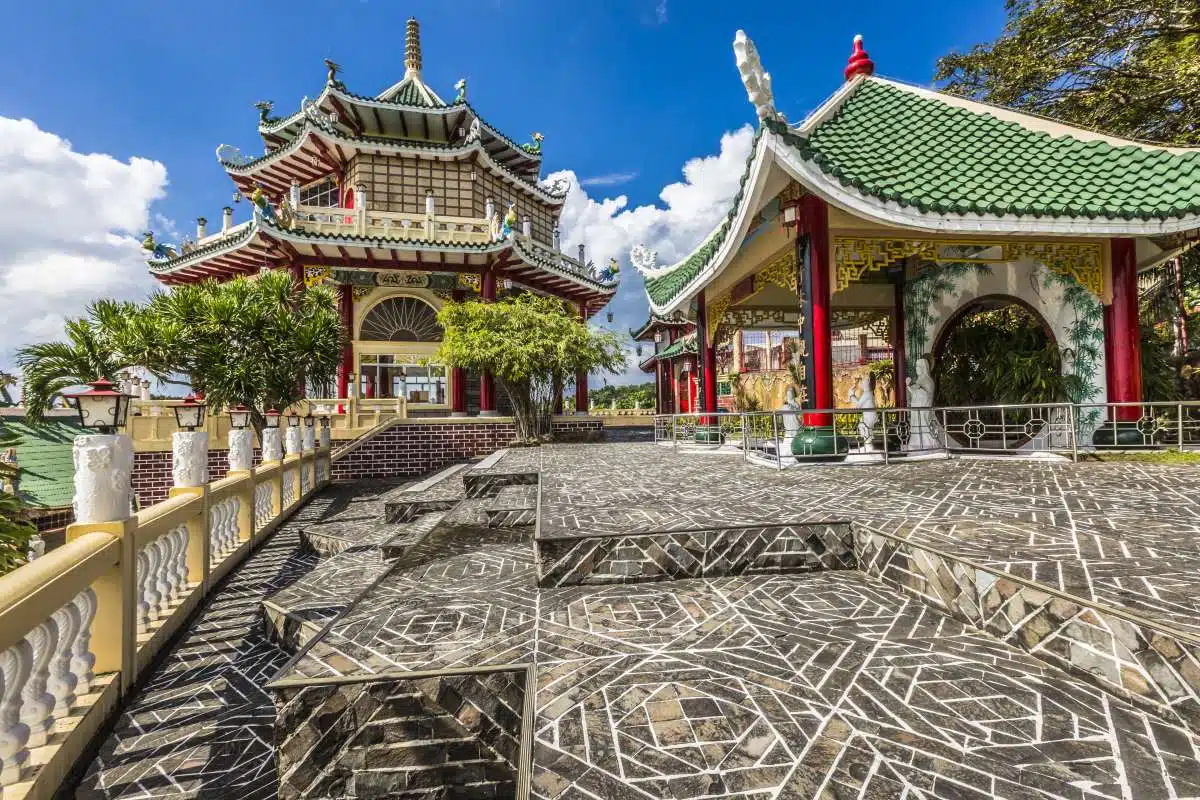 Cebu is one of the Philippines' largest cities, and while I usually advise visitors to the Philippines to spend as little time in the cities as possible, I think Cebu is worth a visit.
Here, there are remnants of the many cultures that helped shape the Philippines, from Spanish-style Catholic churches to Taoist temples, and a giant statue of Lapu-Lapu (Ferdinand Magellan's killer) just outside the city.
There are so many potential options for any Cebu itinerary, it's no wonder many tourists use it as a base for their Philippines adventures!
Of course, you'll also find the crazy traffic, gargantuan shopping malls, and ritzy neighborhoods that exist in all cities in the Philippines, a visit to Cebu can open your eyes to the mix of cultures and traditions that exist here.
Moalboal
Just a few hours outside of Cebu lies the small town of Moalboal. And while there are a few souvenir shops, seaside restaurants, and small cabanas here to stay in, the best part of Moalboal lies under the surface.
Yup, you guessed it, it's a diver's heaven. Here, you can spot schools of fish, wild turtles, and colorful reefs just below the surface. You can also get your open-water certification from one of the many dive shops here.
Malapascua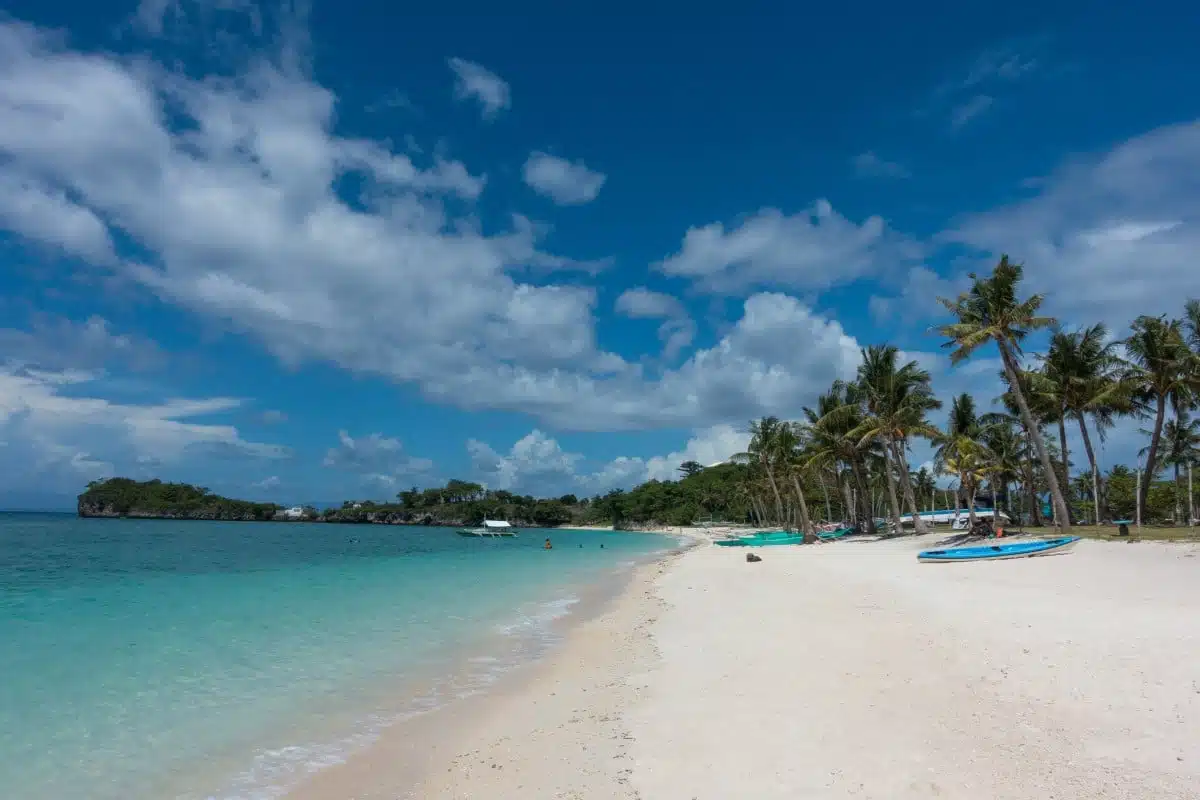 If you're a somewhat experienced diver and feel you're ready for the big game (literally), you can head to Malapascua. This is another diver's paradise off the coast of Cebu that offers advanced certified divers the chance to see and dive with large marine life like thresher sharks and manta rays.
While I was there, I did a couple of deep water dives (~30 meters) and got to see a whole handful of thresher sharks – so cool! It was my 22nd birthday present to myself and an experience I'll never forget.
Deep diving in Malapascua is an incredible way to admire natural beauty and meet some of the large sea creatures we don't often get to see.
Bohol
Home to the famed chocolate hills, Bohol is a prime location for landscapes, beaches, and wildlife. Here, you can experience the Chocolate Hills by climbing one of them. However, please follow appropriate signage and only climb hills that are designated for people.
While in Bohol, you can also see the beautiful, small tarsier monkeys, the world's smallest primate! There's a sanctuary here where you can observe (but not touch) these tiny, big-eyed creatures.
Disclaimer: There are also many other wildlife viewing sanctuaries around the island. However, I encourage you to thoroughly research any animal activities (in Bohol and around the world) before you choose to go to them. Places offering riding, petting, and holding wild animals is typically a bad sign.
Siquijor
Siquijor is another small island in the Philippines that's home to all kind of outdoor activities and beautiful beaches. Here, you can find a few secluded beach areas surrounded by palm trees with sparkling white sand. You can also find rainforests oases with small fish that nibble on your feet. Waterfalls and hiking trails around the island treat visitors with a dose of much-needed fresh air and beautiful photogenic gems.
Eastern Philippines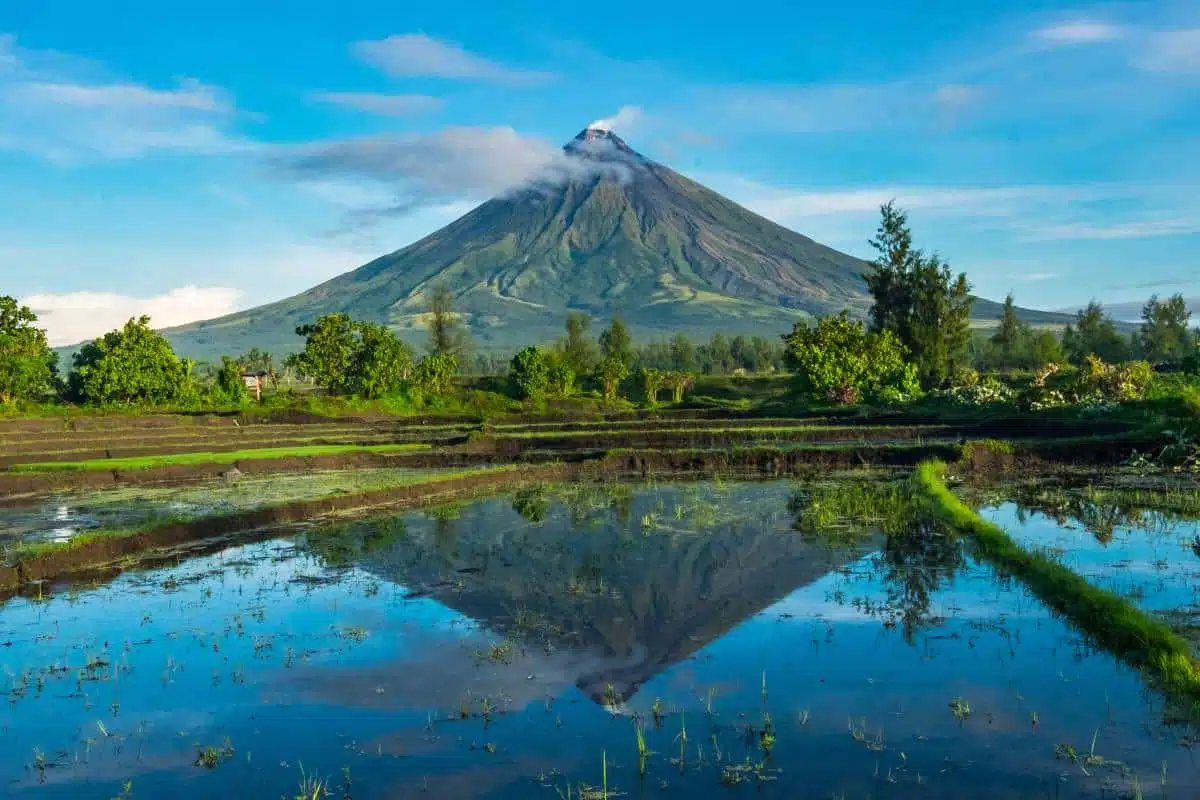 While the eastern part of the Philippines constantly receives the brunt of typhoon damage, there are still a few exciting and notable places to visit in this region. The area is primarily known for historical sites and being home to the largest cave in the Philippines.
Legazpi City
Legazpi is one of the Philippines' most picturesque cities. It's steeped in history and nature and full of things to do for any kind of traveler.
Here, you can find ruins, caves, zip lines, and views of one of the Philippines' most stunning and perfect volcanoes, Mayon. Spend a day exploring nature, hang around in the Cagsawa Ruins, or just lazily watch the day go by in the shadow of the mighty volcano.
Langun-Gobingob Caves
The largest cave system in the Philippines, Langun-Gobingob Caves, is located on the island of Samar. Inside this lesser-explored cave, there are thousands of stalagmites and stalactites that hang from the walls.
Getting here isn't easy, though. To explore these monstrous caves, visitors must embark on an 8-9 hour round trip guided trekking journey through trails outside and inside of the cave.
Palawan/Western Philippines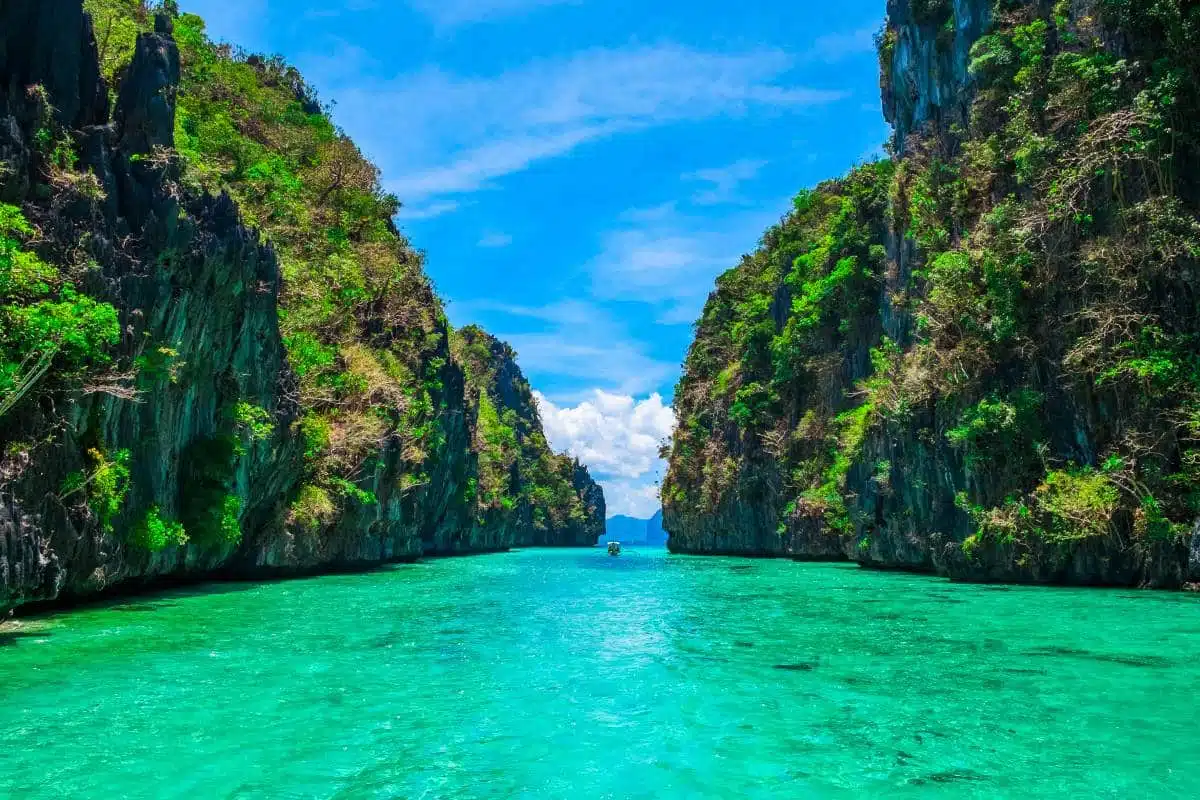 With islands largely consisting of jagged limestone, the Western part of the Philippines boasts beautiful white sand beaches, incredible hiking and climbing, unique scuba diving, and amazing island hopping to secret lagoons with the clearest blue water.
Coron
Coron is a remote island off the coast of El Nido that is practically a paradise. Luckily, you can get here a few different ways – by boat or by plane.
Visitors who make the trek out to Coron are greeted with incredible secret lagoons, relaxed beaches, stunning landscapes, and vibrant sunsets. You can also spend a day island hopping in Coron.
Not only is Coron remarkable above the surface, but it has many gems under the water as well. Here, divers can marvel at colorful, shallow reefs or dive through historic WWII Japanese battleships that were sunk during the war. It's a popular place for people to get dive certified as well.
El Nido
As much of a paradise as Coron is for divers, El Nido is a paradise for, well, everyone else. Situated on the northern coast of Palawan, El Nido is a haven for island hoppers, snorkelers, and swimmers.
Here, you can embark on one of several island hopping tours, which take you around to different uninhabited islands in the area to swim, sunbathe, and explore. These different tours are extremely affordable and offer visitors a chance to see hidden lagoons, majestic, fjord-like viewpoints, marine life, and clear water for miles.
One of the most important things to know before visiting El Nido is that it's fairly difficult to get to. To arrive here, you either need to fly to Puerto Princesa and take a 5-hour van, or fly into Coron and take a boat. Either way, it's a worthwhile trek to see some of the Philippines' most vibrant landscapes.
Puerto Princesa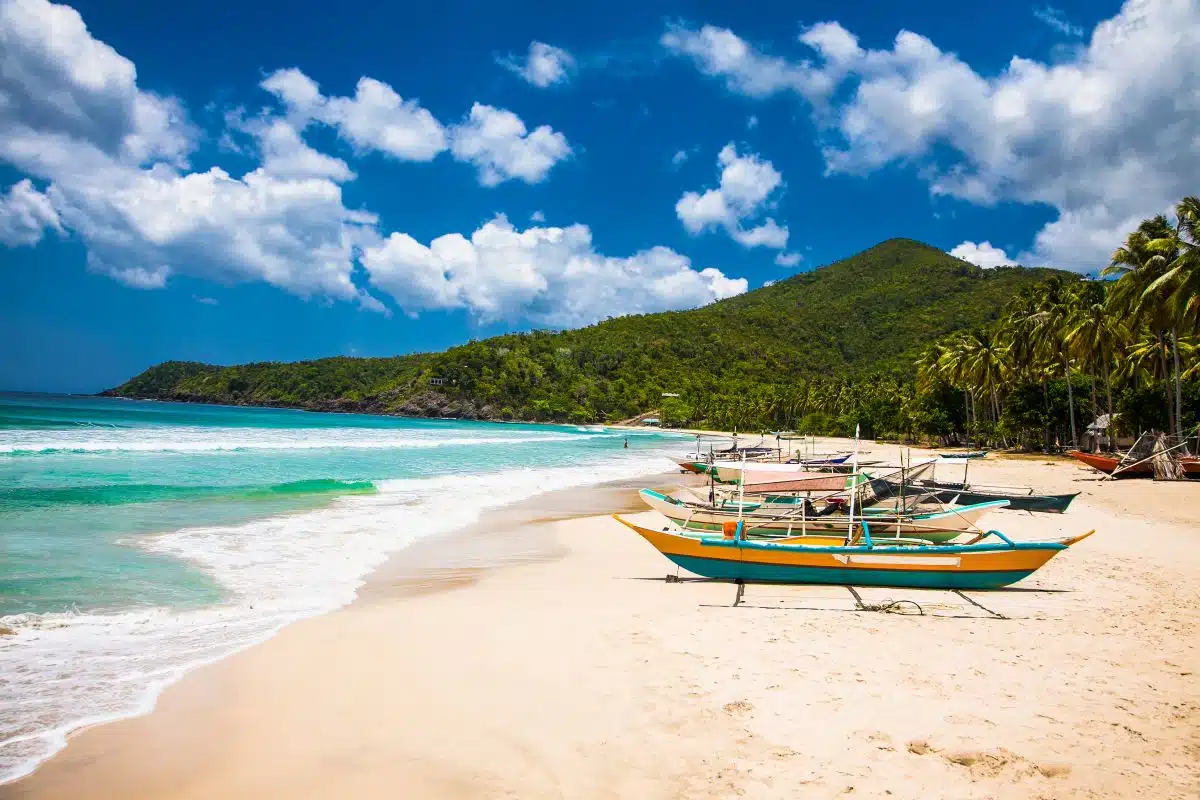 One of the easiest places to reach in Palawan, Puerto Princesa is full of famed landmarks and things to do.
The most notable of activities in the Puerto Princesa region is the Underground River, a river that runs through a large cave system. Visitors to the Underground River can take a boat through the caves to explore them with an experienced guide.
Note that this attraction gets extremely crowded, so it's worth going as early as you can.
Additionally, visitors to Puerto Princesa can hop on an island-hopping adventure around some of the white sand islands nearby, or take a night-time firefly boat tour through a bioluminescent river.
Of all of these activities, my favorite was definitely the night boat – I'd never seen so many fireflies in my life, and our boat and oars lit up brightly in the water with the bioluminescent plankton!
Boracay
Ah, the famed Boracay. For better or for worse, it definitely belongs on any "top things to do in the Philippines" post.
With its white sand, upscale resorts, and hordes of tourists, Boracay is the classic "lay on the beach and do nothing" destination of the Philippines. Think of it as a Cancun of sorts. If you're looking for an easy and relaxed all-inclusive resort, you can definitely find one here.
IloIlo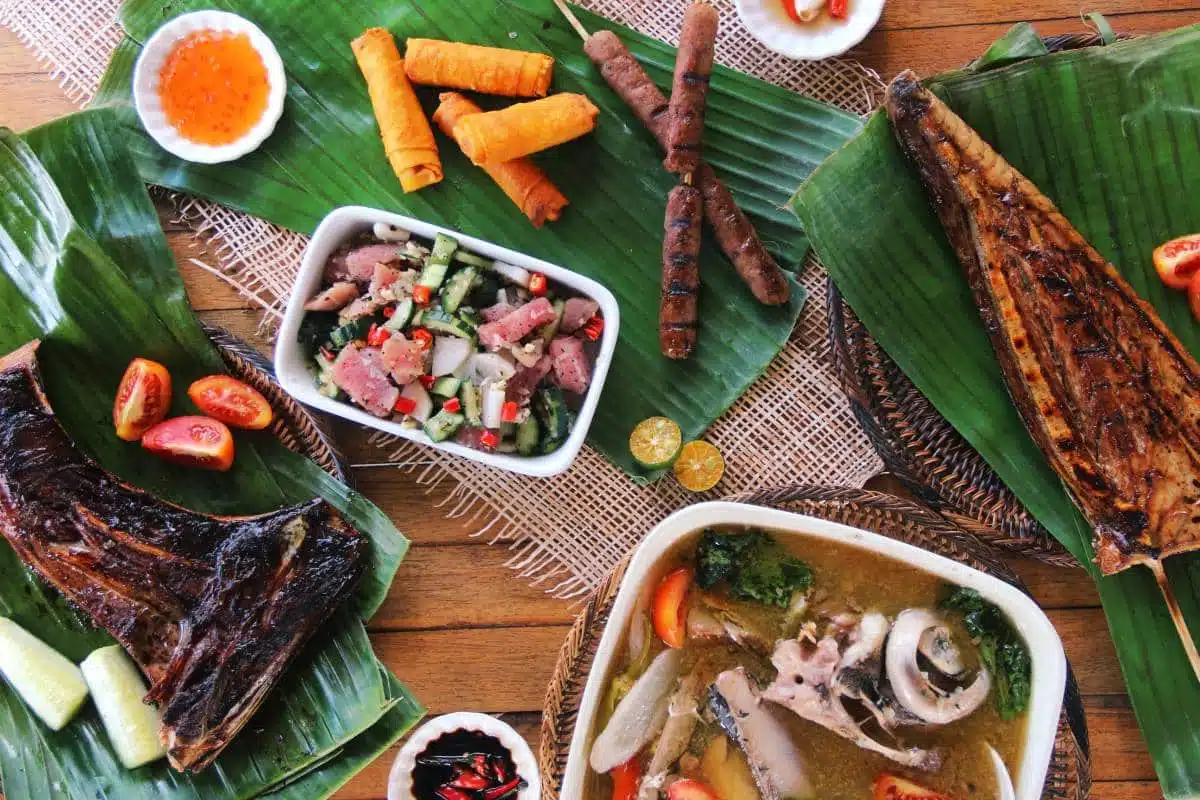 This one's for the foodies out there. Yes, the Philippines even has destinations for you! The cuisine in Iloilo and the surrounding areas is some of the finest and most unique in the country.
Head to the markets and local sit down restaurants to try dishes such as batchoy (a noodle and meat stew), pansit molo, chicken binakol, and seafood varieties, Iloilo is a city waiting to be explored by the hungriest of souls.
Apo Island
Apo Island is a tiny island near Negros Oriental. Another marine paradise on the list, Apo Island is home to some of the most colorful and diverse reefs in the Philippines.
Here, snorkelers and divers can see all kinds of fish, turtles, and corals. There's also a quaint village, a historic lighthouse, and some rocky beaches to explore nearby.
Antique
Antique is one of the most diverse provinces to visit in the Philippines.
Here, there's an abundance of outdoor activities, beaches and snorkeling, and historic landmarks to enjoy. The most notable natural areas to visit in this area are Malalison Island Sand Bar, Seco Island, and the Cold Spring.
Nearby, there are also gorgeous rice terraces to hike through and enjoy. For history lovers, the Patnongon ruins are a must. And for those interested in culture and artisan work, you can observe weavers creating bright fabrics in Bagtason (and maybe even learn yourself).
Looking for more things to do in Antique? This post is super helpful as a starting point!
Tubbataha Reef
One of the most pristine and well-preserved reefs in the world, Tubbataha is located far off the coast of the main archipelago.
The best way to access the reef is from a diving liveaboard, which usually take anywhere from a couple of days to over a week.
While many of the reef areas are fairly shallow, I'd recommend having plenty of diving experience before taking a liveaboard to Tubbataha. You can check Tubbataha reef and liveaboard reviews on TripAdvisor.
Southern Philippines/Mindanao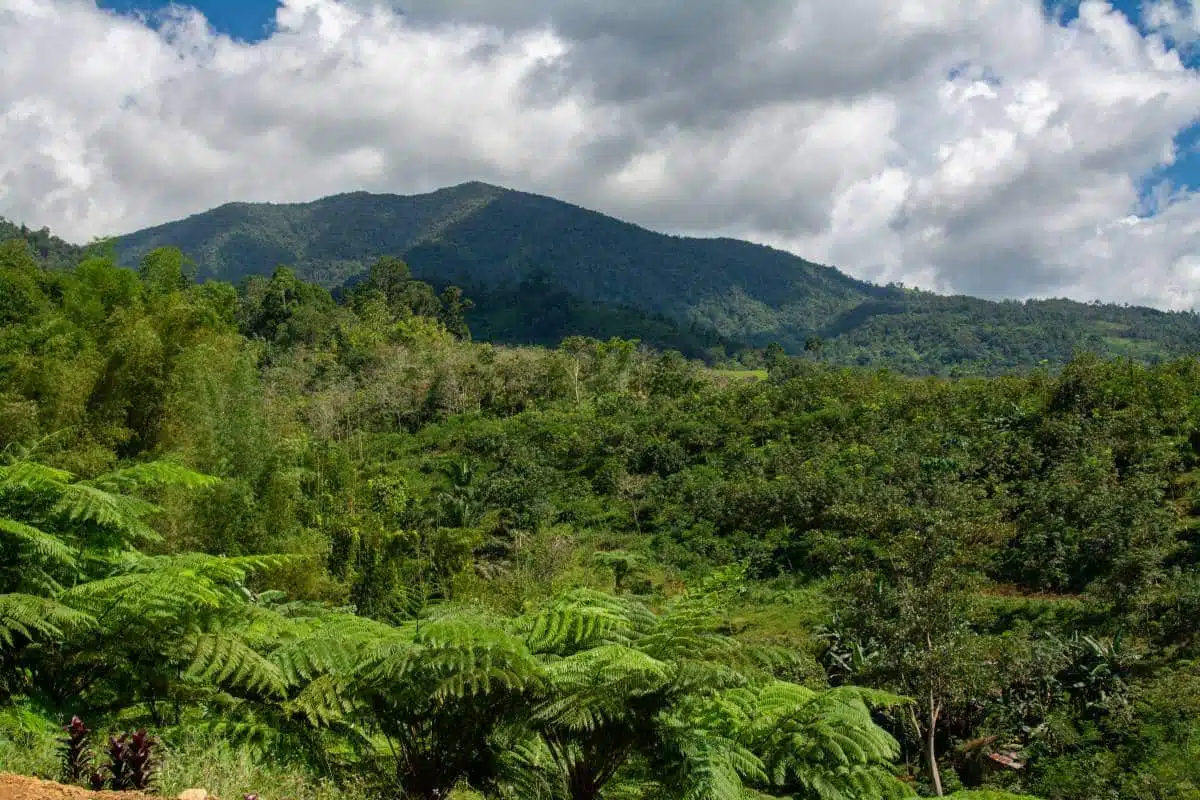 Mindanao Province and the southern part of the Philippines is one of the least explored regions of the country. This is partially due to warnings of terrorist activity in the area, and partly because many of the most famous tourist areas are elsewhere in the country.
However, the southern region does have some incredibly beautiful areas that are worth a visit if you're planning to head south.
Surigao
Surigao is one of my favorite places I've visited in the Philippines. It is FULL of unique outdoor activities.
In Surigao, you can visit the "Enchanted River," a magically blue spring located in the rainforest. From there, you can also take a boat to do some sandbar island hopping, with stops at various caves and craggy uninhabited islands all along the way.
Lastly, Surigao is also home to some stunning waterfalls, like Tinuy-An Falls, where you can swim and hike around. Needless to say, I loved it there and if you get the chance to visit, you will too.
Zamboanga City
For what a lot of large cities in the Philippines lack in character, Zamboanga makes up for. This city has lots of beautiful historic walking areas, ruins, plazas, and promenades to meander through.
It almost feels like a Central or South American city in a lot of ways. Because it's located in an area of the country with many Muslims, Zamboanga is one of the rare places in the Philippines where you can visit a mosque. The iconic Taluksangay Mosque is known for its bright red dome amidst the otherwise whitewashed walls.
Bukidnon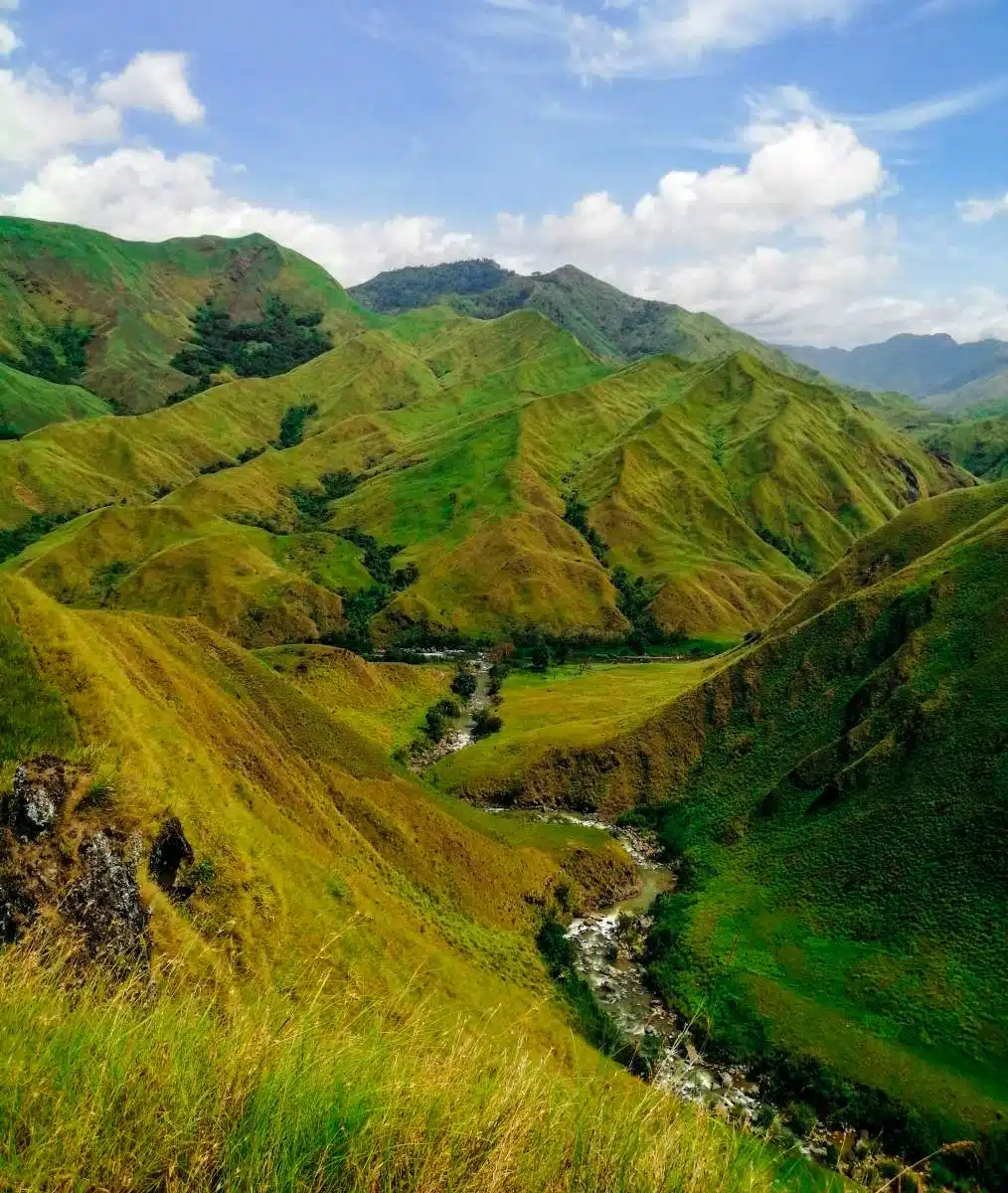 Bukidnon, located in the center of Mindanao, is one of the most underrated and spectacular areas of the Philippines.
Full of tall trees, rolling hills, and small villages, it's a lovely place to sit back and enjoy nature to the fullest. The views of the surrounding farmlands and colorful sunsets in Bukidnon are absolutely to die for.
Siargao
Siargao is a popular surfing destination in the Philippines, and the kind of island where you'll plan to stay for a few days and get stuck for a few weeks. Yeah, it's that relaxed and alluring.
As a backpacker and surfer haven, it's easy to surf your heart away and lose track of the time and day here. Luckily, it's an easygoing and welcoming place that might just steal your heart.
Additional Philippines Travel Tips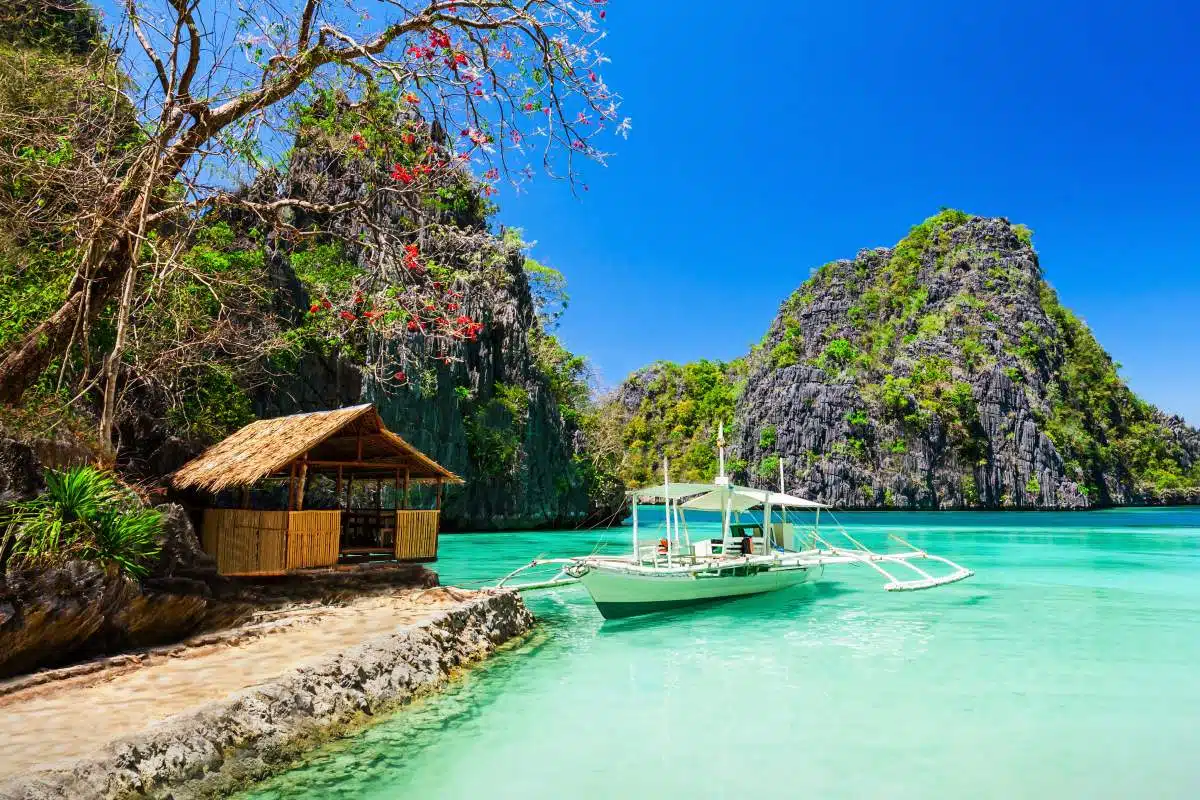 Best Time to Visit the Philippines
The Philippines is a wonderful year-round destination. However, the best weather occurs during the dry season, which is approximately November to March.
Additionally, there are commonly typoons in the late summer to early fall, so I strongly recommend planning your trip outside of August-October.
What to Pack for the Philippines
The Philippines is a tropical destination, so pack your bags like you would for any warm, humid place. Here are some essentials I'd recommend bringing with you:
Clothes for warm weather
A light jacket
Swimwear
Reef-safe sunscreen
Bug spray
A sarong or quick-dry towel
A good headlamp
Sunglasses and a brimmed hat
Travel insurance (you KNOW you should always have it!)
Getting Around the Philippines
Flight: The easiest and fastest way to get from island to island in the Philippines is to fly. Most of the major islands have at least a small runway where planes can come and go a few times a week. The cheapest flights and airlines in the Philippines area Cebu Pacific and Philippine Airlines.
Boat: It's possible to take a boat between islands, and especially common for going from one (larger) island to the next (smaller) island. Note that unless you're taking a high-speed bangka between nearby islands, large boats tend to be really slow and may take several hours or even require an overnight stay.
Bus or Van: While traveling around within an island, there are typically two kinds of public transport: public buses and shared vans. Public buses are the cheaper option, are very large and crowded, and usually don't have air conditioning. Vans/shuttles are smaller, sometimes have air conditioning, and usually run slightly more expensive.
Private Car: If you've got the funds, you can hire a private car and a driver to take you around from place to place within an island. Note that this is the most expensive option and usually requires advanced arrangement.
Best Places to Travel in the Philippines: Read Next