Discover the island of Camiguin with this handy travel guide, jam-packed with tips from a local.
For the first 24 years of my life, I thought I had Camiguin all to myself.
Known as the "island born of fire," Camiguin is where my grandmother lives and is a place I've visited several times over the course of my life. The island is full of some of the most beautiful spots in the Philippines – towering waterfalls, crystal-clear water, historic ruins, you name it.
But I never thought the day would come when tourists – INTERNATIONAL TOURISTS!!! – would be making their way to its shores.
It wasn't until some friends asked me about my local suggestions for things to do in Camiguin that I realized this little beauty is finally starting to gain some traction in the Filipino international tourism scene.
So, who better to write a guide about Camiguin than someone whose blood and heritage runs deep there? [Insert raising hand emoji here…]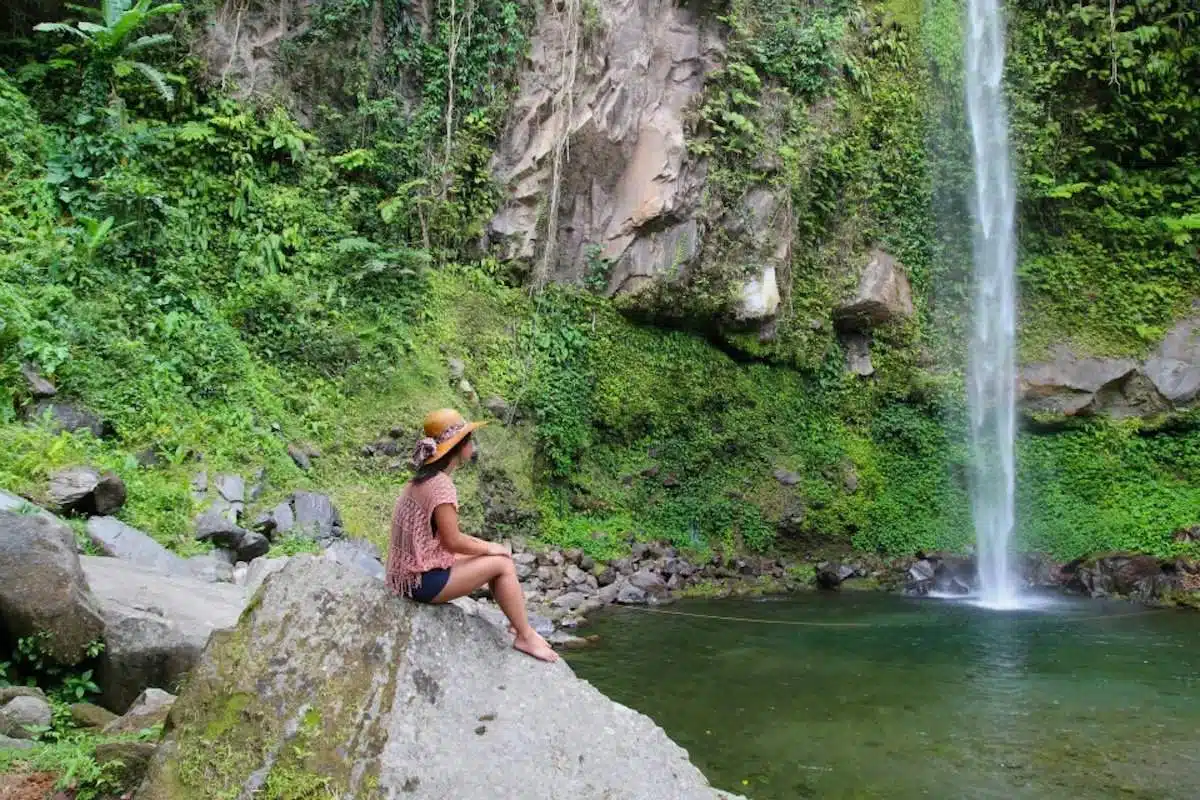 You see, my family has been living on Camiguin island for generations. When my grandparents retired, they moved back to a house in Mambajao, the main village on the island.
Between 6 trips to the Philippines, I've been lucky enough to spend several months of my life in Camiguin, visiting its beautiful landmarks and secret local gems several times.
Now, it feels like a second home. I have friends there. It's always my hideaway when I get the chance to go to the Philippines, and I've always felt a little reluctant to share my secret garden with the world.
But, as they say, secrets, secrets are no fun unless you tell another one, so I've decided to share my insider knowledge with you about Camiguin, the most gorgeous little gem of an island in the Northern Mindanao region of the Philippines.
The Ultimate Guide to Traveling in Camiguin Island, Philippines
Why Visit Camiguin Island?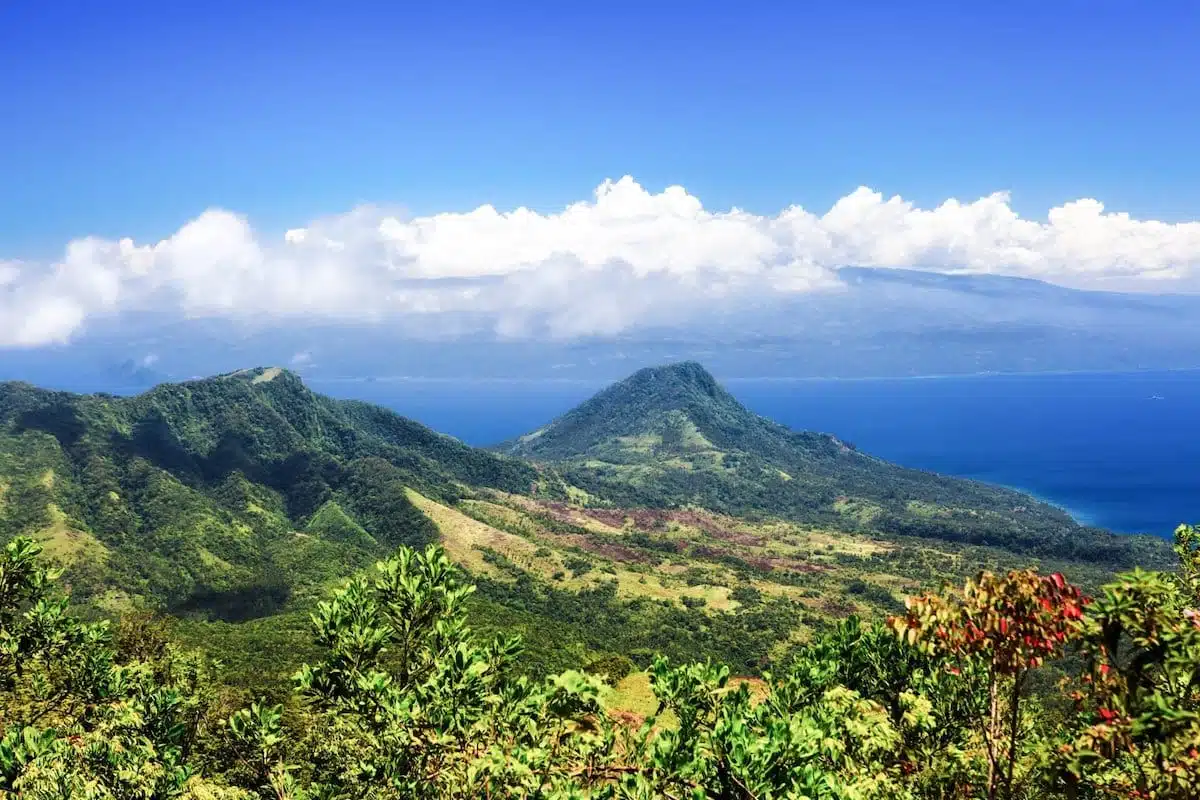 There are over 7,000 islands in the Philippines, many of which have their own beautiful attractions and unique stories to tell. Camiguin is but one of them.
However, some of the islands in the Philippines, like Boracay, have experienced serious overtourism problems that have had terrible implications for the environment. Since Camiguin has flown relatively under the radar for decades, it has been somewhat protected from the harrowing effects of mass tourism.
That's a good thing.
Local (Filipino) tourists have flocked here for years, to celebrate the annual Lanzones Festival or to lay out on the beach at White Island. Because of this, you can find good tourism infrastructure at a fraction of the price of more well-known destinations in the Philippines.
I could go on all day about the things I love about Camiguin, but, in the words of my grandmother, "Camiguin is like a giant playground."
We've got waterfalls. Volcanoes. Historic sites and ruins. Amazing fresh fruits and seafood. Hiking, snorkeling, scuba diving. Black sand beaches and white sand beaches, and the friendliest locals in the world.
If you think that sounds too good to be true, it probably is and you can go hang out in El Nido instead…
(Just kidding! I truly do want you and yours to come hang out on my family's beautiful island home!)
Highlights & Hidden Gems: Top Things to Do in Camiguin
So what exactly is there to do here, then? Umm, well the short answer is A LOT.
Again, I could probably go on forever telling you about my favorite things, but I've managed to wrangle it down to a short list of 15 amazing things to do in Camiguin. Take a look!
Visit Katibawasan Falls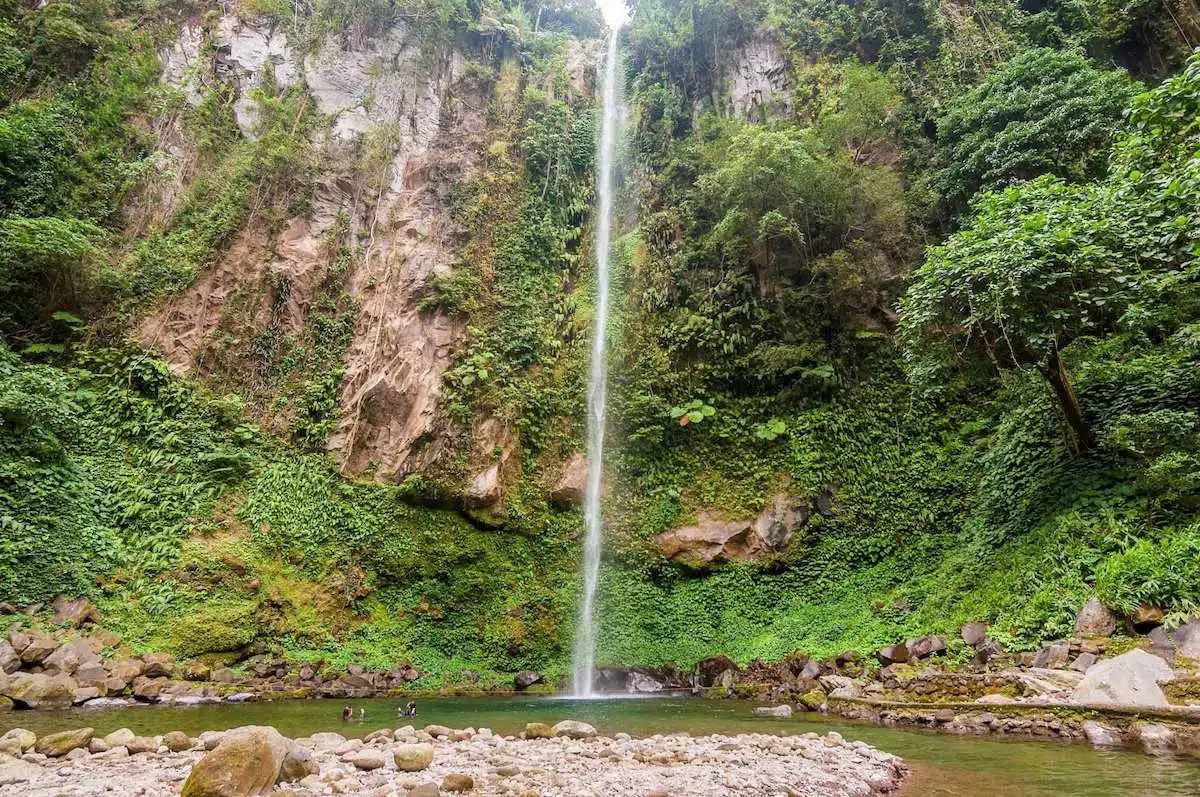 Towering 70 meters above a crystal clear spring in the middle of the rainforest, I have memories of the picturesque Katibawasan Falls from when I was very young.
Fast forward to my last trip to the Philippines, and I STILL went back there to enjoy the cool water and marvel at the magnificence of this waterfall. Katibawasan Falls is pure magic and it's a place I'll always hold close to my heart.
Because it's in the middle of the woods, don't expect any amenities there. There's a bare bones changing room and that's about it. While there, you can rent a salvavida, or inflatable inner tube, to lounge around in the cold water.
There are also several boulders around where you can enjoy a picnic or watch the water as it plummets into the spring below.
Chill Out at Ardent Hot Springs
If you're tired from hiking and swimming and traveling, you might want to take some time to decompress.
Located at the foot of Mount Hibok-Hibok (yeah, that volcano you'll climb below) is a large set of geothermal swimming pools called Ardent Hot Springs. Here, not only can you swim around in the warm water pools, but there are also massages available at a good price and picnic tables you can rent for a small charge.
Because the volcanic activity has shifted substantially and continues to change every day, the springs are slightly cooler than they used to be, so don't expect a scorching hot sauna environment.
However, it is a beautiful little oasis in the rainforest that is a great place to relax in the evenings.
Cost: 20 PHP per person + any additional purchases (massages, table rental, etc.)
Address: Esperanza, Tagdo, Bayan ng Mambajao, Camiguin, Philippines
Contact: By phone at +63 88 387 0948
Take a Refreshing Dip in the Santo Niño Cold Spring
Just when you thought that Camiguin had exhausted the number of swimming holes you can visit, Santo Niño surprises you. As the name suggests, it's a spring with deliciously cold water, which might sound a bit painful but it's actually really nice, given that Camiguin and the Philippines in general are located in a tropical environment. Locals like my grandmother believe that the cold water is good for the skin as well.
The cold spring is a sizable swimming pool with depths from 4 to 8 feet. Here, you can rent a salvavida and float around in the pools. Or, alternatively, you can just rent a tent and hang out under the shade with snacks. Either way, it's a fun way to spend a "day at the pool" and enjoy a refreshing dip in some of the island's coldest fresh spring water.
Cost: 30 PHP
Location: GPS Coordinates – (9.150103, 124.673706)
Swim and Sunbathe on White Island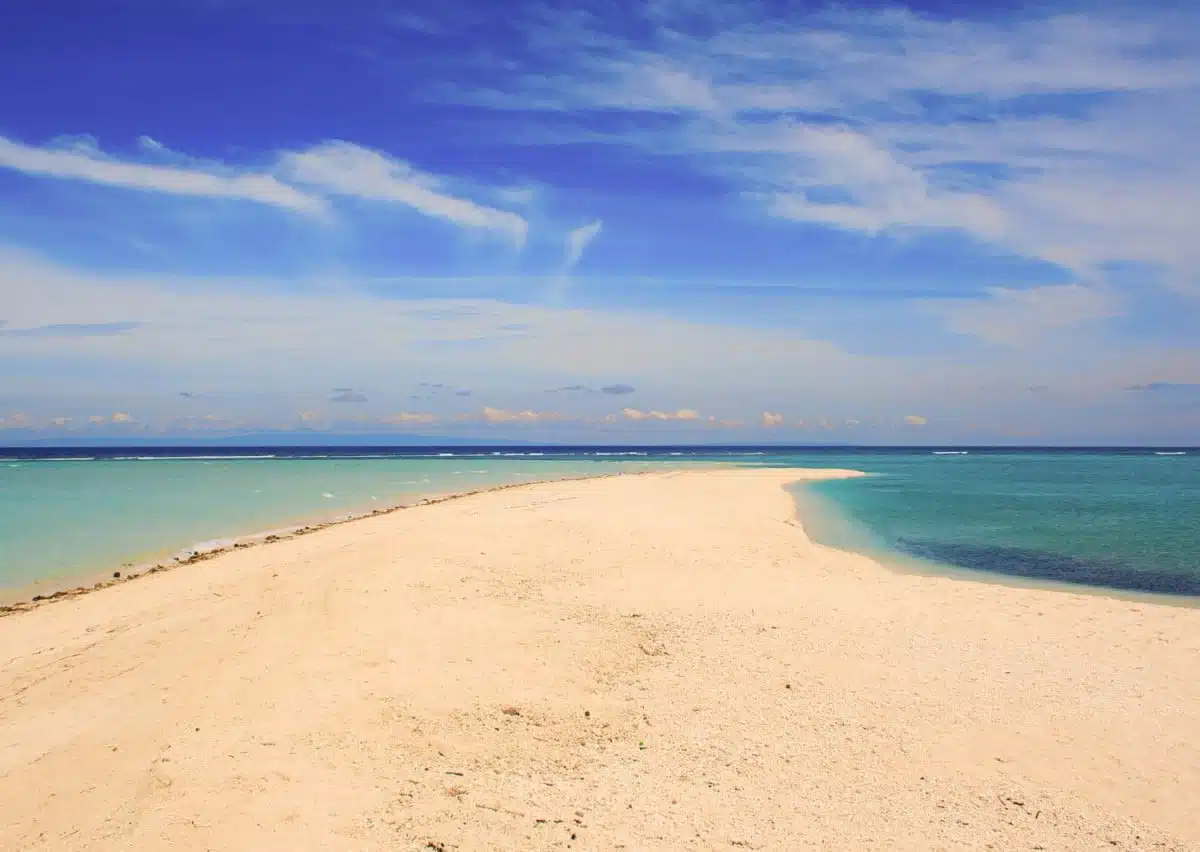 If there was anything truly "touristy" to do in Camiguin, this would be it. White Island isn't in fact an island at all – it's a sandbar located somewhat far from shore.
This little sandbar boasts incredible views of Camiguin's volcanoes, including Mount Hibok-Hibok, and treats its guests to the sparkling blue, warm waters of the Southern Philippines.
Perhaps the most wonderful thing about White Island is it's elusive: you can only go there when the tide is low. During high tide, this beautiful little paradise disappears into the water, as if it never existed in the first place.
You need to hire a boat and a driver in order to get to White Island. Boats (with a driver) run from 150 PHP upwards, depending on the number of people onboard. There's no shade on the Island, so it's best to hire a boat with a cover, especially if you're prone to sunburn.
As one of the only places in Camiguin where you can experience white sand beaches, White Island often gets very crowded during the day. If you want to avoid the crowds, arrange your boat the night before so you can leave early and get there (hopefully) first.
Cost: 150-500+ PHP per person for a boat ride
Location: GPS coordinates – (9.259482, 124.654891)
How to get there: Take a motorela or walk to Barangay Yumbing, where you can hire a boat to White Island
Hike Up a Volcano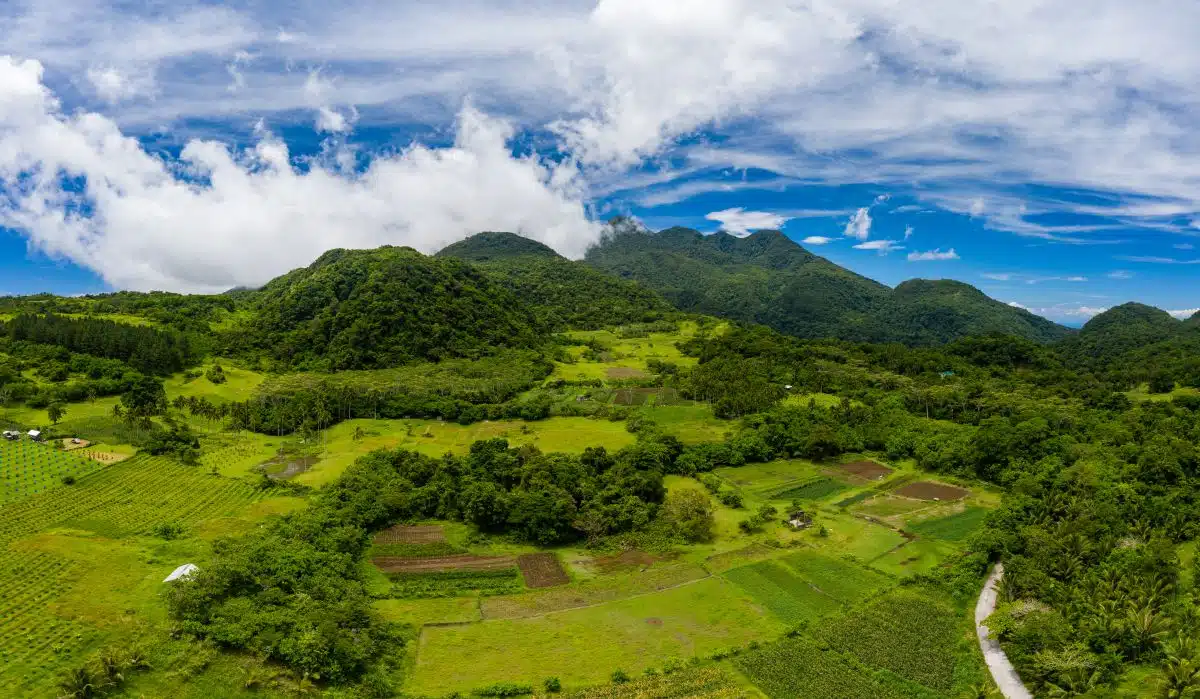 While the Philippines has several volcanoes dotting its thousands of islands, Camiguin is one of the few places where you can hike up (more than) one of them. Here are a few of the ones I'd recommend:
Mount Hibok-Hibok: My personal favorite volcano hike, but it's not for the faint of heart. Mount Hibok-Hibok is the largest volcano on the island. Summiting it requires a long hike that will take you the better part of a day, and it's best to go with an experienced guide as the paths are full of fallen leaves and can be difficult to navigate. However, this hike leads to beautiful views of the ocean and White Island, through a verdant rainforest, and up to a gorgeous and peaceful crater and overlook. IMO, it's worth it simply for the bragging rights.
The Stations of the Cross: This hike is more of a Catholic pilgrimage than it is a classic hike, but it's a very critical cultural landmark for the island. Filipino pilgrims come to Camiguin each year to climb up the volcano staircase through all of the different stations of the story of Jesus' death. It's okay if you're not religious – all are welcome to climb through the paths and appreciate the serene environment.
Find the Camiguin Hanging Parrot at Tuasan Falls
Another popular waterfall in Camiguin is called Tuasan Falls. They've recently built a dirt road to the falls, making it much easier for visitors to access the beautiful swimming holes below.
At the falls, you can swim in the cool water or hang out at the picnic tables nearby and listen to the beautiful sound of the water falling from the rainforest above.
One of the most unique things you can see at Tuasan Falls, in my opinion, is the rare Camiguin hanging parrot. Bright green and beautiful, the Camiguin hanging parrot is an extremely rare sight despite getting its name from the island. My grandmother has lived here for decades and never saw one, until the last time we went to Tuasan Falls.
Here, we were sitting at a picnic table when we saw a flick of bright green swoop in the trees in front of us. Amazing! My grandmother was so happy that she finally got to see the Camiguin hanging parrot.
And you can too, if you just keep your eyes open!
Cost: 50 PHP
Location: GPS Coordinates – (9.1768, 124.6812)
View a Real-Life Underwater Graveyard at the Sunken Cemetery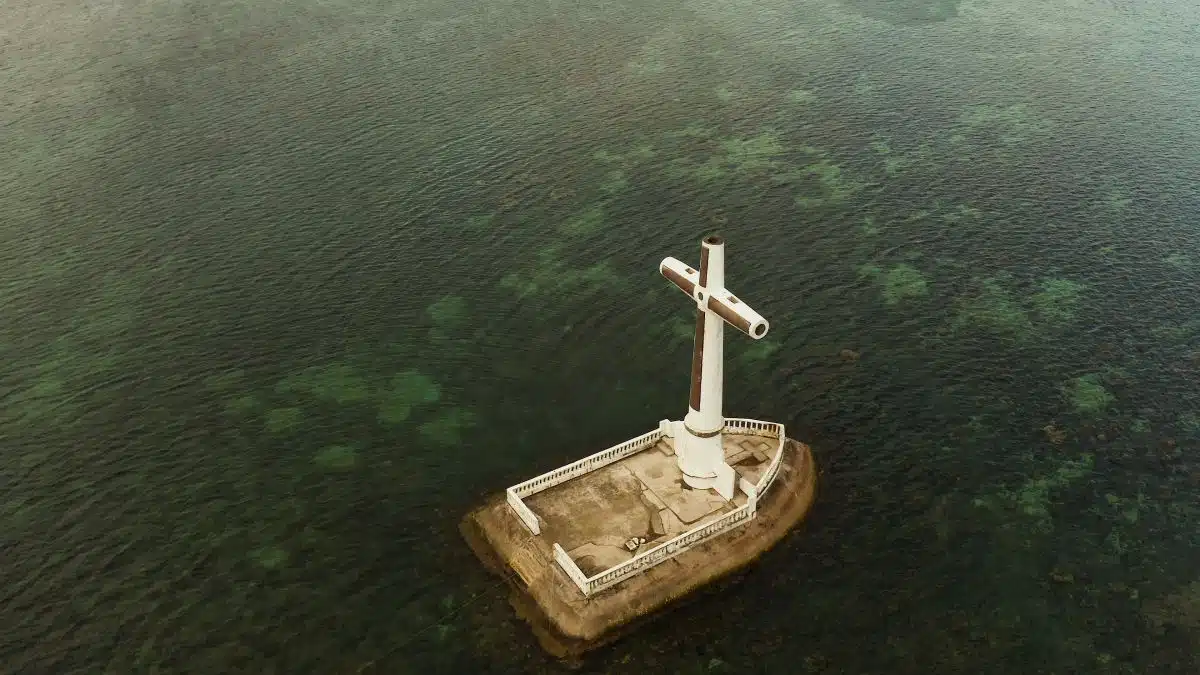 In 1871, a huge volcanic eruption rocked Camiguin Island and sent much of the land area tumbling into the sea. One of these things was a large cemetery, which now lies deep under the water.
The only icon that marks the presence of the Sunken Cemetery is a floating cross, which has been there for several years and is now one of the most well-known symbols of the entire island.
While swimming at the Sunken Cemetery is forbidden now, I've been there in a boat before and the currents are SUPER strong. It's as if the spirits there are infusing the water with their energy.
Even just admiring the Sunken Cemetery from the shore, it definitely has a certain feeling of solitude and a certain energy about it that I can't really explain here. You'll just have to visit and see for yourself.
Location: GPS Coordinates – (9.2066, 124.6326)
Wander Through the Old Spanish Church Ruins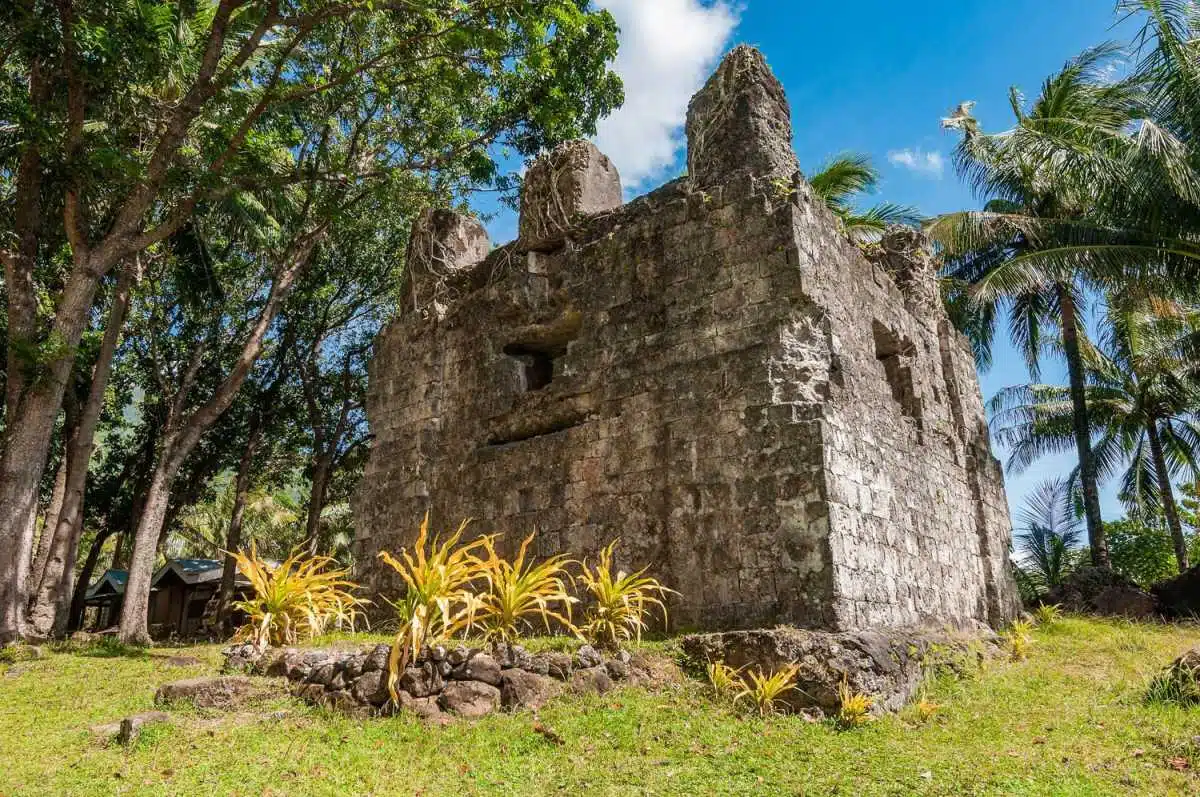 That same 1871 volcanic eruption that sent the Sunken Cemetery underwater also destroyed a Spanish church, located right on the coast.
However, parts of the structure survived the eruption and are free for visitors to explore today. History buffs will especially enjoy this symbol of both natural disaster and Spanish colonization on the west side of Camiguin.
Upon visiting this sacred site, you can still see the brick foundations of the church, which are now surrounded by towering trees. There's also a small chapel there on the inside of the grounds to honor the victims of this terrible natural disaster.
Cost: Free to enter, donations encouraged
Address: National Highway, Catarman, Camiguin, Philippines
Bask In the Bubbly at the Soda Springs
As you'll see, one of the big draws of Camiguin is its swimming holes, and some of them offer quite a surprising and unique variety. The Bura Water Swimming Pool is one of them.
Located in an area that has naturally carbonated spring water, you can literally go for a (non-soap) bubble bath at this large swimming pool area.
Here, you can enjoy a day at the pool, renting out a picnic table or simply going for a fizzy swim in the pool itself. Either way, you can now say you've gone swimming in soda – something not a lot of other travelers get to do!
Cost: 50 PHP
Address: Compol-NIA-Mainit Road, Catarman, Camiguin, Philippines
Lay Out on a Black Sand Beach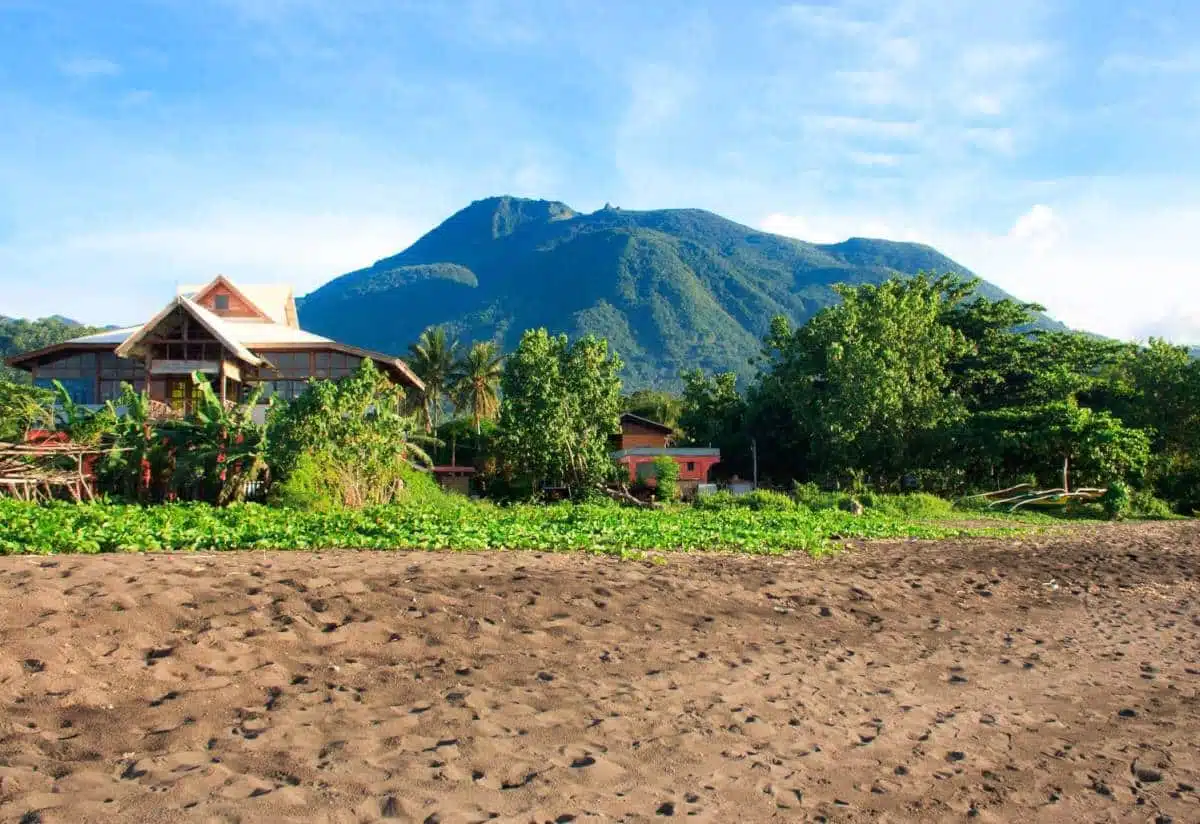 For all the white sand beaches in the Philippines, there are also a surprising number of black sand ones. Camiguin, being a volcanic landmass, has plenty of these unique black beaches on its mainland where you can go for a swim or lay back in the sand.
There are a bunch of resorts that are located on the shores of the island where you can rent a villa and enjoy the unique look of the black, volcanic sand, knowing that you are frolicking in an important part of Camiguin's history.
Go Scuba Diving
Camiguin offers divers some spectacular opportunities to see very unique underwater ecospheres. From rocky areas formed by volcanic eruptions to amazing marine reefs and wildlife, you can see tons in the underwater world on the island.
Because diving is great here, there are a handful of dive schools and resorts where you can go for one dive or many. I've been diving with Camiguin Action Gecko before, and it was a wonderful experience to see a place I'd visited so many times before from a completely different point of view – underwater!
While I didn't get dive certified on Camiguin island, there are many resorts that offer open water certifications as well. Camiguin Soul Divers comes highly recommended for dive courses, if you're interested in staying on the island to learn for a few extra days.
Cost: 1,100 to 1,500 PHP, depending on the dive resort
See Giant Clams at the Clam Sanctuary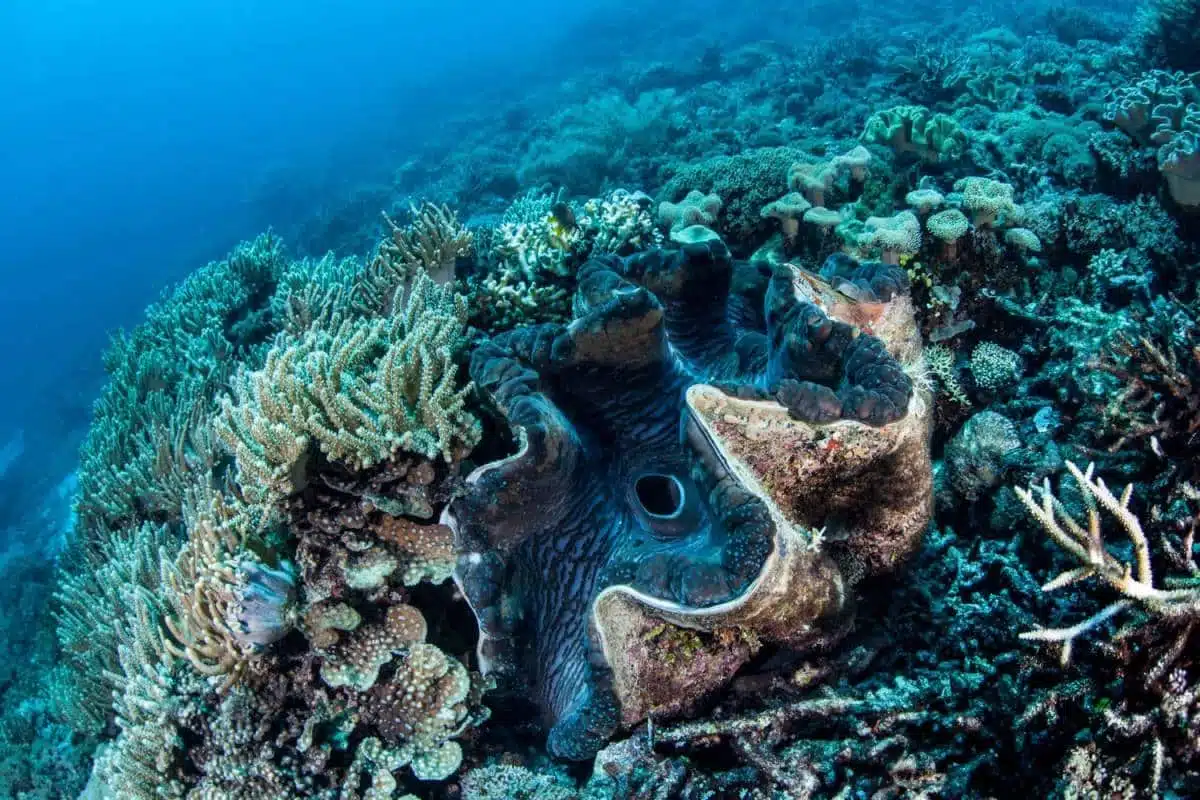 Unless you're some kind of biologist, you probably don't know much about giant clams. I didn't either, until I was old enough to realize that the one white sand beach in Camiguin my parents were always fascinated about is actually a Clam Sanctuary, devoted to helping regenerate compromised giant clam populations in the area.
At the sanctuary, you can see several large tanks with baby clams and ask really smart teenagers (and other workers) questions about the species. It's important to learn about these overlooked beings because their species is actually experiencing a drastic decrease in numbers due to a variety of external factors.
Arguably the best part of a trip to the clam sanctuary is getting to snorkel with the biggest of the bunch: the giant, giant clams. These things live in the shallow areas of the beach, so they're easy to spot.
The clams are massive and come in all kinds of bright colors. If you're looking for a really unique and eye-opening experience about some gentle and surprisingly beautiful animals, a trip to the Clam Sanctuary won't leave you disappointed.
If you're curious to hear more, my friend Richard from Travel Tramp wrote a wonderful post about his eye-opening experience at the Camiguin Clam Sanctuary. Check it out!
Sample Treats From the Sea (& Other Local Foods)
One of the best things about Camiguin (OK, let's be real, all of these are the best things) is the food.
Of course, there are typical Filipino fares available, like pancit and adobo. There's also the freshest seafood ever, available every single day from the determined fishermen on the island.
This means you can sample local fish varieties, shrimp, shellfish, and – for real – sea urchin. Yes, I've tried it and it tastes weirdly floral (but try it at your own risk.)
There are also some dishes that are unique to Camiguin. My favorite is a fern salad. Yep, you heard that right, during certain seasons you can sample a salad made of ferns! They also have a marinated fish dish similar to ceviche called kilawin, but it's made with a local plant called tabon tabon. Cool, huh?
For dessert, you can try the locally made ice creams (in flavors like coconut, avocado, and ube) or the famous peanut turones sold by local vendors.
If you're not as lucky as I am and don't have an amazing grandmother who can cook (and teach you to cook) the best Camiguin dishes, it's totally fine. Restaurants on the island are abundant and you can often find these local dishes and more there. Some of the best restaurants on Camiguin Island include:
J&A Fishpen – Sample some of the freshest fish and shellfish dishes in all of Camiguin at this fish farm-turned-restaurant located on the southeast side of the island.
Guerrera Restaurant – Offers amazing traditional Filipino food with ingredients from their own garden. I actually haven't been here yet but I've heard it is amazing.
Viola's Snack Bar – Hands down, the best halo-halo on the island. If you don't know what halo-halo is…you HAVE to find out. It's the best Filipino dessert ever.
Visit the Camiguin BeeHive
One of the most charming spots on the island to grab a bite to eat is the Camiguin Bee Farm, endearingly known as the BeeHive. It's a living, working bee farm on the shores that opened its doors to serve customers fresh, honey-infused foods and goods.
Upon arrival, you'll be welcomed to the farm by a cute driftwood facade and bright displays. You can explore the grounds, order their specialty foods and desserts, buy some honey items to take home with you, and sit by the shore enjoying your sweets.
Take a Boat to Mantigue Island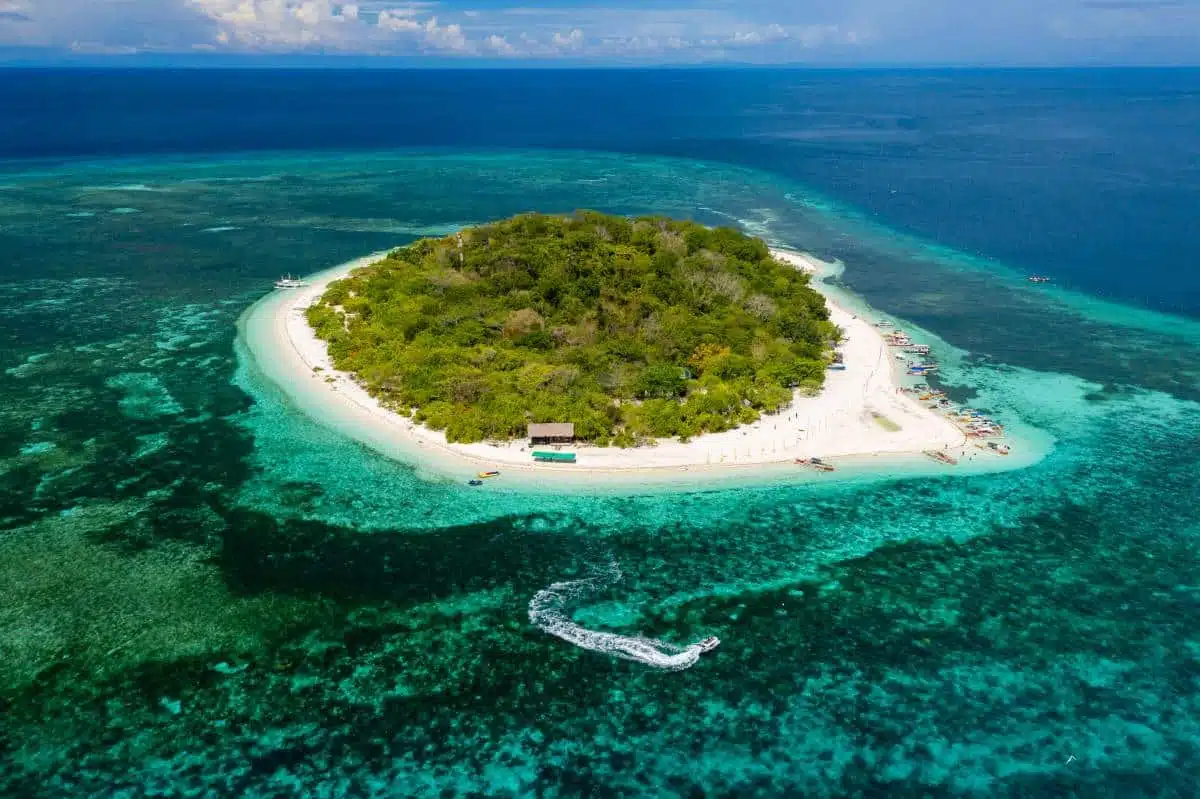 Mantigue is a very pristine small island off the coast of Camiguin. It's a paradise for divers and snorkelers because of its beautiful marine life and coral reefs.
In contrast with the black sand volcanic beaches that dot most of the island, Mantigue has beautiful, sparkling white sands with the iconic turquoise clear waters that the Philippines is famed for. The island is only accessible by boat from the larger shoes of Camiguin.
Here, you can take a walk around the island and explore the tiny fishing village, or you can rent snorkeling or diving equipment to admire the beautiful underwater world.
Cost: 550+ PHP for shared boat ride (4 hours) + 20 PHP per person for environmental fee
Location: Boats depart from the port in Barangay San Roque, Mahinog for Mantigue during daylight hours
Go Zip Lining
Camiguin is home to a superhero-style zip line that takes you over the green, rainforest treetops and lands right near the island's fish pen. It's a short but incredibly fun experience, and it's unique because you're lying flat instead of sitting up straight.
It's a bit intimidating at first, but it really feels like flying. And, of course, you can attach a Go Pro to your helmet to capture it all.
Cost: 250 PHP per person
Location: Registration at Tanguines Lagoon, where they will drive you to the top of the zip line.
Watch the Sunrise or the Sunset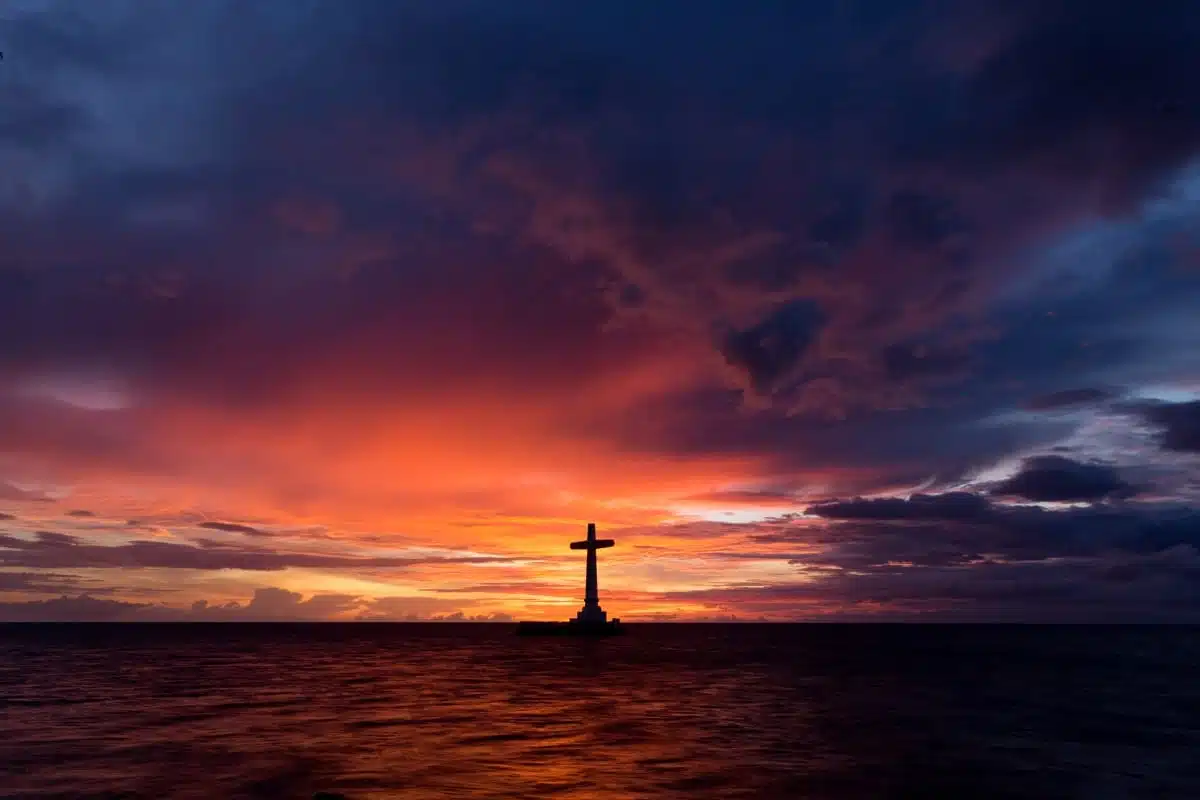 If you love beautiful, colorful views over the ocean during sunrise and sunset, this is the best place to be. Camiguin is small enough that you can see BOTH the sunrise and the sunset just by driving a short while to different sides of the island (about 30-45 minutes end to end or an hour and a half all the way around).
Some of the most spectacular sunrises I've ever seen have been from my grandmother's beach house on the east side of the island. While there's so much to do in Camiguin, watching a quiet sunrise or sunset is a great way to reflect on your travel experiences here.
Camiguin Travel Tips
When to Visit Camiguin
Like most of the Philippines, Camiguin is a year-round destination, but it's best to avoid the late summer when typhoons are more common.
The best time to visit Camiguin, in my opinion, is from October to March, when the weather is more stable.
Also, the annual Lanzones Festival usually takes place towards the end of October, and it's a BIG DEAL (full of sweet treats), which gives you all the more reason to come towards the end of the year.
How to Get to Camiguin
By Plane
The easiest way to get to Camiguin is to fly from Cebu airport. There are a handful of flights that arrive at Camiguin's tiny local landing strip each day, serviced by three airlines: Cebu Pacific, Philippine Airlines, and CebGo.
Typically, if you book in advance, flights can cost as low as $30 USD one way, depending on the time of year and how far in advance you book.
By Ferry
There are also ferries that stop in Camiguin from Cebu, Cagayan de Oro, and Bohol.
The Cebu ferries only leave once a week, are usually VERY slow (departing 8 PM and arriving in the early morning), so I don't recommend doing this unless you absolutely have to.
The ferries from Cagayan de Oro are fairly easy to use. They only take ~2 hours from Opol port to Camiguin (Balbagon port). Often you can find cheap flights into the regional airport there and then travel to Camiguin by boat. Fares range from 630-730+ PHP per person depending on the class.
Ferries from Bohol are also fairly straightforward to use. They take 2 hours and 45 minutes to arrive in Camiguin (Balbagon port) and leave from the Jagna port in Bohol. Fares range from 630-730+ PHP per person depending on the class.
What to Pack for Camiguin
Packing for Camiguin is much like packing for any tropical beach location: you'll want warm weather clothes and swimming gear for sure. However, there are a couple things you should be sure to bring for your trip to Camiguin specifically:
Travel insurance – As Camiguin (and the Philippines in general) is a hotspot for adventure tourism, travel insurance is a must. I always use and recommend World Nomads for travel insurance around the world.
Reef safe sunscreen – Sunscreen often has harmful chemicals that can kill marine species and coral reefs. If you're going to the Philippines, be sure to only bring and wear reef safe sunscreen to protect the pristine underwater environment.
Bug spray – With all the water bodies in the island, there are always bound to be mosquitos hanging around. Bring your own travel sized bug spray as it can be challenging to find it on the island.
A good pair of water shoes – You'll likely be swimming in waterfalls and rocky beaches during your time in Camiguin, so be sure to protect your feet. I recommend these.
Quick dry towel – Camiguin is humid and it can leave your wet towels a little damp. For beach and swimming activities, I'd recommend bringing a large stink-resistant quick dry towel.
Water bottle and filter – To help reduce the plastic waste on this biologically rich island, be sure to bring a reusable water bottle for your trip there.
Personally? I'd also bring a GoPro, hiking shoes/equipment, and my own snorkeling set.
Where to Stay in Camiguin
Every time I go back to Camiguin, it feels like there are more and more hotels, hostels, and guest houses popping up everywhere. While I usually (always) stay at my grandmother's house in Camiguin, I did some research on places that many other travelers to the island recommend. Here are a few suggestions:
Budget: While there aren't many traditional hostel-style accommodations in Camiguin, the low-budget options are very cheap, so it's worth simply getting a private room. You can get a budget double room at Pabua's Cottages for just a few dollars per night.
Mid-Range: For travelers who want comfort and a central location, the Camiguin Volcan Beach Eco Retreat offers beautiful, comfortable accommodations at a very reasonable price. The resort features its own private beach and dive resort.
Luxury: For the most luxurious option on the island, head to Balai sa Babai for gorgeous wooden beachside cabanas, private pools, and a sparkling private beach all to yourself. It looks really amazing and the cabanas are super spacious. Again, because it's Camiguin, it's high-end luxury for a very affordable price.
Camiguin Travel Guide: The Bottom Line
Despite growing tourism numbers, Camiguin is still one of the best-kept secrets in the Philippines. Considerably far off the tourist trail, it has become more and more popular with domestic and international tourists over the last few years.
If you love adventure travel, nature, or simply being in a pristine and tranquil environment, Camiguin's incredible beauty will fill your heart with joy and leave you feeling refreshed and rejuvenated.