You need to visit these impressive South America landmarks – here's why.
South America is a colourful continent with a treasure trove of beautiful landmarks. Some are a result of Mother Nature, while others are a product of the creative minds of artists and architects.
These famous landmarks of South America will take you on a tour of the continent. They're found scattered in many different areas: nestled in the mountains, overlooking the ocean, and in the hustle and bustle of the big cities.
They'll teach you about ancient civilizations, the power of nature, and the innovative achievements of humankind.
Alright, I'll stop the preamble. I know you're dying to read on.
Are you ready for an adventure? These are the landmarks to add to your South American bucket list.
Famous Landmarks of South America
Angel Falls, Venezuela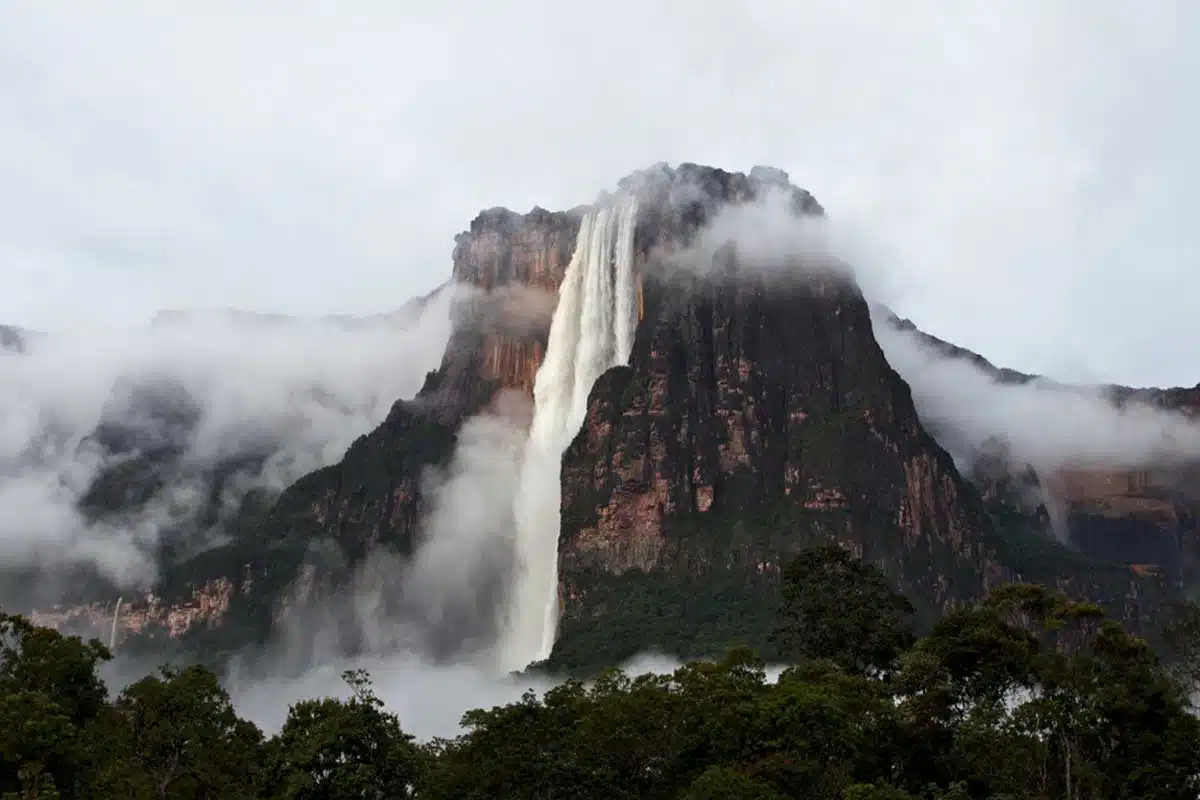 I'll make a bold statement: Angel Falls is one of the most impressive natural landmarks in South America.
Don't believe me? It's the tallest uninterrupted waterfall in the world, at a staggering 979 metres. The water thunders down from the summit of Auyán-tepui mountain in Venezuela's Canaima National Park.
Reaching Angel Falls is one big adventure. It's only accessible on an aeroplane tour or by boat. And, if you choose the latter, you'll also need to trek through the jungle on a guided tour. It's impossible to reach the falls on your own; you'll need the help of someone who knows the area well.
The location is so remote you'll feel as if you've travelled to another world. It isn't simply a landmark that you see — it's one you experience with all five senses. If you couldn't tell, I'm crushin' seriously hard on these falls.
Christ the Redeemer Statue, Brazil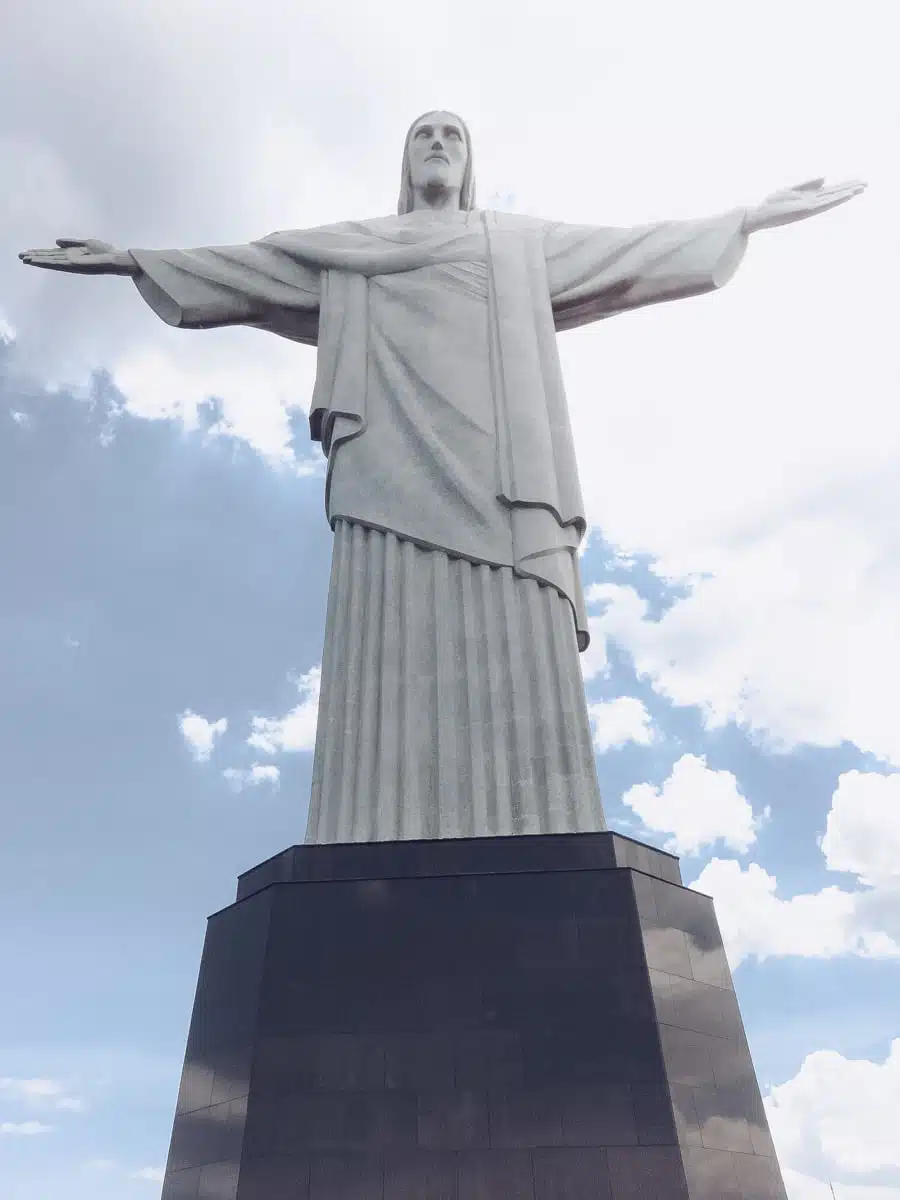 Christ the Redeemer Statue is one of the most famous landmarks in Brazil. The Art Deco monument occupies a commanding location. It sits on top of Mount Corcovado — keeping watch over the city of Rio de Janeiro below.
There are several ways to reach the statue. If you're feeling adventurous, you can hike to the base of the statue from the city. However, this is only recommended for fit travellers, as there are some steep areas along the route. For easier access, you can take a taxi or minibus.
Or, you can catch the Cog Train, which takes you through the Atlantic Forest. It leaves about every 30 minutes, and the ride takes 20 minutes.
The 30-metre tall 28-metre wide statue is even more incredible in person. Plus, the views of the city and the sea below are seriously spectacular.
Sugarloaf Mountain, Brazil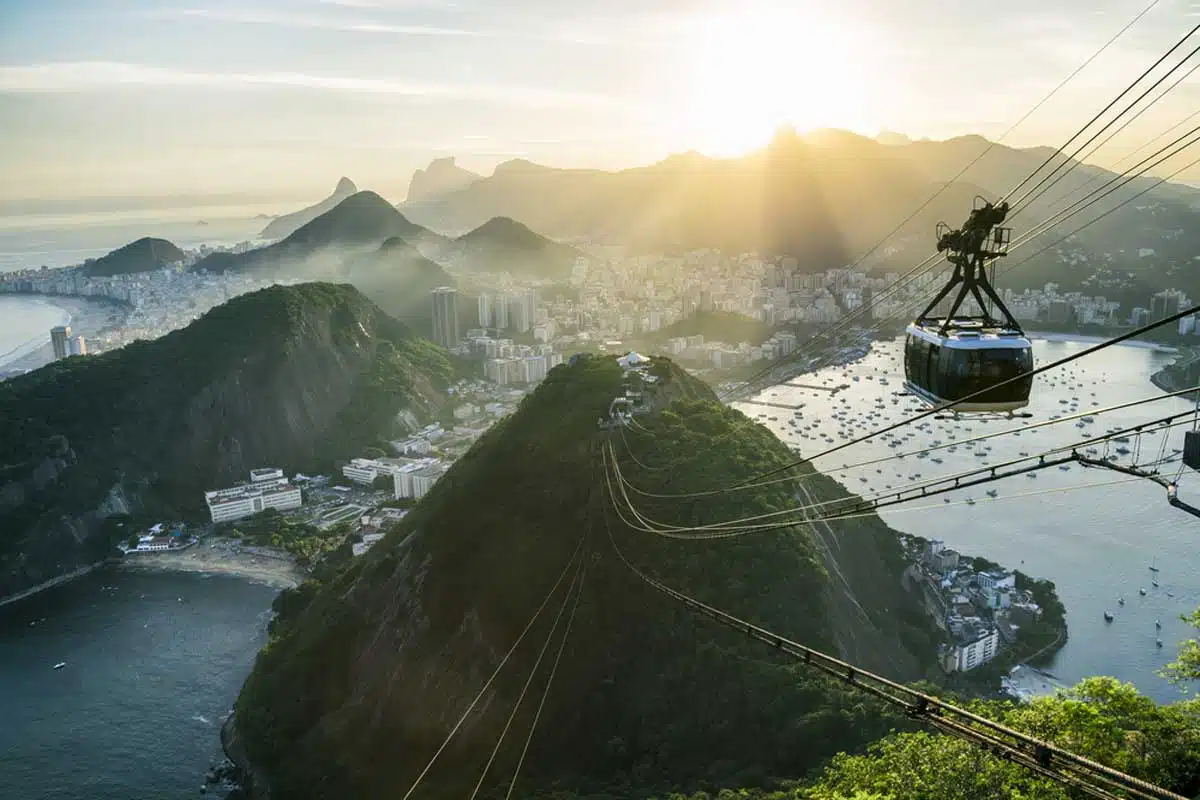 Sugarloaf Mountain is an iconic feature of Rio de Janeiro's skyline. The peak sits next to Guanabara Bay and rises from the Atlantic Ocean. It offers views of Mount Corcovado and Christ the Redeemer statue.
The Sugarloaf Cable Car runs between the city and the mountain for easy access. Or, you can hike up the mountain, which will take two to three hours (hike up and cable-car down, I say). There are restaurants and bars at the top if you want to linger and enjoy a meal and drinks.
The best times to visit the peak are early mornings or late afternoons. This way, you'll avoid the daytime crowds and the heat of the day. Sunset is especially magical; it offers you the chance to see the Christ the Redeemer statue surrounded by a mystical evening glow.
Machu Picchu, Peru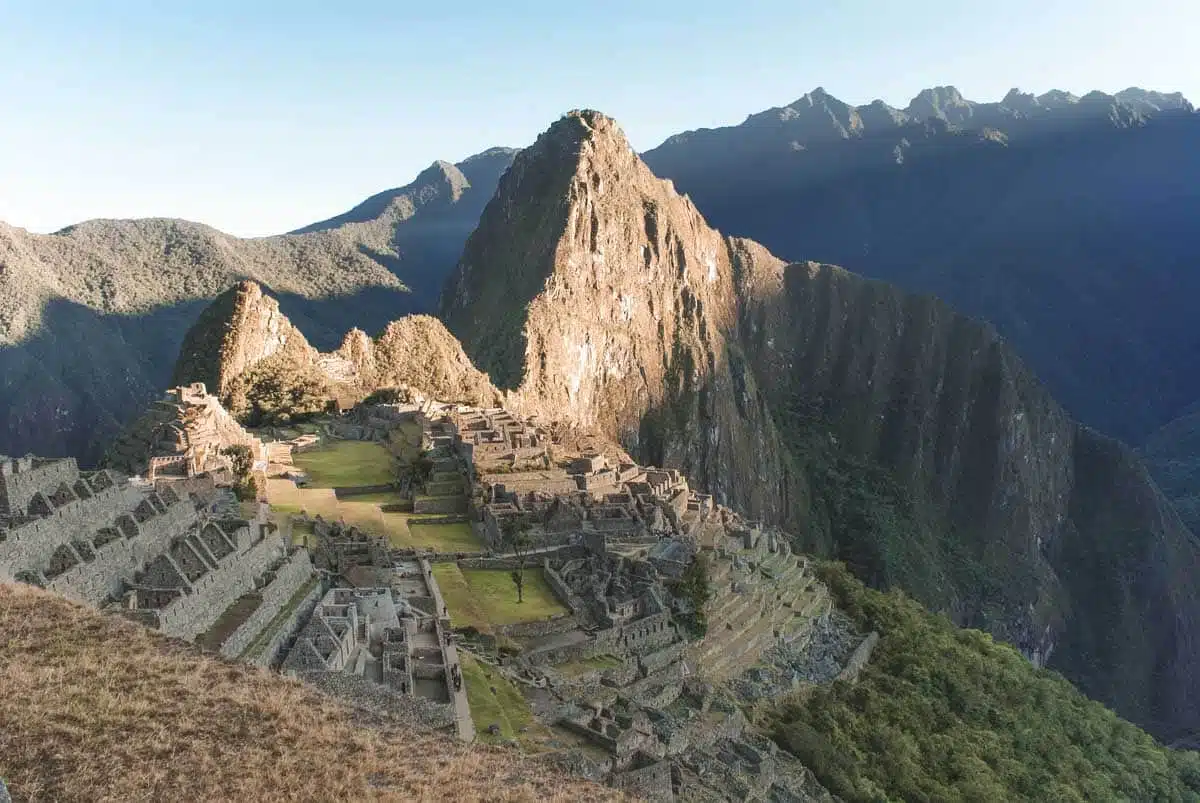 Of all the famous landmarks in South America, Machu Picchu might just be the most popular and intriguing.
The Inca people built the vast citadel around 1450 AD, which remains remarkably well preserved. The site features the ruins of more than 150 buildings and 100 staircases, so it's a window into the past – an ancient display of architecture and culture frozen in time.
Machu Picchu rests peacefully in the postcard-perfect Andes Mountains. It's about 50 miles from the city of Cusco, where it's easily accessible. If you take a full-day tour, you'll benefit by having your transportation included as well as a local guide to fill you in on the Incan history and culture.
Are you planning a South American itinerary that's a bit longer? If so, the Inca Trail to Machu Picchu is a four-day trek where you'll follow in the footsteps of the Incas. It's a once-in-a-lifetime experience and the ultimate adventure.
If you're travelling to Peru, you don't want to miss the chance to visit Machu Picchu.
Rainbow Mountain, Peru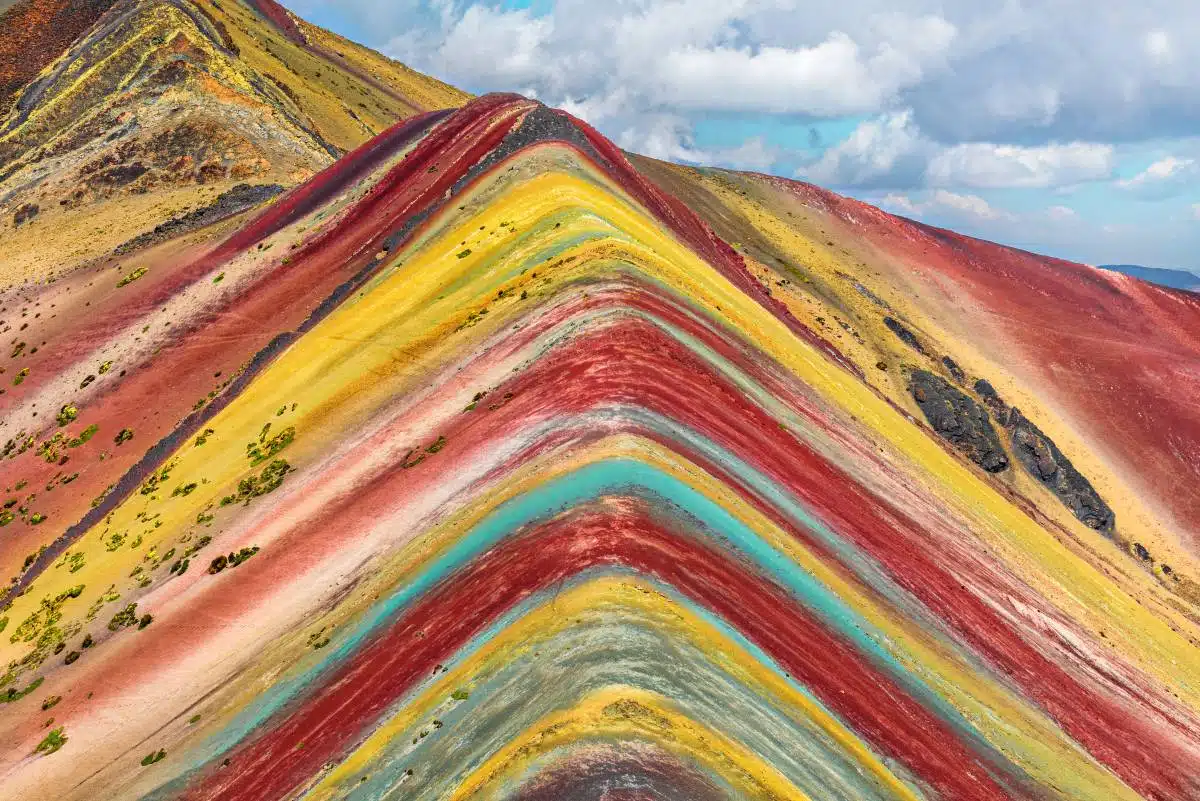 I've raved about my love for Rainbow Mountain in Peru before – it's one of South America's most colourful landmarks.
Its unique appearance is the result of 14 colourful minerals blending to create a marbling effect. It has layered hues of gold, red, lavender, and turquoise.
Rainbow Mountain was only discovered recently, thanks to global warming (sense my sarcasm). The snow covering it began to melt away, revealing its colourful beauty.
If you don't have a car, the most popular way to visit the multicoloured mountain is on a day tour from Cusco.
Las Lajas Sanctuary, Colombia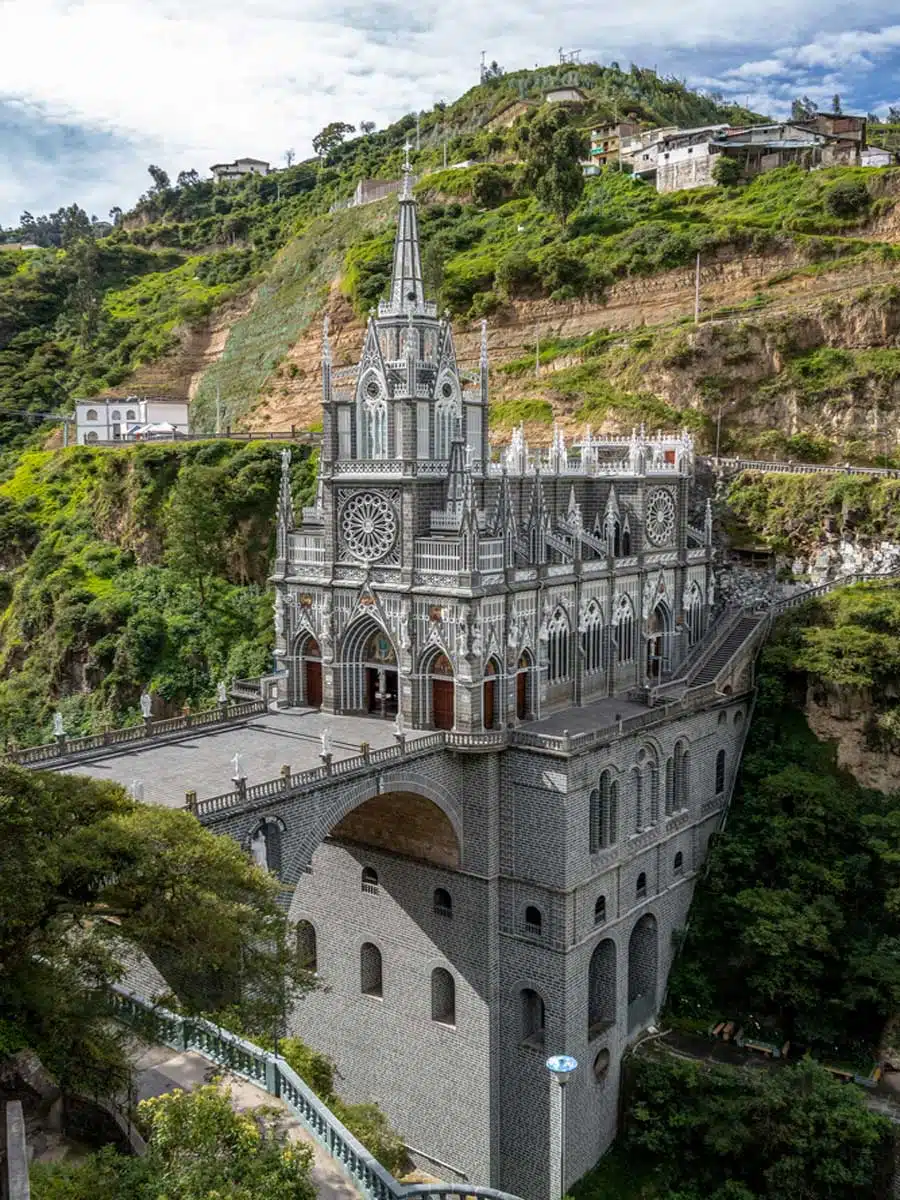 Colombia's Las Lajas Sanctuary is a religious building housed inside the Guáitara River canyon. The gothic shrine opened to the public in 1949 after a 33-year construction project – it sits peacefully 150 feet above the river, surrounded by the raw South American landscape.
Many credit the inspiration for the church to a miraculous event near the site in 1754. A mother and her deaf-mute daughter sought shelter between the large lajas (slabs of stone) during a storm. While taking refuge, the daughter saw an apparition of the Virgin Mary and was immediately healed. Pretty impressive, if you ask me.
Las Lajas Sanctuary is in the city of Ipiales, about 15 minutes from the Ecuadorian and Colombian border. The easiest way to reach the basilica is to take a taxi or bus from the city centre. The ride takes about 10 minutes.
Iguazú Falls, Argentina/Brazil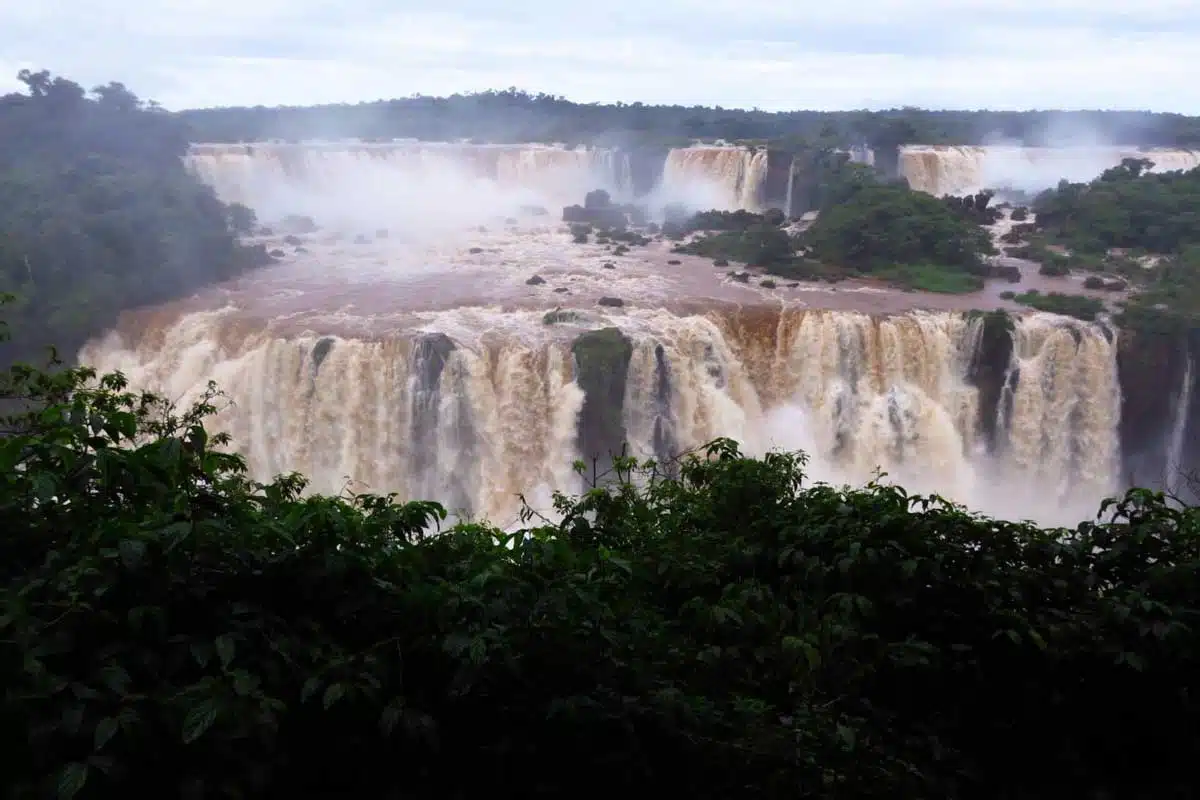 Iguazú Falls makes up the largest waterfall system in the world. It sits on the border of Argentina and Brazil, and you can reach the falls from either country.
The natural landmark has 275 individual waterfalls spread over 1.7 miles of the river – this is the kind of place that will show you just how powerful nature is.
Iguazú Falls National Park is on the Argentina side. It contains an inland rainforest with nature trails lined with native flora and fauna. You can also spot wildlife.
The falls' biggest cascade, known as "Devil's Throat", is visible from both countries. It's so powerful that it produces a constant mist, and if you visit on a sunny day, you might see rainbows.
Book a both-sides tour to get the full experience and see the falls from Argentina and Brazil.
Caminito, Argentina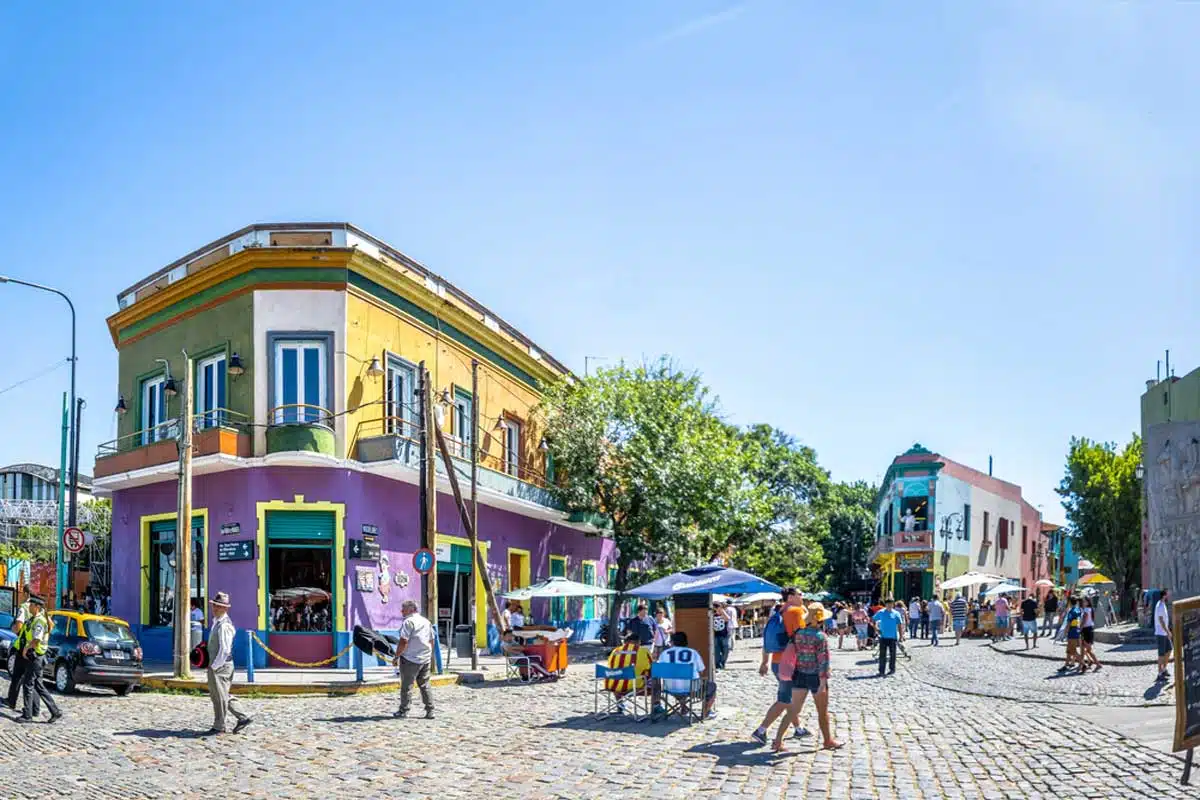 This next famous landmark in South America is as quirky as they come.
Caminito is a pedestrian walkway and open-air museum in Buenos Aires's La Boca neighbourhood. It features colourful houses painted in an array of vivid shades.
The street holds historical significance; it inspired composer Juan de Dios Filiberto to write his famous tango, "Caminito". Also, due to the street's proximity to the river, it became a popular area for immigrants to settle down in, making it a melting pot of different cultures.
It's a lively area of the city where tango dancers perform in the streets and artists set up shops selling locally made crafts and paintings. Several street-side restaurants also offer tango dance shows.
Don't forget to charge your camera before you visit. You'll capture endless colourful pictures that display the beating heart of Buenos Aires's vibrant culture.
Perito Moreno Glacier, Argentina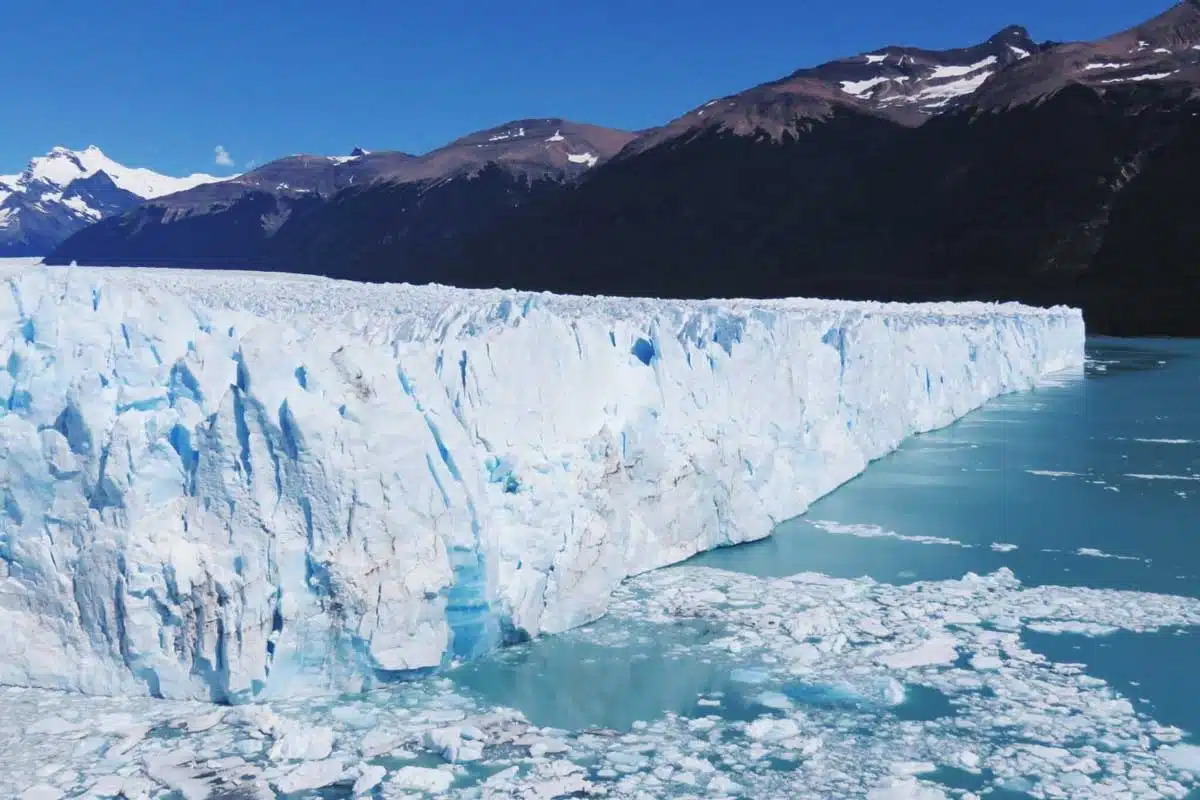 Perito Moreno Glacier is one of the coolest places to visit in Argentina – literally.
The jaw-dropping ice formation towers above Los Glaciares National Park in Patagonia. It covers 97 square miles and is one of the few glaciers in the world that is still growing rather than retreating.
There are different activities offered that allow you to see the landmark up close, like trekking trails, boat cruises, and viewing platforms. To experience them all, take a Perito Moreno Glacier tour, where you'll follow a guide and travel to the best spots for viewing the glacier.
The glacier is open to tourists year-round but closes earlier in winter due to fewer daylight hours.
Easter Island, Chile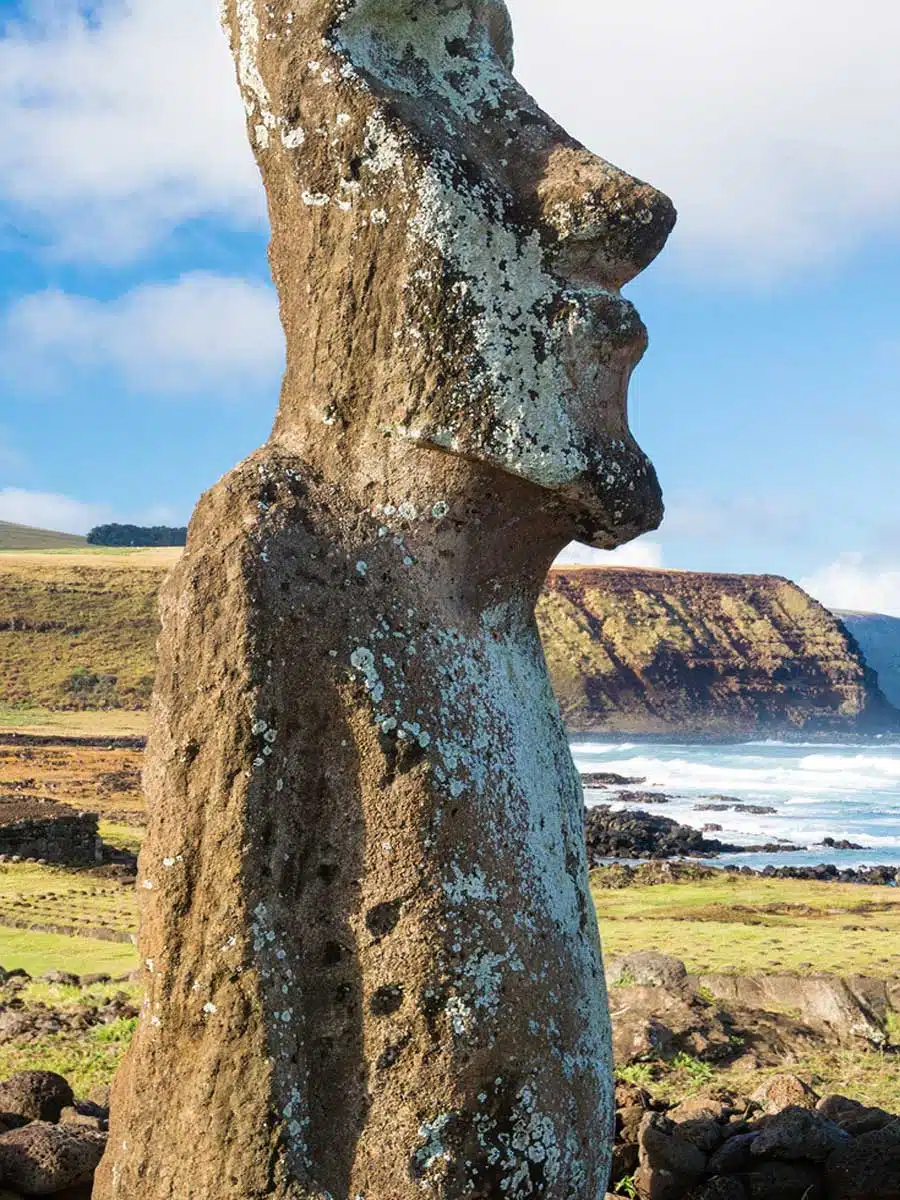 Easter Island is a remote island off of Chile's southeastern coast. It was first inhabited by the Polynesians, who arrived sometime between 700 and 1200 A.D.
Easter Island is best known for its giant stone monumental statues called Moai – the Rapa Nui people created the statues sometime between 1000 and 1600 A.D. They display unique head and torso figures and are impressively large, with an average height of about four metres.
It is unclear what led the Rapa Nui people to create the monuments. However, many archaeologists theorise it was to honour the ancient inhabitant's ancestors. Today, there are nearly 900 statues scattered throughout the island.
Only one airline (LATAM Airlines) flies to Easter Island. Flights depart from Santiago and take around 5.5 hours.
La Mano de Punta del Este, Uruguay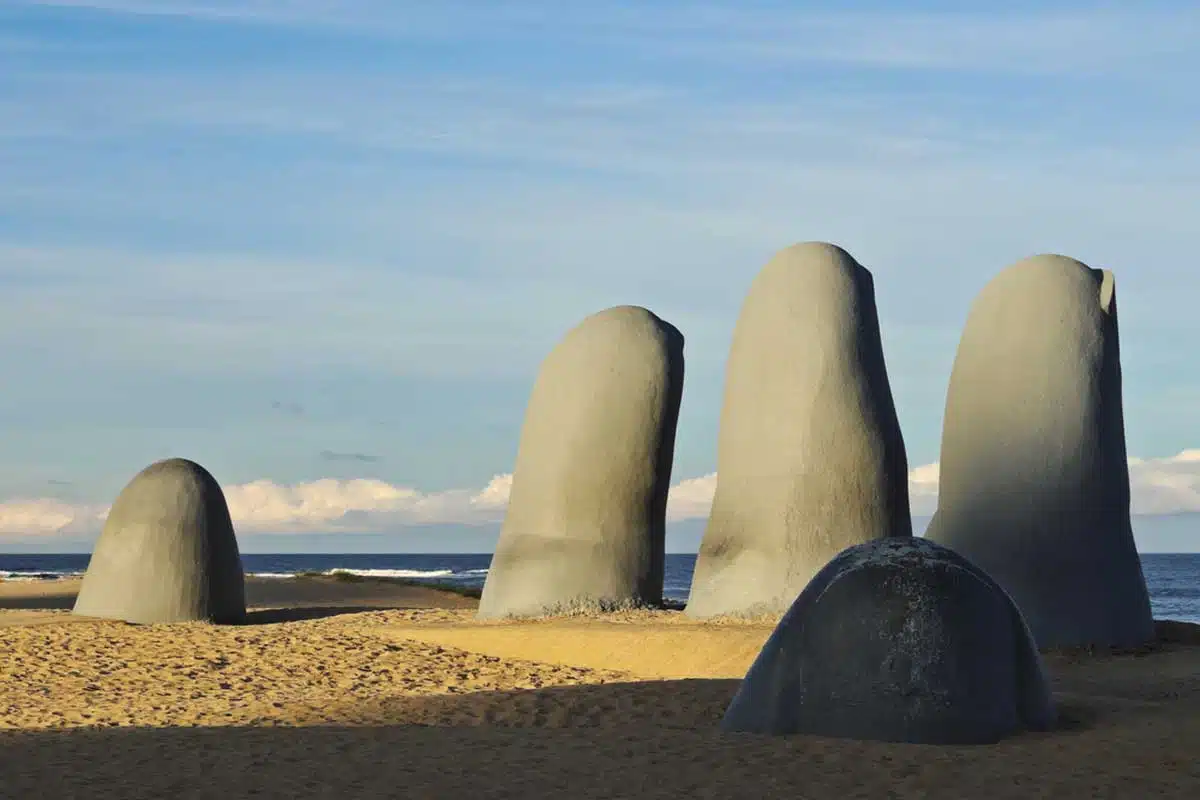 While you might not recognise the name, I guarantee you know the next landmark: La Mano is a sculpture of a human hand rising out of the sand on Brava Beach in the popular tourist town of Punta del Este, Uruguay.
Chilean artist Mario Irarrázabal created the statue in 1982 to represent the power of a human hand. It depicts five very large fingers partially emerging from the sand near the water. La Manno is one of the country's most famous landmarks.
Casapueblo, Uruguay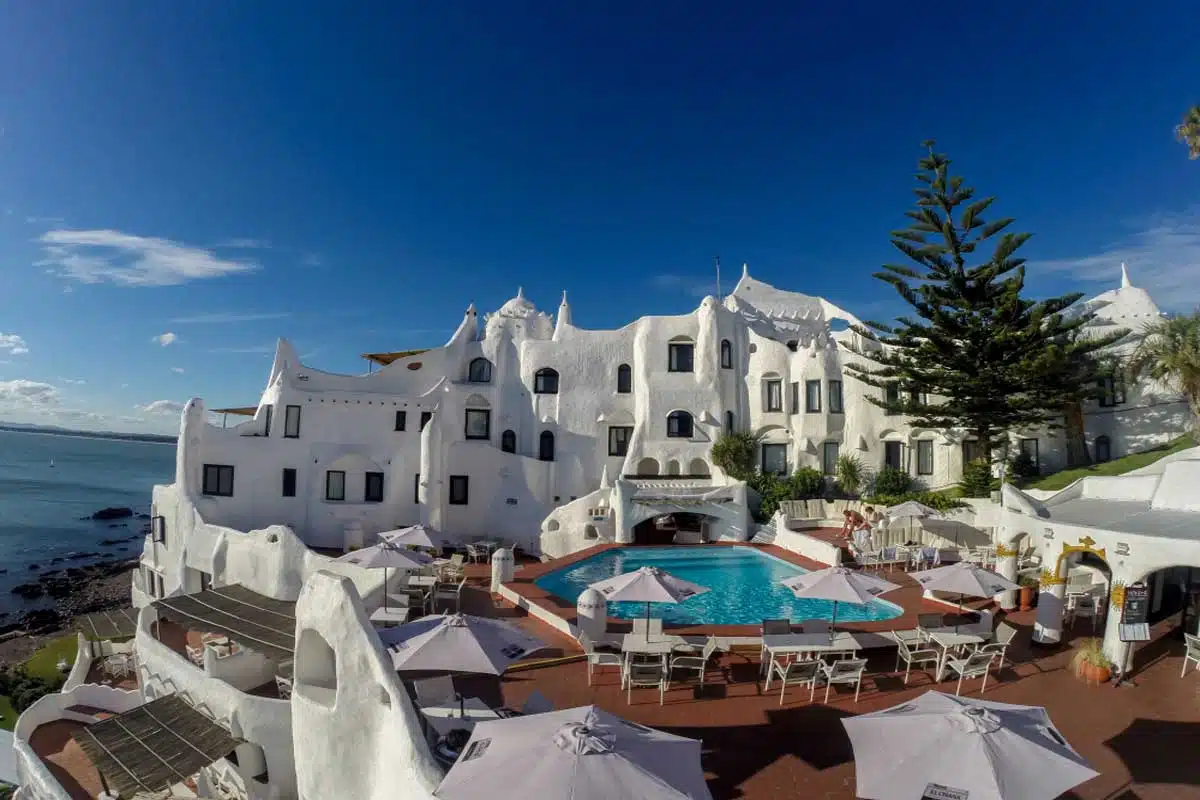 Casapueblo is a magnificent cliff-side landmark near Punta del Este in Uruguay. The Greek Island-inspired dwelling features whitewashed cement and stucco architecture that wouldn't look out of place in Mykonos.
Uruguayan abstract artist Carlos Páez Vilaró built Casapueblo over the span of 36 years to serve as his workshop and summer residence. But, today, the sprawling structure features a museum, an art gallery, a cafeteria, and a restaurant.
The museum exhibitions display different forms of Vilaró's original artwork, including sculptures, paintings, pottery, and more.
Book a guided tour of Punta del Este and visit Casapueblo and other highlights in the area, including La Mano.
Tips for Visiting These Famous South American Landmarks
Some of these landmarks in Latin America are easier to get to than others. If you're only visiting one or two countries during your trip, Brazil and Peru contain some of the most well-known landmarks. They're easy to get to on your own or with a tour. Most of the other landmarks are in remote locations, which adds to their allure, but also means visiting them will take more time and money.
Renting a car isn't a popular option for tourists visiting South America. Even in the big cities, the streets are always busy, which can be overwhelming if you're not a local. This means that your best bet for travel is either with public transportation or on a guided tour.
South America Famous Landmarks: Map