Planning a trip to the diverse country of Argentina? Lucky you. Get ready to discover the best things to do in El Calafate for an unforgettable holiday.
Imagine hearing the cracks and gurgles of moving ice as you walk alongside a towering glacier. In Patagonia, you don't need to imagine – the gorgeous city of El Calafate makes this a reality.
I love El Calafate, and I'm certain you will too. Let me take you on a journey through El Calafate, where you'll learn everything you need to know about this incredible Argentinian city, and more.
Strap in and get ready to add El Calafate to your ultimate South American itinerary.
Top Tip: Wondering where to stay? I recommend the stunning Xelena Hotel.
Top 5 Things to do in El Calafate, Argentina
Explore Upsala Glacier Viewpoint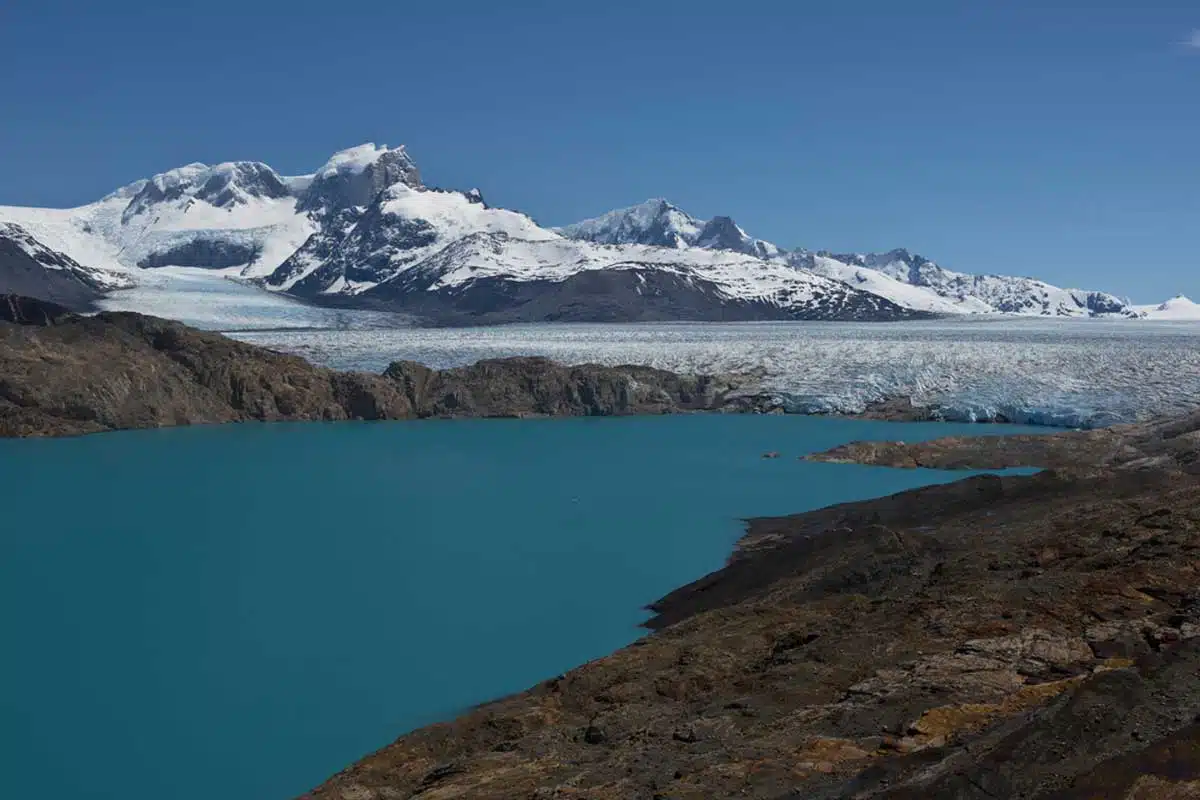 First of all, when heading to El Calafate, you're going to want to enjoy some spectacular hikes. One of the best being this 13.7-mile loop trail.
It's a somewhat difficult hike and will take roughly 7 hours and 30 minutes to complete, but the sites along the way are well worth the effort.
You'll hike through the infamous Fossils Canyon, where you can see marine fossils set in stone – the crimson and gold valleys of the canyon set the stage for magnificent views of Upsala Glacier.
Enjoy the Perito Moreno Boardwalk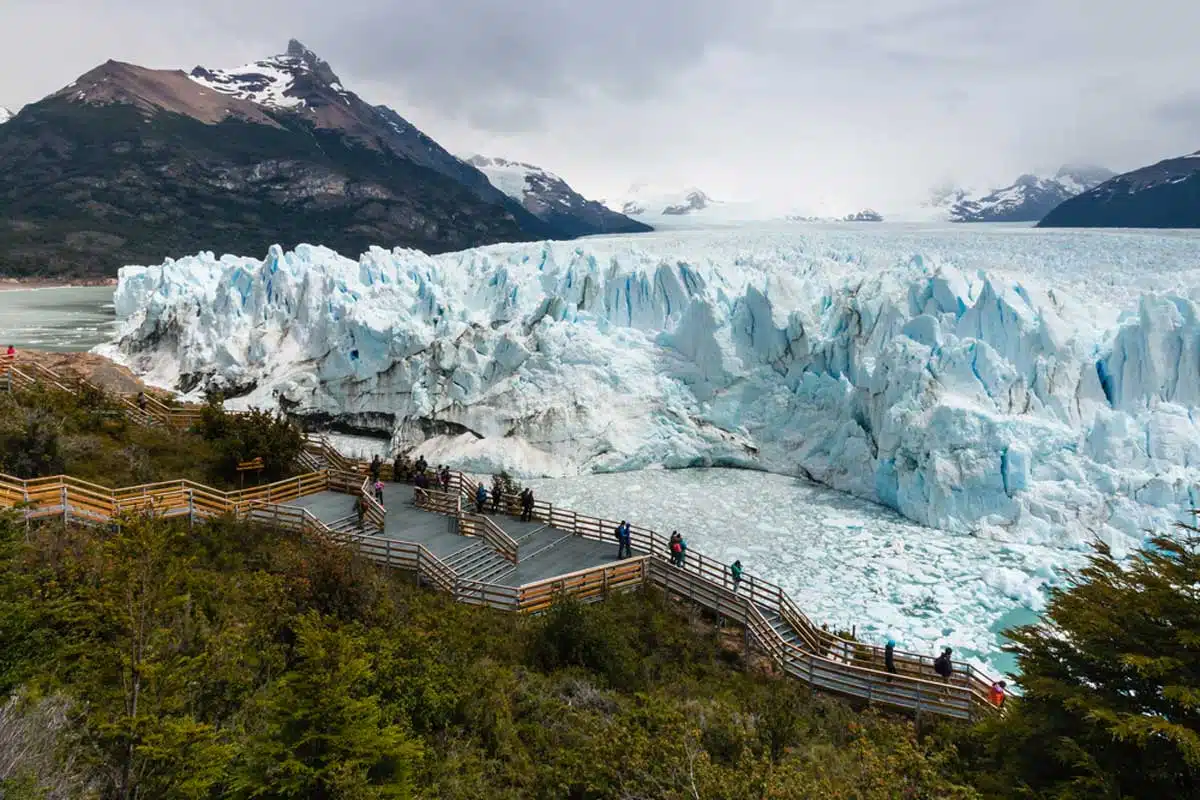 If you didn't know, Perito Moreno Glacier is the most iconic landmark near El Calafate. With seven unique boardwalks – three miles of trail in total – you can admire this impressive wall of ice from several breathtaking perspectives.
Oh, and hang around, because I'm going to cover glacier trekking later on.
This 240-foot glacier rests in Los Glaciares National Park, a 50-mile drive from El Calafate. As you walk along the boardwalk, you'll have plenty of opportunities to snap some magical photos.
Be ready for the sharp cracking sounds of the glacier moving and shifting – it's quite a shock to the system at first, but utterly mesmerising.
Top Tip: You can enjoy the boardwalks and more on this Perito Moreno Glacier tour.
Hike Cascada de Los Perros
Not to blow my own horn, but I think I might be the Queen of easy yet rewarding hikes. This 3.6-mile loop trail should be at the top of your list. This is a lesser-known hike, so you won't see many travellers during your two-hour journey.
Rather than exploring glaciers, this hike takes you on a journey through the Estancia Cristina sheep ranch. You'll cross the Caterina River and have breathtaking views of the valley before ending at the serene Los Perros waterfall.
Go Glacier Trekking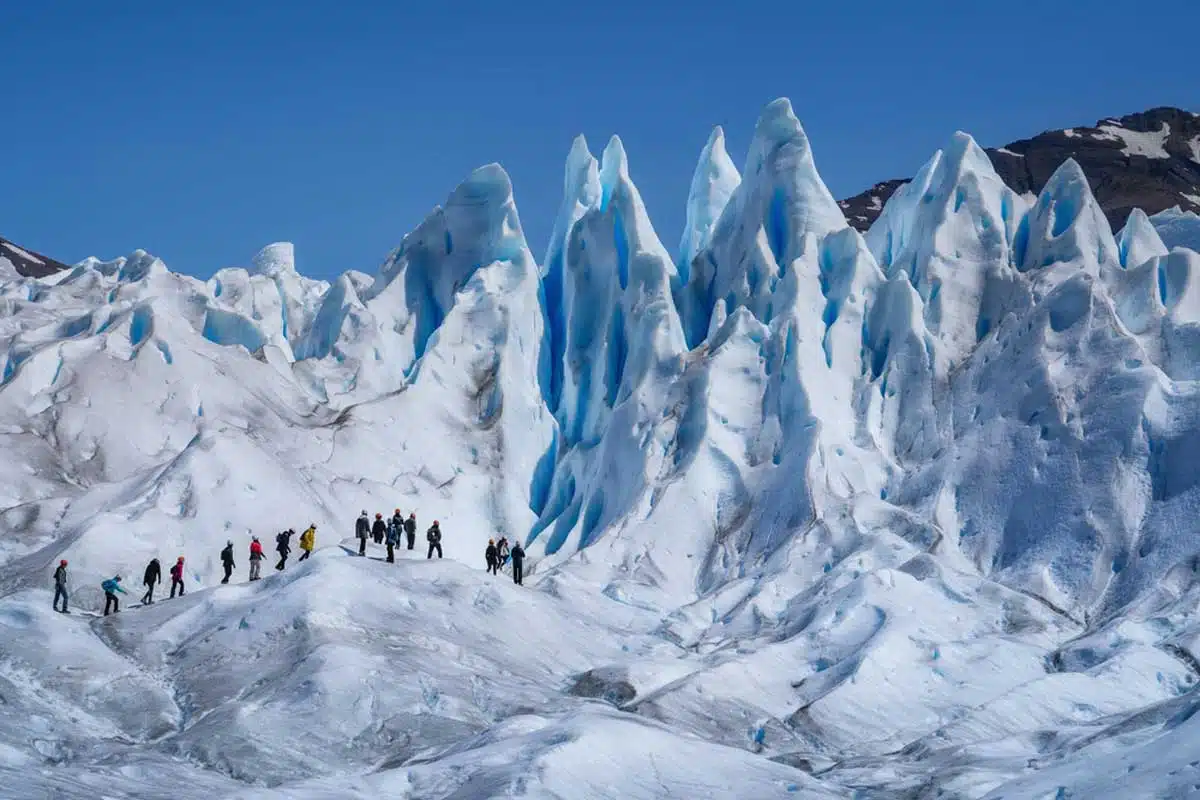 There's nothing more thrilling than joining an El Calafate glacier hike. The glaciers are spectacular from afar, but they are even more unforgettable when you're on them.
Using handy crampons and following your tour guide, you'll trek along the glacier for an hour and learn more about how the glacier moves. Although you can't see it, Perito Moreno Glacier is the most active in Patagonia and moves up to 6 feet daily.
Top Tip: Enjoy a thrilling hiking experience on this Perito Moreno Glacier trekking tour.
Walk Through La Leona Petrified Forest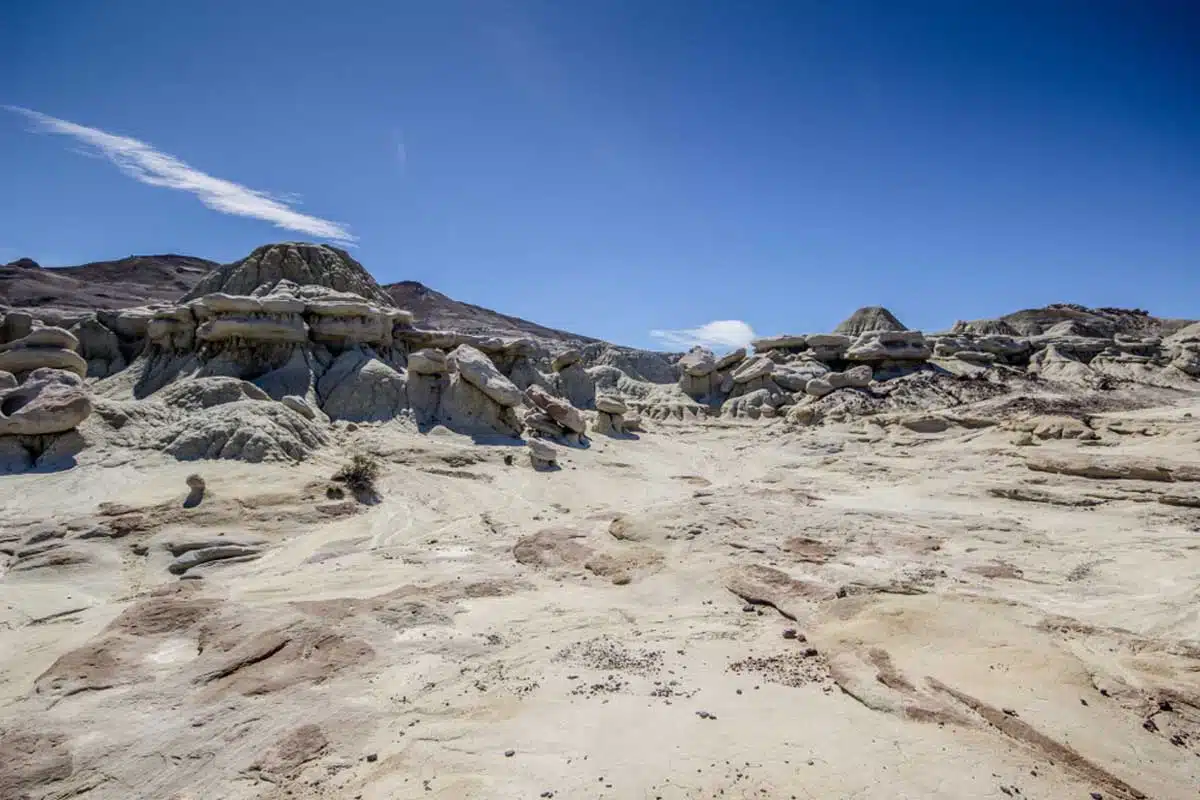 Prepare for a magical journey through a forest of fossils and head to La Leona Petrified Forest, 65 miles north of El Calafate. This isn't your usual forest, but it's definitely a must-see.
You might be surprised to learn that there aren't many living trees in this harsh landscape – this is mainly because a forest was here some 70 million years ago. As you walk through the landscape, you'll see petrified wood up to 4 feet glistening in all their glory.
Brilliant Things to See & Do in El Calafate
Explore Laguna Nimez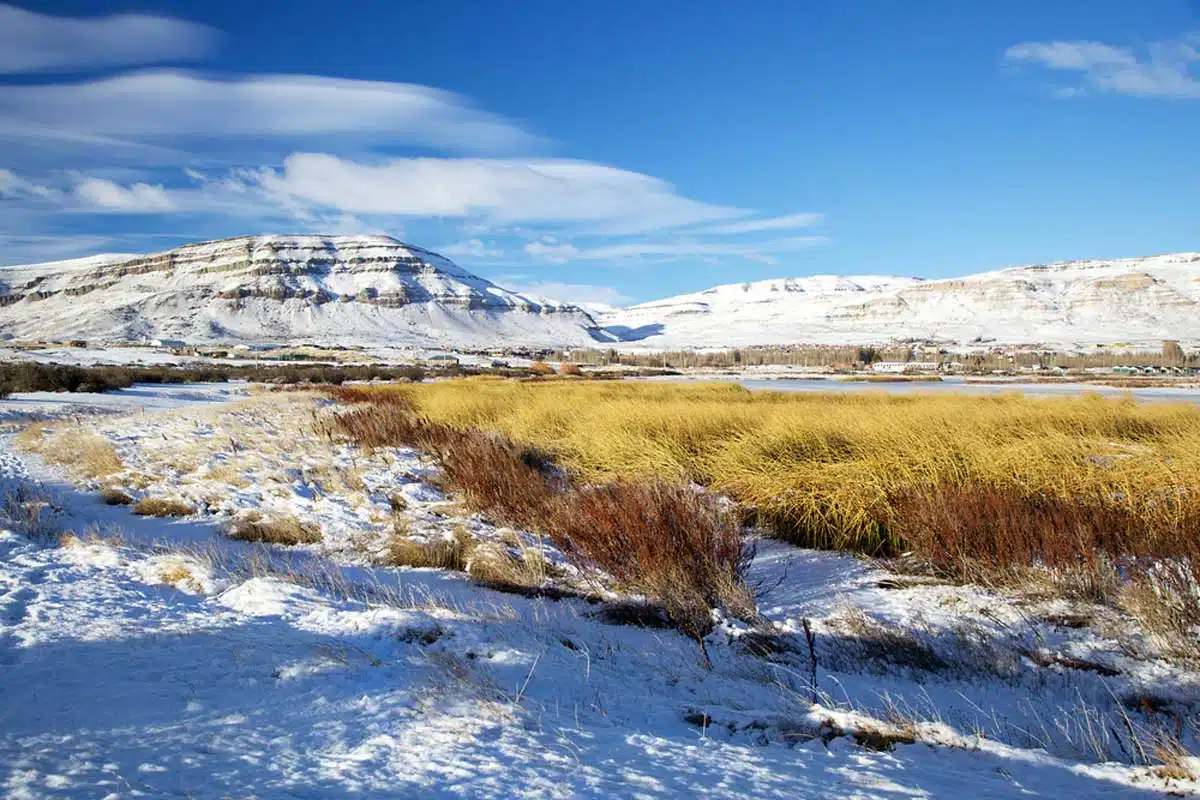 Fancy spotting pink flamingos up close? You need to visit Laguna Nimez.
Only a 5-minute drive from the city, this 35-hectare lake serves as a haven for plenty of indigenous bird species. Aside from flamingos, you can admire Magellanic plovers or coscoroba swans.
Top Tip: Join this full-day cruise to see beautiful birds and the fantastic glaciers of El Calafate in one go.
Join a Tour to El Chalten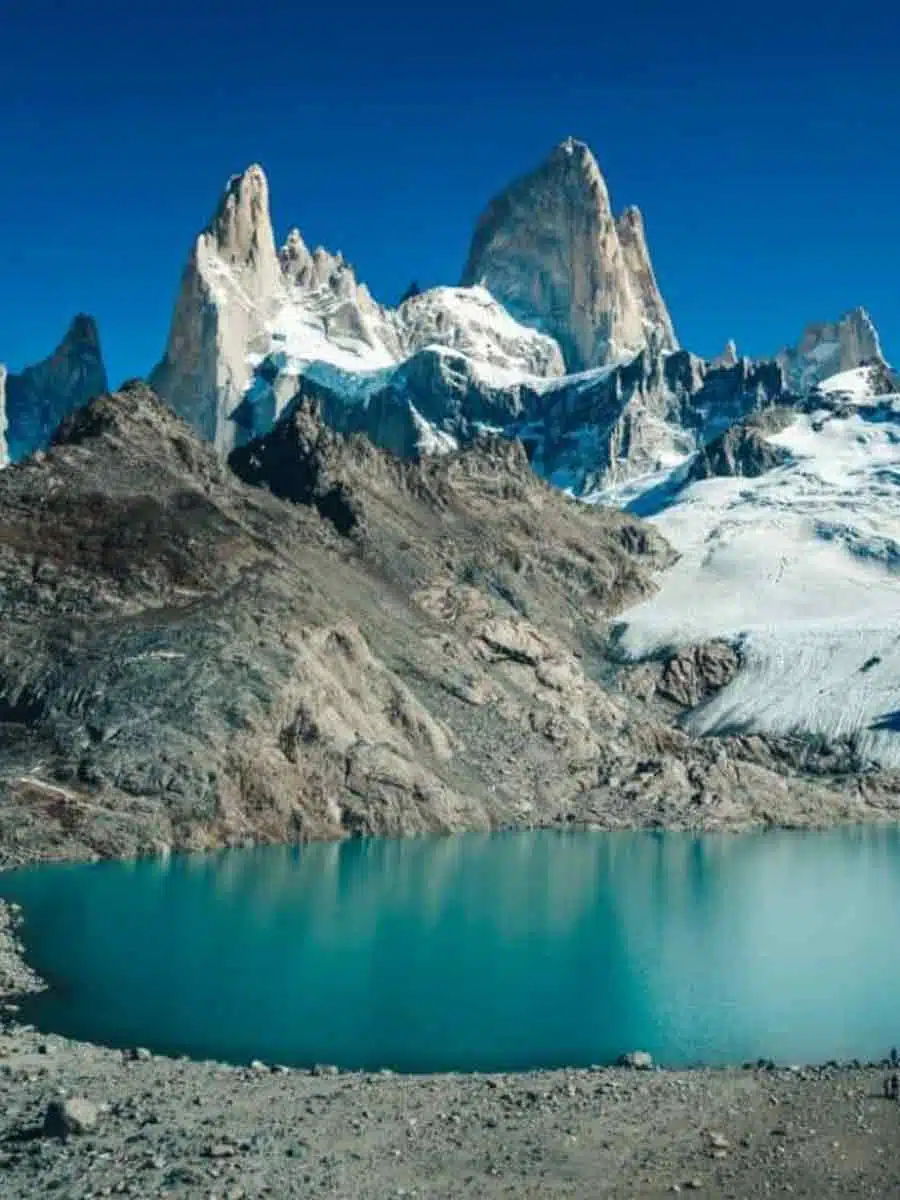 Of the possible day trips from El Calafate, joining a tour to El Chalten might just be my favourite. El Chalten is a small town with mesmerising views of Fitz Roy Mountain, and spending a day here is an unforgettable experience.
During the tour, you'll hike a section of the Fitz Roy Laguna de Los Tres to Laguna Capri trail. Here you can snap some Instagram-worthy photos of Fitz Roy's reflection in the lake.
Aside from hikes, you'll also be able to explore El Chalten and its abundant eateries.
Top Tip: Join this full-day tour of El Chalten.
Must-Try Bars & Restaurants in El Calafate
Isabel Cocina Al Disco
For an authentic taste of Argentinian cuisine, head to this lovely restaurant in the heart of the city. With stunning views, you can dive into meals like hearty mutton stew or creamy prawn pasta.
Casimiro Biguá
For a high-end experience of a classic Argentinian grill, this restaurant in the city centre is a fantastic choice. Live music sets the scene, and you can expect tender meals from the slow cooking process of the grills.
Best Hotels in El Calafate
Xelena Hotel & Suites
For a touch of luxury just outside El Calafate, I highly recommend Xelena Hotel. You'll have unparalleled views of Lake Argentino from your room, the restaurant, or the indoor heated pool.
Patagonia Queen Hotel Boutique
There are plenty of affordable hotels in El Calafate, Argentina, but I think that the best option is the Patagonia Queen Hotel. Within the suburbs of El Calafate, this lodging has a games room and a fantastic on-site restaurant where you can relax after a long day of exploring.
El Calafate: Practical Tips for Your Trip
How Long to Visit in El Calafate?
There is plenty to do here, so I recommend spending at least four days. This way, you can enjoy all the top El Calafate activities without rushing your trip.
Best Time to Visit El Calafate
The best time to visit is between December and February, as you'll enjoy warm weather and more access to fun activities.
Where Should I Stay in El Calafate?
Although most people stay in the city centre, I recommend finding accommodation on the city's borders. These accommodations still offer easy access to restaurants and attractions but provide a quieter and more picturesque stay.
How to get to El Calafate?
The easiest way to get to the city is by catching a 3-hour and 15-minute flight from Buenos Aires to El Calafate Airport.
Recommended Tours in El Calafate
Things to do in El Calafate: Map
Things to do in El Calafate: Read Next
Love This? Save and Share on Pinterest