Get ready to discover the best landmarks in Argentina. This South American country boasts plenty of gorgeous sights, and I'm here to share the best with you.
Wowza… Argentina is rich in culture, food, history, and art. So, it's no wonder that this guide to Argentinian landmarks is equally long and varied.
I'm talking views for daysss. Argentina is seriously, jaw-droppingly beautiful.
I've been lucky enough to visit the country on a few occasions and I know that whether you're an adventure traveller or a novice historian, these landmarks are guaranteed to intrigue everyone.
So, what are you waiting for? Book your 2-week South America itinerary now, and don't forget to visit these unmissable landmarks in the country of white and blue.
Famous Landmarks in Argentina
Glacier Perito Moreno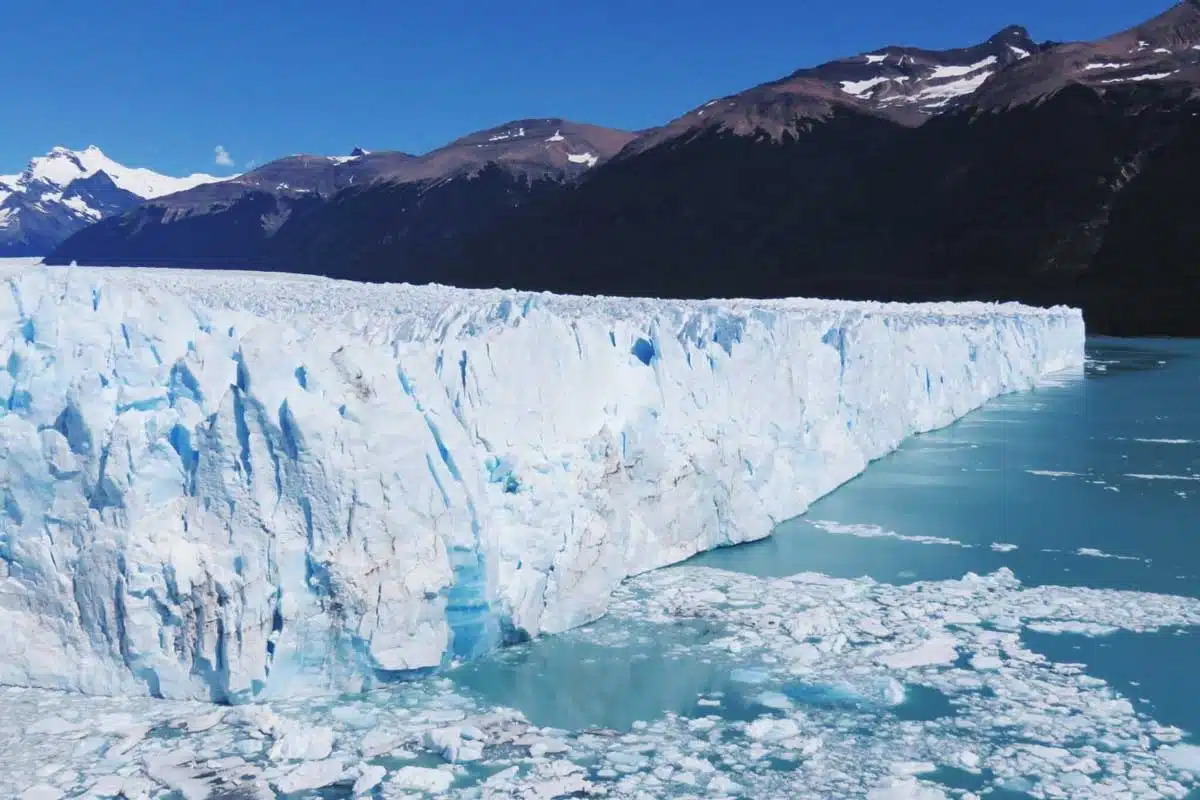 Argentina is such a varied country – which is perhaps one of the reasons why I love it so much. It has a mix of climates from warm and tropical to cold and subantarctic.
And, if you couldn't tell, the Glacier Perito Moreno in Argentine Patagonia at Los Glaciares National Park lies in the colder region of the country.
The white glacier protruding 240 feet above the turquoise waters is a beautiful sight. It spans over 121 square miles and is one of the few glaciers growing instead of shrinking because of global warming.
Visitors can keep a safe viewing distance from the many vantage points, close enough that you can feel the glacier's cold air kiss your skin. And, if you're lucky, you can spot chunks of ice fractures falling into the water with a big splash.
Mt Fitzroy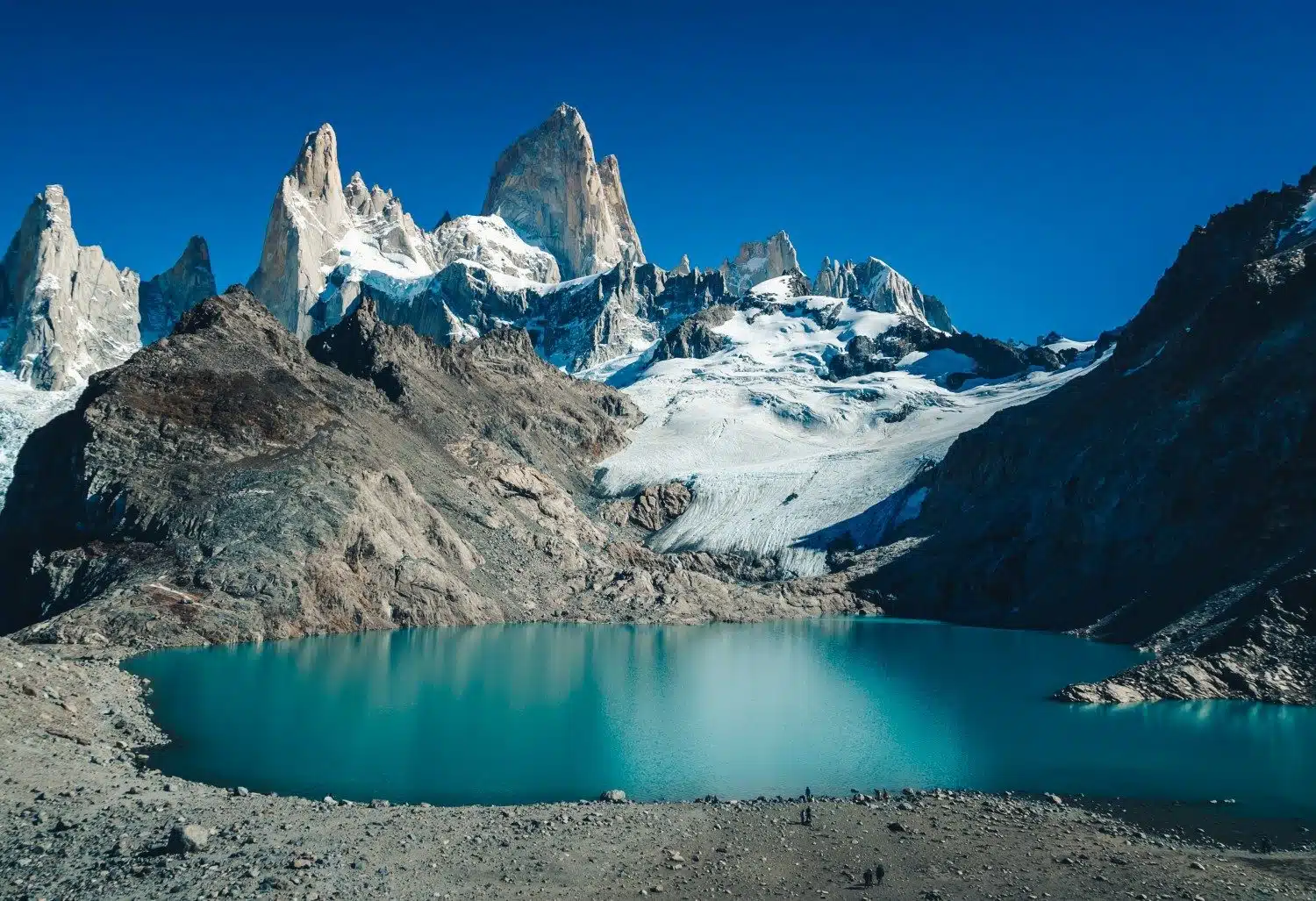 If you're an outdoorsy adventure lover, you may enjoy hiking this 11,171-foot-high mountain overlooking Patagonia. You can even walk here from Glacier Perito Moreno over a couple of days if you're looking for an extra challenge.
The landscape is breathtaking with its lush surroundings, bright blue lakes, and high tops nuzzling the clouds. You can enjoy the best views of the mountains from El Chalten at Miradores del Condor and de las Aguilas if you're not much of a climber.
Tip: The best time to view this natural beauty is sunrise or sunset.
Iguazu Falls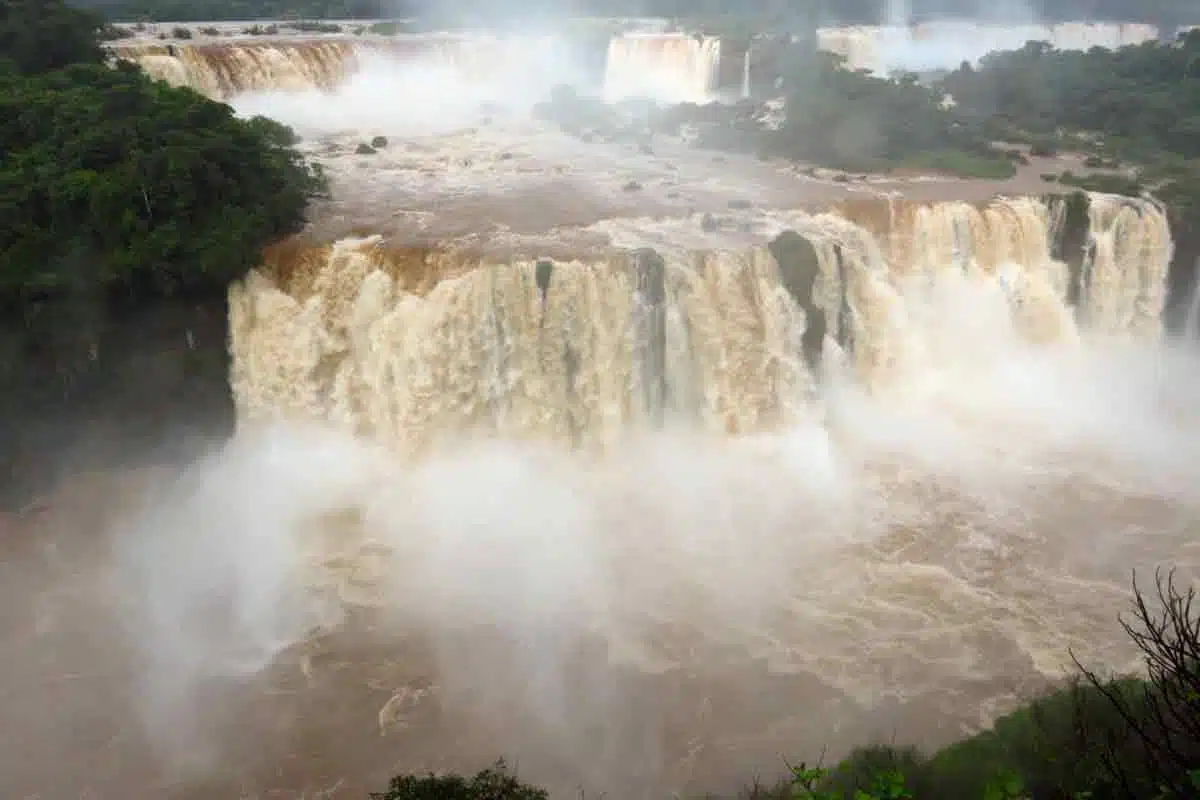 Skirting the border of Brazil and Argentina, these cascading waterfalls are on many people's South American bucket lists. And for excellent reason.
When it comes to famous landmarks, Argentina's Iguazu Falls is one of the most visited – the falls comprise 257 cascades spanning over 1.7 miles. Perhaps the most impressive of them is the Devil's Throat— the tallest waterfall covered by a milky set of clouds and mist.
You can find this UNESCO World Heritage site in Iguazu National Park with its lush subtropical rainforest and crowds of animals.
Salt Flats Jujuy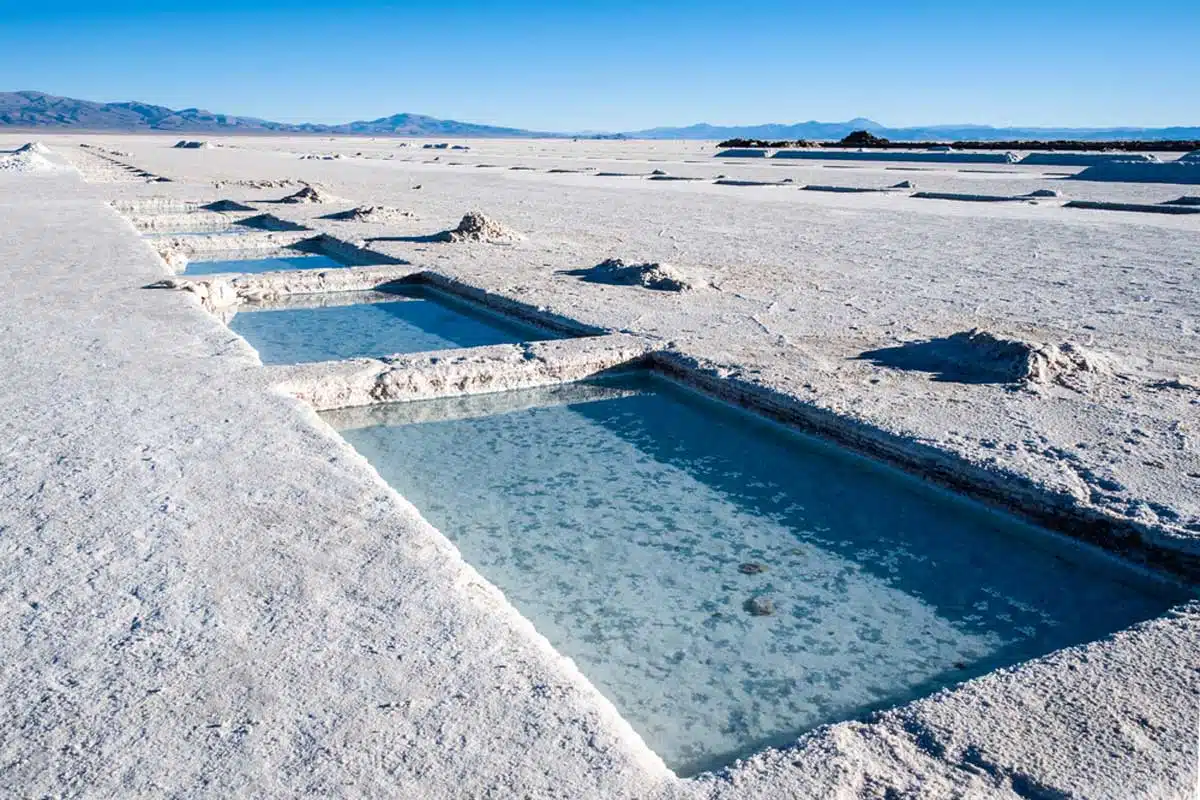 The Salt flats of Jujuy (or Salinas Grandes) are one of those natural tourist attractions in Argentina that transcends you to another world.
All you see are different shades of blues and whites as the salt flats, and turquoise pools mirror the sky and clouds. With the Andes Mountains in the background, the sparkling terrain stretches for what looks like forever.
While there, take advantage of the landscape by snapping mind-bending photographs by playing with perspectives.
Note: There is a significant rise in altitude as it is about 9843 ft above sea level at some spots.
Casa Rosada in Buenos Aires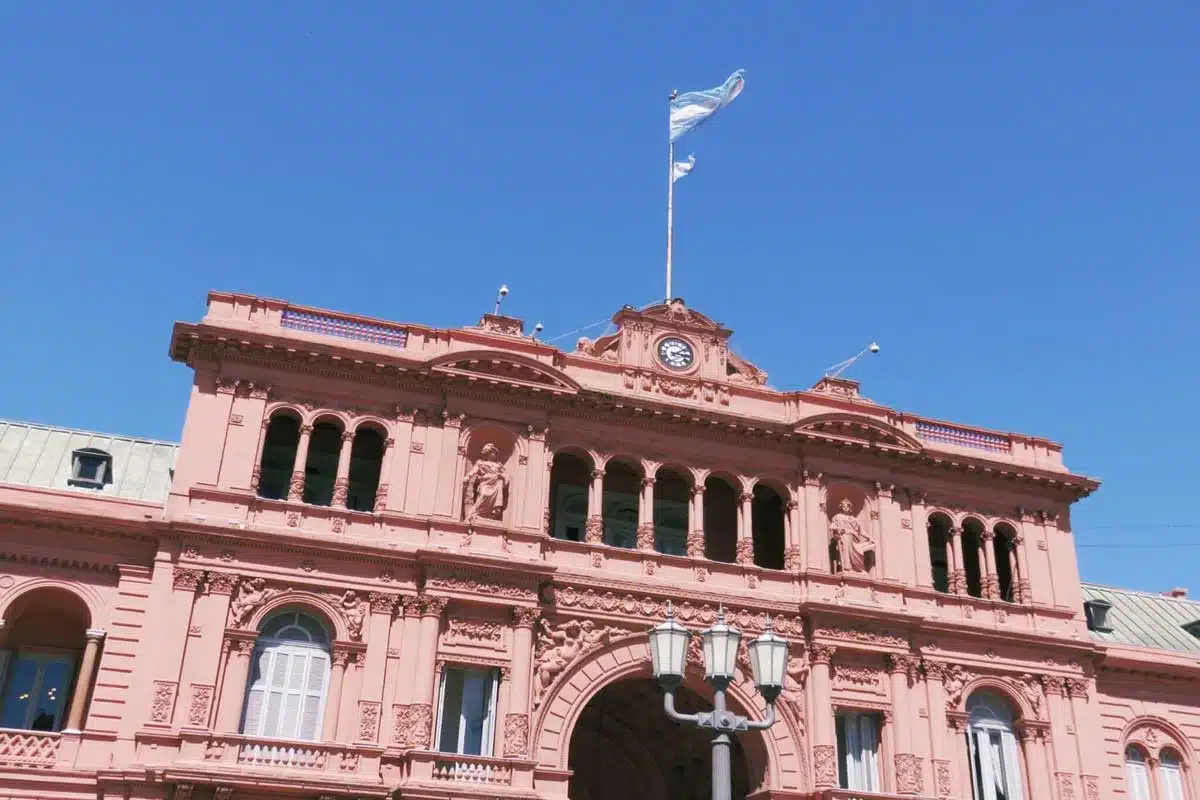 America has the White House, but Argentina does it a little differently. In case you're not as well-versed in Spanish, Casa Rosada translates to Pink House in English.
It sits on Buenos Aires' Plaza del Mayo and is one of the Argentina tourist attractions with beauty and great political power. Built in the 1800s, this building now houses the president's offices and is the headquarters of the national government.
There are a few possible theories about how the building got its soft pink colour. Some say it was to appease the Federals (red) and the Unitarians (white), while others claim it is due to a mixture of white paint and animal blood for climate protection.
Why not figure out which story you believe for yourself at the palace museum for free from Wednesdays to Sundays?
Quebrada de Humahuaca
The Province of Jujuy has many incredible UNESCO Heritage Sites, including the Quebrada de Humahuaca.
While this valley's heritage and small towns are incredible, I cannot gloss over its landscapes with the magical seven-colour hills. You can take a tour, hike, or trek the area with llamas for a more authentic experience. The latter is my method of choice.
Tip: Take this tour to explore the area's cultural and natural beauty on this tour.
The Obelisk of Buenos Aires
While Pedro de Mendoza founded the capital city in 1536, it was only commemorated four centuries later, in 1936, through the iconic Obelisk monument—one of Argentina's famous landmarks.
You can't miss it as it stands in the middle of the city overlooking the busy streets. The tower lights up brightly at night, like a lighthouse guiding you to the city centre.
Teatro Colón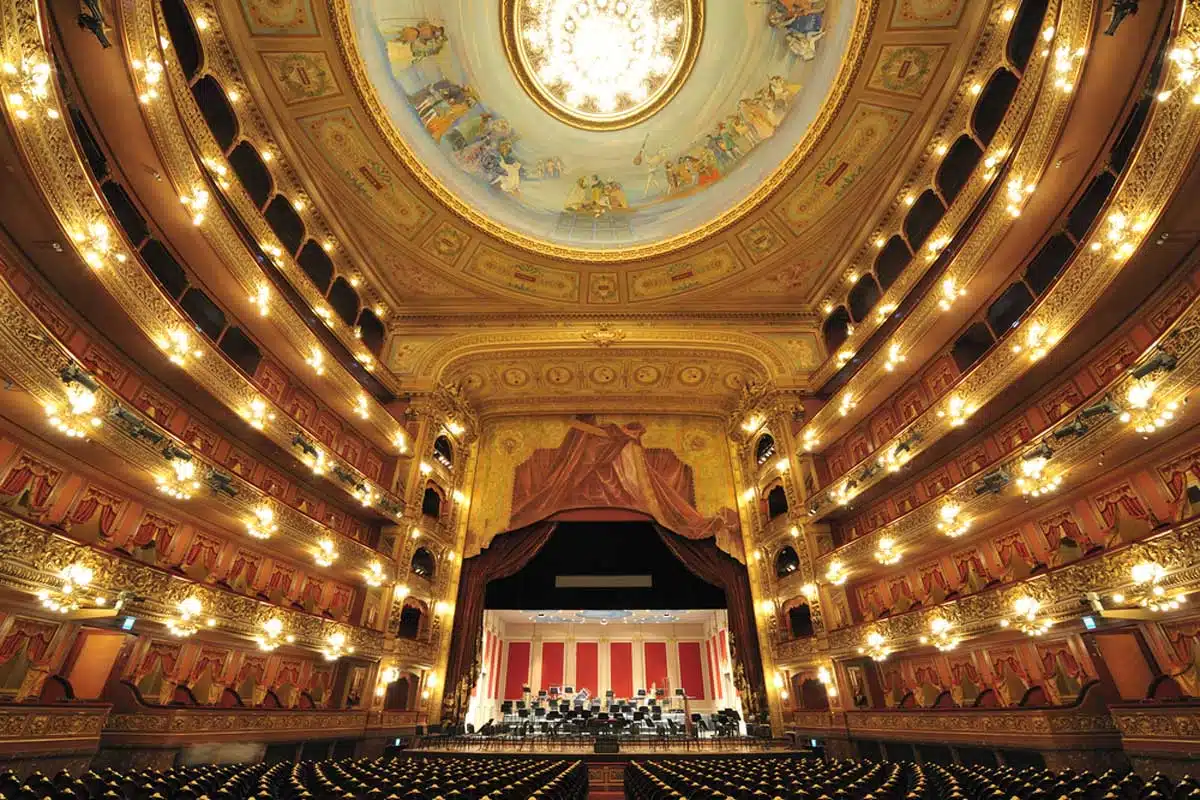 Are there any opera lovers in the house? Hello and welcome – allow me to introduce you to the grand Teatro Colón. The theatre occupies a whole city block and is seven floors tall.
Upon entering, you'll find tapestries, bronze chandeliers, red velvet seats, and a hand-painted dome blanketing the inside.
It has been a treat for theatre lovers since 1908 who enjoy ballet, symphonies, and opera performances in the lap of luxury. While you can take a tour, watching a live show is the best way to experience its beauty.
Tierra del Fuego National Park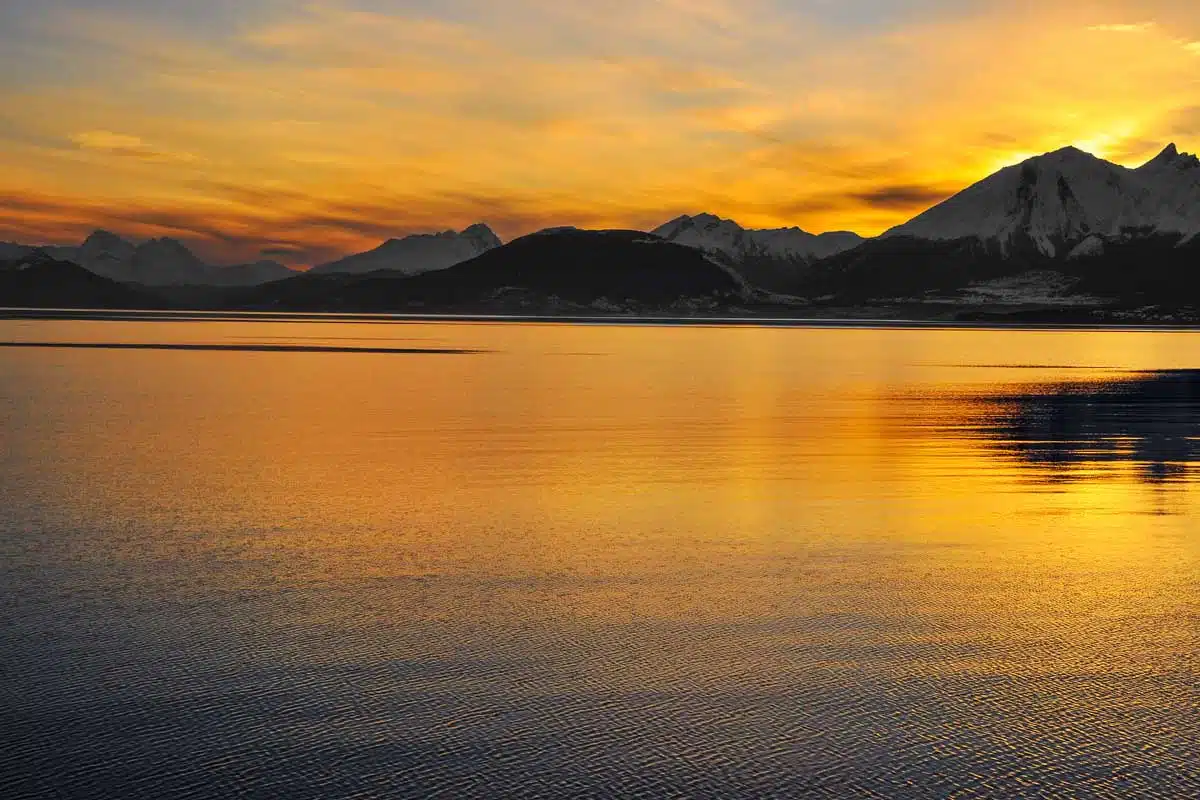 Far down in the south of Argentina, on the Chile border, sits Tierra del Fuego National Park.
This park has everything a nature-lover could want— waterfalls, glaciers, mountains, and wildlife. During summer, it is ideal for hikes, canoeing, and bird-watching. In winter, a layer of snow covers it making it great for skiing and scuba diving in the cold waters.
Not ready to leave just yet? You can extend your trip by camping on the grounds for no additional cost besides your admission fee.
San Ignacio Mini
This Argentine historical site has an interesting history and tells a story of the Spanish Colonial period and the Jesuit (Society of Jesus) Missions.
Although it now stands deserted as ruins in the San Ignacio Rainforest, it was once a mission complex hoping to convert the local Guaraní people in the 17th century. The ruins are decorated with intricate carvings on the walls and have a plaza, church, school, and even a hospital.
Guests can walk through the ruins day and night, and visit the museum to learn more about this intriguing time in Argentinian history.
Cathedral of Córdoba
The Cathedral of Córdoba is one of the oldest Argentine historical landmarks still in use today. You can find it on the Plaza San Martin.
The magnificent structure was designed using a mixture of architectural styles – a result of the building's construction stretching between the 17th and 18th centuries.
Inside you'll find a high ceiling with mounds of murals. It's also where a few prominent people, like generals and religious leaders, call their final resting places.
Recoleta Cemetery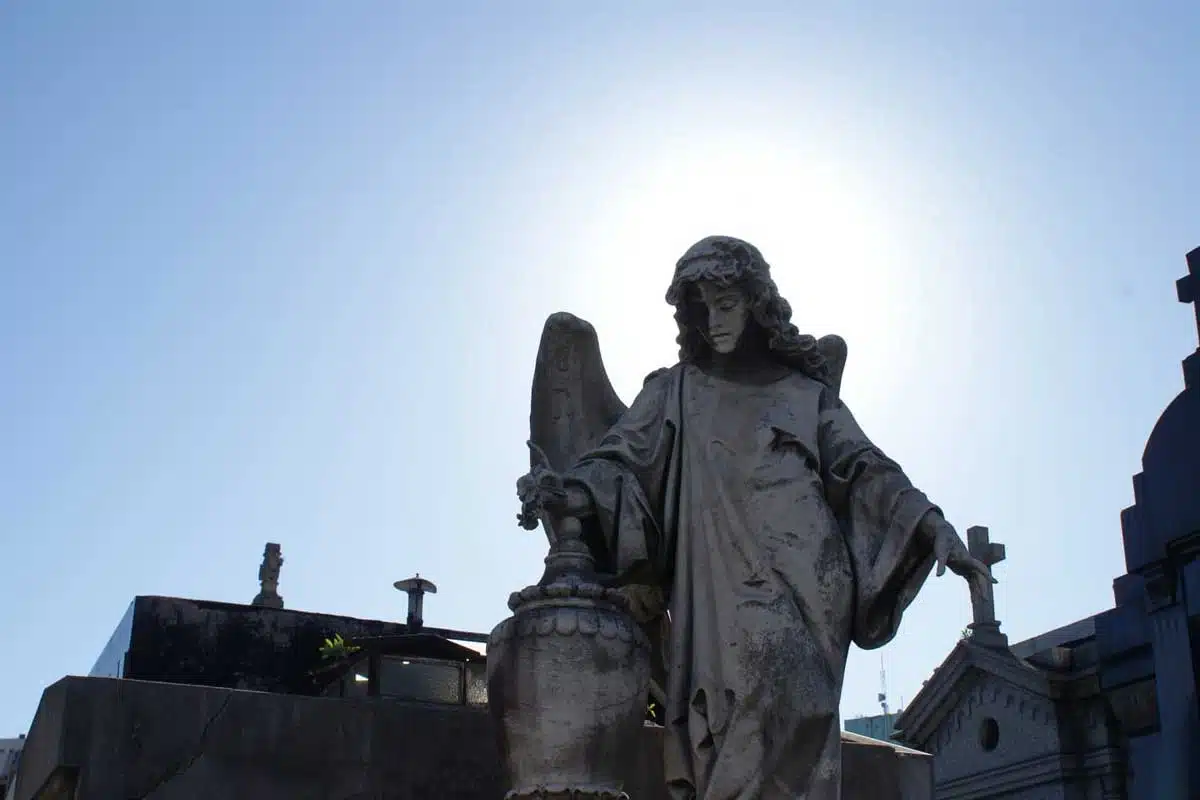 Perhaps one of the more eerie places to see in Argentina, the Recoleta Cemetery has over 6000 mausoleums, statues, and crypts on its grounds.
The beautifully carved graves are in Baroque, Art Nouveau, and Neo-Gothic styles— some from stone, others from marble. This macabre spot also holds many gravestones of famous Argentines like Evita and former presidents Sarmiento and Raúl Alfonsín.
As you can imagine, it is pretty peaceful but comes with its fair share of ghost stories. You can (and should) spend hours exploring and reading about the tragic demise of those buried there.
Museum of High Altitude Archaeology (Museo Arqueologia De Alta Montana)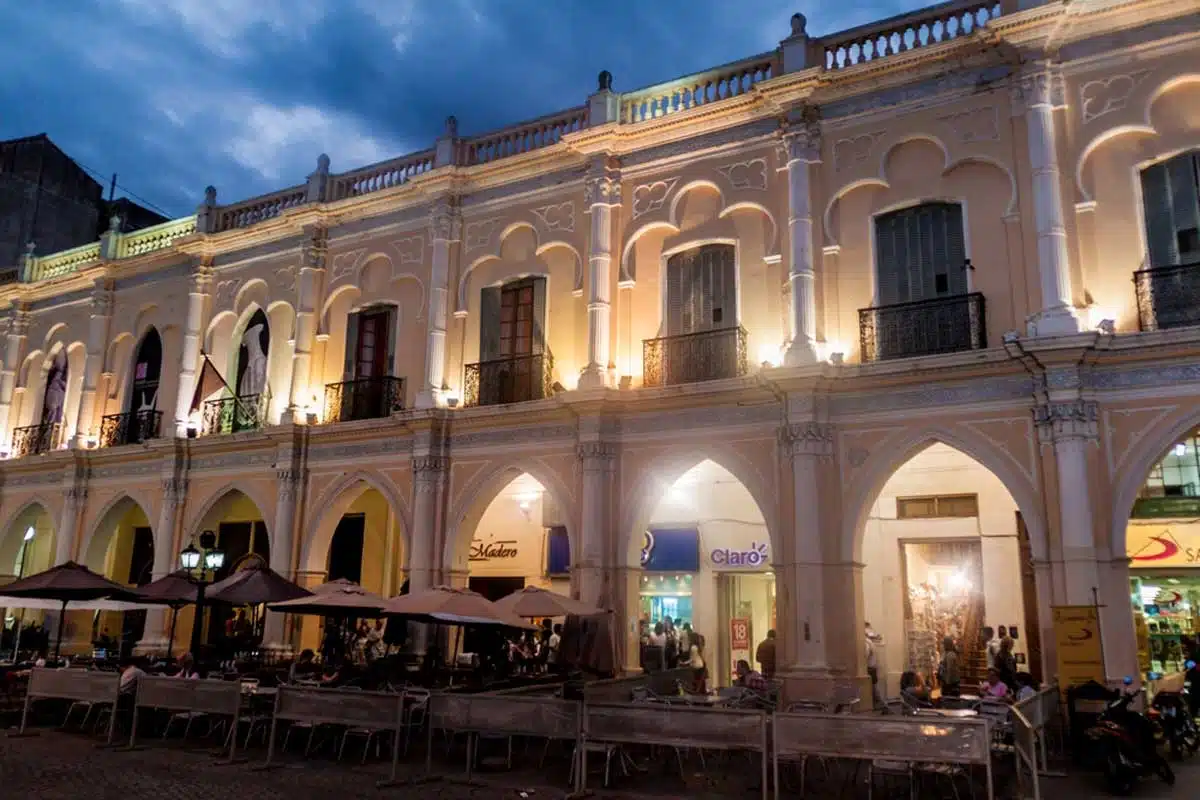 The Museum of High Altitude Archaeology (MAAM) is one of those Argentine attractions you cannot miss if you're an archaeology buff.
The museum has a whole host of artefacts from different cultures dating back hundreds of years.
Some of these artefacts belong to the tragic yet intriguing Mummies of Llullaillaco. Here you can learn about the offerings and why the Inca culture had these offerings in the first place.
Cabo San Pablo
Cabo San Pablo may be one of the less-travelled Argentina landmarks in this guide, but I promise you'll want to add them to your itinerary. About 182 km from Ushuaia in Tierra del Fuego, you'll find this isolated mountain overlooking the coast.
The site is excellent for a day trip away from civilisation, or a hike to clear your mind. Before you see the crumbling lighthouse, you'll probably spot the abandoned ship called the Desdemona wreck.
Aside from that, while there may not be much to see, the picturesque landscape and grazing llamas make for excellent company on your hike.
Mount Aconcagua
Perhaps one of the most famous places in Argentina among mountain climbers is the Aconcagua— the highest mountain in South America.
This mountain top, just on the border of Chile in Mendoza, reaches a whopping 22,837 feet. While not as tough to climb as Mount Everest, this mountain is still quite challenging. So, if you're a beginner, it is best to hike within the beautiful Aconcagua Provincial Park instead.
Visitors will still get amazing views of this stunning mountain and picturesque hills at this park. It is especially beautiful when it's topped with a sprinkling of snow – or at night for uninterrupted stargazing.
La Boca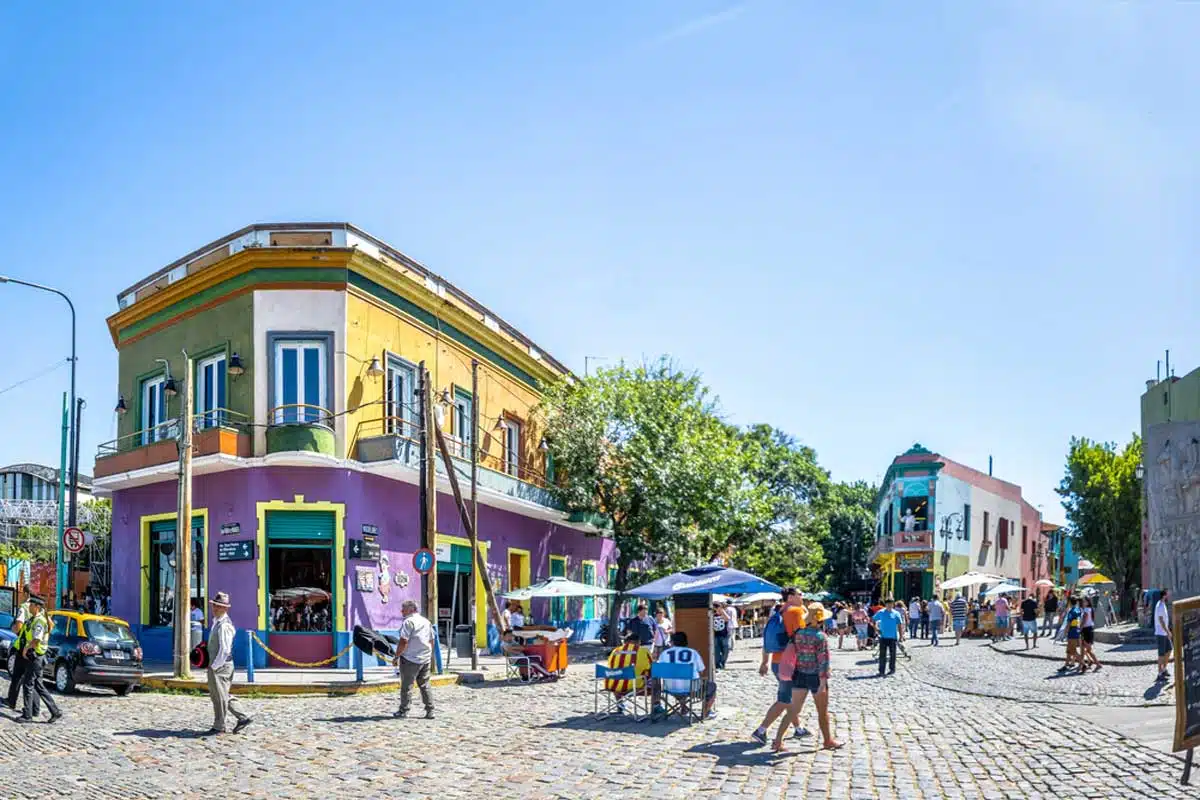 This urban spot may be one of the most fun attractions in Argentina. This colourful neighbourhood in Buenos Aires gives you a great insight into the bright people and culture of the country.
Similar to the colourful things in Cape Town's Bo-Kaap, these vibrant zinc shacks are a celebration of kaleidoscopes and culture. The narrow alleys have some of the most amazing (and authentic) restaurants, shops, and people you'll definitely be glad you bumped into.
Bring your camera with you. There's no way you want to miss taking a few snaps here.
Practical Tips for Visiting Argentina's Landmarks
Argentina is known to have a high altitude. South American locals, like Pope Francis, drink coca leaves to alleviate altitude sickness. Most hotels near high-altitude places in Argentina serve this complimentary tea 24 hours a day to help guests acclimate.
Be respectful when visiting important landmarks in Argentina, like cathedrals and religious or burial sites.
Argentina Landmarks: Map
Love This? Save and Share on Pinterest