Planning a trip to Buenos Aires for beach hopping? Here's a guide to the best beaches in and around Buenos Aires to make your vacation an absolute standout.
As summer starts to hit Argentina, locals know exactly what to do. What is that? I'm glad you asked, because the answer is pretty simple — head to the beach, of course.
And as a visitor, why not do the same? Add a few hours lounging on golden sandy shores or hopping along the coastline to your trip.
As a bonus, include your coastal adventures in this Buenos Aires in three days itinerary. You can thank me later.
Sun's out, and the beaches of Buenos Aires are calling. Let's go.
The Best Beaches Near Buenos Aires
Playa Bristol, Mar del Plata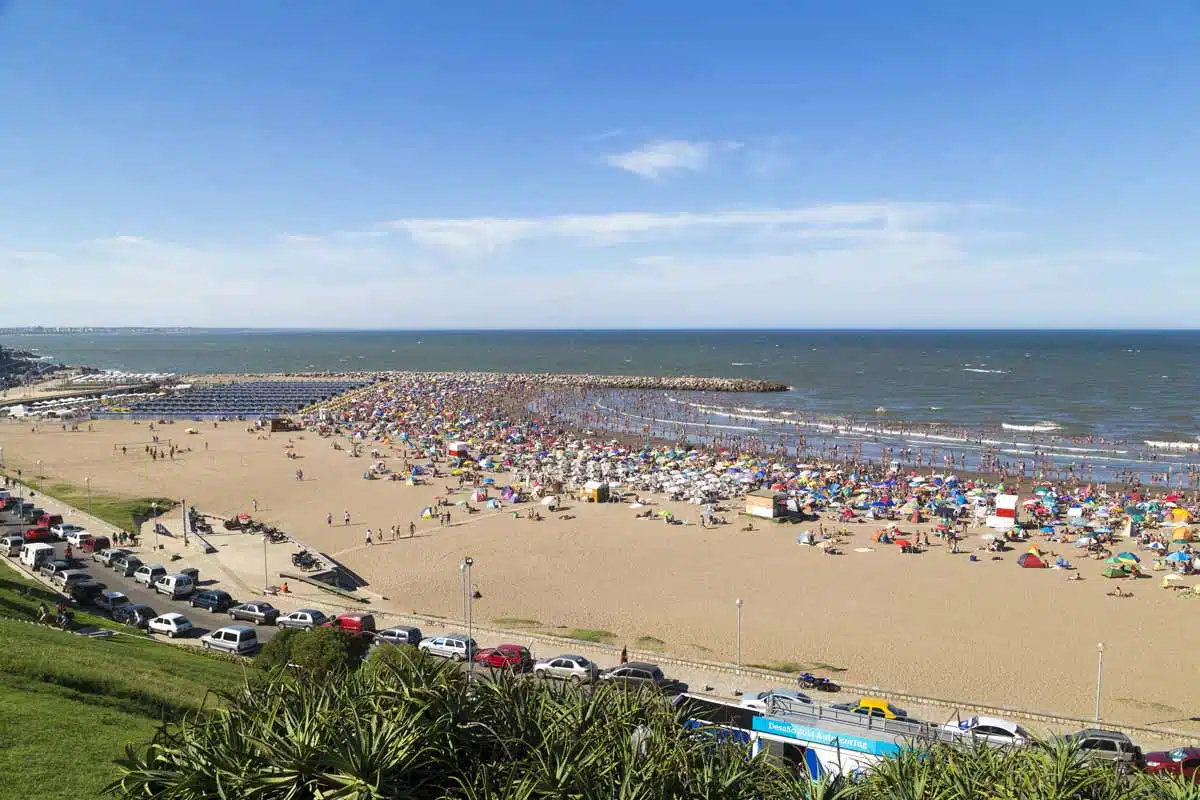 Let's start with one of Argentina's most famous beach towns and the largest in Buenos Aires Province. Mar del Plata bears the nickname of the "happy city"; you'll quickly realise why once you see its stunning coastline.
Beyond the captivating shorelines and roaring waves of the Atlantic Ocean, you'll find epic sports fishing and scuba diving destinations. Now, if you manage to pull yourself from the sun-loungers on its beach, a city filled with discos, bars, restaurants, and casinos awaits.
Miramar
The casual, more laidback Miramar is just south of Mar del Plata. What makes Miramar such a stunner is its beautiful and calm beaches.
Whereas other beaches near Buenos Aires often see unstable seas, Miramar is a tranquil haven for beach lovers. I'm talking sunbathing from dusk 'til dawn.
For those of you looking to do more than just lounge on its shores, a popular activity on the beaches of Miramar is cycling.
Why? Well, cycling trails in Miramar all run parallel to the beach. This makes it a casual yet fun way to explore with the sounds of the ocean right next to you.
Pinamar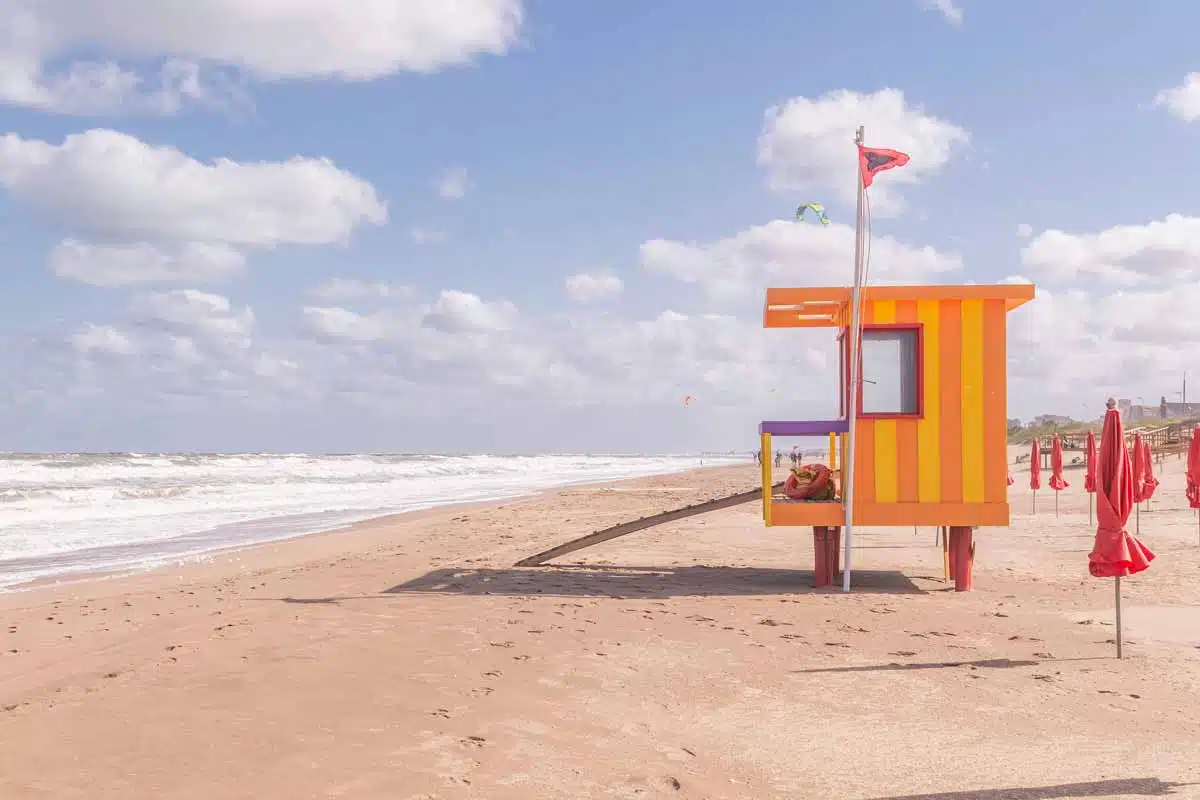 A favourite hotspot for the affluent during the 1970s, Pinamar is an upscale beach town that sits between Buenos Aires and Mar del Plata. It boasts a more relaxed pace and beach life are the tips of its charm.
While it was once a costly destination, it's far more reasonably priced today and draws in fewer crowds than other popular beach towns. As it's thickly forested by sprawling palm trees, visually, Pinamar is a treat.
Also, the scene of epic water sports will excite you, as you can indulge in windsurfing, wakeboarding, and jet skiing, to name a few.
Villa Gesell
Looking for a more urbanised beach experience? Head to Villa Gesell.
A city surrounded by dunes meeting deep blue ocean waters, it's not a surprise that it's a highly popular entry into the list of great beaches in Buenos Aires. It's one you shouldn't skip.
While its allure does lie in its eye-catching beach, other fun things to do here include renting a dune buggy and heading into the dunes. But, if you want to stick to the beach (I won't blame you if you do), you can try your hand at surfing.
Mar de Las Pampas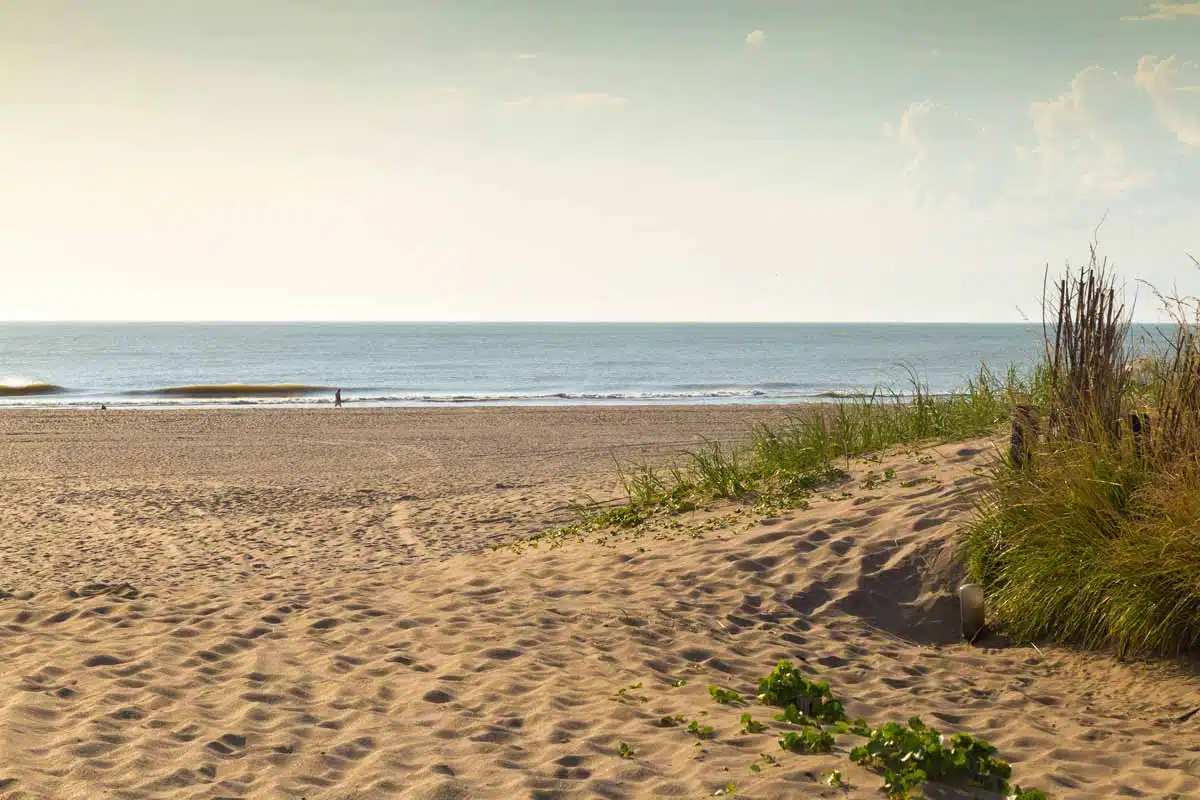 You'll find a string of small beach towns south of Villa Gesell – and the largest of them is Mar de Las Pampas. It's a gorgeous beach with white sand (clear of any shells or stones) and crystal-clear turquoise waters.
On the beach, you'll find only one restaurant (or Balneario) where you can gaze out into the ocean. Alternatively, you can rent an umbrella and beach chair for sand lounging.
Looking for a unique experience? Of course you are. Mar de Las Pampas beach offers the chance to go horse riding along the coastline. An opportunity I will never turn down.
Mar Azul
Located within a forest on the Argentine coast is the cosy little town and beach of Mar Azul. It's a very stripped-down and deconstructed beach experience, as you won't find any staples of famous beaches here. Just gorgeous sand and blue stretching for miles.
In my opinion, that makes it so much more special. No luxury resorts, no bars or restaurants, just pure beach bliss. It's a unique take on beach hopping, and considering its wide beaches feature massive dunes to climb and explore; it's near perfection.
Carílo
Picture soft golden sand lined with palm trees on one side and deep blue waters on the other. Heaven, right? Welcome to Carílo, the exclusive and upscale beach destination for the Argentinian elite.
As such, this is more of a luxury beach option so prepare for higher prices than other Buenos Aires beaches. The upside is that you won't need to fight through crowds of beachgoers to enjoy your time on the sand.
Thanks to its location, the beach at Carílo is one of the calmest if you're planning on swimming, especially compared to other beaches in the area.
Las Grutas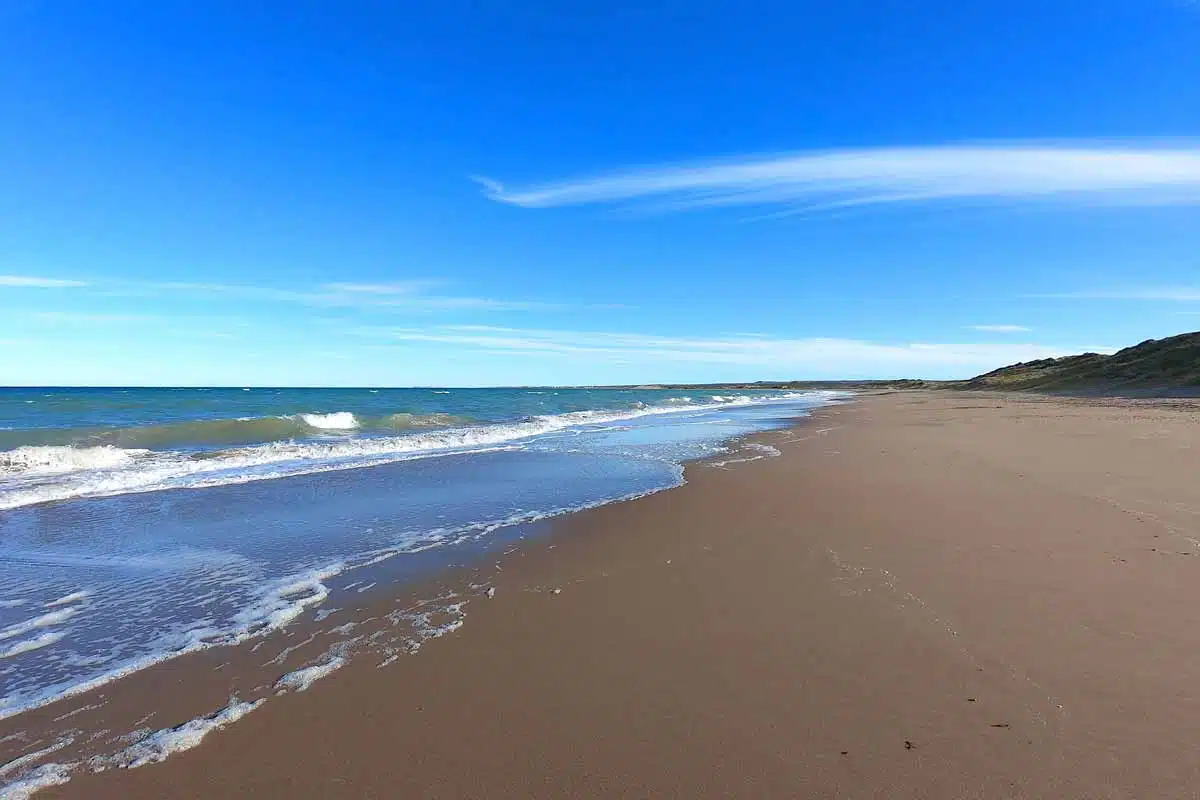 Alright, so this next beach is quite the distance from Buenos Aires – but it's well worth the visit. It's situated along the sleepy little town of Las Grutas. Its beach, surrounded by caves and caverns, is one of the most picturesque in the country.
While you're free to explore these caves, the major attraction here is the almost snow-white sandy beach with an endless blue ocean.
If you're on the beach during low tide, you'll find a collection of natural pools that open at the mouth of the beach's cave systems. Another bonus, Las Grutas sits within Patagonia, making it easy to hike and chill.
Tip: Read my guide to the best national park in Patagonia to add to your journey in Argentina.
Mar de Ajo
One of Argentina's oldest beach towns is the quiet coastal city of Mar de Ajo. Founded almost 200 years ago, it began life as a sleepy fishing village.
While the magnificent pier is still open for fishing, most come here now for its fantastic beach.
This Buenos Aires beach has some of the region's most shallow and smooth waters – they often change colour with the tides. A feast for the eyes during high tide, the waters take on an almost golden shade.
Top Tip: Check out the "ship cemetery" off the coast, where you can spot numerous wrecks from the shore during low tide.
Practical Tips for Visiting Buenos Aires' Beaches
So are there beaches in Buenos Aires? Yes. Are they in the city of Buenos Aires itself? No. Due to its environmental limits, there are no natural beaches in the city, so you'll need to head out of the city to find the best beaches in the province.
Most beaches near Buenos Aires come attached to resort towns and require much travel. Thus it's a good idea to overnight in these coastal towns. You can use services like Booking.com to get the best accommodation at the best prices.
Combine a beach trip (or two) with some other amazing things to do in Argentina to get the best experience possible.
Best Beaches in & Near Buenos Aires: Map