Cusco is a mandatory stop for anyone visiting Peru. The ancient capital of the Inca Empire is one of South America's most fascinating destinations. Don't miss these awesome things to do in Cusco on your trip.
Cusco has archaeological discoveries galore, a buzzing nightlife and is the gateway to Machu Picchu. Put frankly, it's a total must for anyone visiting Peru.
I absolutely loved Cusco but I'll be the first to admit that before I arrived, I was a bit clueless about just how many places there were to visit in Cusco. In fact, it took me several weeks to discover all of Cusco's attractions.
Don't make the same mistake: check out this guide to the best things to do in Cusco.
Cusco: What You Need to Know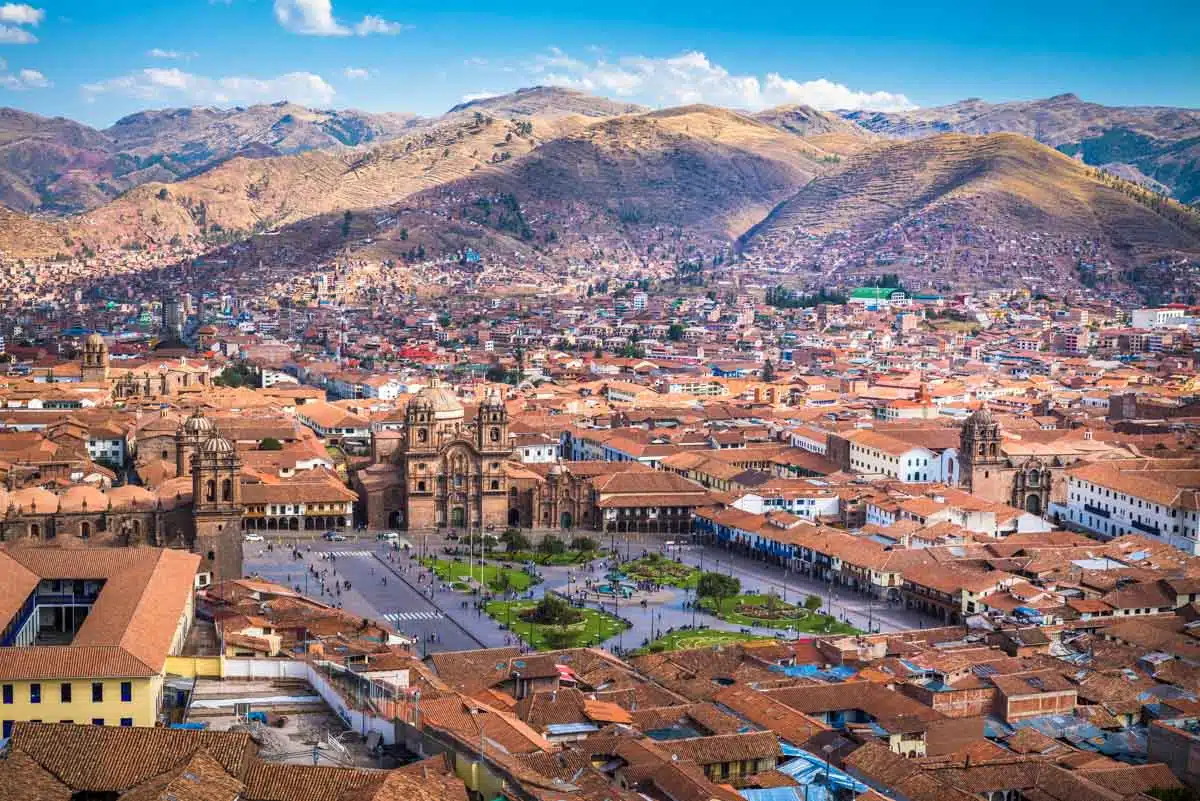 Perched at an altitude of 3,400 metres, there's a pretty good guarantee that Cusco will make your head spin, literally. But there's more to this city than dizzy heights.
In Incan times Cusco was the place people went to enjoy themselves (and the Incas definitely knew how to party – coca leaves and guinea pig anyone?).
Filled with history, it's one of Peru's most important Inca sites (alongside Machu Picchu), the ancient head of an empire that spread across nearly half of South America. In short – it's a must-see spot in Peru.
Today, Cusco is one of Peru's most exciting destinations, filled with backpackers, well-heeled tourists and some of the friendliest locals you'll find in South America.
South America's oldest continuously inhabited city has a wealth of historical sites that will fill even the most ambitious of itineraries. It's no wonder that many people come to Cusco for a two-day trip and end up staying a lot longer (yeah, that's exactly what happened to me).
Cusco's gorgeous spacious plazas, well-maintained Inca walls and narrow cobbled streets are a welcome change from the sandpits and congested roads of most cities.
The Best Things to do in Cusco
Take a Free Walking Tour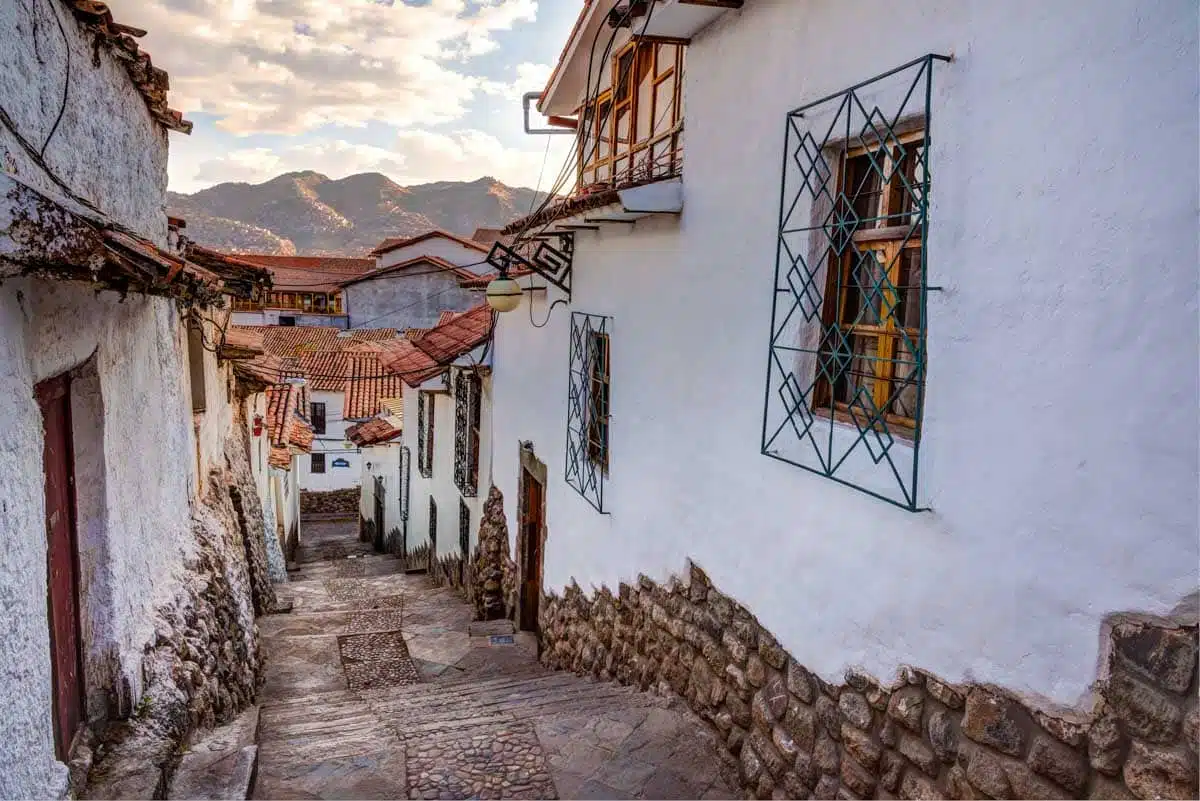 This is one of the best ways to see any city, and Cusco is no exception. The free walking tours will take you all around the city, teaching you key Quechua history and cultural facts, and helping you plan a few things to do in Cusco in the coming days.
I took a free walking tour with Free Tours by Foot that was pretty good, but I heard raving reviews about some of the others too.
Plaza de Armas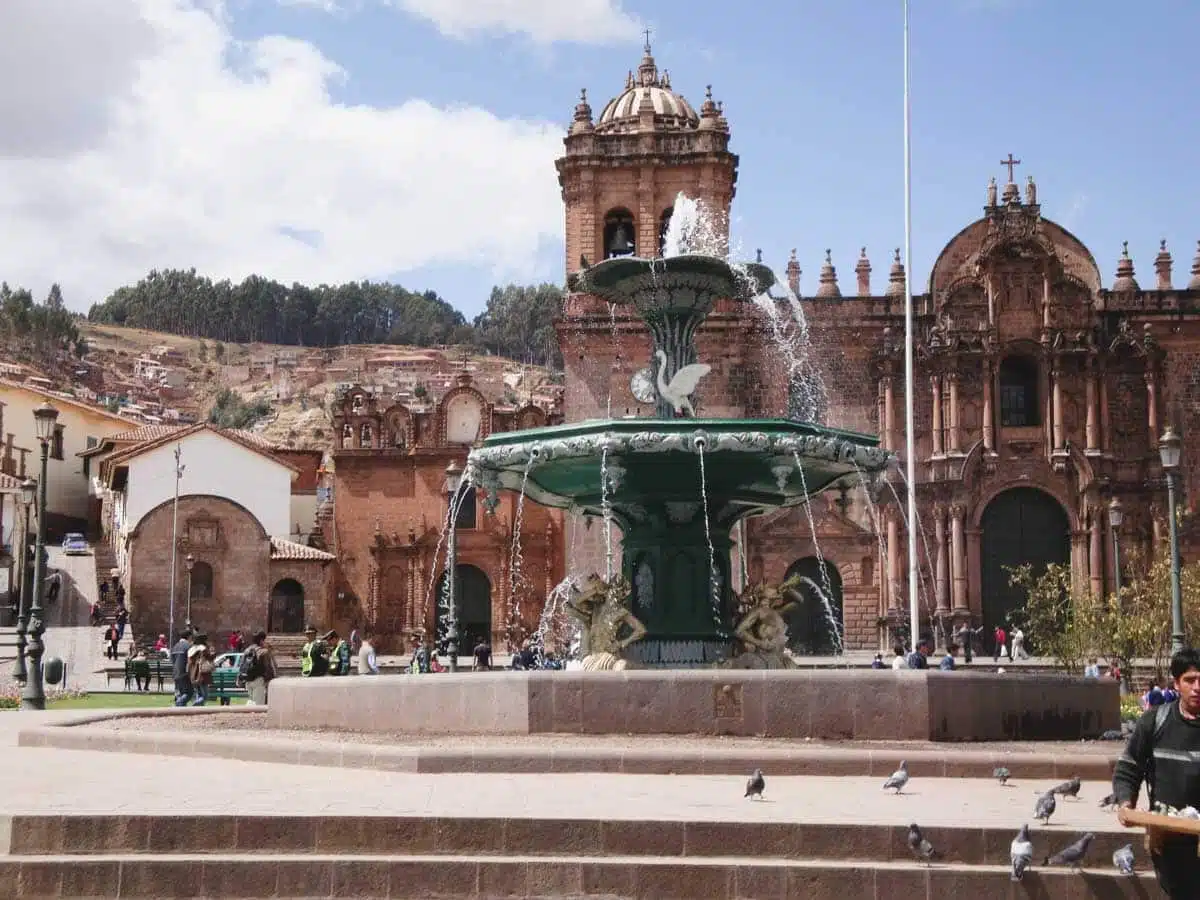 If you're looking for things to do in Cusco, you'd do well to start with the Plaza de Armas.
Like many South American plazas, Plaza de Armas has a couple of important landmarks on it (including Cusco's Cathedral, listed below), but much of its appeal is down to the fact that it's the thriving heart of the city.
The large plaza was built by the Spanish on an impressive scale. Well-tended gardens and wide walkways add to the sense of grandeur.
Interestingly, the Spanish built much of the Plaza we see today in the same location as the Inca square – which was twice as big. Although most of the Inca architecture was destroyed, you can still find traces of it here and there if you look hard enough.
Cathedral of Santo Domingo – Cusco Cathedral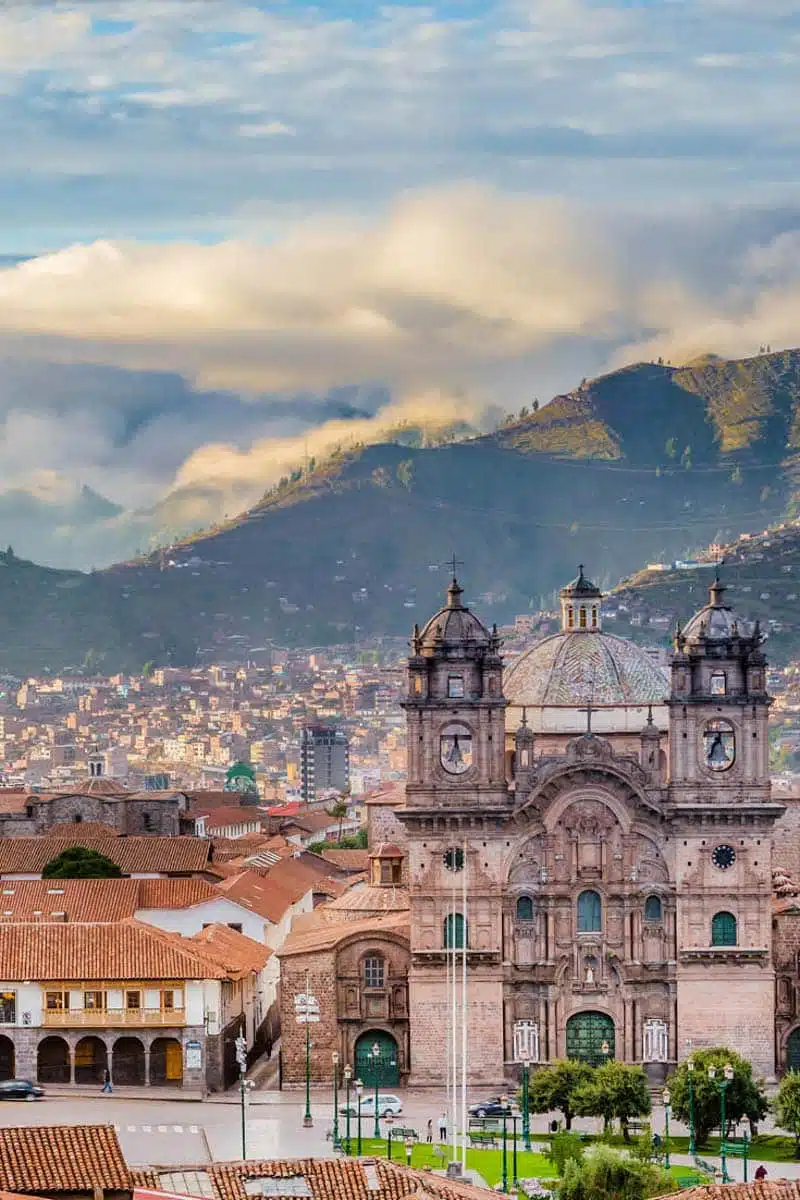 The eye-catching Cusco Cathedral on the Plaza de Armas is the largest in South America. There's no way that you can miss this Cusco attraction, which towers over the plaza.
Conquering Spaniards built the cathedral, starting construction in 1559. Although the cathedral is unquestionably Spanish in style, there are significant nods to the city's Inca heritage too.
Perhaps not too surprising as the cathedral is partially built with stones stolen from the ancient Inca site of Sacsayhuaman (which we'll come to later).
Don't be surprised to see the Inca Pachamama (Mother Earth) side by side iconic imagery of the Virgin Mary.
Some might say that the interior comes close to being a tad overdone, but is definitely worth seeing. One thing's for sure – no-one's going to accuse the designers of being stingy on the gold front.
Iglesia de la Compania de Jesus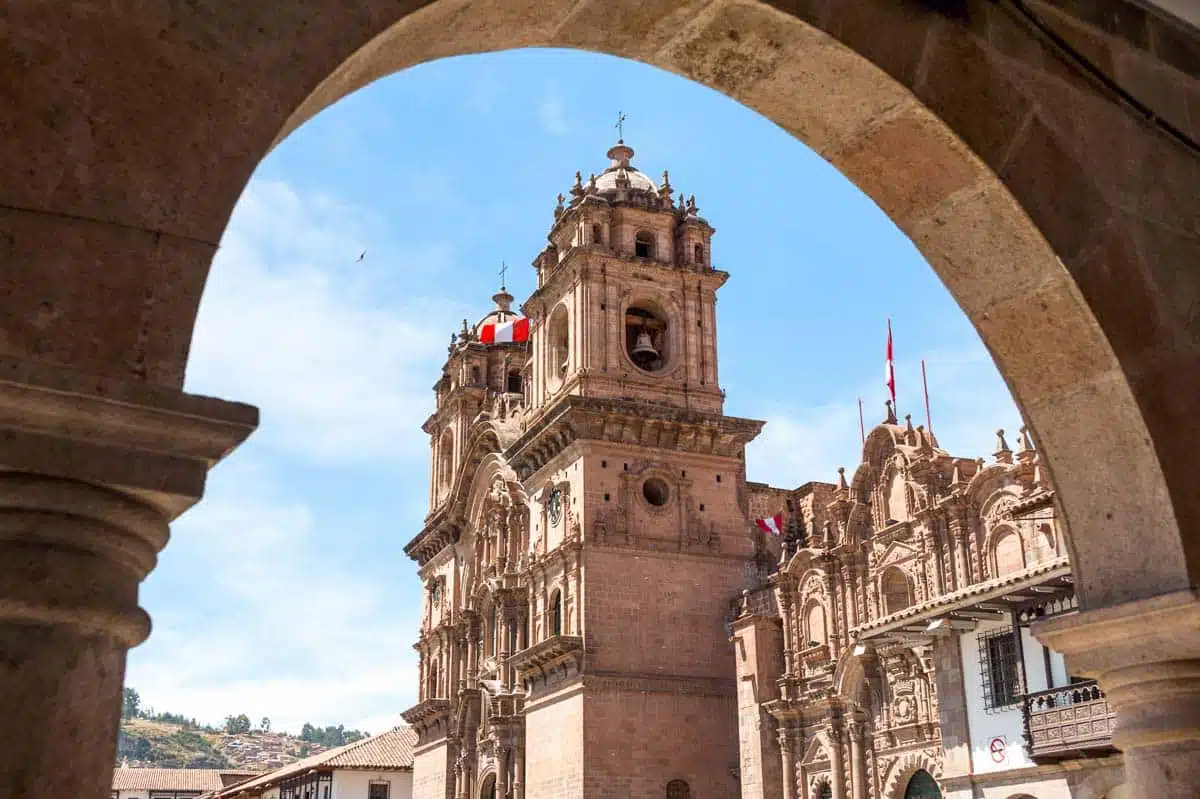 If there's one thing you need to know about Cusco, it's that there are a lot of religious buildings. I've tried to go light on the churches in this list of places to visit in Cusco Peru, but there are some that are too good to miss.
The Iglesia de la Compania de Jesus is one such church.
Located bang next to Cusco Cathedral, the Iglesia is an exuberant exercise in baroque architecture. It was built by the Jesuits to rival (and ultimately outshine) the Cathedral.
The Cathedral's then archbishop was so put out by the move that he complained to the POPE that it shouldn't be allowed. The Pope agreed – unfortunately by the time that the decree reached Cusco, the Iglesia de la Compania de Jesus was almost finished and there wasn't really anything anyone could do.
Who'd have thought Christian rivalry would be so fierce? Deciding which church is the ultimate winner in your eyes is undoubtedly a must do in Cusco.
Museo Inka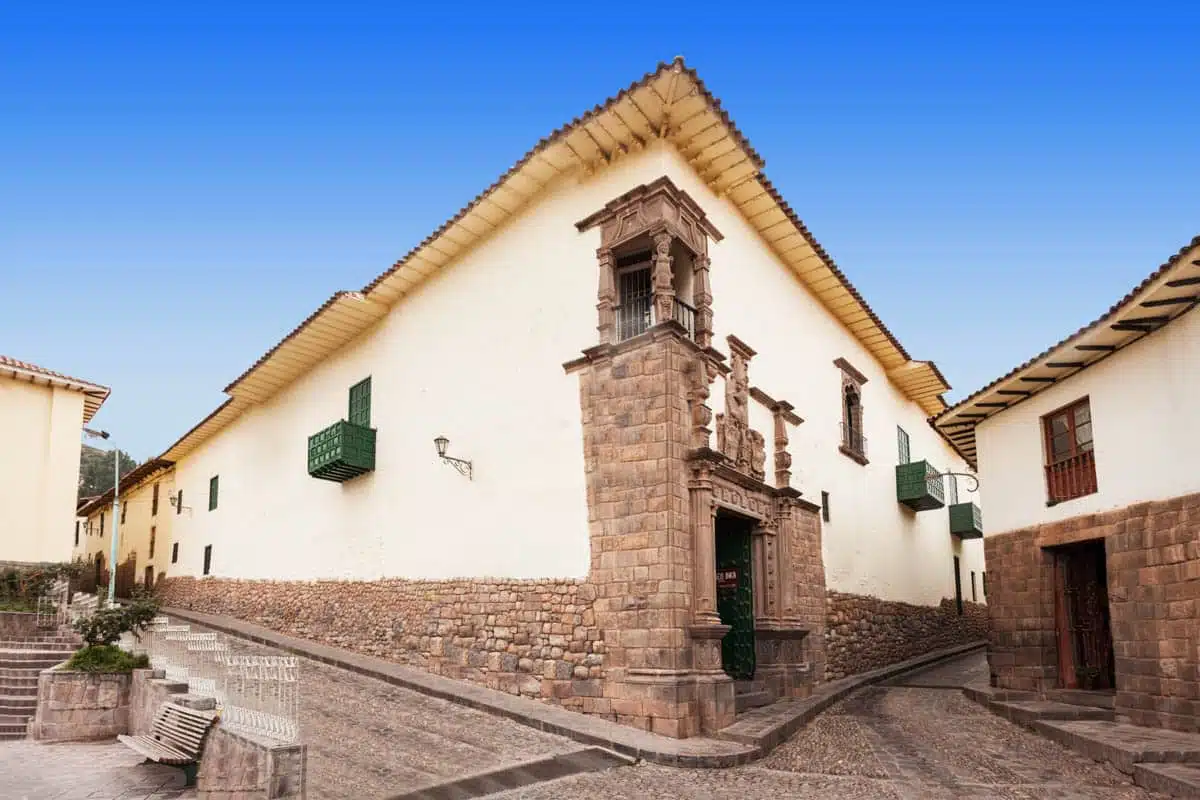 Head one block north of the Plaza de Armas you'll find the quaint but rather outdated Museo Inka.
The Museo Inka also known as the Admiral's House as it was first owned by Admiral Francisco Aldrete Maldonado. It's survived two major earthquakes in 1650 and 1950.
Thanks to some intensive restoration, has regained its position as one of the city's finest examples of colonial architecture.
Sure, it's got nothing on some modern museums, but I rather liked my visit to the Museo Inka. It crops up in pretty much every piece things to see in Cusco for good reason.
The museum offers visitors a chance to learn about the Inca empire (pretty much a must if you're spending time in this part of Peru) and is housed in pretty spectacular buildings too.
So what can you expect to see? The ghoulish skulls of those who underwent brain surgery before the days of anaesthetic might not be to everyone's taste.
If not, there are rooms and rooms filled with Inca artifacts and a courtyard dedicated to showcasing the traditional weaving skills of the local women.
Qoricancha or the Convent of Santo Domingo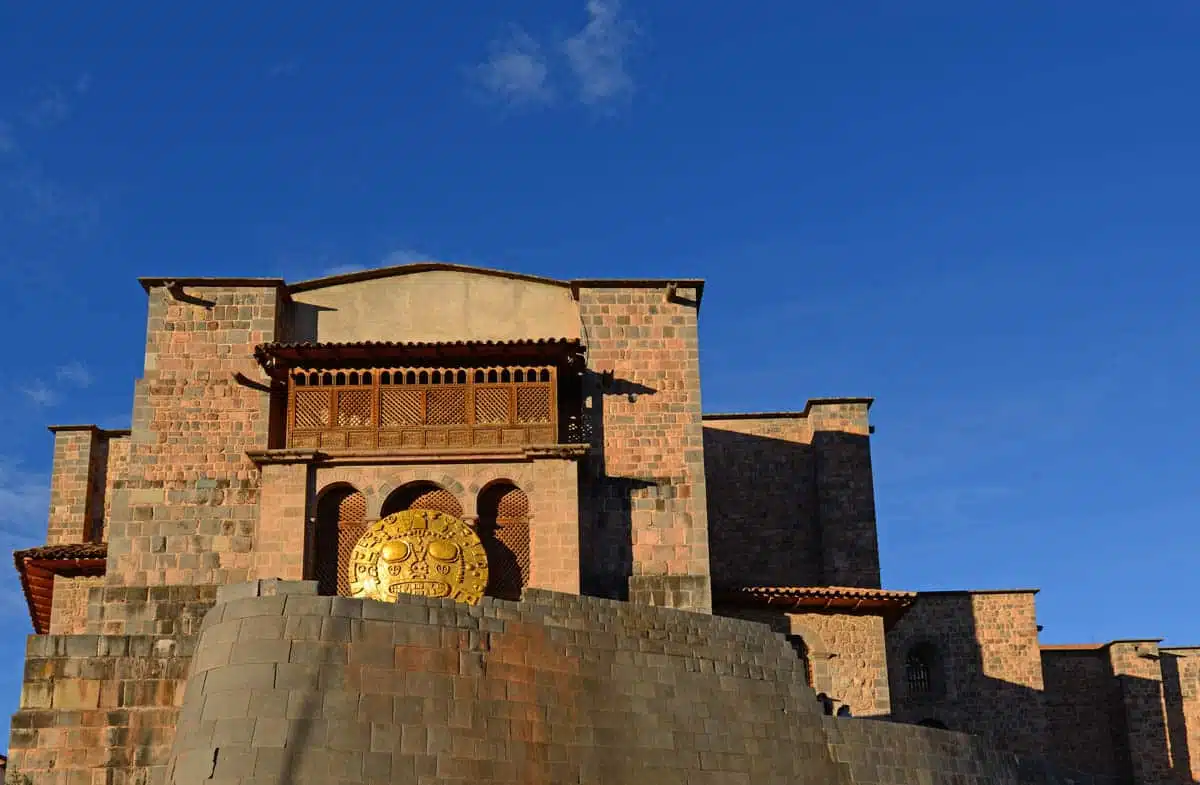 The ruins in Cusco are some of the best to be found in Peru. If you only have time to visit one or two, then make the Qoricancha your first stop – it's definitely one of the best places to visit in Cusco and should be at the top of your Cusco itinerary.
Why's it so special? Well, to be frank, it's a bizarre amalgamation of Spanish Colonial meets Inca temple. The result is totally unique.
Originally, Koricancha had six major structures, sanctuary temples to venerate the Sun, Moon, Stars, Lightning and Rainbows, as well as a residence for its priests.
Qoricancha translates as The House of the Sun and was the Incas' most important temple and a sacred site. It would have been decorated with gold sheets as a testament to its importance.
Unsurprisingly, the temple was ransacked by the Spanish who then built the church and convent on the site instead.
Much of Qoricancha's Inca architecture has been uncovered. The contrast between the stately Inca constructions and the elaborate decorations of the later monastery is striking. In fact, you can still see the imposing walls of the original structure within the church.
Sacsayhuaman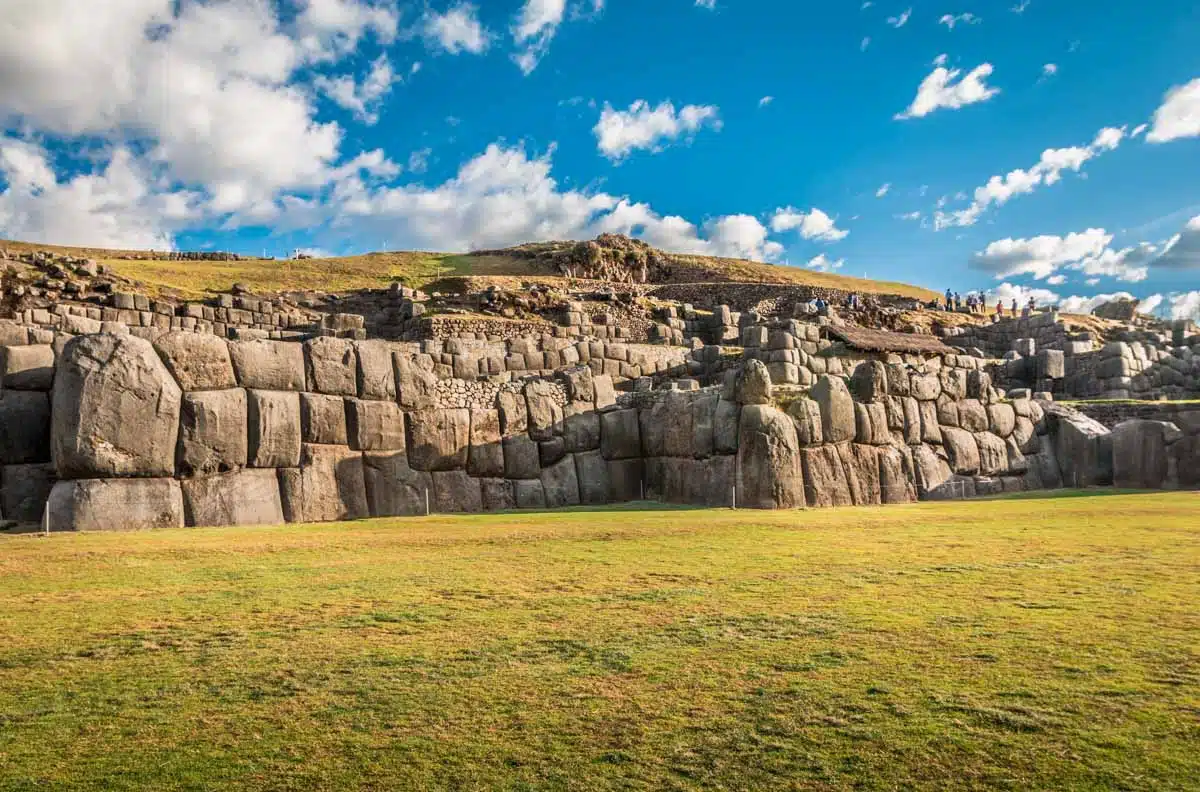 Equally impressive, but a little out of town is the exquisitely built site of Sacsayhuaman.
A significant part of the original structure was used as building materials by the Spaniards, but what remains gives a glimpse at how large the fortress once was.
The vast stone blocks were so well crafted that even after such a long period of time, they fit together without the need of mortar.
Theorists believe that the site was originally a temple to the sun and its capture by the Spanish marked the death knoll of the Incas. Even so, it still manages to attract thousands of pilgrims each year who come to celebrate Inti Raymi, the festival of the sun.
There's much to see in these ruins, from the giant zigzagging stone walls (legend has it they formed the teeth of the puma-shaped Incan empire that is now Cusco) to the carved stone benches that form the what historians and architects believe was the Incan throne.
The admission ticket to visit Sacsayhuaman is included in the Boleto Turístico, a tourist ticket that includes access to 15 other Cusco attractions for 130 sol (£30).
Hours: 7am-5:30pm
San Pedro Market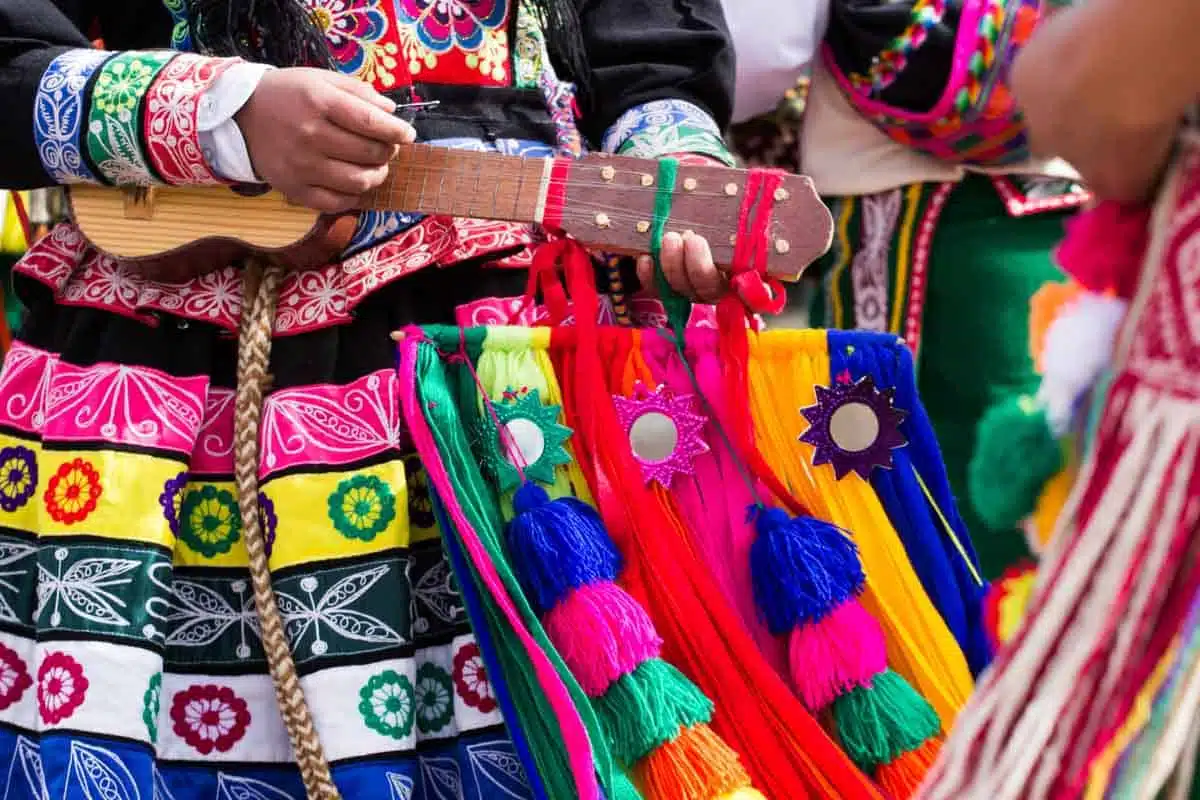 Just a few minutes away from Plaza de Armas, the San Pedro Market is the city's busy hub. The market gets our vote as one of the best things to do in Cusco – plan to spend a morning or afternoon there.
Explore every inch of the market from the raw meat stands to each of the 30 or so juice stands offering fresh squeezed juices from local fruits.
Competition is high – sometimes it feels like success in the market is purely a matter of who shouts the loudest. It all adds to the slightly frenetic atmosphere.
The market is a great place to get fresh ingredients, but also to pick up souvenirs for your family and friends. Shops sell anything from little knick-knacks like magnets and pens to novelty mementoes like pachamama dolls- handmade colourful dolls.
Address: Cascaparo, Cusco 08000, Peru
Hours: 6am-8pm
Dining in Cusco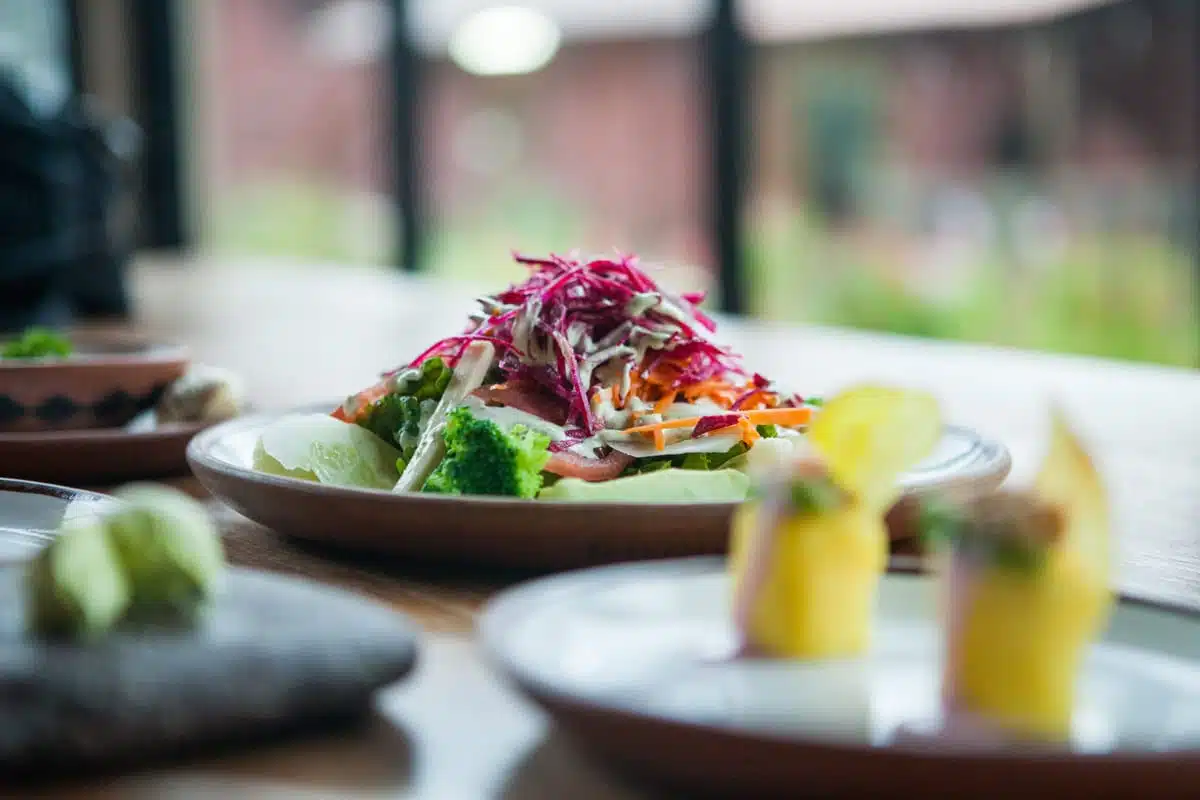 All that wandering around in the heat takes a lot of energy.
One of the best things I did while in Cusco was wander into a hole-in-the-wall restaurant and order a rocoto relleno, or stuffed chili pepper. It was AMAZING.
Peruvian food is quite unique and has a lot of delicious dishes to explore, so why not try some of the local specialties? In Cusco, some of these local specialties include dishes made with alpaca or guinea pig. The chocolate and coffee here is also to die for.
Refuel at the city's best restaurant, the Inca Grill. Their mouth-wateringly good food is complemented by the unmissable people-watching opportunities provided by the restaurant's location on the Plaza des Armas.
If you're in Cusco (and feeling a little adventurous) you should take the time to try one of Peru's delicacies, Cuy or as you might know it- Guinea pig.
Before you say to yourself, "No way am I going to eat that!", guinea pigs were originally raised specifically for eating before they became pets after the Spanish sent them back to Europe. Guinea pig meat is special in Peru because it's higher in protein and lower in cholesterol than chicken, pork and beef.
Even though you can find cuy at most restaurants in Cusco, the best place to eat cuy in Cusco is Kusikuy. This beautifully decorated family owned restaurant has made a name for themselves with cuy as their speciality.
Address: Amargura, Cusco 08000, Peru
Hours: 10am-10pm, Closed on Sundays
See the Last Supper Painting…With a Twist
In the Cathedral Basilica, you can see some famous Peruvian paintings . The most notable of them is a painting by Peruvian artist Marcos Zapata.
It depicts the iconic Last Supper scene, except Jesus and the disciples are feasting on a delicious meal of cuy, or Peruvian roasted guinea pig.
If you're intrigued by strange or unique art, you can't miss this – it's quite the Peruvian take on a classic image!
Relax and Acclimatize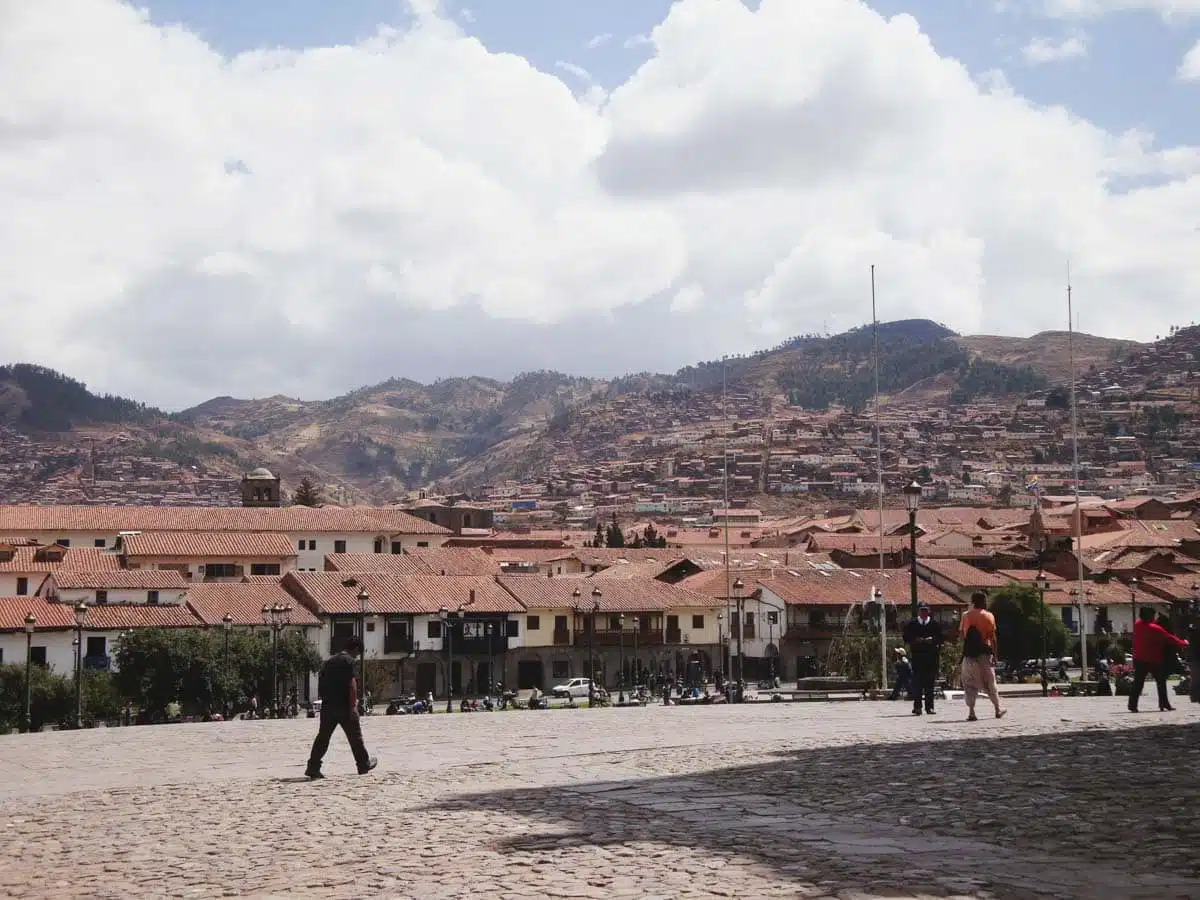 How can I possibly use "relax" as an item to do in a city? Well, for Cusco, this is especially important because you'll likely need to adjust to the altitude in order to avoid altitude sickness.
There are a lot of things to do in Cusco, so it's tempting to try and do everything in a few days. Be sure to take it easy your first day or two and don't try to pack too much into each day.
Spend some 'down time' relaxing at a coffee shop or sampling some Peruvian wines (they're pretty good!). Your body will thank you.
Take a Cooking Class
Did I mention Peru's food is awesome? If you want to learn how you can take these Peruvian restaurants home to your own kitchen, take a cooking class.
This is a wonderful, low-key activity to do while acclimatizing to the altitude. Some tour operators even offer fruit tastings for some of the local tropical fruits.
What to do in Cusco: Day Trips
Visit Vinicunca, or Rainbow Mountain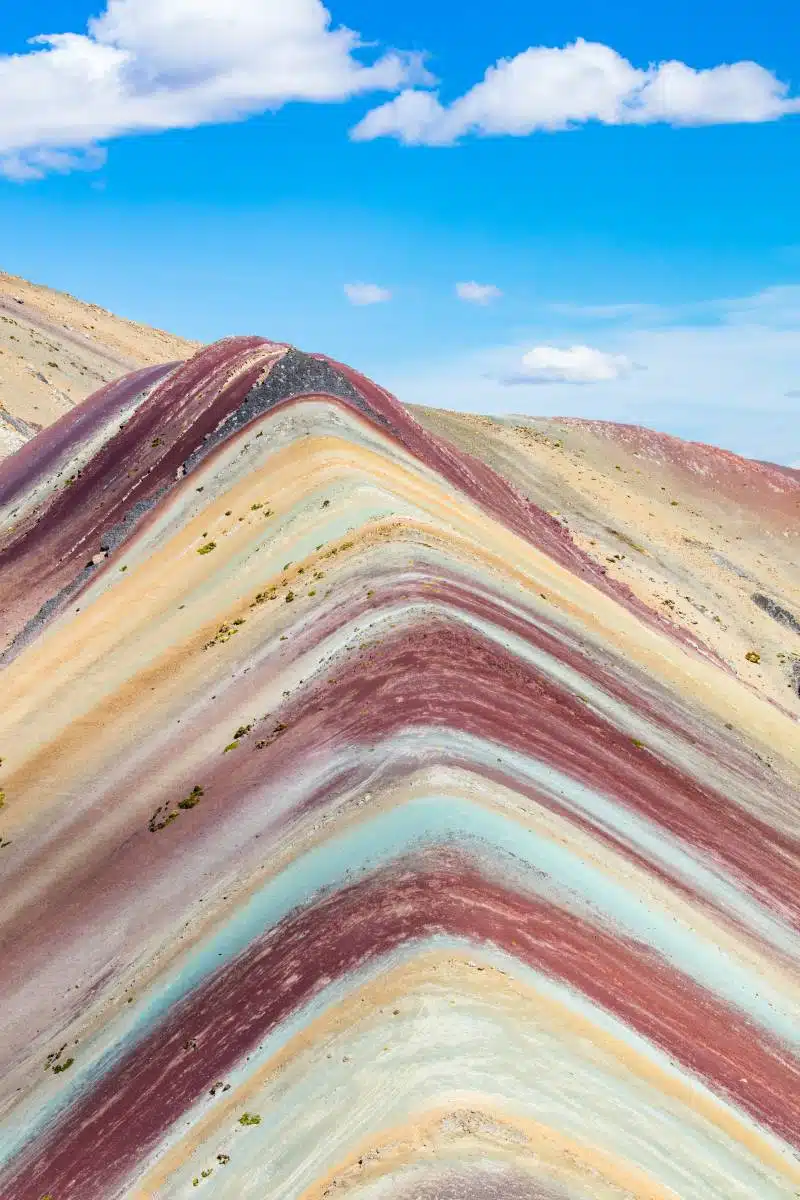 Rainbow Mountain, actually named Vinicunca, is a destination whose popularity has skyrocketed over the past few years due to an uptick in viral social media posts. It's a really unique place to visit, unlike anything I've ever seen in my life.
So, I mentally prepared for a tough hike up to 5,100 meters, laced up my hiking boots, and went for a day hike to Rainbow Mountain.
Although it was a tough hike and the tour was slightly rushed, it was worth it to see this colorful mountain for myself. This is one of the more popular things to do around Cusco.
Explore the Sacred Valley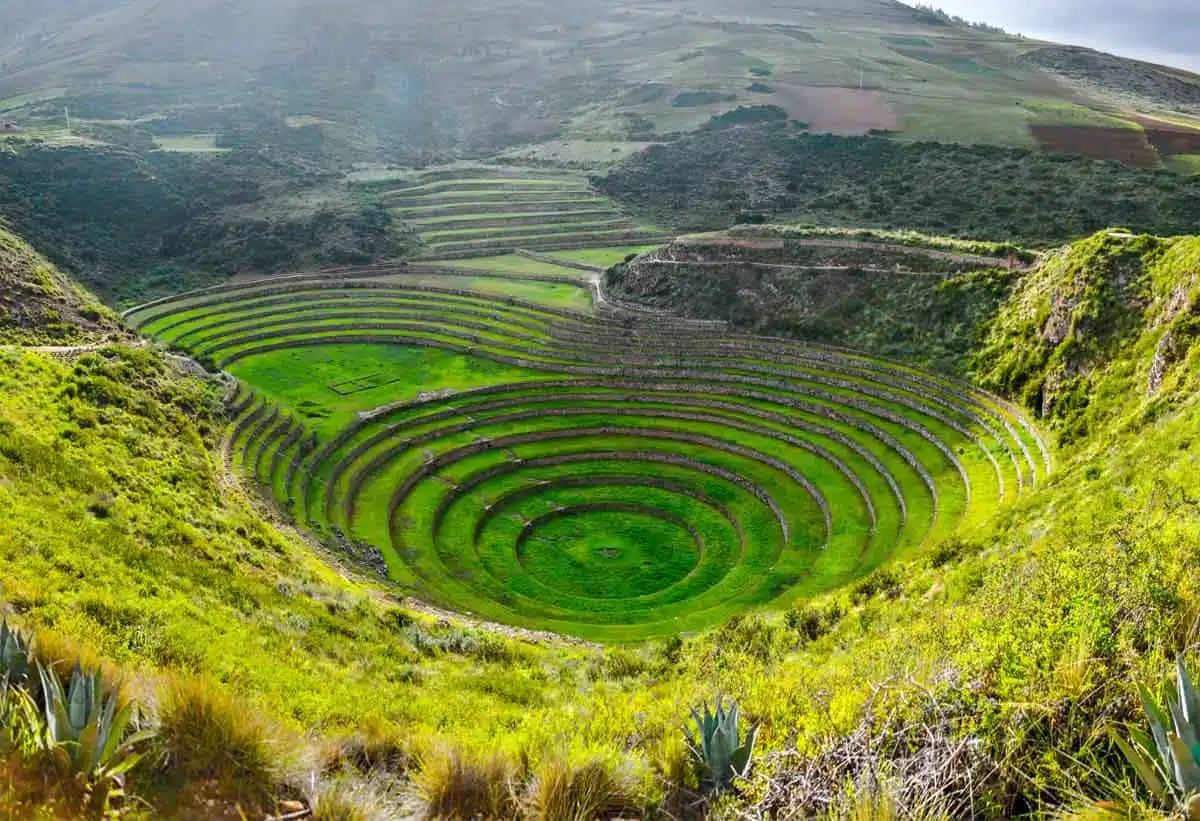 The Sacred Valley is an extremely popular tourist destination, but nonetheless one I think is worth a visit. Situated between jagged mountains and striking Incan ruins, it's an aesthetically incredible place.
You can explore the Sacred Valley on a bus tour, but a friend and I decided to try and do it using colectivos. It was cool to see how locals travel around from city to city, but it was pretty inefficient for getting around from place to place.
In retrospect, I probably would have just splurged on a private cab ($100-120 total for a full day) to be able to see all of the sights on my own schedule.
Things to do in Cusco: Practical Hints and Tips for Your Stay
When to Go
If you're looking to spend a lot of time outside or to visit Machu Picchu, the best time to visit Cusco is during the dry season, which is April-October. However, the high season for tourism is June-August, so the best time to visit for avoiding the crowds is either April-May or September-October.

Where to Stay in Cusco
Luxury
At the high end of the scale, Hotel Monasterio is built in a renovated 16th century monastery. The monastery in turn was built on the site of an Inca palace. It's pricey, but entirely worth the extra spend.
Mid-Range
If you're looking for a luxurious stay, but don't want to completely break the bank, then Inkaterrra La Casona is the place for you.
Located in the historic centre of Cusco it's not a far walk to the center of town, meaning that there's always plenty to do. The rooms are spacious and decorated in a modern comfortable style. Book now
Budget
On the other end of the scale, if you want somewhere that's social and great for meeting people, The Point Hostel is a great choice. For those that feel like they're past the dorm stage in their life, there are private rooms.
The hammocks in the garden at the back of the hostel demand at least a few hours of stargazing (or dozing whilst pretending to read a book). The staff are also the go-to people for the lowdown on the city's nightlife, guaranteeing there's never a dull moment if you don't want there to be.
How to Get Around Cusco
Cusco is super walkable, so this will be your best bet in terms of getting from place to place.
However, if you find yourself needing a ride somewhere, there are plenty of taxis available in most central areas. Taxis to and from the airport typically run between 20-30 soles.
There are also local buses and colectivos (or shared taxis) that will take you to nearby cities, such as Ollantaytambo in the Sacred Valley.

Safety Tips for Cusco
Cusco is situated at 3,400 m (or 11,100 feet) of elevation. Therefore, it will be difficult to breathe if you are coming from sea level, especially at first. Make sure you see a doctor before your trip and take the necessary precautions to avoid altitude sickness.
As with any large city, be aware of your surroundings and keep your valuables hidden. Cusco is generally a safe city but it's always best to be alert.
How to Get to Cusco, Peru
If you're arriving in Peru from an international destination, you'll likely fly into Lima. From Lima, the easiest way to get to Peru is by flying.
However, if you'd like to take the scenic route, Peru Hop buses are also a fantastic option (and good value) for getting around the country as a tourist.
There are also land border crossings from Ecuador and Bolivia where you can enter Peru from its neighboring countries.
Have you been? What other things to do in Cusco would you recommend?
Love this? Save and Share on Pinterest!