Discover the best treks around the world with this handy guide. From Everest Base camp to the Appalachian Trail, these are the most gorgeous hikes around the globe.
There's nothing like the joy – and challenge – of doing a long-distance trek.
With nothing but a backpack and the belongings inside, treks enable you to traverse long spans of space and immerse yourself in the beauty of nature.
Whether you've traveled far and wide to do some of the most famous treks around the world, or want something a little closer to home, there's a trek for everyone.
For office dwellers (like us), these are a great way to get off the grid and enjoy nature. Trekking combines hiking, camping, and relaxing in the tranquility of a beautiful place – something we could all use a bit more of.
There are so many amazing treks around the world that you can try, even if you've never done a multi-day hike before. In this post, we've collected a few picks for the best treks around the world that anyone can do.
Best Treks Around the World
Skyline Trail – Jasper National Park, Canada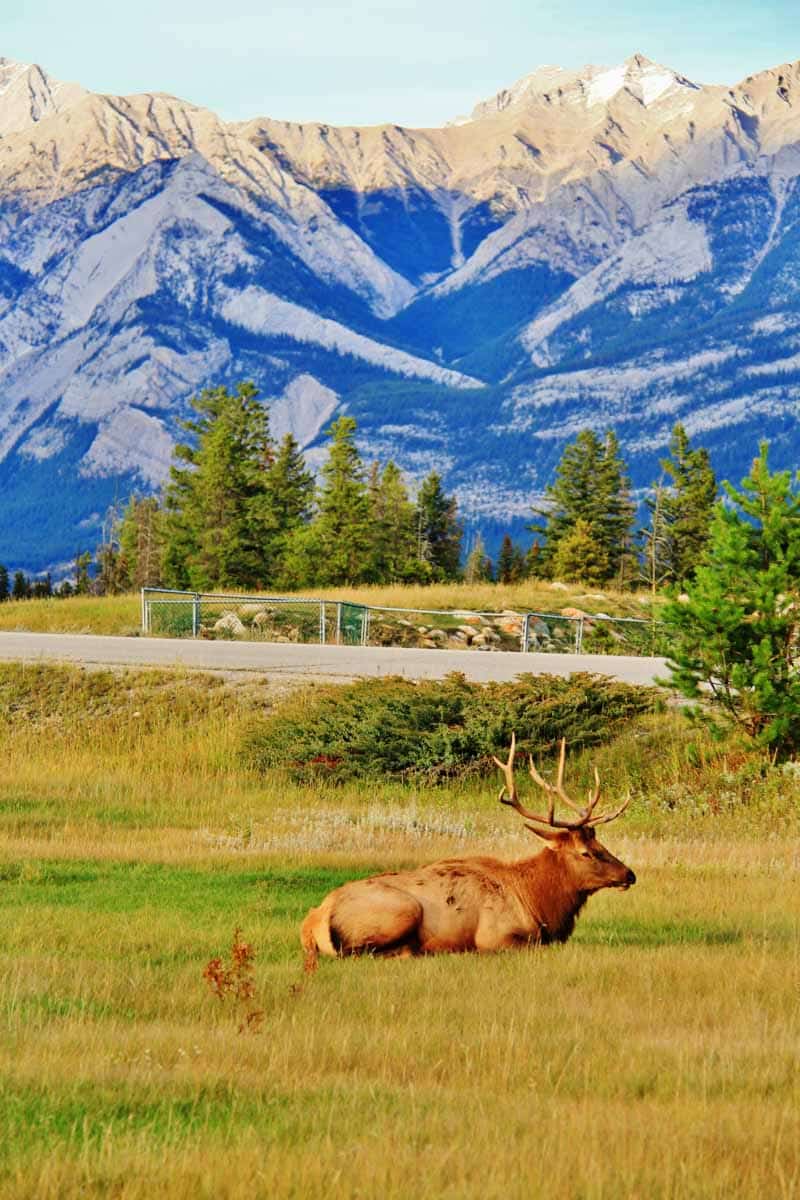 Distance: 44 km
Length of Time: 2-4 days
Difficulty: Moderate to Difficult
Kicking off from one of the most beautiful spots in the Canadian Rockies, the Skyline Trail in Jasper National Park is a must-do for hiking enthusiasts who visit the area.
This challenging trek takes you through 44 km of backcountry trails, many of which immerses you in the most beautiful and striking mountain views.
If you decide to do the Skyline trail, you can choose between itineraries of 2-4 days in length.
Inca Trail – Peru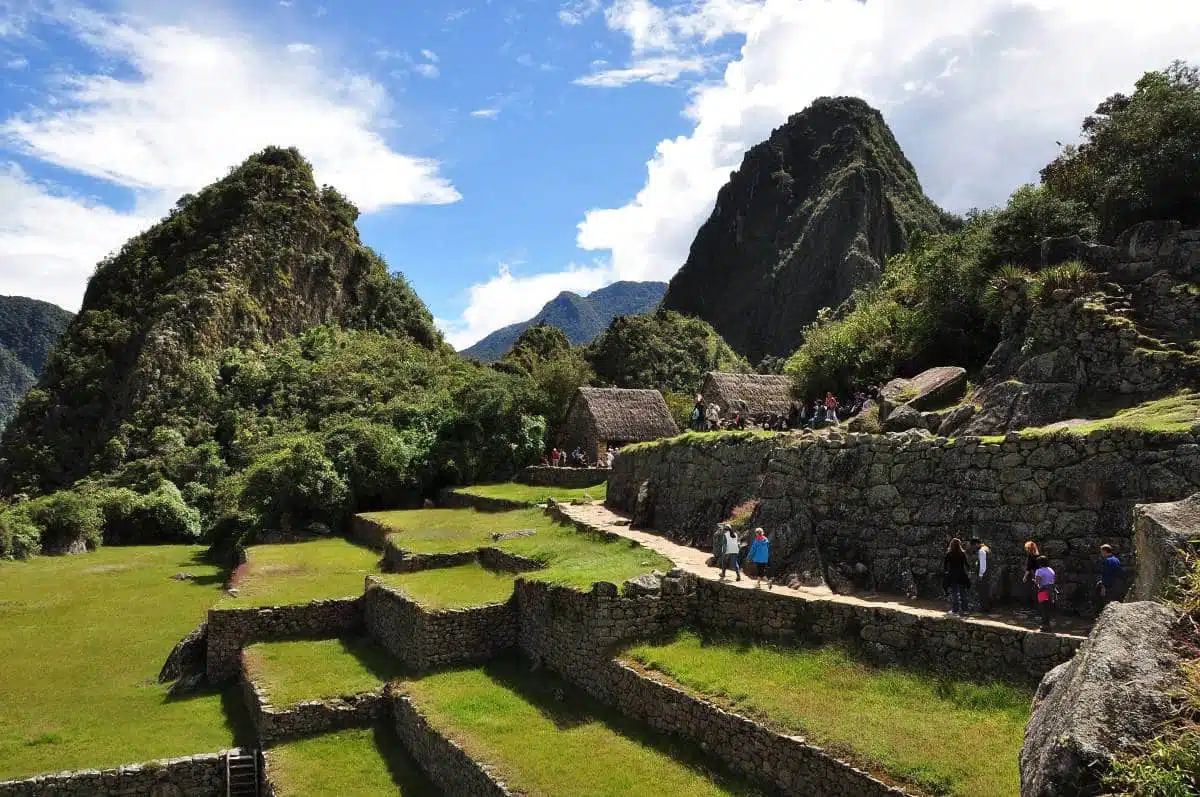 Distance: 43 km (26 miles)
Length of Time: 4 days
Difficulty: Moderate
The Inca Trail stretches for 43 km in the Andes Mountains, and is one of the most famous treks around the world.
Built by the Inca civilization over a century ago, the trail winds through incredible (and terrifying) mountain passes, lush forests, and steep cliffs. Because this trail is so popular, you
Did you miss the deadline for booking your permit? Don't worry – there are plenty of Inca Trail alternatives to undertake that are just as (if not more) beautiful.
Alta Via 1 – Dolomites, Italy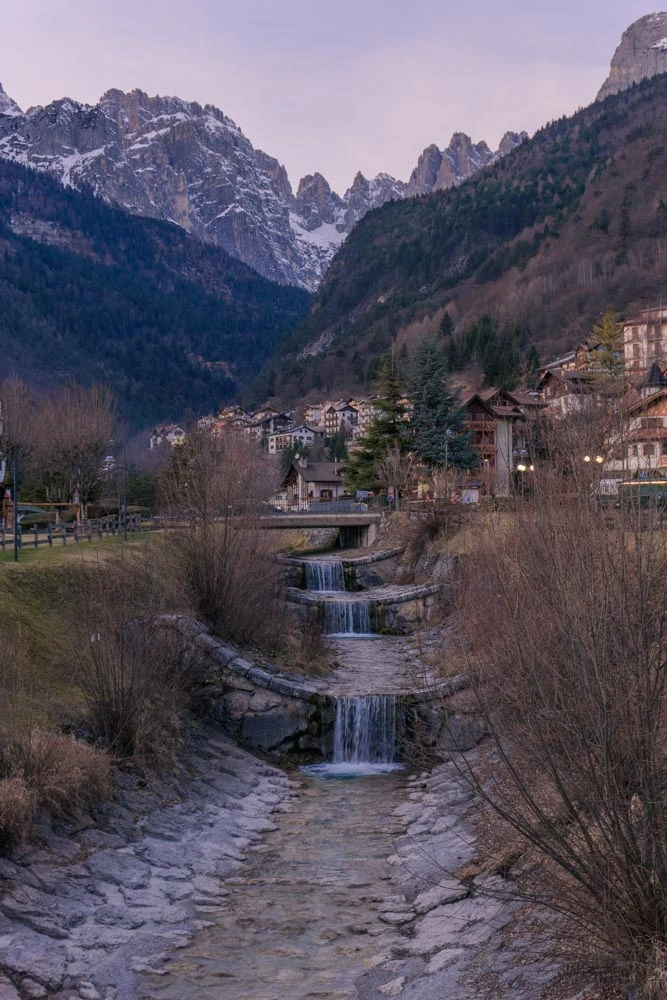 Distance: 120 km (75 miles)
Length of Time: 8-12 days
Difficulty: Moderate to Difficult
If you're anything like us, you've probably seen photographs of Italy's Dolomites and reacted with a resounding gasp. Yes – they're that beautiful.
The Alta Via 1 trek is one of the best long-distance hikes to take to immerse yourself in this beautiful destination. Spanning 120 km in the Italian countryside, it's a fantastic long trek that isn't solely designated for experienced hikers.
Despite its length, it's a trek that's very manageable for beginner hikers and experts alike. (Read here for more information on hiking the Alta Via!)
Annapurna Circuit – Nepal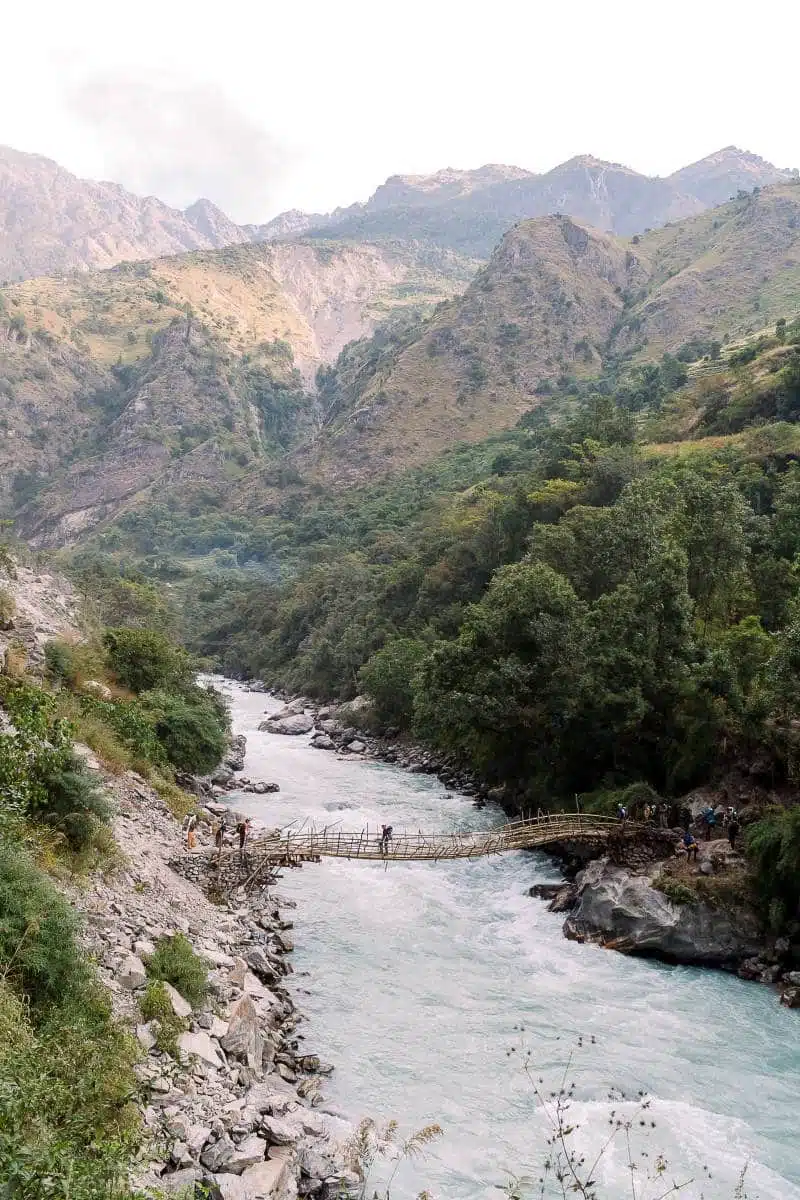 Distance: 160-230 km
Length of Time: 12-20 days
Difficulty: Difficult
One of the most stunning – and most challenging – treks in Nepal is the Annapurna Circuit. This 160-km+ trail encircles the Annapurna mountain area, giving hikers a taste of the stunning Himalayan mountains.
You can undertake this trek with or without a guide, but be sure to allow at least two weeks for completion.
Check out Kristin's post for more information on trekking the Annapurna circuit without a guide.
Mount Kilimanjaro – Tanzania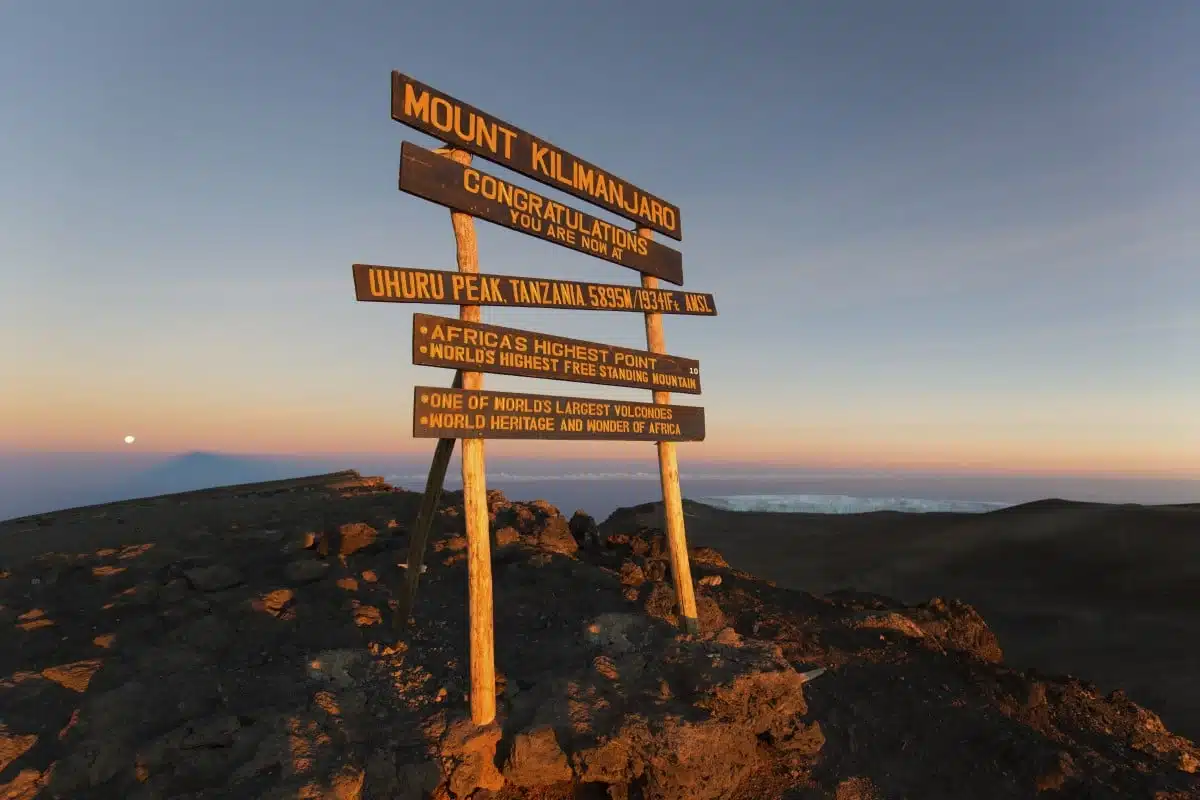 Distance: 60-70 km
Length of Time: 7-9 days
Difficulty: Moderate to Difficult
Many people dream of summiting Africa's tallest peak, Mount Kilimanjaro, which is located in Tanzania.
If you'd like to do this, it takes anywhere from 7-9 days, depending on which of the several routes you take.
In order to climb Tanzania, you must go with an authorized guide, which can be pricey. Be sure to do your research and book in advance to ensure you get an experienced guide!
Queen Charlotte Track – New Zealand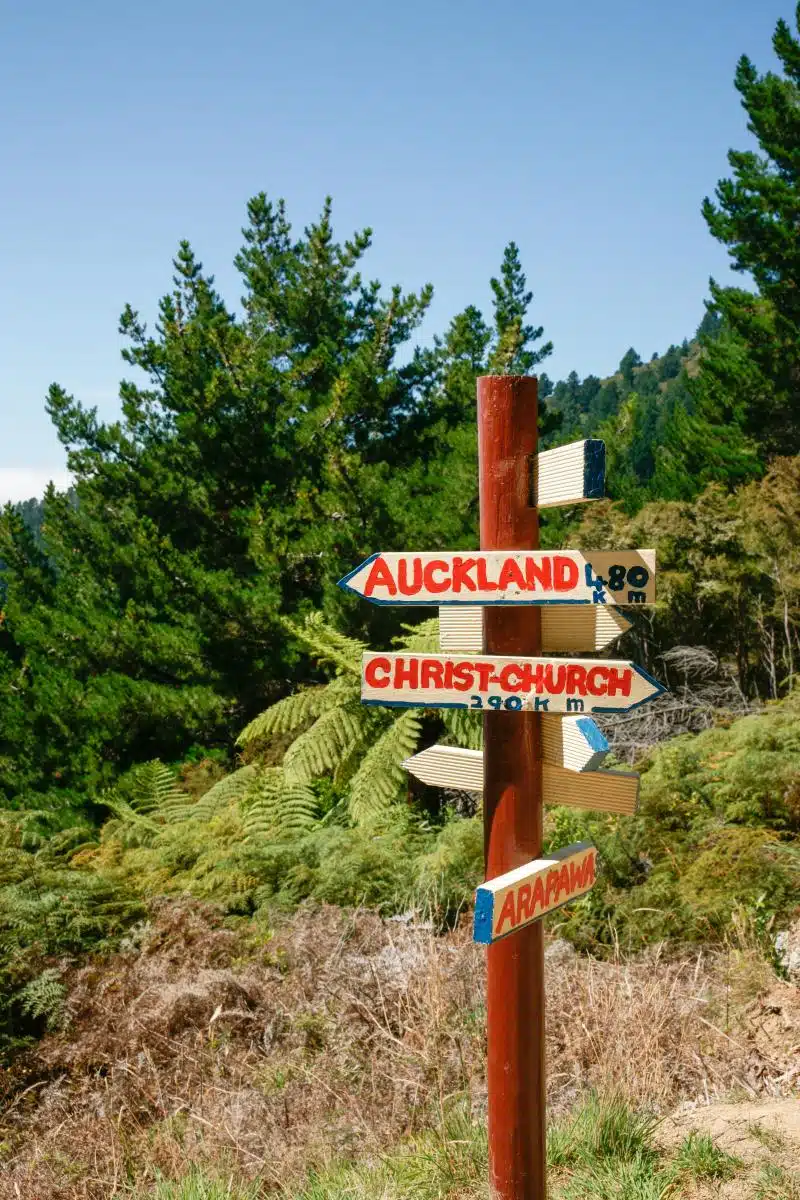 Distance: 70 km
Length of Time: 3-5 days
Difficulty: Easy to Moderate
Looking for an interesting mix of historical sites, beautiful nature, and coastal views? Then perhaps the Queen Charlotte Track is for you!
This trek is unique because you have several options, ranging from budget digs to luxury hotels, all along the way. If you're looking for a trek that's less rugged, this one is a great choice.
The official Queen Charlotte Track website has a lot of information for potential trekkers.
The W Trek – Torres del Paine National Park, Chile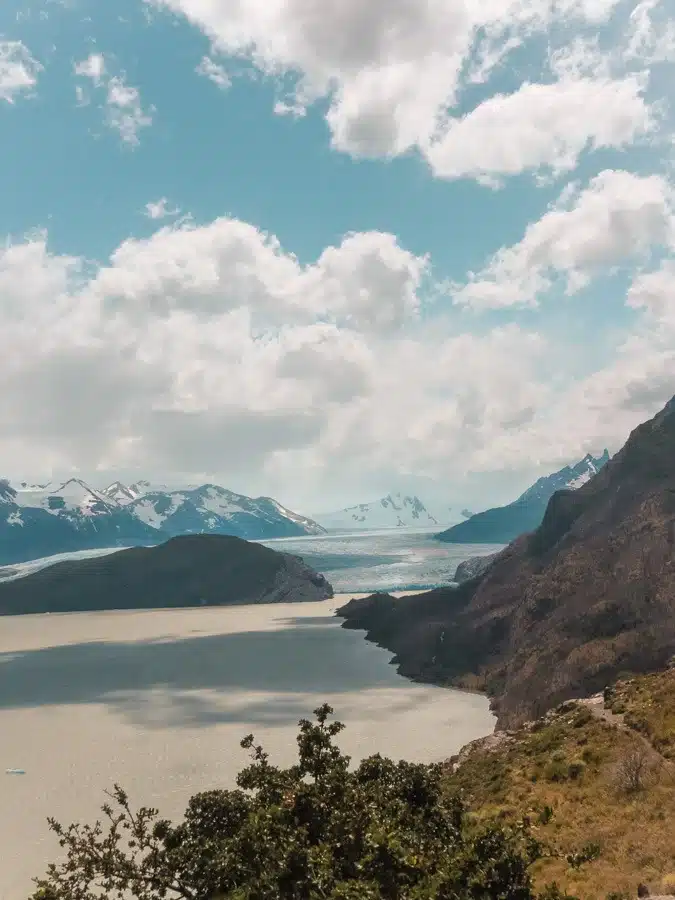 Distance: 100 km
Length of Time: 3-5 days
Difficulty: Moderate to Difficult
No list of best treks around the world would be complete without a trek in Patagonia. We might be biased, but the W trek is one of the most beautiful and most accessible for hikers of all skill levels.
These well-marked trails take you through glacial lagoons, next to towering glaciers, up to panoramic mountain views, and of course, to the Torres del Paine viewpoint.
If you're interested in learning more, we wrote a comprehensive guide to trekking the W, as well as a guide to camping in Torres del Paine.
Xela to Lake Atitlan – Guatemala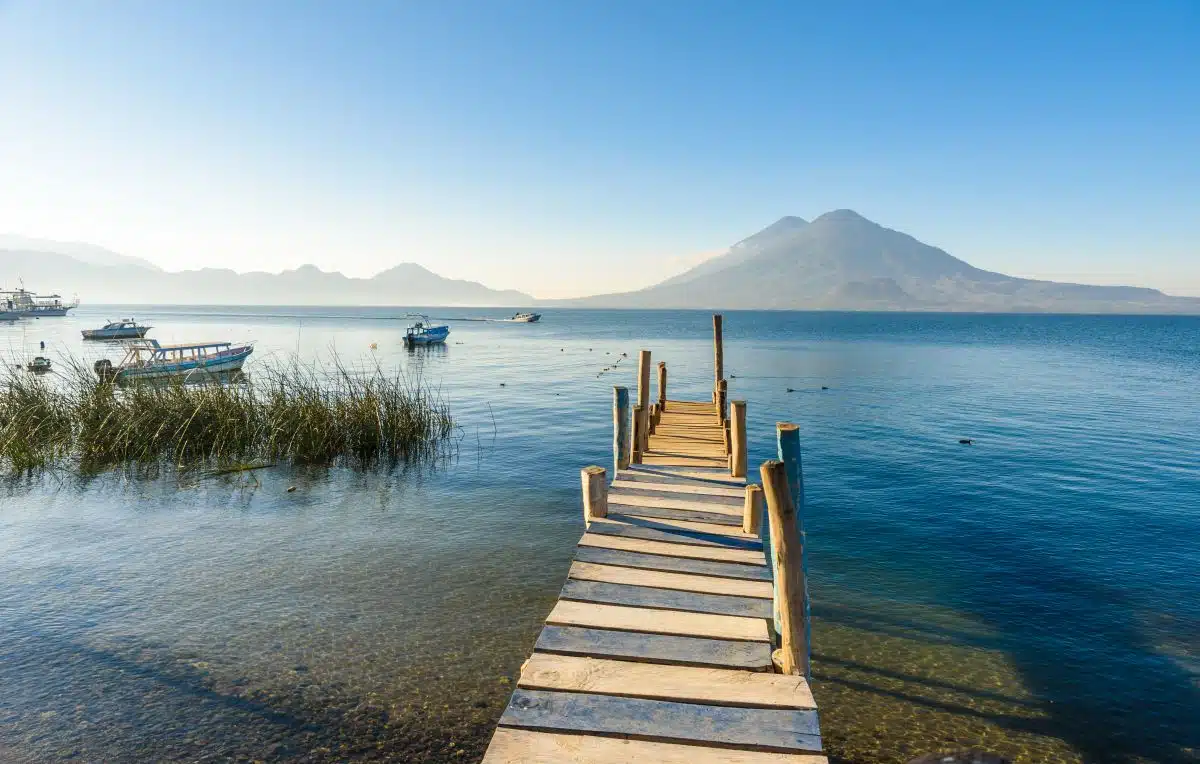 Distance: 42 km
Length of Time: 3 days
Difficulty: Moderate
Imagine a lake surrounded by volcanoes as far as the eye can see. Yes, this lake exists! It's called Lake Atitlan and it's located in Central Guatemala.
One of the best (and little-known) ways to experience Lake Atitlan is by trekking from one of the nearby cities, Quetzaltenango (Xela for short).
The trek takes you through the Guatemalan countryside, ending with a bang to watch the sunrise over this stunning lake.
If you want to do this trek, we highly recommend hiring a guide and going with a group – Quetzaltrekkers is one of the most highly recommended tour operators for this trek.
The Appalachian Trail – United States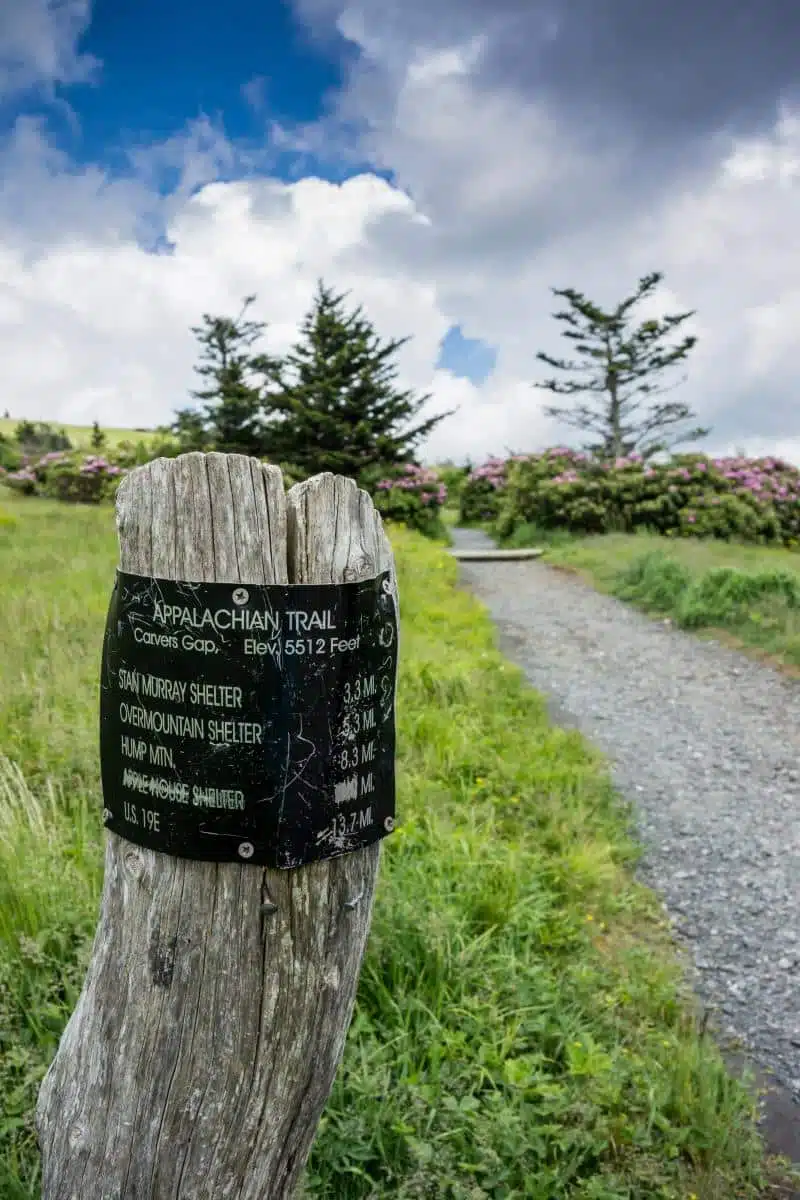 Distance: 3,500 km total (but typically done in smaller stretches)
Length of Time: Depends
Difficulty: Depends
The Appalachian Trail is one of the longest hiking trails in the United States, spanning from Georgia to Maine.
Although some intense trekkers opt to finish the whole trail, many people shorten it based on their skill level and time constraints. Winding through forests, mountains, and small towns on the East Coast, the Appalachian Trail is one of the most famous US adventures.
Depending on how long you want to hike, you can do parts of this trail in a day, or extend your trip to a few months.
Tsitsikamma Mountain Trail – South Africa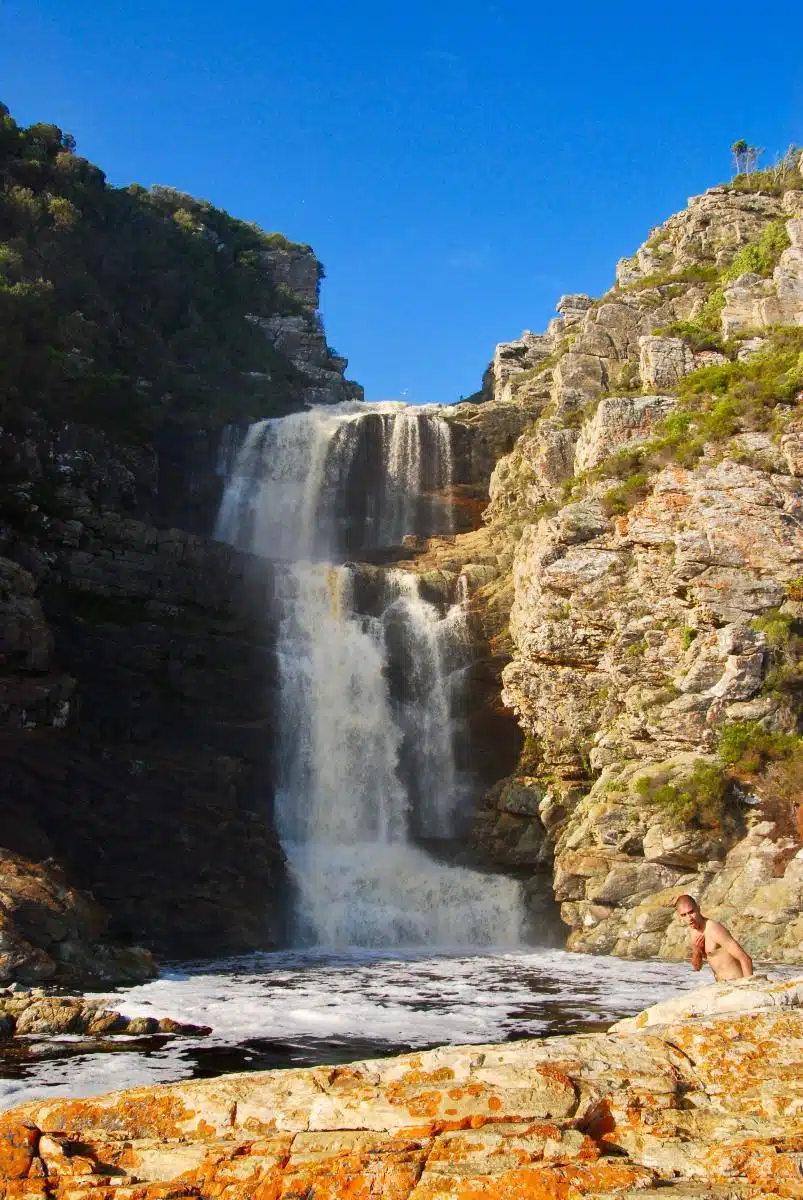 Distance: 60 km
Length of Time: 5-6 days
Difficulty: Moderate to Difficult
From sweeping mountain views to dramatic river gorges, the Tsitsikamma Mountain Trail is one of the best long-distance hikes in South Africa.
This trek takes hikers through the middle of the Tsitsikamma Mountains, enjoying 60 km of natural beauty. This trail has many accommodation and porterage options for hikers that want a bit more of a luxury experience.
You can check this site for more information.
Sapa Trek – Vietnam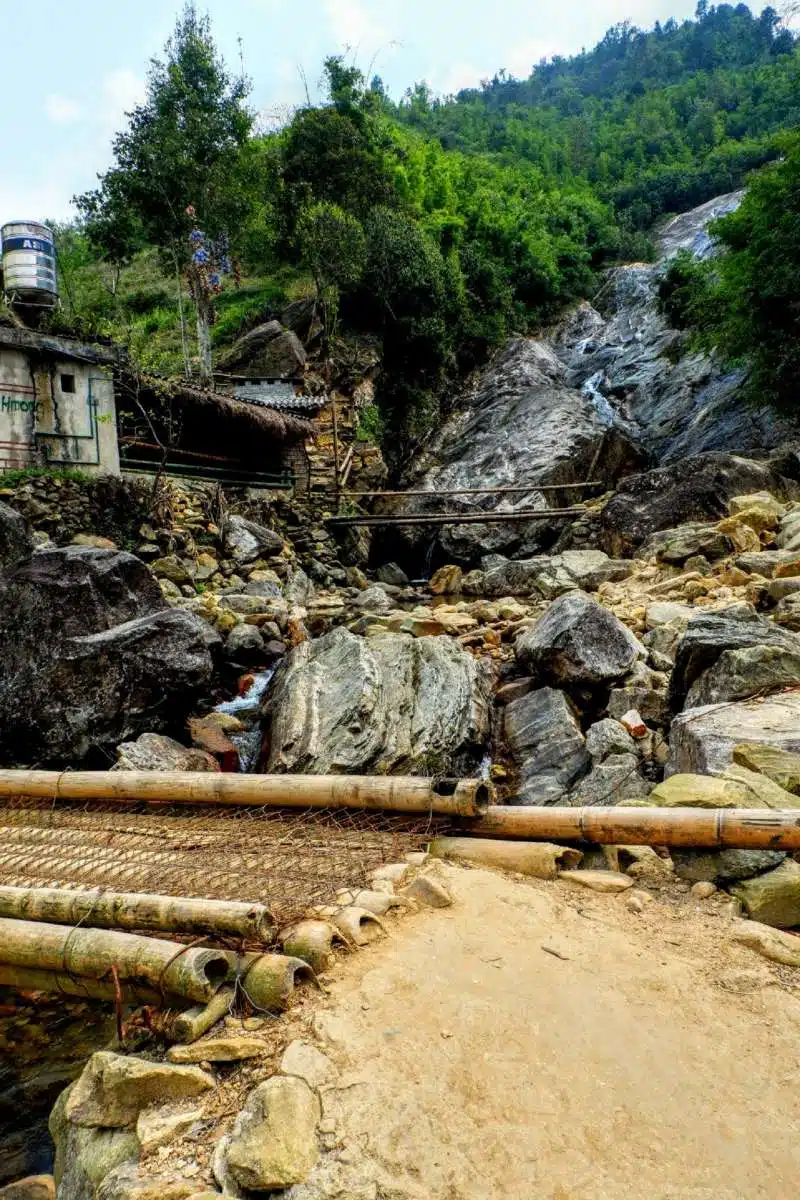 Distance: Depends
Length of Time: 2-3 days
Difficulty: Easy to Moderate
Sapa is one of the most beautiful hidden gems in Vietnam. An overnight train ride from Hanoi, it is located close to the Chinese border.
Striking rice terraces, mountains, and waterfalls are prevalent in the valleys, but the real beauty of the experience is the cultural immersion in the Hmong towns, where locals wear deep blue clothes dyed with indigo and teach visitors about their rustic way of life.
For treks in Sapa, we recommend Sapa Sisters, which is run by young women from the Hmong communities in Sapa.
The young guides from this organization are friendly and knowledgeable, and the proceeds go to training and empowering young women to work in tourism in the Sapa area.
Laugavegurinn/Fimmvörðuháls Pass – Iceland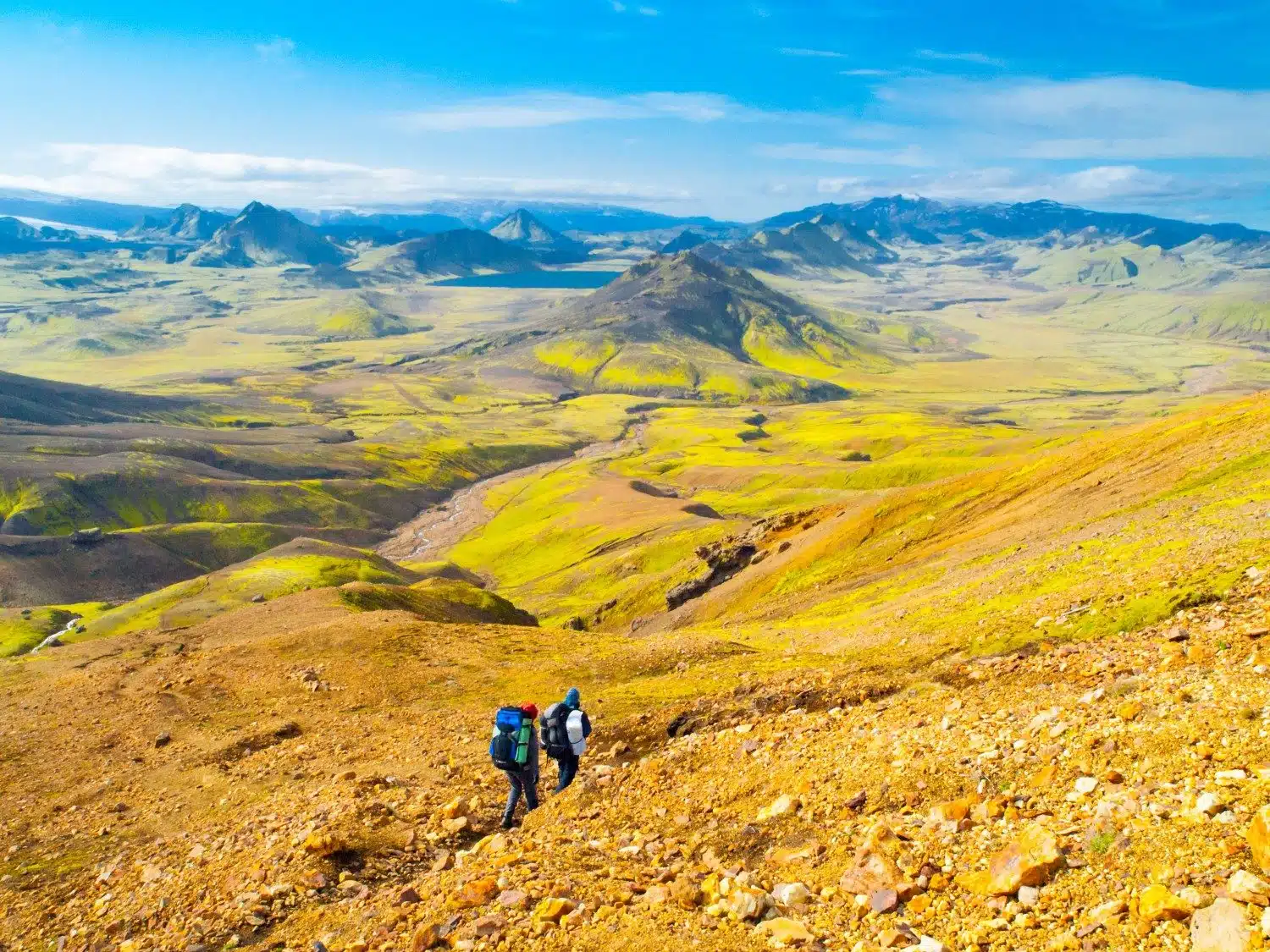 Distance: 77 km (48 miles)
Length of Time: 4-6 days
Difficulty: moderately difficult (dependent on weather and time of year)
If you're hoping to explore more than just the tourist spots of Iceland, this 77 km trek along the southern side of the country will take you through steep slopes, geothermal vents, and nearby ice caves.
Previous hikers rave about the gorgeous colors and incredible sights of the surrounding landscapes. If you want to experience the beauty and essence of Iceland, this is a fantastic trek to try – no guide necessary.
Camino de Santiago – Western Europe
Distance: 780 km (500 miles)
Length of Time: 1 to 3 months
Difficulty: Easy to Moderate
Although it's known as one long hike, El Camino actually has many different routes.
The most popular route is the French Camino which begins in St. Jean-Pied-du-Port in France and ends at the tomb of Santiago in Santiago de Compostela, Spain.
This trek is seen as a pilgrimage in Christianity, and has its roots in the 9th century. Dotted with monasteries, cathedrals, and churches, parts of the trail get moderately crowded in the summer months, depending on the route you choose.
Pacific Crest Trail – United States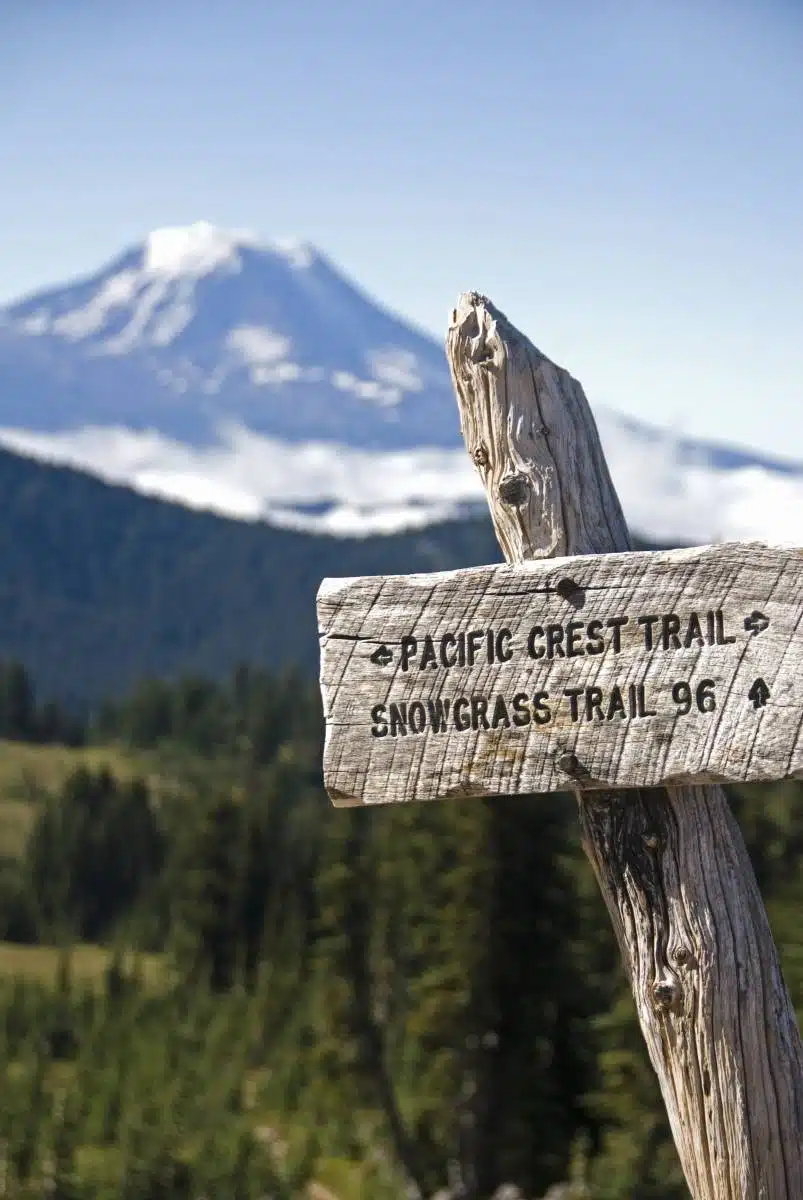 Distance: 4270 km (2650 miles)
Length of Time: Depends
Difficulty: Depends
Famous in American popular culture, the trail stretches the North-South length of the western coast of the United States and crosses 3 state lines.
Be prepared for gorgeous scenery across mountains, lakes, and the pacific coast. This trip does require some specific planning and permit applications, so be sure to plan accordingly.
The Pacific Crest Trail Association keeps and maintains the trail with help from an army of volunteers, and they have a helpful website with information on how to plan your trek.
Peaks of the Balkans Trek – Eastern Europe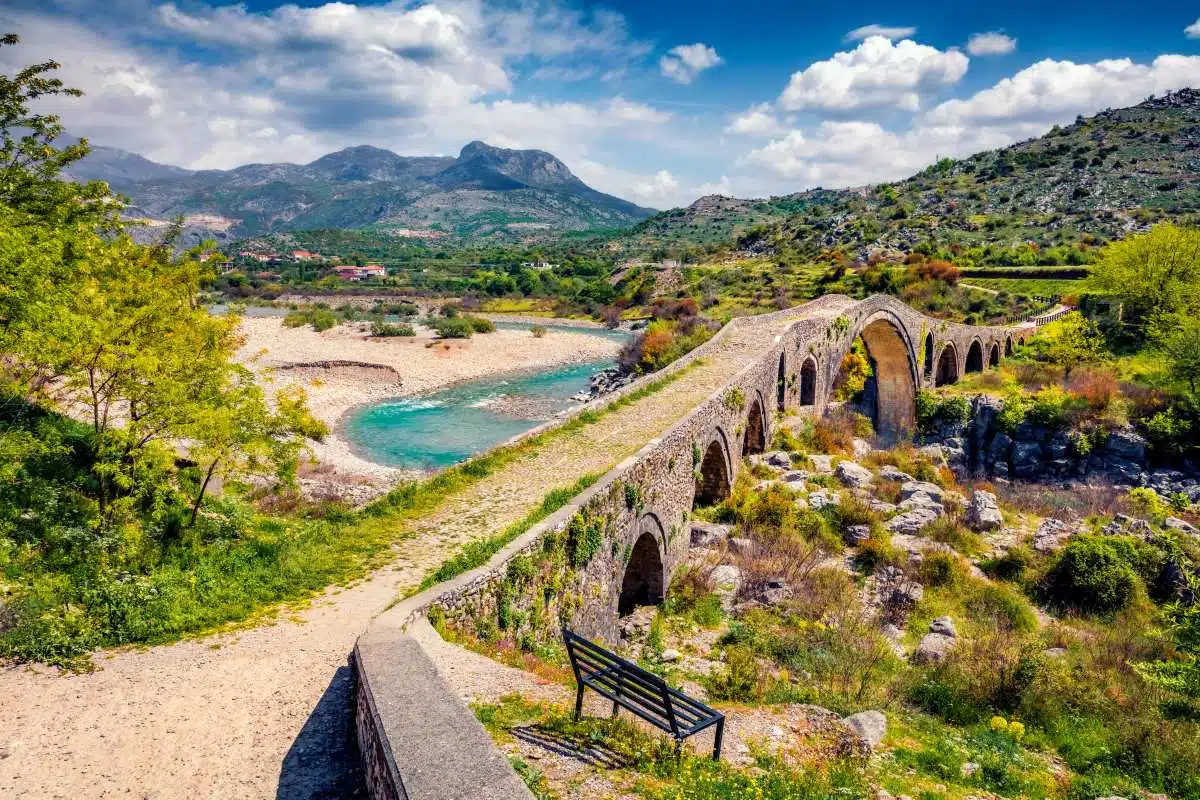 Distance: 200 km (125 miles)
Length of Time: 10-12 days
Difficulty: Difficult
Covering the Balkan mountain range, this 200 km hike takes you through Albania, Montenegro, and Kosovo.
Thanks to new international partnerships that allow movement between these national borders, this relatively new trail is quickly becoming a favorite of many seasoned hikers.
There are multiple options and variations of the trek to choose from – you can learn more about this long trek in this handy guide.
Overland Track – Tasmania, Australia
Distance: 65-82 km (40-51 miles)
Length of Time: 6 days
Difficulty: Moderate to Difficult
The overland trek is a famous trail in Australia that cuts through Cradle Mountain-Lake St Clair National Park in Tasmania. Beautiful columns carved by ancient glaciers dot the trail, as well as three waterfalls.
Be prepared to traverse a couple of forests and plains. You may even see a few Tasmanian devils along the route!
Everest Base Camp Trek – Nepal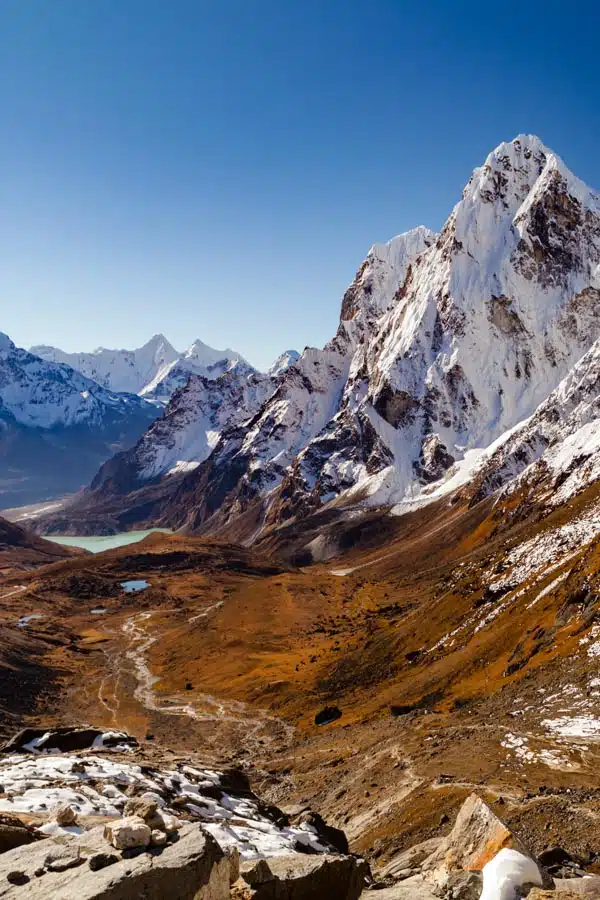 Distance: Depends
Length of Time: 14-20 days for most treks
Difficulty: Moderate to Difficult
Want to hike *near* the tallest mountain in the world, without actually summiting it? This famous trek – the Everest Base Camp trek – takes hikers to the foot of Mount Everest.
While some trails start nearby, most treks originate from Kathmandu and take around 2 weeks to complete.
The Everest Base Camp trek will give you breathtaking close-up views of the Himalayas and will provide you the opportunity to take the first leg of the famous Everest climb.
Before You Trek
Whether we're deep in the ocean or high up in the mountains, we always recommend buying travel insurance to give you a safety net while traveling and adventuring around the world. We recommend WorldNomads. You'll be able to travel more confidently knowing someone's got your back!